Weekly birding round-up: 28 Nov - 4 Dec
The week at a glance
Shetland's Eastern Yellow Wagtail reappears this week
The Bufflehead remains in Co.Cork
And an American Herring Gull is found in Cornwall
Expectations were duly tempered this week as we settled into the early days of what is now, whichever way we paint it, definitely winter. The week began with the whole of Britain and Ireland taking a pounding from Storm Diana; and ended with a north/south divide, with wintery showers and cold northerlies bringing a bracing feel to Scotland whilst southern England was unseasonably mild.
None of which, once again, translated into anything particularly earth-shattering on the birding front – though, for the discerning rarity-watcher, there were still a couple of lingering gems to be had…
Eastern Yellow Wagtail
I was chatting to one of Shetland's finest rarity-finders the other day, reminiscing about the autumn just gone. Not, he felt, a classic by any means – though perhaps we've been a little spoiled for choice in recent years and our expectations unduly raised unrealistically high.
The conversation turned to what, for many Shetland listers, was perhaps bird of the autumn – the definitive, sonogram-analysed, Eastern Yellow Wagtail seen, intermittently, down on the West Voe beach at Sumburgh on 8th-13th November. That bird left a few birders, both local and from further afield, feeling somewhat unfulfilled as it was seen pushing off high over the dunes on the latter date and wasn't noted in the area thereafter. That, it seemed, was that – though my friend remarked that he thought the species was probably hitherto overlooked and, henceforth, will probably be seen semi-regularly in autumns to come.
It came as a pleasant surprise then, on 2nd, to learn that Rebecca Nason had refound the bird, still in the dunes at the back of the beach. Game, once more, on. Where had it been in the meantime? Judging by the state of the bird, the answer might be through the mill… for there was some evidence of damage to the bird's back, one side of its face, and some tertials were missing too. Which may have helped to keep the bird from moving on when other migrants were getting thinner than ever on the ground in Shetland.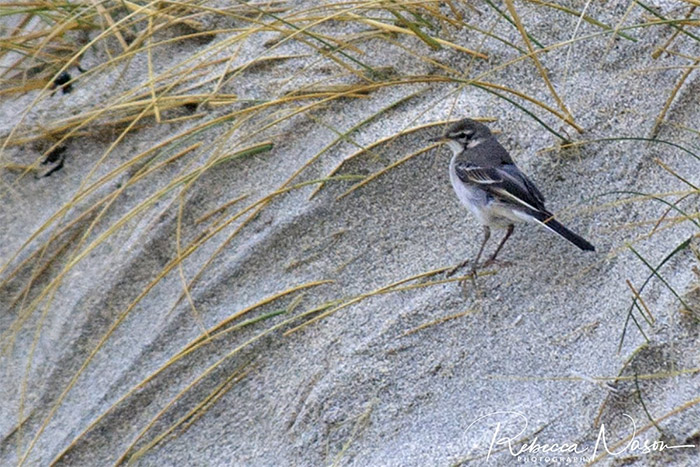 Still present at West Voe on 3rd, things took a further turn for the terminal on 4th – quite literally, as it happened, as the bird was last seen heading towards the Sumburgh airport terminal that afternoon… clasped firmly in the talons of a Sparrowhawk. That, finally, really was that.
Apart from on St Mary's (Scilly) where, on 4th, a probable bird was hanging out with a flock of Meadow Pipits. One for the coming week, yes?
Bufflehead
Luck wasn't coming into the equation this week in Ireland where, at Co.Cork's Ballinacarriga Lough the female or juvenile drake Bufflehead proved a reliable bird throughout the past week, being still present there until 4th at least.
Only the third Irish record, this was a fine chance for any Irish birder still sporting a Bufflehead shaped hole on his or her national list to make good the omission. Given how few and far between they have hitherto proven, it might be a fair few years before the next opportunity arises.
American Herring Gull
I need to take my victories where I find them in the rarity-predicting game. I'd love to be the man who looks to the coming week and correctly calls something glamorous from across the pond like a Yellow Warbler or a Hermit Thrush - but those are always long-shots, and it's often tempting to shoot the easier fish in the predictive barrel – something like last week's Hume's Warblers.
Speaking of last week though… I concluded our Round Up with a call for an American Herring Gull, a long odds but not entirely fanciful prediction looking at the charts for the days to come. And Cornwall only went and flipping provided one in the glorious, beautiful form of a first-winter bird at Cape Cornwall on 4th.
Get in.
A trio of White-billed Divers lend a suitably Arctic, wintery feel to this week's seabirds – individuals being seen flying through Thurlestone Bay (Devon) on 30th, and off Barra (Western Isles) on 1st-4th again, and from Bamburgh (Northumberland) on 2nd.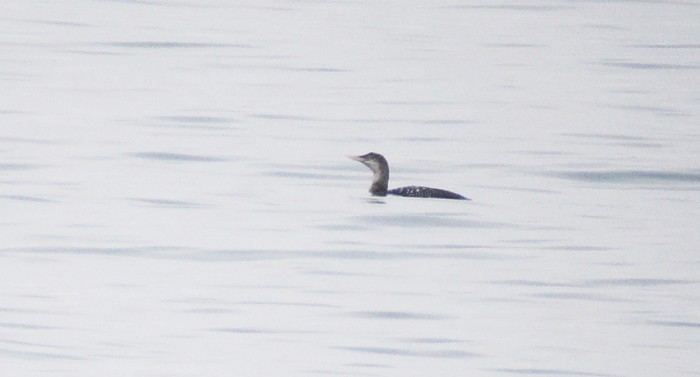 The merest hint of warmer times came in the form of a Balearic Shearwater off Pendeen (Cornwall) on 30th.
Sticking with Cornwall, a probable Pomarine Skua was seen in Mount's Bay on 30th, followed by another noted from Newlyn on 2nd. In between, on 1st, another bird was seen from Landguard NR (Suffolk); and on 4th one was found off Hurlstone Point (Somerset).
All in all, then, this was not really a week for productive sea-watching. Even Little Auk numbers were down on recent showings – a single bird off Whitburn CP (Co.Durham) on 28th was followed by what amounted to a small flurry on 29th, with three birds seen in Loch Fyne (Argyll & Bute) and eight from Saltcoats (Ayrshire) and a final singleton found in a car park at Alnmouth (Northumberland) and taken into care – unusual for this species, as weakened birds are more typically taken into Great Black-blacked Gull. On 30th, a singleton was seen from Corsewall Point (Dumfries & Galloway) and then, on 4th, another single bird was found at Loch Ryan (Dumfries & Galloway).
Pick of the bunch of our long-legged beasties this week was the Little Bittern once more seen at Saltholme RSPB (Cleveland) on 29th.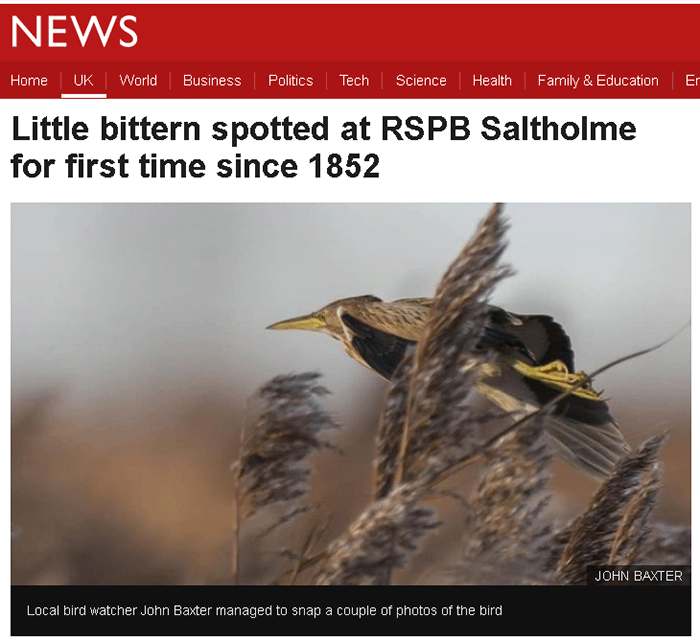 A shade over 200 Cattle Egrets were logged nationwide this week with, once more, a relative dearth of records from the usually reliable Somerset Levels – their highest count being 26 birds in the vicinity of Catcott Lows NR on 3rd. Our highest tally came, for another week running, from Abbotsbury (Dorset), where at least 32 birds were seen on 3rd.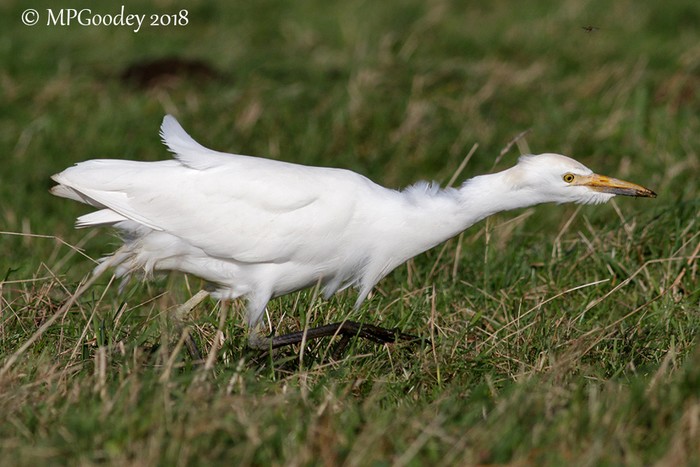 Just one Glossy Ibis was found this week and, for a change, it wasn't in Devon. Nope, this week's ibis was in Ireland, seen at Rosslare (Co.Wexford) on 2nd. Cambridgeshire, meanwhile, produced another sighting of the adult White Stork at Dog-in-a-Doublet. At least one of those two birds is definitely wild. Maybe both.
Maybe.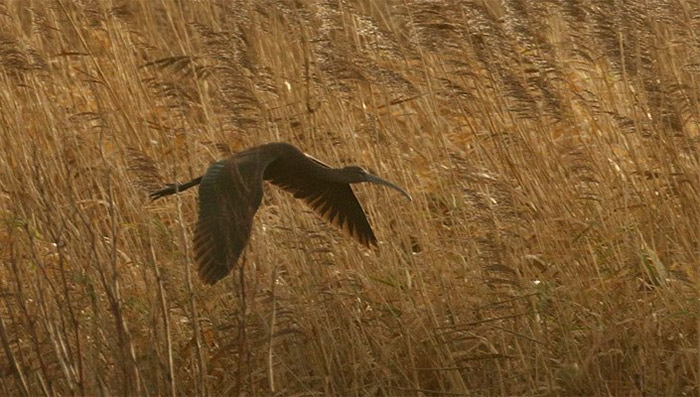 Cambridgeshire continued the out-of-Norfolk domination of Common Cranes records, with a peak count of 29 on 30th at Nene Washes RSPB. In Borders at Coldstream the first-winter bird was still to be found on 29th-3rd; two were present at Chew Valley Lake (Somerset) on 30th; and at least two were heard only at West Wratting, back in Cambridgeshire, on 1st.
Bag of stale bread at the ready, it's time to see what pitched up on the rarity duckpond this week. Starting with the The Goose Formerly Known As Canada, we find the small Canada-type still on Barra (Western Isles) until 4th; in Cumbria, an interior Todd's Canada Goose hanging out with the Barnacle Geese at Cardurnock on 29th-30th, and another was again on Tiree (Argyll & Bute) on 4th.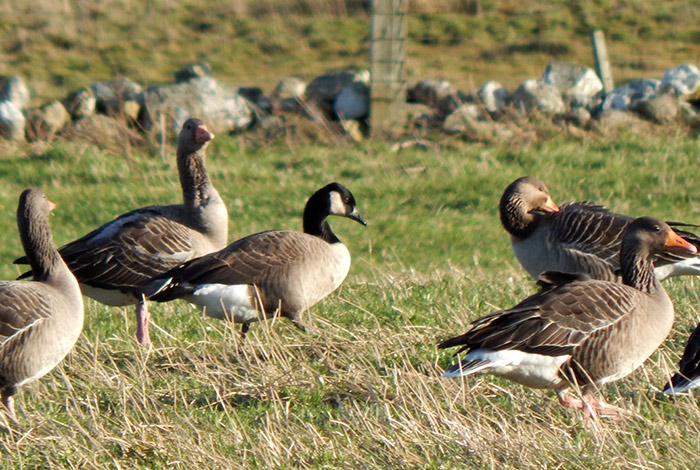 A Black Brant was seen on Walton Hall Marshes at The NAze (Essex) on 30th; in Cumbria meanwhile the adult bird was once more noted on Walney on 1st. On 4th an adult was again seen in Dorset at Ferrybridge, while another was noted that day in Essex at West Mersea.
Away from Co.Cork, pick of the quackers this week was, once more, the drake Black Scoter still in Northumberland at Cocklawburn Beach on 1st. Two drake Surf Scoters were still to be seen off St Andrews (Fife) on 2nd while, on 1st-2nd, the drake was again logged of Musselburgh (Lothian) and, on 4th, one was again seen at Loch Ryan (Dumfries & Galloway). In Ireland, single drakes were noted respectively on 30th at Ballyvaughan (Co.Clare) and on 1st at Gormanstown (Co.Meath); by 3rd, the latter site boasted three birds.
Sticking with the sea-duck, the female King Eider was still present at Ynyslas (Ceredigion) on 29th-1st at least.
The drake Lesser Scaup remained in Somerset at Chew Valley Lake this week on 29th-4th; the drake Ferruginous Duck was again to be seen on 4th at Llan Bwch-llyn Lake (Powys).
Until 4th, numbers of Ring-necked Ducks had failed to scale the giddy heights of the preceding week – but with just three birds reported from Ireland by that point, that surely represented some under-recording. Those birds comprised two drakes at Inch Island (Co.Donegal) still on 30th, and a drake at Loughrea (Co.Galway) on 2nd. Settled English birds remained at Woodhall Spa Airfield LWT (Lincolnshire) on 28th-2nd, Radipole Lake RSPB (Dorset) on 1st, Pitsford reservoir (Northamptonshire) on 1st-4th, and at Abbotts Hall Farm EWT (Essex) again on 3rd-4th. In Scotland, a drake was once again on Loch Watten (Highland) on 2nd, while another drake was noted on Benbecula (Western Isles) on 2nd also; and on 3rd three birds were once more seen on Tiree (Argyll & Bute).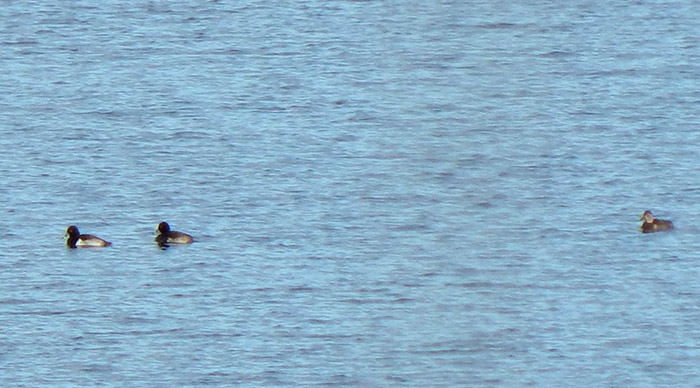 The week ended with Ireland blowing the autumn's previous highest count out of the water with no fewer than eight birds found at Drinagh on 4th, comprising five females and three first-winter males. I bet there are more out there waiting to be found too…
Loch Watten also featured this week with an American Wigeon present there on 1st-2nd; further birds were still at Leighton Moss RSPB (Lancashire) on 28th-30th; at Tain Links (Highland) again on 29th and 3rd; on Loch Eye (Highland) still on 1st; and at Grimley (Worcestershire) still 1st-3rd.
Back to Scotland, Green-winged Teals remained at Wick and Loch Flemington (Highland) still on 29th, on North Ronaldsay (Orkney) on 1st-4th, and North Uist (Western Isles) again on 3rd; a further bird was seen on Islay (Argyll & Bute) on 3rd; an English sighting came from Slimbridge WWT (Gloucestershire) on 30th; and an Irish record came from North Bull Island (Co.Dublin) on 3rd.
<!—Section Title -->
Interesting shorebirds were reduced this week to next to nothing, and won't delay our passage through the round-up unduly. It's a measure of how slim those pickings were that even the faithful adult Long-billed Dowitcher in Lincolnshire wasn't reported from Frampton Marsh RSPB until 2nd…
Dorset supplied intermittent sightings of the juvenile Lesser Yellowlegs on 28th-3rd.
Heading further west still, in Cornwall the juvenile Temminck's Stint was still at Stithians reservoir on 29th-4th.
A probable Grey Phalarope was seen on 29th passing Milford-on-Sea (Hampshire), with another that day nearby at Stanpit Marsh (Dorset); on 30th, at the opposite end of the country, one was noted from Corsewall Point (Dumfries & Galloway); and on 1st, another was logged in Cornwall at Seaton.
The preceding week's highlight, the adult Bonaparte's Gull found in Northumberland at Bamburgh, enjoyed a second week as the cream of the crop this week, remaining there until 3rd.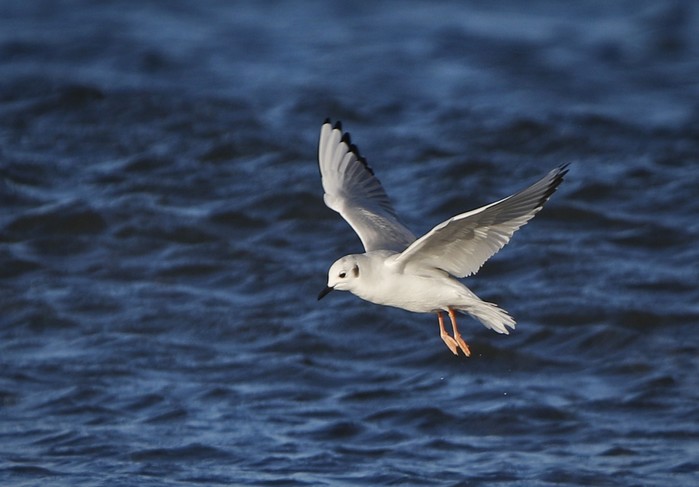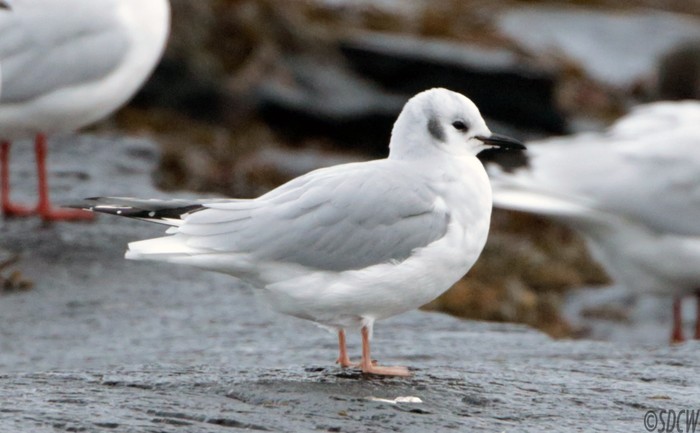 Indeed, in almost every regard this week was pretty much identical to the week that had gone before insofar as numbers and variety of scarce and rare larids were concerned. One notable exception to that rule, however, was the adult Sabine's Gull seen off Carnsore Point (Co.Wexford) on 1st – a species that's not been reported in these quarters for a few weeks now.
The adult Ring-billed Gull was again seen this week at Blashford Lakes HWT (Hampshire) on 29th-2nd; and another adult was noted on 2nd at Dungarven (Co.Waterford). On 3rd, in Co.Louth the adult bird remained at Dundalk and an adult was present at Timoleague (Co.Cork).
A juvenile and a third-winter Iceland Gull were floating around Greater Manchester still this week, being seen variously at Audenshaw and Gorton reservoirs, and Pennington Flash CP and Atherton respectively. Elsewhere, other single birds were noted at Embo (Highland) on 28th; Sandbach Flashes (Cheshire) on 30th; and Lower Carbarns (Clyde) on 2nd. On 3rd one was seen at Pendeen (Cornwall), and another was present on Fair Isle (Shetland); and on 4th one was found at Tawin (Co.Galway).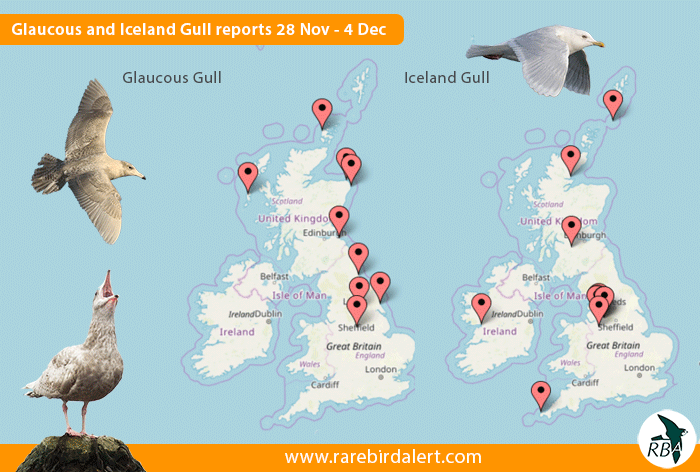 Glaucous Gulls lingered on this week at Fraserburgh (Aberdeenshire) still on 29th, Ogston reservoir (Derbyshire) until 2nd, and Seaham (Co.Durham) again on 30th and once more on 2nd. Further birds were found on 29th at Skateraw (Lothian); on 30th on Orkney at Marwick; on 1st on South Uist (Western Isles) where two birds were seen; and on 2nd at Fairburn Ings RSPB (West Yorkshire).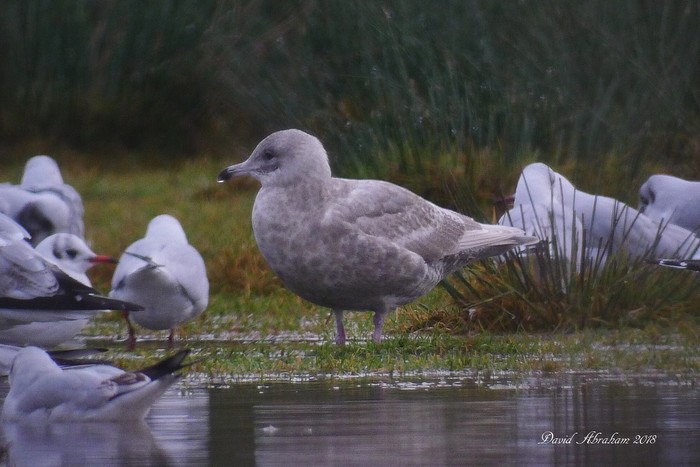 Norfolk remained the locus for Rough-legged Buzzards again this week, with a scatter of daily sightings: on 28th at Titchwell RSPB and on Blakeney Point; on 29th at Felbrigg Hall NT; on 30th at Great Yarmouth; on 30th-4th still on Haddiscoe Island, with two birds present there on 30th at least; one bird was seen at Toft Monks on 1st; at Stumpshaw Fen RSPB on 2nd; and at Thurne on 3rd. On 4th one was again seen at Holkham Freshmarsh.
Away from Norfolk, at least one bird remained in the Holme Fen NNR (Cambridgeshire) area on 30th-4th, with two seen at Great Fen on 3rd; another was seen in Suffolk at Cattawade on 30th; one was reported from Bovey Tracey (Devon) on 2nd; and a bird remained in Lothian in the Lammermuir Hills still on 2nd.
The immature White-tailed Eagle seen the previous week in Shetland was again noted this week in the Sandwick, Hoswick and Channerwick area of the south mainland on 2nd-4th. In Lothian, meanwhile, one was at Whiteadder reservoir still on 28th-30th and Faseney Bridge again on 2nd.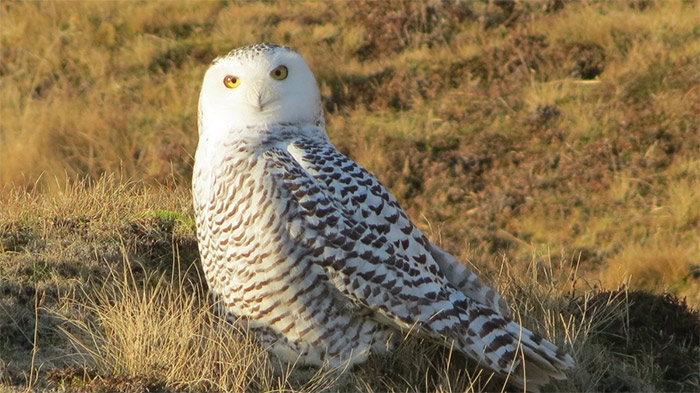 Out on St Kilda (Western Isles) the female Snowy Owl remained in residence there on 3rd. If only some of these recent long-staying birds in the Western Isles, Shetland and Orkney could find one another…
With a little more star quality in our opening remarks this week, the latest Hume's Warbler of 2018 is relegated back down to the general passerines section after a brief, giddy, outing for the species in the Round Up's headlines last week. So, this week, a further individual was discovered in Kent at Lade GPs on 2nd, and was seen again there on 4th. Which was nice.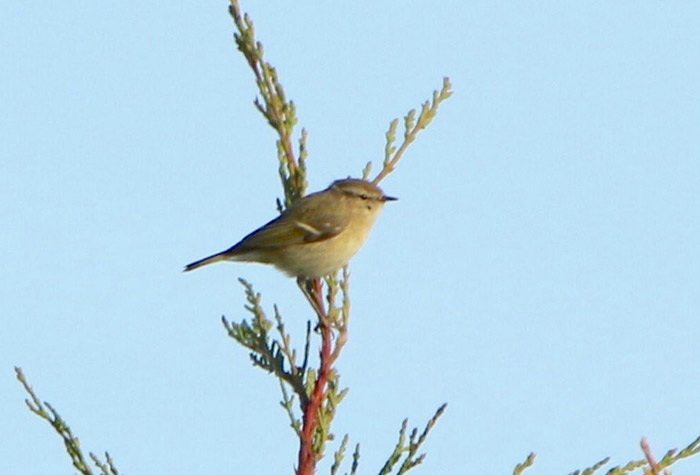 Yellow-browed Warblers are pleasing too, but their numbers are starting to dwindle with some alacrity now. Birds remained on St Mary's (Scilly) at Porthloo and Lower Moors on 28th, and Porth Hellick until 2nd; one was still in Cornwall at Loe Pool on 2nd; and Yeovil (Somerset) held a bird still until 1st. Further sightings came from Cornwall's Falmouth on 28th, Land's End on 29th-30th, and Carminowe Creek on 1st; and at Broadstone (Dorset) on 2nd. Another was found in Somerset at Langford Heathfield in the afternoon of 3rd; and on 4th, a couple more were seen – at Ellington (Northumberland) and Broadsands (Devon).
Norfolk's recent Pallas's Warbler remained at Wells Woods on 29th-1st, providing some much-needed early winter colour in that neck of the woods.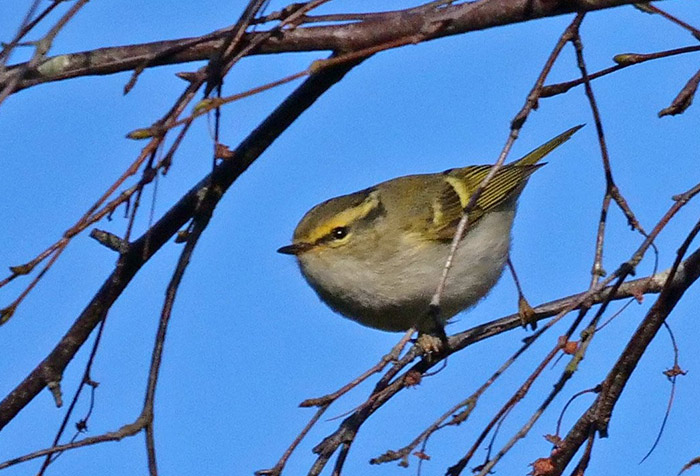 In Dorset, the elusive Dusky Warbler at Abbotsbury continued to skulk there on 30th still; on 2nd, a further bird was found in Suffolk at Kessingland, and a probable bird was heard in Norfolk that day at Stiffkey; the Kessingland individual remained present there on 3rd-4th.
Richard's Pipit sightings dropped, almost completely from the radar, down this week to just the one bird, present at Cowpen Marsh (Cleveland) on 28th.
Startlingly late, a first-winter Red-backed Shrike was found on 2nd-4th at Newbiggin (Northumberland). I've got to say that, were it me finding a non-grey shrike species this late in proceedings, I'd have been hoping for something a little rarer than this. But all the same, every birder's day is better with a shrike of any kind in it. So no complaints, really.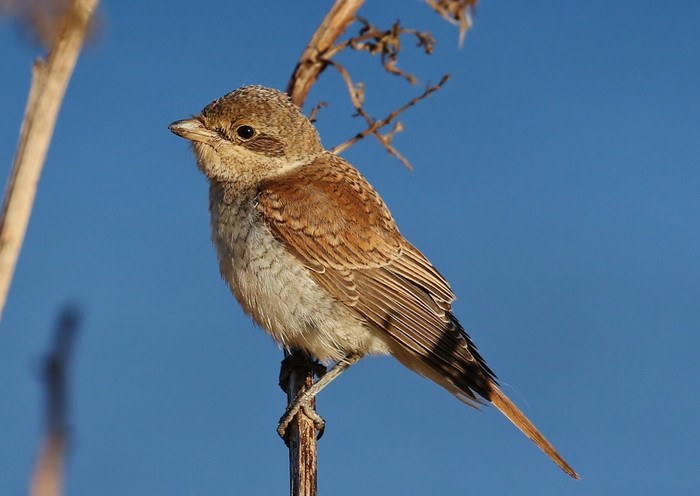 A handful of Great Grey Shrikes were seen this week – starting with the settled bird in Cannock Chase (Staffordshire) still on 28th-3rd, further sightings came from Hampton Ridge (Hampshire) on 30th; Finstown (Orkney) on 1st; Glen Feshie (Highland) on 1st; and the Manse Pant Glas Farm (Powys) on 1st also. On 3rd, one was again seen at Brandon Park Heath (Suffolk); and finally, on 4th, birds were again reported from Leighton Moss RSPB (Lancashire) and Ashdown Forest (East Sussex).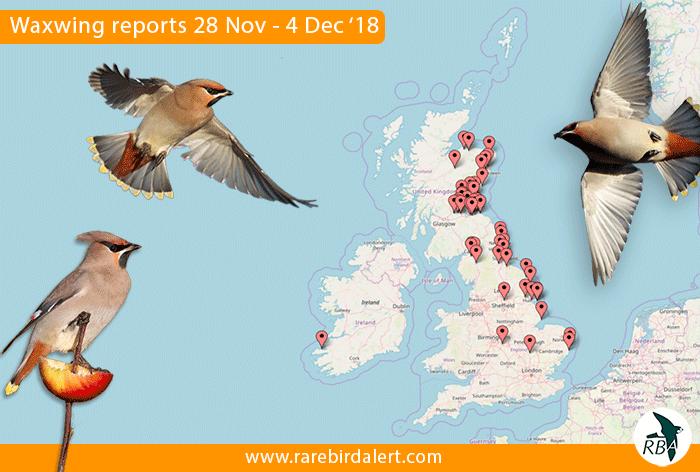 Waxwing numbers were a little muted compared with recent weeks, with some 800 birds noted nationally as the days progressed. The biggest aggregation was a flock in Kirkcaldy (Fife) that grew from 150 birds on 30th to some 170 birds the following day. Elsewhere, small parties were beginning to filter further south this week, with birds noted in Bedfordshire and Suffolk on 29th indicative of some movement.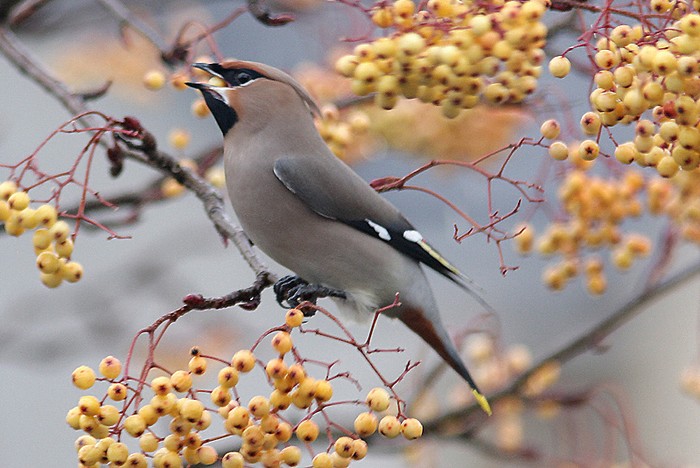 A probable Black-bellied Dipper (video) was seen on 2nd near Hollingbourne (Kent).
In East Yorkshire the Pied Crow was still present at Flamborough on 29th-4th, and looking in pretty decent condition too. A putative Italian Sparrow photographed on Yell (Shetland) this week showed, on closer examination, plumage features (a grey crown and no white in the supercilium) that ruled out a classic Italian but were more strongly suggestive of a mongrel, hybrid origin instead.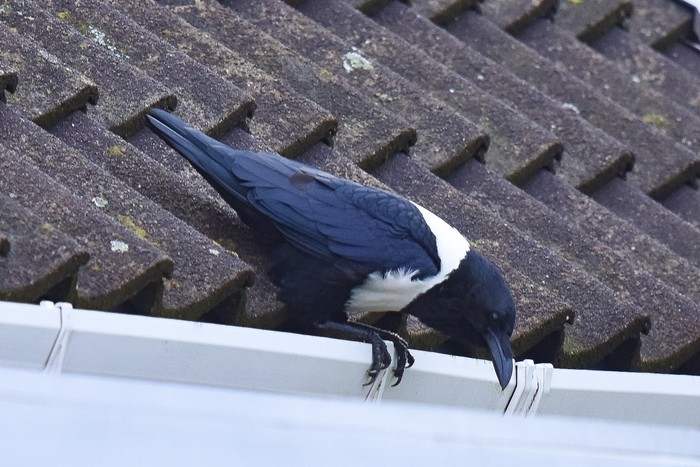 Three juvenile Rose-coloured Starlings remained on offer this week – these being the birds at Kesgrave (Suffolk) still on 2nd and North Seaton (Northumberland) still on 29th-4th, and in Llandudno (Conwy) again on 4th.
A final small flourish comes in the form of a Serin again on St Mary's (Scilly) on 3rd.
And that's all, folks.
If it was quiet in Britain and Ireland this week, it was fairly peaceful further afield too. British birders could continue to cast covetous eyes across the water towards Holland where, at Wageningen on 28th-4th, the wonderfully confiding Nutcracker continued to delight whilst, at Het Wild, the Black-winged Pratincole was still available until 29th. Dutch birders' attention was, however, focused in Rhoon this week as, on 1st-3rd, what looks set to be Holland's first Eastern Yellow Wagtail was to be seen. As if all that weren't enough, a Little Bustard was added to the country's weekly tally on 4th, found in a cereal field at Burghsluis.
Belgium's resident Pygmy Cormorant was still present at Parc Domaine du Val Duchesse on 4th.
In France, the Eastern Imperial Eagle was still at Saint-Gilles on 2nd, while the Cream-coloured Courser extended its stay at Le Plessis until 28th when, unfortunately, it keeled over and died. France in December being, clearly, too big an ask for it.
The same couldn't be said in Spain this week where the Sociable Plover in Andalucia at La Janda remained extant and in rude health until 29th.
In Sweden, both recent Oriental Turtle Doves were still to be seen this week at Degernas and Sveg on 29th-3rd.
Finally, much further afield in Cape Verde on 2nd, a female Bufflehead was found at Rio de Madama; and on the Canary Islands the Dwarf Bittern was once more seen on Fuerteventura on 29th.
December. I don't know about you, but suddenly there are Christmas lights popping up all around, and I don't just mean in shop windows. As if overnight, there are illuminated trees in front windows and, if you're really unlucky, all over your neighbour's houses, lawns, shrubs… Christmas is, as they say, coming.
Which traditional saying goes on to note that the goose is getting fat. And, judging both by the weather and precedent, a decent goose (or better yet, a duck) is about the height of what we might reasonably expect in the coming week…
Barring anything outrageous popping out of the woodwork in the form of a startling thrush or warbler, now is firmly the time to be checking out the local sea-duck or freshwater quackers. Past records suggest the coming week is a good one for a self-found King Eider or, if we shoot for the stars, something rarer still - Lesser Scaup are edging towards double figures for the coming week, whilst Blue-winged Teal sports half a dozen past records.
And then there is Canvasback - it's easy to slide a jaundiced eye over a crowd of Pochard on a lake but, in an American Cootishly kinda way, sometimes those common birds warrant a closer second look. You never know what might be hiding in plain sight… As was the case on 7th December 1996 in Kent at Cliffe and, one day, will doubtless prove the case once more.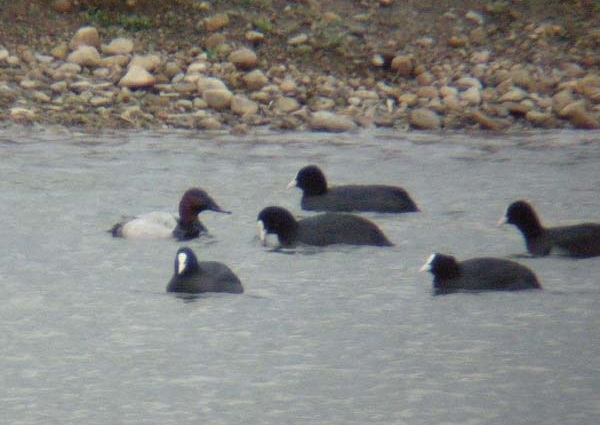 Jon Dunn
5 December 2018
Share this story
Tweet