Weekly birding round-up: 31 Oct - 5 Nov
The week at a glance
Orkney thrills and disappoints with a Tengmalm's Owl
East Yorkshire scores a brief Dusky Thrush
Scilly enjoys another Blyth's Pipit
Another week passed in this rollercoaster autumn, and the weather ran the full gamut of all four seasons – snow on the high ground in Scotland, early morning frosts further south, some periods of heavy rain, and yet some days too when the sun shone and it felt blissfully balmy.
While new arrivals were relatively thin on the ground, a couple of startling birds did emerge from the woodwork – and one of those was the stuff of legend.
Tengmalm's Owl
On Orkney on 2nd. Suppressed. That is all.
Tempting though it is to leave it at that, of course I can't resist the temptation to sink my teeth into something as juicy and perversely satisfying as yet another unattainable Tengmalm's Owl.
Not least because it was only last week that, in the context of the Anglesey and Cornish Grey Catbirds, I said we just needed a Tengmalm's Owl to lay that other lingering British birding ghost to rest. Unfortunately, while unusually prescient, I couldn't predict that our latest Tengmalm's would be yet another frustrating chapter in the species' already agonising story.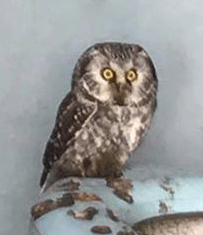 For those of us who started our British birding careers in the 1980s, the long-staying and suppressed bird at Spurn (East Yorkshire) was the stuff of legend, spoken of either with bitterness, anger, bewilderment, or a combination of all three. Some of our peers and elders couldn't bring themselves to speak of it. Was a bird ever so longed for, and the circumstances of one example so painful to recount? Present for at least three weeks in March 1983, and possibly since January of that year, this was the suppression to end all suppressions.
And no sooner had news been released of the bird on Orkney this week than my phone began pinging with messages from friends summoning the spectre of that Spurn bird. It's part of our collective birding folklore.
Orkney has a curious potency where Tengmalm's Owls are concerned – including this latest individual, of the mere eight birds seen in Britain since 1950, six of them have been on Orkney. So what do we know of this latest bird? Not an awful lot, really. Found and photographed on Orkney by a non-birder on 2nd, just four folk were said to know the whereabouts of the bird – and that was how they intended to keep things. Doubtless the sleuths were checking the metadata of the evocative released image of the bird, and a rumour filtered out to the effect that it was somewhere in the Finstown area… but nothing further was forthcoming, sadly.
The fact that the bird was roosting on an old outhouse toilet is scant, blackly humorous consolation. They favour densely forested habitat studded with small bogs in northern Europe - Orkney isn't famed for its good tree cover, so we can only presume it's the abundance of abandoned rural toilets that keep luring Tengmalm's to the islands…
Dusky Thrush
Dusky Thrush remains a properly, top drawer and highly sought after proposition in Britain, with a mere 13 accepted British records to date. To put that in context, that's at a Siberian Thrush level of rarity, while Eye-browed Thrush boasts twice as many past records and White's Thrush is positively commonplace, with almost 90 records to the end of 2016.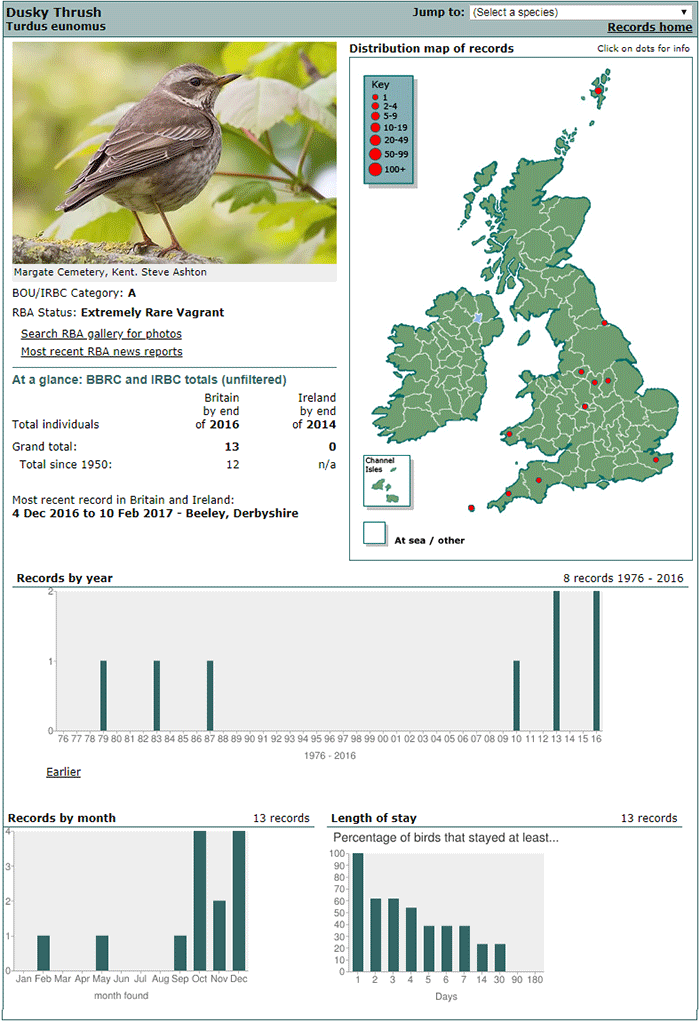 Dealing in such small numbers, it's slightly disingenuous then to describe Dusky Thrush as a classic late autumn / early winter rarity, but that's when the bulk of our admittedly small sample have arrived. Hence it's not technically a surprise that one should be seen during the first week of November, but that's surely to underplay the heart-racing euphoria that the brief bird this week at Easington (East Yorkshire) would have induced before it flew off on 4th – not least because this would have represented a county first.
Blyth's Pipit
Some rarities, like aforesaid Dusky Thrush, simply refuse to give themselves up easily. They turn up sporadically at best, and more often than not move on quickly. They retain the aura of exclusivity for those blessed to have been in the right place at the right time… and then there are those that, suddenly, start to turn up in some numbers and lose some of their former cachet.
Blyth's Pipit is one such bird – I was on St Mary's (Scilly) during the week in 1993 when Britain's third latter day bird was found, and remember fondly the fallout from its identification… the queues for the payphones in Hugh Town that evening, in those pre mobile phone days, were enormous… and the Porthcressa was buzzing that evening with those who had already seen the bird high with elation, and those of us who hadn't in the pits of despair. Never mind that some who had seen it had done so as a Richard's Pipit… all that those of who hadn't seen the bird cared about was that it would still be there the following day.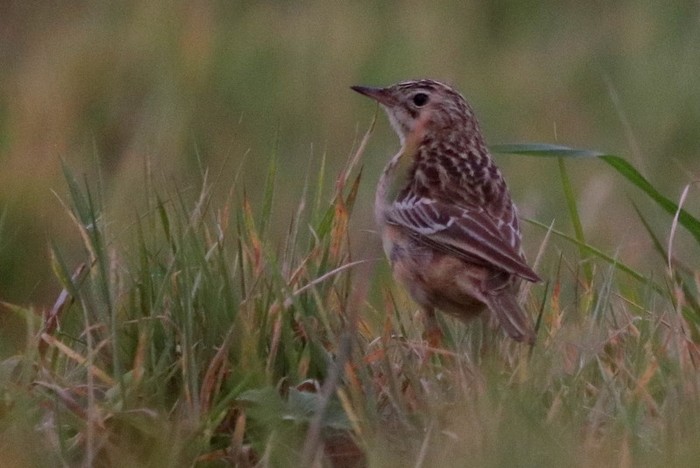 Happily for all concerned, it was, and put the cherry on the cake of a week that already boasted Hermit Thrush and Upland Sandpiper. Who knew that, in the years to come, Blyth's Pipits would start turning up with such frequency? While we've had some blank years since 1993, we're now up to 30 accepted British birds to the end of 2016, of which no fewer than six have been on Scilly.
To that tally can be added another bird this year as, on 31st-4th, St Mary's landed its latest Blyth's Pipit, a welcome diversion for those Scilly stalwarts who remained this relatively late in the season and, no matter that the species is turning up with more regularity, it's still charismatic and has that feel-good lustre about it – a classic birders' bird.
Very peaceful times indeed this week where seabirds were concerned, with one notable and charismatic exception. This, of course, was the summer-plumaged White-billed Diver present off Margate and Birchington in Kent. Hot on the heels of a report of a probable bird off Ramsgate on 2nd, this chequerboard stunner delighted all comers to Margate and nearby on 3rd-6th. A really difficult bird to catch up with in Kent, this, let alone to enjoy such superlative views of. Elsewhere this week, further birds were seen from South Uist (Western Isles) on 31st; in Shetland in the usual wintering station off Kirkabister on 2nd, with another noted passing Unst that day also; and in Devon off Shoalstone on 4th – the latter also being an excellent county record in its own right.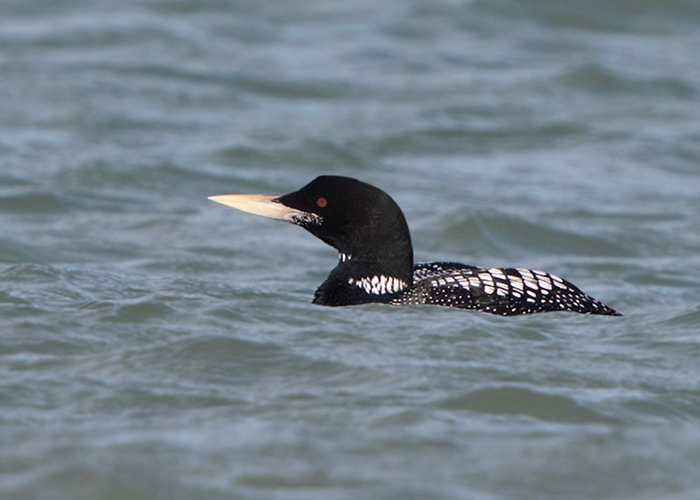 Skua passage was definitely drying up this week, with the prior week's incredible numbers of Pomarine Skuas already just a memory. Some 25 birds only were logged this week, with most of these being single stragglers – only Berry Head (Devon) managed multiple sightings in the form of duos noted on 31st and 3rd.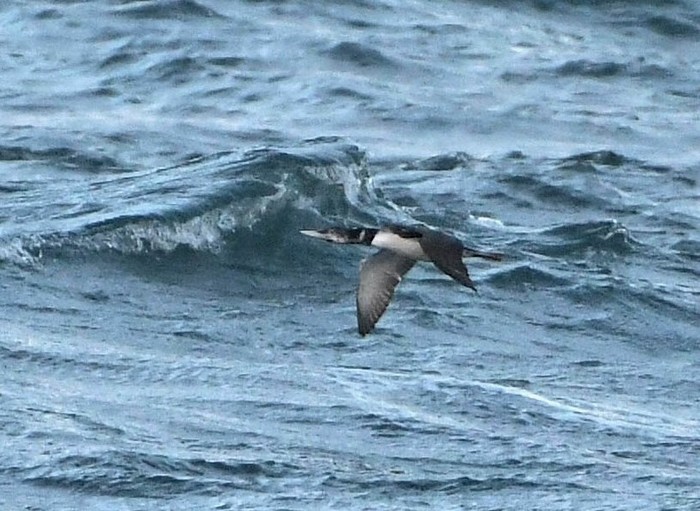 Numbers of Little Auks were similarly jaded – around 40 birds in all were seen this past week, with 15 off Carnoustie (Angus) on 31st far and away the highest daily single site tally.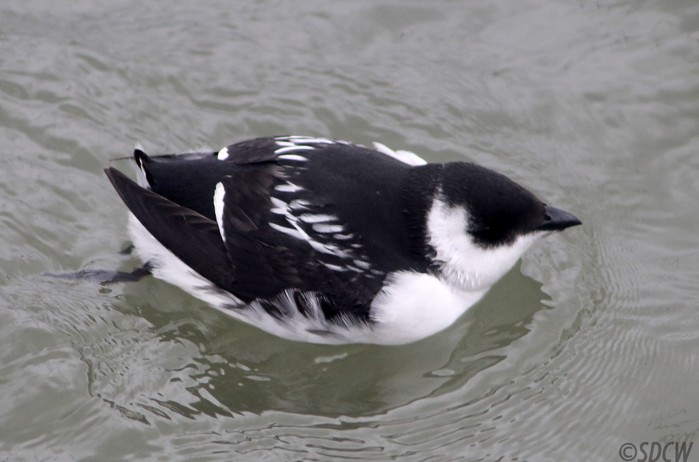 Single Balearic Shearwaters were noted in Cornwall on 3rd from The Lizard and Porthgwarra.
Finally, three Leach's Petrels were seen from Spurn (East Yorkshire) on 31st; the only further bird this week was a singleton found off Portland (Dorset) on 4th.
In the absence of any scarily high tallies of Cattle Egrets this week we found ourselves back in more modest territory than of late – but that's all relative… There were still over 230 birds reported as the week wore on, with representatives as far afield as Ireland in addition to the higher numbers in the species' new heartland in southwest England. There, naturally, we had the week's highest counts – 43 birds at Abbotsbury (Dorset) on 2nd, and 45 birds in Somerset at King's Sedgemoor on 3rd.
A probable Glossy Ibis was seen in Somerset on 31st, noted distantly in flight.
Meanwhile Cambridgeshire provided another sighting of White Stork in the form of a bird at King's Dyke on 1st, and Dog-in-a-Doublet on 6th.
Cambridgeshire also continues to provide the bulk of our Common Cranes sightings away from Norfolk – the highest count this week being 39 birds at Ouse Washes RSPB on 4th; 11 were seen on Nene Washes on 2nd. Further afield, two were once again in South Yorkshire at Hatfield Moors NNR on 31st; and a single bird was seen on Oronsay (Argyll & Bute) on 31st.
A Corncrake was seen this week in Shetland on Unst at Lund on 31st.
We've a decent variety of honkers and quackers seen this week, though the numbers remain relatively low for now. There will be more Green-winged Teals in the post shortly, I'm sure…
Starting with the geese, the The Goose Formerly Known As Canada was represented by the hutchinsii Richardson's Cackling Goose still on Oronsay (Argyll & Bute) on 31st, two interior Todd's Canada Geese at Munlochy Bay (Highland) on 5th, and the small Canada-type still present on Barra (Western Isles) on 3rd. A pair of possible Cackling Geese were seen on North Uist on 6th.
Dorset accounts for two Black Brant sightings this week, with a bird kicking around the Fleet outside Weymouth on 31st-1st still and two birds there at Ferrybridge on 5th-6th; and one seen in Poole Harbour on 4th.
An intermediate morph Snow Goose was seen in Highland at Munlochy Bay on 31st-1st.
The drake Black Scoter was once more seen from Cocklawburn Beach and Cheswick Sands (Northumberland) this week on 31st-6th and, on 6th, the drake was again noted in Co.Kerry at Rossbeigh. Absent from the news for a while, the drake American White-winged Scoter was again noted from Musselburgh (Lothian) on 31st.
Single Surf Scoters meanwhile were seen again from Musselburgh on 1st-2nd still and flying past Bull Bay on Anglesey on 31st.; on 5th two drakes were still to be seen off St Andrew's (Fife).
The female Lesser Scaup on Anglesey at Llyn Llygeirian remained there on 1st-5th.
In Cornwall the first-winter drake Ring-necked Duck was still present at Drift reservoir on 1st; the drake was again at Llyn Caer-Euni (Gwynedd) on 1st-4th; in Essex the drake was once more seen at Abbotts Hall Farm EWT on 2nd and again on 5th; while the drake at Slapton Ley (Devon) was still present there on 3rd-6th. On 4th-6th a drake was found at Woodhall Spa (Lincolnshire), and a first-winter drake at Radipole RSPB (Dorset) on 4th-6th; the drake in Essex was seen once more at Abberton reservoir on 4th-5th; and in Ireland one was seen at Garryhesta quarry (Co.Cork).
Lingering Green-winged Teals remained in Wick (Highland) on 31st and on North Ronaldsay (Orkney) on 1st-4th; one was present on 6th at Martin Mere WWT (Lancashire).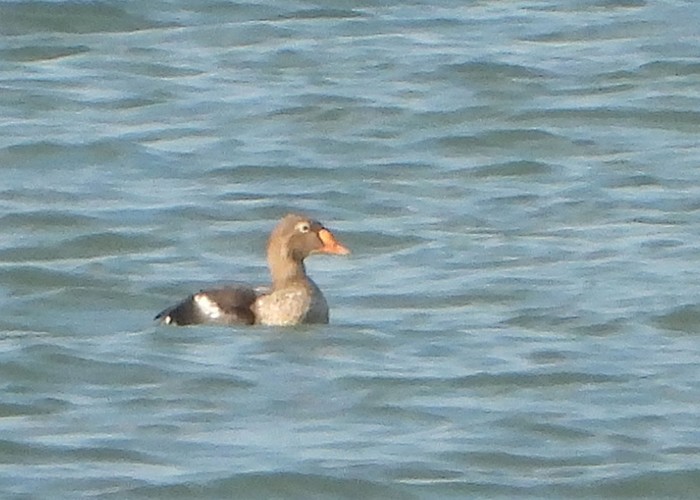 The drake American Wigeon was still to be seen at Hesketh Out Marsh RSPB (Lancashire) on 31st-4th; and the female was still at Chew Valley Lake (Somerset) on 31st. Another was reported from Cottam (Nottinghamshire) on 3rd-4th.
Norfolk's popular second-winter drake King Eider spent the week on the sea off Sheringham until 6th.
Finally, in Shetland, our honorary waterbird was still present on Spiggie on 5th in the form of the Pied-billed Grebe while, coincidentally, the other recent bird was again reported from Lochgilphead (Argyll & Bute) on 5th also.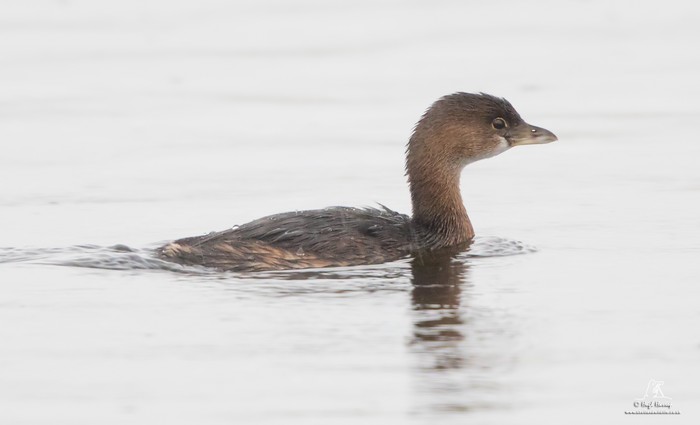 <!—Section Title -->
Some lingering Nearctic waders continued to provide shorebird interest this week, but numbers and variety on offer were both down – there's no getting away from the fact that autumn is drawing to a close where they're concerned. (This said in a blatantly transparent attempt to tempt Fate and ensure something late and remarkable is uncovered in the days to come… maybe a nice peep is out there just waiting to be found…)
Settled juvenile White-rumped Sandpipers in Ireland provided some decent numbers – two were still at Tacumshin (Co.Wexford) on 2nd-4th, while three were still to be seen at Myroe (Co.Derry) on 4th.
Newport Wetlands NNR (Gwent) continued to host the juvenile Baird's Sandpiper until 3rd; a Pectoral Sandpiper was in Cornwall at Walmsley Sanctuary on 31st while in Devon the juvenile remained at South Huish on 31st-1st.
The juvenile Spotted Sandpiper remained settled at Jarrow (Co.Durham) on 31st-6th, while in Lincolnshire the adult Long-billed Dowitcher was present at Frampton Marsh RSPB throughout the week.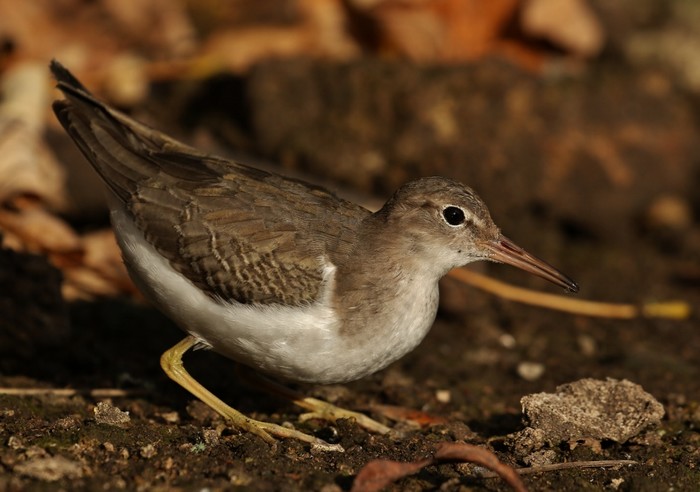 Cornwall's Temminck's Stint remained at Stithians reservoir on 31st-1st; and on Scilly the possible Wilson's Snipe was still being seen at Porth Hellick Pool on St Mary's on 2nd.
We continued to do well for juvenile Lesser Yellowlegs this week, with five birds available: on Skye (Highland) still on 31st-6th; in Dorset at Radipole and, latterly, Lodmoor RSPB until 2nd; in East Sussex at Jury's Gap on 3rd; still present in Cornwall at Devoran Quay on 4th; and in Co.Wexford at Tacumshin on 4th-5th.
An American Golden Plover was seen briefly on Benbecula (Western Isles) on 5th.
There was an unconfirmed report of a Red-necked Phalarope in Cornwall on 6th at Porthtowan briefly.
Finally, a probable Grey Phalarope was noted off North Uist (Western Isles) on 31st, and was followed by single birds at Winterton-on-Sea (Norfolk) on 1st-6th; Lavell's Lake LNR (Berkshire) on 1st; at Salthouse (Norfolk) on 2nd; and at Reay (Highland) on 4th.
A quieter week for gulls this week as, in the absence of a helpful tail-wind, white-winged gulls were once more in fairly short supply. That said, two Kumlien's Gulls hinted at things to come, seen on 4th on North Ronaldsay (Orkney) and Skye (Highland).
Five Iceland Gulls were seen also – at Clahane (Co.Clare) on 31st, Rough Point (Co.Kerry) on 3rd, Fair Isle (Shetland) on 4th, Scatness (Shetland) on 4th, and Troon (Ayrshire) on 6th – while numbers of Glaucous Gulls were well down with some 20 birds in all tallied, the bulk of which were in Scotland. Still, it's only early November and there will be much more white-winged action to come in the next few months.
The rarest larid of the week then would be the adult Bonaparte's Gull seen in Pembrokeshire on 4th-5th on the Gann estuary.
A Sabine's Gull was seen on 4th in Northumberland off Newton Point; another was seen on 6th from St.John's Point (Co.Donegal).
Finally, we've an unconfirmed report of two Ring-billed Gulls seen on 4th in Inverness (Highland).
Rough-legged Buzzards enjoyed another busy week, with sightings centred around Norfolk where, at Horsey, sightings peaked on 2nd with four birds logged there. Further Norfolk sightings came on 31st from Winterton-on-Sea and Overstrand, with two birds at the latter site; on 1st at Wells Woods; on 2nd at Lyng; on 3rd at Sidestrand; and on 4th and Sheringham and Trimingham. On 5th one was present at Upton Marshes, with sightings that day at Wells, Ringstead and Stiffkey also; and on 6th birds were logged at Holme, Horsey and Winterton.
Away from Norfolk, the pattern of arrival was mirrored, predominantly along the east coast. On 31st one remained at Dartford Marshes (Kent); further sightings that day came from Rainham Marshes RSPB (London), Hornsea (East Yorkshire), Grove Ferry NR (Kent), Portland (Dorset) and, on 31st-6th, Wallasea Island RSPB (Essex). On 1st another south-westerly sighting came from Lundy (Devon); on 2nd birds were logged coming in off the sea at Frinton-on-Sea (Essex), at St Margaret's Bay (Kent), in North Yorkshire at Long Nab and Filey, near Erwood reservoir (Derbyshire), and a further probable bird was noted in Kent at Selling.
The pace showed no sign of slacking on 3rd with a probable noted at Abbot's Cliff (Kent) and further birds at Weir Wood reservoir (East Sussex), and Holme Fen NNR (Cambridgeshire), the latter site boasting two birds on 3rd and at least one still present on 4th-5th, with two confirmed there again on 6th. Elsewhere on 4th birds were seen at Farcet Fen (Cambridgeshire), Lockwood Beck reservoir (Cleveland) and, in Lincolnshire, at Gedney Drove End, with a further probable bird in Lincolnshire that day at Donna Nook. On 5th-6th one was kicking around the Spurn (East Yorkshire) area; while on 6th birds were found at Aberlady Bay (Lothian), Lochindorb (Highland), and Havergate Island RSPB (Suffolk), and the Farcet Fen bird was seen once more. A final probable bird was seen in flight in Lincoln (Lincolnshire) in the evening of 6th.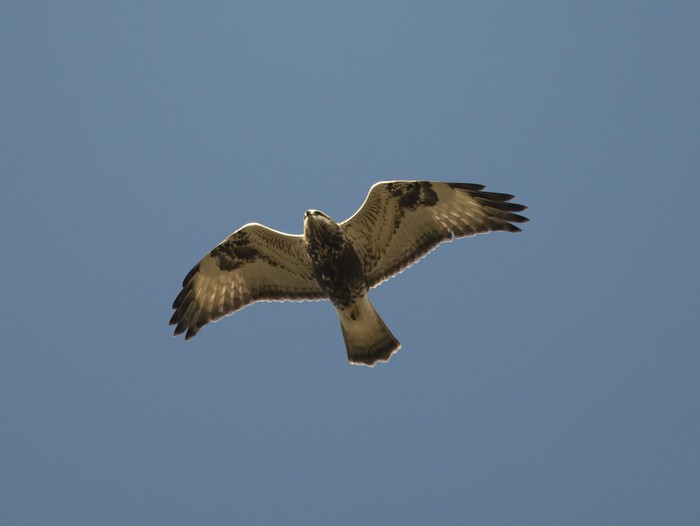 Much grander and bigger fare was on offer in Easy Yorkshire on 2nd, with a juvenile White-tailed Eagle seen first at Spurn and latterly Flamborough, where it remained the following day also. Presumably the same bird accounts for that seen on 6th in Cleveland at Kildale.
Putative Black Kites were reported from Carnsore Point (Co.Wexford) on 2nd and Chateau Impney (Worcestershire) on 3rd.
Last, but by no means least (though far from the rarest owl seen this week), Snowy Owls were seen this week on Orkney again at Eday on 31st-5th and in Shetland at North Roe on 4th – the latter bird appearing to be a female-type and, hence, probably a different bird to the male which spent October at least on Fetlar.
Things were definitely waning on the passerine front this week with, for the most part, hangovers from the prior week lingering to entertain us. Not quite fitting that category, for it remained on land with no public access, we'll start by noting the American Buff-bellied Pipit still at Nanjizal (Cornwall) on 31st.
Sticking with the pipits, the commoner of the two options available on St Mary's (Scilly) this week was the Olive-backed Pipit still present and sometimes showing well on 31st-4th. A further possible individual was reported on 5th at Porthleven (Cornwall).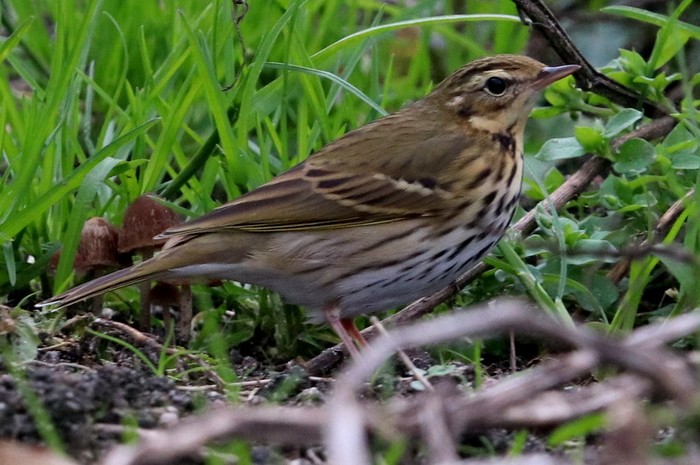 Numbers of Richard's Pipits halved again this week, creeping only just into double figures. Birds were present at Easington and Spurn (east Yorkshire) on 31st-3rd; at Trimingham (Norfolk) on 31st-5th; at Beddington Farmlands (London) on 31st; at Rawmarsh (South Yorkshire) on 31st also; at Nanjizal (Cornwall) on 1st; inland at Woodway (Oxfordshire) on 2nd-4th; and on 4th at Far Ings NR (Lincolnshire), Hunstanton (Norfolk), Tacumshin (Co.Wexford), and a further probable bird in Suffolk at Aldeburgh Town Marshes. On 5th one was seen in Norfolk at Stiffkey; and on 6th another was seen in Somerset at Middle Hope.
In Norfolk the presumed Stejneger's Stonechat remained at Salthouse on 31st-6th.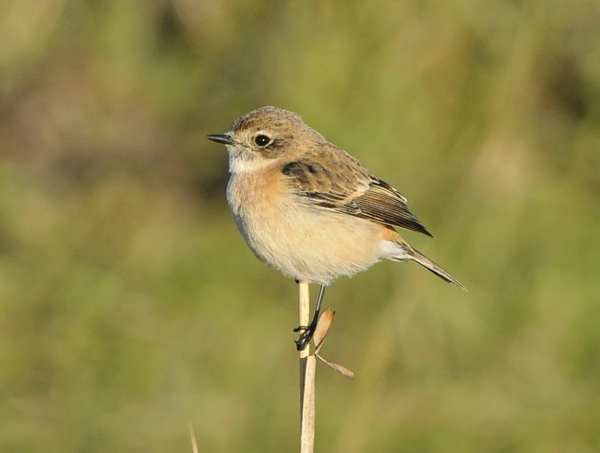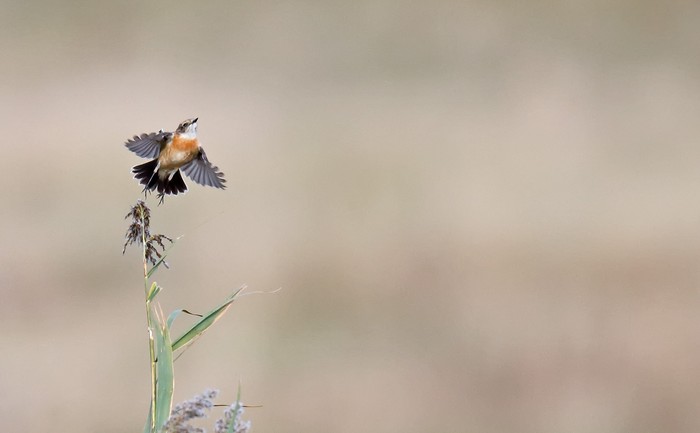 Shetland's contribution to the rarer passerines this week came in the form of the settled first-winter female Pied Wheatear still present on Foula on 31st-6th; a fresh male was found on 5th-6th at Dove Point (Cheshire), a county first.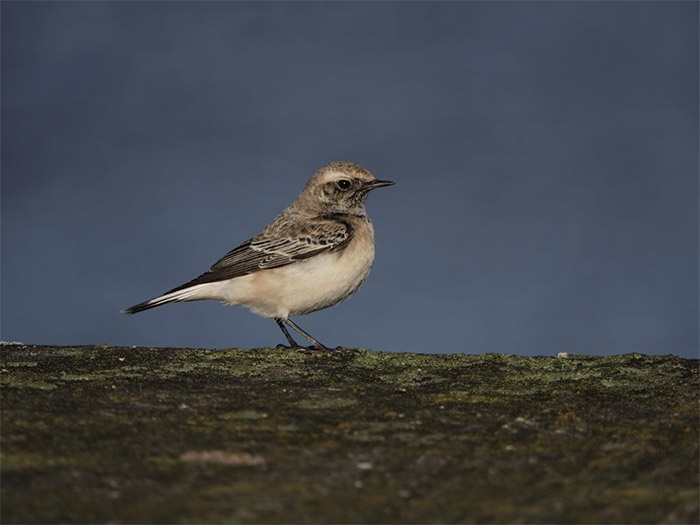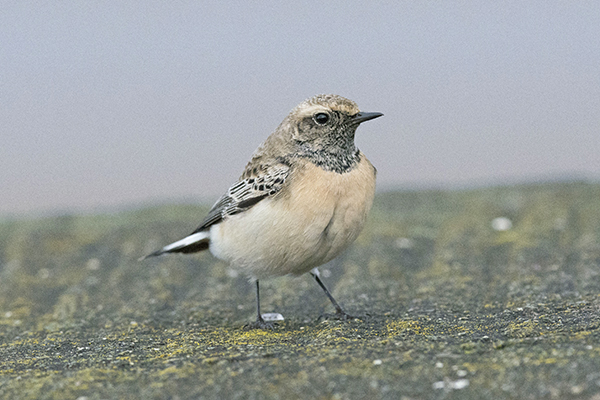 Back to St Mary's (Scilly), the Grey-cheeked Thrush sneaked (just) into the current week, remaining on there on 31st but not thereafter. St Mary's also provides the most noteworthy of the week's warbler happenings, in the form of what almost amounts to a fall of Dusky Warblers - two birds still present on 31st had risen to at least three there by 2nd, with two still present until 6th. On 6th, Portland (Dorset) landed another bird, whilst one more was at Marsden Quarry (Co.Durham) that day also.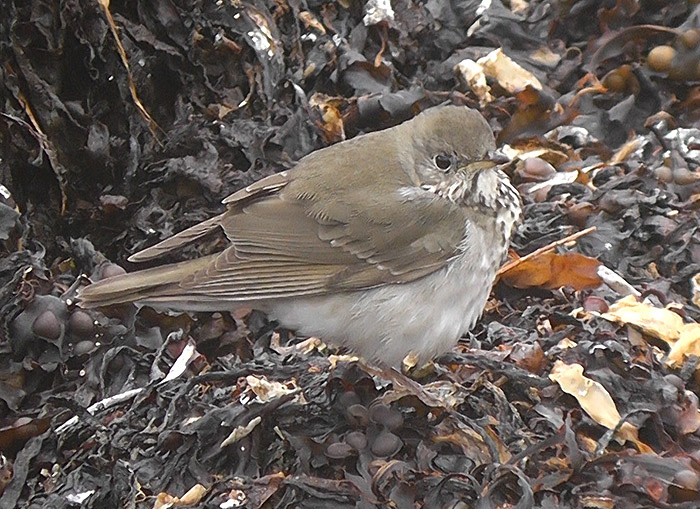 Generally, though, the warblers weren't setting the world on fire this week, ably demonstrated by numbers of Yellow-browed Warblers - down to some 60 birds in all reported nationwide. As the season wears on they're worth a closer look (and listen) for their traditionally later and rarer counterpart and, sure enough, on 6th a Hume's Warbler was discovered in Dorset at Durlston CP.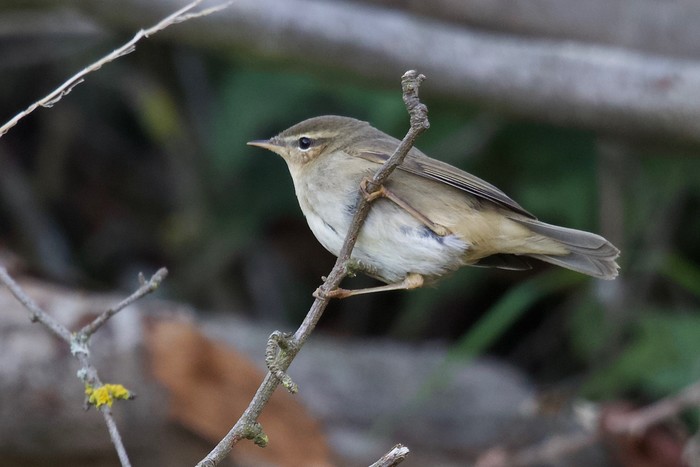 Four Pallas's Warblers were seen this week – one still at Easington (East Yorkshire) on 31st-2nd, and another at North Foreland (Kent) on 1st; then, as the week drew to a close, further birds were found at Beachy Head (East Sussex) on 5th-6th and Landguard NR (Suffolk) on 5th-6th also.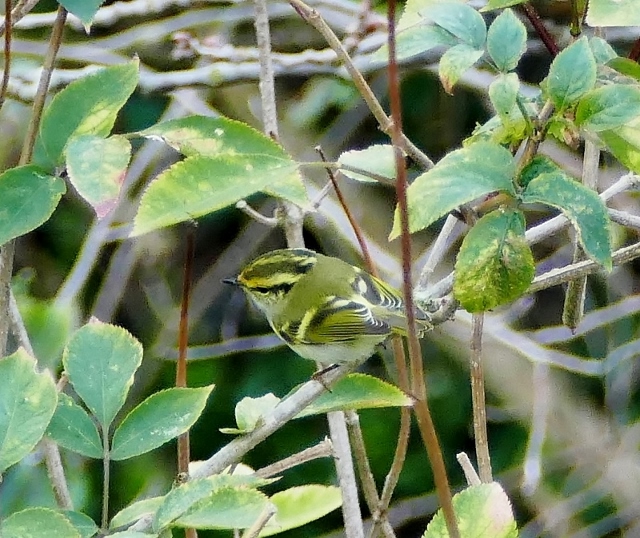 A shade over half a dozen Barred Warblers clung on – birds being seen on 31st at Happisburgh (Norfolk), Warham Greens (Norfolk), Burnham Overy Dunes (Norfolk), Hartlepool Headland (Cleveland), Flamborough (East Yorkshire) and Bempton Cliffs RSPB (East Yorkshire), the latter bird hanging on until 2nd. A further East Yorkshire bird was present at Easington on 1st-2nd and, on 5th, one was present on Mizen Head (Co.Cork) with another on Fair Isle (Shetland).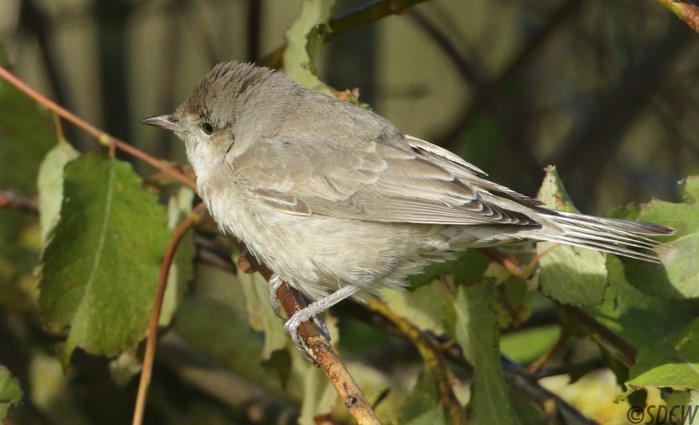 The putative halimodendri Desert Lesser Whitethroat remained at Whitburn (Co.Durham) on 2nd-4th.
Two widely separated Hoopoes were seen this week on 1st – at Escrick (North Yorkshire) and Wotter (Devon) – followed on 5th-6th by a third bird in Wiltshire at Calne.
Wandering Pallid Swifts have become something of an early November feature in recent years – probable birds were seen this week in the form of two at The Naze (Essex) on 1st and one at Salthouse (Norfolk) on 3rd. Confirmed birds were seen on 4th at North Foreland (Kent) and on Skokholm (Pembrokeshire).
Things are definitely looking promising now for a Waxwing winter ahead, with another week of chunky numbers noted, particularly in Scotland – around 1,000 birds were reported nationally as the week wore on, with three flocks breaking into double figures: on 3rd around 100 birds were present at Tain (Highland) while, on 4th, around 100 birds were seen at Kincorth (Aberdeenshire) and, on 5th, some 100 birds were noted in Elgin (Moray).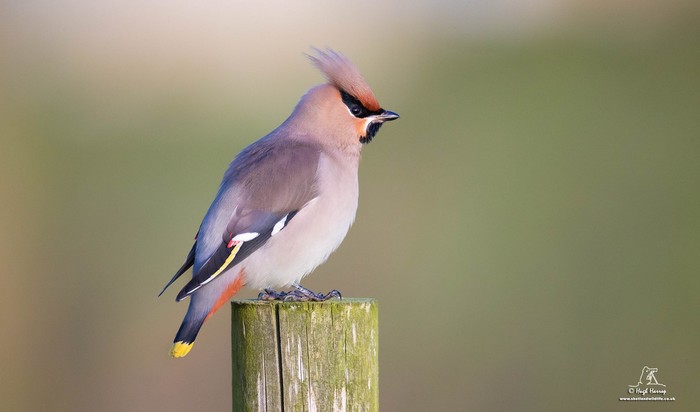 Lingering Red-breasted Flycatchers began the week still on 31st at Southwold (Suffolk), North Gare (Cleveland) and, on 31st-1st, at Fife Ness (Fife). A further late bird was present on Unst (Shetland) on 31st also.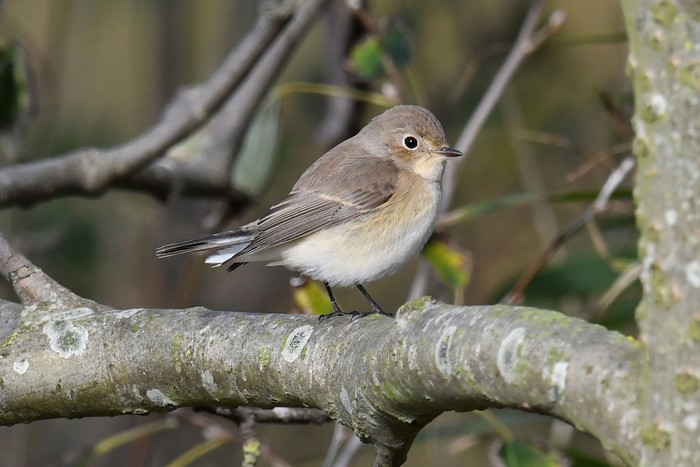 A Penduline Tit brought some variety this week, seen at Southwold (Suffolk) on 2nd only.
I closed last week's Round Up yearning for a rare shrike – and one duly was found this week, though sadly not the Masked I was hoping for… instead an Isabelline-type Shrike, probably Daurian was seen on 2nd at Beachy Head (East Sussex).
Great Grey Shrikes continued to crop up this week, with more sightings from traditional wintering stations. One remained at Ashdown Forest (East Sussex) on 31st-5th, while the Ellington (Cambridgeshire) bird was still present on 31st-2nd. Further birds were seen on 31st at Scousburgh (Shetland); on 31st-6th still at Shatterford Bottom (Hampshire); on 31st-2nd at Easington (East Yorkshire); on 31st-4th at Roydon Common NNR (Norfolk); on 2nd at Morden Bog (Dorset), Cannock Chase (Staffordshire) and Plumstone Mountain (Pembrokeshire); on 3rd at Ainsdale NNR (Lancashire); on 3rd-5th at Grimston (Norfolk); and on 4th at North Cave Wetlands YWT (East Yorkshire) and on 4th-5th at Leighton Moss RSPB (Lancashire). On 5th birds were present at Penrhyndeudraeth (Gwynedd) and Fairburn Ings RSPB (West Yorkshire).
East Yorkshire's resident Pied Crow was still present at Flamborough this week on 1st-4th.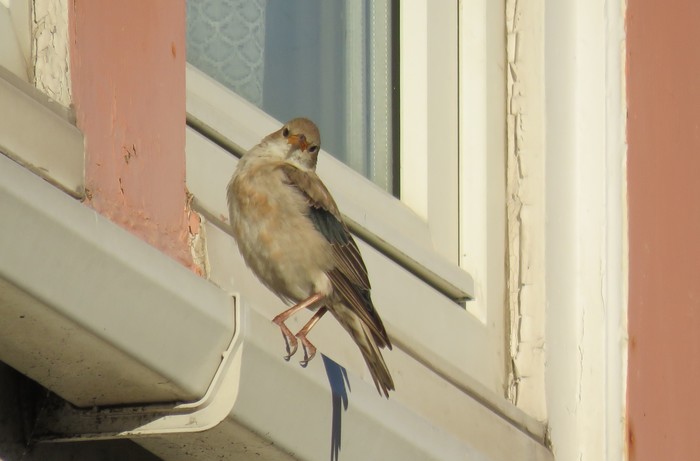 Juvenile Rose-coloured Starling remained in St Helen's (Lancashire) on 31st and Llandudno (Conwy) on 31st-4th. Further sightings this week came from The Lizard on 3rd, Tadham Moor (Somerset) on 4th, and Llanelli (Carmarthenshire) on 6th; with a possible bird seen in Wiltshire at Steeple Langford on 3rd and a probable at Portbury (Somerset) on 3rd also.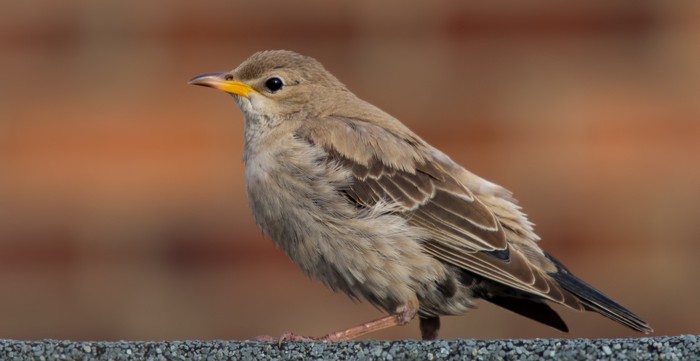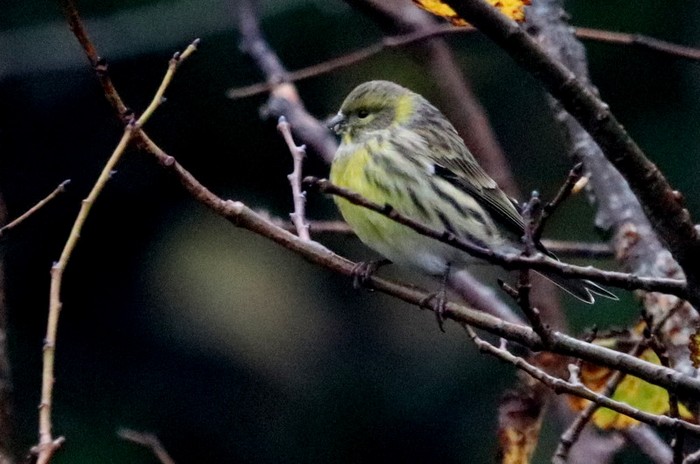 On Scilly, two Serins were present on St Mary's on 5th. Two Common Rosefinches were on the Western Isles on 5th also – present on North Uist and Lewis respectively; and on 6th another was trapped and ringed in East Sussex at Litlington.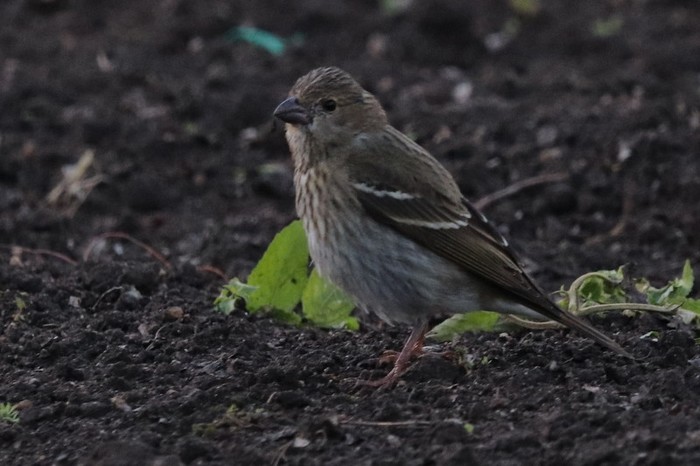 In Shetland, Unst's hornemanni Arctic Redpoll was still present there on 31st; our further Arctic Redpoll sightings were of the exilipes form – in Norfolk two bird were still lurking in Wells Woods on 31st-2nd, while one was still on Blakeney Point on 31st. One was present on North Ronaldsay (Orkney) on 5th. A final possible bird (or perhaps a Mealy Redpoll) was in South Yorkshire at Orgreave on 3rd.
Late news on 6th came in the form of a small flock of seven Parrot Crossbills in Norfolk at St.Faith's Common.
A couple of potential Rustic Buntings were reported this week – one at Kilnsea (East Yorkshire) on 3rd, and one over St Columb Major (Cornwall) on 4th – while the week's news finishes with a flourish of Little Buntings… One was again at Nanjizal (Cornwall) on 31st; birds lingered on The Lizard (Cornwall) on 2nd-4th and Flamborough (East Yorkshire) on 2nd-5th; one was on Scilly on St Agnes on 3rd; and an Irish sighting came from Galley Head (Co.Cork) on 4th.
News from the Azores began, finally, to abate this week as a classic season out there in the mid Atlantic drew to a close. The week began with American Redstart and Ovenbird still on Corvo on 31st, and an additional American Bittern present on Corvo on 3rd. On Sao Miguel, the Tricolored Heron remained until 6th, with a pair of drake Wood Duck also on there on 31st-1st.
Getting the offshore islands out of the way, on the Canary Islands the Dwarf Bittern was still on Fuerteventura on 2nd.
Landfall in Portugal brings us to the Green Heron still at Quinta do Lago on 1st-5th, with a further sighting at Herdade da Aroeira on 2nd.
Spain, meanwhile, enjoyed a Bufflehead on 1st in Galicia at Lagoa de San Pedro de Muro, and a Sociable Plover at La Janda in Andalucia on 1st also. Another Sociable Plover was found on 1st at Moselle in France.
France also featured heavily this week with an Eastern Imperial Eagle at Saint-Gilles on 1st. Belgium, meanwhile, still held the Pygmy Cormorant at Parc Domaine du Val Duchesse until 5th at least.
Holland's Rotterdam had a curious double on 3rd, in the form of Spanish Sparrow and Baird's Sandpiper.
Mirroring arrivals in Britain this week, Pallid Swifts were found on 1st in Helsinki (Finland) and Wladyslawowo (Poland).
All of which brings us to a couple of eye-watering redstarts… in Kuwait, a male Eversmann's Redstart was found at Al-Abraq on 1st; while in Italy, a Moussier's Redstart was present at Lampedusa on 3rd-5th. Britain's one and only record, the male on Dinas Head (Pembrokeshire) on 24th April 1988, feels like one of those birds destined never to be repeated.
As recounted above this week, we're now into the prime-time for self-finding a decent warbler or two – and, as past records show, both Hume's and Dusky Warbler could, conceivably, turn up pretty much anywhere. Time this week to take a wander locally paying a little more attention than usual to what's moving through the trees and undergrowth…
Failing that, anyone on the south or east coast should be keeping their eyes peeled for late wheatears – the coming week is peak time for Desert Wheatears, with 29 historic records for the period to provide inspiration. Another entirely feasible addition to the dedicated self-find list.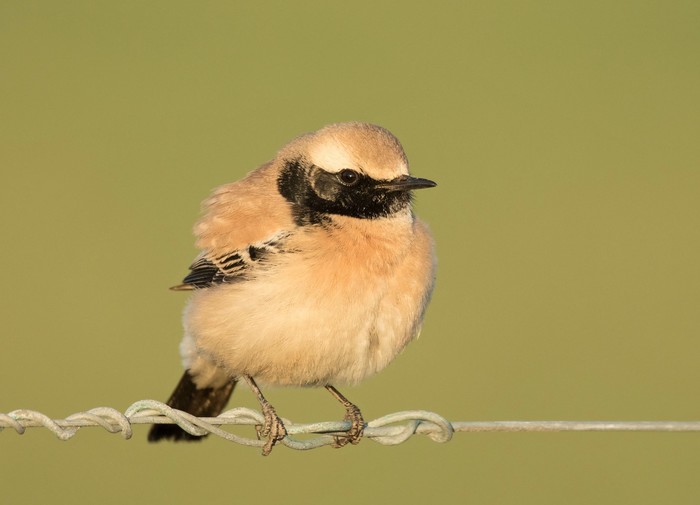 Jon Dunn
6 November 2018
Many thanks to all contributors for their photos and videos this week.
Paul Coombes, Kris Webb, John Tymon, Nick Appleton, Hugh Harrop / Shetland Wildlife, Sean Wileman, William Brame, Paul Chamberlain, Ashley Fisher, Marcus Nash / Bird ID Company, Tony Davison, Michael Lawrence, Gary White, David Darrell-Lambert, Mark Fullerton, James Andrewes, Richard Greasby, Ralph Hancock, Oliver Mockridge, John Kemp, Steve Ashton, Phil Woollen, Darren Coombs.
Share this story
Tweet