Weekly birding round-up: 17 - 23 Oct
The week at a glance
Co.Cork lands a Catharus double-bill - Veery and Swainson's Thrush on Cape Clear
Meanwhile Scilly scores a Grey-cheeked Thrush
The Western Isles enjoy their second Baltimore Oriole
Norfolk gets its first ever Brown Shrike
And in Cornwall Britain's second Grey Catbird lingers and delights
This week picked up where the previous week had left off – autumn now firing on all cylinders. There was something for everyone, be it top-notch rarities in Britain or Ireland's further flung reaches, or a Yellow-browed Warbler pretty much anywhere one cared to look or listen for one. And much of this in what amounted to Indian Summer-like balminess and sunshine…
Veery & Swainson's Thrush
There would have been no complaints whatsoever from Irish birders had but one of the Catharus thrushes seen on Cape Clear (Co.Cork) been found this week – but that wasn't the way it was destined to be on 17th…
While the previous week's Scarlet Tanager remained present there on 17th (and beyond, until 21st), the discovery in the early afternoon of a Swainson's Thrush on the island seemed like the cherry on the tanager's cake. That was, until late afternoon when the news broke of Ireland's first ever Veery on there too.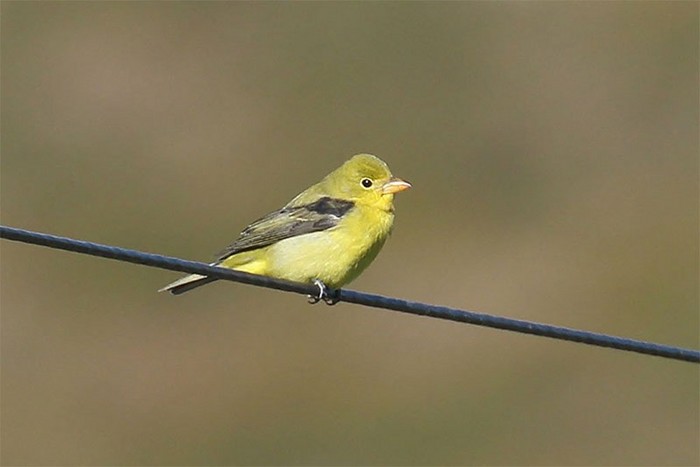 The Swainson's Thrush alone is a fairly big deal in an Irish context – to the end of 2014, there are just half a dozen accepted records - while to the end of 2016 Britain is nudging 40 accepted birds. This, surely, reflects observer numbers and coverage in the respective countries rather than a genuine paucity of these subtly beautiful American thrushes in Ireland.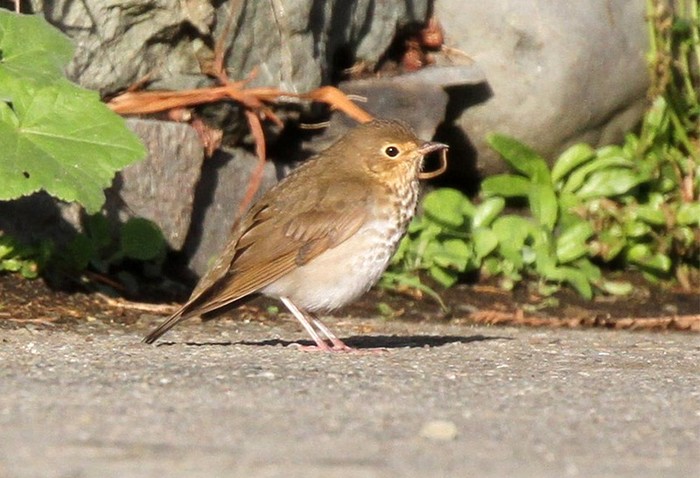 The same conclusion must apply to Ireland's first Veery - in a British context they're one of the rarer of the Catharus vagrant options, so it follows that Ireland might have had to wait a little while before one was eventually turned up. I bet there've been others beforehand though that simply went unseen…
From the finder - finding an Irish first.

At 3.14 pm whilst driving on a stretch of road from CDM's pub to Dinny Burkes corner I came across a bird behaving and looking a bit like a Robin. However on looking closely and seeing the white underparts alarm bells started to ring. I got out of the bus, which I drive on the island, and took just one photo before a car pulled up behind me forcing me back into the bus. The bird was always facing away from me. I drove along the road attempted to let the other car pass and as I did so the bird kept flying in front of me, it seemed weak and unwilling or unable to take flight. I managed to pull in to a gateway and the other car passed by, but this time the bird had disappeared. Despite searching, the bird was not to be seen by anymore for the rest of the evening. Luckily the bird was relocated again the following day and birders on the island, as well as those who twitched over from the mainland, managed to see Ireland's first Veery. Mary Cadogan, Cape Clear
Neither of these two latest thrushes was destined to stick around for long – the Swainson's proved to be a one day bird, but the Veery, happily for those who came to pay their respects, remained on Cape Clear the following day though not beyond. Throw in the Scarlet Tanager and a lingering White-rumped Sandpiper and you've got the makings of an absolutely blinding spell of Irish birding.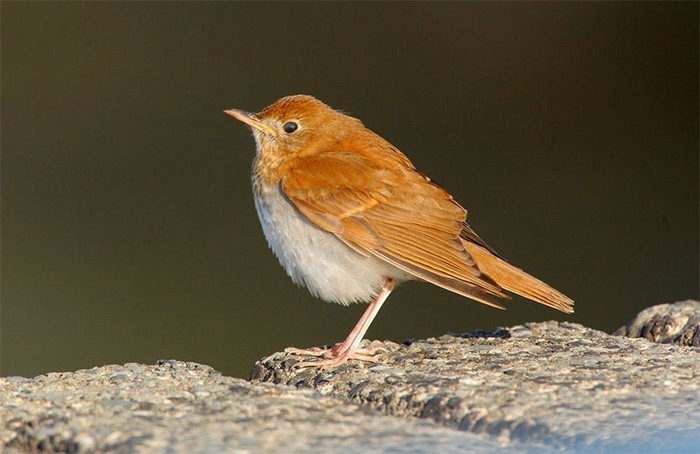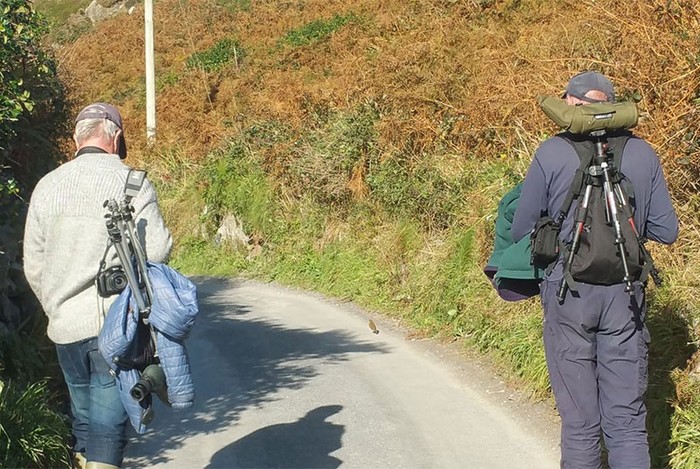 Grey-cheeked Thrush
Much has been said, not least here, about how Shetland has become the new place to find a Grey-cheeked or a Swainson's Thrush - or, indeed, one of their rarer counterparts. They've been turning up annually there of late. Yet as we've already seen this week, they are just as likely to occur in other promising south-westerly locales, and that of course brings us to the classic spot where many of us saw our first in the 80s or 90s – and that is, naturally, on Scilly.
So I bet I'm far from alone in feeling a pleasant twinge of nostalgia when I saw the news pop up on 17th announcing the third Catharus species of the day – a Grey-cheeked Thrush found on St Agnes (Scilly). Scilly boasts almost half of all accepted British records of the species and this will have been a fabulous blast-from-the-past for some Scilly regulars as well as, no doubt, a lifer for some Scilly debutantes too. Present on Aggy until 23rd, this bird meant that Britain and Ireland was just missing a Hermit Thrush this week for the full set…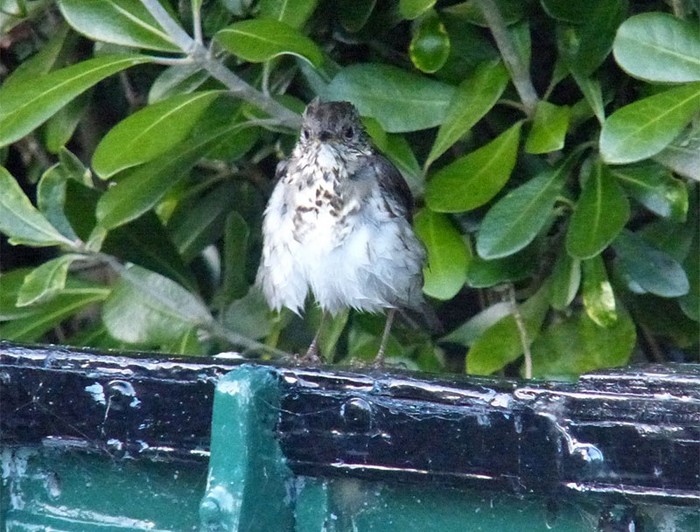 …or, more pertinently, what we're really waiting for is our first Bicknell's Thrush…
Baltimore Oriole
Another species that owes a considerable proportion of its prior records to Scilly is Baltimore Oriole. While there have been a handful of Scottish records down the years, these remain the exception to an otherwise generally southerly distribution to our historic sightings.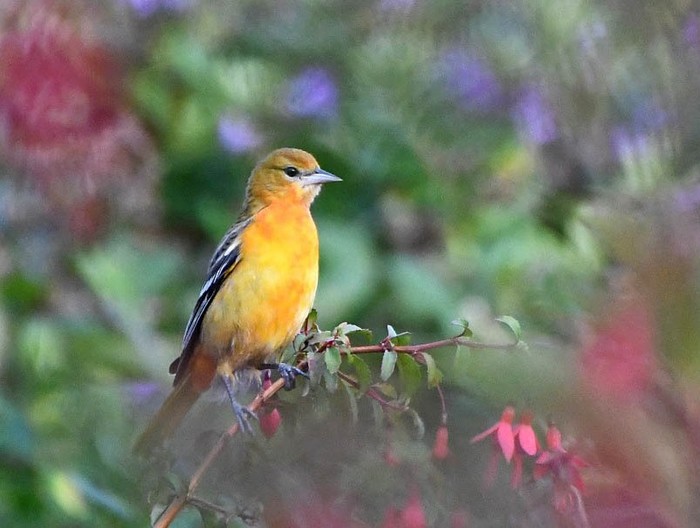 In the case of the Western Isles, we've just the one prior record, way back 30 years ago on Benbecula in late September and early October 1988. The wait for a second record had, therefore, been fairly lengthy, and a new generation of Hebridean birders will have been eagerly anticipating what turned up this week – a Baltimore Oriole on Barra on 17th-21st. From a British perspective as a whole, it's been a while – our last was five years ago, up on Unst (Shetland) on 19th-23rd September 2013. That feels like only yesterday to me, but we need to go back a full 15 years to the last generally accessible and available British bird – the over-wintering individual at Headington (Oxfordshire) on 10th December 2003 – 16th January 2004.
This is a species with something of a track record of turning up midwinter at unexpected locations – there are other well-known historical incidences, in Essex and Pembrokeshire in 1991 and 1989 respectively, that provide both precedent and grounds for optimism that, eventually, there'll be another bird somewhere a little easier to get to than the Western Isles, Scilly or Shetland. Maybe this winter, after the strong recent Western Palearctic arrivals of Nearctic passerines, we'll be on for another.
Brown Shrike
While we're becoming gradually accustomed to the new, less drop-everything-and-run status of Brown Shrike in Britain, with the species turning up pretty much annually of late and even over-wintering here on occasion, there's one county with a justly stellar reputation for rare birds that's been missing out on all the recent action – and that's Norfolk.
It was then, really a case of when and not if a Brown Shrike would be discovered in Norfolk, just a matter of time. The interminable wait ended this week with the discovery of a first-winter bird at Weybourne Camp on 21st – a county first, on a sunny Sunday, with a handy shingle beach for a viewing platform… this was always going to prove to be a popular individual.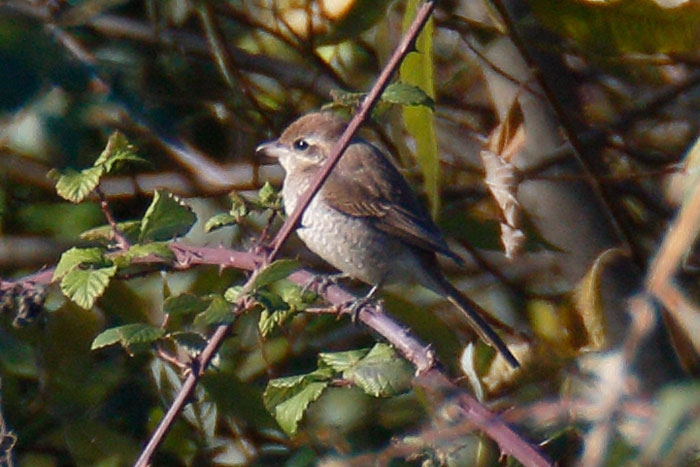 Initially reported as a Red-backed Shrike, alarm bells would have rung immediately for the cognoscenti – an east coast Red-backed Shrike, this late in the autumn? Brown Shrike was surely always on the cards and so it proved – with my erstwhile Rare Bird Alert colleague, Mark Golley, in at the kill to confirm the rarer option.
Grey Catbird
While 'only' a hangover from the previous week, Britain's second, and lingering, Grey Catbird in Cornwall remained unashamedly up here in the national headlines this week. Still present at Treeve Moor throughout the week until 23rd, this confiding and charismatic bird made the national news as birders continued to make a pilgrimage to Cornwall.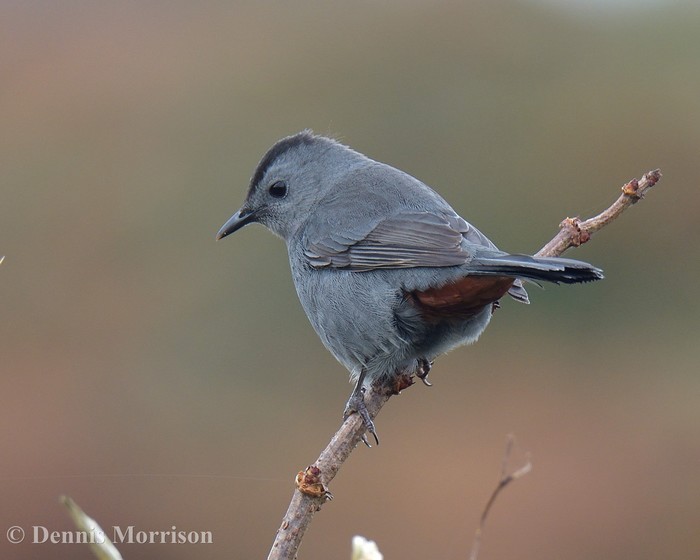 Some were laying to rest the ghosts of the past but for most this was simply a chance to seize what may well prove to be a once in a lifetime opportunity to see a Grey Catbird in Britain. And no, I won't pretend I wasn't tempted too…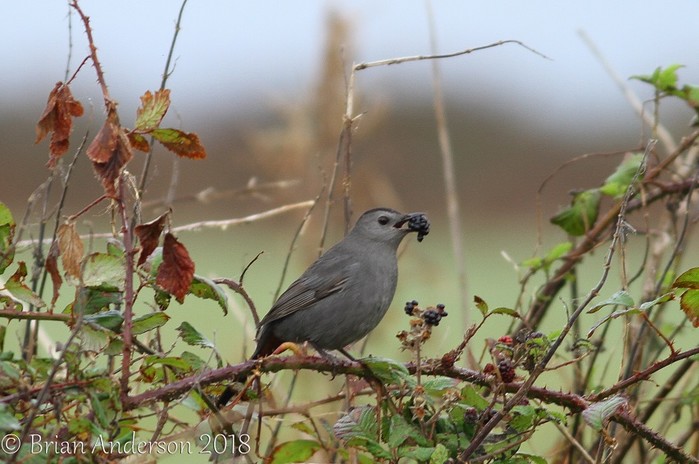 After an unseasonably varied and exciting prior week, this week's seabird sightings returned to something approaching normality for late October – which is to say, rather quiet indeed.
Scilly, in one form or another, accounted for a shade over 400 Great Shearwaters - pelagics on 17th and 19th tallied 275 and 95 birds respectively, while on 20th 15 birds were noted off Tresco, and around 30 were seen from the Scillonian.
Balearic Shearwaters meanwhile were conspicuous by their absence – two birds were noted off Pendeen (Cornwall) on 17th.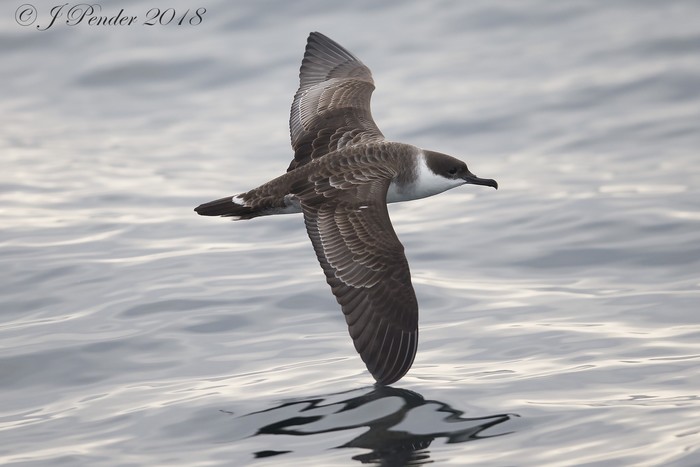 Two Leach's Petrels were seen off South Uist (Western Isles) on 21st; a further bird was noted on 22nd from Spurn (East Yorkshire); then, on 23rd, two were logged off Castlehill (Highland), and a single bird was seen in the Thames estuary off Gravesend (Kent).
Numbers of Pomarine Skuas continued to dry up, barely scraping into low double figures this week – on 17th, single birds were seen from Inishmore (Co.Galway), Hound Point (Lothian), Embo (Highland) and Shell Ness (Kent), with two birds noted from the latter site on 18th. Two were also logged on 18th from Canvey Point (Essex), while singles that day were seen from Swalecliffe (Kent) and the Isle of May (Fife). Flamborough (East Yorkshire) provided singletons on 19th, 20th, and 21st. On 21st a single bird passed Tarbat Ness (Highland) and seven were logged from Kilcummin Head (Co.Mayo); on 22nd further sightings came from South Uist (Western Isles) and Gibraltar Point NNR (Lincolnshire), with two birds passing the latter site, and four probable birds were seen distantly in Kent off Oare Marshes KWT. On 23rd, the week closed with three more seen in Highland off Castlehill, a duo off Gibraltar Point NNR (Lincolnshire), and singletons off North Queensferry (Fife) and Tiree (Argyll & Bute).
Finally, Long-tailed Skuas were even more denuded – single birds were noted on 18th from Canvey Point (Essex) and 19th off Flamborough (East Yorkshire).
Inevitably, there will be an element of duplication amongst the overall figure of some 230 records of Cattle Egret seen this week, as birds continued to ebb and flow here and there, not least in the southwest. On the basis of birds now turning up as far north as South Uist (Western Isles) and in considerable numbers in the west (21 birds seen on 21st at Lady's Island Lake (Co.Wexford)) this week, we can say with some certainty that they're continuing to disperse widely and, no doubt, are in the process of consolidating their position as on-going colonists. There'll be no raised eyebrows in years to come when we learn of new breeding records in hitherto unheard of locations – basically, they're following in the well-trodden footsteps of Little Egret as newly fledged British residents. This week's peak count, for the record, came once more from Somerset at Catcott Lows NR where, on 23rd, 99 birds were tallied. So near to a Cattle Egret century…
Glossy Ibises, meanwhile, slipped back under the radar this week – the individual in Devon was still at Fremington Pill on 18th-19th, while elsewhere in the county a bird was noted on 21st at Bowling Green Marsh RSPB.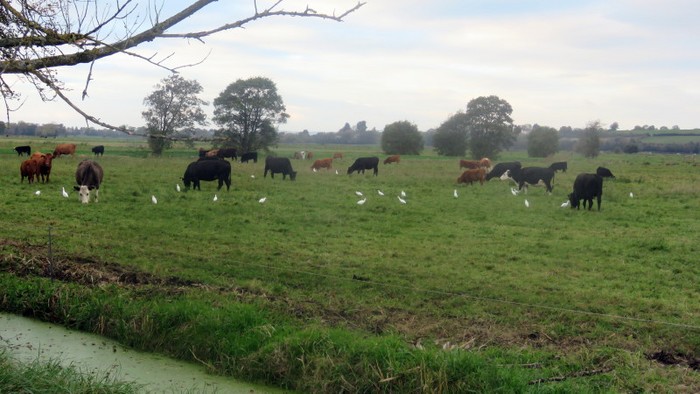 Sightings of White Stork came from East Sussex so, with a generous pinch of salt, we've a bird seen passing over Seven Sisters CP on 21st, with one later that afternoon near Lewes.
Away from Norfolk, we've just a few Common Cranes reported this week – two present on 18th again at Thorne Moors NNR (South Yorkshire), and a single bird in the county at Hatfield Moors on 22nd.
The adult and juvenile Spotted Crakes were seen once more in Hertfordshire at Wilstone reservoir on 17th, but not thereafter; elsewhere, the single birds were still to be found at Chew Valley Lake (Somerset) on 17th-20th and at Oare Marshes KWT (Kent) until 19th. On 23rd one was seen in Cornwall at Porthgwarra.
A Corncrake was seen briefly at Boscregan (Cornwall) on 19th.
The handover of autumn to winter is nowhere better illustrated than the increasing presence of interesting honkers and quackers on our shores. You can keep your autumn leaves and mellow-fruitfulness – we birders prefer a presumably wild example of The Goose Formerly Known As Canada.
So we'll kick off this week with interior Todd's Canada Geese - of which examples were seen on 17th at Udale Bay (Highland); on 17th-21st at Goswick (Northumberland); on 20th still on Islay (Argyll & Bute); on Orkney on 21st at Loch of Clumly; on 23rd at Loch of Skene (Aberdeenshire); and then there was a divisive bird on 20th-23rd in Norfolk at Cley – thought for a while to be Todd's, the possibility of it being a parvipes Lesser Canada Goose was also mooted before, late on 21st, the jury settled for the nominate form canadensis Atlantic Canada Goose - which, as I have to confess I had to resort to the literature to work out what that actually was, proves to be the common or garden feral honker we're all used to dodging in municipal parks and gardens. And yet… those who saw this bird remained divided, with some still confident it was, after all, a Todd's. At least Hooded Mergansers of questionable provenance only come in one recognisable flavour…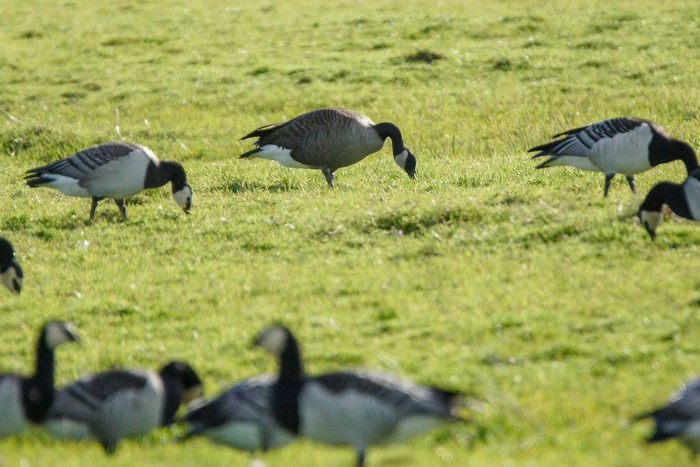 Returning to Islay, on 18th-23rd a hutchinsii Richardson's Canada Goose was seen on the island; with another on 18th on Oronsay (Argyll & Bute); and a further probable on North Uist (Western Isles) on 22nd. Two further small Canada-types were seen this week – one on Barra (Western Isles) until 21st, and the other on Orkney at Loch of Clumly on 21st.
A white Snow Goose was hanging out with the Greylags at Musselburgh Lagoons (Lothian) on 17th, while that day also saw the intermediate morph bird still present at Udale Bay (Highland). Dawn on 23rd heralded a blue morph at Loch of Skene (Aberdeenshire).
A Black Brant (or a hybrid) was seen flying by Kelling (Norfolk) on 18th.
Moving onto ducks, the drake Black Scoter was once more seen from Cocklawburn and Goswick (Northumberland) on 18th-22nd; while the drake Surf Scoter was still off Musselburgh Lagoons (Lothian) on 17th-21st. Other Surf Scoters came this week in the form of the young bird off Tresco and Tean (Scilly) still on 17th-23rd, and another in St Andrews Bay (Fife) on 20th.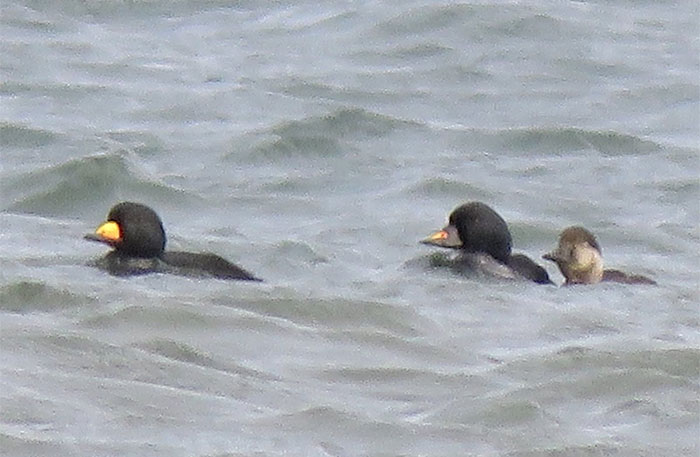 The week was marked by a multiple arrival of Ring-necked Ducks, not least in Cornwall where three first-winter drakes were present on Drift reservoir on 17th-20th, and a drake was noted at Nanquidno on 17th; one bird remained at Drift on 23rd. Elsewhere, further first-winter drakes were found at Lodmoor RSPB (Dorset) on 19th-21st and on Loch of Wester (Highland) on 20th. Drakes remained in Gwynedd at Llyn Caer-Euni on 17th-20th and Abberton reservoir (Essex) on 19th; presumably the same female accounted for Shetland sightings at Boddam on 19th still and latterly that day on Loch of Spiggie also, then back at Boddam on 21st-23rd. The female remained on Inch Island Lake (Co.Donegal) on 21st.
A female Lesser Scaup was found on Anglesey at Llyn Llygeirian on 20th-23rd; the juvenile Ferruginous Duck remained at Minsmere RSPB in Suffolk on 17th-19th, while the drake of the latter species was still at Skinflats Lagoons RSPB (Forth) on 18th-23rd.
The drake Black Duck was still to be seen in Highland at Strontian on 20th, while Shetland landed its first Blue-winged Teal since 1995 on Whalsay on 17th-23rd – this being a first for Whalsay, so was doubly welcome for local birders. It's moved down the island's freshwater bodies since arrival on 17th, so yours truly is keeping everything crossed for a house tick before too long…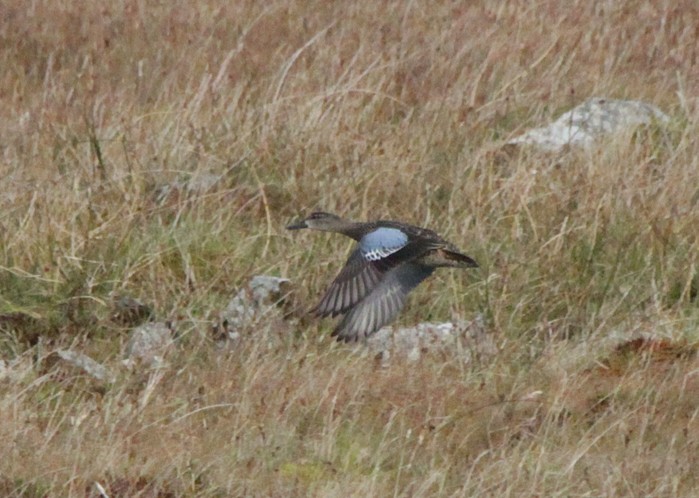 A Green-winged Teal was present at the traditional site of Loch of Strathbeg RSPB (Aberdeenshire) on 19th-23rd; and one was back on North Ronaldsay (Orkney) on 22nd.
Lingering drake American Wigeons were still to be seen at Rutland Water (Leicestershire) on 18th and Hesketh Out Marsh RSPB (Lancashire) on 18th also, with a possible female at the latter site still that day too. On 22nd a drake was present on Inishmore (Co.Galway).
The female King Eider at Ynyslas (Ceredigion) brings us to the end of the ducks this week, still present there on 17th-18th.
And finally, in Shetland, we find our honorary wildfowl member, the adult Pied-billed Grebe still settled on Loch of Spiggie on 17th-21st.
Starting our shorebird section once again with sandpipers, the recent westerly influenced passerine goings-on were reflected in a distinct arrival of White-rumped Sandpipers - the lingering single bird on Cape Clear (Co.Cork) on 17th-19th and the duo on Inishmore (Co.Galway) on 18th-19th (the latter site holding a single bird until 21st) were joined by a further singleton on the Cashen estuary (Co.Kerry) on 19th and a trio of juveniles on the Roe estuary (Co.Derry) on 20th. On 22nd-23rd a further juvenile was discovered at Sandymount Strand (Co.Dublin).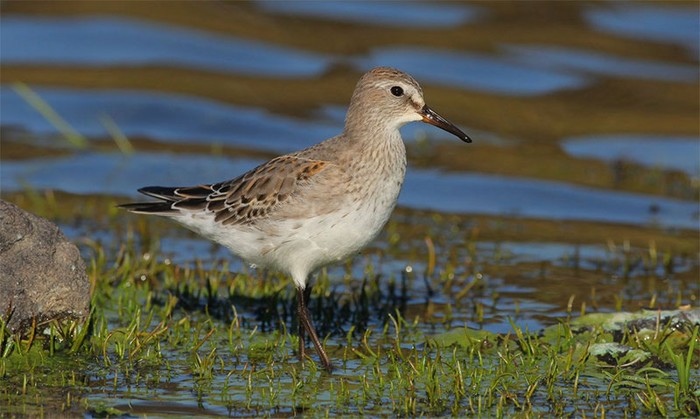 Back in England, the juvenile Spotted Sandpiper remained at Jarrow (Co.Durham) on 17th-22nd while in Scotland another was found on 20th-21st at Girdle Ness (Aberdeenshire).
Just two Pectoral Sandpipers were found this week – one in Devon at South Huish Marsh on 18th-22nd, one on North Uist (Western Isles) on 22nd, and a second Scottish individual on 21st on Lewis (Western Isles). The latter bird shared Lewis that day with a Buff-breasted Sandpiper; our only further Buff-breast this week was back in Ireland in Co.Donegal on Inch Island on 18th.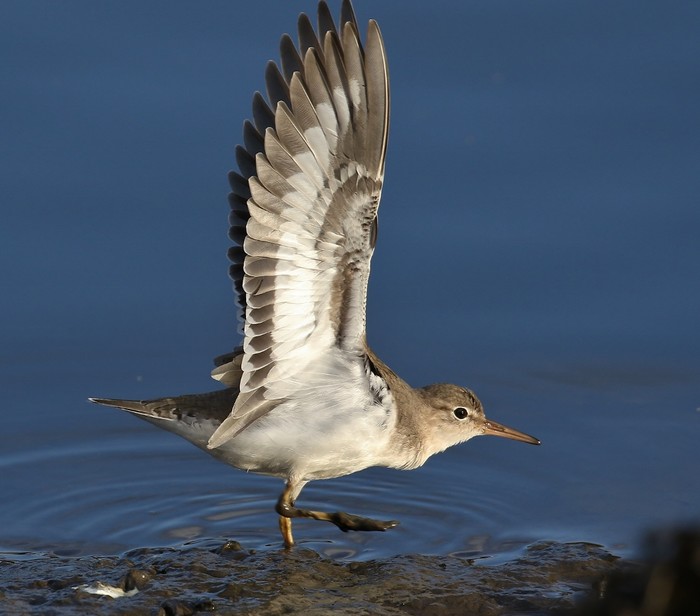 Lincolnshire retained the adult Long-billed Dowitcher at Frampton Marsh RSPB throughout the week; elsewhere in the county the Temminck's Stint stayed at Baston & Lagtoft GPs until 20th, and a second individual was found on 22nd-23rd in Cornwall at Stithians reservoir.
Our American Golden Plover sightings had a distinctly Irish flavour this week – starting with the adult still on Loop Head (Co.Clare) on 18th-22nd, this was augmented with two juveniles on the Roe estuary (Co.Derry) on 20th and a further juvenile at Lurgangreen (Co.Louth) on 21st. Scotland accounted for the remaining birds this week – an adult again on Unst (Shetland) at Uyeasound on 17th, and a juvenile on Benbecula (Western Isles) on 21st-23rd. Oare Marshes KWT (Kent) weighed in with a late sighting on 23rd, with another that day in the more anticipated surroundings of Tacumshin (Co.Wexford).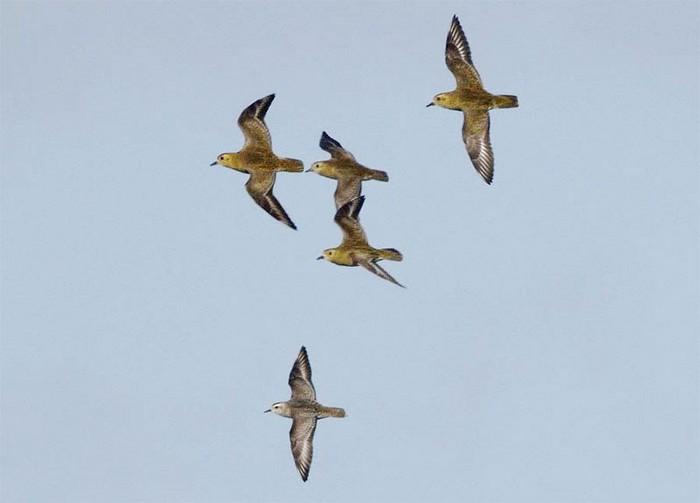 Another late Dotterel was seen this week, passing over Scawt Hill (Co.Antrim) on 18th, with a final sightings this week coming on 22nd from Lehanemore (Co.Cork) and on 23rd on Tiree (Argyll & Bute).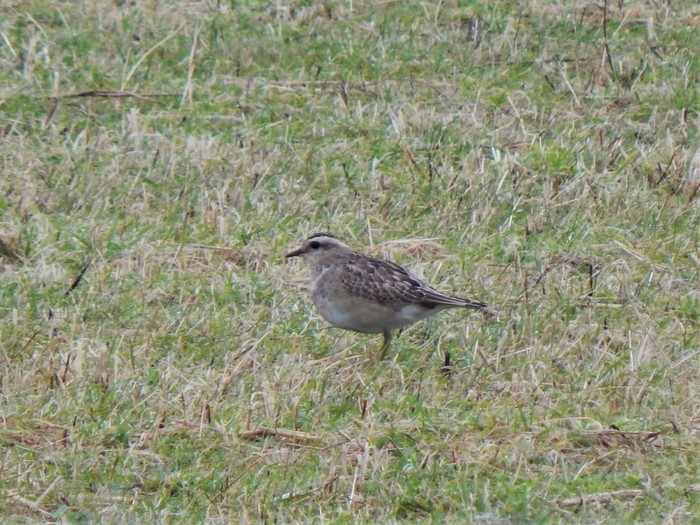 On Scilly, a possible Wilson's Snipe was seen at Porth Hellick Pool on St Mary's on 23rd.
With no sightings from the Western Isles this week, only three of our settled recent quartet of Lesser Yellowlegs were still to the fore this week – these being the juveniles at Hollesley Marshes RSPB (Suffolk) on 17th-18th; at Lodmoor RSPB (Dorset) again on 18th-22nd; and at Devoran Quay (Cornwall) still on 20th-22nd. However, a fourth juvenile was found on 21st-23rd in Scotland, at Crailing (Borders) - a county first.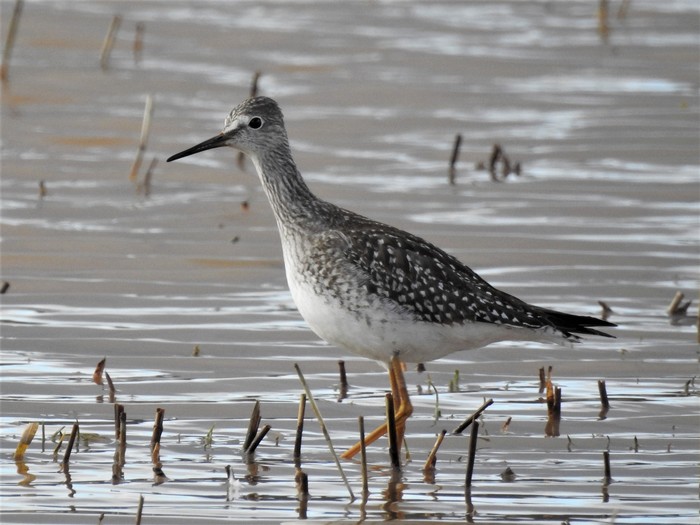 Six Grey Phalaropes seen from a Scilly pelagic on 19th accounted for most of our sightings of the species this week – the remainder came in the form of single birds off Skokholm (Pembrokeshire) on 17th and South Uist (Western Isles) on 19th, with a further bird reported from Dungeness (Kent) on 17th, and a single bird seen off Cley (Norfolk) on 22nd. On 23rd three were seen off Castlehill (Highland) and another was noted from Weybourne (Nofolk) that day also.
The biggest news in the gulls and terns section is also one of the more curious stories this week – while Gull-billed Terns aren't monstrously rare in the way some recent UK terns have been, they're still decently scarce enough to warrant some attention and admiration from birders – so the news of two first-winter birds together at Haughton Strother GPs in Northumberland on 18th would have been arresting enough in itself. The eye-catching part of this emerging news was that the birds had already been present there for the previous fortnight… A good job, then, for anyone inclined to see them that they stuck around until 23rd.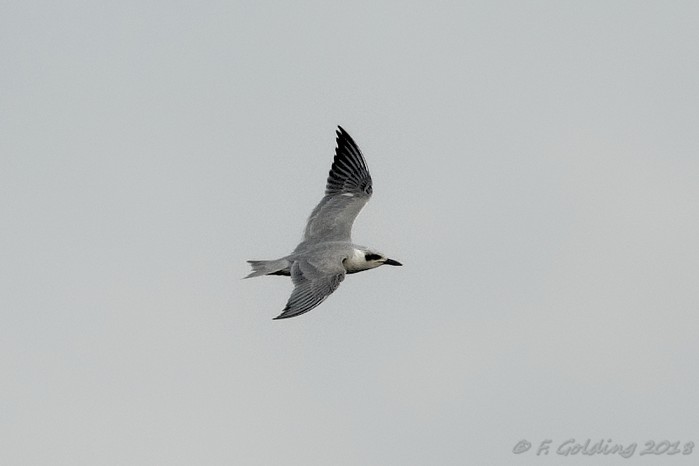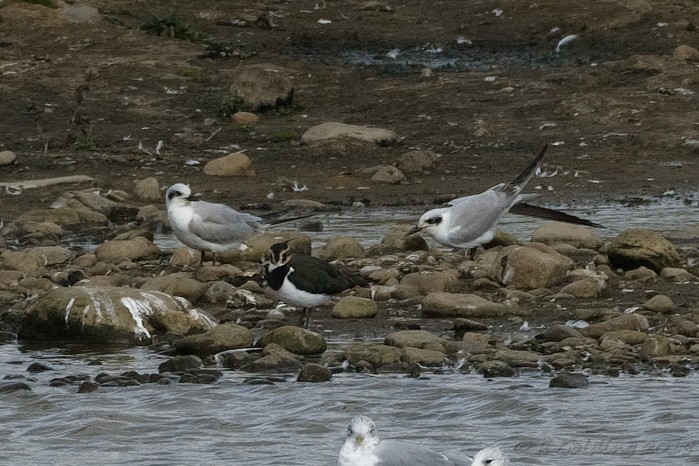 An adult Bonaparte's Gull tops the gulls this week – found on 20th at Lochgilphead in Argyll & Bute – with a brief first-winter bird seen in Somerset on 21st at Shapwick Heath NNR.
Two Sabine's Gulls were seen on 19th off Bardsey (Gwynedd).
An Iceland Gull was seen on 22nd on Rathlin Island (Co.Antrim).
We finish this slim section with a handful of Glaucous Gull sightings this week: single birds at Cloddach GPs (Moray) on 18th; at Pensarn (Conwy) on 20th; in Lothian on 20th-22nd at Dunbar Quarry again and at Scoughall on 20th; on 21st still at Burghead (Moray); and on 23rd at Scatness on Shetland.
A Black Kite seen in Cornwall at St Buryan was about the rarest of our raptor sightings this week; elsewhere it was mostly all about the buzzards, if we discount the presumably escaped White-tailed Eagle seen intermittently again in North Yorkshire on 19th-22nd.
So, Honey Buzzards… one was reported from Wimbledon (London) on 18th, with confirmed sightings coming on 19th from Middlebere (Dorset) and on 20th over Holland Haven CP (Essex).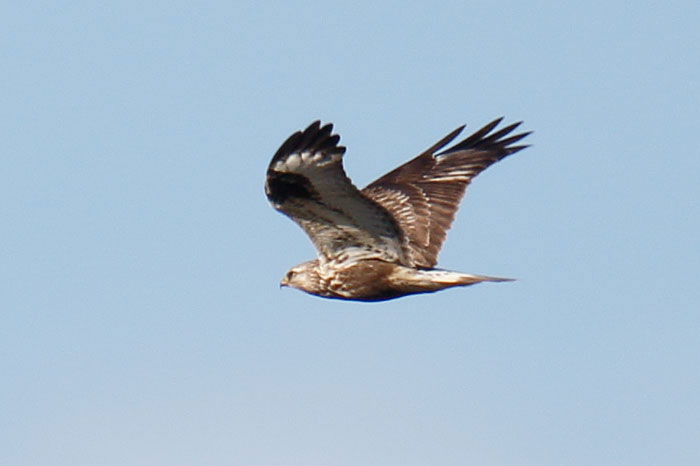 And then to Rough-legged Buzzard and, basically, Norfolk. A sighting at Wells Woods on 19th was followed by a chain of further reports on 19th-21st from, variously, Cley; Walsey Hills; Snettisham; Salthouse; Blakeney; Brancaster; Titchwell; Thornham; and Holme. How many birds accounted for this will, perhaps, come out in the wash as the early winter unfolds and we see how many, if any, settle down to work regular patches. Elsewhere, indisputably different birds were at Kilnsea (East Yorkshire) on 19th; and on 22nd, over Filey (North Yorkshire), Gibraltar Point NNR (Lincolnshire), and Cliftonville (Kent).
We'll start this week's passerines where we left off last week – with the discovery of an elusive Two-barred Greenish Warbler in Norfolk at Holkham Pines on 16th. The new week began with that bird still present, but still not giving itself up easily, there on 17th.
That mega leads, neatly, to what would have been arguably the biggest news of all this week, had it only read the script – a probable Nutcracker seen in flight in Norfolk on 23rd a little outside Cromer. The wait, for now, goes on for another obliging and settled bird…
Back to the warblers, a small arrival of Pallas's Warblers proved a little more amenable – Kent did particularly well, with birds seen on 17th at Margate and St Margaret's Bay and, on 17th-18th, at Kingsdown; Norfolk provided birds on 17th at Greay Yarmouth and Salthouse; and one was present in Suffolk on 20th at Southwold.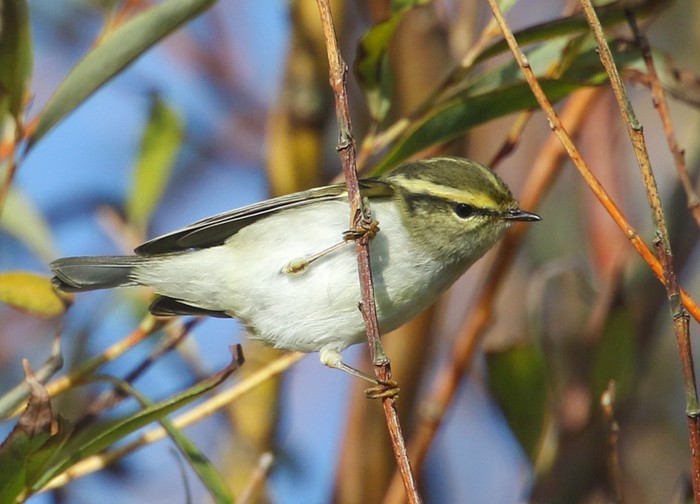 That traditional late autumn staple, Dusky Warbler was also modestly present – a probable bird was heard only on St Martin's on 20th-21st whilst, elsewhere on Scilly, one was present on St Mary's on 21st-23rd; and another was found in Cornwall at Porthgwarra on 21st-23rd.
An Arctic Warbler was seen in East Sussex at Seaford Head on 17th-18th.
It feels like we should be getting Hume's Warblers any day now… but this week the numbers of Yellow-browed Warblers continued to hold firm, if not exceptionally so – some 600 birds in all were logged in the past seven days nationwide.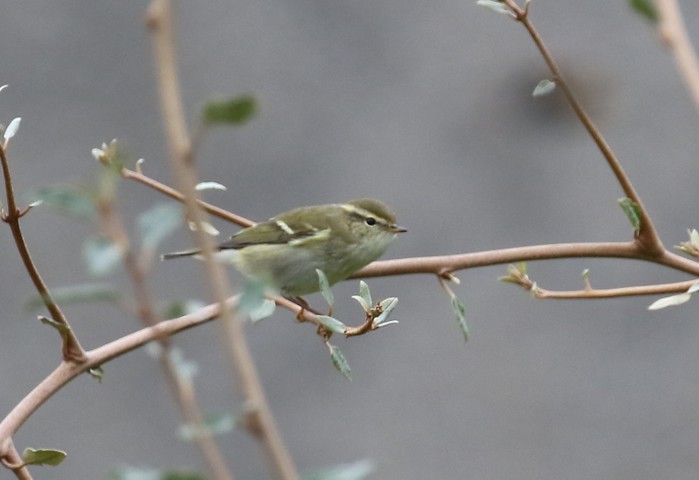 We're all of us getting a little more comfortable with the concept of Lesser Whitethroats of eastern origins turning up with some regularity every autumn – but actually proving that they're of an eastern subspecies is a different matter entirely and is helped, considerably, by a handy feather or faecal sample for DNA analysis. The blythi Siberian Lesser Whitethroat types are probably annual, but it's the halimodendri Desert Lesser Whitethroat that remains the rarer, sandy prize altogether – so it will be interesting to hear the results of the DNA tests undertaken on the back of a candidate bird trapped and ringed this week at Nanjizal (Cornwall) on 19th.
Barred Warblers scraped, just, into double figures this week. One remained at Kilnsea (East Yorkshire) on 17th-22nd, with two birds present there on 19th; another in East Yorkshire was seen at Flamborough on 17th-19th; Norfolk accounted for sightings at Waxham on 17th and Blakeney Point on 19th-21st; one remained on Unst (Shetland) on 17th-20th; on 18th one was at Dawlish Warren NNR (Devon), with an unconfirmed report of another that day in Cornwall at Porthgwarra; on 19th a bird was at Hartlepool Headland (Cleveland); and on 21st one had filtered through to St Mary's (Scilly).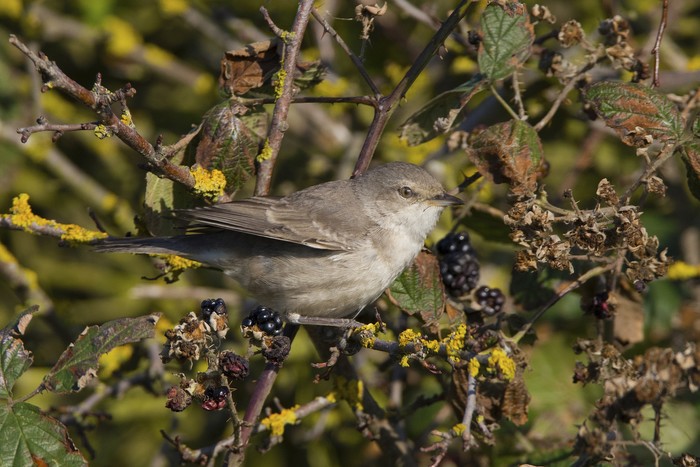 A Blyth's Reed Warbler was found on Shetland at Bakkasetter on 18th; a Marsh Warbler was present at Kilnsea (East Yorkshire) on 18th also.
Ireland, meanwhile, scored from the east on 21st-23rd with a Booted Warbler on Bolus Head (Co.Kerry) – with just five accepted records to the end of 2014, that's a big Irish bird and a first for Co.Kerry.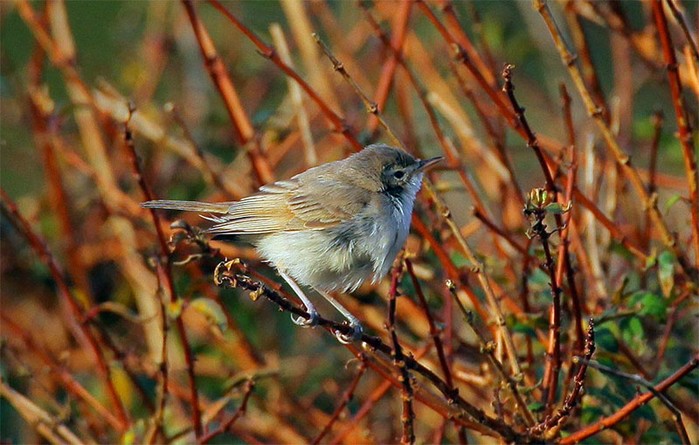 Finally for the warblers, Melodious Warblers were seen this week on Slyne Head (Co.Galway) still on 19th-20th; and on Scilly on St Mary's on 20th and St Agnes on 21st. On 22nd-23rd another was seen in Gwynedd at Pwll Cyw.
Bardsey (Gwynedd) hosted the first of this week's eastern stonechat sp on 17th-18th still, either Siberian or Stejneger's Stonechat; with another bird found in Norfolk at Salthouse on 19th-23rd swaying public opinion towards a probable determination of Stejneger's.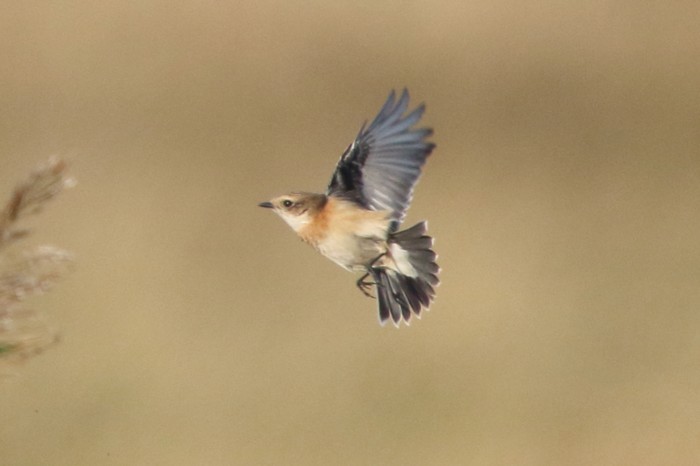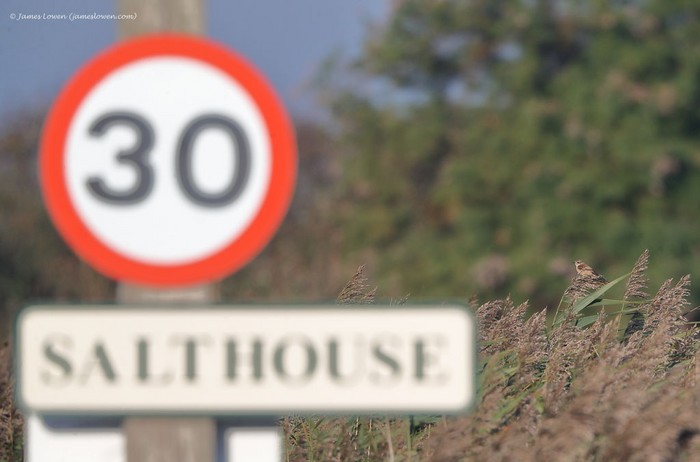 Norfolk was enjoying a good week for scarce and rare chats – with Holkham Pines landing a Red-flanked Bluetail on 17th and Blakeney Point a Bluethroat on 19th.
A probable American Robin reported on 23rd at Sedgfield (Co.Durham) avoided elevation to the headlines only by virtue of the lack of final confirmation…
Richard's Pipits continued to be widespread acorss Britain and Ireland this week, with some 25 individuals in all seen and heard. While most were single birds, duos were present on St Mary's (Scilly) on 21st-23rd and Cape Clear (Co.Cork) on 21st also.
Four or five Olive-backed Pipits were on offer too – one was trapped and ringed on Isle of May (Fife) on 17th, with one also on Fair Isle (Shetland) that day, and one present on 17th-18th at Flamborough (East Yorkshire); on 19th one was found at Tetney Haven (Lincolnshire), with another reported that day from St Agnes (Scilly).
Scilly also accounted for a mobile Red-throated Pipit on St Mary's on 19th-22nd while the putative Eastern Yellow Wagtail remained on there until 18th. A further possible candidate for the latter species was at Leighton Moss RSPB (Lancashire) on 17th, and a probable bird was found on North Ronaldsay on 23rd.
A Short-toed Lark flew over Whitburn (Co.Durham) on 17th.
A couple of Hoopoes brought late colour to the week – present at Margate (Kent) on 18th and again on 23rd, and at Landguard NR (Suffolk) on 19th.
Following last week's swift and brief excitement in the north-east, two Pallid Swifts logged this week at Kilnsea (East Yorkshire) on 17th and Low Hauxley (Northumberland) on 18th would have been welcome consolation prizes though not the swift everyone was hoping for…
Wrynecks clung on to the news, with five birds seen this week – on Tresco (Scilly) on 18th; at Lavernock point (Glamorgan) on 19th-22nd; at Porthgwarra (Cornwall) on 19th; at Longham (Dorset) on 21st; and on St Mary's (Scilly) on 22nd-23rd. A further bird was reported from Dungeness (Kent) on 22nd.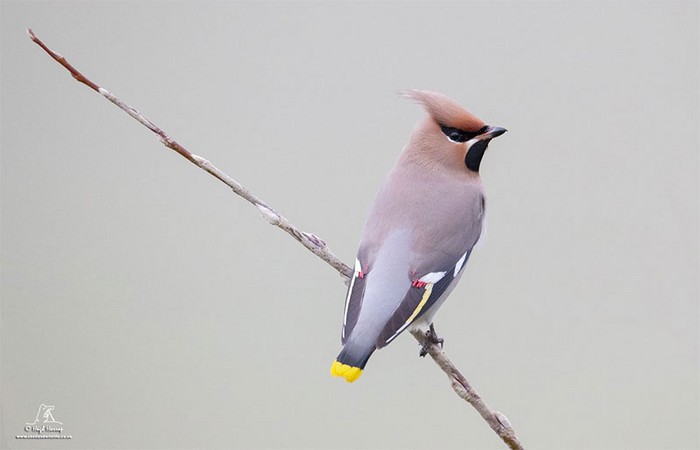 Where Wrynecks were waning, Waxwings were, well, waxing… with some 30 birds recorded in the course of the week in the north and east. Most of these were singletons – the largest flocks, if flock isn't too grand a word, being four birds at Reay in Highland on 19th and seven birds at Dyke (Moray) on 22nd.
Red-breasted Flycatchers remained on the menu this week, albeit still in modest numbers – lingerers from the previous week remained at Mains of Usan (Angus) on 17th and at Kilbaha (Co.Clare) on 17th-18th; new birds were seen on Rame Head (Cornwall) on 17th-18th; at Sidmouth (Devon) on 18th-19th; one was reported at Porthgwarra (Cornwall) on 18th; widely distant further sightings on 18th came from Fair Isle (Shetland) and Bryher (Scilly); and on 21st-22nd one was seen at Galley Head (Co.Cork), with two birds there on 23rd.
The first-winter Woodchat Shrike seen earlier in the month at Sumburgh (Shetland) was found, indoors, at nearby Pool of Virkie on 17th. Red-backed Shrikes were seen in Scilly on St Agnes still on 17th-23rd and St Mary's again on 17th only. Some 15 Great Grey Shrikes seen nationally conclude our Lanius selection this week; while most of these were seen at coastal locations, one in Ashdown Forest (East Sussex) on 22nd-23rd reminds us that some of these birds aren't just passing through – wintering birds will be arriving amongst them.
In East Yorkshire, the Pied Crow remained resident at Flamborough all week long.
Rose-coloured Starlings put in another solid showing this week – the Greater Manchester individual remained at Timperley on 17th, while birds were again seen on St Martin's (Scilly) on 17th-19th; at Porthgwarra (Cornwall) again on 18th-19th and nearby Polgigga on 19th-20th; and at Easington (East Yorkshire) still on 19th-20th. Elsewhere, birds were noted at St Aldhem's Head (Dorset) on 18th; on Bryher (Scilly) and Lewis (Western Isles) on 19th; in St Helen's (Lancashire) on 20th-23rd; on 20th-21st at Old Head of Kinsale (Co.Cork); and on 21st on Dursey island (Co.Cork), St Agnes (Scilly), and at Carbis Bay (Cornwall). On 23rd one was on Galley Head (Co.Cork), while one was seen on Scilly that day on St Mary's.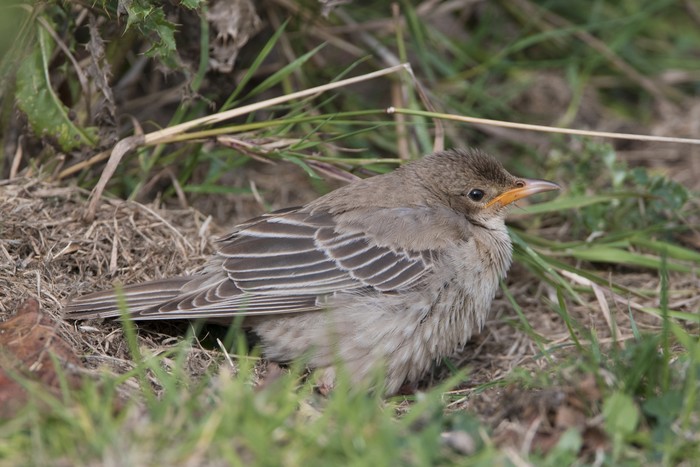 We had a small late arrival of Red-eyed Vireos this week though, in a week that featured four vireo species in one day on Corvo (Azores) we might have been forgiven for hoping for something rarer… Our birds, however, were present on Inishmore (Co.Galway) on 18th-21st; Bryher (Scilly) on 19th-23rd; Lundy (Devon) on 19th-22nd; The Lizard (Cornwall) on 20th; and in Co.Cork at Lehanemore on 22nd and on Mizen Head on 23rd.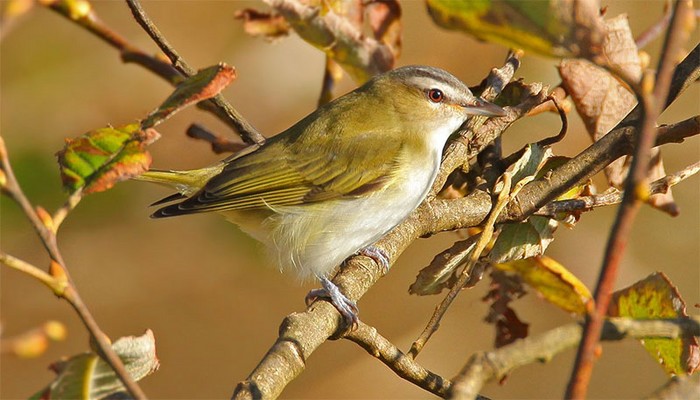 A Serin formed a small Cornish footnote also on The Lizard on 17th, with another seen on St Mary's (Scilly) on 22nd.
Numbers of Common Rosefinches took a tumble this week, with most of our sightings coming from the south-west, apart from one bird in Shetland at Toab on 17th and Orcadian birds on South Ronaldsay on 19th and North Ronaldsay on 21st. Scilly provided birds on St Mary's on 17th and Bryher on 20th; Cornish sightings came in the form of two birds at Nanjizal on 18th, one at Cot Valley on 19th, and one at Land's End on 21st; and finally a bird was on Lundy (Devon) on 21st.
Some 15 Little Buntings nationwide included two birds on St Mary's (Scilly) on 20th at least, but these were not the main bunting event this week by any means. That accolade has to go to the Rustic Bunting found in London at Wanstead Flats on 17th-21st – a superb London record and, as far as I can tell, only the second for the area following the wintering bird present at Beddington sewage farm on 9th February – 13th March 1993. Another Rustic Bunting was discovered late on 23rd on St Mary's (Scilly).
Corvo (and everywhere else further afield…)
I could devote an entire, verbose, article to the staggering selection of Nearctic birds seen on Corvo this week and the week beforehand. It's been, even by that island's famous standards, really very special indeed.
We'll start then with some of the hangovers from the prior week… White-throated Sparrow on 17th-18th; the Western Palearctic's third Bay-breasted Warbler still on 17th-21st; Philadelphia Vireo still on 17th-22nd; Yellow-throated Vireo still on 17th-21st; and Wood Thrush still on 17th-21st. These alone would have been marvellous, but things went a little crazy with new birds that kept on coming as the new week unfolded…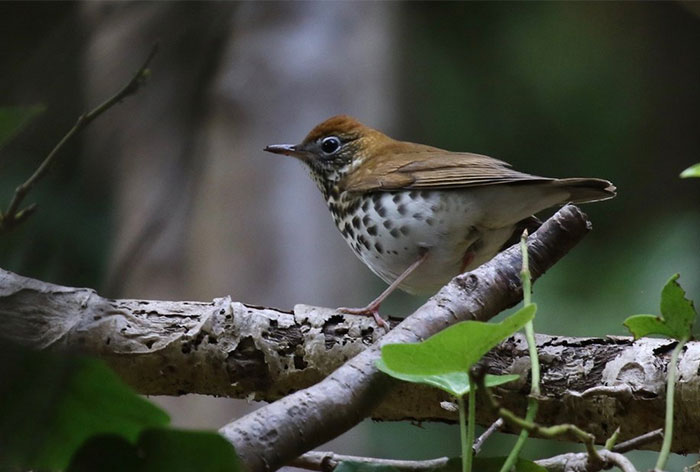 17th was surmounted by a first for the Western Palearctic in the form of a Blue Grosbeak, still present there the following day. Other goodies on 17th included Grey-cheeked Thrush, Baltimore Oriole, no fewer than six Red-eyed Vireos, four Indigo Buntings and two Yellow-billed Cuckoos… and more besides: on 17th-18th a Least Sandpiper; a Northern Parula, with three birds present on 19th-20th and two still on 21st and one on 22nd; two Ovenbirds, with two still present on 22nd; on 17th-20th an American Redstart; and a Scarlet Tanager on 17th-22nd, with two birds present on 20th.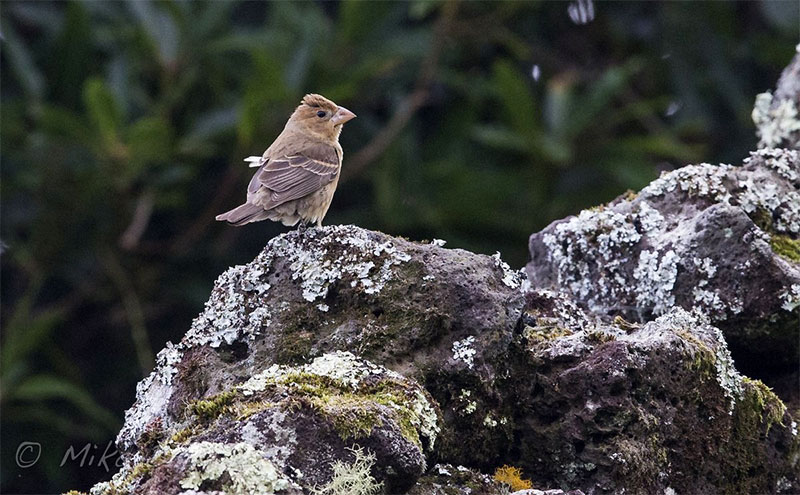 18th saw the finding of a visually unassuming but statistically significant Lincoln's Sparrow - just the fifth record for the Western Palearctic, though the fourth for the Azores as a whole; and also Myrtle Warbler and Common Yellowthroat, with the former warbler still present on 22nd and the latter present until 22nd at least with two birds there on 19th.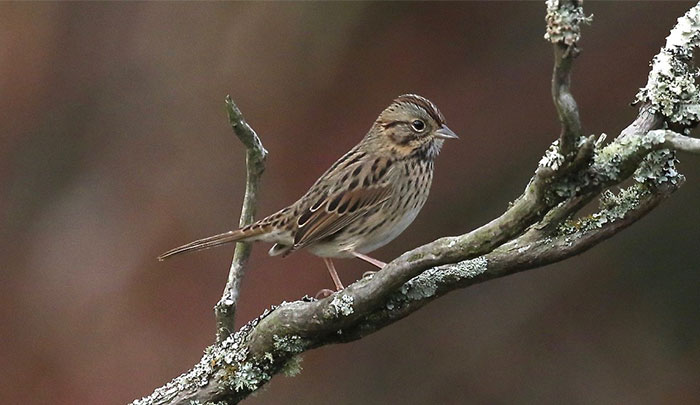 20th was a big day on Corvo as, in addition to the lingering supporting cast, the island delivered the Western Palearctic's third ever Eastern Wood Pewee and fifth White-eyed Vireo - the latter meaning that, on 20th, four species of vireo were now present on the island… All four vireo species remained on 21st, as did the Eastern Wood Pewee.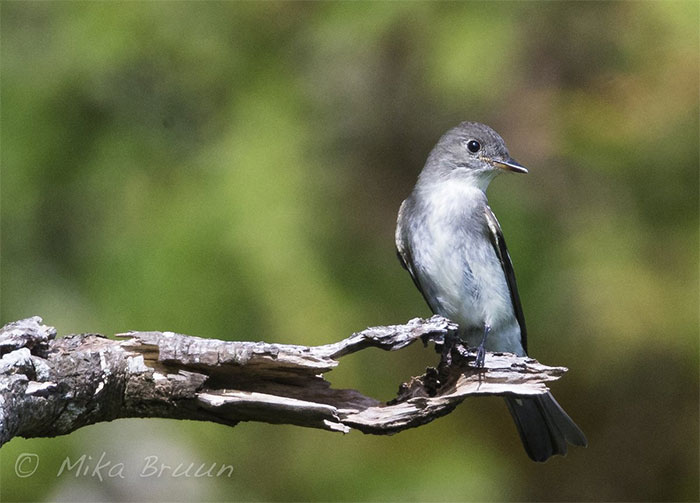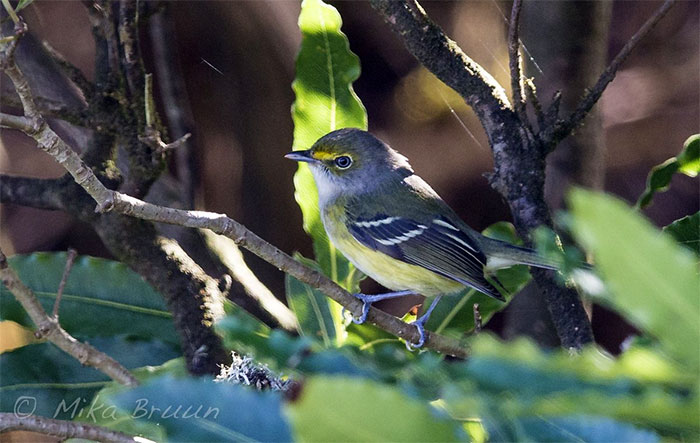 News of a Chimney Swift on Corvo on 21st-23rd seems almost anticlimactic, really… not least as numbers on nearby Flores had built from one bird on 18th to three on 19th and then four birds by 20th. Flores also hosted another Yellow-billed Cuckoo on 18th and, on 22nd, a Black-throated Blue Warbler and a Rose-breasted Grosbeak.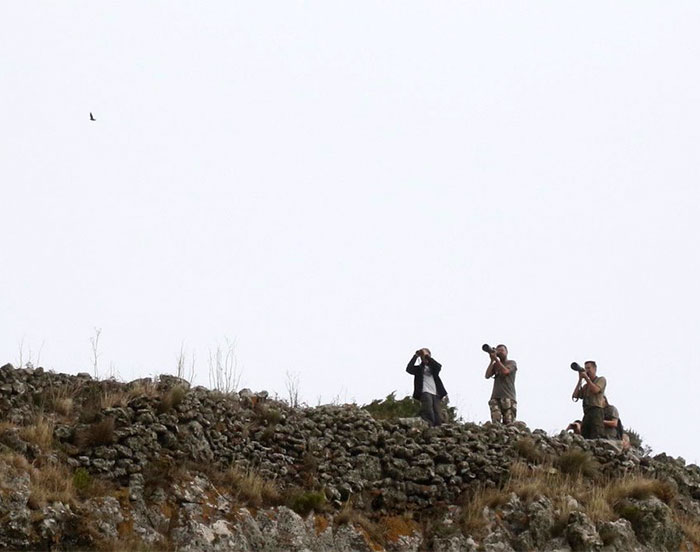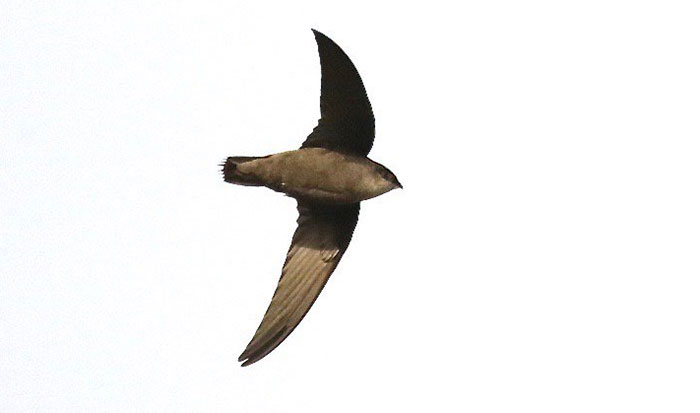 Meanwhile, back on Corvo, the mopping up of American arrivals continued on 22nd-23rd with the discovery of a Dickcissel, the Western Palearctic's eighth record – but the seventh for the Azores.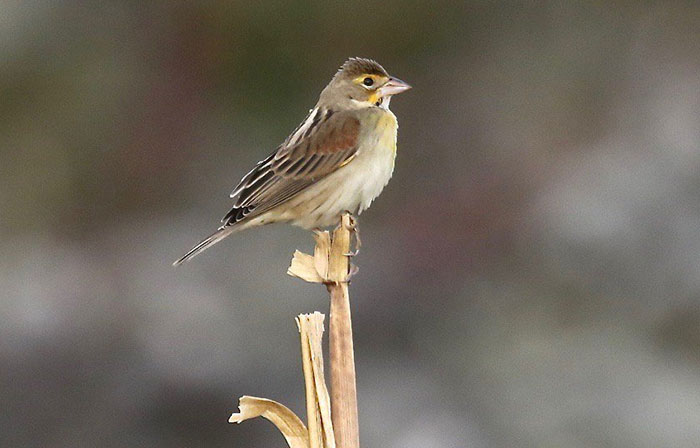 So, before we leave the Azores for pastures new, we need to drop into Sao Miguel to tidy up a Pied-billed Grebe on 17th-22nd and Hudsonian Whimbrel on 17th.
Pause, take a moment to catch our breath… and tip a respectful hat to the Azores' third ever Yellow-browed Warbler, surely the pound-for-pound most impressive feat of bird migration found on the archipelago this week…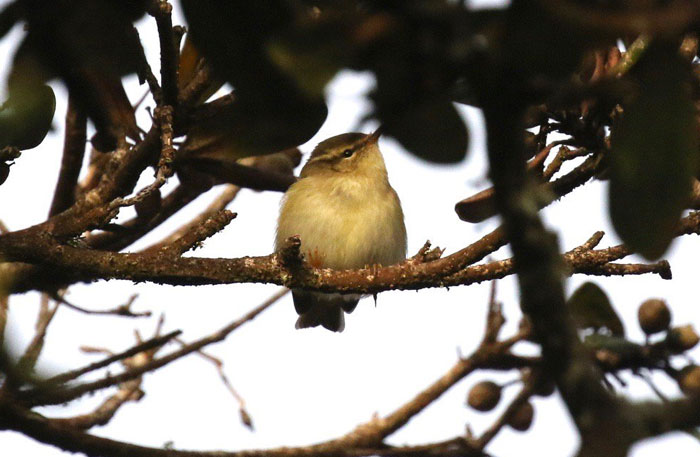 …and then it's off to mainland Portugal where their first ever mainland record of Green Heron was seen on 20th-21st at Quinta do Lago.
Nearer to home, a Black-shouldered Kite was seen in the Channel Islands heading north east over Jersey on 18th. When oh when will one cross the Channel… Another was seen this week in Belgium at Walloon Brabant on 17th, while the Pygmy Cormorant was again at Parc Domaine du Val Duchesse on 18th.
Also teasing with relative proximity, a Asian Desert Warbler was found on Heligoland (Germany) on 19th, while further island news came from France on 18th when a Blyth's Pipit was found on Ouessant.
On 21st a Black-winged Pratincole was found in Holland at Batenburg.
The Pacific Diver was once more seen in Denmark at Grenen on 18th; Norway landed a Brown Shrike at Mulvika on 23rd.
In Iceland, meanwhile, a Swainson's Thrush was at Hofn on 19th, and a Pied-billed Grebe was found at Norourkot on 22nd. On 23rd yet another Red-eyed Vireo cropped up for the week – this one at Eyrarbakki.
The last week of October reminds me of the late, great Tim Cleeves – Tim was fond of telling me that the big one travelled late, and alone.
I'd love to think Tim's sagacity might once more be proven correct with one last big roll of the Nearctic dice this year. Corvo seems to be having all the fun, and while I'm not going to be churlish about a certain Grey Catbird, an American first for Britain or Ireland would certainly hit the spot…
Then again, the Azores do give us a clue as to a statistically more likely option this week – the last week of October is, historically, prime time for British records of Chimney Swift with no fewer than 10 past records. With the last accepted British record being one on Lewis (Western Isles) four years ago and, prior to this, we're way back to 2005 for any British birds, we're perhaps due another this coming week. The Azores had a few this past week – is one in the post to us?
Eyes to the skies…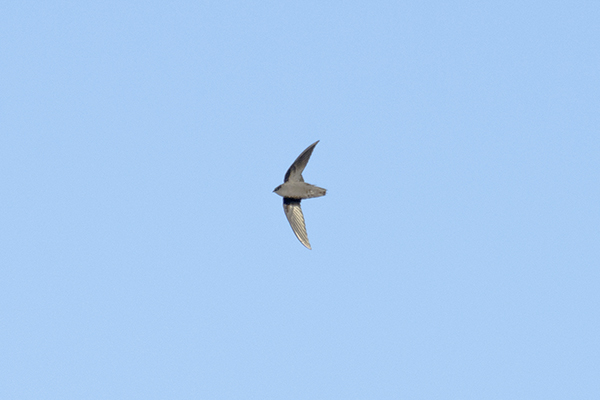 Jon Dunn
24 October 2018
Share this story
Tweet