Weekly birding round-up: 5 - 11 Sept 2018
The week at a glance
Shetland scores with a White-throated Sparrow on Foula
The American White-winged Scoter is back in Lothian
Autumn got under way this week and, with it, birders' eyes will have been glued with increasing fervour to the weather forecasts. This is the time of year when we start to pay particular attention to any TV weather forecast that shows so much as a whiff of a synoptic chart. Never was breakfast television so compelling as when the wind's promised from the east in September and October.
And we had a sniff of that this week. But did it deliver?
White-throated Sparrow
The honours for the first American passerine of the autumn went to Shetland this week where, on Foula, a fine White-throated Sparrow was hanging out at North Harrier on 7th-8th. This in a week when the first decent push of eastern rarities and scarcities were making landfall elsewhere across Shetland, with Fair Isle (as usual) being particularly blessed.
Foula, however, always has the feeling of being on a frontier – not least because of its location out to the west of Shetland, where it is (depending on your perspective) either the last bit of land before the USA or the first fragment of dry land upon which to land after flying across the Atlantic.
Fair Isle, of course, boasts the world-famous bird observatory and, with it, considerable daily coverage of every nook and cranny of the island. Foula, meanwhile, depends upon rather fewer observers for its rarities – but what it may lack in coverage in certainly makes up for in pedigree – the island has an illustrious roll-call of past top notch birds and, amongst them, a goodly number of American passerines.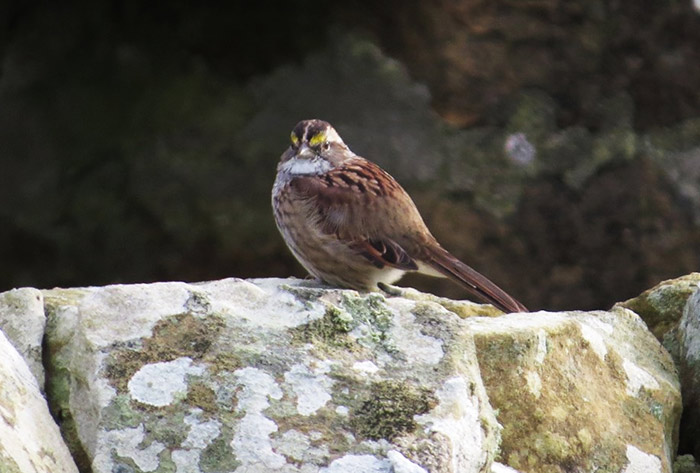 This latest White-throated Sparrow is just the second for Foula, following a summer bird there on 1st July 2004, but it's the 16th record for Shetland as whole since the first back in May 1966 on Fair Isle. To put that in a national context, we've had 49 accepted records in Britain to the end of 2016, so around a third of all our records have come from Shetland. Shetland's last bird was one on Mainland in May 2010 – which was, coincidentally, the same month and year as Scilly's one and only White-throated Sparrow, present for just one day on 26th May 2010 on St Agnes.
While I'm surprised Scilly hasn't had more records, I'm not going to feel too sorry for it – it's not done too badly down the years, after all…
American White-winged Scoter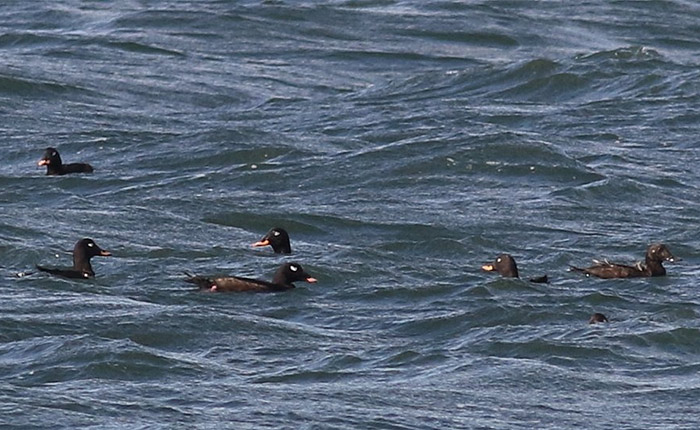 So guess who's back in Lothian this week… The adult drake deglandi American White-winged Scoter was once more off Musselburgh Lagoons on 9th-10th.
Absent from there since 23rd May this will be a not entirely unexpected return, but perhaps a welcome diversion for anyone in the next week or two who's heading north for their autumn birding holidays.
Until the weekend it was generally quieter than ever where seabirds were concerned, with not a lot happening in general. Happily, then we got a little action, first from the Skellig Islands (Co.Kerry) where, on 7th, a
Wilson's Petrel was seen, followed closely by three off Porthgwarra (Cornwall) on 8th, and one off Bridges of Ross (Co.Clare) on 9th.
Leach's Petrels, meanwhile, continued to be noted – with three noted from the Ullapool to Stornoway ferry (Highland) on 5th followed, on 7th, by single birds off Hilbre Island (Cheshire) and Bridges of Ross (Co.Clare); with four birds seen from the latter site on 8th and then, on 9th, it all went a little crazy at the Bridges – with 103 birds passing there during Sunday. Co.Kerry was a little more peaceful on the latter date, with one bird noted off Brandon Point and four past Kerry Head. On 10th sightings from Lancashire came in the form of a single bird seen from Blackpool North Shore and Starr Gate, and three passing South Uist (Western Isles); and on 11th six more were logged off Bridges of Ross, 33 were noted past Vatersay (Western Isles) in a three hour spell, fourteen passed South Uist's (Western Isles) Ardvule Point that day, and a single bird was noted from Annagh Head (Co.Mayo).
A Fea's-type Petrel passed Seven Heads (Co.Cork) in the late afternoon of 10th.
Just two Cory's Shearwaters were seen this week, off St Mary's (Scilly) on 5th; Great Shearwaters were a little more forthcoming, with a shade over 80 birds in all logged, of which the 21 passing The Lizard (Cornwall) on 8th were by some margin the highest count.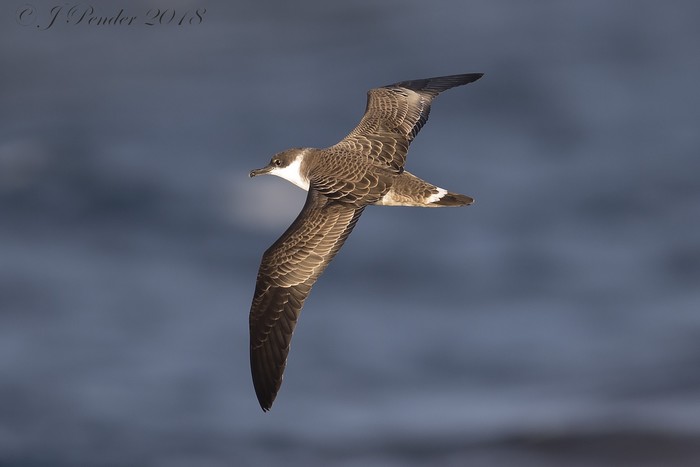 It was a similar story for Balearic Shearwaters, with the lion's share of the 360 birds seen hailing from one site on one day in particular – this being Portland (Dorset) where, on 7th, 131 birds were counted passing by.
Numbers of Pomarine Skuas stayed pretty consistent with the proceeding week's score, so we're talking about some 35 birds in all tallied over the course of this week. The adult remained popular at South Gare (Cleveland) for another week, while the highest single site tally came from Canvey Island (Essex) where three birds were seen on 5th.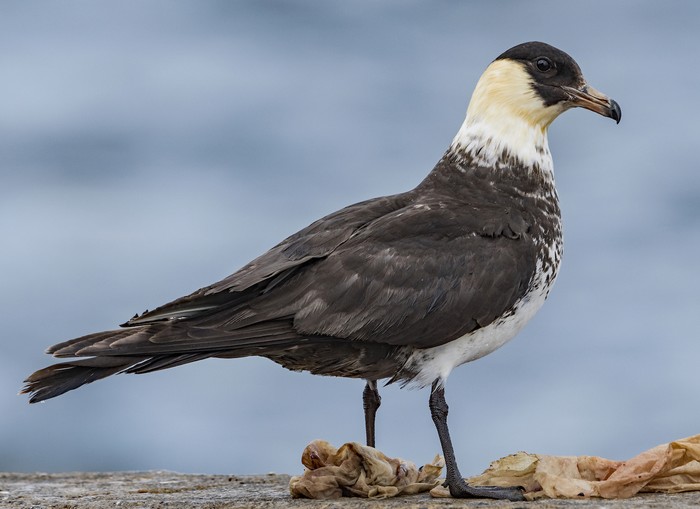 Which brings us, finally, to Long-tailed Skuas - three were seen on 5th, being singles off Blakeney (Norfolk), Whitburn CP (Co.Durham) and Filey (North Yorkshire); further singletons were seen on 6th from Hornsea (East Yorkshire) and on 7th in Hartley Bay (Northumberland); and a further bird was reported on 8th from Flamborough (East Yorkshire). On 9th one was off Flamborough, with Co.Kerry weighing in that day with a duo from Kerry Head and a single bird from Brandon Point. Flamborough accounted for another sighting on 10th, while on 11th one passed Thorpeness (Suffolk).
What, then, can we say about Cattle Egrets apart from that this week there were, once more, an awful lot of them kicking around? The Somerset Levels once again was the focal point for the really big numbers, with a flock of 45 birds at Catcott Lows NR on 5th and Tealham Moor on 8th-9th, and at least 50 birds at the latter location in the morning of 10th. In the course of the week around 115 birds were once again noted nationwide, scattered widely across the southern coastal counties and inland, as far north as Burton Mere Wetlands RSPB (Cheshire) and Fairburn Ings RSPB (West Yorkshire), where settled single birds remained throughout the week. On 5th alone 71 birds were noted nationwide – I think it's fair to say that, as a British bird, Cattle Egrets are probably here to stay now.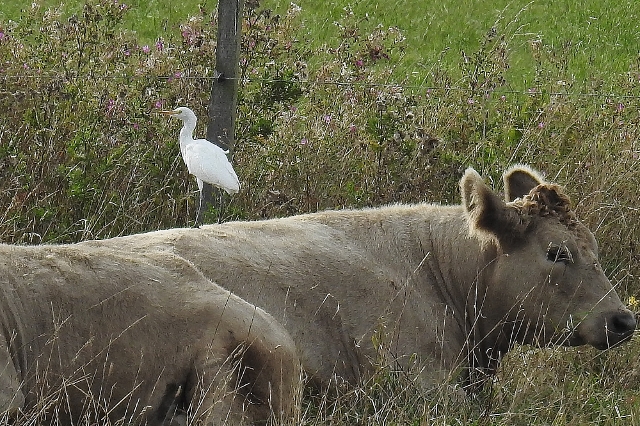 Devon once more proved reliable this week for Glossy Ibis, with the settled bird again at Fremington Pill on 6th and then, on 8th, two birds seen once again at Bowling Green Marsh RSPB. Two were reported over Little Comberton (Worcestershire) on 11th.
On 7th three sightings of White Stork came in – in Hampshire at West Tisted, over Dover (Kent), and at Holmwood in Surrey. Another was seen in the Dartford area (Kent) on 10th, with one in the county at Sevenoaks the following day. Given the efforts to reintroduce them in southern England, I'm reaching a point where I'll view all records with a somewhat jaundiced eye… though perhaps that's a little unfair.
A Common Crane was present at Ruskington (Lincolnshire) on 5th, with two remaining into this week at West Carlton (East Yorkshire) on 6th still. Three were at Teversham (Cambridgeshire) on 10th while, on 11th, five were seen again in Aberdeenshire at Collieston.
On Fair Isle a Corncrake seen on 5th-6th may have accounted for the bird found dead on the isle on 8th; one was staying alive on Spurn (East Yorkshire) on 7th and, possibly, still on 9th-10th – though on the latter dates things got a little confusing as at least one of the reports of the bird on 9th appeared to relate to an errant Pheasant, and the sighting from 10th was couched as a probable…
Settled Spotted Crakes remained this week at Budleigh Salterton (Devon) on 5th-8th, in Buckinghamshire at Willen Lake on 5th-11th, and in Berkshire at Jubilee River NR on 5th-10th with two birds still present there on 5th. One was still at Grove Ferry NNR (Kent) on 9th. Two were present (and had been since 30th August) at Shotton Steelworks (Fife) on 5th-6th. Other new birds were found this week in Scilly on Tresco on 6th, with a further possible bird that day also on St Mary's; at Wilstone reservoir (Hertfordshire) on 7th; and on 8th at Nanjizal (Cornwall) and on 8th-11th at Pennington Marshes (Hampshire). One was present on 9th at Doxey Marshes SWT (Staffordshire). On 11th a bird was seen at Burton Mere Wetlands RSPB (Cheshire).
Extremely quiet times indeed for our reports of interesting honkers and quackers…
We'll start then with the drake Ferruginous Duck still at Abberton reservoir (Essex) on 6th-9th, and another drake on Loch Leven (Perth & Kinross) on 9th-11th; this latter was joined on 11th by a drake Lesser Scaup.
And we'll finish with the drake Ring-necked Duck still this week in Aberdeenshire at Loch of Skene on 5th, while one was again on Abberton reservoir (Essex) on 11th.
<!—Section Title -->
…to something far more exciting altogether, being the varied wonders that are shorebirds at this time of year. Honestly, it's like being a kid in a sweet shop where variety is concerned.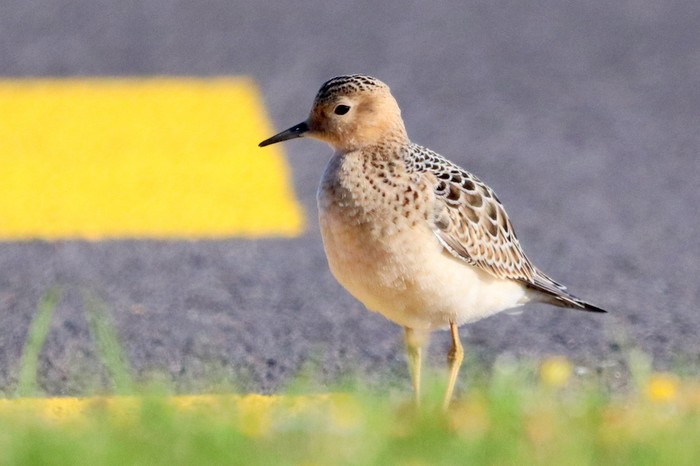 And, if Buff-breasted Sandpipers were sweeties I wouldn't know when to stop - I'd make myself very sick indeed. While this week we didn't exactly have a glut of them, we didn't do half badly either, with 16 birds in all seen across the country in a decent geographical scatter. The week began with the bird again noted on Tiree (Argyll & Bute) on 5th; but it was North Uist (Western Isles) that caught the attention that day with a marvellous quartet seen at Baleshare. On 6th-8th one had reached the east side of the country, being seen at Havergate Island RSPB (Suffolk). While one remained on North Ronaldsay (Orkney) on 7th-9th, further new birds were found at Tacumshin (Co.Wexford) on 7th-11th and, on 8th-9th, at Inny Strand (Co.Kerry) and Kingsbarns (Fife). On 9th St Mary's (Scilly) enjoyed a bird on the airfield; the following day, another on the golf course had, by the evening, found the airfield bird and both were present at the airfield and then, on 11th, back on the golf course. On 11th two were present on Lundy (Devon), with one in Co.Cork on Barry's Head, and another in Scotland on Isle of May (Fife).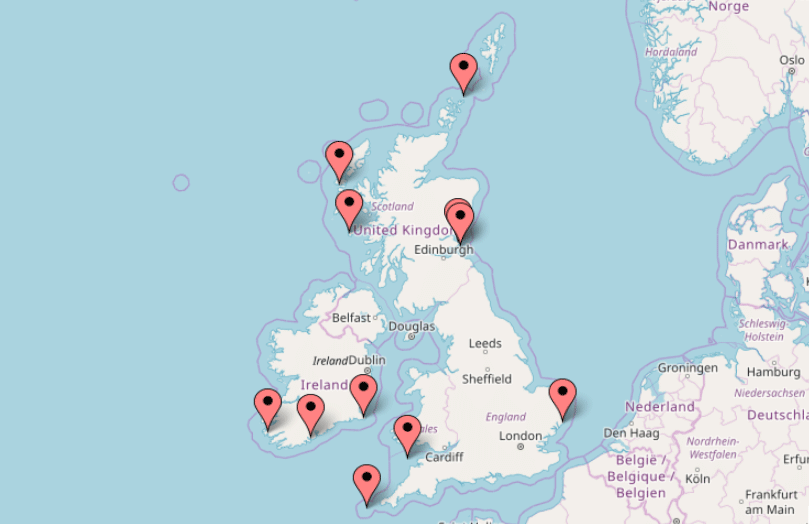 As we suspected, Pectoral Sandpipers were to remain to the fore for a while yet, with birds noted this week at Musselburgh Lagoons (Lothian) still on 5th-8th; in Staffordshire at Doxey Marshes on 6th and Belvide reservoir on 9th; at Manby Flashes (Lincolnshire) on 7th-9th; and on 8th-10th at Dungeness (Kent) and in Ireland on 8th at Tacumshin (Co.Wexford), with two birds present there on 11th. On 9th-11th one was found on Tresco (Scilly), accompanied by a rarer offering still… while elsewhere on 9th sightings came from Balgray reservoir (Clyde), this bird remaining until 11th; in Cambridgeshire at Maxey GPs in the early morning and, later in the day, Ouse Washes RSPB; and at Steart WWT (Somerset), this latter bird remaining there the following day. On 10th one was seen in Somerset at Huntspill; another was on Scilly on St Mary's on 10th-11th; Cambridgeshire provided a bird back on Ouse Washes RSPB; and one was in Co.Cork at The Gearagh. On 11th one was discovered in Lothian at John Muir CP.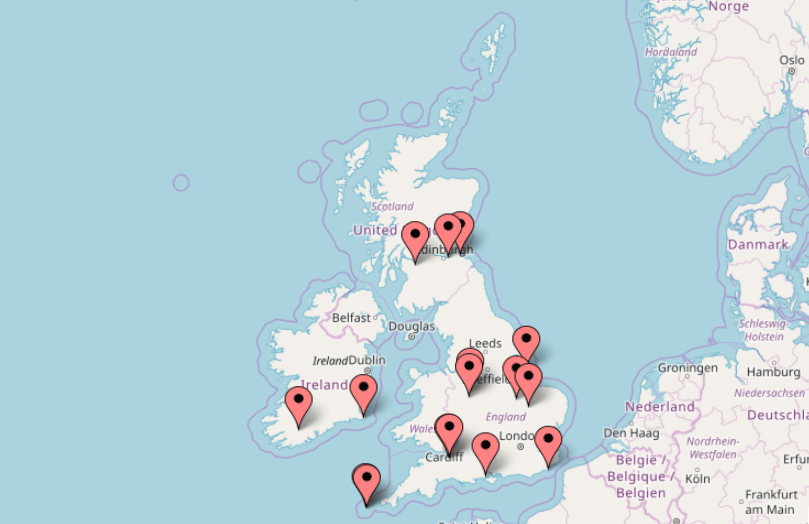 Tresco also features in this week's news for a juvenile Baird's Sandpiper found there on 9th-11th.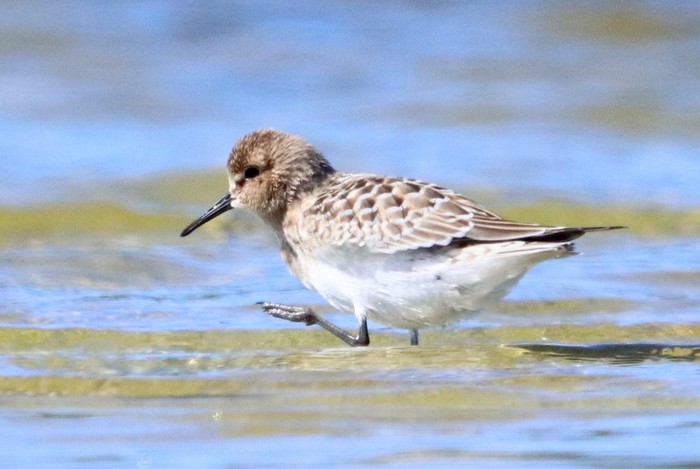 The marvellously named Ramper Pot on Lancashire's Wyre Estuary played host to a juvenile Semipalmated Sandpiper on 6th-9th, with the bird's true identity only being uncovered on 9th – it had hitherto been reported as a Little Stint.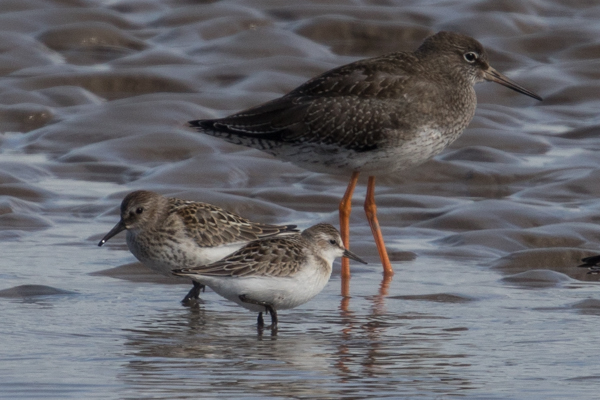 American Golden Plovers ought to feature more strongly for the next few weeks, so it wasn't entirely surprising that we had four seen this week – on Tiree (Argyll & Bute) still on 5th-7th; at Tacumshin (Co.Wexford) on 7th-11th; over Rathlin Island (Co.Antrim) on 7th; and in Orkney at Deerness on 8th-9th. A further probable bird, either this species or a Pacific Goldie, was heard overhead at Saltholme RSPB (Cleveland) on 5th.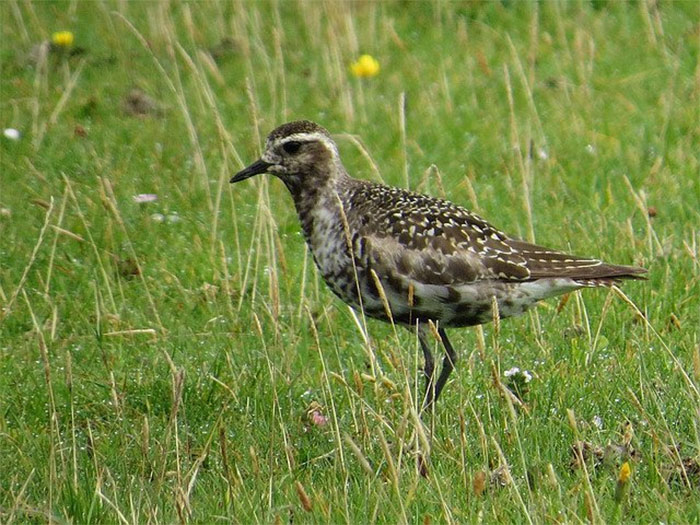 In Lincolnshire, at Frampton Marsh RSPB the adult Long-billed Dowitcher remained present on 6th-11th.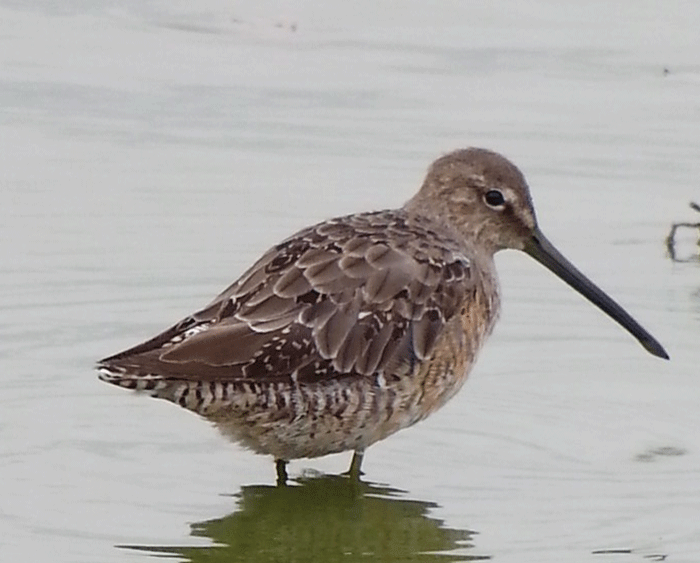 Shetland landed a mobile Lesser Yellowlegs on Unst on 9th; they remain pretty scarce fare that far north, and this one doubtless electrified Unst's growing birder population.
Two juvenile Temminck's Stints remained from the preceding week – one at Martin Mere WWT (Lancashire) on 6th still, and the other at Titchfield Haven NNR (Hampshire) on 5th-7th.
Two Dotterel were seen again at East Soar (Devon) on 5th, with another that day noted at Carnyorth Common in Cornwall; one passed over Burnham Overy Dunes (Norfolk) on 6th, with one on 7th found at Kessingland (Suffolk).
A Grey Phalarope passed Hornsea (East Yorkshire) on 5th, with four seen from Bridges of Ross (Co.Clare) on 9th during their superb seawatch there that day; while Red-necked Phalaropes were represented by lingering juvenile birds at Blacktoft Sands RSPB (East Yorkshire) on 5th-6th and Vange Marsh RSPB (Essex) still on 6th; and, on 10th, a juvenile at Attenborough NR (Nottinghamshire).
A slew of Sabine's Gulls were the pretty much the peak of gull 'n' tern excitement this week: singles seen from Huttoft Bank (Lincolnshire) on 5th and Skellig Islands (Co.Kerry) on 6th, and two birds on 6th also off Bridges of Ross (Co.Clare). Five were logged on 9th, in the form of duos from Kerry Head and Brandon Point (Co.Kerry) and a singleton off Kilcummin Head (Co.Mayo). On 11th single birds were noted from Bardsey (Gwynedd), Strumble Head (Pembrokehire), Bridges of Ross (Co.Clare) and Rathlin Island (Co.Antrim).
Elsewhere, a dead whale on South Uist (Western Isles) proved irresistible to a Glaucous Gull on 5th; further birds were noted on 5th at Burghead (Moray) and on Skye (Highland); while one was seen near Dunseverick (Co.Antrim) on 7th. On 10th a juvenile was present on Lewis (Western Isles).
The adult Ring-billed Gull in Doorly Park (Co.Sligo) was once more seen there on 11th.
Finally, a juvenile White-winged Black Tern did a couple of fly-bys off Canvey Island (Essex) on 5th.
I wondered last week if we might be on for another big Pallid Harrier autumn and, on the basis of the past week, that looks like it may prove to be more than merely wishful thinking, albeit with an interesting caveat… The week began with the juvenile male bird still lurking around the Parkgate area (Cheshire) on 5th-10th, and was swiftly followed up with further juveniles at Shotton Steelworks (Fife) on 5th and on Fair Isle (Shetland) on 7th-11th.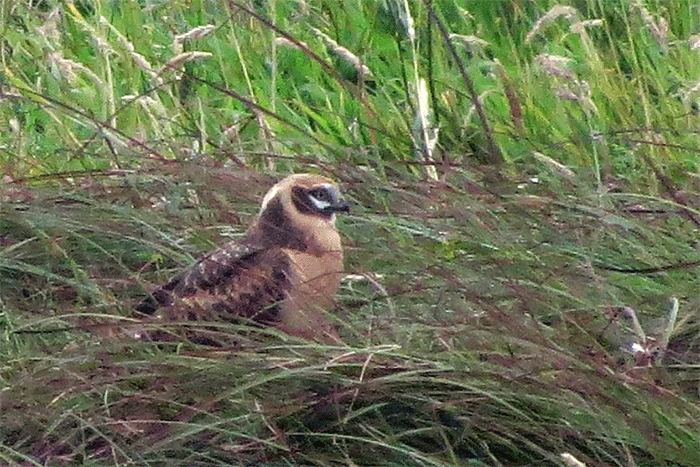 The sting in the tail came in the form of a further bird that was seen at various points along the north Norfolk coastal fringes on 7th – a bird that, while it initially quickened pulses as another Pallid, proved on closer inspection to be an example of the (even rarer) hybrid between Pallid and Hen Harrier. A further bird, either a juvenile Pallid or another such hybrid, was initially reported as a Hen Harrier in the evening of 11th at Frampton Marsh RSPB (Lincolnshire).
The female Montagu's Harrier remained at Blacktoft Sands RSPB (East Yorkshire) on 5th-7th; a juvenile bird was noted in Kent at Bough Beech reservoir on 6th.
The 6th also featured a grey morph Gyr reported from Loch of Swannay (Orkney), with a probable male Red-footed Falcon seen that day also in Somerset at Steart WWT. A juvenile Red-footed Falcon was found at Gibraltar Point NNR (Lincolnshire) in the afternoon of 10th before flying on northwards; but was seen again there the following day.
A Black Kite was seen on 7th at Upper Caldecote (Bedfordshire), with a further possible bird that day in Cambridgeshire at Arrington.
Honey Buzzards, finally, were still on the move with around twenty birds noted nationally, all singletons this week spread across the country from Cornwall in the south west to Kent in the south east, and seen as far north as Derbyshire.
Meanwhile, out on St Kilda (Western Isles), the female Snowy Owl remained a potent presence on 7th.
A staple of the Shetland autumn but not, perhaps, one that we'd have expected quite this early rocked up onto Fair Isle at the start of the week – a Lanceolated Warbler trapped and ringed there on 5th.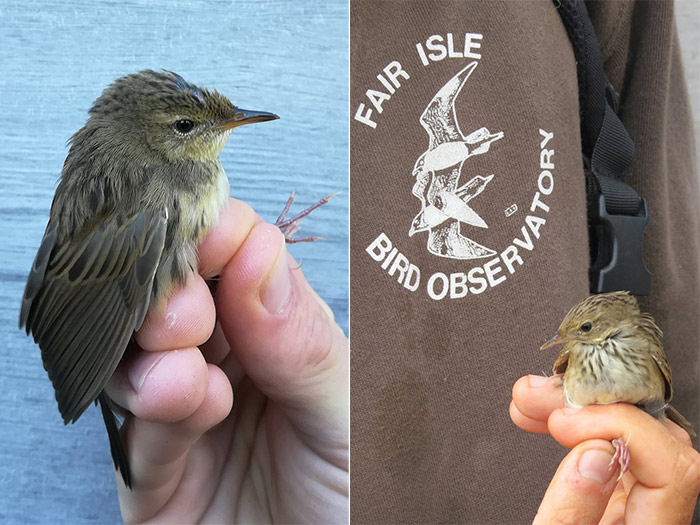 Shetland's dominance where Lancies are concerned is overwhelming – of the 157 accepted records to the end of 2016, 128 of them have come from our most northerly islands. A legendary performance, by any measure. September is the peak month for them, but the first week? It's not quite Shetland's earliest – that accolade goes to a bird on Out Skerries on 1st September 2000 – but it's one of just five records that have landed in the first week of the month. Hopefully this is an omen for a fantastic month of eastern vagrants to come…
…and this certainly seemed more than wishful thinking when, on 10th, another Lanceolated Warbler was trapped (in a hat!) and ringed, this time on North Ronaldsay (Orkney), before on 11th the baton passed back to Fair Isle with their second bird of the week, also trapped and ringed, found on the island.
Shetland certainly felt the part as the week wore on, with a good variety of warblers of one hue or another starting to be found. Blyth's Reed Warbler have truly undergone a journey since the turn of the century – pre 2000 they weren't even annual; and pre 1990 observers weren't half as confident identifying them in the field as we are now. Things have changed… and by 2014 they were awarded the back-handed BBRC compliment of being deemed no longer a national description species.
2018 is already shaping up to be another busy autumn for them, with six found this week alone in Shetland – Unst claimed two, one on 6th at Halligarth, and another on 6th-10th at Norwick; and the third was trapped and ringed on Mainland at Rerwick on 8th. On 8th-10th one was present on Fair Isle, with a second bird present elsewhere on the island there on 9th-10th, while on Foula one was found on 9th10th.
Less common altogether were Marsh Warbler - one was on Fair Isle on 6th-8th, while Orkney's North Ronaldsay staff trapped and ringed another on 8th.
Just one confirmed Booted Warbler this week, and not on Shetland – nope, this one spent 6th-7th in Suffolk at Lowestoft – while there was a further possible, elusive, bird reported from St Mary's (Scilly) on 10th.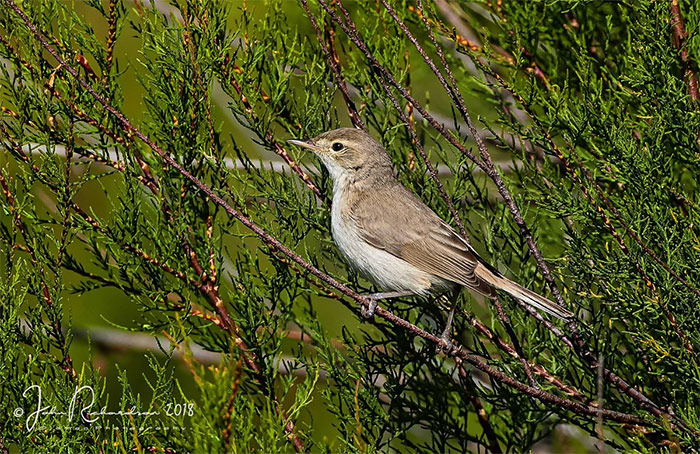 Equally ephemeral, a possible Eastern Olivaceous Warbler was seen in Cornwall on 10th at Men-an-Tol.
Still, it wasn't quiet on back on Shetland – not by any means. Fair Isle was proving something of a magnet for Arctic Warblers, with two there on 6th rising to three birds on 7th, two birds still on 8th-9th, and one remaining on 10th. Elsewhere, Flamborough (East Yorkshire) sported one on 5th-6th; and birds were trapped and ringed at Hauxley NR (Northumberland) on 6th, remaining there until 8th, and on North Ronaldsay (Orkney) on 7th.
Greenish Warblers, meanwhile, showed a somewhat more southerly bias – Norfolk provided sightings on 5th at Burnham Overy Staithe and on 5th-10th on Blakeney Point; Flamborough (East Yorkshire) had a bird on 6th; and North Ronaldsay a bird on 7th-11th.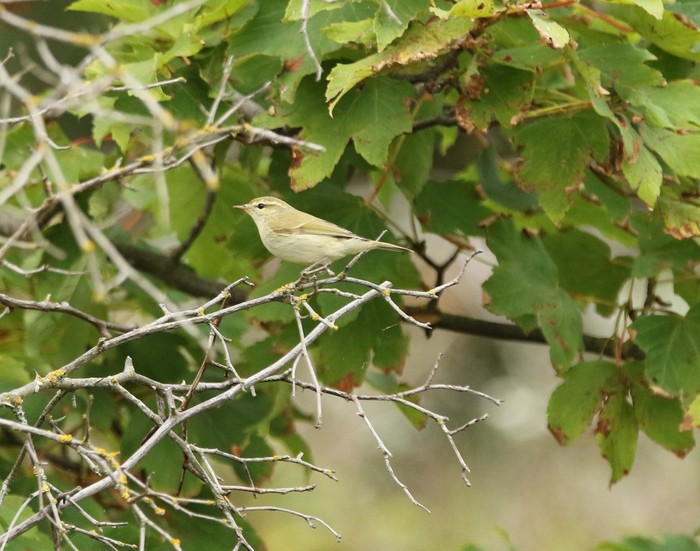 That birds from the east were coming was heralded, in no uncertain terms, by the arrival this week of what will, doubtless, be the first of hundreds and thousands of Yellow-browed Warblers. Our first of the autumn were three birds discovered in Shetland on 6th – on Mainland at Frakkafield, on Unst at Baltasound, and on Fair Isle. By the end of the week we'd racked up some 40 birds, almost all of which were in Shetland – the most southerly being a handful of birds on North Ronaldsay and Sanday (Orkney). Give me a week or two and we'll be dealing with these in the very broadest of brush strokes – and I'll be goggle-eyed with tallying how many are arriving nationwide every day. It's a bizarre state of play when Yellow-browed Warblers are the commonest migrant warblers in Shetland alone, but that's how it's started to feel here in recent years; a reflection both of their increasing numbers and, damningly, the overall drop in numbers of our more familiar passerine species of late.
Similarly, Barred Warblers continued to arrive en masse this week – once again, it fell to Fair Isle to enjoy the lion's share, with a peak count of seven birds on there on 7th. The national picture of some 30 birds logged in the course of the week was dominated by Shetland, but birds were filtering in further south and west – a scatter of east coast records emerged from the Shetland white noise, while one on St Mary's (Scilly) showed just how far west the pioneers were reaching.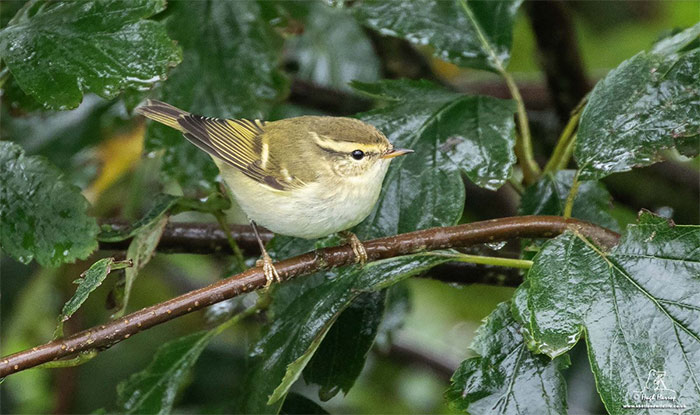 Icterine Warblers, however, remained in fairly short supply, with barely a half dozen found this week – one was present on Fair Isle on 5th, while North Ronaldsay had a bird on 5th-6th; one was up on Unst on 5th; one was trapped and ringed at Gibraltar Point NNR (Lincolnshire) on 7th, with another that day on Tiree (Argyll & Bute); and one was on Flamborough (East Yorkshire) on 8th. On 9th one was on Scilly on St Mary's.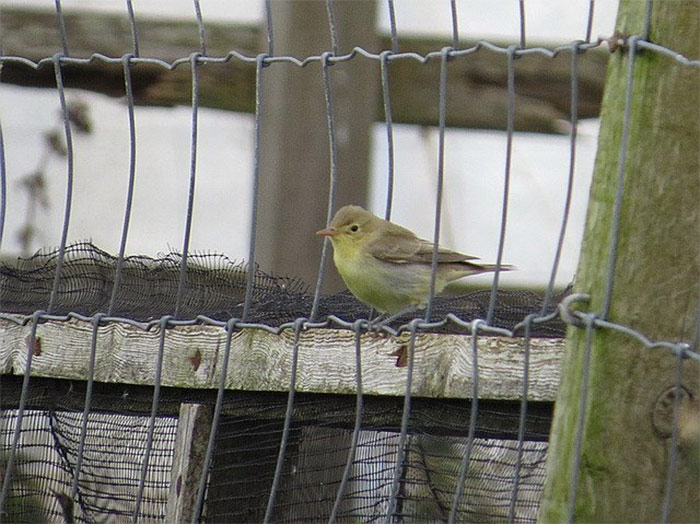 A Melodious Warbler remained on Skokholm (Pembrokeshire) on 5th; another was in Cornwall at Kynance Cove on 7th-10th.
A female Subalpine Warbler of indeterminate form was found on 9th at Mizen Head (Co.Cork).
The waves of Wrynecks continued to crash over us this week, with a shade over 30 birds recorded as the days passed by. Once again, many of these were at coastal sites, right around Britain, but inland sightings cropped up amongst them too – not least a great one from Ealing (London) on 5th. A probable Red-rumped Swallow was seen in London at Leyton Flats on 5th also, with one definitely on The Lizard (Cornwall) on 9th.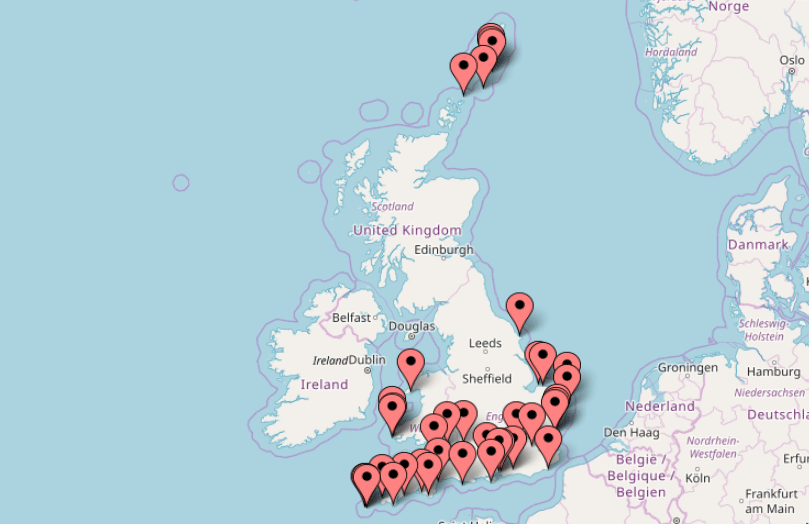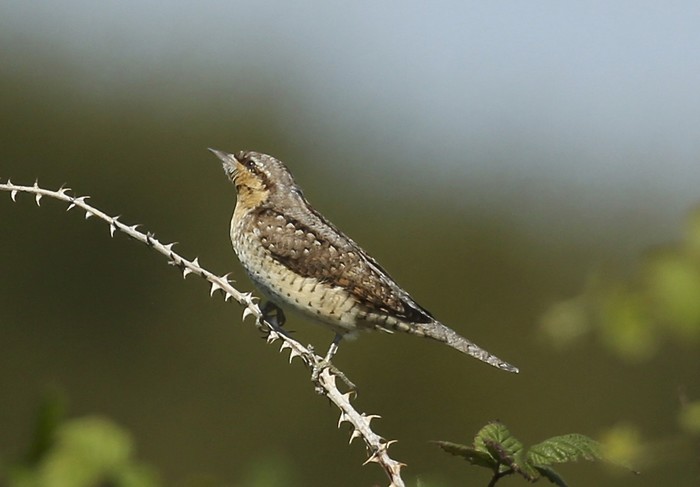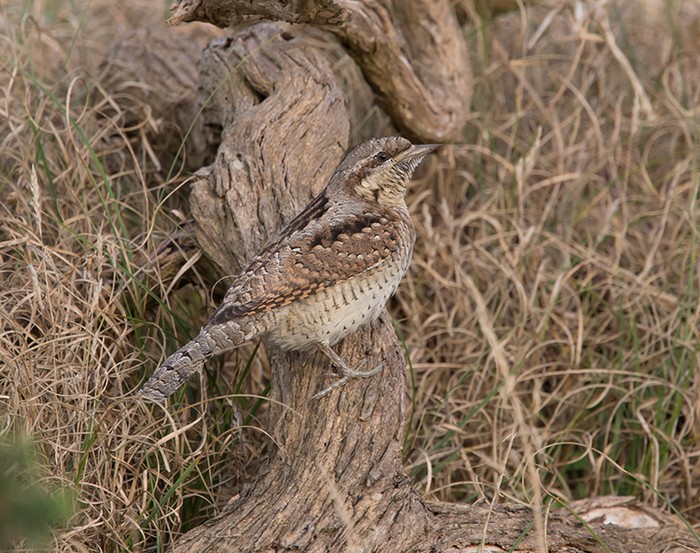 Two Hoopoes provided colour at Cromarty (Highland) on 6th-11th and Swindon (Wiltshire) on 7th-9th.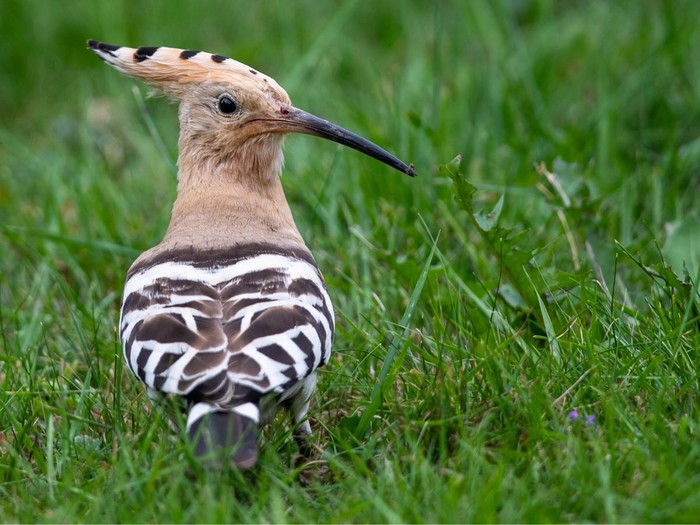 The Golden Oriole remained on Lundy (Devon) on 6th.
On St Mary's (Scilly), meanwhile, the Citrine Wagtail was once more reported from Lower Moors on 5th, while a probable Blue-headed Wagtail was seen in London at Totteridge Valley on 11th.
A Richard's Pipit was on Fair Isle in the early evening of 9th; in common with the early theme displayed by the first of their Lancies this week, this bird was the second-earliest ever on the island, just a day later than one seen on 8th September 1968. It or another was present on Fair Isle as the week drew to a close on 11th.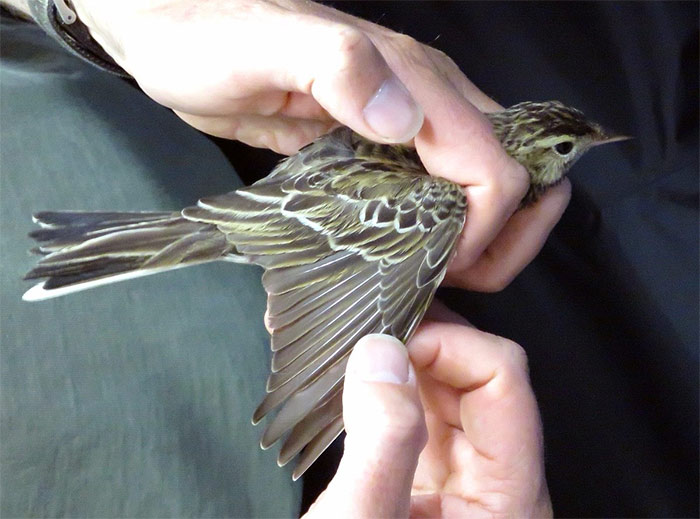 More autumnal flavour came this week in the form of a handful of Red-breasted Flycatchers - single birds at The Naze (Essex) on 6th, Druridge Pools NR (Northumberland) on 7th, and at Gibraltar Point NNR (Lincolnshire) on 7th-8th, being trapped and ringed there on 8th.
The long-staying Red-backed Shrike in London at Wanstead Flats stayed a little while longer, being last seen there on 7th; elsewhere, birds were seen at Whitburn CP (Co.Durham) still on 5th-9th and on The Lizard (Cornwall) on 7th; and at Dale (Pembrokeshire) on 9th; another was in Pembrokeshire on 9th at Tresnwy Moor; and one was seen at Flamborough (East Yorkshire) that day also.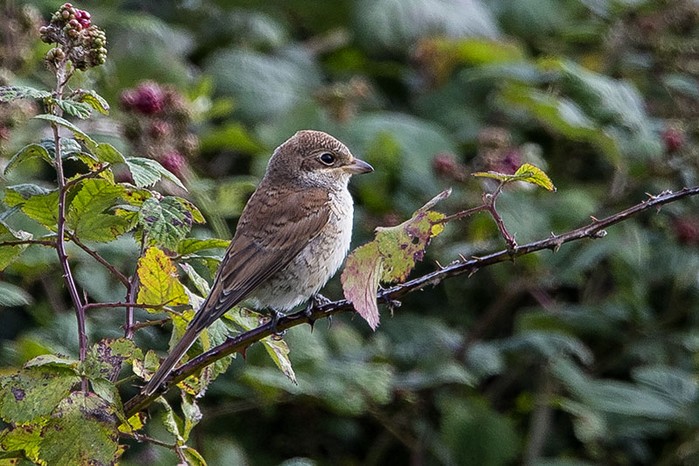 The Pied Crow was still present on Flamborough on 9th-11th.
An adult Rose-coloured Starling remained on Tiree (Argyll & Bute) on 5th, while in the Western Isles on St Kilda a bird remained on 6th-11th; a juvenile was found in a chicken run on Lundy (Devon) on 6th while staying in Devon the juvenile was once again seen at Torcross on 9th.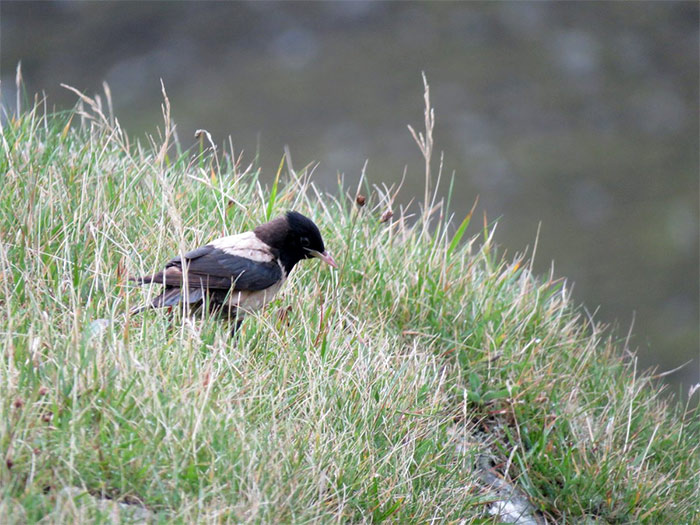 A Serin was seen in Ventnor (Isle of Wight) on 9th, briefly.
32 Common Rosefinches were tallied this week, once more predominantly in Shetland where, on Fair Isle, the week's highest single site tally came in the form of five birds present on the island on 5th and 8th. Birds continued to be found on the English east coast too, with one on Spurn on 7th-8th the most southerly record.
Numbers of Ortolan Buntings, however, took a tumble this week, dropping down into single figures. Two were on Portland (Dorset) on 5th; on 6th Fair Isle claimed a northerly record, while one was seen that day too at St Aldhem's Head (Dorset), and one passed over Dungeness (Kent); on 7th a bird was logged at Nanjizal (Cornwall); on 8th a probable was recorded in Lincolnshire at East Halton; while on 10th a report came of a further bird on private land at Sancreed (Cornwall).
And we'll finish with a report of a possible Brown-headed Cowbird seen by a non-birder in Shetland at Stromfirth on 8th… which, in the absence of any further sightings, resides firmly for now in the category of one that got away.
Still present, and providing truly gripping views, the Yellow-bellied Sapsucker remained in Iceland at Apavatn on 6th-7th.
On the subject of birds that make me green with envy (or passive seasickness when I imagine the motion on the ocean that must be endured for these sorts of records), a phenomenal double bill came at sea off Lanzarote (Canary Islands) at Banco de la Concepcion on 10th - Black-bellied Storm-petrel and, if that weren't good enough, a Swinhoe's Petrel too for good measure.
After the past week, I want to believe the autumnal floodgates are about to open, deluging us with more Pallid Harriers and a mainland Lanceolated Warbler too, amongst other lovely things. After all, mid-September is when things can, with a following easterly wind, start to get really tasty.
That said, if the westerlies that herald the start of the coming week persist, we're more likely to be on for something American. Realistically, that means an elevated chance of waders like more Baird's and Buff-breasted Sandpipers or American Golden Plovers…
…but, for the eternally optimistic, it's also a good time for an early American warbler – past records in the coming week of Northern Waterthrush, Yellow and Black-and-white Warblers should all point towards this distant possibility – and let's not forget that in the last decade we've also been graced with Blackburnian and Wilson's Warbler too.
Maybe September westerlies aren't so bad after all.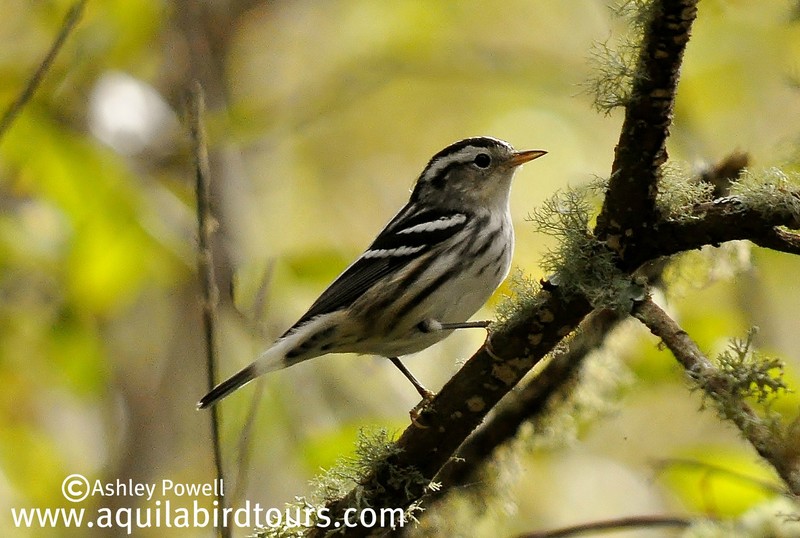 Jon Dunn
12 Sept 2018
Share this story
Tweet