Weekly birding round-up: 20 - 26 Jun 2018
The week at a glance
American Royal Tern in Sussex and Dorset
Black-headed Bunting on Shetland
Semipalmated Sandpiper in Durham
Snowy Owls on St. Kilda and Orkney
The last week of June is traditionally one of the quietest of the whole year, the late trickle of spring overshoots finally coming to an end and the first stirrings of return wader passage barely underway. This week conformed perfectly to the established pattern and in the warm weather and sunshine (apart from in northern Scotland), the summer solstice came and went, the year turned slowly on its mid-point and the birds held their breath.
American Royal Tern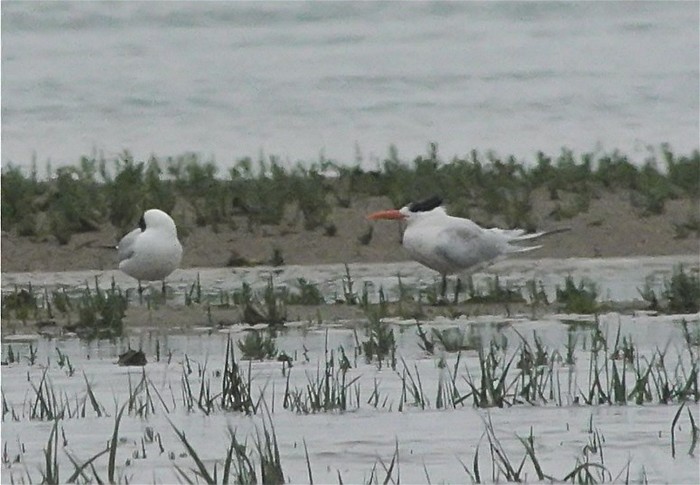 The only bird to puncture this image of summer tranquillity was the ringed second-summer American Royal Tern (previously semi-resident on the Channel Islands) found on the afternoon of 19th at Church Norton, Sussex. Given this species' reputation for brief appearances, this was clearly a case for some old-school 'be there before dawn' twitching. And so it proved, the early arrivals enjoying settled views of the bird in the gathering light until, at 0437 it suddenly flew south out to sea. True to form, there was no further sign of the bird all day until it was refound at 2000 flying over Lodmoor, Dorset and then lingering in nearby Portland Harbour until 2215 - a nice echo of the recent Ross's Gull at the same sites. Presumably the bird had travelled the whole length of the Hampshire coast on its way but sadly was not picked up en route.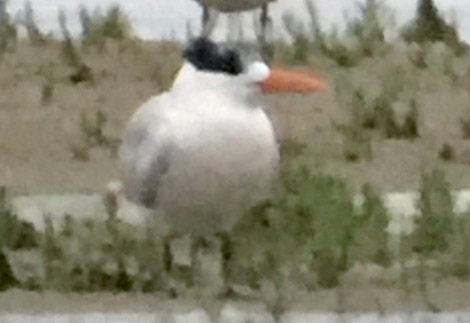 Cue a second round of 'be there by dawn' twitching and again the strategy worked for some as the bird was there at 0530 on 21st before flying off once more with no further sign either that day or subsequently. Although twitchable by those quick off the mark, this bird will nevertheless have eluded many and the species' reputation for being mercurial and unpredictable has been enhanced further. The summer is yet young, however, and it is highly likely that the last has not yet been heard of this bird. The traditional 'orange-billed tern' magnet of Dawlish Warren, Devon would be as good a place as any to start a vigil but this is a bird which might now reappear almost anywhere.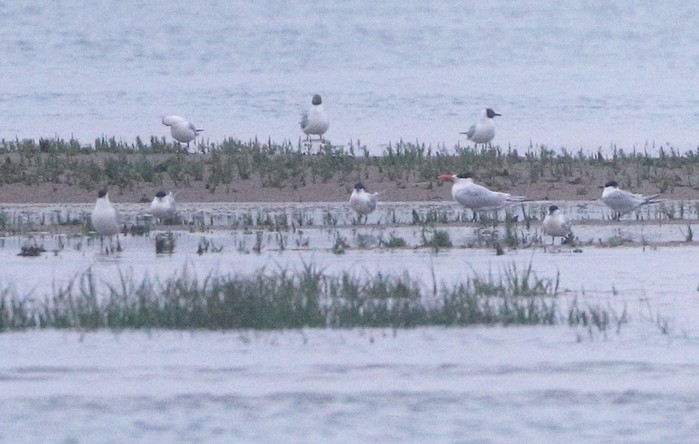 Black-headed Bunting
Last of the spring overshoots was a male Black-headed Bunting at Norwick, Unst on 20th to 26th. It conformed nicely to the familiar pattern of this species turning up not on the east coast but at locations in the far west and north.
Semipalmated Sandpiper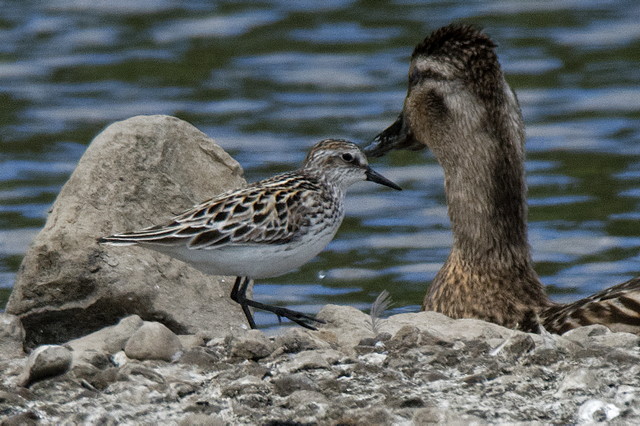 The Black-headed Bunting coincided neatly with the first of the autumn's rare waders, passing the baton, as it were, from spring to autumn. This harbinger of things to come was a Semipalmated Sandpiper at Washington, Durham on 20th and still there on 21st. Judging by the photos, this was a super bird indeed, sporting a full set of structural and plumage features. A mid-June appearance in Britain is unusual, however.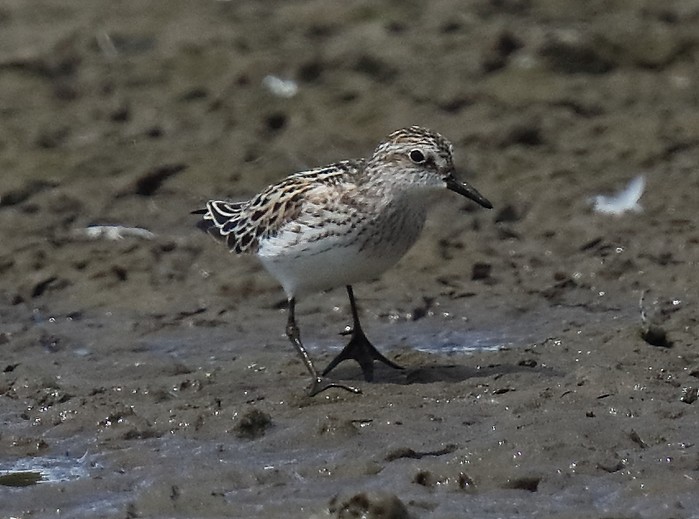 Snowy Owl
Continuing this year's exceptional run of Snowy Owls , the female was still on St. Kilda, Western Isles on 22nd with another on Stronsay, Orkney on 23rd.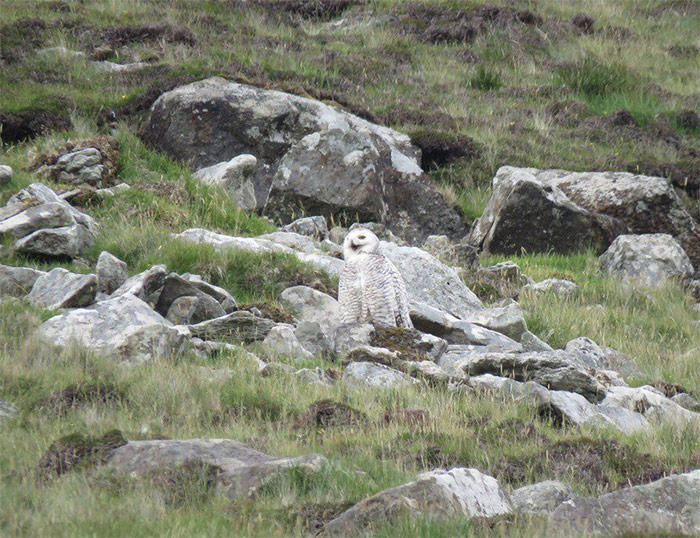 The first glimmers of the summer seabird season were provided by a Balearic Shearwater off Porthgwarra, Cornwall on 22nd, adult Long-tailed Skuas off Canna, Highland on 24th and on Fair Isle, Shetland on 25th and on the latter date a Great Shearwater and a Pomarine Skua at sea south of Galley Head, Cork.
The only summering ducks of note were the long-staying American Wigeon at Grindon Lough, Northumberland still on 20th, a Ring-necked Duck on Islay, Argyll on 26th and the regular Ferruginous Duck at Washington, Durham on at least 21st and 22nd.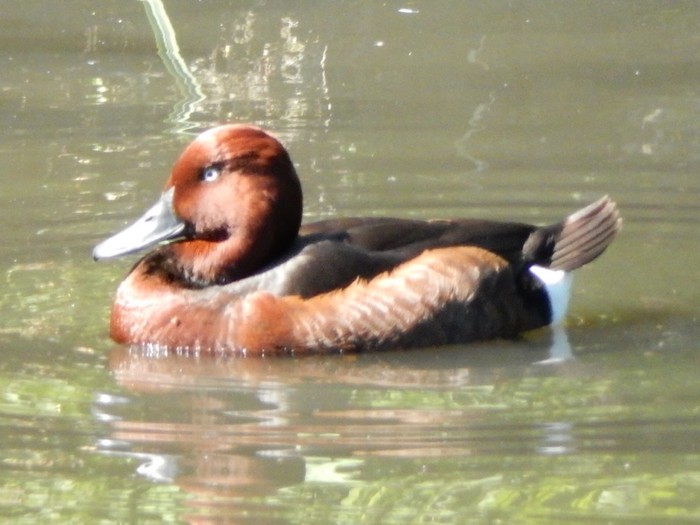 Herons, egrets, crakes etc.
Continuing the Northeast's dominance of the week's rarities, a Spotted Crake was also at Washington, Durham on 21st with a Glossy Ibis at Druridge, Northumberland on 20th. Otherwise the 'long-legged waterbirds' highlights were a Purple Heron at Midleton, Cork on 24th, a White Stork over Caterham, Surrey on 26th and six Cattle Egrets at Catcott Lows, Somerset on 21st with four at Kildare, Co. Kildare on 25th.
The week's best raptors were Black Kites over Yoxford, Suffolk on 25th and Rochester, Kent on 26th. Otherwise a couple of Honey Buzzards continued to be seen at Wykeham Forest, Yorkshire with transient singles over Nether Heyford, Northamptonshire on 20th, Stutton, Suffolk on 21st, Holmes Chapel, Cheshire on 22nd and Thetford, Norfolk on 26th.
Apart from the Semipalmated Sandpiper, the only other wader news involved a Black-winged Stilt again at Potter Heigham Marshes, Norfolk on 24th to 26th, a Red-necked Phalarope at Hornsea Mere, Yorkshire on 20th, another at Frampton, Lincolnshire on 22nd and two on North Ronaldsay, Orkney on 25th.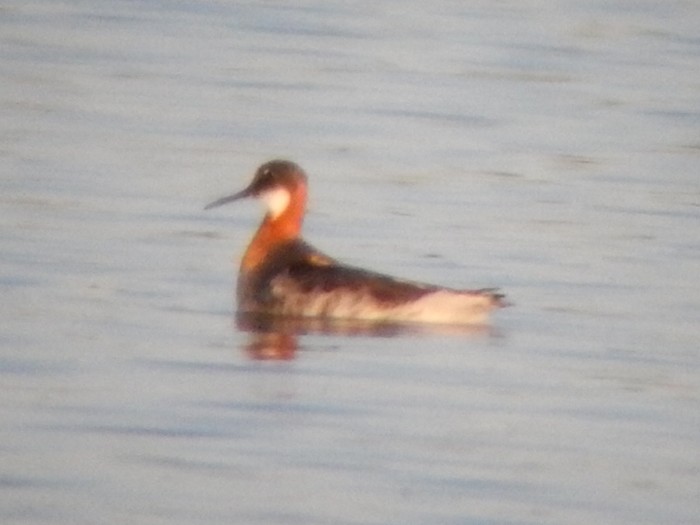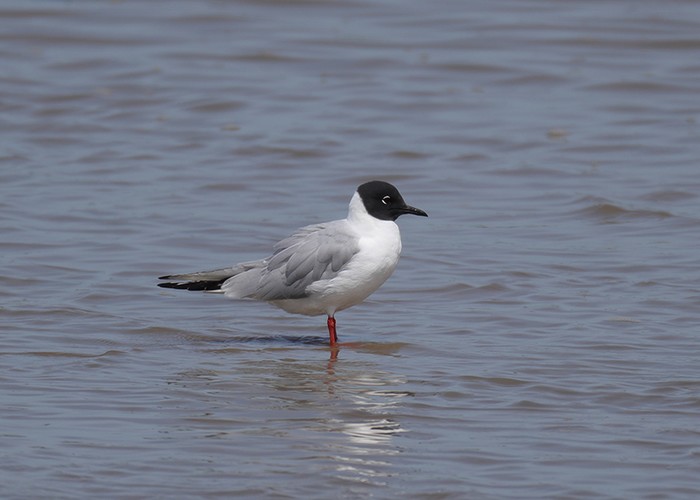 The best gull find of the week was a first-summer Bonaparte's Gull at Cross Ness, London on 23rd to 26th - the latest in a remarkable run of this species at this site and a well-earned reward for regular watching there. Nearby, the gorgeous adult was still at Oare Marshes, Kent to at least 26th.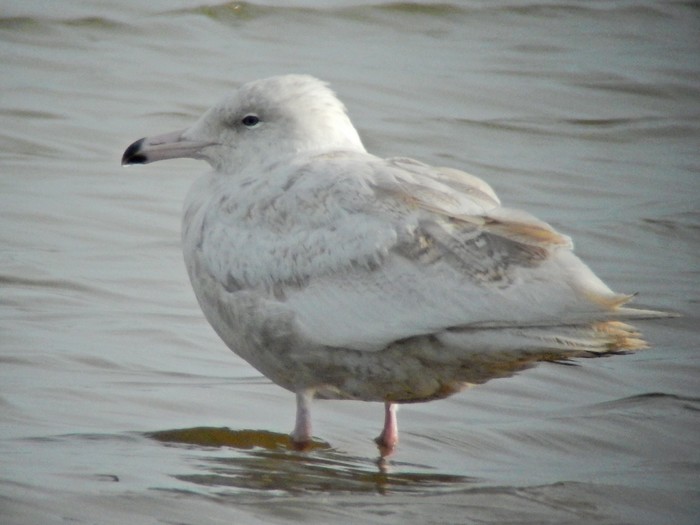 The other gull news involved summering 'white-wingers' - Glaucous Gulls at Tralee, Kerry on 20th and 21st, North Uist, Western Isles to 25th, Gibraltar Point, Lincolnshire on 23rd, Unst, Shetland on 23rd to 25th and Mainland Orkney on 25th and Iceland Gulls at Bolsover, Derbyshire on 20th and Cork, Co. Cork to 26th.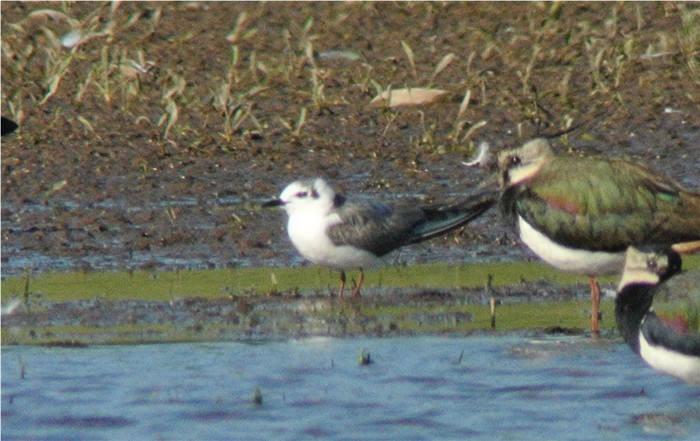 The best terns were two Caspian Terns seen at sea twelve miles south of Galley Head, Cork on 25th. Otherwise, there were two White-winged Black Terns - one south past Whitburn, Durham on 20th (another great bird for the Northeast this week) and then a first-summer at Blithfield Reservoir, Staffordshire on 22nd. Away from the breeding areas, a Roseate Tern was at Lodmoor, Abbotsbury Swannery and Portland Harbour, all Dorset, all week and up to two were at Cemlyn Bay, Anglesey on 25th.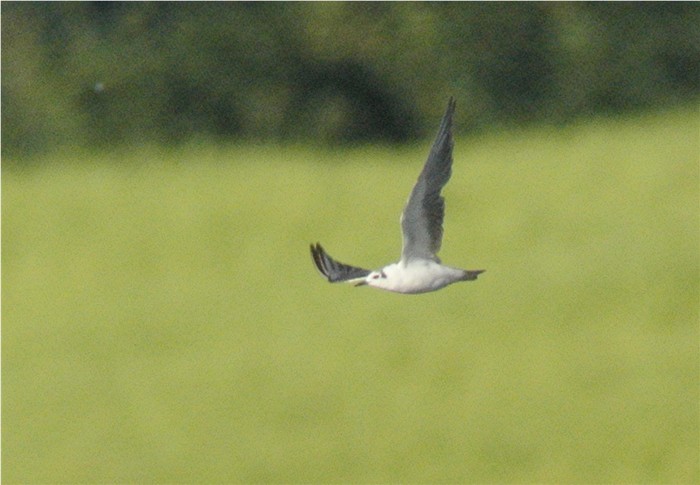 Near-passerines and Passerines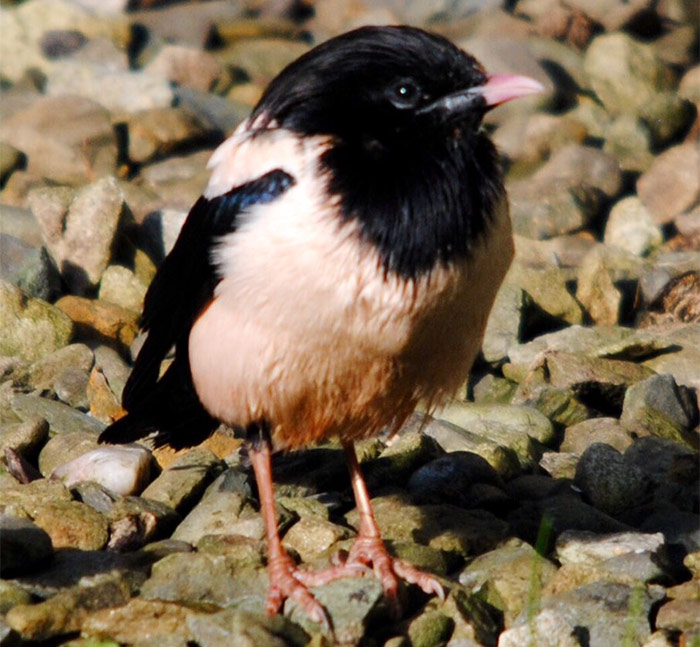 Turning to passerines, this week's scatter of Rose-coloured Starlings also illustrated the phenomenon of south-east European overshoots reaching the far north and west. This species traditionally shows a similar pattern to Black-headed Bunting and this week birds were noted at Tralee, Kerry to at least 26th, Out Skerries, Shetland on 20th, Bullers of Buchan, Aberdeenshire on 20th with two there on 22nd to 23rd and one to 25th, Dungarvan, Waterford and Harris, Western Isles on 21st, Barra, Western Isles on 21st to 25th, Cruden Bay, Aberdeenshire on 22nd, Stromness, Orkney and Coll, Argyll on 24th, Ballyconneely, Galway on 25th and 26th and North Uist, Western Isles and Unst, Shetland on 26th. Amidst all these Irish and Scottish records, the only English bird was at Brighton, Sussex on 21st. A Red-breasted Flycatcher on the Calf of Man, Isle of Man on 24th (the island's third this spring) and a Marsh Warbler on Unst, Shetland on 26th neatly underlined the point that around the Irish Sea and further west and north can be prime locations in late spring.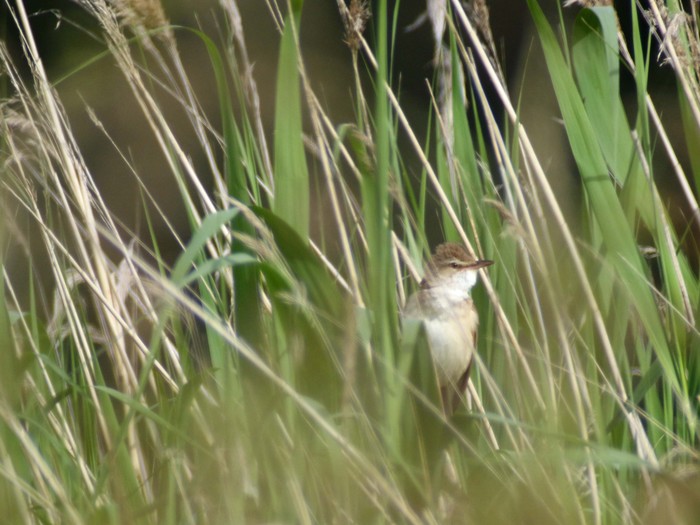 Otherwise it was mainly a case of 'marooned' summering birds - the Iberian Chiffchaffs still at Otley, Yorkshire on 21st and Thurstaston, Wirral on 24th, the female Eastern Subalpine Warbler still on Fair Isle, Shetland on 25th (with a Marsh Warbler still there on 20th), the Savi's Warbler still at Minsmere, Suffolk to 26th and the Great Reed Warbler at Fen Drayton, Cambridgeshire to 26th also.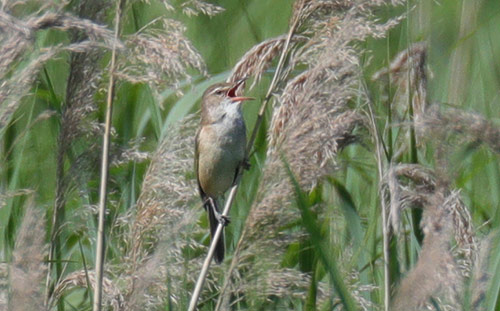 A small scatter of Hoopoes was also noted, as usual all at pretty random inland locations - Hesket Newmarket, Cumbria and East Hendred, Oxfordshire on 20th and Chedworth, Gloucestershire on 22nd. Finally, a singing male Golden Oriole was in the Forest of Dean, Gloucestershire on 25th and 26th.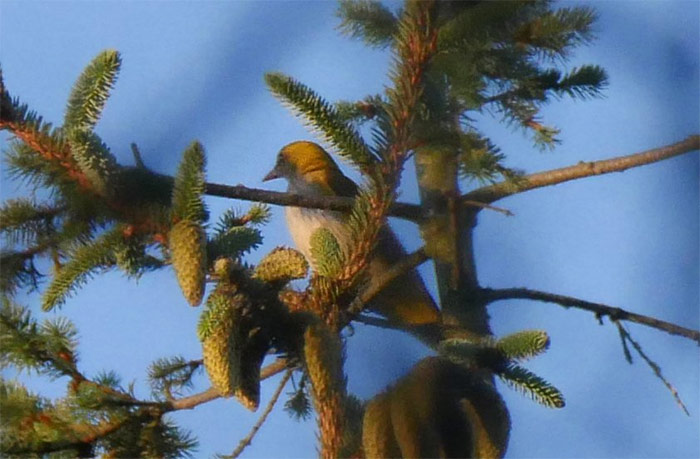 Elsewhere in Europe it was a quiet week too although the Black-browed Albatross was still at Sylt, Germany and a Steppe Eagle was in Sweden.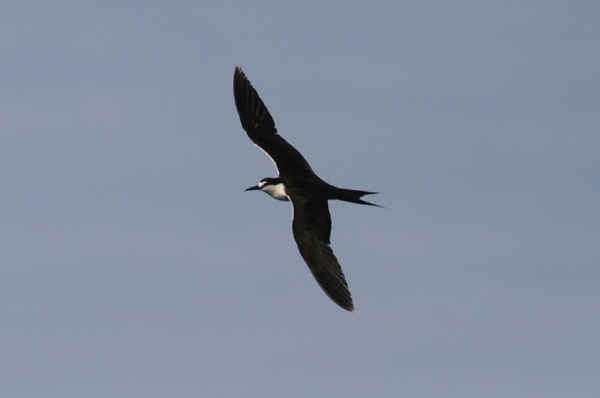 Looking ahead to next week, the late June rarity-hunting surely has to be targeted at waders and seabirds although it is still on the early side for both. Looking at the rather settled warm and sunny weather forecast, waders certainly look the best bet, with Pacific Golden Plover amongst the most likely candidates. We can, however, dream of even better things – a Great Knot, Black-winged Pratincole or Lesser Sand Plover? As for seabirds, both Black-browed Albatross and American Royal Tern are somewhere nearby and might turn up anywhere regardless of the weather. Another appearance by an Elegant Tern would not be a major surprise although an accessible Sooty Tern would probably be more welcome.
Andy Stoddart
27 June 2018
Share this story
Tweet