Weekly birding round-up: 30 May - 5 Jun 2018
The week at a glance
Norfolk joins Highland on the Moltoni's Subalpine Warbler scoresheet
A River Warbler doesn't linger in Highland
The force is strong in Co.Kerry with a one-day Black-browed Albatross
And the Rose-coloured Starlings kept coming…
So we turned a corner this week, with May now an afterthought and flaming June upon us. That meant a typical summer week of weather, with hot bits and thundery bits and downpours - but all the meantime, those late spring migrants kept trickling through…
Moltoni's Subalpine Warblers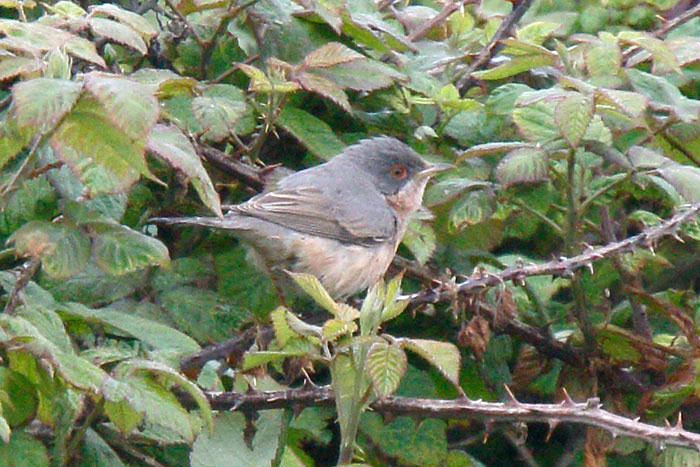 ...Finally as Phil turned and started to walk away I gave a final pish towards the bushes. The linnets were all interested but nothing new, then suddenly a warbler caught my eye. I raised my bins, and though relatively distant, glimpsed a view of what appeared to be a short-tailed Sylvia warbler...
The week was bookended by Moltoni's Subalpine Warblers - beginning in Highland with the male still present at Duncansby Head on 30th, and concluded with an only slightly more accessible male in Norfolk on 2nd. I say 'slightly more accessible' as it was on Blakeney Point and, y'know… it's Blakeney Point, and that's practically a moon-shot for those who don't fancy yomping miles along the shingle.
This latter bird was, of course, neither a county nor a site first, with Norfolk's sole previous record having been found on Blakeney Point on 11th May 2015. It will have proven a potent draw, however, for those who've not had either the time or resources to make a long-haul for a prior Scottish bird – though reports from the site suggested that this latest bird was, perhaps, not the most obliging of individuals for its would-be admirers.
River Warbler
Funny things, River Warblers - I think it's the way they occasionally stick around, holding court on temporary territories, that leads me to think they're commoner in Britain than they actually are. The reality is rather different to that misconception – with only 44 accepted records to the end of 2016, and still a blank space on the Irish list where they're concerned – and surely overdue? – they're actually still properly arresting birds.
One this week, singing at Skirza (Highland) on 3rd, turned out to be one of the less-obliging individuals of its kind – where some past birds have hung around for weeks on end, there was no further sign of this latest Scottish bird the following day.
In fact, it's been a while since we enjoyed a convenient settled individual in the south – the last such bird being that which graced Thorpe-next-Haddiscoe (Norfolk) on 2nd-16th July 2010. Before that, for a long-staying English individual we need to drop back to the bird that spent just over a month at Doxey Marshes (Staffordshire) in the summer of 1996. So really, another settled bird south of the Scottish border might prove deservedly popular; and had this latest bird at Skirza stuck around, it may have tempted some English birders to make the long haul north.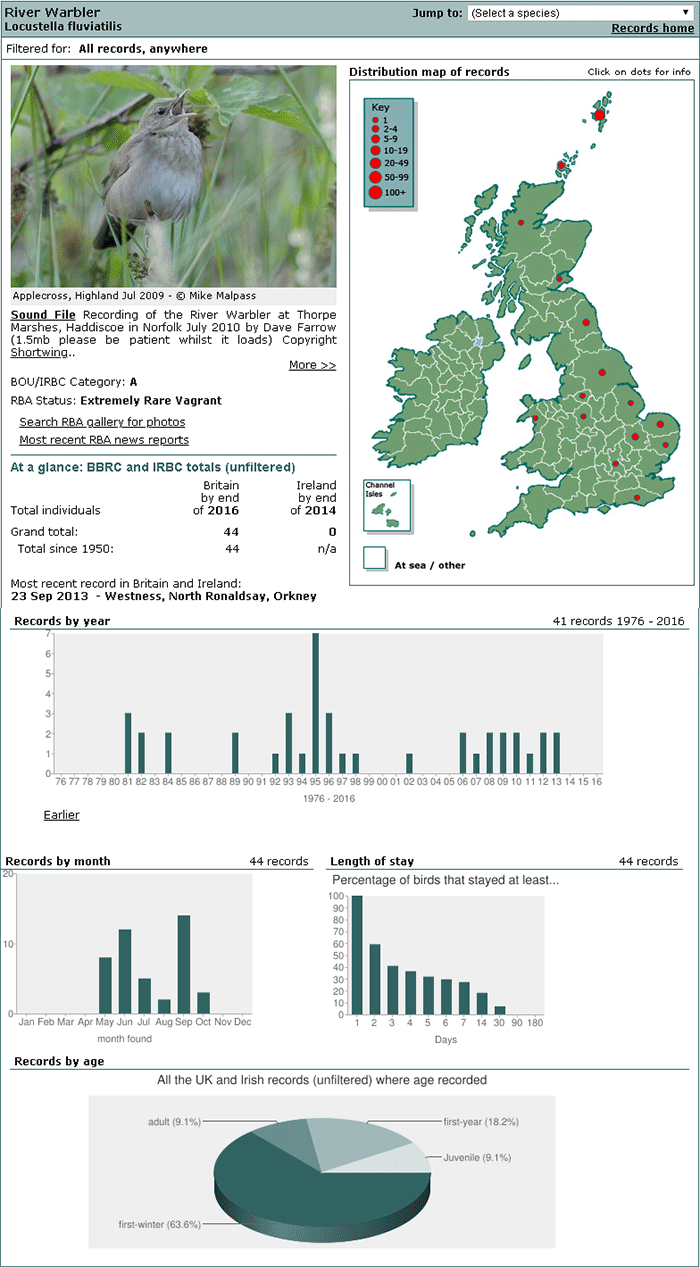 Black-browed Albatross
I don't think there can be any seabird that beats an albatross for sheer, jaw-dropping grandeur – while your Pterodroma petrels have the lustre of downright rarity, a Black-browed Albatross has both rarity and sheer mass on its side. They've got serious stage presence.
And what a stage this latest Irish example this week chose to make an appearance upon. Fresh from an appearance on the big screen, Skellig Michael (Co.Kerry) is latterly better known for its porgs than its pelagic wanderers, but on 30th this was the week that the Albert struck back.
Was this the individual that's been summering in Germany in the past couple of years, with occasional North Sea excursions towards the English coast? Or another bird altogether? There's really no telling, and this latest sighting was far from twitchable being seen intermittently on 30th only, but what a bird. The stuff seabirders' dreams are made of. What possibly was the same bird may have accounted for the albatross sp seen at sea later in the week south of Toe Head (Co.Cork) on 4th.
Rose-coloured Starlings
In the headlines for a second consecutive week, the influx of Rose-coloured Starlings showed no signs of abating this week, with 41 birds in total logged, of which all but three individuals were new in. The vast majority were found at coastal locations, but the geographic spread of this week's records spoke volumes about just how widespread their dispersal must be – from Unst (Shetland) in the very far north down to St Mary's (Scilly) in the far south-west, with records from Wales and Ireland in between too.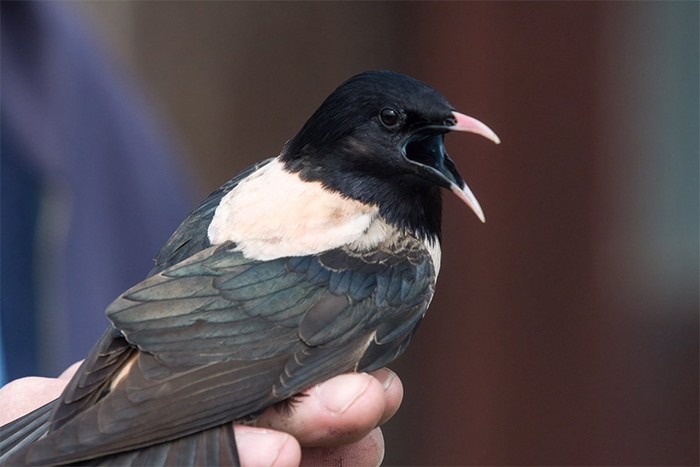 Better yet, the pace of newly found birds appeared to be picking up as the week wore on, with daily single-figure tallies obliterated by 12 new birds discovered on 3rd. The influx currently stands at 60 individuals, so we're ticking along nicely – not in 2002 territory just yet, but we'll see what happens in the next couple of weeks. The floodgates may yet break for these bubblegum-pink and jet-black dandies…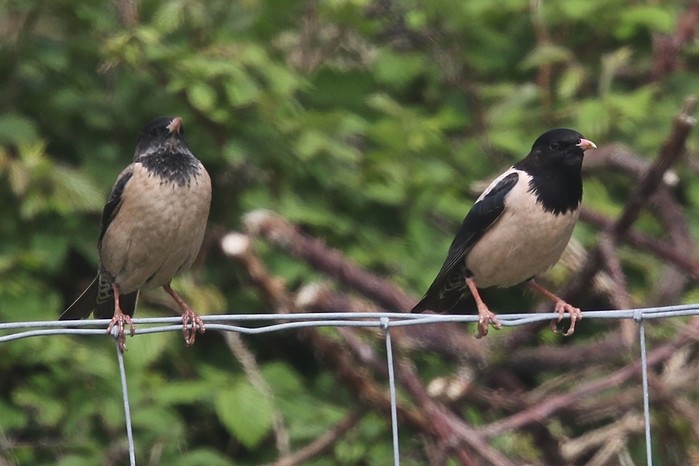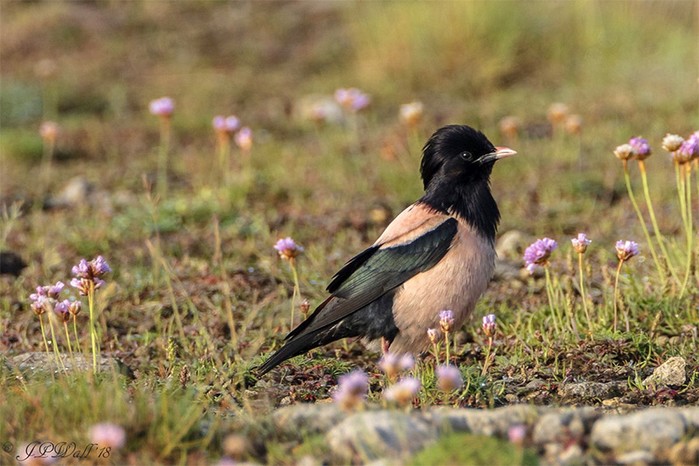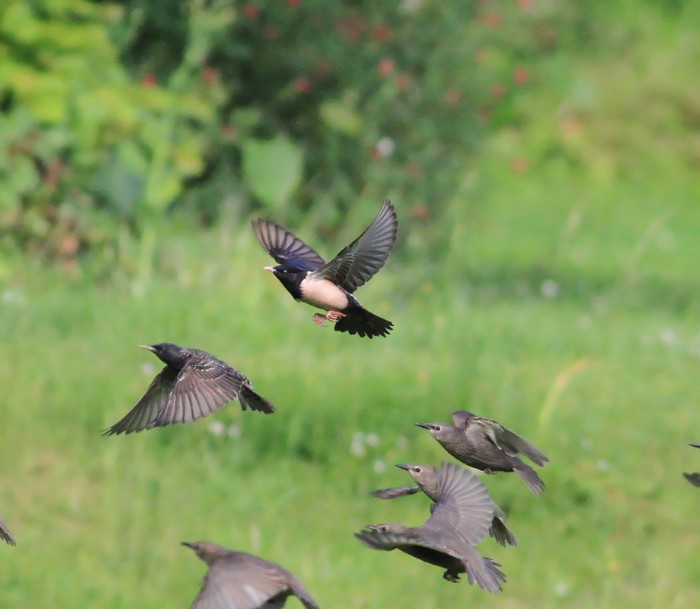 Albatross action aside, there was definitely a faint whiff of summer about this week's seabird news – not least in the form of a couple more Wilson's Petrel,this time in Cornish waters – one in Mount's Bay on 30th, and another noted on 3rd in the wake of a lobster boat off Mevagissey; and then, on 5th, a quartet seen on a pelagic off Toe Head (Co.Cork).
Adding to the summery vibes were a couple of shearwaters we'll be hearing plenty more of in the next couple of months – a Cory's and two Balearic Shearwaters noted off Porthgwarra on 3rd, and another Cory's Shearwater on 5th off Spurn (East Yorkshire).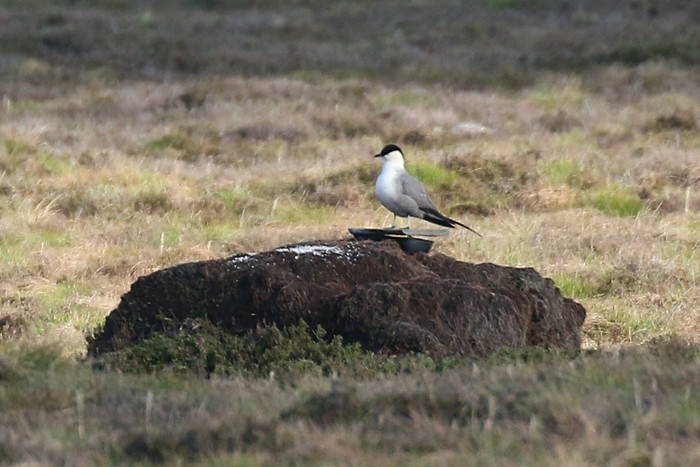 The last dribbles of spring passage skuas meanwhile served to place us more in the present, with two Pomarine Skuas off Portland (Dorset) on 1st and single bird off Canvey Island (Essex) on 4th and at sea off Toe Head (Co.Cork) on 5th, and single Long-tailed Skuas noted on 30th off Coverack (Cornwall); on 2nd from The Lizard (Cornwall); and on 3rd in Cairngorm National Park near Tomintoul (Moray).
Yet there were still some wintery reminders hanging on too this week – in the hulking form of White-billed Divers off Tory Island (Co.Donegal); three remained there on 30th, with an adult bird still present until 2nd. A further single bird was seen off Lewis (Western Isles) on 4th.
If the seabirds were seasonally all over the shop this week, our long-legged beasties had settled down into a comfortable summer groove – really not a lot going on here this week to raise an eyebrow to, let alone a celebratory glass of something cold and good.
So, with no further ado we'll kick off with those Cattle Egrets we're admitting to – single birds logged this week at Hollesley Marshes RSPB and Minsmere RSPB (Suffolk) on 30th (and again at the latter site on 5th), and on 3rd at West Charleton Marshes (Devon) still, and at Isle Brewers (Somerset) and Cooling Marshes (Kent). On 4th-5th one was again noted at Burton Mere Wetlands RSPB (Cheshire), with another that day over Ventongimps (Cornwall).
Great White Egrets, meanwhile, were still omnipresent, with at least 30 birds noted nationally, with a peak single-site count coming from HIckling Broad (Norfolk) on 31st with five birds present there that day.
Two Purple Herons were noted this week – one still at Minsmere RSPB (Suffolk) on 30th-1st, and another in Somerset at Ham Wall RSPB on 31st.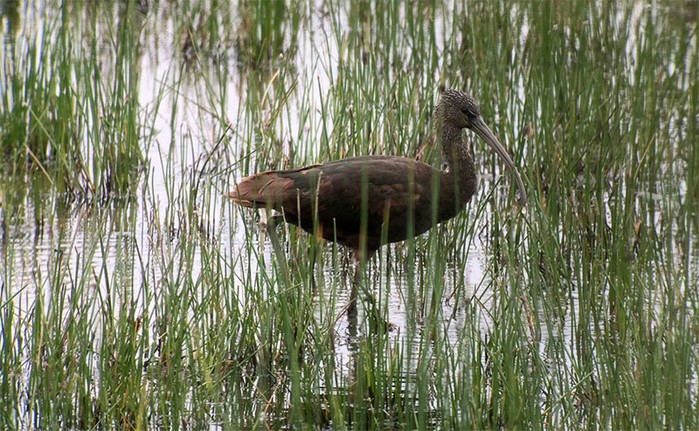 Glossy Ibis sightings dried up this week like a dewpond on a hot day – bringing us down to just one bird, the long-stayer at Druridge (Northumberland) still present until 5th.
We can count, however, on Spoonbills - a year-round presence now in appreciable numbers, and this week was no exception with around 50 birds once again logged nationally, featuring a peak count of eight birds at Holkham (Norfolk) on 2nd.
A metal-ringed White Stork was present at Dog-in-a-Doublet (Cambridgeshire) on 2nd and still in the area the following day; while two were seen over Sandwich Bay (Kent) on 3rd.
Itinerant Common Cranes remained a feature for another week, starting on 31st in Aberdeenshire where last week's wandering flock was seen once more – four birds being noted that day at the Ythan estuary. Four more were seen on 31st in Cambridgeshire at Nene Washes RSPB, with one also on 31st at Stone (Worcestershire). On 1st a single bird was seen at Sedgefield (Co.Durham); on 2nd one was reported from Cramlington (Northumberland), with two seen that day at Wicken Fen NT (Cambridgeshire); on 3rd one was heard at Easington (East Yorkshire) and a pair were seen over Martin Down (Hampshire). On 4th two were over Kilnsea (East Yorkshire), and one was noted at High Petergate (North Yorkshire).
The recent singing Corncrake remained in North Yorkshire at North Duffield Carrs NR still on 30th and again on 5th, with another in full rasping song on 1st at Baglan Moors (Glamorgan). Singing Spotted Crakes were heard on 30th-1st at Lodmoor RSPB (Dorset); on 1st at Thorne Moors NNR (South Yorkshire); and on 2nd-3rd at Kenfig Pools NNR (Glamorgan).
Barely a ripple disturbed the mirror-like surface of the RBA duckpond this week – in a nutshell there was, as we'd expect in early June, not a great deal happening whatsoever.
Starting with American Wigeon, the settled drake remained at Grindon Lough (Northumberland) on 30th-4th.
The drake Black Duck was similarly comfortable still at Strontian (Highland) again on 31st, while at Loch Gruinart RSPB on Islay (Argyll & Bute) the Green-winged Teal remained present on 31st also; and another Green-winged Teal was seen this week at Deeping Lakes NR (Lincolnshire).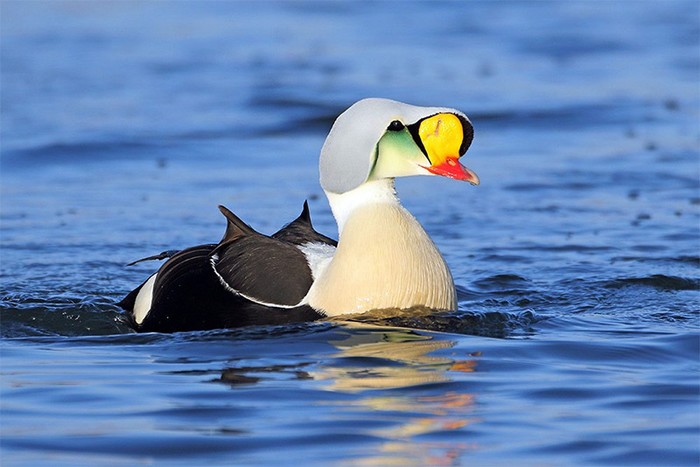 A drake Ring-necked Duck was at Caerlaverock WWT (Dumfries & Galloway) on 4th-5th. If all that weren't pulse-quickening enough, a possible Ferruginous Duck was seen in flight on 3rd at Ham Wall RSPB (Somerset).
Back in Scotland, the drake King Eider was still on the Ythan estuary (Aberdeenshire) until 2nd at least, and the long-staying drake Surf Scoter was once more seen off Musselburgh (Lothian) on 31st-3rd.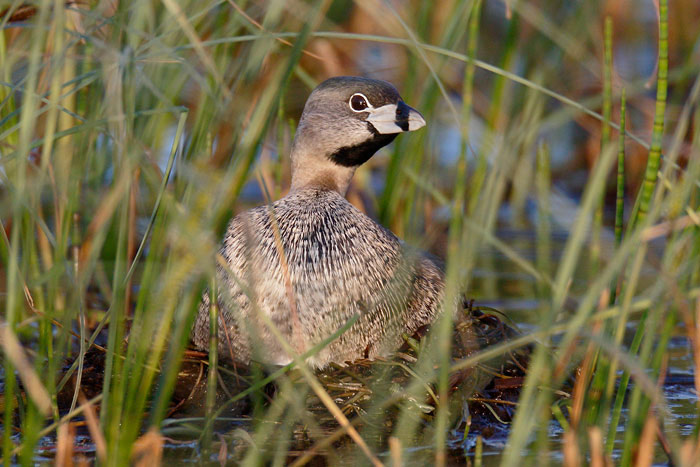 Finally, in Argyll & Bute the long-staying male Pied-billed Grebe was still to be seen at Loch Feorlin on 30th.
The previous week's notable shorebirds had been dominated, for sheer numbers at least, by Temminck's Stints, but it was a very different story on that front in this most recent reporting period – just eight birds being seen, being duos at Cley (Norfolk) still on 30th and Saltholme RSPB (Cleveland) on 31st, and singles at Flamborough (East Yorkshire) still and Balnakeil (Highland) on 30th followed by individuals on Unst (Shetland) on 31st and Tinker's Marshes (Suffolk) on 31st-1st.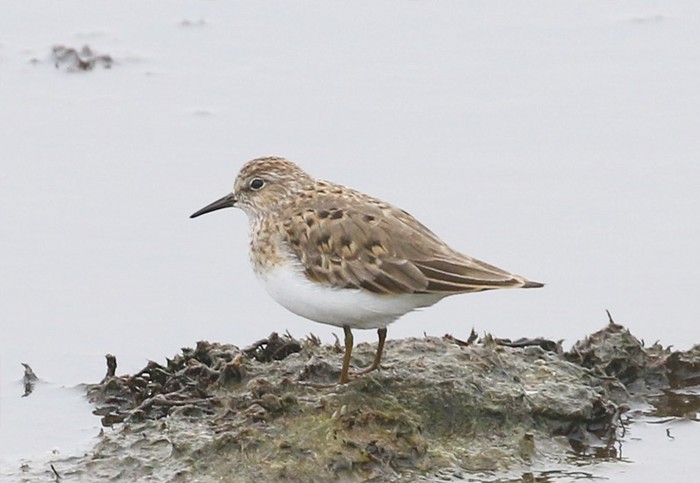 Rarer fare remained in Cornwall this week where the Baird's Sandpiper was again at Marazion on 31st-1st. The Pectoral Sandpiper remained in Northumberland at Druridge on 30th-31st.
Putative birds came in the form of a report of a Marsh Sandpiper at Cley (Norfolk) on 30th, and a probable American Golden Plover at Gronart (Flintshire) on 1st.
A male Kentish Plover was seen in Devon at Braunton Burrows on 31st.
Black-winged Stilts continued to provide further late spring colour this week, with sightings in Lincolnshire again coming from Freiston Shore RSPB on 30th-31st and Frampton Marsh RSPB on 1st; two birds were present at Pipps Ford GPs (Suffolk) on 30th, and singletons were noted at Sidlesham Ferry Pool (West Sussex) on 3rd and Oare Marshes KWT (Kent) on 4th.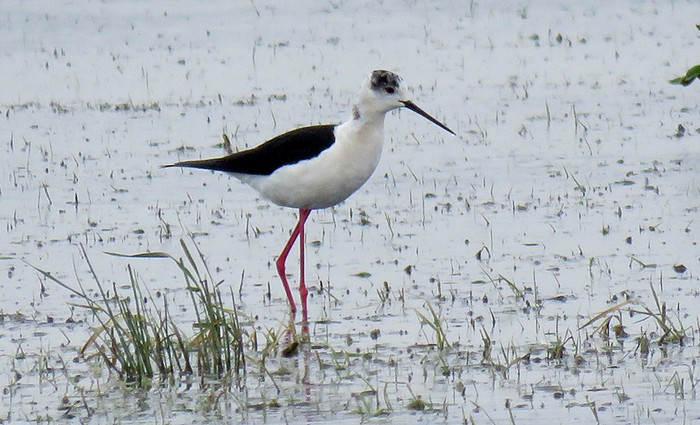 Just one Dotterel was reported this week, being the male still at Flamborough (East Yorkshire) until 31st.
Red-necked Phalaropes, however, were a little more numerous – two at Attenborough NR (Nottinghamshire) on 30th were followed by single birds at Port Meadow (Oxfordshire) on 30th and Wanlip Meadows (Leicestershire) on 31st, and a duo on the sea off Compass Head (Shetland) on 2nd.
Bonaparte's Gulls returned to the news again this week with not one but two individuals to report upon – the adult once again in Devon off Topsham on 30th, and a first-summer bird on Tiree (Argyll & Bute) on 31st-1st.
Also making a slight return was the first-summer Ring-billed Gull in Shetland, being seen on 31st at Grutness and again on 4th at Loch of Hillwell.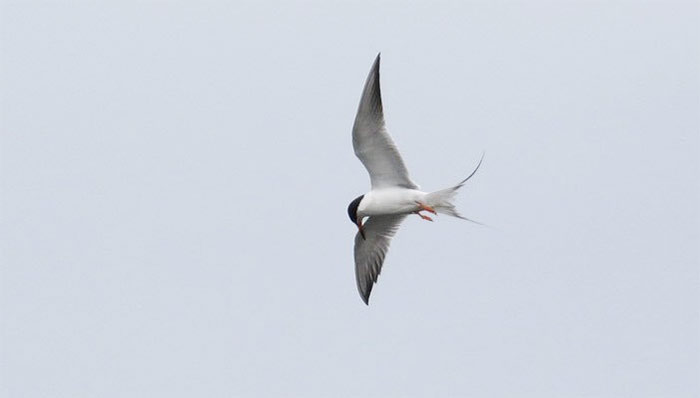 White-winged gulls, meanwhile, continued their gradual withdrawal from the news channels, with a dozen apiece of both Glaucous and Iceland Gulls seen this week.
In Ireland, at Tacumshin (Co.Wexford), the adult Forster's Tern was once again regularly seen on 30th-3rd.
One of the more startling rarity reports this week came from a decent array of scarce and rare raptors in the form of one of the week's showing of Red-footed Falcons - this being a female that spent half an hour around a Scilly pelagic boat at sea off the islands on 1st. Certainly not the bird anyone on board would have been expecting, but nonetheless welcome for all that. Further sightings came again this week from Isle Brewers (Somerset) on 30th-31st, with a further report from there on 3rd; at Tacumshin (Co.Wexford) once more on 30th-31st; and at Durlston CP (Dorset) on 4th.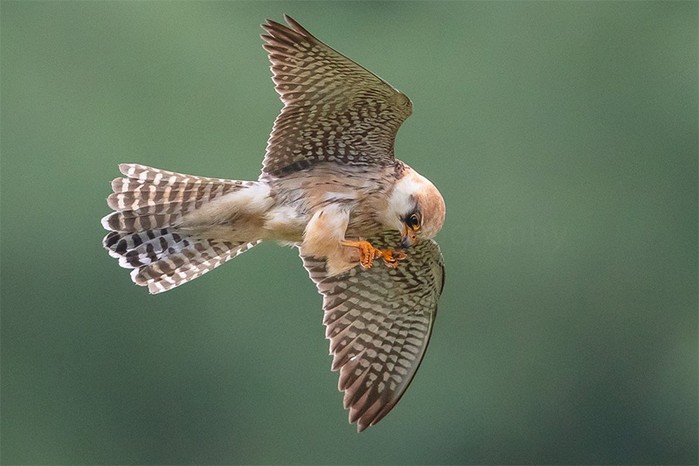 Rarest of all this week was the male Pallid Harrier seen at Grove Ferry NNR (Kent) on 30th.
A female Montagu's Harrier was reported from Sammy's Point (East Yorkshire) on 30th, with the female still at Blacktoft Sands RSPB on 1st. Further sightings came from Lundy (Devon) on 2nd and Shingle Street (Suffolk) on 3rd.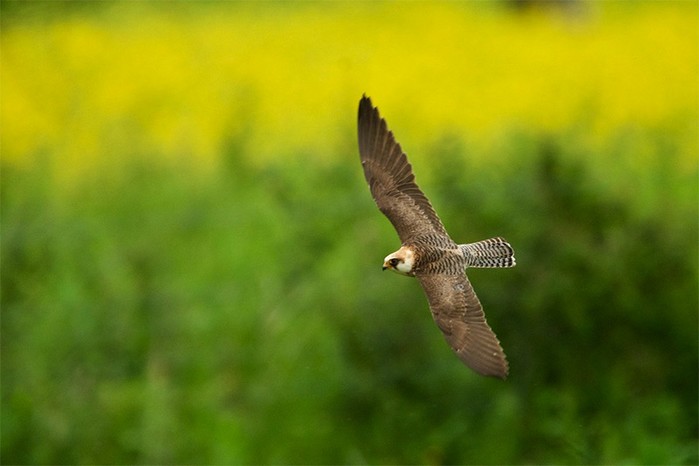 Half a dozen Black Kites were reported this week, being birds seen on 30th at Niton (Isle of Wight); on 1st at Godmanchester (Cambridgeshire) and a probable on Unst (Shetland); on 2nd at St Ives (Cambridgeshire) and a possible at Carr Vale NR (Derbyshire); and on 4th at Balbriggan (Co.Dublin).
Numbers of Honey Buzzards logged this week fell by some half on the previous week, being down to some 20 birds in all, with birds in Shetland and Co.Cork helping illustrate that these included displaced migrants still as well as birds settling down on territories.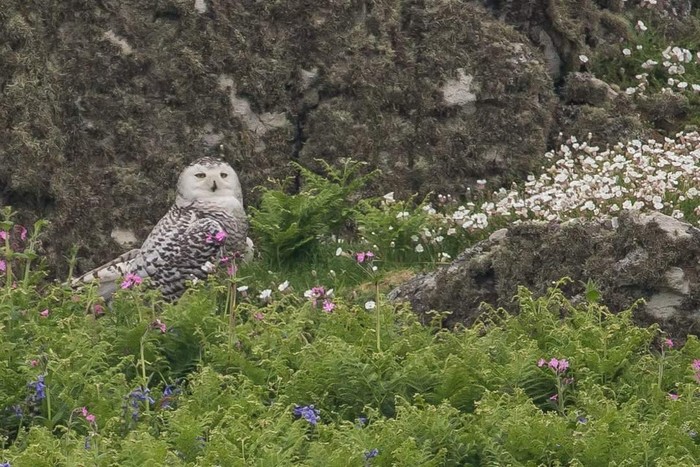 A Snowy Owl was a great find on Skomer (Pembrokeshire) on 30th, while on 5th one was found on Shetland near Bigton in the early afternoon and still present in the area later in day.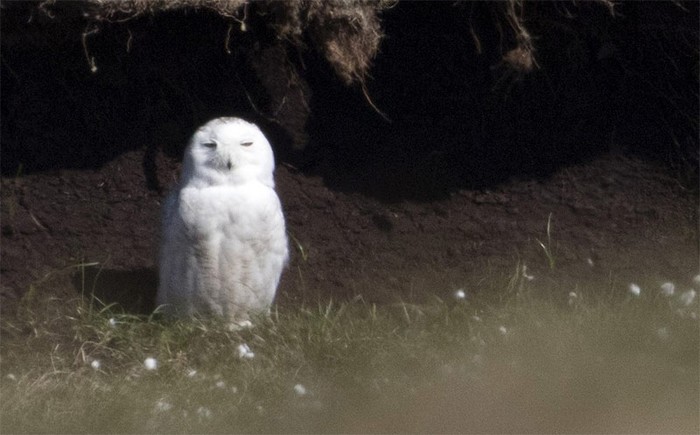 Finally, we come to belated news that would, were it furnished with a little more detail, have soared into the weekly headlines – news emerging late on 5th of a Scops Owl reported recently in song at Portsoy (Aberdeenshire). At the time of going to press 'recently' wasn't even specific enough to know whether that relates to the current week. But one way or another, a singing Scops is always an event. We wait to see if the news firms up and, more pertinently, if the bird is still present…
We'll kick off our passerines this week with the warblers which, for sheer variety, had such a lot to offer in recent days.
Nowhere was that more the case than on the shifting shingle of Blakeney Point (Norfolk). Not content with landing a Moltoni's Subalpine Warbler this week, Blakeney delivered again on 4th-5th with a Paddyfield Warbler. The latter is, for a species with over 100 previous British records already notched up, surprisingly thin on the ground in a county with as strong a birding pedigree as Norfolk – this would represent only the 5th county record, the last being another early summer bird, seen on 11th-14th June 2015 on… Blakeney Point.
Rare enough then to raise local pulses, and not only on the long shingle slog to see it. Heaven knows what those birders who'd made that passage twice already in the week would have felt had the unconfirmed report of a possible Marmora's Warbler there in the afternoon of 5th firmed up…
Blyth's Reed Warblers meanwhile were represented by an elusive probable bird at Norwick on Unst (Shetland) on 30th and a possible bird in song at Frensham Great Pool (Surrey) on 31st.
Two Great Reed Warblers were found this week, at opposiate ends of Britain – one in song at Dungeness (Kent) on 30th was followed on Unst at Halligarth the next day by another, more lost, migrant.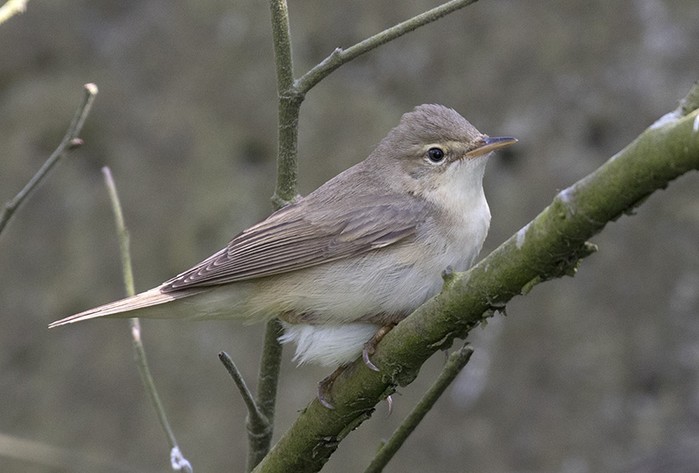 For sheer numbers, as well as exuberant song, there's no touching our Marsh Warblers this week, as favourable winds continued to deliver them to our shores, particularly at the start of the week – of the 30 or so birds seen and heard this week, no fewer than seven were on Fair Isle alone on 31st.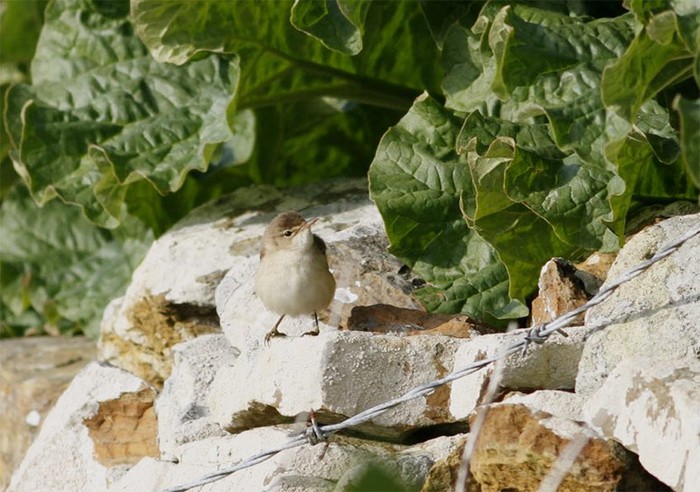 Savi's Warblers featured again this week, with a particularly fine London bird in song at Barnes Wetland Centre WWT on 2nd-3rd preceded by birds at Minsmere RSPB (Suffolk) again on 30th-1st, Spurn (East Yorkshire) on 30th-31st, and a probable individual heard distantly at Hickling Broad (Norfolk) on 30th.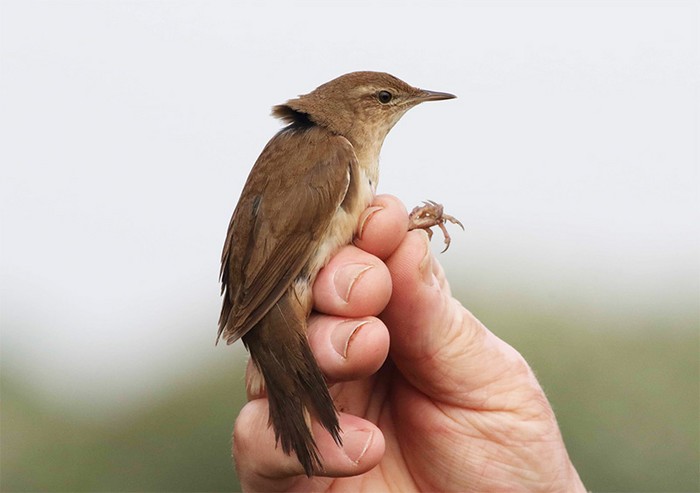 A quartet of confirmed Eastern Subalpine Warblers were found this week – a female trapped and ringed at Calf of Man (Isle of Man) on 30th; a singing male at South Gare Breakwater (Cleveland) on 31st; and more females on Fair Isle (Shetland) on 1st-5th and at Nanjizal (Cornwall) on 2nd. A female Subalpine Warbler sp. was in Lancashire at the more unpromising location of the Middleton Industrial Estate on 1st.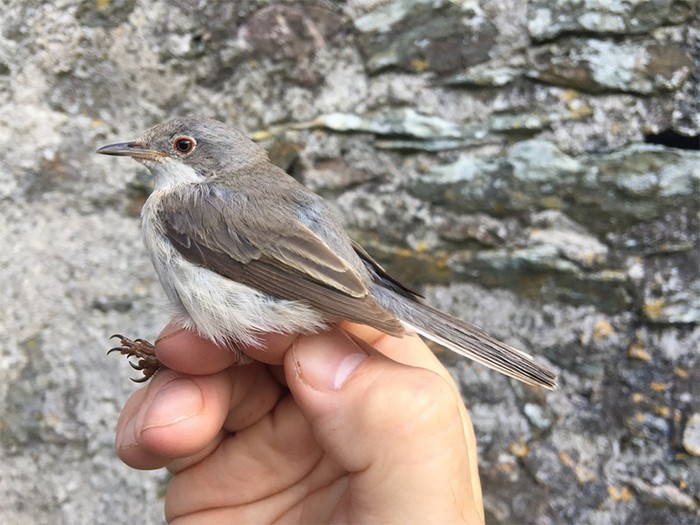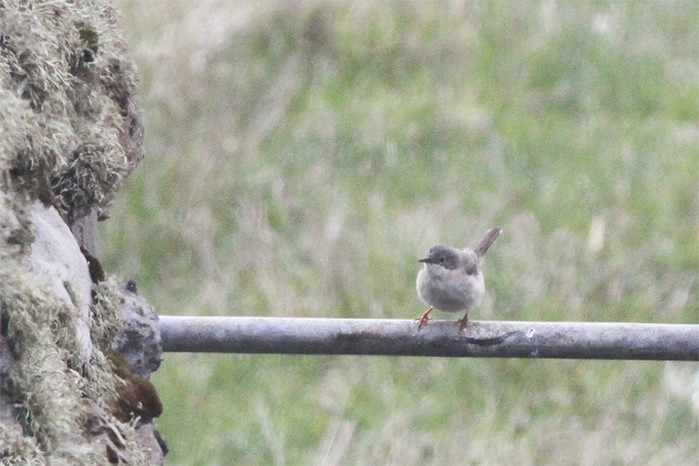 Some 20 Icterine Warblers this week were dominated again by reports from the northern isles and, in particular, Fair Isle where a good migrant fall on 31st featured six birds. A singing Melodious Warbler was found on Scilly on St Mary's on 3rd at Porth Hellick Down.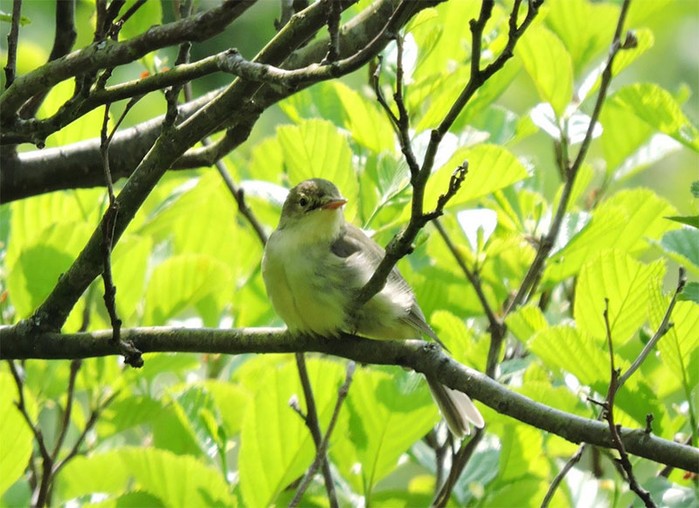 Two of our recent Iberian Chiffchaffs remained on territory this week – at Hayle (Cornwall) until 4th, and Otley (North Yorkshire) until 5th.
Rounding up the warblers were half a dozen Greenish Warblers this week – one in song on Bardsey (Gwynedd) on 30th-1st was followed by a second bird there on 2nd; while singles were seen at Scatness (Shetland) on 31st, Rattray Head (Aberdeenshire) on 31st-1st, and on 2nd on Great Saltee (Co.Wexford) and Girdle Ness (Aberdeenshire).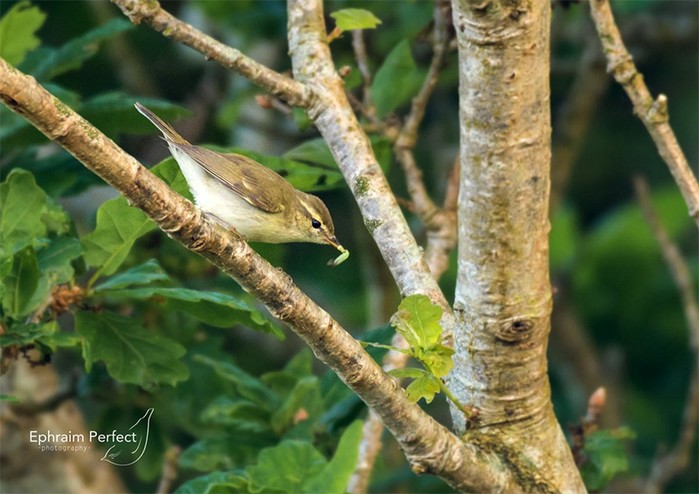 Bee-eaters were once again a colourful and welcome distraction this week, with around 20 birds logged in all. Once again, many of these were single birds from Scilly in the south to Orkney in the north; two small flocks of five birds apiece were noted at Quorn (Leicestershire) on 31st, and Dungeness (Kent) on 4th. None, however, lingered.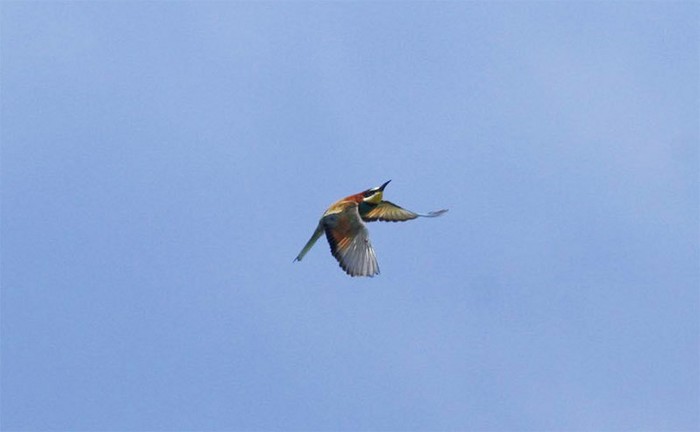 A singing Hoopoe remained in Folkestone (Kent) on 30th, with one also seen that day in Devon at Stover CP.
Numbers of Golden Orioles crept (just) into double figures again this week – one in East Yorkshire at Kilnsea on 30th-1st was followed by sightings from Sunk Island and Flamborough on 2nd and Easington on 5th; Shetland sightings came from Tresta on 31st, Bigton on 2nd, Sandgarth on 3rd and Fetlar on 3rd-5th; one was on Lundy (Devon) on 1st; Kirkwall (Orkney) hosted one on 3rd, with another reported in song that day in Northampton (Northamptonshire); and one was in Cornwall at Nancledra on 4th, with another that day at Hinxton (Cambridgeshire).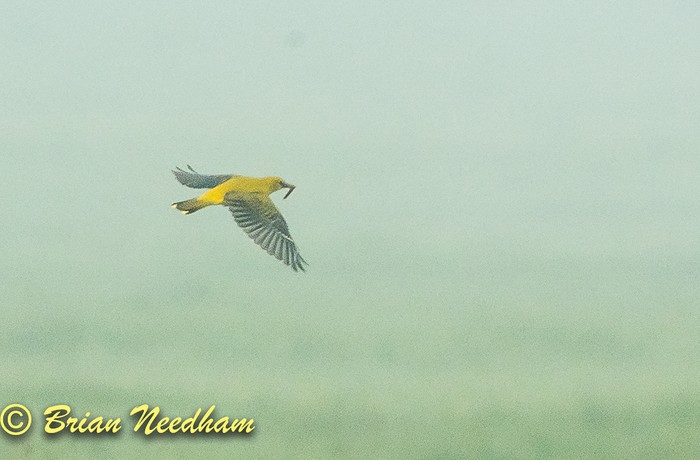 Casting our eyes skywards, an Alpine Swift was noted in Scilly over Annet on 31st, whilst a Red-rumped Swallow was seen in Kent at Pegwell Bay on 2nd.
A Short-toed Lark added further embellishment to Blakeney Point's (Norfolk) great week on 30th-31st and again on 3rd and 5th; other sightings came once more from Isle of May (Fife) on 31st-1st, and Great Saltee (Co.Wexford) on 2nd-3rd and Loop Head (Co.Clare) on 3rd.
Interesting flava wagtails were headed by St Kilda this week, continuing their excellent spring run of rarities, with a male Black-headed Wagtail there on 1st. Fair Isle (Shetland) hosted a male Blue-headed Wagtail on 31st whilst, on 30th-2nd, the probable female bird remained at Polemere (Shropshire). On 30th Grey-headed Wagtails were seen on North Ronaldsay (Orkney) and Out Skerries(Shetland), with a probable second individual on the latter the following day; and another was on Fair Isle on 1st.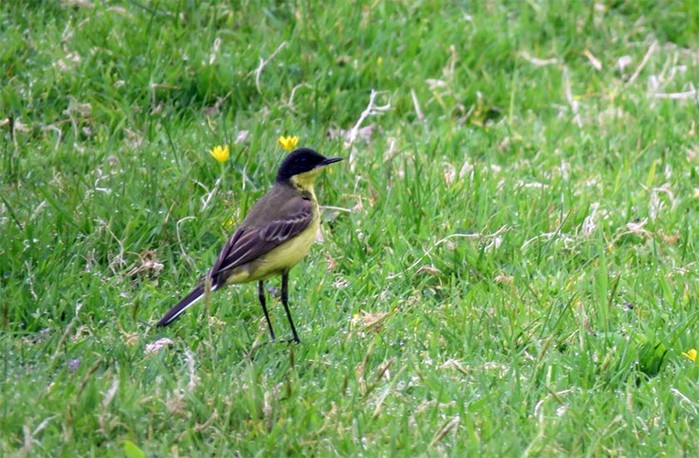 Scottish islands tend to dominate the news at this time of year, and this was certainly the case where Thrush Nightingales were concerned this week – two were trapped and ringed on Fair Isle (Shetland) on 30th, with both birds still present the following day and one sticking around until 1st; and further birds were on Out Skerries (Shetland) on 30th and Isle of May (Fife) on 31st.
Fair Isle (where else) was all over the Bluethroats too, with two on 30th increasing to three birds on 31st and falling back to two birds on 1st; the week's sole other sighting coming from Norfolk where a male lingered at Kelling on 30th-4th.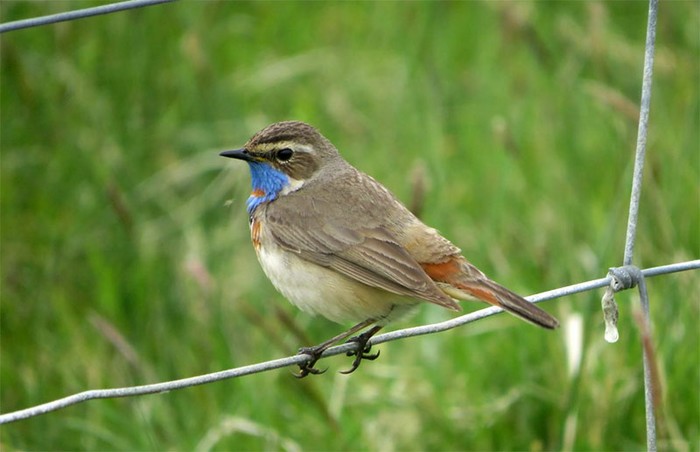 A singing Red-breasted Flycatcher was found at Voe (Shetland) on 30th, with another nearby that day at Vidlin. Further individuals were seen in Shetland at Baltasound on Unst on 31st and at Virkie on 1st.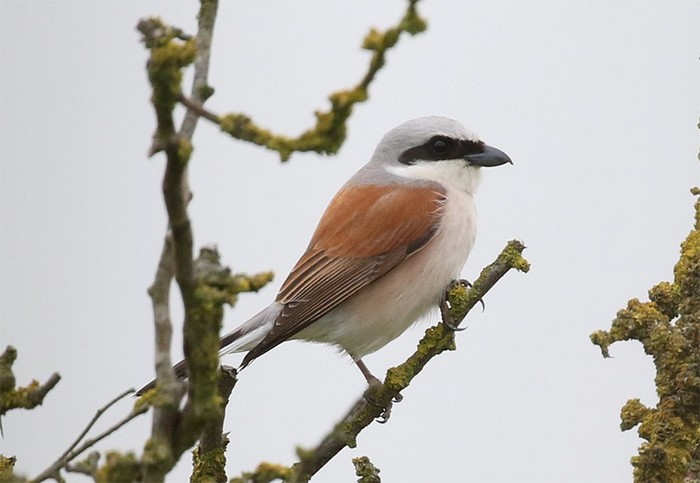 Red-backed Shrikes were almost, though not entirely, a Shetland speciality this week – of the 40 individuals logged this week, almost half were found in the archipelago. Once again, in a litany becoming familiar this week, the lion's share were on Fair Isle, where five birds were a peak count on 30th-31st. For the most part the balance were scattered down the east coast of England and Scotland, though one straggler was found on Bardsey (Gwynedd) on 2nd.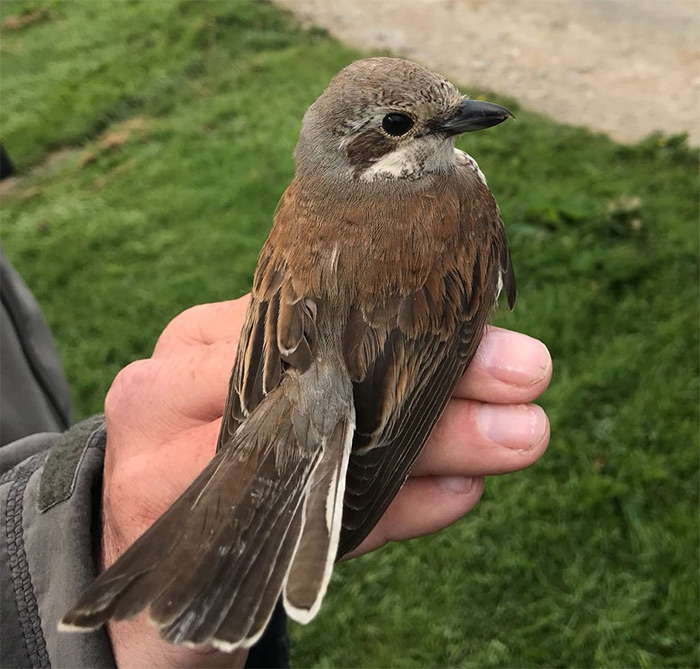 A handful of Common Rsefinches were seen this week – one in song at Landguard NR (Suffolk) on 31st followed, in the new month, by individuals in East Yorkshire at Kilnsea on 1st and Easington on 2nd, on Barra (Western Isles) on 2nd, and in song at Salthouse (Norfolk) on 3rd. On 5th one was reported from Coombe Hill Meadows NR (Gloucestershire).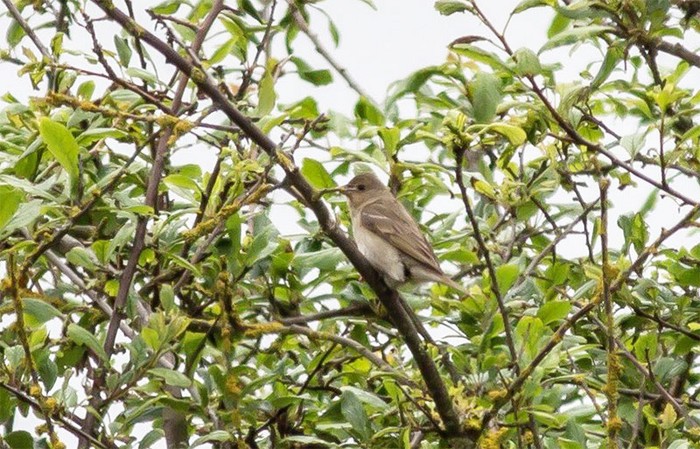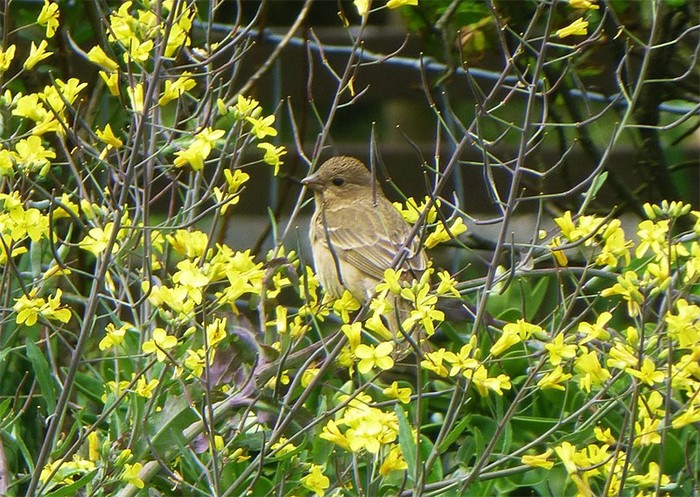 An Ortolan Bunting on Unst at Norwick on 31st was a lone reminder of a species that was once a more numerous spring sight for British birders… but was followed by an East Yorkshire double bunting whammy in the form of a male Rustic Bunting at Kilnsea on 1st and a brief male Black-headed Bunting at Bridlington on 2nd.
From a British perspective, the most alluring of the overseas offerings this week must surely be the Grey-necked Bunting seen in Sweden at Gotska Sandon on 2nd. There've been a few now in western Europe, and it's got to be on the cards here eventually. Fair Isle, if I was a betting man…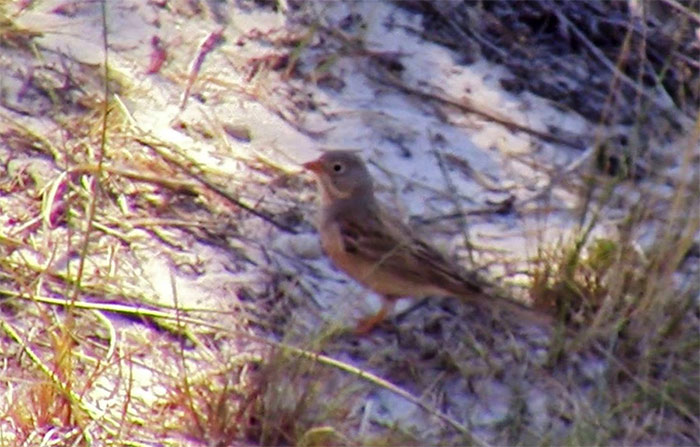 Elsewhere in Scandinavia it was a busy week, with more food for thought for the British birder – Sweden also hosted an Eastern Olivaceous Warbler at Simrishamn on 1st and a Sociable Plover at Lysekil on 31st, while Norway claimed Demoiselle Crane on 1st at Blindheimsjellet and a report of a Bimaculated Lark on Skudeneshavn that day also, and a Ross's Gull at Fredrikstad on 30th. Finland weighed in with an Eastern Imperial Eagle at Pori on 2nd.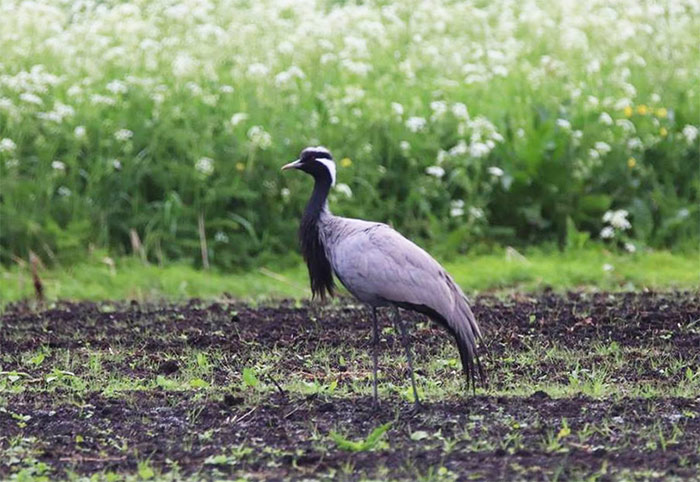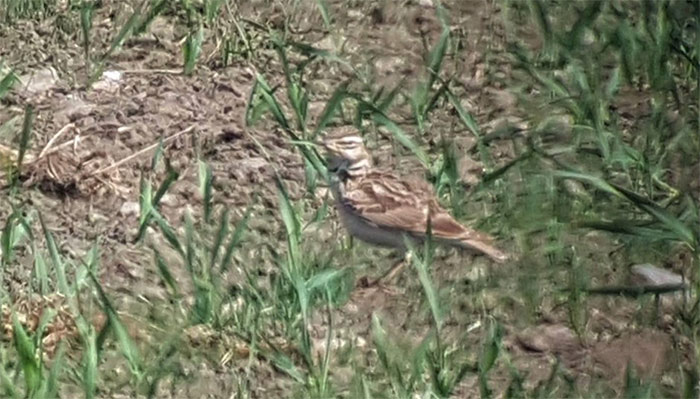 The Lammergeier was again seen in Holland on 31st over Schoorl Dunes and, in Belgium, the Pygmy Cormorant was still at Parc Domaine du Val Duchesse on 3rd.
Hm. Did you hear that?
That'd be the sound of the damp squib that was my confident prediction of Oriental Pratincole last week fizzling out. Seen in Sweden, then Norway, it seemed like a dead cert for Frampton Marsh RSPB or the north Norfolk coast. Just goes to show that nothing's certain where rare birds are concerned.
(Really, the online betting industry should be cottoning onto this. I can just hear Ray Winstone announcing the odds on a White-tailed Plover or White-throated Robin in the coming days…)
Shorter odds, however, are available in the week ahead for the likes of Squacco Heron, Black Stork and Caspian Tern. I'd fancy a punt on any of them.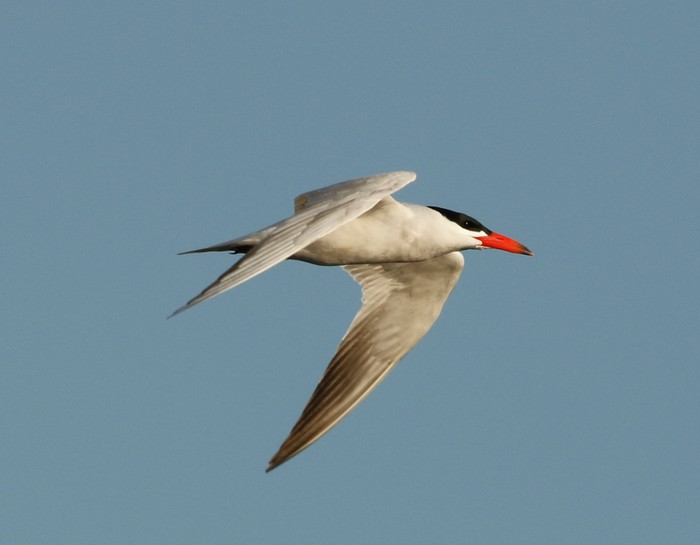 Jon Dunn
6 June 2018
Share this story
Tweet