Weekly birding round-up: 18 - 24 Apr 2018
The week at a glance
Scilly roars with a Belted Kingfisher
Suffolk's American Bittern remains in situ
And the American White-winged Scoter extends his stay in Lothian
Well, that was a funny old week, wasn't it? Shades of high summer with unseasonably warm – nay, hot – weather, and some top drawer American rarities. Spring had sprung, fast-forwarded to mid-summer, and taken on an autumnal level of birding quality.
As the week closed it was back to business as usual, with cooler winds coming in off the Atlantic on the coat-tails of a jet stream that had moved south again, dragging more expected weather in its wake. That is, sunshine and showers – it is still April, after all…
Belted Kingfisher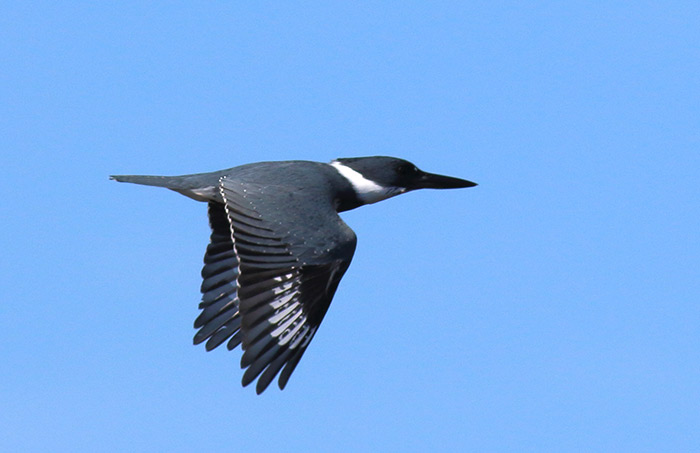 ...Writing this days after the event, I still can't believe I found a Belted Kingfisher in Scilly. I shall NEVER forget those first views as it flew over Porth Hellick Pool… dreams can come true...
Read Ashley's Fisher's finders' account here
Birders of a certain vintage, born too late to be of an age to travel to see the lingering male Belted Kingfisher that hung around Cornwall from 1979 deep into 1980, nor able or willing to make the trek to see any of the three Irish females that were seen (and weren't shot…) in Ireland between 1978 and 1985, will remember only too well the long wilderness years that we endured until early April 2005 when a first-winter male finally turned up again on the British mainland. The sense of relief, as well as jubilation, was palpable amongst those who saw it in Staffordshire and Aberdeenshire.
It had been a long, long wait.
Longer still, however, for those who graft away building the Scilly bird list. Perhaps remarkably, given those islands' stellar track record for American vagrants, there remained a chunky, Belted Kingfisher-sized hole in the archipelago's list. Until this week…
…when, on 18th, a male Belted Kingfisher was found at Porth Hellick bay – an absolute belter, in every sense of the word. Only Britain's 4th ever record, and the first for Scilly, the Fortunate Isles had picked up where they left off after a golden autumn in 2017 with a properly fabulous start to the 2018 season.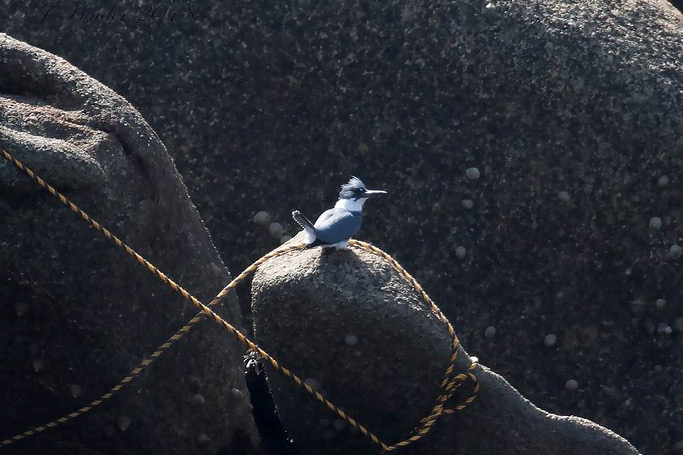 American Bittern
In any other mid-April week I'd have expected a lingering American Bittern in Suffolk to easily top the headlines… but this, as we've just seen courtesy of a certain kingfisher, was no ordinary week in April. Nevertheless, at Carlton Marshes SWT (Suffolk), Britain's 39th and Suffolk's first American Bittern continued to extend its stay throughout this past week, occasionally rewarding the patient onlooker with some really tremendous views and behaviour.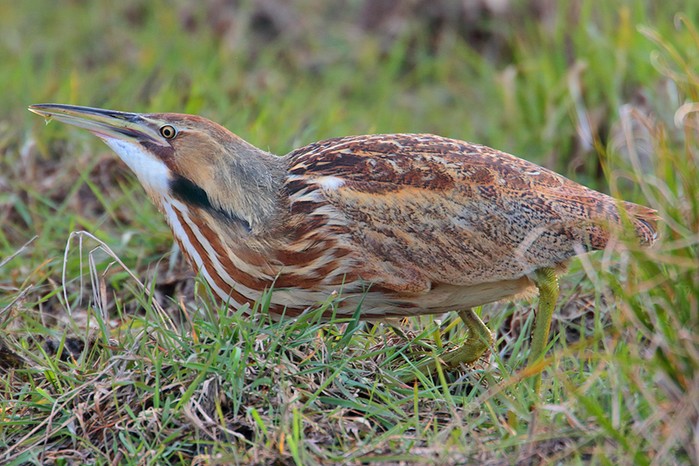 Some of the photos emerging this week of it catching newts are right up there with images taken in recent years of the Kentish White-tailed Plover sucking up a reluctant leech, the East Sussex Short-toed Eagle carrying a writhing snake in flight or, going further back, the at-sea images taken by Shetland birder and fisherman John Lowrie Irvine of a white Gyrfalcon nailing a Little Auk as some of the best British rarity predator and prey photos – simply sublime.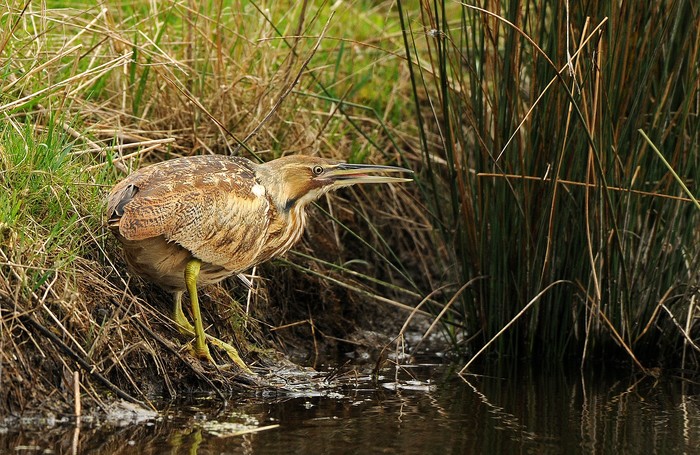 It's times like this that make me feel just the faintest pang of regret that I'm not living on the mainland any more…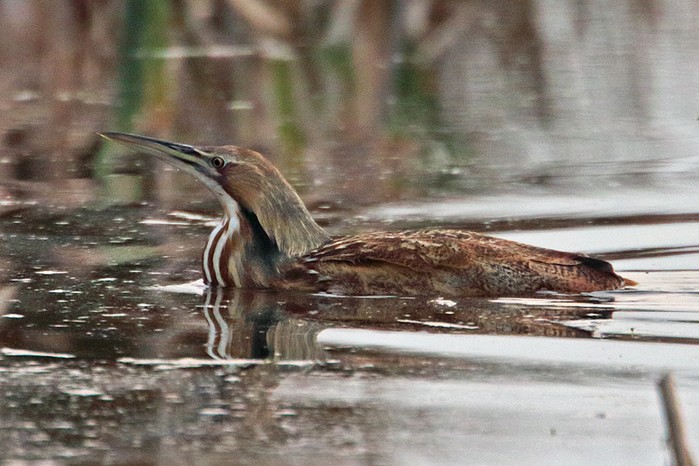 American White-winged Scoter
(Though really, I shouldn't grumble as the American White-winged Scoter off Musselburgh (Lothian) remained present there for yet another week and, despite passing through Edinburgh, I still haven't made the short bus ride along the coast to see it. I need to get my act together!)
Once more, our rare seabirds this week were dominated by divers. By way of a brief hors d'oeuvre before the main course, the adult Pacific Diver was again noted off Crookhaven (Co.Cork) on 18th. But really, the main event was once more White-billed Divers in northern Scotland…
Starting at Portsoy (Aberdeenshire), the week began with nine birds logged there on 18th, and peaked on 19th with 14 birds noted off there, before falling back to daily single figure tallies. Meanwhile in Moray singles were noted off Lossiemouth on 20th-22nd; one was off Burghead still on 19th-22nd; and a duo in Cullen Bay on 18th rose to four birds there on 22nd, with one still present on 23rd. One was noted in South Nesting Bay (Shetland) on 20th. At the other end of the country, one was reported from Bryher (Scilly) on 20th also.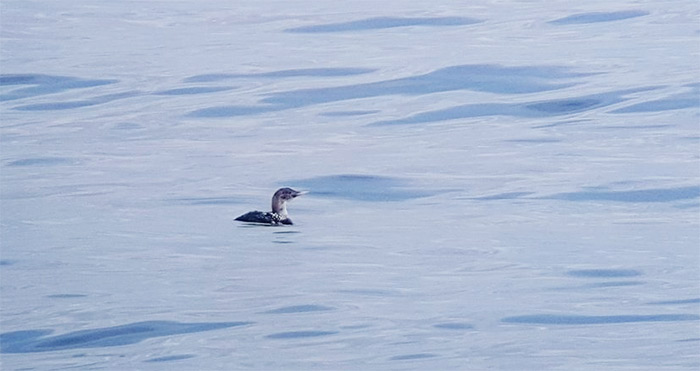 The first hints of impending Pomarine Skua passage came in the form of a single bird seen off Lossiemouth (Moray) on 20th and, on 22nd, eight birds noted as the day wore on from Dungeness (Kent). On 24th one was heading east off Portland (Dorset); and one was noted from Splash Point (East Sussex).
On 22nd a Long-tailed Skua was noted in Co.Galway off Cleggan.

Star quality in Suffolk aside, the past few days really felt like spring where scarce and rare long-legged beasties were concerned, with plenty of variety reported throughout the week.
In Cornwall, the Purple Heron remained at Marazion Marsh RSPB on 19th-23rd; while in Ireland on 20th a Squacco Heron was noted over Rosslare (Co.Wexford).
Night Herons featured a little more strongly this week, with an adult and a juvenile bird seen on St Mary's (Scilly) on 18th-20th; one at Burton Mere Wetlands RSPB (Cheshire) on 19th; and one reported over the River Itchen near Eastleigh (Hampshire) on 22nd.
One of the week's more unusual reports came from Tenby (Pembrokeshire) on 18th where a Little Bittern was reported as perched on a windowsill…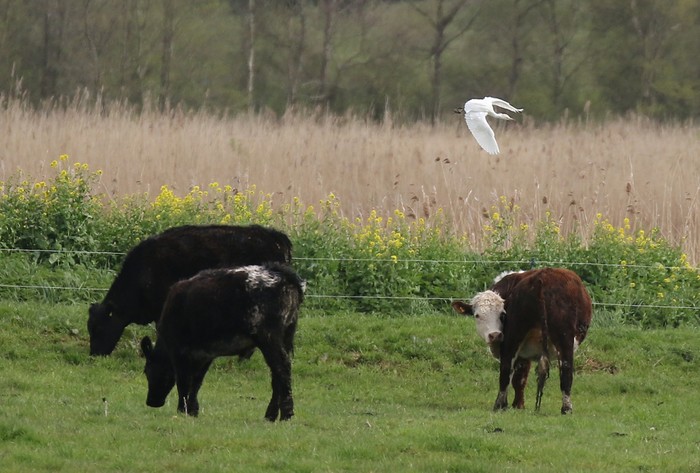 All of which brings us to our two colonising scarce egret species - Cattle Egrets continued to be reported in England, Wales and Ireland (the latter in the form of just one bird at Tacumshin (Co.Wexford) on 21st), with some 25 birds in all logged, with a peak count of six at Steart WWT (Somerset) on 19th. Great White Egrets meanwhile numbered around 80 individuals nationwide, with a peak count coming, predictably, off the Somerset Levels where 10 birds were noted at Ham Wall RSPB on 22nd.
Some 30 Spoonbills were reported this week, once again mainly comprising single birds noted in southern and eastern England. The laurels for the peak count go to Middlebere (Dorset) where a modest trio were logged on 18th-19th.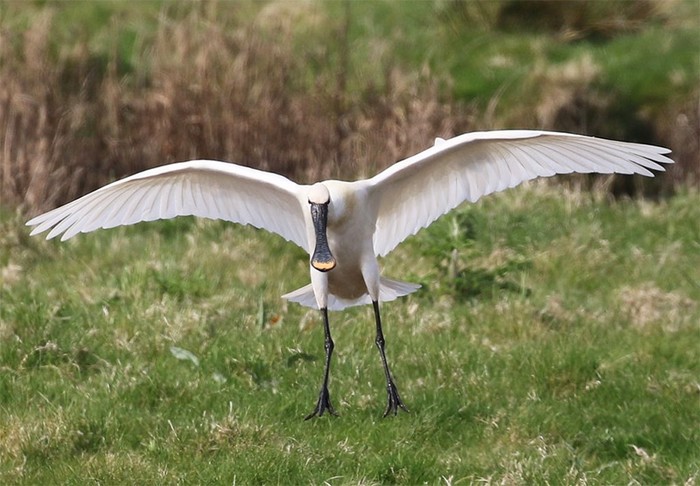 A handful of settled Glossy Ibises kick off our run through their numbers this week: in Suffolk, the bird remained at Minsmere RSPB on 18th-20th; one remained at Garrettstown (Co.Cork) on 18th; one was still on Tiree (Argyll & Bute) on 19th; and in Gloucestershire, sightings came from Frampton on 19th and 23rd, and at Slimbridge WWT on 19th-23rd. In Worcestershire, one found Upton Warren NR to its liking on 18th-22nd. Back in Suffolk, one was seen at North Warren RSPB on 20th while, in Norfolk, one was at Berney Marshes RSPB on 20th-21st, and one was reported circling over Cley on 22nd. On 23rd one was seen in Warwickshire at Middleton Lakes RSPB.
Away from their heartland in Norfolk Common Cranes were on the move from as far north as Shetland – where one was seen on Unst on 20th-23rd – to the south coast where, in Dorset on 18th, one was noted over Cowards Marsh and three were seen over Wareham. In all, some 25 birds were noted a-wandering nationwide, many of these sightings being birds seen in flight.
All of which brings us, rather neatly, to the perennial thorny problem that are White Storks - seen with predictably rising frequency lately given the time of year, often as flyovers, and increasingly often with provenances that defy surety – free-flying birds are escaping collections; some are being released in reintroduction schemes; and, of course, even wild-hatched European birds can sometimes be ringed – so the sight of a bangle on one of those long legs doesn't necessarily mean the bird in question is a wire-hopper. So make of the following what you will…
In East Yorkshire on 18th one was seen over Carnaby and Hornsea Mere, while one was reported that day in Surrey over Shamley Green; on 19th in Nottinghamshire one was noted over Holme Pierrepont and at Netherfield Lagoons, with one seen that day also at Ponterwyd (Ceredigion). On 20th Cambridgeshire got in on the act with sightings from Sutton Gault and Wardy Hill, the latter at least bearing a red ring… One seen on 21st at various sites in Nottinghamshire and, latterly, at Clifford Hill GPs was also bore a ring… from Holland. On 22nd one was noted at Buckenham (Norfolk) and another was seen in Gloucestershire at Coombe Hill Meadows NR and Pilning Wetland. On 23rd, back in Cambridgeshire, one was seen from a train near Ely and, on 24th, one was present at Titchfield Haven NNR (Hampshire) and, later on, over Farlington Marshes HWT.
There will be some wheat amongst the chaff there, certainly…
Rivalling the almost total absence of Ring-billed Gulls this week as a reliable barometer of the changing seasons were the dearth of scarce geese as we begin our weekly waddle through the wildfowl reports… these being a Black Brant at Spurn (East Yorkshire) on 21st; a probable Black Brant at Ballyvaughan (Co.Clare) still on 18th; and a possible Grey-bellied Brant again at Banks Marsh NNR (Lancashire) on 18th also. As the week drew to a close a white morph Snow Goose was present in Cheshire at Burton Marsh on 23rd-24th.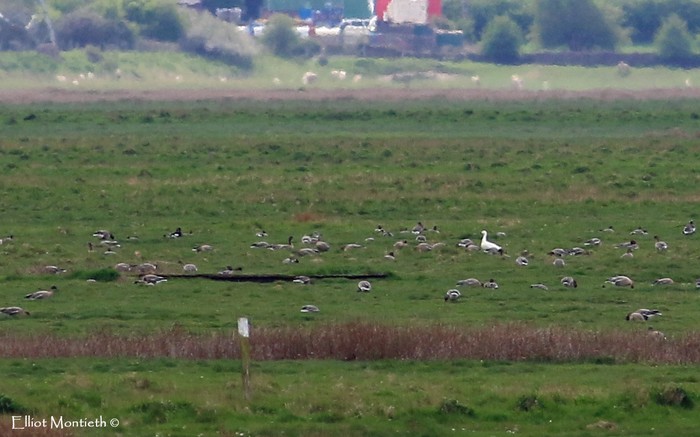 Moving swiftly on then to the ducks...
At Rutland Water (Leicestershire), the drake American Wigeon remained on 19th still; another was on Loch Watten (Highland) on 19th also; and on 22nd the drake was again seen in Shetland on Loch of Spiggie.
The drake Green-winged Teal was again seen in Co.Derry at Lough Beg on 18th-19th; and another was at Heswall Shore (Cheshire) on 19th-23rd.
A first-winter drake Blue-winged Teal was in the Western Isles on Lewis at Loch Stiapabhat on 18th-19th.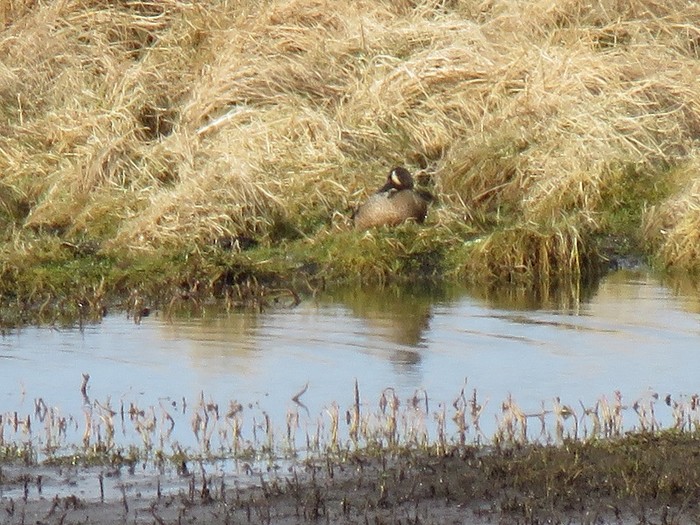 A drake Lesser Scaup was on the sea off Alturlie Point (Highland) on 18th-21st. The drake Ferruginous Duck was once more noted in Powys at Llan Bwch-llyn Lake on 19th-21st.
Numbers of Ring-necked Ducks meanwhile remained strong this week, once more nudging into double figures. Females were logged at Lower Farm GP (Berkshire) still on 18th-20th; Tacumshin (Co.Wexford) on 19th-23rd; and in Co.Cork still on Blarney Lake on 21st. Drakes were on Quoile Pondage (Co.Down) still on 18th-22nd; in Lothian again on Blackford Pond on 18th-21st; on Benbecula on Coot Loch (Western Isles) on 18th-19th still; at Saltholme RSPB (Cleveland) on 19th-23rd; on Lough Girroga (Co.Clare) on 19th; and, on 22nd, in Conwy at Conwy RSPB. On 23rd another drake was reported from Baston Langtoft GPs (Lincolnshire); on 24th a drake was at Woodhall Spa Airfield NR.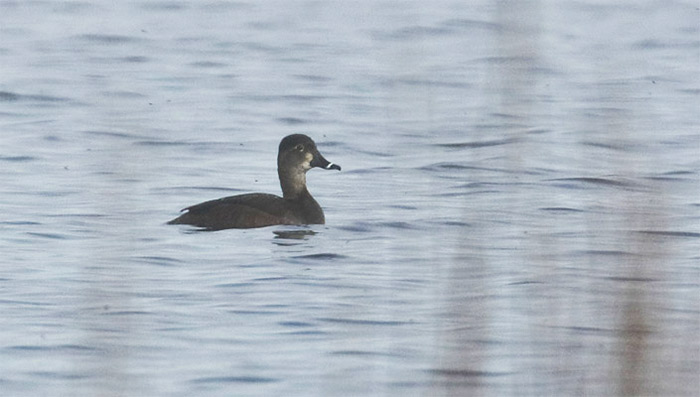 In Cornwall, the wintering trio of Surf Scoter were still to be found at Lower Porthpean on 18th-19th. In Co.Meath two drakes off Ben Head on 18th were up to three drakes there by 20th. In Co.Dublin duos were noted again off Barnageeragh on 18th and Balbriggan on 19th. The drake remained off Musselburgh (Lothian) this week until 22nd and, in East Sussex, a drake on 22nd off Beachy Head was a good find that far east up the English Channel.
On 23rd-24th a drake King Eider was seen at the traditional Aberdeenshire site of the Ythan Estuary.
And finally, we close with the adult male Pied-billed Grebe still in residence at Loch Feorlin (Argyll & Bute on 18th.
Topping this week's shorebird bill is the American Golden Plover logged at Tacumshin (Co.Wexford) on 21st. While far from a typical date for the species – most arriving on our shores in September and October – an April sighting certainly isn't without precedent, not least at Tacumshin which already boasts a handful of April birds in the past.
More seasonal, perhaps, though an increasingly rare commodity these days was the female Kentish Plover trapped and ringed at Ynyslas (Ceredigion) in the evening of 17th, and still present there the following day.
The first of hopefully many Dotterels were noted this week, in the form of one on North Ronaldsay (Orkney) on 21st-22nd, four on 21st-22nd rising to five on 23rd on Garreg Lwyd (Carmarthenshire), and in Norfolk on 23rd where a single over Walsey Hills NOA preceded two birds near Eccles later that afternoon, and a single bird on Blakeney Point on 24th.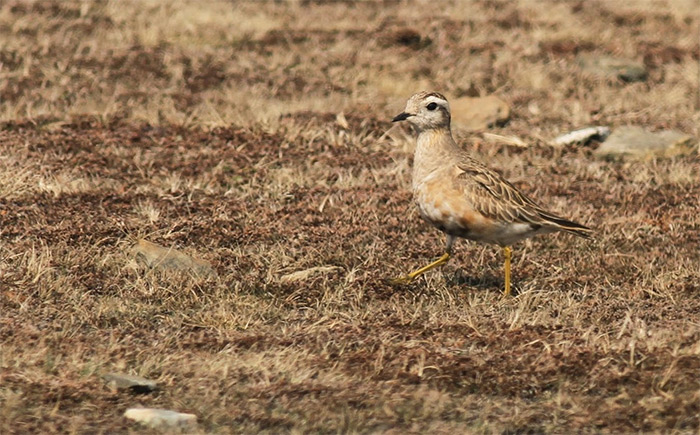 The Long-billed Dowitcher was still to be seen this week at Grindon Lough (Northumberland) on 18th-22nd.
As the week drew to a close, on 23rd-24th we had the welcome return of some Black-winged Stilts - single birds being seen at Pulborough Brook RSPB (West Sussex) and Potter Heigham (Norfolk).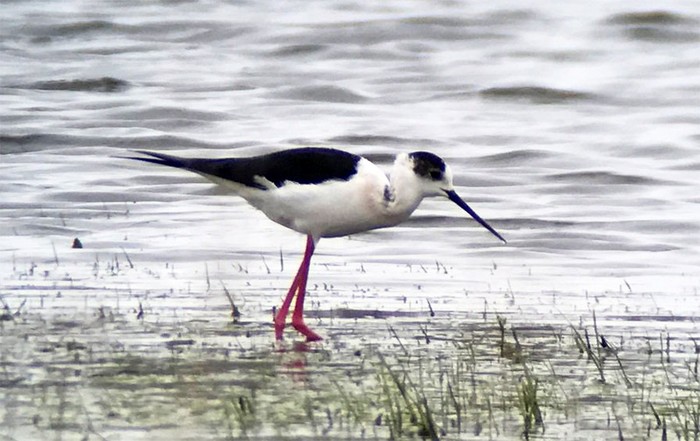 I've only been gone from these quarters for a fortnight and oh boy, have things changed in the world of gulls, not least with Ring-billed Gulls, which have melted away like a late frost on warm spring morning. We'll start with them this week – or rather, with it, as we're just talking about one report – an adult bird was noted on 21st at Kinnegar Shore (Co.Down).
Rarer though was the first-winter Laughing Gull discovered on St Martin's (Scilly) on 18th and still present there on 24th. Statistics tell us that these North American wanderers can turn up pretty much any month of the year, and in pretty much any county one cares to mention, be it inland or coastal. In a week that also boasted a Belted Kingfisher on Scilly this latest Laugher was practically par for the course.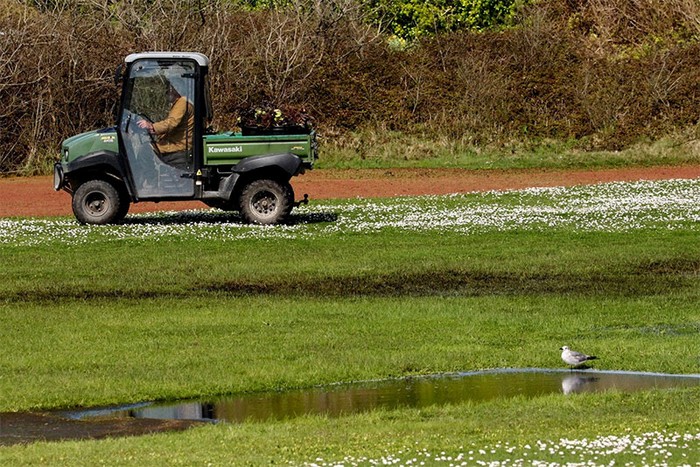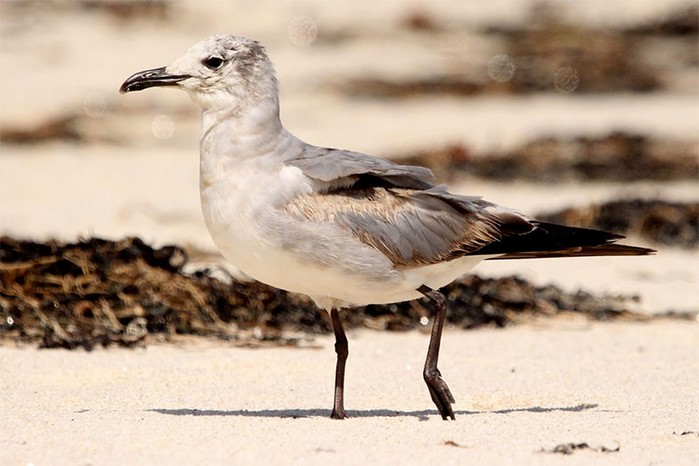 Not a million miles away, in Cornwall, an adult Bonaparte's Gull was at Hayle Estuary RSPB on 19th-22nd while, in Dorset, the second-summer bird was once more at Longham Lakes on 18th-24th; an adult was reported off Durlston CP in the morning of 20th.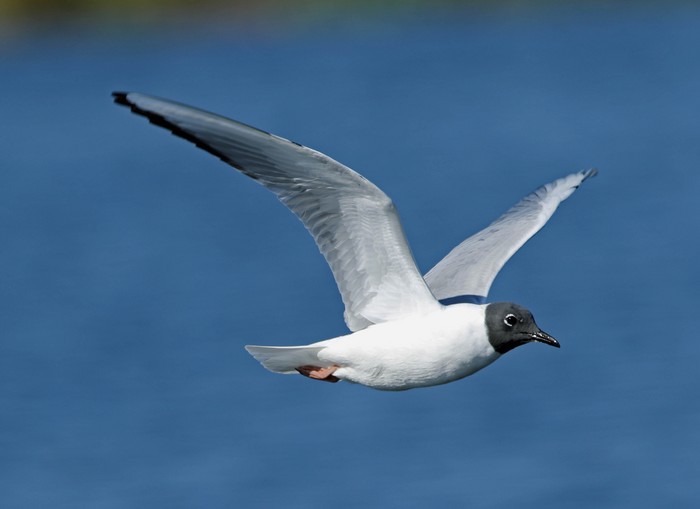 Unsurprisingly as winter fades away the numbers of white-wingers still to be found in Britain and Ireland were very much evaporating: some 30 Glaucous and 70 Iceland Gulls comprising this week's tally. On North Ronaldsay (Orkney), meanwhile, the juvenile Kumlien's Gull stuck around until 22nd.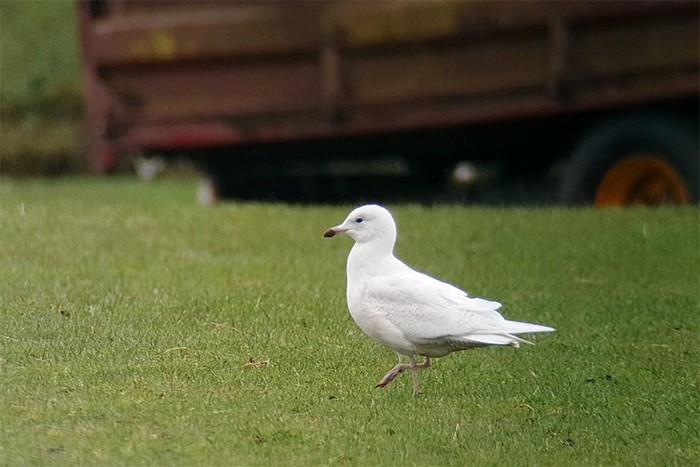 In Co.Galway the adult Forster's Tern was once more noted in Kinvarra Bay on 20th.
If a decline in winter gulls and soaring temperatures wasn't sign enough of summer's imminence this week, the first report of a dark morph Booted Eagle was exactly the sort of portent we all needed to tell us the seasons were changing. This latest record fitted perfectly the established pattern of occurrence for unconfirmed reports of probable dark morph Booted Eagles in England, apart from being a little early in the year – they usually peak round about early summer, when sightings of putative Eleonora's Falcons are on the rise too. Frustratingly, this latest bird, seen at Strumpshaw Fen RSPB (Norfolk) on 22nd, appears once again to have gone un-photographed.
A male Pallid Harrier was seen flying south near Goole (East Yorkshire) on 19th, with a ringtail seen in the Horsey and Winterton area on 23rd-24th. A probable Montagu's Harrier was noted in Norfolk on 20th over Waxham, with a possible bird on 21st at Horsey, and female in Kent at Sholden on 21st.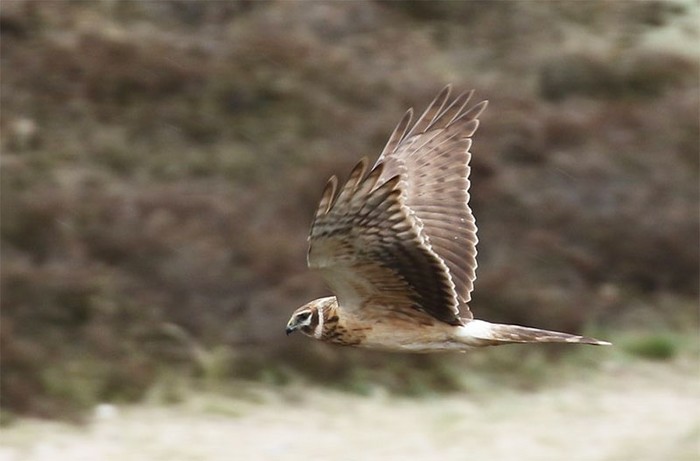 Black Kites put in a good show this week, with almost daily sightings comprising birds at Seasalter and Oare (Kent) on 18th; Ixworth (Suffolk) on 19th; Durlston CP (Dorset) on 20th; and Beachy Head (East Sussex) on 21st. On 22nd a possible bird was seen over Northiam (East Sussex); a possible further bird passed over Beddington Farmlands (London) on 23rd while, on the morning of 24th, one was seen at various locations throughout London including Westminster – given their predilection for carrion, perhaps not surprising given the current rotten state of politics in that particular area… Elsewhere on 24th two were reported over Beckenham in the early afternoon and, away from London, one was seen from Lewes (East Sussex), one over Titchwell RSPB (Norfolk) and, in Kent, one passed over Stodmarsh NNR. A final possible bird was noted in Cambridgeshire on 24th east of Flint Cross.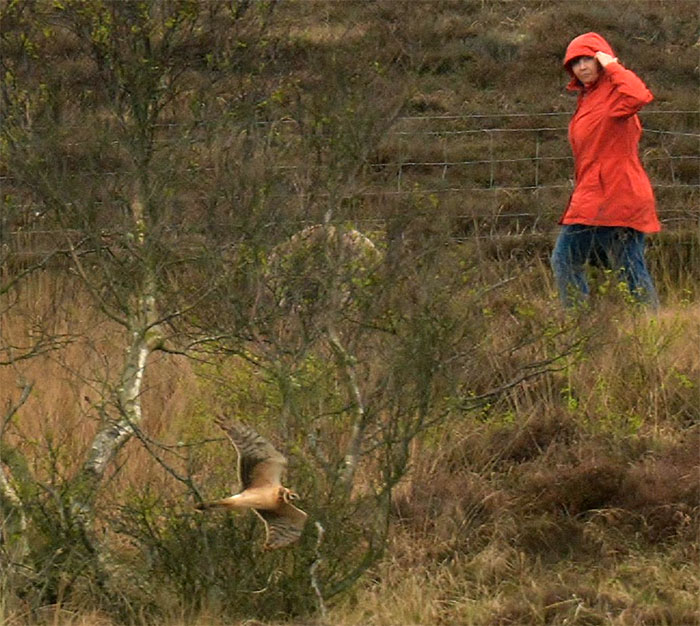 Lastly, a female Snowy Owl was seen on 20th in Co.Galway at Boliska Eighter; and another individual was on Sanday (Orkney) on 23rd.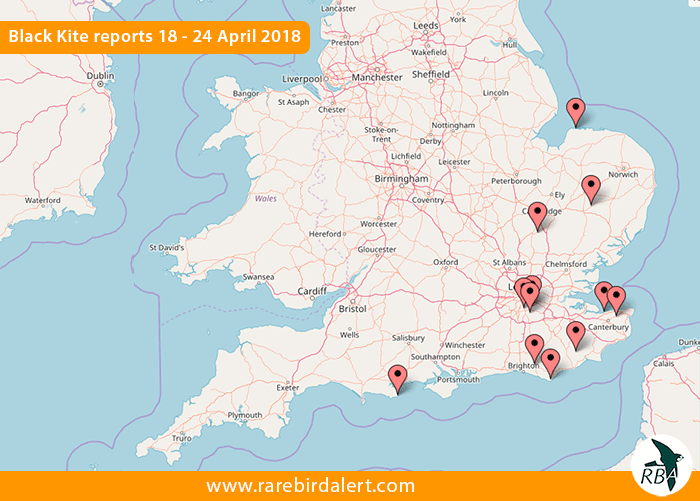 Now we're talking! This, increasingly, is the sharp, pointy, business end of the Rarity Round Up in the coming weeks – the possibility of resplendent, summer plumage and/or singing scarce and rare passerines is now very real, and will be for a while to come. Time to get yourself down to the coast at the weekends and see what's lurking in those bushes…
So, starting with warblers, we've got a couple of cracking male Western Subalpine Warblers found this week in Cornwall to kick things off – one at Porthgwarra on 18th, and another on The Lizard on 18th-19th, this latter bird also in song.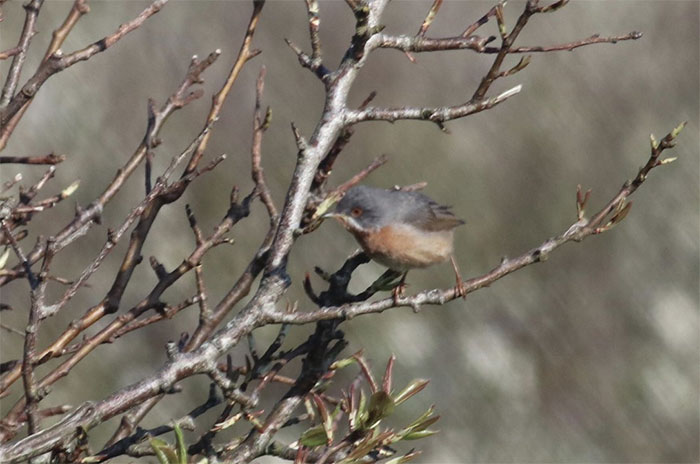 Speaking of singing, at least three Savi's Warblers were heard reeling in the reedbeds this week – one remained at Minsmere RSPB (Suffolk) on 18th-24th; one was at Farlington Marshes HWT (Hampshire) on 19th-24th with two said to be singing there on 23rd; and another was further north, at Brockholes Wetlands LWT (Lancashire) on 22nd-24th.
A Melodious Warbler was reported from Burton Mere Wetlands RSPB (Cheshire) on 19th.
Once a rarity that drew the crowds but now an anticipated annual event – and, indeed, occasional breeder - Iberian Chiffchaff has come a long way in a relatively short time as a British bird. Given that our regular Chiffchaffs can occasionally throw up an anomalous songster, the path to identifying an Iberian isn't always straightforward – one such anomalous putative bird at Hinksey Heights golf club (Oxfordshire) earlier this week proved to be the commoner species, whilst another at Delamere (Cheshire) on 20th-21st remained an either/or. One Iberian Chiffchaff was claimed with confidence however this week, in song on Barra (Western Isles) on 19th.
Three late Yellow-browed Warblers continued to provide an eastern flavour in the southwest – one still on St Mary's (Scilly) on 19th, another lingering in Plymouth (Devon) on 19th-22nd and, on 23rd, one seen briefly in a Lowestoft (Suffolk) garden.
Plenty of spring colour to follow now, beginning with a good showing of Blue-headed Wagtails: on 18th single birds were at Druridge Pools NR (Northumberland), Carlton Marshes SWT (Suffolk) and Minsmere RSPB (Suffolk), with two birds at the latter site on 19th and one still present on 20th, and two birds on 18th-21st at Barns Ness (Lothian), one of which was still present on 22nd; on 20th a possible or hybrid male was at Swillington Ings (West Yorkshire); a fresh flush of finds on 21st comprised single birds at Nosterfield (North Yorkshire), on Bardsey (Gwynedd), at Cley (Norfolk), Hollesley Marsh (Suffolk) on 21st-22nd, and a duo at Kilnsea Wetlands (East Yorkshire), one of which was still present on 22nd; on 22nd one was at St Margaret's at Cliffe (Kent).
A probable Spanish Wagtail was proving flighty on St Agnes (Scilly) on 21st-22nd.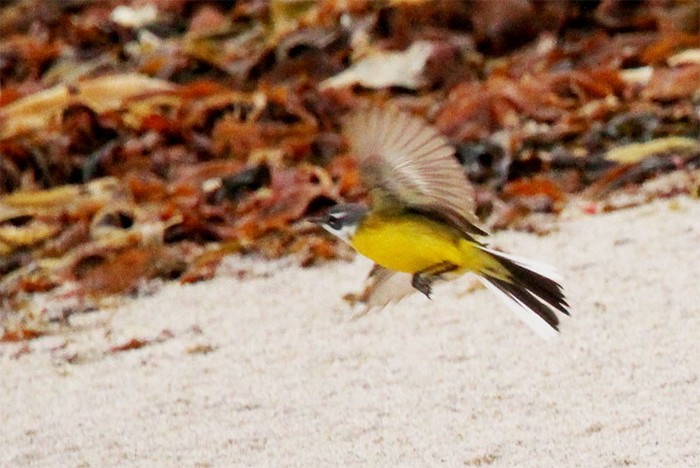 Back at Cley (Norfolk) a Richard's Pipit put in a brief appearance on 20th.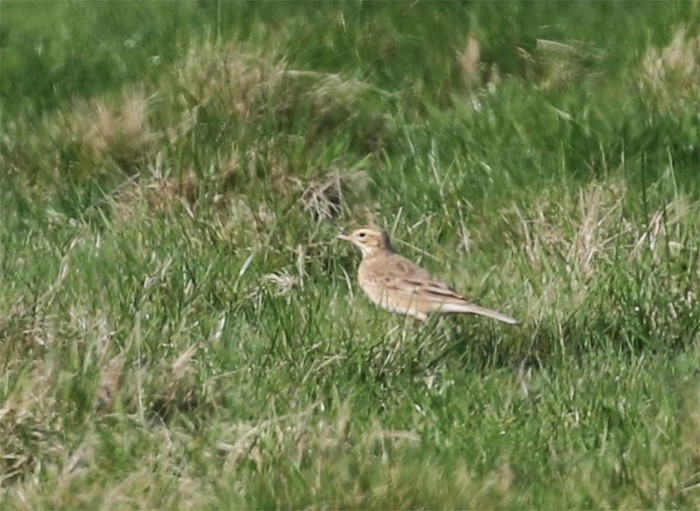 St Agnes played host to a Woodchat Shrike still on 19th-20th; another was seen this week on Skomer (Pembrokeshire) on 18th-21st. Great Grey Shrikes meanwhile are now in short supply, with a wintering bird seen again in Gloucestershire at Hawling on 18th, and another noted on 22nd at Holden Wood reservoir (Lancashire). On 18th one was on Fetlar (Shetland).
Hoopoes meanwhile were very much on the ascendant this past week, with a good haul of sightings amassed – some 20 birds in all, spread from as far north as Aberdeenshire where one was at New Aberdour on 19th, to the Isle of Wight in the south and three south-eastern coastal counties of Ireland in the west.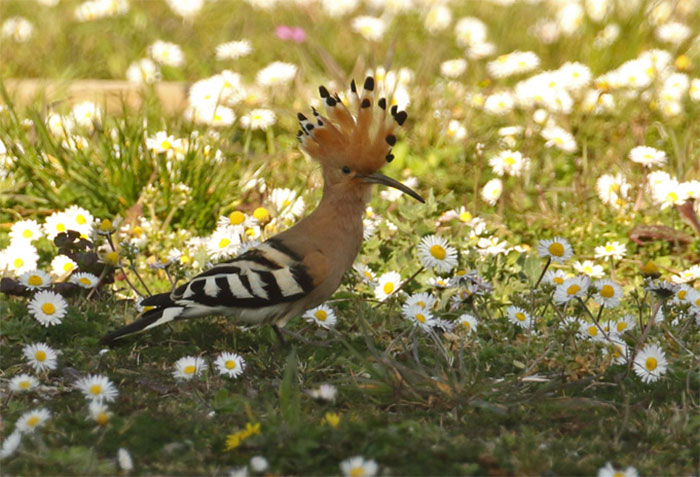 Golden Orioles however were a different proposition, with just a handful of birds recorded – a single bird at Blaxton (Devon) on 18th and, on Scilly, a singleton on St Agnes on 19th and again on 23rd, followed by two birds on St Mary's on 22nd and one of the latter remaining there on 23rd.
The first Wrynecks are trickling in too – birds were noted at Kelling (Norfolk) on 19th, Titchfield Haven NNR (Hampshire) on 20th, Cardiff Bay Wtelands NR (Glamorgan) on 21st, and in Kent on 22nd at St Margaret's at Cliffe and 22nd-23rd at Dungeness. On 22nd another was seen at Uckfield (East Sussex).
We're into prime time for overshooting Red-rumped Swallows and Alpine Swifts, so it came as no surprise that the warm weather wafted individuals of both species to us last week – starting with Red-rumped Swallows, birds were seen up the east coast at Neyland (Suffolk) on 18th, Spurn (East Yorkshire) on 20th, Landguard NR (Suffolk) on 21st, and on 22nd-24th at Kilnsea (East Yorkshire), Sandwich Bay (Kent) and Flamborough (East Yorkshire) where two birds were seen in the evening of 22nd. On 23rd-24th two were at Gibraltar Point NNR (Lincolnshire). A further possible bird was noted on 23rd at Church Norton (West Sussex).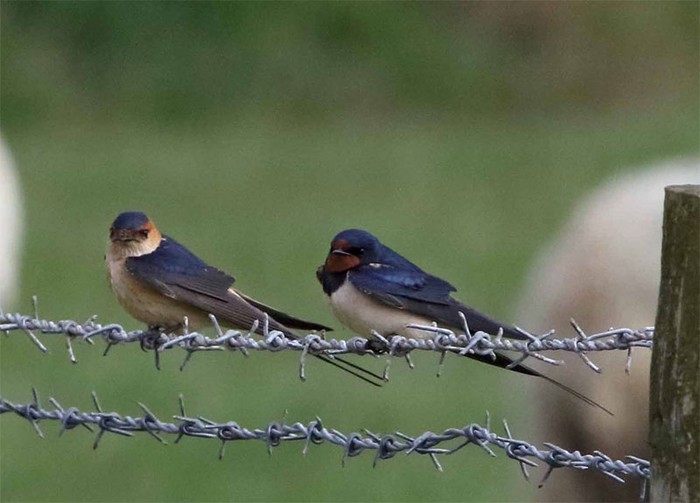 Alpine Swifts meanwhile had a more scattered pattern to their sightings, with Cornish records coming from Porth Joke on 18th and Porthleven on 21st, and on 22nd another at Beachy Head (East Sussex), with a further possible sighting on the latter date inland at Southcote Meadows (Berkshire). On 23rd one was over Anglers CP (West Yorkshire), another was seen in Norfolk at Cromer, and one more was reported from Essex at Frinton-on-Sea. On 24th one was at Gibraltar Point NNR (Lincolnshire).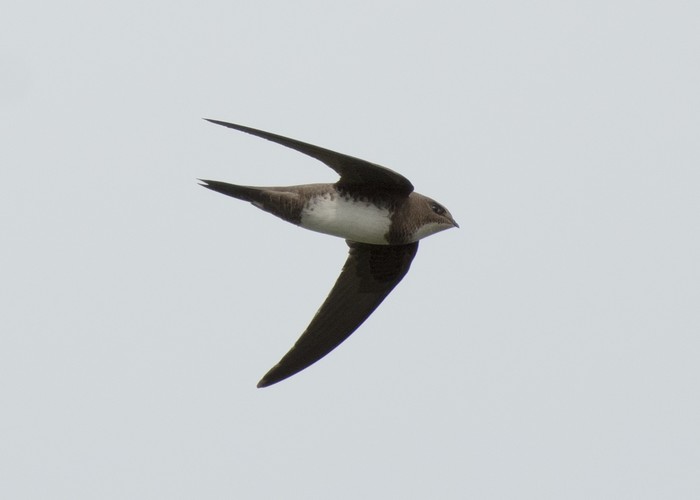 The Black-bellied Dipper remained on Fair Isle (Shetland) until 20th.
Meanwhile, in Devon, the resident male putative Italian Sparrow was still to be found at East Budleigh until 20th at least also.
Serins continued to provide small notes of Mediterranean colour this week with several recorded, predominantly in Kent – the Garden of England lodged sightings at Dungeness on 18th and 22nd, in song in Folkestone on 19th, over Foreness Point on 20th, and on 21st at St Margaret's and Maidstone. Away from Kent, one was at Pencarn (Pembrokeshire) on 21st, with another reported that day from Spurn (East Yorkshire).
On 23rd an Arctic Redpoll was reported from Dalnabreck (Highland).
Last, but only figuratively least, a Little Bunting was found at Beachy Head (East Sussex) on 22nd.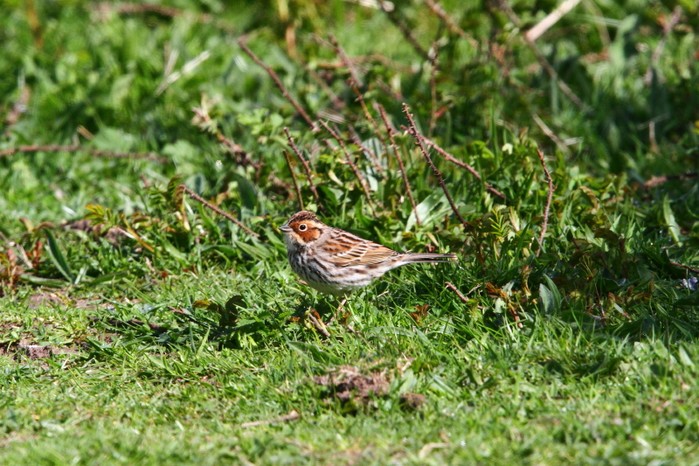 In an otherwise fairly peaceful week for Western Palearctic news, one bird dominated the headlines – Denmark's first ever record of White-winged Snowfinch, found at Ulvshage møn on 21st. There's been a preconceived notion that they don't move much from their montane homes, rather like Citril Finches, but latterly we're coming to realise that's not a hard and fast rule. After all, we all know what happened to the once discredited Citril Finch on the British list… So British birders might be forgiven for daydreaming about the chaos that would ensue if a Snowfinch were found here in the next week or two…
Closer to home, the American Royal Tern was, once more, seen in Guernsey this week on 20th. I've practically given up hoping it bobs across the English Channel now, as wishful thinking hasn't got us anywhere thus far.
Potentially more accommodating where wandering was concerned was the Black-browed Albatross back again in Germany at Sylt on 23rd-24th.
A japonicus Siberian Buff-bellied Pipit was found in Belgium at Utlangan on 23rd.
And that's us heading now into the last week of April. Things are, literally, hotting up, and birds are very much on the move. The potential, therefore, for an interesting European stray is getting higher by the day. Or, for that matter, for something from much further afield, as the coming days boast a roll-call from the past of Song, White-crowned and White-throated Sparrows, Slate-coloured Juncos and a Brown-headed Cowbird.
That, though, is shooting for the stars. Let's be content with guaranteed further Black Kites, Red-rumped Swallows and Alpine Swifts - any of these three could, conceivably, turn up pretty much anywhere in Britain and Ireland. Ones for the dedicated local patch-worker, for sure.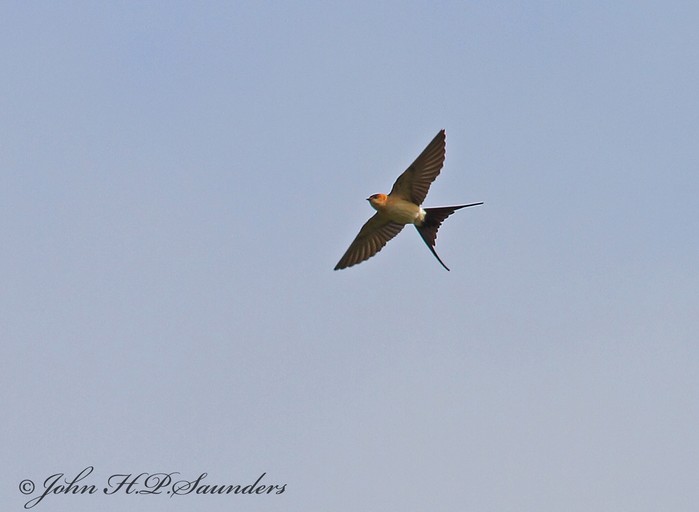 Jon Dunn
25 April 2018
Share this story
Tweet