Weekly birding round-up: 14 - 20 Feb 2018
Kent scores with a male Pine Bunting
The Semipalmated Plover is seen again in Co.Mayo
The Hampshire Thayer's Gull gives itself up
Two Black Scoters remain in Britain and Ireland
The long-staying Stilt Sandpiper is still in Dorset
While Horned Lark, Taiga Merlin, and Holboll's Red-necked Grebe all remain available
So that's me settling back into the Rare Bird Alert saddle once more this week, and taking a moment to glance over my shoulder at what's been occurring for the past fortnight. Yep, it looks like it's gone a bit crazy, what with one thing and another, with various faraway forms of this and that cropping up and testing the very keenest listers' resolve.
After all, it's not too hard a choice to bob along and see a Horned Lark that's hanging out at a Surrey reservoir with excellent transport links nearby… but it's a different kettle of fish altogether when we're talking about a funny Merlin or Red-necked Grebe that's inconsiderately in the north of Scotland.
I guess you'd have to really want to see them while they fall into the insurance (maybe) category. Right here, right now, there's an easier choice on offer – grab a cuppa and settle down for our weekly perusal of the latest British and Irish rarities - without so much as leaving the comfort of your armchair, let alone the house...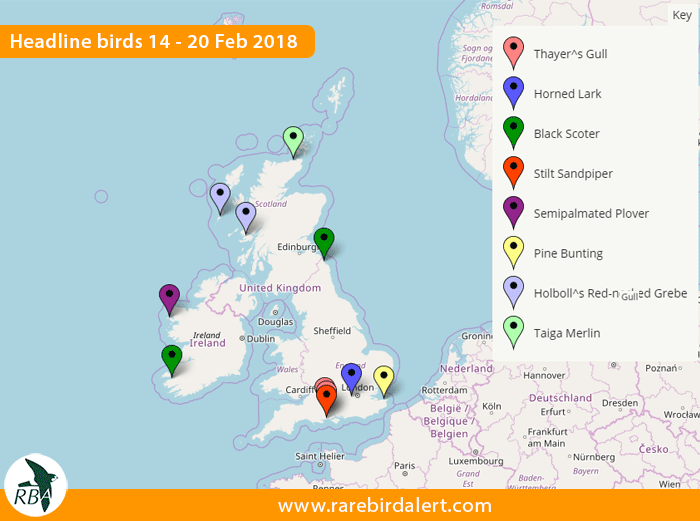 Pine Bunting
Birders of a certain vintage will remember fondly the wintering Pine Bunting found in Dagenham Chase in early February 1992. It stuck around for just over a month and, for many, this was an unprecedented chance to catch up with a bird that was, typically, the stuff of autumn migration dreams on the east coast and in the northern isles.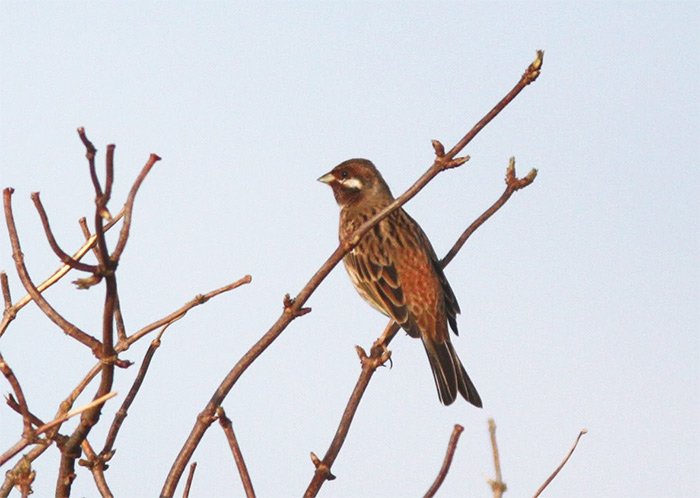 Sure enough, that's still the usual pattern of occurrence for these charismatic buntings, but every now and again one crops up during the winter months. I can vouch for the heart-stopping whooah moment when one appears in front of you in Shetland in the autumn, but can't begin to imagine how genuinely thrilling it must feel when a male Pine Bunting suddenly hoves into view, in late winter, in an otherwise unremarkable and quiet bit of east Kent.
That's what happened though this week at Chambers Wall, near Herne Bay, on 17th. The bird was still present there first thing the following morning, but then flew off and subsequently… it hasn't been seen. A bit of a sickener for anyone hoping to brighten up their weekend birding plans in the south of England.
Having said that, there can't be many Kent birders with a Pine Bunting-shaped hole on their lists as the last (and indeed, Kent's first) was not so long ago at all, and not a million miles away either – just a little further west along the north Kent coastline, another male bird, at Milton Creek from 24th January – 1st March 2017. Like I said, every now and again one crops up in the winter and, just sometimes, lightning strikes twice in the same county in consecutive years.
A stunning winter find.
Semipalmated Plover
Last reported from Achill Island (Co.Mayo) on 15th October 2017 – and first seen there as a young bird on 2nd October 2016 – the adult Semipalmated Plover was once again seen on the island at Keel Beach this week on 16th-19th.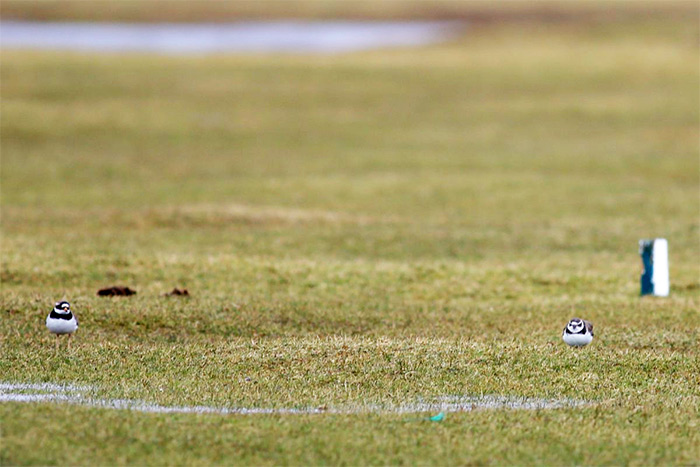 Newly returned, or had it never truly left? I think we all harbour a suspicion that these subtle, unassuming, plovers are probably occurring in greater numbers than we think, quietly going about their business on remote areas of coast that simply don't get birded that often, if ever. A bit like Wilson's Snipe, they're distinctive enough when seen well, but are generally somewhat cryptic and possibly overlooked.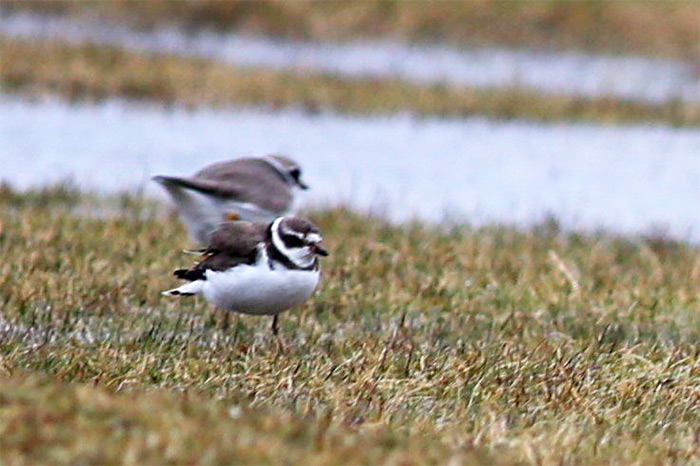 Thayer's Gull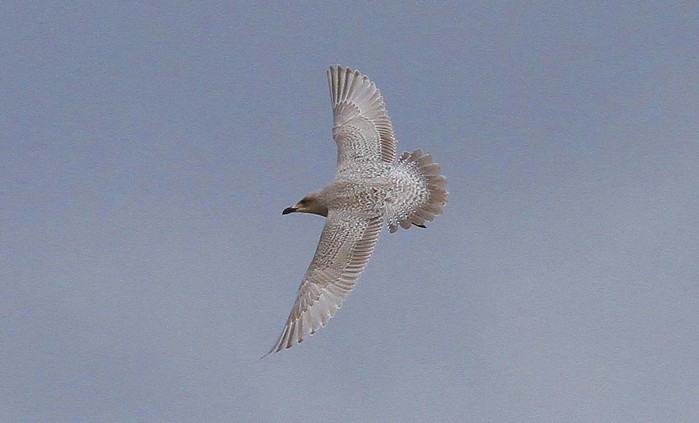 When I left you, a fortnight ago, for supposedly sunnier climes – Tenerife, as you ask, and for the record it was basically Shetland with added palm trees as it was bitterly cold, windy, rainy, and even snowed while we were there – Britain's latest Thayer's Gull had just been found at Blashford Lakes HWT in Hampshire in the fading daylight of 28th January.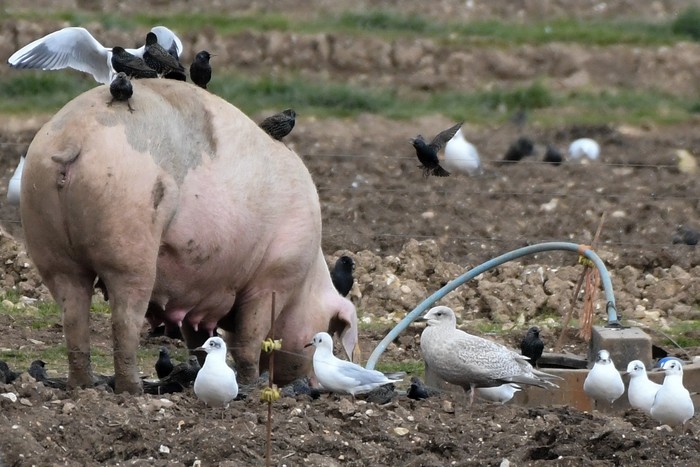 Happily for all concerned this juvenile bird was subsequently refound and, this week, it continued to show for those so inclined at Tidpit from 15th-20th. Which is all well and good but, depending on how rigidly one polices one's list, until some sort of decision is made one way or another on the whole Thayer's Gull thing, it remains obdurately missing from the official British list and, hence, a bit of a conundrum.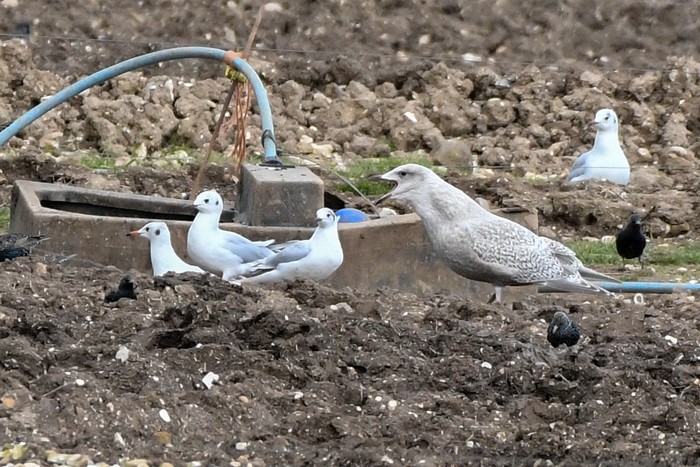 This, of course, only matters if keeping count is what you do. I'm betting most birders who've been to see this, or indeed any of the other previous Thayer's Gulls in Britain are, while mildly frustrated at the species' absence from the official record, mostly just pleased to have seen one. It's not like this whole listing business is a competition, after all…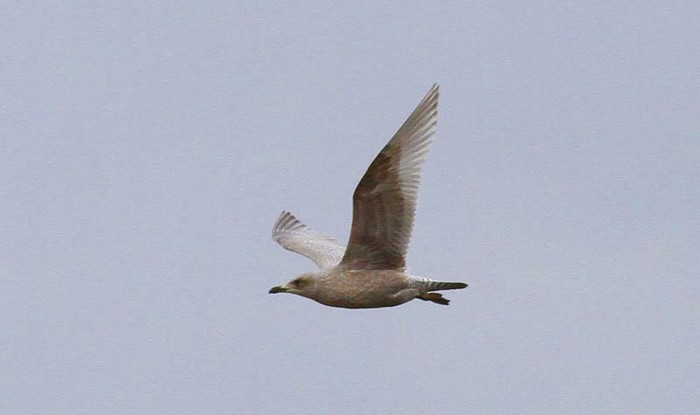 Black Scoters
Black Scoter, on the other hand, is far less troubled insofar as taxonomy or countability is concerned – and, both in Britain and Ireland, remains a top drawer, pukka rare bird indeed. This week both of the returning drakes were seen in Northumberland and Co.Kerry respectively – the English drake being seen once more off Goswick on 18th, while the Irish bird was still off Rossbeigh on 14th-20th.
Stilt Sandpiper
In Dorset this week the first-winter Stilt Sandpiper continued to chalk up the days at Stanpit Marsh. Still present there on 20th, this overwintering bird has been present in Dorset now for several months since first being found at Lodmoor RSPB on 11th September 2017.
The record stay for the species was 171 days set by the Cheshire individual in the Frodsham area in 1984 – and by my rough back of the envelope calculation 1st March 2018 will see this bird settled in the county for 172 days. Not long to go then… And at this rate, it'll still be there when I next pop back to Dorset to catch up with family.
Horned Lark, Taiga Merlin and Holboll's Red-necked Grebe
Finally, welcome to Insurance Tick Corner where this week we've once again got no fewer than three wannabe species with which to tempt you. Starting with the now relatively familiar, in Surrey this week the female alpestris/hoyti/pratincola Horned Lark at Staines reservoir remained there until 20th, and was still proving a potent draw for a number of birders as the days wore on.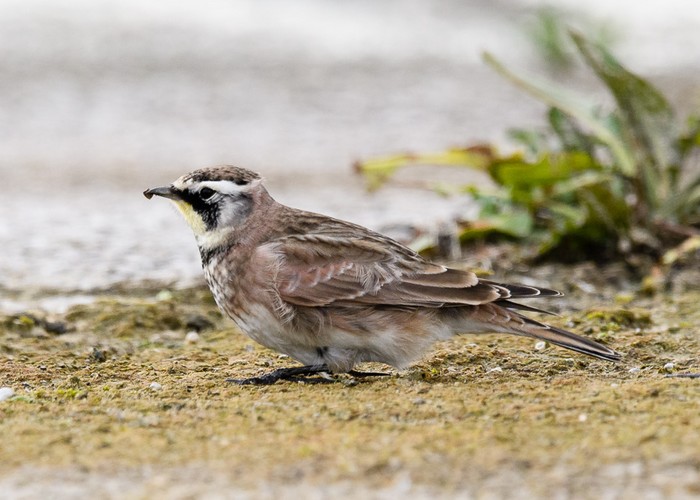 And so to Scotland, where we've all manner of potentially interesting things going on. But were they restricted to only the most intrepid birders from south? On Barra (Western Isles) – an island, lest we forget, with quite the recent reputation for turning up the Nearctic goods – the probable Holboll's Red-necked Grebe was still present on 17th at Ard Mhor.
Meanwhile, on the Scottish mainland but not, if we're strictly honest with ourselves, much more conveniently placed for anyone so inclined to try and see it, the female or first-winter male columbarius Taiga Merlin was once again seen at Holborn Head (Highland) on 18th.
Anyone?
We'll kick off the seabirds this week in Co.Cork, where the Pacific Divers was seen again off Crookhaven on 17th, while in Cornwall one of the two regular adults was once again seen, off Mousehole on 16th-19th, and joined there on 16th-20th by a White-billed Diver in an act of unprecedented rare diver synchronicity. Other banana-bills were seen in the northern isles this week – an adult again off Sandwick (Shetland) on 18th, and another that day off North Ronaldsay (Orkney).
A scattering of Little Auks in Scotland provide the week's other at-sea entertainment: three passed Hynish on Tiree (Argyll & Bute) on 14th; one was off North Bewick (Lothian) on 15th; on 17th two passed North Uist (Western Isles) with further singletons noted that day in Highland off Scrabster and Ackergill; and on 18th one was seen from Barra (Western Isles).
I turn my back for a fortnight and what do our resident Cattle Egrets go and do? Numbers of the unfaithful little beasts drop, that's what. This is, however, all relative, as some 60 birds were logged this past week, and this is probably a conservative estimate as I try to make sense of the many sightings that cropped up in Cornwall – and is a tally that doesn't include any chunky numbers from the Somerset Levels where, surely, there must still be a couple of dozen lobbing around somewhere. Anyway, this week the highest count comes from Cornwall where, on 16th, 20 birds were noted at Menadews Farm near Truro. The rest of the week's records came from as far north as Lancashire and, in Ireland, in the form of two birds at Tomhaggard (Co.Wexford) on 17th-18th and a single bird in Co.Waterford at Tramore on 17th also.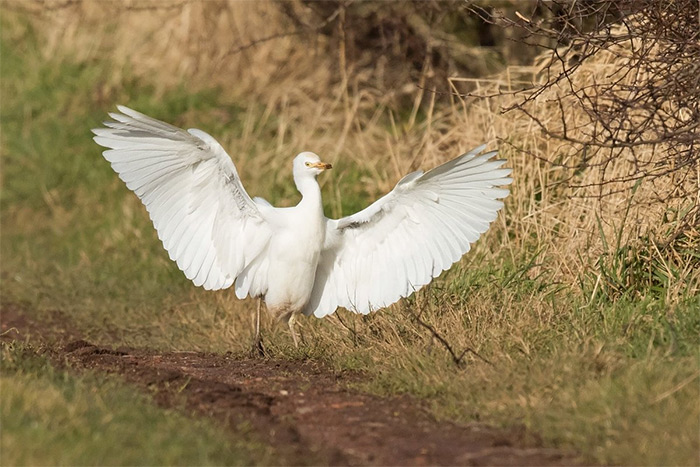 Some 80 Great White Egrets continued to enliven local patches in the usual spread of around 40 counties widely scattered across the region, slightly down on the usual 100 that were being logged weekly in January. As usual, many of these were singletons with, for the most part, the remainder coming in the form of duos and trios – this week, our peak counts involved quartets noted on 18th from Greylake RSPB (Somerset), Dingle Marshes RSPB (Somerset) and Rye Harbour (East Sussex) respectively.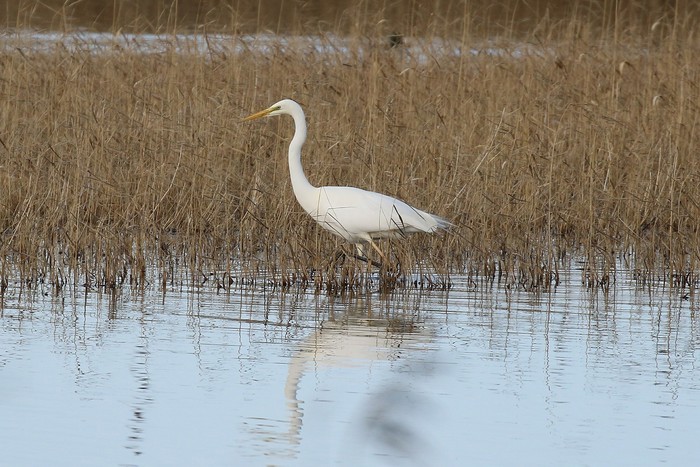 Things were just as I'd left them where our wintering Spoonbills were concerned – the peak count again being a flock of 20 birds noted in Poole Harbour (Dorset) at Arne RSPB on 17th. These comprised the lion's share of a national tally of some 55 birds – the next biggest flock being five birds seen in Devon at Velator NR on 17th.
Glossy Ibises continued to provide a touch of the exotic to our winter birding, with fourteen birds noted across Britain and Ireland this week, many of which will be familiar faces to regular round-up readers by now. A notable mention must be made of one new bird this week – first seen from a moving train at Lydney (Gloucestershire) on 16th, this individual was still present there the following day. Definitely the best bird I've heard being found by a train-borne birder, unless anyone knows any different?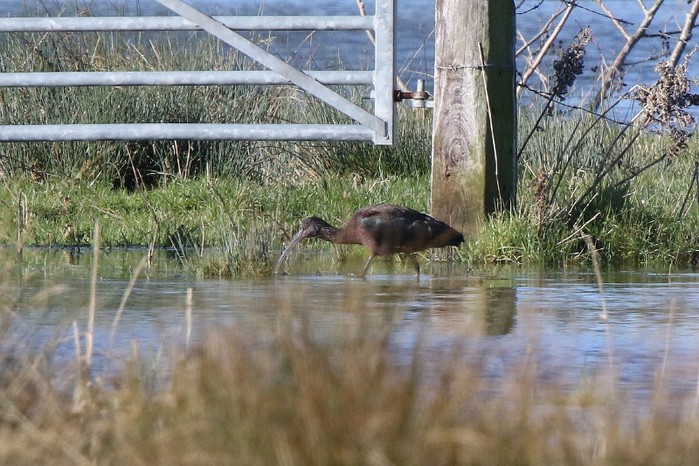 Starting the rest of our Glossy Ibis run-through in East Anglia, the settled bird remained at Minsmere RSPB (Suffolk) on 14th-20th, while one remained in Norfolk at Great Yarmouth on 14th-17th. One was noted over Frampton Marsh RSPB (Lincolnshire) on 15th, while one was seen on Ray Island EWT (Essex) on 18th. Moving west, in Somerset one was still in the Westhay area on 16th-18th, and a bird remained on the Isle of Wight at Brading Marsh RSPB on 16th-18th. One was in Devon at Seaton Meadows on 16th-17th, while in Cornwall sightings came again from Landuplh on 17th and Kingsmill Lake on 18th. Finally, in Ireland the single bird remained at Portmore Lough RSPB (Co.Antrim) on 14th-19th, one was again at Lough Beg (Co.Derry) on 19th, while the trio were still to be found at East Coast NR (Co.Wicklow) on 16th-18th.
Last but not least amongst the long-legged beasties, the Common Crane flock at Nene Washes RSPB (Cambridgeshire) peaked this week with 23 birds present there on 17th, while the bird was still present at Berneray (Western Isles) on 19th.
While the weather in the past week has been mild, snowdrops and daffodils are in bloom and, for all I know, lambs may even be frisking (do lambs frisk? I reckon they probably do) somewhere or other, nobody's told the rare ducks and geese – as far as they're concerned it's still very much winter, and so that means there were plenty of them to go at on a freshwater body, field or inshore area near you again this week.
As usual, we'll do a quick body swerve and get the Goose Formerly Known As Canada safely behind us first. This week an interior Todd's Canada Goose was seen in Highland at Kirkhill on 17th, while the i>hutchinsii Richardson's Cackling Goose was on Islay (Argyll & Bute) again at Bridgend on 18th. The possible Cackling or Canada Goose was seen again on North Uist (Western Isles) at Balranald RSPB (Western Isles) on 17th.
Two white morph Snow Geese were seen again hanging out with the local Canada Geese in Devon at Powderham on 17th; in more plausible surroundings and company alike, two white morphs were seen on 17th again in Aberdeenshire at St Combs with Pink-footed Geese; and a blue morph bird was found at Findhorn Bay (Moray) on 18th and was present there again, briefly, in the morning of 20th.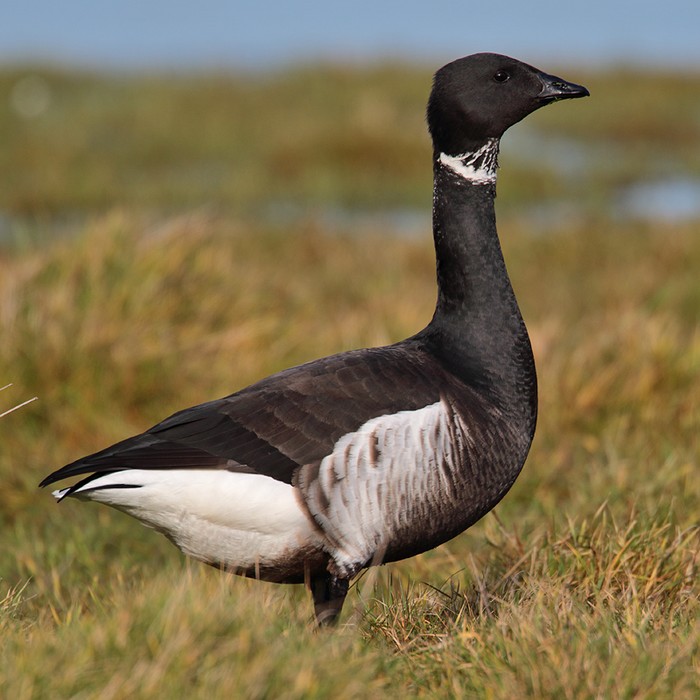 Several of the usual gaggle of Black Brants popped up again this week – the regular adult bird was again seen at Cley (Norfolk) on 15th-20th, while in Dorset the recent bird on the Fleet was noted again on 15th, with one seen in Poole Harbour again on 16th-17th. Another (or a hybrid) was noted in Essex at Goldhanger on 15th.
Familiar drakes comprised all of this week's American Wigeons, starting in Highland where sightings came again from Clachnaharry on 14th-17th and South Kessock on 15th-19th, and Tain Links on 14th-15th; while in Ayrshire the bird was again noted at Dipple Shore on 17th-18th. Further south, drakes were again at Grindon Lough (Northumberland) on 18th-20th; Rutland Water (Leicestershire) on 14th; Nene Washes RSPB (Cambridgeshire) on 15th-19th; and at Matford Marsh RSPB (Devon) on 15th-18th.
Numbers of Green-winged Teals remained strong this week, with some dozen birds noted in all: at Ashleworth Ham (Gloucestershire) again on 14th-20th; at Saltholme RSPB (Cleveland) on 14th-17th; North Cave Wetlands YWT (East Yorkshire) on 14th-20th; on 15th again at Wacker Quay (Cornwall), and on 16th-17th at Wilcove; on 17th at Kilnsea Wetlands (East Yorkshire) on 17th again, and elsewhere on 17th on North Ronaldsay (Orkney) and Ballymena (Co.Antrim) once more, with another that day on the Lossie estuary (Moray); on 17th-18th at Walmsley Sanctuary (Cornwall); and on 18th once more at Loch Flemington and Strathcarron (Highland) and Wheldrake Ings YWT (North Yorkshire). On 19th one was in Highland near Skibo Castle, while the North Ronaldsay bird was seen again that day also, and one was on Tiree (Argyll & Bute) too; and on 20th one was seen once more at Ballymena (Co.Antrim) and either the North Ronaldsay bird or another was on the Orkney mainland at Tankerness in the late morning.
Ring-necked Ducks meanwhile just crept into double figures again this week. The week began with drakes noted again at Little Loch Shin (Highland) and Beesands Ley (Devon) on 14th-17th, and a female once more on 14th-20th at the National Wetlands Centre WWT in Carmarthenshire. In Ireland, on 15th-16th a drake was at Lough Yganavan (Co.Kerry), with two birds on Lough Doo (Co.Mayo) on 16th; a female remained on Corran Lake (Co.Cork) on 17th, with drakes again on 17th on Lough Shivnagh (Co.Donegal) and at Kiltiernan Turlough (Co.Galway). The drake remained on Coot Loch on Benbecula (Western Isles) on 16th-19th, while another drake was seen on 18th-19th in Cambridgeshire at Ouse Washes RSPB. On 19th the drake was seen once more in Somerset at Shapwick Heath NNR, and on 20th the drakes were once again seen in Cotswold Water Park (Gloucestershire) and Loch Shiel and Little Loch Shin (Highland).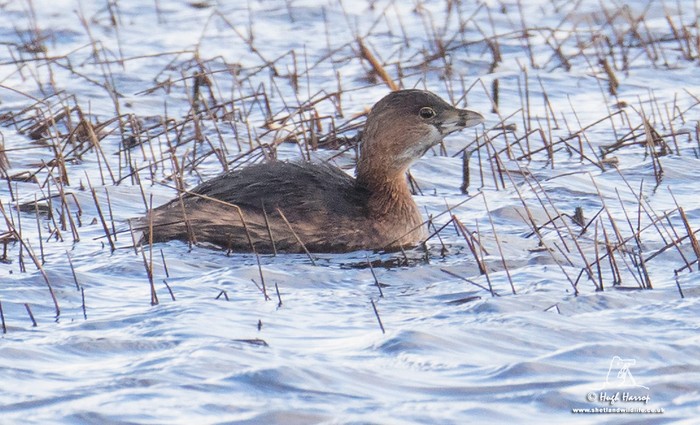 The drake Lesser Scaup was still to be found at Dozmary Pool (Cornwall) on 14th-20th, while the drake Ferruginous Duck was seen again at Washington WWT (Co.Durham) on 15th.
The female King Eider was seen again this week in Shetland off Yell on 16th-17th; a first-winter male was found on 19th in Blacksod Bay (Co.Mayo), and remained there the following day.
The long-staying trio of Surf Scoters remained this week at Porthpean (Cornwall) on 14th-19th, while in Scotland birds were again noted from Largo Bay (Fife) on 16th, Musselburgh Lagoons (Lothian) on 17th-19th, and off Ruddons Point (Fife) again on 18th, with two seen on 19th in Luce Bay (Dumfries & Galloway). In Ireland, one was noted again at Rosslare (Co.Wexford) on 15th, with two (a female and a first-winter drake) again there on 17th-20th; the female was once more off Rossbeigh (Co.Kerry) on 14th-20th; and the drake was again seen from Curracloe (Co.Wexford) on 17th.
We return to Shetland, briefly, once again for the closing honorary waterbird – the Pied-billed Grebe was still being seen at Spiggie on 15th-18th.
Where our shorebirds were concerned this week it really was as if I'd never been away. A quick glance at the week's news served to confirm that all the recent birds were still present and correct again this week… Newly refound Semipalmated Plover notwithstanding, that is.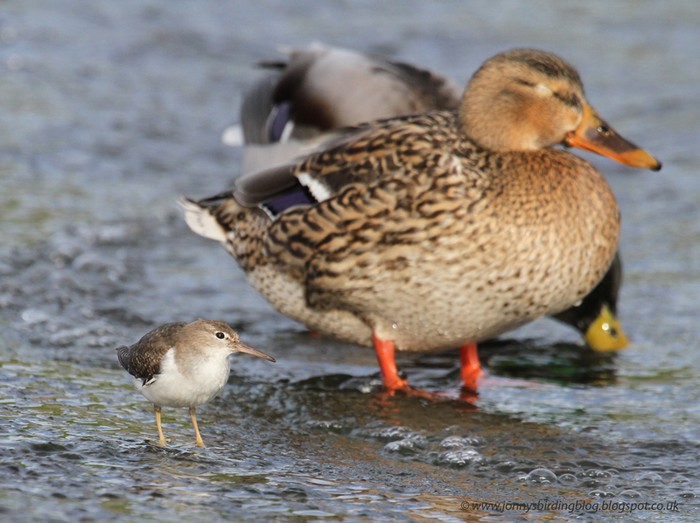 Starting in Kent, we find the adult Long-billed Dowitcher still present at Oare Marshes KWT on 18th; while in West Sussex the over-wintering Temminck's Stint was again seen at Pulborough Brooks RSPB on 17th-20th.
Further north, the Spotted Sandpiper at Holme Pierrepont (Nottinghamshire) remained present and correct on the canoe slalom course on 15th-20th.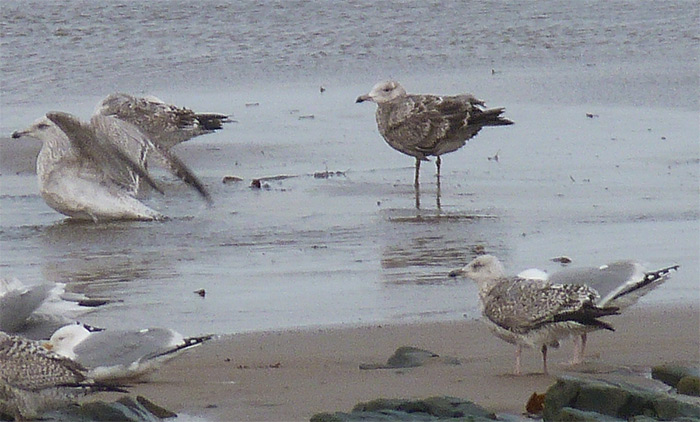 Not quite as glamorous as a Thayer's Gull, American Herring Gull nevertheless has enough star quality to elevate it to the top of our rare gulls and terns section this week. A first-winter was seen in the morning of 15th at Cashen (Co.Kerry) before inconsiderately flying off; another possible first-winter graced Hayle Estuary RSPB (Cornwall) in the afternoon of 18th.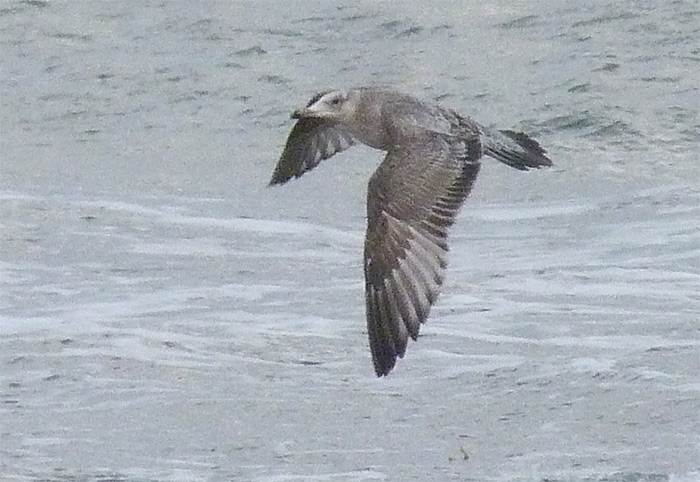 Finer fare this week came in the form of a couple of adult Bonaparte's Gulls - one remained in Ireland at Killybegs (Co.Donegal) on 16th-18th, while another was in Clyde at Gourock on 14th-19th. Finally on 20th the regular adult resurfaced in Devon at Shelly Beach.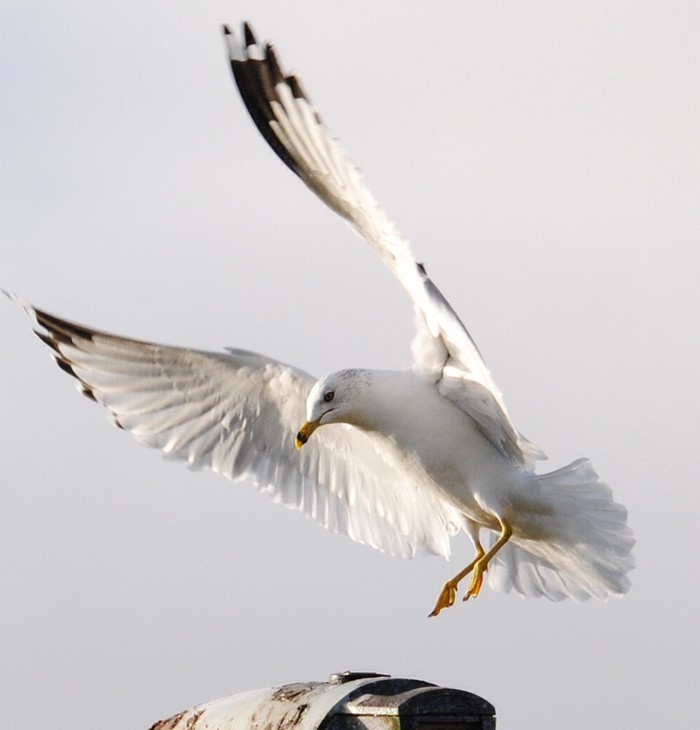 Ring-billed Gulls meanwhile were keeping British and Irish birders busy again, with 24 birds in all seen this week – most of which were in Ireland: on 14th adults were again seen at Cuskinny Marsh NR (Co.Cork), Blennerville (Co.Kerry), and Tralee Bay Wetlands Centre (Co.Kerry), the latter bird remaining there until 20th; on 15th two birds were in Co.Kerry at Cashen, while an adult that day in Limerick (Co.Limerick) was followed there on 17th by a second-winter individual; elsewhere on 17th adults were again at Bray Harbour (Co.Wicklow), Nimmo's Pier (Co.Galway) and Dundalk (Co.Louth); on 18th two birds, an adult and a first-winter, were seen in Co.Wexford at Rosslare Back Strand, with an adult still that day at Carrickfergus (Co.Antrim) also. On 19th an adult was again at Drimnagh (Co.Dublin), and on 20th a second-winter bird was in Belfast at Waterworks Park (Co.Antrim) with the adult again seen at Carrahane (Co.Kerry) that day.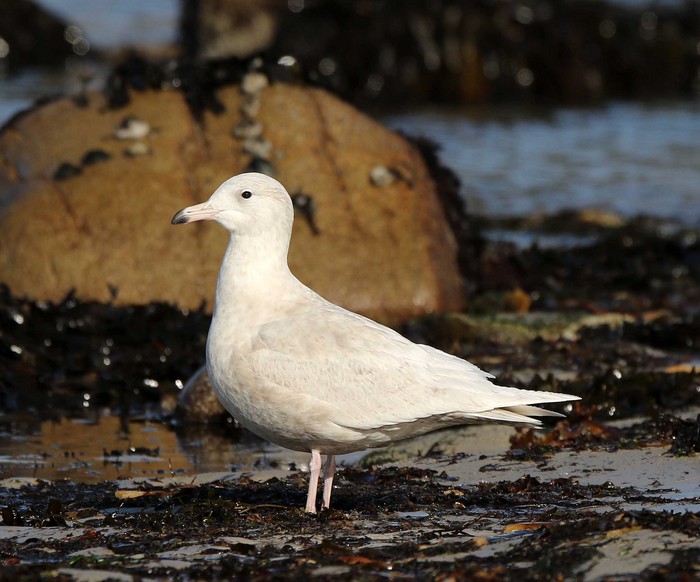 English sightings came in the form of the Cornish first-winter still at Newquay on 14th-18th, a first-winter in Penzance on the afternoon of 17th, and an adult at Hayle Estuary RSPB on 17th also; the adult again at Blashford Lakes HWT (Hampshire) on 14th-19th, and a second-winter nearby at Tidpit on 16th; an adult over Alderholt (Dorset) in the afternoon of 18th; and an adult at Chew Valley Lake (Somerset) on 19th and possibly again on 20th. In Scotland the first-winter was again on Tiree (Argyll & Bute) on 17th-20th and the adult was seen once more at Strathclyde Loch (Clyde) on 18th.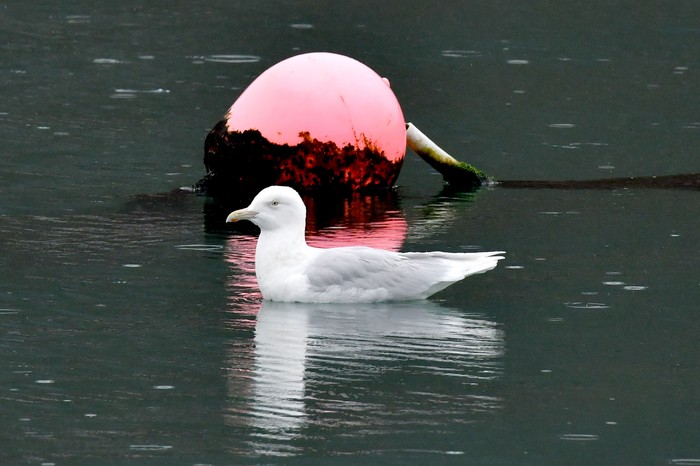 Which brings us neatly to white-winged gulls, which continued their recent resurgence this week with strong numbers of both Glaucous and Iceland Gulls - some 220 of the former were seen, including a peak count of 21 birds at Killybegs (Co.Donegal) on 16th; and around 350 of the latter species were noted, including 31 birds in Stornoway harbour on Lewis (Western Isles) on 17th, and 48 that day at Killybegs. With all this white-winged largesse came Kumlien's Gulls, with around 25 birds in all logged across Britain and Ireland.
We finish in Ireland where the adult Forster's Tern was once again seen at Kinvarra (Co.Galway) on 17th.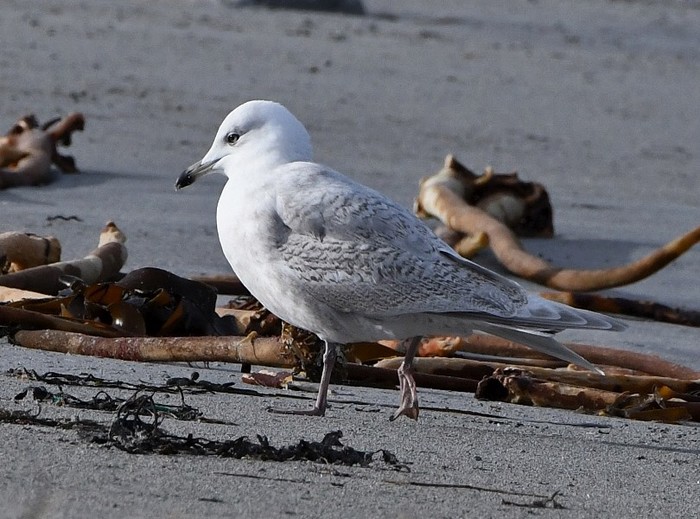 A white Gyr was in Ireland in Co.Mayo at Annagh Marsh at midday and Termoncarragh Lough in the afternoon on 20th.
Still a very quiet winter for Rough-legged Buzzards this year, with just two sightings of adult male birds this week to delay us before we head west to Scilly. These were individuals seen on Haddiscoe Island (Norfolk) on 15th-18th, and in Cambridgeshire at Thorney Toll on 16th-18th.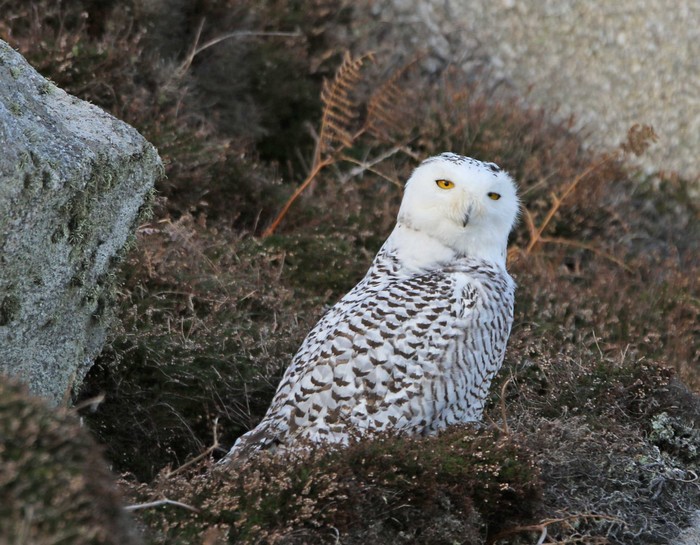 And so to Scilly, where the first-winter female Snowy Owl was still kicking around Tresco on 15th-18th.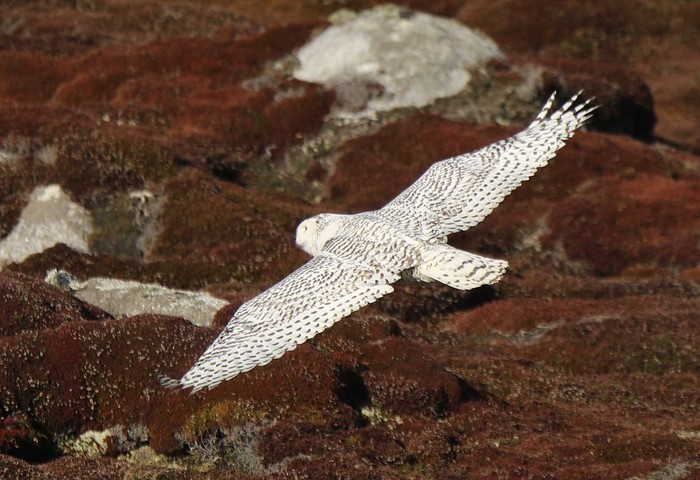 Fairly slim pickings once again this week amongst the passerines, and even amongst the traditional Great Grey Shrike and Waxwing winter staples. More of them shortly…
…as we'll start with the handful of Yellow-browed Warblers reported this week – birds seen in Cornwall at Allet Common on 15th and Carnon Downs still on 17th-18th, and in Dorset once more on Portland on 17th.
The first-winter male Penduline Tit remained for another week at Plock Court Wetlands (Gloucestershire), being seen there daily.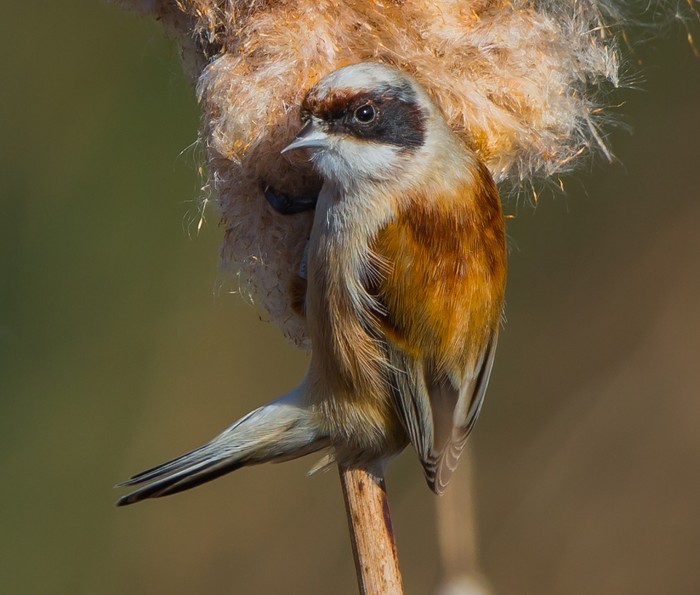 In Devon, the male putative Italian Sparrow was still resident in East Budleigh on 14th-15th, while in East Yorkshire the first-winter Rose-coloured Starling was still at Easington on 15th-19th.
The unseasonal Bluethroat remained this week at Eastbourne (East Sussex) on 14th-17th.
A Richard's Pipit was seen briefly on 20th at Wombwell Ings (South Yorkshire).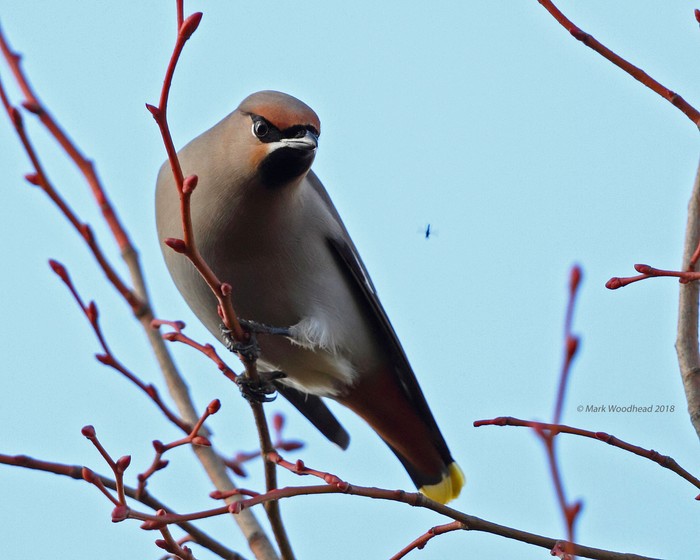 Just shy of 40 Waxwings enlivened proceedings this week, with no flocks breaking into double figures. Most were, once more, north of the border in Scotland, with a few English exceptions – the furthest south being an individual seen in Hampshire at Farnborough on Valentine's Day, and perhaps the most popular being the adult bird in Cheshire at Poynton still on 14th-18th.
Modest numbers of wintering Great Grey Shrikes were still on offer this week, not least in Gloucestershire where sightings came from Crabtree Hill on 15th-20th, and Cannop and Hawling Farm on 17th; and across the border in Wales, individuals were to be found at Bwlch y Sarnau (Powys) on 16th again, and in Clocaenog Forest (Denbighshire) on 17th still. Birds were seen once more in Oxfordshire at Baulking Pit on 18th and in Berkshire at West Ilsley on 19th-20th, while in the north of England one remained at Prestwick Carr (Northumberland) on 17th-20th.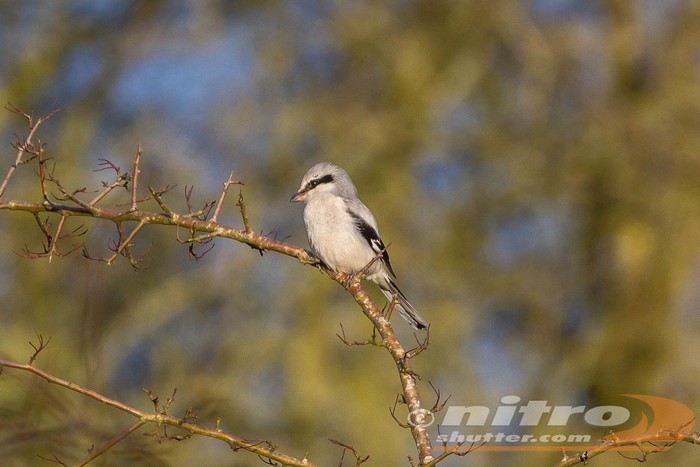 While some of the regular Parrot Crossbills had dissipated since I was last here, the faithful flock at Santon Warren (Norfolk) was still to be found this week, with daily sightings peaking with a count of 19 birds on 14th, and 16 birds still present on 18th at least. Six remained at Wishmoor Bottom (Berkshire) on 17th, and nine were again at Howden reservoir (Derbyshire) on 20th. Three were noted in Suffolk at Sutton Common on 15th. Two probable birds were logged in Dorset on 17th at Boveridge Heath, while a dozen possibles were noted in Houghen plantation (Norfolk) on 19th.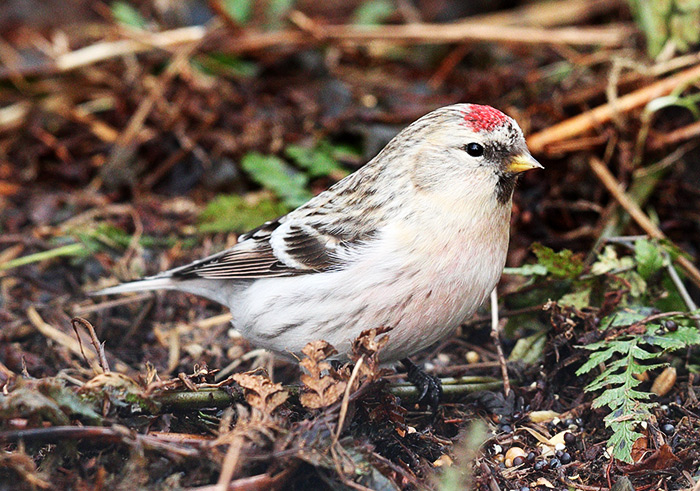 I came back from orchid-hunting in Tenerife this week to find the male exilipes Arctic Redpoll on Whalsay had, obligingly, hung around at Skibberhoull until 17th. More convenient for everyone except Whalsay birders, the settled individual at Hazlewood Common (Suffolk) was still present until 18th, while Kelling (Norfolk) held at least one bird throughout the week, with five present there on 17th-18th.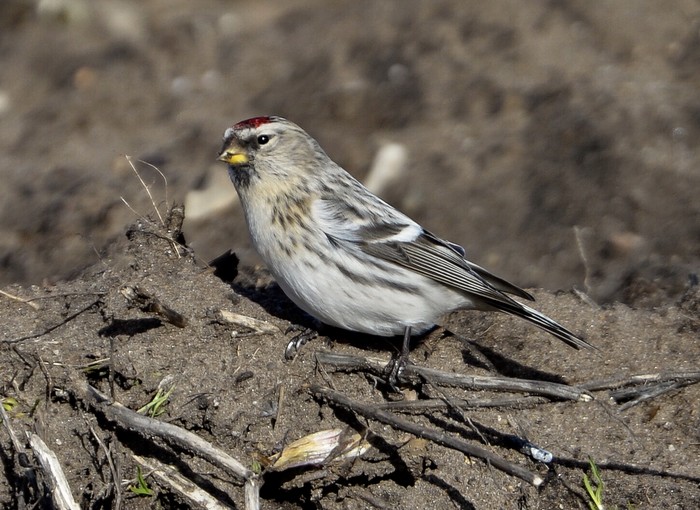 Back in London, we find the Little Bunting still hanging out at Walthamstow reservoirs on 15th-20th.
So, did you think I'd forgotten? It could be saving the best til last, or indeed it could be nothing at all – for, had emerging news this week of a probable female Siberian Rubythroat seen coming to a bird table in South Yorkshire at Barnby Dun for five days lately been followed up by confirmation that this was, indeed, the real deal, this would have been our headline bird, right there. And all hell would have broken loose.
Yeah. Didn't happen though, did it? The wait for a people's rubythroat goes on…
Further afield it was all going on this week, with plenty of vagrant bird action in all corners of the Western Palearctic. Really, something for everyone.
Let's start close to home in Holland where, this week, the Ross's Gull remained at Binnenhaven on 16th (and still there on 20th), as did the Black-throated Thrush at Scheemda on 16th also. The Eastern Black Redstart meanwhile was still to be found at Groningen on 16th-18th, while the Greater Spotted Eagle was once again at Ouderkerk on 19th. All of which makes me quite fancy a spot of Dutch birding…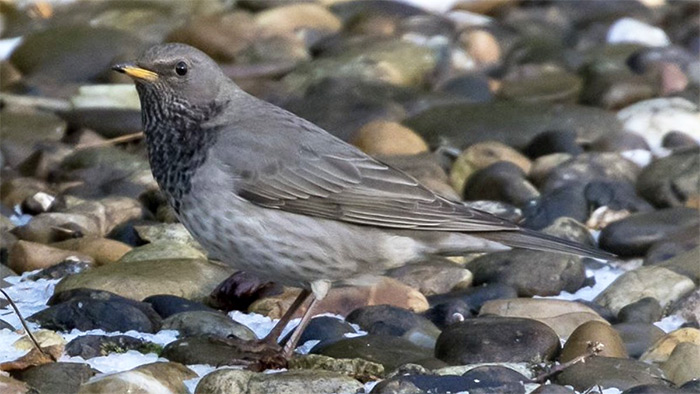 In Belgium, the Pygmy Cormorant remained settled at Parc Domaine du val Duchesse (Belgium) on 16th-18th; and, in Bruges, the Marbled Duck was still present on 16th also. France, meanwhile, still had two Pine Buntings at Cadanet on 16th.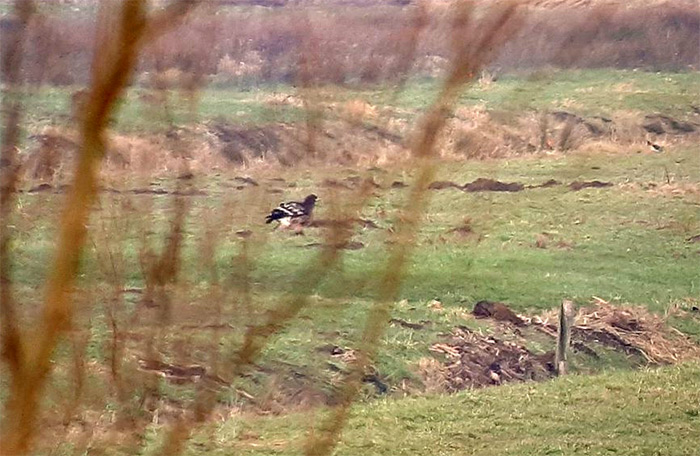 Real food for thought came from Estonia this week where a Naumann's Thrush was to be found at Tartumaa on 15th. Next stop east London, anyone?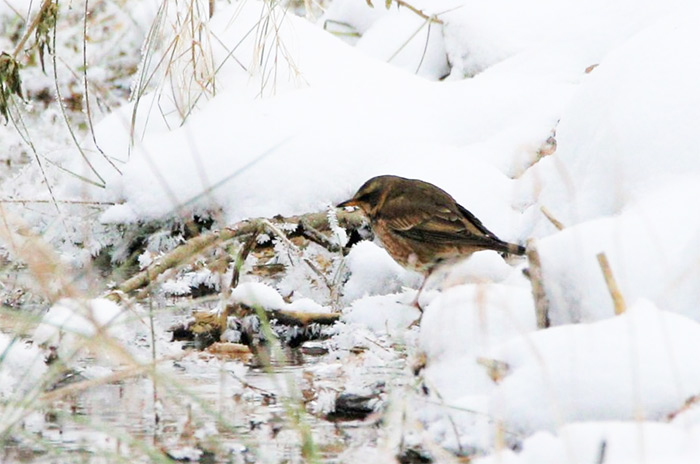 Heading further afield, we'll start in Iceland, where the American White-winged Scoter was still off Keflavik on 14th-15th, before swooping out to the Azores where the Redhead was still sharing Terceira on 17th-18th with, on 18th, a Killdeer and an American Coot.
The Canaries, meanwhile, still boasted Dwarf Bittern on 14th-20th and a Tristram's Warbler on 16th on Fuerteventura; and the Semipalmated Plover once again on Tenerife on 17th.
Finally, and I'm not proud of this, I've just had to Google Mauritania to work out where it actually is. Clue – it's not in Europe. So now I know where it is, I can tell you there was an Abyssinian Roller there still at Nouadhibou on 16th. Which is nice.
With me eased back into the RBA fold and another Round Up behind us, it's time to sit back and indulge in a spot of pleasant day-dreaming before we put the mug in the sink and think about where we're going birding next.
Spring's definitely in the offing now and, while there's still plenty of scope to find a scarce or rare duck or gull somewhere near you in the coming days, the final week of February starts to offer faint glimmers of more exotic potential. Hard to believe, but there've even been two past records of Great Spotted Cuckoo, both in Devon, on 23rd February 1990 and 22nd February 1998.
It'd be a brave man who predicted one of those quiet this early in proceedings so, while we love to dream, we also like to be in with a chance of calling a rarity or two correctly in this predictive game. So it's back to the gulls, as I'm betting that the recent increased numbers of large gulls may yet yield a surprise or two in the next week. At the very least, I fancy another American Herring Gull - one for the larid connoisseur.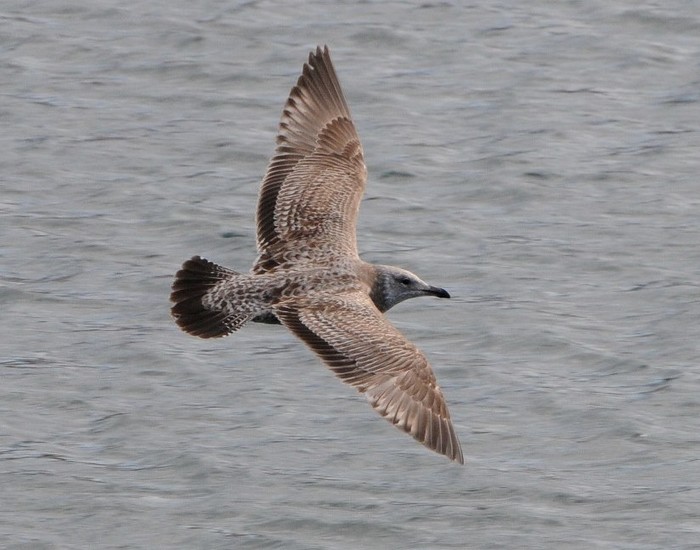 Jon Dunn
21 February 2018
Share this story
Tweet