Weekly birding round-up: 7 - 13 Feb 2018
Potential 'Holboell's Red-necked Grebe' in the Western Isles
White Gyr Falcon in Galway
Thayer's Gull in Hampshire
Horned Lark in Surrey
Stilt Sandpiper in Dorset
Pacific Diver in Galway
Snowy Owl on Scilly
Pied-billed Grebe on Shetland
Black Scoter in Kerry
The week continued this winter's rather cold theme, with a generally northwesterly flow and snow showers, particularly in the north and west. It was also windy at times. In keeping with the conditions, and following in last week's footsteps, the Nearctic theme was maintained by the week's main discussion point - a putative 'Holboell's Red-necked Grebe' in the Western Isles. Aside from this far away diversion, however, it was a quiet week for new discoveries, with white-winged gulls still the main attraction for most.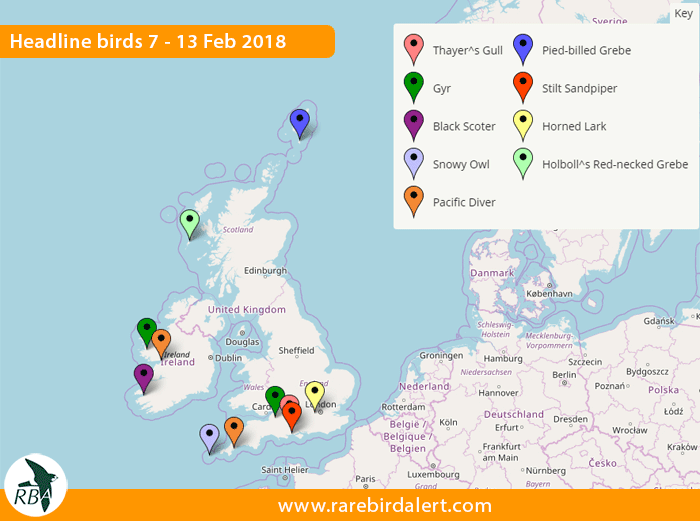 Potential Holboell's Red-necked Grebe
A potentially exciting discovery from across the Atlantic was a Red-necked Grebe off Barra, Western Isles to at least 10th. Apart from its interesting westerly location, this bird also looked quite striking in the tweeted images - long-necked, long-billed and with much yellow on the bill. Could it be of the Nearctic subspecies? The bird's appearance and the circumstantial evidence certainly suggest that this might be the case but how sure can we be?
'Holboell's Red-necked Grebe' breeds across North America and also in Northeast Asia. It is not well differentiated, however, differing only in biometrics and (according to some sources but not by BWP) in the amount of yellow on the bill in breeding plumage. Quite how useful this might be in the field is therefore clearly open to question. Some photographs of the subspecies show seemingly distinctive birds but others appear much less striking whilst it is not too difficult to find images of nominate grisegena which look very similar.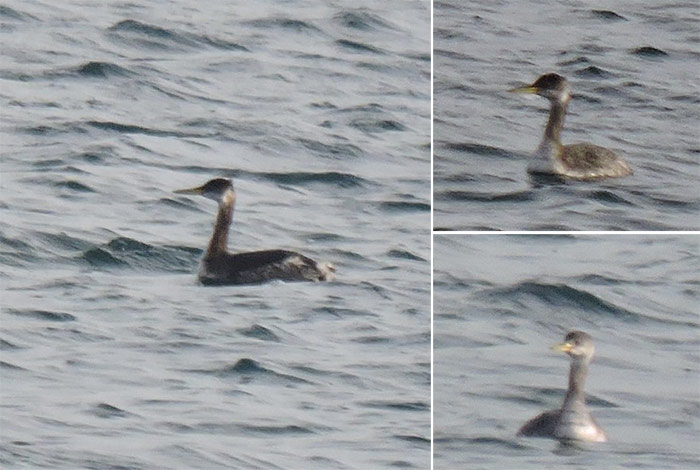 The subspecies is already on the British List on the basis of a bird shot by a John MacGregor in Wester Ross, Highland in September 1925 and subsequently identified from biometrics (the precise location was Gruinard Bay, not Aultbea as noted in much of the literature). There are other Western Palearctic records from Iceland (at least five), Spain (two), Norway and Sweden. Realistically, full biometrics or details from a ringed or marked bird would be required for another to be accepted in Britain.
As an aside, this bird does at least provide the opportunity for a bit of historical research. Carl Peter Holboell (1795-1856) was a Captain in the Danish Royal Navy who served as Inspector of Colonies and Whaling in Greenland and later as Inspector of South Greenland. While working there he acquired an interest in natural history, collected large numbers of specimens and in 1843 wrote "Ornithologiske Bidrag til den grønlandske Fauna" - a treatise on Greenland's birds. He was a close friend of the Danish botanist Jens Wilken Hornemann and so, on describing Greenland's large form of Arctic Redpoll, named it after his friend. In return, Hornemann honoured Holboell in the name of a species of rock cress. 'Holboell's Red-necked Grebe' was named in 1854 by the Dutch zoologist Johannes Theodor Reinhardt who also had a particular interest in (and published a checklist of) the birds of Greenland. Holboell is also linked with 'Holboell's Redpoll', a name once given to long-billed Common Redpolls considered to represent a distinct taxon but now regarded as invalid. Holboell died in 1856 when his ship sank en route to Greenland.
Gyr Falcon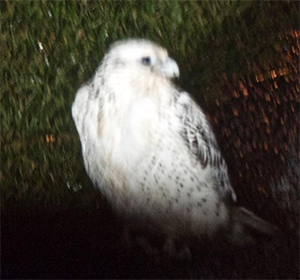 A white Gyr Falcon has to be one of our most exciting and charismatic vagrants, annual of course in very small numbers but almost always remote, brief and tantalising, truly a bird to stir the imagination. This week's report of one on 13th at Bunowen Pier, Ballyconneely, Galway (the county's sixth) is very much in the typical mould therefore. What is rather less typical, however, is that it was seen at 1.30 a.m., in torchlight as far as can be judged from photograph! Bizarre circumstances aside though, the far western location is of course normal – this is a bird of remote rocky outposts – and the date is pretty typical too. The best time, however, is traditionally March and April so it is not unreasonable to expect one or two more over the next month or so.
Thayer's Gull
Back in England, the best bird was the large, pale juvenile Thayer's Gull still commuting between Tidpit and Blashford Lakes, Hampshire to 9th but then suddenly missing for would-be Saturday observers on 10th only to be back at Tidpit and Blashford Lakes again on 11th and seen at roost again on 12th. There was, however, no sign of it on 13th.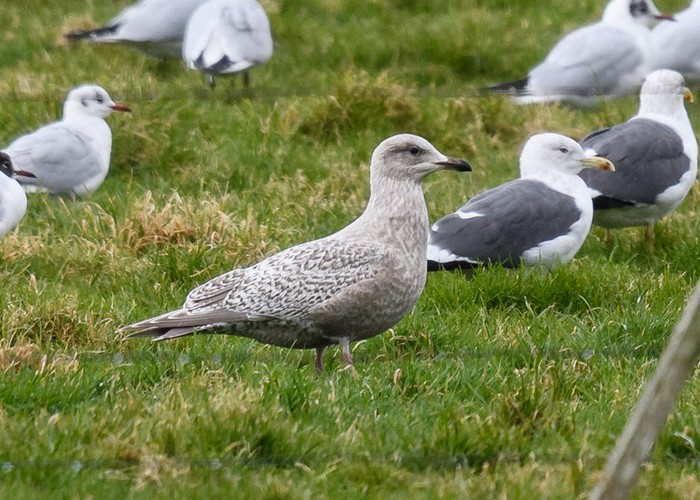 Horned Lark
Still present this week to 13th was the Horned Lark at Staines Reservoir, Surrey.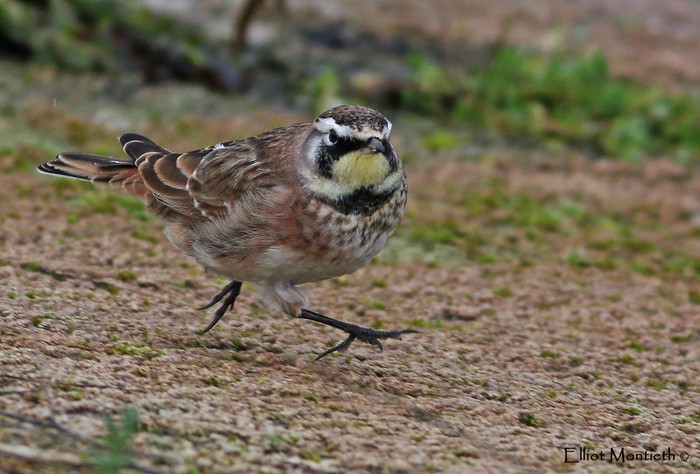 Stilt Sandpiper
Also hanging on was the wintering Stilt Sandpiper at Christchurch Harbour, also present to 12th although it seemed to have gone missing on 13th.
Pacific Diver
Though doubtless still present, there were no actual reports of the Pacific Divers in Cornwall this week. However, the adult was again at Tawin Island, Galway on 7th.
Snowy Owl
After a brief disappearance amongst the innumerable rocky outcrops of the Isles of Scilly, the female Snowy Owl was refound on Tresco on 10th and still there next day.
Pied-billed Grebe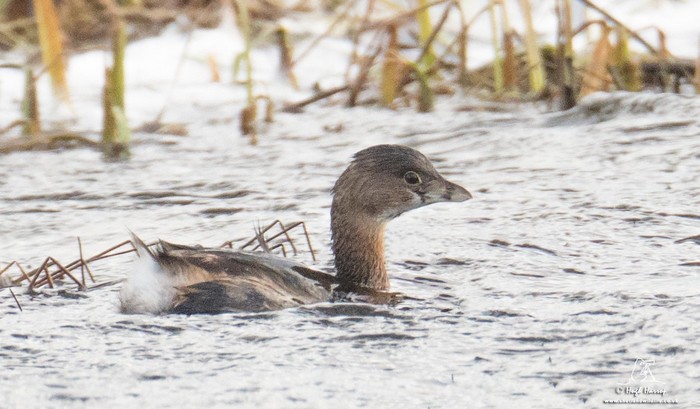 At the opposite corner of the country, the Pied-billed Grebe was still at Loch of Spiggie, Mainland Shetland to 13th.
Black Scoter
Also still present was the drake Black Scoter at Rossbeigh, Kerry to 13th.
The only properly rare seabird of the week was the White-billed Diver still off Sandwick, Shetland to at least 9th. Otherwise, a Pomarine Skua passed Durlston Country Park, Dorset on 12th and three Little Auks passed Brora, Highland on 13th.
The only Nearctic rare goose of the week was a Richardson's Cackling Goose still at the country's best site for this taxon - Islay, Argyll - to at least 7th.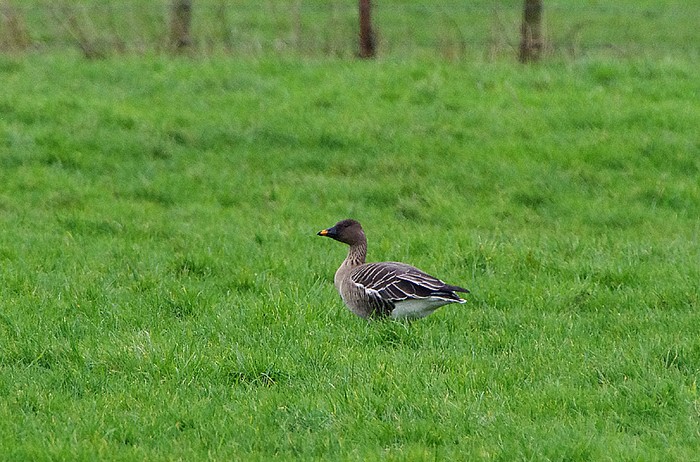 Turning to Palearctic geese, just a few Tundra Beans were on offer - two near Thornham, Norfolk, two at Scotney Gravel Pits, Kent, one at Braunton Marsh, Devon, one at Eagland Hill, Lancashire and three at Trimley Marshes, Suffolk (with six Greenland White-fronted Geese there also). Black Brants were at Cley, Norfolk, The Fleet, Dorset and Wallasea Island, Essex.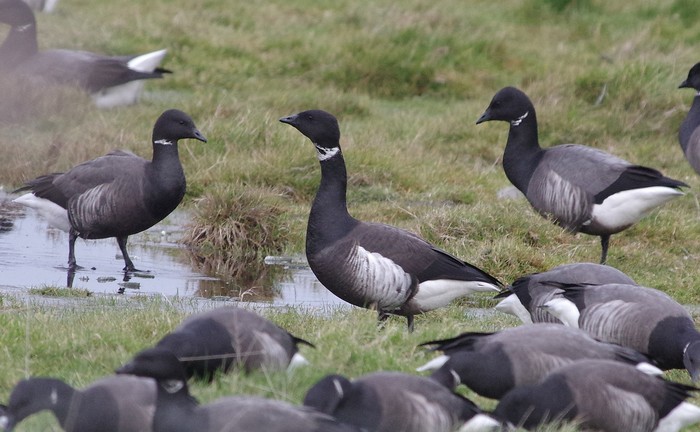 As for ducks, drake American Wigeons were at the Nene Washes, Cambridgeshire, Grindon Lough, Northumberland, Rutland Water, Leicestershire, Tain and Clachnaharry, both Highland, Exeter, Devon, Girvan, Ayrshire and Wheldrake Ings, Yorkshire.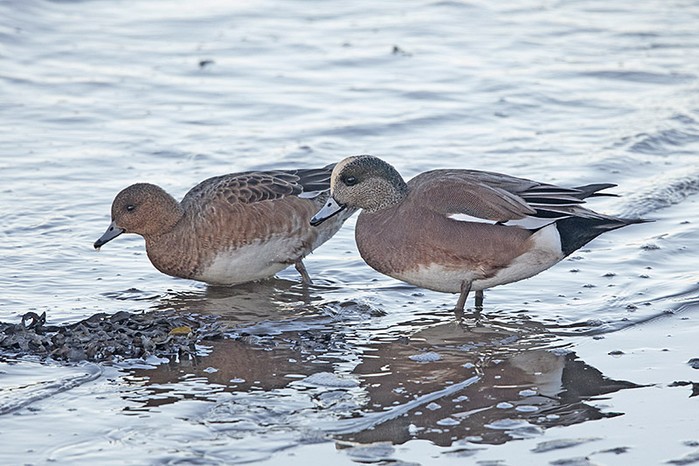 Drake Green-winged Teals were at Tacumshin, Wexford, Saltholme, Cleveland, Ashleworth Ham, Gloucestershire, Kilnsea Wetlands, Yorkshire, Torpoint and Wacker Quay, both Cornwall, Ballymena, Antrim, North Ronaldsay, Orkney and North Cave Wetlands, Yorkshire.
A Lesser Scaup was still at Dozmary Pool, Cornwall with Ferruginous Ducks at Washington WWT, Durham (in the White-headed Duck pen), Ham Wall, Somerset and Blashford Lakes, Hampshire.
Ring-necked Ducks were at Kinvarra, Galway (two), Llanelli, Camarthenshire, Corran Lake, Cork, Beesands Ley, Devon, Ham Wall, Somerset, Lairg, Highland, Cloonee Lakes and Cremane, both Kerry, and Abberton Reservoir, Essex.
At sea, the female King Eider was still off Ynyslas, Ceredigion to at least 11th whilst Surf Scoters were off Gormanstown, Meath (two), Llandulas, Conwy, St. Austell, Cornwall (up to three), Rosslare, Wexford , Rossbeigh and Ballinskelligs, both Kerry, and Ballyvaughan, Clare.
Herons, egrets, crakes etc.
Cattle Egrets remained widespread across the Southwest with, further north and east, birds at Linford, Buckinghamshire, Thornton, Leicestershire, Birkdale, Lancashire (five), Kilmore Quay, Wexford (four) and Newton Solney, Derbyshire (two).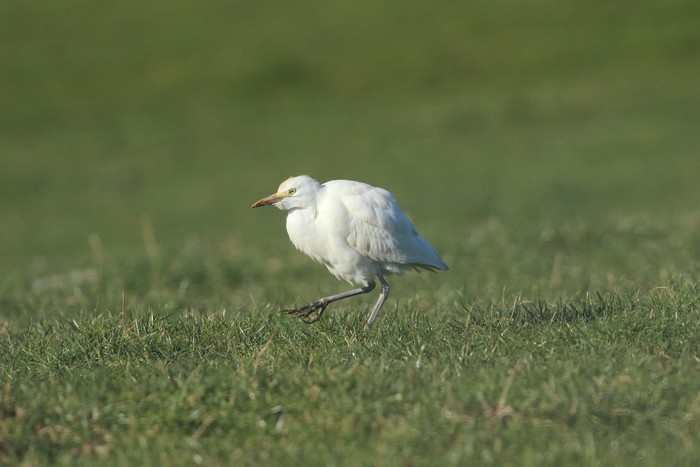 Glossy Ibises were noted at Minsmere, Suffolk, Great Yarmouth, Norfolk, Ham Wall, Somerset, Axe Estuary and Fremington Pill, both Devon, Newcastle, Wicklow (three), Saltash, Cornwall, Hornsea Mere and Swillington Ings, both Yorkshire, Old Hall Marshes, Essex, Brading Marsh, Isle of Wight and Portmore Lough, Antrim.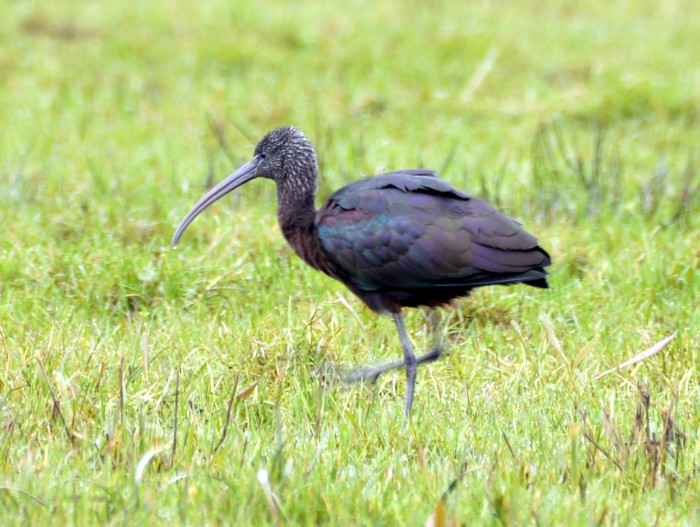 The only Rough-legged Buzzards in the country were still the adult males at Thorney, Cambridgeshire to at least 10th and Haddiscoe, Norfolk to at least 12th.
The main wader highlight continued to be the Spotted Sandpiper at Holme Pierrepont, Nottingham to 12th. Elsewhere, the long-staying Temminck's Stint was still at Pulborough Brooks, Sussex to at least 12th and the Long-billed Dowitcher at Oare Marshes, Kent to at least 10th.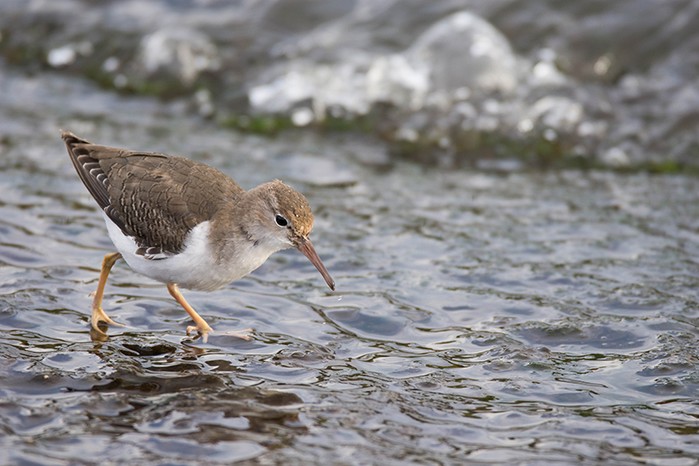 A new Bonaparte's Gull (a second-winter) at Killybegs, Donegal on 12th and 13th was the best gull find of the week. Elsewhere the long-staying adult was still at Exmouth, Teignmouth and Dawlish Warren, all Devon, to 13th and the adult at Gourock, Clyde also reappeared on 12th and was still present next day.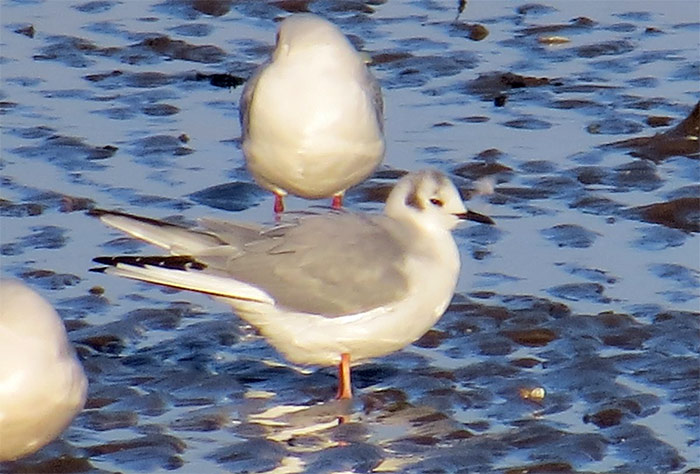 However, the real gull story of the week was again the impressive presence of white-winged gulls. Topping the bill was a still decent run of Kumlien's Gulls - a juvenile at Newcastle-under-Lyme, Staffordshire to 7th, third-winter at Blennerville, Kerry on 7th, juvenile at Cotham and Kilvington, both Nottinghamshire, to 12th, juvenile at Cashen, Kerry to 8th, second-winter at Eccup Reservoir, Yorkshire on 9th to 12th, second-winter at Scrabster, Highland to 13th, juveniles at Sandbach, Cheshire, North Ronaldsay, Orkney and Mousehole, Cornwall on 11th, second-winter at Killybegs, Donegal on 11th, juvenile at Cotswold Water Park, Gloucestershire on 12th and juvenile at Radipole, Dorset on 13th.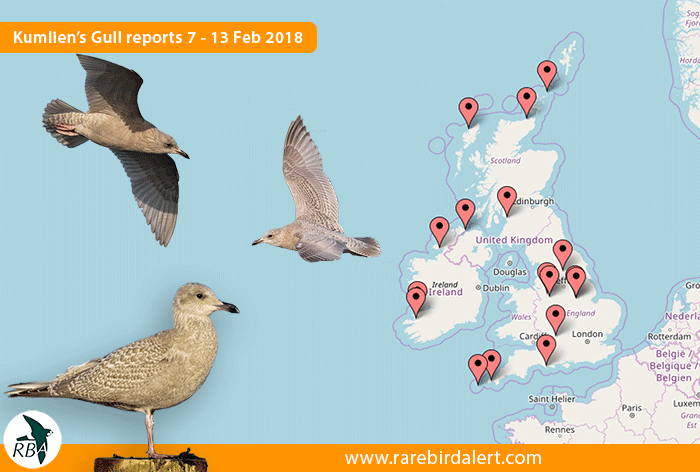 Glaucous Gulls were again widespread as far south as the south coast with the best concentrations being 16 at Killybegs, Donegal, six around Dunnet Bay, Highland and fives at Stornoway, Lewis, Western Isles, North Uist, also Western Isles, Black Rock Strand, Kerry, Liscannor Bay, Clare and Birsay, Mainland Orkney.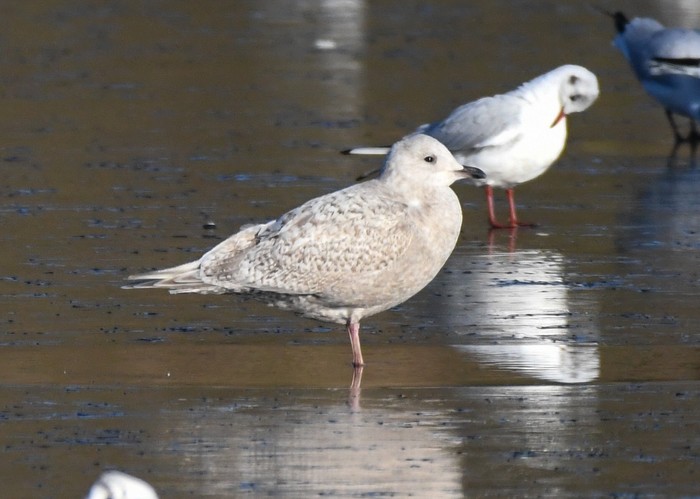 Iceland Gulls were similarly distributed with concentrations including 35 at Killybegs, Donegal, 30 at Stornoway, Lewis, Western Isles, five on St. Mary's, Isles of Scilly and eight at Thurso and Scrabster, Highland.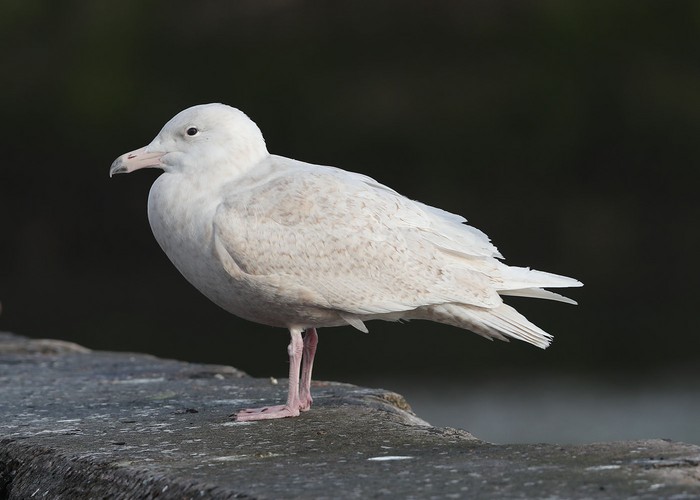 Ring-billed Gulls remained at some familiar locations - Strathclyde Loch, Clyde, Bray Harbour, Wicklow, Castletown Bere, Cork (two), Cobh, also Cork, Blennerville, Ballyheigue and Tralee, all Kerry, Newquay, Cornwall, Tidpit/Blashford Lakes, Hampshire, Nimmo's Pier, Galway (three), Drimnagh, Dublin, Sligo, Co. Sligo and Blackrock, Louth. A new bird (an adult) was at Thames Barrier Park, London on 11th.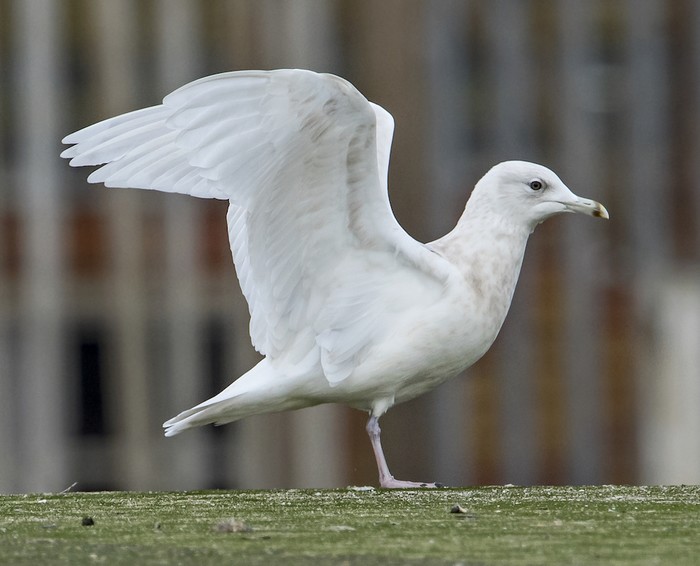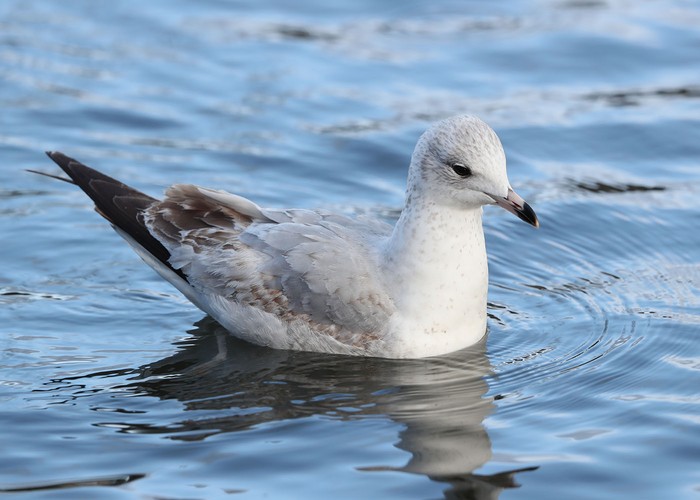 Near-passerines and Passerines
The most surprising passerine of the week continued to be the male White-spotted Bluethroat at Eastbourne, Sussex to at least 12th.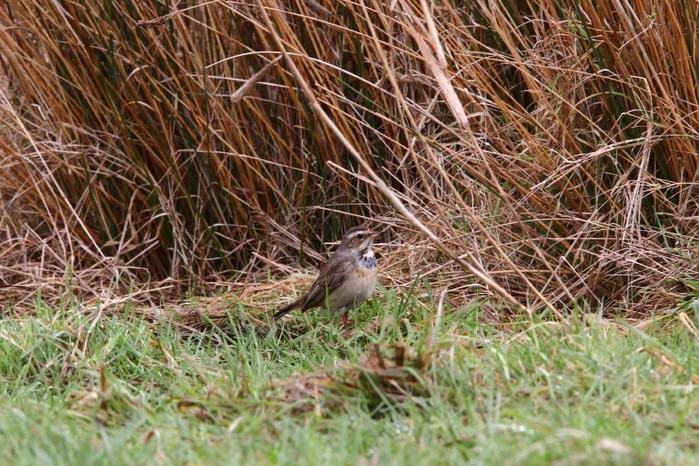 Amongst more traditional winter fare, the surprisingly localised Coues's Arctic Redpoll-fest around Holt, Norfolk continued with multiple birds still present at both Letheringsett and Kelling early in the week but fading away thereafter at the former site. Letheringsett has now hosted four individuals since early January, with at least seven at Kelling - a remarkable concentration indeed. Elsewhere, the only ones noted were the obliging long-stayer at Aldeburgh, Suffolk to 13th and a new bird on Whalsay, Shetland on 7th to 12th.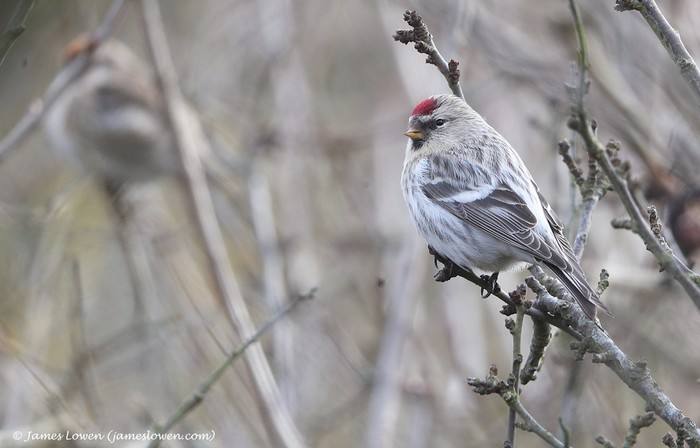 The other irruptive finch action involved six Parrot Crossbills at Upper Hollesley Common, Suffolk, at least ten at Wishmoor Bottom, Berkshire/Surrey, three at Broxbourne Woods, Hertfordshire and at least twenty at Santon Downham, Norfolk.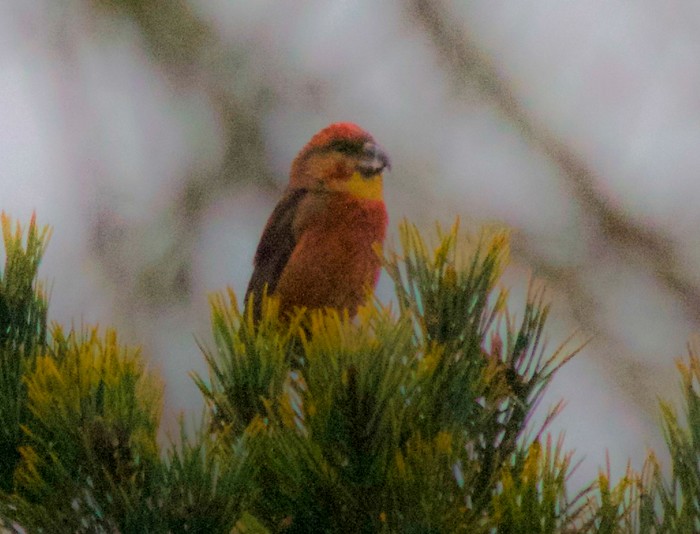 Great Grey Shrikes were at Eggleston, Durham, Hawling, Forest of Dean and Barrington, all Gloucestershire, Burley Street, Hampshire, Morden Bog, Dorset, Rhayader, Powys, Clocaenog Forest, Denbighshire, Pantmaenog, Pembrokeshire and East Hendred, Oxfordshire with Shorelarks at Conyer-on-Sea, Kent (up to ten), Elmley, also Kent (five), Holkham, Norfolk (nine), Holme, also Norfolk (four), Wallasea Island, Essex (eleven) and Loch Fleet, Highland (two).
The winter passerine line-up was completed by a still small scatter of Waxwings . Twenty-three in Beauly, Highland on 9th was by a long margin the largest flock, the other records comprising two at Hopeman, Moray to at least 10th, five at Harwich, Essex to at least 11th, three at Kirkwall, Mainland Orkney to at least 9th, three in Sheffield, Yorkshire to 8th, a single at Newcastle, Northumberland on 9th, up to three at Skelton, Cleveland on 9th to 13th, one at Sprotborough, Yorkshire on 10th, one at Annagassan, Louth (the only one in Ireland) on 10th to 13th, two at Eversley and one at Hartley Wintney, both Hampshire, on 11th, one at Poynton, Cheshire on 11th to 13th and two at Aviemore, Highland on 13th.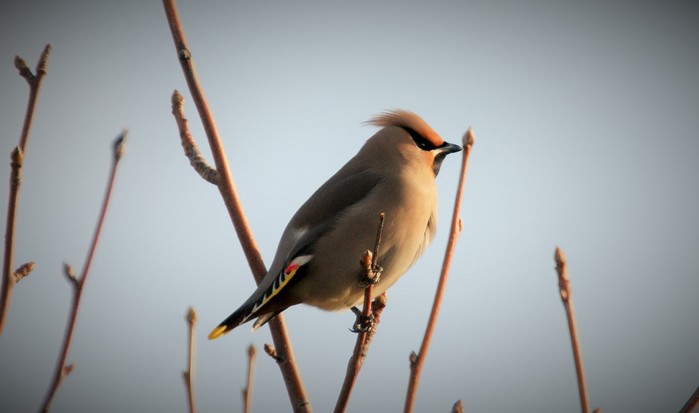 Returning to less typical winter species, the Little Bunting was still in residence at Walthamstow, London to 13th, with a Serin there on 10th also, and a Yellow-browed Warbler at Paignton, Devon on 11th and 12th. Also still around were the Penduline Tit at Longford, Gloucestershire to 13th, the Rose-coloured Starling at Easington, Yorkshire to 13th, with another at Roch, Pembrokeshire on 8th, and, finally, the 'Italian Sparrow' at East Budleigh, Devon to at least 9th.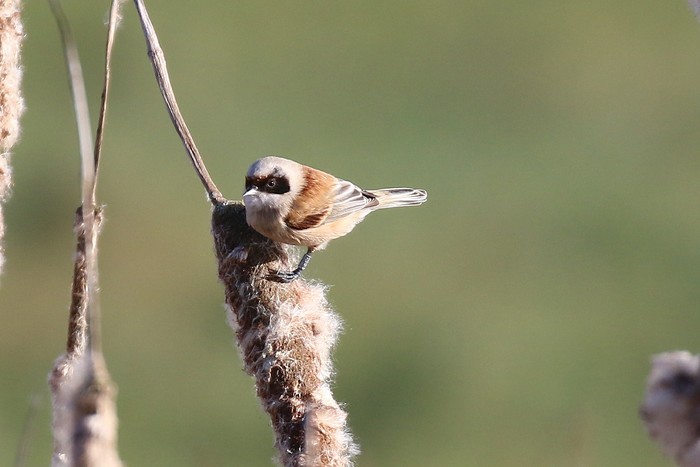 The headline Western Palearctic bird continued to be the Dwarf Bittern and several Tristram's Warblers on Fuerteventura, Canary Islands but a drake Stejneger's Scoter in Denmark was the week's best find (with a Black Scoter there also and latterly in Germany). Elsewhere, a Hume's Warbler was in Sweden, an Eastern Black Redstart and the Ross's Gull, Black-throated Thrush, Bufflehead and Black-winged Kite in the Netherlands, a Mealy Redpoll (a national first) in Spain and an Iceland Gull in Morocco.
Looking ahead, next week seems set to continue the westerly theme but with temperatures up by several degrees. Inevitably, gulls must remain the main target, late February and March being the traditional time for a trip out west. Wouldn't it be nice though if the long-staying and extremely obliging Dutch Ross's Gull fancied a short trip across the North Sea?
Andy Stoddart
14 February 2018
Share this story
Tweet

This week's videos