Weekly birding round-up: 31 Jan - 6 Feb 2018
Taiga Merlin in Highland
Probable Kelp Gull in Lancashire
American Herring Gull in Cornwall
Thayer's Gull in Hampshire
Horned Lark in Surrey
Stilt Sandpiper in Dorset
Snowy Owl on Scilly
Pacific Divers in Cornwall and Cork
Pied-billed Grebe on Shetland
Northern Harrier on Orkney
Black Scoter in Kerry
Late news of Pine Bunting in Norfolk
The week began with a continued cool northwesterly flow but by 4th a brisk northeasterly had set in across southern England, and temperatures took a further downward turn. The rest of the week was then cold, albeit relatively calm, with widespread snow showers, particularly in the Southeast. Despite the now rapidly lengthening days, spring still seems a long way away. There were some very exciting new discoveries this week but, for most, the dominant theme continued to be white-winged gulls.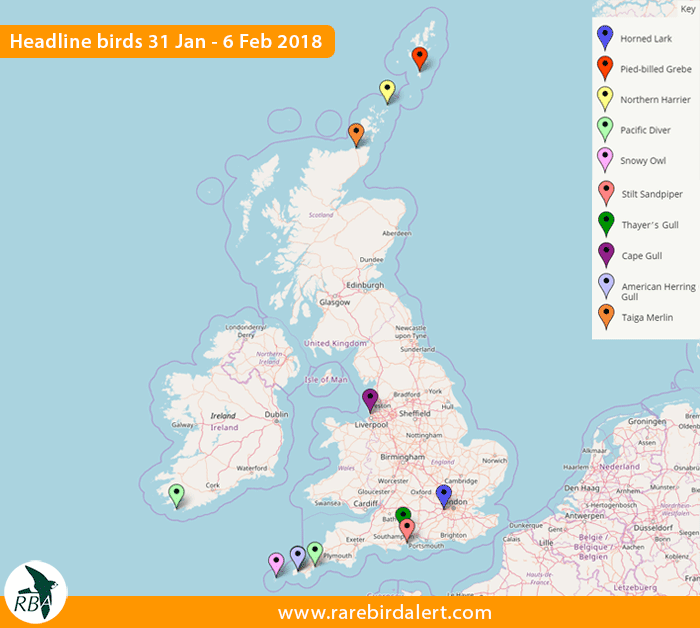 Taiga Merlin
The best bird of the week was a Taiga Merlin photographed between Thurso and Scrabster, Highland on 3rd and subsequently identified from this image.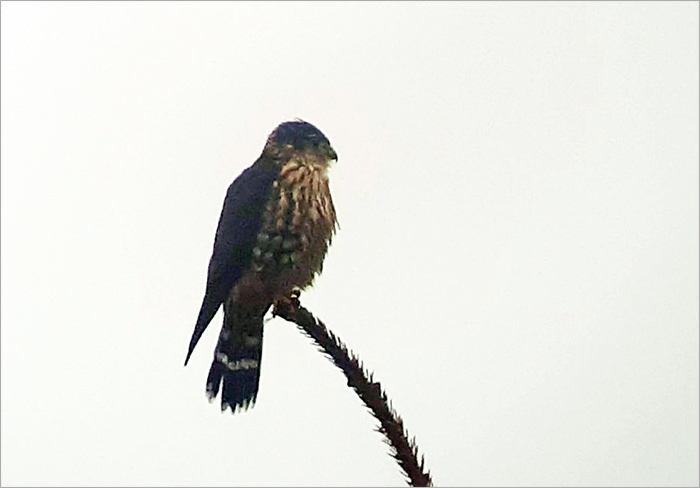 Merlins of the nominate subspecies columbarius breed commonly across the north of North America. Great wanderers (recorded as far south as Brazil), they are prime vagrancy candidates, with previous Western Palearctic records from Iceland in late October 1989, Cape Clear, Cork on 29th September 2000 (at the same time as a Blue-winged Warbler!) and Flores, Azores on 30th October 2007. Species status has been touted for Nearctic Merlins but currently all Merlin forms throughout the Holarctic are treated by IOC as conspecific.
If accepted, this would become a new bird for Britain (a 1920 Meinertzhagen specimen from the Western Isles has been reviewed and found 'not proven'). Taiga Merlin is particularly dark above but the key identification feature is the uppertail pattern - a dark tail with three well-spaced and strongly contrasting cream-coloured bands. The late Martin Garner was at the heart of uncovering the vagrancy potential and identification criteria of this taxon, and also for championing the Cape Clear individual. He would have loved this latest exciting development in the story of a bird which surely ranks as a contender for the title of 'bird of the winter' alongside the mandti Black Guillemot (another of Martin's pet topics) in Lincolnshire back in December. The bird is presumably still in the area for anyone local (or enterprising) enough to try searching.
Probable Kelp Gull
Another potential 'first for Britain' was an intriguing large, dark, swarthy juvenile gull with a very hefty bill seen and photographed at Crosby Marine Park, Lancashire on 3rd. Likened to a Bonxie by the observer, it was an impressively 'stand out' bird indeed and has subsequently been flagged up as a potential juvenile Kelp Gull. Sadly there has, at least as yet, been no further sign of it.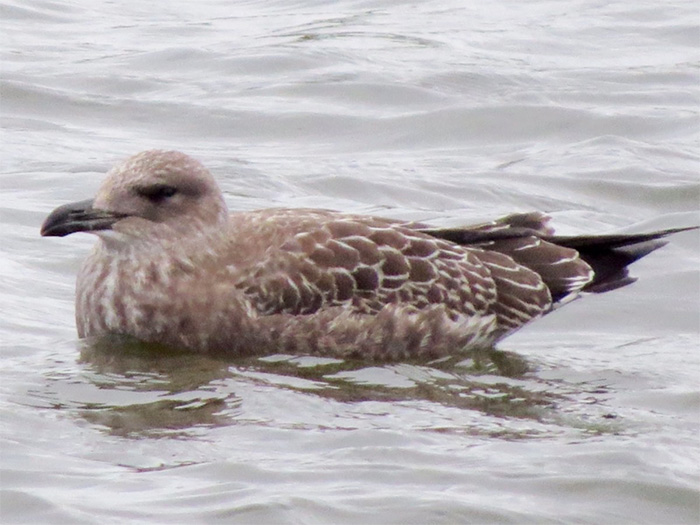 American Herring Gull
The third significant find of the week was a first-winter American Herring Gull seen briefly and photographed at Newlyn, Cornwall on the early afternoon of 4th.
Thayer's Gull
Continuing the rare Nearctic subspecies theme was the pale juvenile Thayer's Gull at Blashford Lakes, Hampshire. First found at the gull roost (on one night only) last week, it reappeared briefly on 2nd and then gave more prolonged views on 3rd, returning again in the late afternoon of 4th. Then, on 5th, it was relocated in pig fields at Blackheath Down during the late morning before appearing once more at Blashford Lakes in the late afternoon. On 6th it was back at the pig fields in the morning before appearing again at the roost in the late afternoon.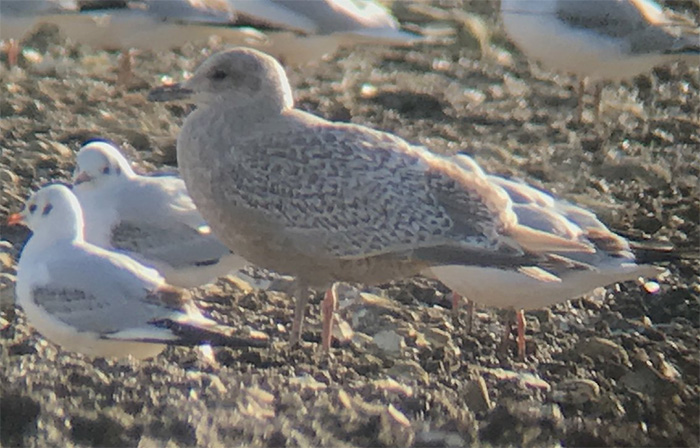 Putting to one side a uniquely tortuous taxonomic history stretching back decades (and the debates still rumble on today), this is an outstanding find. Encouragingly, however, the recent run of English records (including Essex, Suffolk, Lincolnshire, Oxfordshire, Yorkshire and now Hampshire) gives the lie to earlier notions that this might prove to be an Irish or at least west coast speciality. Clearly this is a gull which could be found anywhere.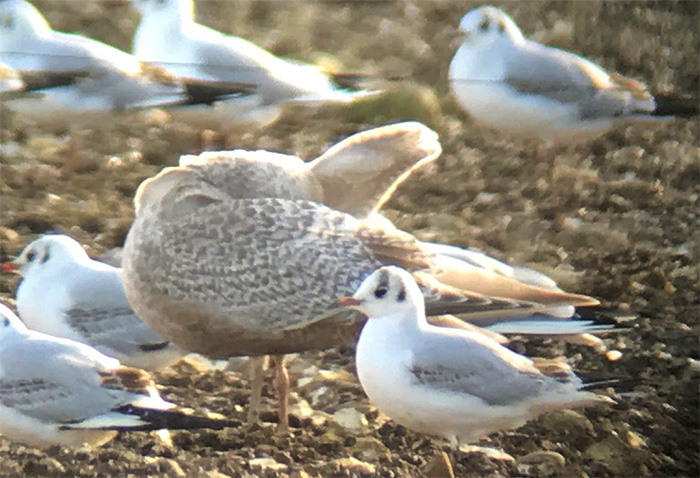 Horned Lark
The Nearctic subspecies theme was also kept alive by the continued presence (following its surprising reappearance) of the Horned Lark along the famous causeway at Staines Reservoir, Surrey to at least 6th.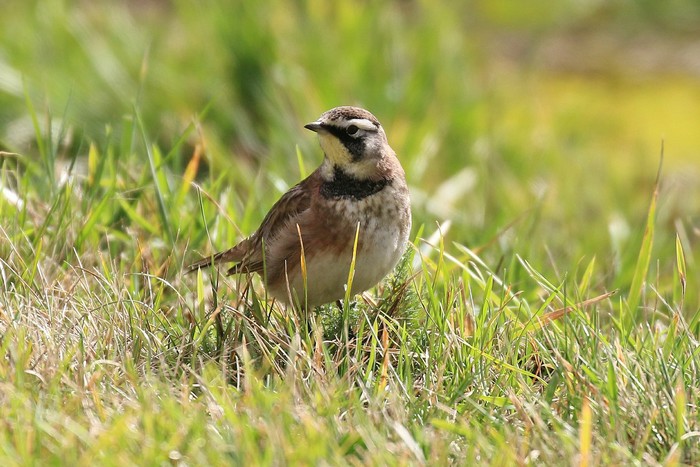 Stilt Sandpiper
Still hanging on as well was the Stilt Sandpiper at Christchurch Harbour, Dorset to at least 6th, now present in the county since 11th September last year and the first ever to winter in this country. For a species which should be spending this season in the sunnier climes of the Caribbean and Central and South America, a cold and wintry Dorset must be proving a bit of a shock to the system.
Snowy Owl
Also in the Southwest (though much better adapted to winter conditions), the first-winter female Snowy Owl was still in the fabulous surroundings of St. Martins, Isles of Scilly on 31st.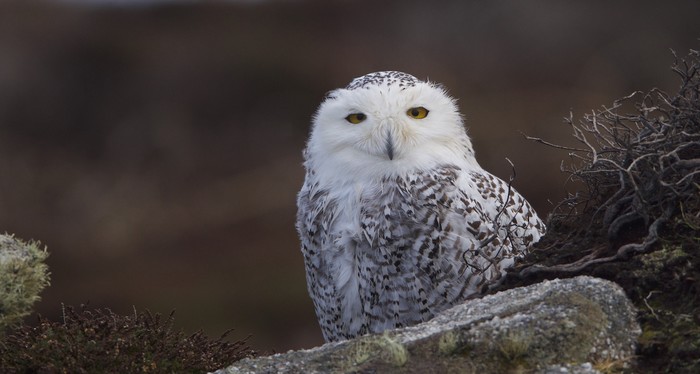 Pacific Diver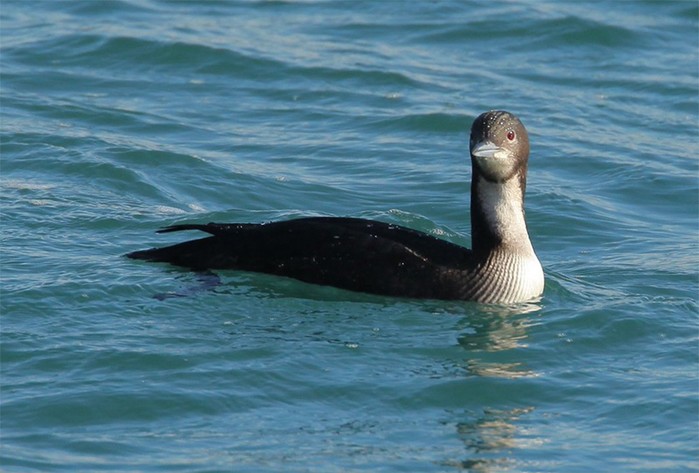 Also still in place this week were the Pacific Divers at Crookhaven, Cork to at least 1st and Gerrans Bay and Mounts Bay, both Cornwall, to at least 4th.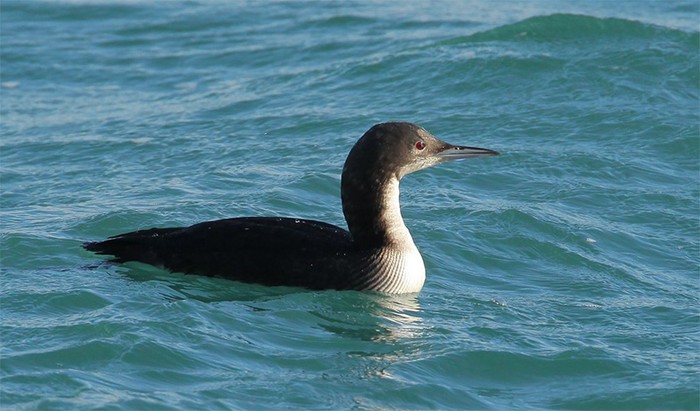 Pied-billed Grebe
At the opposite corner of the country, the Pied-billed Grebe was still at Loch of Spiggie, Shetland on 6th.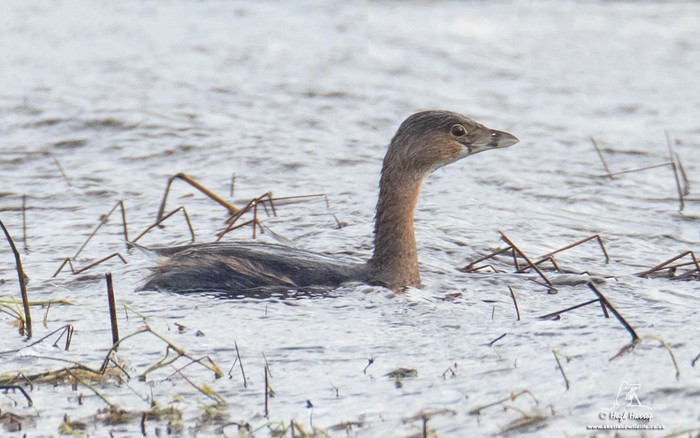 Northern Harrier
Meanwhile, just to the south, the now on and off resident adult male Northern Harrier on Orkney made a welcome return to North Ronaldsay on 2nd before drifting off in the direction of neighbouring Sanday.
Black Scoter
Over in Ireland, the drake Black Scoter was again off Rossbeigh, Kerry on 2nd.
Pine Bunting
Finally breaking the relentlessly Nearctic feel to proceedings, late news this week concerned Norfolk's fifth Pine Bunting (a female) seen with large numbers of Yellowhammers near Holt on 20th January. In a bizarre twist, it was found whilst attempting to relocate a Little Bunting found at the same place twenty minutes earlier! However, despite much subsequent searching, it could not be relocated. Furthermore, it was on land which is strictly private and to which the landowner refused access.
In a quiet week for seabirds, White-billed Divers at Sandwick, Mainland Shetland on 3rd to 5th and Burray, Orkney on 3rd were the undoubted highlights. Otherwise the only records of note were two Little Auks and a Pomarine Skua off St. Ives, Cornwall on 3rd and, on 4th, a Pomarine Skua off Flamborough Head, Yorkshire and Little Auks off Bass Rock, Lothian, Lossiemouth, Moray (three) and Pendeen, Cornwall.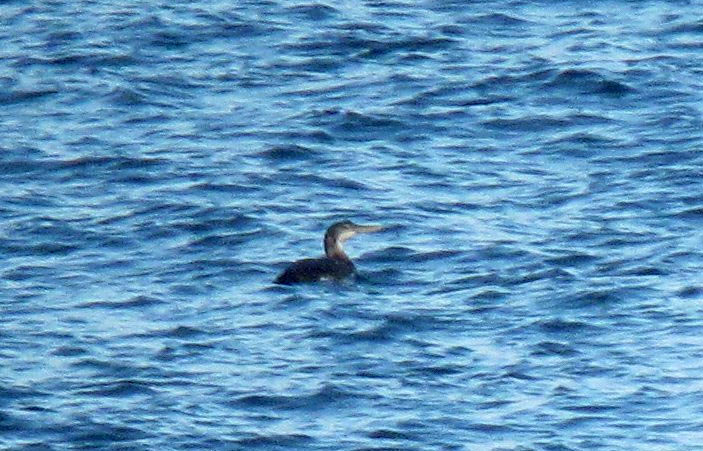 The week's goose highlights were a Todd's Canada Goose and a Richardson's Cackling Goose still on Islay, Argyll and last week's Cackling/Canada Goose still on North Uist, Western Isles to at least 2nd. From the same direction were a Lesser Snow Goose at Miltonduff, Moray, two more at St. Combs, Aberdeenshire and a Black Brant at Castlegregory, Kerry. Siberian Black Brants were at Wallasea (two) and Walton-on-the-Naze, both Essex, Cley, Norfolk and Chickerell Hive Point, Dorset.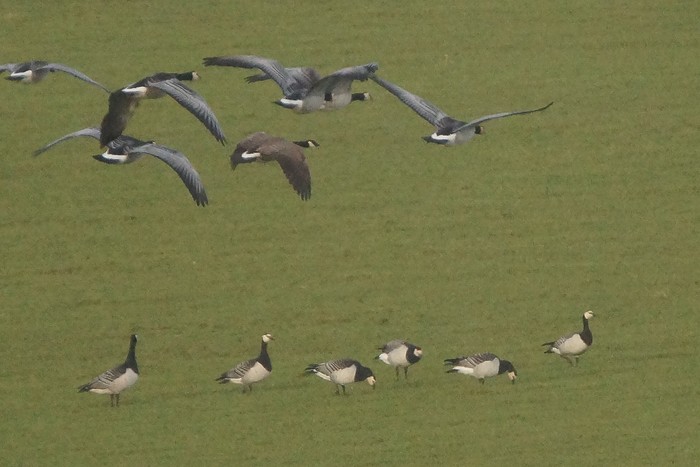 In a very poor winter indeed for Tundra Bean Geese , the only reports were of two at Scotney Gravel Pits, Kent, three at Trimley Marshes, Suffolk and one at Braunton Marshes, Devon.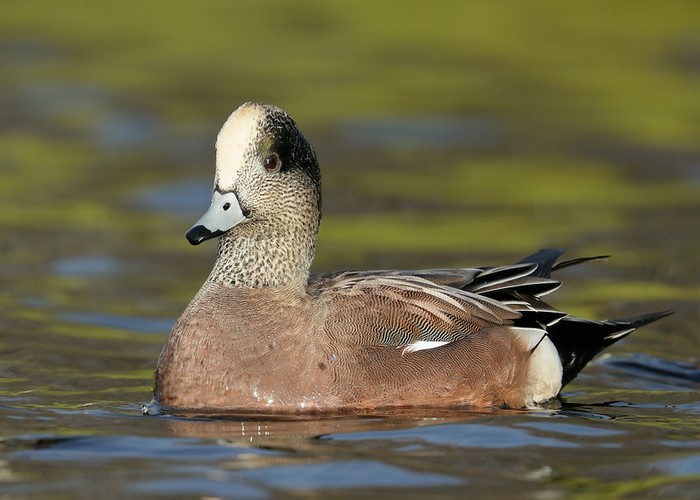 The ducks line-up was a pretty standard one for February. American Wigeons remained in situ at Tain, Clachnaharry and Udale Bay, all Highland, the Culdaff Estuary, Donegal, Exeter, Devon, Rutland Water, Leicestershire and Grindon Lough, Northumberland.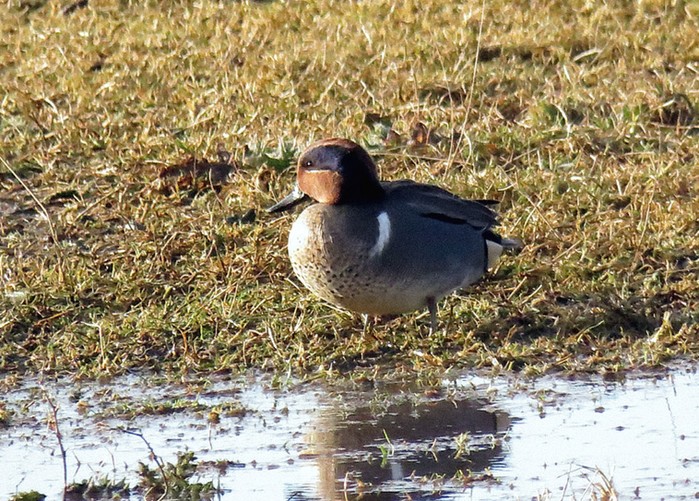 Drake Green-winged Teals were at Ham Wall, Somerset, Tire, Argyll, Papa Westray, Orkney, Kilnsea Wetlands, Yorkshire, Torpoint, Wacker Quay and Wilcove, all Cornwall, Radford Meadows, Staffordshire, Saltholme, Cleveland, Alkborough Flats, Lincolnshire, Ballymena, Antrim, North Cave Wetlands, Yorkshire, Loch Spynie, Moray, Loch Flemington, Highland and Marshside, Lancashire.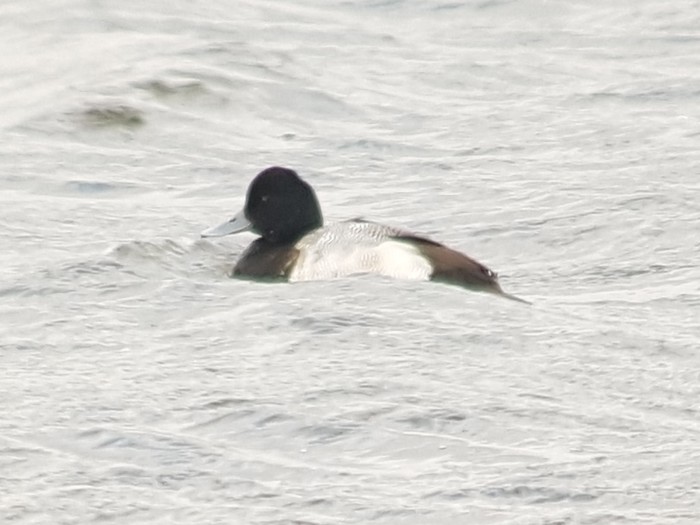 Turning to diving ducks, Lesser Scaups were at Dozmary Pool, Cornwall and Chew Valley Lake, Somerset with another found at Blashford Lakes, Hampshire on 3rd to 4th. Ferruginous Duck were at Ham Wall, Somerset to 6th and (in a particularly busy week here) at Blashford Lakes on 4th to 6th.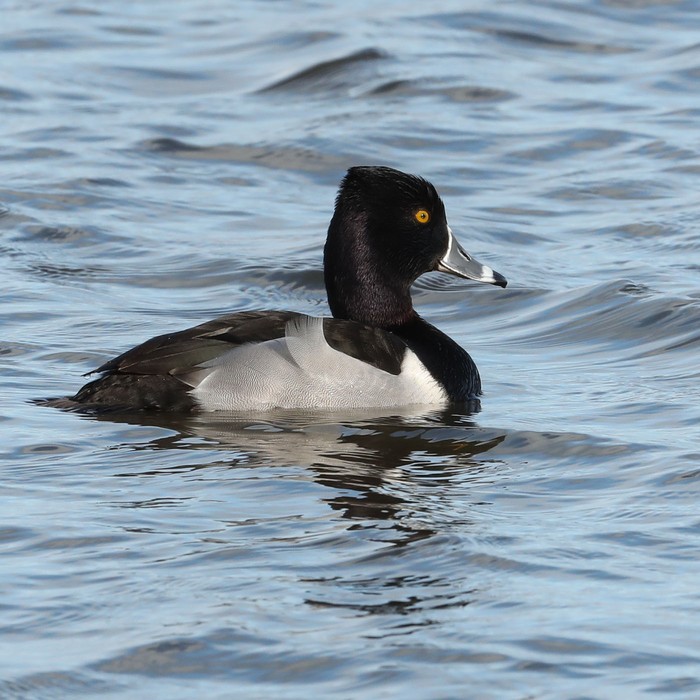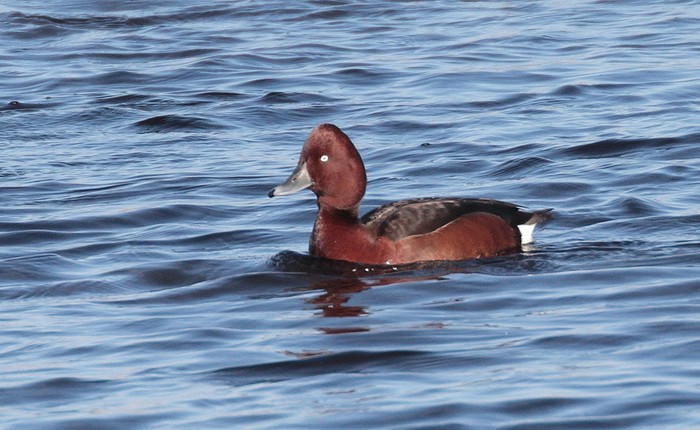 Ring-necked Ducks were present in strength, with five in Ireland - at Kinvarra, Galway (two), Loch Shivnagh, Donegal, Cloonee Lakes, Kerry and Corran Lake, Cork - and eight in Britain - at Llanelli, Camarthenshire, Benbecula, Western Isles, Slapton/Beesands Ley, Devon, Carlingwark Lough, Dumfries & Galloway, Ham Wall, Somerset, Llangorse Lake, Powys, Abbotts Hall Farm, Essex and Loch Shiel, Highland.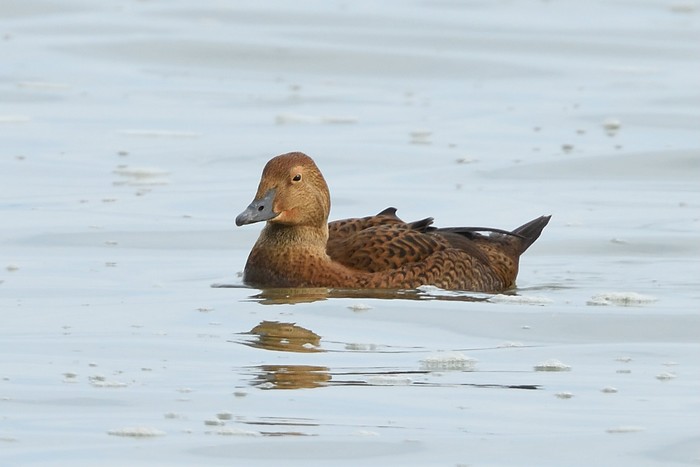 At sea, female King Eiders were still on the mussel lines off Yell, Shetland to at least 4th and off Ynyslas, Ceredigion to at least 6th whilst Surf Scoters bobbed of some familiar locations - Joppa/Musselburgh, Lothian, Largo Bay, Fife, Brandon Bay, Kerry, St. Austell, Cornwall (up to three), Rosslare, Wexford (two), Ben Head, Meath (two), Bluemull Sound, Shetland, Harris, Western Isles, Laytown, Meath (two) and Ballinskelligs, Kerry.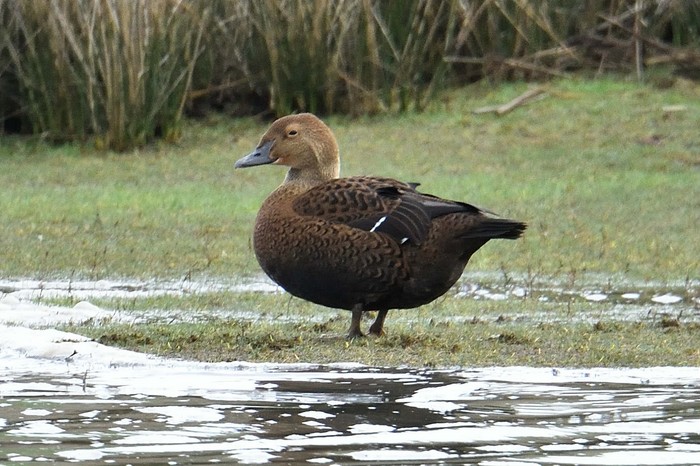 Herons, egrets, crakes etc.
Around sixty Cattle Egrets were noted this week, but this will be a significant under-estimate as there were no counts from the traditional Somerset hotspot. Most were of course in the Southwest where peak counts included eight at Truro and six at Millbrook, both Cornwall, with six at Thurlestone and twelve at Bere Ferrers, both Devon. Away from the Southwest, birds were noted at Southport and Birkdale (three), both Lancashire, Thornton Reservoir, Leicestershire, Newton Solney, Derbyshire (two) and Coventry, Warwickshire. In Ireland two were at Kilmore Quay, Wexford with singles at Cabinteely, Dublin, Kenmare, Kerry and Tomhaggard, Wexford.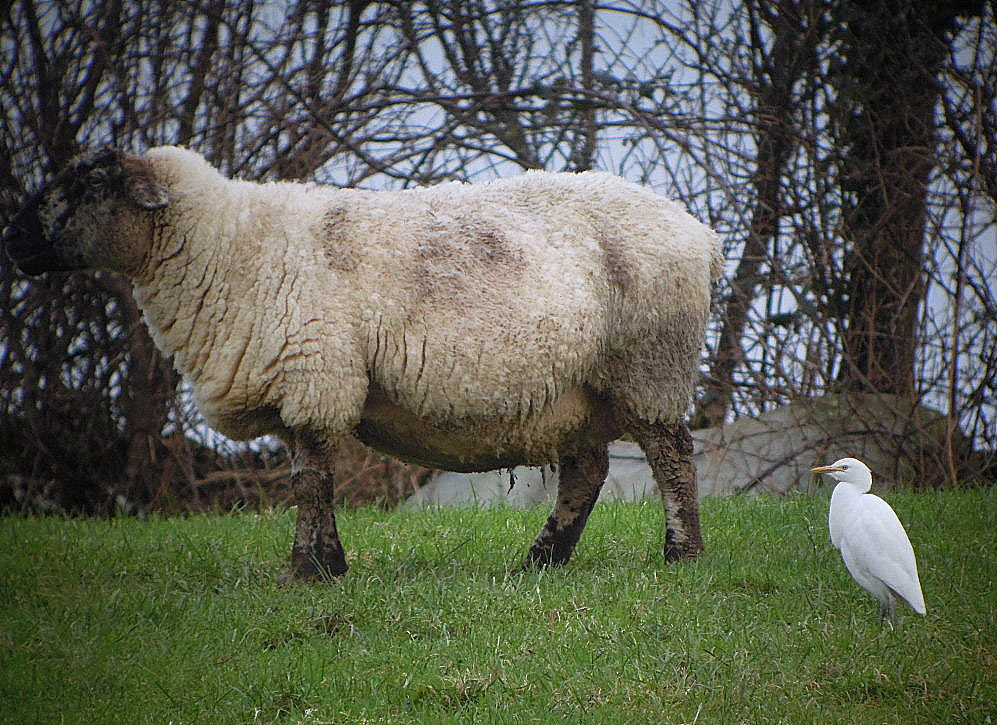 Glossy Ibises were similarly widespread, with birds noted at Brading Marsh, Isle of Wight, Minsmere, Suffolk, Tollesbury, Mersea Island and Fingringhoe Wick, all Essex, Tiree, Argyll, Great Yarmouth, Norfolk, Slimbridge, Gloucestershire, Fairburn Ings, Yorkshire, Westhay and Ham Wall, both Somerset, Fremington Quay, Devon, Newcastle, Wicklow (three), Saltash, Cornwall and Portmore Lough, Antrim. For such a once really rare species, this widespread winter presence is remarkable indeed.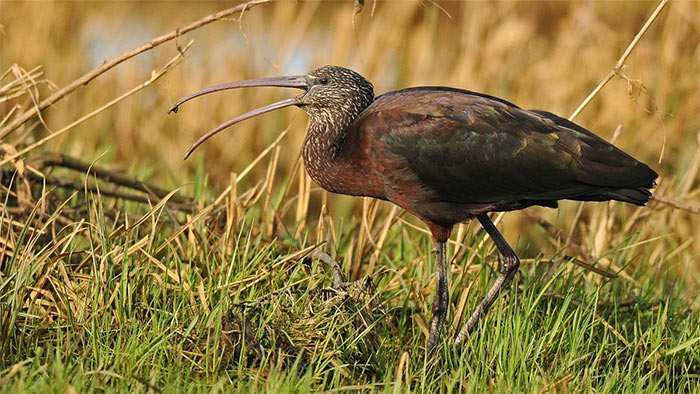 In what has been a spectacularly poor winter for Rough-legged Buzzards , the only bird reported was an adult male still at Haddiscoe, Norfolk to at least 5th.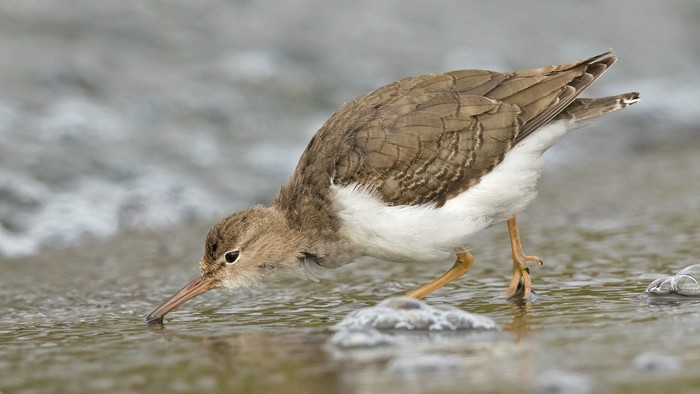 The obvious wader highlight was the continued presence of the showy Spotted Sandpiper at Holme Pierrepont, Nottingham to at least 6th. Elsewhere, the long-staying Temminck's Stint was still at Pulborough Brooks, Sussex to at least 4th and the Long-billed Dowitchers at Oare Marshes, Kent to at least 5th and Tacumshin, Wexford to at least 4th.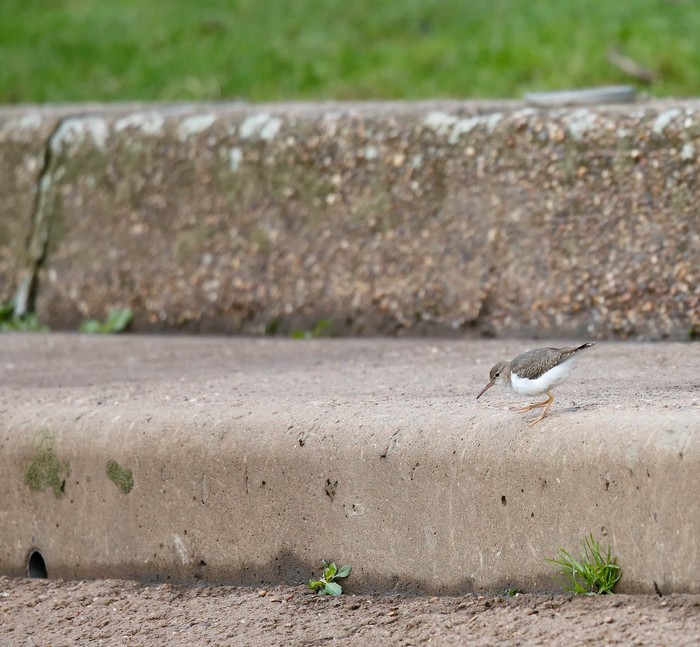 The long-staying adult Bonaparte's Gull was still around Exmouth, Devon to at least 2nd but the main story of the week was an impressive (and increasing) number of white-winged gulls. Top of the pile were a good number of Kumlien's Gull reports with an adult at Newlyn, Cornwall and a third-winter at Ballyheigue, Kerry on 31st, a juvenile at Cashen, Kerry on 31st and 2nd, a juvenile at Hoveringham Gravel Pits, Kilvington and Cotham Landfill, all Nottinghamshire, on 31st to 6th, a second-winter at Scrabster, Highland on 3rd, two juveniles at Killybegs, Donegal on 4th, a juvenile at Wintersett Reservoir, Yorkshire on 5th and, on 6th, further juveniles at Silverdale Country Park, Staffordshire and on North Ronaldsay, Orkney and an adult on St. Mary's, Isles of Scilly.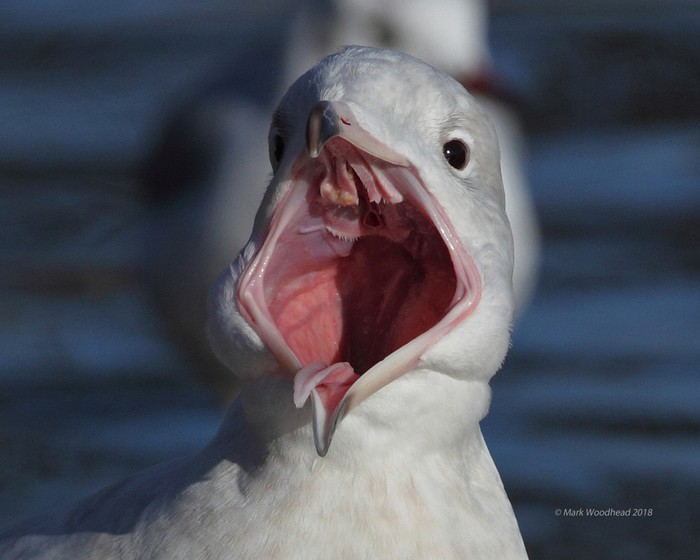 Glaucous Gulls ran well into three figures, with records throughout the country both coastally and inland and particularly good numbers in the Southwest. The largest numbers were 16 at the traditional hotspot of Killybegs, Donegal but there were also eight on North Uist and six on Lewis, both Western Isles, five on Tiree, Argyll and at Peterhead, Aberdeenshire, four on St. Mary's, Isles of Scilly and at Marwick, Mainland Orkney, Black Rock Strand, Kerry, Glenarm, Antrim and Gwithian, Cornwall, and trios at Godrevy Head and Mevagissey, both Cornwall, Lerwick, Mainland Shetland, Islay, Argyll, North Ronaldsay, Orkney, South Uist, Western Isles and Wimbleball Lake, Somerset.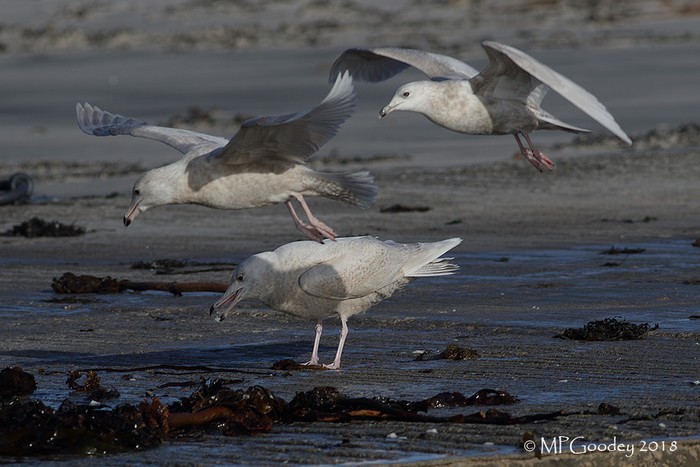 Iceland Gulls were just as prominent. The best location, unsurprisingly, was Killybegs, Donegal which hosted no fewer than 42 but Lewis, Western Isles had eight and St. Mary's, Isles of Scilly had six. Elsewhere, five were at Scrabster, Highland, Wimbelball Lake, Somerset and Cork, Co. Cork, four at Spiddal, Galway, Mallaig, Highland, Ferriter's Cove, Kerry and Limerick, Co. Limerick and three on Barra, Western Isles.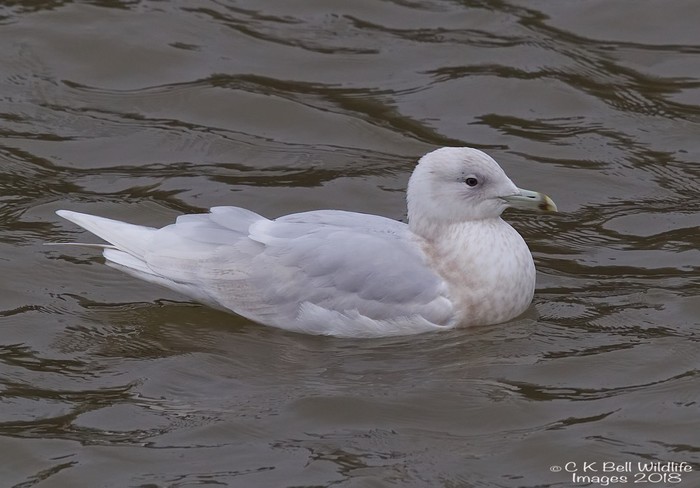 Ring-billed Gulls were as usual concentrated in Ireland with two at Limerick, Co. Limerick, singles at Ballyheigue, Cashen, Blennerville and Pilmore Beach, all Kerry, Nimmo's Pier, Galway, Sligo, Co. Sligo and Dundalk, Louth. In Britain, the line-up was limited to birds at Blashford Lakes, Hampshire, Tiree, Argyll, Newquay, Cornwall and Llys-y-fran Reservoir, Pembrokeshire.
In Ireland, the Forster's Tern was at Kinvarra, Galway on 4th.
Near-passerines and Passerines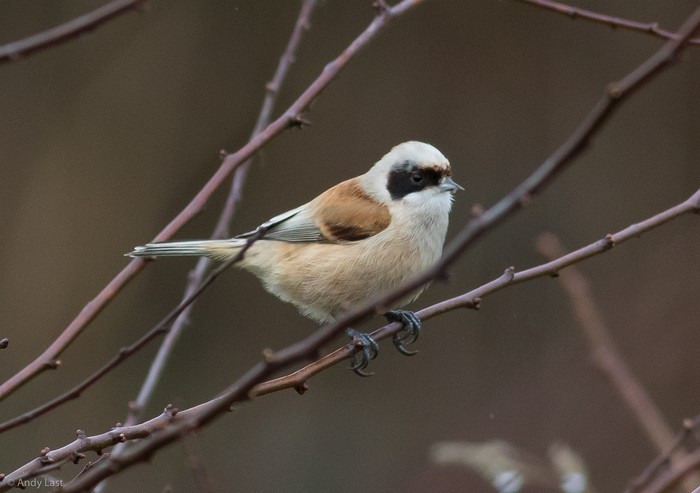 The big passerine surprise of the week was a Bluethroat apparently identified from photographs as being present at Eastbourne, Sussex on 4th - a remarkable record indeed for February. Otherwise it was very much a case of 'as you were'. The headline birds elsewhere were the Penduline Tit still at Longford, Gloucestershire to at least 6th and Coues's Arctic Redpolls still at Hazelwood Common, Suffolk and Kelling, Norfolk (two) to at least 6th also.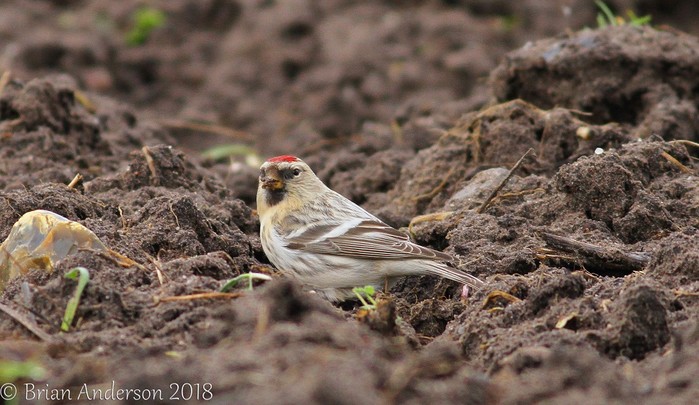 Parrot Crossbills continued to feature, however, with up to a dozen again at Howden, Derbyshire, 20 at Santon Downham, Norfolk and three at Camberley, Surrey.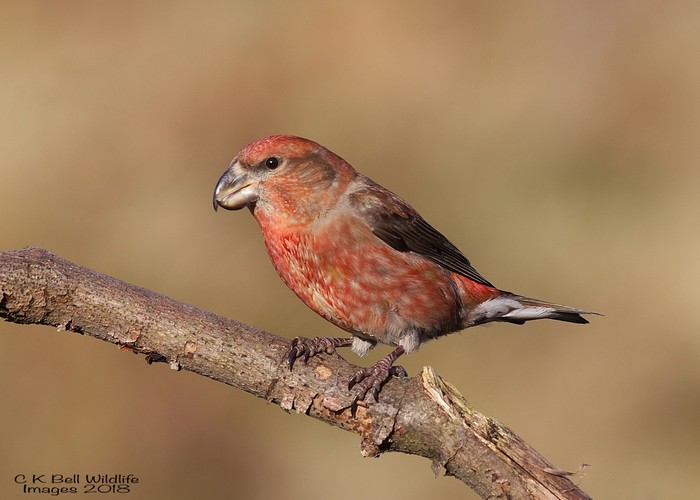 The Little Bunting remained at Walthamstow, London to at least 6th whilst, as previously mentioned, late news concerned another wintering bird discovered near Holt, Norfolk on 20th January.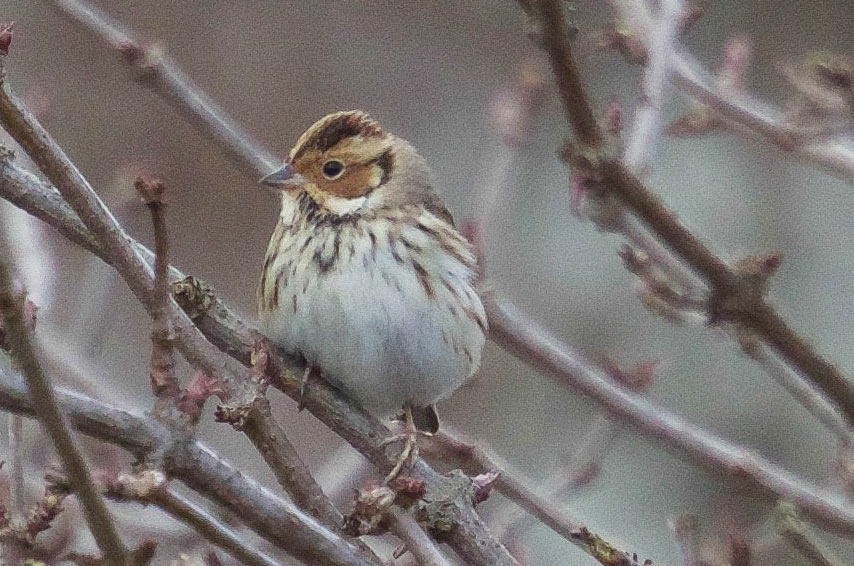 Other long-stayers included the
Richard's Pipit
at Arlingham, Gloucestershire and the
Rose-coloured Starling
at Easington, Yorkshire. Two
Yellow-browed Warblers
were noted - at Penzance, Cornwall on 2nd and Finchley, London on 3rd.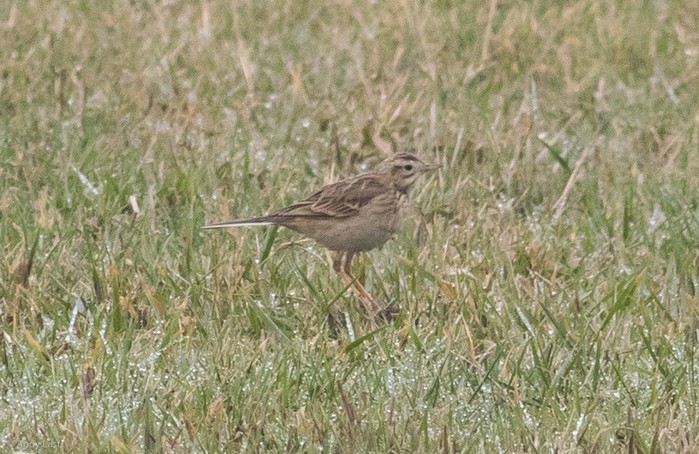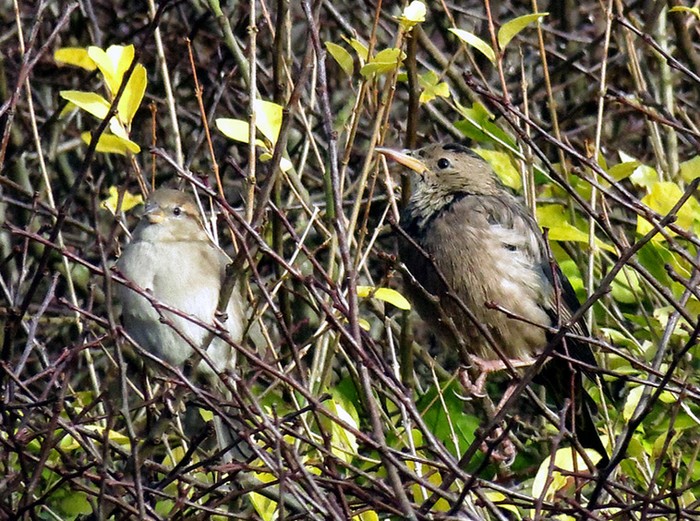 After January's mini-influx, Waxwing reports returned to a very low level, the largest flocks being 13 at New Elgin, Moray on 2nd and twelve in Inverness, Highland on 31st. Elsewhere in Scotland, up to four were at Hopeman, Moray on 3rd to 6th, two at Grantown-on-Spey, Highland on 5th and, on 6th, two at Peterhead, Aberdeenshire and two at Tulloch Moor and one at Culloden Moor, both Highland. Further south, Lincolnshire did best with five at Grimsby on 1st, four at Holton-le-Clay to 2nd, one at Mablethorpe on 2nd to 6th and one at New Holland on 5th. Elsewhere one was at Lytham, Lancashire on 2nd and, in Yorkshire, three in Sheffield to 3rd at least, a single over Bempton on 4th and another at Hampsthwaite on 5th. Finally, on 6th three were at Yoxford, Suffolk, the furthest south of any and the only ones in the whole of East Anglia.
Great Grey Shrikes continued to occupy a now-familiar list of winter territories - Drumashie Moor, Highland, Prestwick Carr, Northumberland, Hawling, Forest of Dean and Barrington, all Gloucestershire, New Forest, Hampshire, Alwen Reservoir, Conway, Usk Reservoir, Powys, Bury Down, Berkshire and Morden Bog, Dorset.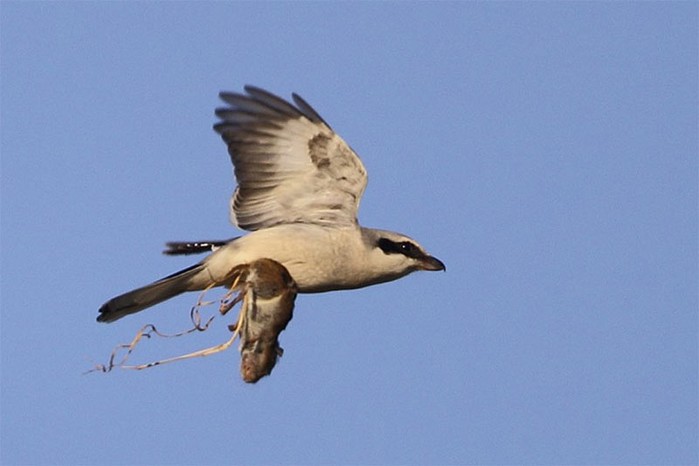 Shorelarks included nine at Holkham and seven at Happisburgh, both Norfolk, six at Aldbrough, Yorkshire, three on the Isle of Sheppey, Kent and two at Loch Fleet, Highland. Finally, the 'Italian Sparrow' was still at East Budleigh, Devon to at least 2nd.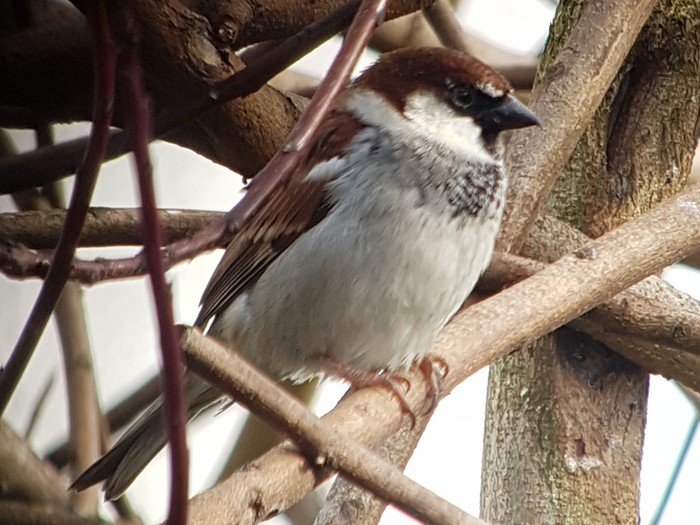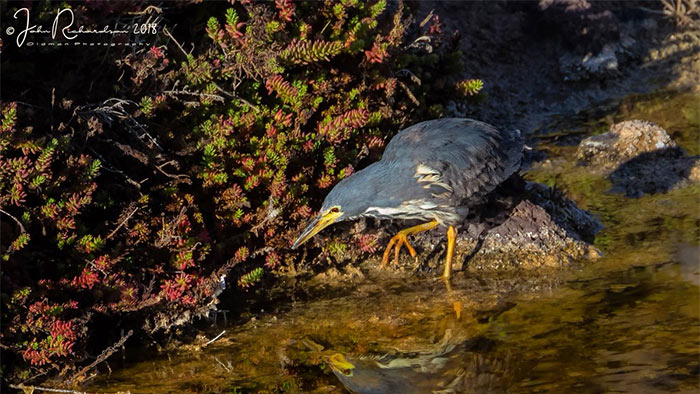 Elsewhere in the region, the Canary Islands continued to dominate the news with the Dwarf Bittern and a Tristram's Warbler still on Fuerteventura and the Semipalmated Plover still on Tenerife. Otherwise the 'WP' highlights were a Pine Bunting in France, a Northern Harrier in Iceland, a Black Scoter in Germany, Hume's Warblers in Bulgaria (the country's first) and Hungary (the country's third), the American Royal Tern still on Guernsey and, in the Netherlands, the delightful first-winter Ross's Gull and a Black-throated Thrush still.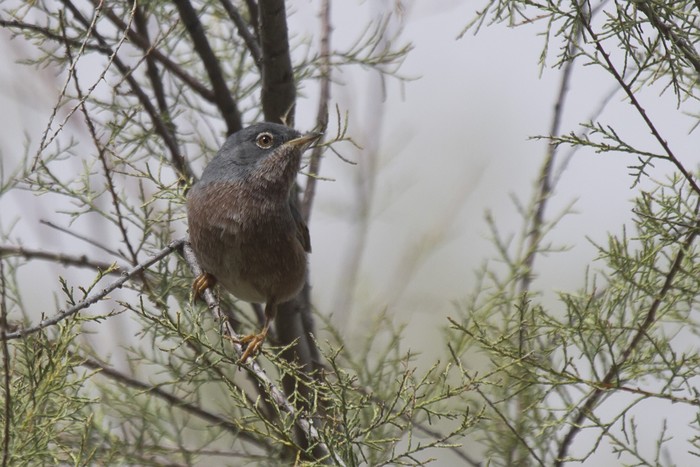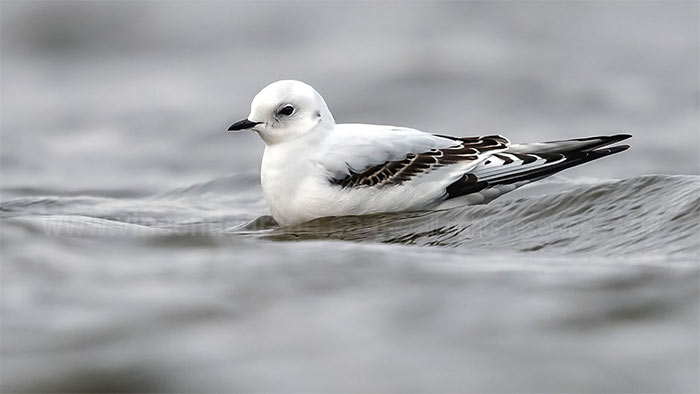 Looking ahead, the rest of the week looks destined to remain cold with light winds, although a slight temperature rise and slightly breezier southwesterlies are promised thereafter. Given the inexorable rise of white-winged gulls (including Kumlien's Gulls) over the last week or two, the odds must certainly favour more gulls from Canada, with Thayer's and American Herring Gulls surely the top targets. Now must also be a good time for a Glaucous-winged, Slaty-backed or Vega Gull as well. As for passerines, there must be some more Coues's Arctic Redpolls out there too. With over a dozen along the Holt-Cromer ridge, Norfolk in the last month (yet none found anywhere else) this species represents an obvious target, at least in eastern England. The lesson of this week, however, is that almost anything might be out there for those with the energy and awareness to look.
Andy Stoddart
7 February 2018
Share this story
Tweet

This week's videos