Weekly birding round-up: 24 - 30 Jan 2018
A Thayer's Gull makes a brief appearance in Hampshire
Several Pacific Divers are seen in Britain and Ireland
The long-staying Stilt Sandpiper remains in Dorset
And the Horned Lark is still on the menu in Surrey
Another week, another storm. At least this time the Met Office dignified her with a name… so that was Storm Georgina, all 90mph wind and torrential rain of her lashing the country as the week began.
Yet by the weekend parts of Britain were enjoying temperatures comfortably into double figures; but, as the week closed, winter was closing in again with hard overnight frosts. So much for our rollercoaster weather – what of the past week's birds?
Thayer's Gull
Always the bridesmaid and never the bride, was there ever a gull with a longer, twistier road to travel onto the British list (or not) than Thayer's Gull? While Irish birders can look at nine accepted records to the end of 2014, British birders have… a yawning chasm.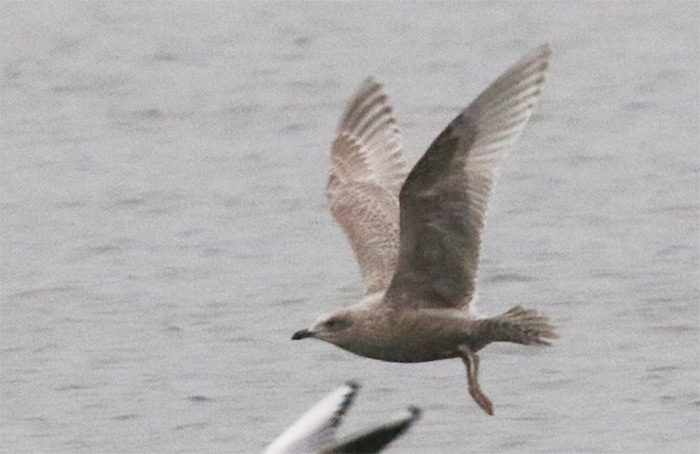 Which isn't to say that there haven't been Thayer's Gulls in Britain. Far from it. There've been well-documented candidates a-plenty down the years including, most recently, the adult bird on 27th-28th March 2016 at Minsmere RSPB.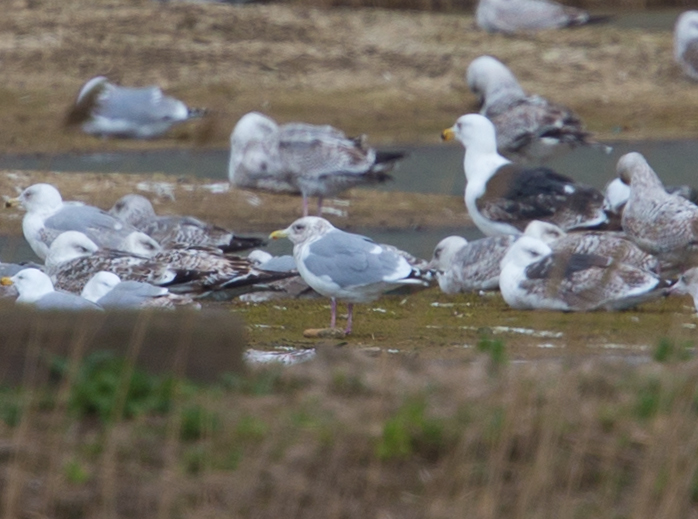 And, with persistent rumours that it may yet be lumped back into Iceland Gull, Thayer's may still be an academic question for British birders. That said, we gladly report each week's Kumlien's Gulls, so what the heck – a Thayer's Gull, whatever it might or might not be, is still a top quality bird.
Even more so when, as with this week's latest individual, it's in Hampshire. A fabulous find for a committed local birder sticking it out at a gull roost until the last dregs of light have drained from the sky, this bird was a juvenile and present for some quarter of an hour at Blashford Lakes HWT on 28th as dusk drew in, but not thereafter. Chances are it's still somewhere in the general area… but will it be refound in the coming week?

Pacific Divers
Well, we were totally spoiled for choice where one erstwhile mega rarity was concerned this week – with at least three and potentially even four Pacific Divers logged in Britain and Ireland.
We'll start with the newly found bird at Crookhaven (Co.Cork) – this adult individual remained into the new week, being seen there daily on 24th-29th.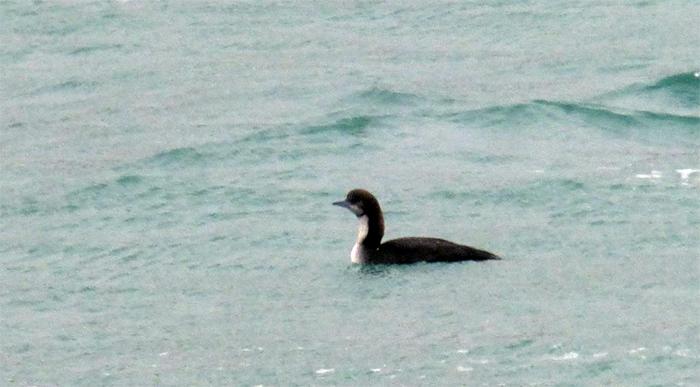 As if that weren't enough, after slipping off the radar somewhat in the past few weeks both of the Cornish adult birds were seen again this week – the bird in Gerrans Bay again on 25th and probably also on 28th, while the Mount's Bay individual was once more seen on 26th-28th.
So, three birds would be good going in anybody's book – but the week was further enlivened on 25th by a possible Pacific Diver seen motoring past Whitburn CP (Co.Durham) in the morning. That has the sound of the very most frustrating sort of sea-watch – when you see something that you suspect or even know in your heart is very good indeed, but can't quite clinch it to your satisfaction. We've all been there…
Stilt Sandpiper
Dorset's third Stilt Sandpiper racked up another six days this week in its quest to be the longest staying individual on record – still present on 29th at Stanpit Marsh, this first-winter bird is looking in it for the long-haul…
In an anecdotal aside, a friend was reflecting this week that he's now seen three British Stilt Sandpipers - and all within a 10km radius of home on the Dorset / Hampshire border. Seeing the photos of this latest dainty beauty leaves me hoping it sticks around long enough for me to catch up with my second in the same area when work next takes me south in early March…
Horned Lark
Once again proving to be a potent draw this week was the alpestris/hoyti/pratincola Horned Lark at Staines reservoir (Surrey). While some were coming along for second-helpings, the reappearance of this bird has proven timely for those who missed it first time around. Still present throughout this week, that's an armchair tick in the making, right there…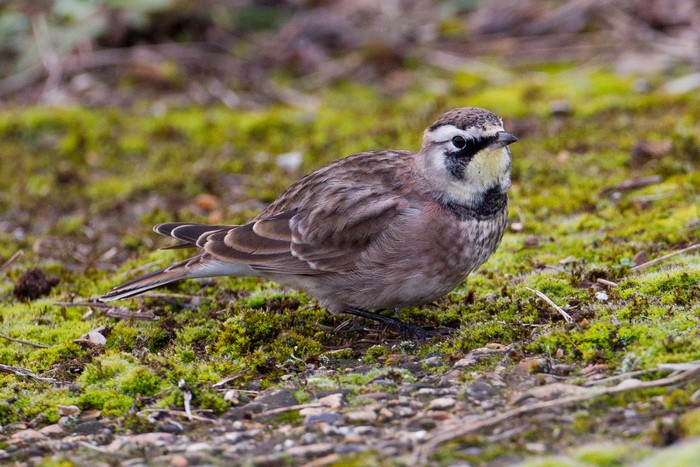 It's rather lovely to be able to refer to White-billed Divers as the rarer of the week's diver offerings, in the light of a particularly strong showing of Pacific Divers, but there it is – with just two birds recorded this week, the banana-bills were very much in abeyance this week. One was reported off Rumps Point (Cornwall) on 25th, while another was seen in Shetland again off Sandwick on 27th-28th.
Absent from the news for a couple of weeks, Pomarine Skuas made a slight return – single birds were noted from Pendeen (Cornwall) on 24th, Preston (Devon) on 26th, and Portland (Dorset) on 29th.
Little Auks meanwhile cropped up here and there – one was picked up in a garden and successfully released back at the shore in St David's (Pembrokeshire) on 24th, with another that day at Troon (Ayrshire); four were noted off the Orkney mainland on 26th; and on 28th single birds were seen in Ireland off Galley Head (Co.Cork) and Letterkenny (Co.Donegal), with a misfortunate final bird found dead in Kilkee (Co.Clare). On 29th one was seen from Balranald RSPB on North Uist (Western Isles). One found in a garden in Culburnie (Highland) on 27th was taken into care.
Our resident Cattle Egrets continued to go from strength to strength again this week, with notable flocks coalescing and helping to confirm ever higher numbers present in Britain and Ireland this winter – 42 birds in Cornwall at Pinkson Creek on 24th-25th being the week's highest individual tally, eclipsing the mere(!) 28 birds at Westhay (Somerset) again on 25th. So that's 70 birds right there at just two sites… making up the lion's share of a shade over 100 birds recorded across Britain and Ireland in the past seven days.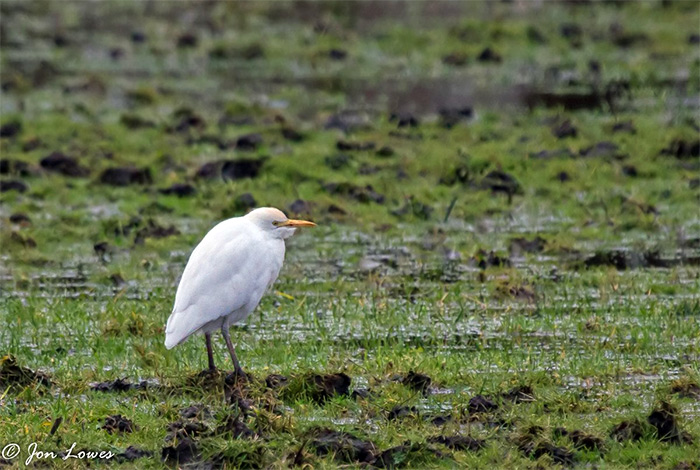 Great White Egrets meanwhile held firm with around 100 birds again noted in around 40 counties widely scattered across the region. Many of these were singletons with, for the most part, the remainder coming in the form of duo and trios – the week's peak count being five birds at Parkgate Marsh (Cheshire) again on 27th-30th, followed closely by four birds again on the Somerset Levels at Westhay on 28th.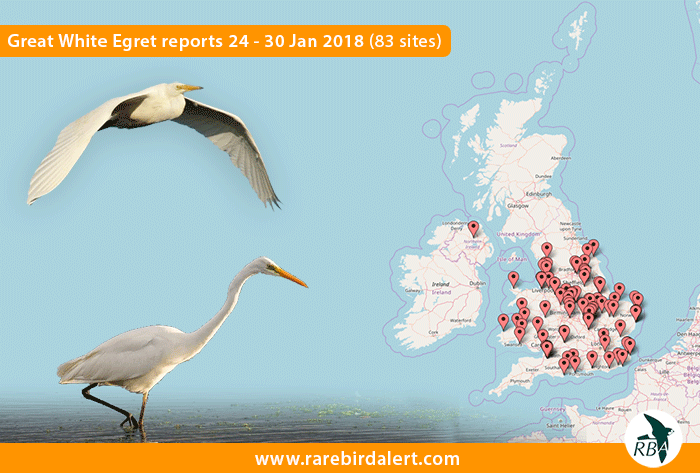 Our wintering Spoonbills remained pretty much just as they were lately – so that comprised at least 20 still lobbing around Poole Harbour all week, with some 20 further birds noted in ones and twos across Britain and Ireland.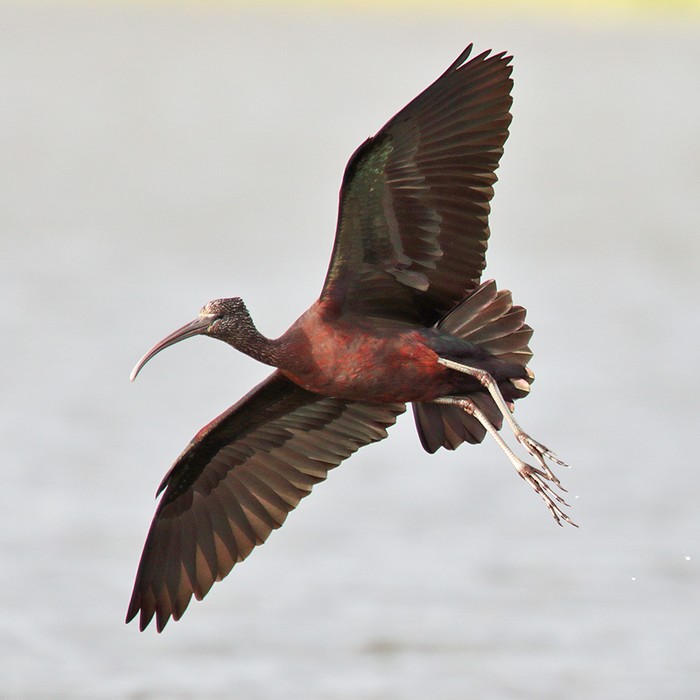 Seventeen Glossy Ibises were seen this week, starting with a possible bird seen on 24th from a moving vehicle in Stockton-on-Tees (Cleveland). Three birds remained on 24th-30th at East Coast NR (Co.Wicklow); other Irish sightings came from Portmore Lough RSPB (Co.Antrim) on 24th-30th, Lough Beg (Co.Derry) still on 24th, and reported from Dundalk (Co.Louth) on 26th. Last week's bird at Minsmere RSPB (Suffolk) remained throughout this week, with other English sightings coming from Westhay (Somerset) again on 25th-30th (and Ham Wall RSPB on 29th), Eagland Hill (Lancashire) on 26th, Brading Marsh RSPB (Isle of Wight) again on 26th-29th, at Kilnsea Wetlands (East Yorkshire) on 28th and Seaton (Devon) on 29th-30th again. On 30th one was in East Sussex at West Rise Marsh, and a further sighting came from Suffolk that morning at Carlton Marshes NR, while one was seen at midday over Tilney All Saints (Norfolk). Scottish birds were noted in Orkney still at Tankerness on 25th, and on Tiree at Balevullin (Argyll & Bute) still on 26th-30th.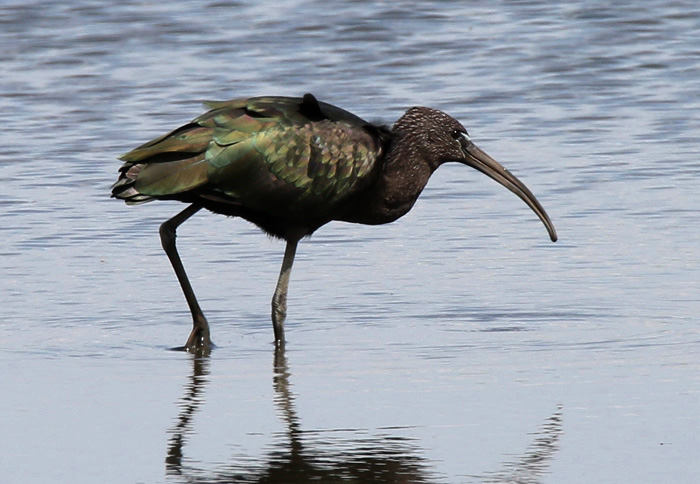 The Common Crane flock at Eldernell (Cambridgeshire) peaked this week on 30th when 13 birds were logged there, while Lakenheath Fen RSPB (Suffolk) hosted seven birds on 28th. The adult remained on North Uist (Western Isles) still on 26th, while a small party of wanderers were seen in Dorset this week – three birds noted over Stalbridge on 26th, with two seen at Stoborough Heath the following day.
Could it be – dare we whisper it – a week at last without a dodgy duck that appears to have done one from captivity? Yes, yes it could! Fabulous stuff…
So, let's kick off this week's non-contentious honkers and quackers in Scotland where we once again find the Goose Formerly Known As Canada represented by an interior Todd's Canada Goose, this week in the form of the individual once again on Islay at Cornabus (Argyll & Bute) on 24th; a possible Cackling or Canada Goose was seen on North Uist at Balranald RSPB (Western Isles) on 25th; and a hutchinsii Richardson's Cackling Goose was on Islay near Ballimartin on 29th.
The white morph Snow Goose was still on North Uist at Berneray on 26th, while a blue morph bird settled at Miltonduff (Moray) on 26th-30th.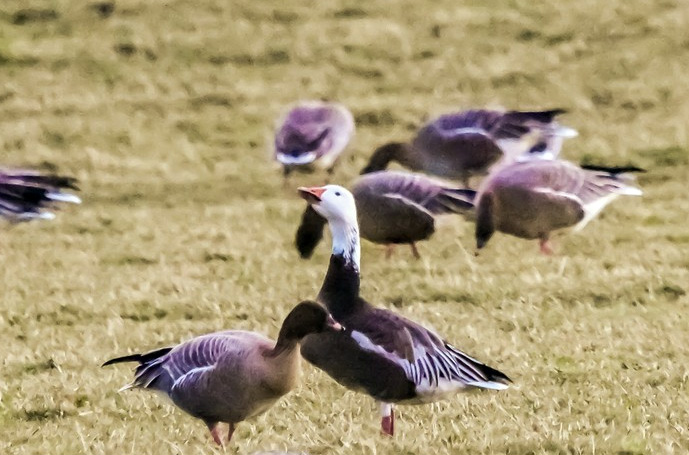 Familiar Black Brants comprised this week's sightings – the regular adult bird was again seen at Cley (Norfolk) on 24th-29th and Blakeney on 30th; one was at The Naze (Essex) on 27th and one was again seen from Wyke Regis (Dorset) on 28th-29th, with another Essex sighting at Wallasea Island on 28th and 30th still; and, in Ireland, the adult remained at Castlegregory (Co.Kerry) on 25th.
Half a dozen lingering drakes make up our American Wigeons this week – birds remained at Matford Marsh RSPB (Devon) on 24th-30th; in Highland at Tain Links on 24th-30th and Clachnaharry on 25th-30th, with one seen on 29th at Udale Bay RSPB, and one on 30th at Banabruach; at Balkenna (Ayrshire) again on 26th; at Rutland Water (Leicestershire) still on 27th-30th; and at Grindon Lough (Northumberland) again on 28th-29th.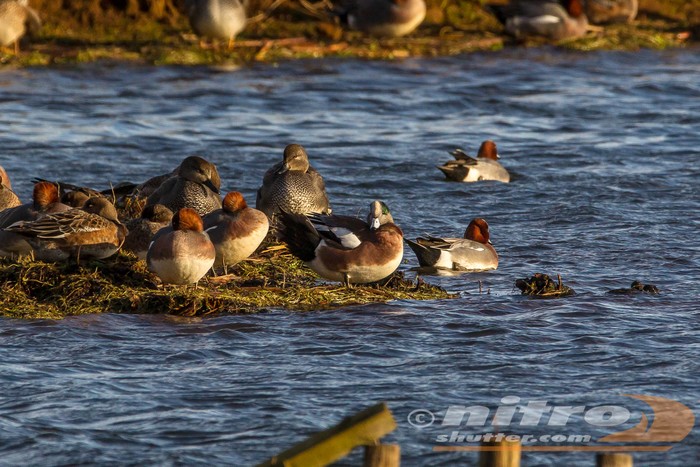 Green-winged Teals meanwhile roared into double figures, with a good mix of settled and new birds alike. The week began with a new bird in Shetland at Culswick Marsh on 24th, with one again that day at Martin Mere WWT (Lancashire) and another on 24th-25th at Radford Meadows SWT (Staffordshire); on 25th the individual at Loch Flemington (Highland) was noted once again, with another that day in Cornwall at Wilcove, and one on 25th-27th at Barrow harbour (Co.Kerry); the bird at Greylake RSPB (Somerset) was still present on 25th-28th, while one was again seen in Cornwall off Wacker Quay on 26th-28th. Another was seen again at Chirnside (Borders) on 27th, with further birds that day noted at Staveley YWT (North Yorkshire) and Harper's Island (Co.Cork); on 28th sightings came from East Yorkshire at Kilnsea Wetlands and North Cave Wetlands YWT, and at Hurworth Burn reservoir (Co.Durham) that day also. The Wilcove individual remained in Cornwall on 28th-30th, while the Kilnsea bird remained on 29th and a sighting came from North Cave YWT again on 30th. One was still on North Ronalday (Orkney) on 28th, while one was seen at Sandbach Flashes (Cheshire) on 29th, and one was again at Saltholme RSPB (Cleveland) on 30th.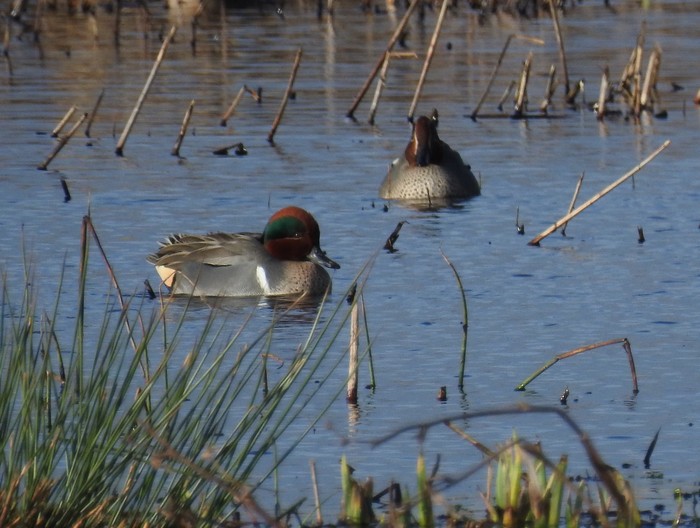 For the most part this week's Ring-necked Ducks were all familiar faces too. A drake was at Llangorse Lake (Powys) on 24th-28th; further drakes were noted again at Beesands Ley (Devon) on 25th-30th, Temple Water (Co.Down) on 25th-28th, Little Loch Shin (Highland) on 25th-28th, Old Hall Marshes RSPB (Essex) on 26th, Ham Wall RSPB (Somerset) on 26th-30th, Carlingwark Loch (Highland) on 26th-30th, and at Cotswold Water Park (Gloucestershire) on 28th-30th. A drake was at Loch Leven (Perth & Kinross) on 29th. The female bird remained at Rosscarbery (Co.Cork) on 25th-27th, while the female was still at the National Wetlands Centre WWT in Carmarthenshire on 29th and a female was at Lough Beg (Co.Derry) on 30th.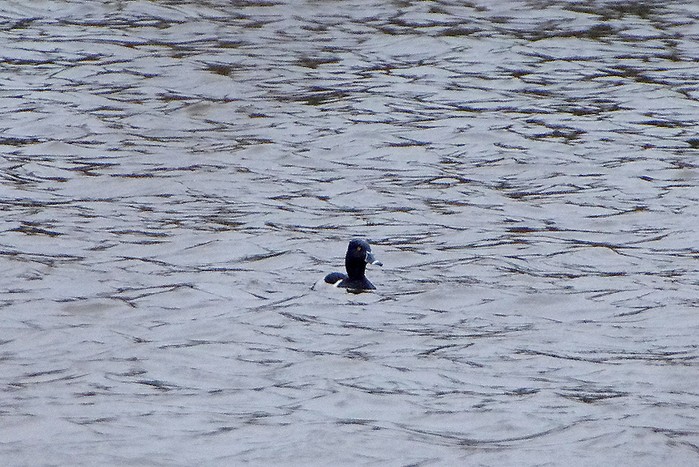 Both recent drake Lesser Scaups were noted again this week, still at Dozmary Pool (Cornwall) on 26th and in Somerset at Chew Valley Lake on 26th-29th.
The drake Ferruginous Duck was once again seen in Somerset at Ham Wall RSPB on 26th-29th, while the drake was seen again at Washington WWT (Co.Durham) on 28th, in the White-headed Duck pen…
Awkward!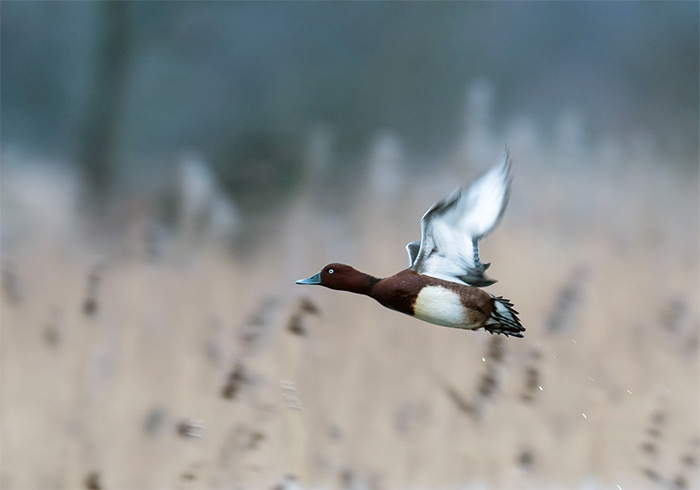 Our regular female King Eider was still at Ynyslas (Ceredigion) on 25th, with the Yell (Shetland) queen still bothering the mussel lines at Mid Yell on 25th-27th, and a further female noted at Castlegregory (Co.Kerry) still on 25th. I did my best to look for the recent Whalsay (Shetland) queen this week while our ferry was diverted past the salmon cages where the local Eiders hang out, but to no avail. I bet she's still there though, just not visible from land…
The drake Black Scoter was still off Rossbeigh (Co.Kerry) on 27th.
The long-staying trio of Surf Scoters remained this week at Porthpean (Cornwall) on 24th-30th; the drake was still in the Bluemull Sound (Shetland) on 25th-26th, while the drake remained in Largo Bay (Fife) on 26th-27th and the drake was again off Musselburgh (Lothian) on 28th and again on 30th; in Ireland, two were still to be found off Rosslare (Co.Wexford) on 27th-28th, while one off Laytown (Co.Meath) still on 26th was back to two birds there the following day and thereafter to 30th. On 30th two were seen again off Llandulas (Conwy).
Returning to Shetland, briefly, for the closing honorary waterbird – the Pied-billed Grebe was again noted at Spiggie on 25th-28th.
Four increasingly familiar faces make up most of our brief scamper through the shorebirds this week, starting of course with the Stilt Sandpiper we've already covered in the headlines.
Moving, then, in a sweep across the south coast, we find the over-wintering Temminck's Stint still throughout the week in West Sussex at Pulborough Brooks RSPB and, in Kent, the adult Long-billed Dowitcher still present at Oare Marshes KWT on 26th-30th.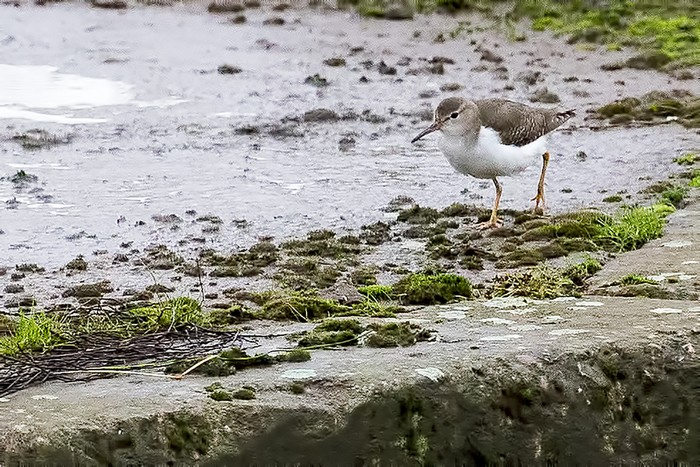 Meanwhile, further north, the Spotted Sandpiper at Holme Pierrepont (Nottinghamshire) continued to prove quietly popular, and was still present on 24th-30th.
A little further variety came this week in the always lovely form of a Grey Phalarope, seen on 24th-25th off South Gare (Cleveland).
Kicking of the gulls this week is the adult Bonaparte's Gull still gracing the Exe Estuary in Devon this winter, being noted there again on 26th-28th.
Moving onto Ring-billed Gulls, we find the first-winter bird still in Cornwall at Newquay on 24th-27th, with an unconfirmed report of one at Rumps Point on 25th; the adult still at Blashford Lakes HWT on 24th-29th; the adult again at Llys-y-Fran reservoir (Pembrokeshire) on 28th and, in Scotland, a first-winter individual at Barrapol Corner (Argyll & Bute) on 26th. An adult bird was reported from Brean Park (Somerset) on 28th, with another possible bird at Marazion (Cornwall) on 29th; an adult was found in Cornwall at Newlyn on 30th.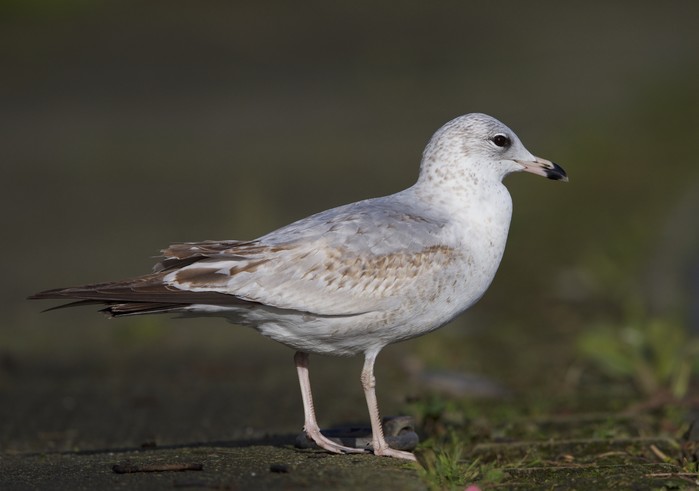 Ireland, as usual, dominated the week's sightings of this Nearctic species, with adult birds seen in Co.Kerry at Tralee Bay Wetlands Centre on 25th-28th, Blennerville on 25th, Carrahane on 26th-30th, and Cashen on 29th. Co.Cork accounted for adults at Timoleague still on 24th and Clonakilty on 28th; while in Co.Wicklow the adult remained this week at Bray harbour on 25th-29th. Co.Sligo claimed another adult on 29th still at Doorly Park.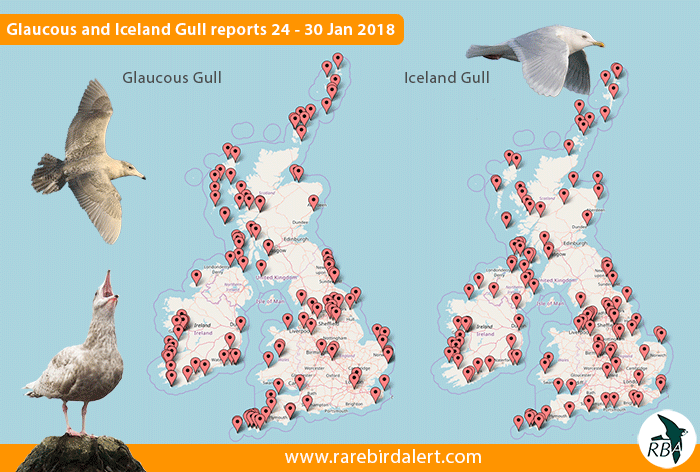 White-winged gulls, meanwhile, continued to be a Thing this week, with sightings of both Glaucous and Iceland Gulls coming thick and fast the length and breadth of Britain and Ireland as the week wore on. Starting with the big fellas, around 130 Glaucous Gulls were logged this week, with quartets noted on Fair Isle (Shetland) on 24th, Port Ellen (Argyll & Bute) on 26th, and St Mary's (Scilly) on 28th. Iceland Gulls were again seen in higher numbers than their chunky brethren, with some 170 birds noted over the course of the week – with the highest single site count being on Lewis (Western Isles) where on 28th 15 birds were logged rising to 21 there in Stornoway on 30th./p>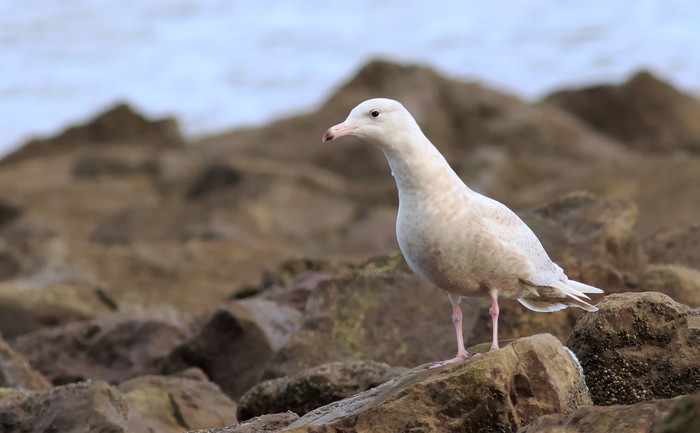 Happily, with that many Iceland Gulls in the mix, there were always likely to be some Kumlien's Gulls found as well, and so it proved. The week began with a juvenile at Sandbach Flashes (Cheshire) on 25th, and the adult again that day on St Mary's (Scilly), and belated news of an adult at Berry Head (Devon) on 25th for it's fourth day; a probable second-winter bird was noted on 26th at Wintersett reservoir (West Yorkshire), with a second-winter the following day at Ardvule on South Uist (Western Isles); on 28th-30th a second-winter was at Eccup reservoir (West Yorkshire), the adult was again at Newlyn (Cornwall), and an adult and a juvenile were noted in Cornwall at Mevagissey. On 28th two possible birds were logged at Killybegs (Co.Donegal), while on 30th a juvenile was at Cashen (Co.Kerry). A probable juvenile was at the gull roost at Hoveringham GPs (Nottinghamshire) on 30th.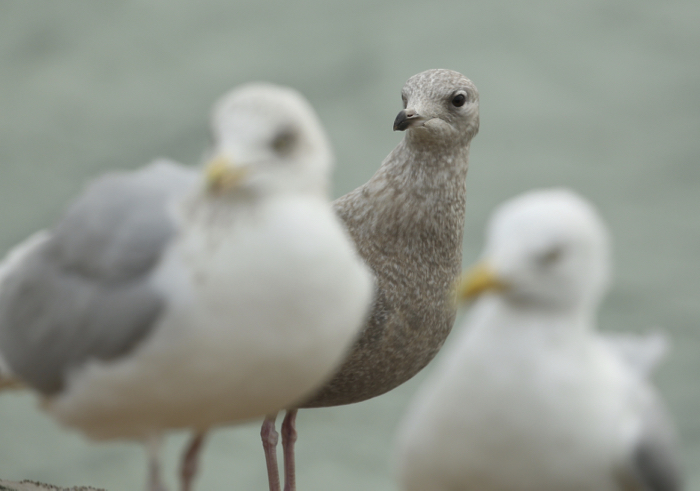 It was very slim pickings indeed this week where Rough-legged Buzzards were concerned – indeed, the only sightings came in the form of an adult male bird in the area of Haddiscoe Island (Norfolk) on 25th-30th.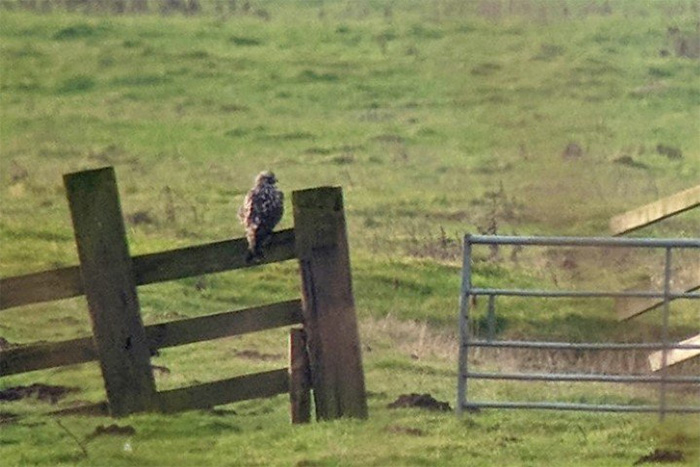 Meanwhile, the first-winter female Snowy Owl was still lurking on Scilly, back on St Martin's where, if not seen daily, she cropped up from time to time until 28th at least.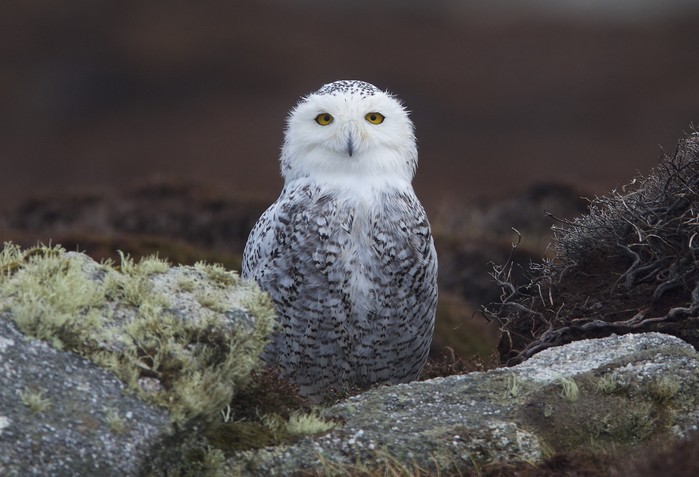 It feels rather like autumn, starting out trundle through the scarce and rare passerines with the warblers. Except, of course, it's emphatically not autumn and it's warbler singular this week – in fact, for a while it looked like we might not hear of any Yellow-browed Warblers at all this week, until the wintering bird on Portland (Dorset) was once again reported on 28th.
The first-winter male Penduline Tit however, proved more reliable this week at Plock Court Wetlands (Gloucestershire), being seen there daily once more.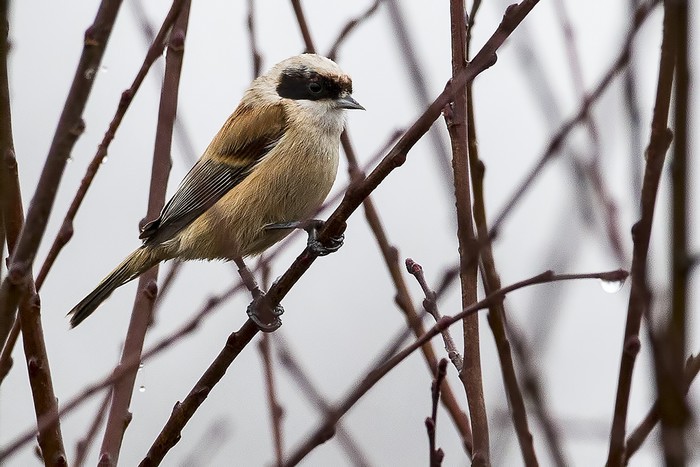 The adult Richard's Pipit also remained in Gloucestershire at Arlingham until 30th, while the Flamborough (East Yorkshire) bird was seen again on 29th.
It was mostly a case of the usual suspects this week where Great Grey Shrikes were concerned: the Crabtree Hill (Gloucestershire) bird remained there on 25th-30th; in Dorset, the Morden Bog NNR individual was still present on 25th-30th; the Prestwick Carr (Northumberland) bird was seen there again on 26th, while on 28th-30th the Cropwell Bishop (Nottinghamshire) individual was once again logged; and on 28th birds were seen at Burley (Hampshire) and Baulking Pit (Oxfordshire), with the Hampshire bird still present the following day. On 30th one was noted in Gloucestershire at Hawling, while another was seen in Powys at Bwlch y Sarnau, and the bird in Berkshire at West Ilsley was seen once more.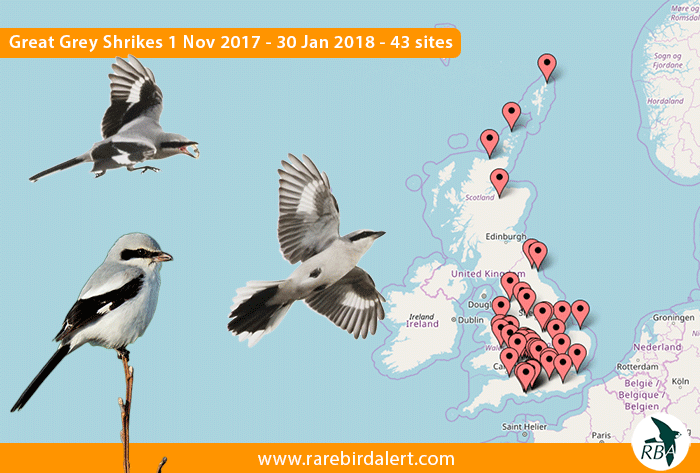 The previous week's century tally of Waxwings had, with the benefit of hindsight, flattered to deceive as this week nowhere near so many birds were reported. Heyho. Maybe it's not going to be a Waxwing-winter after all. So, this week, we had just sixty birds noted nationally, with the best of the (small) flocks being 11 birds in Elgin (Moray) on 26th-27th rising to 13 birds there on 28th, and 13 birds noted in Dundee (Angus) on 28th also, rising to 14 there the following day.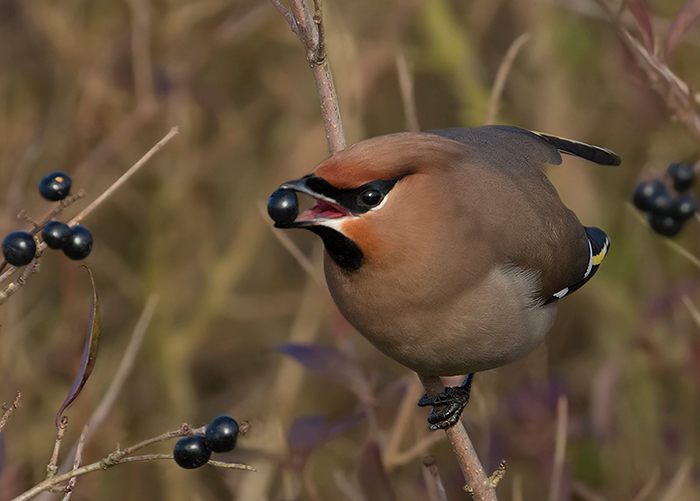 In Devon, the male putative Italian Sparrow was still resident in East Budleigh on 24th-30th, while in East Yorkshire the first-winter Rose-coloured Starling was still to be found at Easington on 25th-30th.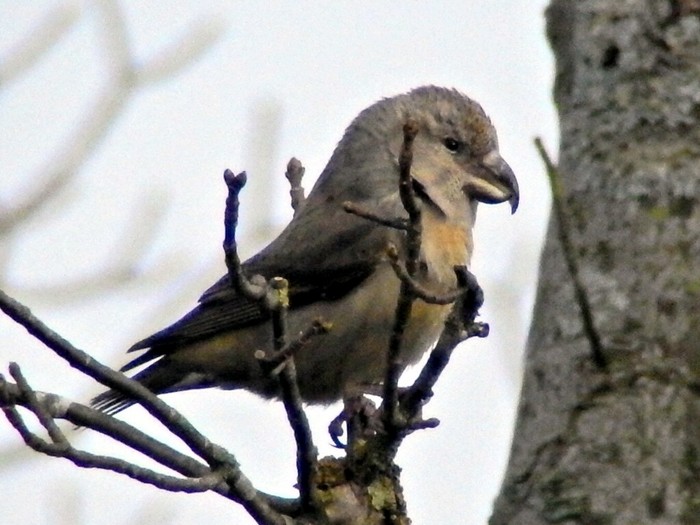 Parrot Crossbills remained a fixture at a number of recent regular sites this week, with peak counts of eight birds still at Santon Warren (Norfolk) on 27th-30th, 12 birds at Howden reservoir (Derbyshire) on 27th, 16 birds at Wishmoor Bottom (Berkshire) again on 30th and six birds at Upper Hollesley Common (Suffolk) once more on 25th all noted. One was again seen on 30th at Broxbourne (Hertfordshire). Two probable birds were logged in Dumfries & Galloway at Little Cullendoch on 27th, while three birds seen in Regent's Park (London) on 28th were the stuff of which local patch-workers' dreams are made of. That sort of find is the dream that keeps us all plodding around the same local beat as often as we possibly can – you just never know what might, just might crop up… even in the most outwardly unlikely places.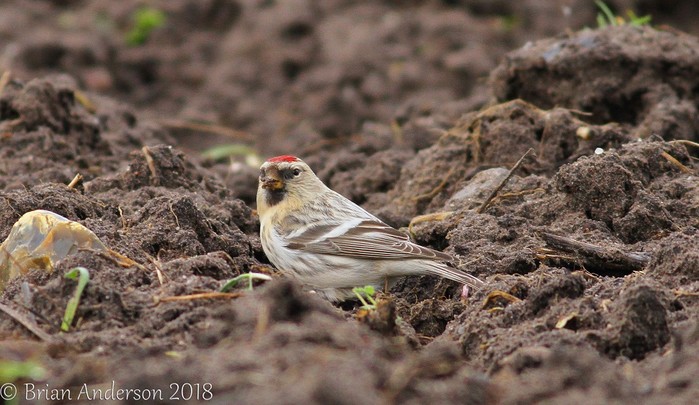 The settled exilipes Arctic Redpoll remained at for another week at Hazelwood Common (Suffolk). Norfolk again contributed the lion's share of sightings of these frosty finches, with at least one bird still at Letheringsett on 25th, four birds again at Kelling on 26th and one or two there on the following days, and one at Sculthorpe Moor NR on 27th-28th.
Finally, and back in London, we find the Little Bunting still faithful to Walthamstow reservoirs on 25th-30th.
And them's your birds for another week…
Well, almost… it'd be wrong not to mention the wholly unconfirmed report of a Red-throated Thrush 'recently' on Sanday (Orkney). Sadly, a search on 29th didn't turn it up again. If re-found, and confirmed, it's fair to say all hell would be breaking loose.
So, judging by posts on social media for the last few weeks, it's seemed like there's barely a British birder who hasn't been to Fuerteventura recently – or is planning to go sometime soon – for the settled Dwarf Bittern and, in a happy act of serendipity, the recently discovered Tristram's Warbler…
(Not wanting to be a total cliché but I'm heading there shortly myself – though, in my defence, this is a long-ago booked foray for orchids on Tenerife, with the bolted-on bittern bonus. Erm, sorry, that should read "family holiday"…)
Anyway, this week said Dwarf Bittern remained in situ on 26th-30th, while the Tristram's Warbler was not only still present at Barranco de Torre on 24th-30th but was even heard in song… If that weren't enough, it was joined on 29th by an African Desert Warbler!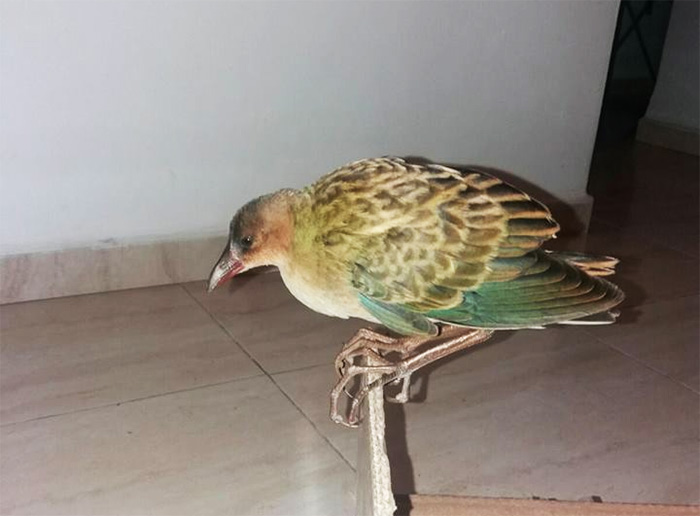 Sticking with Spain, an exhausted Allen's Gallinule was taken into care on 25th at Torremolinos – providing food for thought for British birders who'll recall the moribund individual picked up on Portland (Dorset) on 10th February 2002, and the first (and only other) British record, caught on a fishing boat off the Norfolk coast on New Year's Day 1902. Now's the time of year for a displaced bird to head north, clearly, but it's plainly a massive ask for one to reach us with any sort of vital spark still beating within it. Hopefully we won't wait another century for our next to be found, and with any luck it'll be in decent fettle. I won't hold my breath, though… Before we leave Spain, the Hudsonian Whimbrel was once again at Parque Natural Marismas de Santona on 28th-30th.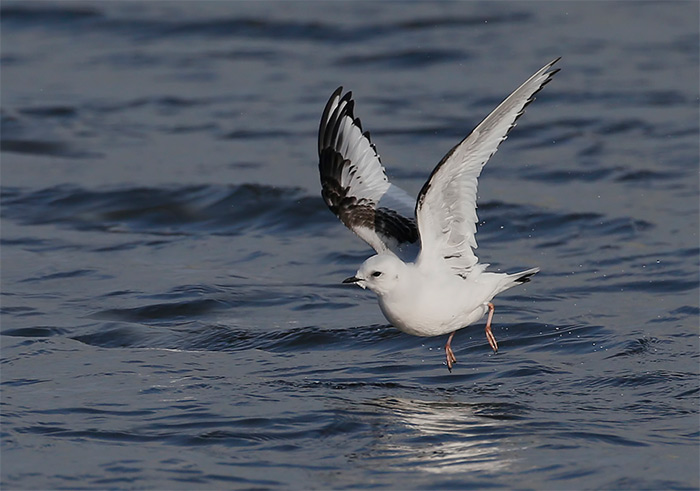 In Holland a Ross's Gull was at Binnenhaven on 24th-30th, while a Black-throated Thrush was seen at Scheemda on 24th-30th; the Black-shouldered Kite remained at Lauwersmeer on 30th.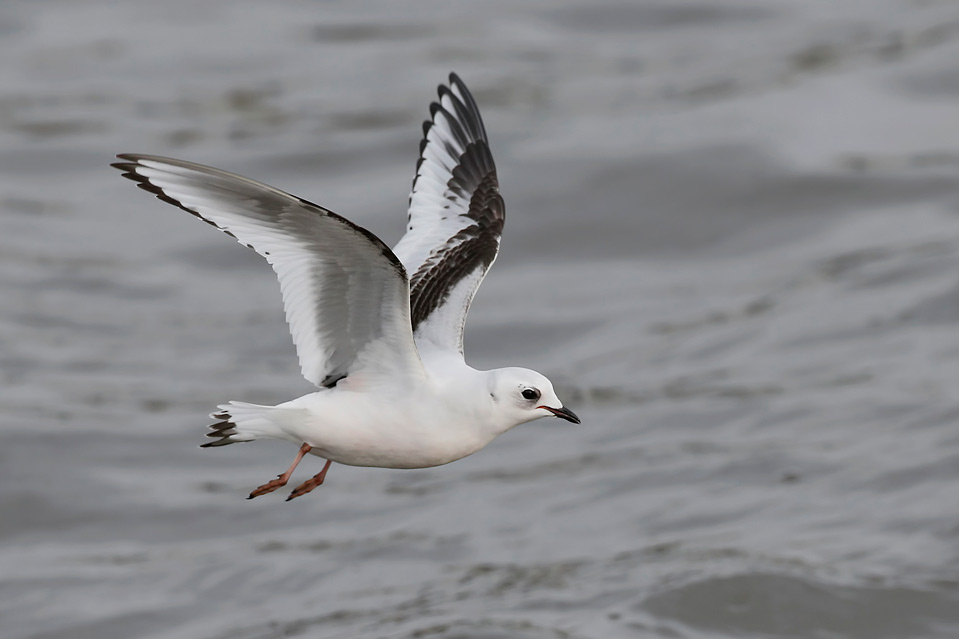 The Pygmy Cormorant remained a potent draw at Parc Domaine du val Duchesse (Belgium) on 24th-30th. Surely, as other longer shots fall by the wayside over the passing years, it's only a matter of time before Britain finally gets one?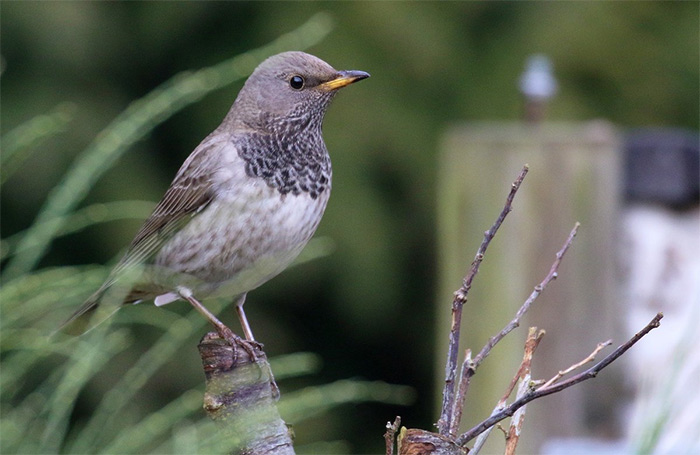 In Germany a female Pine Bunting was at Romerstein on 24th-25th while a first-winter American Herring Gull was still present in Poland on 24th for its ninth day.
The Greater Yellowlegs was still in Sweden at Bjorkang on 28th.
Out on the Azores, the Redhead remained on Terceira on 28th, with a supporting cast of American Coot, Killdeer and Hudsonian Whimbrel also present.
Well, there we go folks – we're already a month into 2018, and it's been good to us already. Time, however, to look backwards and see what the first week of February could, in a dreamy, perfect world, serve up…
Yes, it's time to brush down the RBA crystal ball and peer into its murky depths.
And what, in our utopian ideal world, would be better than a repeat of the first-winter male American Purple Gallinule found on The Mullet (Co.Mayo) on 2nd February 2014. That date is, lest we forget, Groundhog Day – but unlike the conceit of the eponymous film, we'd all like the next one to be found still alive and kicking rather than dead on arrival. Preferably more alive and kicking than both of our previous Allen's Gallinules too… We don't ask for much, do we?
Straying a little away from the realms of indecent fantasy and closer to reality, the Slaty-backed Gull at Pitsea Landfill (Essex) and Hanningfield reservoir in early February 2011 suggests that time spent sifting through flocks of gulls may yet be time well-spent, whilst the White-winged Scoter found off Rossbeigh (Co.Kerry) on 1st February of that year also reminds us, if any reminder were needed, that checking out scoter flocks on the sea is not only an exercise in eye-watering endurance, but can, sometimes, also prove quite fruitful.
Jon Dunn
31 January 2018
Share this story
Tweet

This week's videos