Weekly birding round-up: 17 - 23 Jan 2018
Co.Cork lands an adult Pacific Diver
The long-staying Stilt Sandpiper remains in Dorset
While in Surrey, the Horned Lark is back once more
Another generally quiet spell this past week, birdwise, though the weather was anything but – January 2018 threw everything but the kitchen sink at us, with heavy doses of wind, rain and snow variously across the land.
That said, there were sunny spells too, and still a few birds to be seen…
Pacific Diver
It seems like only yesterday that we enjoyed the first flush of Pacific Diver sightings in Britain… Actually, it was only 11 years ago, which isn't that long ago at all, and that sense of imminence has been reinforced by a number of regular returning individuals and further new arrivals.
(Including one I missed on Shetland, despite being sat a few hundred metres away at the time, blissfully unaware that the bird was present until news was released, after the event… A memory that still chafes to this day…)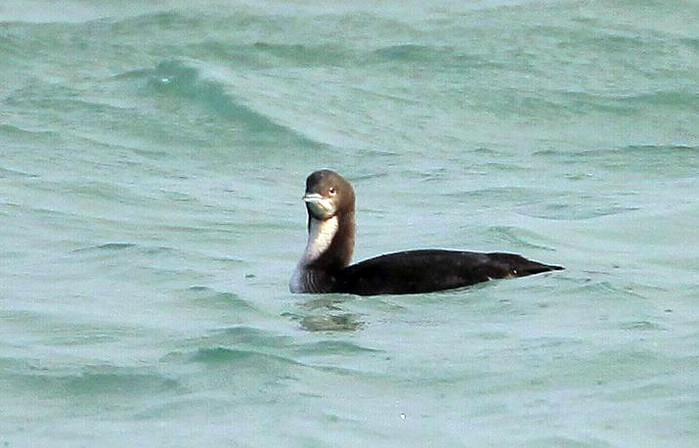 Anyway, personal tragedies aside, after those first British records in 2007 it wasn't long before Ireland got in on the Pacific Diver act, with their first national record coming in the form of a bird photographed off Tawin (Co.Galway) on 12th January 2009. What was presumably the same individual was seen the following year in Co.Galway and Co.Clare and then, after a four year hiatus, an adult was seen once more off Tawin on 5th April 2014, and again in early 2016.
Only last summer sightings came from Co.Meath and Co.Dublin and now, in early 2018, Co.Cork has finally got in on the act with an adult bird, at times showing well, at Crookhaven from 18th-23rd.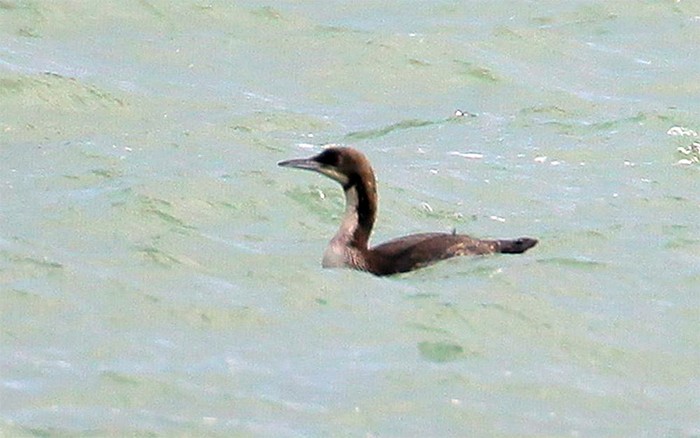 Whether this is one and the same bird that's been haunting the west coast, off and on, in the past decade, or a new arrival in its own right is probably beyond the wit of man to be sure. What is for certain is that this occasionally confiding bird will be welcomed with open arms by Irish birders.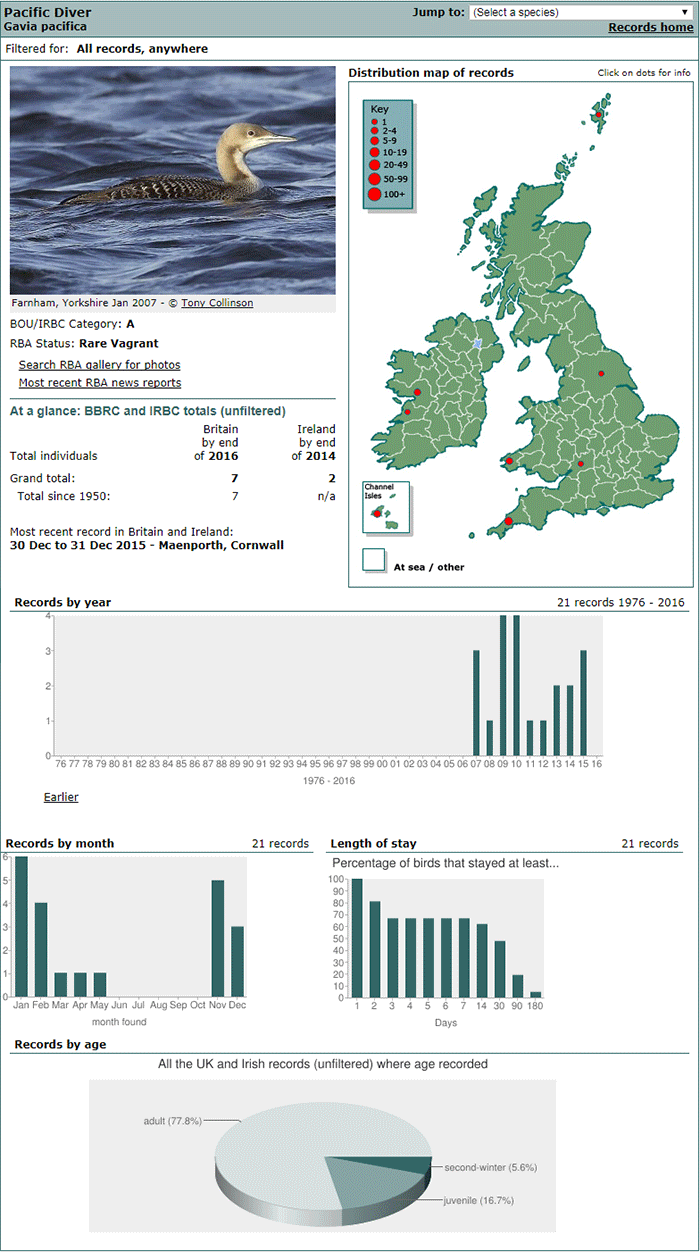 Meanwhile, down in Cornwall one of their returning adult birds was seen once again this week in Gerrans Bay on 22nd.
Stilt Sandpiper
Dorset's third Stilt Sandpiper had nudged a little further east in the preceding week, being found at Coward's Marsh near Christchurch after a prolonged sojourn in late 2017 in Poole Harbour. After a couple of days absence at the end of that week, it was refound once more at the start of the current period – not a million miles away, at Stanpit Marsh – on 17th.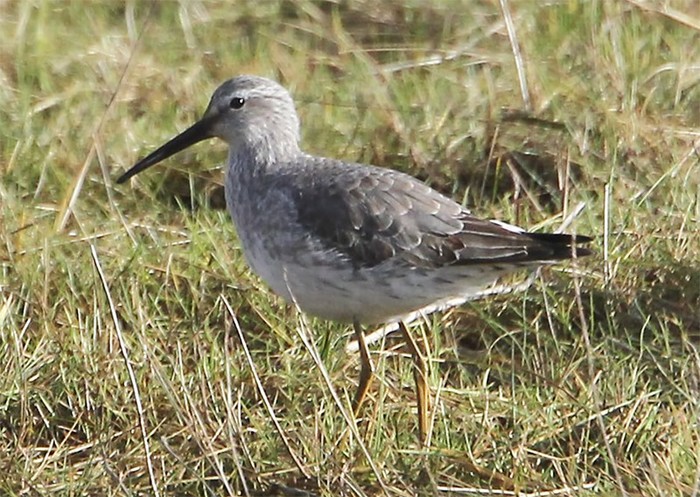 There it stayed until 20th when those itchy feet got the better of it once more and our wandering first-winter bird relocated… back to Coward's Marsh on 20th-23rd. That takes its stay to 134 days which, by my rough n ready calculation, means it needs to still be seen on 1st March to eclipse the 171 day record set by the Frodsham (Cheshire) individual back in 1984.
Watch this space…
Horned Lark
Deservedly popular in November last year, the female alpestris/hoyti/pratincola Horned Lark at Staines reservoir (Surrey) was last seen there in the early afternoon of 28th November and, thereafter, not at all. I think we could all be forgiven for thinking it had done a bunk.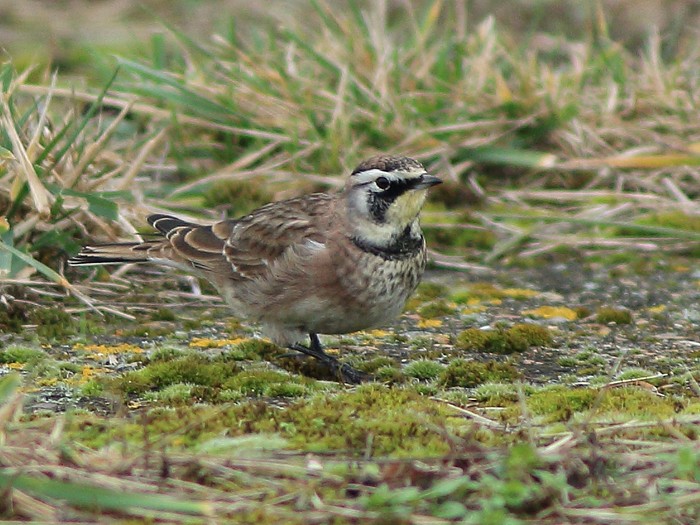 It was a pleasant surprise, then, when news broke on 22nd this week that she was back again. With the bird still present on 23rd, this is as good a candidate for an armchair tick in future as any, should the powers that be see fit to split the North American Horned Lark complex into some constituent parts… so provided she sticks around for a while, anyone who missed her at the tail end of last autumn would be well advised to pop along to take a look for themselves.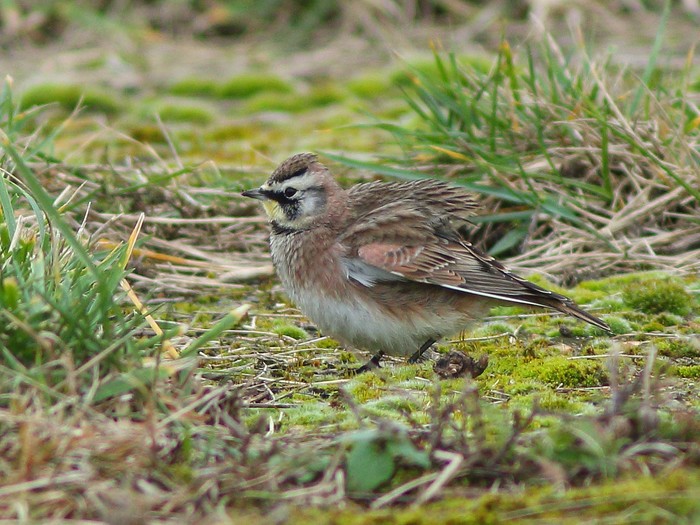 Shetland provided us with two thirds of the week's complement of White-billed Divers, in the form of the regular wintering bird off Kirkabister on 19th, and an adult that day also further south down the east coast of Mainland, seen in Mousa Sound. On 20th one was reported from Uig Bay (Highland).
Just a scatter of Little Auks were seen this week – single birds of Rathlin Island (Co.Antrim) on 17th and 22nd and, on 18th, from Mull (Argyll & Bute) and Ferny Ness (Lothian); and duos noted on 20th in Cornwall from Pendeen and Rumps Point. On 22nd another single was noted off Pendeen, while on 23rd one was seen from Saltcoats (Ayrshire). Three passed Tiumpan Head on Lewis (Western Isles) on 23rd.
We enjoyed another week with abundant Cattle Egrets in the past few days, with around 80 birds in all recorded. Eighty - that's such a lot of birds. Once again double figure flocks were noted on the Somerset Levels, with a peak count at Westhay (Somerset) of 18 birds on 22nd. Again, our records as a whole were well scattered, with birds still as far north as Lancashire and further west in Ireland, in Co.Waterford and Co.Wexford.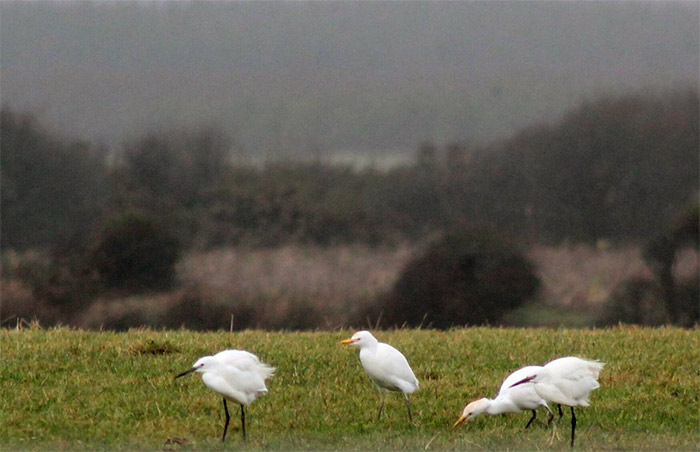 Great White Egrets remained a resident staple too, with what passes for normal this winter – some 100 birds scattered far and wide in around 40 counties. While as usual most of these were single birds or, at best, trios, there were still some small flocks to be seen from time to time – eight birds were logged on the Somerset Levels at Shapwick Heath NNR on 19th, and six were seen at Rye Harbour (East Sussex) on 22nd.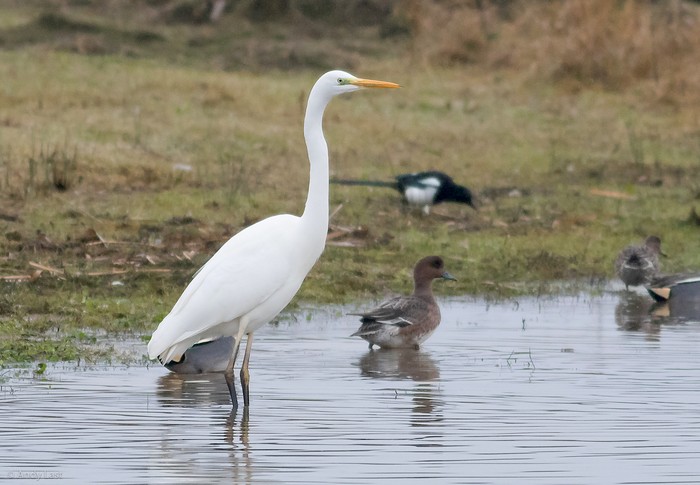 Things remained as-you-were for Spoonbills too – at least 20 birds were seen, back and forth, in Poole Harbour (Dorset) this week comprising the lion's share of our national tally of some 45 birds in total. There was a small upturn in sightings from Cornwall this week, with the settled bird at Hayle augmented by three birds at Wacker Quay on 19th and Rat Island on 23rd, and duos at St John's Lake on 20th and Cowlands Creek on 21st.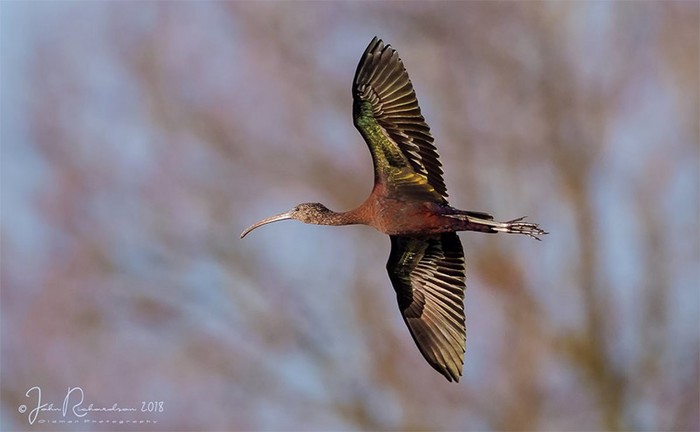 Glossy Ibises held firm for another week, with nine birds in all noted across Britain and Ireland, from Orkney in the north (one remained at Tankerness on 19th-20th) to the Isle of Wight in the south (the recent bird remained at Brading Marsh RSPB on 17th-21st). In between those two extremities British sightings came from Tiree (Argyll & Bute) still on 20th; Minsmere RSPB (Suffolk) on 17th-23rd; Shapwick Heath NNR (Somerset) again on 19th and Westhay on 23rd; and Kingsmill Lake (Cornwall) once more on 19th and again on 23rd. On 23rd one passed over Swalecliffe (Kent).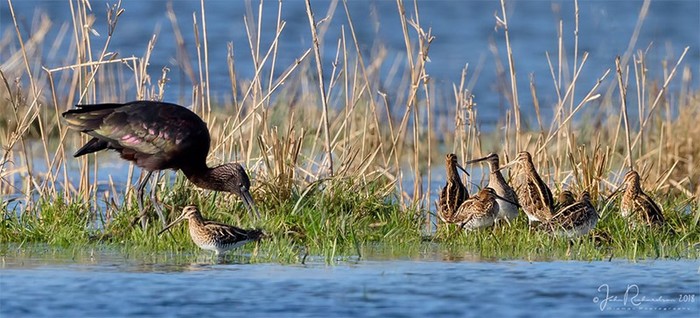 Irish records, meanwhile, came in the form of single birds seen at Ballyconneely (Co.Galway) again on 17th, Portmore Lough RSPB (Co.Antrim) on 19th-23rd, and Lough Beg (Co.Derry) again on 22nd; and three birds at East Coast NR (Co.Wicklow) on 23rd.
The first-winter Common Crane that pitched down at Cambois (Northumberland) at the end of the previous week remained there at the start of the current period, still present at Cambois on 17th. Away from the traditional Norfolk haunts our only other notable Common Crane sightings came in the form of the flock at Eldernell (Cambridgeshire) – numbering at least 20 birds again on 20th.
It's certainly beginning to feel something of a tradition to feature yet another presumed escaped duck in our weekly news – following the recent tainted female Bufflehead in Surrey and Oxfordshire, and the similarly afflicted first-winter drake Hooded Merganser in Derbyshire, this week we have a presumed escapee drake Wood Duck at Priory Fishing Lakes (Lincolnshire) on 18th. All we need now is a contentious Cinnamon Teal and we've got the full house…
Moving swiftly onwards… the Goose Formerly Known As Canada was represented once again this week by the interior Todd's Canada Goose still present at Loch of Skene (Aberdeenshire) on 20th, while the blue morph Snow Goose was again at Loch of Skene also on 18th-20th.
Black Brants were well-represented with sightings from Essex this week, with single adult birds seen at Brightlingsea on 18th-21st and Wallasea Island RSPB on 21st, and two adults together at Hamford Water on 22nd. In Dorset the recent bird was again seen in Poole Harbour this week on 17th and 22nd, while one was seen again this week in Cumbria on Walney Island on 19th.
Once more, lingering drakes comprised our American Wigeons this week – birds were seen again at Matford Marsh RSPB (Devon) on 17th-22nd; Rutland Water (Leicestershire) on 17th-22nd; Grindon Lough (Northumberland) on 22nd; in Highland at Clachnaharry on 18th-22nd and Tain Links on 19th-20th; on 19th again on North Uist at Ardheisker (Western Isles); and on 20th at Dipple Shore (Ayrshire). At the very close of the week a female was reported in Nottinghamshire at Idle Valley NR on 23rd.
A good show of Green-winged Teals were logged again this week – these being individuals again at Greylake RSPB (Somerset) on 17th-20th; at Ashleworth Ham NR (Gloucestershire) once more on 18th; on the River Lynher off Wacker Quay (Cornwall) on 19th-21st; in Scotland on North Uist again at Loch Sandary (Western Isles) on 17th and, on 18th, at Loch of Strathbeg RSPB (Aberdeenshire); in Ireland in Barrow harbour (Co.Kerry) on 22nd; and on 23rd at Kilnsea Wetlands (East Yorkshire) and Saltholme RSPB (Cleveland) again.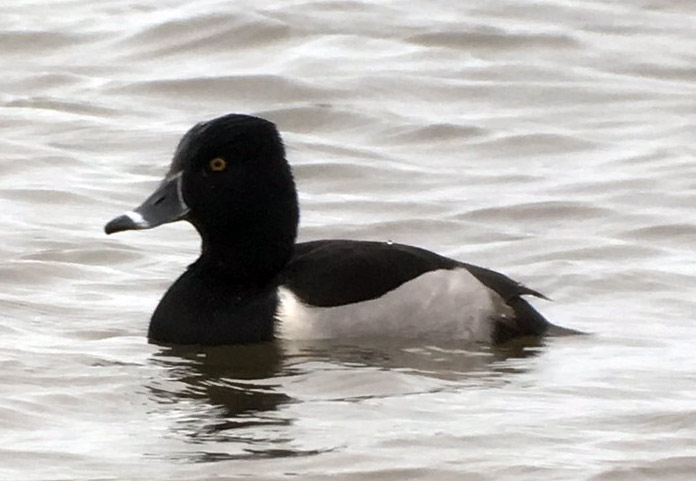 Numbers of Ring-necked Ducks remained more or less unchanged in Britain and Ireland, with nine birds in all logged in the past week. These comprised Irish females at North Slob WWR (Co.Wexford) again on 18th, Corran Lake (Co.Cork) again on 18th-23rd, and one at Lough Fern (Co.Donegal) on 20th; and drakes at Abbotts Hall Farm EWT (Essex) again on 17th, Shapwick Heath NNR (Somerset) again on 18th, on 20th on Temple Water (Co.Down), on 20th-23rd at Carlingwark Loch (Dumfries & Galloway) and still at Little Loch Shin (Highland), and on 20th-22nd at Beesands Ley (Devon).
The regular drake Lesser Scaups were once again seen in recent days at Dozmary Pool (Cornwall) on 18th-23rd and in Somerset at Chew Valley Lake on 17th-23rd.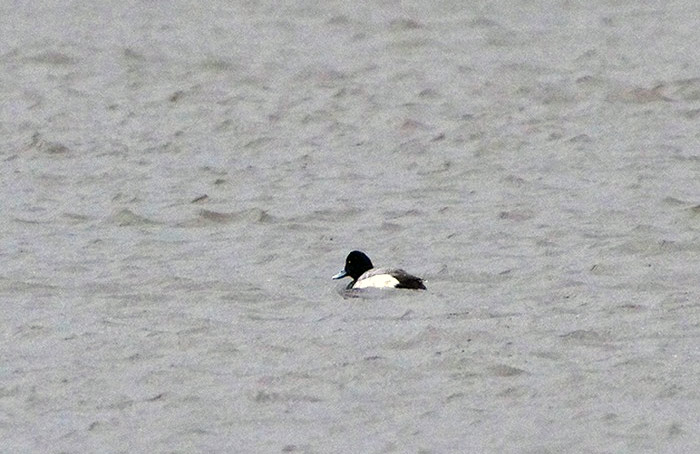 A drake Ferruginous Duck was once again back at Washington WWT (Co.Durham) on 21st.
The settled female King Eider was again at Ynyslas (Ceredigion) on 18th-22nd, with the Yell (Shetland) queen seen once more off Mid Yell on 17th-19th.
The drake Black Scoter was still off Goswick (Northumberland) on 18th-23rd.
The week began with two drake Surf Scoters again off Pensarn (Conwy) on 17th, and the recent trio at Porthpean (Cornwall) still present on 18th-22nd. Further familiar faces came in the form of drakes off Musselburgh (Lothian) again on 19th-20th and Largo Bay (Fife) on 21st; two were seen in Gullane Bay (Lothian) on 20th. Co.Meath meanwhile provided a drake off Ben Head on 20th and two birds off Laytown on 21st again.
We'll close with the intermittent watery inclusion of a Pied-billed Grebe, this coming again this week from Spiggie (Shetland), where a cold snap had failed to displace the recent bird between 19th and 23rd.
An otherwise very denuded Shorebirds section this week has a new bird to report – finally, a little variety! This coming in the form of a Spotted Sandpiper on the slalom course at Holme Pierrepont on 22nd-23rd.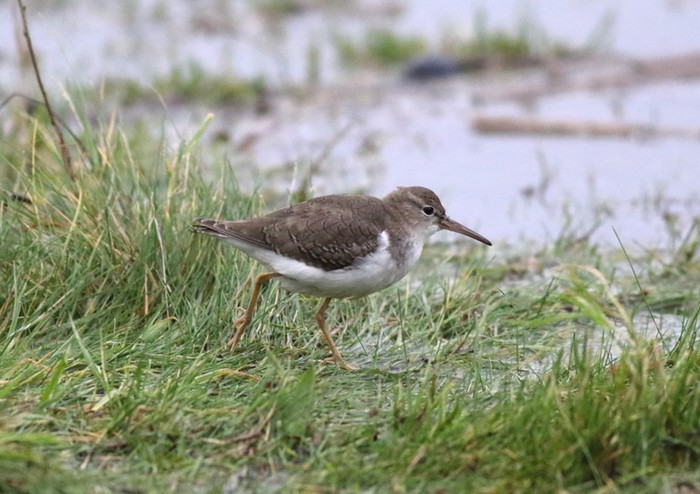 Other than this, however, and Stilt Sandpiper notwithstanding, it was slim pickings on the midwinter RBA Shorebirds estuary.
The wintering Temminck's Stint remained throughout the week in West Sussex at Pulborough Brooks RSPB, albeit once more with a couple of blank days when it wasn't seen…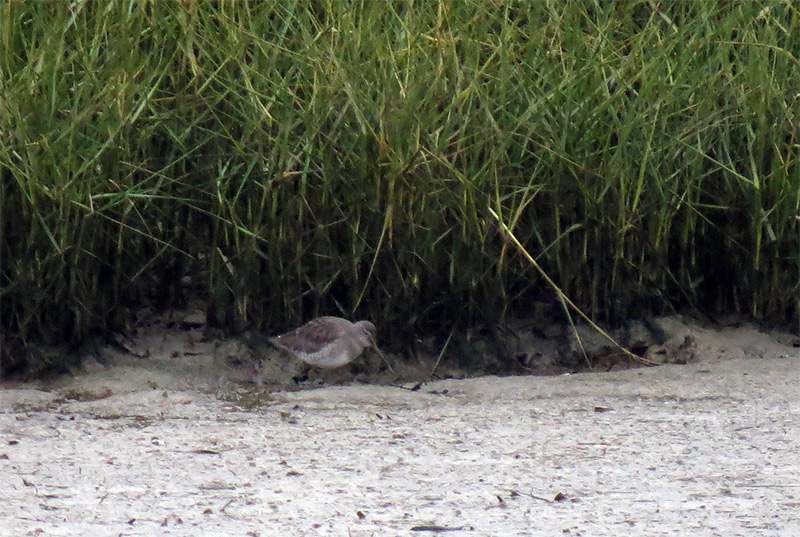 …while in Kent the adult Long-billed Dowitcher was again seen at Oare Marshes KWT on 17th.
And that's all.
Top of the larid class this week goes to the adult Bonaparte's Gull wintering again in Devon, being seen twice this week again in Exmouth on 21st and 22nd-23rd; and complemented by another adult of its kind, this time up at Cardwell Bay (Clyde) again on 23rd.
We move on then to Ring-billed Gulls, with all the usual British suspects present and correct still: the adult again at Blashford Lakes HWT (Hampshire) until 23rd; the first-winter again at Newquay (Cornwall) until 23rd; and the adult again at Strathclyde Loch (Clyde) until 22nd. Further sightings came in the form of an adult at Ynyslas (Ceredigion) on 18th-19th and an interesting adult bird in Lincolnshire at Deeping Lakes NR on 22nd-23rd which could, on reflection, be the hybrid lovechild of a Ring-billed and a Common Gull.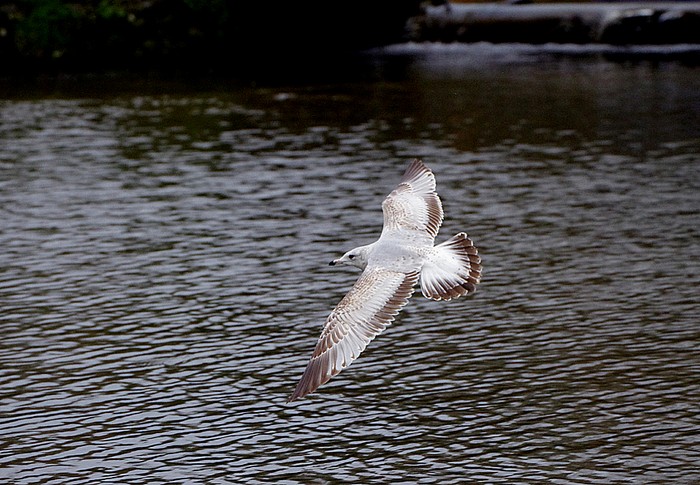 The Irish contingent came in the form of adults at Quilty (Co.Clare) on 17th; Timoleague (Co.Cork) on 18th; Tralee Bay Wetlands Centre (Co.Kerry) and Drimnagh (Co.Dublin) still on 20th (with the Tralee Bay bird still present on 23rd) and at Bray (Co.Wicklow) again on 23rd, with an adult that day also in Co.Dublin at Sandymount Strand. A second-winter bird was seen in Limerick (Co.Limerick) on 19th.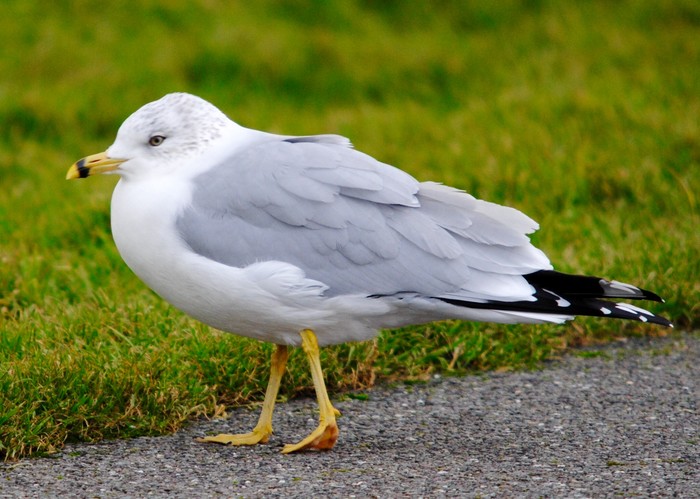 The week's biggest news, however, was the upsurge in sightings of our winter visiting white-wingers – the windy and cold weather seemed to play its part in pushing both Glaucous and Iceland Gulls our way.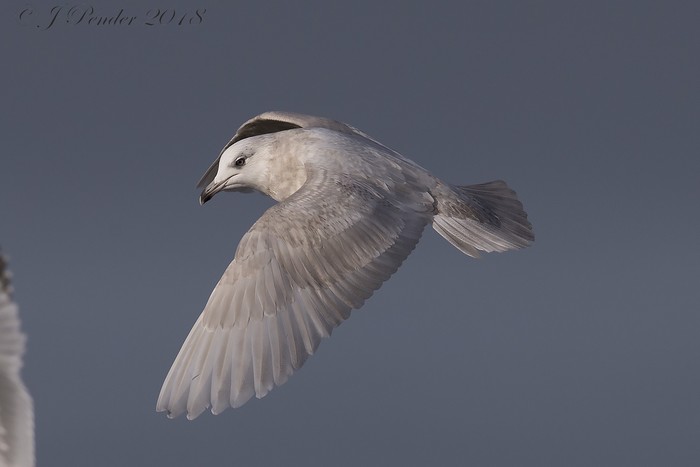 Taking those Iceland Gulls first, numbers climbed significantly from the prior week's tally of some 90 birds – this week, Britain and Ireland laid claim to at least 160 individuals. St Mary's (Scilly), provided a graphic snapshot of the rising numbers, their tally rising to four birds on 18th and then seven individuals by 21st; for a while it seemed as if a count of eight birds on Lewis (Western Isles) on 20th would be the week's highest score, before Killybegs (Co.Donegal) weighed in with 16 birds on 22nd. Lewis (Western Isles) meanwhile provided 14 birds in Stornoway harbour on 23rd. The locations of these tallies show the spread of records from north to south, but there were plenty of inland and easterly sightings also to keep local patch birders on their toes.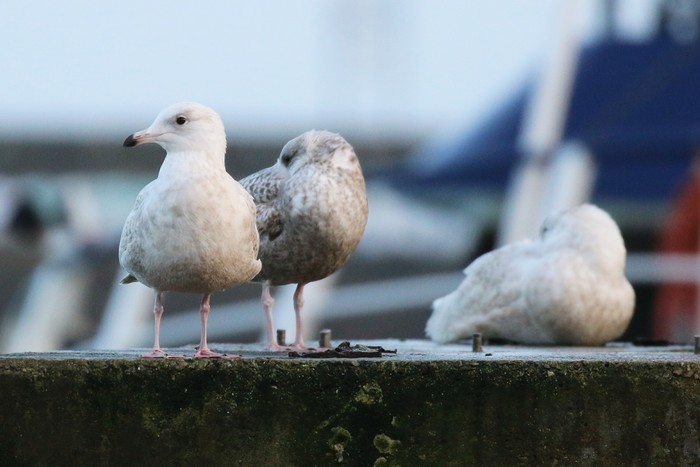 So too with Glaucous Gulls, as Iceland Gulls' big ugly cousin was being seen this week far and wide, and with increasing frequency. The previous week's score of some 60 bird was comfortably eclipsed this week, with around 150 individuals noted this week. Once again, the biggest count fell to Killybegs, with 20 birds seen there on 22nd, but amongst scores of widely scattered singletons there were plenty of duos and trios, particular as the week wore on and numbers recorded appeared to be on the up.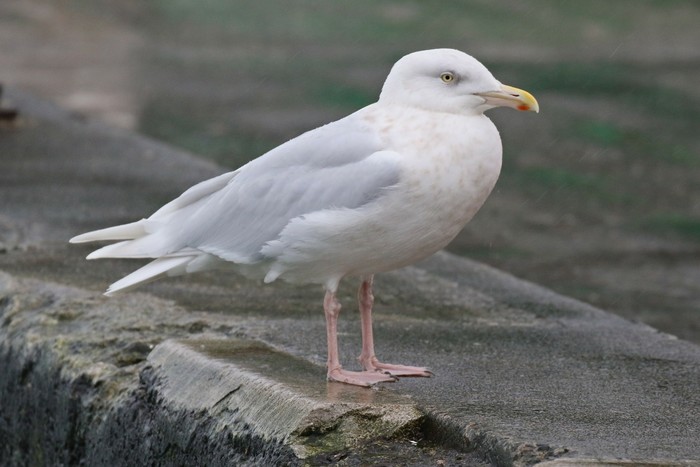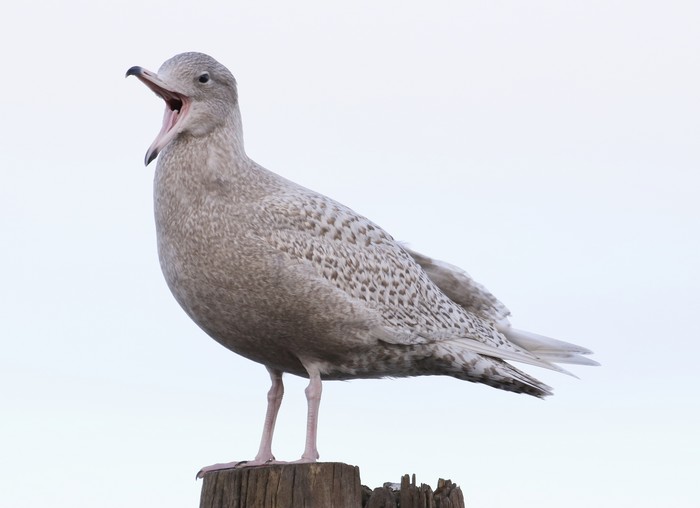 With an upturn in Iceland Gulls it was only natural that there'd be more Kumlien's Gulls to go at, and so it proved this week: in the West Midlands, a juvenile was seen at Parkes Hall reservoir on 17th-18th, with one on 20th at Sedgley again; a possible second-winter was at Dundalk (Co.Louth) on 18th-22nd; Tralee (Co.Kerry) hosted a third-winter on 18th-21st; probable juveniles were noted at Hoveringham (Nottinghamshire) on 19th and Baulking Pit (Oxfordshire) on 20th, and one was reported that day also from Heaton Park (Greater Manchester); a second-winter bird was seen in Sligo (Co.Sligo) on 20th; and an adult was at Newlyn (Cornwall) on 21st and again on 23rd.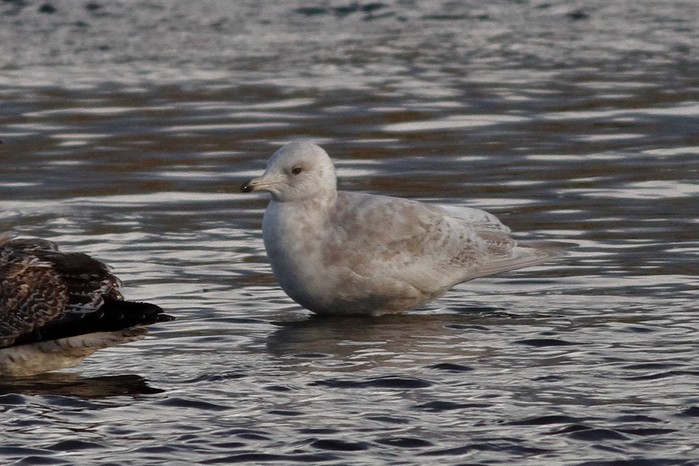 After an absence of some weeks from our headlines, the adult Forster's Tern in Ireland was seen on 20th at Aughinish (Co.Clare).
The week began with a couple of Rough-legged Buzzard reports, in the form of sightings from Blue House Farm EWT (Essex) on 18th and Cantley and Buckingham (Norfolk) on 19th. Further sightings from Norfolk came in the form of a bird seen at Haddiscoe Island on 19th and again on 22nd, and one in Waveney Forest on 21st. Meanwhile, the adult male was again seen in Cambridgeshire at Thorney Toll on 19th; one was reported from Old Newton (Suffolk) on 21st; and one was seen in Lincolnshire at Glentham on 22nd.
Meanwhile, the wandering recent Snowy Owl was once again seen on Scilly this week, having relocated to a new island – now on Tresco, on 21st-23rd.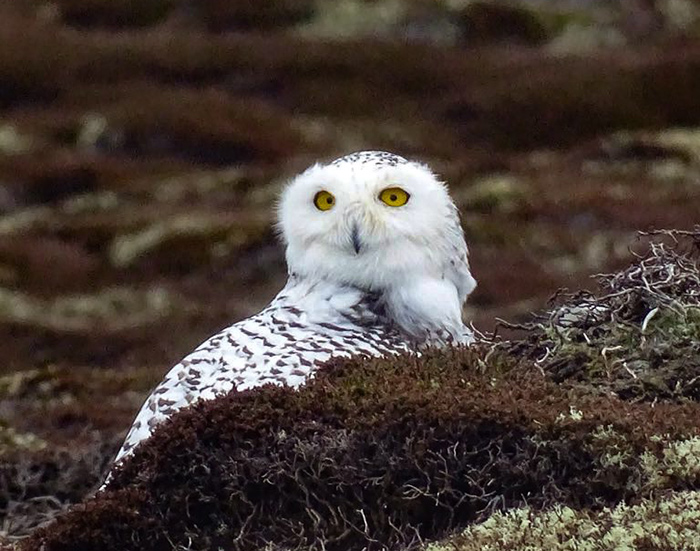 We'll kick off the passerines with the sad news that, on the face of the available evidence, the settled first-winter male Desert Wheatear at Whitby (North Yorkshire) remained on 17th-20th and then… there was no sign of it on 21st. Or rather, that's not technically true – there was a sign of some of it – four tail feathers picked up on 21st appear to be all that's left.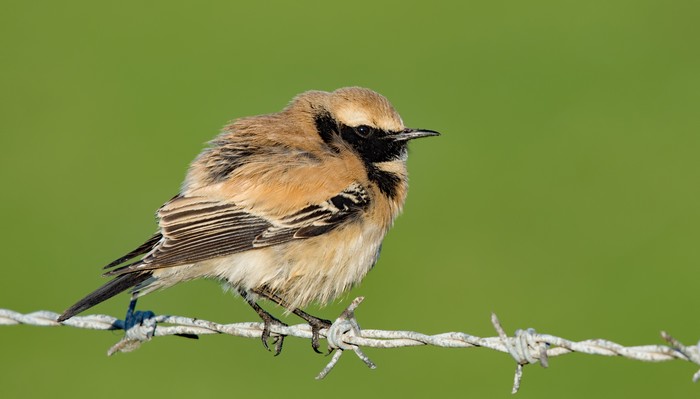 Hopefully whatever unsavoury end it met wasn't shared by the currently absent Hume's Warbler in Norfolk at Waxham – still seen there until 19th, but not thereafter. Here's hoping it's just having an elusive spell and will be found again shortly…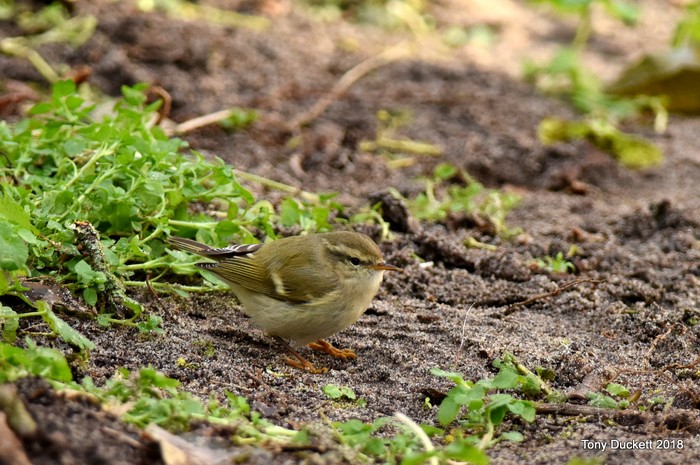 Slim pickings amongst its commoner congener, Yellow-browed Warblers this week with even the moist areas of the west country failing to produce the goods in any numbers – the wintering individual was still on Portland (Dorset) on 18th and again on 22nd, while in Cornwall one was seen in Falmouth on 21st.
The first-winter male Penduline Tit at Plock Court Wetlands (Gloucestershire), meanwhile, was more obliging and was reported daily all week long.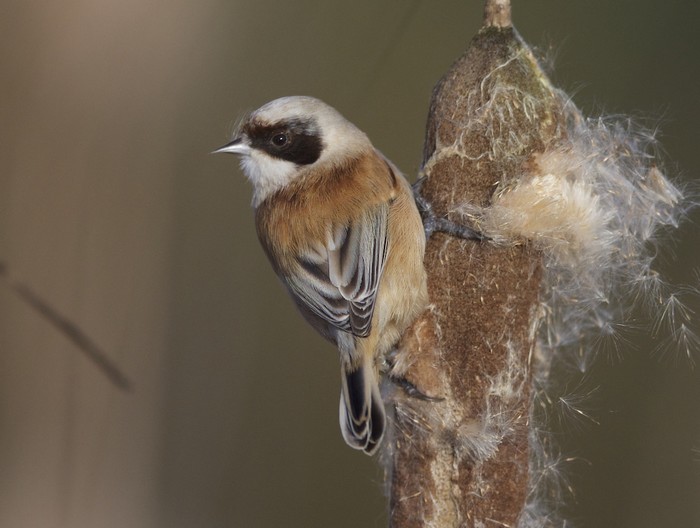 The adult Richard's Pipit remained in Gloucestershire at Arlingham until 23rd, while the Flamborough (East Yorkshire) individual was seen again on 19th-22nd.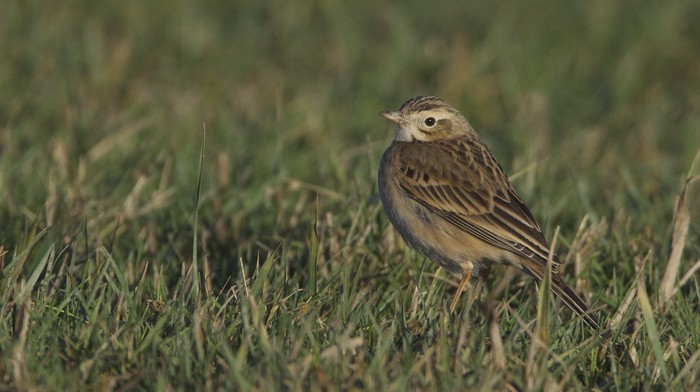 One of the week's more eye-catching passerine records came from Orkney where, on South Ronaldsay on 19th, a female Bluethroat was logged – presumably an autumn arrival, where's she been all this time?
Numbers of wintering Great Grey Shrikes remained fairly modest – in Gloucestershire the Crabtree Hill bird was seen on 18th-23rd, with subsequent sightings in the county coming from Great Barrington on 20th-22nd and Ashleworth Ham on 21st; the Morden Bog (Dorset) individual was still present on 17th-22nd; in Hampshire the bird at Milkham Inclosure was seen again there on 20th; one remained in Ashdown Forest (East Sussex) on 17th; and the bird at Prestwick Carr (Northumberland) was still present on 18th-21st.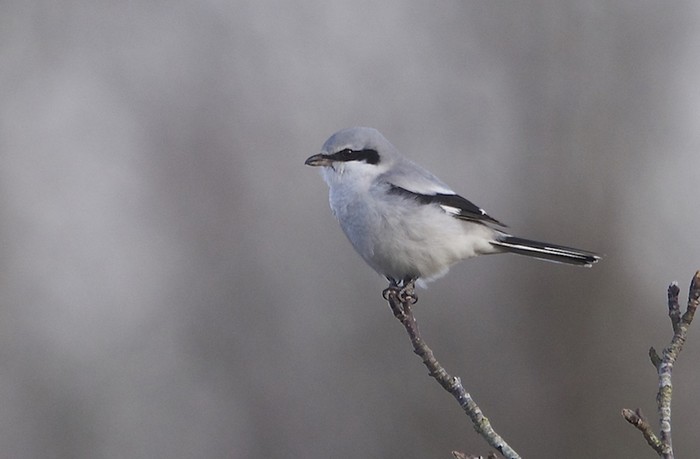 Around 100 Waxwings were reported again this week, still faintly promising insofar as the records were once more well scattered from northern Scotland right down the east coast to Kent. Most were singletons or very small flocks indeed, with the largest aggregations being 30 reported on 17th from Hillsborough (Co.Down), 13 noted in Elgin (Moray) on 21st, and 11 in Inverness (Highland) on 20th. Whether these slightly elevated weekly tallies in the past fortnight herald an imminent tipping point whereby we get appreciable numbers in the weeks to come remains to be seen. For now, though, it's worth keeping an eye on the local cotoneasters and rowans…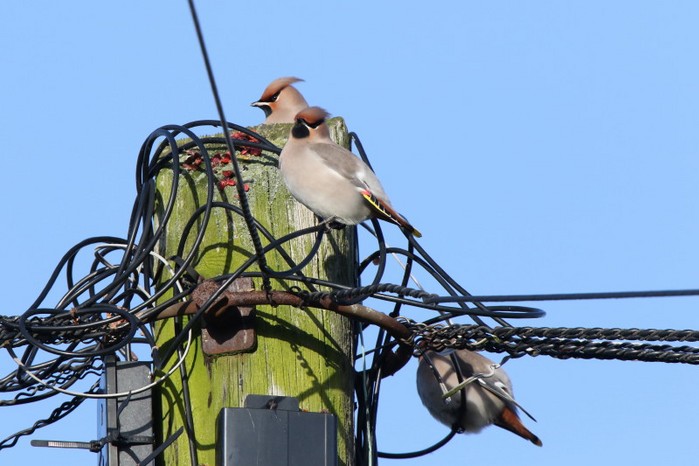 In Devon, the male putative Italian Sparrow was still to be found at East Budleigh on 17th, while less contentious fare came from East Yorkshire where the first-winter Rose-coloured Starling was again seen at Easington on 18th-22nd.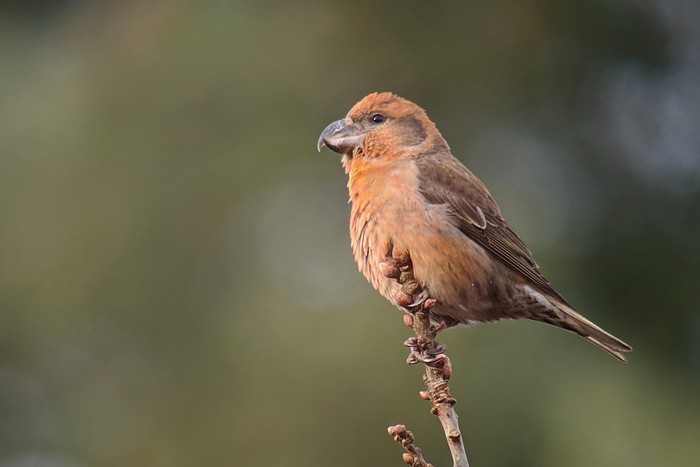 Parrot Crossbill sightings dried up a smidgen this week – the flock in Norfolk at Santon Warren provided daily sightings and a peak count of 20 birds on 20th; birds were seen intermittently at Wishmoor Bottom (Berkshire) throughout the week, with a full complement of 16 birds there on 19th and 22nd; three birds remained at Broxbourne (Hertfordshire) on 17th-18th; and up in Derbyshire at Howden reservoir sightings came once more in the latter half of the week, with a peak of 10 birds still present on 22nd.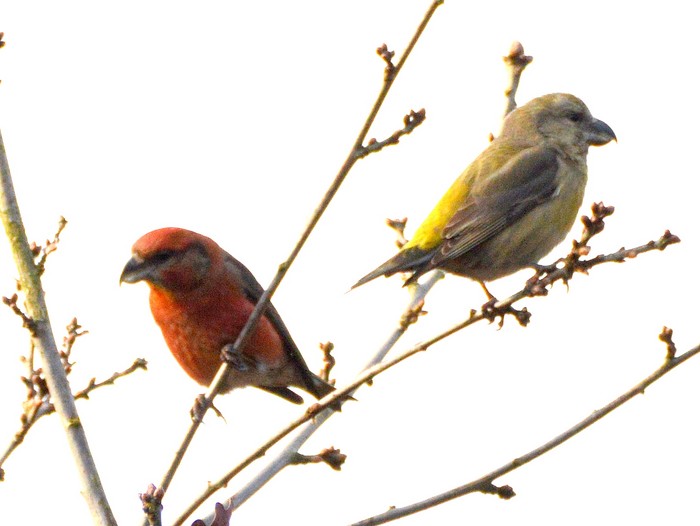 The settled exilipes Arctic Redpoll remained at Hazelwood Common (Suffolk) until 22nd at least. Sightings from Norfolk meanwhile came from several quarters – at least one was still at Letheringsett on 17th-23rd, with two birds confirmed there on 20th; two were logged on 20th at Bodham in an area with no general public access; and news of three birds present for some time beforehand at Kelling was released on 19th, with two still there on 21st-23rd. Further reports this week came from Highland at Loch Stack on 19th, a probable bird seen in Kent at Horsmonden on 20th and, on 21st, a bird was reported once again from Finstown (Orkney).
We do love a wintering scarce or rare bunting in these parts, especially one that's somewhere convenient for visiting birders to get too, and better yet if it's in a location that isn't usually associated with this sort of thing. Inspiring happy memories this week of the wintering Pine Bunting at Dagenham Chase (London) in early 1992 was a Little Bunting seen daily at Walthamstow reservoirs on 19th-23rd. I betcha there are more of these lovely little fellas lurking out there, unseen, in game strips and wasteland…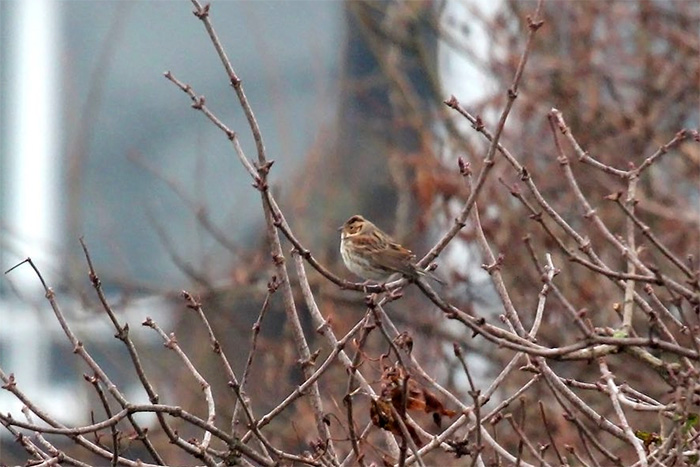 Top of the class, this week, in our birds from further afield falls to, for once, a bird that's not a million miles away somewhere on an island in the Atlantic fringes or kicking around east of the Mediterranean. We could even dare to dream that, one day, one will turn up somewhere in Britain. (My money is on Minsmere, Dungeness, or Grove Ferry). What could inspire all of this blind optimism? Only Belgium's fifth Pygmy Cormorant, present at Parc Domaine du val Duchesse on 12th-22nd. One day, one day…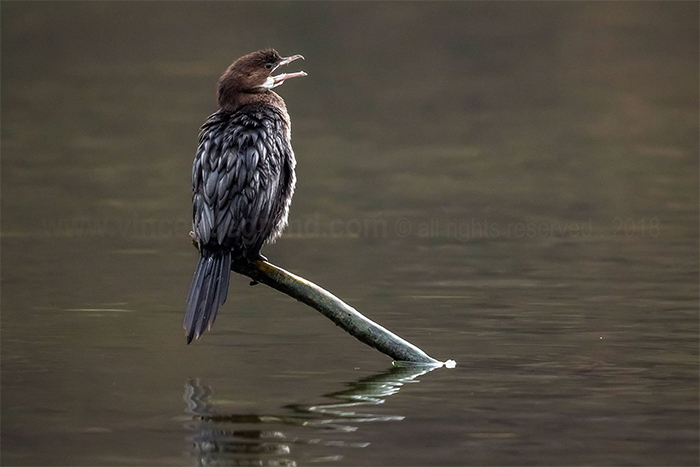 Working our way around northern Europe, the Black-shouldered Kite remained at Lauwersmeer (Holland) on 17th-22nd, while in Sweden the Greater Yellowlegs was again seen at Tvaaker Standenge on 18th, and a Black Duck was noted in Sweden in Bastad at Dagshog on 21st.
A juvenile White-billed Diver was seen in Romania on the River Olt at Ulmu on 19th.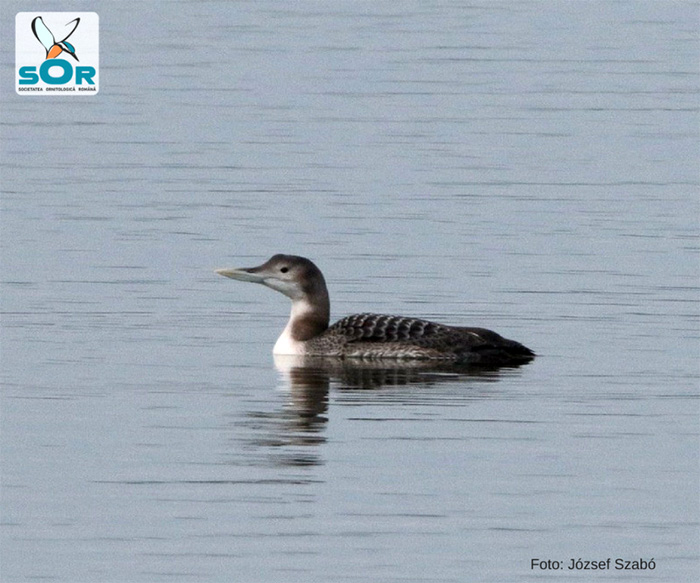 Meanwhile, in Spain two familiar faces continued their stays – the Pacific Diver was still to be found in Aragon at Embalse de Civan on 18th-22nd, while the Hudsonian Whimbrel was still in Cantabria at the Parque Natural Marismas de Santona on 21st.
We can, however, only ignore the Canary Islands for so long as, once again, they boasted a fabulous array of birds, headed for another week by the Dwarf Bittern still on Fuerteventura on 19th-23rd. Sharing Fuerteventura this week were the two Hoopoe Larks once more at Punta Pesebre on 19th; meanwhile, on Tenerife, the Semipalmated Plover was seen again on 21st-22nd.
The coming fortnight…
Dammit, a rare Pacific diver this week and not a Pacific gull! I am still not firing on all cylinders with the predictive text…
What then for the coming week? Surely - surely - with an upturn in the numbers of white-winged gulls this past week there's a message in the post to the effect that something rarer still is inbound from the Arctic?
If only wishing for an Ivory Gull could make it happen…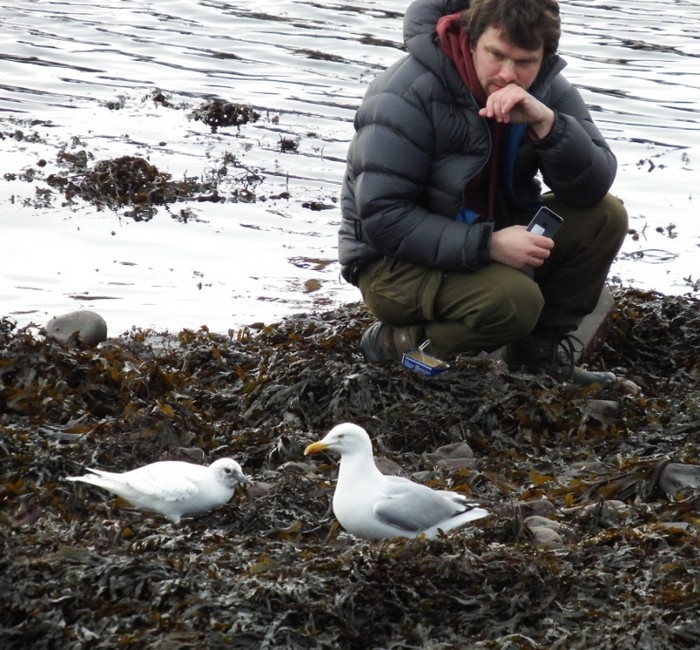 Jon Dunn
24 January 2018
Share this story
Tweet

This week's videos