Weekly birding round-up: 10 - 16 Jan 2018
Return of the native - the Stilt Sandpiper is seen again in Dorset
On Scilly, the Snowy Owl remains on St Martin's
While the recent Hume's Warbler and Desert Wheatear in Norfolk and North Yorkshire continue to attract admirers
Sometimes there's just no polishing a week – it is January, after all, and it's both fair to say that means it's a quiet time for rare birds and birders alike.
Early January is sandwiched, neatly, between the two big bird migrations of autumn and spring… and some birders, perhaps jaded by one turkey sandwich too many, take one look out the window at what passes for weather at this time of year and opt to give exhaustive birding a miss for another day.
So not so much gets found. But there was enough lingering quality still this week that, if we can't polish it, we can at least dip the past week in glitter. Here goes…
Stilt Sandpiper
First found in Dorset at Lodmoor RSPB on 11th September last year – memorably, sharing the same evening and site as Dorset's first Least Sandpiper - the county's third Stilt Sandpiper was seen intermittently right through to 28th December, by which point it was on Brownsea Island.
It's not, then, a total bolt from the blue that this first-winter individual was found again in the county this week on 12th-15th, now east of Poole Harbour and a little way north of Christchurch, at Coward's Marsh.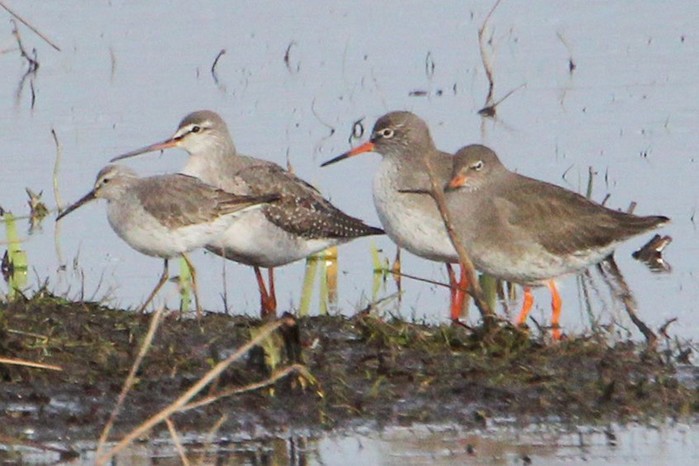 This long-staying bird in Dorset now comfortably eclipses all but one of our past Stilt Sandpipers for length of stay, that being the incredibly settled bird that spent 171 days in the Frodsham area of Cheshire throughout the spring, summer and early autumn of 1984. With 127 days now racked up, off and on, in Dorset it remains to be seen whether this bird can outlast the Cheshire one – for now, it remains as good an opportunity as there's been for a very long time for anyone with a Stilt Sandpiper-shaped hole in their list to do something about it.
Snowy Owl
Flying the flag for traditional midwinter fare this week was Scilly, where the female or first-winter male Snowy Owl from last week was, once again, to be found this week haunting St Martin's.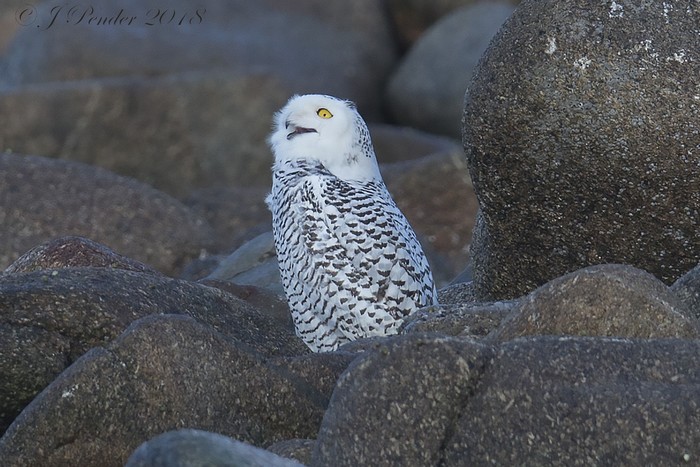 I know that, off the mainland, they're not the big-ticket item that's going to attract many admirers apart from local birders, but all the same… it's a flipping Snowy Owl, and they're plain awesome beasts. Not that I'd know, as it remains a frustrating blocker for me with a trail of dips in my wake…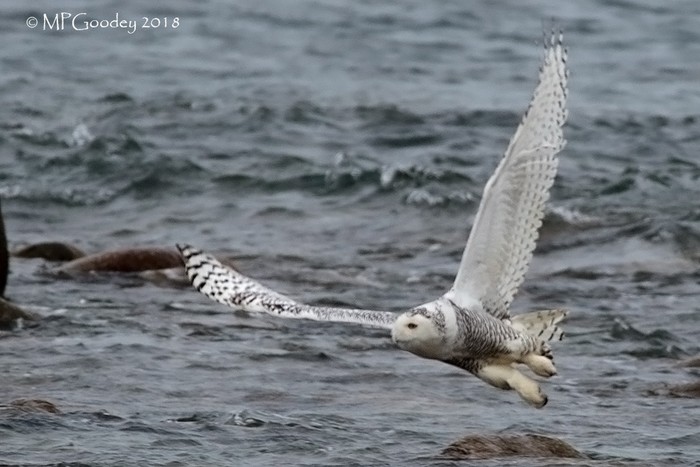 Probably a good job that I'm nowhere near Scilly then, as my trying for this latest British record would only ensure it vanished for good. Without my diabolical intervention it was still on St Martin's on 10th-14th.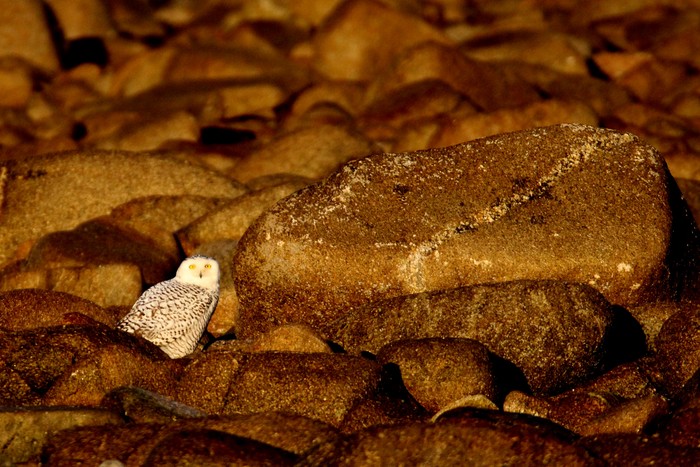 Hume's Warbler & Desert Wheatear
Both of our recent midwinter examples of late-autumn rarity staples remained in situ this week – the Hume's Warbler still to be found in Norfolk at Waxham on 10th-16th and, in North Yorkshire, the first-winter male Desert Wheatear continued to delight all-comers at Whitby on 10th-16th also.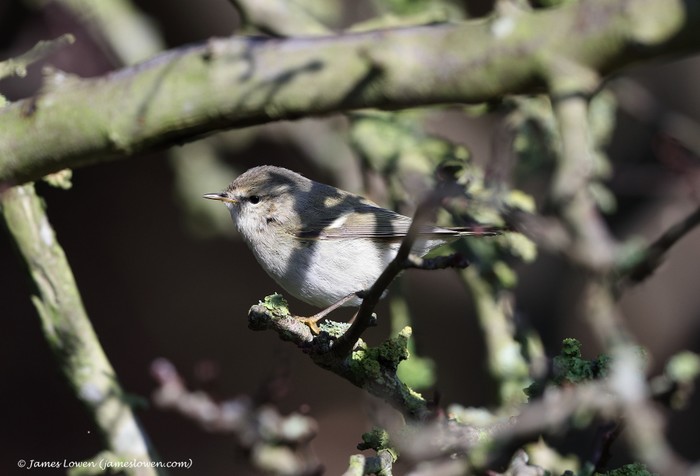 I'm not entirely clear if national year-listing is, in these more environmentally conscious times, still quite the competitive and popular thing it once was in the more innocent (or ignorant) heyday of the early and mid-1990s but, were anyone still so inclined, these would be tremendous birds to get 2018 off to a flier.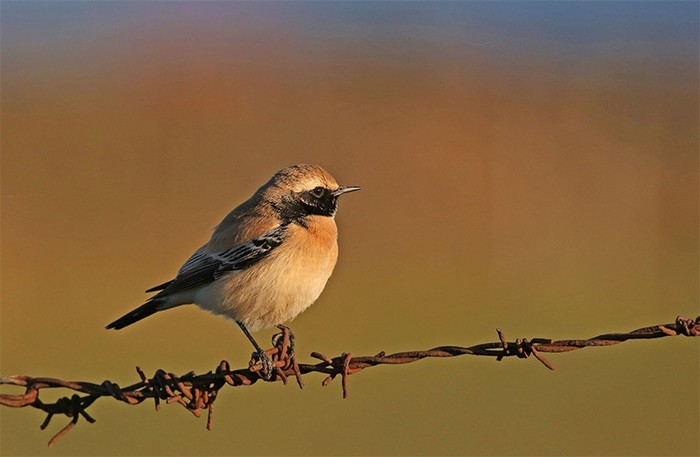 Just the one White-billed Diver this week to kick off a denuded Seabirds section – a possible bird seen on 14th off Thornham (Norfolk).
After a few weeks of Pomarine Skuas featuring in, if not modest numbers, then at least a handful of sightings, we were down to just two individuals this week – a single bird noted from Penzance (Cornwall) on 12th, and a pale morph off Perranporth on 14th.
We finish this brief interlude in proceedings with just one Little Auk, seen off Joppa (Lothian) on 14th.
Here amongst the various long-legged beasties, at least, the news remained populated by both volume and variety this week. Starting, as has become traditional lately – and I can't quite believe we get to say this, but these are changing times – with Cattle Egrets our weekly tally was once again nudging towards triple figures.
Changing times? No, these are crazy times. Whoever would have thought we'd be regularly reporting these sort of midwinter numbers of Cattle Egrets (or Glossy Ibises) just a few years ago?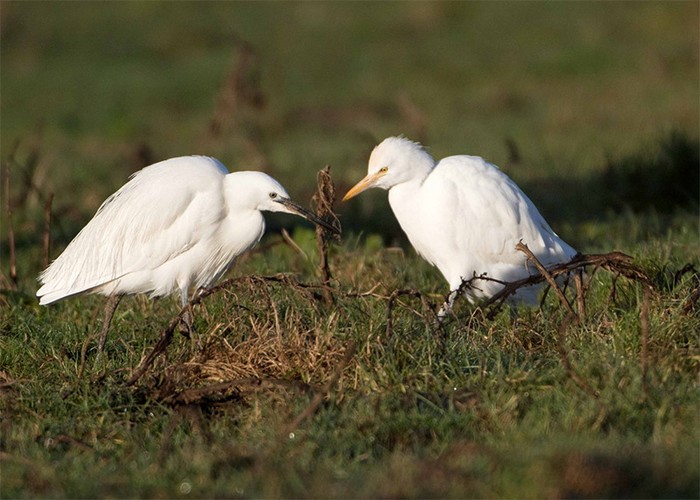 So, this week, somewhere in the region of 85 birds were reported across the region, numbers driven high by double-figure tallies from several sites. We start again at Sharpham Park in Somerset, where the peak count was 25 birds on 10th, while a mighty 35 were reported in the afternoon of 15th between Westhay and Birtle. Elsewhere, notable counts were 10 birds at South Huish (Devon) on 11th, 10 in Cornwall at Helford again on 15th, and 14 birds in Cornwall at Tregenna Farm on 12th. While most sightings, once again, were in the south and south-west, wanderers included three on Anglesey at Newborough on 12th and, inland, one in Buckinghamshire at Linford NR on 12th-13th and Gayhurst quarry on 14th.
And so to Great White Egrets, which continued to hold firm this week with around 100 birds logged nationwide from some 40 counties. This is what now passes for normal where they're concerned and, while we didn't have any double-figure tallies this week, there were still small flocks to be had: counts of five birds coming from Parkgate (Cheshire) on 10th, Lakenheath Fen RSPB (Cambridgeshire) on 13th, and Catcott (Somerset) on 14th.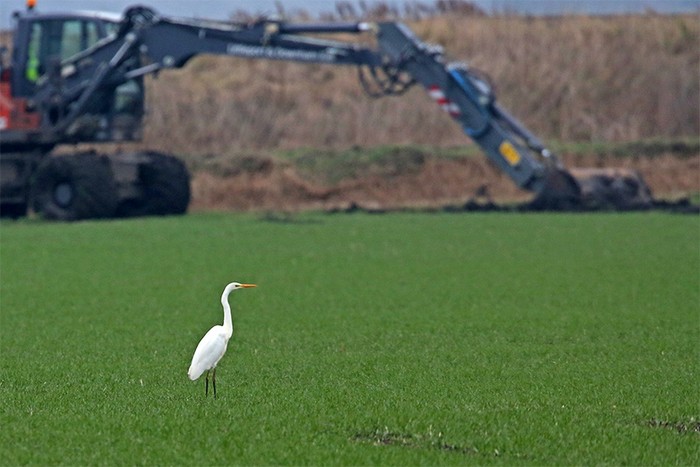 Poole Harbour was, as expected, the heartland of the week's Spoonbill sightings, with many scattered birds throughout the week and a peak count from there on 13th of 15 birds. Nationally numbers reported were a little down again on previous weeks, with just over 40 birds in all noted with the anticipated southerly bias to records – the most northerly exception being at the National Wetlands Centre WWT (Carmarthernshire) which enjoyed two birds on 11th-15th.
Glossy Ibises meanwhile continued to have a notable winter presence amongst us, not least in Ireland: single birds at Ballyconneely (Co.Galway) on 11th-15th, Lough Beg (Co.Derry) still on 15th and, on 15th also, at Athlone (Co.Watermeath) and Aghagallon (Co.Antrim), were substantially augmented on 15th by a flock of six birds in Co.Cork at Lissagriffin.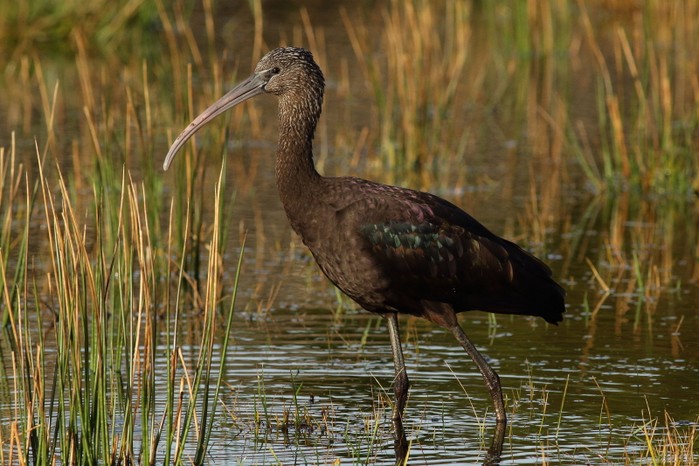 The week began with lingering English individuals still at Old Hall Marshes RSPB (Essex) on 10th-14th, Brading Marsh RSPB (Isle of Wight) on 10th-16th, Kingsmill Lake (Cornwall) on 10th-14th, and reported still in Devon at Seaton. The long-staying individual on the Somerset Levels was again at Ham Wall RSPB on 12th-15th with one seen at Westhay on 16th, and with further English sightings coming this week from Carterton (Oxfordshire) and Colyford Common LNR (Devon) on 12th and Rutland Water and Pilton (Leicestershire) on 13th. In Scotland one was still on Tiree (Argyll & Bute) on 12th, and on 16th one was again seen on Orkney at Tankerness.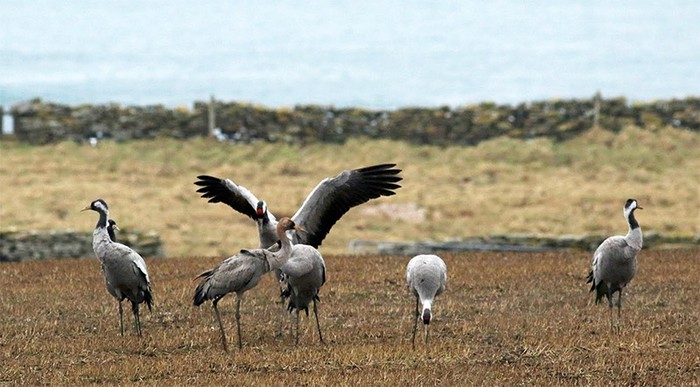 The adult Common Crane was still on the Western Isles at Berneray, North Uist on 10th at least, while a flock of seven birds (six adults and a first-winter) were noted on North Ronaldsay (Orkney) on 10th. Other wanderers comprised two over Winnersh (Berkshire) on 11th; one reported at Littlington (East Sussex) on 14th; and one wandering in Northumberland on 16th ended up at Cambois in the late afternoon. The Eldernell (Cambridgeshire) flock peaked at 31 birds on 13th.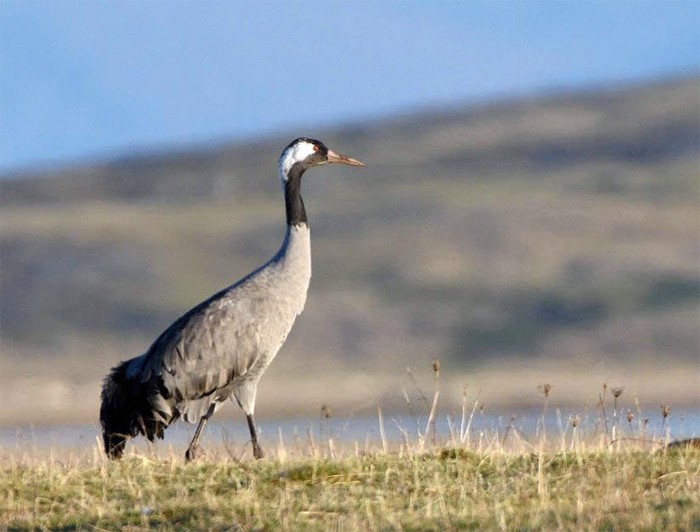 Our weekly dabble in the occasionally murky waters stirred up by the latest rare ducks and geese begins, appropriately enough, with two presumed wire-hoppers and some food for thought. In Derbyshire the latest putative candidate for a wild Hooded Merganser
was, of course, the ringed and presumably captive origin first-winter drake at Drakelow still this week; and on Anglesey a
Snow Goose
hanging out with the local
Greylags
was deemed similarly tainted. What then do we make of the probable
Ross's Goose
with
Pink-footed Geese
at Loch of Skene (Aberdeenshire) on 12th?
'Cos here's the thing. There've been plenty of records of Ross's Goose down the decades – some of which, in daft places at daft times of year and/or keeping dubious company, are easily dismissed as either definite or probable escapees. And yet some of them have done nothing to ring alarm bells – they turn up at exemplary times of year and in properly wild, migratory company. But Ross's Goose remains resolutely not on the British list. Which, given the slack that's been cut certain ducks in recent years, seems pretty harsh.
(Yes, I know, that's my Hooded Merganser New Year's Resolution broken just a fortnight into 2018… Heyho. I'm weak. I may as well give into some other temptations now while I'm at it…)
I'll put off cramming my face with chocolate biscuits for a while yet, and we'll get back to business – starting with the Goose Formerly Known As Canada, and staying at Loch of Skene where, on 14th, an interior Todd's Canada Goose was seen.
A blue morph Snow Goose was noted once more in Aberdeenshire, also on 14th, at Alford.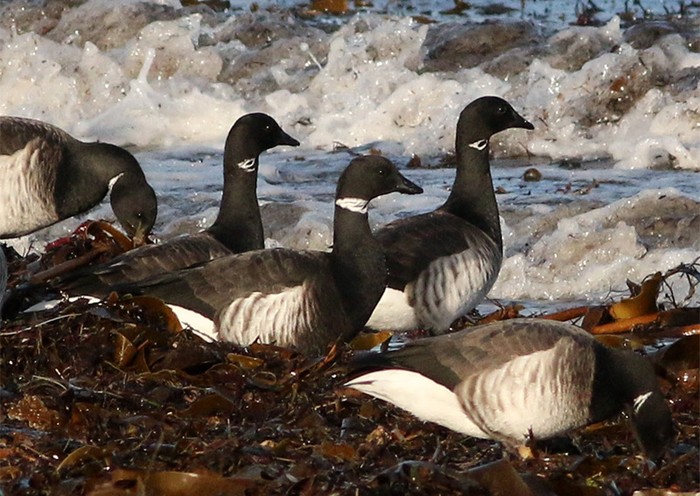 Black Brant sightings from Norfolk were thin on the ground this week, coming from Cley and Titchwell on 13th and Holkham on 14th. Sightings generally were hard to come by, with single birds seen at Castlegregory (Co.Kerry) on 11th and in Poole Harbour off Middlebere on 12th and 16th; and in Hampshire at Warblington on 15th.
It was all about the lingering drakes where American Wigeons were concerned. We'll start in the north, in Highland, where one remained at Tain Links on 10th-11th while the other recent drake continued lobbing around the Inverness area on 10th-16th. One was still on North Uist at Ailoedair (Western Isles) on 11th, while in Ayrshire one was again at Dipple Shore on 10th-12th. English drakes remained at Grindon Lough (Northumberland) on 11th-14th, Rutland Water (Leicestershire) still on 10th, and in Devon at Matford Marsh RSPB on 10th-16th. On 16th a possible female was at Marshside RSPB (Lancashire).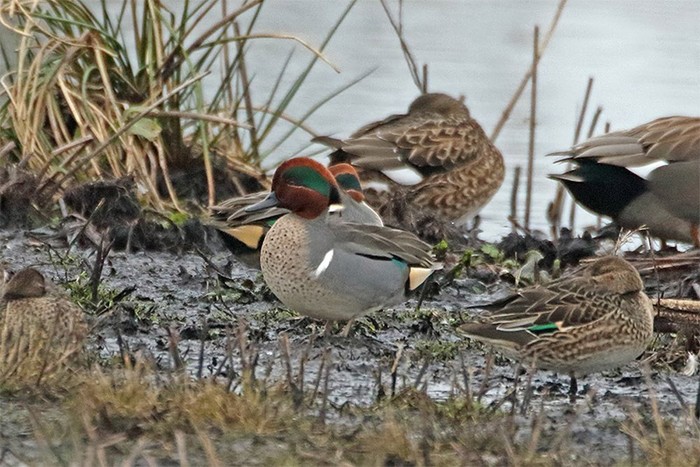 Two Green-winged Teals at Tacumshin (Co.Wexford) on 13th were the most notable sighting this week for that species, with one still there the following day. Elsewhere single birds were seen at Greylake RSPB (Somerset) still on 10th-16th; at Loch Sandary on North Uist (Western Isles) again on 11th; still at Saltholme RSPB (Cleveland) on 12th-16th; at Chirnside (Borders) on 14th-15th; and in Oxfordshire on 15th at Standlake. On 16th one was again at Kilnsea Wetlands (East Yorkshire).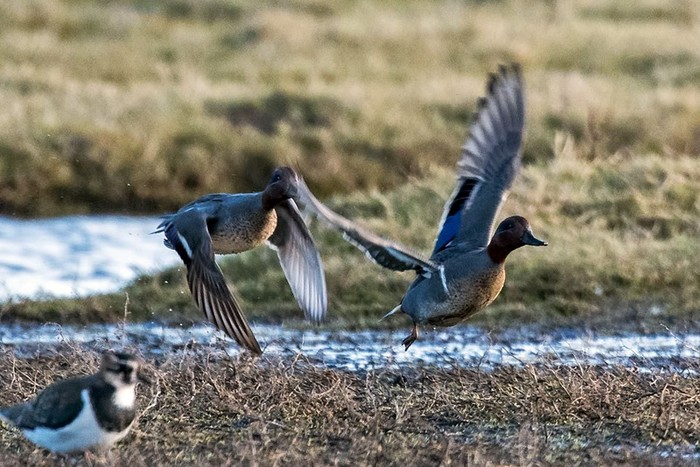 Double figures of Ring-necked Ducks again this week, with ten birds scattered across Britain and Ireland. Sightings came from the usual recent locales in Essex again, with a drake noted at Abbotts Hall Farm EWT on 10th-16th and Old Hall Marshes RSPB again on 14th; drakes were also seen again at Shapwick Heath NNR (Somerset) on 13th, and at Cotswold Water Park (Gloucestershire) again on 13th-14th. A further drake was in Highland at Lairg on 14th.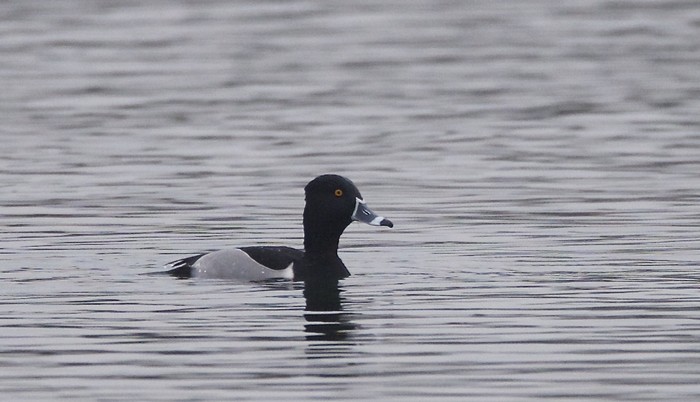 In Ireland, meanwhile, females were again noted at Rosscarbery (Co.Cork) on 11th-13th and North Slob WWR (Co.Wexford) on 12th; a further female was logged on 14th at Termon Lough (Co.Galway), while a drake was in Co.Galway at Cahermore Turlough on 13th. The drake remained in Co.Down at Castle Ward on 11th-14th.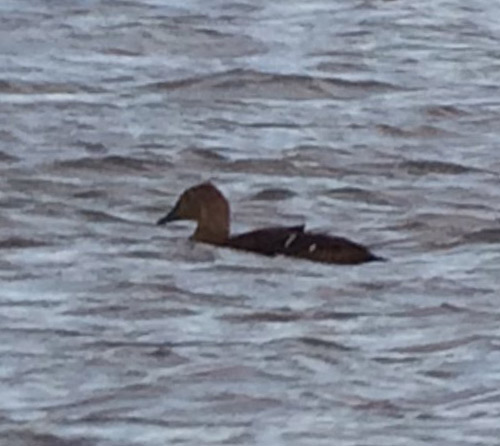 Ireland laid claim to a new drake Lesser Scaup this week, being that found at Lydacan and Cahermore Turloughs (Co.Galway) on 13th-14th. Our other familiar drakes were once again at Dozmary Pool (Cornwall) on 10th-14th and in Somerset at Chew Valley Lake on 15th-16th.
The long-staying female King Eider was once again seen at Ynyslas (Ceredigion) on 10th-14th, with another queen in Ireland at Castlegregory (Co.Kerry) on 11th and an Irish drake was seen at Ballysadare Bay (Co.Sligo) on 14th.
The trio of Surf Scoters at Porthpean (Cornwall) were present throughout this week, while Scottish drakes were again noted from Musselburgh (Lothian) on 10th-14th, Ruddons Point (Fife) on 11th, Quanterness (Orkney) again on 11th also, and back in Largo Bay (Fife) again on 13th. A drake was again seen off Pensarn (Conwy) on 14th, while in Ireland on 13th Lough Swilly (Co.Donegal) hosted a female and there was a drake at Ballyvaughan (Co.Clare).
A strong finish to our weekly wildfowl comes in the form of the drake Black Scoter, still enlivening the sea off Rossbeigh (Co.Kerry) this week – present again on 13th at least.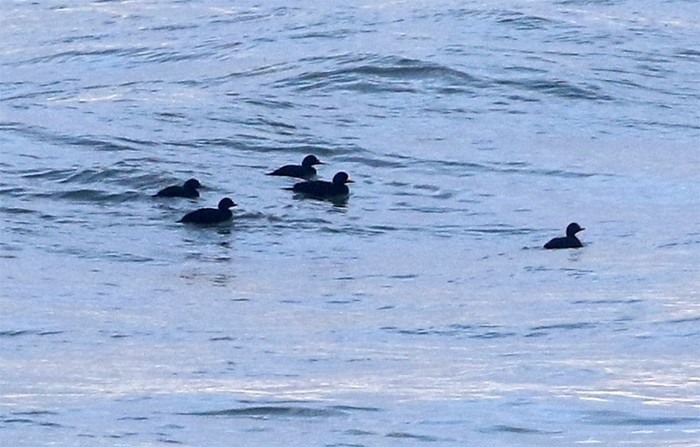 The wintering Temminck's Stint remained this week in West Sussex at Pulborough Brooks RSPB until 16th, with a couple of blank days in amongst that. It's seemingly dug in for the winter…
In Kent the adult Long-billed Dowitcher was again seen at Oare Marshes KWT on 10th-14th.
The Dorset first-winter Lesser Yellowlegs was once more seen at Lodmoor RSPB on 11th.
And finally, a Grey Phalarope was noted on 14th off Broadsands (Devon). A further probable bird was reported on 16th off Kinnaird Head (Aberdeenshire).
In the absence of anything rarer, our weekly gull-offerings begins with Ring-billed Gulls - and even they have yet to ascend the giddy heights of recent winters where Irish sightings drive us into 20+ weekly tallies. There were 14 birds reported this week of which just a handful were outside the Emerald Isle – the adult again at Blashford Lakes HWT (Hampshire) until 15th; the first-winter again at Newquay (Cornwall) on 10th-16th, with a first-winter on 14th also at Hayle, and a second-winter reported that day at Millbrook; and the adult was again seen in Clyde at Strathclyde Loch on 10th.
Which brings us to Ireland now, where adult birds were once more seen at Bray (Co.Wicklow) on 10th-12th; Tralee Bay Wetlands Centre (Co.Kerry) on 10th-16th; Carrickfergus (Co.Antrim) on 13th; Castletownbere (Co.Cork) and Blennerville (Co.Kerry) on 14th; Timoleague (Co.Cork) on 16th; and Nimmo's Pier (Co.Galway) on 14th. The latter site had both that adult and a near-adult there on 15th, while a second-winter bird was reported on 15th from Belfast (Co.Antrim), and the first-winter individual was once more at Limerick (Co.Limerick) on 13th-14th.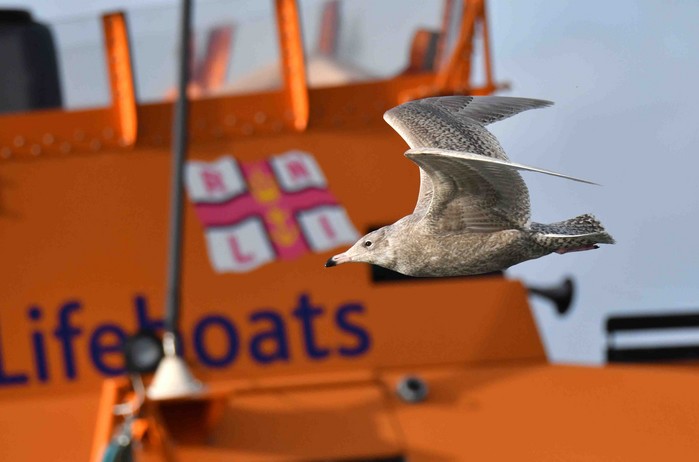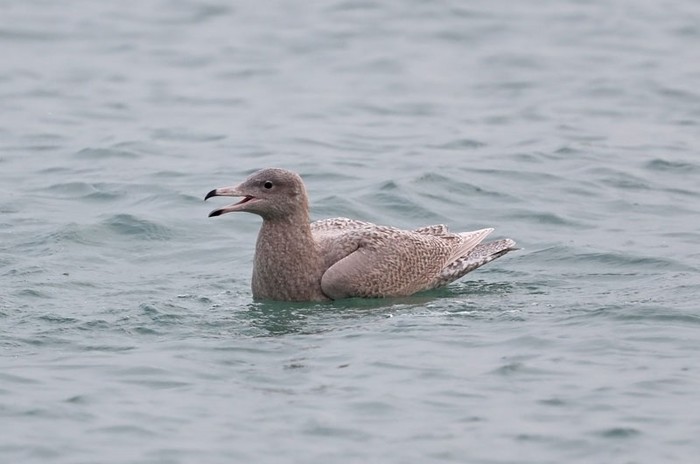 The state of play this week amongst our white-wingers was pretty much as you were – some 90 Iceland Gulls to compare with around 60 Glaucous Gulls. Once again, records of both were well scattered, and penetrated deep into the south-west and south-east extremities of the region, giving anyone a halfway decent stab at finding a white-winged gull hanging around with their local bin-bag-botherers.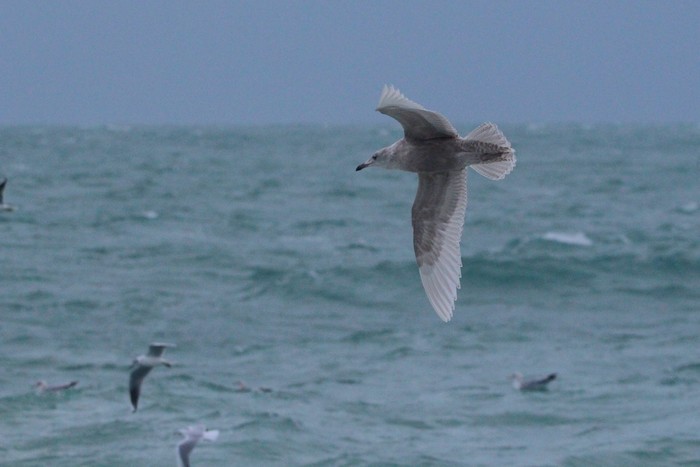 Kumlien's Gulls remained the gull connoisseur's choice pickings this week, with a handful to go at – a newly arrived immature bird at Blennerville (Co.Kerry) on 10th; still on St.Mary's (Scilly) on 10th-15th; an adult again on Omey Island (Co.Galway) on 10th-15th; and the second or third-winter bird still at Tralee (Co.Kerry) on 10th.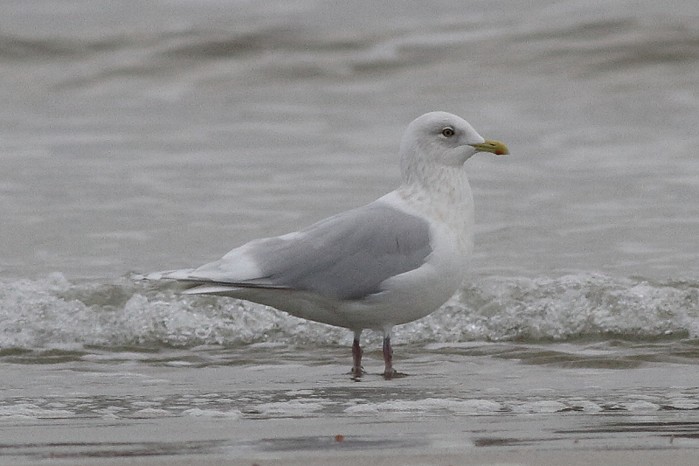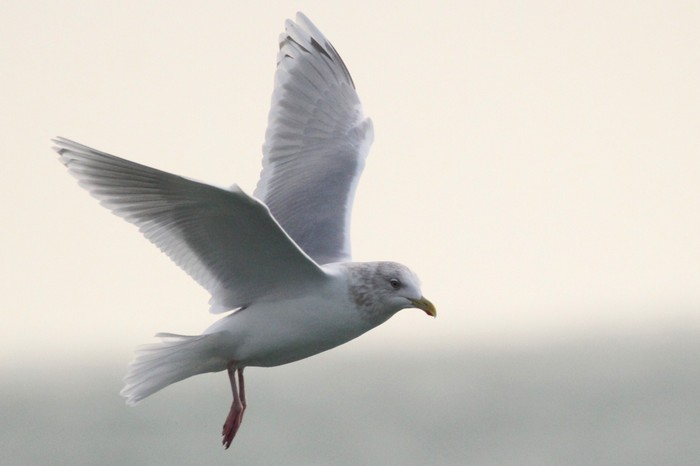 Our only Rough-legged Buzzard sightings this week all owe themselves to Cambridgeshire – the adult male bird being seen again in the Thorney area on 10th-14th, with a probable bird noted in the morning of 14th at White Fen and another report on 14th coming from Burwell Fen in the afternoon.
The settled first-winter male Penduline Tit at Plock Court Wetlands (Gloucestershire) throughout the course of this week kicks off our brief sortie through the passerines…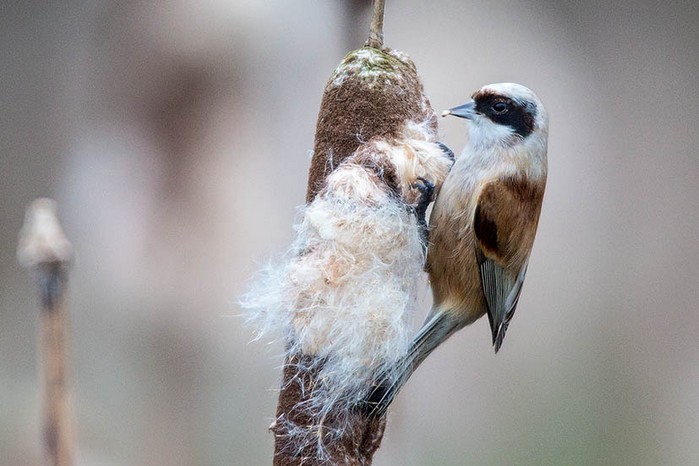 …and we move, swiftly, into the hardy Yellow-browed Warblers that continue to overwinter in the warmer nooks and crannies of England. This week birds were seen once more on Portland (Dorset) on 10th and, in Cornwall, at Carnon Downs on 10th; Helston on 11th; the Lizard on 11th also, with two birds noted; and two birds were seen in Penzance on 14th. That's six birds in Cornwall, and they're just the ones we know about – how many more lurk in lush gardens, choked stream gulleys, and deep coastal valleys?
Sticking with Cornwall, briefly, the two Richard's Pipits were still on the Lizard on 10th, with at least one of them there the following day also; whilst up in Gloucestershire the recent bird remained at Arlingham until 16th.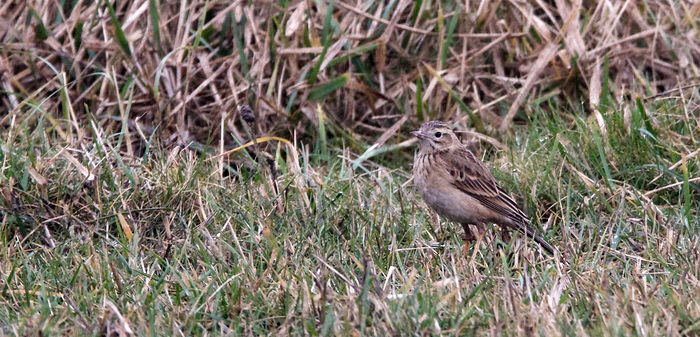 Several of the usual suspects crop up amongst this week's Great Grey Shrikes - at Thursley Common (Surrey) again on 10th-14th; at Prestwick Carr (Northumberland) still on 10th-16th; in Gloucestershire at Crabtree Hill again on 13th-16th; at Morden Bog NNR (Dorset) on 11th-16th still; and again in Glasfynydd Forest (Powys) on 10th and at Cropwell Bishop (Nottinghamshire) on 15th-16th. Further sightings came from West Ilsely (Buckinghamshire) on 13th-14th, in Ashdown Forest (East Sussex) on 14th, and in Hampshire again at Milkham Inclosure on 16th.
We're far from into irruption territory yet, but there's the merest, faintest hint of Waxwing promise in the air now, if this week's widely scattered 90 birds are anything to go by – there's a sense that these funky, punky birds are finally on the move and trickling into the eastern side of Britain, from Shetland in the north to Kent in the very south. Norfolk in particular was claiming daily sightings of small numbers, including the misfortunate bird that ended up a Sparrowhawk's dinner at Thornham on 12th.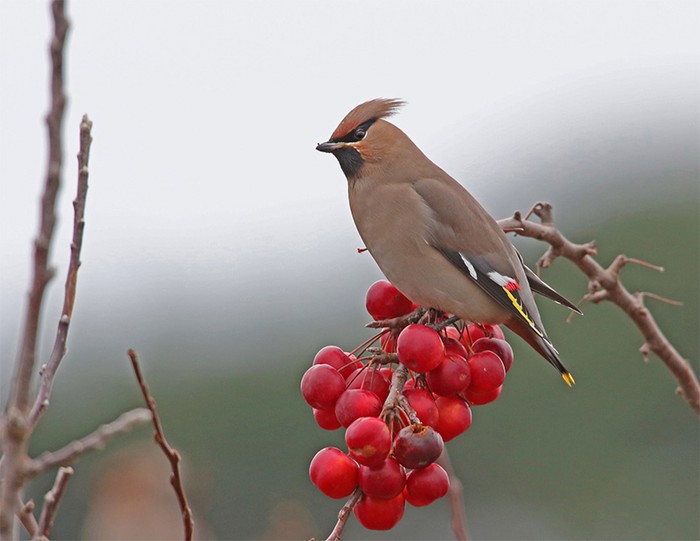 In Devon, the male putative Italian Sparrow remained at East Budleigh on 10th-16th.
Parrot Crossbill sightings came from the usual quarters again this week, with the flock at Santon Warren (Norfolk) proving particularly fruitful with a peak count of 36 birds there on 14th. Elsewhere the flock at Howden reservoir (Derbyshire) remained more or less constant daily with a dozen birds present; the flock of 16 birds was still at Wishmoor Bottom (Berkshire) on 10th-14th; and the three birds remained in Hertfordshire at Broxbourne on 14th and again on 16th.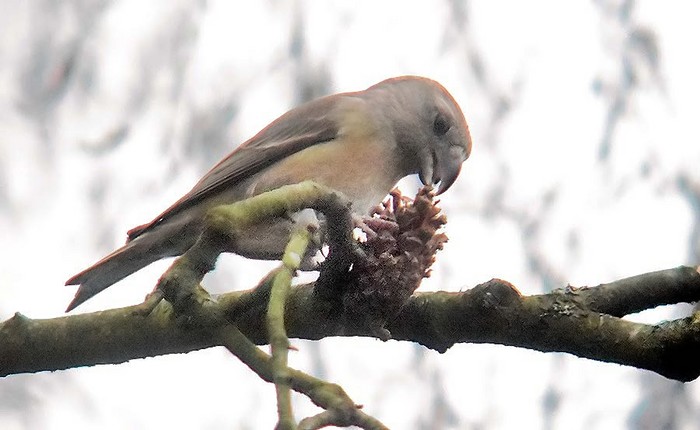 The exilipes Arctic Redpoll was still to be found this week at Hazelwood Common (Suffolk) on 12th-16th; while in Norfolk the week began with duos still at Cromer and Letheringsett on 10th, with the two bird still at the latter site until 16th; and one was seen in Orkney at Finstown on 12th.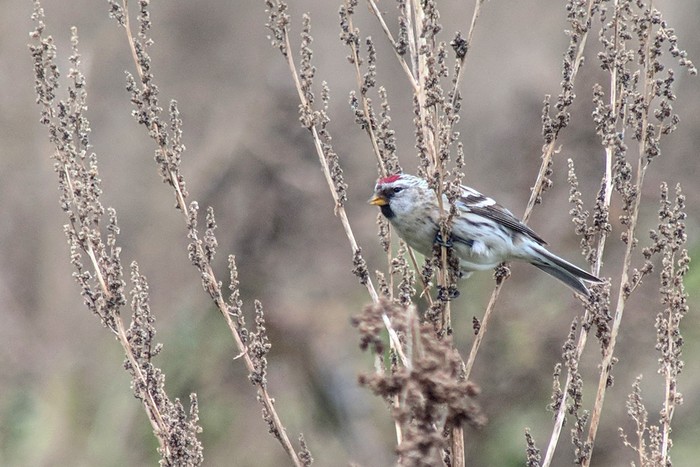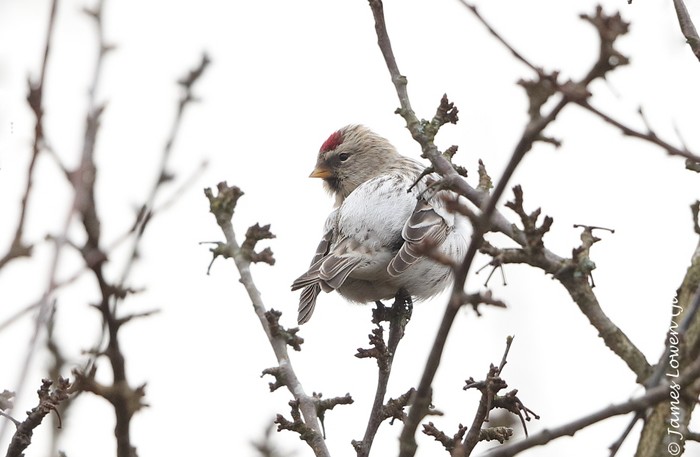 Finally, we close with, appropriately enough, a close call – news that emerged of a probable female Pine Bunting seen recently in Suffolk in an area of Easton Bavents with no general public access. Unfortunately there's been no further sign of it since the news was released. So that's that, then. For now…
It fell to the Canary Islands to, once again, provide the week's undoubted highlight where more exotic, overseas birding was concerned – while the Dwarf Bittern remained this week on Fuerteventura and continued to prove a potent draw for Western Palearctic birders, it was what one of those birders found while he was at Barranco de Torre that seized the headlines – a Tristram's Warbler, only the second for the Canary Islands and, hence, Spain.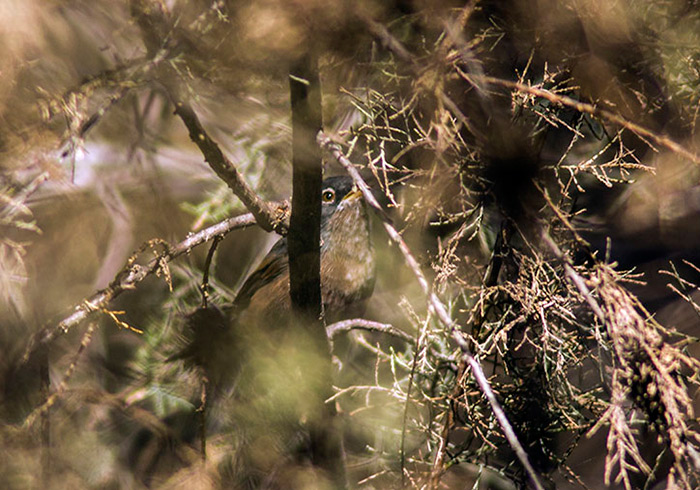 Sticking briefly with Spain, a Pacific Diver was providing Spanish birders with a quality start to the new year, present this week on 10th-15th in Aragon at Embalse de Civan; while the Hudsonian Whimbrel was once more seen in Cantabria at the Parque Natural Marismas de Santona on 14th.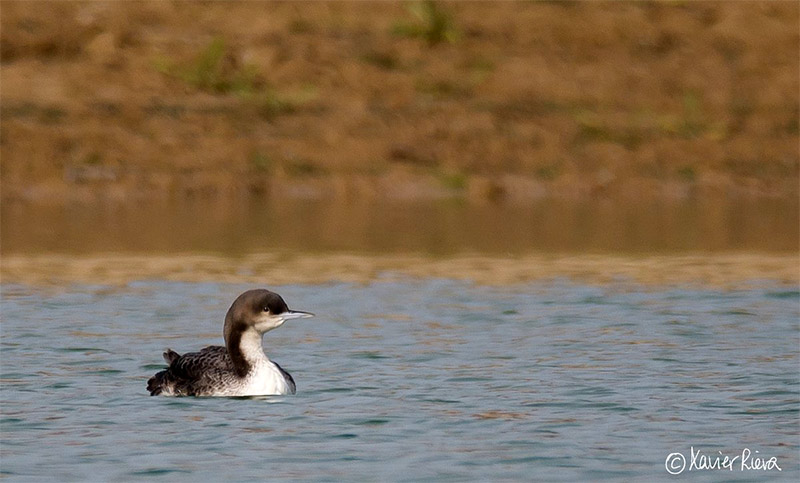 In Portugal the Sociable Plover was still at Lagoa dos Salgados on 11th.
Israel meanwhile landed a Red-wattled Plover at Afikim on 12th.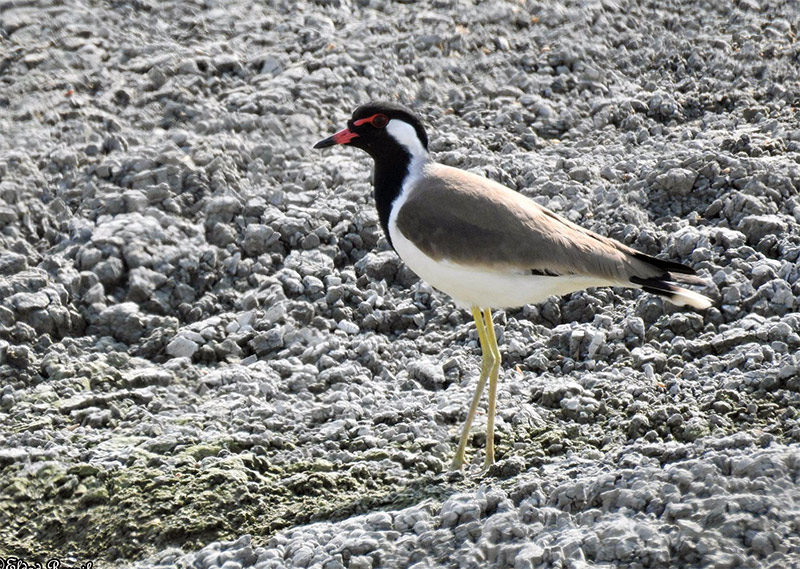 Moving north, the Black-shouldered Kite remained at Lauwersmeer (Holland) on 14th, while in Sweden the Greater Yellowlegs was again seen at Tvaaker Standenge on 14th also.
Two weeks into 2018 and I'm already feeling slightly chastened on the predictive rarity front – my boundless optimism tempered, now, by a week of relative peacefulness and quiet on the British and Irish birding front and replaced, instead, with some down-to-earth pragmatism about what this time of year usually affords.
While it's very hard indeed to ignore a past record for the coming week of the calibre and magnitude of the Chinese Pond Heron that, until its untimely demise, haunted the Hythe and Saltwood area of Kent from 17th January – 13th March 2014, I need to be strong… that's not going to be repeated any time soon.
Probably.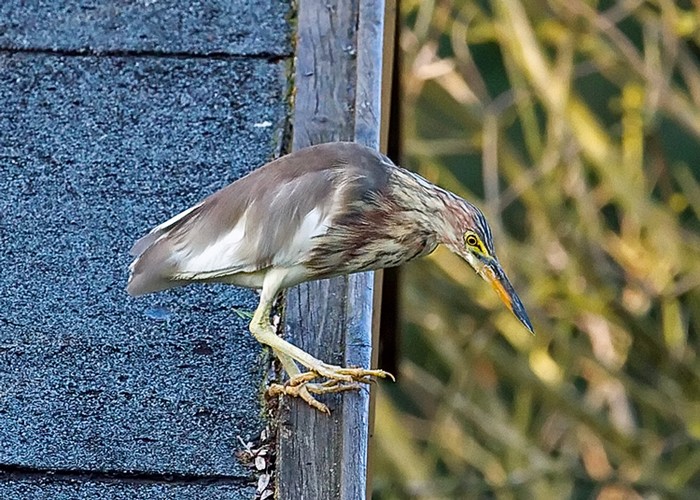 But another stand-out record from the recent past does have the feel of genuine potential for a recurrence sometime sooner than later – this being the adult Slaty-backed Gull at Killybegs (Co.Donegal) on 17th-18th January 2015.
The coming week is also a great one for Ross's and Ivory Gulls which, as consolation prizes go, aren't half bad. So my money is on a decent gull in the coming week…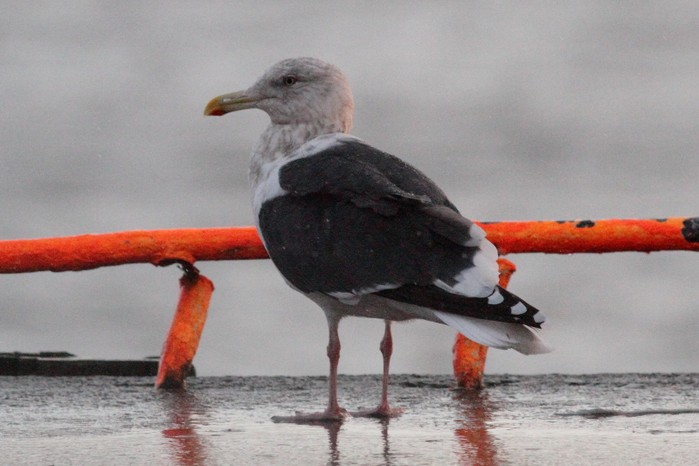 Jon Dunn
17 January 2018
This week's videos
Share this story
Tweet

Many thanks to all contributors for their photos and videos this week.
Alan Hayden, Joe Pender, Martin Goodey, Kris Webb, James Lowen, Jim Lawrence, David Potter, Dermot Breen, Killian Mullarney, Steve Duffield, North Ronaldsay Bird Observatory, Michael O'Clery, Gary Thoburn, Brian Martin, Richard Tyler, Andrew Lucas, Iain H Leach, Richard Mills, Martin Casemore, Ron Marshall, Barry Woodhouse, Dave Andrews, Harry Hussey, Xavier Riera, Eldad Reznik, David Carr, Paul Hindess, David Boult, Jason Coppock, John Nadin, Carl Baggott, Paul Wetton,