Weekly birding round-up: 3 - 9 Jan 2018
Northumberland makes this a double Black Scoter week
A Hume's Warbler is unearthed in Norfolk
And a fly-by Brunnich's Guillemot enlivens a Shetland winter sea-watch
The needle settled back into the groove this week as 2018 got under way, with a mixed bag of weather – some pretty chilly bits, some fairly windy bits – more or less as we'd expect for the first week of January.
But what of the birds? Well, there were a few new faces to put a spring in our step and reward the faithful local patch-workers…
Black Scoters
Seen intermittently in the closing days of 2017, and again this week on 7th, the returning drake Black Scoter at Rossbeigh (Co.Kerry) is not a wholly unexpected sight in these columns and, as I've said before and will say again, represents a species that remains numerically a proper, pukka, rare beast off our shores.
There can't be many days, then, when not one but two drake Black Scoters figure simultaneously in the news – but this week, on 7th, that's just what happened as one was also found off the Northumberland coast at Goswick.
Of course, this individual isn't entirely without precedent either as what's assumed to be the same individual has been returning to the area intermittently since he was first seen off Bamburgh in the spring of 2011 and, later that year, off Goswick. This week he lingered until 8th, at least.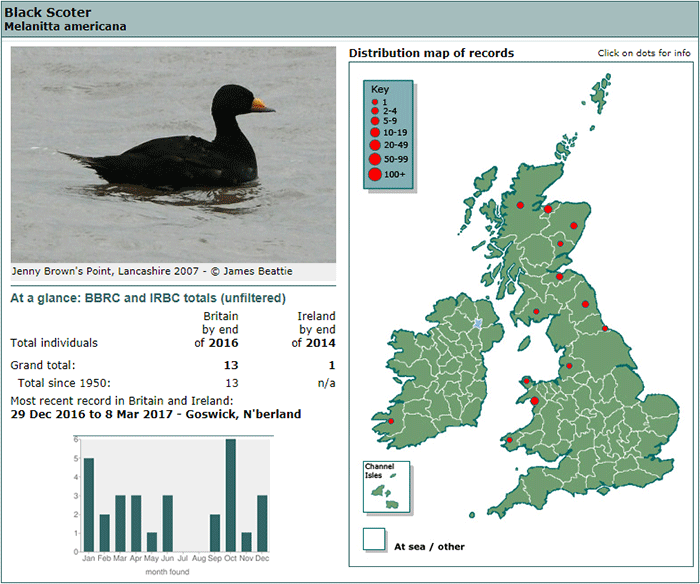 A quick glance at the map of past Black Scoter sightings ought to provide incentive, were it needed, for folk to check other offshore scoter flocks – this week's pair of birds are both returning individuals, but the next one will be a new bird – these returning birds have to start somewhere, after all.
Hume's Warbler
I know, in the usual order of things a Hume's Warbler doesn't usually qualify for elevation to the giddy heights of our headlines – there are, after all, almost 150 accepted British records to the end of 2016 - but this is early January rather than November, and that surely means we're in a different ballpark altogether…
First seen and reported as a Yellow-browed Warbler at Waxham (Norfolk) on 5th, its identity was reappraised the following day as being that species' rarer congener.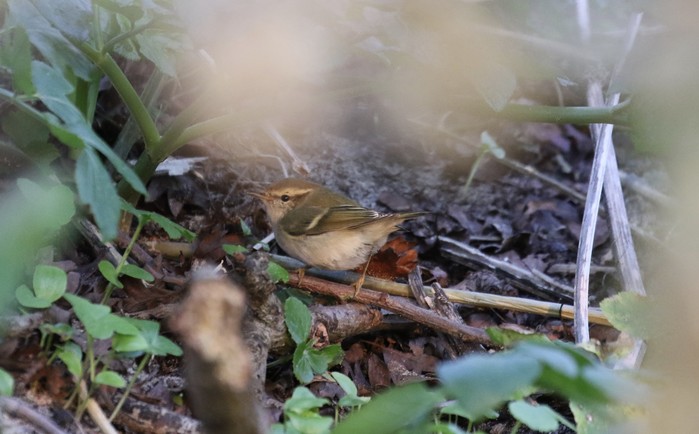 That initial confusion is entirely understandable though as Yellow-browed Warblers are quietly becoming not only an abundant autumn migrant in Britain but also a predictable winter staple, primarily but not exclusively in the warmer south-west of the country. Birds seen in recent days in Oxfordshire and London tell a tale of autumn arrivals attempting to tough it out elsewhere and, for every one that's found at locations such as these, there must surely be others going overlooked as they mooch around with tit flocks in damp woodlands and hedges all over the country.
Hume's Warbler, on the other hand, doesn't arrive on these shores in its thousands every autumn and is a much scarcer proposition altogether away from November, the tradition time for peak arrivals of the species. A mere 10 previous records hail from January, but all of them speak volumes about hardy a wintering Hume's can be – the shortest stay of the lot of them was a fortnight after being found and the longest, an individual found on January 2nd 1995 at Great Yarmouth (Norfolk) extended to an impressive 117 days. One in London, at Fairlop in the winter of 2004, was even heard in song towards the end of its 106 day tenure.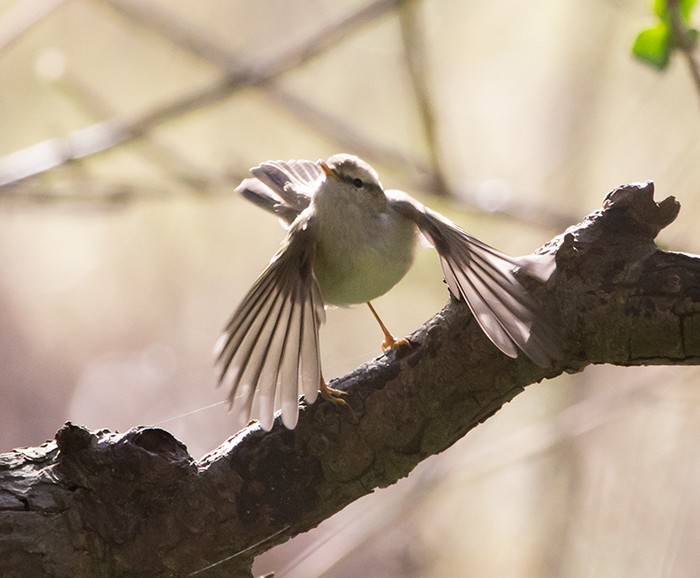 So what of this latest wintering bird? Still present near the Shangri-la chalet in Waxham on 8th, it's looking settled for now. An added incentive, were one needed, for a day of Norfolk winter birding in the coming weeks – who can resist a beautiful Hume's?
Brunnich's Guillemot
More traditional winter fare now in the form of our third new headliner this past week – a Brunnich's Guillemot seen pelting past the Lamba Ness headland on the east side of Unst (Shetland) with two Guillemots on 5th.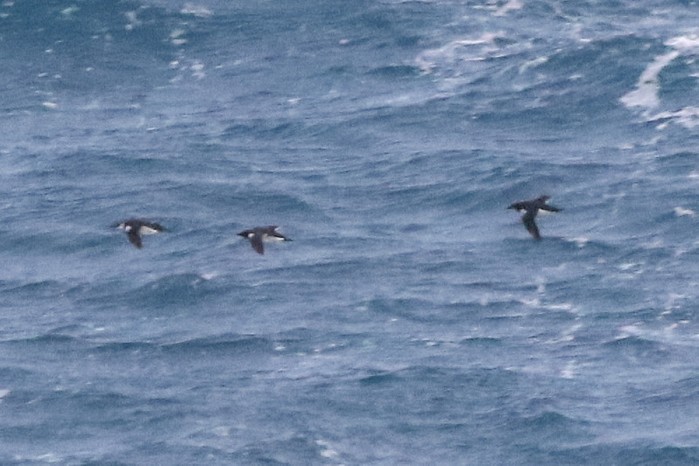 That's the sort of reward the birding gods dole out all too rarely for those brave (and hardy) enough to sea-watch in the dead of winter, let alone on Lamba Ness – even by Shetland standards this is a hellishly exposed and bleak spot, one which men posted to the radar station there during the Second World War used to make particular mention of with regard to the inclement conditions – one man lamented the thick ice that formed on the inside of the windows there!
It is, however, prime time for a record of Brunnich's Guillemot somewhere in the far north, so the sighting isn't entirely out of the blue. What's more notable, given the species' track record in Britain, is that this wasn't found dead on tideline somewhere…
In the wake of the obliging individual that graced Portland harbour (Dorset) for a fortnight in December 2013 this is a species that will be low down on many a contemporary lister's set of priorities – but with less than 50 British records it remains a real prize to see a live one. The trick, with one seen on a sea-watch, is of course convincing the BBRC that that's what you really did see…
We had a busy-ish week for White-billed Divers this week centred, unsurprisingly, around the north and Scotland in particular. One of Houton Head (Orkney) was followed by further Orcadian sightings from Finstown on 6th and passing North Ronaldsay on 8th. Highland meanwhile laid claim to one off Brora on 5th and a lingering bird off Scrabster on 7th-8th. The sole English record this week was an even more obliging bird, at least for coverage, as it was tracked up the north coast on 6th from an initial sighting off Whitburn (Co.Durham) mid-morning to a final sighting of it (and possibly a second individual) off Beadnell (Northumberland) just after lunchtime.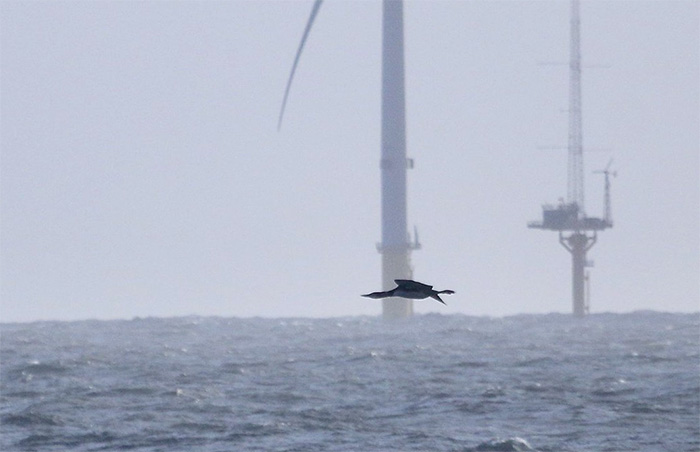 A Leach's Petrel off Severn Beach (Gloucestershire) on 3rd was just half of the week's more unseasonal seabird sightings – the other notable record being a Balearic Shearwater seen from Cape Cornwall (Cornwall) on 5th.
Devon and Cornwall again delivered some Pomarine Skua sightings – a probable bird was off Broadsands (Devon) again on 3rd, with single birds seen in Cornwall on 3rd and 6th off Penzance, and on 6th from the Lizard. One off Halstow Marsh (Kent) on 7th completes our skuas for this week.
A scattering of Little Auks continued to be seen, though not in appreciable numbers. One was off Arnave Point (Argyll & Bute) on 3rd; on 6th single birds were seen from Maidens (Ayrshire) and Old Nab (North Yorkshire); and on 7th reports came of single birds off Peterhead (Aberdeenshire) and over Breydon Water (Norfolk), and two birds from Bamburgh (Northumberland).
We had another week of genuinely impressive numbers of Cattle Egrets across the region, with Sharpham Park (Somerset) accounting once again for the largest flock, 26 birds seen there on 3rd. The overall tally of around 100 birds included other appreciable flocks, with 15 noted in Cornwall at Helford on 5th and again on 9th, 12 at St Clement on 7th and, in Devon, seven birds daily at South Huish Marsh on 5th-9th. While their distribution was, once again, with a south-westerly bias there were however still outliers in East Anglia, the north of England, Wales and Ireland. It's hard to see them as anything but a resident and permanent addition to our avifauna now.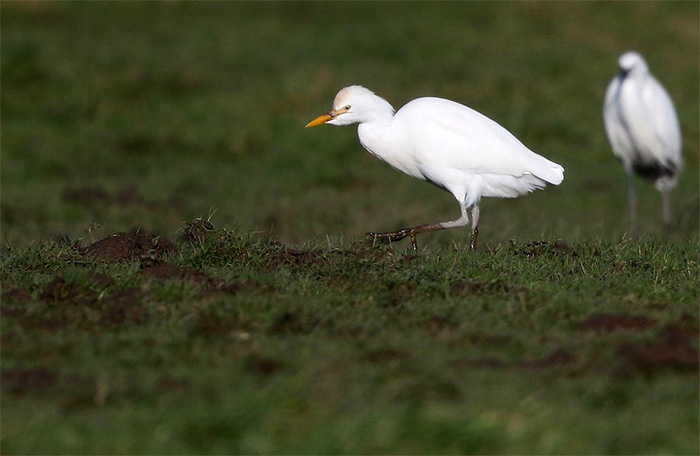 Sp too with Great White Egrets, with what's now passing for normal where that species is concerned – a weekly tally of some 100 birds, spread over more than 40 counties. Many records involve single birds or duos but, while the large double figure flocks seen at Chew Valley Lake (Somerset) in the late autumn and early winter are, for now, a thing of the past there were still small flocks to be found nationally here and there this week – peak count being a half dozen in Cheshire at Parkgate on 8th.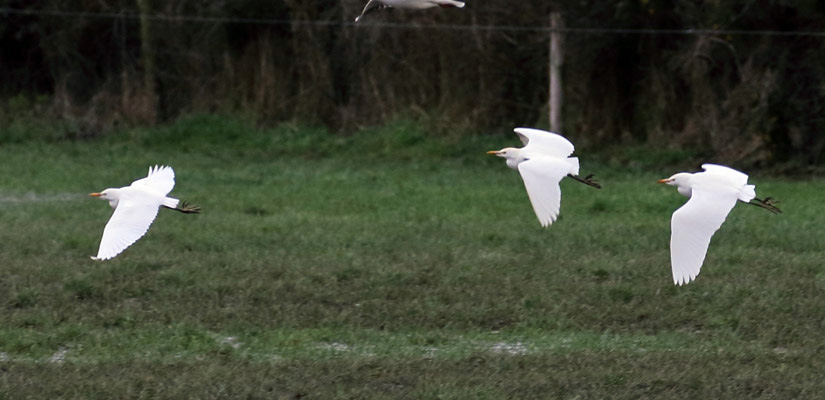 At least 28 Spoonbills remain in the vastness of Poole Harbour at the moment – this being the size of the flock seen off Arne on 5th, but there may yet be a few more as daily sightings of small parties and individuals from other points, for example Lytchett Bay, hint at a fluid wintering population. Some 60 birds were noted nationally as whole this week, their westerly distribution broadly mirroring that of Cattle Egrets.
Glossy Ibises maintained the impetus that started over the festive period, with some 25 birds in all logged in the past week. Good numbers remained in the north, with one still on South Uist (Western Isles) at Kilauly on 3rd-8th, and in Argyll & Bute small parties comprising two on Iona on 4th and five on Mull on 6th augmented singles on Tiree on 3rd-7th still, at Salen on 5th, and on Islay on 6th.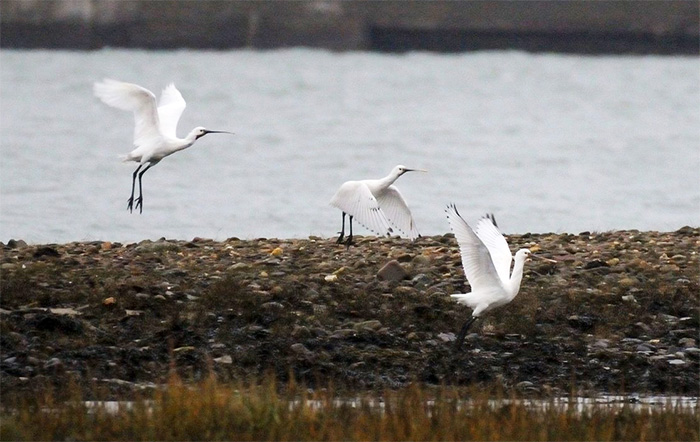 In Ireland three remained at Castlefreke (Co.Cork) on 3rd; one was at Strabane (Co.Tyrone) on 4th-7th still; two were to be found at Cahore Marsh (Co.Wexford) on 5th; and one was at Liscannor (Co.Clare) on 8th. On 9th a further bird was in Co.Monaghan at Ballybay. English sightings came from Brading Marsh RSPB (Isle of Wight) still on 3rd-9th; Ham Wall RSPB (Somerset) still on 5th and 9th; West Mersea (Essex) on 5th also, and at Abbotts Hall Farm EWT on 8th-9th; at Kingsmill Lake (Cornwall) again on 5th-7th; on 7th in Gloucestershire at Lydney New Grounds; and in Devon on 8th at Bridge Marsh and on 9th on Colyton Marsh.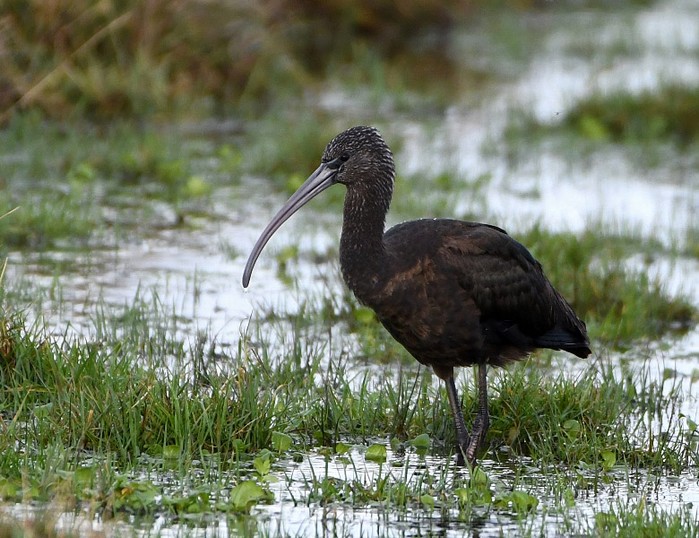 The adult Common Crane was still anchored on the Western Isles at Berneray, North Uist on 7th at least, while the recent flock in Cambridgeshire peaked with 27 birds seen at Eldernell on 9th.
After the largesse of Christmas, when some birders presumably had a little more time on their hands than in a normal working week, numbers of our rarer honkers and quackers dropped back a little this past week. There was, however, still plenty of variety to go at…
The Goose Formerly Known As Canada was keeping a low profile again with just the one interior Todd's Canada Goose seen, this time on Islay (Argyll & Bute) on 6th.
Snow Goose sightings faded away this week like a hard frost on a sunny morning – we have just two individuals in Aberdeenshire to record, a white morph again in the Loch of Strathbeg RSPB area on 3rd, and the blue morph once more at Loch of Skene on 5th.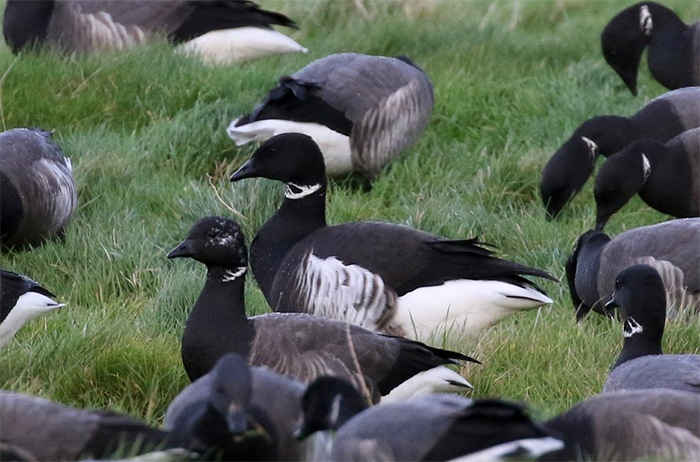 The Norfolk Black Brant was back at Cley at the start and end of the week, being seen there on 3rd and 8th. One was in Lincolnshire at Donna Nook on 5th while one was again seen on Walney Island (Cumbria) on 8th. On 9th one was Farlington Marshes HWT (Hampshire).
There was another good array of American Wigeon sightings, once more all bar one being drakes - the female remained at Grimley (Worcestershire) on 3rd-4th. English drakes were at Rutland Water (Leicestershire) on 3rd-9th still, Grindon Lough (Northumberland) again on 5th-7th, Wheldrake Ings YWT on 6th-7th, and at Matford Marsh RSPB (Devon) again on 6th-9th. Sightings from Highland came from Clachnaharry still on 3rd-7th, Tain Links again on 4th and 9th, and Caol again on 5th-9th; other Scottish records came in the form of birds at Loch of Strathbeg RSPB (Aberdeenshire) on 3rd, various sites on North Uist still on 6th-8th and, in Ayrshire, at Dipple shore on 7th-8th. Irish drakes lingered at Dundrum bay (Co.Down) still on 3rd-4th and Culdaff (Co.Donegal) again on 7th.
Half a dozen Green-winged Teals make up our weekly return of that species – these being birds seen at Easington and Kilnsea Wetlands (East Yorkshire) on 5th; Loch Flemington (Highland) again on 5th also; Saltholme RSPB (Cleveland) once more on 6th; on Orkney at Loch of Skaill on 7th and again on North Ronaldsay on 8th; and in Ireland at Tacumshin (Co.Wexford) still on 7th. On 9th one was at Greylake RSPB (Somerset), and another was in Scotland at Port Allen (Perth & Kinross).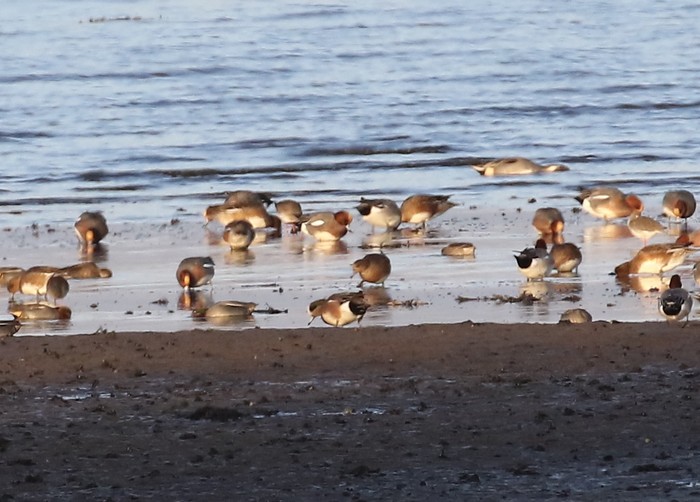 We hit double figures of Ring-necked Ducks this week, with two birds together on Achill Island (Co.Mayo) on 4th-6th being particularly notable. Single birds comprised the female again in Lincolnshire at Kirkby-on-Bain GPs on 3rd; a drake still in Somerset at Shapwick Heath NNR on 3rd-7th; the drake again at Abbotts Hall Farm EWT (Essex) on 4th-9th; females in Ireland at Corran Lake (Co.Cork) on 3rd-5th, Blarney Lake (Co.Cork) again on 4th, Cloonee Lakes (Co.Kerry) again on 4th-5th and North Slob WWR (Co.Wexford) again on 7th; the female still in Carmarthenshire at the National Wetland Centre WWT on 6th; a drake at Temple Water (Co.Down) on 6th-8th; and a drake in Highland at Loch Shiel on 8th.
The drake Lesser Scaups remained in Cornwall at Dozmary Pool until 9th and in Somerset at Chew Valley Lake until 6th.
A possible Ferruginous Duck was seen at Dozmary Pool on 8th.
The long-staying female King Eider was once again seen at Ynyslas (Ceredigion) on 6th-8th, while one of last week's new queens in Shetland was once again noted in Mid Yell Voe on 4th.
The party of Surf Scoters at Porthpean (Cornwall) remained this week, with three birds again noted there on 6th-7th and two birds on the surrounding days. In Scotland the drake was again seen in Largo Bay (Fife) on 3rd; the drake at Musselburgh (Lothian) was noted once more on 6th-9th; two drakes were offshore from Kirkwall (Orkney) on 6th-7th; and in Shetland the drake was once again seen in Bluemull Sound on 8th. Two drakes were seen, intermittently, this week off Pensarn (Conwy).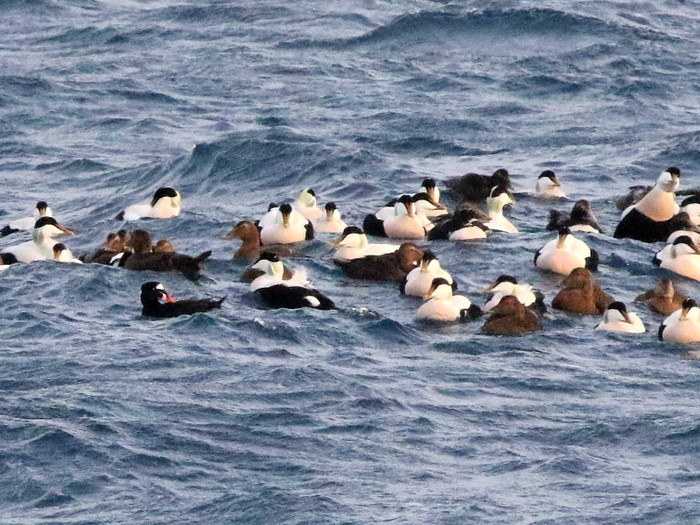 We close once more with the honorary waterbird inclusion of the Pied-billed Grebe, reported again at Spiggie (Shetland) on 3rd, though not latterly.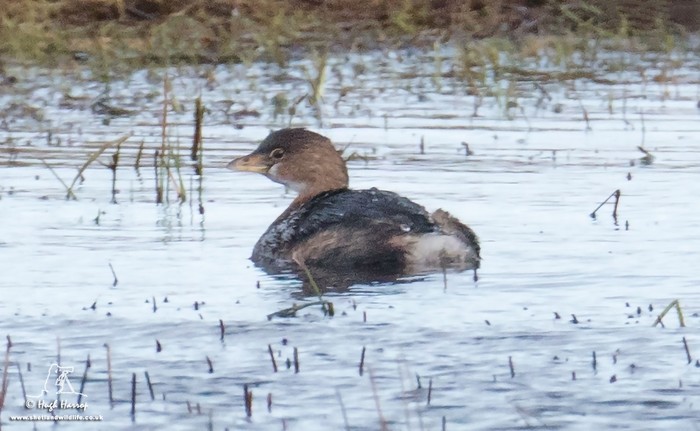 Our shorebird offerings this week won't delay us for long, as we've just three notable birds to report…
The late Temminck's Stint extended its stay in West Sussex at Pulborough Brooks RSPB for another week, being seen there daily.
In Kent the adult Long-billed Dowitcher was logged at Oare Marshes KWT again on 5th and 9th.
Finally, up in Orkney a Lesser Yellowlegs was fine midwinter find at Evie on 5th.
After a blank over the festive period, it was good to see some Bonaparte's Gulls back in the news this week – the regular wintering adult was once again off Exmouth (Devon) on 6th, with another adult briefly at Radipole Lake RSPB (Dorset) on 3rd. A probable first-winter bird was seen in Cornwall at Marazion on 6th.
Ring-billed Gulls are firmly here in the weekly sightings once more, after what felt like a slow start to the early winter. As we'd expect, it's Ireland that dominates the sightings – so before we plunge into the 10 birds seen there in the past week, we'll quickly dispense with the leftovers: English sightings came in the form of the adult once more at Blashford Lakes HWT (Hampshire) on 3rd-8th, and a first-winter bird still at Newquay (Cornwall) on 3rd-9th; the adult was once more at Llys-y-Fran reservoir (Pembrokeshire) on 5th; and in Scotland, the adult remained at Strathclyde Loch (Clyde) on 3rd-9th.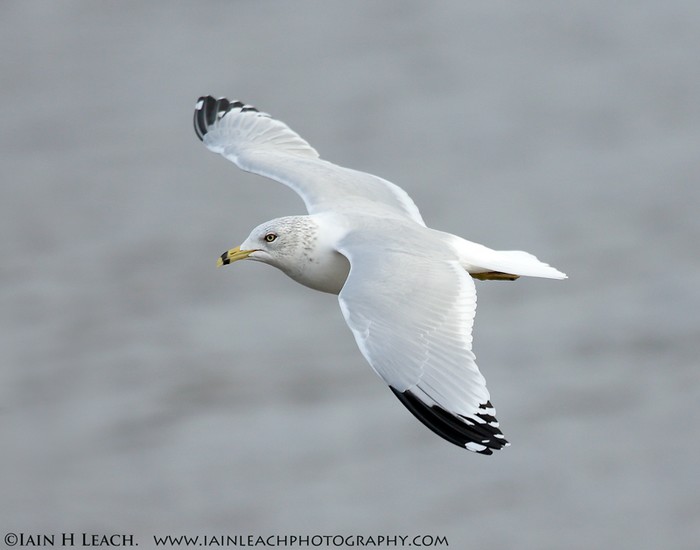 Moving west into Ireland now, a second-winter bird was in Limerick (Co.Limerick) on 6th, with an adult bird there also on 7th. Other adults were seen at Blackrock (Co.Louth) again on 3rd-8th; on 4th-6th at Drimnagh (Co.Dublin); on 4th-7th at Carrickfergus (Co.Antrim) and Timoleague (Co.Cork); on 4th at Clonakilty (Co.Cork); on 5th at Castletownbere (Co.Cork); on 6th-8th at Cuskinny Marsh NR (Co.Cork); and on 7th-9th at Tralee Bay Wetlands Centre (Co.Kerry).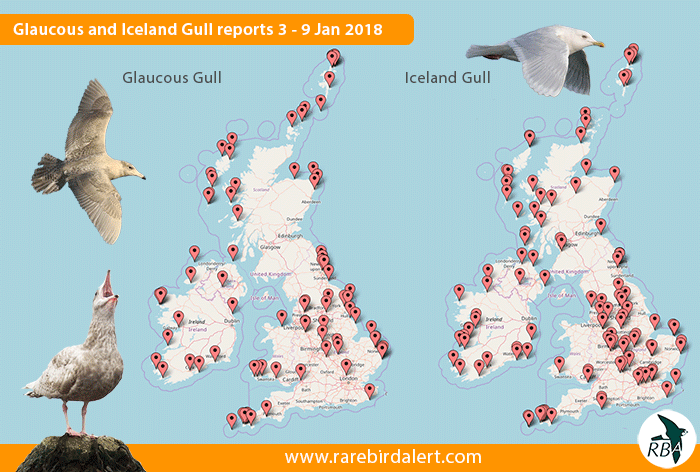 Finally, a quick look at the scarce white-wingers, where we see numbers of Iceland Gulls starting to modestly outstrip their bulky Glaucous brethren – around 115 of the former and 80 of the latter were noted this past week, with records of both species coming from the length and breadth of the region, at coastal and inland sites alike. Killybegs (Co.Donegal) hosted seven Iceland Gulls on 5th, while Lerwick (Shetland) claimed five on 4th; the most significant single site tally of Glaucous Gulls also came from Killybegs on 5th, with five birds seen there that day.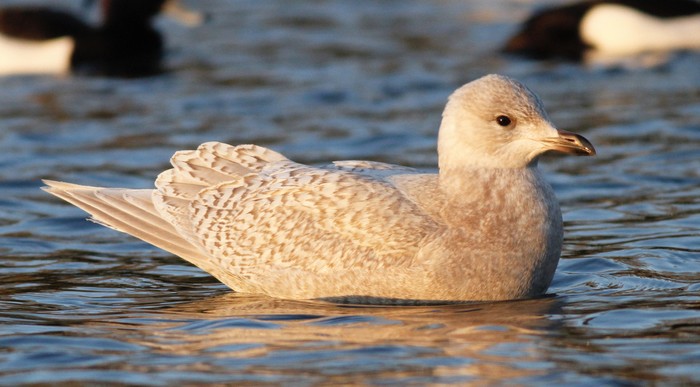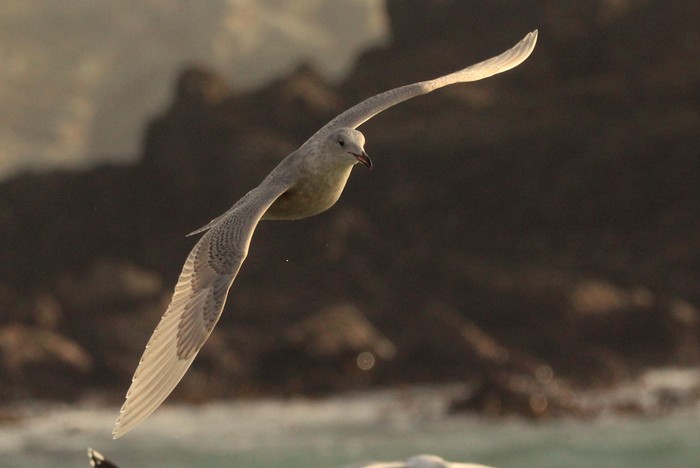 With all of those Icelands came a handful of Kumlien's Gulls: the juvenile remained at Aston (Oxfordshire) on 3rd-5th; an adult was on St.Mary's (Scilly) on 3rd also, with another that day at Whitehead (Co.Antrim); a juvenile was at Ballybunnion (Co.Kerry) on 6th, with a further possible bird on 7th on Barra (Western Isles). On 9th a possible third-winter individual was on St.Mary's (Scilly).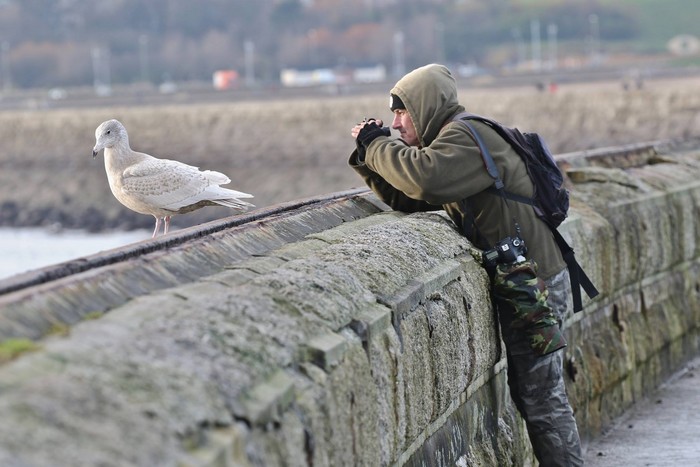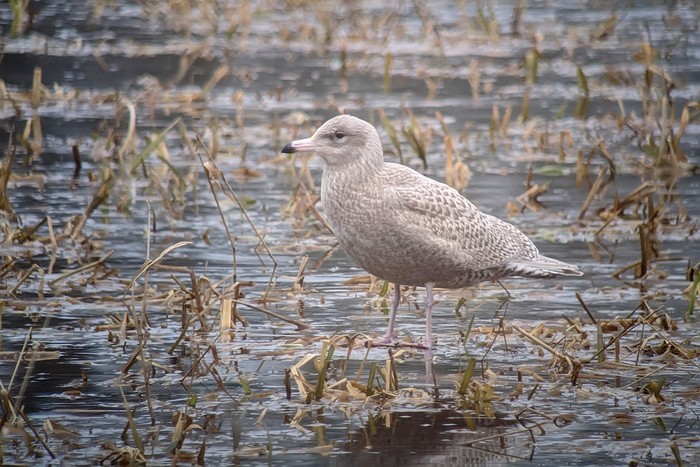 In the absence of any dodgy falconers' escapes this week, it's a mercifully uncomplicated soar through the various raptors before we stoop into passerines.
Snowy Owls look set to be a more or less weekly feature in our news for a while yet as, back on Scilly on St.Martin's on 3rd-6th, a female or immature male was gracing the isle. We should look at these magnificent tundra wanderers with fresh appreciation in a week that saw the global status of Snowy Owl reclassified as Vulnerable, with a radically revised population estimate – down from around 200,000 individuals to an estimated 14,000 pairs which could, in a bad lemming year, drop as low as just 5,000 pairs.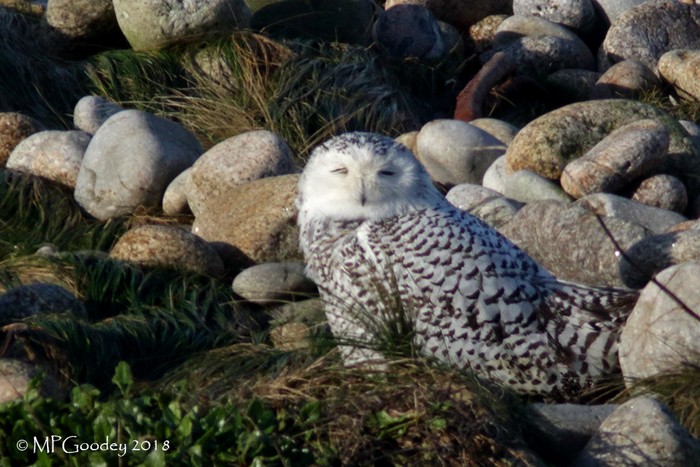 In Cambridgeshire the adult Rough-legged Buzzard was seen again in the Thorney area on 4th-9th, with a sighting from just south of Woodwalton Fen NNR on 9th also. The Capel Fleet (Kent) bird was seen again on 6th and 8th; on 7th one was seen at Towcester (Northamptonshire); and on 8th-9th one was in Northumberland at Plenmeller Common.
Dropping down into the main passerine section on account of the duration of his stay, the dandy first-winter male Desert Wheatear remained a daily fixture this week at Whitby (North Yorkshire).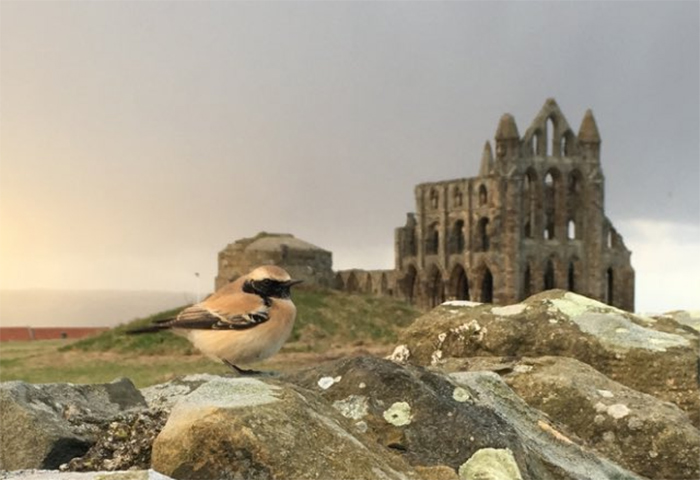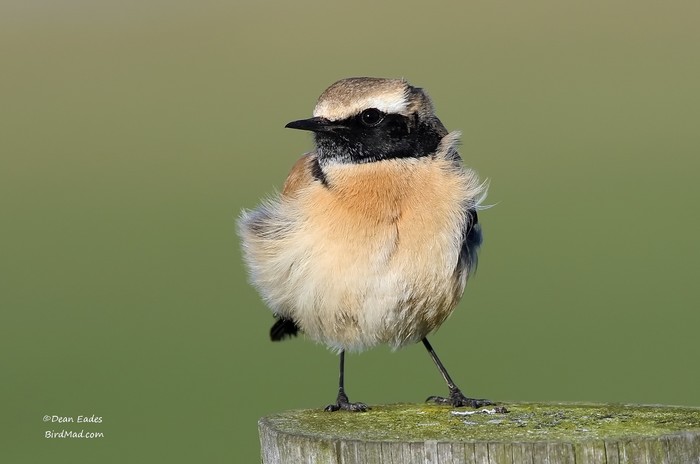 Also settled in for a good stint now was the first-winter male Penduline Tit still at Plock Court Wetlands (Gloucestershire) for all the past week.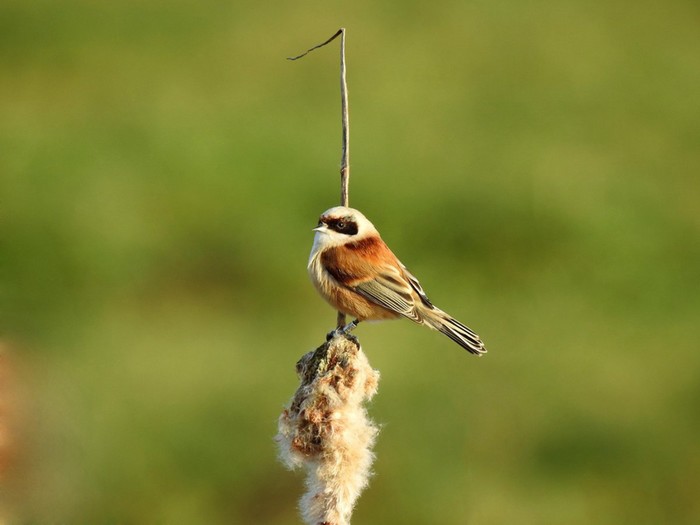 Away from Norfolk's rarer warbler offering, a handful of Yellow-browed Warblers continued to be seen – single birds remained at Wallingford (Oxfordshire) on 3rd, in Falmouth on 4th, and on Portland (Dorset) on 4th-6th. One was reported from Congleton (Cheshire) on 6th with a Yellow-browed or a Hume's Yellow-browed in the county at Denhall Quay on 5th. Another possible Hume's was reportedly heard, briefly, in Penzance (Cornwall) on 8th.
Two Richard's Pipits were on the Lizard (Cornwall) on 6th-9th, while the recent individual at Flamborough (East Yorkshire) was seen again on 6th also; another was in Gloucestershire at Arlingham on 7th-9th.
These were not, however, the week's most startling pipit news – this would be, back on the Lizard, the Red-throated Pipit found there in a stubble field on 8th. A January record of this, formerly 'struck off' but now reinstated, BB rarity is completely without precedent. Where has this bird been lurking since it, presumably, arrived during the autumn?
Wintering Great Grey Shrikes remain in short supply, with just three regulars on which to report this week – staying in Gloucestershire, briefly, we find the Crabtree Hill bird still present on 4th-8th; the Prestwick Carr (Northumberland) individual was still there on 5th-9th; and in Surrey the traditional wintering territory of Thursley Common NNR continued to sport a bird on 6th-8th. Moving west, one reported at Clun (Shropshire) on 6th had been present there for a fortnight; and one was in Wales in Glasfynydd Forest (Powys) on 8th.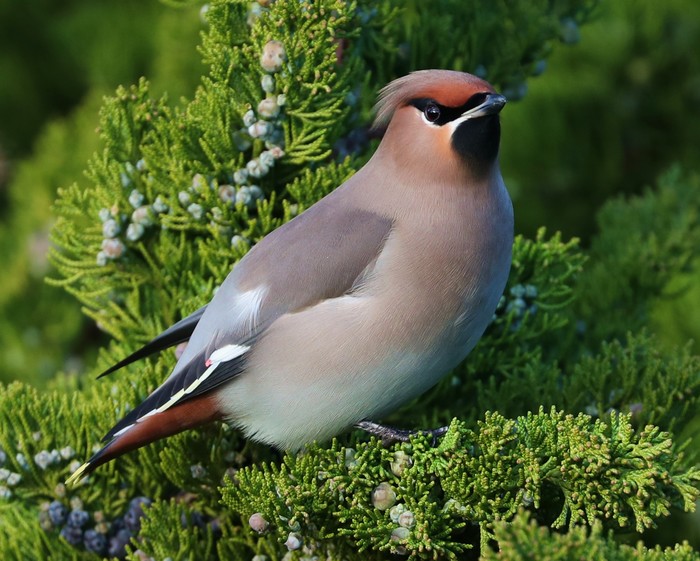 Waxwings were also thin on the ground again, albeit widely scattered. Including the reported flock of 17 birds at Blidworth (Nottinghamshire) on 4th the overall national tally of some 60 birds was still pretty slim pickings and comprised, almost exclusively, single birds sprinkled from Shetland in the north down the east coast to Norfolk. The latter county had a typical showing, for the week, on 7th: single sightings came from Cromer, Ranworth and Sheringham that day. For Waxwings outside of Scotland this winter – and even there, the rule practically also applies – it's a case of right place, right time it seems at the moment.
The first-winter Rose-coloured Starling was still to be found at Easington (East Yorkshire) on 4th-7th, while in Devon, the male putative Italian Sparrow remained at East Budleigh until 8th at least.
Settled Parrot Crossbills remained on offer, mostly in fluctuating numbers, at several sites this week: at Santon Warren (Norfolk) daily sightings peaked with 15 birds on 3rd-4th; six birds were seen daily at Upper Hollesley Common (Suffolk) on 4th-7th; three remained in Hertfordshire at Broxbourne on 4th-5th; the flock at Wishmoor Bottom (Berkshire) peaked with 16 birds there on 7th-9th; and, at Howden reservoir (Derbyshire), the peak count was 13 birds on 9th. A flock of 16 flew over Camberley (Surrey) on 3rd, with 12 the following day at Olddean Common.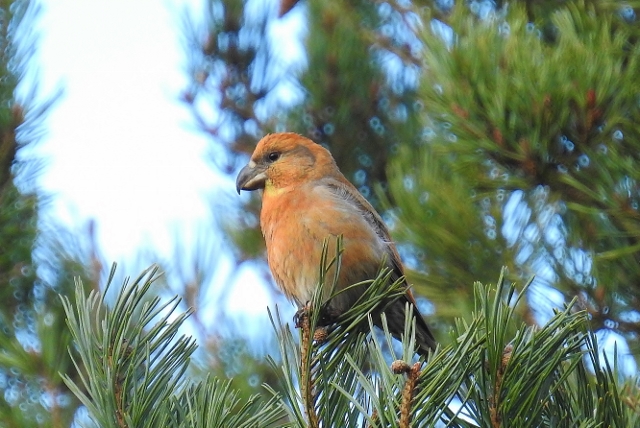 The exilipes Arctic Redpoll remained at Hazelwood Common (Suffolk) until 8th, while in Norfolk two more were seen at Cromer on 5th-9th; a possible bird was at Choseley on 6th; a single bird was on a site with no public access near Holt on 7th had increased to three mobile birds in the area on 8th; and a single bird was noted on 8th at Bodham.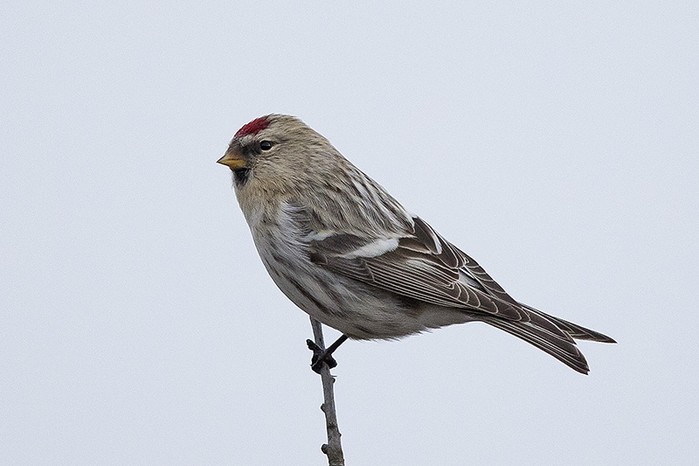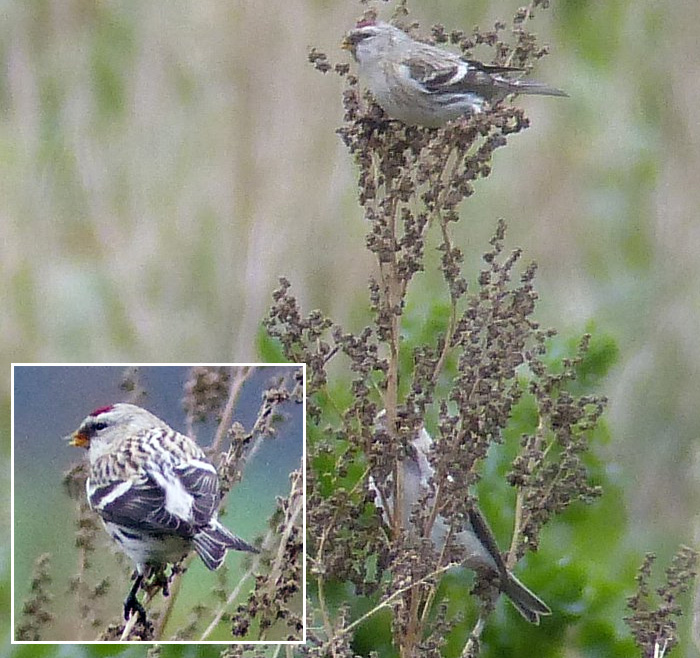 A number of recently familiar faces crop up once again in our brief scan trough the rarity records from further afield this week. We'll head for winter sun, to begin with, on Fuerteventura (Canary Islands) where the Dwarf Bittern remained on 6th still. A Semipalmated Plover was found on Tenerife on 5th.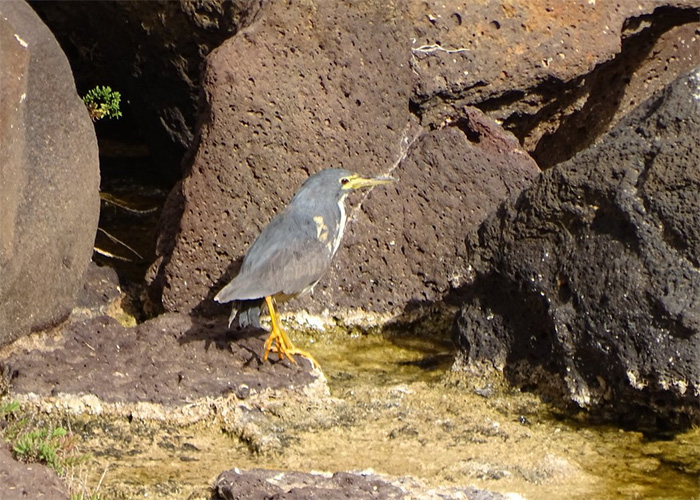 Then, quick as flash, we're back to Kuwait where the Lesser Flamingo was once again seen on 8th at Sulaibikhat on 7th.
>The American Royal Tern began the week heading in the wrong direction altogether, being seen in France at Cherbourg-Octeville on 3rd, before returning to Guernsey in the Channel Islands on 5th-6th.
The Black-shouldered Kite remained at Lauwersmeer (Holland) on 6th-8th.
A Greater Yellowlegs was again seen in Sweden this week, at Hallands Ian on 6th-7th while, in Finland, the Eastern Black Redstart was still to be seen in Helsinki on 7th.
While the coming week remains prime time for anyone fancying finding a rare duck for themselves anytime soon, and the past week (and years) suggests it's a good moment to check out your local Redpolls for an exilipes Arctic Redpoll, a glance at past years' rare bird records for the coming week provides some food for thought – good and bad.
There are three transatlantic records in particular that stand out – two of which, at least, feel like they're within the bounds of possibility, and one that seems improbable, but who knows…
Taking that particular record first, whoever would have thought a Bald Eagle would make it across the Atlantic? It just seems unlikely, somehow, but there you go – and it's happened twice in Ireland too. Unfortunately the first bird to make the crossing, a juvenile bird found near Garrison (Co.Fermanagh) on 11th January 1973, was unceremoniously shot and resides, to this day, in the Ulster Museum. An inglorious end to a glorious bird.
Moving forwards in time, we come to first the Double-crested Cormorant seen on 11th January – 26th April 1989 in Cleveland at Charlton's Pond and, more recent still, the Snowy Egret that lingered on Arran (Argyll & Bute) from 13th January – 28th March 2002 and, both formerly and latterly, was seen elsewhere in Argyll & Bute, Ayrshire and Dumfries & Galloway. Both remain, to this day, the only British records of their kind.
So, feeling full of boundless New Year optimism let's hope for, if not a repeat of one of that marvellous trio, then something of similar transatlantic calibre in the coming week.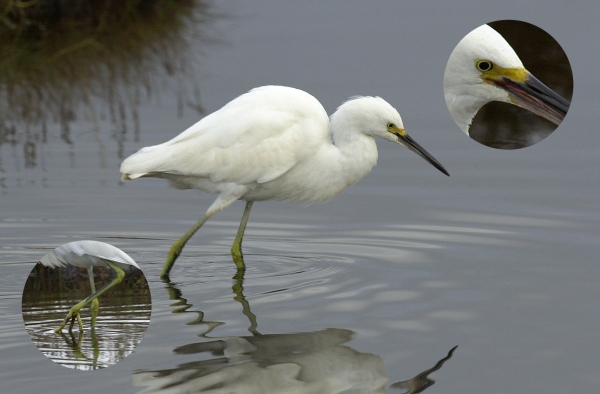 Jon Dunn
10 January 2018
Share this story
Tweet

Many thanks to all contributors for their photos and videos this week.
Andrew Hale, Graham Clarke, David Cooper, Aravind Ramesh, Jeff Slocombe, Paul Kelly / Irish Bird Images Pete Hines, Andrew Malcolm, John Kemp, Duncan Poyser, Marcus Nash, Toby Green, Hugh Harrop / Shetland Wildlife, Iain Leach, Graham Smith, Kris Webb, Laurence Younger, Dave Andrews, Martin Goodey, Mark Lucas, Dean Eades, Mark Dowie, Tony Browne, Anthony Williams, Chris Upson, Andy Stoddart, Samuel Levy, Mike Malpass,