Weekly birding round-up: 13 - 19 December 2017
Co.Cork's female Pied Wheatear stays long enough to please her admirers
Gloucestershire provides us with a Penduline Tit
And the drake Black Scoter is back in Co.Kerry
So here we go, folks – this is the last Rarity Round Up of 2017. And what a year it's been…
…this week, however, was decidedly peaceful on the birding front – appropriately, a seasonal sense of peace on earth and goodwill to all birders. The wind swung back into the west, and an already quiet couple of preceding weeks got a whole lot quieter still.
So grab yourself a mulled wine – yes, even if you're reading this on the quiet at work, you've got my permission – and let's do a last run this year through the week's happenings.
Pied Wheatear
For the beginning of this past week, at least, the female Pied Wheatear west of Knockadoon at Ballymacoda continued to prove the exception to the general winter wildfowl'n'gulls rule. It's always great to have a rare passerine featuring in the news, and better yet at this time of year, and best of all when it's of such a rare national calibre as this one – Ireland's fourth record to date.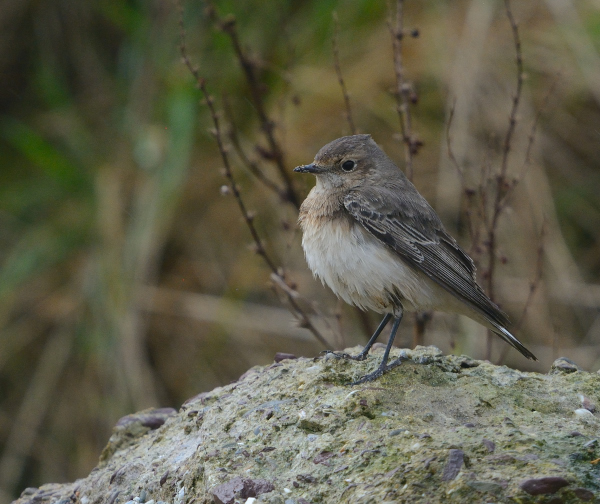 Happily this individual, while she only stuck around until 15th, proved typically rare-wheatear-showy and was an absolute delight for Irish birders. An early Christmas present, if you will.
Penduline Tit
As was, for Gloucestershire's faithful, the male Penduline Tit found at Plock Court Wetland near Gloucester on 16th-19th. These bandit-masked, charismatic birds are always a crowd-pleaser, particularly when they're showy individuals, and while they don't have that mega-rarity cachet of a Sibe or a Yank passerine, they are – when you look at the numbers, and despite being dropped by the BBRC in recent years – actually still a properly rare beast on these shores.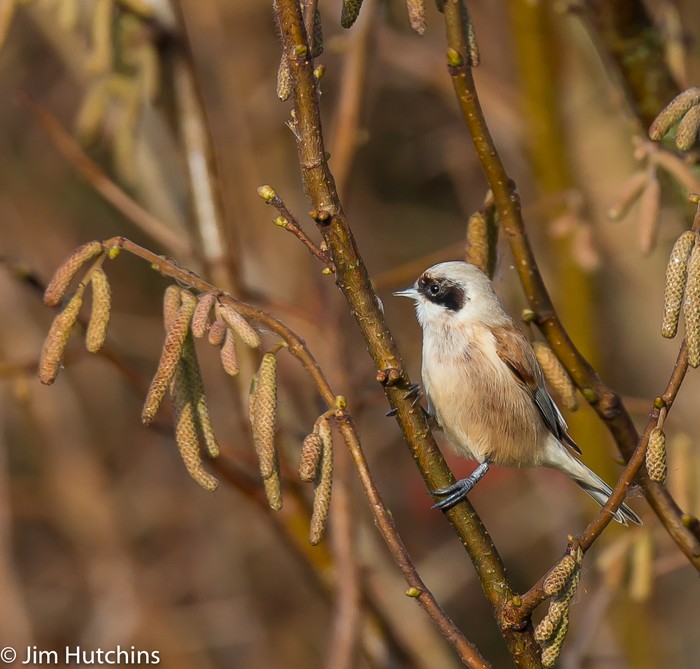 This year we've only had the one confirmed record, two birds seen briefly at Minsmere RSPB (Suffolk) on 26th October. Prior to that we need to rewind a full year more to one in Kent on 10th October 2016. So actually, not as common as we might assume – a reflection, I suspect, of the species' charming habit of occasionally being not only fabulous, confiding performers, but also long-staying… From time to time they settle and give themselves up in Britain for days or even weeks on end.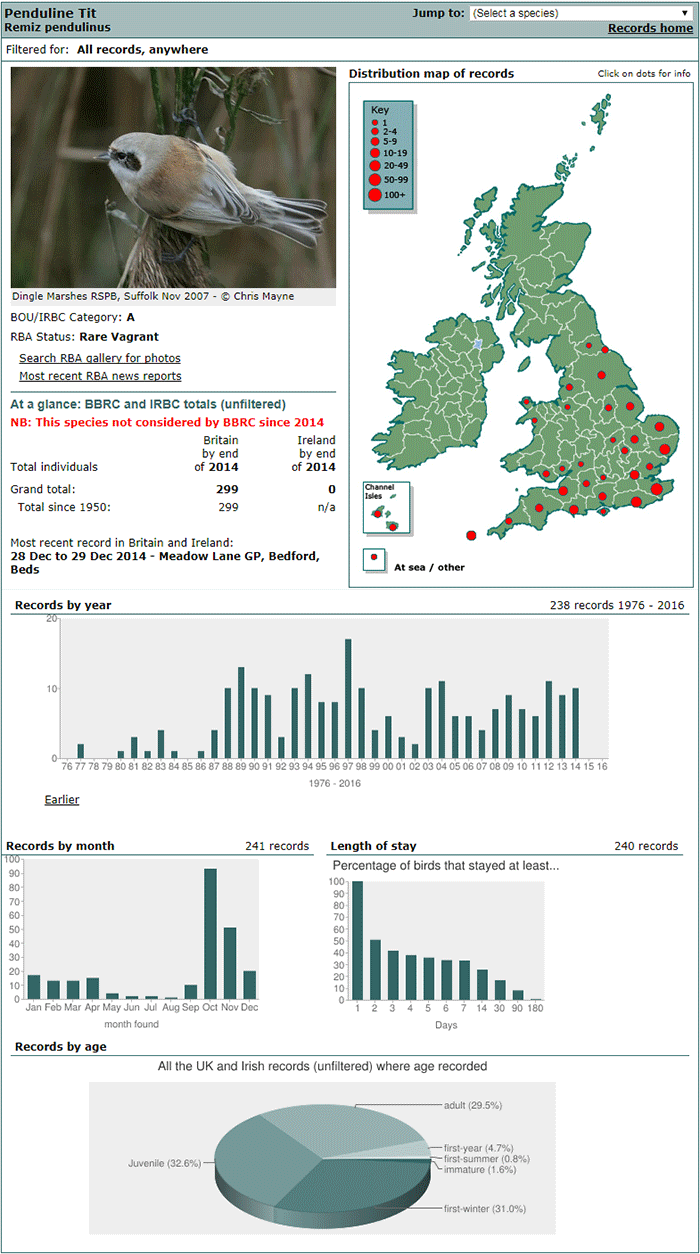 Autumn and early winter arrivals are wholly typical of them, so this latest bird perhaps ought to be a shot across our collective bows in the coming fortnight – when we fancy a break from scoping the local lake for a rare Aythya it's probably worth checking the fringes for Penduline Tits, keeping an eye out overhead for a Hawfinch or two (they're still moving around), and then head along to check out the nearest conifers for some Parrot Crossbill action.
It might be winter, but that doesn't mean it's all ducks from here into 2018…
Black Scoter
That is, however, not to say that we're not a fan of a rare quacker in these quarters. Drake Black Scoters are fabulous sea-duck that simply ooze chutzpah, and finding one unexpectedly in your scope's field of view must rate as a seasonal highlight for anyone so blessed.
The drake found on 18th, then, off Rossbeigh (Co.Kerry) will have undoubtedly have carried that feel-good factor, even if it wasn't entirely unexpected… Last seen there on 24th October, this is presumably the same bird that's been seen at this site, intermittently, since January 2015.
With combined British and Irish records barely into double figures, this is still a duck with a genuine rare-bird lustre and incentive, were any needed, to set up a scope and have a sift through a flock of Common Scoter sometime soon. You just never know what might be amongst them.
We've just one report this week of a probable adult Pacific Diver in Cornwall, seen distantly in Mount's Bay on 16th. With Black-throated Divers a trap for the unwary, the caution is understandable – but one would assume that at least one of the two recent Pacifics is still present in the waters around the county, and will surely crop up again in the news over the coming fortnight.
A probable Balearic Shearwater was seen from Tarbat Ness (Highland) on 16th, with a probable Pomarine Skua seen from the same site on the same day. Someone was, probably, having a reasonable sea-watch there that day. Another individual of the latter species was noted off Lower Porthpean (Cornwall) on 17th, while one was seen by a kayaker off Penzance on 18th.
While keen eyes scrutinised every Black Guillemot with renewed interest this week, we only had a very few Little Auks to contend with – one off Spurn (East Yorkshire) on 15th; two seen off Lossiemouth (Moray) on 16th; and one on 16th from Cowbar Nab (North Yorkshire).
With the thaw came a resurgence in numbers of Cattle Egrets this week (and, very probably, observers actually getting out there and going birding in the first place). Their stronghold remained the southwest, and nowhere more so than on the Somerset Levels which, if these sorts of wintering numbers can hold on until spring, may be the epicentre of the ongoing colonisation of England – a tally of 26 birds at Ham Wall RSPB on 15th was surpassed by 30 birds there on 16th.
Away from Somerset some 30 additional birds were logged, with appreciable flocks of eight birds at Newtown St Martin (Cornwall) on 17th and seven at THurlestone (Devon) on 18th being notable. Ireland continued to provide small numbers, with one still at Cahore Marsh (Co.Wexford) on 16th-17th, two at Ballycanew (Co.Wexford) on 17th, and one picked up moribund in Co.Clohernagh (Co.Waterford) on 16th.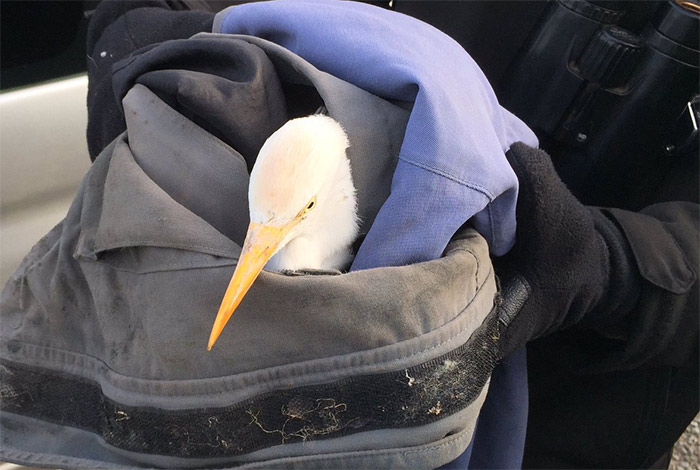 Numbers of Great White Egret seemed to have settled after the cold-snap drop to around the 90 mark, nationally, again this week, with no significant double figure flocks to be found any more – quartets were noted at Testwood Lakes HWT (Hampshire) on 14th; Chew Valley Lake and Ham Wall RSPB (Somerset) on 15th; Burton Marsh (Cheshire) on 16th; Walland Marsh (Kent) on 17th and Rutland Water (Leicestershire) on 18th.
Poole Harbour's (Dorset) Spoonbills remained a shadow of their former selves also – a trickle of single figure tallies from various locations in the harbour bounds coalesced into a week's highest tally of 18 birds at Arne RSPB on 19th. Some 30 further birds, nationally, included a flock of 14 over Minsmere RSPB (Suffolk) on 17th, but elsewhere sightings in the south, and as far north as the National Wetlands Centre WWT (Carmarthenshire) involved smaller parties or single birds.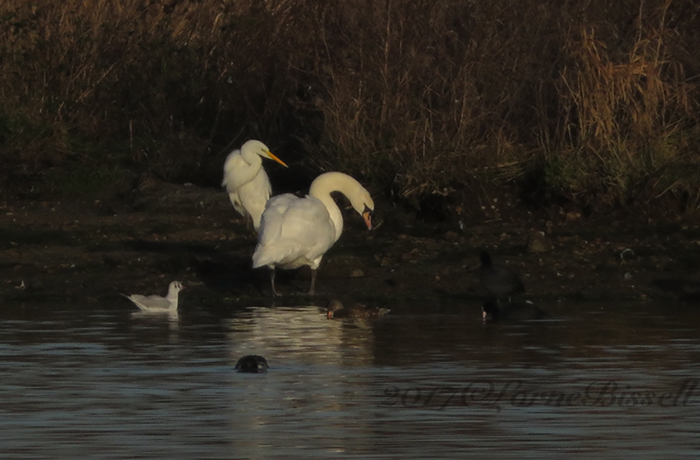 Seven Glossy Ibises were seen this week, albeit one in a parlous state – a first-winter bird found dead at Dungarvan (Co.Waterford) on 13th. Others with more of a vital spark were seen at Kingsmill Lake (Cornwall) still on 13th-15th; Lough Beg (Co.Derry) still on 15th-18th; Ham Wall RSPB (Somerset) again on 16th; and still at Brading Marsh RSPB (Isle of Wight) on 17th-18th. Another was at Bridge Marsh (Devon) on 15th-17th, and one was seen over Old Hall Marshes RSPB on 16th.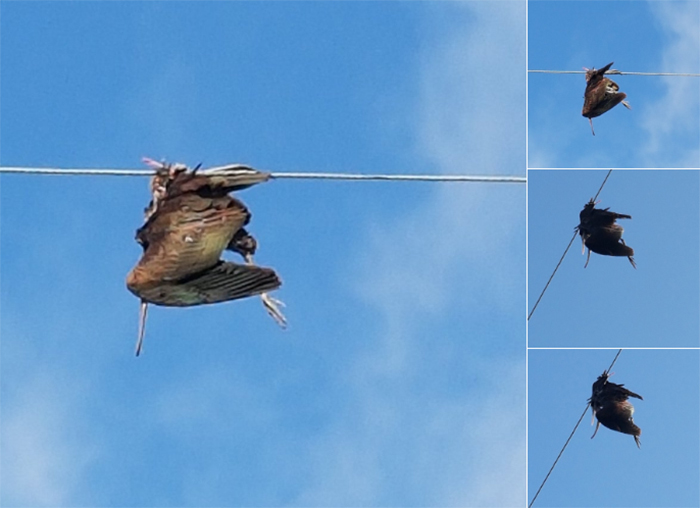 The adult Common Crane remained for another week on the Western Isles at Berneray, North Uist, still present there on 18th, while the flock at Eldernell (Cambridgeshire) peaked at 28 birds on 17th.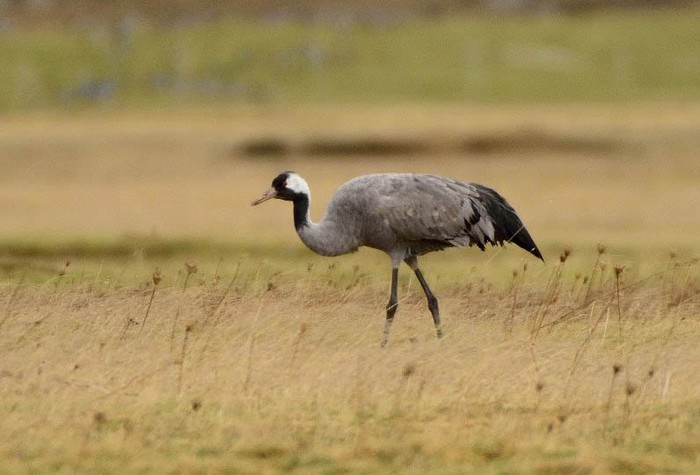 The Goose Formerly Known As Canada wasn't having much of a week, truth be told – with just one interior Todd's Canada Goose seen at Alturlie (Highland) on 16th.
A white Snow Goose was on North Uist's machair at Borve on 18th; the blue morph bird was again at Loch of Skene (Aberdeenshire) on 19th.
Our weekly tally of Black Brants was a little more fulsome than of late: in Norfolk one remained at Cley on 13th and Holkham on 14th-18th; the individual on the Fleet (Dorset) was still present on 15th; while in Essex one was at Tollesbury Wick EWT on 14th-18th. Cumbria, meanwhile, provided sightings from Walney Island on 15th and Roa Island on 18th.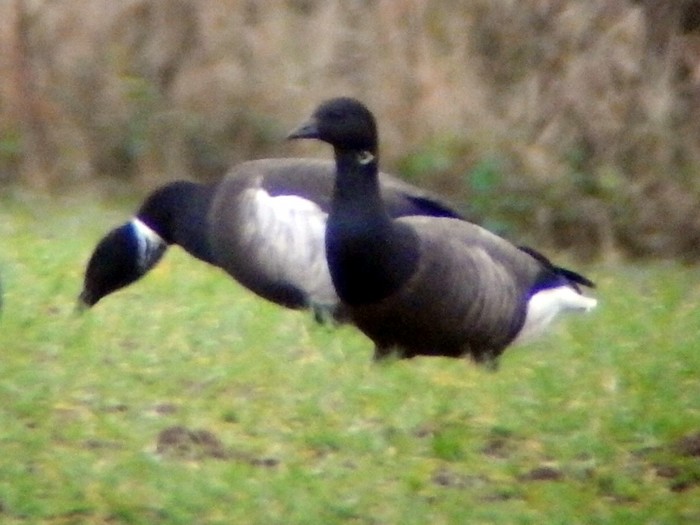 A Red-breasted Goose in Northumberland at Cresswell on 16th-18th initially flattered to deceive – latterly noted to be wearing a ring suggestive of captive origin. More of which in due course…
The female American Wigeon remained this week at Grimley (Worcestershire) on 15th-18th, as did the drakes in Scotland at Clachnaharry (Highland) on 14th-16th and on North Uist (Western Isles) at Loch an Duin on 15th-18th. Further smart drakes were in Devon at Exminster Marshes on 16th and Grindon Lough (Northumberland) on 18th.
Scotland dominated sightings of Green-winged Teals, with birds seen this week at Loch a'Phuill on Tiree (Argyl & Bute) on 14th-16th still; and in Highland on 18th at Loch Flemington and Alturlie Point. Irish sightings came from Blennerville (Co.Kerry) on 16th and Ballymena (Co.Antrim) on 18th; and English birds were seen at Oare Marshes KWT again on 13th-16th and Ellerton Landing (East Yorkshire) on 16th.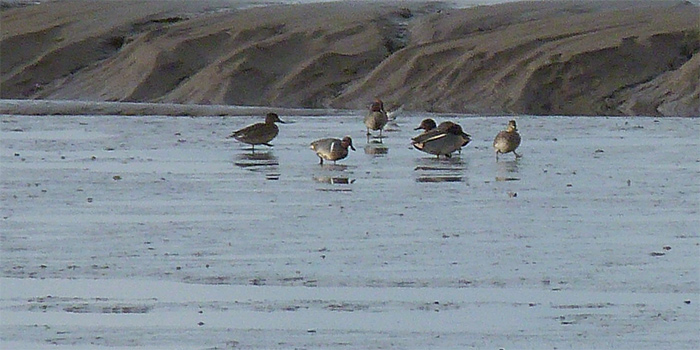 The drake Lesser Scaup remained in Cornwall at Dozmary Pool on 16th-19th while up country, in Somerset, a drake was seen at Chew Valley Lake on 15th and again on 18th.
Sharing Dozmary Pool again this week was the drake Ring-necked Duck, still present there on 16th. Elsewhere two birds were seen at Cotswold Water Park (Wiltshire) on 18th with a drake still there on 19th, and single drakes at Abberton reservoir (Essex) still on 13th-19th; Milton Loch (Dumfries & Galloway) still on 16th; and Loughrea (Co.Galway) still on 16th also. Females were noted at the National Wetland Centre WWT (Carmarthenshire) on 13th-17th still; Kirkby-on-Bain GPs (Lincolnshire) on 15th still; and again at North Slob WWR (Co.Wexford) on 17th.
The drake King Eider was still hanging in there, despite local provocation, at Wester Quarff (Shetland) on 15th.
The Cornish female and juvenile drake Surf Scoters remained this week at Porthpean (Cornwall), being seen there until 17th at least. Two were logged at Laytown (Co.Meath) on 15th with one still there on 19th and one off Ben Head on 19th also; and with further sightings from familiar sites at Musselburgh (Lothian) on 15th-18th, with two birds present there on 15th; Ruddons Point (Fife) on 16th; and Colwyn Bay (Conwy), with two birds noted there on 18th. One was seen on 19th off Marros beach (Carmarthenshire).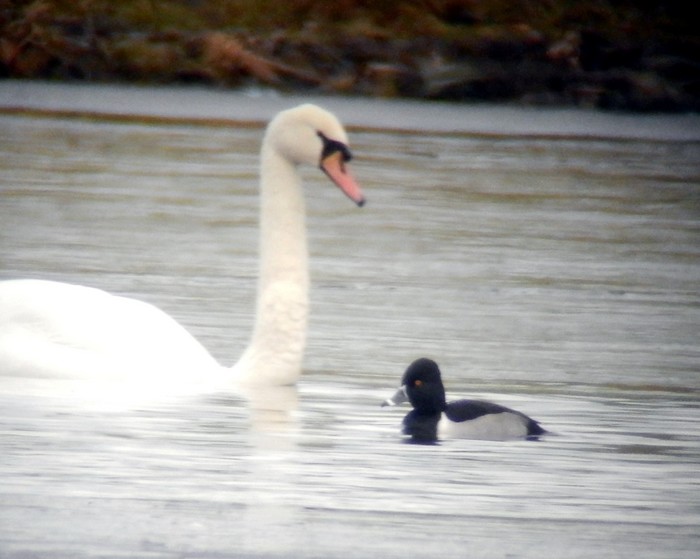 And so to yet another presumed escaped quacker. Really, one has to ask whether wildfowl fanciers have a particular thing for Buffleheads - cos I know for a fact they don't, and they keep plenty of other 'pretty ducks' - American Wigeons, Ring-necked Ducks, Blue-winged Teals, Hooded Mergansers and so forth. The weird thing is how it's just the Buffleheads that keep getting called out. So a ringed, female Bufflehead seen at Staines reservoir (Surrey) on 17th and Otmoor RSPB (Oxfordshire) on 18th is, presumably, an escape…
Another honorary waterbird inclusion this week for a Pied-billed Grebe - this being the Shetland bird, still toughing it out on Spiggie this week on 13th-16th and, presumably, glad of the rising temperatures here in recent days.
Last week's slim pickings became even more meagre than Bob Cratchit's Christmas bonus this week where rare shorebirds were concerned. Best of the lot, by some distance, was of course the first-winter Stilt Sandpiper still on Brownsea Island (Dorset) on 13th-19th, with the first-winter Lesser Yellowlegs again in the county at Lodmoor RSPB until 19th maintaining the local interest.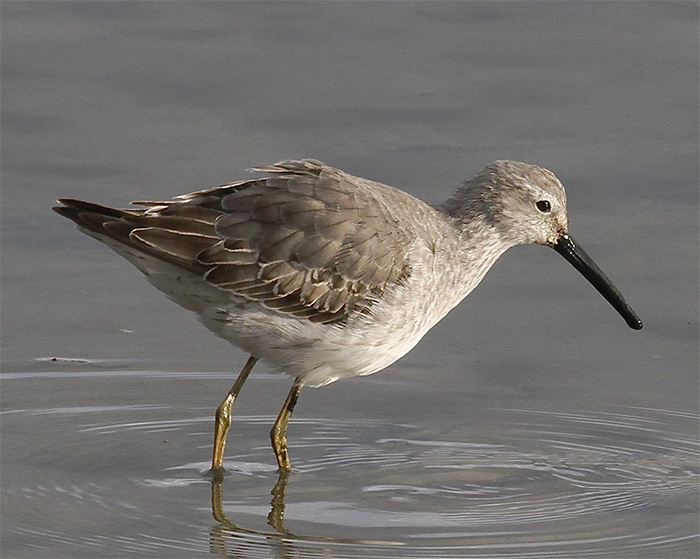 The juvenile American Golden Plover was once again reported at Hayle (Cornwall) on the morning of 19th.
The late Temminck's Stint remained in West Sussex this week at Pulborough Brooks RSPB until 19th.
Finally, in Kent, the adult and juvenile Long-billed Dowitchers were seen once again together at Oare Marshes KWT on 14th, with just the regular adult bird there still on 16th.
Numbers of Glaucous Gulls notably tumbled this week, with around half of the prior week's tally – this, then, amounted to some 25 birds across the country, with a peak count once again coming from Fair Isle (Shetland), where six birds were logged on 17th. Elsewhere it was all singletons, scattered far and wide from the very north right down to the southern extremities of St Ives (Cornwall) on 18th and Ramsgate (Kent) on 17th.
Iceland Gull fared rather better, with a modest uplift to around 50 birds noted during the period in question. Shetland again dominated matters, with six birds seen in Lerwick harbour on 15th-16th and at least some of those floating past my office window pretty much daily. Orkney reinforced the northerly flavour of many of our records with four birds noted at Birsay on 17th. Birds were, however, still penetrating into the very south of the country so, in addition to the settled bird at Ramsgate (Kent) this week there were others noticed on the south coast in East and West Sussex on 17th and Marazion (Cornwall) on 18th.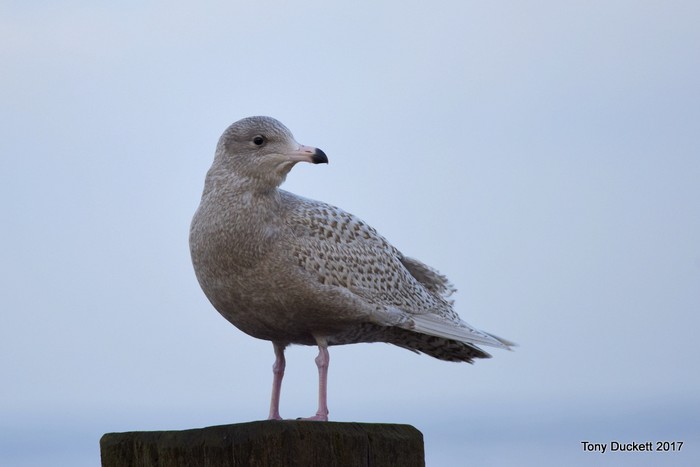 An adult Kumlien's Gull was seen at Blennerville (Co.Kerry) on 17th.
Our week's Ring-billed Gulls comprised the returning adult again at Blashford Lakes HWT (Hampshire) on 13th-18th; a second-winter at Claddagh Quay (Co.Galway) on 15th; and an adult in Co.Clare at Poulnasherry Bay on 18th.
Top of this week's raptor class was, by a country mile, the smart white Gyr found at Hurworth Burn reservoir (Co.Durham) on 18th. This is, of course, a species I've been predicting in a not-terribly-impressive bit of rare bird prediction for the past couple of weeks on the back of the recent winds from the north and north-west, so it's nice to be finally right on that score. The bird was still present around midday on 19th, but not latterly.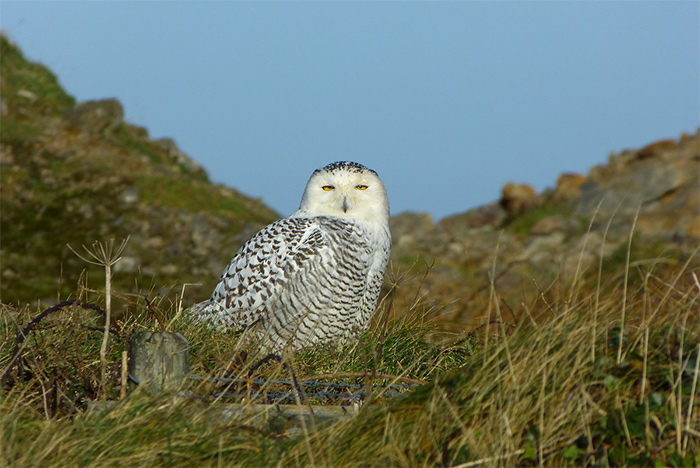 Ditto the female Snowy Owl seen again in Cornwall on 18th near St Just at Carn Gloose and again early in the morning of 19th, though once more not latterly.
And there our rare raptor and owl news would end were it not for yet another escapee – on this occasion, a Hawk Owl photographed by the side of the River Nidd near Harrogate (North Yorkshire) on 15th. Pulses, briefly, quickened… before, with a certain dread inevitability, it transpired that this was a free-flying bird from a nearby falconry centre. Our wait for another, wild individual (or a Tengmalm's Owl, we're really not that fussy) goes on…
(And I find myself wondering if there's anything that someone, somewhere, isn't prepared to have a go at keeping in an aviary these days!)
Now we're really into the bare bones of the Rarity Round Up with just a few scraps of meat still to pick away at…
The first-winter Barred Warbler remained at Titchfield Haven NNR (Hampshire) until 19th, while next door in Dorset a Yellow-browed Warblers was still on Portland until 19th also. Perhaps my favourite individual news report concerned the week's other Yellow-browed, reported as present on 13th for its sixth day on Howler Monkey Island at Paignton Zoo (Devon).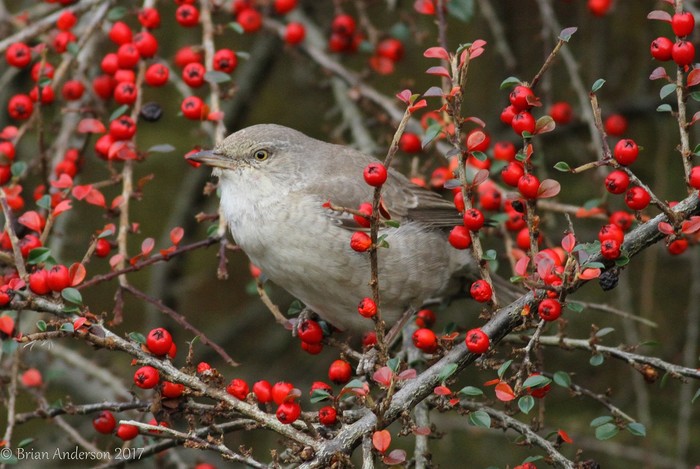 The Richard's Pipitat Flamborough (East Yorkshire) was seen once more there on 16th-17th, with another seen in Lothian at Dunbar on 16th-18th. After a week long absence the individual was seen in Suffolk again at Chelmondiston on 19th.
Great Grey Shrikes remained fairly thin on the ground, to say the least. One was seen again Cropwell Bishop (Nottinghamshire) on 17th; the individual was again at Prestwick Carr (Northumberland) on 18th; and the Forest of Dean bird was again at Crabtree Hill (Gloucestershire) on 18th also. One was near Burley (Hampshire) on 16th, with another reported that day from Mellor Moor (Greater Manchester). On 19th, one was at Ash Common (Surrey).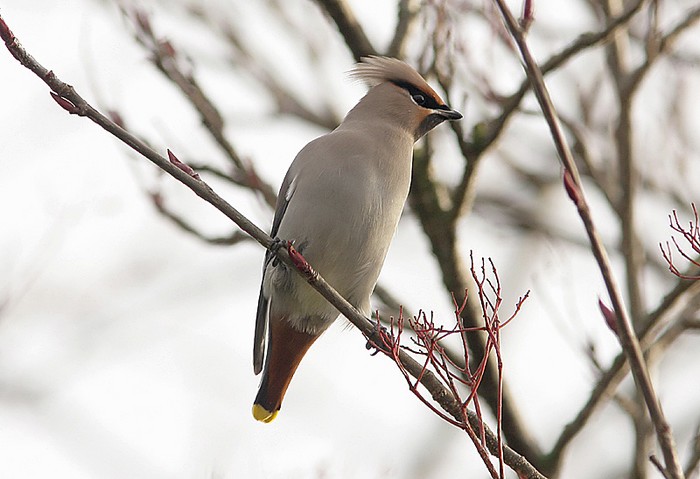 Our quiet winter for Waxwings showed little sign of changing, with just two double figure (and modest at that) flocks again this week – 26 birds remained in Aberdeen (Aberdeenshire) on 13th, while around 30 birds were seen at Alyth (Perth & Kinross) on 15th. Seven birds were in Whitburn (Lothian) on 13th; Dundee (Angus) claimed four on 14th; and Crossford (Fife) held two on 17th-18th. English birds came in the form of one remarkably southerly bird at St Leonard's-on-Sea (East Sussex) on 16th-17th, and another at Titchwell RSPB (Norfolk) on 17th.
The first-winter Rose-coloured Starling remained at Easington (East Yorkshire) on 18th.
In Devon, the male putative Italian Sparrow was still at East Budleigh until 16th at least.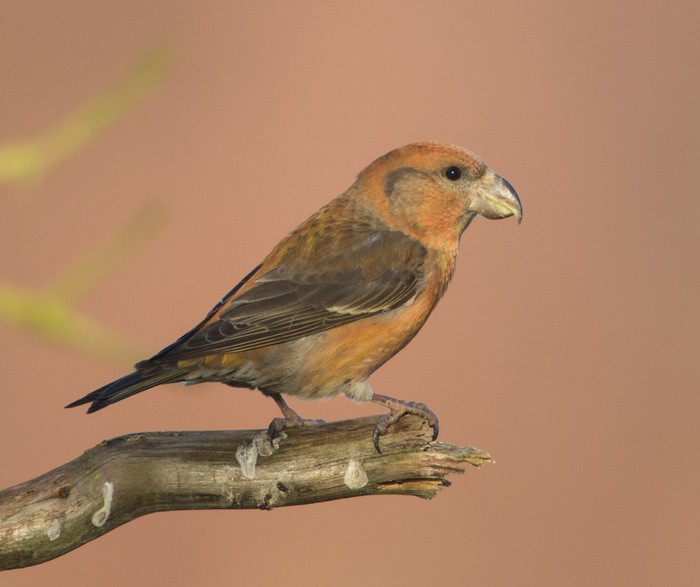 We come now to Parrot Crossbills, where our modest influx continues, if not apace, then certainly to throw up new birds. But starting with former known flocks, the Wishmoor Bottom (Berkshire) birds remained with as many as 18 individuals there; 12 remained at Howden reservoir (Derbyshire) on 18th, with at least four there still on 19th; and, back in Suffolk at Upper Hollesley Common half a dozen birds remained on 13th-18th. Meanwhile three were discovered in Hertfordshire at Broxbourne on 18th-19th.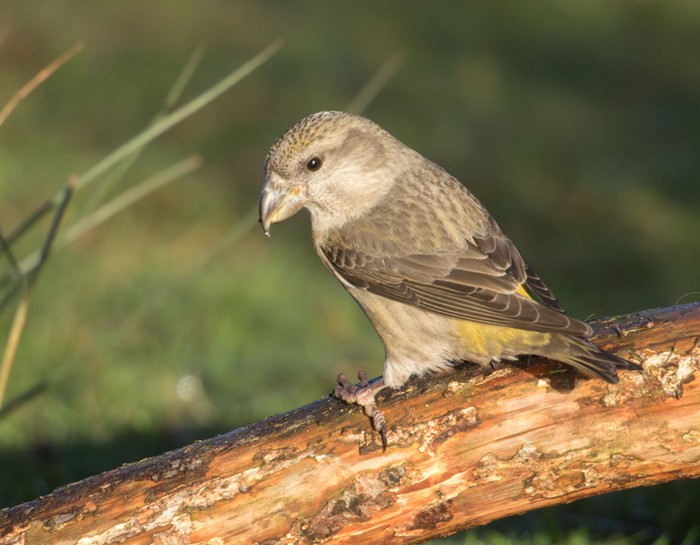 The exilipes Arctic Redpoll remained at Hazelwood Common (Suffolk) until 19th, while the suspected individual at Swillington Ings (West Yorkshire) was confirmed by 17th and still present on 19th; and a further possible bird was at Barlow Fell (Co.Durham) on 18th. An intriguing report of four birds in a Stromness (Orkney) garden on 15th yielded no further sign of them there the following day… but in their stead, a Common Rosefinch instead.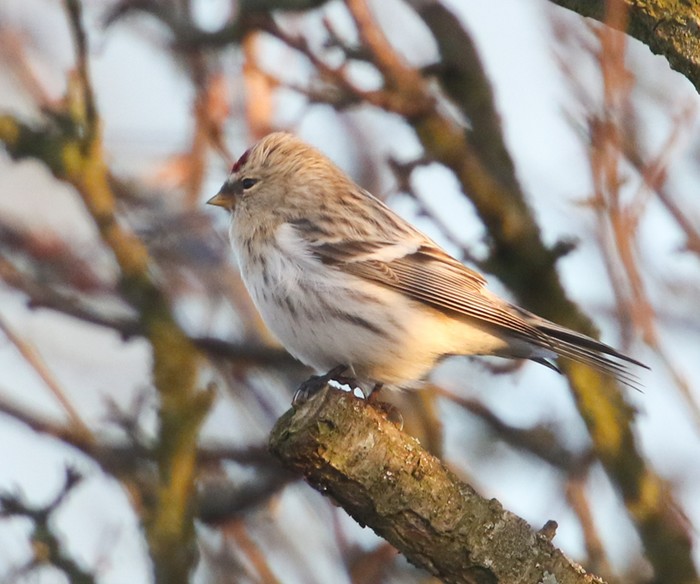 One Dwarf Bittern, remained on Fuerteventura (Canary Islands) until 19th, attracting admirers from afar; two Hoopoe Larks were seen at Punta Pesebre on 14th-16th; and four Olive-backed Pipits were at Costa Calma on 19th. A Swinhoe's Petrel was seen at sea there between Lanzarote and La Palma on 17th.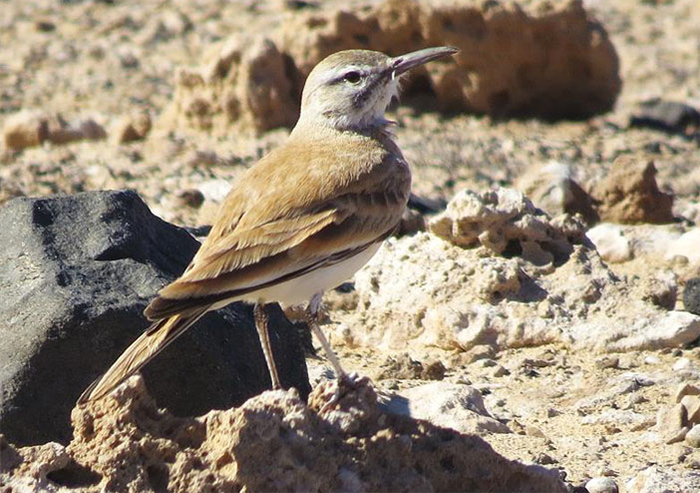 A juvenile Black-headed Heron was found on the Rabil lagoon on Boa Vista (Cape Verde) on 14th.
In Holland, the Black-shouldered Kite was still at Lauwersmeer on 16-18th.
Heading back again to Kuwait this week, the Grey-throated Martin and three Pale Martins remained at Jahra Pools NR until 17th, with the Lesser Flamingo at Sulaibikhat still on 17th also, and two Crested Honey Buzzards noted in Shuwaikh Park on 13th.
After another chequered year of predictions of forthcoming birds in the week to come (I didn't see the Siberian Blue Robin coming, but then again, who did!) I'm finally on safe ground for what's in the offing next week, and the week beyond too.
So, I'm predicting an influx of Turkeys early next week, on the back of suitable (oven-ready) conditions. In the days that follow there may be a further showing of leftovers of their kind.
So far, so predictable. From a birding perspective, we're very much into the territory of people spending a lot more time at home than hitherto, so if ever there was a moment when some unusual wintering rarity was going to be found lurking in somebody's garden, it's surely now.
(There will, obviously, be plenty of rare and scarce wildfowl and >shudders< scores of Great White Egrets as the nation's birders take a break from domestic bliss for a wander around their nearest freshwater body, but it's the "what's this funny bird in my garden" email/Facebook post/tweet that we're all hoping for…)
So whaddya fancy for Christmas? I'd quite like an Ovenbird, Rose-breasted Grosbeak or a Slate-coloured Junco in a garden near me!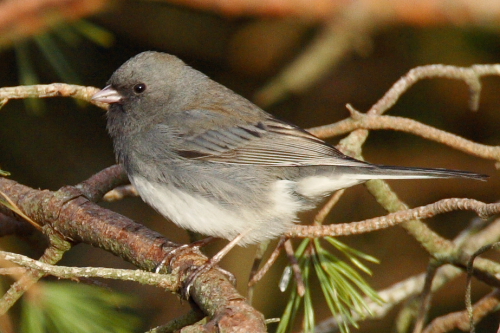 So that's me signing off now until the New Year – we'll be back with a fortnight-long round up after the festivities have concluded. Wishing you all a peaceful and bird-filled break in the meantime…
Jon Dunn
20 December 2017
Remembering Tim Cleeves, who sadly passed away this week – a dear friend with whom I enjoyed many a good day's birding in Shetland and Cornwall, and at least as many beer-fuelled dinners rich with birding stories and good humour. You'll be missed, mate.
Share this story
Tweet

Many thanks to all contributors for their photos and videos this week.
Gerard Murray, Jim Hutchins, Lorne Bissell, Francis O'Connell, Steve Duffield, Brian Henderson, Davey Farrar, Hamish Murray, Tony Duckett, John Swann, Brian Anderson, William McBay, Sean Nixon, Javier García Vargas, Andrew Jordan.