Weekly birding round-up: 6 - 12 December 2017
The week at a glance
Lincolnshire scores a mandtii Black Guillemot
And a late Pied Wheatear makes landfall in Ireland
I think I fell asleep this week and woke up some thirty years ago – to actual, season-appropriate winter weather. Yes, it was early December and it was really cold – and snowy too.
Throw in a sharp, feisty storm barrelling down out of the Arctic as the week began and it was a thoroughly eventful week of weather all told. Unfortunately, the birds were – mostly – somewhat less eventful altogether. Time to grab a hot chocolate and avoid clearing the front path a while longer with a spin through the week's happenings…
Mandt's Black Guillemot
Has it really come to this? That sound you hear isn't the next door neighbour trying to scrape the ice off his car windscreen – nope, it's the sound of a barrel being scraped very thoroughly indeed.
Don't get me wrong, I love an identifiable subspecies as much as the next man, and better yet if it's one that might, in a Horned Lark kinda way, one day be elevated to the giddy heights of full species status in its own right. But during a week that was deathly quiet in pretty much every regard – perhaps as much a reflection of birders' ability to actually get out birding as a cold snap-related dearth of birds themselves – it comes to something when a Black Guillemot is our headline bird.
Though in truth, I'm being flippant about mandtii as, once upon a time, it was considered a full species by many, including the American Ornithologists Union. The southern subspecies aren't that variable, but mandtii is strikingly, and consistently, morphologically different. The late, great, Martin Garner suggested that it might be appropriate to reduce the current situation to a simple two taxa format – southern grylle types, and High Arctic mandtii.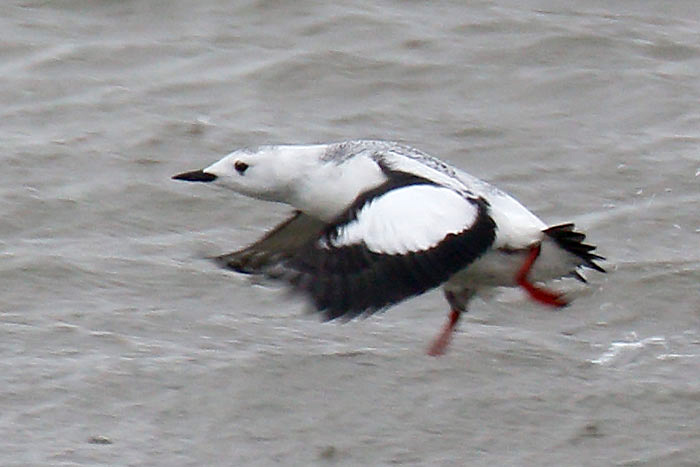 So… when photos of a rather lost and very white Black Guillemot on the River Welland near Boston (Lincolnshire) emerged online this week, alarm bells rang in some quarters. Martin Garner had alerted many of us to the possibility of the mandtii subspecies from the High Arctic turning up here in winter, and posited that it was eminently identifiable. He concluded, however, that a candidate bird in Cumbria in December 2013 lacked critical mandtii features and was, instead, consistent with pale birds seen in Shetland.
Mandtii was to feature in Martin's tragically truncated Challenge series of identification books but, in the light of a bird discovered in Holland in June 2015, he helpfully posted an advance list of the key features on the Birding Frontiers website – attention, when confronted by a candidate bird, needs to be primarily focused upon the extent of white in the wings.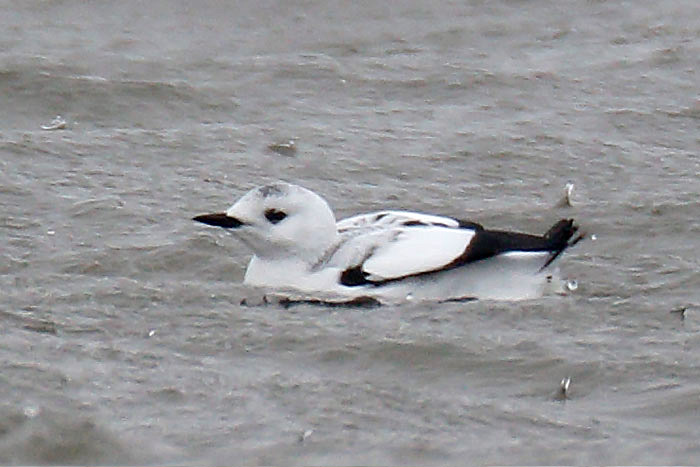 The Lincolnshire bird certainly looks the part, but alas it was whiteness of a different kind that thwarted many would-be observers of the bird as, once the snow started falling, actually getting to Lincolnshire for some proved to be too big an ask. First seen on 7th, the bird was still showing on 10th but was only reported, briefly, on 11th. With the subspecies back on the radar, the week closed with a report of a pale Black Guillemot in Shetland off Wester Quarff. Will this prove to make the grade, or will it be another of the atypically pale Shetland birds Martin Garner warned us of?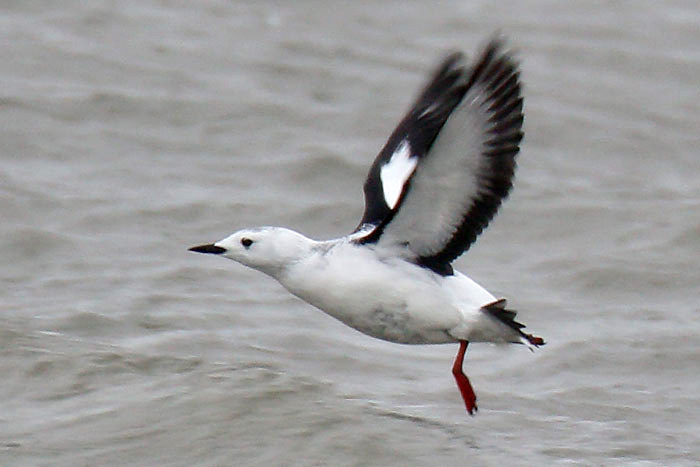 Pied Wheatear
Another week, another rare wheatear… After last week's wheatear soap opera, it fell to Co.Cork to provide us with another, altogether less complicated specimen – a cracking female Pied Wheatear west of Knockadoon at Ballymacoda on 11th-12th.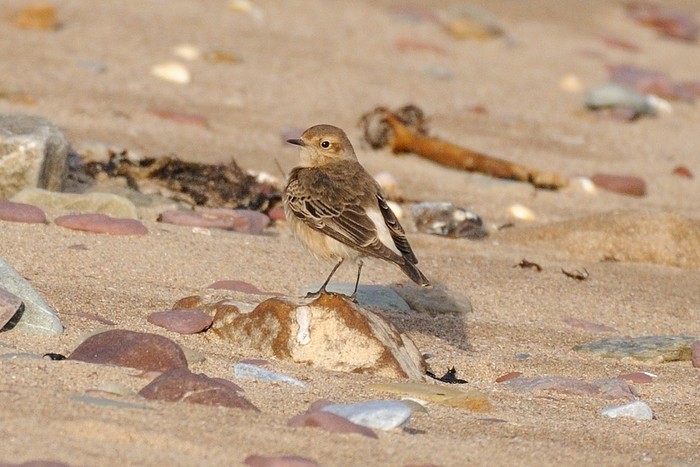 With 80 accepted records from Britain to the end of 2016, this may not at first seem like such a big deal. From an Irish perspective, however, Pied Wheatear is rather more significant – with only three accepted records to the end of 2014, it's clear that this is a species that rarely penetrates that far to the west.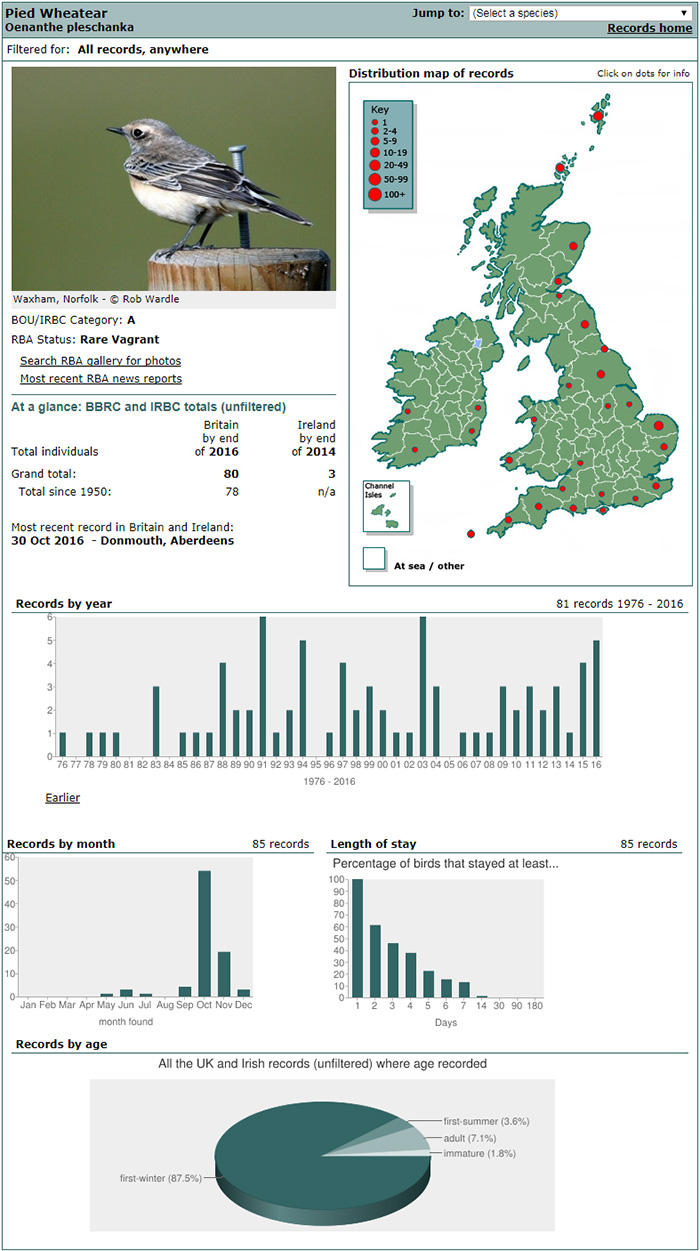 Finally, in a pleasing act of birding symmetry, it turns out that this isn't the first for Co.Cork – that bird, and indeed, Ireland's first ever record of Pied Wheatear, was seen on 8th-16th November 1980 at… Knockadoon.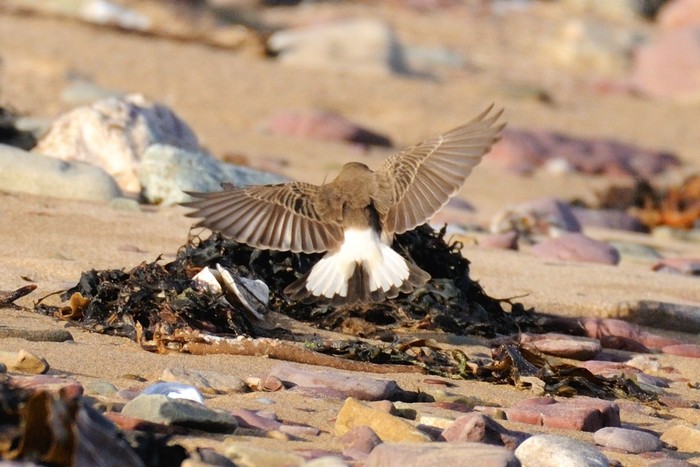 With no reports of either adult Pacific Diver in Cornwall this week we'll kick of the seasbirds section with White-billed Divers instead – single birds were seen off Peterhead (Aberdeenshire) and South Ronaldsay (Orkney) on 10th.
Pomarine Skuas continued to feature (very) modestly in the past week, with single birds noted on 6th from Spurn (East Yorkshire); on 8th in Kent off Swalecliffe; on 10th from Mount's Bay (Cornwall), Dawlish Warren NNR (Devon) and Flamborough Head (East Yorkshire); and on 11th passing over Cut End (Lincolnshire).
A trickle of Little Auks were recorded, for the most part singletons with the only really notable tally being 21 birds seen from Whitburn CP (Co.Durham) on 10th. In all, around 50 birds were logged over the course of the week with the predictable north and eastern bias – the most southerly record being a single bird seen off Landguard NR on 10th.
Predictably, the cold snap heralded a significant drop in the numbers of scarce herons, egrets and their long-legged allies this week. Cattle Egrets were entirely typical in this regard, with around a third of the previous weeks' tallies being logged in the past seven days – this being some 20 birds, so still a good tally in and of itself, but definitely down on recent weeks.
Starting in Cornwall, two birds were again at St Erth on 7th, with one present on 8th-9th and two again on 12th. Two birds were still at South Huish Marsh (Devon) on 12th. Moving east, in Dorset five birds were seen to leave a roost at Abbotsbury on 6th, and two birds were logged at Portesham on 8th still. The long-staying bird remained in Kent at Dungeness on 8th. Lancashire returned sightings of a single bird at Cockerham on 7th, two again at Leighton Moss RSPB on 8th, and three at Southport on 8th-9th, with two still at the latter site on 11th. North Yorkshire meanwhile provided a single bird at Wykeham on 8th. Moving to Ireland, one remained at Cahore Marsh (Co.Wexford) on 8th-9th, while in Co.Cork one at Union Hall on 7th was followed by two still seen at Clonakilty on 10th.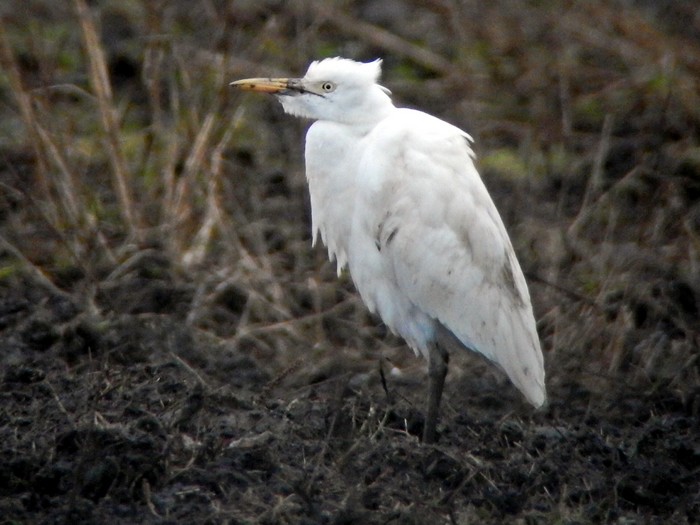 Great White Egret numbers dropped again, demonstrated most ably at Chew Valley Lake (Somerset) where the peak count dropped again from 12 on 6th to low single figures by the latter half of the week. Nationally nearly 100 birds were tallied from some 30 counties, though this figure almost certainly includes some duplication as displaced birds moved around in the inclement conditions.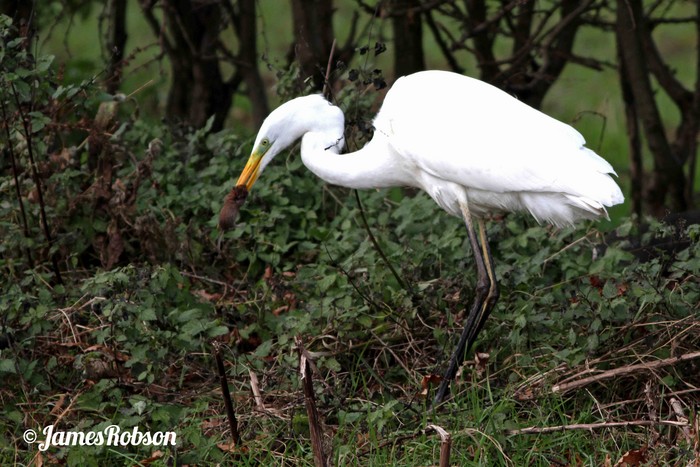 Even Spoonbills appeared to be in decline this week, with the peak counts coming from Poole Harbour (Dorset) where 22 birds were logged on 6th on Giggers Island and 7th at Lytchett Bay, and 23 were noted on 6th on Brownsea Island. The rest of the week's birds were all singletons: the individual at Hayle (Cornwall) remained there until 11th; in Devon sightings came from South Huish Marsh on 6th, Fremington Quay on 7th, and Stoke Gabriel on 10th; single sightings in Dorset came in the form of one at Stanpit Marsh on 7th and Hengistbury Head on 8th-9th; one was again at Pennington Marshes (Hampshire) on 8th, while in West Sussex one was seen at Church Norton on 6th and another sighting came at Medmerry RSPB on 10th; one was seen in Kent at Allhallows on 9th; and in Carmarthenshire one was again at the National Wetland Centre WWT on 8th-9th.
Bucking the general trend, numbers of Glossy Ibises noted in England this week actually rose on the previous week's tally, albeit by one bird – four were noted overall, being single birds at Kingsmill Lake (Cornwall) again on 8th-10th; Shapwick Heath NNR (Somerset) again on 6th; Blackhole Marsh (Devon) on 8th; and Wheldrake (North Yorkshire) on 6th. In Ireland the first-winter remained at Dungarven (Co.Waterford) on 6th-11th.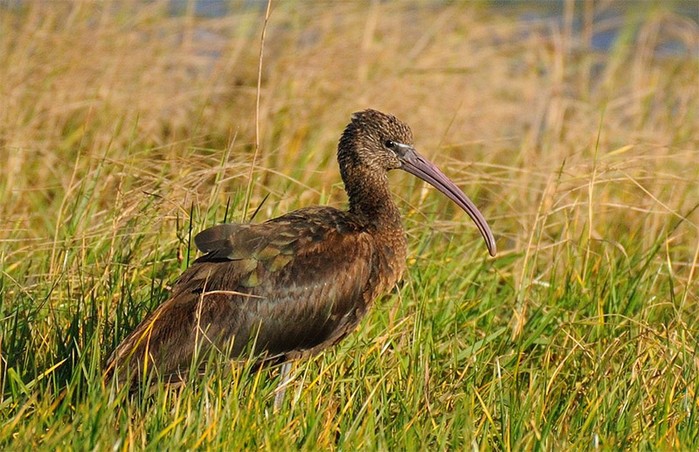 The adult Common Crane remained on the Western Isles this week at Berneray, North Uist, on 9th; two were reported on 7th at Pottersbury (Northamptonshire), and four birds were still in Cambridgeshire at Eldernell on 8th with three there on 12th.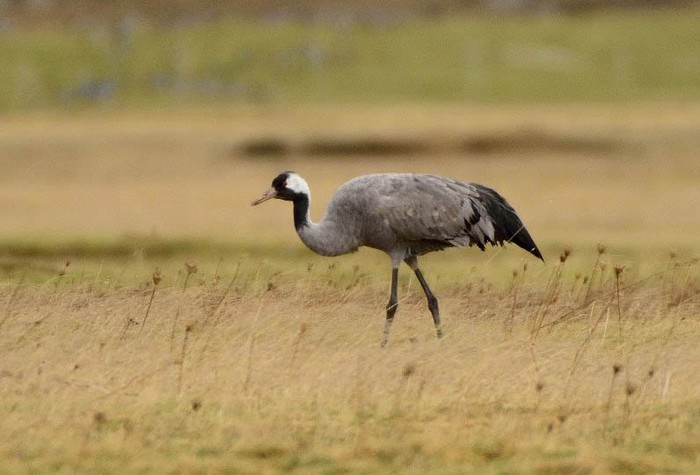 Our weekly dabble in the rarity duckpond begins once more with the The Goose Formerly Known As Canada - a probable Todd's Canada Goose was found on 6th at Loch of Skene (Aberdeenshire), with one again on Islay (Argyll & Bute) at Mull of Oa NR on 11th.
More colourful fare all round came in the form of a Red-breasted Goose found with Pink-footed Geese at Elgin (Moray) on 6th.
Two blue morph Snow Geese were at North Slob WWR (Co.Wexford) on 6th.
Heading swiftly south to conclude our geese, there were sporadic reports of our usual three recent Black Brants - the Essex bird was seen again at West Mersea on 8th; that on the Fleet (Dorset) remained there on 10th; and the Cley (Norfolk) individual was logged once more on 11th-12th.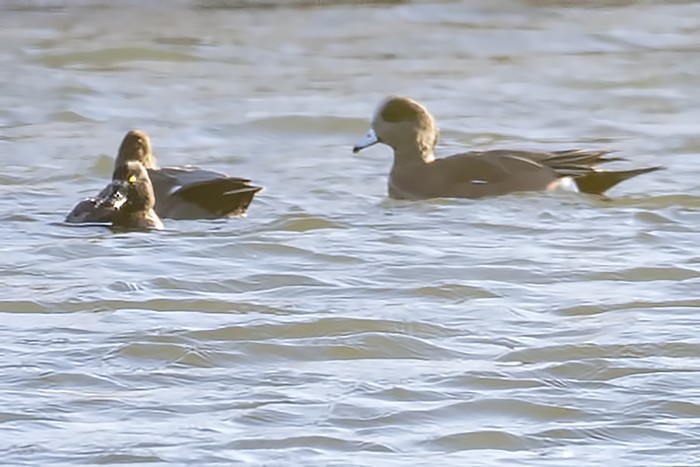 Familiar American Wigeons featured again this week: the female remained at Grimley (Worcestershire) on 7th, and drakes were again at Dundrum (Co.Down) on 7th, Rutland Water (Leicestershire) on 8th-12th and Clachnaharry (Highland) on 9th-10th. A drake was at Bubwith Ings (North Yorkshire) on 8th; it, or another, was found in East Yorkshire at Ellerton Landing on 11th-12th. Further drakes were seen in Cork harbour (Co.Cork) on 9th and Balkenna (Ayrshire) on 10th-12th.
Green-winged Teals remained a shadow of their sometime winter selves, with just five birds noted this week, most notable being two together at Oare Marshes KWT (Kent) on 10th. Our three other records comprised the settled bird at Martin Mere WWT (Lancashire) still on 7th-10th, and birds at Tacumshin (Co.Wexford) on 9th and Tiree (Argyll & Bute) on 10th. On 12th one was again at Leighton Moss RSPB (Lancashire).
The drake Lesser Scaup remained in Cornwall at Dozmary Pool until 11th.
Sharing Dozmary Pool this week was the drake Ring-necked Duck, both birds being reported daily. Other drakes of the latter species were seen at Shapwick Heath NNR (Somerset) on 6th-7th and Milton Loch (Dumfries & Galloway) again on 10th, and Abberton reservoir (Essex) on 12th. Females were logged at Kirkby-on-Bain GPs (Lincolnshire) on 9th, North Slob WWR (Co.Wexford) again on 10th and again at Clonee Lakes (Co.Kerry) on 11th, at Llangorse Lake (Powys) on 11th and the National Wetland Centre WWT (Carmarthen) on 12th.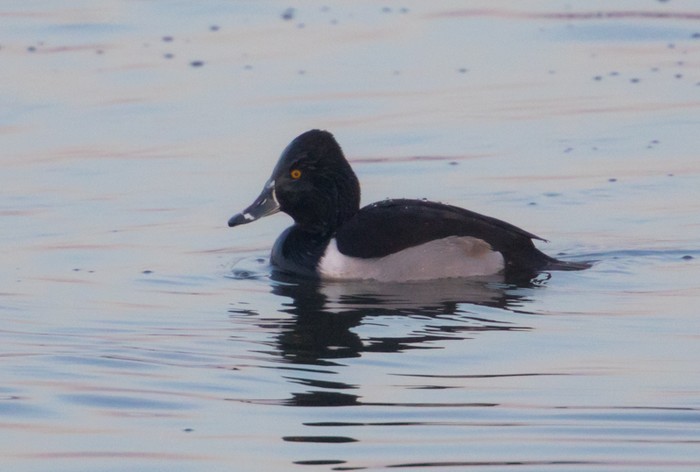 The drake Ferruginous Duck at Eyebrook reservoir (Leicestershire) was still present on 8th but not thereafter.
The drake King Eider was proving nothing if not persistent, despite the attention of the local workboat, remaining at Wester Quarff (Shetland) on 10th.
The Cornish female and juvenile drake Surf Scoters remained this week at Porthpean (Cornwall), being seen there again on 11th-12th. The recent wintering drake in Shetland was once again noted in Hascosay Sound on 10th, and two drakes were seen on 11th at Tentsmuir Point NR (Fife). On 12th a drake was again off Ruddons Point (Fife).
An honorary waterbird inclusion again for a Pied-billed Grebe this week – the adult male bird remained in Argyll & Bute this week at Loch Feorlin on 6th.
A sharply denuded roll-call of shorebirds comprise this section of the Rarity Round-Up, headed by the Stilt Sandpiper still on Brownsea Island (Dorset) on 6th-9th. Elsewhere, however, it was slim pickings this week…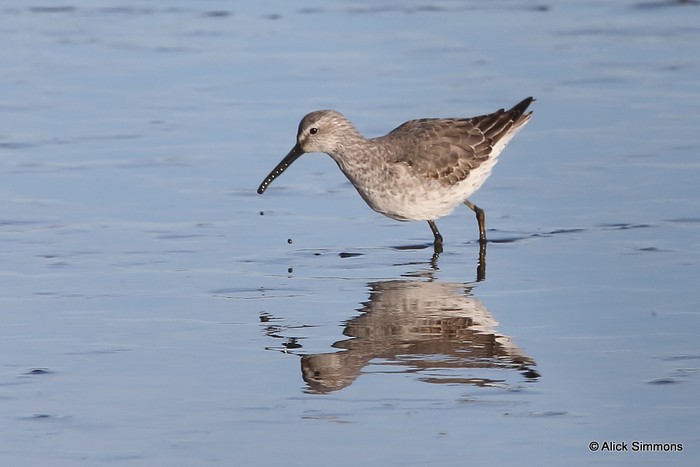 Staying briefly in Dorset, the Lesser Yellowlegs was seen again at Lodmoor RSPB on 9th-10th, while Spurn's first remained there as the week began on 6th.
In Cornwall the juvenile American Golden Plover was once more seen at Hayle intermittently throughout the week. In Ireland the individual on the Clonakilty estuary was seen again there on 8th.
Ireland also provided a Semipalmated Sandpiper this week – one seen at Clogheen Marsh (Co.Cork) on 7th.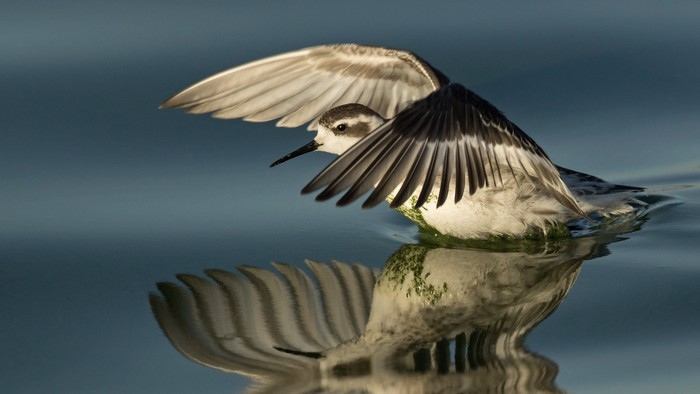 A late Temminck's Stint was in West Sussex this week at Pulborough Brooks RSPB on 9th-12th.
The cold weather appears to have finally persuaded the long-staying juvenile Red-necked Phalarope at Covenham reservoir (Lincolnshire) to move on – it was last reported from there on 6th. Grey Phalaropes are made of sterner stuff, and four single birds were logged this week off Cullernose Point (Northumberland) on 7th, Dunnet (Highland) on 8th, South Shields (Co.Durham) on 9th and St Ives (Cornwall) on 10th.
Numbers of Glaucous Gulls reported this week picked up somewhat, with a shade over 50 birds reported across the region. Those northerlies were clearly good for something other than a dump of snow… Single site peak counts were six birds in Dunnet Bay (Highland) on 8th, six at Scatness (Shetland) on 9th, and five on Fair Isle (Shetland) on 8th – elsewhere many sightings involved single birds, predominantly at coastal locations in the north and east.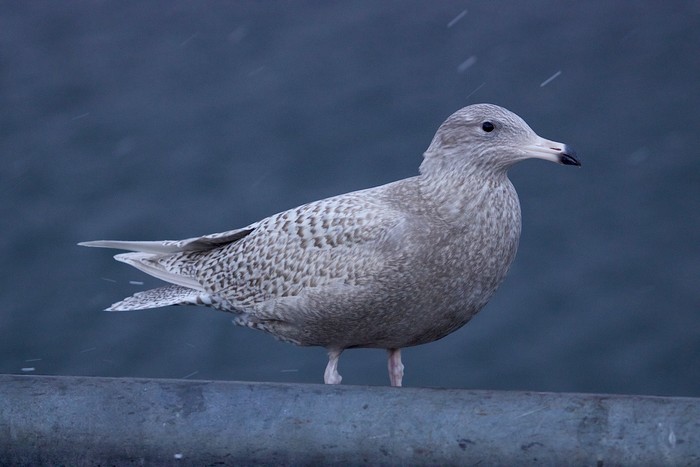 Iceland Gull numbers stayed fairly static this week, with some 35 birds recorded – settled birds included those juvenile individuals once again at Ramsgate (Kent) and Landguard NR (Suffolk) and, inland, second-winter birds in the Bartley reservoir area (West Midlands) and around Pennington Flash (Greater Manchester). Again, most of the week's total were single birds, with duos only reported from Arbroath (Angus) on 6th and North Uist (Western Isles) and Fetlar respectively on 10th, and three birds at Peterhead (Aberdeenshire) on 9th.
A Kumlien's Gull was at Thurso (Highland) on 7th; a further juvenile probable bird was seen on North Ronaldsay (Orkney) on 9th, with a possible at Tralee (Co.Kerry) on 10th and another probable at Shawell (Leicestershire) on 12th.
An adult Bonaparte's Gull was seen, briefly, in Belfast's Dargan Bay (Co.Antrim) on 10th.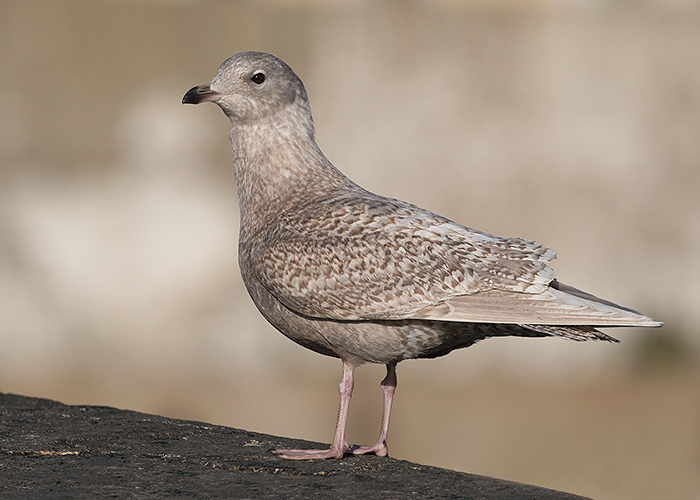 The week began with a couple of putative Ring-billed Gulls - a report of an adult at Middlebere Farm (Dorset) on 6th, and a probable first-winter at Hayle Estuary RSPB (Cornwall) on 7th – before more concrete sightings came in the form of a second-winter bird at Cahermore (Co.Cork) on 8th and adults at Nimmo's Pier (Co.Galway) on 9th still, Blashford Lakes HWT (Hampshire) on 10th, and Hayle (Cornwall) on 12th.
A possible Forster's Tern was reported on 8th at West Mersea (Essex) – a superb east coast record were it to firm up. There was no further sign of it there by 12th, just a caveat in the form of a Sandwich Tern there on the latter date.
Just two Rough-legged Buzzards to report this week – that on Sheppey (Kent) again at Capel Fleet on 8th, and an adult that day also at Thorney (Cambridgeshire).
At the week's close a Snowy Owl was found on the Cornish mainland at St Just. Was this recent history repeating itself, with the Scilly bird of last week relocating to pastures new?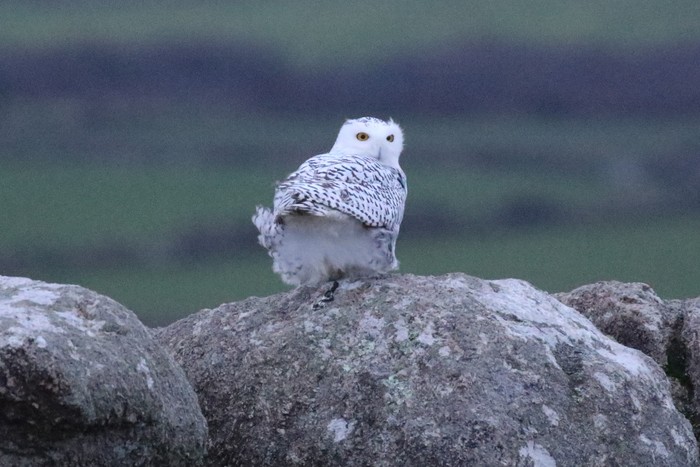 The cold weather continued to sort the wheat from chaff amongst our passerine offerings this week, with numbers of rare and scarce birds plummeting.
(The week's headlines would have been very different if either putative American Robin reported this week had coalesced into a definite bird – a probable at Great Haywood (Staffordshire) on 10th was all too brief and not seen subsequently, while that reported in Baldoyle (Co.Dublin) on 6th transpired to be a Bullfinch…)
The first-winter, berry-fuelled, Barred Warbler at Titchfield Haven NNR (Hampshire) continued to tough it out, though, remaining there until 12th.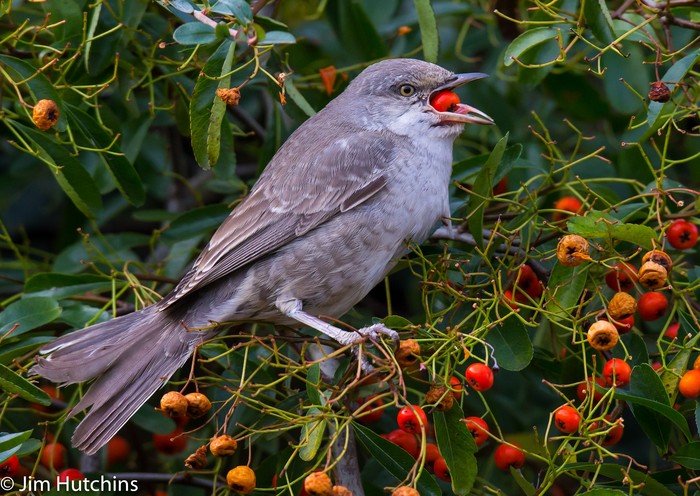 Four Yellow-browed Warblers comprise the rest of the autumn warbler hangover – one still on Portland (Dorset) on 6th-7th, one still in Falmouth (Cornwall) on 7th, another in Cornwall in Illogan on 9th, and still in Cornwall one at Newlyn on 12th.
The Richard's Pipit at Chelmondiston (Suffolk) remained there until 9th, while the individual at Flamborough (East Yorkshire) was seen again there on the latter date also, and again on 12th.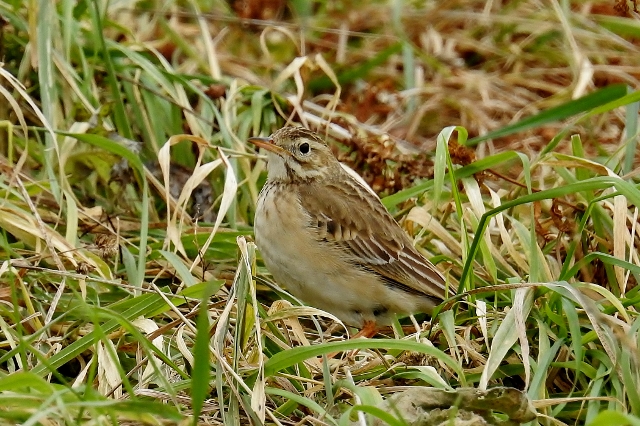 Another week has passed with very few Great Grey Shrikes to report – the recent bird was seen again at Prestwick Carr (Northumberland) on 6th; the Thursley Common (Surrey) regular was again there on 7th; and in the west, one was at Crabtree Hill (Gloucestershire) on 8th still, with a bird seen at Bredwardine Hill (Herefordshire) on 11th. On 12th sightings in Hampshire came from Burley and Milkham Inclosure.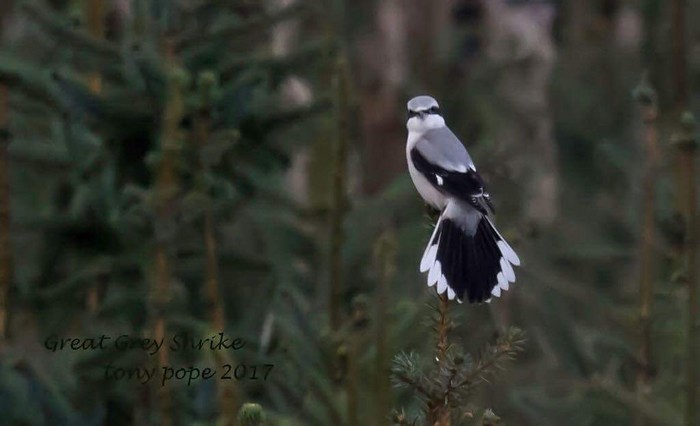 Waxwings are still having a quiet winter to date, but at least this week we had a couple of double figure flocks in Scotland – 34 in Aberdeen (Aberdeenshire) and 19 in Elgin (Moray), both on 11th. A single bird was seen in Aberdeen on 6th; Fort William (Highland) hosted two on 7th; one was in Ashill (Norfolk) on 8th-9th; and two were seen at Perrystone Hill (Gloucestershire) on 10th. On 12th one was reported from Combwich (Somerset), four were seen over Silkstone Common (South Yorkshire), and four were reported from East Sussex at Deanlane End.
Two Rose-coloured Starlings were still around, at least at the start of this past week – those at Easington (East Yorkshire) and the Lizard (Cornwall) both remaining there on 6th.
In Devon, the male putative Italian Sparrow was still at East Budleigh until 6th at least.
All three of our existing flocks of Parrot Crossbills remained into the new week, with those that at Santon Downham (Norfolk) peaking at 42 birds on 7th but dropping to 22 birds on 9th; Wishmoor Bottom (Berkshire) still holding 15 birds on 9th also; and the small flock at Howden reservoir (Derbyshire) had increased to a dozen birds on 7th-9th. Elsewhere, further stragglers came to light – two were seen over Brandon (Suffolk) on 7th, and a female was found at Woodbury Common (Devon) on 8th.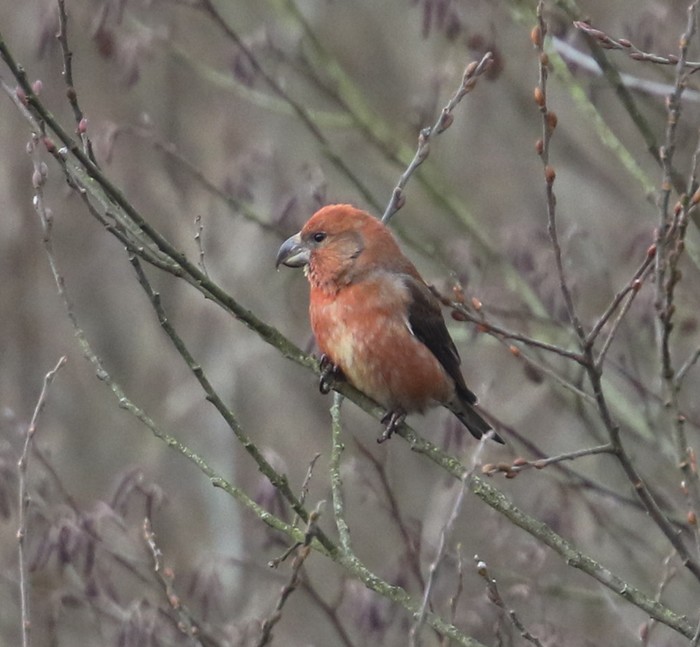 A Two-barred Crossbill was found in Hamsterley Forest (Co.Durham) on 11th.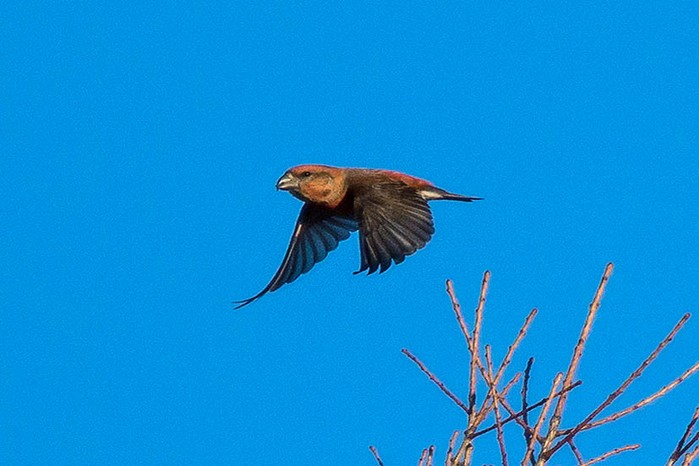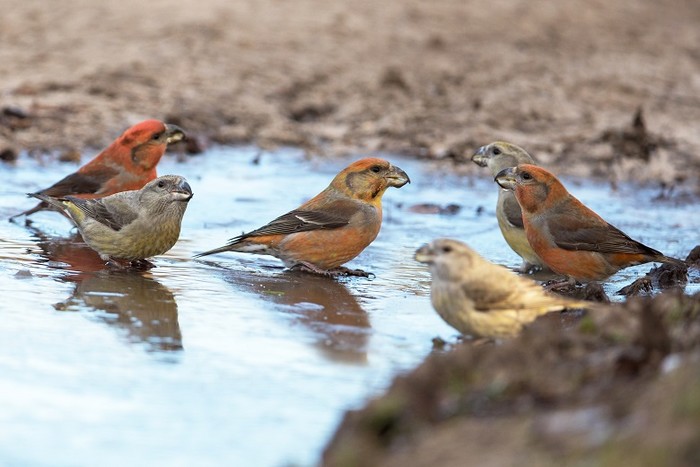 The exilipes Arctic Redpoll remained at Hazelwood Common (Suffolk) until 9th, while the individual in Norfolk at Eccles-on-Sea was still present on 6th and the further possible bird at Swillington Ings (West Yorkshire) continued to tease on 6th-10th.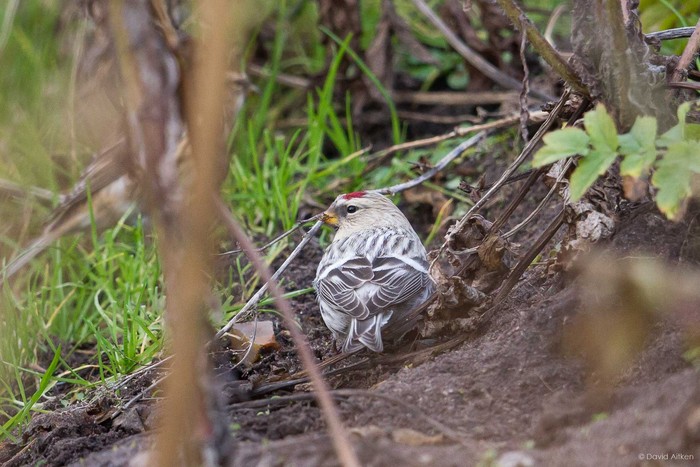 Both of last week's two Dwarf Bitterns, an adult and a juvenile found on Fuerteventura (Canary Islands), remained into the new week, with both present on 6th and the adult still until 9th.
On the Azores the Redhead remained on Terceira on 10th at Praia da Vitoria.
Familiar faces continued to linger in northern Europe – in Holland, the Black-shouldered Kite was still at Lauwersmeer on 10th, while the American Royal Tern continued to taunt British birders from the opposite side of the English Channel, being seen again on Guernsey (Channel Islands) on 10th. I'm guessing it won't be coming our way any time soon.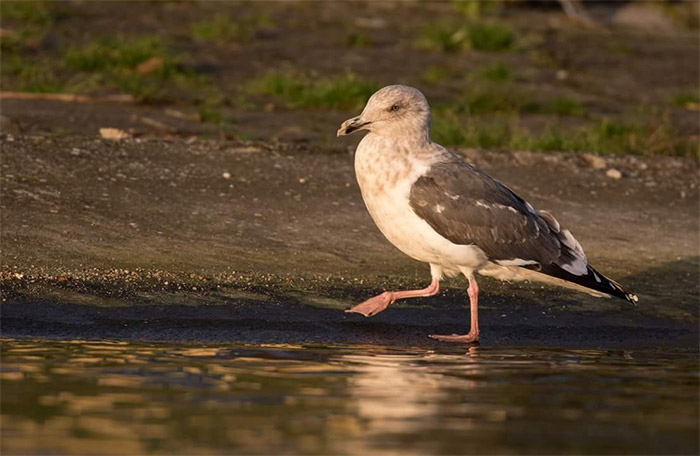 Poland, meanwhile, scored big this week with a cracking third-winter Slaty-backed Gull on 6th-10th at Kierskie Lake, Poznan. Certainly no complaints from anyone should another of those beasts turn up in Britain or Ireland.
Mirroring recent records in eastern England, an exilipes Arctic Redpoll was seen this week in Austria at Altichtenwarth on 6th.
Moving much further afield indeed, Kuwait continued to attract attention this week with a probable Grey-throated Martin and three probable Pale Martins still at Jahra Pools NR on 9th, and a Lesser Flamingo at Sulaibikhat on 9th-10th.
Hm… well, if the past week was anything to go by, we're firmly into the winter doldrums now with a cold snap snuffing out any last embers of the autumn. It's familiar territory from here on in, I fear…
Those near the coast will keep a flame burning for a rare Arctic gull – statistically the coming week remains a good one for chancing upon a wandering Ivory Gull. Perhaps, however, we might take a leaf out of Poland's book this week and think rarer gulls altogether – the Slaty-backed Gull there this past week reminds me of Britain's first Glaucous-winged Gull, found in Gloucestershire at Hempsted on 15th-16th December 2006.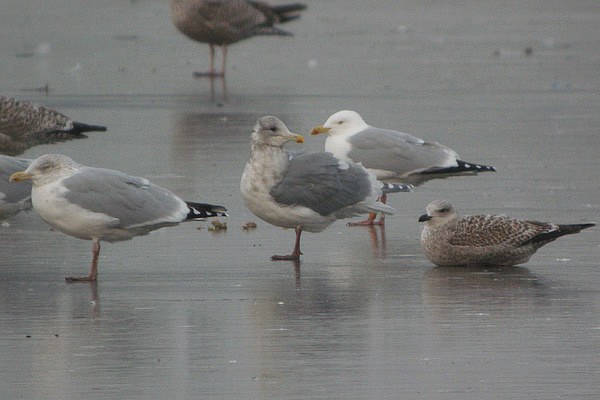 Our horizons have broadened somewhat in recent years as to what's possible where rare large gulls are concerned, so any gathering of gulls at the coast or inland is surely worth taking some time to linger over. At worst you might find a Glaucous Gull, and that's not such a very bad thing, is it?
As for what might be lurking in somebody's garden… well, this week has already teased us with a couple of calls for American Robin, and that's not that daft an idea at all – the coming week can claim two past records, outnumbering even the classic winter cotoneaster-munching rare thrush, Black-throated.
Maybe it'll be third time lucky for with a pre-Christmas robin…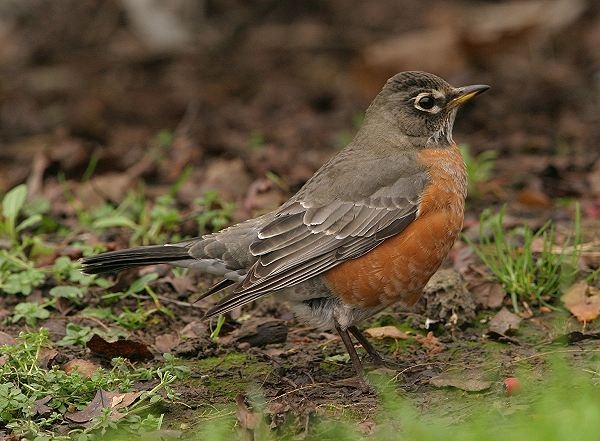 Jon Dunn
13 December 2017
Share this story
Tweet

Many thanks to all contributors for their photos and videos this week.
Steve Gantlett, Andrew Malcolm, Brian Henderson, James Robson, Andrew Malcolm, Steve Duffield, Trevor Woodland, Sean Nixon, Alick Simmons, Paul Coombes, Anthony Williams, Andy Williams, Steve Ashton, Phillip Taylor, Jim Hutchins, Tony Pope, Ron Marshall, Mark Jones, David Aitken, Steve Klasan,