Weekly birding round-up: 22 - 28 November 2017
The week at a glance
Surrey provides our latest candidate Horned Lark
Devon continues to offer a putative Italian Sparrow
And Dorset is graced again by a Stilt Sandpiper
Another very peaceful early winter week, this past seven days, with a decent cold snap to get us all in the mood for the weeks and months to come. A persistent, generally north-westerly-flavoured airflow for the region as a whole suppressed any sort of compelling continental arrivals, but the week was not wholly without its rewards…
Horned Lark
You what? Yes, I know, it's neither currently considered a species in its own right nor, with the taxonomy of the various subspecies in some flux, does it appear particularly likely to be elevated as such any time soon, but for one thing, it's an interesting bird in a British context and, when we get down to brass tacks, needs must in an otherwise peaceful week, so…
Shore Larks - who doesn't like 'em? They're charming, characterful birds with chutzpah to spare and I defy any British birder to say they're not a fan. Everybody's day is better with a Shore Lark in it and, in modest numbers, they've enlivened many an early winter day for many of us down the years. And, if we're in North America, we'd call them Horned Larks - it's one of those pants/trousers things, right?
Well… kinda.
With at least 40 subspecies currently recognised from a global range that spans Europe, North Africa, Asia, North and even South America, what we've got on our hands is a heck of a lot of candidate species in their own right. Given the current vogue for splitting all manner of things and, possibly, quite rightly in many cases, you'd have to wonder whether in the fullness of time some of these myriad subspecies may get the leg-up to being considered valid species. One recent paper, on the basis of DNA analysis, suggested that there was a case presently for six species to be recognised, five from the Palearctic and one from the Nearctic – the latter a holding pattern as there are many Nearctic subspecies under the umbrella of Horned Lark and, potentially, species to be carved out amongst them with further DNA analysis.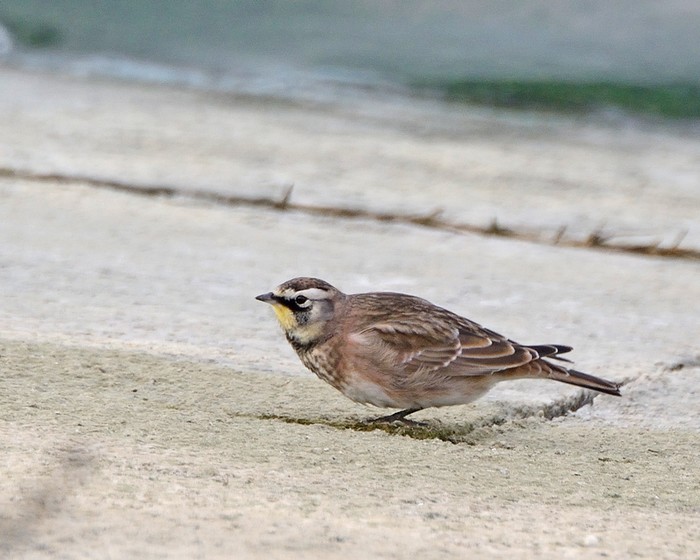 Our usual Shore Larks are flava - that is, the form found breeding from Norway north and east across Europe and Siberia. So far, so good. So when does a Shore Lark stop being a Shore Lark? Well, when it's one of the two candidate Nearctic forms, either alpestris (found in eastern Canada) or hoyti (found in central Canada) – both known generically there as Horned Lark and both, unusually as most of the other subspecies appear relatively sedentary, are longish distance migrants – meaning either could, conceivably, make it across the Atlantic and turn up on British or Irish shores.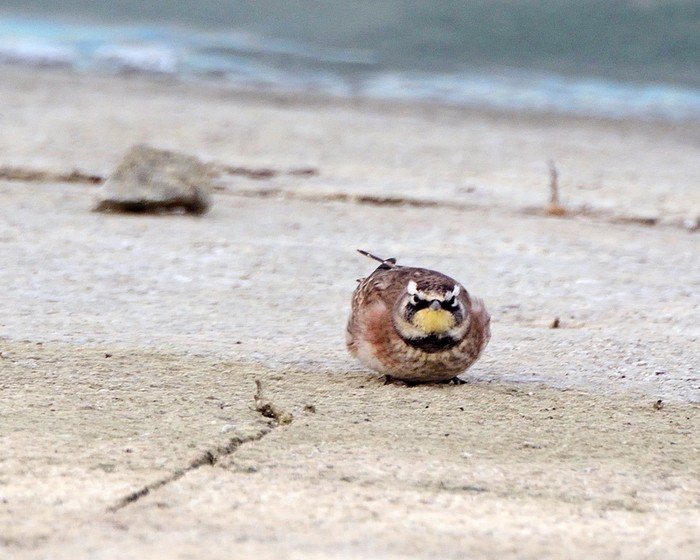 But have they? If we discount an early 20th century record from South Uist (Western Isles) – and we must, as it's got the grubby, fraudulent fingerprints of Richard Meinertzhagen all over it – then there have been a couple of recent candidates – on Scilly in October 2001 and South Uist in October 2014 and, in Ireland, Co.Down in 1998.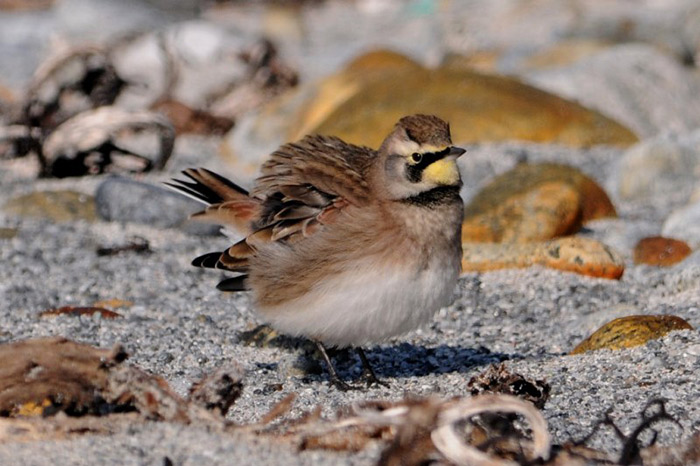 And now, in the late autumn and early winter of 2017, we have another putative Horned Lark - seen at Staines reservoir (Surrey) on 24th-28th, the appearance of this latest bird certainly seems to fit the bill – and it appears as if it's been in the area since early November at least, as it had reportedly been present at Queen Mary reservoir for some three weeks previously and is clearly not averse to a little local wandering as, on 25th, it bobbed over to King George VI reservoir for a while too.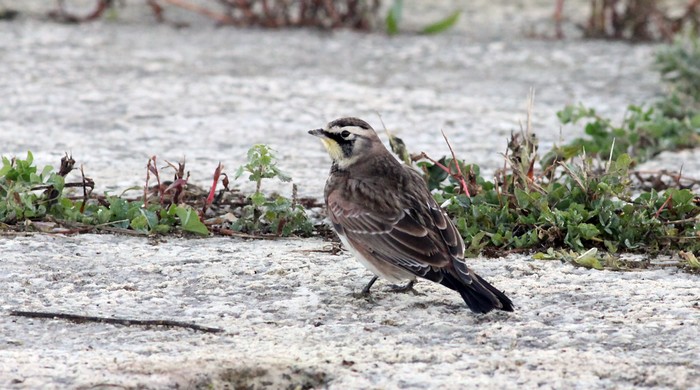 This, then, for those who missed the Scilly or Western Isles birds, is classic insurance tick material – and, in an added bonus, is not only hanging around for a while but is in an accessible part of the UK. Worth a look, surely?
Possible Italian Sparrow
Sticking with making sure the old insurance policy is in place, the candidate male Italian Sparrow remained this week at East Budleigh (Devon) until 28th and is, until we hear otherwise or portable DNA testing kits become de rigeur, about as good as any Italian Sparrow in the UK is ever likely to get.
Have many folk bothered with it, though, I wonder?
Stilt Sandpiper
Well, hello stranger…
First seen in Dorset at Lodmoor RSPB on 11th September, and last seen in the county on 2nd November at Middlebere Farm, our young Stilt Sandpiper appeared to have done a bunk. A sighting in Hampshire at Farlington Marshes HWT on 7th November wasn't followed by anything else. We'd have to assume that the bird's been lurking quietly in some hidden coastal creek in the meantime but, on 24th-25th, there it was again in Poole Harbour, on the lagoon on Brownsea Island.
And then… nothing until 27th, when it was there again and showing well. Betcha it hangs around a while longer yet.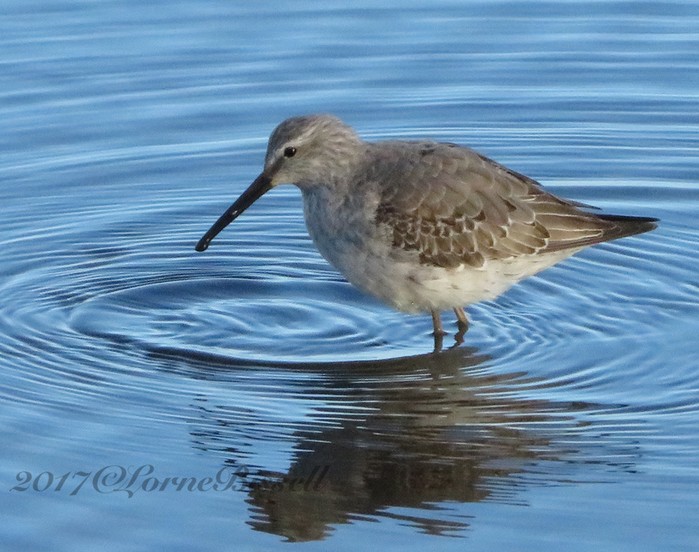 Topping our brief saunter through the seabirds this week is the Pacific Diver that's settled into the waters off Penzance (Cornwall) for another winter, being seen there again on 25th – whether this bird or another accounts for that seen some way east down the Cornish coast in Gerrans Bay on 26th is a moot point.
Three individual Leach's Petrels were logged this week – on 23rd off Knott End (Lancashire) and on 25th at William Girling reservoir (London) and from Kilcummin Head (Co.Mayo).
The week also offered a quintet of late Pomarine Skua sightings - on 22nd in Devon off Berry Head and Prawle Point, on 26th from Spurn (East Yorkshire) and Gibraltar Point NNR (Lincolnshire) and, finally, on 28th off Whitburn (Co.Durham).
We wrap the seabirds up then with a trickle of Little Auks: on 23rd one was reported from Martins Haven (Pembrokeshire), with further single birds that day off Redcar (Cleveland) and North Ronaldsay (Orkney); on 24th one was seen from Holme Dunes (Norfolk) while the following day one was off Titchwell, and further birds on 25th came in the form of seven off Kilcummin Head (Co.Mayo) and three off Lossiemouth (Moray); two more passed the latter site on 26th, with one also seen that day off Inner Farne (Northumberland). On 28th further birds were seen off East Haven (Angus) and Whitburn (Co.Durham).
We're still practically knee-deep in Cattle Egrets this week, with around 50 birds in all seen the length and breadth of Britain and Ireland. While the chunky numbers remained the preserve of the south – there were eight logged at St Erth (Cornwall) on 23rd, and six at Topsham (Devon) on 26th – scattered individuals had permeated as far north as West Freugh airfield (Dumfries & Galloway) on 25th and Sandhead on 28th, and west into Ireland – a pair were at Clonakilty (Co.Cork) still on 22nd, bettered by a trio at Tacumshin (Co.Wexford) on 25th-26th.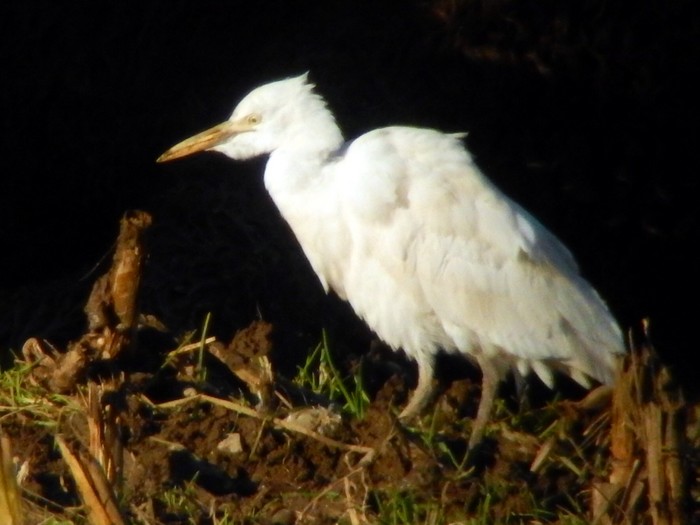 The Great White Egret-ometer remained with the needle firmly planted in the red this week, with at least 110 birds logged from a wide range of some 30 counties nationwide. While numbers were down at the main site, Chew Valley Lake (Somerset), that's all relative – a peak count of 26th birds there on 25th is still an awful lot of Great Whites, as is the 13 seen at Leicestershire's Rutland Water still on 28th.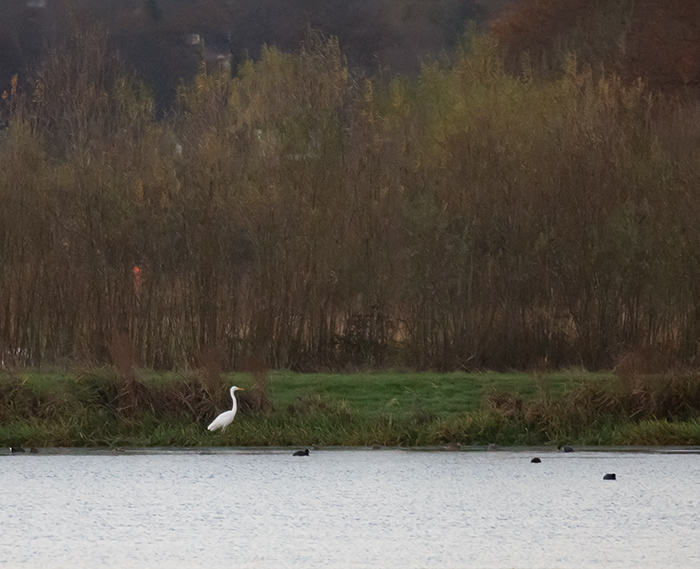 The hoactli American Night Heron's long stay in Shrewsbury's Dingle Gardens (Shropshire) came to an ignominious end on 27th when news emerged that it had been taken into care. One hopes that this story doesn't end with a misguided attempt to repatriate the bird to somewhere in its home range. Still, it's gotta be easier to rehabilitate than a Red-footed Booby, anyway…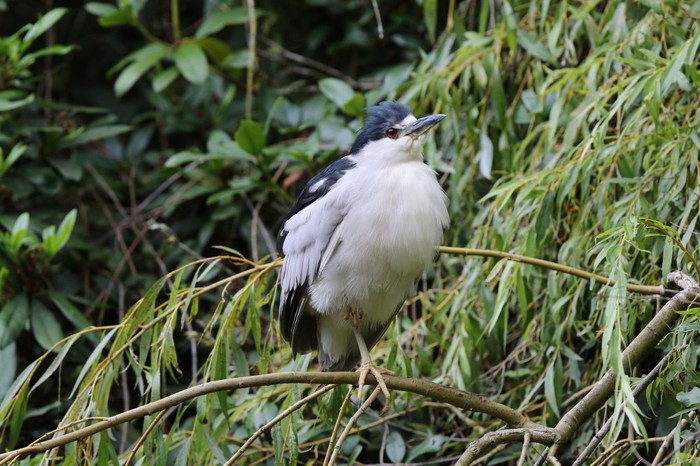 Half a dozen Glossy Ibises were seen this week: one was still at Brading Marsh (Isle of Wight) on 22nd-25th; one remained at Medmerry RSPB (West Sussex) on 22nd-25th; and further birds were seen on 24th at Netherfield (Nottinghamshire) and Eyebrook reservoir (Leicestershire), and on 26th-28th at Kingsmill Lake (Cornwall), while in Ireland one was noted in Co.Derry at Lough Beg on 23rd-26th.
A White Stork was seen over North Walsham (Norfolk) in the early morning of 27th.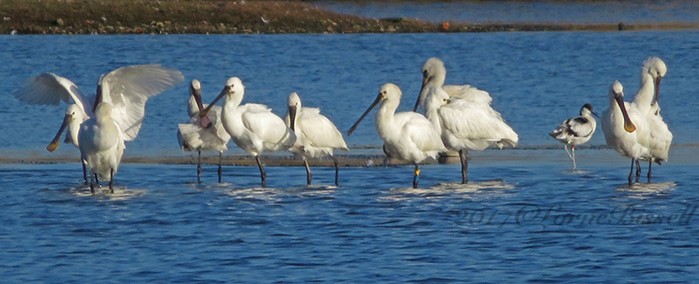 Dorset's Poole Harbour provided most of a generally denuded tally of Spoonbills, with the bulk of sightings come on 24th when 25 were seen from Shipstal Point and 22 were on Brownsea lagoon. Away from Poole Harbour, single birds were at South Efford Marsh (Devon) on 22nd-23rd still; Hayle (Cornwall) on 23rd-28th; Church Norton (West Sussex) on 23rd-25th still, and Medmerry RSPB again on 25th; Pennington Marshes (Hampshire) again on 25th-27th with four there on 28th; and in Wales at the National Wetlands Centre WWT (Carmarthenshire) on 24th-25th once more. Two birds were still on Samson (Scilly) on 28th, with three that day in Cornwall on Rat Island in Saltash.
Away from Norfolk, the week's main Common Crane sighting came again from Cambridgeshire on 26th, with 21 birds noted at Ouse Washes RSPB that day. One was still present in the Western Isles at Borve, North Uist, on 24th.
We've both more variety and volume coming up amongst the scarce and rare ducks and geese, so with no further ado we'll begin with the geese and, in particular, the The Goose Formerly Known As Canada.
Two Cackling Geese were reported from Welney WWT (Norfolk) on 24th, but not subsequently. Meanwhile a hutchinsii Richardson's Cackling Goose remained on Islay (Argyll & Bute) at Loch Kinnabus on 22nd-28th and the Oa RSPB on 27th; and an interior Todd's Canada Goose was again in Highland at Tarbat Ness on 24th, with another back on Islay at Cornabus still on 27th and Loch Indaal on 28th.
Aberdeenshire was the locus for most of the week's sightings of Snow Geese, with a blue morph still at Loch of Skene on 24th and sightings of white morphs coming from Cotehill Loch on 24th and Slains Pools on 26th. A further white bird was still on North Uist at Berneray on 24th.
Familiar Black Brants remained at Cley (Norfolk) on 22nd-28th, Ferrybridge (Dorset) on 24th, and The Naze (Essex) on 25th. A possible adult Grey-bellied Brant was at Bircham Newton (Norfolk) on 22nd.
Five drakes make up most of this week's American Wigeons - these were birds on Matford Marsh RSPB (Devon) on 22nd-26th; Rutland Water (Leicestershire) still until 26th; Loch Aileodair on North Uist (Western Isles) on 24th; at Clachnaharry (Highland) again on 28th; and, in Ireland, on the Culdaff estuary again on 26th. The female bird remained at Grimley (Worcestershire) on 27th at least.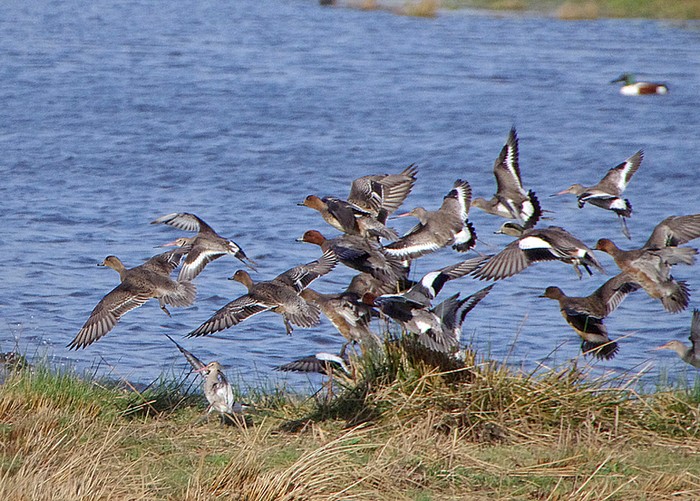 Most of the Green-winged Teals this week were familiar faces too – drakes still at Roadford reservoir (Devon) on 22nd, Blacktoft Sands RSPB (East Yorkshire) on 22nd-24th, Oare Marshes KWT (Kent) on 22nd-27th, and Ballymena (Co.Antrim) on 26th. Drakes were also seen at Martin Mere WWT (Lancashire) on 25th, up on North Uist (Western Isles) at Loch Sandary on 26th-27th, on 27th at Lough Foyle (Co.Derry), and on 28th at Loch Flemington (Highland).
A fresh drake Lesser Scaup was found in Cornwall at Dozmary Pool on 26th-28th; meanwhile the drake remained at Rahasane Turlough (Co.Galway) on 25th, and a possible female was at Allerton Park (North Yorkshire) on 23rd.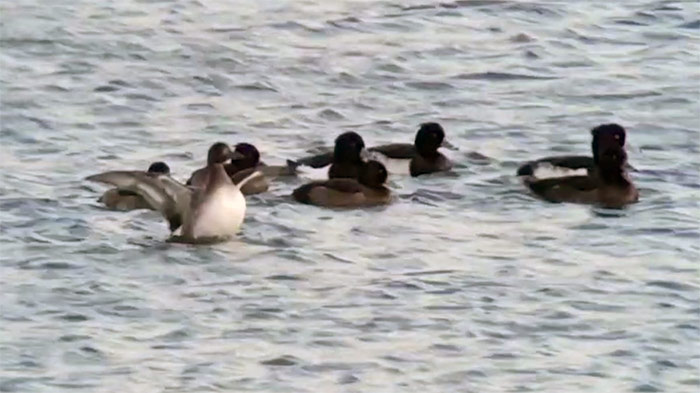 Sharing Dozmary Pool on 23rd-28th was the drake Ring-necked Duck that's been there a while now; other drakes remained at Lough Morne (Co.Monaghan) on 22nd, Inch Island (Co.Donegal) on 25th, and Milton Loch (Dumfries & Galloway) on 26th-28th; and females were at Blarney Lake (Co.Cork) on 24th-28th and North Slob WWR (Co.Wexford) on 26th.
The drake Ferruginous Duck remained settled at Eyebrook reservoir (Leicestershire) until 26th.
All of this week's King Eiders are familiar faces in the Rarity Round Up – longest staying being the settled queen still at Ynyslas (Ceredigion) on 24th-26th, and the drakes still at Wester Quarff (Shetland) on 23rd and again on 27th-28th, and off Whiteness Head (Highland) on 24th-25th.
In Cornwall the lingering female and juvenile Surf Scoters remained at Porthpean (Cornwall) until 28th, and the female/first-winter male bird remained at Ballinskelligs (Co.Kerry) on 24th-28th. A juvenile was in Killala Harbour (Co.Mayo) on 26th, while drakes were to be found in Gullane Bay (Lothian) on 22nd-23rd and Colwyn Bay (Conwy) on 24th.
Neither a goose, nor a duck, but shoehorned in amongst them for the sake of waterfowly completeness, the Pied-billed Grebe was still on Shetland at Spiggie all week long.
There's been a noticeable thinning out of rare shorebirds present in Britain and Ireland in the past fortnight – and with a sharp cold snap in the offing, we may yet see more gone fairly shortly.
But, for now, there was still a reasonable variety on offer this week, kicking off with the faithful adult Long-billed Dowitcher still in Kent at Oare Marshes KWT all week and joined, on 27th-28th, by a fresh juvenile bird.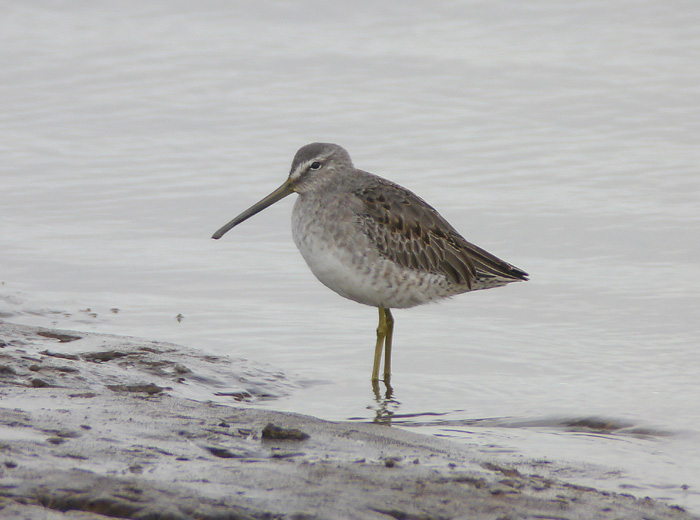 Moving west, the Lesser Yellowlegs remained at Lodmoor RSPB (Dorset) until 28th.
Two of the recent settled American Golden Plovers remained on offer this week, these being juveniles at North Boisdale on South Uist (Western Isles) still on 22nd, and on the Hayle Estuary (Cornwall) on 22nd-26th.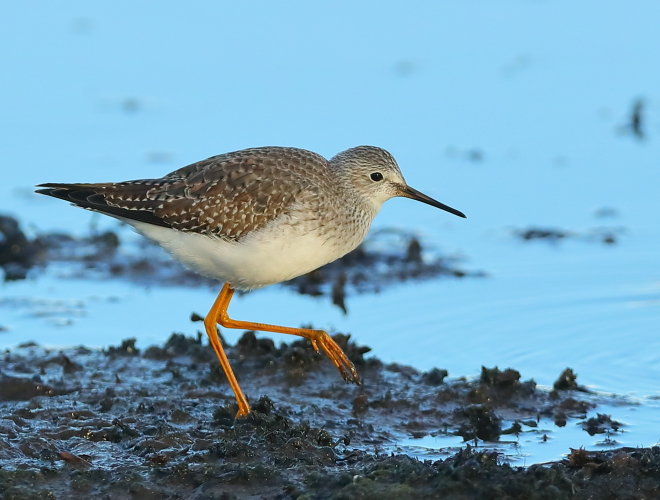 A possible Spotted Sandpiper was found on waste ground in Dungarven town centre (Co.Waterford) on 28th.
Up to Lincolnshire next, where we find a late Pectoral Sandpiper at Alkborough Flats on 24th and the juvenile Red-necked Phalarope still finding Covenham reservoir very much to its liking until 28th – present since 10th, it can't be too long before this bird heeds the call for warmer climes.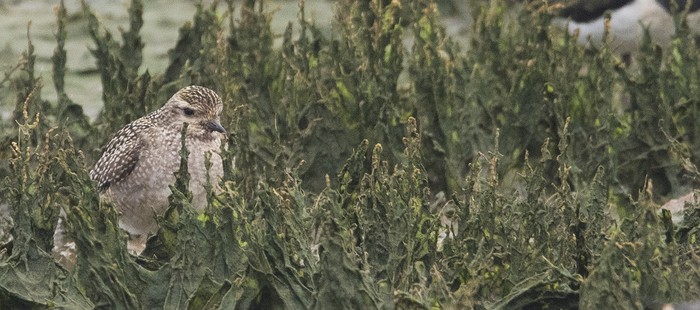 Three coastal Grey Phalaropes were logged this week – individuals at Abbotsbury (Dorset) on 24th and, on 25th, off Whitburn CP (Co.Durham) and East Chevington NWT (Northumberland).
White-winged gulls, despite the wintery feeling in the air this week, remained for the most part fairly low-key. I say for the most part as, on Fair Isle, they were anything but…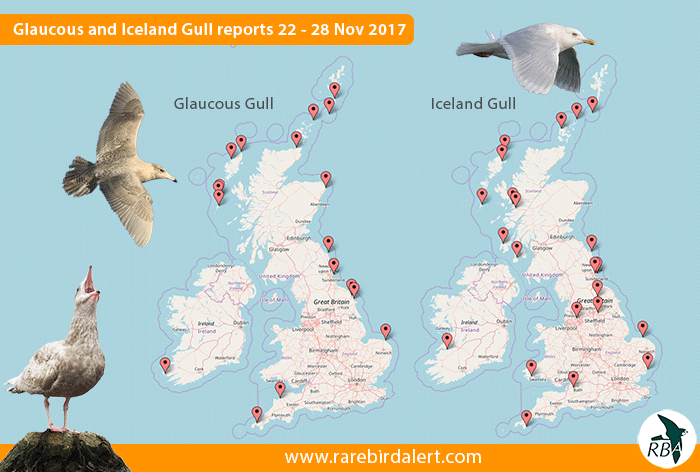 So, starting with Glaucous Gulls - some 40 birds were logged across the UK this week, with birds as far south as Cornwall, which scored at Hayle on 26th. Over half of the week's records were, however, present all at once on Fair Isle (Shetland) on 22nd with, neatly, 22 birds present on the island that day. Factor in North Ronaldsay's half dozen on 22nd also and you've got almost three-quarters of the week's British Glaucous Gulls right there on two small islands in the north that day.
Iceland Gulls figured less prominently, with neither huge flocks nor huge numbers overall seen this week – in all, some 20 birds were noted nationwide, with peak counts being trios at Mallaig (Highland) on 25th and Fair Isle on 26th.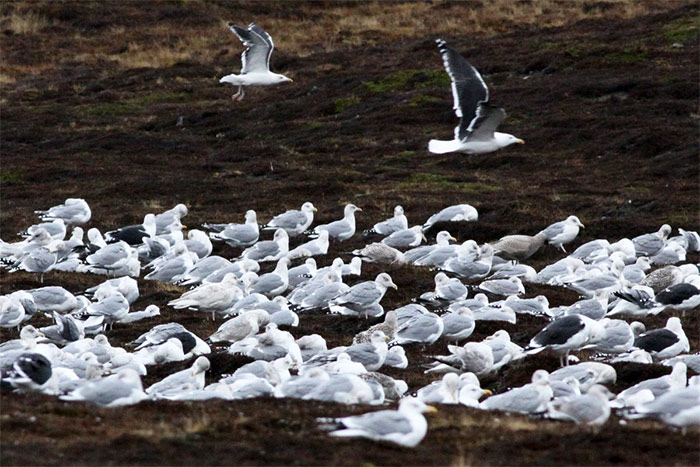 A candidate Thayer's Gull (or a Kumlien's Gull) was on North Ronaldsay on 22nd and again on 25th.
We still don't have many Ring-billed Gulls to report on – this week's sightings came in the form of adults once more in Co.Louth at Blackrock on 23rd, and Doorly Park (Co.Sligo) on 24th-26th.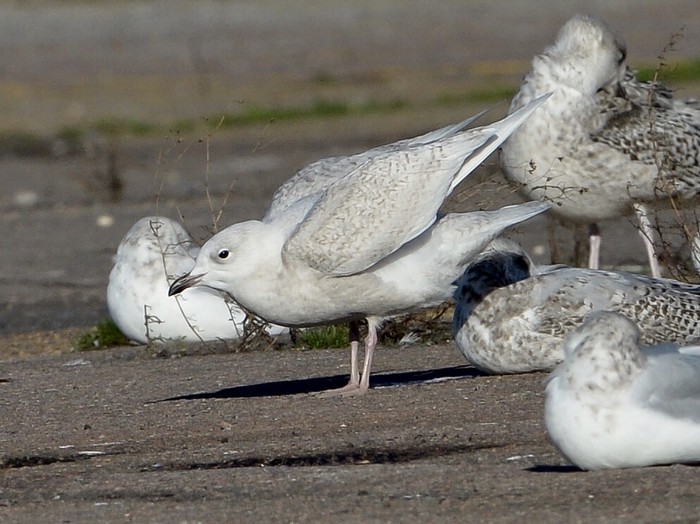 A second-winter Bonaparte's Gull was a terrific, if all too brief, find in Weymouth (Dorset) at Lodmoor RSPB on 24th, with the adult again seen at Noddsdale Water (Ayrshire) on 26th-27th. What's presumably the regular wintering adult was seen again in Devon off Dawlish Warren NNR on 28th.
Further variety came in the form of an adult Sabine's Gull seen off Kilcummin Head (Co.Mayo) on 25th.
The regular adult Forster's Tern was seen again in Co.Galway on 22nd at Kinvarra.
Providing us with a traditionally wintery flavour, Rough-legged Buzzards featured increasingly this week with daily sightings in the east of the country – on 22nd one was noted in Essex at Walton-on-the-Naze; one was seen on 23rd at Filey (North Yorkshire); on 24th it was the turn of Cambridgeshire, with one seen at Woodwalton Fen; then on 25th one was found at the traditional Kentish site on Sheppey, at Capel Fleet; on 26th birds were seen at Loch of Strathbeg RSPB (Aberdeenshire) and Buckton (East Yorkshire), the latter bird remaining there until the week's close on 28th.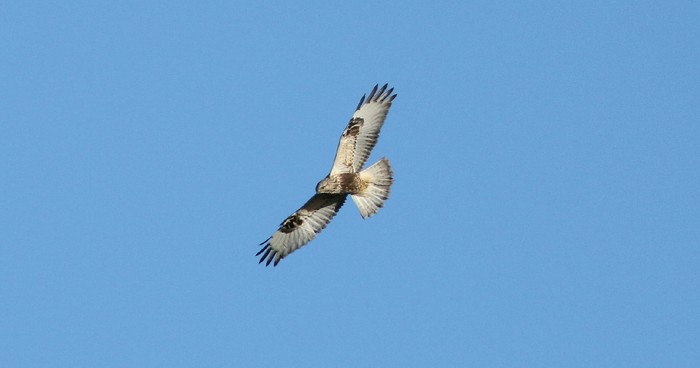 These are, of course, far from the most interesting raptors in the UK this week. Those would be Hen Harriers or, rather, what's left of them as they continue to vanish at an exasperating and depressing rate in the face of persistent and long-term illegal persecution, often at the hands (and guns, and poisons, and pole-traps) of the 'bad apples' of the game-keeping community that serves the driven grouse shooting industry.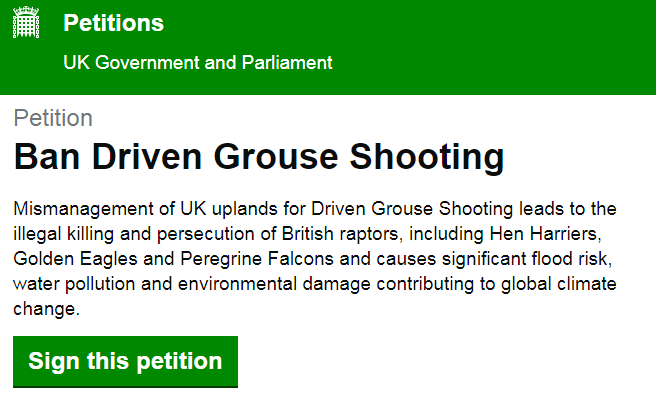 There are plenty of hard questions we can ask ourselves about that industry – not only the startling lack of Hen Harriers (and other birds of prey, and Mountain Hares, and corvids, and mustelids, and even Lesser Black-backed Gulls) on their (mis)managed moors, but also the environmental damage it causes and the questionable economics that underpin it. And, ultimately, whether as a civilised society we're comfortable with an anachronistic 'sport' in our midst where people kill animals for fun. 'Cos that's what it's all about, when all's said and done.
There's currently a petition on the UK government's website where you can add your voice to the thousands who've already signed to say they'd like to see an end to driven grouse shooting. I hope you might consider joining us, if you haven't already done so.
Meanwhile, there's also a Thunderclap you can add your support to in order to help get the news of this petition out there on social media platforms. It doesn't take a moment, and its reach is considerable. Please take a moment to do that too if you'd like to see an end to the numerous insults committed to blameless UK wildlife in the name of bloodsport.
Predictably, as we draw ever closer to year end, the rarer passerines are becoming ever harder to come by. Horned Lark aside, the best of the rest this week was probably the Eastern Stonechat sp still in Kent on Halstow Marsh on 26th but, with this being present at a site with no public access, this was largely a moot point.
A Radde's Warbler, new in at Wat Tyler CP (Essex) on 24th, heads up our run through the warblers; with a supporting cast of two lingering Dusky Warblers, on St Mary's (Scilly) until 24th, and at Sennen (Cornwall) until 25th.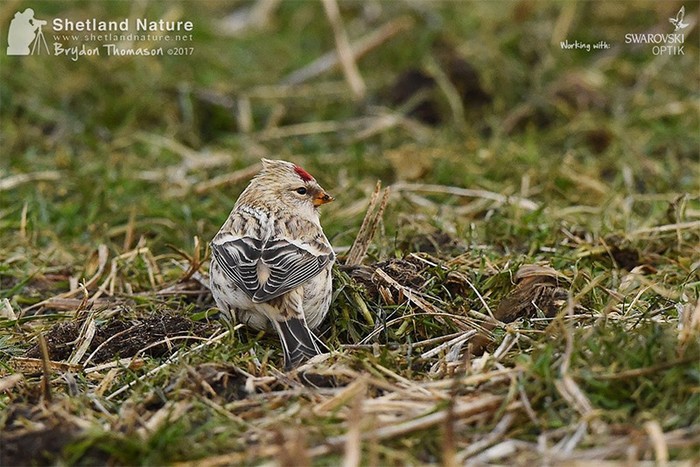 A settled Pallas's Warbler in Kent at Sandwich Bay stuck around until 25th, with another at Landguard NR (Suffolk) on 24th.
Four Yellow-browed Warblers were the merest hint of the largesse of just a few weeks ago – one was in Paignton (Devon) on 23rd-28th; another was in Falmouth (Cornwall) on 24th; one was again at Durlston CP (Dorset) on 25th; and away from the balmy south-west, one was in the north of England in North Yorkshire in York on 25th.
The Barred Warbler of late at Titchfield Haven NNR (Hampshire) was reported as still present there on 22nd.
Richard's Pipits continued to pop out of the woodwork this week, headed by two birds still to be found at Flamborough Head (East Yorkshire) on 24th, and with further individuals seen at Chelmondiston (Suffolk) on 25th-28th, Sandwich Bay (Kent) on 25th, and Oldbury Quarry (Warwickshire) on 26th.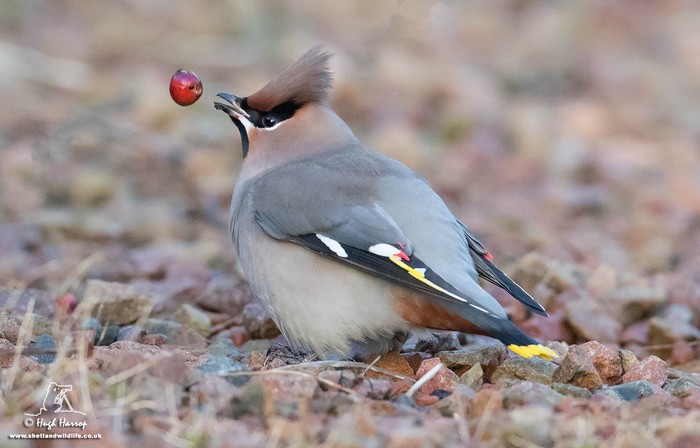 There was a feeling of winter bedding in amongst our sightings of Great Grey Shrikes in recent days – no passage birds, these, as all were at sites that could serve well as wintering grounds. Individuals were noted in Dorset in Wareham Forest on 22nd-28th; Milkham Enclosure (Hampshire) on 23rd-24th; Grantown-on-Spey (Highland) on 23rd; and still at Thursley Common (Surrey) on 25th, Prestwick Carr (Northumberland) on 26th, and Llyn Brenig (Denbighshire) on 28th.
This was another week with a relative lack of Waxwing sightings across the country, with the lion's share (such as this was) coming from Scotland – Derbyshire claiming the only English records, with one reported from Hardwick Hall on 25th, and five that day over Ogston reservoir. In Scotland around 40 birds were noted, with a report of 18 in Edinburgh (Lothian) on 24th about the best of it – most sightings involved considerably smaller flocks or lone birds, from Shetland down to the central belt.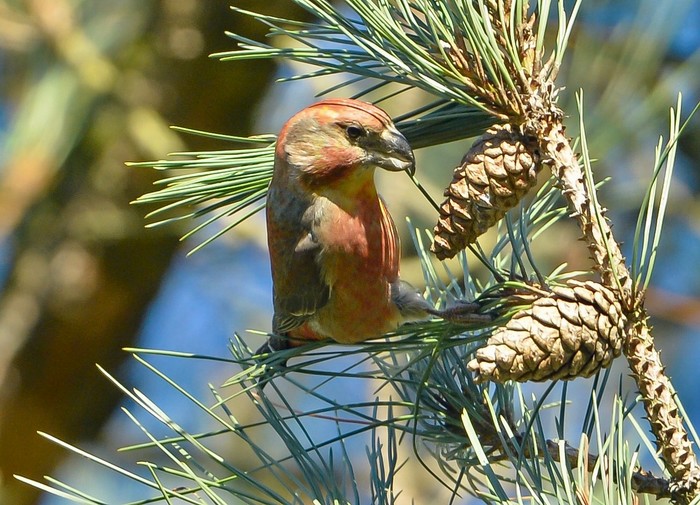 While those numbers suggest a lack of irruptive intent the same could not, happily, be said of Parrot Crossbills this week – after sightings in Shetland in the autumn there's been something of a hiatus in recent weeks, but the dam appeared to finally be breaking lately…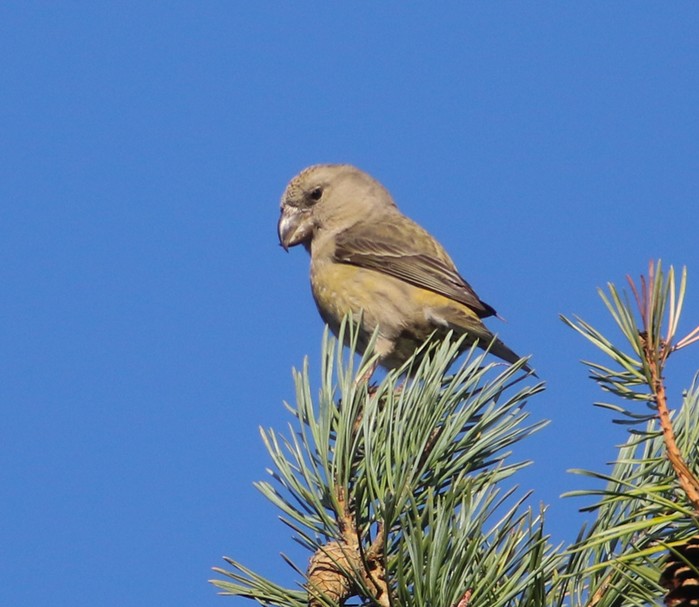 A report of six possible birds on 23rd at Santon Downham (Norfolk) firmed up into 16 birds there on 25th, and just grew thereafter – rising to at least 32 of these chunky crowd-pleasers there by 27th and 42 on 28th. 16 birds found inland at Wishmoor Bottom (Berkshire) on 25th had risen, slightly, to 17 by 27th-28th, with five birds in Suffolk at Upper Hollesley Common on 25th up to six birds there the next day.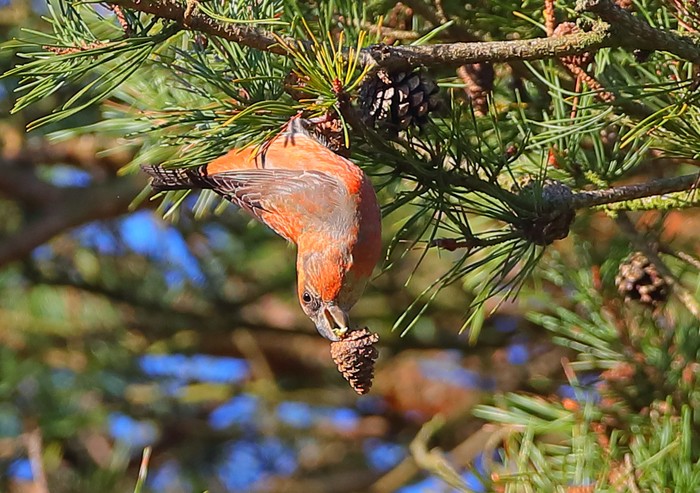 Shetland laid claim to two exilipes Arctic Redpolls on Unst on 23rd, at Skaw and nearby Norwick. A third individual was reported at Sumburgh Head on 28th while that day, in Suffolk, one was seen at Hazelwood Common.
And that brings us to the end of the passerines, with just a possible late Common Rosefinch in Falmouth (Cornwall) on 23rd to delay us before we cast our eyes further afield.
While we may all be fancying our chances of a Parrot Crossbill or two here in the UK in coming days, up in Iceland birders this week were enjoying rarer fare altogether with the ongoing presence of the male White-winged Crossbill still at Solbrekka until 24th.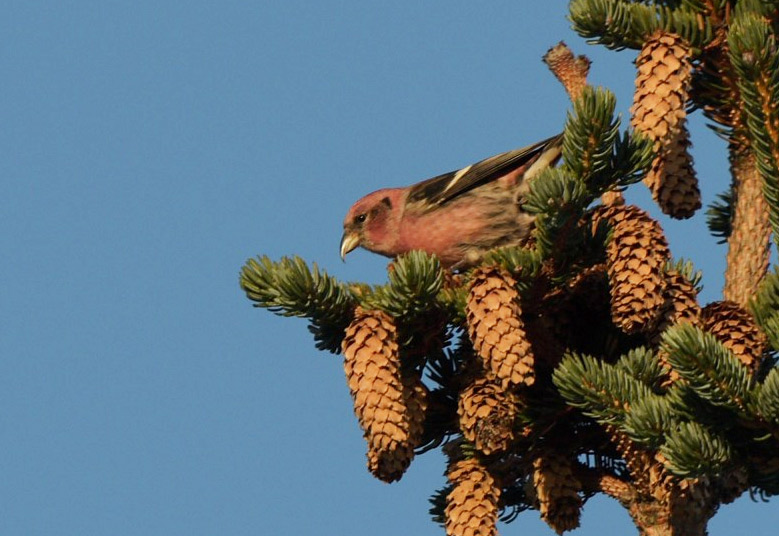 In Holland the settled Black-shouldered Kite remained at Lauwersmeer until 24th also.
An Asian Desert Warbler was found in Denmark at Romo on 25th – another accessible British record feels increasingly overdue with every passing year…
The Algarve played host to a Sociable Plover on 23rd – another one that's much reduced in the UK compared to a flurry of records in the early 1990s.
A Western Rufous Turtle Dove was still in Hungary at Toszeg on 23rd, present there at this point for its fifth day.
Finally, on the Azores the Snowy Egret remained on Faial on 23rd, while the Redhead was still on Terceiera on 22nd.
With a weather forecast for at least the start of the new week that's coming straight down from the Arctic, it'd be a brave man who predicted anything but the ermine-clad emissaries of the north – yes, it's time to stake out your local dead cetacean and keep your eyes peeled for an Ivory Gull or, failing that, keep your fingers crossed that a Gyr comes to predate, well, pretty much anything it fancies somewhere near you.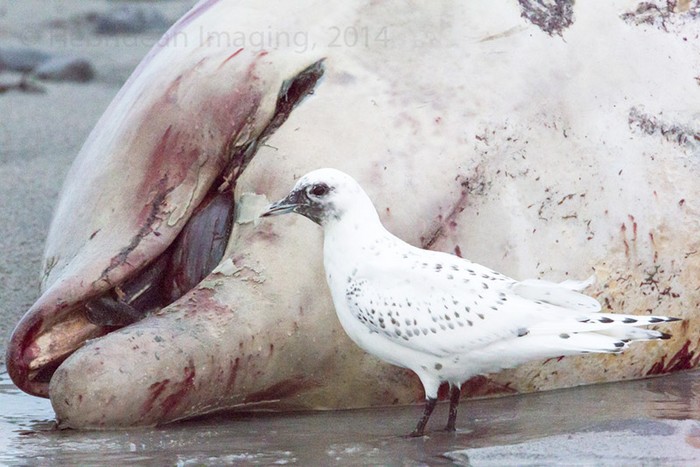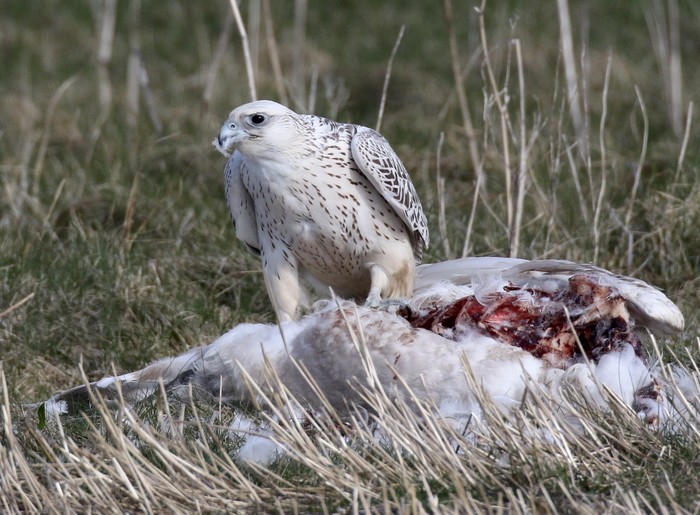 Failing which, now is surely the moment to get yourself to the nearest likely-looking cone-laden bit of Forestry Commission land and go for a wander with your eyes on the treetops. The Parrot Crossbills are a-coming…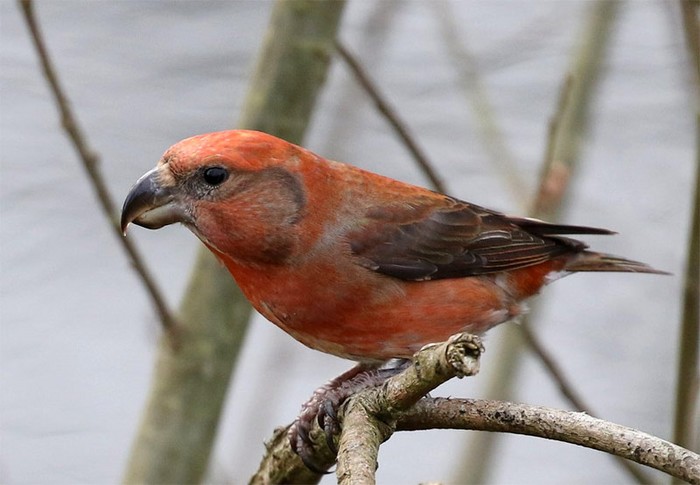 Jon Dunn
29 November 2017
Share this story
Tweet

Many thanks to all contributors for their photos and videos this week.
Hugh Harrop / Shetland Wildlife, John Rowland, Drew Lyness, Shaun Ferguson, Lorne Bissell, Brian Henderson, Dave Burns, David Stone, John Kemp, Tom Lowe, Sean Cronin, Murray Wright, Michael Trew, Richard Tyler, Fair Isle Bird Observatory, John Pringle, Darren Ward, Brydon Thomason / Shetland Nature, Sean Nixon, Marcus Nash / The Bird ID Company, Yvonne Benting, Bob McMillan, Baz Scampion,