Weekly birding round-up: 15 - 21 November 2017
The week at a glance
'Eastern Stonechat' in Kent
Pied-billed Grebe still on Shetland
Pacific Diver still in Cornwall
This week saw a further inevitable descent into winter with a continuation of the now two-month-old westerly run of weather. There was a nagging chill in the air for the first half of the week before milder conditions pushed in once more. The traditional winter mixture of Arctic gulls, Nearctic wildfowl and ever-growing numbers of egrets therefore dominated much of the news, and late autumn passerines were unsurprisingly few, with just a sparse scatter in the Southwest. There was no major discovery this week, the best find being an 'Eastern Stonechat' in Kent, and with no signs yet of any irrupting boreal favourites such as Rough-legged Buzzards, Waxwings or Mealy Redpolls, the main event continued to be the remarkable influx of Hawfinches from the beech woods of central Europe.
'Eastern Stonechat'
The discovery of a male 'Eastern Stonechat' (i.e. Siberian or Stejneger's) at Halstow Marsh, Kent on 19th was, considering the weather, something of a surprise. There was, however, no news of it next day, either because of its presence at a private site or because it had simply moved on. The bird shows very pale underparts and a clear white upper and central rump so, if it is a first-winter, the provisional identification as Siberian Stonechat looks plausible. 'Eastern Stonechats' are hard to age but despite the rather rich orange in the breast and extensive black in the lores, ear coverts and malar area, the primary coverts on this bird do look quite brown, contrasting with a black-looking alula, whilst the tips of the dark areas on the tail feathers appear to be pointed. These are both features of first-winter plumage. If it was an adult then its identification would be even more problematic, the two species resembling each other even more closely in this plumage. 'Eastern Stonechat' is perhaps the best label!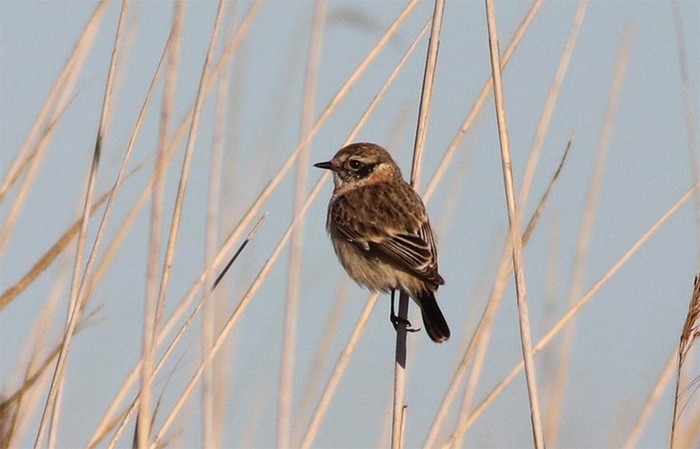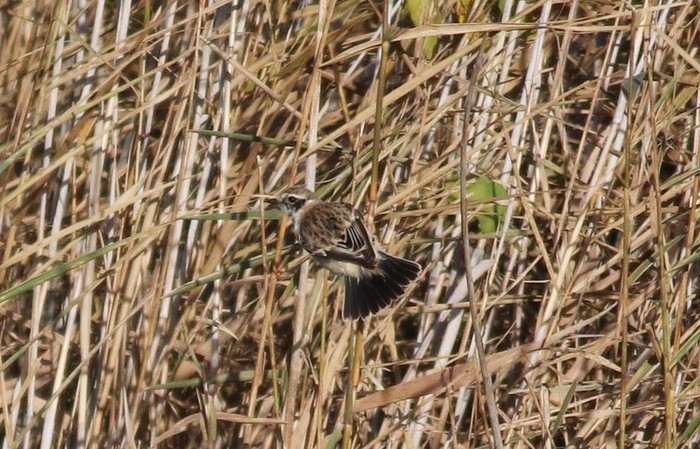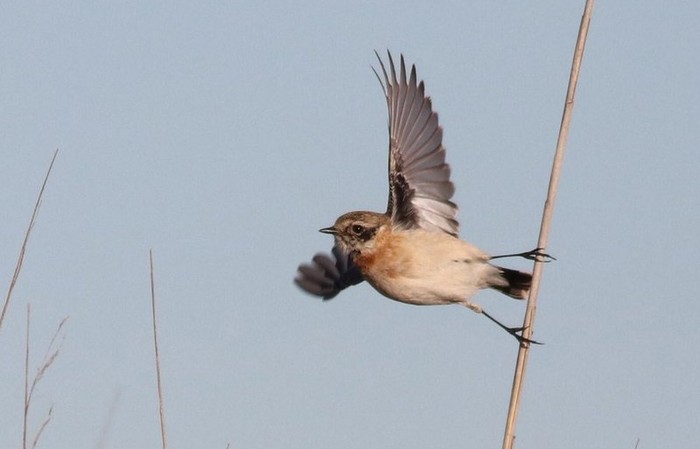 Pied-billed Grebe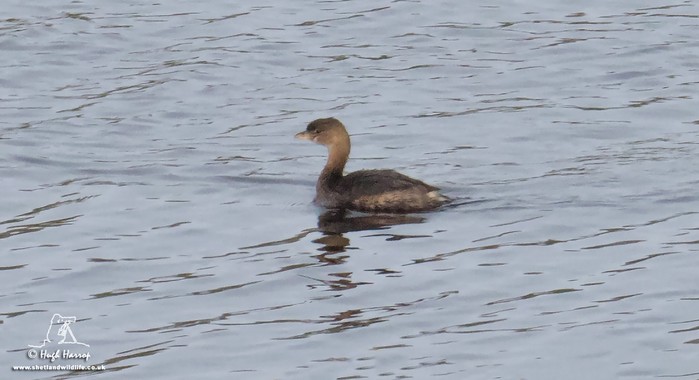 Shetland's first Pied-billed Grebe, found last week, was still on Loch of Spiggie, Shetland to the end of the week and clearly has the potential to become a long-stayer.
Pacific Diver
Already a long-stayer (perhaps in its eleventh winter here), the adult Pacific Diver was again off Marazion and Penzance, Cornwall to at least 17th and probably 20th.
This autumn has seen a good run of White-billed Divers south of the usual Scottish haunts. Most, however, have been in the North Sea so this week's bird at Ballyvaughan, Clare on 16th was a little less expected, and a good bird for Ireland too.
After last week's mini-influx of Little Auks down North Sea coasts, a few were logged this week too. Most records involved singles and most were again in the North Sea, with a peak of 11 past Craster, Northumberland on 16th. Elsewhere one was off Milton on Sea, Hampshire on 17th, one off Castlerock, Derry on 16th and six off Tiree, Argyll the same day.
Just three Leach's Petrels were recorded this week - a single at Loch Awe and two off Tiree, both Argyll, on 16th. Grey Phalaropes were suddenly fewer too - just singles off Whitburn, Durham on 15th and 19th, Cley, Norfolk and Boddam, Aberdeenshire on 18th and Abbotsbury Swannery, Dorset on 19th.
Single Balearic Shearwaters were off Flamborough Head, Yorkshire on 15th and 19th and at sea off Mine Head, Waterford on 17th.
Goose news included a Richardson's Cackling Goose with Barnacle Geese at Gretna, Dumfries & Galloway on 16th with another still on Islay, Argyll on 15th. Snow Geese included a 'blue' at Loch of Skene, Aberdeenshire on 17th, an 'intermediate' at Kinross, Perth & Kinross on 18th and a 'white' on North Uist, Western Isles on 19th.
Turning to Palearctic geese, Tundra Bean Geese have been scarce so far this winter and, rather unusually, all the birds reported this week were in Scotland - two on Yell, Shetland on 15th and singles at Alness, Highland on 15th to 16th and Blairdaff, Aberdeenshire on 17th. Black Brants numbered just three – the already familiar returners at Ferrybridge, Dorset and Cley, Norfolk and one at Walton on the Naze, Essex.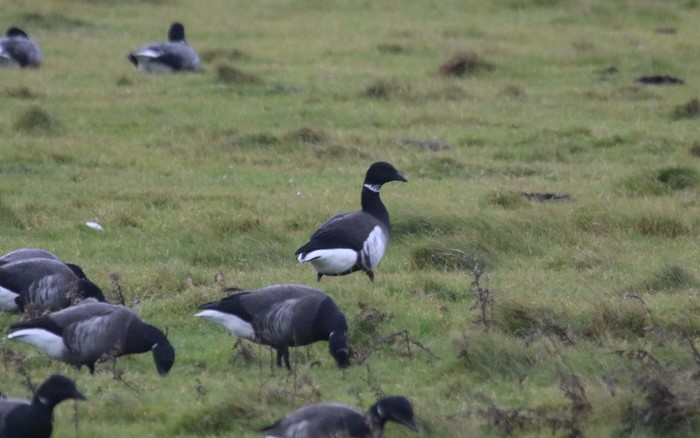 American ducks were well scattered - Green-winged Teals (all drakes of course) at Oare Marshes, Kent, Blacktoft, Yorkshire, North Ronaldsay, Orkney, Loch of Strathbeg, Aberdeenshire, Ballymena, Antrim, Marton Mere and Marshside, both Lancashire, Roadford Reservoir, Devon and Lossiemouth, Moray. Drake American Wigeons were similarly distributed - at Exeter, Devon, Loch Eye, Udale Bay and Merkinch, all Highland, Dundrum, Down, Rutland Water, Leicestershire, North Uist, Western Isles and Culdaff, Donegal with a female at Grimley, Worcestershire still.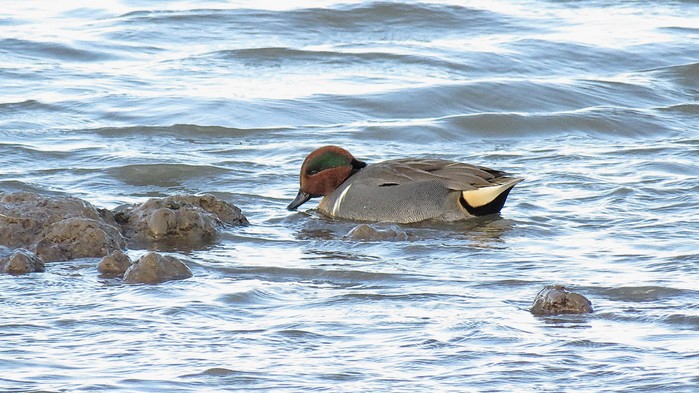 The rarest Nearctic duck was a Lesser Scaup at Rasahane Turlough, Galway from 15th whilst a look-alike at Farmoor Reservoir, Oxfordshire from 17th was finally deemed a hybrid. Ring-necked Ducks were noted at Loch Shiel, Highland, Blarney Lake, Cork, Rasahane Turlough, Galway, Milton Loch, Dumfries & Galloway, Loch Watten, Highland, Dozmary Pool, Cornwall, Abbotts Hall Farm and Abberton Reservoir, both Essex, and Lough Gill and Cloonee Lakes, both Kerry. From the other direction (albeit inevitably of unknown origin), the drake Ferruginous Duck was again at Eyebrook Reservoir, Leicestershire on at least 18th and 19th.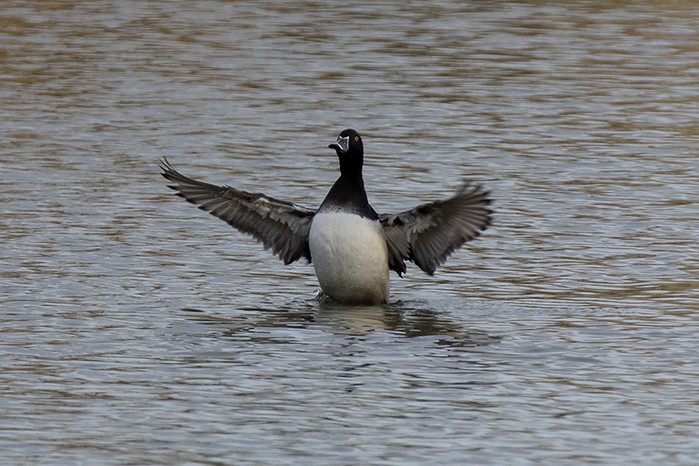 At sea, King Eiders were at Wester Quarff, Mainland Shetland, Fort George, Highland and Rough Point, Kerry with Surf Scoters at Letterfrack, Galway, Ballyvaughan, Clare, St. Austell, Cornwall (two), Clogher Head, Louth, Largo Bay, Fife and Musselburgh, Lothian.
Herons, egrets, crakes etc.
The rarest heron of the period was the adult American Night Heron reported as still present in Shrewsbury, Shropshire on 19th. Great White Egrets remained widespread with counts of up to 18 at Dungeness, Kent, 16 at Chew Valley Lake, Somerset and 15 at Rutland Water, Leicestershire. The former two sites have held concentrations of Great White Egrets in recent winters but the gathering in the East Midlands is a more recent development. North of the border, one was at Wigtown, Dumfries & Galloway. Cattle Egrets were widely reported too, with the largest counts being a still astonishing 34 at Shapwick Heath, Somerset and the long-staying five at Marshside, Lancashire.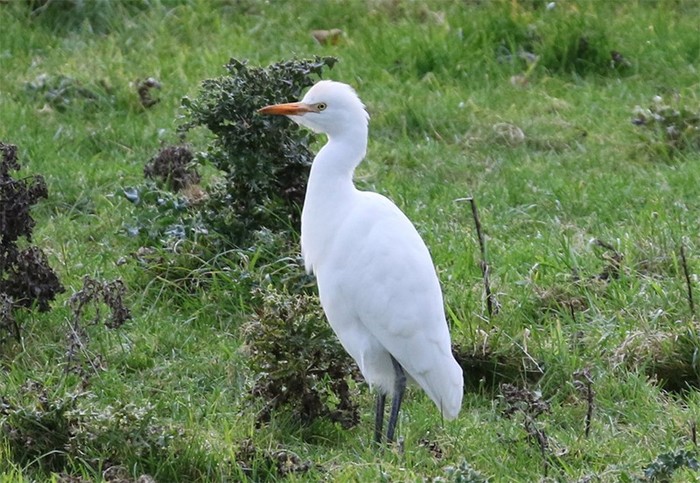 Glossy Ibises put on a good showing in the wake of the recent small arrival. Most were in southern England - at Medmerry, Sussex, Saltash and Kingsmill Lake, both Cornwall, Farlington and Sopley, both Hampshire, Fremington Pill, Devon and Brading Marsh, Isle of Wight. Further north and west, singles were at Frampton, Lincolnshire, Greatham Creek, Cleveland and Tacumshin, Wexford.
Much more unseasonal was a late Corncrake flushed on Bardsey, Gwynedd on 19th.
In a decidedly unimpressive week for raptors, a juvenile Rough-legged Buzzard around Bempton and Buckton, Yorkshire on 18th and 19th was the only one in the whole country. Further north, a Snowy Owl on Eday, Orkney on 18th seems likely to be a returning bird.
The most noteworthy wader feature of the week was the continued presence of two Red-necked Phalaropes - at Covenham Reservoir to at least 21st and Pegwell Bay, Kent to at least 17th - a remarkable double for a species which should be out at sea in mid-November. A Dotterel in the Anthorn area of Cumbria to at least 18th was the only other Old World wader of note.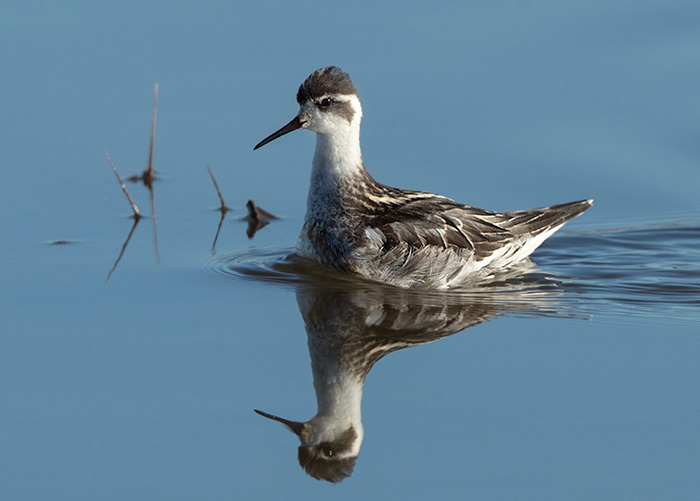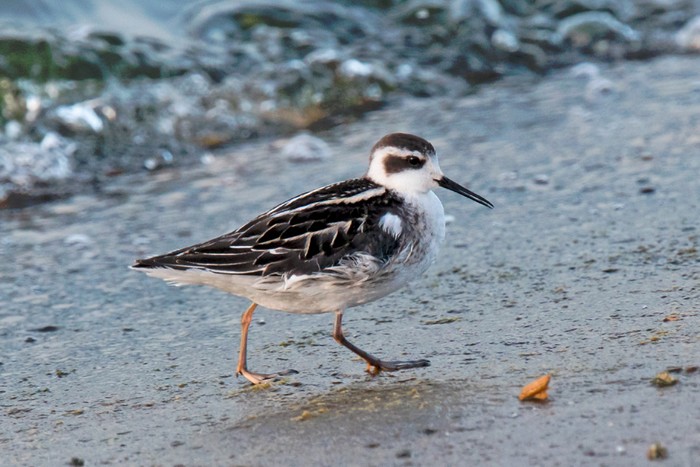 As for Nearctic waders, it was a tale of now familiar long-stayers - Lesser Yellowlegs at Lodmoor, Dorset and Tacumshin, Wexford and Long-billed Dowitchers at Oare Marshes, Kent and Tacumshin (two) - and a rapidly declining tally of end of season American Golden Plovers, with singles noted on South Uist, Western Isles to at least 16th, on North Uist, also Western Isles, to 21st, at The Cull, Wexford on 15th, at Lough Gara, Sligo on 18th and 20th and on the Hayle Estuary, Cornwall on 21st.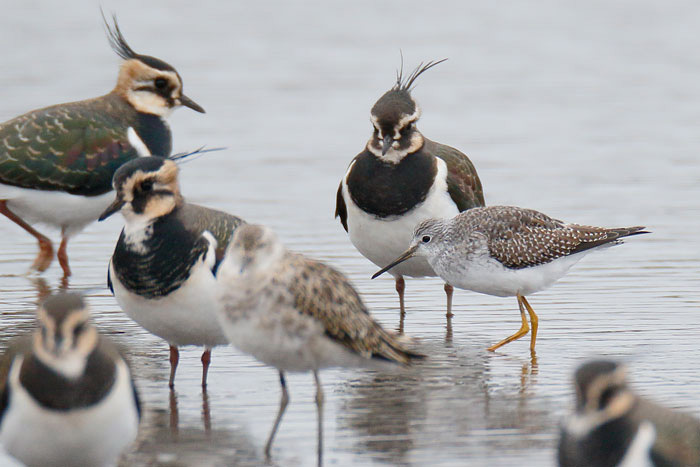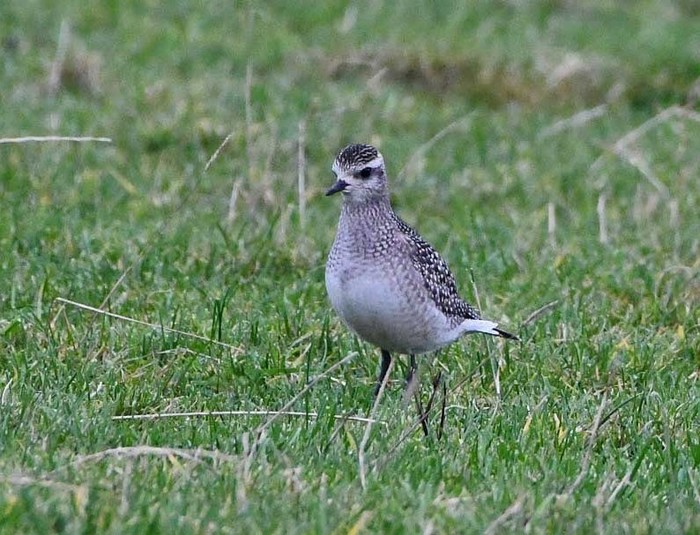 The week's best gull was, as usual, Bonaparte's Gull with adults at Exmouth and Dawlish, both Devon, all week still and at Largs, Ayrshire on 17th. The only Ring-billed Gull reported was an adult at Radipole, Dorset on 18th.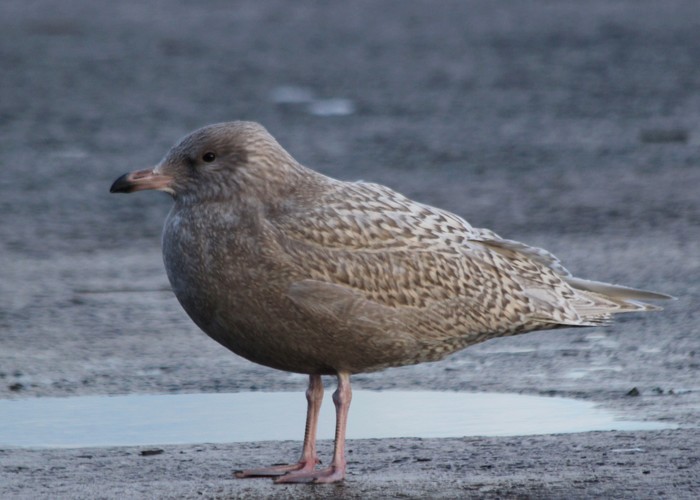 Although last week's blast of Arctic air saw a good southward push of Glaucous Gulls , this week's tally was surprisingly meagre, amounting to not much more than about twenty birds. Most were in the far north or west with the only English records coming from Norfolk and Yorkshire. The best place to see the species was Unst, as far north as you can get, where five were present at Lamba Ness on 16th. Iceland Gulls , by contrast, were more numerous with more than thirty noted. Again, many were in the north and west but up to two were between Cley and Weybourne, Norfolk with others at Benacre Broad and Landguard/Felixstowe, both Suffolk, Spalding, Saltfleetby and Gibraltar Point, all Lincolnshire, Walton on the Naze, Essex and The Lizard and Penzance, both Cornwall. An adult 'Kumlien's Gull', the first of the winter, was at Lough Foyle, Donegal on 18th.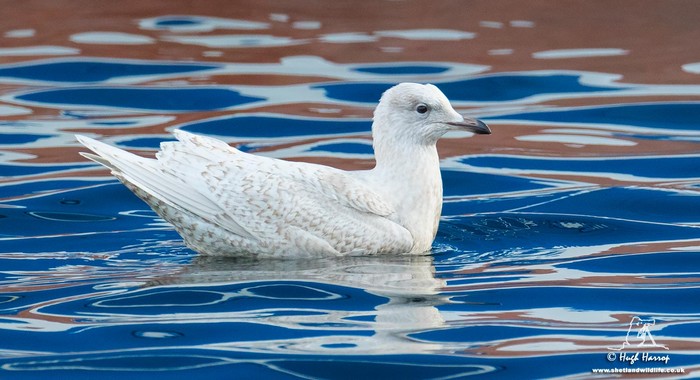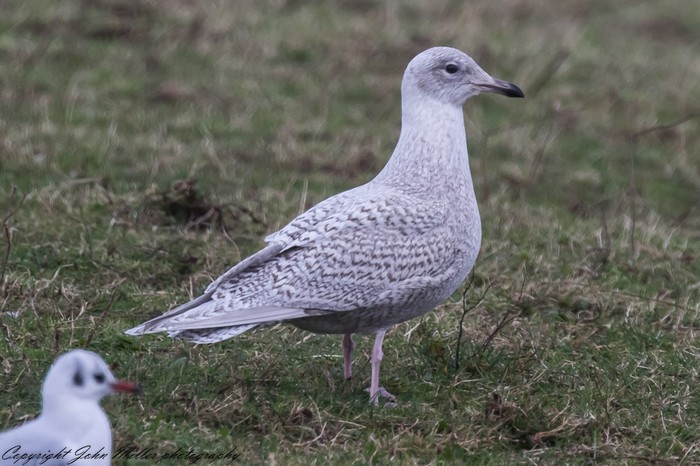 Also in Ireland, the Forster's Tern was at Newtonlynch and Kinvarra, both Galway, during the week.
Near-passerines and Passerines
Despite the early onset of winter there were still a few final hints of autumn. Almost all were in the Southwest, headlined by a surprisingly late Radde's Warbler trapped near Wyke Regis, Dorset on 20th. The other highlights were Dusky Warblers on St. Mary's, Isles of Scilly on 18th to 21st and at Sennen, Cornwall on 19th to 21st, Little Buntings on The Lizard, Cornwall from 15th to 19th and at Polgigga, also Cornwall, on 16th, a Short-toed Lark at Polgigga on 17th, a Pallas's Warbler at Portland, Dorset on 18th, a highly unseasonal Ortolan Bunting at Martinstown, also Dorset, on 15th to 19th, an equally unseasonal Wryneck in the Cot Valley, Cornwall on 15th to 20th and a Richard's Pipit there on 17th.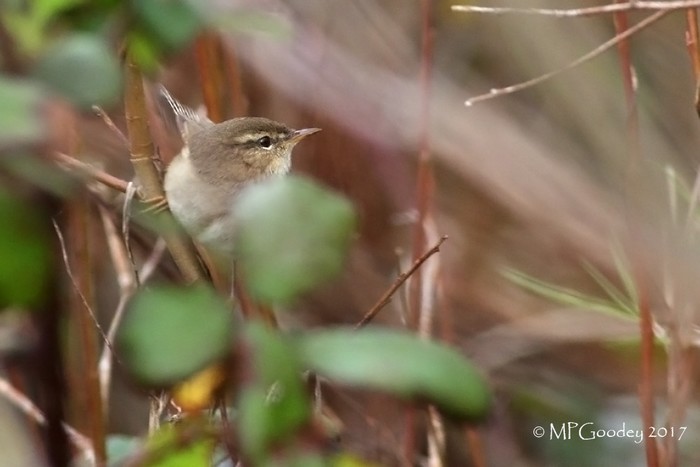 Away from the mild embraces of the Southwest it was slim pickings indeed for anyone after a last taste of Siberia - just a Richard's Pipit at Weybourne, Norfolk on 17th with two still at Flamborough Head, Yorkshire on 21st, the long-staying Barred Warbler at Spurn, Yorkshire still to at least 16th, another at Titchfield Haven, Hampshire on 19th and a Pallas's Warbler trapped at Sandwich Bay, Kent on 19th, the latter quite likely to be the last in a very poor year for this species.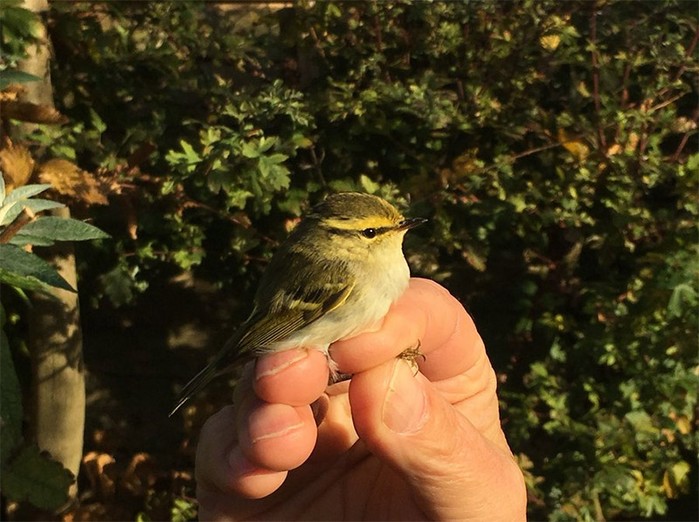 Yellow-browed Warblers were also much reduced, to the point where a count can even be attempted, the week's total appearing to be around fifteen. One at Holme, Norfolk on 15th was the only east coast bird, most of the others being, inevitably, in the Southwest. Away from here, singles were at Gidea Park, London on 15th, Rainham Marshes, also London, on 15th to 16th and Pentre Bewr, Anglesey on 17th.
Turning to winter passerines, Great Grey Shrikes were settled in at a soon to be familiar list of wintering venues - Slufters/Milkham Inclosures, Hampshire, Cropwell Bishop, Nottinghamshire, Cleeve Hill and the Forest of Dean, both Gloucestershire, Elstead Common, Surrey, Prestwick Carr, Northumberland, Ashdown Forest, Sussex and Clocaenog Forest, Denbighshire.
Around 30 Shorelarks were scattered down the east coast from Yorkshire to Kent, the largest gathering being 16 still at Happisburgh, Norfolk on 18th. Inland, one was at Staines Reservoir, Surrey on 19th.
Waxwings are clearly not about to do anything spectacular with only small numbers logged - three at Lossiemouth, Moray on 15th with five on 16th, four over Hunstanton, Norfolk on 15th, one in Edinburgh, Lothian on 16th, two in Morpeth, Northumberland the same day and one at Stone Creek, Yorkshire on 19th.
Apart from the Italian Sparrow candidate still at East Budleigh, Devon to at least 20th, the main passerine talking point was the continued presence of irrupting Hawfinches, the British records apparently representing only a small part of what has been a Europe-wide phenomenon. Birds were again noted widely across mainly southern England, with at least seven counties hosting flocks of twenty or more. Peak counts were 40 at Battle and 60 at Arundel, both Sussex, 70 at Broxbourne Woods, Hertfordshire and an extraordinary 98 at Longdown, Devon. This has been a wonderful opportunity to enjoy this charismatic species, indeed it has for most been the obvious late autumn and early winter highlight.
In Europe, the main event was the continued presence (from 14th) of the Western Palearctic's first American Two-barred (i.e. White-winged) Crossbill at Seltjörn, south-west Iceland, identified as such by plumage, structure and call (in addition to the strong circumstantial evidence). Iceland also still hosted an American White-winged Scoter. Elsewhere, a Brown Shrike was on Malta, a Franklin's Gull in France, a Hume's Warbler in Germany and Desert Wheatears in Finland and the Netherlands, the latter country also hosting an Olive-backed Pipit, a Hooded Merganser and the long-staying Black-winged Kite still.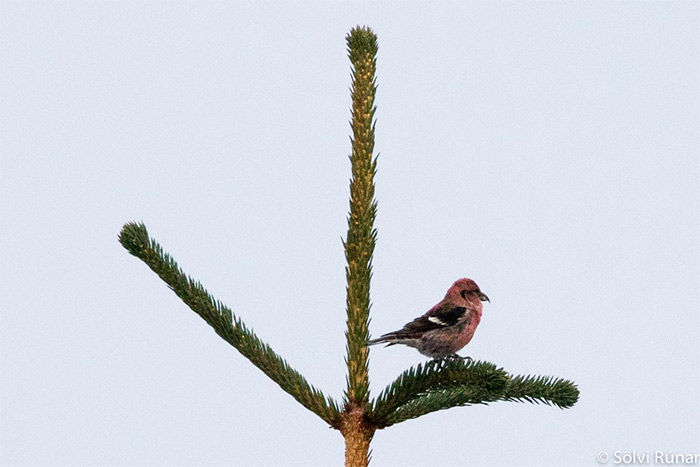 Looking ahead, the weather forecasters are promising yet another week of westerly or south-westerly winds. The inevitable result will be a further shrinking of the Palearctic passerine presence. For a major rarity we must surely be looking to the Nearctic and therefore scrutinising wildfowl and gulls in particular. The great prize, however, will be a wintering American passserine. These though are the ultimate in long shots, near-impossible to target in what will inevitably be an inland or suburban location. With the latter most likely, the best chances of finding a wintering Black-and-White Warbler or something similar (or better?) might be to lurk on the internet, monitor photographers' Flickr and Twitter accounts, drop into ID forums and periodically google 'what's this funny bird in my garden?'
Andy Stoddart
22 November 2017
Share this story
Tweet

Many thanks to all contributors for their photos and videos this week.
Paul Hawkins, Hugh Harrop / Shetland Wildlife, Jerry Bart, Roy Harvey, Andrew Brown, Marcus Nash / The Bird ID Company, Steve Ashton, Alan Tate, Steve Gantlett, John Kemp, Glen Tyler, John Nadin, John Miller, Martin Goodey, Robert Rackliffe, Sölvi R.Vignisson, Davy Bosman,