Weekly birding round-up: 8 - 14 November 2017
The week at a glance
Co.Kerry serves up Ireland's latest American Coot
And Devon provides a putative Italian Sparrow
Quieter times this week as we move, inexorably, from the excitement of autumn into the long haul of winter ahead – it's time to put the kettle on, make a cuppa, and settle down with a wander through the autumn leftovers and the early winter arrivals.
American Coot
Another week, another rare American waterbird… Hot on the heels of the Pied-billed Grebe found in Shetland last week (and still present on Spiggie on 10th), Ireland served up a rarer bird still in the form of an American Coot found on Lough Gill (Co.Kerry) on 9th.
(And not only an American Coot - Lough Gill also sported a drake Lesser Scaup and a female Ring-necked Duck on 9th – not a bad day's birding in anybody's book, that).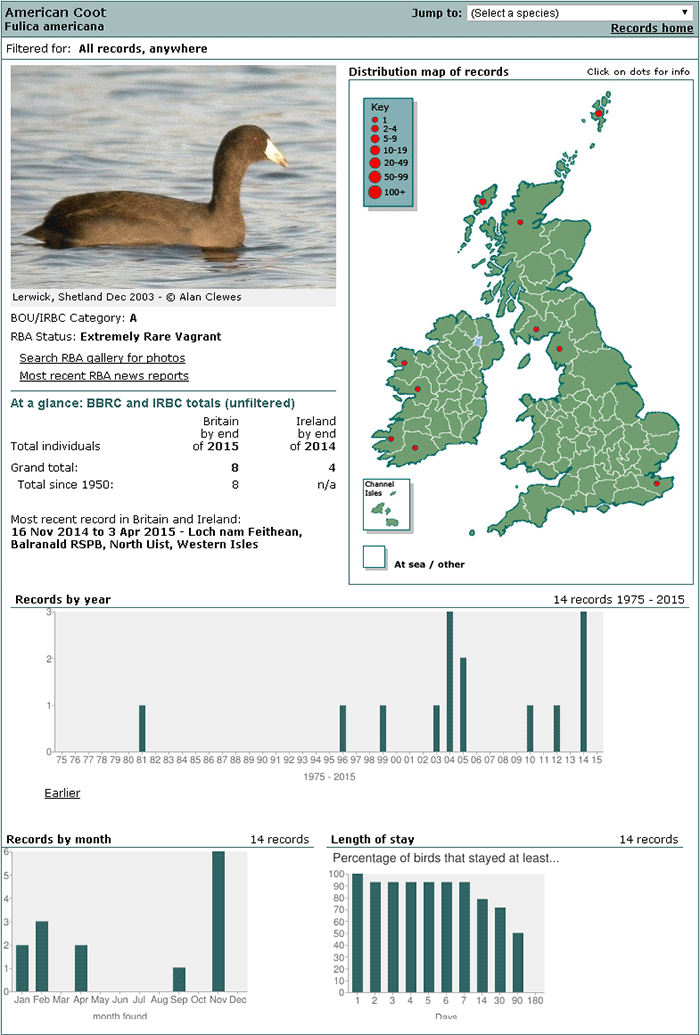 While far from the most ostentatious of rarities, American Coot remains, statistically at least, a genuinely rare beast on this side of the Atlantic. Of the 12 British and Irish records to date, perversely perhaps given it's further west, Ireland has had the crumbs from the table with just four birds, the last being found on Lough Gill back in November 2014. That particular bird stuck around for a while – 121 days, to be precise, being last seen in March 2015.
And that's not even the longest staying British or Irish American Coot - those particular laurels go to a wintering bird on Termoncarragh Lake (Co.Mayo) in 2010/11, a stay that encompassed 146 days. Long-staying, wintering birds are the norm where this species is concerned, with the sole one day bird, to date, being the brief individual at South Walney (Cumbria) on 17th April 1999.
The long-staying availability of those previous birds will mean that this latest individual, whilst currently looking like being another one day bird after all, won't be causing many birders much angst after all. Given the species' propensity to overwinter, I don't think anyone would be too surprised, however, if this particular bird is refound again at some point in the coming weeks.
Possible Italian Sparrow
It's a sign of the times or, perhaps, testament to an otherwise quiet week that we find ourselves discussing the latest putative Italian Sparrow to be unearthed in Britain, seen this week at East Budleigh (Devon) on 11th-13th and present there for a few days beforehand too.
On the one hand, this male bird appears to physically resemble Italian Sparrow (albeit one with a slightly deformed bill, which of course doesn't mean a cagebirdy thing as wild birds get those too) and this, in the brave new world of our lists following the IOC's determinations, is treated as a valid species in its own right.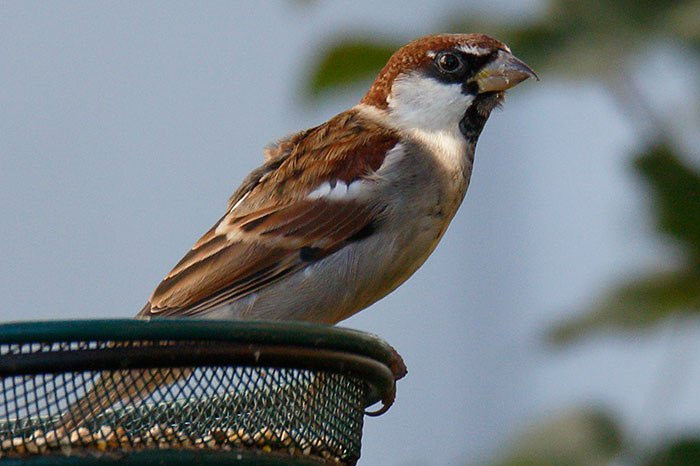 On the other hand, what exactly is Italian Sparrow? The result of speciation derived from historic hybrid couplings of Spanish and House Sparrows, it's a relatively new species in the grand scheme of things… and to cloud matters, the recent offspring of that hybrid pairing can look pretty much bob on for Italian too, so, in the absence of some DNA testing – which can, apparently, distinguish early generation hybrids from 'pure' Italian Sparrow - we're left with no way of knowing if this is the real deal or a first, second, or nth generation recent hybrid of either local or overseas stock.
Throw in the current thinking that Italian Sparrow is basically sedentary with perhaps a small northerly movement up the Adriatic coast in the autumn, and you might be forgiven for thinking the likelihood of one turning up here in the UK was pretty slim… Then again, we said that about Citril Finch for a while too and, moreover, sparrows have demonstrated plenty of past ship-hopping form all around the world so… maybe it is a pukka Italian Sparrow, after all.
In the end, it looks rather like until (or rather, if) any DNA analysis is done for this particular bird, we're not going to be any clearer about any aspect of its origins; nor those of any of the number of recent other possible records seen in Britain – most recently and most popular (if that's the right word, given the caveats) being the male birds in Norfolk at Northrepps in 2013 and East Meon (Hampshire) in 2014.
Maybe worth popping along to see this one. Just in case, y'know…
Wintery conditions and a touch of airflow from the Arctic could mean only one thing was on the cards this week, and that was of course Little Auks - 440 were recorded over the course of the week, with a noticeable spike in sightings coming on 12th with around 140 birds logged that day, and a further 125 on 13th. The bulk of our records came, predictably, from the north and east, but a scatter of sightings elsewhere suggested that a moderately widespread movement of these charming small alcids was underway – a single bird was noted on 11th off Portland (Dorset), while duos were logged on 12th off Bardsey (Gwynedd) and St Ives (Cornwall).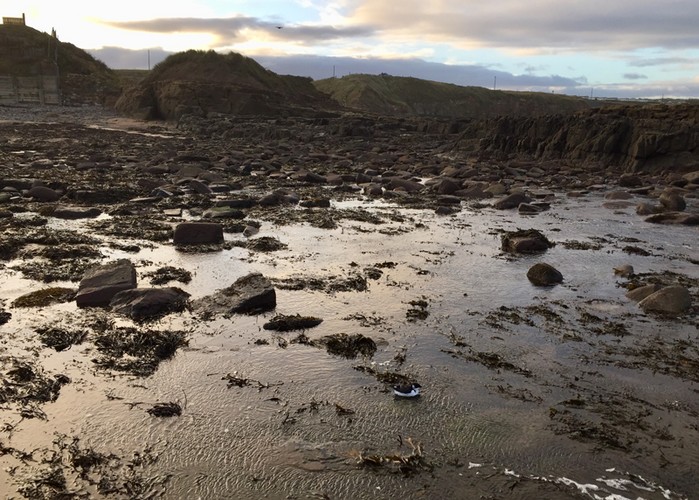 Also hailing from the north, but always a scarcer proposition, a handful of White-billed Divers were seen in recent days: off Spurn (East Yorkshire) on 8th, Eyemouth (Borders) on 10th, and again at the regular wintering station in Shetland off Kirkabister on 13th. A further possible bird was reported on 12th off Torness Point (Lothian).
Meanwhile down in Cornwall the adult Pacific Diver was settling into its winter quarters in the waters off Newlyn, being seen there throughout the week.
A late sighting of a Great Shearwater on 12th off Strumble Head (Pembrokeshire) was our sole shearwater of note this week, but a scatter of Leach's Petrels in the North Sea on 12th added a little more tubenose variety – single birds were seen that day from Heacham and Sheringham (Norfolk), Holland Haven CP (Essex), and Filey Brigg (North Yorkshire).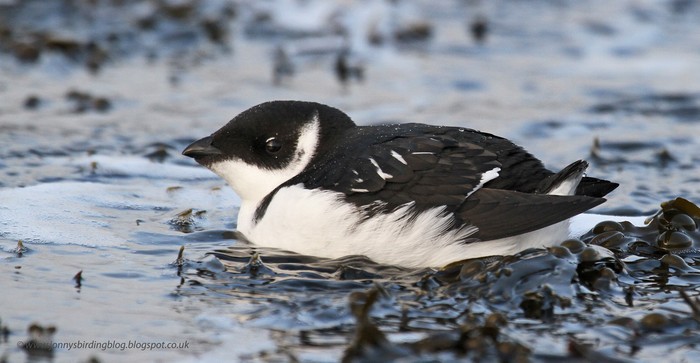 More late Pomarine Skuas were logged this week, with numbers up somewhat on last week: on 8th two were seen off Dawlish Warren NNR (Devon), with singles that day from Holme Dunes (Norfolk) and Spurn (East Yorkshire); on 10th two were seen from Waternish Point (Highland), with three that day off Lochmaddy on North Uist (Western Isles); and a single bird was noted from Sheringham (Norfolk) on 11th, with two seen there the following day. Elsewhere on 12th sea-watchers' patience (and endurance, in chilly conditions) was rewarded with 12 birds tallied from Long Nab (North Yorkshire) and six from Gibraltar Point NNR (Lincolnshire), trios off Reculver and Shell Ness respectively (Kent), and two from Rhos Point (Conwy); and singles noted from Tarbat Ness (Highland), Beadnell Bay (Northumberland), Flamborough (East Yorkshire), Sutton-on-Sea (Lincolnshire), and Minehead (Somerset). On 14th one passed LAndguard NR (Suffolk).
A Long-tailed Skua was noted on 12th from Holland Haven CP (Essex), with a another report coming from the county at Frinton-on-Sea that day also.
With numbers fluctuating at known sites it's hard to be sure whether our ongoing numbers of Cattle Egret this week were genuinely down on last week, with some 50 birds logged, or whether there's been some duplication of records going on. One thing's for sure – they're mobile beasties and prone to wandering. The week's best tallies both came from Devon – nine birds noted at Topsham on 8th, and ten on 10th at the marvellously named Old Sludge Beds DWT reserve. Ireland got a look-in again this week with one seen on 12th at Killag (Co.Wexford).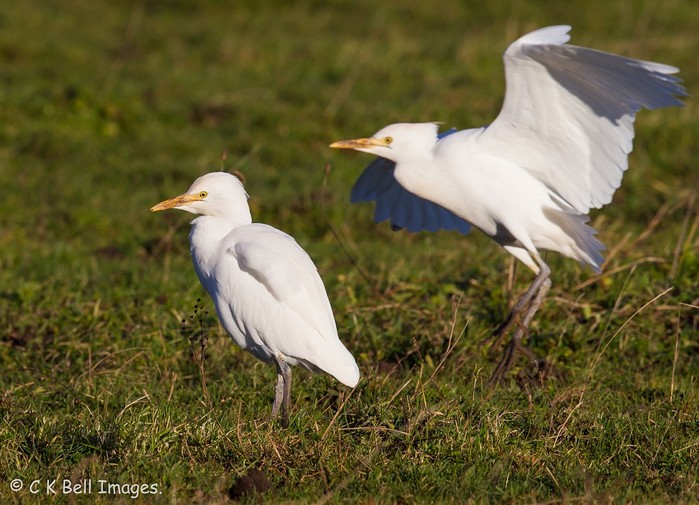 All the same duplication caveats also apply to Great White Egrets though, this week, there perhaps a more pronounced sense of diminishment, with some 130 birds recorded from around 30 counties, down by approximately 50 on the total recorded last week. That said, numbers at the species' locus mirabilis in recent weeks, Chew Valley Lake (Somerset) remained static with a peak count of 34 birds on 11th-12th; and Rutland Water (Leicestershire) actually increased its numbers from a dozen last week to 16 birds on 10th.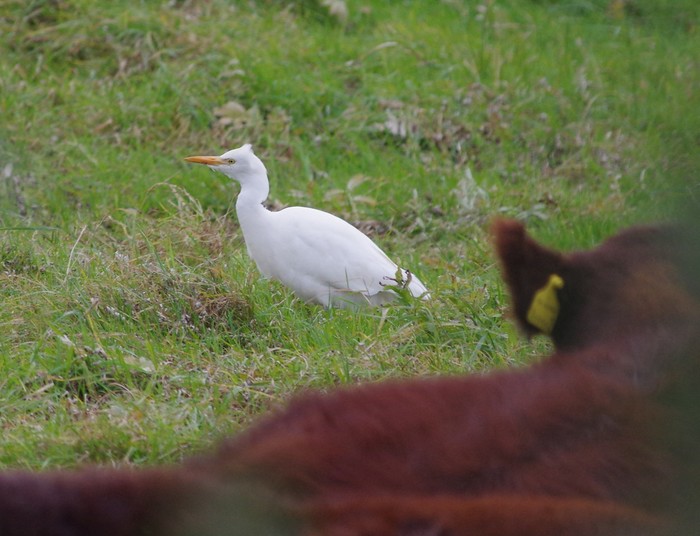 At least four Glossy Ibises were seen this week: one was again at Brading Marsh (Isle of Wight) on 8th-14th; one was seen at Budleigh Salterton (Devon) on 10th-12th, with further Devonian sightings at Fremington Quay again on 13th and Colyford Common LNR on 14th; one was seen in the afternoon of 9th and again on 12th and 14th over Hornsea Mere (East Yorkshire); and one remained in Somerset at Ham Wall RSPB on 14th.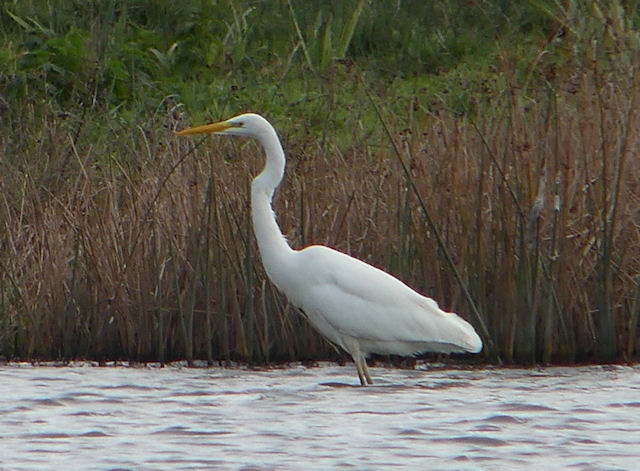 Once again, Dorset's Poole Harbour accounted for the bulk of our weekly Spoonbill fix, with around 50 birds again recorded from there during the course of recent days. Single birds remained settled in Cornwall at Hayle on 8th-14th and Somerset at Steart WWT on 8th 12th also; one was seen in Devon on 8th at South Huish Marsh; and on 13th one was at Pennington Marshes (Hampshire) and two were on Green Island (Scilly). Five were seen at Isley Marsh RSPB (Devon) on 14th.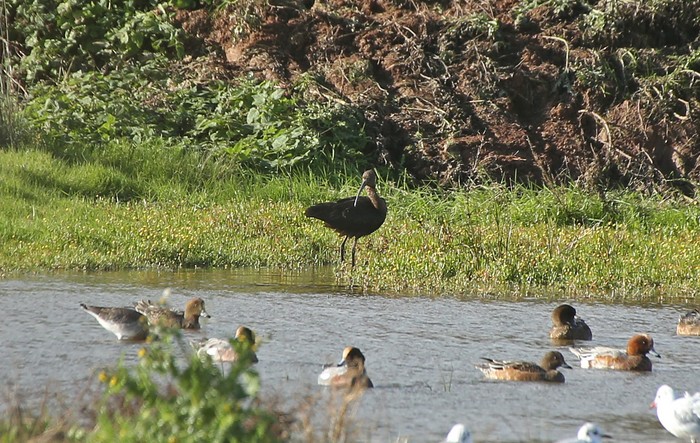 Away from Norfolk, the week's main Common Crane sighting came again from Cambridgeshire on 10th, with 31 birds noted at Ouse Washes RSPB and four at Nene Washes. On 8th three were seen in South Yorkshire at Hatfield Moors NNR, and single birds were noted over Tenterden (Kent) on 8th and at Horse Eye Level (East Sussex) on 8th-9th. One was still present in the Western Isles at Borve, North Uist, on 12th.
With every passing week now we'll be collectively turning our attentions more to wildfowl and, while we're not quite at the midwinter stage of the likes of Green-winged Teals soaring into weekly double figures, things are beginning to pick up a little amongst the rarer honkers and quackers.
Starting this week then with Snow Geese, a white morph was still on North Uist at Borve on 12th-14th, while two birds (a blue and an intermediate morph) were located on 12th at Skinflats Lagoons RSPB (Forth).
Four Black Brants were seen in recent days: the Cley regular was settled in Norfolk all week long; one at Dawlish Warren NNR (Devon) on 8th was still kicking around the Exe Estuary on 13th-14th; one was at The Naze (Essex) on 8th; and one was in Lincolnshire at Donna Nook on 11th-13th. Another (or a hybrid) was seen at Gibraltar Point NNR (lincolnshire) on 14th.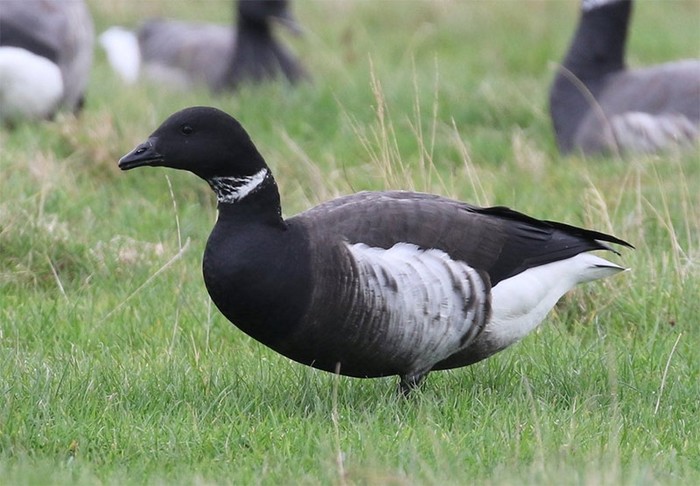 The Goose Formerly Known As Canada had another busy week in the north, with a hutchinsii Richardson's Cackling Goose still on Islay (Argyll & Bute) at Loch Gorm on 9th, Loch Gruinart RSPB on 10th and Loch Indaal on 11th; and another individual seen at Rockcliffe Marsh (Cumbria) on 10th-13th. Meanwhile interior Todd's Canada Geese were noted on Islay at Loch Gorm on 9th, Loch Indaal on 11th and Loch Gruinart RSPB on 14th; and in Highland at Tarbat Ness on 10th.
Paddling onwards into the ducks, the adult female American Wigeon remained at Grimley (Worcestershire) until 10th, with familiar drakes still at Loch Eye (Highland) until 11th and Rutland Water (Leicestershire) until 14th. A further drake was at Loch of Strathbeg RSPB (Aberdeenshire) on 8th-12th, while on 14th the drake was still to be found near Inverness (Highland) at Clachnaharry.
We had a modest increase in Green-winged Teals this week, with five birds recorded: still on North Ronaldsay (Orkney) on 8th-12th; at Frodsham Marsh (Cheshire) still on 9th-13th; on 12th at Lossiemouth (Moray) and Ballymena (Co.Antrim); and on 14th at Blacktoft Sands RSPB (East Yorkshire).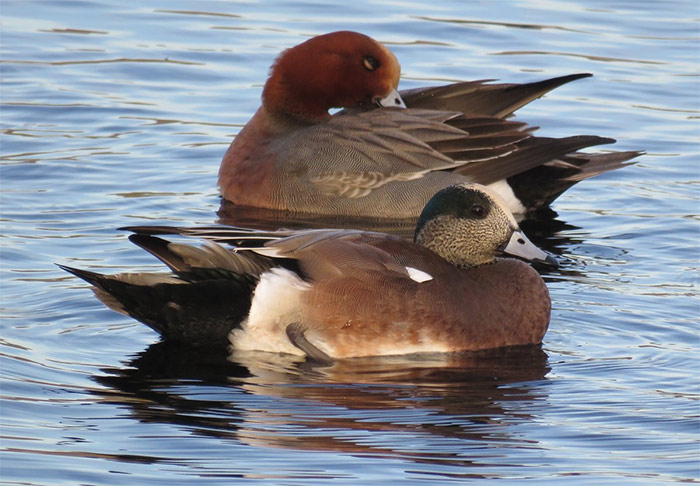 We've already touched on the drake Lesser Scaup found at Lough Gill (Co.Kerry) on 9th; another was seen this week though, at Chew Valley Lake (Somerset) on 12th.
The penny's dropped in the past week that the origins of at least some of our recent splurge of Ferruginous Ducks are, while morally laudable, from a provenance perspective somewhat dodgy – the drakes seen lately at Dinton Pastures CP (Berkshire) owe their origin to a German reintroduction scheme. Further sightings this week came from Ham Wall RSPB (Somerset), which hosted a drake and a female on 8th, with the drake still present until 10th; Eyebrook reservoir (Leicestershire) on 10th-14th; and at Blashford Lakes HWT (Hampshire) still on 10th.
Nine Ring-necked Ducks were logged in recent days. Four Irish birds comprised a female at Lough Gill on 9th-13th, drakes at Lough Morne (Co.Monaghan) on 10th and Achill Island (Co.Mayo) on 11th, and a first-winter drake was at Ardclooney (Co.Clare) on 13th. The only Scottish bird was the drake at Milton Loch (Dumfries & Galloway) again on 13th. English sightings came from Essex, where a drake was seen again at Abberton Reservoir on 8th and Abbotts Hall Farm EWT on 8th-10th respectively; Dozmary Pool (Cornwall), where the recent drake remained until 13th; and Cotswold Water Park (Gloucestershire), where a drake was noted on 11th.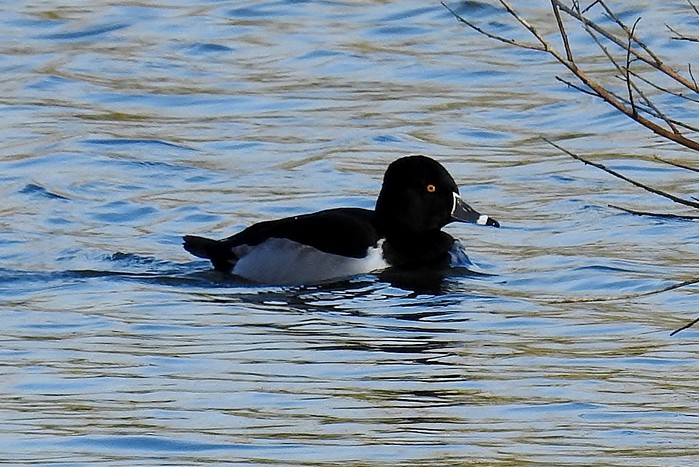 Lingering Surf Scoters remained at Porthpean (Cornwall), where the female and juvenile pair were still to be found until 13th; on 13th off St Mary's (Scilly); and single drakes off Ruddons Point (Fife) on 8th and 14th, and Musselburgh (Lothian) on 11th – the latter bird possibly accounting for a sighting on 11th from nearby Port Seton. The female or first-winter drake remained on 14th in Ireland off Ballinskelligs (Co.Kerry).
In Wales the female King Eider was again seen at Ynyslas (Ceredigion) on 9th-11th, while the drake was seen again at Wester Quarff (Shetland) on 11th, with another possible drake that day at Musselburgh (Lothian); and the drake was again at Whiteness Head (Highland) on 14th.
A now familiar story this week with a thinning out of interesting shorebirds to report, and some species that have been fixtures of late have dropped out of the news altogether. Farewell, perhaps for the rest of 2017, Pectoral and Stilt Sandpiper…
Two White-rumped Sandpipers remained, however, in the past week – those at East Haven (Angus) still until 9th, and the juvenile again on Lough Beg (Co.Derry) on 11th.
The probable Semipalmated Sandpiper at Slimbridge WWT (Gloucestershire) finally made the leap this week from probable to unequivocal, and remained as such there until 12th when, in further twist in the long-staying tale, it was re-identified from photographs as a Little Stint. Ensuring that no week goes by without a tricky peep, a new possible bird was reported on 9th from Pickerings Pasture (Cheshire).
The Spotted Sandpiper remained at Abbotsbury (Dorset) still on 10th.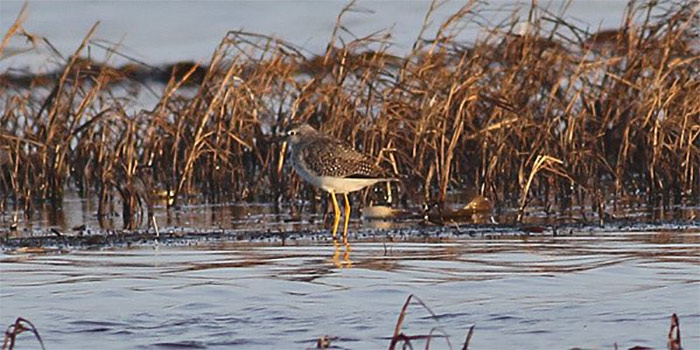 Nearby, the juvenile Lesser Yellowlegs remained at Lodmoor RSPB (Dorset) until 14th, while the individual at Tacumshin (Co.Wexford) was still present until 12th.
Tacumshin also held onto both of its juvenile Long-billed Dowitchers, although only one was seen for most of the week until the second bird reappeared with its pal there on 12th. In Kent, meanwhile, the adult bird was still to be found at Oare Marshes KWT (Kent) until 14th.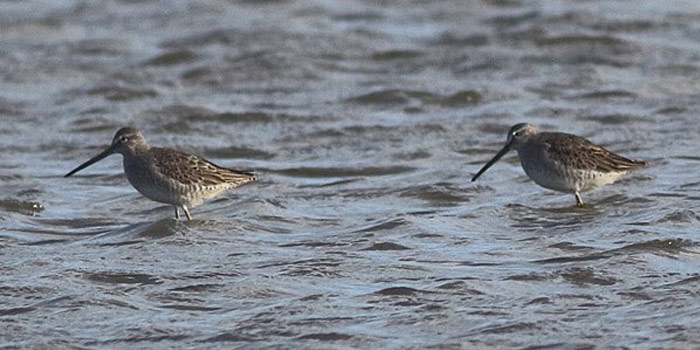 With no sign there since 31st October, we might have thought that the juvenile Pacific Golden Plover had long since departed Bannow Bay (Co.Wexford) – we would, however, have been wrong, as the bird was once again seen there on 8th this week.
A quartet of American Golden Plovers remained on offer, with a juvenile bird lobbing around South Uist (Western Isles) until 14th; one at Port Logan (Dumfries & Galloway) still until 10th; and, in Ireland, one at Tacumshin (Co.Wexford) on 10th also, and another juvenile at The Cull (Co.Wexford) on 14th.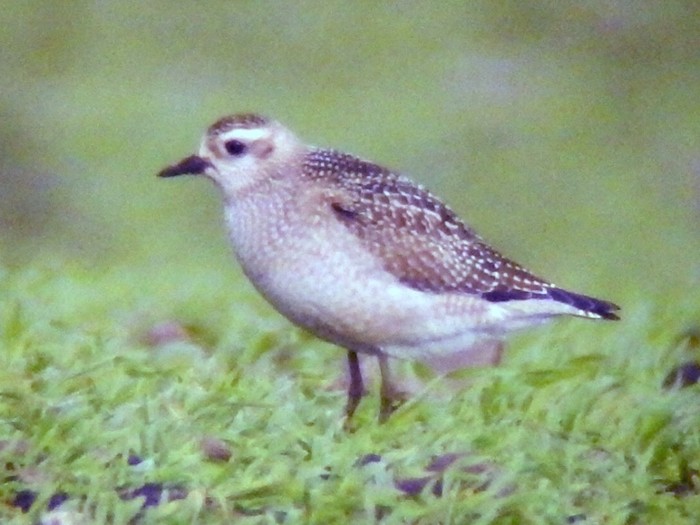 A couple of late Dotterels continued to feature in the news – last week's bird at Anthorn (Cumbria) remained in the Cardurnock area until 14th, while another was noted in North Yorkshire at Nosterfield NR on 9th.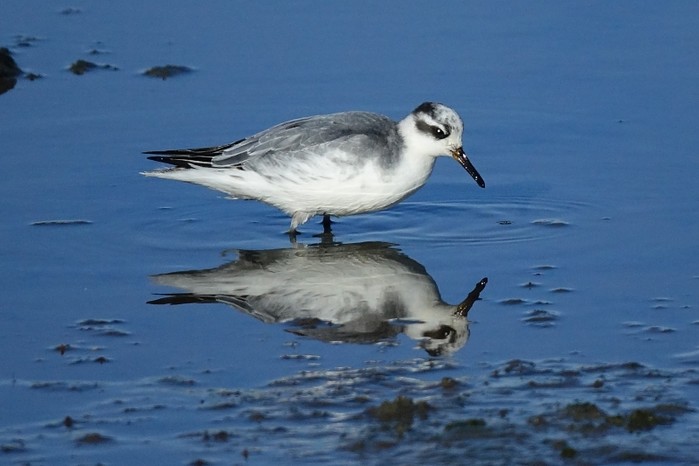 The settled Grey Phalaropes at Pennington Marshes (Hampshire) and Cley NWT (Norfolk) remained at their chosen locales until 11th and 13th respectively; other briefly settled birds were at South Gare (Cleveland) on 8th-11th, South Shields (Co.Durham) on 8th-9th, and Dungeness (Kent) on 9th-12th. Birders' close attention continued to be rewarded with further sightings down the east coast during the course of the week, with birds seen from Whitburn CP (Co.Durham) on 8th and 12th; Kelling Quags (Norfolk) on 9th and 11th; North Ronaldsay (Orkney) on 10th; and on 12th from East Chevington NWT, Snab Point, Boulmer and Cullernose Point (Northumberland); St Abb's Head (Borders); Filey Brigg (North Yorkshire); Sheringham (Norfolk); and in the west, Chew Valley Lake (Somerset) and Sennen Cove (Cornwall). On 14th one was in a flooded field at Inverallochy (Aberdeenshire).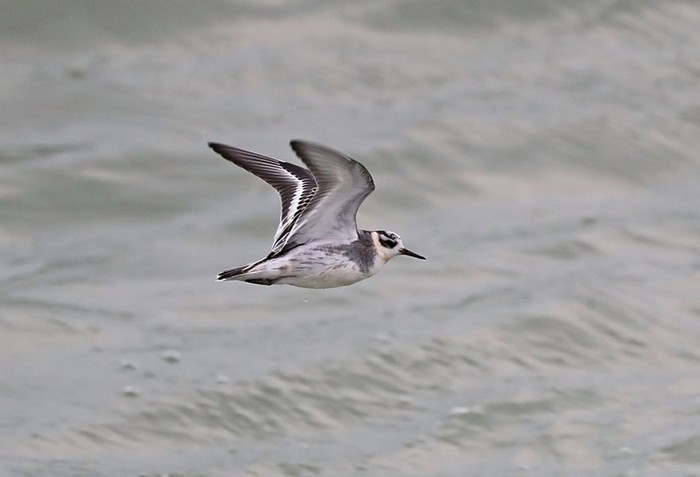 A Red-necked Phalarope provided a little further phalarope variety at Covenham reservoir (Lincolnshire) on 10th-14th.
White-winged gulls, predictably with a northerly airflow at this time of year, began to feature more prominently in the news this week. Glaucous Gulls were certainly on the move in the north, with a two hour sea-watch on Unst (Shetland) on 12th yielding four birds alone. In total some 45 birds were logged in the course of the week, predominantly with a northerly and easterly distribution, with birds seen as far south as Norfolk. Inland birds, for now, remain at a premium with just the settled bird at Middleton Moor (Derbyshire) on 8th-14th an English exception. Irish records meanwhile came from Cobh (Co.Cork) on 8th and Kilshannig (Co.Kerry) on 13th-14th.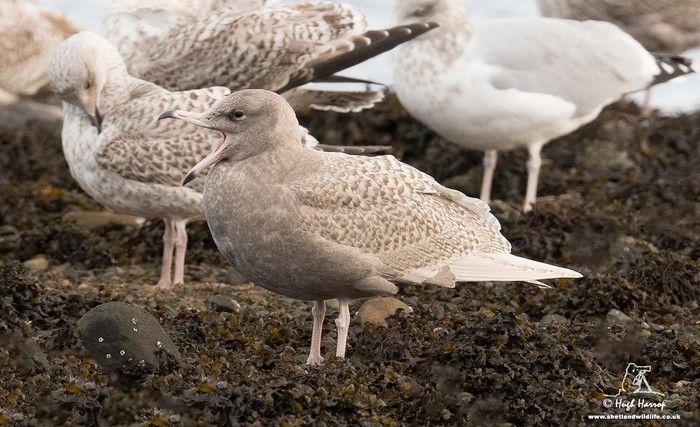 The week's tally of Iceland Gulls was considerably more modest: island records came in the form of one on Skye (Highland) on 8th-14th, two birds lingering on St Mary's (Scilly) on 8th-12th, singles seen from North Ronaldsay (Orkney) on 8th and 10th, up to three in Lerwick harbour (Shetland) on 10th-12th, and one on Islay (Argyll & Bute) on 11th. A second-winter bird was noted in Greater Manchester at Pennington Flash CP on 8th and Cutacre CP on 11th, and a further bird was seen on 12th at Machrihanish (Argyll & Bute). On 13th one was at Lochailort (Highland); on 14th a second-winter bird showed well at Cley NWT (Norfolk), while further individuals were seen that day up on Fair Isle (Shetland), Tiree (Argyll & Bute) and North Uist (Western Isles) also.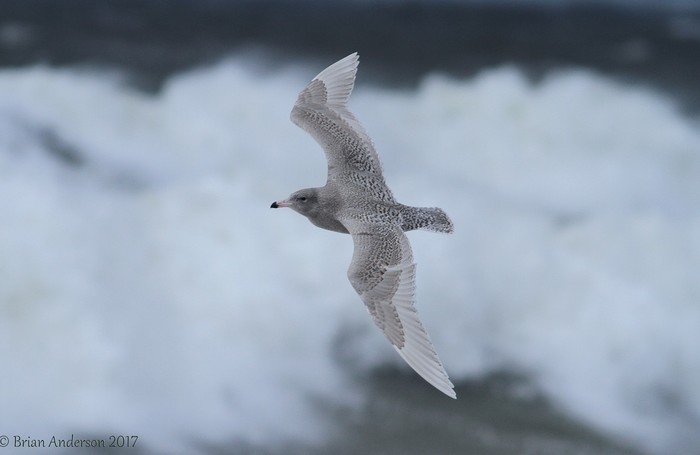 Ring-billed Gulls remained very thin on the ground for now in Ireland, with sightings in Co.Louth at Blackrock on 8th-10th and Lurgangreen on 10th, and Doorly Park (Co.Sligo) all the week had to offer.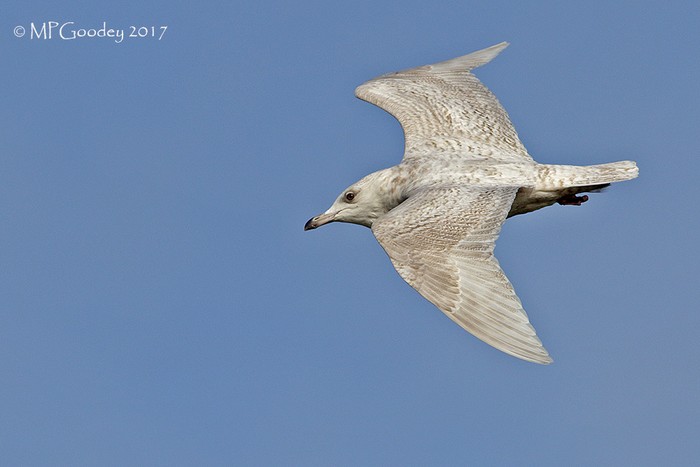 Sabine's Gulls, meanwhile, enjoyed a small resurgence on recent weeks: on 10th single birds were seen on North Uist at Lochmaddy (Western Isles) and Spurn (East Yorkshire); and on 12th single birds were noted off South Gare (Cleveland), Sheringham (Norfolk), Reculver (Kent), Gallions Reach (London) and Strumble Head (Pembrokeshire), with two seen that day from Skye (Highland). On 13th one was reported off Strumble Head again; and on 14th one was seen in Norfolk from Holme Dunes and another was in Devon off Thurlestone.
The regular adult Forster's Tern was seen again in Co.Galway on 9th at Newtownlynch Pier.
A slight improvement on the scarce and rare raptor front this week – we have a definite Rough-legged Buzzard, seen at Choseley (Norfolk) on 13th, and one noted in Norfolk flying south-east over Titchwell RSPB the following day. That's your lot, though. So we'll move swiftly on…
This week's slim pickings continue in the passerines section, with not a lot to go at, truth be told.
We'll start with another late Hoopoe, this time found in Wiltshire at Shrewton on 9th and still present there at the weekend on 12th.
Last week's female or first-winter male Red-flanked Bluetail in Suffolk was seen again at Lowestoft this week on 8th, but not thereafter. Vying with that species in terms of autumn rarity lately are Bluethroat - a first-winter male was trapped and ringed on 8th at Spurn (East Yorkshire).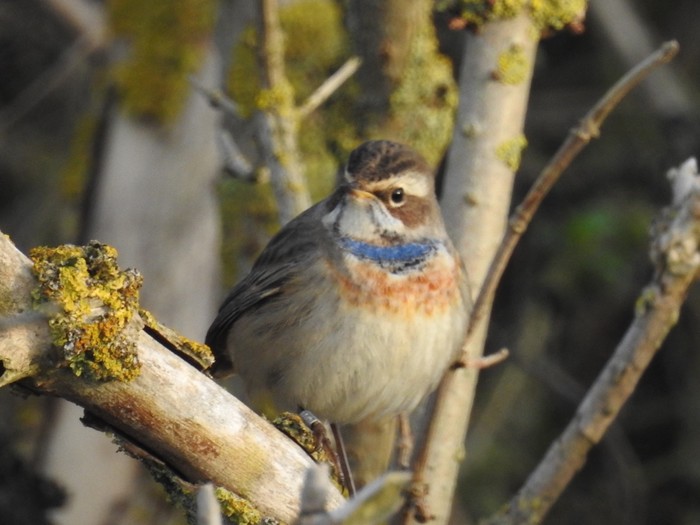 Lundy (Devon) sprang a late surprise with an Olive-backed Pipit on 14th.
Numbers of Richard's Pipits fell through the floor this week, with just two recorded, both on 10th – one at Titchwell RSPB (Norfolk) and the other further north at Gibraltar Point NNR (Lincolnshire).
As per our predictions last week, a couple of rarish warblers put in a showing this week – singles of Dusky Warbler at Paignton (Devon) on 8th-9th and Hume's Warbler, trapped and ringed at Dungeness (Kent) on 9th.
The 9th also proved fruitful in Norfolk at Happisburgh where a Pallas's Warbler was found amongst a tit flock. Another individual was found at the close of the week in North Yorkshire at Filey on 14th.
Numbers of Yellow-browed Warblers, meanwhile, continued to evaporate compared to just a few weeks ago: on 8th Dungeness featured again with a single bird there, with another that day in Essex at The Naze; one was at Aylestone (Leicestershire), with three that day in Falmouth (Cornwall), and at least one still at the latter site on 10th; on 11th one was at Nelson Wern (Glamorgan), with another possible individual in Worsley (Greater Manchester); on 12th one was in the warm depths of Cot Valley (Cornwall); 13th provided an excellent central London record from St James's Park, and a further reported bird at Cholsey (Oxfordshire). Two were found on 14th at St Levan (Cornwall). Finally two birds remained on St Mary's (Scilly) on 9th, with at least one still present on 12th-14th.
A Barred Warbler was again at Spurn (East Yorkshire) on 12th, with another trapped and ringed at Landguard NR (Suffolk) on 9th. A further bird was reported at Hale (Cheshire) on 14th.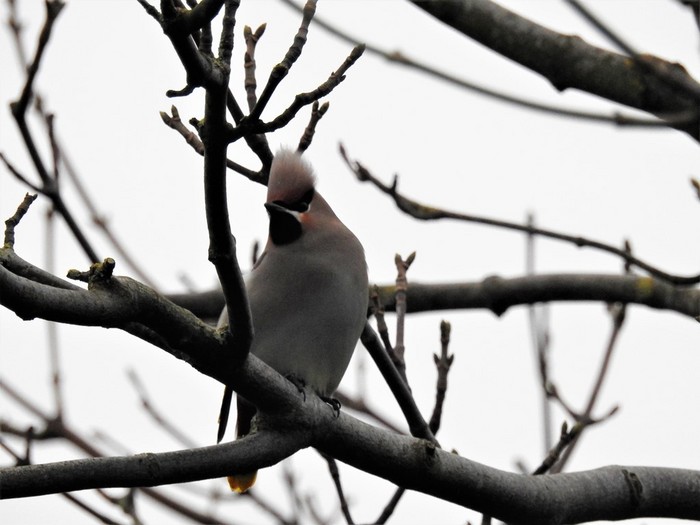 More seasonal fare now, with a scatter of Waxwing records to trill about. Singles were noted at Billingham (Cleveland) on 8th, Bishopmill (Moray) on 12th, on 13th at Evie (Orkney) and Hethersett and Burnham Overy Dunes (Norfolk), and on 14th at Norwich and Stiffkey (Norfolk), and North Berwick (Lothian). Small flocks were noted elsewhere: eight birds were seen on 10th at Longforgan (Perth & Kinross), with 18 that day in Limerick (Co.Limerick); eight birds were seen on 12th at Dunbar (Lothian); five were noted on 13th at Dunblane (Forth); and four were seen on 14th at Lossiemouth (Moray).
Great Grey Shrikes meanwhile continued to move and, here and there, put winter roots down. Settled birds remained this week at Prestwick Carr (Northumberland) until 13th and Cropwell Bishop (Nottinghamshire) until 14th, while one was seen again in Gloucestershire at Staple Edge Wood on 8th. Five further sightings came on 8th: at Tewkesbury (Gloucestershire), Pistow Quarry (Powys), Black Hill (Shropshire), Whitburn (Co.Durham) and finally at Muswell, on Sheppey (Kent). On 9th-10th one was seen again at Thursley Common (Surrey), and on 11th one was noted at Rye Meads RSPB (Hertfordshire). On 14th one was seen at Graffham Water (Cambridgeshire), and one was present in Ashdown Forest (East Sussex) at Old Lodge SWT that day also.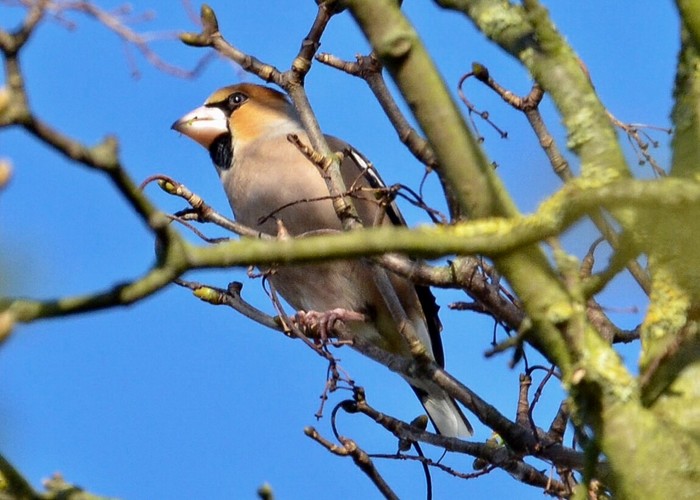 Hampshire, briefly, provided us with a Rose-coloured Starling, a juvenile seen at Warsash on 13th; while another juvenile was seen on 12th-14th near Roch (Pembrokeshire).
While good numbers of Hawfinches continued to feature across the region across the course of the week, we'll finish with two Little Buntings seen in the stubble fields at Polgigga (Cornwall) on 10th-14th.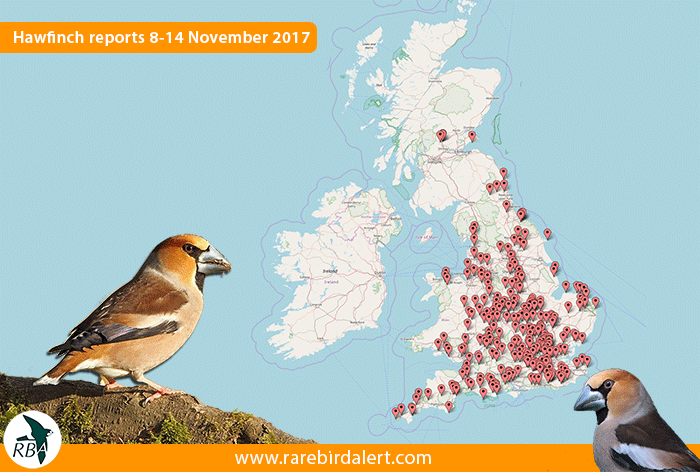 We've a handful of interesting birds to go at elsewhere in the Western Palearctic this week, starting with a couple of passerines that hint at what we're missing in a quiet week and, hopefully, will get a taste of one of these days.
Let's start then with the Black-throated Accentor trapped and ringed in Sweden at Ottenby, Oland on 8th. We got all carried away last year with the unprecedented arrival of Siberian Accentors across Western Europe, but now that normal service is resumed we might yet dare to dream that one day a rarer accentor still might make it to British shores…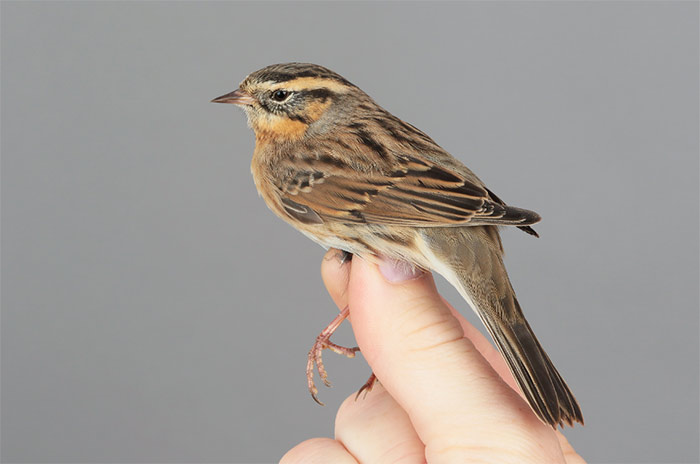 Speaking of which, practically within sight of us (okay, not really, but close enough) was the Dusky Thrush seen on the German equivalent of Fair Isle, the famous island of Heligoland, on 8th-10th. On many a British birder's list nowadays, but all the same – a proper pulse quickener of a bird should we get another any time soon.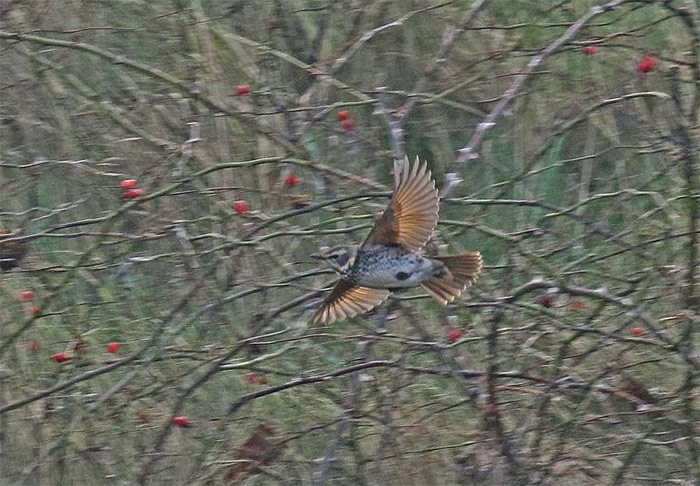 In Holland the Black-shouldered Kite remained at Lauwersmeer until 13th.
A Black-browed Albatross passed Capbreton (France) on 12th, while on 13th we learned that the American Royal Tern was still present on Guernsey. So near, and still yet so far…
Further afield, Israel's third Red-wattled Plover was found at Kfar Blum on 13th-14th.
In the Azores a Green Heron was at Lajes de Pico on 8th, while a Snowy Egret remained that day on Faial. I wonder when British birders will get another bite at that particular apple?
Well, last week's confident predictions of Desert Wheatear, Dusky and Hume's Warbler more or less all came true, with the missing wheatear still potentially very much a possibility in the coming days, and more of both warblers also still on the cards.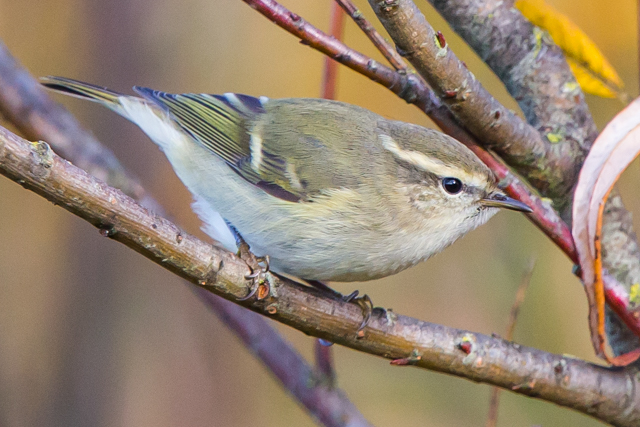 Truth be told, though, they're all very much low fruit where this prediction business is concerned, and are therefore easily plucked. Last week's long-shot of some form of American warbler, of course, came to naught, but a fond glance at rarities of days and years gone by suggests that, even in the third week of November, all hope is not necessarily lost for something a little bit special to be unearthed.
(Oh, alright, it basically is game over, and our opening trio of warblers and wheatear aside, more Ferruginous Ducks and maybe a Gyrfalcon still seem like the most likely further candidates in the coming days, but we like to dream, yes? And we like to dream big…)
The coming week offers past records of genuinely eye-watering rarities that we latter-day birders can only dream of occurring once more on these shores – the 1966 Brown Thrasher was found this week in Dorset, and an exhausted Bald Eagle was picked up this week in 1987 in Co.Kerry. Both seem improbable to ever have a repeat occurrence but, in the wake of a week in which our star bird was a species that's surely overlooked - American Coot - how about another aquatic American species that, perhaps, is overlooked amongst commoner brethren we scarcely give a second glance to?
I am, of course, alluding to Double-crested Cormorant - Ireland's first (and Britain and Ireland's combined second, and last) record was found on 18th November 1995 at Nimmo's Pier (Co.Galway). Like the coot, they're never going to win any beauty pageant prizes, but for sheer rarity… they're right up there, and it's been 22 years since the last one. With a North American population that's exploded in the past 40 years – according to Birdlife, it's grown by 2,200% - we're surely due another sometime soon…
Jon Dunn
15 November 2017
Share this story
Tweet

Many thanks to all contributors for their photos and videos this week.
Alan Clewes, Steve Gantlett, David Boult, Jonathan Farooqi, Craig Bell, David Bryant, Terry Smollett, Paul Chapman, Marcus Nash / The Bird ID Company, Lee Evans, Anthony Williams, Paul Kelly / www.irishbirdimages.com, Brian Henderson, Chris Holt, Hugh Harrop / Shetland Wildlife, Martin Casemore, Martin Goodey, Dave Tucker, Tim Wootton, John Pringle, Magnus Hellström, Arne Torkler, Peter Garrity,