Weekly birding round-up: 6 - 12 September 2017
The week at a glance
Our autumn kicks off with a screamer - American Redstart on Barra
Cheshire's first Greater Yellowlegs inconsiderately chooses Hilbre Island on a rising tide
While Dorset's first Least Sandpiper and third Stilt Sandpiper are more obliging
Inevitably this week, the weather news was dominated by not one but three hurricanes busily forging their way through the western Atlantic basin. Irma, arguably the most sustained Category 5 hurricane on record, ploughed a slow and inexorable path through the Caribbean and into Florida, leaving a trail of devastation and loss in her wake, whilst as the days wore on Jose intensified hot on Irma's heels and, in the Gulf of Mexico, Katia began picking up a head of steam too.
The human cost of this unusually intense burst of hurricane activity was all too evident to see on our screens this week but, lest we forget, this coincides with migration for North American birds – many of which would, in more clement conditions, be heading south across the very troubled waters these hurricanes were disrupting. There will be an unseen natural cost to this extreme weather too.
It's pretty rare to have three simultaneous hurricanes. The last time this happened was in September 2010 – conditions that, on this side of the Atlantic, dropped Bobolink, Swainson's Thrush and American Buff-bellied Pipit onto our shores in the space of just two days.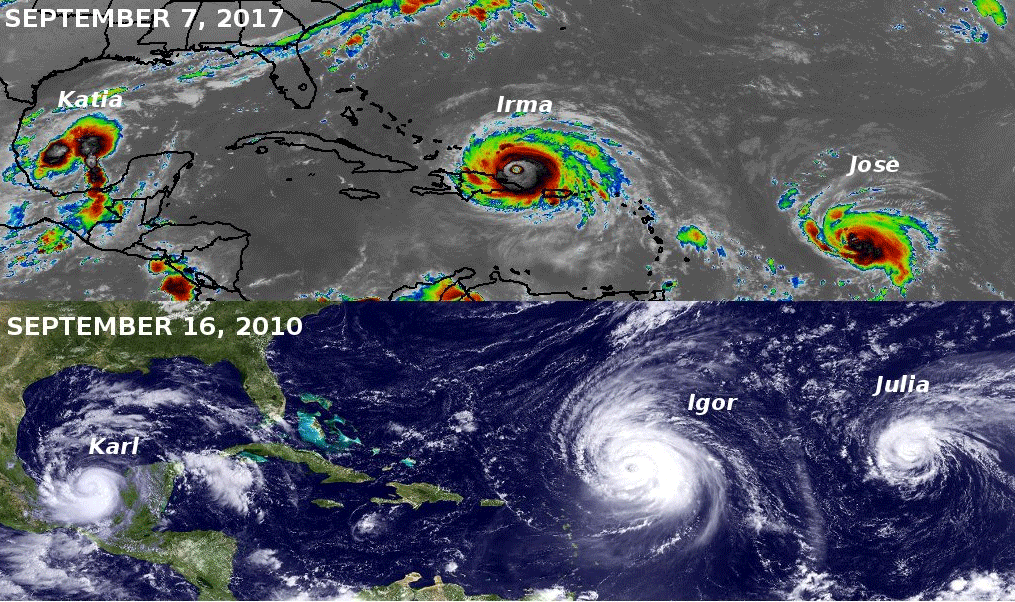 As predicted by Mark in last week's Rarity Round Up, hopes were high for some hot American passerine action again in these conditions in 2017. We weren't to be disappointed…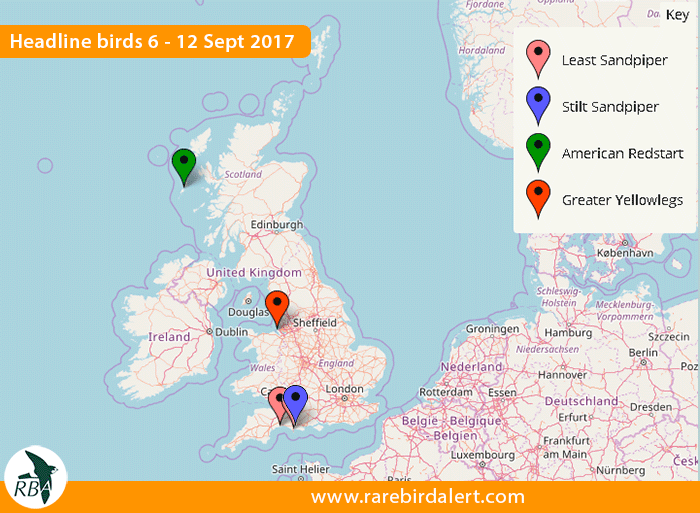 American Redstart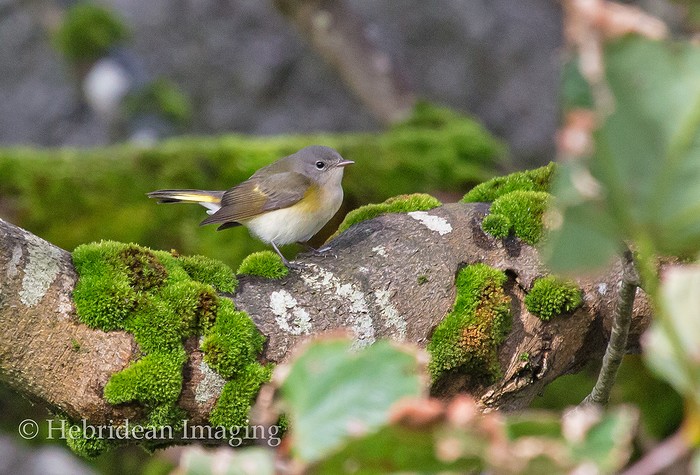 As a young birder spreading his wings in the south-west in the late 1980s, there were a handful of notable American rarities I'd 'just' missed – birds that, with each year that went by without a further sighting, rapidly assumed mythical status. I badly wanted to see them, a yearning made worse by a number of peers and mentors who could lovingly (or was that smugly?) recount every detail of the birds in question. And right up there near the top of that list was American Redstart - a hunger fuelled both by those gripping tales and the photos that, in those pre-digital times, seemed nothing short of miraculous.

I can't have been alone in yearning to scratch that mythical American Redstart itch. The years and then the decades passed, and the British tally for the species remained stubbornly immobile – just five records from the first at Porthgwarra (Cornwall) in October 1967 to the last in Hampshire at Winchester College Water Meadows in early October 1985. Ireland, meanwhile, notched up two records.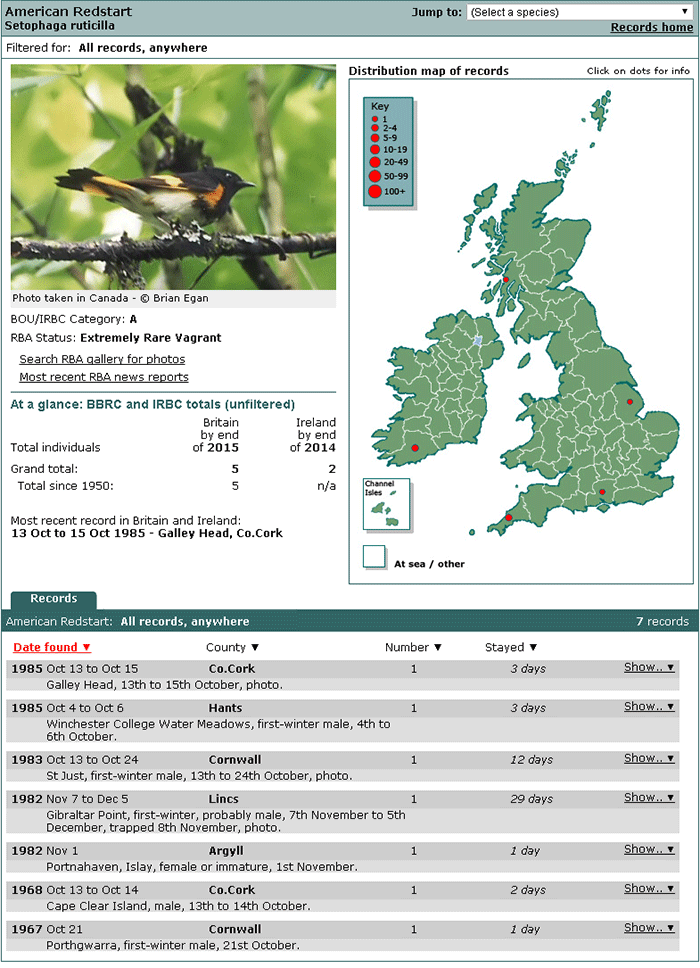 For a little while, in the early 1980s, American Redstart had even threatened to become an annual autumn occurrence – five of our collective seven records came between 1982 and 1985, with two pleasingly long-staying birds in Cornwall and Lincolnshire making sure that everybody who was so inclined could put a firm inky tick in the box next to American Redstart on their lists.
But after that… nothing.
Nothing, that is, until the evening of Thursday 7th September 2017 when, finally, what had grown to be something of a blocker was finally unlocked once again 32 years after the last record. And where better for this latest American Redstart than Barra, an island with a burgeoning reputation for delivering the goods?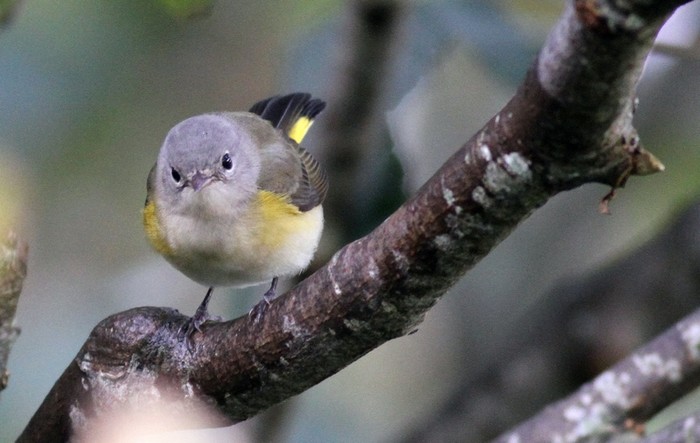 (Seriously, it's a quiet wonder more people aren't giving it a try in the autumn. Take a look at what's been found on there by way of American passerines between 2000 and 2015: Scarlet Tanager, Ovenbird, Yellow Warbler, Rose-breasted Grosbeak, two Red-eyed Vireos, Hermit Thrush, Swainson's Thrush and two Grey-cheeked Thrushes). More recently still, the very same site that's hosting this week's American beauty can also boast, of course, Britain's first Eastern Kingbird last year…
Blimey.
Did someone just mention Scilly?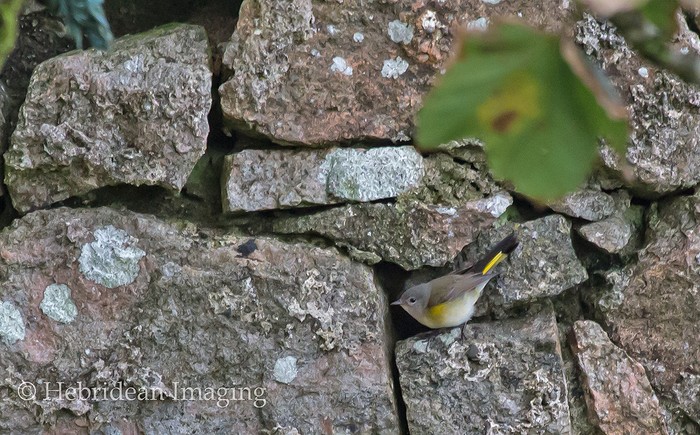 Moving swiftly onwards from that conversational hand grenade, let's get back to the ravishing female American Redstart that continued to grace the sycamores at Eoligarry until 12th, and let the images do the talking – this is one seriously beautiful warbler, long awaited and exceedingly welcome for a couple of generations of new (and not so new) birders alike. Roll on the unblocking of Varied Thrush…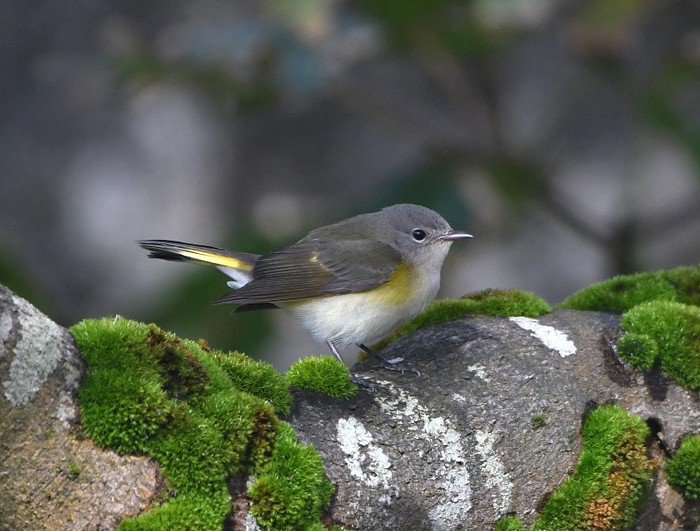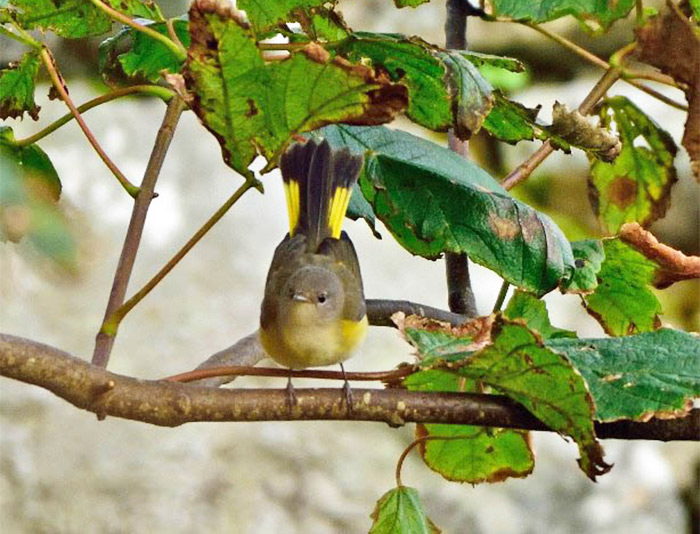 Greater Yellowlegs
It's probably fair to say that, after a goodly few Greater Yellowlegs that have done the decent thing and hung around a while (not least the obliging bird that spent most of 2015 in Hampshire and the Isle of Wight), mention of the species as breaking news on the ether may not raise much of a flicker of interest amongst the average British birder. Though, with only 33 accepted prior records, that's a little harsh – familiarity breeding contempt and all that...
That's definitely not the case, however, when the breaking news in question concerns a county first – as was the case on 10th this week when news broke in the early afternoon of a Greater Yellowlegs on Hilbre Island – a first record for Cheshire. So far so good – unfortunately time (and tide) waits for neither man nor county lister – with the tide rising, Hilbre was to be cut off for much of the remaining hours of daylight.
With a certain dread inevitability there was no further sign of the bird in question by the evening. Cheshire listers (not least those away twitching the American Redstart will be keeping everything crossed that the bird does the decent thing and reappears in the coming days…
Least and Stilt Sandpipers
Happily, the shorebirds that pitched down at Lodmoor RSPB the following evening followed a very different script altogether. Any day that closes with the finding of Dorset's third ever Stilt Sandpiper was always going to be a good day – the last, six years ago, was also at Lodmoor while the first, as relatively recently as August 2006, was on Brownsea Island – both were adults, while this latest was a juvenile, but irrespective of age this was a tremendous find – mirroring Cheshire's Greater Yellowlegs, to the end of 2015 there were a mere 33 accepted British records of Stilt Sandpiper.
So yes, that would be a good day in anybody's book.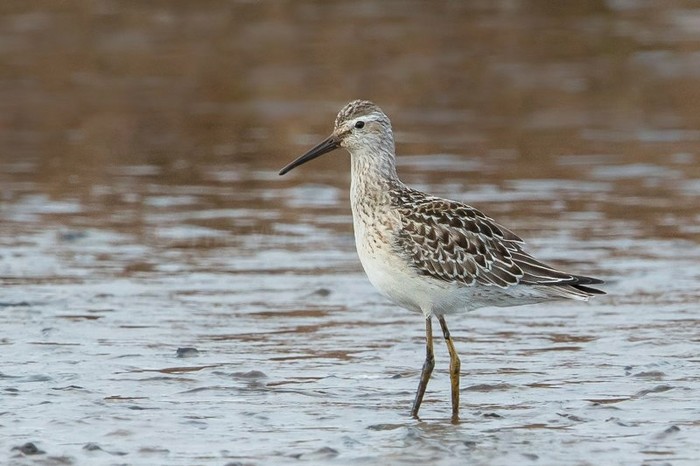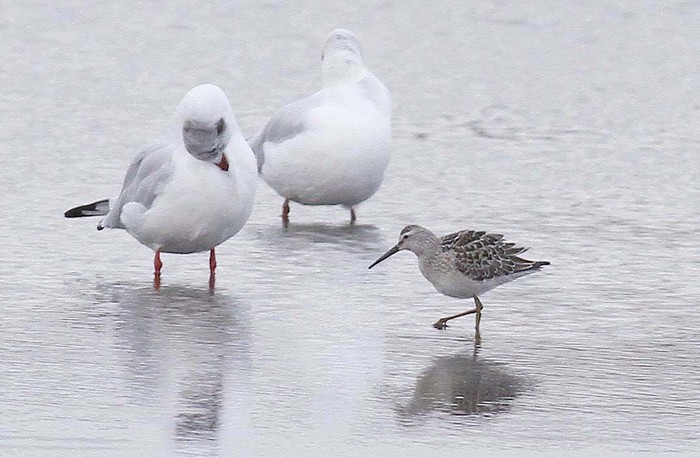 Things got a lot better an hour and a half later when Dorset's first ever Least Sandpiper was picked out at the very same site. What are the odds of that? (Away from the Azores!) Makes one wonder what else is lurking on the wetlands and estuaries of the south west…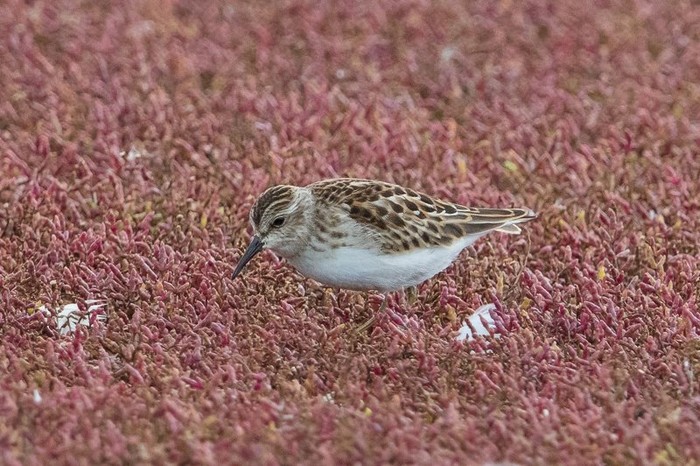 With 37 accepted British records to the end of 2015 Least Sandpiper is of a comparable calibre to it's tall, rare cousin at Lodmoor – and with records from neighbouring Devon and Hampshire it was, perhaps, just a matter of time before Dorset had one to call its own. That it should turn up alongside a Stilt Sandpiper on the very same day is all the more remarkable however. Away from the rarity magnetic islands, how often have two top-notch rarities turned up at the same site, on the same day as one another? Let alone posed together in the same field of view? Answers on a postcard!
All of which makes me want to dust off my old Dorset list and find a convenient excuse to head down to Weymouth. Both birds were still present and correct throughout 12th.
The Least Sandpiper was initially identified as a Little Stint, a cautionary tale for us all. A further twist in this week's shorebird extravaganza tale came in the afternoon of 12th, when news merged of a further juvenile bird seen on 7th in Devon at Black Hole Marsh NR…
American Buff-bellied Pipit
There was a feeling of when rather than if about American Buff-bellied Pipit in the wake of all that hurricane activity across the Atlantic and the buffeting that delivered us our headline bird this week. There would, surely, be more American interest to follow?
Sure enough, on the afternoon of 12th we learned there was an American Buff-bellied Pipit in Co.Galway at Tawin, at the base of Mweenish Island. With only 21 accepted Irish records to the end of 2014 this remains a gold star, pukka Irish rarity – and in the context of Co.Galway it's right up there, this being only the third record of the species.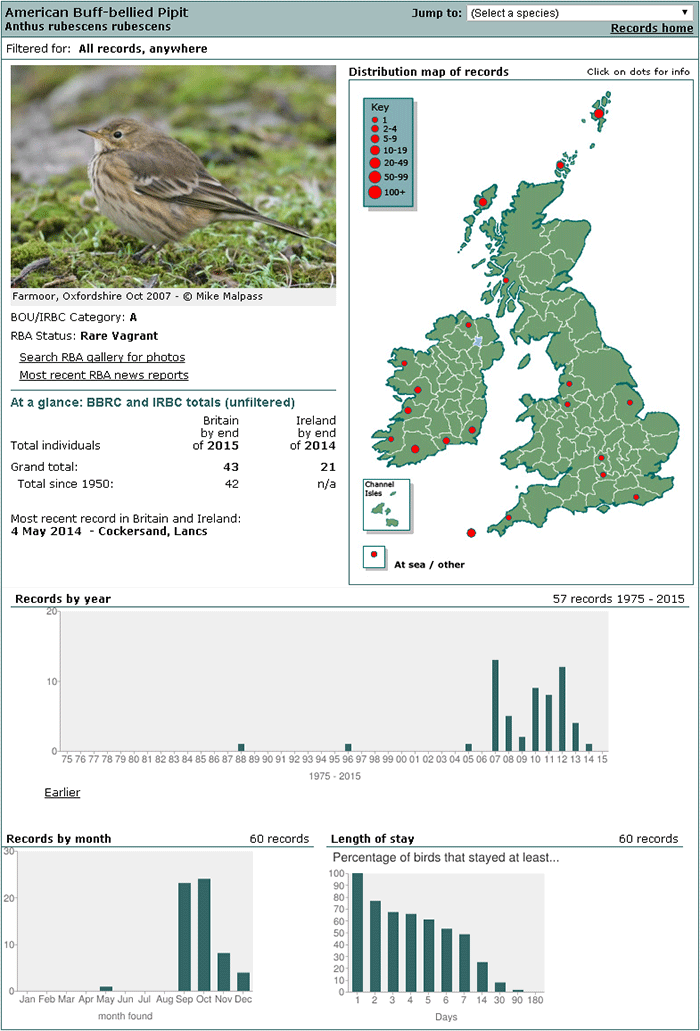 I wouldn't bet against there being more to come in Britain and Ireland in the coming days…

I'm in an autumn equivalent of spring-cleaning kinda mood this week as I pick up the Rarity Round-Up reins at the start of the business end of the year's proceedings, so it's time to exercise some editorial slash and burn with what's elevated to the headlines. That's in no way belittling the loveliness that's Fea's or Wilson's Petrels mind you, as both are still gorgeous pulse-quickeners and I'd give my eye teeth to find either on a land-based sea-watch.
(Actually, I think I might sacrifice a minor organ to simply see a Pterodroma in British waters…)
No such offerings required this week, however, for sea-watchers in Ireland, where the conditions were eminently favourable to keep on producing the goods in what's been a really fine season. A Fea's Petrel passed Carnsore Point (Co.Wexford) in the morning of 10th, whilst Wilson's Petrels kept on coming: Co.Donegal scored a single off Arranmore on 8th, with two seen that day from Bloody Foreland and, in Co.Mayo, a further singleton off Kilcummin Head; whilst on 10th a further bird was noted from Bridges of Ross (Co.Clare), and on 11th another passed Bloody Foreland. Not to be outdone Scilly notched up yet another individual from a pelagic on 7th; on 10th one flew south past Walney Island (Cumbria) and, the following day, another Cornish sighting came off Newquay. The 11th would have been a red letter day for petrel-heads had the possible Wilson's seen passing Hilbre Island only been firmed up into something more concrete. A particularly notable sighting was a Scottish record on 10th when one was seen passing Saltcoats Harbour (Ayrshire).
These were not the petrels that grabbed the week by the scruff of the neck and gave it a good hard shake, however – that accolade belongs to Leach's Petrels, which arrived in considerable numbers. By the end of the weekend some 800 birds had been logged, predominantly from western stations – the notable exception being one seen as far south-east as Dorset's Portland Bill on 8th.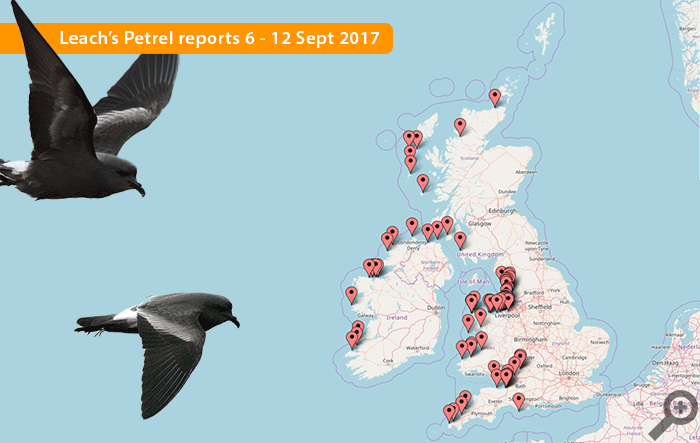 Really, though, it was all about Ireland once again, where the really chunky counts were returned – the laurels going to Kilcummin Head (Co.Mayo) where at least 300 were logged on 9th. Other notable Irish tallies came from Ramore Head (Co.Antrim) on 8th with 45 birds seen; Easkey (Co.Sligo) where 49 were noted on 9th; and on 10th at Bridges of Ross (Co.Clare) where a respectable count of 90 was made. Away from Ireland, Strumble Head (Pembrokeshire) scored a half century on 9th while on 8th a single bird at Huntspill (Somerset) reminded us all of the fate that can befall any storm-blown petrel unfortunate enough to stray uncomfortably close to land – this bird was seen well right up to the point it was killed by gulls…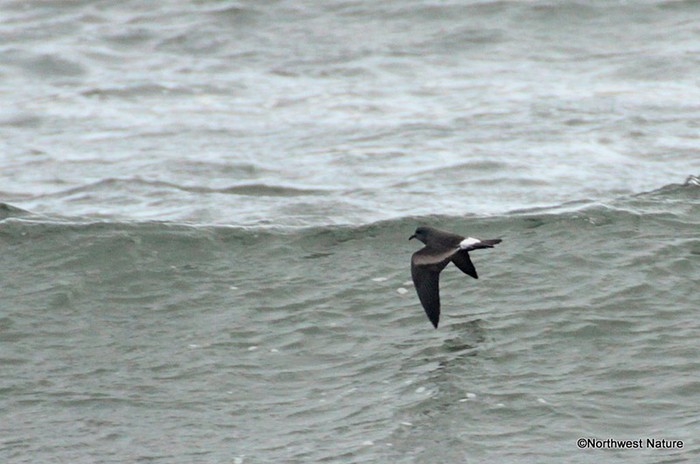 Then, on Monday 11th, everything kicked off properly with Leach's Petrels being logged in appreciable numbers – some 1,100 records flooded in as the day wore on, with a good many of these charismatic petrels being highly appreciated close at close quarters in the northwest. Co.Clare's Bridges of Ross would have been spectacular on 10th – no fewer than 157 were seen from here, a sign of things to come further east the following day.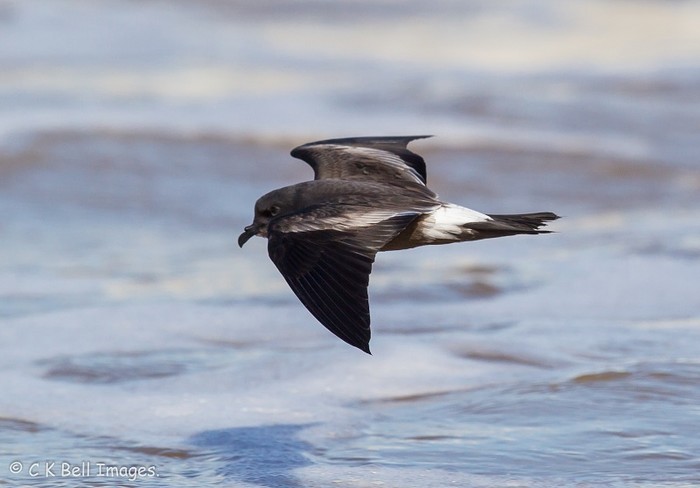 Large shearwaters were somewhat more numerous than last week, with just over 100 Cory's Shearwaters comprised almost entirely of sightings from Cornish and Scillonian waters – peak count being 55 birds seen from Porthgwarra on 7th. Irish records were thin on the ground, comprising three off The Mullet (Co.Mayo) on 7th and two from Salthill (Co.Galway) on 10th. Two probables were noted in the North Sea off Spurn (East Yorkshire) on 10th also.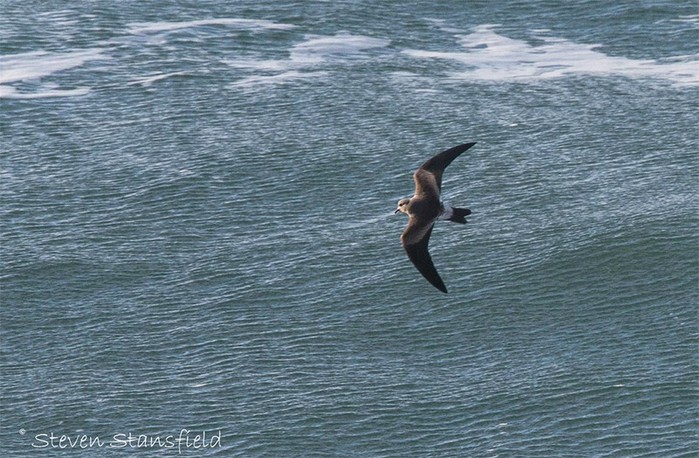 Great Shearwaters were somewhat more numerous still, with around 175 birds noted in the course of the week. The lion's share came from the Scilly pelagic of 7th with 120 birds noted. The remainder were formed of a scatted of records from predominantly Cornish and Irish waters, with some notable exceptions: single birds being seen on 7th heading north past FLamborough (East Yorkshire) and Filey Brigg (North Yorkshire) and, on 10th, way north off North Ronaldsay (Orkney).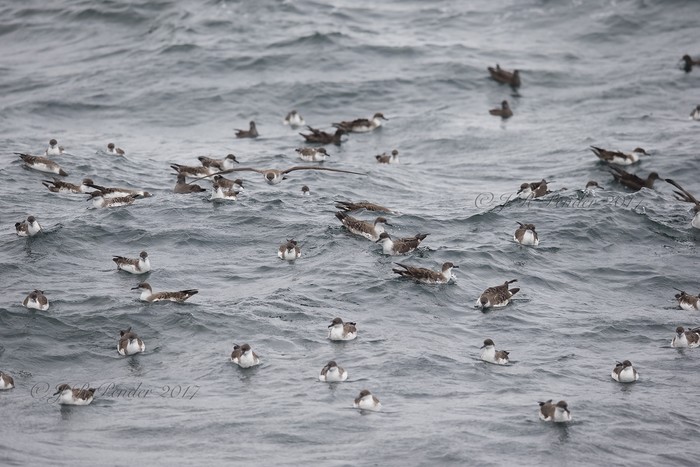 Numbers of Balearic Shearwaters were down somewhat on last week's 600, though this was all relative as around 500 were still noted this week from all points of the compass, and even as far north as Tarbat Ness (Highland) on 7th. Once again the week's stand-out count came from dependable Start Point in Devon, with 140 logged there on 10th. While a number of double figure tallies were made in the south-west it was only Porthgwarra that managed to break the 50 barrier, with 64 birds seen from there on 7th.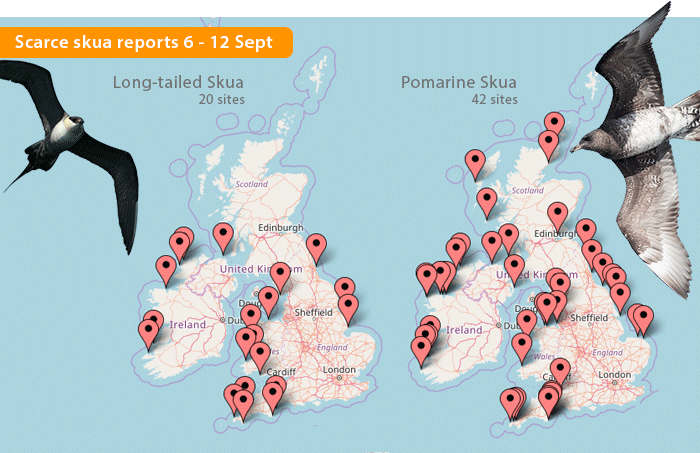 Displaced skuas were certainly a Thing this week, with some 185 Pomarine Skuas seen in 16 counties nationwide, including in their midst some appreciable tallies from the headlands: 11 on 6th from Lenadoon Point (Co.Sligo), 21 on 7th from The Mullet (Co.Mayo) and 22 on 8th from Kilcummin Head (Co.Mayo); and 13 were reported from Highland's Dunnet Bay on 11th.
Records of Long-tailed Skuas were, predictably, not as numerous but came in steadily as the week progressed. On 6th single birds were noted from Whitburn Coastal Park (Co.Durham) and Rathlin Island (Co.Antrim), and on 7th one was noted from Walney (Cumbria). On 8th five birds were seen from Kilcummin Head (Co.Mayo), with singles that day off Arranmore (Co.Donegal), Rhossili Bay (Glamorgan) and, in Cornwall, The Lizard and Pendeen. The following day saw a further sighting from Arranmore, with four noted on 9th also off Brandon Point (Co.Kerry), three from Strumble Head (Pembrokeshire) and two heading south past Spurn (East Yorkshire). On 10th three birds were noted from Bridges of Ross (Co.Clare) and Pendeen respectively, with a single off Cornwall's Fistral Beach that day also. On 11th one went past Uisead Point (Argyll & Bute); on 12th one went by Cley (Norfolk) in the afternoon.
Mirroring Leach's Petrels and Grey Phalaropes, numbers of displaced Long-tails spiked on 11th: 22 passed Bridges of Ross alone, with three from Kilcummin Head (Co.Mayo), two off Bloody Foreland (Co.Donegal) and a single from Brandon Point (Co.Kerry); in Wales two were seen off Bardsey (Gwynedd) and three from Strumble Head (Pembrokeshire) respectively, with singles off Great Ormes Head (Conwy) and Mwnt (Ceredigion). English records came from Pendeen (Cornwall) where three birds were seen in the course of the day, and off Fistral Beach where two were seen; and distantly off Gibraltar Point NNR (Lincolnshire). On 12th an adult flew south past Spurn (East Yorkshire).
Our recent largesse of Glossy Ibises contracted markedly this week, with only a handful left to play with. The settled adult remained in Somerset at Ham Wall RSPB until 10th, while one remained at Old Hall Marshes RSPB (Essex) still on 7th-9th. A flyover bird was seen in Norfolk at King's Lynn on 9th while on 11th two were noted in flight over Hornsea (East Yorkshire). On 12th one was in Devon still at Fremington Quay.
Much more predictable was the continuing presence of the American Night Heron at Dingle Gardens (Shropshire) until 8th at least. Fair to say, I think, that nothing short of a cold snap will move it from there now. Meanwhile at Leighton Moss RSPB (Lancashire) the juvenile Purple Heron stayed put a while longer too, being present there until 12th.
Numbers of Cattle Egrets held steady for another week, with 27 birds in all noted across the country. Peak count came from Cornwall's Walmsley Sanctuary where eight birds were logged on 6th and 10th again; but other notable tallies came from Meare (Somerset) where four birds were seen on 11th, Marshside RSPB (Lancashire) where three birds were still present on 6th-12th, and Dungeness RSPB (Kent) where two or three were reported daily. Single birds made up the rest of the week's tally: one stayed in Essex at Wat Tyler CP on 6th-11th, while on 6th singletons were seen on The Lizard (Cornwall) and in Cheshire at Burton Mere Wetlands RSPB. On 8th one was noted at Devoran (Cornwall); on 8th-10th one was reported once more from the Aveton Gifford area of Devon; and on 11th one flew over Exminster in the afternoon. Meanwhile in Dorset singles were seen at Abbotsbury on 8th, Lytchett Fields RSPB on 9th and Stanpit Marsh on 11th; a further bird was seen on 9th-11th in Lincolnshire at Theddlethorpe Dunes NNR; and one was at Stiffkey (Norfolk) on 12th.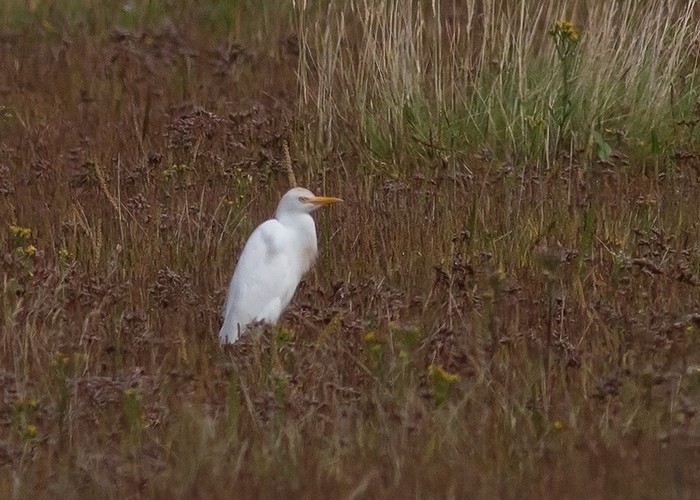 Great White Egrets also held their nerve this week and kept their numbers steady with 64 birds logged from 20 British counties. There's going to come a point where they're as unremarkable (for our reporting purposes, at least) as Little Egrets or Spoonbills… (Ha, I joke about the Spoonbills. Mainly though 'cos they're coming up shortly). Present all week at Chew Valley Lake (Somerset), the peak count from there (and Britain as a whole) came on 9th when at least 10 birds were noted; other notable counts came from Dungeness RSPB (Kent) on 9th when eight birds were logged and Neston Marsh (Cheshire) on 10th when half a dozen were noted.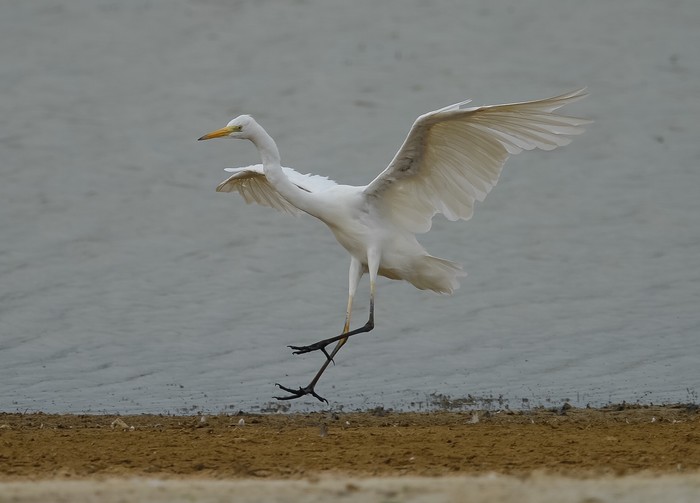 So yeah, those Spoonbills - last week's immense tally of a minimum of 130 birds on 3rd was always going to be a hard standard to match – not least because the pesky things are so mobile and prone to mooching around, and it's tricky to know over the course of a week whether there's any double-counting going on. I think, on the whole, that we can safely say that at least as many were still present this week, with north of 170 records doubtless involving some duplication. Chunky counts came on 12th from Middlebere Farm (Dorset) where numbers peaked at 30, and on 10th at Stiffkey (Norfolk) with a mighty 44 birds seen.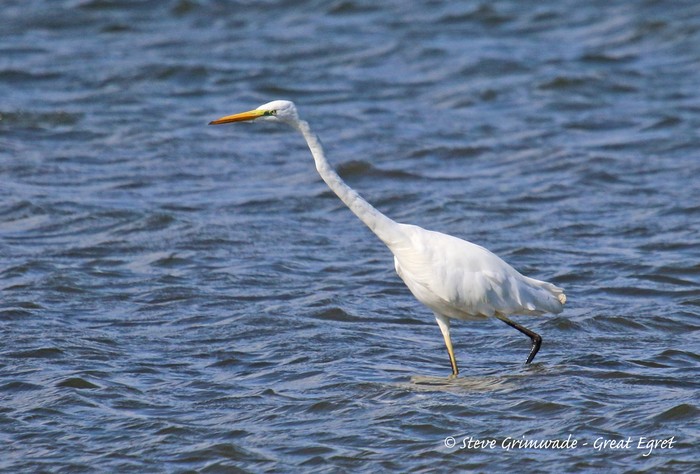 Goole Fields (East Yorkshire) provided the main locus for the week's Common Cranes away from their usual stations, with seven birds there on 7th falling to four birds on 8th. Meanwhile, unreported until 12th, the bird from previous weeks remained at Loch of Hillwell (Shetland).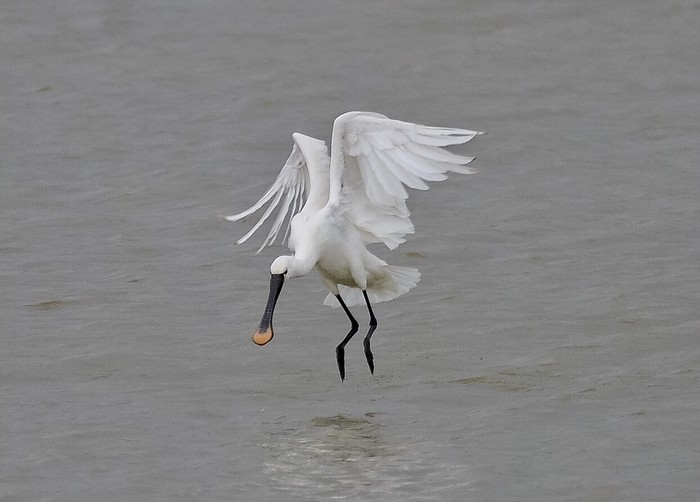 A recent bugbear in these columns (and, indeed, the columns of anyone keeping an actual printed list these days) is the provenance of White Storks seen lately on these shores. It's getting to the point where they all feel slightly tainted and of uncertain provenance, which is surely unfair. So who knows where the bird seen in the early afternoon of 10th passing Gramborough Hill (Norfolk) hailed from. Certainly the two birds (one green colour-ringed) at Sidlesham Ferry Pool (West Sussex) on 12th bore the whiff of former captivity about them.
Finally, last week's Spotted Crake at Porth Hellick Pool on St Mary's (Scilly) remained puttering around there this week, being reported more or less daily until 11th at least.
The surface of the Rarity Round Up duckpond was practically unbroken this week with an almost eerie lack of news to report. We'll not tarry long here as there are plenty of juicy Shorebirds on the near horizon, so…
…the eclipse drake American Wigeon remained at Rutland Water (Leicestershire) until 10th while, the drake Surf Scoter was reported again from Lunan Bay (Angus) on 10th.
Now we're talking - this is what this point in the year is all about – the crossover when we should have a ton of good waders pitching down on our shores at the same time as the waves of passerines start to crash onto the east coast. More on the latter in due course but, for now, the shorebirds certainly didn't disappoint.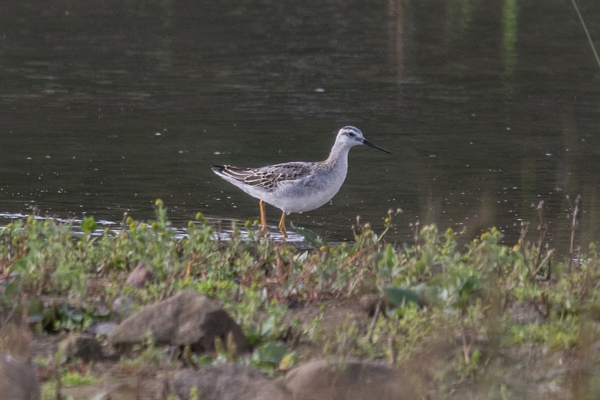 While Cheshire's first Greater Yellowlegs was all too brief, Lancashire latest Wilson's Phalarope was a little more obliging – present at Alston Wetland throughout the afternoon of 9th. With just 10 accepted records for the county and the last back in 2010 this was a nice one for the county listers and an entirely typical record as a whole – September being the peak month for the species here, and a one day stay being the norm. The moral of the tale being that should you feel an urge to see the next one, best not to hang around.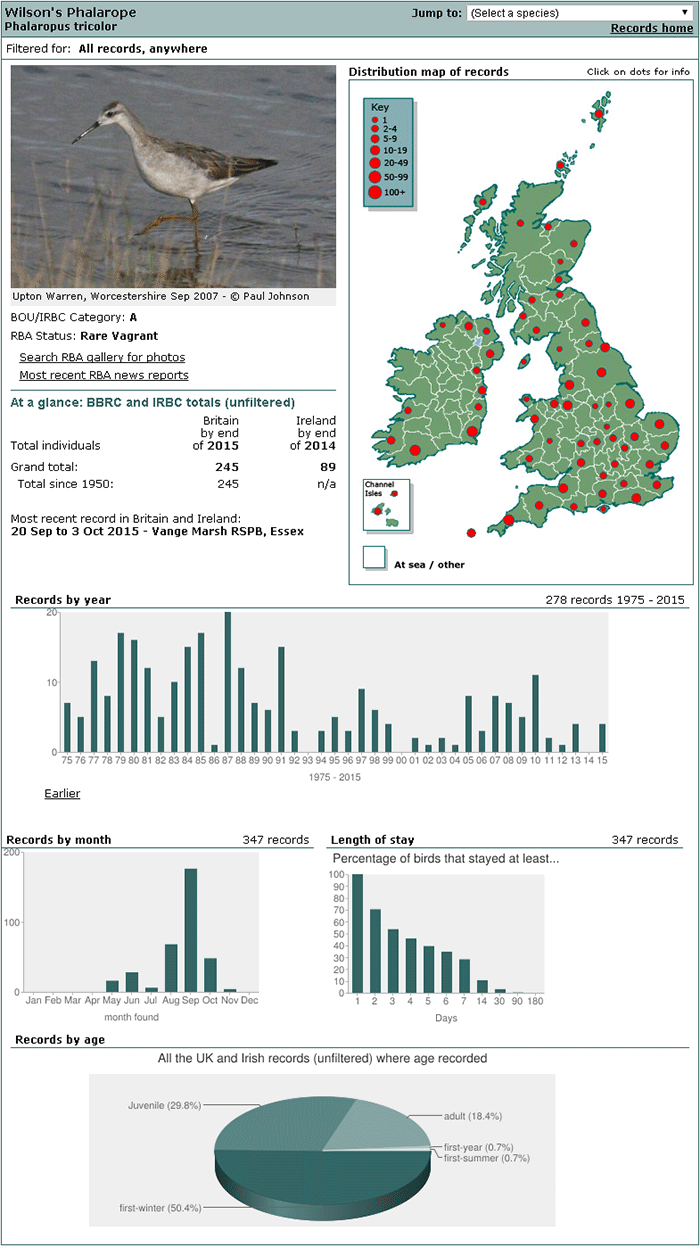 As the week drew to a close a Great Snipe was found on Fair Isle on 11th – the classic location for this chunky Gallinago, at the classic time of year. Just a hint of an easterly is, seemingly, all it takes for the magic isle to deliver. This latest individual was at Da Water – I remember watching my first walking around on the short turf slopes that rise from the crofts towards Hjukni Geo back in the 1990s – an unforgettable experience shared with a handful of people as this enigmatic vagrant wandered around, completely unconcerned by our presence, at our very feet. Ever since then I've had a major soft spot for the species and, for that matter, Fair Isle itself. You've never been? Put that right as soon as you can…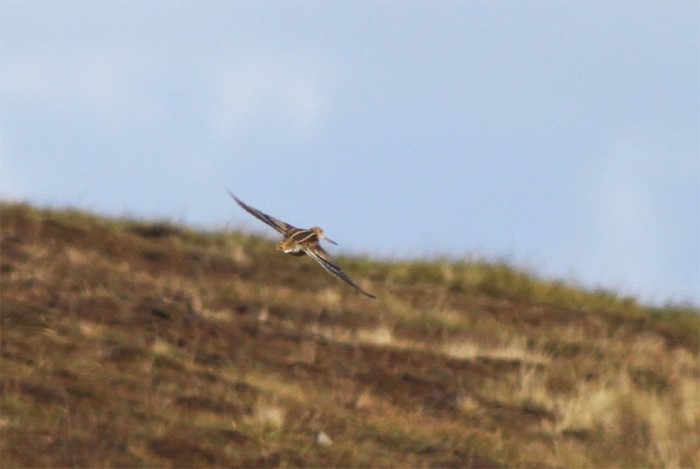 The Lodmoor RSPB Least Sandpiper was a timely reminder that we should all take a second glance at that distant Little Stint - after all, even if the birding gods don't smile on you and it proves to be Least, there's still a chance that you might find a smart Semipalmated Sandpiper scurrying through your field of view. We had a good haul of them this week – one first reported on 4th in Co.Kerry at Smerwick Harbour was confirmed on 7th and remained present until 10th, with others in Co.Kerry at Derrymore on 6th and Blennerville on 7th; while an adult remained settled at Tacumshin (Co.Wexford) on 7th-10th. Away from Ireland juveniles were on St Mary's (Scilly) on 7th-12th and up on South Uist (Western Isles) at Balgarva on 11th-12th.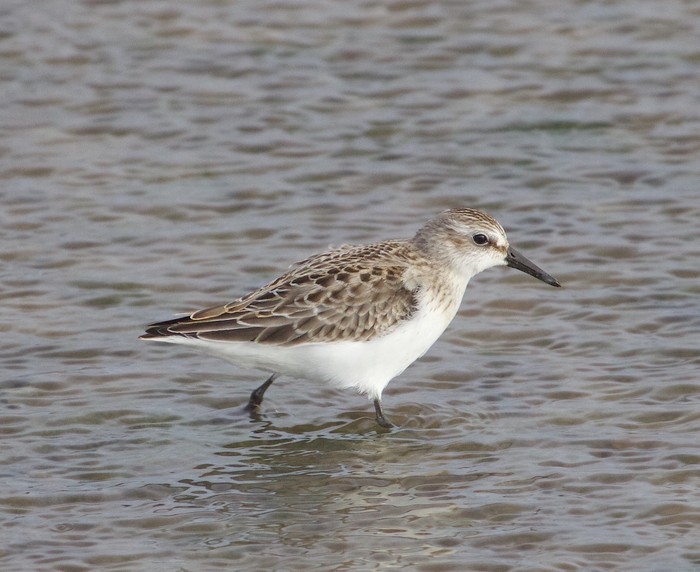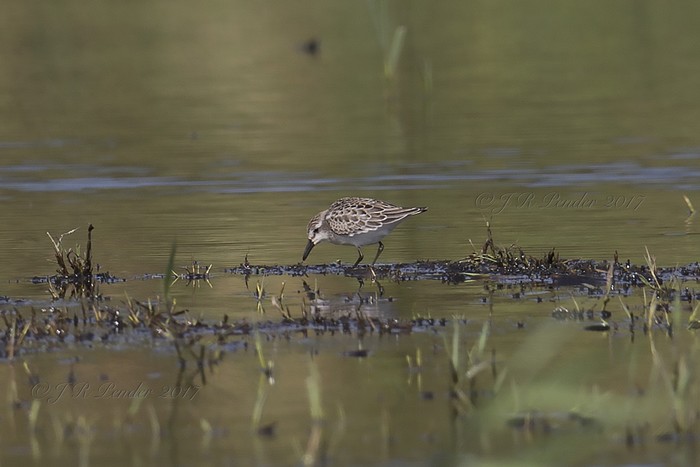 Co.Cork provided half of the week's White-rumped Sandpiper sightings, with reports from Clogheen Marsh on 9th and the Muckross estuary on 10th-11th; meanwhile in Lincolnshire the adult remained at Tetney Marshes RSPB on 6th-10th.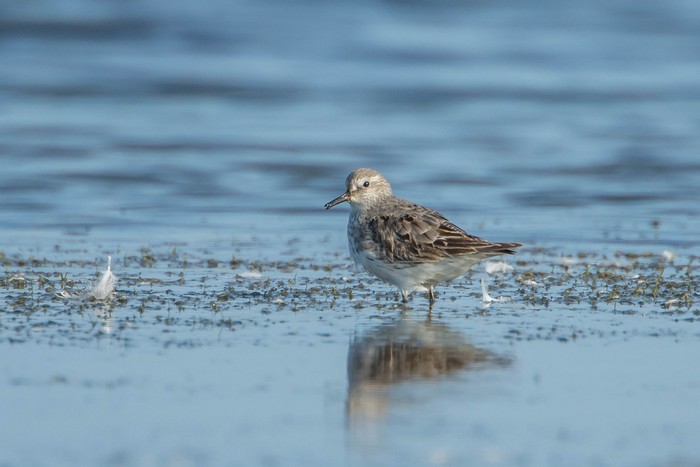 Baird's Sandpipers were more numerous, the week beginning with a quartet of settled individuals still at Cuckmere Haven (East Sussex); Tacumshin (Co.Wexford) until 8th and joined by a second bird that day; Long Rock (Co.Sligo) until 10th; and Marazion (Cornwall) until 11th. One was found on Brownsea Island (Dorset) on 8th-9th and again on 12th – was this last week's bird, or a new one and a portent for what would come later at Lodmoor RSPB? A further new individual was on the Muckross estuary (Co.Cork) on 10th, with a further possible bird in Cornwall at Dinham Flats on 9th.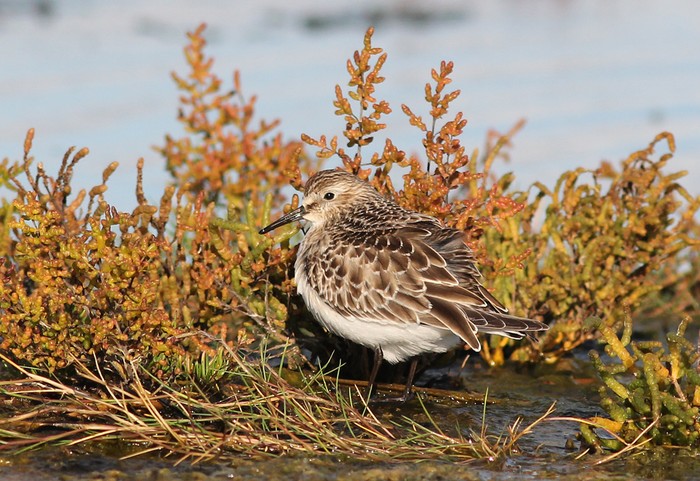 Last week's juvenile Hudsonian Whimbrel in Co.Sligo at Easkey remained there on 8th-9th.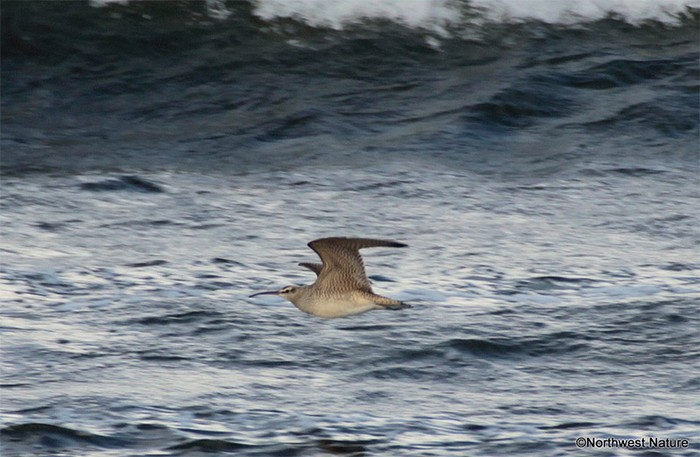 Present in considerable numbers this week were Pectoral Sandpipers, with 30 birds reported across Britain and Ireland. Fully two thirds of these were present on the opening day of the week, with some choosing to hang around a while longer. So, on 6th three remained at Saltholme RSPB (Cleveland) and duos were at Loch of Strathbeg RSPB (Aberdeenshire) until 8th and Newington (Nottinghamshire) until 10th, with one still there on 11th. Singles remained on 6th at Graemeshall Loch (Orkney), Baleshare on North Uist (Western Isles), Burton Mere Wetlands RSPB (Cheshire), Wedholme Flow (Cumbria), Oare Marshes (Kent) and Ballycotton (Co.Cork). Birds lingered at Musselburgh Lagoons (Lothian) on 6th-8th; Frampton Marsh RSPB (Lincolnshire) on 6th-11th; Potter Heigham (Norfolk) on 6th-9th; at Dungeness RSPB (Kent) on 6th-7th; in Hampshire at Titchfield Haven NNR on 6th-12th; and in Somerset at Ham Wall RSPB on 6th-7th and Steart WWT on 6th-10th.
One remained at Trimley Marshes SWT (Suffolk) on 7th-12th, with one at Burwell (Cembridgeshire) on 7th-11th. Ireland chipped in again with one at Smerwick Harbour still on 8th-9th. Four fresh birds were notched up on 9th: at Cley (Norfolk) until 12th, and at Minsmere RSPB (Suffolk), Meare Heath NR (Somerset) and Kilnsea (East Yorkshire). Sightings on 10th came from Banks Marsh (Lancashire) and Crossens Outer Marsh, and Noss (Shetland) – the latter bird still present the following day. Elsewhere on 11th a new bird was at Staines reservoir (Surrey), and on 12th at Hayle (Cornwall).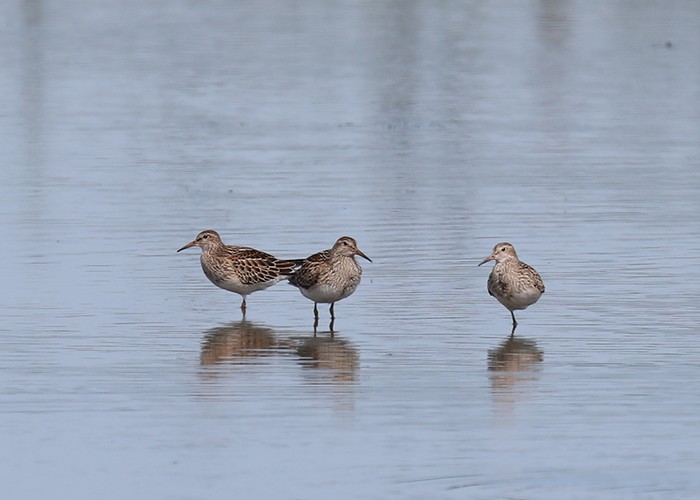 Catching our breath after that little lot, we've three Lesser Yellowlegs this week – on the magnificently named Lurgies in the Montrose Basin (Angus) on 8th-12th, on Cappagh Beach (Co.Kerry) on 9th-11th, and at Devoran in Tallack's Creek (Cornwall) on 12th.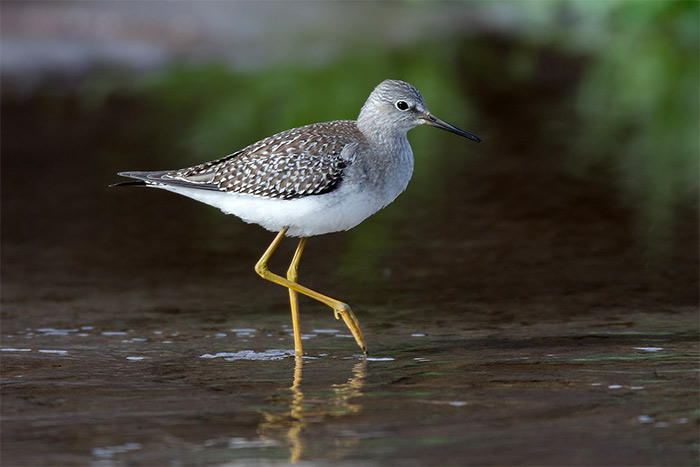 The faithful adult Long-billed Dowitcher was still on Kent's Oare Marshes until 11th; new birds were a juvenile at Kilnsea (East Yorkshire) on 9th-12th and one on North Ronaldsay (Orkney) on 6th.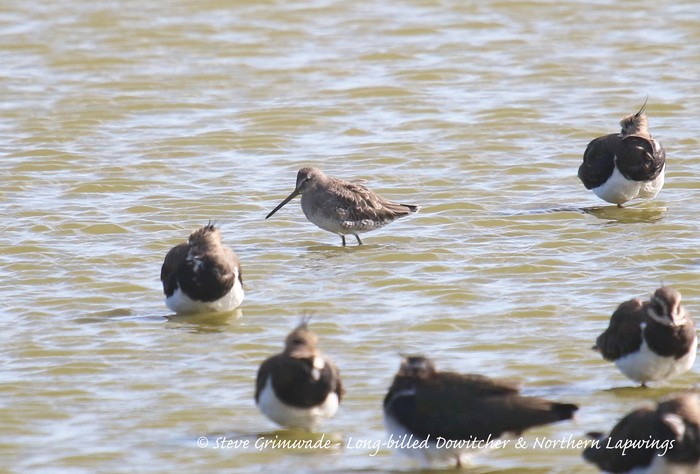 Given the westerly bias to our news this week it comes as no surprise to report that we enjoyed good numbers of Buff-breasted Sandpipers, with a good scatter of 15 birds seen. Whilst most were singletons there were duos on Ormiclate on South Uist (Western Isles) on 7th, Myroe Levels (Co.Derry) on 10th-11th, and Loch a' Phuill on Tiree (Argyll & Bute) on 11th. Single birds were at Greenhill on Tiree on 6th; at Tacumshin (Co.Wexford) on 6th-10th; on Fair Isle still on 7th; at Deerness on Orkney on 8th; in the Western Isles on North Uist at Baleshare and briefly on South Uist at Frobost on 9th; in the classic locale of St Mary's airfield and golfcourse on Scilly on 9th-11th; and on Valentia Island (Co.Kerry) and Lundy (Devon) on 11th.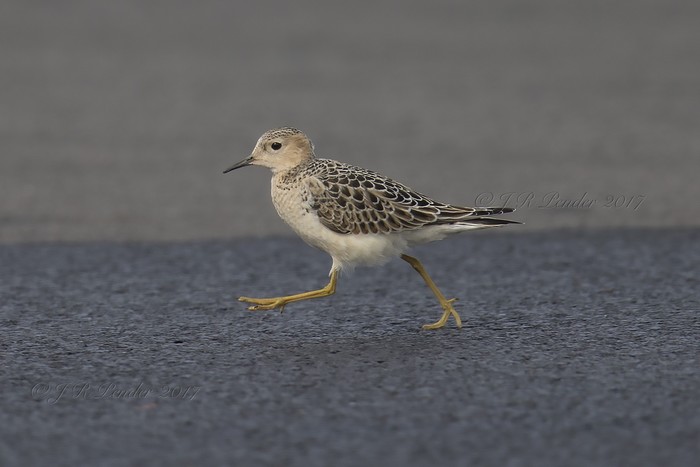 A juvenile American Golden Plover was in Co.Kerry at Carrahane Strand on 12th. The week's other American Golden Plover, an adult, ought to be cause for particular celebration for yours truly, being as it was found right outside my house at Skaw on Whalsay (Shetland) on 12th. Only problem being that I haven't seen it yet, let alone added it to the house list…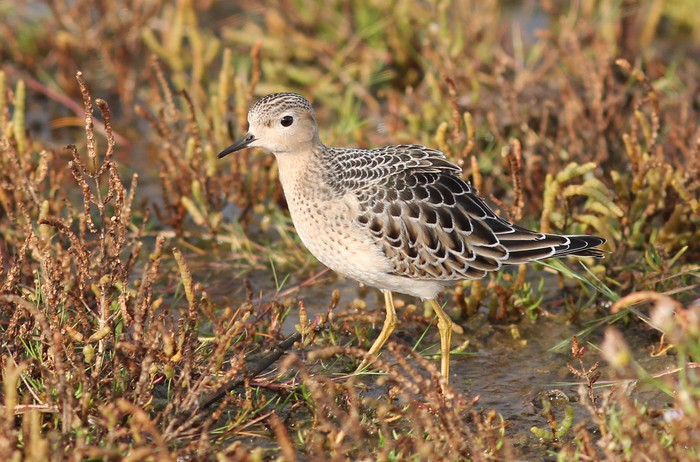 A small movement of Dotterel was, meanwhile, taking place this week down the east coast: one was at Felixstowe Ferry (Suffolk) on 6th; on 9th one was noted at Spurn and four at Bempton Cliffs RSPB (East Yorkshire), with a further individual at Holland Haven (Essex); and on 11th one was logged in Kent at North Foreland.
Last week's Red-necked Phalarope remained at Frampton Marsh RSPB (Lincolnshire) on 6th still, with another noted on 9th at Whitburn Coastal Park (Co.Durham), and a further bird on 12th at Frodsham Marsh (Cheshire).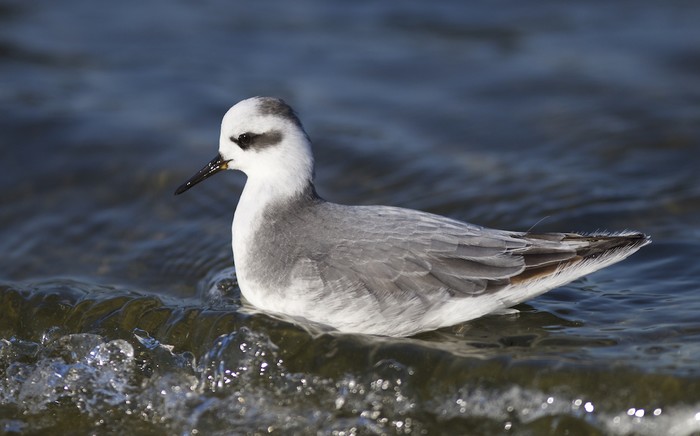 If I was a betting man, however, I'd have put money on the latter bird being a Grey Phalarope as 11th witnessed a significant wreck of them, with birds being found on freshwater bodies across England. In all, over the course of the week over 200 birds were recorded, with some outstanding counts from the headlands – daily sightings from 8th off Pendeen (Cornwall) peaked on 11th with 25 birds, while in Ireland things were even more dramatic – Bridges of Ross (Co.Clare) started relatively quietly with 12 birds on 9th, and picked up to 35 birds the following day and 40 on 11th. For those of a less intrepid disposition a trip to Dorset's Abbotsbury Swannery would have sufficed for a Grey Phal fix – two birds on 9th had risen to five birds by 11th.
There's absolutely no doubt what the big larid news was this week – this was the glorious mass arrival within sight of our shores of hordes of my favourite gull of all, the perennially crowd-pleasing Sabine's Gull.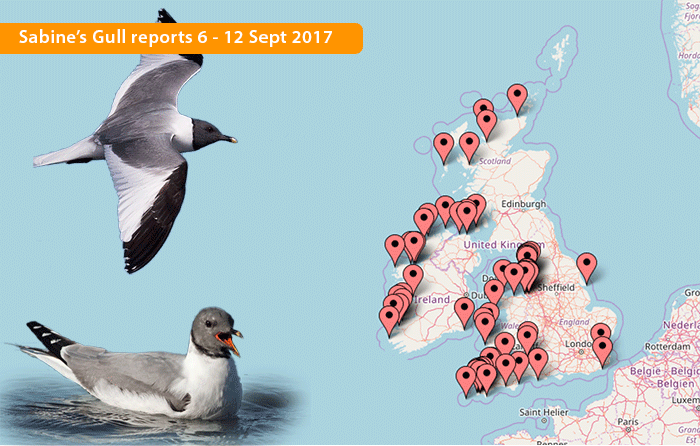 And when I say 'hordes', I think that's steering clear of hyperbole. There were loads of them… which is to say, around 320 birds. Sightings came daily from Ireland and the English and Welsh west coasts, but peaked significantly on 11th as conditions drove more of them within sight of land. Double figure tallies came from Pendeen (Cornwall) with 14 seen on 11th; off Arranmore (Co.Donegal) on 8th with 10 birds noted; from Brandon Point (Co.Kerry) where 20 were seen on 10th and 11 on 11th; Strumble Head (Pembrokeshire) notched up 12 birds on 9th and 15 on 11th; Co.Mayo's Kilcummin Head logged 12 birds on 8th and 23 on 11th; and Valentia Island had 14 birds on 11th.
These headline grabbing numbers weren't the whole story, though, as birds were being displaced into places they're much less frequently seen, offering a rare opportunity for local birders to connect with a real sea-watching prize on their home turf. Sightings from Cheshire and Lancashire on 11th will have been particularly cherished, and even here some of these records were of multiple birds – four noted off Hoylake, for example. The extent of the disruption was borne out by the most easterly record of the week – one off Oare Marshes on 11th being a particularly fine Kent bird.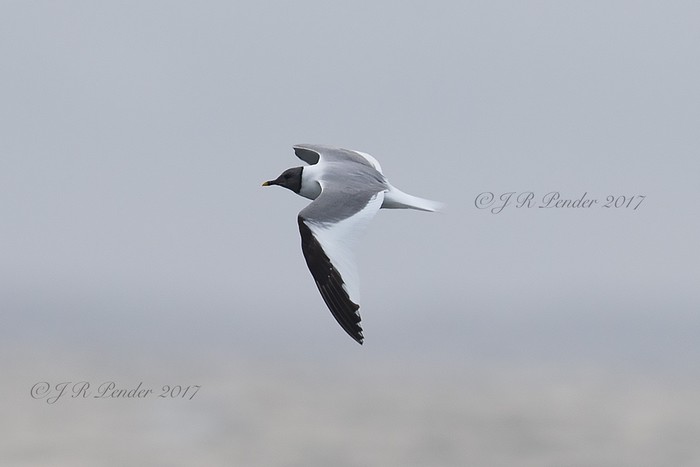 Sticking, briefly, with Oare the adult Bonaparte's Gull was still present there on 6th whilst in Devon the faithful regular individual was back again at Dawlish Warren NNR on 8th-10th. As the week drew to a close a first-winter bird was discovered at Timoleague (Co.Cork).
White-wingers were, meanwhile, conspicuous by their absence – just the one second-winter Glaucous Gull to report, in Dunnet Bay (Highland) still on 7th-12th; and one second-winter Iceland Gull again at Uisead Point (Argyl & Bute) on 12th.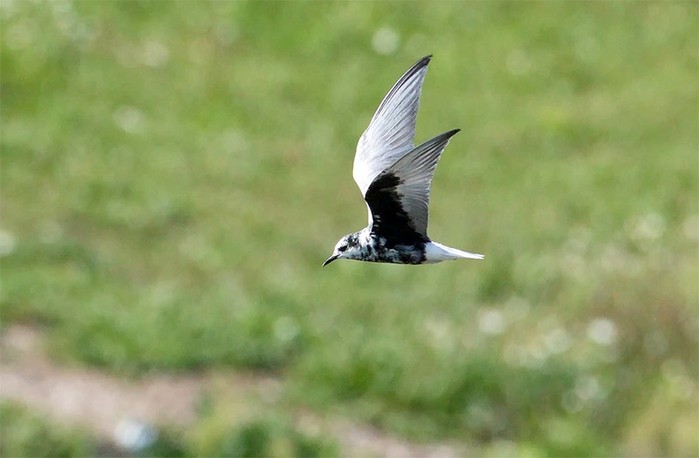 An adult White-winged Black Tern was found in Hertfordshire at Tyttenhanger GPs on 12th.
In the absence of any significant easterlies to bring us the autumn's first Pallid Harrier, things were fairly quiet this week on the raptor front. A ringtail Montagu's Harrier was seen in Kent at Grove Ferry on 11th, while a further probable juvenile was noted that day also at Tacumshin (Co.Wexford).
Meanwhile it fell to Honey Buzzards to provide the rest of the week's notable news – though even these were thin on the ground. Two were seen in Kent on 7th over Worth Marsh, with a single bird on 9th over Sandwich Bay; on 8th one was noted in Surrey at Banstead; a probable was seen in London over Sidcup on 9th, with one over Beckton on 10th; and one was noted on 10th in Cambridgeshire at Linton. One lingered around Lowestoft (Suffolk) on 12th, while two flew over Boreham (Essex) that day also.
And so the final section of this week's British and Irish rare bird news. I think it's around about now that I have to declare an interest or two in what follows – for starters, being based in Shetland I'm naturally biased towards hoping that, from late August through to mid November, the wind is pretty much an unrelenting easterly conveyor belt that stretches back to east of the Urals. That's great for anyone living or visiting the islands… but not always so productive for those based on the British or Irish mainland.
So the events of the past week – a marked lack of easterlies, but instead westerlies that have borne some quality mainland shorebirds and opportunities to catch up with appreciable numbers of seabirds that are normally well out of sight of land – make for quiet birding conditions for me, but plenty of fun for anyone not in Shetland.
(And, let's be honest, I don't have to count up and summarise a nation's thousands of Yellow-browed Warblers which, on the basis of recent autumns, is definitely a Good Thing).
That said, though, it seems wrong somehow to have such a relatively quiet week for passerines in September… Still, there's plenty of autumn still to come, and I'm sure things will pick up shortly.
Shetland, appropriately, provided a clue on 11th of what's in store – just a glancing blow of easterly winds and we had our first Lanceolated Warbler, skulking in the immense iris beds above Quendale Mill. The first but surely not the last of 2017.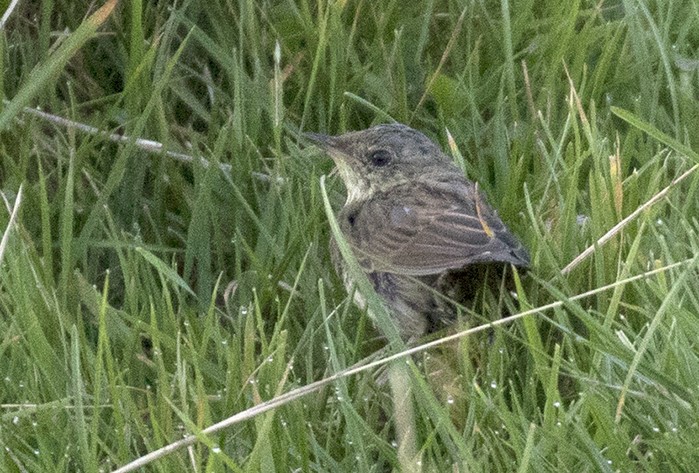 Strange times indeed though when I find myself detailing every single one of a week's Yellow-browed Warblers at this time of year: the first few trickled through to Shetland this week, with two on Whalsay and at Mossbank on the Shetland mainland respectively on 9th, and a further single on 9th on Unst at Norwick joined by a second bird there on 10th with one at Haroldswick that day also, and a final bird on Fair Isle on 11th; whilst on Orkney one was at Papa Westray on 10th and three were on North Ronaldsay on 11th. On 12th one was found on Barra (Western Isles) at Ardmhor.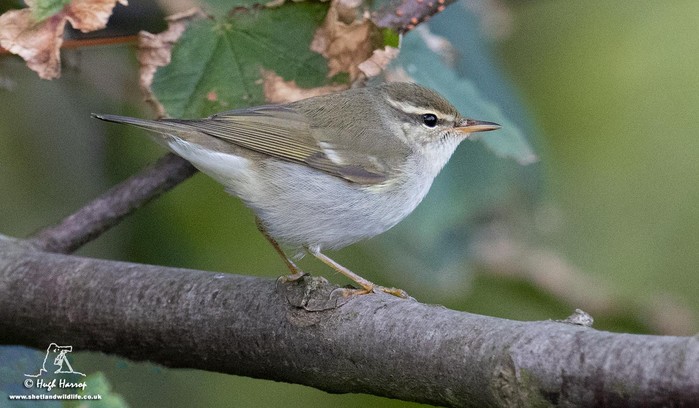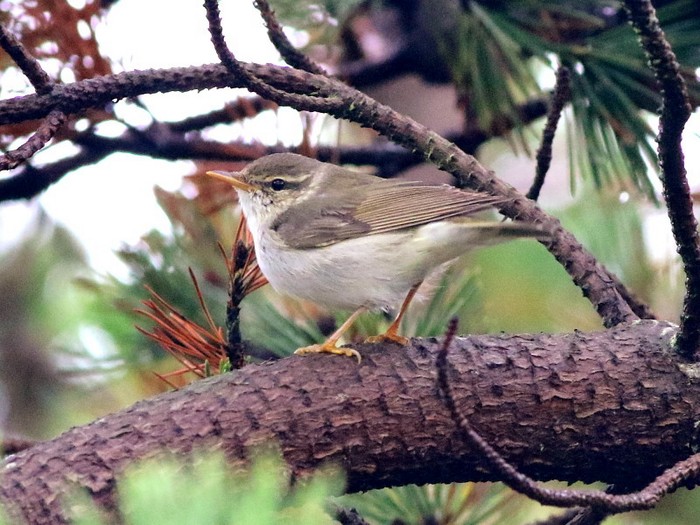 North Ron provided the week's first Arctic Warbler, trapped and ringed there on 7th and still present on the island on 11th. One trapped and ringed in Kent at Sandwich Bay on 10th was less obliging, vanishing no sooner than it had been released. Other Shetland records came from Baltasound on Unst on 8th-9th, and on Mainland at Quendale Mill on 9th and Exnaboe on 12th.
A Greenish Warbler was found at Flamborough (East Yorkshire) on 9th, with another on 12th on Papa Westray (Orkney).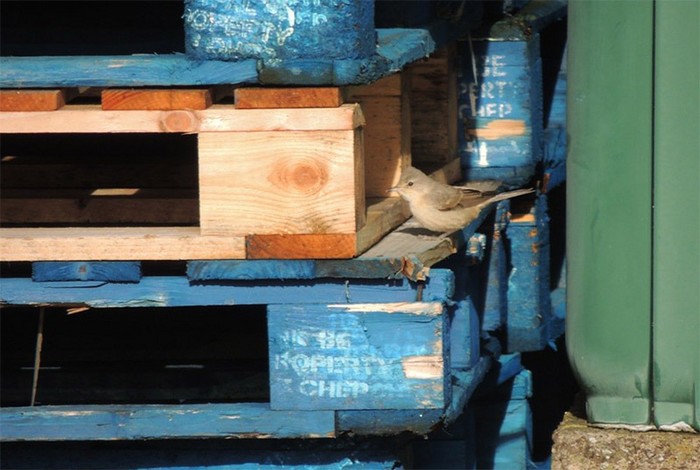 Barred Warblers also provided slim pickings this week – on 7th birds were at Toab (Shetland) and Winterton-on-Sea (Norfolk); one was at Spurn (East Yorkshire) still on 7th-9th; Mossbank (Shetland) laid claim to another on 8th; Orkney had one on Sanday on 9th, while one lingered at Flamborough (East Yorkshire) on 9th-11th; one was on Unst (Shetland) at Baltasound on 10th, Fair Isle enjoyed one on 11th, and Exnaboe claimed one on 12th.
Icterine Warblers meanwhile were almost non-existent – one kicked the week off on St Mary's (Scilly) on 6th, while Whalsay (Shetland) enjoyed a fine, showy bird at Isbister on 9th, and one was found at Sumburgh on 11th. A probable Melodious Warbler was seen in Pembrokeshire at St David's Head on 6th.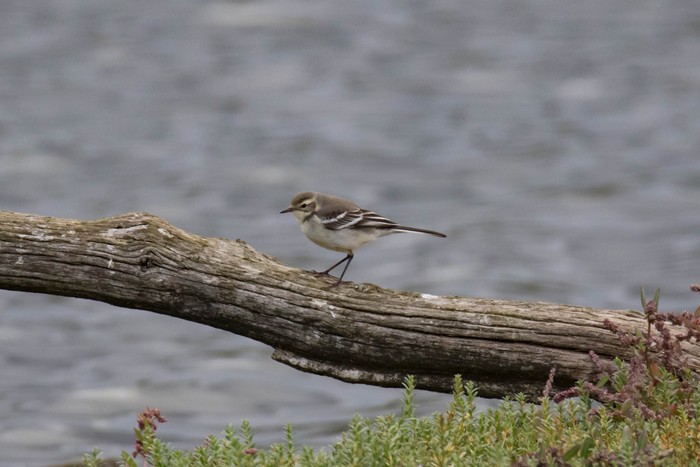 There were a couple of further reminders, the merest hints, of what we might come to expect with a more favourable wind direction – namely a Red-breasted Flycatcher at Balephuil on Tiree (Argyll & Bute) on 10th-11th, and a Citrine Wagtail in Suffolk at Minsmere RSPB on 9th-12th. A further probable Citrine was reported from Saltholme RSPB (Cleveland) on 7th.
Fair Isle boasted a Blue-headed Wagtail on 6th-8th, with a further possible individual in East Yorkshire at Kilnsea on 8th. Sumburgh (Shetland) provided us with our only Bluethroat of the week on 7th, no longer the autumn staple it once was even in favourable weather conditions.
Scilly meanwhile remained reliable for an autumn Richard's Pipit - one was on the airfield in the evening of 8th.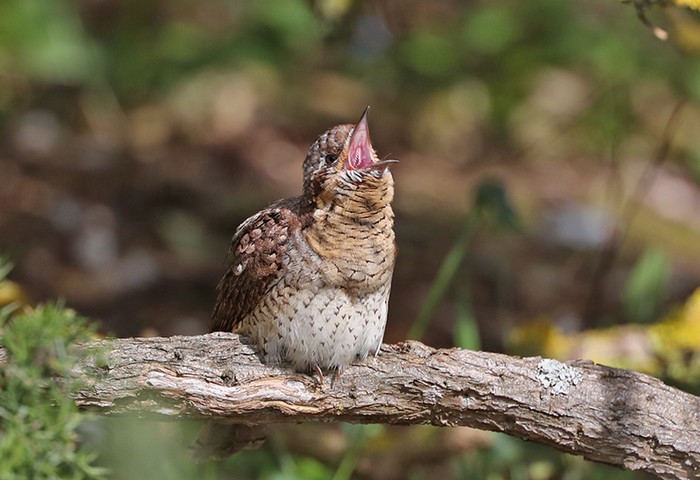 First seen back on 22nd July, and last reported from Tyninghame Bay's John Muir Country Park (Lothian) on 24th July, the Short-toed Lark resurfaced there again this week on 11th, some seven weeks after it had last been seen. Presumably it's been lobbing around the area, unnoticed, all this time.
Speaking of skulkers, we did at least manage a reasonable showing of Wrynecks in recent days – kicking off on Portland (Dorset) where one bird on 6th rose to three on 7th, with at least one still present in the vicinity of the Observatory quarry and surrounds until 12th. Two birds were in Devon at Wembury Point on 6th, with one still there on 9th; Somerset held one at Burnham-on-Sea on 6th-9th, while St Mary's (Scilly) hosted one on 6th-8th. The bulk of the week's sightings were one day birds, however: on 6th at Kenidjack (Cornwall), Isley Marsh RSPB (Devon), Meare Heath NR (Somerset), Two Tree Island (Essex) and, in Pembrokeshire, at Martin's Haven and on Skomer; on 7th birds were logged in Dorset at Ballard Down and Wyke Regis, at Hollingbury (East Sussex), at Amwell NR (Hertfordshire) and up on Shetland at Sandwick; on 8th at Brewood (Staffordshire) and 8th-12th at Kilnsea (East Yorkshire); on 9th at Men an Tol (Cornwall), Kessingland (Suffolk) (until 12th), Mwnt (Ceredigion), Fair Isle, and on 9th-12th at Benacre (Suffolk) and 9th-12th at Dungeness (Kent); on 11th on Mossy Hill (Shetland); and on 12th at Shingle Street (Suffolk).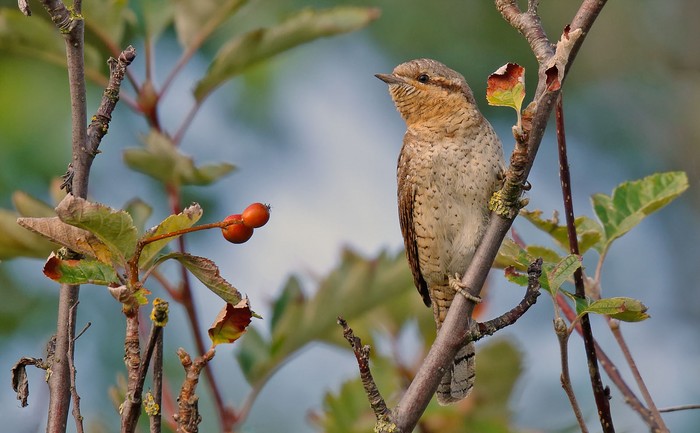 Last week's Hoopoe was still in Lothian at Pencaitland until 8th, whilst another was found in Dorset in gardens at Southwell on Portland on 7th-12th.
The juvenile Woodchat Shrike remained in Gloucestershire at Chipping Sodbury Common throughout the week.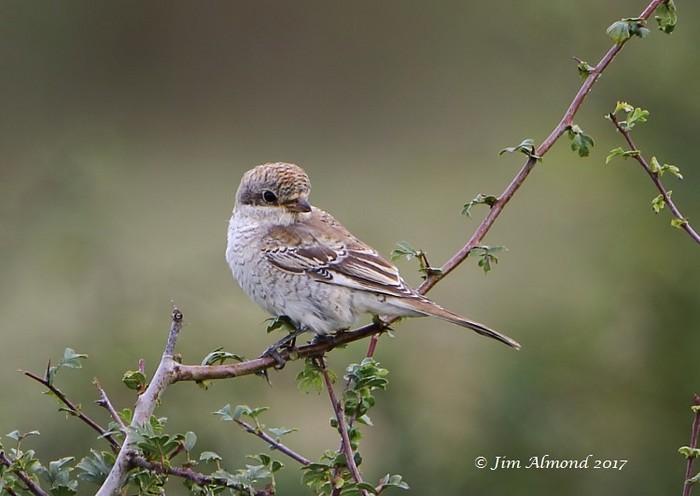 Meanwhile, Red-backed Shrikes were also few and far between, scattered down the east coast from Shetland to Kent: one was on Fair Isle on 6th-9th, while Kent had one at Dungeness on 6th and two at Reculver on 7th, with one of the latter remaining there until 12th. In between these extremities birds were seen on 7th-10th at Snettisham (Norfolk) and on allotments at Girdle Ness (Aberdeenshire) on 10th-12th. The bumblebees and rodents of the east coast counties can rest easy a while yet.
A late Red-rumped Swallow was seen in the morning of 12th at Dawlish Warren NNR (Devon).
A smallish flock of Common Rosefinch sightings bring our Round Up towards a bland-faced, beady-eyed close – all bar a bird on North Ronaldsay (Orkney) on 10th and one on 12th on The Mullet at Blacksod (Co.Mayo) being Shetland sightings. Fair Isle had two records this week, on 6th and 11th; Unst laid claim to birds at Baltasound on 6th, Norwick on 7th, Burrafirth on 8th and Haroldswick on 10th; and Boddam, in the south mainland, enjoyed a rosefinch on 11th.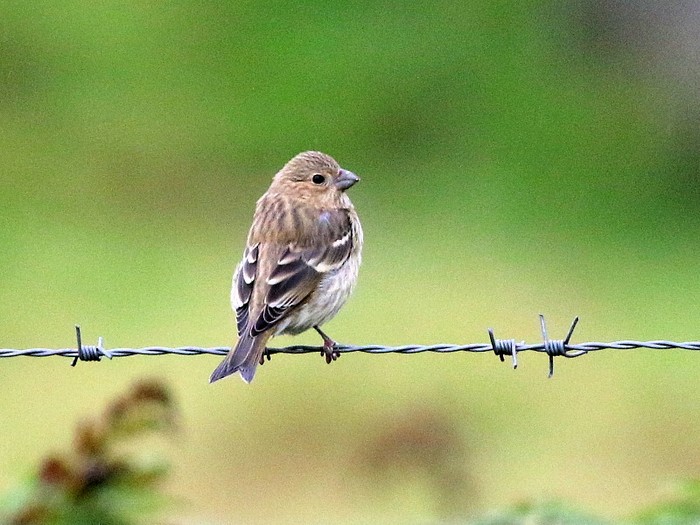 A flyover Ortolan Bunting was noted in Berkshire at Lower Farm GPs on 9th, while a cracking male was seen back on Unst at Norwick on 11th.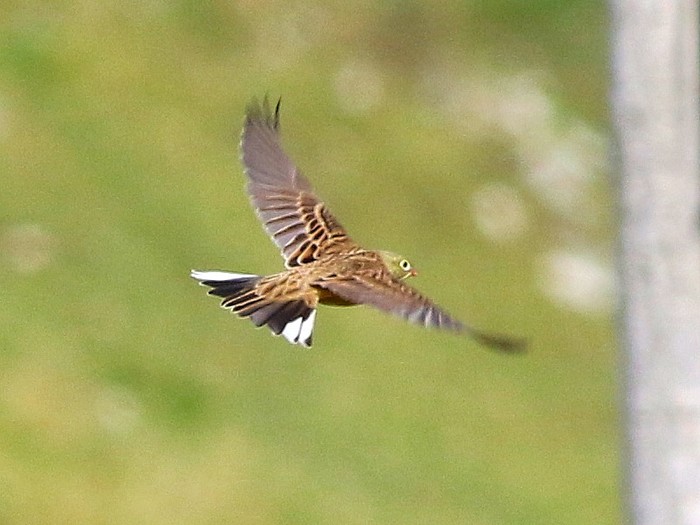 Rather mirroring the Shorebird (and American warbler) excitement of Britain and Ireland this week in microcosm were the Azores, hosting a a bevy of good waders and, in their case, a Northern Waterthrush on Flores on 11th.
That said, the Azores really know how to do American shorebirds en masse… On Terceira at Cabo de Praia there was a Least Sandpiper on 7th-9th and, on 9th, a Long-billed Dowitcher, two Western Sandpipers, and trios of Semipalmated Sandpiper and Semipalmated Plover. Throw in a Solitary Sandpiper near Furnas on Sao Miguel on 8th, and the lingering Grey-tailed Tattler still on Terceira at Cabo de Praia on 7th-9th and that's a really mouth-watering selection of birds.
Other Azores news concerned the Redhead still at Paul de Praia on 7th-9th.
Our other Atlantic news comes as a timely reminder that the real seawatching prize this autumn may yet be to come – a pelagic off Lanzarote on 9th turned up the fifth Western Palearctic Black-bellied Storm Petrel.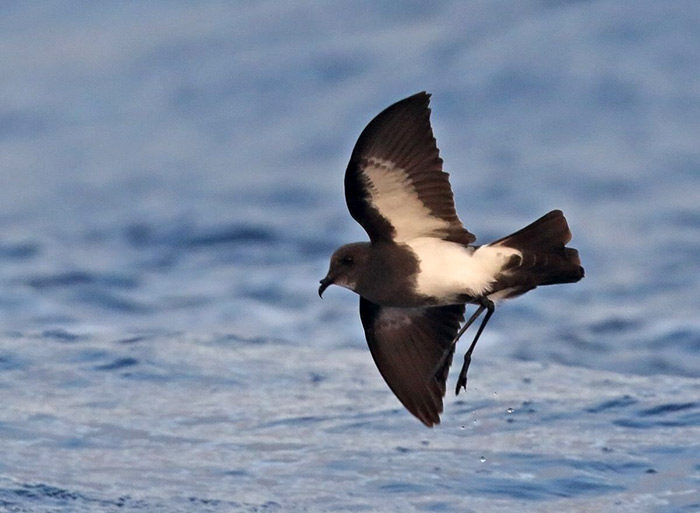 Further pelagic joy came from Israel on 10th – a spectacular double whammy of two Swinhoe's Petrels and two Wilson's Petrels. One of either would have been lovely – but two of both is surely just plain greedy?!
Moving into northern Europe, a Long-legged Buzzard was in Estonia at Suur-Nommkula on 11th.
Well, we're now right into the hot zone where autumn is firmly, gloriously, underway and almost anything feels possible.
(On which note, how flippin' great is it that we've got at least 6 weeks of this most dynamic and exciting seasons stretching out ahead of us like the biggest, bestest adventure playground imaginable?)
At this point in proceedings our minds, naturally, start turning to rare passerines from all points of the compass, but we're still very much in the realm of where we could still reasonably expect an eye-watering wader or two: step forward the likes of Great Knot on Shetland's Pool of Virkie on 15th September 1989 or, more recently, Greater Sand Plover seen on 19th-20th September 2008 at Dunbar (Lothian). Both of which happened to be in Scotland – but more realistically, we're into prime time now for adding American Golden Plover to your self-found list – with almost 60 past records in the coming week, scattered all across the country, checking out your local Goldie flock could pay dividends with one of these silver beauties – though frankly, we could be in for a small bonanza of American waders rarer still in the coming days if the weather forecast is to be believed.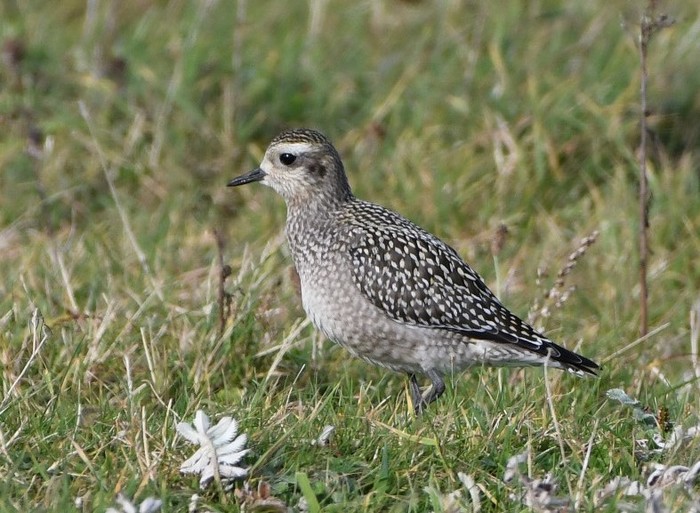 (Sore subject for me, obviously…)
Both the weather forecast and past records suggest it's not quite time to give up on sea-watching yet either - Fea's Petrel remains a distinct possibility, while the coming week can boast past records of Red-billed Tropicbird seen off Guernsey on 16th September 2001, Madeiran Petrel from Pendeen (Cornwall) on 16th September 2007, and the granddaddy of them all - Tufted Puffin, incongruously bobbing around off Oare (Kent) on 16th September 2009.
There being two morals to all of this – namely that the right weather could blow something seriously impressive in from the depths of the Atlantic and, should you hope to see that special something, you should be heading to the coast this coming Saturday – the 16th being the unifying magic number here.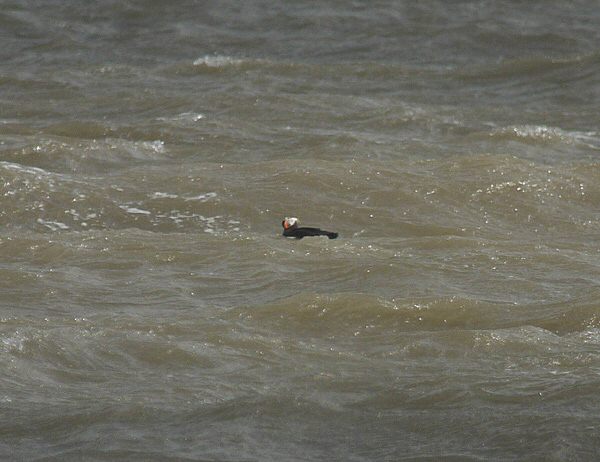 But yeah, those passerines… If the wind swings into an easterly airflow that glances Shetland it's game on for any number of good things – pretty much any rare eastern warbler you care to name is now a possibility, not least the perennial Shetland speciality of Lanceolated - a prediction made in an early draft of this Round Up that, thanks to the keen eyes of the British Birds editor this week in the Quendale iris beds, I've had to amend slightly...
While Lancey is practically a certainty in the course of a Shetland autumn, one past record of an eastern-origin species in particular stands out as an old skool blocker – the Pallas's Reed Bunting on Fair Isle on 17th-18th September 1981. With just three subsequent records (including one at sea) since the first in 1976, this 1981 individual was the last to be (sort of) available. The next one will be popular…
Meanwhile, if this past week's magnificent American Redstart is anything to go by, we might more reasonably hope for some more American warbler loveliness. The coming week boasts eye-catching past records of Northern Waterthrush, Wilson's, Yellow and Black-and-white Warblers - any of which would do nicely – but dare we dream of something rarer still?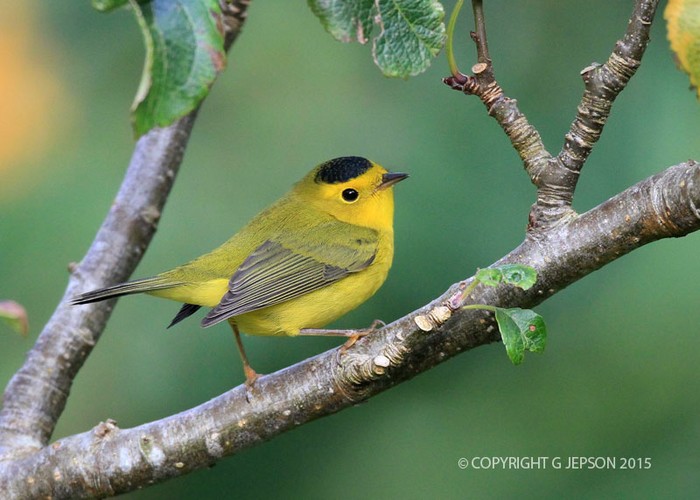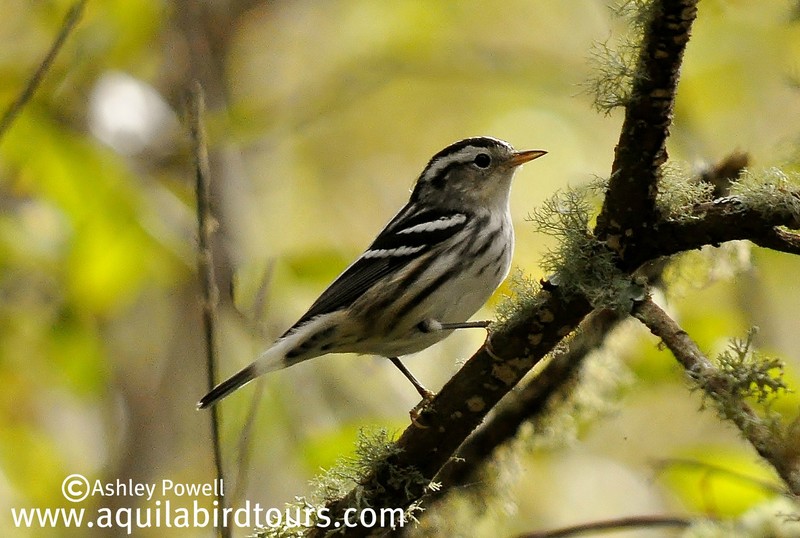 I've presided over an 8th for Britain & Ireland in this first week back in the Rarity Round Up saddle – so fingers crossed for a British or Irish first from across the Atlantic in the coming days. Willet ever come, I wonder?
Jon Dunn
13 September 2017
Share this story
Tweet


Many thanks to all contributors for their photos and videos this week.
Outer Hebrides Birds, Tim Loseby, John Kemp, Stephen Duffield, Brett Spencer, Adam Hartley, Martin Cade, Mile Malpass, Seamus Feeney, Craig Bell, Steven Stansfield, Joe Pender, Colin Scott, John Pringle, Steve Grimwade, Paul Ellis, Fair Isle Bird Observatory, Andy Williams, Mark Johnson, Eric Dempsey, Graham Jepson, Ian Jones, Steve Grimwade, Richard Tyler, Paul Rowe, Roger Riddington, Hugh Harrop, David Cooper, Alan Bright, Matthew Mellow, Martin Casemore, Tony Davison, Jim Almond, Juan Sagardia, Murray Wright, Anhley Powell,