Weekly birding round-up: 30 Aug - 5 Sept 2017
The week at a glance
Cornwall gets the ball rolling with a lingering Yelkouan Shearwater reported from Porthgwarra
…and there's late news too of a Barolo Shearwater for the west of the county too, with a second reported on the review's final day
A new Hudsonian Whimbrel in northwest Ireland tops the list of Nearctic shorebird arrivals this week ~ a second is reported from the Hebrides
Almost inevitably, there's another flyby Fea's-type Petrel off County Clare
…while less predictable was the northbound Fea's-type Petrel seen from North Ronaldsay
The week's third Fea's-type is then seen from the Lizard and west Cornwall
The Pacific Diver remains offshore along Ireland's east coast
After a fair amount of southern Britain came down to earth with the soggiest of bumps ~ post the scorchio August Bank Holiday weekend, a big area of cool northerly air couple with pretty hefty showers and prolonged spells of rain crept across the country, loitering with intent to soak across Norfolk at least ~ things settled down rather nicely.
A huge Atlantic high that had begun to establish itself over the Azores grew bigger and bigger as the week progressed, charting its progress from the deepest reaches of the Western Palearctic as it became ever more expansive over western Europe was easy and, as expected, it brought with it increasingly settled spells for many areas of the country, with largely light winds (almost all being drawn in from a southerly direction) and pleasant early September temperatures.
It wasn't all sunshine and light though ~ off the coast of the Eastern Seaboard, a couple of hefty lows left around Thursday and started to show the wet and windy remnants across huge swathes of the west coast of Ireland and Britain as Saturday approached whilst others bathed in glorious wall-to-wall sunshine, pleasantly warm but with a gentle northerly to go with it. The week then concluded with warm, damp and drizzly southwesterlies for many ~ it felt quite rare here and there too.
Given what ole Gert managed to yield from within her wet and windy parts, hopes were high for seabirds, shorebirds and super sexy songsters too…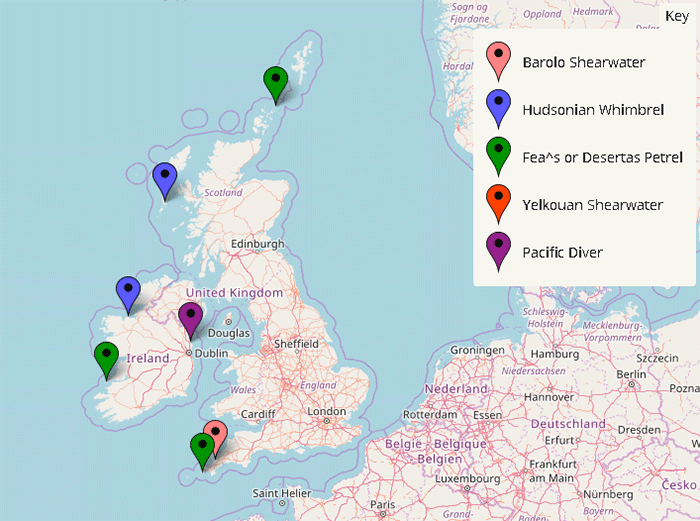 Yelkouan Shearwater
With just a handful of hours on the clock for the review's brand spanking new Day 1 we had the first significant news alert of what could prove to be another hectic seven days ~ the first clarion call to set hearts racing came deep within the birding heart of west Cornwall and it centred around a species that's barely been mentioned of late, despite all the seabird hullabaloo in the region…
Yes in amongst the genuine excitement surround our very best summer ever for Wilson's Storm-petrels and the fair few Fea's (type) Petrel records across both the waters of southwestern England and also along much of the Irish west coast there's not been a hint of anyone popping up with news of the eternal summer seabird mega ~ the Yelkouan Shearwater.
Here is a species that seldom ever gets mentioned and dispatches (particularly this summer) and it is also a bird with a past so chequered here you could play chess on it.
Numerous reports have come forth over the past decade or more from Porthgwarra and this is exactly where this week's sighting, early on the morning of 30th came from, the bird reportedly lingering off the cove there with Manx Shearwaters.
Many of those Porthgwarra records (such as the two sightings in August and September last year) met with a thumbs down from the BBRC as have a number of records from other Cornish seawatching headlands as well as other sites nationally.
Those with more than a passing interest in the British List will remember their recent history as it was the acceptance of the photographed Berry Head bird, from July 29th 2008 that saw Yelkouan Shearwater become the 600th species on the British List ~ a decision that surprised some, given how it seemed to fly in the face of ongoing work that has suggested that (largely) field separation of Yelkouan and "Menorcan" Shearwater was nigh-on impossible.
As has been mentioned here in the past, despite that Spanish reticence, the Berry Head bird really did look the business (in terms of it being a Yelkouan), presumably because that's what it was. And if "Menorcan" Shearwater can look the same, well, perhaps the BBRC should crack on and accept some more of those birds lurking in the wings (and perhaps apply a caveat regarding birds from Menorca?).
As it stands, there are still six Yelkouan Shearwater records lingering in the BBRC Work-in-Progress file; in the Firth of Forth on December 29th 2009; past Porthgwarra on August 10th 2010; the well-watched (textbook) bird that flew close-in past Cley on August 29th 2011; one from Dungeness less than two weeks after the Cley bird in September 2011; an August 31st individual off Whitburn in 2012 and, lastly, another for Devon, off Start Point on August 4th 2013.
What will become of these birds that have been slowly trying to work their way around the committee for the best part (in some cases) of nearly a decade? Not a lot if what's reported to be happening at the committee stage is anything to go by as a permanent pend hovers over them all ~ the dust collecting on the files with every day that passes but no one wants to entertain them. Why? No celluloid. Simple as that.
The one and only acceptance took an age to get through the rigours of both committees and it looks as though the wait will carry on for some while to come before there's a second one to join it ~ and that bird has to come with photos…
Barolo Shearwater
A good 36 hours after the event came news from St. Clement's Isle, Mousehole came news of a Barolo Shearwater seen during the morning of 3rd. and it was followed on 5th by another report from the same county, this one noted off Pentire Head, near Newquay.
These are the second and third reports of the species along the Cornish coast over the last three or four weeks (one was seen off Porthgwarra in mid-August) but,despite a host of claims, it is 10 years since an accepted county bird was entered in to the official record (seen from St. Ives in August 2007) and there are still only eight records on the list for Cornwall.
Hudsonian Whimbrel
Relegated it may to the dreaded lower case by the news outlets ahead of the I.O.C. impending capture of both the British and Irish lists, there's still something about hearing of the appearance of a new Hudsonian Whimbrel so the discovery of one along the rugged coastline of County Sligo on 3rd was arguably the most significant find this week.
Found along the remote outpost at Rathlee, Carrowmacbrien, not far from Easkey, some 15 miles or so northeast of Ballina, this particular Hudsonian Whimbrel becomes a county first (hot on the heels of the Laughing Gull found recently in Sligo) and is the first Irish record of the soon-to-be sub-species anywhere north of Kerry. Good news too for all interested parties, it was still there on 4th too.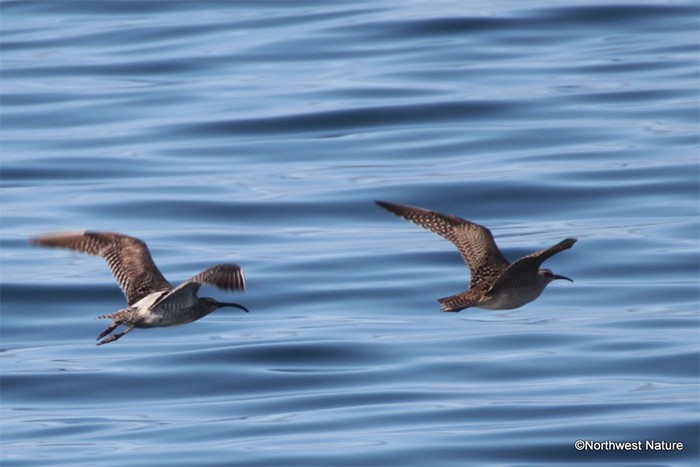 As it stands there are only three accepted Irish records of Hudsonian Whimbrel; the first was seen in Tralee Harbour (Co. Kerry) on October 1st 1957, the second spent a day at Tacumshin (Co. Wexford) on September 27th 1980 and the first twitchable record was the six day bird on Mizen Head (Co. Cork) in September 2011. Since then, there have been two further reports ahead of this week's photographed bird; one flew through Tralee bay in December 2015 and one was also reported from County Cork earlier this year, on May 5th.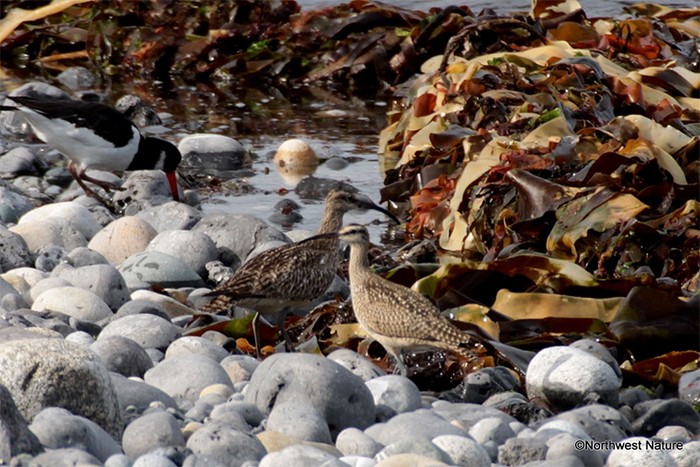 The day after the Irish Hudsonian Whimbrel was found then along a report of the second for the week, apparently seen to fly "in-off" at Ormiclate, South Uist (Outer Hebrides) before heading across the machair ~ everything about this feels genuine and if submitted and accepted, it will be the second for the island chain, following on from the first which was also seen on South Uist, at Bornish, on September 12th 2009.
Fea's-type Petrels
If you read last week's review in any great detail, you'll know all there is to know about the allure of Fea's (type) Petrel to the coast of County Clare at this time of year and there was another one to add in to the list of ever growing list records as evening fell across Loop Head (within a hefty stone's throw ~ sort of) from Bridges of Ross) on 31st.
Fea's-types love Ireland's west coast at this time of year and there will be knocking on 30 over the years for Clare by the end of this year's seawatching season. As was discussed last week, it is Bridges that steals the thunder for these enthralling ocean travellers ~ this week's is the second for Loop Head and, as it happens, only the second Clare bird to be seen away from BoR.
The two consecutive days of sightings of Great Shearwater off the end of Orkney's North Ronaldsay before the weekend was perhaps an indicator that there may be something better still lurking around the northern edge of the North Sea and Atlantic Ocean ~ and during the afternoon of 2nd that proved to be the case with the appearance of a Fea's (type) Petrel heading northwest past the north end of the island.
There are currently just two accepted records for Orkney, both of them seen from North Ronaldsay, in September 2002 and October 2010. Since then there have been three further reports (two in 2011 and one at the end of October last year) but to date, none have appeared in print.
Some 90 minutes after the North Ron Pterodroma was seen, the day's second (and the week's third) sighting came from Lizard Point (Cornwall) where one passed close inshore with Manx Shearwaters. Some 75 minutes later the same bird did the same thing off Porthgwarra ~ an experience shared by just three observers (one on Lizard, two at PG). This is the third record this summer for the county and, once accepted, the first for the Lizard and only the second Cornish September bird ever.
…and for all those reports from Cornwall since 1989, there are still just nine acceptances.
Pacific Diver
August's first-ever Pacific Diver, the winter adult found along the borders of Meath and Dublin was still being seen through the early part of the new review week ~ present again off Bremore Point, Balbriggan (on the Dublin side of the sea) through to 1st.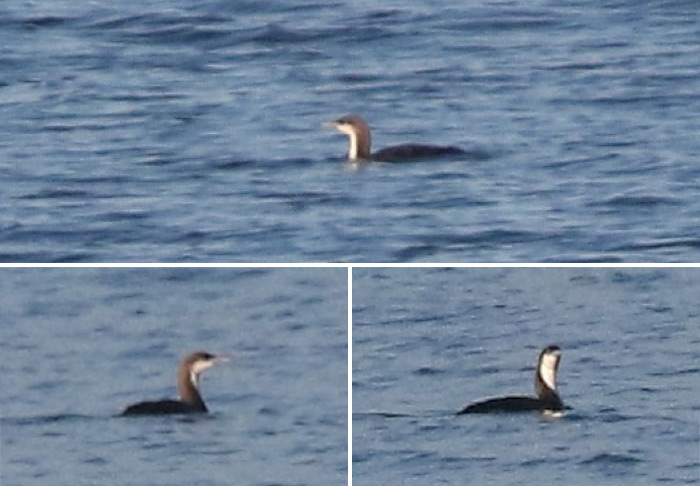 For those with an inquiring mind, it is interesting to try and figure out whether this could even be the regular Irish bird returned early but getting the east rather than west coast. Or perhaps it's the Cornish adult on the way to the far southwest of England? Either way, it really is a belting bird for August.
A blustery day in County Clare produced three flyby Wilson's Storm-petrels on 31st ~ seen between 9.45 am and just after midday ~ with five seen on the Scilly pelagic which ran out of St. Mary's the same day. The final birds of a much quieter week for the species were found from pelagics out of Baltimore (Co. Cork) on 3rd and 5th, off St. Clement's Isle, Mousehole on 3rd with four on 4th out of Scilly and one more for Bridges of Ross on 5th.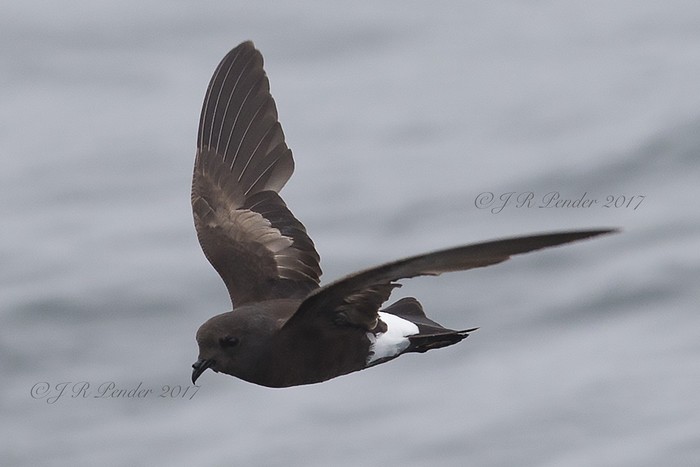 SevenGreat Shearwaters got the ball rolling on 30th with a singleton from Scillonian III and threes for Bridges of Ross and also Creevagh Head, Ballycastle (Co. Mayo). A Cork pelagic recorded seven off Reen Pier on 31st with one each for Porthgwarra and North Ronaldsay the same day, with the latter site seeing another sighting (of the same bird?) on 1st. One of the largest totals of the week was recorded off the Scillonian on 3rd, 19 counted from the deck, with six from the trip out of Baltimore with singles logged in Cornwall and Devon. Next day, 37 were seen from the Scilly pelagic, three were off The Mullet (Co. Mayo) and singles were recorded from the ferry back from Scilly and also off Trevose Head (Cornwall). Last of all, ones were off Lizard Point, Pentire Head, Newquay and Start Point on 5th.
Few Cory's Shearwaters can be as far northwest as the one that was logged off the Ullapool to Stornoway ferry on 30th and it was followed by five off Creevagh Head in Mayo and one from BoR, also on 30th. Just a handful more followed; an exceptional record along Ireland's east coast, seen from Clogherhead (Co. Louth) on 3rd ~ an extreme county rarity there ~ with singles off Mayo's Mullet and Pendeen (Cornwall) on 3rd when three were seen from the evening pelagic.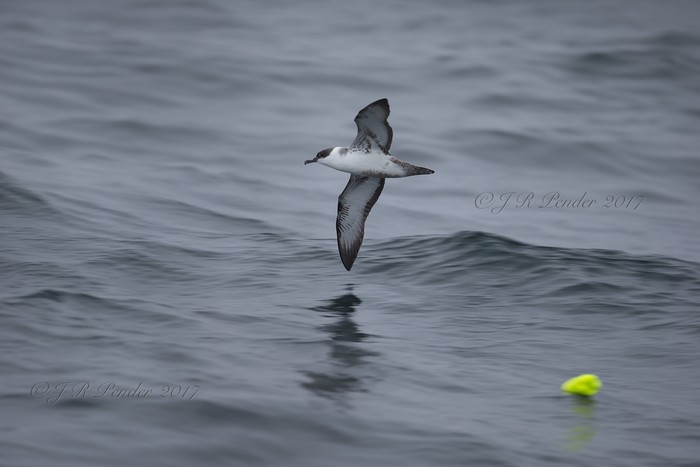 Well over 600 Balearic Shearwaters were logged from nine English, Welsh and Irish counties over the past seven days, with most of the action coming on 3rd; the highest count was 63 from Porthgwarra with 51 from Lamorna Cove (doubtless there's a number of repeats from the two sites). A further 22 were seen from Devon's Berry Head the same day and the week ended with 38 off the Tater-du Lighthouse (Cornwall), 53 from Berry Head, 120 off nearby Hope's Nose and 141 from Start Point, all on 5th.
In Mayo, four Long-tailed Skuas flew past Kilcummin Head in a couple of hours on 30th with two more from Shell Ness, Isle of Sheppey (Kent) and a juvenile reported from Sheringham (Norfolk) while the following day, an adult was seen heading east past Titchwell RSPB. September's first bird was seen on 2nd, a juvenile noted off Porthgwarra (Cornwall) and two more lingered for a while off Selsey Bill (West Sussex) on 3rd and additional singles the same day were juveniles off Whitburn (Co. Durham) and Berry Head (Devon). New on 4th was the singleton seen from East Yorkshire's Flamborough Head and the week concluded with one from Hopes' Nose (Devon).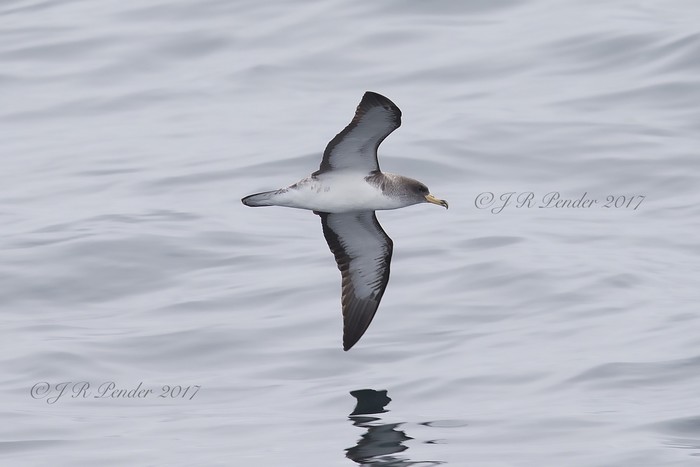 There were 60 Pomarine Skuas noted through the last seven days, spread thinly across 11 B&I counties. Devon birders recorded 13 in all, including eight from Berry Head on 3rd with a dozen for Gwynedd, eight of which were seen from Bardsey Island on 30th. The same day saw nine logged off Melmore Head (Co. Donegal) with the rest of the week's birds noted from Pembrokeshire across to Lincolnshire and north to Mayo, Lancashire and Highland.
Bridges stuck in 16 Sabine's Gulls on 30th (one adult and 15 juveniles) and Donegal's Melmore Head saw two pass by the same day. On 31st, Melmore Head recorded four more with a single off Loop Head (Co. Clare) and the first of the new month saw Bardsey score another (the island is having a good run of seabirds currently) and the same day saw two juveniles head through The Minch (Highland), another juvenile flew past Loop Head with another Irish bird off Kish Bank (Co. Wicklow), an adult wandered by Strumble Head (Pembrokeshire) and back again in the evening roost was the adult at Scorton GPs (North Yorkshire).
Out on the weekend, the first four birds on 2nd were shared evenly between west Cornwall and west Wales ~ juveniles seen from Porthgwarra and Lamorna Cove with two further young birds off Strumble Head. Later in the day, another Cornish bird was seen west of Lizard and an Irish bird was noted at Seven Head (Co. Cork). Two early morning Sab's were seen on 3rd, from Berry Head (Devon) and (again) passing Lamorna Cove with two more Cornish birds seen from Rame Head later the same day and one was seen in north Wales as well, off Porth Colman (Gwynedd). The 4th produced two more lone Cornish birds, seen from Downderry and also Porthgwarra and on 5th two more far southwestern birds flew past Mousehole with further singles logged from Bridges and also Ardvule Point, South Uist.
Inevitably, the Bridges of Ross was the place for Leach's Storm-petrels too, 11 seen on 30th with a single there the next day. More surprising, given the gentle breeze running down the North Sea was the Leach's seen from Kilnsea (East Yorkshire) on 1st. Much more typical was the second for BoR, seen there on 4th with seven the following day. The week ended with six more, three at Bridges and singles in Kerry, Cornwall and the Hebrides.
…and there was no surprise to see that the busy day off the Clare coast on 31st also saw a Grey Phalarope pass by Bridges and on 2nd another was seen off Arisaig (Highland). Off the Mayo coast, six were recorded from The Mullet on 5th.
Finally to Shetland where what may be a returning adult White-billed Diver was seen in Mousa Sound on 31st-2nd ~ an entertaining record if only by virtue of completing the set of divers that are on the British and Irish lists which were all recorded on August 31st 2017 (and September 1st!). Quite where the White-billed Diver reported off Sea Palling on 4th (news coming the following day) sprung from is anyone's guess. A remarkable (and fascinating) record, especially given the fresh southerly that was blowing over the county that day.
Ahead of the weekend, there was still a fair number of Glossy Ibis to play with, thanks mainly to the now seven birds that were temporarily residing at Fremington Pill (Devon) on 31st. Singles noted ahead of September's first Saturday remained at Ham Wall RSPB (Somerset), Old Hall Marshes RSPB (Essex) and still commuting between Salthouse and Cley (Norfolk) with two remaining at Walmsley Sanctuary, near Wadebridge (Cornwall) with 2nd seeing lone north Devon bird seen at Horsey Island.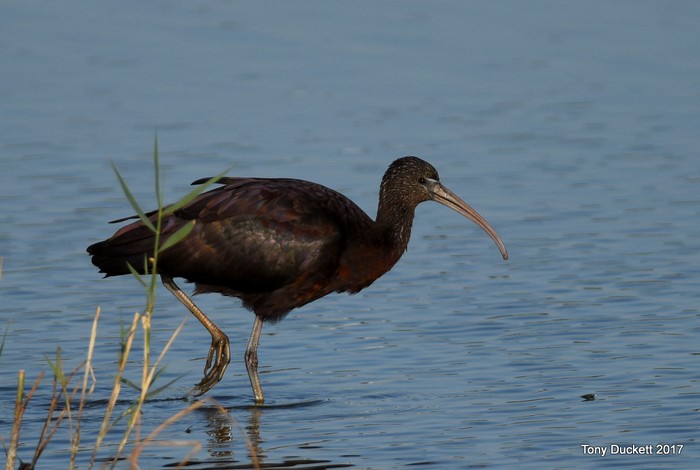 Ever-present was the American Night Heron at Dingle Gardens, near Shrewsbury (Shropshire) while the juvenile Purple Heron at Leighton Moss RSPB (Lancashire) almost feels as though its going the same way ~ still in place for another whole week to 5th.
Ahead of the month end, 21 Cattle Egrets were recorded countrywide; at least five were around Dungeness RSPB (Kent) on 31st while threes were at Abbotsbury (Dorset) and Litlington (East Sussex) on 30th (maybe the same three headed over Charleston Reedbed on 31st) with two (an adult and juvenile) remaining at Marshside RSPB (Lancashire). Elsewhere in the northwest, one bird remained at Burton Mere Wetlands RSPB (Cheshire) and, dropping down through England, singles were at the Nene Washes RSPB (Cambridgeshire) and Slimbridge WWT (Gloucestershire) on 31st with southwestern August birds remaining at Chew Valley Lake (Somerset) and South Huish Marsh (Devon).
The Slimbridge bird presumably moved to Frampton on 1st and eight Cattle Egrets were at the Walmsley Sanctuary (numbers creeping up a little through the week, hitting nine by 4th). One remained around the Somerset Levels to 2nd and three adults were around the Test Marshes (Hampshire) on 3rd with further new arrivals at Marshside RSPB (a third bird there), Wat Tyler CP (Essex) and in Cornwall, between Polgigga and Porthgwarra along with Clapper Marshes, all on 4th. Rounding things off, two remained at Steart WWT (Somerset) to 5th.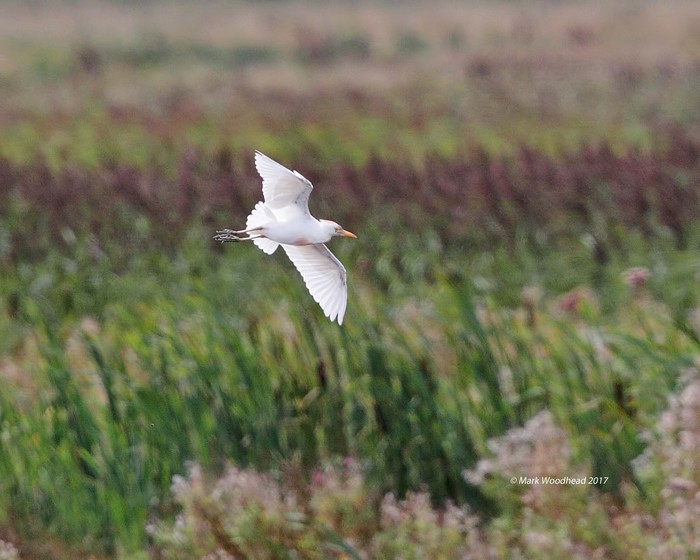 Great White Egrets were again much in evidence this week, despite numbers dropping a little, down to 58 birds in 26 British counties. Up to 14 were seen in the northwest of England, with seven for Burton Mere Wetlands RSPB and four (more?) at Hale (Cheshire) at the start of the week. The southeast and southwest hosted a dozen each, including eight at Dungeness RSPB (Kent) on 3rd and seven at Chew Valley Lakes (Somerset) also on 3rd with nine in six Midlands counties, seven more in the northeast with a couple for East Anglia too.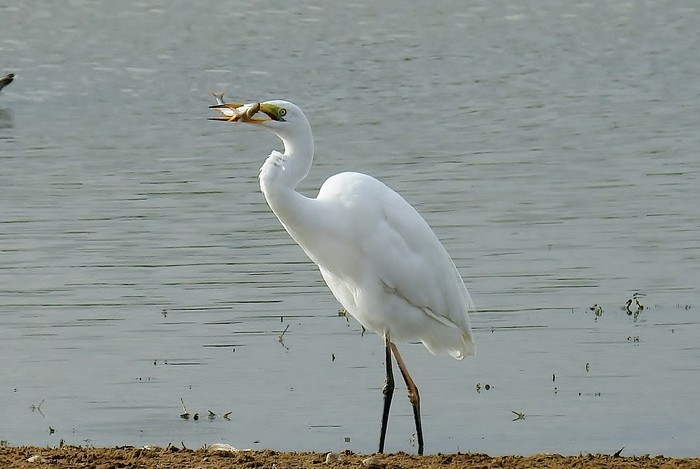 An inadvertent co-ordinated national count of Spoonbills on 3rd (as in there were lots of people reporting them across the country) revealed a minimum of 130 birds in all, seen at 15 different locations through the day ~ Stiffkey topped the chart with 40 and was followed by 28 for Havergate Island (Suffolk) and 27 on Brownsea Island (Dorset). Another eight were at Pennington Marshes (Hampshire) and half a dozen made it to Cliffe Pools RSPB (Kent). Others on 3rd were spread from Carmarthenshire to Lincolnshire and East Yorkshire, with no records further north than that.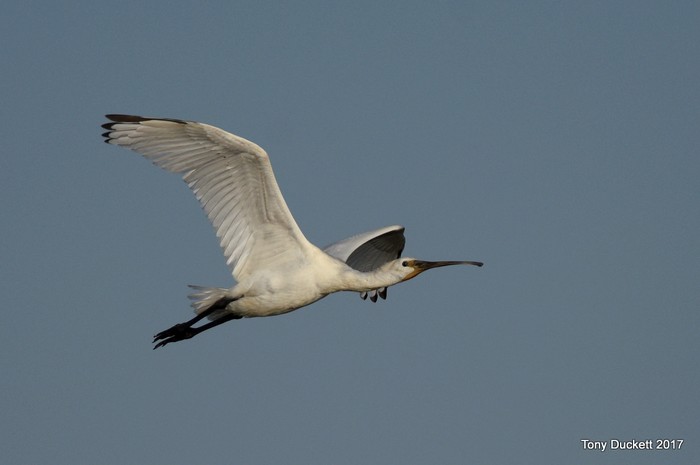 Seldom reported but always generally knocking about the Ouse Washes are the resident flock of Common Cranes and the final day of August saw 19 counted there. September's first day saw the appearance of a single bird at Sunk Island (East Yorkshire) while 3rd saw news of two in the Norfolk Broads, at Potter Heigham while the regular loner was still at the south end of Mainland Shetland, at Hillwell. Last but not least, three more were at Hatfield Moors NR (South Yorkshire) on 4th.
The once-wild, rehab'ed White Storks continued to confuse those with a Ciconia-sized hole in their British Lists by continuing to do the right thing behind assorted bits of agricultural hardwear at New Romney to the end of August, heading over Dungeness on 1st before crossing back to East Sussex and drifting over Beachy Head, Seaford and Ovingdean on 2nd before settling on a supermarket roof at Rustington (West Sussex) in the evening. Three more White Storks were also reported heading over Totteridge (Greater London) at lunchtime the same day.
Just one Spotted Crake was seen ahead of the latest weekend fun, seen again at dusk on Lower Moors, St. Mary's (Scilly) on 31st-2nd with a second found at Porth Hellick Pool on 5th.
The drake Surf Scoter off Llanddulas (Conwy) on 2nd was the only one noted this week so its straight on to less seaducky ducks.
As usual, there's little new to say about the drake Black Duck at Strontian (Highland) other than he was still present on 2nd while last week's newly arrived eclipse drake American Wigeon at Rutland Water (Leicestershire) remained on site through to 3rd at least.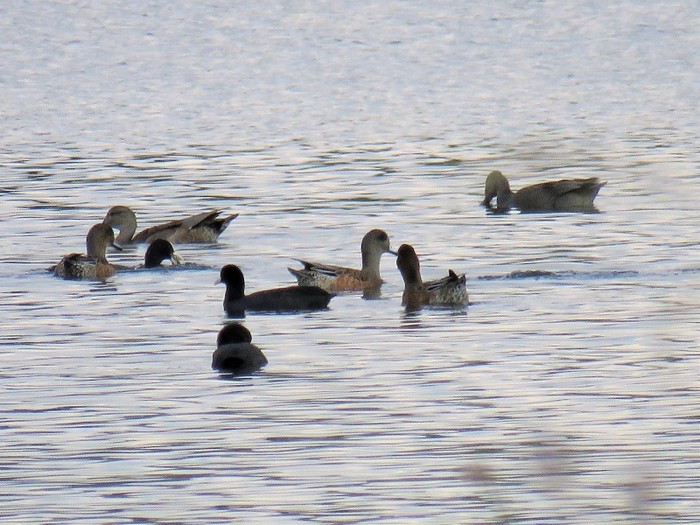 August's final day was a productive one for birders working Wexford's shorebird hotspot at Tacumshin ~ first came a juvenile Semipalmated Sandpiper and it was followed later in the day by a juvenile Baird's Sandpiper which was joined by a second youngster later in the evening ~ the latter species is the rarer of the two in Wexford, around 30 Baird's (including a couple of additional multiples to this week's double) to over 35 Semipalmateds (including even more multiples).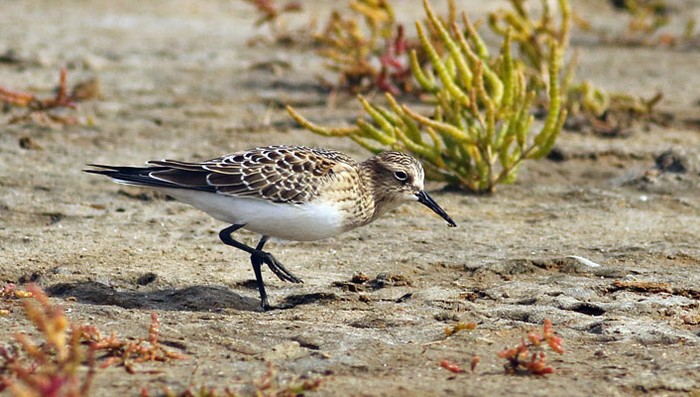 Tacumshin has a strong history for both species and August has seen eight previous records (of 11 individuals) for Semipalmated Sandpiper (six of those records at Tacumshin) with nine previous August Baird's Sandpiper occurrences, seven of those at the extraordinary site that lies near Sigginstown.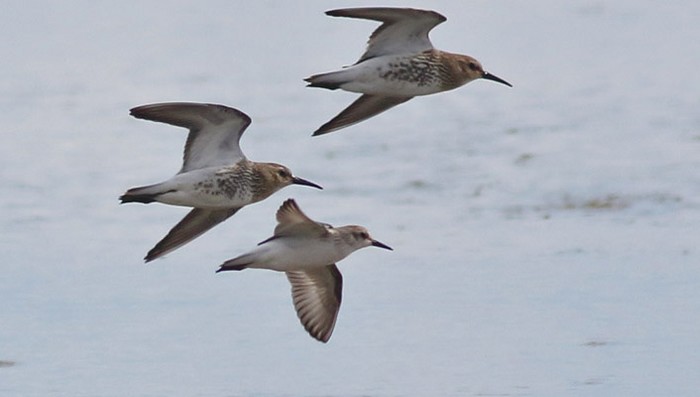 Baird's Sandpiper is a far rarer shorebird in Dorset than it is in Wexford so the discovery of a juvenile on Brownsea Island on 1st was something of a red-letter day for Poole Harbour birders ~ a first for the site, the first in the county for 19 years and only the fourth-ever. If you like stats and you like your Dorset list, these are pleasing stats indeed if it was new for you…especially when it remained to 3rd.
Dorset's first Baird's Sandpiper spent a couple of November days on Portland in 1967; the second and third county records were both recorded at Stanpit Marsh, in October 1988 and August-September 1998. Rare indeed.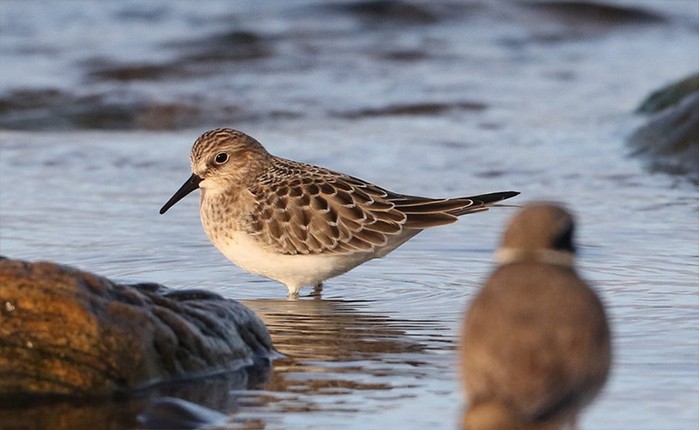 Three Baird's Sandpipers dealt with already and two more appeared ahead of the weekend, both of them along the west and northwest coasts of Ireland, taking the day score for 1st to three in all. In Kerry, a juvenile was located at Ballycarbery, near Cahersiveen and it was followed by another youngster that arrived between Aughris Strand and Dunmoran Strand (Co. Sligo).
There are already 43 accepted records of Baird's Sandpiper for Kerry, a total which doesn't include the five seen there last autumn (all of those were found in September, which is Kerry's optimum month with 26 acceptances to date for that month alone). By contrast, Sligo has only one previous record to this week's discovery, seen in Ballysadare Bay between September 21st-October 1st 2000 (one is listed online for September 2014 but it isn't in the accepted files that I can see).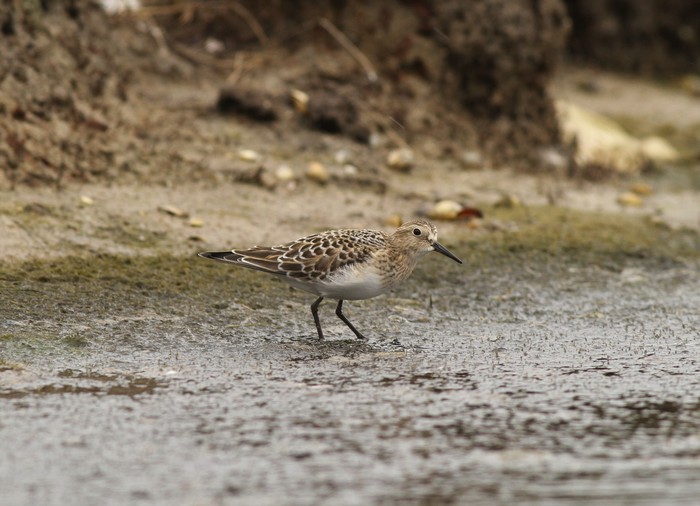 …and those Baird's Sandpiper kept coming in an excellent week; new juveniles on 3rd were found at Cuckmere Haven (East Sussex) ~ remaining to the following day and often being especially confiding) with the seventh within only four days was found on the beach at Marazion (Cornwall). As with other county stats listed above, there's a fair amount of difference between Sussex and Cornwall ~ the combined total for both Sussex counties is seven birds (two for the West, five for the East) the most recent of which was at Sidlesham Ferry (West Sussex) in October 1996. The most recent East Sussex record ahead of this weekend was at Pett Pools in September 1989. Cornwall on the other hand has 34 accepted records to date (excluding two stayers last year) and this is the number eight for Marazion.
There's some way to go to beat the score of 25 accepted records from 2013 (although last year up to 30 were reported).
Back-peddling to news of more Semipalmated Sandpipers and along with the Tacumshin bird (or birds, an adult was mentioned for 5th) came up to four more birds to the end of the week. In County Kerry, a juvenile was found on Carrahane Strand on 3rd when two further juveniles were logged in Cork, at The Geragh and Ring Strand with another at Lissagriffin on 4th (there are currently some 42 accepted Kerry records and 41 for Cork).
Hot on the heels of last week's Lesser Yellowlegs on Cape Clear Island came Cork's second on just a few days, found at Lissagriffin on 1st (enjoying a good run this week…). The week's second was a tremendous find at Kenfig Pools (Glamorgan) where it spent less than an hour before heading off; a monster rare for the county, this is just Glamorgan's second record and the first for 64 years when one was at Oxwich in September 1953.
Ireland's fourth American Golden Plover of 2017 (and the third within a week) was found on Myroe Levels (Co. Derry) on 30th where it was joined on 31st by a newly arrived Buff-breasted Sandpiper.
Along with the previously mentioned Derry at Myroe, there was a left-over Buff-breasted Sandpiperfrom last week on the side of Loch Bornish, South Uist (Outer Hebrides) on 30th while two new juveniles emerged on 3rd; one was in Wexford, at Tacumshin and the other was located on Buness, Fair Isle (Shetland) ~ the first there since 2014 ~ with another two making it to Ormiclate, South Uist (Outer Hebrides) on 4th when one arrived on the Kerry coast, at Reenroe. The week concluded with two more for the Hebrides, these found at Butt of Lewis on 5th, but they didn't stay for long before departing once again.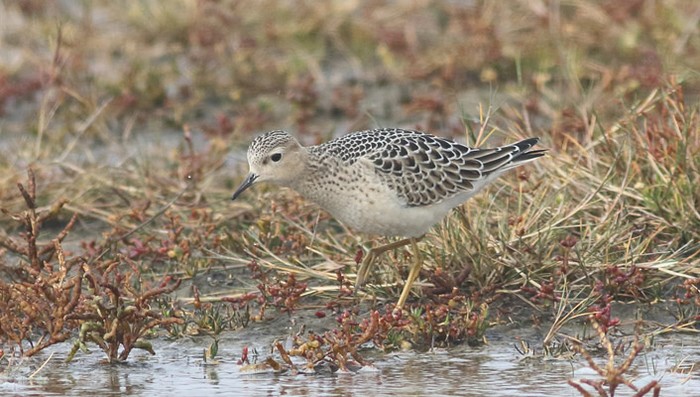 New on the east coast (though feasibly a lingering bird from previous weeks in The Wash was the adult White-rumped Sandpiper found at Tetney Marshes RSPB (Lincolnshire) on 30th-5th.
Seeing out to the end of the month and on in to September was Kent's adult Long-billed Dowitcher, still on the Oare Marshes NR through until 5th when last week's new arrival at Bannow Bay (Co. Wexford) was noted as still present.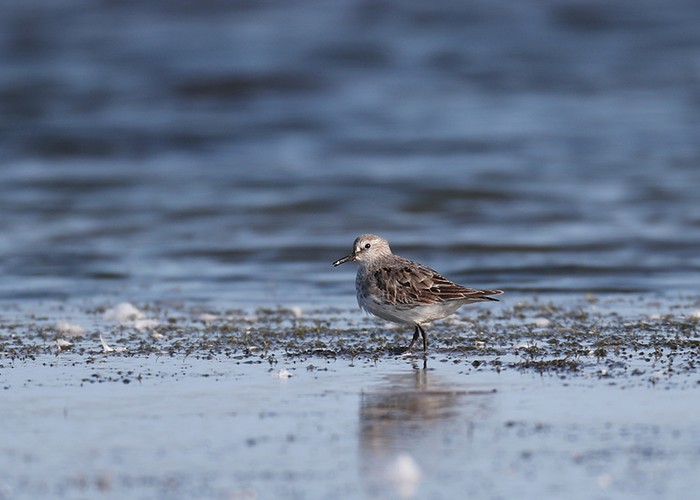 The new week remained a strong one for Pectoral Sandpipers as a mish-mash of leftovers and new stock mingled to boost numbers to another impressive figure for seven days.
The first day of the review saw nine birds still in place from last week; in the southwest, singles remained at Porth Hellick Pool, St. Mary's (Scilly) and Meare Heath NR (Somerset); in the south and southeast, loners remained at Farlington Marshes HWT (Hampshire) and Dungeness RSPB (Kent) while East Anglia's offerings were two in Norfolk, at Potter Heigham Marshes and Buckenham Marshes; the northeast and northwest retained one a piece, at Frampton Marsh RSPB (Lincolnshire) and Burton Mere Wetlands RSPB (Cheshire) with one still in County Kerry, at Carrahane. New Pecs seen on 30th were two at Druridge Bay (Northumberland) and singles on Skokholm (Pembrokeshire), Staines Reservoir (Surrey) and at Duncannon (Co. Wexford) bringing the total to 14 for the day.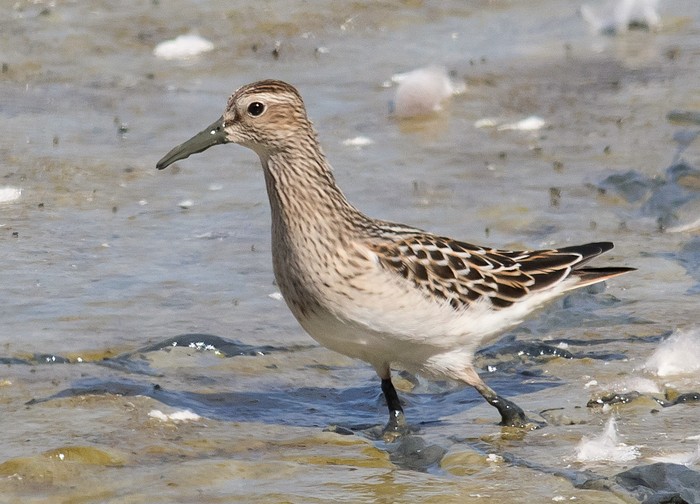 Eight more new birds found their way across the Atlantic (or maybe from a little closer) on 31st ~ three were found at Saltholme Pools RSPB (Cleveland), two dropped in at Kilnsea Wetlands (East Yorkshire) and loners were found at Havergate Island (Suffolk) and Musselburgh Lagoons (Lothian) with a second bird dropping in to Potter Heigham ~ 21 and counting ~ with last week's Abberton bird still present in Essex as well.
The total continued to rise on 1st thanks to new stock being located at Baleshare, North Uist (Outer Hebrides) ~ two birds there ~ with singles at Titchfield Haven NNR (Hampshire), Donna Nook (Lincolnshire), on the Ythan Estuary (Aberdeenshire) and also at both Ballycotton and Lissagriffin (Co. Cork); the Pecometer clicking on to 29 already. Bird number 30 for the week was found at Duncannon (Co. Wexford) on 2nd and four further new arrivals followed soon afterwards at Trimley Marshes SWT (Suffolk), Walmsley Sanctuary (Cornwall), on Loop Head (Co. Clare) with a second juvenile found at Ballycotton. The 3rd saw further new arrivals swell the impressive invasion further ~ two were at Idle Valley NR (Nottinghamshire) with singles reported flying over Kelling Water Meadow (Norfolk), briefly at Farlington Marshes HWT (Hampshire) with others at Kilaulay, South Uist (Outer Hebrides) and Smerwick Harbour (Co. Kerry) ~ 40 and counting by the end of the weekend.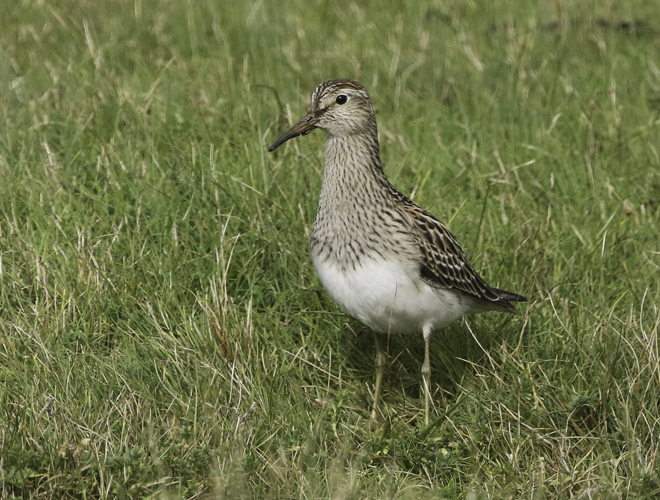 The busy week for Pectoral Sandpipers concluded with two new birds at Lissagriffin (Co. Cork), a single at Loch Bee, South Uist on 4th and at Stornoway, Lewis (Outer Hebrides) ~ two there ~ and Wedholme Flow (Cumbria) on 5th ~ 46 the final tally for the last seven days.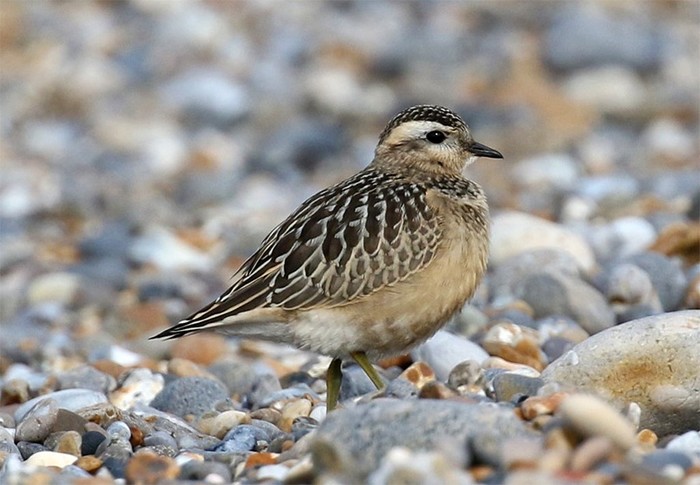 The only Temminck's Stint of the week was still at Stanwick GPs (Northamptonshire) on 30th but not subsequently. It has been another pretty slow week for Dotterel records saw August wind down with just a single noted; seen at Bockhill Farm, St. Margaret's (Kent) on 31st. September began with a lone individual heading east over Buckton (East Yorkshire) and on 5th, at Long Nab, Burniston (North Yorkshire) while a juvenile came in-off, noisily, at Cley as the rain started to fall. Alighting on the beach, this rather lovely lost soul pleased not only the finder (guess who…) but also one esteemed and especially welcome visitor from neighbouring Suffolk ~ once a gentleman, always a gentleman is Mr Jobson.
New on 30th was a juvenile Red-necked Phalarope alongside the Oare Marshes Dowitcher while in Essex, last week's youngsters that appeared at Abberton Reservoir remained in place to 4th at least. The second fresh arrival this week was found at Frampton Marsh RSPB (Lincolnshire) on 2nd and the third was at Kilnsea Wetlands (East Yorkshire) on 4th.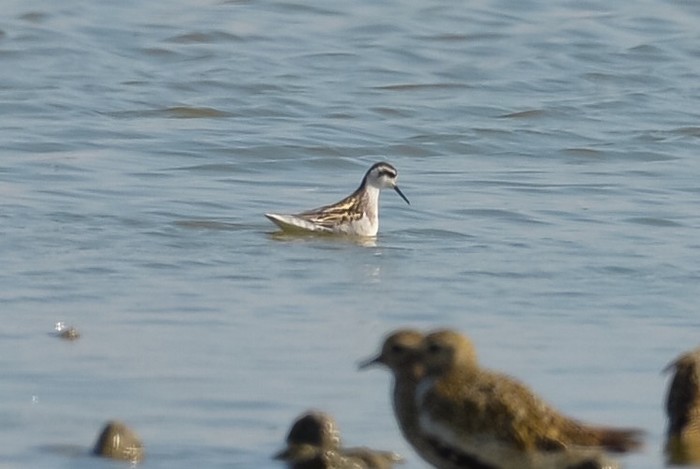 After a few days of being missing in action, Sligo's first Laughing Gull resurfaced on the last day of the month, seen on the beach between Aughris Strand and Dunmoran Strand, not far from Sligo town. The two Bonaparte's Gulls seen recently in southwestern England were still up for grabs this week, the second-winter was again on Brownsea Island (Dorset) on 30th with the adult at Oare Marshes NR (Kent) to 2nd. The week's only Ring-billed Gull was found at Ynys-hir RSPB (Ceredigion) ~ a second-winter found there on 4th.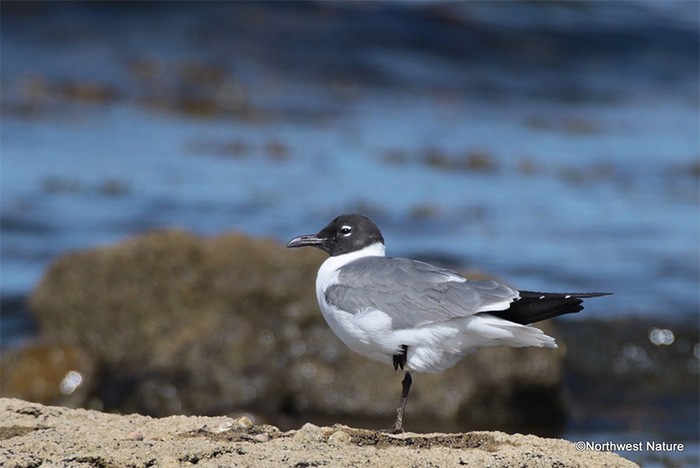 The lone Glaucous Gull this week was still at Ullapool (Highland) to 2nd while two Iceland Gulls were in Kerry, noted west of Dingle, at Trabeg on 4th and in Smerwick Harbour on 5th.
In Essex, an adult White-winged Black Tern must have been a nice Sunday surprise at Abberton Reservoir on 3rd ~ the first in a couple of years there and the same bird could well have shifted north to Norfolk's Rockland Broad on 4th.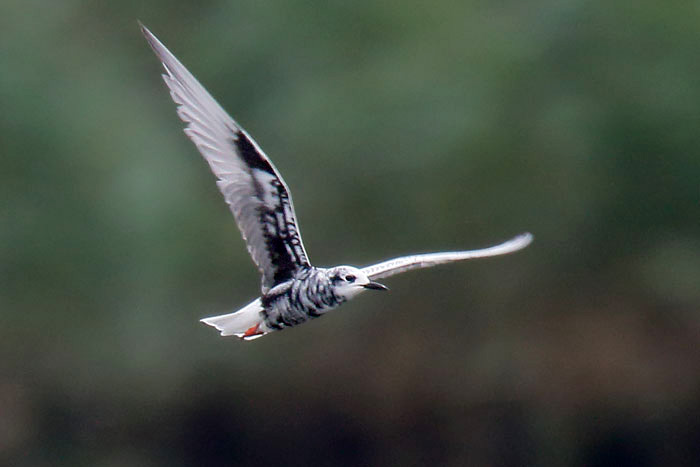 Ireland's adult Forster's Tern rounds off this section, still at Soldier's Point (Co. Louth) until 3rd.
Five migrating Honey Buzzard closed out a decent August; on 30th one was seen in Suffolk, near Lavenham, at Monks Eleigh and another was in Derbyshire, over Hardwick Hall NT the same day; the 31st delivered three flyovers in all, at St. Margaret's at Cliffe (Kent), Fingringhoe Wick EWT (Essex) and also reported at Fen Drayton Lakes RSPB (Cambridgeshire). September got off to a slow start, with one seen on 2nd over Christchurch Harbour (Dorset) with singles on 4th reported from Nailsworth (Gloucestershire) and Wiveton (Norfolk). The week concluded with a migrating dark morph over Fair Isle and one east over Grove Ferry NNR (Kent) both on 5th.
The only Montagu's Harrier seen this week was a juvenile over the grazing marsh at Holme (Norfolk) on 3rd with presumably the same bird repeating the same trick on 5th.
Still in place on Mayo's Tarmon Hill, the adult female Snowy Owl ~ seen there to 5th.
As usual, when August runs in to September, there can be a whole host of scarce and rare birds to deal with and this cross-over week was no different and there was a fine mix of species on offer.
First stop is west Wales and Skomer Island, off the Pembrokeshire coast where a Bonelli's Warbler sp., was seen for short time during the morning of 30th and again in the same spot the following day ~ to date there have been three Western BW's accepted from the county, two of them in the last six years (on Ramsey Island in September 2013 and St. David's Head in October 20110 with Britain's first trapped and "collected" (that's killed to you and me) on August 31st 1948.
The same final August day has hosted Pembrokeshire's only other record of a Bonelli's Warbler sp., ~ seen on Skokholm in 1991 ~ so whatever level this week's bird is accepted to, it will be an island first.
While Western is the obvious route to take where this week's bird is concerned, not everything is so cut and dried; Shetland has managed to score a late August Eastern (in 1998) so this always needs to be a consideration…
Little surprise in seeing news this week of a Citrine Wagtail making it across the North Sea and little surprise in where it was and what it did ~ heading south over The Numpties, Spurn (East Yorkshire) on 31st. East Yorkshire has a good record for this ex-BBRC bird ~ seen annually there since 2010 (with seven of the whole of Yorkshire's nine accepted records up until removal from the rarities list at the end of were seen in the East).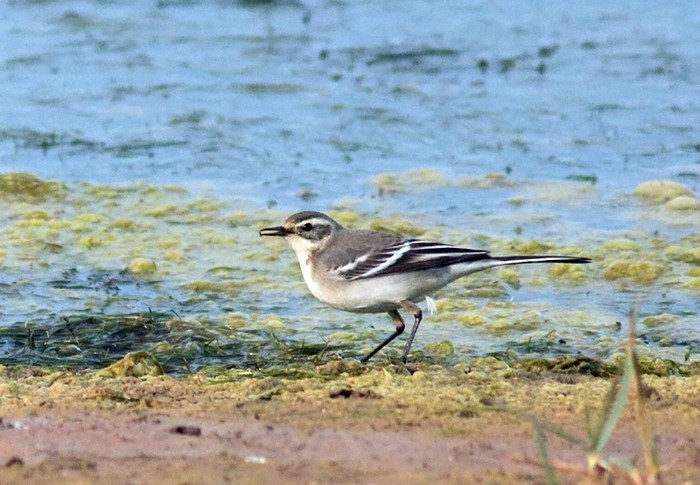 Citrine Wagtail number two followed along on 2nd, another flyover, this one heading west over Hilbre Island, on the Wirral, only the second for Cheshire following on from the male at Red Rocks in May 2014 with the third of the week was the reported male briefly on the saltmarsh at Breydon Water (Norfolk) on 3rd, possibly the first for a couple of years in the county. The week's fourth sees us wing our way back to Kilnsea where a lovely 1w bird spent a little time late in the afternoon of 4th.
A significant attraction in the south Midlands was the juvenile Woodchat Shrike found at Chipping Sodbury (Gloucestershire) on 30th ~ the first in the county since August 2011 when a first-summer female spent time in, pretty much, the very same place. This week's bird remained for the rest of the week, to 5th.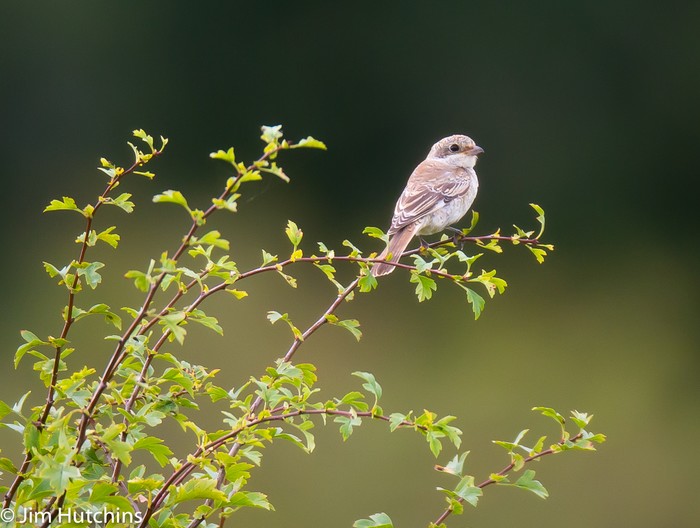 For the third week in a row, there's been a little net-round surprise for someone with another out of place first-winter Bluethroat; first was Cornwall's Nanjizal valley, then came Suffolk's Lakenheath and this week we have one from the heart of west Wales, trapped and ringed at Teifi Marshes NR (Ceredigion/Pembrokeshire) on 31st. A massively rare bird for either county, there's nothing showing on the records for a Bluethroat in Ceredigion (not in the last 17 years at any rate) and Pembrokeshire has just two in a similar time frame (one on Skomer in 2008 and another earlier this year on Skokholm).
The week's first Ortolan Bunting was the bird that dropped on to Bardsey Island (Gwynedd) on 1st; this super little bunting has been annual on the island since 2013, no mean feat given their relative scarcity across the country. The week's second dropped on to Languard NR (Suffolk) on 2nd, quickly followed by another the same day, this one spending a short time at Spurn (East Yorkshire).
The night-time noises over Poole Harbour in Dorset on 2nd into 3rd produced three flyover Ortolans with non after-dark birds followed at Foreness Point (Kent) on 3rd and Portland Bill on 4th (at least one there). What was probably Languard's second Ortolan Bunting was seen on 5th and the same day saw news of yet another night-time bird being identified from sound recordings ~ this one being especially significant as it was recorded over Cambridge; a massive county rarity and another example of just what's happening overhead when you're tucked up under the duvet.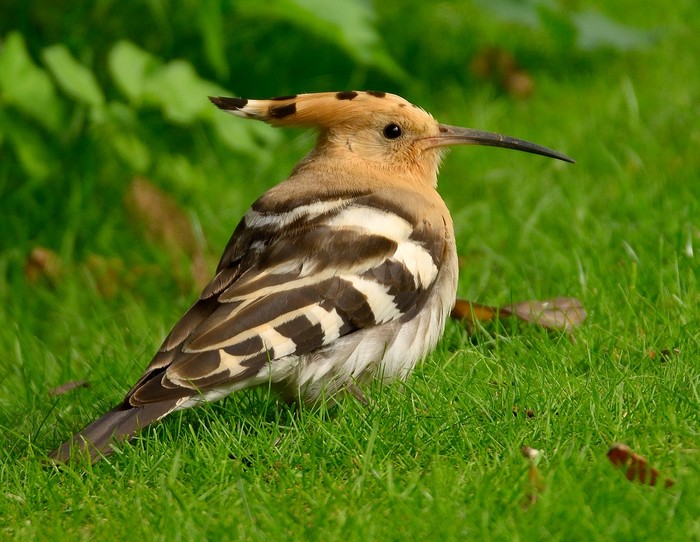 A Golden Oriole made a nice change from the late August and early September norm, found in the sallows at Porthgwarra on 1st, where it remained for much of the day. A second Oriole then spent two days at Vaul, Tiree (Argyll & Bute) on 2nd-3rd. Over on the Scottish east coast, a Hoopoe was found in gardens at Pencaitland (Lothian) on 2nd, the second county record within 11 months, and the second for the 2nd was found close to Abbotsbury (Dorset). The day's third arrived at Neatishead (Norfolk) with the 3rd saw the late evening discovery of one at Portland Bill (Dorset), a bird that was trapped and ringed the following day and stayed to 5th, when the fifth of the week was seen at Gronant (Flinthsire). The same day also saw a report of a Red-rumped Swallow moving through Nosterfield NR (North Yorkshire).
The new week saw last week's male Greenish Warbler remain at Bempton Cliffs RSPB (East Yorkshire) with a second bird mentioned for the site during the afternoon of 30th, both of which remained to 31st with one still on site on September 1st. The only other record this week was a heard-only bird in the Old Fall hedge, Flamborough Head (East Yorkshire) on 3rd.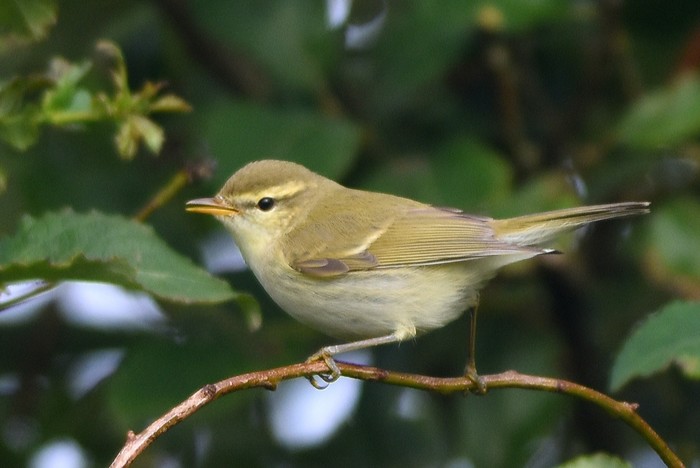 New in to the southern tip of Cornwall was the Melodious Warbler seen in gardens in Lizard village on 31st. The second for the week was yet another good overshoot in to Pembrokeshire, seen close to St. David's on 1st ~ the second in the county in the past fortnight. A gloriously sunny 2nd saw a third Melody arrive, this one on the south coast, at Beachy Head (East Sussex) and the fourth of the week was on Great Saltee Island (Co. Wexford) ~ the fourth record there in the last six years, all of which have been recorded in "odd" years (2011, '13, '15 and now '17). Bird #5 appeared in the Nanjizal Valley (Cornwall) on 3rd.
It isn't that often that Melodious Warbler tops Icterine Warbler but this is one of those week's ~ just one of the latter to mention, found on 5th at Longhaven, near Boddam (Aberdeenshire).
After a busy-ish week last week, there were just two Barred Warblers to report from the first three days of the new review period, seen on North Ronaldsay (Orkney) and Virkie, Mainland (Shetland) both on 31st. Fair Isle held two more over the weekend and Spurn hosted a couple on 4th (one trapped and ringed) with another on the Isle of May (Fife) the same day. The week's final offerings came to Winterton Dunes (Norfolk), Farne Islands (Northumberland) and Fair Isle on 5th.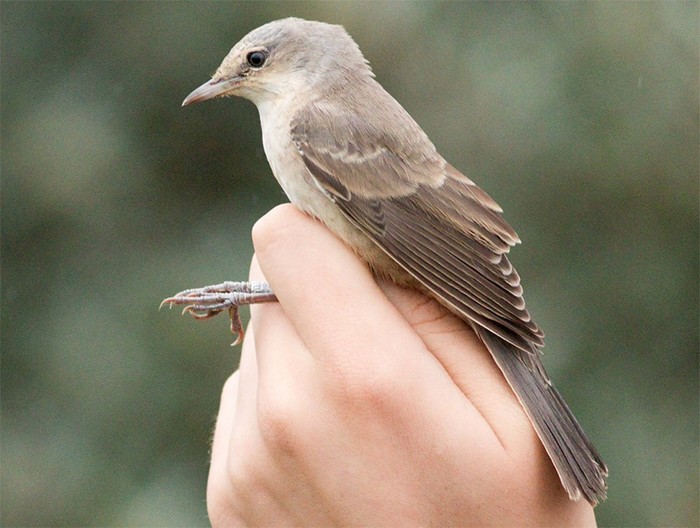 What was thought to be the same Red-backed Shrikes reappeared after three days of "no sign" at Whitburn Country Park (Co. Durham) on 30th where it showed throughout the rest of the day. New on Scilly on 1st was the juvenile trapped and ringed at Porth Hellick and the only other one recorded this week was found on Fair Isle (Shetland) on 5th.
At least one Common Rosefinch lingered on Fair Isle from 30th-1st with it or another there on 3rd. Other Shetland birds were on Out Skerries on 1st and at Norwick, Unst on 2nd with an evening bird on 2nd found on North Ronaldsay (Orkney) where two birds were seen the following day.
Wrynecks are so much a part of the waggy tail of August and there were a few arrivals to see the month out; new on 30th was the bird found on the Ouse Washes RSPB (Cambridgeshire) with five following on 31st ~ on Scilly, singles were seen on St. Agnes and St. Mary's; new too was the Wryneck at Durlston CP (Dorset) and an inlander was found at Hose (Leicestershire).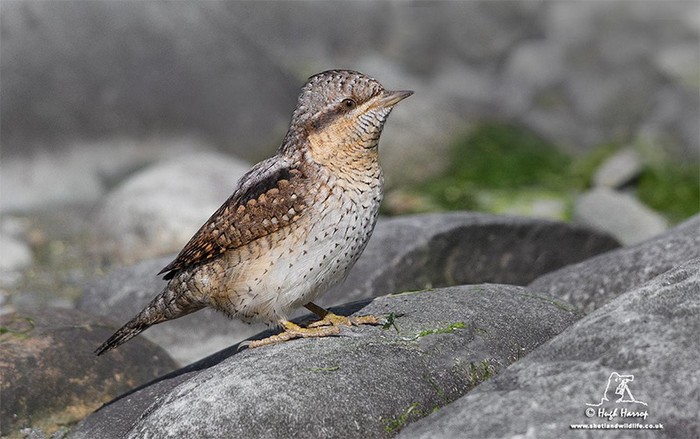 Cornwall hosted the seventh and eighth of the week on 1st, found on the north coast at New Polzeath and at the western tip, on Lands End. The same day saw two more appear; in gardens at Bushey (Hertfordshire) and on the coast of Wales, at Martin's Haven (Pembrokeshire). Back at Durlston, two Wrynecks were seen on 2nd and the week's third and fourth Cornish birds were at Kenidjack and Guard-Ruan, on the Lizard, the same day. Also on 2nd, the 15th of the week was seen in Sheepcote Valley (East Sussex). Another wave followed as the week wound down, found on St. Mary's (Scilly), Kendijack (Cornwall), Totnes and Dawlish Warren (Devon), near Burnham-on-Sea (Somerset), Portland Bill (Dorset), Shooter's Bottom and Beachy Head (East Sussex), Slaughden (Suffolk), Llandysul (Ceredigion), Papa Westray (Orkney) with at least one around Quendale, Mainland (Shetland); at least 27 in all.
Portland hosted a juvenile Rose-coloured Starling on 30th and the adult stayed in Embo (Highland) through to 3rd.
An eclipse drake Redhead stole the show on the Azores this week; found at Paul de Praia on 1st, this island first is only the seventh to be seen within the Western Palearctic ~ and it behaved itself through until 4th.
Elsewhere around the islands, a Swinhoe's Storm-petrel was again noted off Bank of Fortune, Graciosa on 31st while the Grey-tailed Tattler was still at Cabo de Praia, Terceira through to 4th at least with the Snowy Egret at the same site too, seen through to 1st.
Adding to the dynamic mix around the islands was the 3rd record for the Azores of Audouin's Gull, a first-winter found at Ponta Delgada harbour, São Miguel on 2nd.
In the Netherlands, the country's ninth Sharp-tailed Sandpiper was the most significant headline maker, present from 30th-2nd at Ezumakeeg, Lauwersmeer, Friesland. Still in no hurry to do anything other than show nicely was the Black-shouldered Kite that remained for much of the week at Overschild, Groningen while, big for the Dutch, was the Squacco Heron found at Volkersweg, near Utrecht on 31st.
A Western Reef Heron was in Italy on 3rd, seen at Boccasette, Venezia while assorted random snippets include Lithuania's second Alpine Swift in Vilnius on 2nd and a run of decent rares in Austria ~ the fifth Eastern Olivaceous Warbler was found near the airport at Graz, Styria on 3rd when a Baird's Sandpiper ~ Austria's 10th ever ~ was seen at Lake Neusiedl and it followed the 9th Black-winged Pratincole there on 31st.
With almost a whole week of September gone already, we really are starting to get in to the next phase of the autumn groove.
Options are plentiful in terms of what to expect, what to daydream about and what to actually encounter in-the-field as the weather throws in allsorts of things to bear in mind as the we see the middle of the month lurch abruptly in to view.
The deeper we get in to September, the less there's likely to be anything too surprising out at sea ~ for perhaps the final week of the late summer/early autumn, there's still options (if the right wind blows) for yet more Fea's Petrels (there's still 15 acceptances for the week ahead) while there's also been an at-sea Red-billed Tropicbird (on September 8th 2009) and there was the Kilcummin Black-browed Albatross of 2002 as well.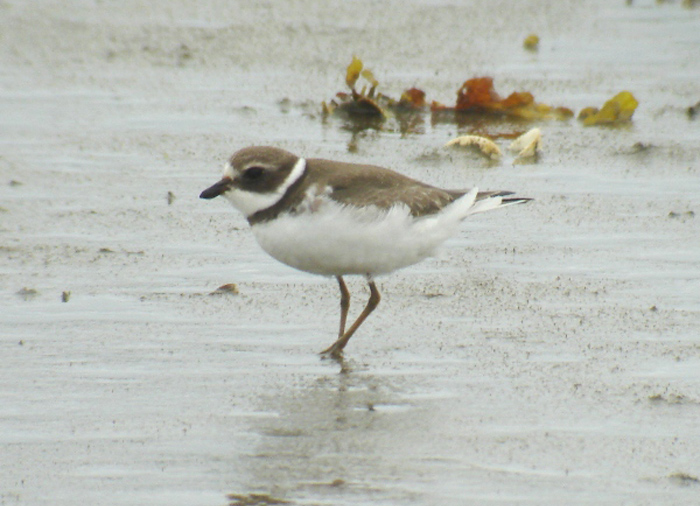 A whole host of Nearctic shorebirds have alighted around our shores during the week ahead, all the usual suspects of course (right up to and including Western Sandpiper, Short-billed Dowitcher and Semipalmated Plover) but you can add in to the mix the first British Hudsonian Godwit (just because you've all seen one now certainly doesn't devalue the species' worth…) at Blacktoft Sands from September 10th 1983.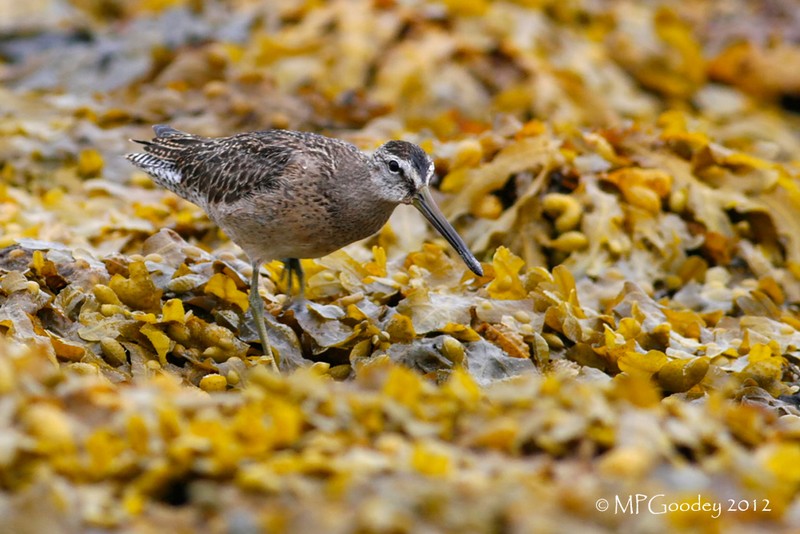 You can also add in two of the four historic records of Eskimo Curlew ~ shot in Aberdeenshire on September 6th 1855 and shot on Tresco on September 10th 1887 ~ but I'm fairly confident that I could stake everything I own on this not being a species to feature here next week.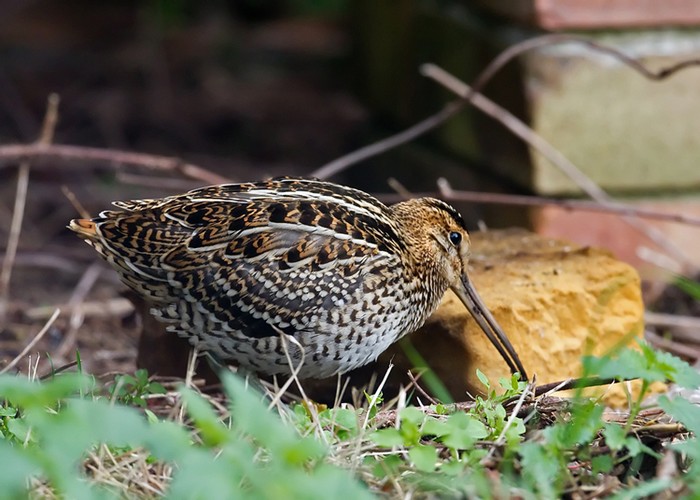 From rather different directions (if the weather behaves) could come either Black-winged Pratincole (there've been four of them) or the much more likely Great Snipe (seen daily in the week ahead, with 12 acceptances for 6th and 14 for 12th, totalling 55 in all).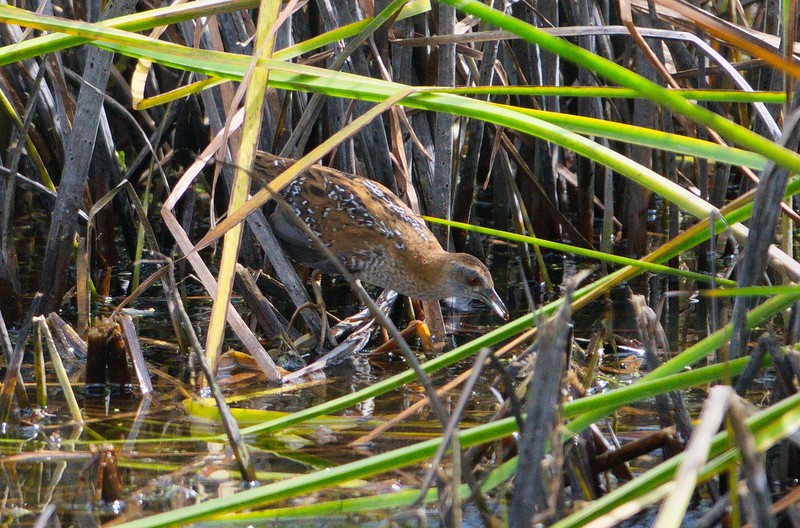 Oddments to keep in the back of your mind are enigmatic species such as Baillon's Crake ~ the breeding year of 2012 seeing a juvenile become much appreciated at Rainham Marshes RSPB from September 7th.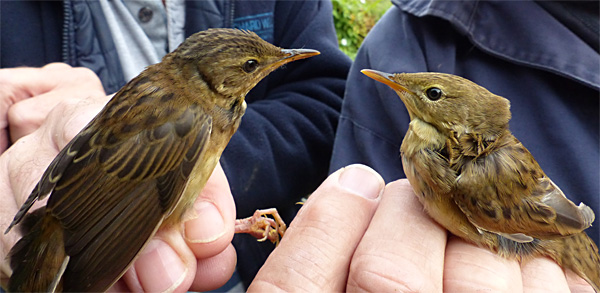 Many of the southern and eastern warbler species mused upon in the last two weeks remain, very much, in focus this week (you know the ones, from Booted to Eastern Olivaceous ~ that sort of thing) but of the arrows start to point towards us from the east, we could be on for the likes of an early Pallas's Grasshopper Warbler ~ a species that is becoming an increasingly early arrival here, witness the trapped bird at Titchfield Haven, in Hampshire, on September 6th 2014. There's been one really early Pechora Pipit too, seen on Shetland on September 8th 1978.
The sad decline of the Yellow-breasted Bunting was touched upon very recently here but once upon a time they were par for the course right now ~ three dozen recorded in the seven days ahead, including 13 on previous September 9th.
As usual at this time of year, should conditions prevail there's a potential for a quite stellar mix of Nearctic landbirds. Amongst the "commonest" is Common Nighthawk ~ four of our 24 acceptances to date have fallen in the week ahead, three of them on Scilly (including the 1st for Britain), two of them appearing within four days in September 1998.
The first (and only) Black-and-white Warbler for Wales was found on Skomer on September 10th 1980 and is one of five increasingly rare to really rare North American wood-warblers to have dropped during the next seven days. The others are…
Northern Waterthrush ~ Ireland's first was found on Cape Clear Island on September 10th 1983.
Blackburnian Warbler ~ the third record for Britain, found (and photographed) at Hirta, St. Kilda on September 12th 2009.
Hooded Warbler ~ the third record for Britain, found (and photographed) at Hirta, St. Kilda on September 10th 1992.
Tennessee Warbler ~ the first for Britain, found on Fair Isle on September 6th 1975 (and that's another one that Hirta, St. Kilda can lay claim too as well, September 20th 1995 stat fans…).
Better than all of those is Summer Tanager ~ Britain's one and only record, a record that has now stood the test of time for a whopping 60 years, was found on Bardsey Island on September 11th 1957.
As alluring as any of those last fab four would be, there's one species that beats even them…and we need to return briefly to Shetland for that one…
Having just four records to date, and with just one record in the last 119 years, well, that alone would be enough to warrant fabled status; but when the species in question is Hawk Owl, everything from there on goes haywire.
Few, if any species (other than maybe Wallcreeper) top quite so many birder's "wants list" ~ the Shetland bird of 1983 was seen near Lerwick on September 12th-13th before, remarkably, reappearing a week later on Bressay. Ticked by some from the inter-island ferry, this was a twitch (for those very few who did it) that will linger longest. An extraordinary bird and even lapsed (lapsing) listers like me would break the bank to have one of these beautiful birds on my British List.
The wait goes on, despite all those "big" Hawk Owl autumns ~ one will take us all by surprise soon. But how soon?
That's it from me for a while ~ I hope you've enjoyed what's come your way in the last few months. Jon Dunn is here from next week through to beyond the New Year, so the autumn headliner headaches and the Excel spreadsheets of Yellow-browed Warblers are all his…
Mark Golley
6 September 2017
Share this story
Tweet


Many thanks to all contributors for their photos and videos this week.
Seamus Feeney, Aidan G Kelly, Joe Pender, Tony Duckett, Lee Harris, Mark Woodhead, Anthony Williams, Tony Duckett, Hugh Harrop, Chris Waring, Paul Kelly, Jacob Everitt, Graham Jepson, Andrew Last, Bob McMillan, Marcus Nash, Steve Gantlett, John Pringle, Daniel Branch, Jim Hutchins, Dennis Morrison, Andy Hood, Daniel Branch,