Weekly birding round-up: 23 - 29 Aug 2017
The week at a glance
After missing out last week, Bridges of Ross seawatchers land a Fea's (type) Petrel at the start of the week
…with the second following swiftly on in Mayo
In Cornwall, there's news of a presumed Elegant Tern, seen and photographed from a Penzance pelagic
Pacific Diver in Meath and Dublin is a surprise late August headliner
Still on site ~ the summering male Pied-billed Grebe in Argyll & Bute
Another fascinating late August week passes by with variety definitely being the birder's spice of life as a decent mix of the rare and not so rare were logged across Britain and Ireland.
For many the new week began under a humid, clammy and rather hot shroud of the occasional burst of blistering sunshine along with a fair degree of high cloud and a brisk southerly breeze ~ it wasn't the nicest of weather to be out and about in, everything (bins and bodies) getting a little bit sticky as it were ~ but that wasn't the case everywhere of course…
That pulse of hot air that was being sucked up from mainland Europe was all part of the final death throes of last week's Hurricane Gert (who must have been very happy with her avian adventures, depositing as she did at least two mega Nearctic vagrants upon us).
By Thursday, pretty much the whole country was feeling rather fresher as more of a westerly airflow set in and a couple of weak ridges of high pressure kept the weather, for almost everyone, reasonably settled. Showers scudded in across northern parts of Britain and Ireland but most regions remained largely dry with plenty of sunshine but with pleasant temperatures and not so much humidity.
Another change came along soon after though, as the warmth increased, particularly across southern England with record numbers for the time of year noted, close to the 30 degrees C mark in places across the second and third day of the long weekend.
But what's that peeking in around the corner? Another whippy Atlantic low leaving Nova Scotia ahead of the weekend, with a course set for Ireland and the Hebrides bringing lower temperatures along with it.
Generally, it was all rather nice, but how did the birding match up?
Fea's-type Petrels
With breezy conditions evident along the Irish west coast on what was for most a muggy day in Britain on 23rd, the late afternoon news of a Fea's (type) Petrel scooting past County Clare's Bridges of Ross was the seawatching equivalent of shooting fish in a barrel. Well sort of…
Yes, after the seawatchers at Ireland's (indeed one of Europe's) premier seawatching spot managed to have the species evade them last week (Little Shearwater is more than good enough compensation) this week order was restored by the Fea's-type off BoR ~ the third Irish record this month (after birds in Cork and Kerry) and the sixth in all for the month (Cornish singles seen from Porthgwarra and that Falmouth pelagic).
There's no doubting the fact that should you really fancy your chances of a Fea's-type then get yourself to Bridges of Ross when the weather turns nasty in August ~ since the first Clare bird was seen from Bridges on August 25th 1995, a further 25 birds have been accepted for the site (up until the end of 2014) with only one other Clare record seen away from Bridges, at the very close by Loop Head. (There was also one seen last summer, on August 20th which has, I belive, yet to appear in print).
From that total of 26 county records, 20 of them have been recorded in August and 12 of those records have been logged between August 20th-26th ~ add in last year's record and this week's too ~ well, it's all laid out for, right there, as to when you may fancy your chances next year…
…and if the relevance of this week in terms of observations of Fea's-type needed to become anymore concrete, than the second for the Irish west coast in as many days was on hand to confirm things yet further ~ passing Annagh head (Co. Mayo) on 24th.
With assorted records heading for acceptance, Ireland has passed through the three figure mark for Fea's-type Petrels, spread across nine counties; Cork is way out in front, with 45 records (some multiples in there too) with Clare next on (at present) 26 with (now) 11 for Mayo.
Presumed Elegant Tern…
As a hectic Saturday drew to a close, news emerged from west Cornwall of an orange-bill Tern sp., being noted (and photographed) from one of the Mounts Bay pelagic trips, a board the Mermaid, on 24th.
The bird was thought to have been an Elegant Tern by the single observer, who also managed a couple of record shots to go with it. Others started to put two and two together (getting five) and mused on whether it could actually have been another orange-billed option, the thought of the American Royal Tern drifting up from the Channel Islands touted by some as a possibility, given its relative proximity to the southwest of England, but the finder feels sure that it was an Elegant Tern that was involved ~ a huge potential county first being well and truly on the cards.
Pacific Diver
There's little doubt that the most absorbing record of the week was the discovery of a winter adult Pacific Diver off the east coast of Ireland during the last afternoon of 27th, seen initially off Gormanstown (Co. Meath) before drifting across the border in to County Dublin as it anchored off Balbriggan not long afterwards ~ and moved between the two sites the following day too.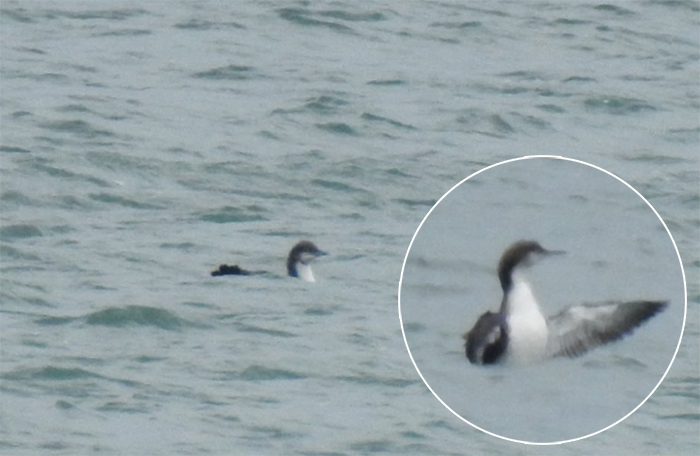 Ireland's only records to date are of a presumed returning bird that has been seen in both Clare and Galway, somewhat infrequently, from 2009 and another up north in Tyrone in January 2014, so this rather startling late August arrival on the other side of the country (obviously becoming a double county first in the process) is as fascinating as it is totally unexpected.
None of the vagrant Pacific Divers that have reached either Ireland or Britain have been anywhere close to August until now, the other standout date being the summer bird found on Shetland in May 2013.
If this is a new bird and isn't the west coast bird with a slightly wonky radar, then it will be the fifth Pacific Diver noted in 2017 ~ regular old-guard noted earlier in the year in Cornwall, Devon and Galway along with the popular juvenile in Northumberland. A record year established for a species once thought to be nigh-on impossible to differentiate from its much commoner cousin.
Here's an old favourite…
For the first time in over a fortnight came news of the summering (and hybridising) male Pied-billed Grebe ~ still on Loch Feorlin (Argyll & Bute) until 25th; is he there for the rest of the autumn?
Wilson's Storm-petrels has been such a feature of this summer and despite the early tentacles of September quicker than an Atlantic low, there were still a few of these ocean wanderers to report this week.
Keeping the exceptional and unprecedented form going was the Scilly pelagic team who chalked up one more on the evening of 24th with another seen from a further trip out of Falmouth the previous day. In Irish waters, four Wilson's were seen from a pelagic off the coast of County Kerry on 25th with another for Scilly birders and visitors later the same evening.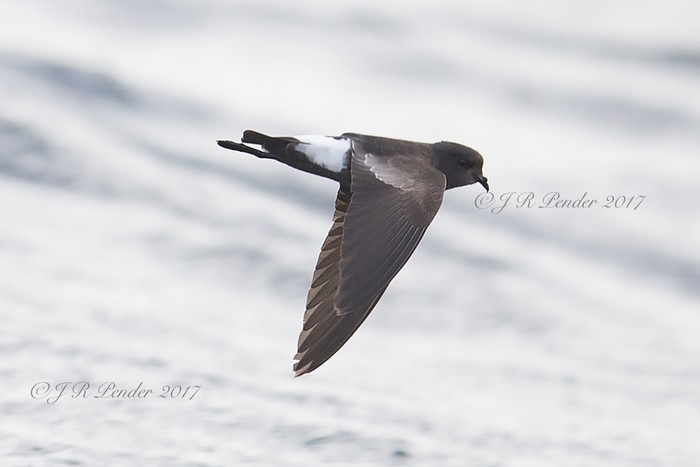 Further Wilson's Storm-petrels followed in Clare and Scilly on 27th, two from the St. Mary's pelagic and singles seen from Bridges of Ross and from a boat off nearby Loop Head. Another boating bird was reported off the Scillonian III on 28th and off the Kerry coast, another was at Puffin Island, near Portmagee as well. Donegal then joined the party, with a single bird logged from Melmore Head on 29th ~ the first record for the northwestern county for exactly seven years, the last bird flew past the same site as this week's on 29/08/10. The week concluded with two off the evening Scilly trip , also on 29th.
The seabird seasons are most certainly changing and whilst its certainly not over for those with a love of all things "big shear" there's that feeling that, before too long, we may be awash with species that are far more autumnal in their vibe than the majestic long-winged wanderers that have been such a feature of this special seabird summer.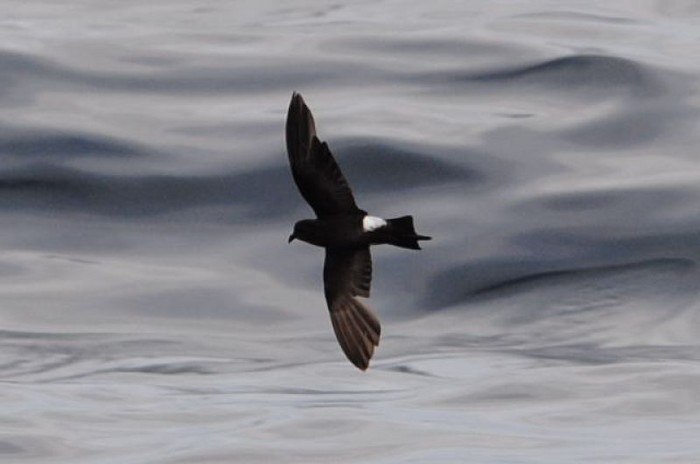 One of the very finest seabirds anywhere in the world is Great Shearwater and this week saw numbers drop away again ~ the first day of the new week brought just 19 birds in all, seen from seven sites (four of them in Cornwall, three of them in Ireland) with a "high" of five from Cape Clear Island (Co. Cork). Just 21 followed through until the start of the weekend, again from regular sites in Scilly, Cornwall and Ireland and numbers weren't much better as the week progressed, some 18 on 26th did include one from Bardsey Island (Gwynedd) ~ the second there in less than 12 months but only the third county record between 2002 and 2017. Numbers remained relatively low across the rest of the Bank Holiday weekend, scrapping in to double figures and not much beyond that.
Quite which Scottish Cory's Shearwater was (presumably) the bird that had headed north along the coast of Durham and Northumberland the previous day was hard to know ~ the first of 23rd was seen from Girdle Ness, Aberdeen early in the morning with another recorded from Fife Ness (Fife) in the early afternoon. If accepted by the county records committee, the Girdle Ness Cory's will be the first there since June 2014 and only the seventh report in the last decade. This a rare species too for Fife; this month has been exceptional, with two records to date (the other was on August 4th) and they are the first county birds since 2009.
The two birds in the northern part of the North Sea were part of a day total for 23rd of some 92 Cory's in all, the vast majority (60+) were counted off Cork's Cape Clear Island with birders at Bridges scoring 28. Two further Irish birds passed Annagh Head (Co. Mayo) with a lone bird tracked past Southwold and Sizewell (Suffolk) before appearing later in the day off Canvey Island (Essex) ~ the first since 2014 in the southeastern county.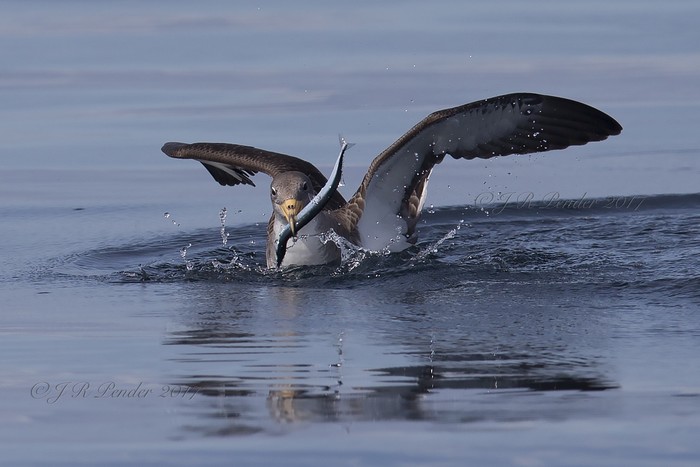 Rarer still was the Cory's Shearwater seen on 24th, heading past north end of Bardsey Island ~ the first in the county since one was seen from the same island in October 2004 ~ and three further singles followed later the same day from Scilly, Cornwall and Mayo. The evening trip out of St. Mary's on 25th yielded half a dozen Cory's with three from the boat to Penzance and two off the Mayo coast again the same day with 10 more on the Scilly trip on 26th and then just a handful were logged through the rest of the week, including one off Lybster (Highland) on 29th.
Just over 200 Balearic Shearwaters were recorded from 13 British and Irish counties this week, with a peak of 50 from a pelagic out of Brixham on 24th. Seawatchers in Cornwall logged 19 off the Lizard and 20 from Porthgwarra on 20th while in Devon, at least 15 were seen off Slapton on the same day. Loners were recorded through to Gwynedd and along the northeast coast from East Yorkshire to Northumberland.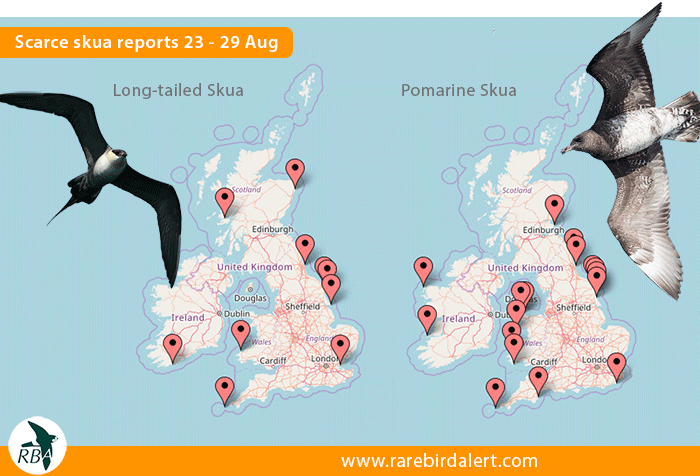 Five Long-tailed Skuas started the week off along the east coast of Britain, a juvenile was noted at Slains Pool (Aberdeenshire), an adult went north past Whitburn (Co. Durham), a further single was seen off Filey (North Yorkshire) and two flew by Spurn (East Yorkshire) as well. Lone adults were seen off Strumble Head (Pembrokeshire) and the Scillonian III on 26th and a juvenile was seen at sea, off Mull (Argyll & Bute) on 28th.
Eleven Pomarine Skuas kicked things off on 23rd, including four past Fife Ness (Fife) with a dozen noted the following day including six off Annagh Head (Co. Mayo) while two were seen off Bardsey Island (Gwynedd) on 25th (after two the previous day as well), five were logged from Annagh Head and singles passed Whitburn and Bridges of Ross all on the same day. Seven more were seen over the weekend and eight were off the coast of north Wales on 29th, six from Point Lynas (Anglesey) and two from Gwynedd's Bardsey while in Ireland, four also passed Bridges of Ross.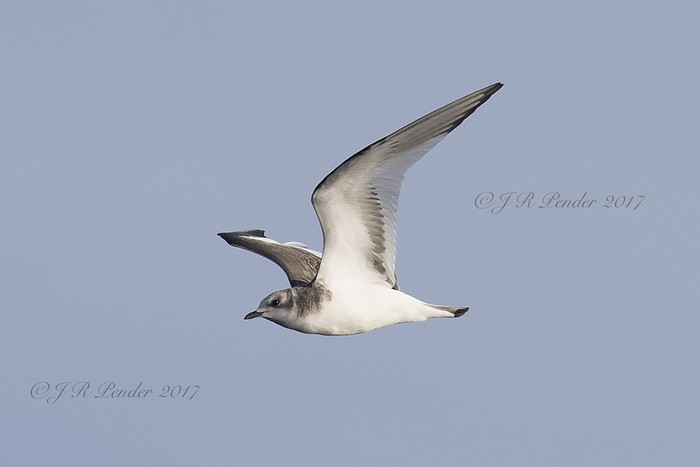 Bardsey's hot seabird streak started on 23rd when three Sabine's Gulls (two adults and a juvenile) were logged offshore. The same day saw four pass Bridges of Ross. Two Sab's were logged off the evening Scilly trip on 24th and another surprise inland adult was found on 25th at Carr Vale NR (Derbyshire) when Irish singles were seen from Bridges of Ross and Annagh Head.
Scilly's evening trip of 25th hit a nice little run of Sabine's Gulls, eight noted in all while long weekend birds were seen off the Scillonian on 26th, Strumble Head (Pembrokeshire) and Loop Head (Co. Clare) on 27th with six noted across 28th; twos were seen offshore from Lands End (Cornwall) and at sea, some 10 miles out of Lybster (Highland) with lone birds off off Scilly and Ardvule Point, South Uist (Outer Hebrides) with the latter site seeing two juveniles pass by on 29th with maybe the same two seen from Balranald RSPB, North Uist. Another double Sab's site on the same day was Melmore Head, in Donegal while Bridges went one better. Singles on the last day of the week were noted from the Isle of May (Fife) and Crinan (Argyll & Bute) to bring the seven day total to the 40 mark.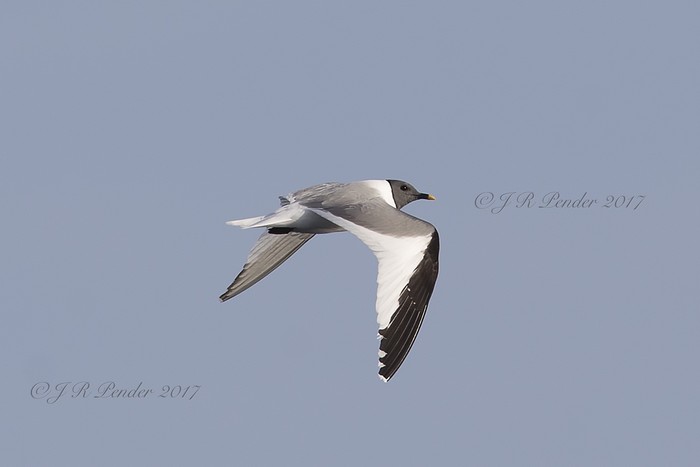 The first Leach's Storm-petrel of the week was seen from Bridges of Ross on 25th with the windy weather of 29th seeing a total of 16 logged there. Also on the final day of the roundup came the week's only Grey Phalaropes, two logged off Ardvule Point, South Uist on 29th.
Ahead of the weekend, at least 12 Glossy Ibis were being noted countrywide ~ all of them recent regulars here. In Cornwall, eight birds were at Walmsley Sanctuary, near Wadebridge on 23rd with two now at Fremington Pill (Devon) on 25th and a further southwestern resident still on the Somerset Levels for much of the week. In Essex, one remained at Old Hall Marshes RSPB to 29th and still enjoying life behind the duckpond and P.J. Horsey (that's a long story which does actually centre around Bridport's genius gothic chanteuse…) was the Glossy Ibis at Salthouse, present until 25th before moving back to Cley on 26th and commuting between sites thereafter. Back in Devon, five GI's were reported from Fremington on the morning of 28th when the Somerset Levels bird was seen again as well.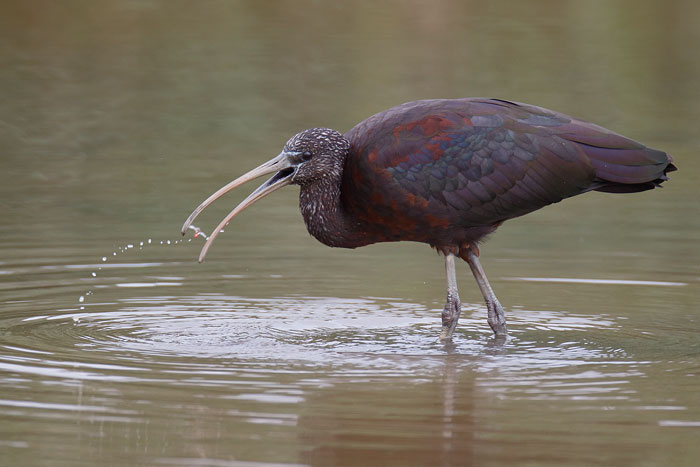 To the relief of those with a Buckinghamshire list, the second-summer Night Heron did the business again on the evenings of 23rd-25th (and again on 27th-29th) heading to (or from) a roost near Botolph Claydon, only the sixth record for the Home County to date. The second of the week was an adult at Porth Hellick Pool, St. Mary's (Scilly) on 26th ~ new in, or lurking around the islands for the summer? ~ and the third was seen on Wandworth Common (Greater London) on 27th, the first for the capital's recording area since 2014. What may have been a second bird was seen on St. Mary's at dusk on 27th over Hugh Town, not long after the Porth Hellick bird had been seen.
Perhaps present now for life is the American Night Heron that remained at Dingle Gardens, near Shrewsbury (Shropshire) through until 25th at least.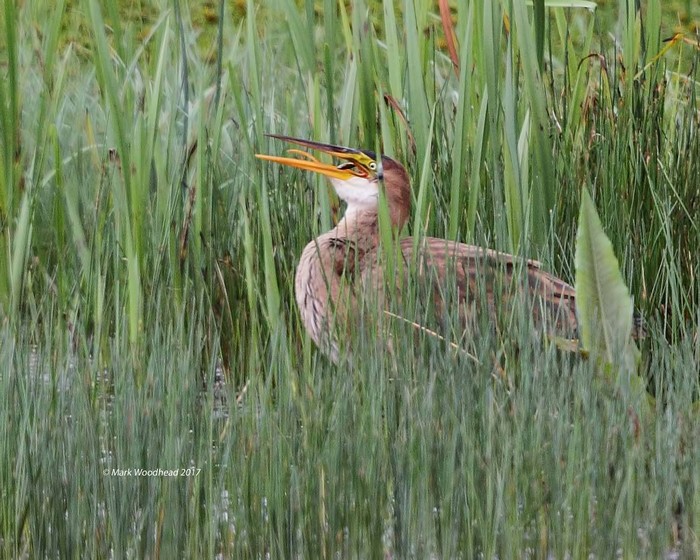 The sometimes showy juvenile Purple Heron continued to draw a few admirers to Leighton Moss RSPB (Lancashire) ~ present there through until 29th.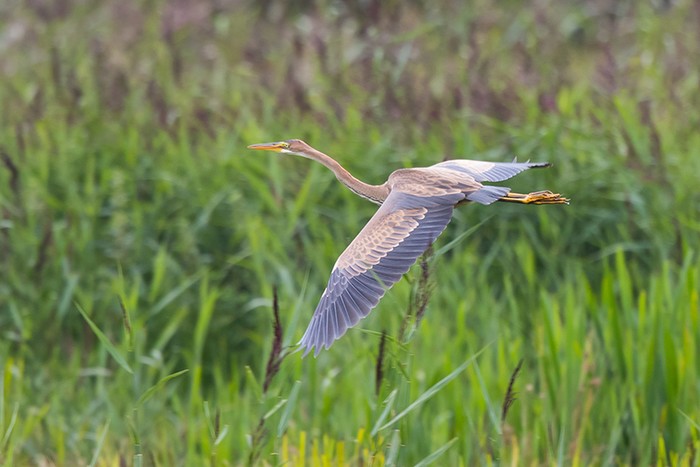 Those with a passing interest in their Bedfordshire list will have presumably been fairly chuffed to nobble the Cattle Egret that appeared at Harrold Odell CP on 23rd-24th ~ it comes after a photographed flyover at a private site in the county early in the year. A further dozen birds helped kicked off the new week, almost all remnants from previous weeks; six birds remained Walmsley Sanctuary (Cornwall), two were again at Litlington (East Sussex), with singles at Black Hole Marsh NR, Seaton (Devon), Abbotsbury (Dorset), Brading Marsh RSPB (Isle of Wight) and Pagham Harbour (West Sussex).
The week's total moved from a solid 13 on 23rd to 20 at the end of 24th, an additional bird was seen at Walmsley, a juvenile was seen in and around Southampton (Hampshire) ~ possibly the Isle of Wight bird? ~ with two seen heading over Burnham-on-sea (Somerset) and three arrived at Baston Fen NR (Lincolnshire). Figures were bolstered further, to 26, when half a dozen birds were noted back in Somerset, at Steart WWT on 25th while new on the weekend were singles at Leighton Moss RSPB and Budleigh Salterton on 26th and 27th respectively, with two birds now at Abbotsbury.
Bank Holiday Monday kicked off with a Cattle Egret over Exminster Marshes RSPB (Devon) ~ the 30th of the week ~ with a third now at Litlington, three more were noted as still at large around the Avalon Marshes, two were again at Marshside RSPB (Lancashire) and new was one at Vange Marshes (Essex). The week ended with news of three at South Huish Marsh (Devon) and a single still at Burton Mere Wetlands RSPB (Cheshire); 41 in all.
Edging up a little more again this week were Great White Egrets ~ 67 of which were recorded across 26 British and Irish counties in the past seven days. Somerset's breeding birds were again at the heart of it all, up to 20 birds seen in the county, including 12 at Meare Heath on 23rd with five more at Chew Valley Lake the same day. A dozen birds were seen around seven Midlands counties, including three still at Rutland Water (Leicestershire) and seven of the southeast's 11 birds were seen at Dungeness (Kent) on 24th. There were nine for the northwest (four of them at Burton Marsh on 28th) and half a dozen in the northeast of England, while East Anglia, Wales and Scotland scored two a piece, including one over the Isle of May (Fife) on 23rd ~ just the second for the island (following on from the first, seen there in 2015).
The Bank Holiday weekend brought Spoonbills a plenty, with 27th being the most profitable day of the week, at least 90 birds counted nationwide (down by 10 on last week's day count high) but that's still a lot of beaky cutlery to play with. As usual at this time of year, Norfolk's Stiffkey Fen was leading the way, still 32 resting there on 27th but the now traditional increased gathering at Brownsea Island in Dorset was already building, numbers shooting up from single figures to 26. A further 19 were at Gibraltar Point NNR (Lincolnshire) and half a dozen were at Cliffe Pools RSPB (Kent) ~ perhaps en route to Dorset?
Other high counts from earlier in the week included 15 for Titchwell RSPB (Norfolk) on 24th with 20 at Hazlewood Marshes SWT (Suffolk) on 23rd ~ and the big guns rolled out the highest counts of the week on 29th, 37 for Stiffkey and 29 for Poole Harbour with the weekly Spoonbill total being well in excess of 120 birds in all.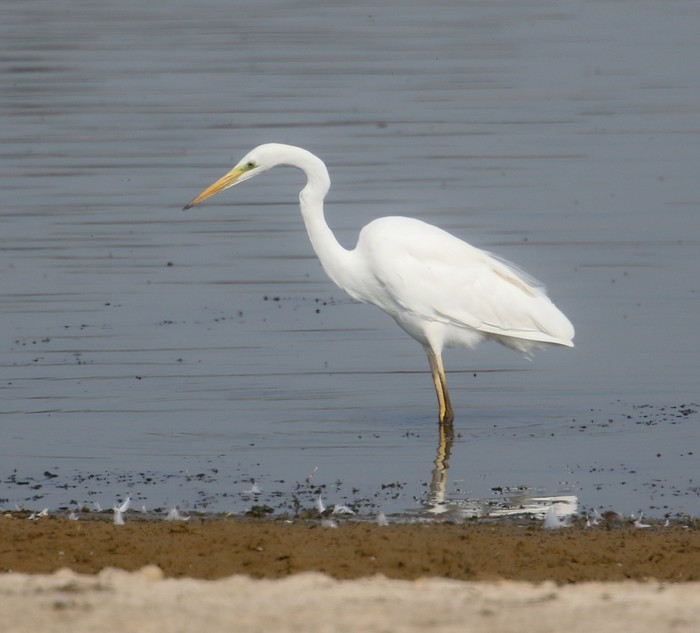 Shetland's Common Crane was still at large at the south end of Mainland through until the weekend at least and the singleton seen in north Norfolk at the end of last week was seen again around Bayfield and Glandford on 23rd before heading over Salthouse Heath later the same day. In Hampshire, another lone bird was seen at Rushington, near Totton on 26th and three were seen at Faringdon (Oxfordshire) on 28th.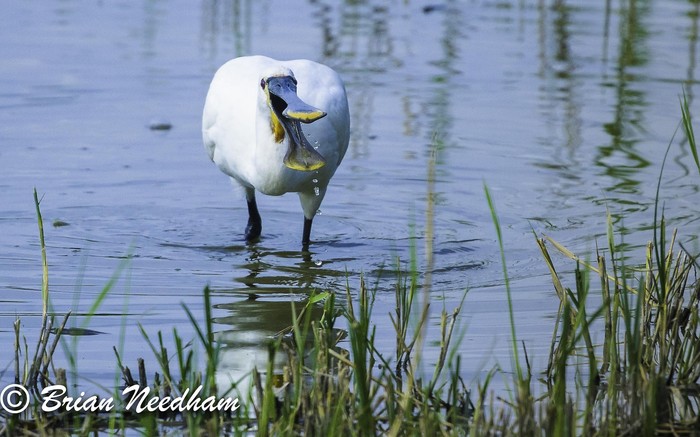 With a weary sense of inevitability we come to what are assumed to be almost all entirely duff selection of White Storks ~ singles seen in Devon and Dorset (around the Exe Estuary and Portland) on 23rd-24th were thought to be rehab/released birds, while harder to call were singles at Bedhampton (Hampshire) and Beckenham (Greater London) on 26th and Littlehampton (West Sussex) on 27th with the same day seeing two tour East Sussex and then Kent, heading over Hailsham and Pembury. These were presumably the same green-ringed birds that stopped on Romney Marsh on 29th, one of which (at least) was, yup, another rehab'ed bird.
Someone, somewhere will find out just where Hampshire's red-ringed Monday bird at Chawton was from ~ wouldn't it be nice if it was a real, wild, untainted proper one… (oh dear, someone did and it wasn't….).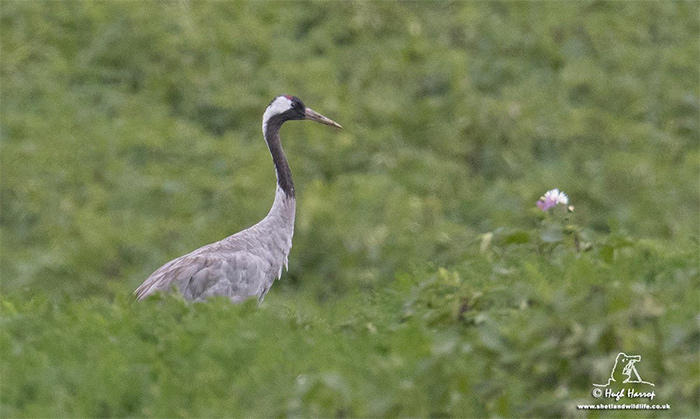 Two leftover Spotted Crakes started off the new week still in place at Wanlip Meadows LWT (Leicestershire) and Druridge Pools NR (Northumberland) while ahead of the weekend, a new bird was found on Lower Moors, St. Mary's (Scilly) on 25th. Kent was next for the fourth of the week, found at Stodmarsh NNR on 27th.
After a brief leave of absence from the round-up, the Welsh female King Eider moved from Ceredigion to Gwynedd this week, found at Aber Dysynni on 27th ~ only the third record for the county and the first since April and May 1990 when a returning bird was seen at the very same site.
There was very little else to mention this week where waterfowl are concerned ~ just a lone drake Surf Scoter was seen from Murcar (Aberdeenshire) on 24th-25th.
After some summery hide-and-seek, the drake Black Duck resurfaced at Strontian (Highland) on 26th, the first sighting for a month.
Much like White Storks, I really don't want to dwell too much on the Washington WWT Ferruginous Duck but I'm duty to bound to report his presence again on site on 23rd (the first report since July 11th).
As returning wildfowl start to appear in some sort of number (already) it was good to hear of some fresh stock for this section of the roundup; an eclipse drake American Wigeon located at Rutland Water (Leicestershire) on 29th.
Without ever wishing to want time to pass more quickly, especially not in August, there was a gently warming feel when I noticed that a tiny handful of the eternally beautiful hrota Pale-bellied Brent Geese were seen off the northeast of England this week, two noted off Hartlepool (Cleveland) and four from Whitburn (Co. Durham). It is always good to have them back…
With many thoughts turning to shorebirds coming from the west, one of the pick of the bunch this week came from a different direction ~ a Pacific Golden Plover on Papa Westray on 26th was only the second Orkney record to be seen away from North Ronaldsay (where 11 have been seen in previous years, including one earlier this summer).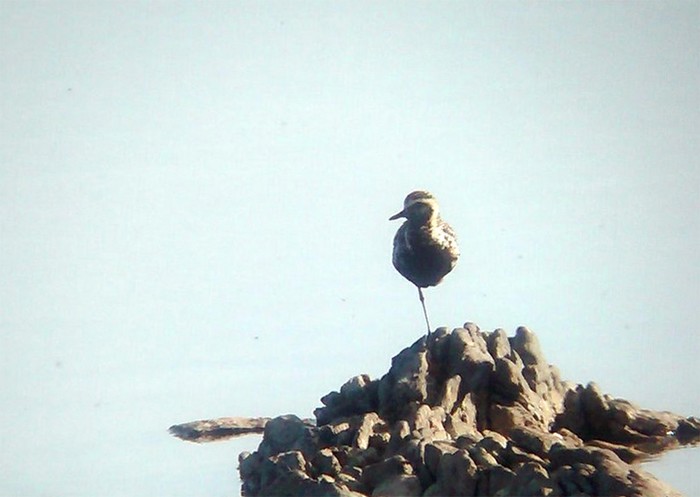 Definitely from the west (at one point at least) was the calling flyover American Golden Plover discovered at Cahore Marsh (Co. Wexford) on 24th and then came news of a torchlit dominica being seen on North Ronaldsay on 23rd. Back in Wexford, what may have been the Cahore bird was relocated at Tacumshin on 29th, though there's every chance it was new (given the Nearctic arrivals in the country at the time).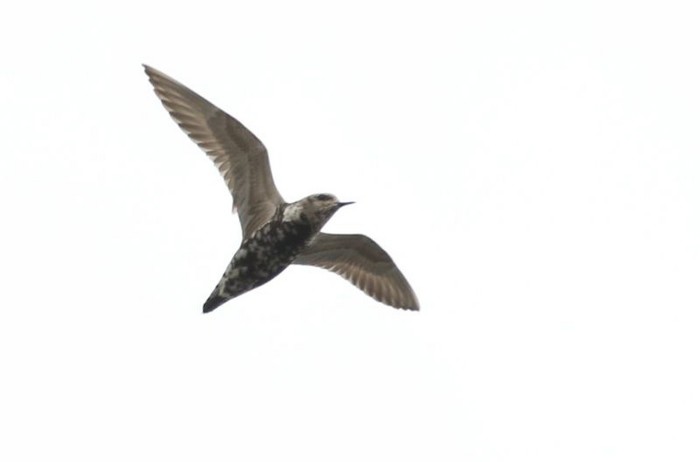 Presumably caught up in the remnants of Gert's breezy offerings was the juvenile Spotted Sandpiper that appeared on the Rogerstown Estuary (Co. Dublin) on 23rd-24th ~ remarkably, it seems to be a first record for the county and this was followed by Ireland's second of the week at Kilshanning Point (Co. Kerry) on 29th, the eight record for the county.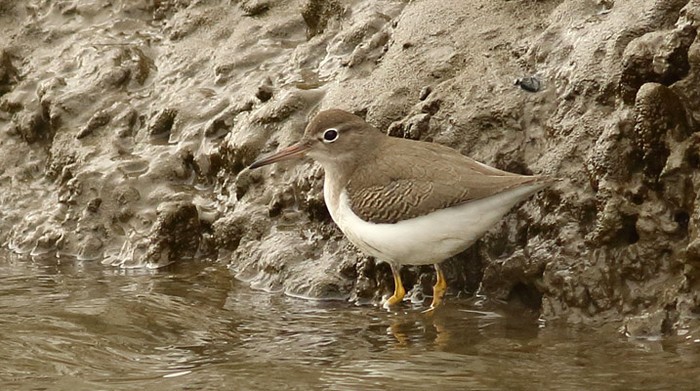 Two further Nearctic stragglers deposited in the same part of western Ireland came in the form of a Lesser Yellowlegs and an adult White-rumped Sandpiper that were found on Cape Clear Island (Co. Cork) on 26th ~ the former is the fourth record for the island, all three prior to this week's bird came between August 25th-27th 1991 (from a county total of almost 50) while the latter is only the third ever White-rump there and the first for 50 years. Cork's second was seen on the Muckross Estuary, near Clogheen Marsh on 28th.
The thin scattering of Nearctic shorebird arrivals in Ireland continued with two new Long-billed Dowitchers; the first was in Kerry, seen at Carrahane Strand on 26th, the second for the site within the space of 12 month and it was followed the next day by one in Bannow Bay (Co. Wexford). Elsewhere, Kent's adult Long-billed Dowitcher continued to linger at Oare Marshes NR through until 29th.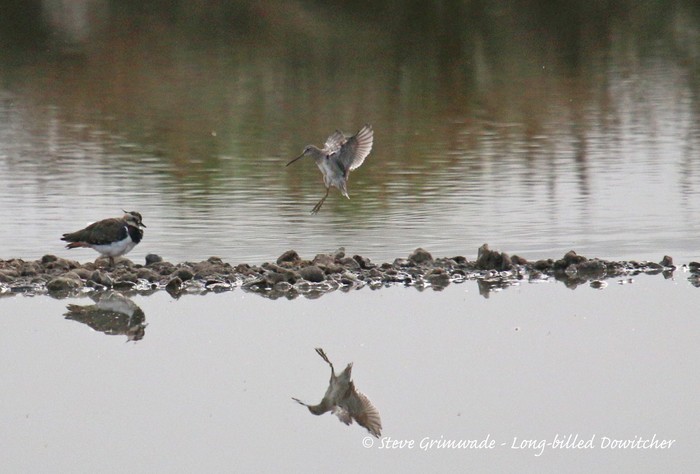 Wexford's lingering adult Buff-breasted Sandpiper was still at Tacumshin until 26th and then three new birds found themselves at Loch Bornish, South Uist (Outer Hebrides) on 28th, at least two of which remained to 29th.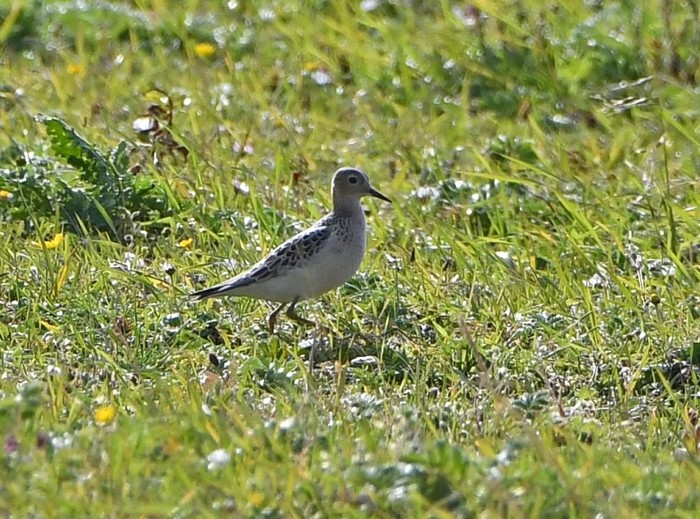 Five of last week's Pectoral Sandpipers remained into the first day of the new week; two were still around Porth Hellick Pool, St. Mary's (Scilly) with lone birds still at Farlington Marshes HWT (Hampshire), Watermead CP (Leicestershire) and Frampton Marsh RSPB (Lincolnshire) while a new juvenile was reported from Slimbridge WWT (Gloucestershire). The following day saw a new arrival drop on to Ireland's west coast, seen on Inch Beach (Co. Kerry) with last week's youngster still around Tacumshin (Co. Wexford).
Further new stock made it to east Norfolk on 24th, single Pecs found at Potter Heigham Marshes and Cantley Beet Factory and , with another at Lissagriffin (Co. Cork) while also fresh in was one at Abberton Reservoir (Essex) on 25th with the seventh and eighth new arrivals of the week dropped in to Cliffe Pools RSPB and over Gramborough Hill (Norfolk) on 26th with the same day seeing a second arrive at Frampton and the fourth new bird of the day was at Loch Bornish, South Uist (Outer Hebrides). Whether the Buckenham Marshes bird was Norfolk's second fresh arrival in on a sunny Saturday isn't too clear, but it isn't far from Cantley, as the scarce shorebird flies…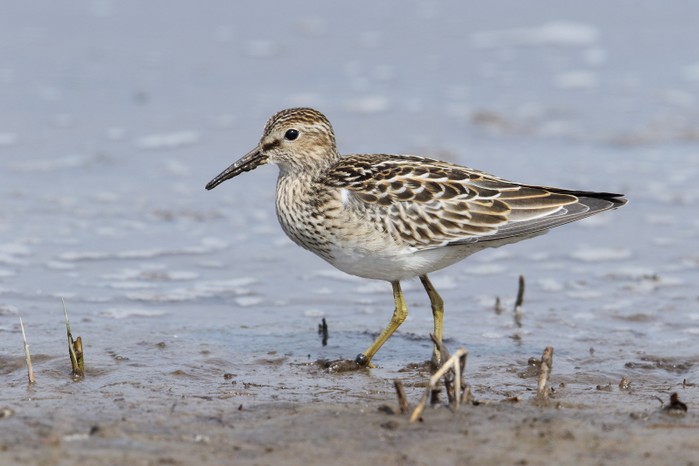 Either way, we know that definitely new was the 17th and 18th individuals of the week, seen near Alloa (Forth) and Clonakilty (Co. Cork) and that was just the start as a flock of four Pectoral Sandpipers were discovered on pools near The Gloup, Deerness on a bird-filled 26th. More followed on 27th-28th as the numbers went up a little more; a single seen at Dungeness RSPB (Kent) on the former date and others were on Fair Isle and the Somerset Levels on the latter, taking the new arrivals total to 24 in all. Kerry's Carrahane Strand bolstered the tally further with the second quartet of the last seven days that were found on 29th and singles were at Steart WWT (Somerset), Venus Pool NR (Shropshire) and Burton Mere Wetlands RSPB (Cheshire) the same day ~ this really has been a decent week for the species.
Three juvenile Black-winged Stilts started off 23rd at Cliffe Pools RSPB (Kent) and it may have been one of these that was then seen later the same day along the Medway Estuary, near Gillingham.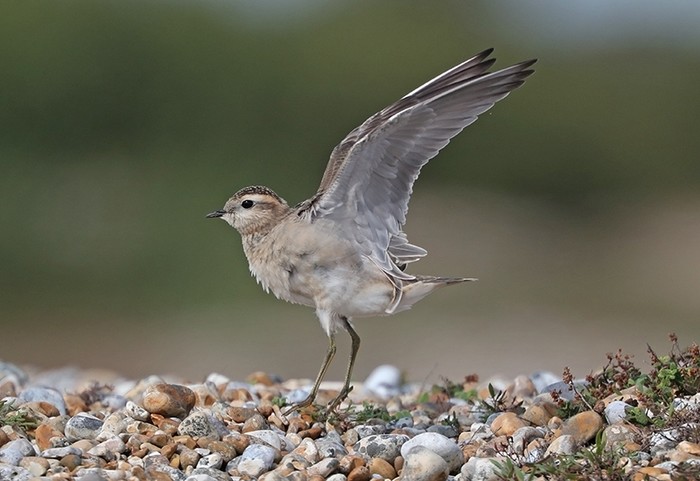 New on 23rd was a showy Dotterel at Dungeness (Kent) and it was followed by singles on Lundy Island (Devon) on 24th and at Whittle Dene Reservoirs (Northumberland) and in-off at Waxham (Norfolk) both on 25th. The fifth of the week made itself known over The Garrison, St. Mary's (Scilly) on 26th and the same day saw another juvenile appear on the East Anglian coast, found at Covehithe (Suffolk). Also newly arrived was the flyover at Polgigga (Cornwall) on 27th and the bird in Lothian, near Edinburgh, at Caerketton Hill on 28th.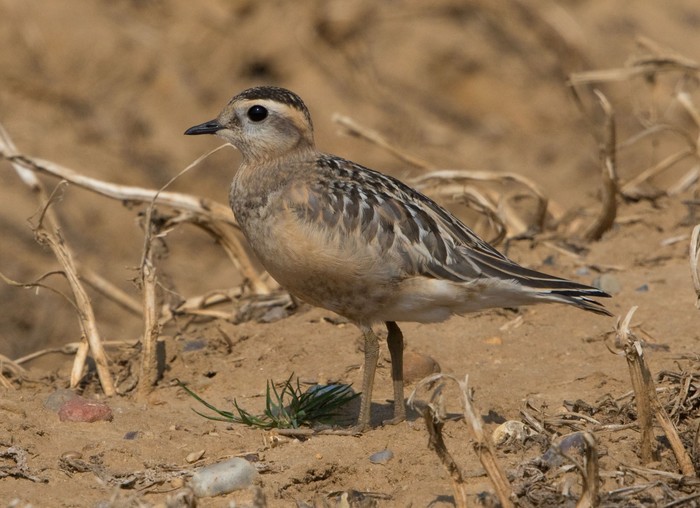 The adult Temminck's Stints found last week at Stanwick GPs (Northamptonshire) was still present through until 26th while new on 24th was one in the high tide roost at South Woodham Ferrers (Essex). Another fresh arrival was located at Cliffe Pools RSPB (Kent) on 25th.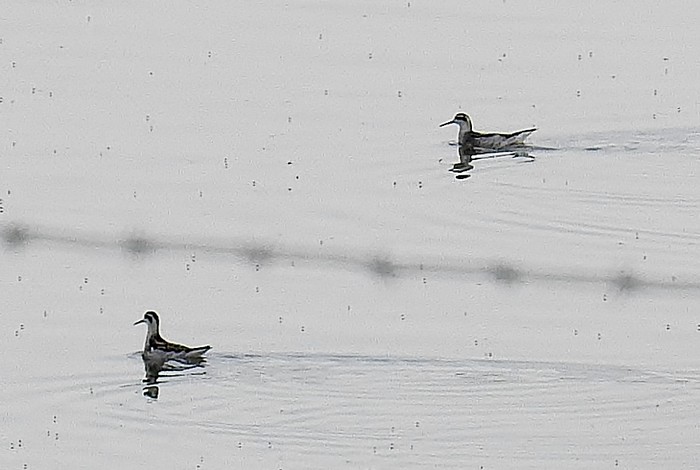 Four fresh new shiny juvenile Red-necked Phalaropes were found at assorted points of the English countryside ahead of the weekend; two were found on 23rd, at Frampton Marsh RSPB (Lincolnshire) and Leighton Moss RSPB (Lancashire); the 24th saw one drop on to Abberton Reservoir (Essex) and new on 25th was the youngster at Poole Harbour, at the Arne RSPB reserve (Dorset). Back in Essex, one became two at Abberton on 26th and they remained to the end of the review period, on 29th where we round things off with news of a lone bird on North Ronaldsay (Orkney).
Still doing the commuting thing was the red-ringed Caspian Tern ~ lurching from Hickling Broad to Breydon Water and back for at least a couple more days early in the week, through until 24th.
New on Friday was the adult White-winged Black Tern at Grafham Water (Cambridgeshire) while a little more surprising was the adult seen for over an hour offshore from Strumble Head (Pembrokeshire) ~ still a signifcant rare in west Wales. Across the Irish Sea, Ireland's adult Forster's Tern remained at Soldier's Point (Co. Louth) through until 26th.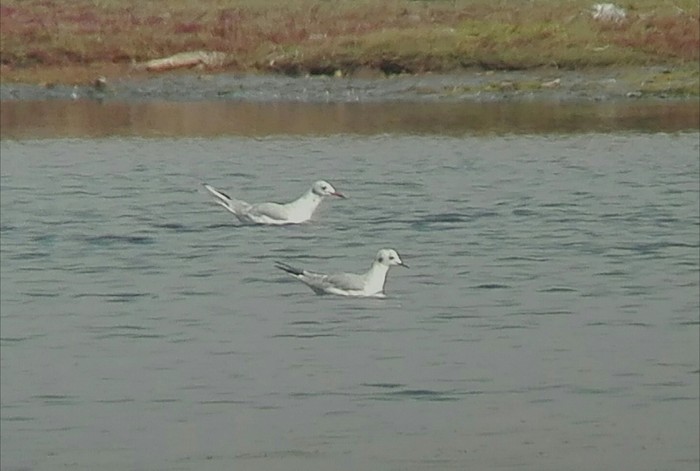 Two Bonaparte's Gulls remained in southern England this week, the adult was at Oare Marshes NR (Kent) to 29th with the second-winter at Brownsea Island (Dorset) through to the same date. Another regular round these parts is the Ring-billed Gull at Lurgangreen (Co. Louth) ~ that bird was back on station on 27th.
The only Glaucous Gulls were again at Loch Sandary, North Uist on 26th and Ullapool (Highland) on 29th with the Hebs holding on to the lone Iceland Gull in Benbecula's Stinky Bay on 23rd.
The warm weather of the Bank Holiday weekend lured a couple of atypical late August Red-footed Falcons in to the mix, a male seen at Bedfords Park EWT (Greater London) with another at North Tidworth (Wiltshire), both on 27th.
The first passage Honey Buzzard of the week was a most welcome addition to my house list (!YAY!) ~ passing west over Cley church and the Glaven Valley, late in the afternoon of 24th. Two more were seen at Beachy Head (East Sussex) on 26th through the morning and early afternoon and Norfolk's second of the week was over Knapton later the same day while Cornwall saw a lone bird drift over Caerthillian on 26th.
The 27th proved to be a pretty busy day for HBs ~ nine birds reported in all; three were seen in Kent, two at Dungeness and one at nearby Lade, two were in North Yorkshire, near Ampleforth and Nosterfield NR, with singles at Pewsey (Wiltshire), Far Ings NR (Lincolnshire), west over Cambridge and west at Salthouse (Norfolk). Monday morning saw a further two Norfolk birds noted, both over Fakenham and a third North Yorkshire bird was over Bagby later the same day. The long weekend's final offering came from Rainham Marshes RSPB (Greater London) and was followed on 29th by three birds over Dungeness, an adult over Fairburn Ings RSPB (West Yorkshire, further south coast singles over Odiham (Hampshire), Luccombe Down (Isle of Wight) with southeastern birds at Fairlop (Greater London) and Fingringhoe Wick (Essex) again, taking the week's total to 26.
After all the upset and considerable anger surrounding the disappearance of the breeding female Montagu's Harrier in northwest Norfolk, it was nice to see a few juveniles being reported around the country this week; one was seen tangling with a strikingly dark, juvenile Hen Harrier (giving more than a nod, at any distance, to a juvenile Marsh Hawk) on Blakeney Point (Norfolk) on 23rd and it was followed on 24th by reports from Winterton (Norfolk) and Walland Marsh (Kent), then a first-summer male was seen at Cuckmere Haven (East Sussex) on 25th and a female departed the country and off over the Channel from Dungeness Point (Kent) on 26th.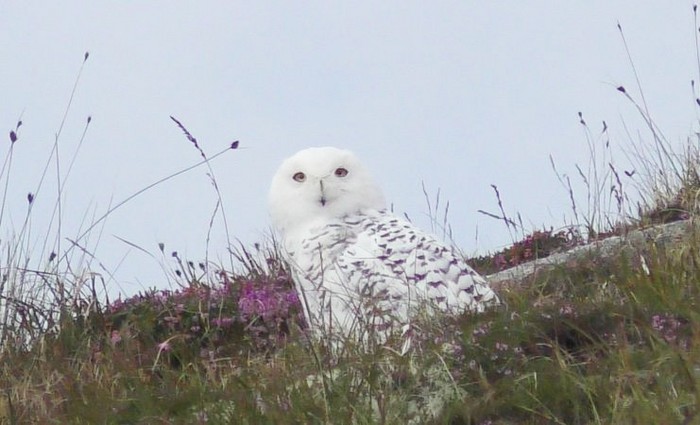 Thanks to the enthralling UKMontagu's Twitter feed, it was interesting to note that another juvenile, colour-ringed from a nest in southwest England this year, was recorded recently in the north of the Netherlands (not a million miles from the Pallid Harrier breeding site) ~ quite what migration route its on is anyone's guess, but perhaps it got caught up in the remnants of Gert's windy weather? (That's really not a convincing reason is it?). The same Twitter feed also mentioned that "Roger", the Norfolk breeding male, has already safely reached Doñana National Park, deep in to the south of Spain.
One final bit of Monts news ~ a female was again seen at Blacktoft Sands RSPB (East Yorkshire) on 23rd and 25th.
Last but not least, the Mayo Snowy Owl was still on Tarmon Hill through until 26th.
They call them the drifters…
Once upon a time, probably no more than 20 years ago, there's every likelihood that you would have been laughed at if you suggested that, along with all the usual suspects, that Blyth's Reed Warbler would eventually become encircled within the late August group of birds that fall in to the drift migrant category but, with each passing year, that's precisely the scenario where we appear to be heading towards.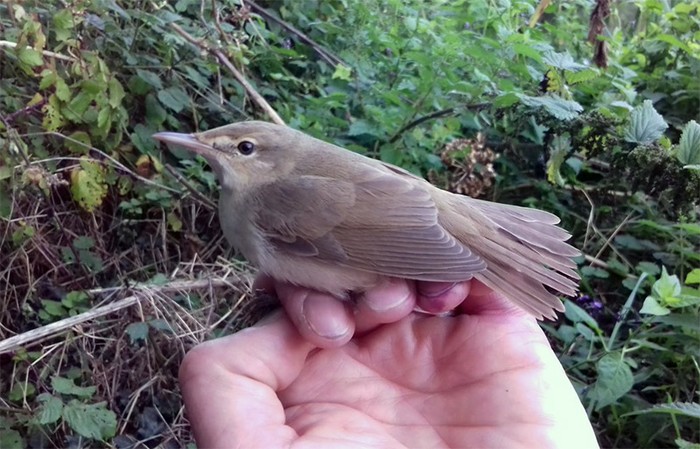 This week's offering came as a lovely weather system set itself up for birders on our most northerly island outposts ~ those drift migrants began to drop in ahead of and over the weekend and the best of the bunch were the Blyth's Reed Warbler that dropped on to North Ronaldsay (Orkney) on 25th and in to the Nanjizal Valley (Cornwall) on 26th.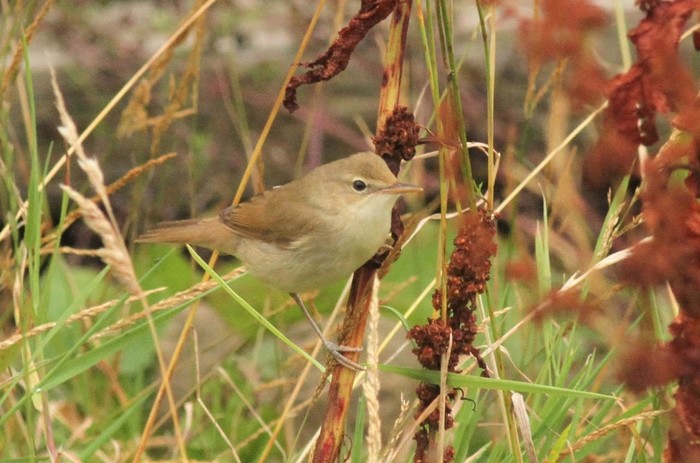 Despite feeling commoner, there are still only 10 August records for the species (including these two and last year's Fair Isle bird) but the change is happening and it will continue to become all the more frequent, perhaps eventually matching September and October in terms of numbers recorded.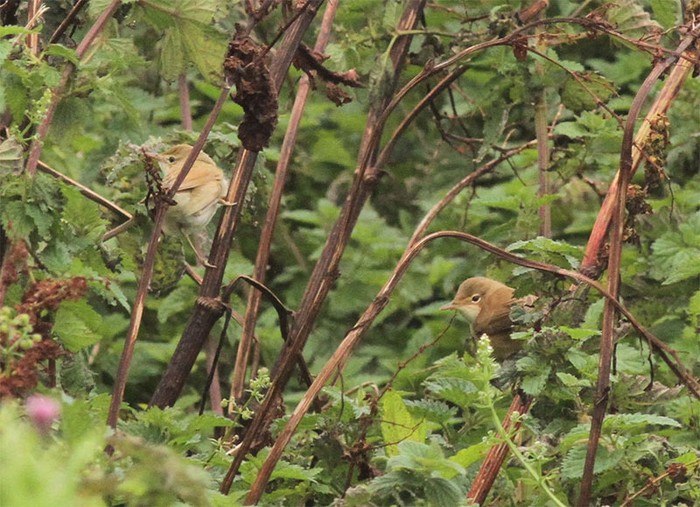 Orkney has 15 records on the books up until the species was removed from the rarities list and three more have followed since and this will be the 13th example for North Ronaldsay. Cornwall (understandably) lags behind, four records now, all since 2015, all of them in the Nanjizal Valley and two of them in the last two months.
Always popular and one of those species that retains that frisson of excitement when it appears on the pager is Arctic Warbler and the weather was more than conducive to drawing them in across the North Sea and plop on to Fair Isle on 26th ~ the first record for 2017 and a bird which remained to 27th.
After all the quite remarkable Shetland scenes, that landed both Two-barred Greenish and Green Warbler within just a few weeks of each other earlier this summer, it was nice to have some rather standard (and wholly expected) Greenish Warblers to play with at the start of the Bank Holiday week.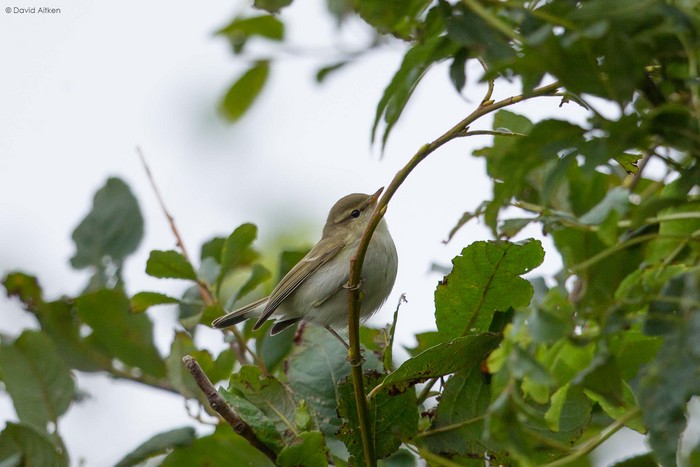 The first was something of surprise, given that it was found not on the east coast but tucked away in the extreme southeastern corner of Cornwall, at Millbrook ~ found on 23rd and still present to 25th, this is only the second county record in the last seven years (one was noted at Porthgwarra 12 months ago to the day). Rather more expected was the early morning news on 24th of a Greenish Warbler on the Northern Isles, trapped and ringed at Holland House, North Ronaldsay where it remained to 27th and new on 29th was the singing male Greenish at Bempton Cliff RSPB (East Yorkshire).
New on Shetland on 25th was the week's first Icterine Warbler, seen on Fair Isle and, later during the same day, came news of a Melodious Warbler on Papa Westray ~ if accepted by the local records committee it will be the first on Orkney since a remarkable run of four birds between June and October 2003. A rare bird indeed in the far north unlike the far southwest, where a busy day at Nanjizal saw one arrive on 26th with a second Cornish bird new in to Land's End the following day. The week's second Icterine Warbler arrived late in the day at Kilnsea (East Yorkshire) on 29th.
The first Marsh Warbler of the week was located at Quendale Mill, Mainland (Shetland) on 26th and the second followed on soon after, also on Shetland, this time on Fetlar.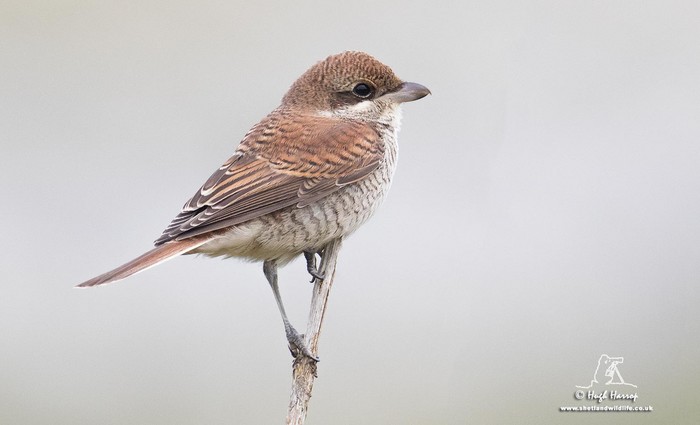 Orkney also collected the first Barred Warbler of the week, seen near Finstown, Mainland on 23rd with two making themselves known on both Scatness, Mainland and Noss (Shetland) on 24th> Two more popped up on a busy day on Fair Isle on 25th and the seventh for Shetland was then located on Fetlar on 26th with Orkney's second seen the same day, this one on South Ronaldsay, at the Cara Bushes. Barred #9 dropped in to North Ronaldsay on 27th when the 10th was seen at the extreme other end of the country, at Land's End.
Also lurking around the very southern tip of the Shetland mainland on 24th was the first of the week's Red-backed Shrikes, this one seen in the gardens around Grutness with another found on Noss the same day. The third and fourth for the islands came to the northern and the southern ends of the Shetland archipelago on 25th, at Skaw on Unst and also to Fair Isle (where there were two on 26th). Over on Orkney, another appeared for 24th, seen near Deerness, Mainland on 24th.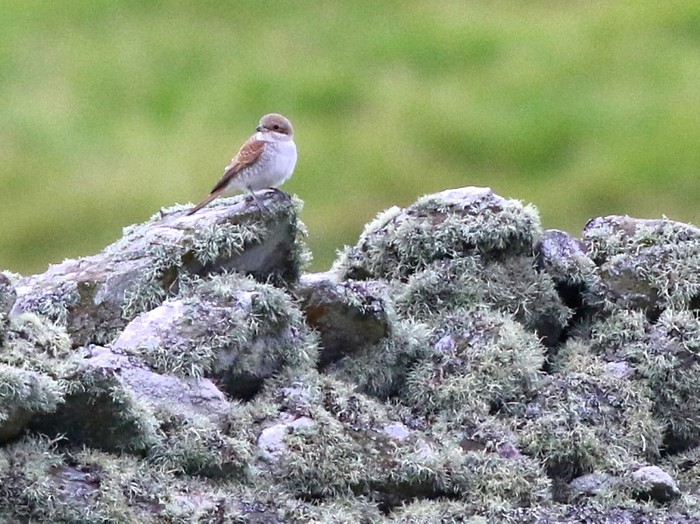 Down south, in Dorset and Hampshire, the fifth and sixth in two days arrived at Hartland Moor (Dorset) on 24th and near Stubbington on 25th with the seventh appearing a few miles from Stornoway, Lewis (Outer Hebrides) on the same day. The weekend saw another Red-backed Shrike arrive at Whitburn Country Park (Co. Durham) on 26th while a male was reported from Otmoor RSPB (Oxfordshire) on 27th.
Oddments in the Northern Isles, included the Fetlar birders finding a Short-toed Lark on 26th with an Orcadian Hoopoe on Sanday the previous day.
Ortolan Buntings made a few appearances, two were seen on 23rd; one was noted heading over Durlston Country Park (Dorset) and the second was seen somewhere on the Lizard and a male was seen for short time at Porthgwarra on 25th. Cornwall's third in 24 hours was discovered at Nanjizal on 26th ~ birders there enjoying a grand day.
After an appraisal of the overnight sound recordings of 22nd/23rd, the Obs., staff at Portland noted three Ortolans passing overhead through the hours of darkness and two more sound-recorded Dorset individual were identified at Stoborough, on the edge of Poole Harbour at assorted after dark hours of 27th-28th (along with two Arctic Terns).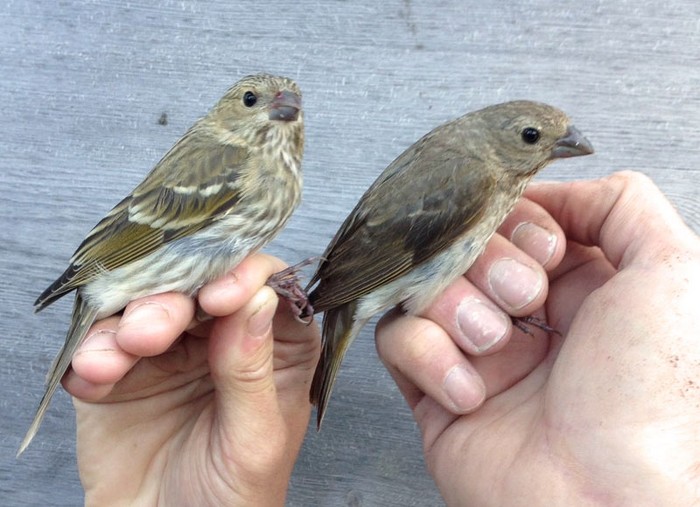 Fair Isle kicked off the proceedings this week for Common Rosefinch, an adult trapped and ringed there on 23rd with another there on 25th. No surprise that the third of the weekend cropped up on Shetland as well, found on Fetlar on 26th and it was followed by a second on Fair Isle and another on Unst, both found on 27th. At the opposite end of the county, the autumn's first southwestern Rosefinch was found on Bryher (Scilly) on 29th.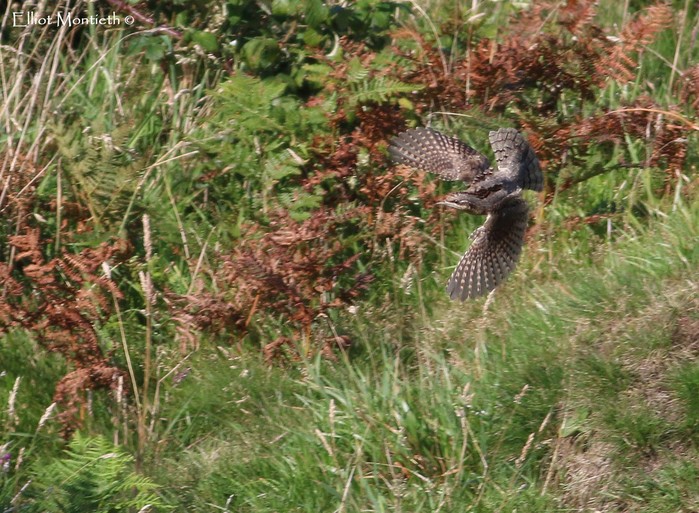 Four new Wrynecks hit the west coast on 23rd; two arrived around St. Mary's (Scilly) ~ up at Longstone and also at Lower Moors ~ with two more finding their way to the extreme fringes of the Welsh coast too, found on Skokholm (Pembrokeshire) and then out on Bardsey Island (Gwynedd).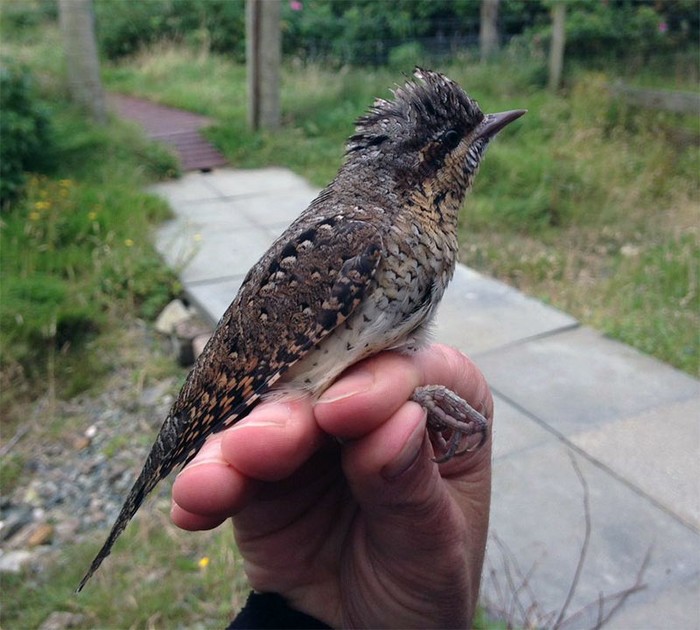 The fifth for the week was another far southwestern individual, located around the Nanjizal Valley on 24th with Wrynecks number six and seven arrived on Fair Isle on 25th. Also on the same sunny Friday, another new bird was found on St. Mary's (Scilly) taking the total to eight for the week so far. Double figures were reached when two where seen at Quendale Mill, Mainland (Shetland) on 26th with further southwestern birds the same day unearthed over the bar on Gugh and also at West Lulworth (Dorset).
The arrival continued on 27th, one found at Tophill Low NR (East Yorkshire) and Seaford Head (East Sussex) and on 28th when a far-from "drift" location was next in line, seen at Yeovil (Somerset) followed by one on Skellig Michael (Co. Kerry) the same day ~ taking the total to 16 in all. Birds 17 to 20 for the week surfaced inland at Fen Drayton Lakes RSPB (Cambridgeshire), Hemel Hempstead (Hertfordshire) and also on Scilly, found on St. Mary's and Cape Clear on the last day of the review period.
The best of the rest…
Starting things off for the remainder of the passerine role call is the male Woodchat Shrike found near Llanrhidian, on the Gower (Glamorgan) ~ the first in the county since April 2014 ~ which appeared late in the day on 26th and was still present to 29th.
It looks like we can finally say farewell and wish a bon voyage to the seven Bee-eaters that spent so long as the focus of attention in the east Midlands earlier this summer ~ from Nottinghamshire's failed breeding site they decamped to Leicestershire early in the month and after almost a week there they departed mid-month, relocating for a short time to Hertfordshire. Now, almost two weeks on from then, what must surely be the same septet looks like they've exited Britain, seen at New Romney (Kent) on 27th.
In East Sussex, a new Hoopoe spent 24th-25th at Cuckmere Haven and new too was the bird found in Loughborough (Leicestershire) on 25th (it had been in the area for a few days beforehand) and it remained through to 27th. Scilly's light easterlies were enlivened by a new Hoopoe at Green Farm, St. Mary's on 26th.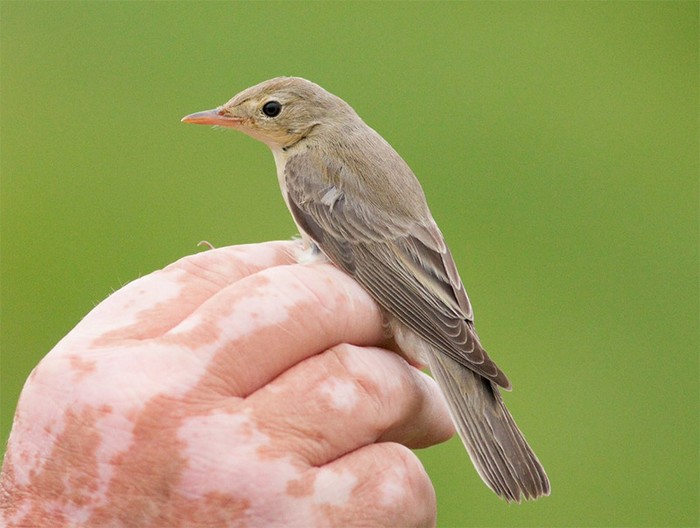 You could easily argue that any Bluethroat caught at this time of year warrants a place as a drifter, and you'd be right too I suspect but needs must and the rear end of the review needs a bit of a boost ~ hence the first-winter male trapped and ringed at Nanjizal (Cornwall) on 25th is here and not up there. It is also an exceptionally rare bird in the county, this being the first since October 2008.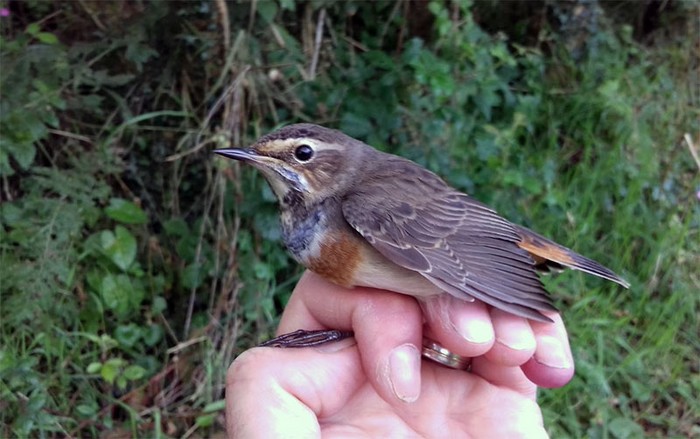 Two more new Melodious Warblers were found in the first couple of days of the new review period, the first came along on the Lizard (Cornwall) from 23rd and the second was seen around the old trapping area at Beachy Head (East Sussex) on 24th where it remained to the following lunchtime ~ a local Sparrowhawk spoiling the fun somewhat as it enjoyed a warblery sized snack. There was also two reports from Dungeness over the weekend, on 27th and 28th but there was no sign of either after the initial sightings.
Wrapping things up is Rose-coloured Starling; new was the youngster on Lundy on 26th while the juvenile remained at Kilnsea (East Yorkshire) throughout the week and in Highland, the adult was back in Embo on 27th-29th, the first sightings since the 1st of the month.
After such an enthralling and busy week around the Western Palearctic last week, things seemed rather quieter through the past seven days.
Georgia gets a first mention here courtesy of an exceptional vagrant, the country's debut Egyptian Nightjar which was found at the Chorokhi river bed, near Batumi on 26th and which was still there the next day, showing beautifully in to the bargain.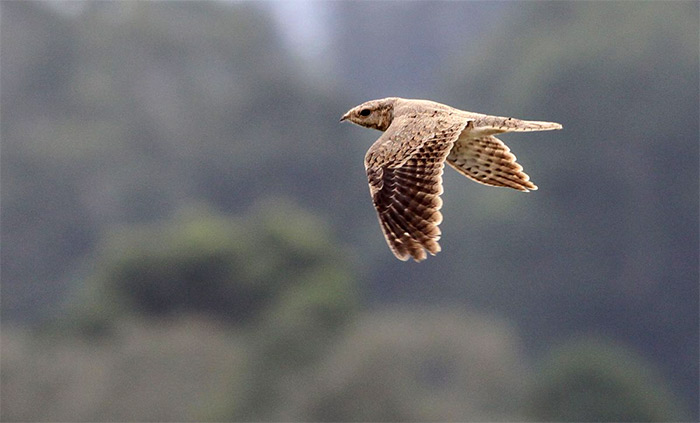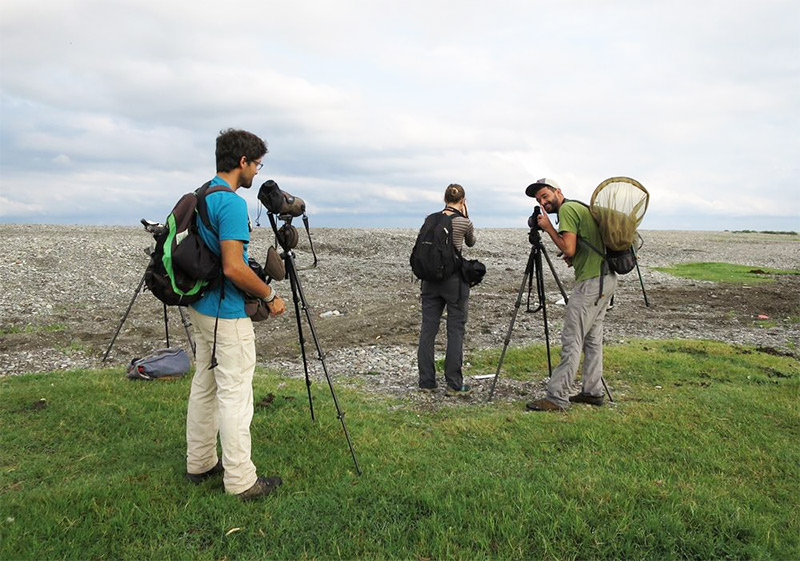 Its 33 years and counting since that June bird at Portland and (coming as no real surprise) there's not been a sniff of one since…
In the Netherlands, the long-staying Black-shouldered Kite remained at Overschild, Groningen through until at least 27th while alongside a variety of oddments ranging from Rose-coloured Starling, White-rumped Sandpiper and Citrine Wagtail one bird that stood out was the report of a Hume's Yellow-browed Warbler at Spijkenisse, to the southwest of Rotterdam, on 25th.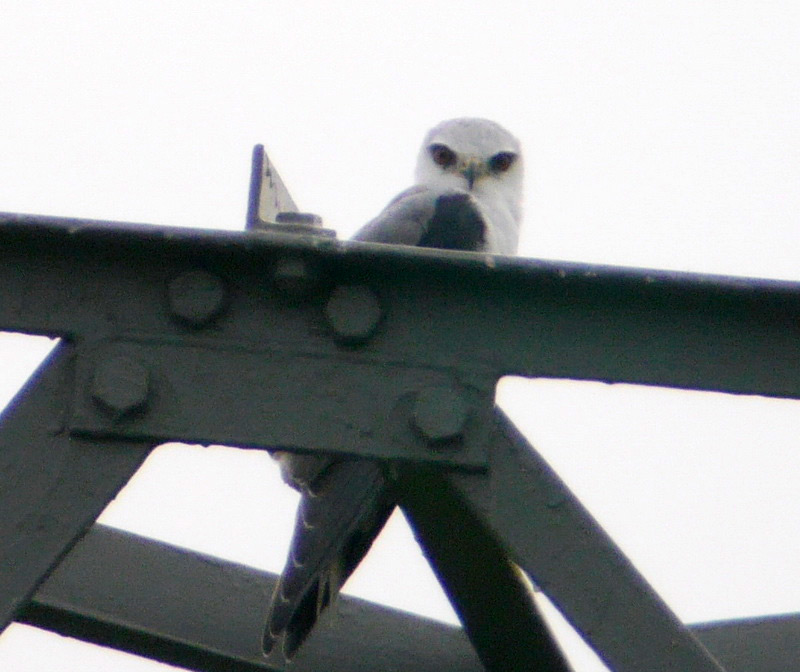 Out on the Azores, the Grey-tailed Tattler remained at Cabo de Praia, Terceira through until 27th. Also around the islands the same day were a Semipalmated Plovers, three Semipalmated Sandpipers and single new Spotted, Buff-breasted and Pectoral Sandpipers, along with the Snowy Egret at Lagoa Junco.
The very earliest indications appear to point towards increasingly promising drift conditions as September beckons us towards her rarity-laden form ~ the westerly airflow seemingly set to swing somewhere towards the northeast as the weekend approaches.
Those westerlies within the earliest part of the new week will still draw seawatchers to assorted headlands across southwest England and western Ireland, and all the usual suspects are still on the cards, most notably more room to score a passing Fea's Petrel or two. The dewey-eyed romantics of a certain age will cast minds back to the great St. Ives seawatch of September 3rd 1983 where the Wilson's Storm-petrel was only the fourth land-based record of the modern era and the wreck of Stormies and Sabine's Gulls was a sight to behold. More recently, the same date in 2009 saw the appearance off Pendeen of a multi-observed Madeiran Storm-petrel...
Extreme vagrant shorebirds are always held in mind too ~ none gets more extreme (in a British context) than the first Little Whimbrel that was found at Sker Point, in Glamorgan, on August 30th 1982. Its appearance coincided with the five day stay of, what was at the time, Britain's first Long-toed Stint at Saltholme Pools (Cleveland) ~ a record subsequently demoted to a 2nd, after the acceptance of the photographed adult at Marazion in June 1970. First or second, it remains a quite exceptional shorebird double.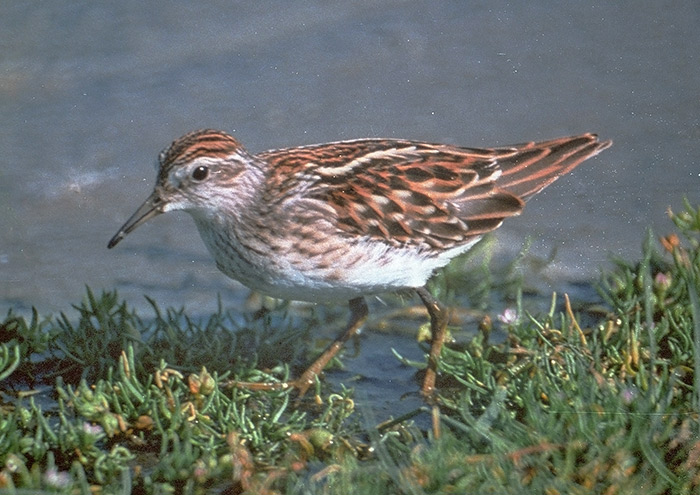 There have been no other accepted British Long-toed Stint records (despite the best efforts of birders in Sussex) and there's been only one more since, another June bird, this one at Ballycotton in 1996.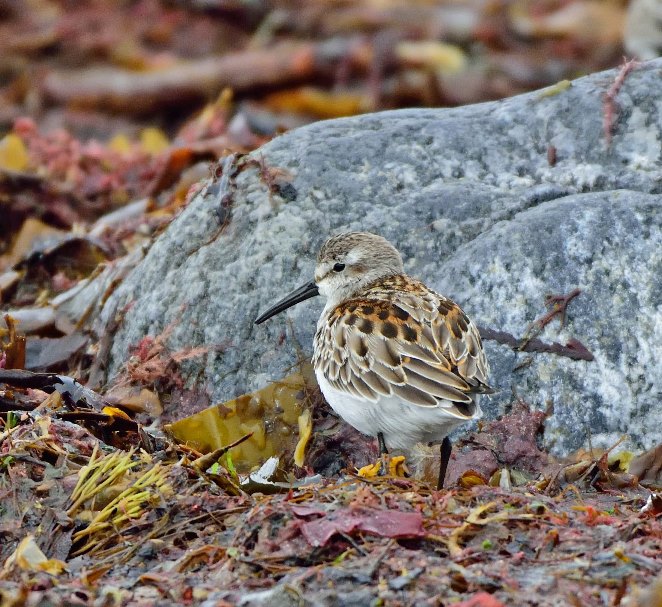 If you like a waft of the Nearctic about your shorebirds, well, this is a great time of year (weather permitting ~ Sunday onwards maybe). A whole host of species have been logged during the week ahead, from Wilson's Phalarope to Upland Sandpiper but September 3rd sticks out ~ 12 BBRC species recorded, including eleven Baird's Sandpipers, eight Semipalmated Sandpipers and single Solitary, Least and Western Sandpipers with, perhaps best of all, the gorgeous juvenile Short-billed Dowitcher that arrived in Dorset, at Lodmoor in 2012.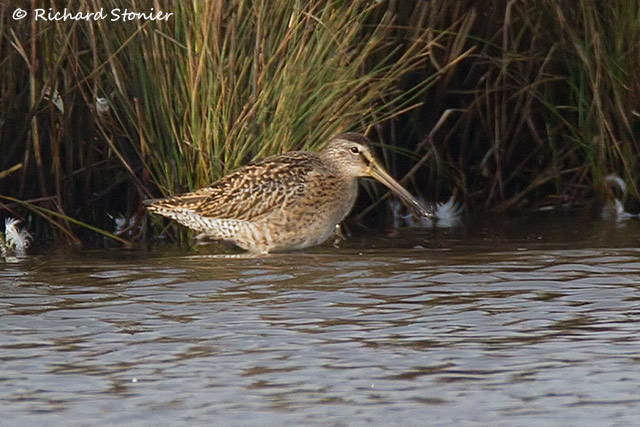 Neither Roller or Lesser Grey Shrike would feel like too much of a surprise in the next few days but most passerine thoughts start to drift towards smaller species at this time of year ~ and there's a hatful fo warblers to conjure with in the week ahead…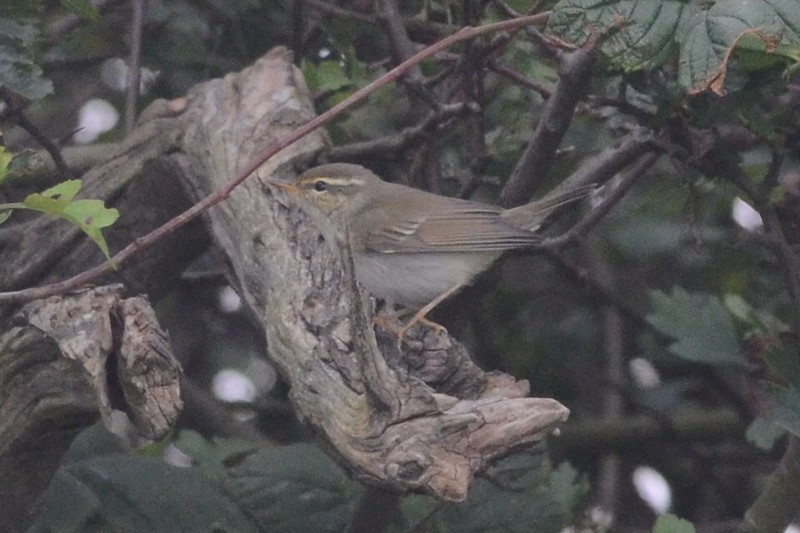 Arctic Warbler will remain as almost a given should conditions stay favourable ~ Shetland (again), East Yorkshire and Norfolk all right in the firing line for some more action, but they are mere appetisers for what we could be looking at.
Take a look at August 31st ~ along with the two species above, the range of rare warblers is superb; from Blyth's Reed to Paddyfield and Eastern Olivaceous to Sykes's, the list is strong and that strength is enforced ten-fold by the star prize, the Holme Rüppell's Warbler of 1992.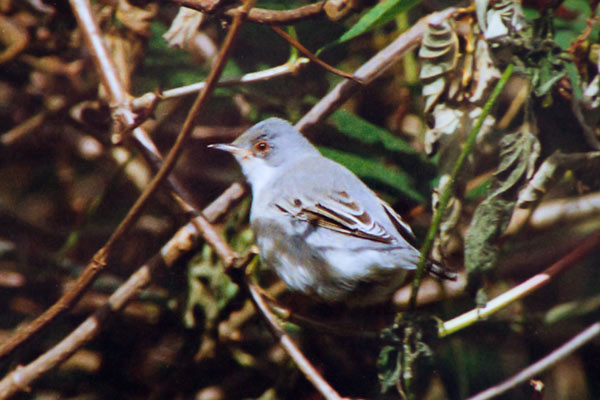 If the wind wobbled further and deeper to the east, you may be reading about the first Lanceolated Warbler of the year ~ September 1st and 4th 2000 saw singles arrive on Shetland ~ and the East Yorkshire coast pocketed its second Brown Flycatcher, at Buckton, on September 5th 2010.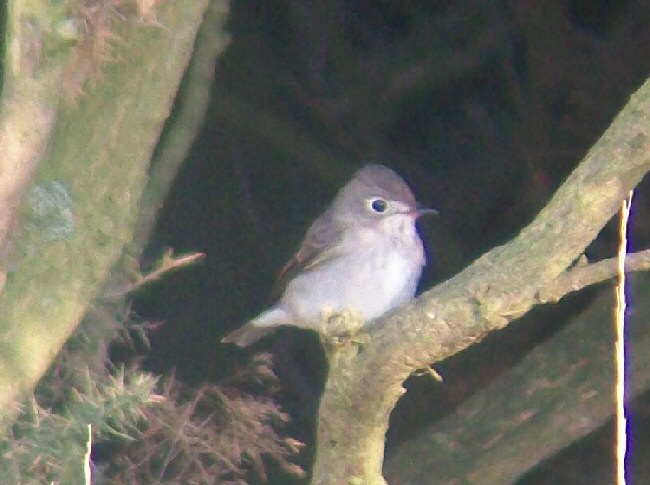 Almost all of the above, bar perhaps the last mentioned species, seem perfectly feasible any time soon, which can't be said for Rufous Bush Chat ~ its been shown here before and it'll be shown here again, the Skegness bird from September 2nd-9th 1963 remains right out there in terms of rarity value nowadays.
Should another Gert suddenly make his or herself known and tracks from the Eastern Seaboard at some point (there's half a chance as the weekend concludes), keep in mind some of the huge birds that have appeared after Atlantic transit in the past ~ August 31st 1982, the Cornish Northern Mockingbird ; September 1st 1982, the freshly dead Black-and-white Warbler, also in Cornwall; September 5th 1982, the trapped Tennessee Warbler on Mainland Orkney and most notably, the first Purple Martin, on Lewis in 2004.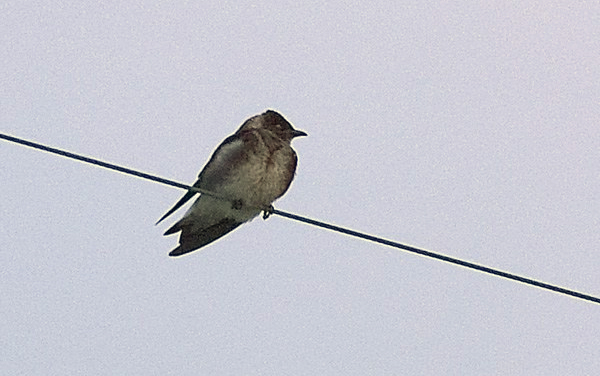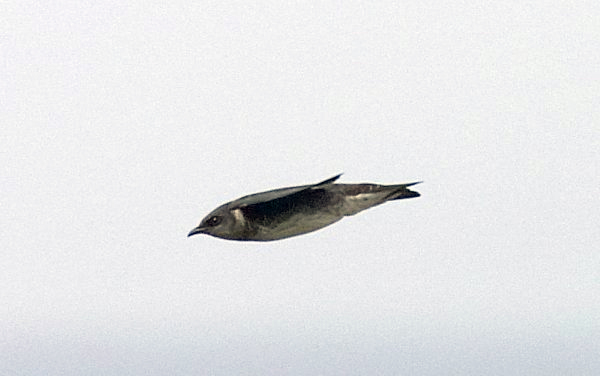 Lots to think on then, but it currently feels as though we're looking at Booted Warblers as a late August or early September odds-on favourite; a lost Great Snipe as a half decent flutter and, with a pickle-stabber supreme, let's go Eastern Olivaceous Warbler and a Red-eyed Vireo as your strongest each way bets…
As recent days have shown though, just expect the unexpected and you won't go far wrong. East or west ~ choose your options…
Mark Golley
29 August 2017
Share this story
Tweet


Many thanks to all contributors for their photos and videos this week.
Luke Gearty, Joe Pender, Edward Carty, Steve Gantlett, Eddie Myers, Mark Woodhead, Simon Knight, Ron Jackson, Garybirder, Iam Ballam, Sean Nixon, Brian Needham, Hugh Harrop, David Roche, Killian Mullarney, Paul Kelly, Steve Grimwade, John Kemp, Lewis Thomson, Martin Casemore, Nicholas Brown, Anthony Williams, Lorne Bissell, Dave Suddaby, Kester Wilson, Simon Davies, North Ronaldsay Bird Observatory, David Aitken, David Cooper, Elliot Montieth, Fair Isle Bird Observatory, Mike Tew, Daniel Branch, Organicbirder, Simon Cavailles, Ipe Weeber, Jeff Delve, Stephen Duffield, Richard Stonier, Andrew Hood, Alan Tate, Yvonne Benting,