Weekly birding round-up: 16 - 22 Aug 2017
The week at a glance
The tail end of Hurricane Gert deposits two Yellow Warblers on a magic Monday ~ dropping in to County Cork and then Dorset
Irish seawatchers score fly-by Barolo Shearwaters off the coasts of Wexford and Clare
While Kerry has a Fea's (type) Petrel on a decent day on the west coast…
…and the second Fea's of the week follows from a Cornish pelagic and coastline too…
Aberdeenshire's American White-winged Scoter may have done a runner
The earliest ever autumn Olive-backed Pipit reported on the Isle of Man
The weather bods started to get themselves all wound up about the potential impact of former Hurricane Gert early this week ~ literally trying to whip up a storm, as the media lapped it up, as per…
As it happened, it was all a bit fizzly-outy by the time the weekend arrived, the once tight and rapid moving Atlantic low becoming a little tame and limp by comparison to what it once was, a third of the way across the Great Divide ~ but Gert's influence was all too apparent in terms of the golden treasures that got caught up in her rear-end depression.
Sunshine and showers spilt the country along typical north/south lines, temperatures generally in the low 20's with a sometimes brisk sou'westerly keeping the warmth company but as the weekend came, so too did that straggly, very wet at times, waggy tail of Gert and further short and sharp belts of rain lurked off the coasts of Ireland and the west coast of England for the rest of the week, coupled with some useful seawatching/extra-special passerine winds.
As Gert's remnants drifted through the Channel, a couple of gentle sets of high pressure set themselves up for much of the rest of the week, with temperatures rising again, as the departing low sucked up some of Continental Europe's hot air ~ it was all rather good.
A bit of a curious week and a really rather interesting one too.
First up came the poorly thought out, and not very well conceived, photo hoax of an August American Robin in Scotland (I mean c'mon, an August Yankee Doodle Red-breast…) and then came the two day tease of the Nosterfield peep, which became yet another fascinating and instructive identification process regarding one of those dreaded "grey" birds; thoughts from in-the-field and online swinging from Little Stint to one of the rare and/or very rare North American options (via a nibble at Red-necked Stint for one or two) before heading back to the original suspected species.
They really can be super scary things…
Away from the fake news and ID headaches, there was some top notch rare bird action to be had in places and first stop looked certain to be the headlands of Ireland, where teasing seabirds looked set to take centre stage, until two sulphurous starlets turned things a little bit upside down.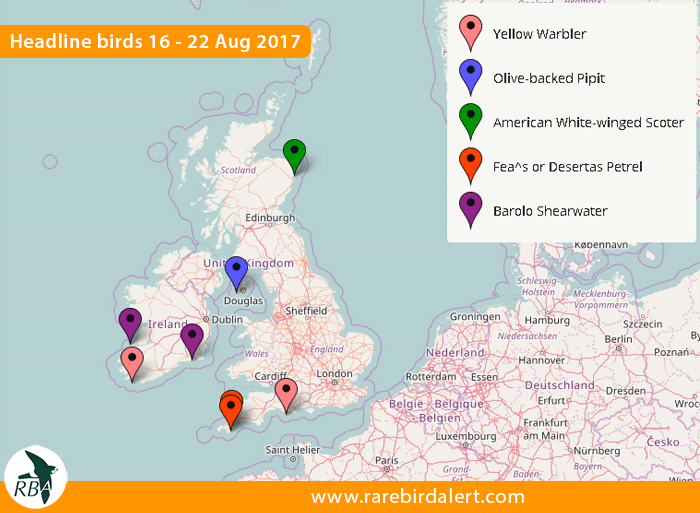 Double Yellow Warbler day
And so it was with a rueful smile that I looked at this week's prime Mega Alert on a sunny Monday morning.
A fair old way from Norfolk was the first of this week's star turns, one that I'd spent a little bit of time researching earlier in the week, ready to unleash as my key prediction for the seven days ahead…
With the weather that had paced a course across the Atlantic in the previous three days, the arrival of a Yellow Warbler in the willows of Mizen Head, in County Cork on the morning of 21st came as no real surprise (given it was in a few folk's minds) but, surprise or not, it shouldn't detract from the first fantastic find of the day, one which became the most recent example of the species for almost exactly nine years to the day.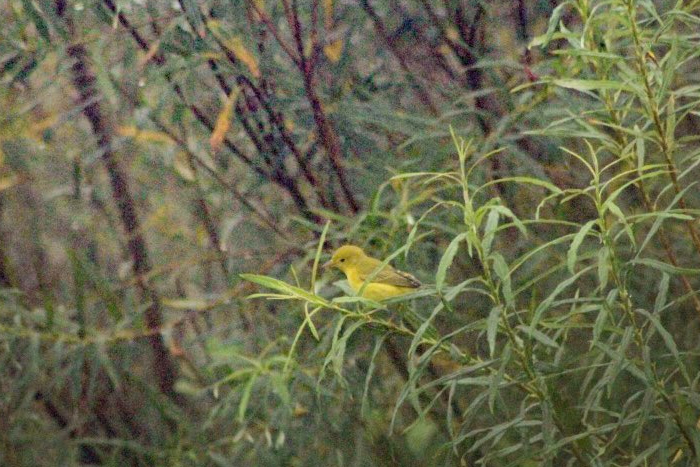 And, as is this species' want here, within just a few hours up popped the second Yellow Warbler of the day ~ a long-overdue English debutant found in Dorset at Culverwell, on Portland, swiftly becoming the first British mainland representative in to the bargain too.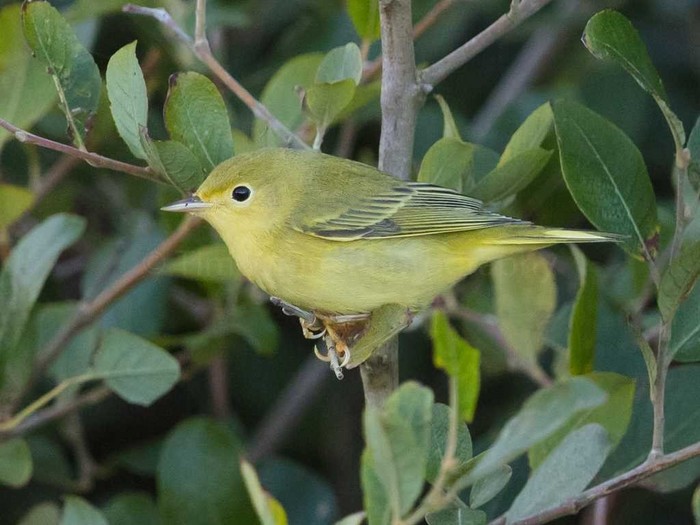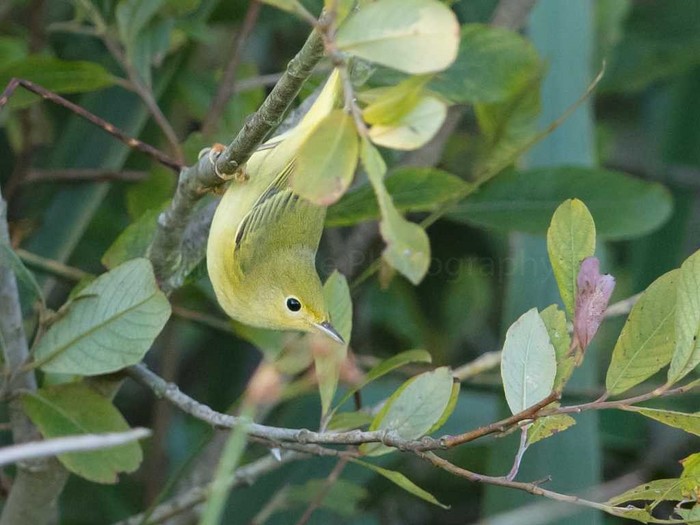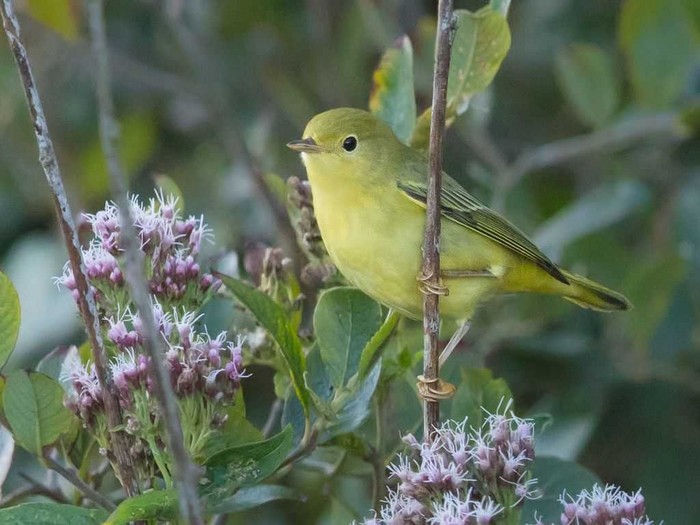 Rather famously, Cork's first and second Yellow Warblers arrived after similarly stormy Atlantic weather had swept across the county in late August 2008; single birds found within a very short space of time on, first, Cape Clear Island before one on Mizen Head on 26th.
This week's Mizen and Portland birds are the fifth and sixth Yellow Warblers to be located in late August, the missing two making landfall on North Ronaldsay on August 24th 1992 along with Britain's first arriving on Bardsey on August 29th 1964.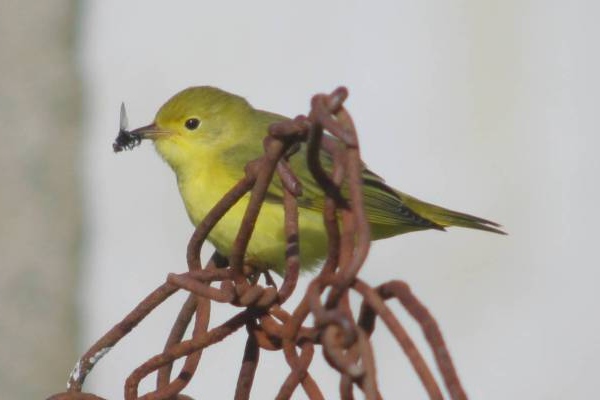 This week's newbies takes the overall total to 11 in all, five for Ireland (three for Cork and one each for Clare and Waterford), four for Scotland (two on Shetland with singles for both Orkney and the Outer Hebrides) with that sole Welsh record in Gwynedd and now the first for England, thanks to the Dorset bird.
Away from that tight pocket of six August birds (all seen between 21st-29th) the other Yellow Warblers found here have been sprayed widely across the autumn; a 26 year gap between the first and second records saw an early November bird pop up on Shetland in 1990 with Ireland's first and second records performing a similar trick to the nation's third and fourth by appearing within just hours of each other, in Waterford and Clare across October 11th-12th 1995.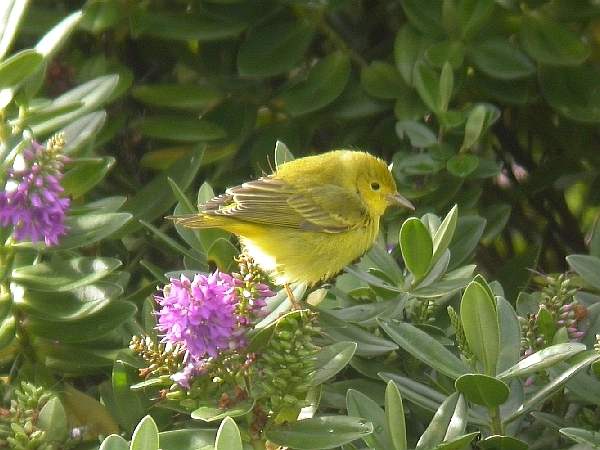 Nine years followed until the Barra bird of October 2004 with Shetland's second following on 11 months later, in September 2005.
So now, for the third time (1995, 2008 and 2017) we have had two vagrant Yellow Warblers occur within a matter of a few hours. The big question is, will there be more than two in this particular arrival?
Well, as one of many who's resisted previous examples of the species let's hope so, as the familiar listing quasi-mathematical equation was well to the fore for the those out of reach of Portland this week ~ vagrant mega X calling frequently X feeding avidly X clear skies = next day dip. For those birders looking in to Yellow Warbler-free bushes on 22nd, commiserations. For those who decided to wait on news, it was a job well done (in the least list-friendly way).
…the story was rather better for anyone twitching in Cork though ~ after hours of "no sign", up popped the lemon orb of rareness in the very place it had been seen the day before, but for not more than three-quarters of an hour.
It just goes to show…
Barolo Shearwaters
In what feels to be building nicely towards some almighty seabird crescendo, the third Barolo Shearwater in as many weeks got the new review period off to a decent start ~ this week's opening gambit seen by Irish birding stalwart Eric Dempsey, from Hook Head, in County Wexford during the afternoon of 16th.
This is a species that is, for Ireland, generally something of a Bridges of Ross speciality of late (the weather has seen that site have a rather quiet autumn so far but a change was a comin') and a look at the map of acceptances for Ireland confirms what a desperately rare bird this is away from the west and northwest coast, being a potential 1st for Wexford and only the second anywhere along the Irish east or northeast coast (one was seen off Ramore Head, in Antrim in August 2004).
Not to be outdone, and with a whiff of Gert in the mix, the legendary and aforementioned BoR swung in to action on the morning of 18th, six noted Irish seawatchers (including one with Bermuda Petrel on his Irish ~ or at least WP ~ list…) adding in the week's second Barolo Shearwater, much to the chagrin of the other nine observers present at the time ~ a common and all too familiar story at many seawatching locations.
Clare leads the way for Ireland with 10 accepted records, nine of them from Bridges, with the most recent record (until this week) coming from nearby Loop Head in 2013. Cork is next, five records there but none since 1993, then come Kerry and Mayo with three each with the Antrim bird being the only other accepted Irish bird to date (despite a number of claims of Barolo Shearwater never making it to print).
…and those birders who toughed it out at Bridges on 18th were in for a truly epic day of seabirding; for more details, see below…
Fea's-type Petrels
At some point, this is one bird that will eventually drop away from the headliners and reside "down below" but for now, like the divine Red-flanked Bluetail, it is something that remains irresistible ~ a long-time so-called mythic species which has now become annual, and sometimes in good number, but it oozes kudos by the bucket load.
This week's Fea's (type) Petrel was seen on a breezy day along Ireland's west coast ~ having already yielded a Barolo Shearwater in Clare, the busy 18th saw seawatchers at Brandon Point in County Kerry pop in a Pterodroma by way of inter-county, inter-seawatching competition.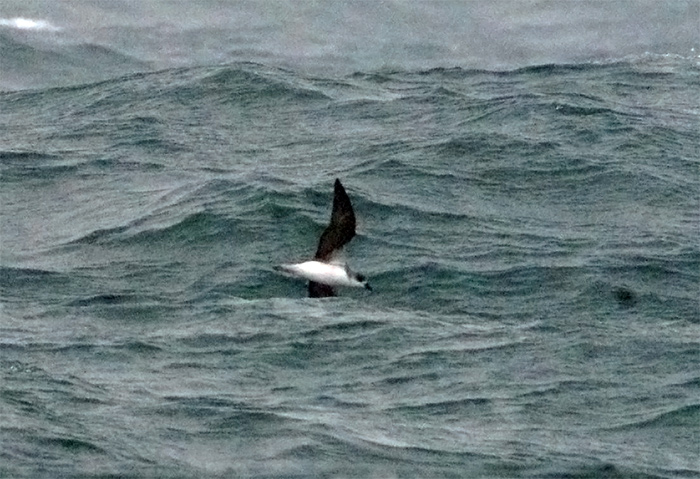 Up until now, Kerry has seen six Fea's-types accepted, the most recent being off Brandon Point in September 2013, indeed all of the county records to date have been noted from this one single site (the first record was seen earlier off Kerry Head, while singles in 2004 and 2005 were also seen off County Clare as well.
Last year saw the appearance of the first Kerry Fea's away from Brandon Point, noted for five minutes off Great Skellig on August 30th.
The week's second Fea's-type was discovered during a Sunday pelagic out of Falmouth, deep in to south coast of Cornwall on 20th ~ photographed in to the bargain, it is the first record away from Porthgwarra for the county, all eight acceptances to date have come from the famous headland (although there was a report of one past Pendeen last August).
Later in the day on 20th it emerged that what was almost certainly the same bird had headed past Chynhalls Point, near Coverack (so presumably not that far from where the Falmouth pelagic would have been...) not long after the pelagic sighting ~ great work for an unfashionable side of the Cornish coast.
American White-winged Scoter
Despite a certain degree of familiarity that always comes along with a returning long-stayer, it is still pretty funky to see the words "American White-winged Scoter" on the pager ~ this excruciating rare sea duck continued to linger offshore from Murcar and Blackdog through until 19th at least.
Olive-backed Pipit
Now here's a species that should never be encountered within a rarity round-up in August, but this week sees the reported appearance of the first-ever August Olive-backed Pipit found on the Calf of Man (Isle of Man) during the late morning of 21st.
Noted as having been seen well, this record almost beggers belief given that it is at least a month earlier than any previous OBP (certainly those 415 or so that were accepted before the species lost rarity status in 2012). Ahead of the withdrawl from the BBRC list there were 49 September records the earliest of which was seen on Fair Isle on the 18th of the month, back in 2006. (I've just had a spin through the five years since and come up with one at Gibraltar Point NNR on September 17th-18th 2014 as the only one to beat the previous century and half worth of records.
Yes, the Calf bird is really rather extraordinary…
After so much excitement with the exceptional summer hauls of Wilson's Storm-petrels through the past four to six weeks, there was a sense of calm this week ~ a slow start to the proceedings saw two birds noted heading past Galley Head (Co. Cork) on 16th and then, for the 20th pelagic in a row, in what has been a quite remarkable Scilly season, two more Wilson's were noted on the evening jaunt out of St. Mary's on 17th, which became 21 out of 21 on 18th , 22 from 22 on 19th, 23 from 23 on 20th and then 24 from 24 on 21st with a one, a two, an impressive 10 and another two logged respectively.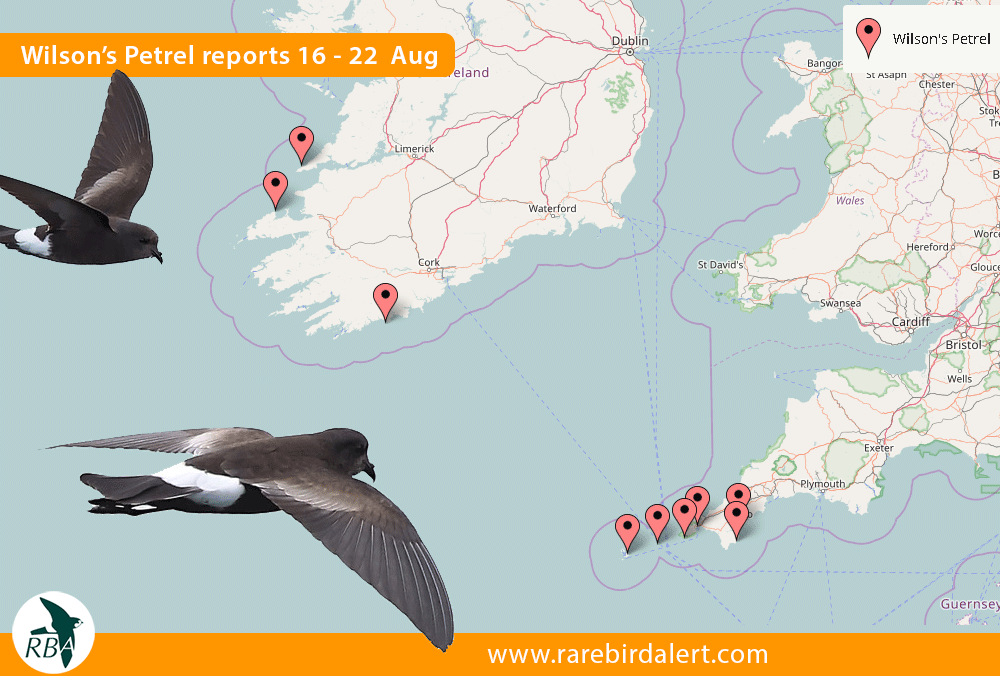 Back to the 18th ~ a date that had seen Ireland up the ante with at least four (perhaps seven) Wilson's logged from Brandon Point (Co. Kerry) with Bridges of Ross claiming an even more impressive eight (both quite some tallies for land-based seawatches).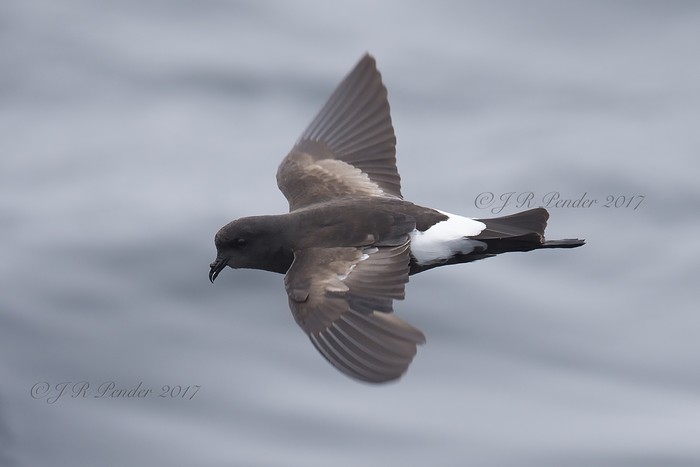 While we're lingering around County Clare, let's breakdown some of the species recorded at Bridges during 12 bird-filled hours (pretty much from 6am to 6pm) of 18th ~ along with the Barolo Shearwater and eight Wilson's Storm-petrels, there were also 20 Cory's Shearwaters, 14 Great Shearwaters, nine Sabine's Gulls, eight Long-tailed Skuas, five each for Pomarine Skuas, Grey Phalarope and Leach's Storm-petrel, a couple of Balearic Shearwaters and a whole bunch of Sooty Shearwaters too.
That is an exceptional list, full to bursting with quality ~ what a day! But was there maybe a little angst when news of the Kerry Fea's came through?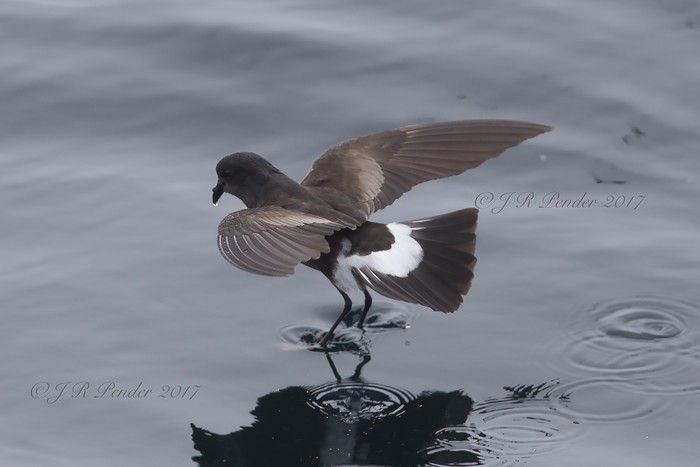 Back though to Wilson's Storm-petrels and Bridges rattled in five more on 19th while those taking to the high seas on the same day saw a further four noted from the Baltimore pelagic and one from the Mermaid pelagic out of Penzance with eight more from the Baltimore boat on 20th. The same date also saw southwestern singles recorded from on board the Scillonian as it passed Giant's Castle, St. Mary's (Scilly) and also from both the Falmouth pelagic trip and Chynhalls Point. The last ones of the week were the three seen from a pelagic off Galley Head (Co. Cork) on 22nd.
Ahead of the weekend, there were still a fair number of Great Shearwaters noted along the coasts of southwest England and western Ireland. The 16th saw 39 birds noted from just two counties, including 14 off Porthgwarra and 14 from Galley Head with 45 logged from five counties with 12 off Scilly and 11 from Mizen Head (Co. Cork) on 17th. A busy Friday produced a further 83, with over half of them passing Cornwall's Pendeen along with the already mentioned 14 off Bridges of Ross.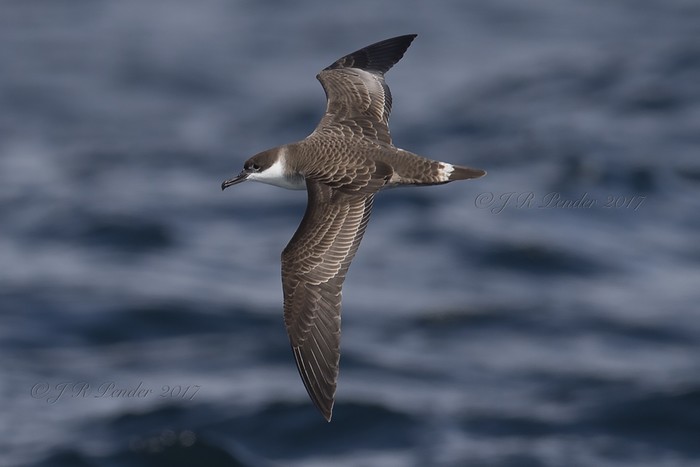 The weekend began with some 35 Greats on 19th, with birds noted from Scilly and Cornwall to Pembrokeshire, Clare, Mayo and Donegal while the 20th saw 78 noted, with 40 from Porthgwarra and 20 off the Falmouth pelagic and then four passed Porthgwarra and Mizen Head on 21st with eight and seven off Penzance and Scilly sea trips the same day. The week concluded with nine more from Porthgwarra on 22nd.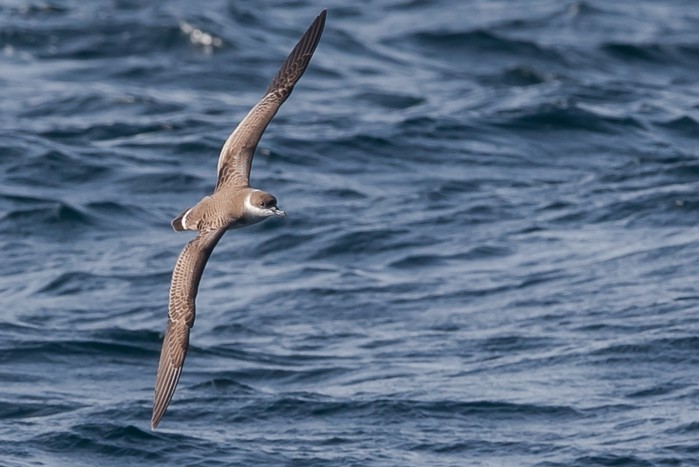 Cory's Shearwater had a slower start, only four birds noted on 16th with a jump to 89 the following day, with 42 off Mizen Head and 40 on the evening Scilly pelagic whilst the 18th saw 79 recorded from 10 locations, including the birds already listed for Bridges along with 20 from the Scilly pelagic.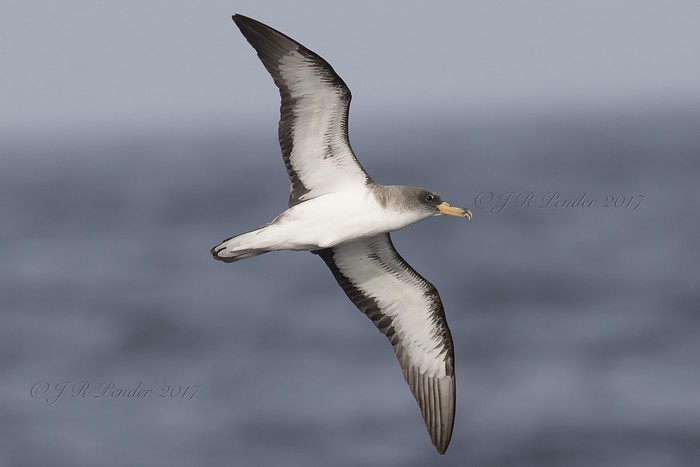 By 19th numbers of Cory's had dropped a touch, 31 noted on 19th, 15 of them from the Scilly pelagic and they went down further on 20th, just six noted in all but they were followed by 16 from PG the next morning with two off Annet and two off the evening pelagic on 21st as well. Finally, singles were seen from Cape Clear Island (Co. Cork) and Whitburn (Co. Durham) on 22nd, the latter noted passing two sites in Northumberland (Newbiggin and Beadnell) later the same evening.
Portland Bill fared best for Balearic Shearwaters, numbers there rising through the week with 92 noted on 20th and then a maximum of 125 on 21st ~ the latter part of an overall tally of some 480 countrywide through the week, seen from ten British and Irish counties. Three southwestern counties managed three figures, Dorset is dealt with above with 120 for Cornwall and 180 for Devon, including 57 from Berry Head on 16th. Further records were spread all the way up the west coast, including Pembrokeshire, six Irish counties (from Waterford and Wexford to Donegal and Down) and Scottish singles were seen in Ayrshire and Argyll & Bute.
Along with the already mentioned seven Long-tailed Skuas seen from Bridges of Ross, six more were seen this week including two more for the Clare hotspot on 19th. Singles were logged off Strumble Head (Pembrokeshire) and the Baltimore pelagic on 19th with one from Berry Head (Devon) on 20th. Another Cork pelagic saw one appear 12 miles off Galley Head on 22nd with others reported the same day at Canvey Island (Essex) and Flamborough Head (East Yorkshire).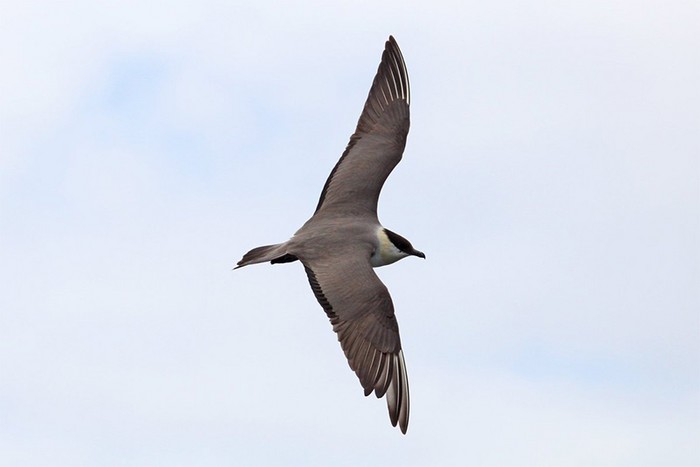 Numbers of Pomarine Skuas was up a little on last week, 49 birds noted in 14 British and Irish counties with Berry Head doing well on 20th with 11 bird there. Seven were seen off Brandon Point (Co. Kerry) on 18th, three passed Hound Point (Ayrshire) on 21st and ones and twos were spread from Cornwall to Fife.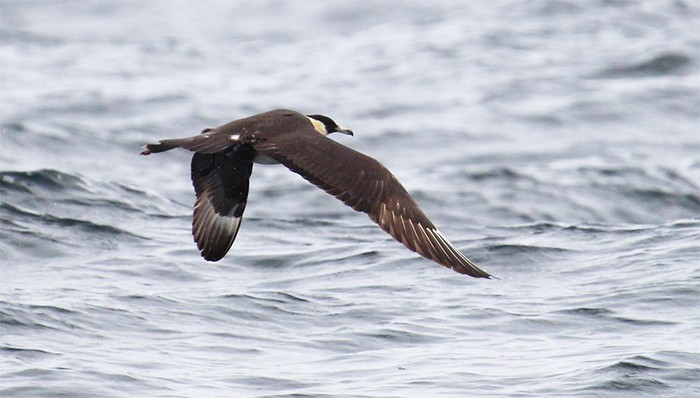 There were a few more Sabine's Gull up for grabs too ~ as well as the nine Bridges birds mentioned earlier, a further dozen were recorded through the week, including three in Cork, two adults off Donegal's Fanad Head on 19th with another the same day at Cemlyn Bay NWWT (Anglesey). Singletons were recorded from Scilly and Cornwall to Pembrokeshire and the Outer Hebrides.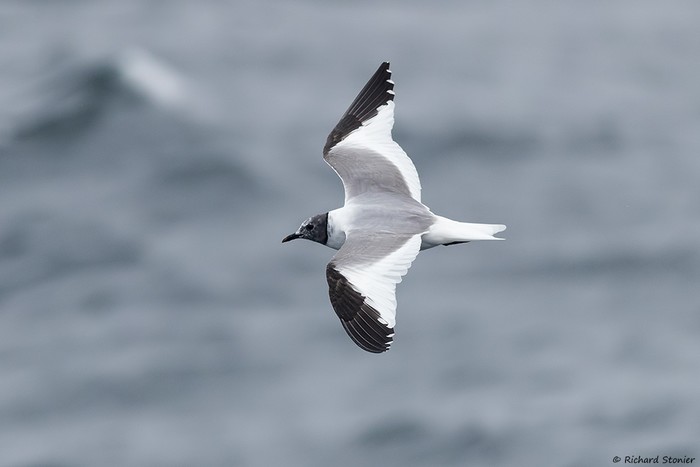 The first Grey Phalarope this week was noted from Hook Head (Co. Wexford) on 16th and was followed by three from Strumble Head, one on 18th and two on 19th with one from Pendeen the same day along with the BoR quintet mentioned earlier. Last ones of the week were the two reported from Trevose Head (Cornwall) on 22nd.
We've already dealt with five of the week's Leach's Storm-petrels so all that are left are the singles off Mizen Head on 16th and Dungeness (Kent) on 19th along with an overnight bird caught and ringed on Fair Isle on 18th.
In north Cornwall, eight Glossy Ibis remained around the Walmsley Sanctuary near Wadebridge through until at least 20th, with a loner still knocking around the Somerset Levels for much of the week. Meanwhile in Norfolk, the popular adult continued to draw a modest daily gathering by the A149 bus stop at Salthouse through until 22nd while in Essex, the Glossy Ibis was noted again at Old Hall Marshes RSPB on 20th.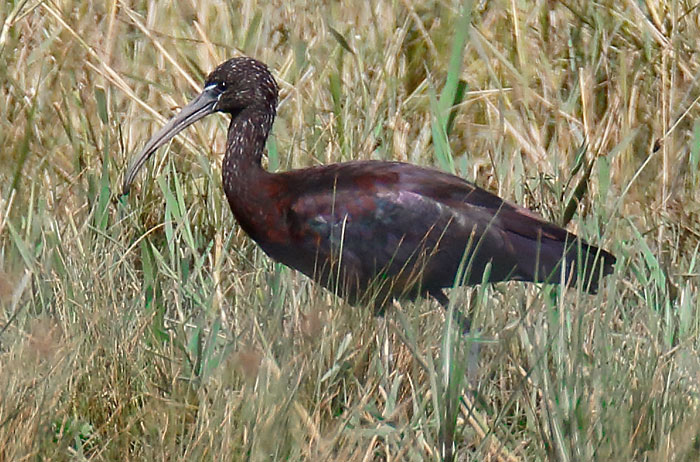 Also in Norfolk, last week's Night Heron popped up again at Hickling Broad NWT, heading over the Rush Hill Scrape on the evening of 16th ~ it was seen heading towards Potter Heigham and is, perhaps, the first-summer noted at the latter site back in June. Late news from Northamptonshire concerned a juvenile Night Heron in gardens at Blisworth on August 7th, a bird that had been in the area since late July (where had that been hatched?). New in Cleveland was the neat looking second-summer Night Heron found at Saltholme Pools RSPB on 19th ~ the first record there since July 2005 ~ and new in Buckinghamshire (where it is a hugely rare bird) was the adult noted near Botolph Claydon on 22nd.
Still doing the obliging thing in Shropshire was the far-from-retiring American Night Heron which remained pleasing all comers to the Dingle Gardens, near Shrewsbury to 20th at least.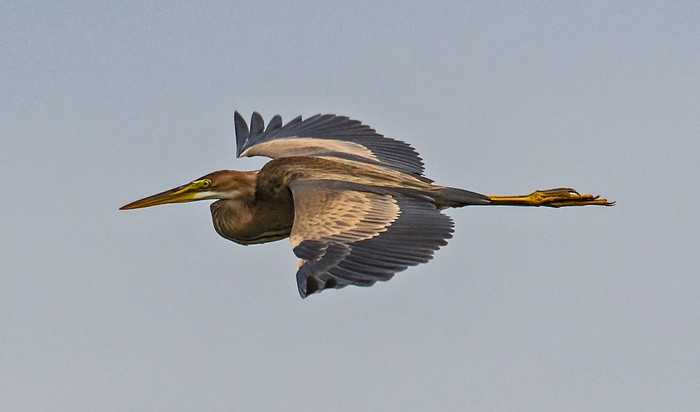 New this week was a juvenile Purple Heron at Leighton Moss RSPB (Lancashire) from 18th ~ a super record for the northwestern county, the first there since singles were seen at Martin Mere WWT and Mere Sands Wood in September 2010 ~ it welcomed all interested parties through until 22nd.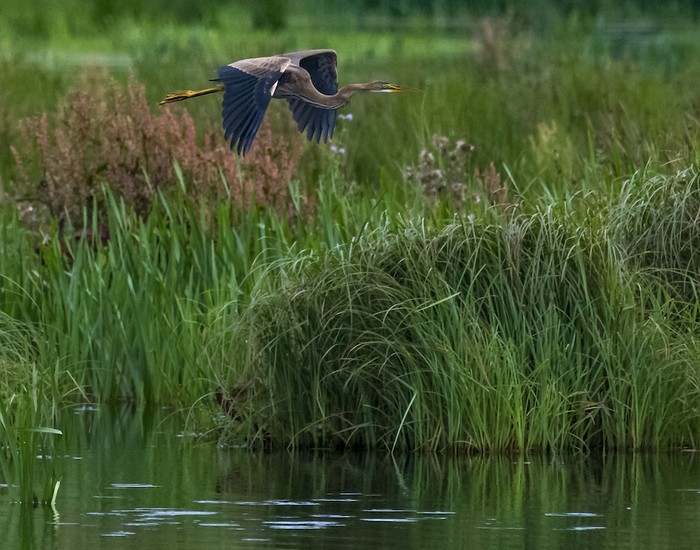 The new week began with up to 20 Cattle Egrets on 16th ~ between eight and eleven were noted through Pool Harbour's Middlebere Channel (including a flock of three adults and five juveniles) with four at the Walmsley Sanctuary in Cornwall with loners still at Black Hole Marsh NR, Seaton (Devon) and again at Slimbridge WWT (Gloucestershire), two singles in Cheshire (at Sandbach and Burton Mere Wetlands RSPB) and one still at Leighton Moss RSPB (Lancashire).
Two Cattle Egrets were at Pagham Harbour (West Sussex) on 17th while last week's bird at Titchwell moved to Wells-next-the-sea (Norfolk) the same day. Also on 17th, an extra bird was seen at Walmsley (three adults and two juveniles) and four adults and a juvenile were at Steart WWT (Somerset) on 21st.
Additional singles through the rest of the week were being seen at Marshside RSPB (Lancashire) and Abbotsbury (Dorset) on 18th, Cuckmere Haven (East Sussex) on 19th-21st and in Worcester on 20th while two more adults appeared at the Walmsley Sanctuary on 22nd ~ bringing the total up to around the 35 mark.
Numbers of Great White Egrets had a bit of a spike from last week, rising from 30 to 56 in all, seen across 20 British counties with 17 in Somerset taking the prize, thanks mostly to the dozen at Meare Heath on 21st, with four for much of the week at Chew Valley Lake helping things along. Up to eight were in the southeast, including four on Denge Marsh (Kent) on 16th while six Midlands counties mopped up nine birds in all, including three still at Rutland Water (Leicestershire) throughout the Bird Fair weekend. Further threes were at Holme (Norfolk) on 20th and Hale (Cheshire) on 17th while singles were also seen in Wales and Scotland.
Exactly 100 Spoonbills were counted across the country on 20th as weekend birders got out and about our wetland sites; the main tallies came from Norfolk's Stiffkey Fen (31 there), Suffolk's Hazlewood Marshes SWT (19 counted at that site), Lincolnshire's Gibraltar Point NNR (15 on site) along with nine in Poole Harbour and a further four reported in flight over the Staffordshire countrywide, at Aqualate Mere.
The week's highest count came from Stiffkey on 16th when 33 Spoonbills were seen (a further 19 were at Ticthwell RSPB the same day). There's just four Common Cranes to mention this week, one remained on Mainland Shetland, at Quendale and nearby Loch of Hillwell through until 19th, the second was photographed at Bayfield (Norfolk) on 22nd with the same date seeing two birds mentioned for the Nene Washes (Cambridgeshire).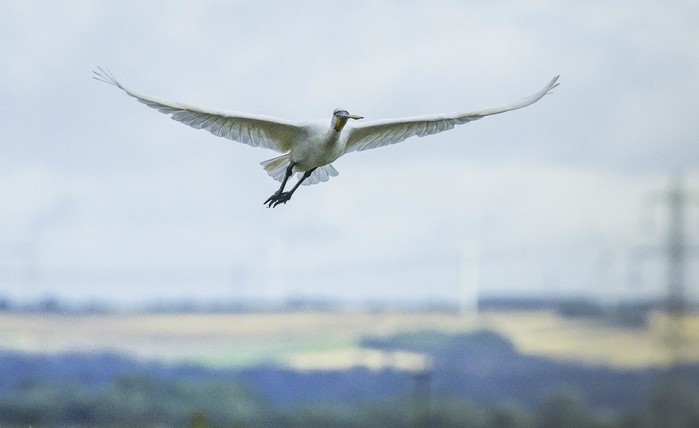 White Storks of unknown, presumed dubious origin, were seen in Wiltshire, between Berwick Bassett and Winterbourne Bassett on 20th and over Frogmore Creek (Devon) the following day.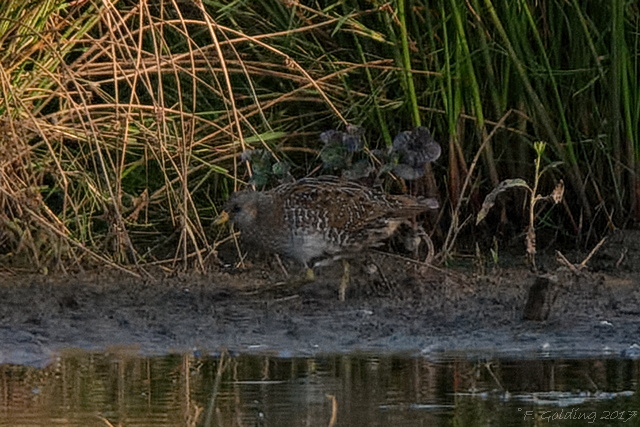 We're heading towards a great time of the year for scanning the muddy fringes of our reedbed habitats in the hope of a Spotted Crake popping a furtive head out from the greenery and this week saw four do just that; first came one at Druridge Pools NR (Northumberland) from 18th and it was followed by a juvenile in Worcestershire, at Upton Warren NR on 19th with the third of the week, at Wanlip Meadows LWT (Leicestershire) on 20th. Bird four followed next morning, found at Frampton Marsh RSPB (Lincolnshire).
Still doing there thing on the sea off the Aberdeenshire coast were two Surf Scoters at Blackdog on 17th with three birds (two of them drakes) were seen a tad further south, off Aberdeen itself on 18th. A new drake was seen off Boddin Point, Lunan Bay (Fife) on 20th. Another Celtic rare duck remained in Welsh waters ~ the first-summer female King Eider still in and around Ynyslas (Ceredigion) until at least 16th.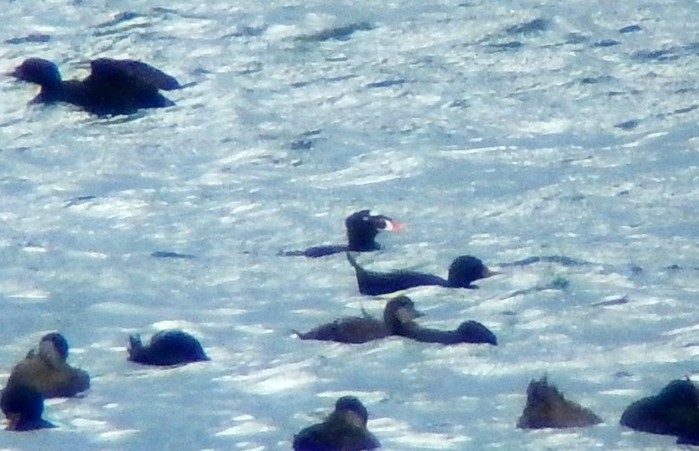 New news from the World of Quackers this week was that of a Ferruginous Duck surfacing in Lancashire, at Hesketh Out Marsh RSPB on the morning of 16th ~ it had apparently been around for a few days prior to this too.
You have to go back a fair old way to find any records in the county that weren't hybrids or escapes, a female at Leighton Moss RSPB in November 2006 came less than a week after a green-ringed drake was at the same site, so even that one looks iffy in hindsight. One bird that does seem to be ok is the drake, also at Leighton Moss, in October 2004 ~ 13 years then seems to be the recognised gap between the genuine records for the county which must be galling for those who missed it this week.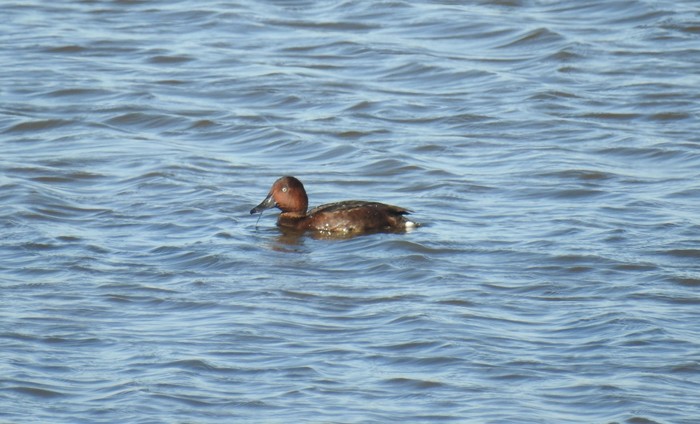 New in Wexford, at Tacumshin, on 19th was a Buff-breasted Sandpiper, one of two noted this week, the other was a remnant from seven days ago, still on North Ronaldsay until at least 18th.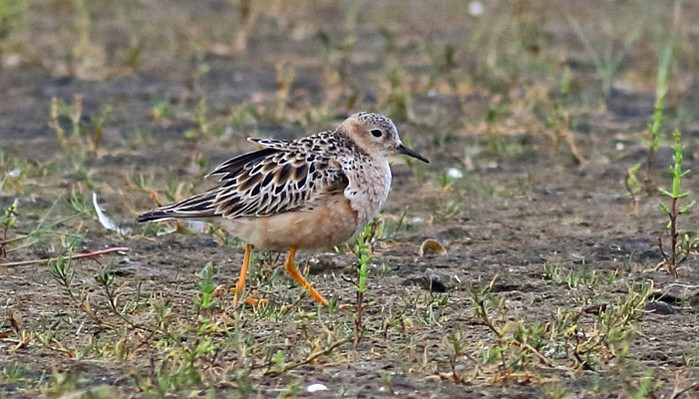 Kent's adult Long-billed Dowitcher remained at Oare Marshes NR through until the morning of 18th but seemed to disappear after that. However, it wasn't gone for long, reappearing on 20th and remaining to 22nd.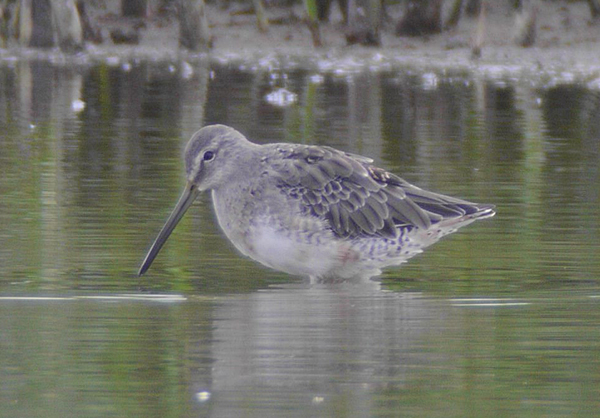 Perhaps a little surprising was the fact that there was just two White-rumped Sandpiper around, still in no hurry to depart Northumberland's Druridge Pools present to 19th with the week's second was new at Gibraltar Point NNR (Lincolnshire) on 22nd.
Two of last week's Pectoral Sandpipers remained to the first day of the new review period, still at Cropston Reservoir (Leicestershire) and Frampton Marsh RSPB (Lincolnshire) while new on 19th was the bird found at Tacumshin (the second new Nearctic shorebird there that morning).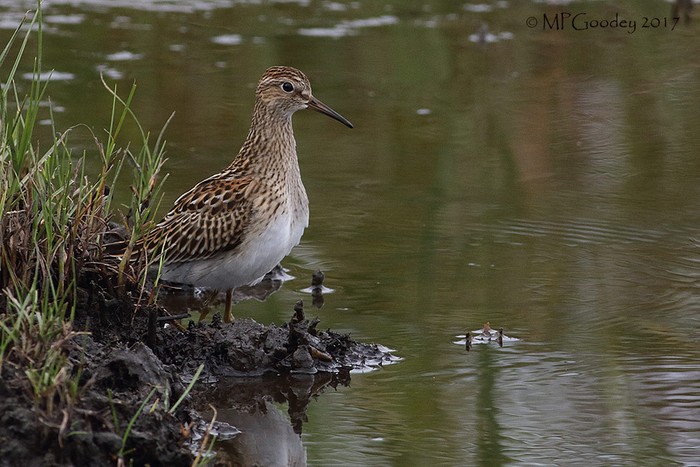 Further fresh Pectoral stock to appear through 19th was a juvenile on Vatersay (Outer Hebrides) and then Porth Hellick Pool, St. Mary's (Scilly) where a second appeared on 21st and new on 20th were singles at Broomhill Reservoir (South Yorkshire) and Loch a'Phuill, Tiree (Argyll & Bute). The week's overall total moved to 10 in all, further loners at Cahore Marsh (Co. Wexford) and Farlington Marshes HWT (Hampshire).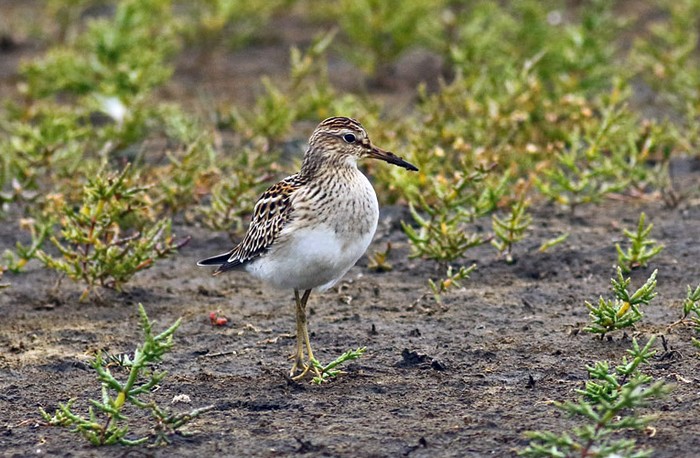 Two sets of three locally raised juvenile Black-winged Stilts started off the week in the southeast of England, still present at both Bowers Marsh RSPB (Essex) and Cliffe Pools RSPB (Kent) on 16th, with half a dozen birds at the latter site on 19th. Back in Essex, a lone bird was at Wat Tyler CP, also seen on 19th while two remained at Cliffe to 21st.
There was a little belated news from Frampton Marsh RSPB of a juvenile Dotterel present there at the tail end of last week's review period while this week saw the continuing presence of the bird found at Edge Mount (South Yorkshire) and a new arrival dropped on to Great Ormes Head (Conwy) on 22nd.
Two Temminck's Stints dropped in to West Canvey Marsh RSPB (Essex) on 18th with others at Hollesley Marshes RSPB (Suffolk) on 20th and Stanwick GPs (Northamptonshire) from 21st while two of Fair Isle's juvenile Red-necked Phalaropes were again on the scrape at Utra on 17th when another was seen at Annagh Marsh (Co. Mayo). A further new youngster was found at Kilnsea Wetlands (East Yorkshire) on 21st with the Fair Isle born birds still around Da Water to the same date.
Across in east Norfolk, an adult Caspian Tern made a couple of sorties in to the Rush Hill Scrape on 16th-17th ~ this species has a particular liking for the Broads (at least a dozen of Norfolk's 50 records seen in the area) and it makes perfect sense to see this as being the same bird that was located initially at Hickling before spending a couple of days at nearby Potter Heigham Marshes back in May this year.
The bird popped along to Breydon Water (another familiar trait of this species when in Norfolk) before returning to Hickling the next day where this time, it was seen to be red-ringed, which inextricably links it to every other Caspian Tern record from Britain this year; this bird has traversed the country, from the Mumbles to the Broads, with sorties to the north (to Yorkshire), to the south (to Buckinghamshire) and southwest (to Somerset) as it has meandered across country, presumably since May, clocking up many 100's of miles in the process. But just where is it when birders aren't seeing it?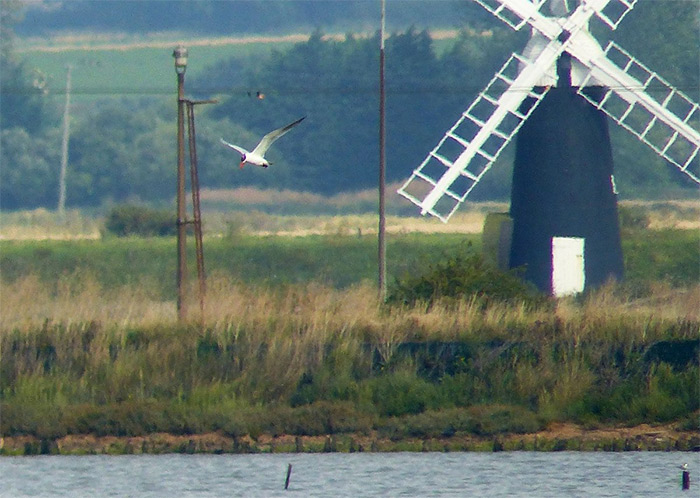 Later on 18th, the Broads/Breydon flip-flop was in place again ~ a pattern was becoming established (or so it seemed). After a weekend off away from the crowds, the Caspo was back at Breydon on the Monday morning mud at Breydon before nipping back to Hickling later the same day ahead of another trip to Breydon ~ you get the picture now ~ and similar happenings followed on 22nd too.
Clocking up at least a fortnight in and around Devon's lovely Exe Estuary was the juvenile White-winged Black Tern, still in place through until 21st. Further along the south coast, last week's new adult was again nipping back and forth beaten Hampshire and West Sussex, noted between Hayling Island and Bracklesham Bay through to 17th and Orkney's moulting adult was again on North Ronaldsay on 19th.
On Ireland's east coast, the adult Forster's Tern was again at Soldier's Point (Co. Louth) to 20th. Having appeared here a month ago, this returning bird could linger for anything up to a few more months ~ it first appeared in Louth in 2006 and has popped up almost every year since, primarily in late autumn but it has been noted in one previous August (in 2012).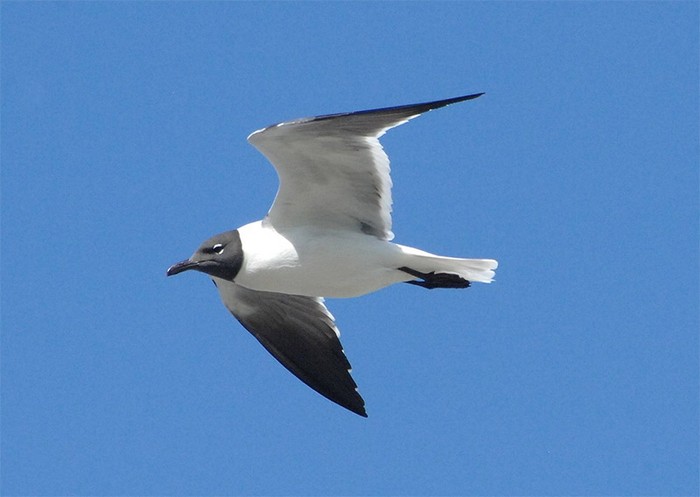 From the east of Ireland to the northwest of Ireland next where in Sligo the county's very first Laughing Gull, an adult, was found at Staad Abbey, Streedagh on 18th and it was still there over the weekend and on to 22nd.
It seems a little bit of a surprise to see that this is a new bird for Sligo but there haven't been so many elsewhere in the northwest or northern tip of Ireland ~ Mayo and Donegal have just two, with a single for Derry. There are now 13 Irish counties with a Laugher on their list, Cork way out ahead on 15 acceptances in all.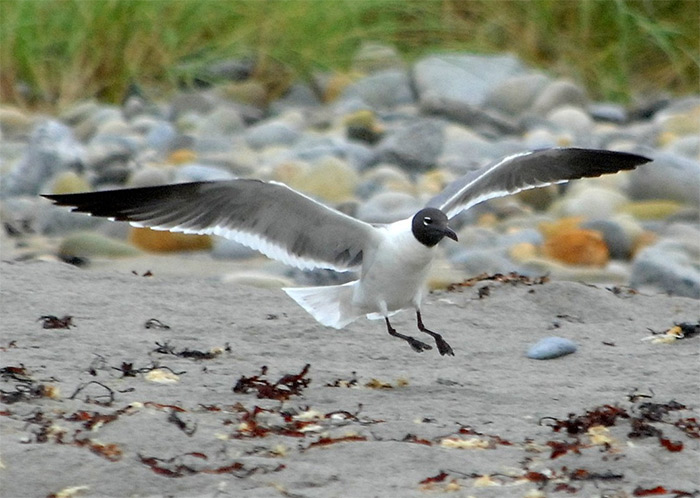 Talking, as we were, of returning birds, the adult Bonaparte's Gull remained at Oare Marshes NR (Kent) for a few more days, through until 21st while the second-summer in Dorset was on Brownsea Island until 16th.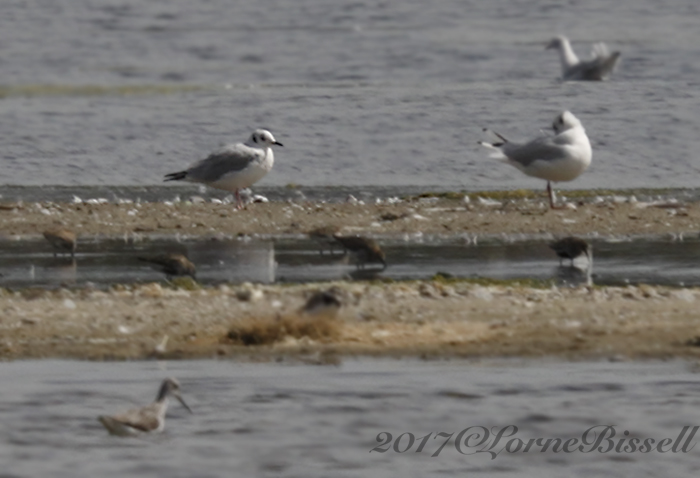 Just two Glaucous Gulls to mention this week, seen at Loch Sandary, North Uist on 18th (then Baleshare on 21st) and in Highland, at Dunnet Bay on n22nd. There was just one Iceland Gull noted too, also at Loch Sandary on 20th.
Six Honey Buzzards were seen this week in a slow week for birds of prey. A lone bird remained at the Wykeham Forest Raptor Watchpoint (North Yorkshire) to 18th and drifters from the continent included two reported over Goodmayes (Greater London) on 17th along with one seen near Combe Martin (Devon) on 19th, Wakering Stairs (Essex) on 20th and near Driffield (East Yorkshire) on 21st.
It was nice to hear that at least one Montagu's Harrier has avoided the guns and ammunition afforded other UK representatives of the species, noted again at Blacktoft Sands RSPB (East Yorkshire) on 22nd.
Getting the Passerine ball rolling this week is the first Aquatic Warbler of 2017. Right on cue, it was (almost inevitably) pulled out of a net on the south coast (also inevitable) as was the fact that it was in a site with no general access, close to Cuckmere Haven (East Sussex) on the morning of 16th.
This is a species that is hard to gauge in terms of true rarity value ~ once upon a time it was the speciality of sites like Marazion Marsh, then South Milton Ley and despite a long spell away from the official rarities list (rightly restored now) it also still seems as though there must be more here than are reported. The onus for recording them largely falls on to those dedicated 4am ringers, working those big reedbed sites from Cornwall to Kent that will generally produce the goods.
Sussex doesn't appear to have been overly blessed with records of Aquatic Warblers (not in recent years at least). A trawl through the RBA archive reveals a brief showy bird a year ago to the day as this week's Cuckmere bird (August 16th 2016) at Pagham Harbour (in the West of course) and single East Sussex birds in August 2006 and 2004 with another in West Sussex in 2004 as well. A mid-September bird in 2003, at Combe Haven Marshes wraps it up for the past 17 years…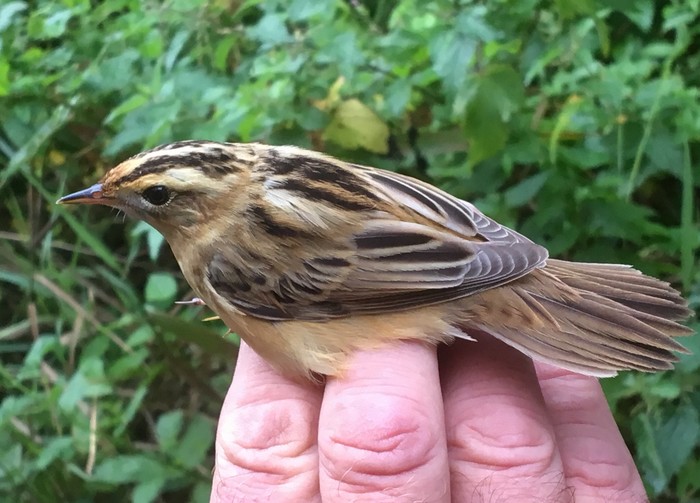 The second Aquatic Warbler of the week was reported from Hampshire's Farlington Marshes HWT on 22nd ~ after being annual between at least 2003-2007, this species has appeared only a handful of times since in the south coast county, August birds trapped and ringed at Titchfield Haven NNR in 2009 and then 2016.
Despite the warm southerly blowing across North Sea coasts at the start of the week, there was still something of a surprise in store when a singing male Western Bonelli's Warbler was discovered around Easington (East Yorkshire) on 16th.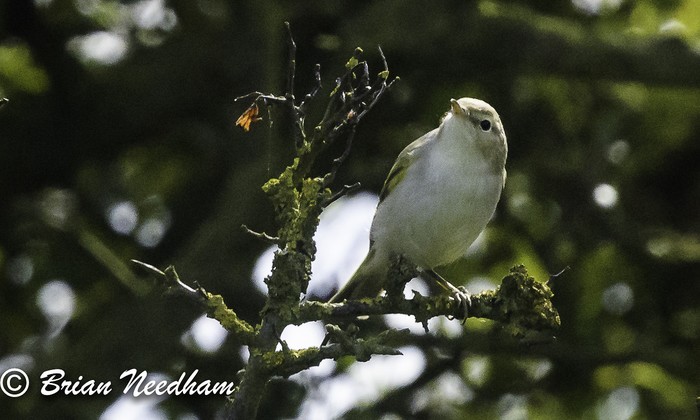 The bird showed well from time to time during the day (and on in to the following one too), the bursts of song must have come as a bit of a surprise too and a quick look at the record books revealed this to be the earliest autumn record anywhere in Yorkshire, beating the previous best by a day, one was found in Scarborough on August 17th 1993.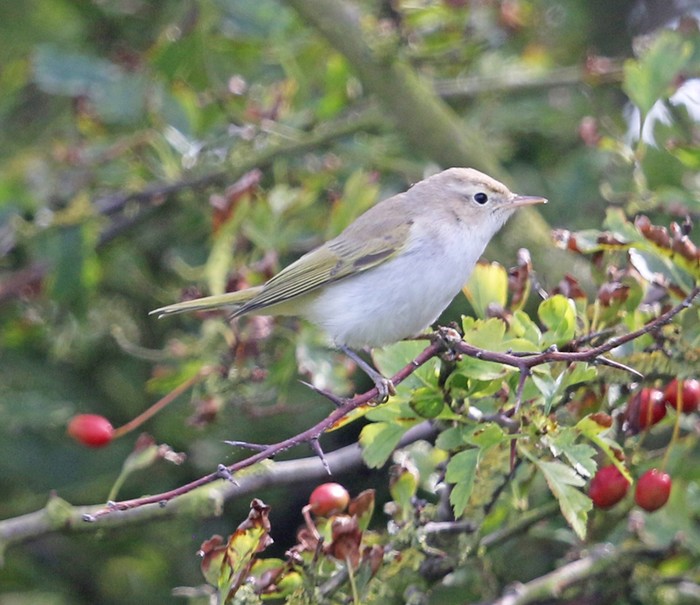 All bar two of the, now, 10 Yorkshire records of Western Bonelli's Warblers have come from the East (the others were both in the North) and this is the fourth for the Spurn recording area and the first since one was trapped at Spurn itself in June 1999.
August is a decent time of year to start searching for these lovely birds ~ out of the 153 acceptances to date, 33 have been located in August but only six have them have been on or before this week's East Yorkshire arrival, the earliest of them being seen at Holme on August 7th 1970.
With the wind arrows pointing in a suitably agreeable SE'ly position for Orkney and Shetland, there wasn't a huge surprise to see a couple of mid-August drifters making their way to the Northern Isles ~ Orcadian birders noting two Marsh Warblers within a day or so, one trapped at Graemeshall, Mainland on 17th with another following along the next morning on South Ronaldsay and the first Barred Warbler of 2017 arrived on Unst on 19th with a second following later the same day on Fair Isle.
Further south, August's first Icterine Warbler was reported from the dunes at Burnham Overy (Norfolk) on 17th and a brief Hippolais sp.,) warbler was noted at Old Head of Kinsale (Co. Cork) on 19th. Back in East Anglia, a Melodious Warbler was reported from Lowestoft on 20th and another was found in west Cornwall, at Nanjizal on 22nd.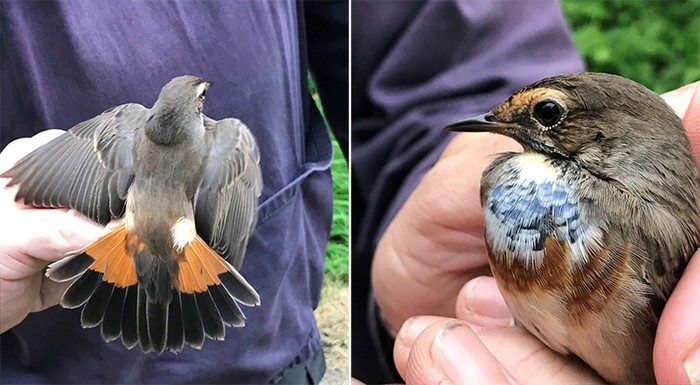 The long goodbye continues for the seven Bee-eaters that so dominated through much of the summer. Having departed Nottinghamshire for neighbouring Leicestershire, this week the southbound septet decided to spend some time in and around Hertfordshire, noted at Bayford from 16th-17th, spiralling up in to the blue Home Counties sky during the afternoon to take their leave of the third county of their summer sojourn.
More colour came to Ceredigion where a lone Bee-eater was reported from New Quay on 18th while in Devon, a Hoopoe took up residence for a wee while in Exmouth, present on 17th-21st. Over in East Anglia, a juvenile Bluethroat was trapped and ringed at Lakenheath Fen RSPB (Suffolk) on 22nd ~ that couldn't be local, surely? Equally as entertaining was the sound-recorded night-time Ortolan Bunting over Portland Bill on the night of 21st/22nd.
Back to Fair Isle and those obliging Northern Isles winds across the weekend produced a juvenile Woodchat Shrike on 19th ~ the second example of the species on the island within three months. The week's only Red-backed Shrike, the autumn's first juvenile, was discovered in the rather more populated confines of London's Parliament Hill, on Hampstead Heath, on 22nd.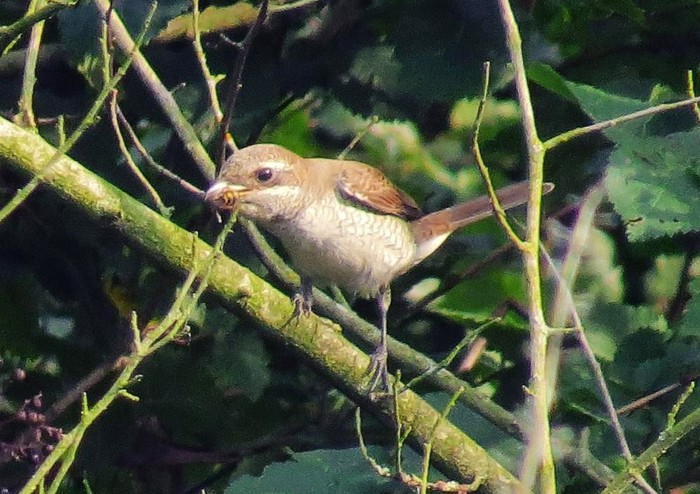 Rose-coloured Starling have been a genteel feature of the summer, almost all confined to the far north but the last week or so has seen a couple slip further south and new this week was the early juvenile found at Kilnsea (East Yorkshire) on 20th where it remained to 22nd. Also new was an adult in Kilkee (Co. Clare) at the end of the week (on 22nd) ~ the first record in the county since June 2012.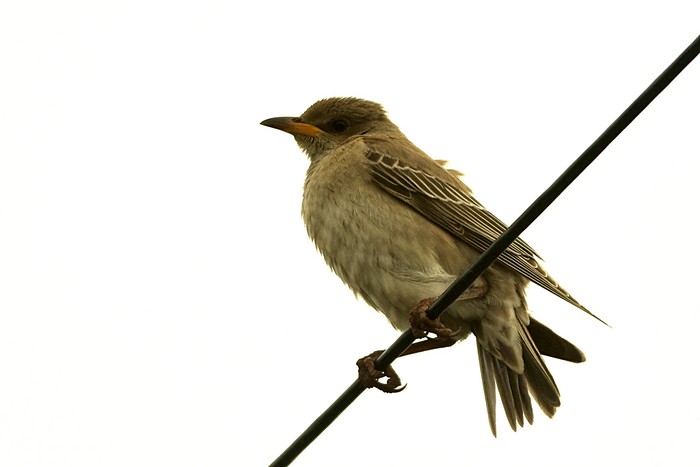 Lastly, not rarities but certainly worthy of a mention to round things off was the remarkable haul of Grasshopper Warblers in the nets at Durlston County Park (Dorset) on 20th ~ 66 (!) trapped and ringed in all which is really quite something. As is the number of Tree Pipits logged over Ferryhills, North Queensferry (Fife); I've been keeping an eye on the high scores there since late July and this week numbers hit a peek, so it is worth highlighting them here now; on July 30th, 54 were noted (20 of them trapped and ringed); 275 flew south over the site on August 5th, with 180 the next day; 134 did the same thing early in the morning of 13th and this week, in the space of four and a half hours on 20th, 305 made their way south.
Where are they heading? Where have they come from and why Ferryhills?
There are crazy records and then there are crazy records and the most extraordinary and craziest for many, many years came along during the morning of 20th ~ an adult Brown Booby noted flying along the inland waterways of the Netherlands, at Lopik, not that far from Utrecht.
Quite by coincidence, I spent a couple of weeks recently working not far from the pretty River Lek and, when out filming one day, passed within just a few hundred yards from where this scintillating sighting (a national first of course) was photographed. The mind boggles at seeing this lost straggler flying along that particular Dutch waterway…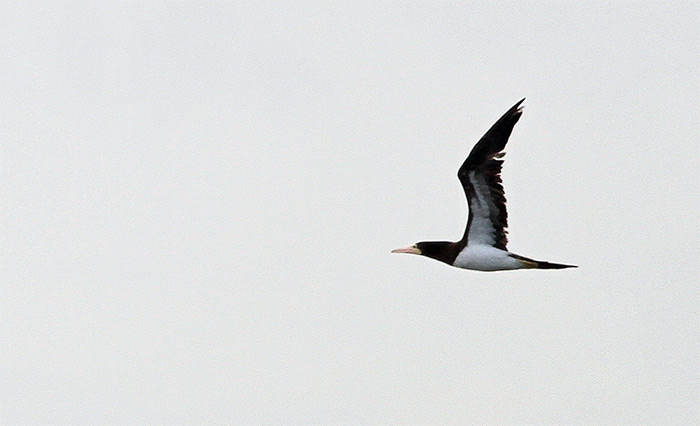 …and if that wasn't enough, later the same day, the same bird crossed the border (at an estimated speed of 30-35 mph) appearing at Tinholt and then further to the northeast, near Bremen for the first Brown Booby record for Germany.
Astonishing…
Arguably the other most impressive "extra-limital" bird recorded in the Western Paleractic this week was found in Denmark ~ and it was actually a species that actually breeds in the region (as close as Austria and the Czech Republic) ~ the mightily impressive juvenile Saker that was seen and photographed at Værnengene, in western Jutland on 17th caused quite a commotion being unringed and looking every inch a wild bird; this may well be the real deal ~ if it was here, doing what this one's doing, it would be on everyone's list before you could say "BOURC".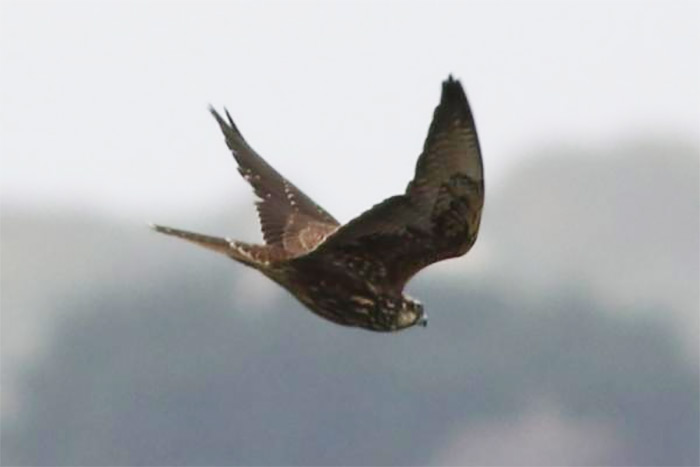 Further north in the Nordic nations, another super BoP that almost everyone here would be eternally grateful for is Eleonora's Falcon and a 1st summer was located at Laajalhati, Finland ~ the second national record, following on from one in 2005, on 21st.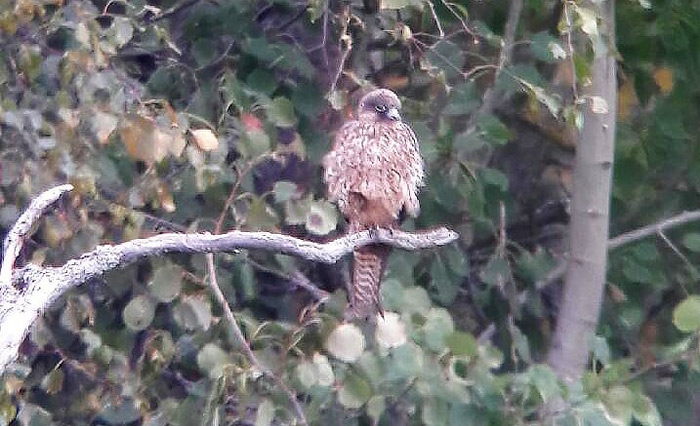 As if those two weren't enough, still in place ~ and oh how we wish for this to have been a British or Irish scenario (the third such raptor this week) ~ was the Dutch Black-shouldered Kite that remained at Overschild, Groningen throughout the week to 22nd.
We've not heard much about the summering second-calendar year American Royal Tern for a while so it was good to hear that it was still in and around the Channel Islands this week, back on Guernsey this time, seen at Paradis on 16th. After spending a few weeks on the French side of the Channel, it returned to Alderney in the third week of July and has, presumably, just been mooching around the islands ever since.
Whilst we have very rare terns with orange bills in our minds, it is worth mentioning the continuing presence of an adult Elegant Tern in Spain, still at Salinas de la Tapa, Cadiz to 16th.
On the German coast, yet another long-term stayer, the adult Black-browed Albatross still wasn't ready to depart Sylt, Schleswig-Holstein ~ on site until 20th at least.
Also lingering this week on the Azores was the summering Grey-tailed Tattler at Cabo de Praia, Terceira until at least 21st, with a Semipalmated Sandpiper, two Semipalmated Plovers and an Hudsonian Whimbrel all at the same site during the 18th as well. If that wasn't enough, a hectic Friday on Terceira saw a Bridled Tern appear at Ponta das Contendas where the Snowy Egret remained too.
Off to the east, on the Portuguese mainland, a Cape Gull was seen at RIAS, Quinta de Marim, Olhão Algarve (to the east of Faro) on 17th.
As September begins to peep her head over August's impending horizon, we're really starting to get immersed in the new season as even those away from the world of birds see summer concede further ground to new season hues…
Our winged wonders that we so admire have been autumn mode, some at least, since mid-July as those Arctic shorebirds began to roam south but despite the summery vibe that lingers, we know that, if the weather is kind (to either the west or east coast), then the early autumn feel could be favourably enhanced by some mighty fine birds in the week to come.
Starting with our eyes fixed seawards, this is still prime time for those who fancy chancing their arm at some headland or boat action ~ Fea's Petrels is the obvious call but there've been a few more (old skool) Little Shearwaters in the week ahead whilst, top of the class remains the Frigatebird sp., seen from Cape Clear on August 24th 1973 and the more recent (called loudly…) Red-billed Tropicbird that flew past Porthgwarra on August 28th 2015.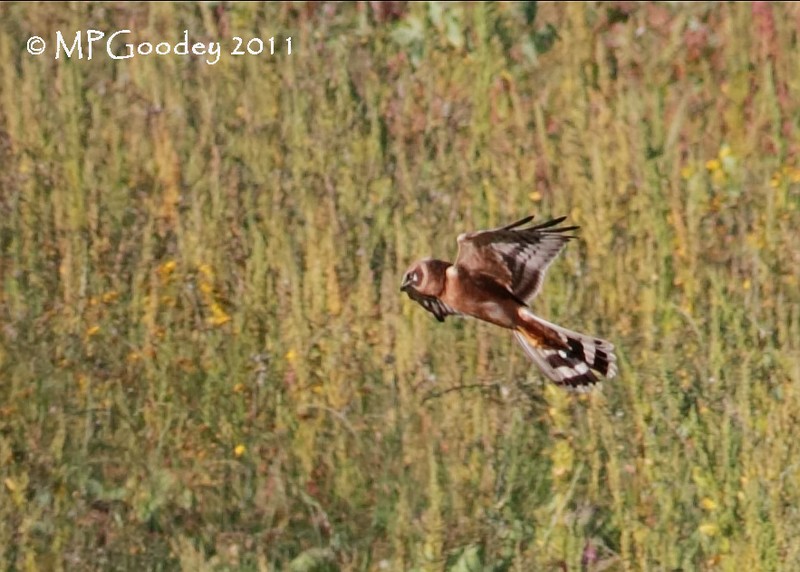 The increase in that one-time/long-time "holy grail" Pallid Harrier has been striking and there've been half a dozen birds accepted for the week ahead (largely on Shetland but one reached Scilly in late August 2011) ~ with them breeding now in the Netherlands, there may be more to come; let's just hope they don't become target practice for mindless morons on a grouse moor or Norfolk farmland as our other two "grey" harriers suffer yet more brutal persecution.
Seabirds and BoPs kick us off then and another huge part of the end of August is the quest for some of our rarest shorebirds…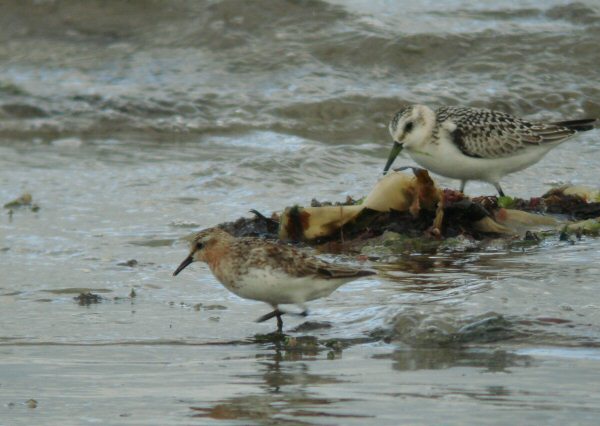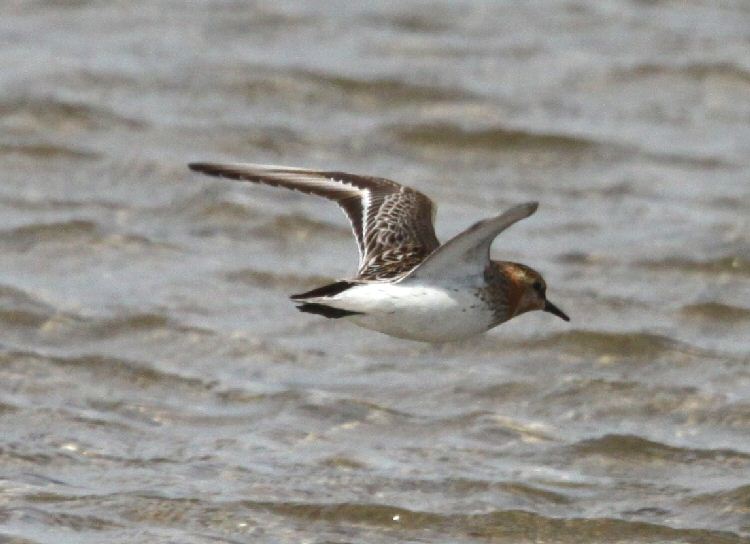 August 29th 1993 saw the arrival of an Oriental Pratincole in East Sussex (long thought to have been the bird first seen in Norfolk earlier in the summer) while the 27th has not one but two Red-necked Stints to its name ~ the well photographed bird at Ferrybridge (Dorset) on 2010 and the well-twitched bird in Wexford three years beforehand.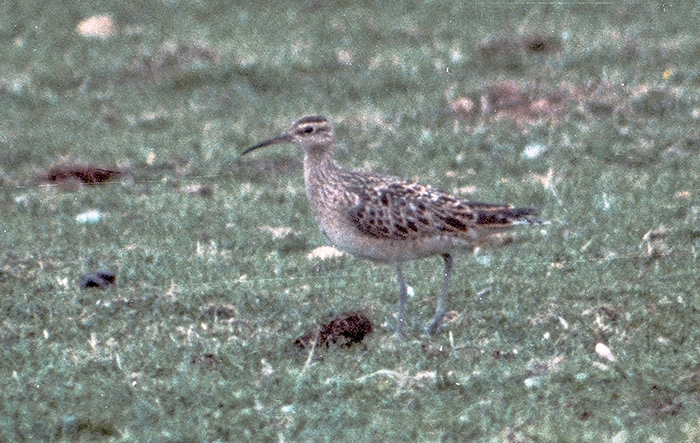 Little doubting the big shorebird draw historically in the week ahead ~ the fabulous Norfolk Little Whimbrel found along the Blakeney Bank on August 24th 1985, a classy find by the northwest's finest which set off an almighty twitch across the Bank Holiday weekend as those who'd missed the Welsh bird of 1982 made amends. Just 32 years on and there's not been another…blocker is the word you're looking for…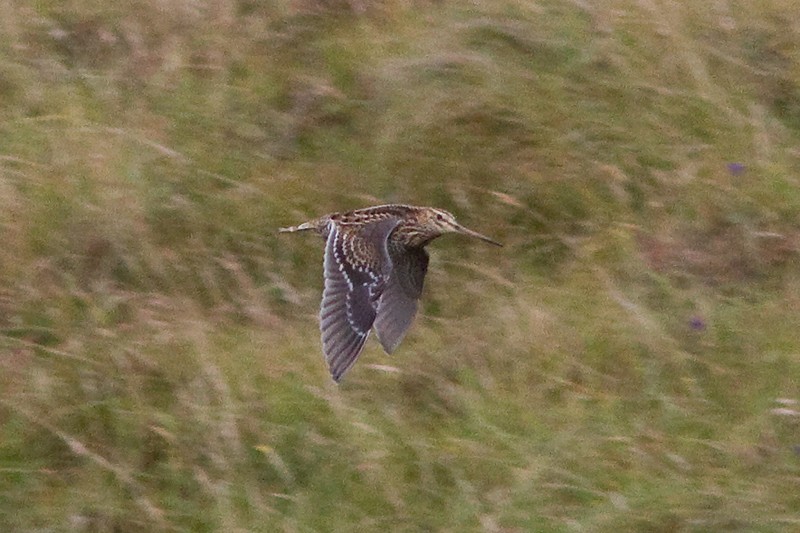 A more traditional wader that has strong history with the back end of August is Great Snipe ~ recorded daily in the week ahead, with four on 23rd the high (from a total of 18 through the seven day period) ~ and a species whose occurrence often ran hand-in-hand with a classy passerine that has become hen's teeth rare ~ Yellow-breasted Bunting.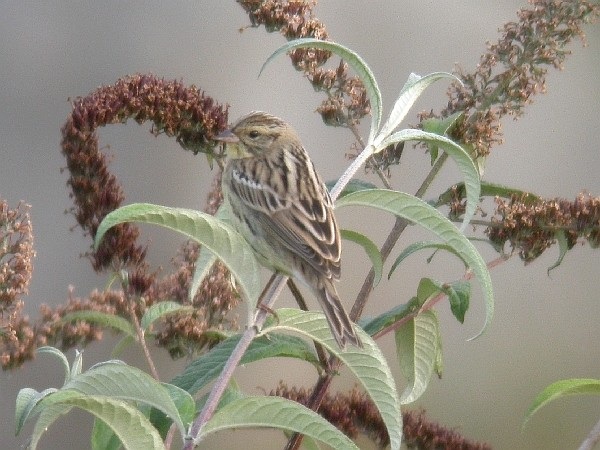 The species demise within Britain has been documented here before, but it is poignant to see that off the 17 accepted records in the week ahead, the most recent was 11 years ago, at West Runton, on the north Norfolk coast. Two dates, August 27th and August 29th, have yielded five birds a piece, but mostly rather a long time ago.
Zitting Cisticola is at the back of a few minds if the weather prevails (Cley 24/08/76 & Bockhill 25/08/06) while amongst the species you'd expect (many of them covered in this section seven days ago, y'know, the wagtails and warblers) lie curios such as two "Isabelline" Shrikes ~ a male of unknown age (and species) was on Lundy on August 28th 2001 while a (soon-to-be) Red-tailed Shrike was on Fair Isle in late August 1994.
Wrapping things up, we need to keep gazing across the Atlantic and think of what the Eastern Seaboard of North America may be thinking of throwing our way next… (though perhaps not just yet, given the pulse of warm southerly air that's coming).
Scilly and Ireland are still the places you think of first ~ and if a wobbly old front scurries over the ocean to hit us next week, expand and open your mind to numerous possibilities.
Over three decades ago, Scilly's St. Agnes fared well on August 29th 1982 and 1989, producing a Black-billed Cuckoo on the former and a Northern Waterthrush on the latter.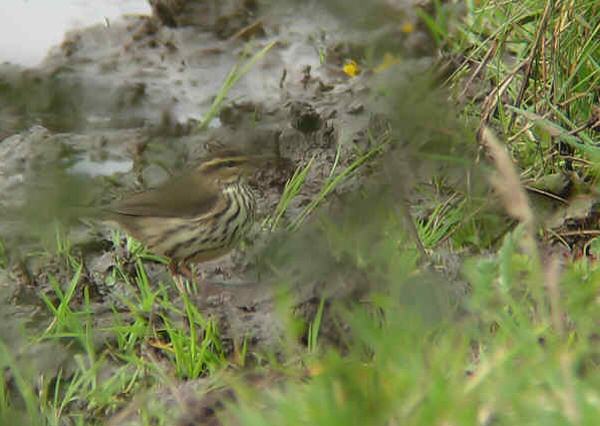 That Waterthrush is one of two found here in the week ahead, the other was one of the remarkable trio of Nearctic vagrants discovered on Cape Clear Island in August 2008; the Irish Waterthrush famously appearing alongside a Solitary Sandpiper on 27th…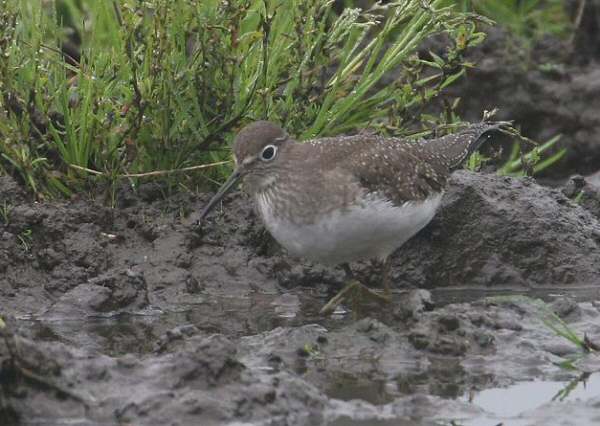 ….both of which were monster stocking fillers for those twitching the Yellow Warbler that was found on 26th ~ but we all know that what happened this week has (well and truly) spoiled my little prediction party, twice over.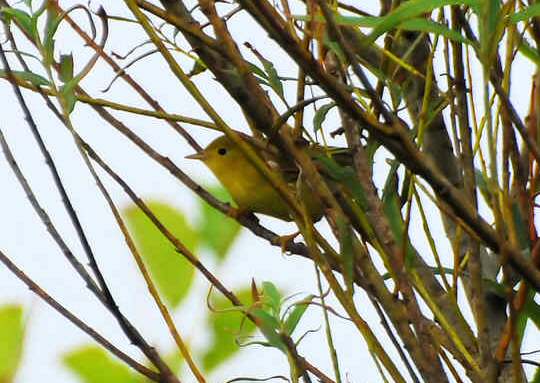 While I look at taking my crystal ball home and sulking a little bit, there's a veritable cornucopia of rares to muse on, dream of and maybe even discover. While it feels as though the weather isn't going to unleash too much Americana upon us, looks can be deceiving as warm Atlantic weather almost always does something wacky ~ so, keep your options and your mind open and, before you know it, something lurid in tone, perhaps with wingbars galore, may have materialised in front of you…
Mark Golley
23 August 2017
Share this story
Tweet


Many thanks to all contributors for their photos and videos this week.
Eugene Dillon-Hooper, Timothy White, Martin Cade, Steve Minton, Geoffrey Alan Clewes, Brian Thompson, Joe Pender, Roger Wyatt, Sean Cronin, Richard Stonier, Bob Flood, Steve Gantlett, Martyn Jones, Alan Tremethick, Brian Needham, Frank Golding, Jonathan Farooqi, Brian Henderson, Colin Bushell, Paul Kelly, Murry Wright, Martin Goodey, John Hewitt, Tommy Corcoran, Michael Bell, Lorne Bissell, Jacob Everitt, Simon Spavin, Peter Dolton, David Boult, Marc McLoughlin, Andy Hood, Arjan Boele, Sigrid Ilsøe, Samuli Laaksonen, Paul Baker, Dave Cottridge, Dave Curtis, Ronan McLaughlin.