Weekly birding round-up: 9 - 15 Aug 2017
The week at a glance
Aberdeenshire's American White-winged Scoter still in situ
Wilson's Storm-petrels, big shearwaters and a wildlife bonanza impress off Scilly
Off the Cornish coast, a Barolo Shearwater gets reported on Seabird Sunday
The coast of north Norfolk sees the earliest-ever autumn Thrush Nightingale make landfall midweek
After that, well, it hasn't been the busiest week…
The new week began, on the east coast at least, with a foul day ~ strong northerly winds sucking allsorts of storms and wetness down the North Sea as a deep little low pressure scuttled across the country ~ after the front cleared but with the wind blowing, it felt more like mid October or November than it did the second week of August.
Better weather wasn't far away though as a couple of areas of high pressure did their best to stamp their authority on our weather; plenty of sunny spells broke through the high cloud and the skies turned a funny shade of blue (one which we're not used to recently). There was some warmth in the sun, but generally temperatures hovered around the low 20's.
Very occasional showers appeared randomly countrywide as the weekend eased along but, again, generally, skies were blue and the sun shone. It wasn't all roses though as some big wet pulses trundled northeast wards from the Western Approaches, hitting Ireland and the southwest of England before clearer and still pretty fresh weather, largely Atlantic in origin came in behind and the winds stayed mainly in the west.
American White-winged Scoter
There's not a whole lot to say about the drake American White-winged Scoter that was still floating around in a sea of scoters off the coast of Aberdeenshire this week ~ still present off the stretch of water between Murcar and Blackdog through to 12th, he looks destined to hang on for a few more days just yet; last summer this popular listing option remained until around August 29th, so history will probably repeat itself this year; time will tell but a second summer residence, after that gap of five years between sightings (making the big assumption he's one in the same) has been rewarding and fortuitous in equal measure for those who missed out in June 2011.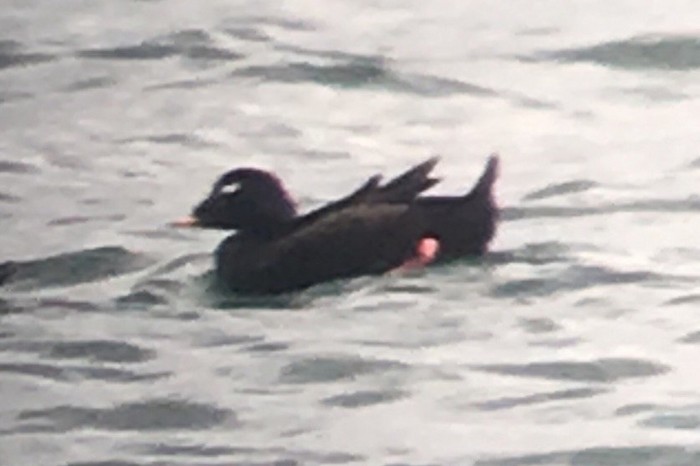 There's something special happening off Scilly…
It looked as though normal service has been restored where Wilson's Storm-petrels are concerned (but appearances, and statistics, may not always reveal the full picture) ~ after some exceptional numbers from both Scillonian and, in particular, Irish waters of late, we were back to gentle low single digits for the much of the week; Scilly pelagics between 9th-15th produced three, two twos, a one a four and two further singles respectively.
However (and it's a significant "however"), it is worth pointing out that this is suspected to be in no way a true reflection of the numbers of Wilson's Storm-petrels that are thought to remain in and around Scilly; the waters around the islands are teeming with marine life right now ~ witness the fact that an amazing 100 Atlantic Bluefin Tuna were logged on 13th (numbers not encounter around the islands in many decades) along with five Minke Whales, a large whale sp., 20 Bottle-nosed Dolphins, 10 Harbour Porpoise, Blue Sharks and Ocean Sunfish (with the previous day seeing a number of Short-beaked Common Dolphins noted too).
Once birders have enjoyed good views of the first few Wilson's, the drifting stops and the search for the dazzling feeding frenzies resumes. Numbers of this super storm-petrel are thought to remain high but in so many ways, that's not the story with regard to this remarkable selection of ocean life that has settled around the islands.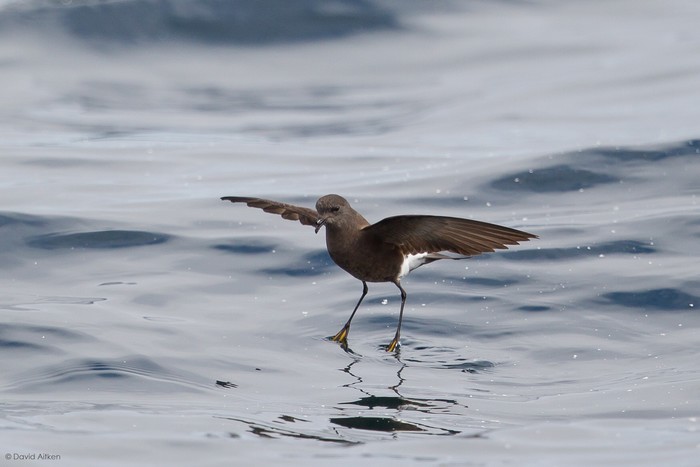 And as if the rare petrels and glorious mix of sea life wasn't enough, birders on the Sunday pelagic were also treated to thousands and thousands of shearwaters, including a monster total of 1200+ Cory's Shearwaters and over 550 Great Shearwaters (with 600 of the former and 200 of the latter seen SW of Giant's Castle, St. Mary's later the same day while the evening jaunt on 14th produced a further 16 Cory's and nine Greats.
Barolo Shearwater
Some birds are fabled, some are revered and some are notorious and perhaps one of the most notorious of all ~ in terms of being a) tickable and b) reliable ~ is Barolo Shearwater.
Ten days on from the once-upon-a-time (North Atlantic) Little Shearwater being reported from Prawle Point, a handful of Cornish seawatching stalwarts reported the second of the month passing Porthgwarra during the morning of 13th. With news out late in the evening, any seawatchers in and around the area may have viewed the report with some consternation but with a passing seabird, what can you do?
The PG individual was apparently somewhere beyond the Runnelstone buoy, so no chance of any photos for the increasingly photo-focused BBRC. These must be tough ones to adjudicate on but the committee have increasingly made a rod for the own back by the increasing insistence on images to back up field notes. Non-photographed birds are still being accepted, good job too as you'd be down to perhaps just three or four "genuine" records if all you went on was dead ones, trapped ones or singing ones…
Thrush Nightingale
So here's one that doesn't generally make headline fodder, but its been one of those weeks and this one breaks a record or two…
Thrush Nightingale remains something of an oddball in birding terms in Britain. It remains a rather rare visitor here, still less than 220 acceptances ever and almost harder than ever to catch up with, but it is a species that seldom seems to generate the interest it perhaps deserves, especially given the infrequent twitchability of them.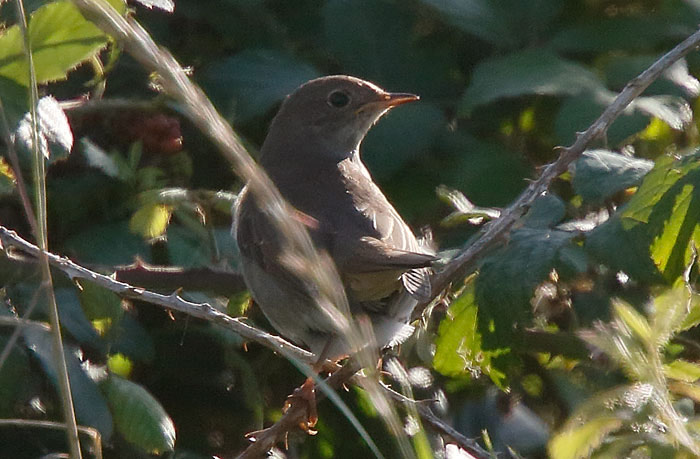 There are 27 accepted records for August and this week saw number 28 appear, thanks to the remarkable (at first glance) arrival of one along Norfolk's north coast, a furtive elder and bramble dweller located lurking in the cover of Gramborough Hill, Salthouse on 10th. The weather through the previous 36 hours had actually been particularly conducive to sucking a passerine or two from somewhere within the depths of the Baltic region but, even so, this was still not quite what many were expecting.
Most of the August records to date have appeared well past half way in to the month and this week's super find on Gramborough Hill has become the earliest August bird to date, beating singles on Fair Isle and Aberdeenshire by two days (found on August 12th 1977 and 2004 respectively).
There have been 12 Norfolk records prior to this record breaker, seven have been seen (and heard) in May, four have been found in September (including one on Gramborough Hill in 1992) and there's also one October record, a first-winter male trapped at Holme in 2005.
Away from the truly bountiful waters of Scilly, an afternoon fly-by Wilson's Storm-petrel was noted from Cape Clear Island (Co. Cork) on 10th, two were reported from the M.V. Scillonian III on 11th, two trips towards the Tater-du Lighthouse, south of Lamorna Cove (Cornwall) produced doubles in the morning and evening sorties of 12th with the same date seeing further Irish birds appear; two were seen from Bridges of Ross (Co. Clare) and a weekend high of 16 were seen at sea off Baltimore (Co. Cork) with five more there on 13th.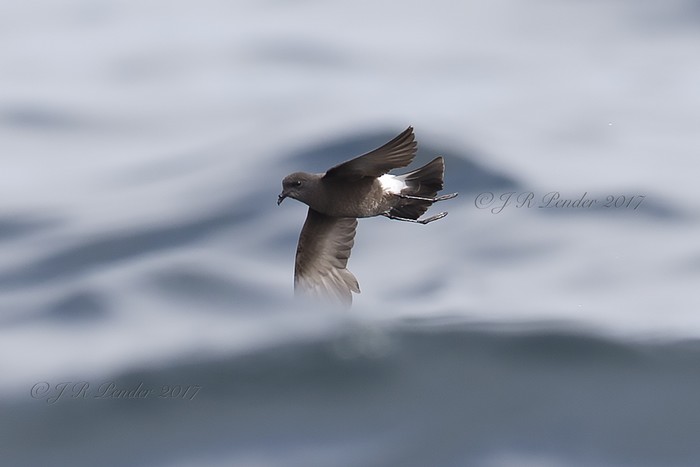 Back in Cornwall, some of the observers at Porthgwarra on 13th managed two Wilson's with one seen from the Scillonian and, in a birding first, another was logged from a kayak off the Devon coast, not far from the Eddystone Lighthouse, the same day. The final birds of the week was seen off the coast of Kerry, at Skellig Michael on 14th and some 14 miles out of Salcombe, off the Devon coast, on 15th.
Big shearwaters were still much in evidence through the week, but aside from the big haul of numbers on Scilly on 13th (see above) things weren't as busy as the previous seven days had been.
Great Shearwaters started off slowly, a handful of singles reported on 9th, including a particularly notable record from Sheringham (Norfolk) during the early evening (it is still a desperately rare species in the county). Pelagics from Scilly and Penzance on 10th recorded eight and fifteen respectively while a trip out in to the west side of Lyme Bay, a trip that started from Brixham yielded an impressive dozen. Cornwall's Lizard Point registered 24 on 11th with 39 from the evening jaunt out from St. Mary's (Scilly) while a loner headed past Bridges of Ross (Co. Clare) the same day.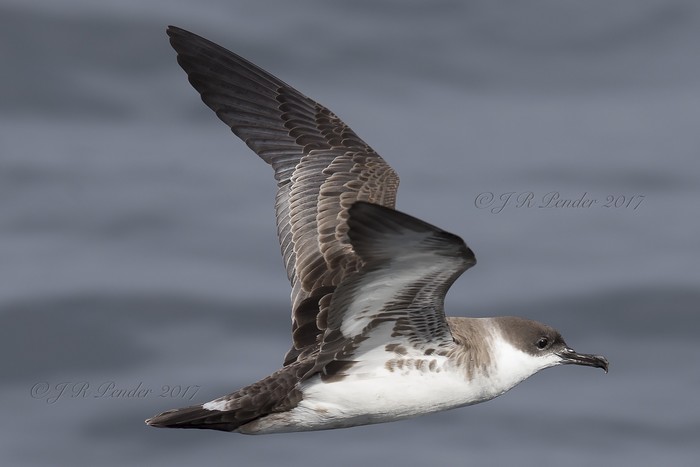 Numbers rose on 12th, the Scilly pelagic scoring at least 90 Greats and 15 were seen off Lamorna Cove on the morning trek out and half a dozen were noted in the evening. Single figures were also noted in Cork, Waterford, Devon and Cornwall through the weekend and at least 57 were seen from Porthgwarra on 14th with 11 reported from the Rosslare to Fishguard ferry on 15th.
For Cory's Shearwater watchers, the new week was a relatively slow one, again as with Greats, numbers weren't anywhere near where they were following last week's big shear bonanza. A single headed by Pendeen on 9th with half a dozen from the evening pelagic from St. Mary's the same day. There were threes noted on the morning and evening crossing of the M.V. Scillonian III on 10th with 31 from the Scilly pelagic that night. Birders on the boat from and to Penzance notched up five each way on 11th (actually up to 15 reported) with half a dozen from the Scilly pelagic later in the day.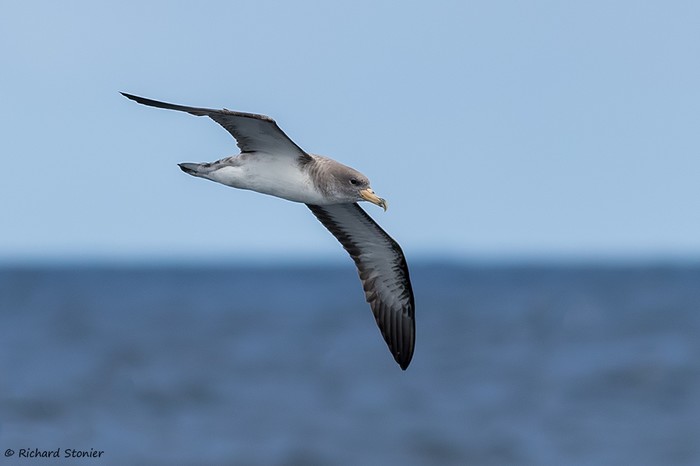 A busier 12th saw 150 Cory's recorded on the birder's pelagic off Scilly, one was off the Lizard with five more in Ireland, two from Kilcummin Head (Co. Mayo) and three off Mizen Head (Co. Cork). Dribs and drabs followed from familiar localities as the week drew to close, single figure tallies noted away from the Scilly pelagics bar the 29 that flew past Horse Point, St. Agnes and the 30-40 off Porthgwarra on 14th.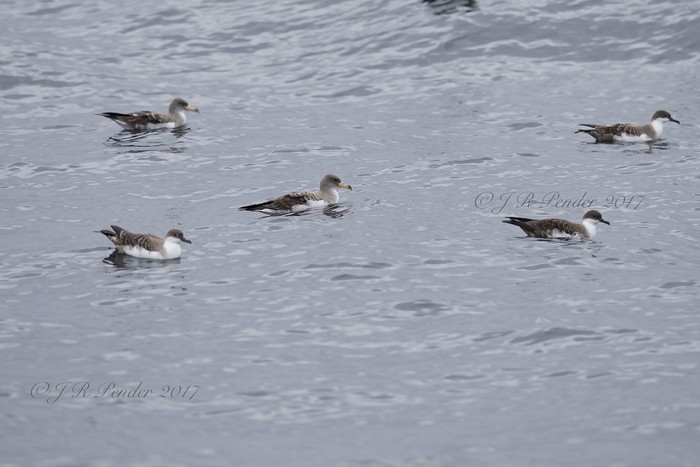 Also dropping in number after last week's four-figure haul was Balearic Shearwater ~ noted daily, there weren't too that many double figure hauls from the birds noted this week. In Dorset, Portland scored 16 on 9th and in Cornwall, the Lizard recorded a dozen on 10th. The early part of the week saw a decent count of 89 noted from the Lyme Bay pelagic from Brixham on 11th and then 50 were off Portland Bill on 12th (56 were counted the next day and a further 50 on 14th) with low single figures noted from Cork, Waterford, Pembrokeshire, Ceredigion and Gwynedd to Kent, East Yorkshire, Cleveland and Highland.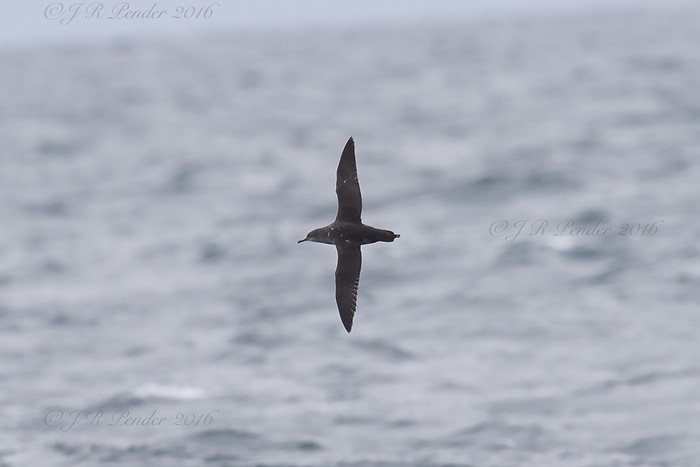 There weren't too many Long-tailed Skuas on offer, two single reports came from 10th ~ from Canvey Island (Essex) and off Weybourne Camp (Norfolk) ~ and another headed by Whitburn (Co. Durham) on 15th.
As the weekend approached 21 Pomarine Skuas had been noted countrywide from 11 British and Irish counties, stretching from Cornwall to Aberdeenshire and out to Mayo with three in Lyme Bay on 10th being the "largest" count. Half a dozen more followed on 12th, three of them seen from the Baltimore pelagic and six more were seen on 13th, including a second-summer from the Scilly boat while the week concluded with four birds off Whitburn on 15th.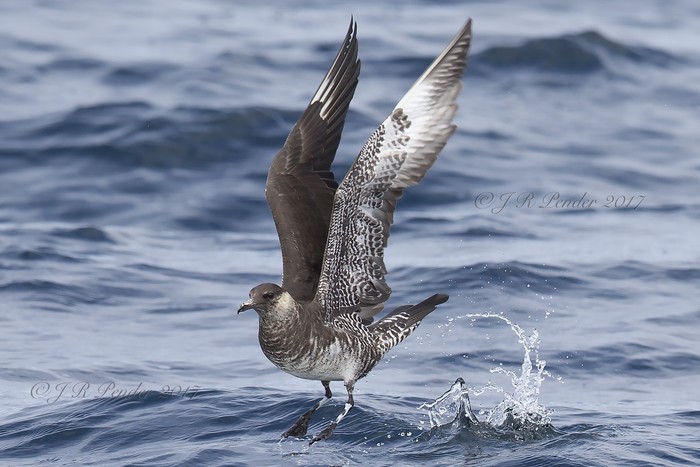 The unseasonal low pressure system that brought the storms that began the new review week also deposited a couple of inland adult Sabine's Gull in to the southeast of England on 9th, noted at Lower Farm GPs (Berkshire) and Beddington SF (Greater London) with a north bound adult also off Gibraltar Point NNR (Lincolnshire) the same morning. The fourth of the day, and the third inland record was a the bird that paid a brief visit to Napton Reservoir (Warwickshire) ~ the fourth county record in the last 12 years.
Further Sabine's Gulls followed from Herne Bay and Reculver (Kent) on the morning of 10th with a first-summer reported from Sheringham, also during the early waking hours of Thursday morning. Six birds were reported from Penlee Point (Cornwall) on 12th with a single at sea from the Stornway-Ullapool ferry the same day with another ferry bird noted just south of Plymouth on 13th with another inlander noted the same day, this one at Scorton GPs (North Yorkshire).
Seawatchers at either end of England logged a couple of additional flybys on 9th ~ a northbound Red-necked Phalarope must have been a pleasing change from the norm at Flamborough Head (East Yorkshire) while off the Cornish coast, a single Grey Phalarope was noted from Pendeen Watch, with another reported between Scilly and Penzance on 11th then a dozen were seen from Kilcummin Head (Co. Mayo) on 12th, seven appeared off Scillonian on 13th with one on the trip out of Baltimore (Co. Cork) the same day.
Finally, a Leach's Storm-petrel was noted in County Clare, seen from Bridges of Ross on 11th, another reported off the Scillonian the same day and two passed the Mullet on 13th.
In amongst the eight Glossy Ibis that remained at Walmsley Sanctuary (Cornwall) at the start of this week was a Spanish ringed bird, suggesting that some new stock had appeared after the double-figure flock had split up as some moved over the border to Devon, although just one remained in the north of the latter county, at Velator NR until 9th before moving to Fremington Pill on 13th. Back along the Camel, half a dozen Ibis were seen at Polzeath on 13th and eight were again at Walmsley the same evening. Another southwestern Ibis remained around the Somerset Levels throughout the week.
New was the rather dandy adult that alighted at Cley Marshes NWT (Norfolk) during the morning of 11th; it gave most folk the slip, heading west at lunchtime but returned, from the east, for a cameo appearance amongst the thousands of gulls in their pre-roost mode on the reserve later the same evening. It then shifted to and fro, to Salthouse for 12th-15th.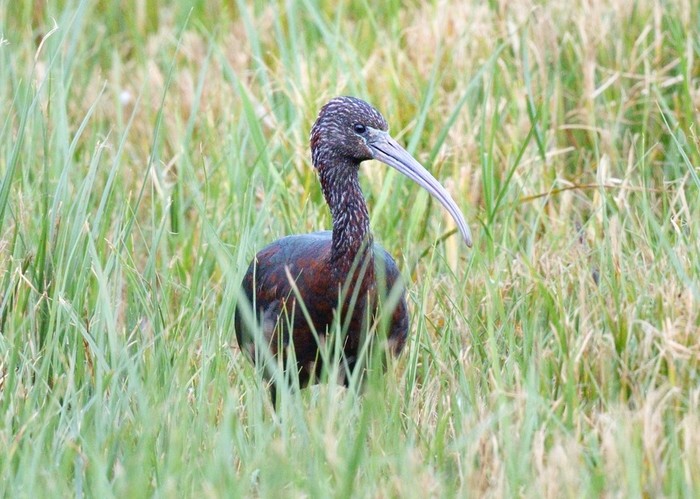 Just one Night Heron was seen this week, a non-adult at Lade (Kent) on the morning of 9th and another was seen at Hickling Braod NWT (Norfolk) on 13th whilst the tame American Night Heron was still in situ, tame as anything, at Dingle Gardens, near Shrewsbury (Shropshire) throughout the week.
Up to three new Purple Herons were found this week; first came one at Bembridge Lagoons (Isle of Wight) on 9th and it was followed by a juvenile at Ouse Fen and then Needingworth Quarry (Cambridgeshire) on 10th-11th (departing before 6am) and another youngster was reported from Cliffe Pools RSPB (Kent), also on 11th.
The flock of five Cattle Egrets at Cornwall's Walmsley Sanctuary, still in place to 12th included what was surely a locally born and raised juvenile or two and made up almost a fair percentage of the week's total of 25-30 birds, spread widely across England and a small part of Wales. Elsewhere in the southwest, two birds were seen at Colliford Lake (Cornwall) on 15th, another duo remained at Black Hole Marsh NR, Seaton (Devon) to 9th while moving north, a trio was a great find at Edderthorpe Flash (South Yorkshire) on the same date. Further singles were at Slimbridge WWT (Gloucestershire), Leighton Moss RSPB (Lancashire) and, new, at Hale (Cheshire) and Wicken Fen NT (Cambridgeshire) on 10th with a juvenile noted again at Pagham Harbour (West Sussex) on 11th-12th with one in neighbouring East Sussex, at High and Over on 14th-15th.
New arrivals on 12th were found at Ogmore-by-Sea (Glamorgan), Connah's Quay (Flintshire) ~ with it or another at Shotton on 13th ~ and a juvenile made it to Abbotsbury (Dorset), perhaps another locally sourced bird? New on the edge of the English capital was a single bird at Beddington SF (Greater London) on 14th while in Norfolk, a new arrival was found at Titchwell RSPB later the same day. A flock of five Cattle Egrets were again at South Huish Marsh on 14th and, coincidentally, a further (?) quintet flew across Exminster Marshes RSPB early the next morning.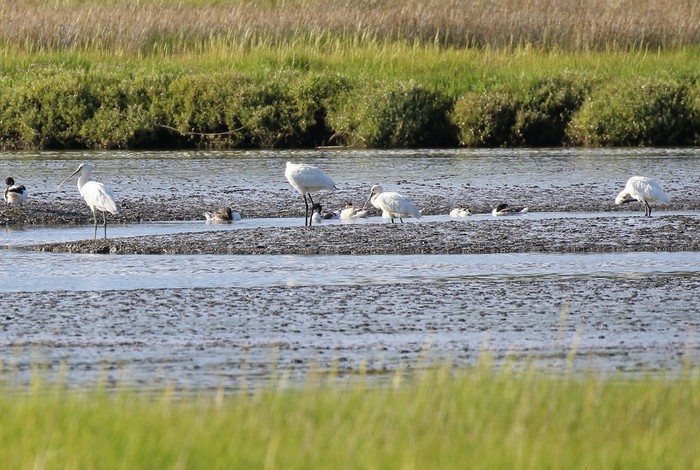 There's a chance that a lot of our Great White Egrets have secreted themselves out of the limelight (maybe even out of the country?) this week, some 30 noted from 12 British counties this week, well spread and in ones and two only, aside from the sextet at Denge Marsh, Dungeness (Kent) on 15th and quartet at Chew Valley Lake (Somerset) on 14th.
Stiffkey Fen remained the lead site for Spoonbills this week, 33 noted there on 10th but Suffolk's Hazlewood Marshes, near Aldeburgh wasn't too far behind, scoring a very respectable 23, also on 11th (and then Havergate Island recorded 29 on 14th). Around the east coast and over the Wash and in to Lincolnshire, Gibraltar Point managed 16 birds on 10th with 10 counted at Alkborough Flats on 9th with four along the coast at Frampton as well. Back in Norfolk, up to a dozen were at Titchwell off and on through the week and roaming twos and threes made it as far as Cley most days. Other notable single figure counts were Poole Harbour's nine and Blacktoft Sands' six, both on 9th with others noted from Carmarthenshire to Northumberland.
Ignoring rogue introduced/rehab'ed/escaped White Stork records (the Dorset and Worcestershire ones are duff for sure, but we don't know much about the borderland bird near Hartland, in Devon on 11th) we move swiftly on to Common Crane, 16 of which were seen on the Cambridgeshire Washes on 10th. In Somerset, three (O.U.O) were at Chew Valley Lake on 11th and singles were at Osmotherley (North Yorkshire) on 9th before heading to Doncaster (South Yorkshire) the following day while just one was noted in the Norfolk Broads, seen at Strumpshaw Fen RSPB on 11th.
In amongst the hefty throng of seaduck at Blackdog and Murcar, at least three drake (two adults and 1st summer) Surf Scoters were vying for birders' attention through until 12th. In Wales, the week's only other duck of note, the summering first-summer female King Eider, remained at Ynyslas (Ceredigion) until 14th.
What proved to be Glamorgan's third-ever Semipalmated Sandpiper was identified on 13th, the second day of its two-day stay at Sully Bay, near Barry, becoming the first county record in almost 16 years. Both of the Welsh county's previous records came from the Ogmore Estuary, both of them juveniles and both in September; the first was in 1990, the second in 2001.
There was a hectic little spell at Cork's Clogheen Marsh on the morning of 13th where a Nearctic double of a Lesser Yellowlegs and Long-billed Dowitcher were logged before the Archers had started. Kent's adult Long-billed Dowitcher remained at Oare Marshes NR until 15th, the fifth record for the site since 2001.
Also new on 13th, a Buff-breasted Sandpiper on North Ronaldsay, the third year in a row where the species has been noted on the Orcadian island, and this week's newbie was in place to 14th.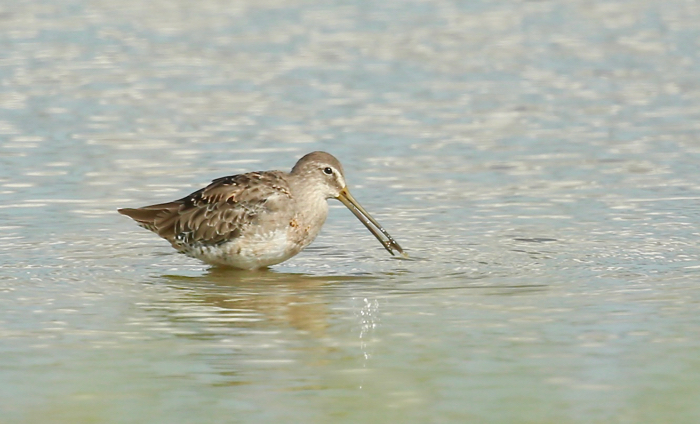 Norfolk's first Baird's Sandpiper since 2012 reappeared at Potter Heigham Marshes during the afternoon of 10th but was gone again not long after. A new White-rumped Sandpiper was discovered at Tacumshin (Co. Wexford) on 10th (dropping in to The Cull for a day or two as well) while last week's bird in Northumberland remained at Cresswell Pond NWT to 9th before moving to Druridge Pools on 11th and then briefly to Hemscott Hill on the morning of 12th before settling again at Druridge from 13th to the week's end. Not a million miles away was a second northeast White-rump, a new arrival found in Cleveland, at Greatham Creek on 14th, a bird that moved to Saltholme RSPB the following day. The week's fourth individual was picked up in the throng of shorebirds at Snettisham RSPB (Norfolk), also on 14th.
A quartet of Pectoral Sandpipers made the news across the past seven days, the first of which was found at Blithfield Reservoir (Staffordshire) on 9th and this was followed by further new arrivals at Roonah (Co. Mayo) on 12th, Cropston Reservoir (Leicestershire) from 13th with the fourth at Frampton Marsh RSPB (Lincolnshire) the same day.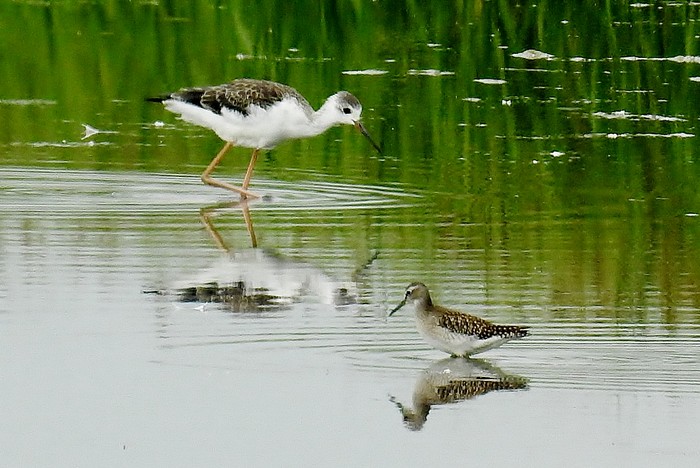 The far southeast of England held on to the week's only Black-winged Stilts; five were still at Cliffe Pools RSPB (Kent) on 10th (with four still on 14th) while three juveniles remained at Bowers Marsh RSPB (Essex) to 12th while August's first Dotterel spent 12th-15th at Edge Mount (South Yorkshire with the second noted at Polgigga (Cornwall) on 15th.
As well as the fly-by Red-necked Phalarope mentioned already from East Yorkshire, most of the attention for the ever-delightful little shorebird fell on Shetland; three juveniles were on the tiny Utra scrape on Fair Isle on 11th with another (local?) juvenile on Unst the same day. Way down south, the fifth juvenile of the day was found at Orford Ness (Suffolk) with the week concluded with two adults joining one juvenile on Fair Isle on 15th ~ the significance of these records from Fair Isle being that they represent the island's first-ever breeding record of this diminutive and rather exquisite shorebird.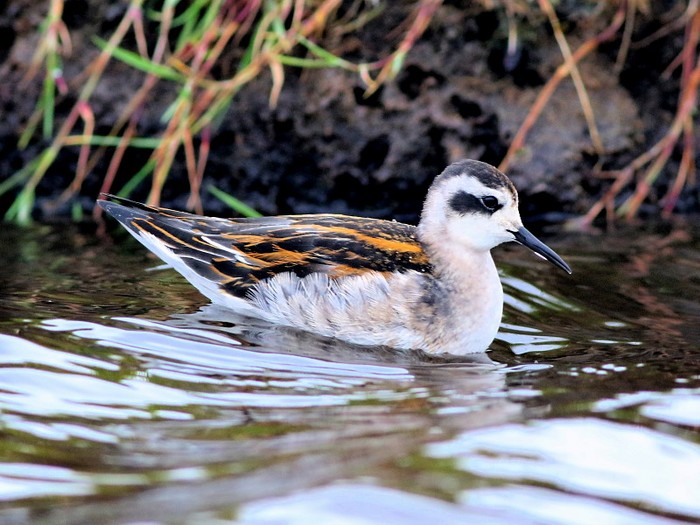 What will prove to be Cleveland's sixth Caspian Tern flew past Seaton Snook on the evening of 14th, the first in the county since July 2006 and only the third in the last 36 years. There's every likelihood that this may well be the roaming, wandering red-ringed bird that has been on a grand tour of parts of England and Wales this summer.
A new adult suumer White-winged Black Tern kicked off the week in style at Rutland Water (Leicestershire) on 9th (where it remained until the following day). It seems feasible that this was the same adult that moved to Farmoor Reservoir (Oxfordshire) on 11th but it wasn't going to be the adult that was found at Havergate Island RSPB (Suffolk) on 12th. Last week's juvenile found last week in south Devon toured up and down along the Exe Estuary through to 15th and the fourth of the week resurfaced again on North Ronaldsay (Orkney) on 11th (last seen here on the first of the month). Bird number five commuted around the Hampshire and West Sussex border, from Chichester Harbour to Hayling Island on 14th-15th.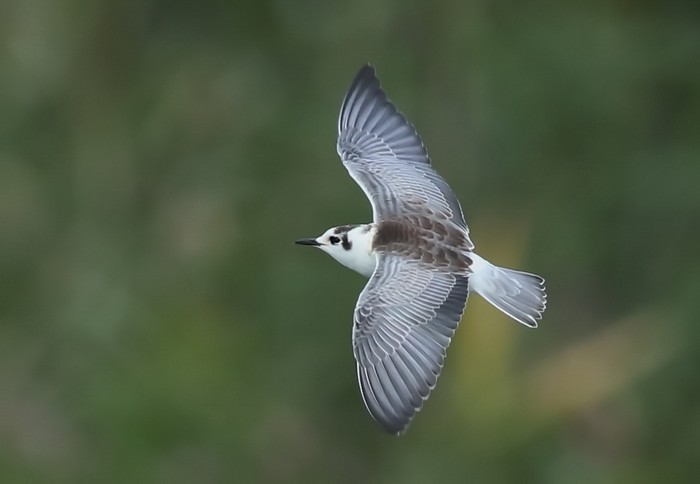 There were four returned Bonaparte's Gulls to mention this week, up two from seven days ago. Still in place were the adult at Oare Marshes NR (Kent) and the second-winter at Brownsea Island (Dorset) (let's call that one as being one-in-the-same as the bird that was at Longham Lakes until early June) and "new" was the adult back in Cardiff (Glamorgan) from 12th (presumably the bird seen in the Bay area since at least 2009). Over in County Kerry, a first-summer Bonaparte's Gull at Caherfearlane Marsh, near Killorglin could well have been the bird seen for a few months at Kenmare, some 50 miles south in the same county. Another Nearctic gull to rock up this week was an adult Ring-billed Gull at Nimmo's Pier (Co. Galway) on 13th.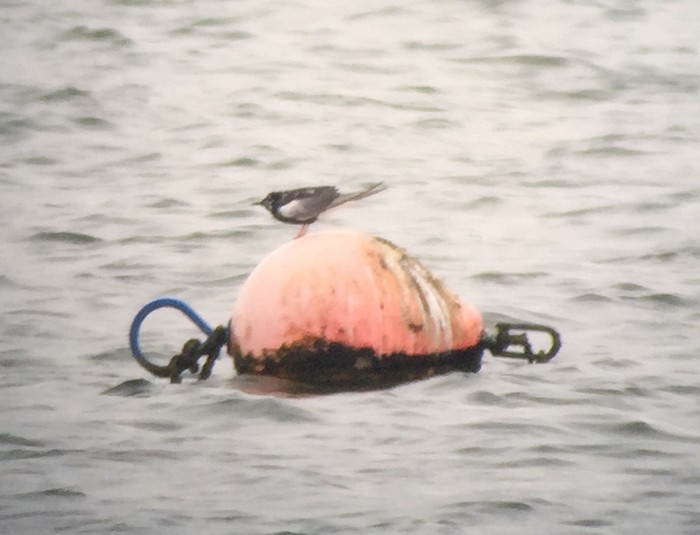 Still feeling plain wrong is any sort of reference to white-winged gulls in mid-August but needs must so there were five Glaucous Gulls noted (three on the Outer Hebrides and singles in Durham and Northumberland) while the only Iceland Gull was in Benbecula's Stinky Bay on 11th-15th.
Out in County Mayo an adult female Snowy Owl was found at the south end of Tarmon Hill, on the Mullet on 12th and was still there the following morning ~ finder Dave Suddaby has mentioned that this is the bird first seen (when it was a 2w/3cy) in September 2006 and which returned each autumn until 2012. Where it has been since is anyone's guess but the one-day March bird from earlier this year seems likely to also have been this individual too.
Up to three Honey Buzzards continued to be seen at the Wykeham Forest raptor watchpoint (North Yorkshire) through until the start of the new working week while in Kent, one was seen over Dungeness RSPB on 10th and two flew over Oare Marshes NR on 12th. The sixth one of the week was again at the Welbeck Raptor Watchpoint (Nottinghamshire) on 13th with the seventh following later the same day, at Auchtermuchty (Fife). Birds eight and nine rounded off the week, at Lower Hope Point (Kent) on 14th and Radipole Lake RSPB (Dorset) on 15th.
Around the same time as the Norfolk coast landed the earliest-ever autumn Sprosser (ask your mum or dad…) the autumn's first Melodious Warbler was located at Dungeness (Kent) during the morning of 10th with a second following along the next day, at Durlston CP (Dorset). The same two counties shared the third and fourth of the week, at Studland on 12th and Sandwich Bay on 13th and a tidy week for this cute-looking Hippo was rounded off by two singles further in to the southwest of Britain, on St. Mary's (Scilly) on 14th and Bowling Green Marsh RSPB (Devon) on 15th.
Nottinghamshire's failed breeding Bee-eaters continued to find the confines of Ulverscroft Priory in Leicestershire to their liking, the rainbow-hued septet still being the centre of attention through until at least 12th, with five there the following day, four or more of which headed over Sutton Bonington (Nottinghamshire) later the same day (four were again in Leicestershire until the end of the week). The number of folk who paid a visit to the nest site in Nottinghamshire was mind-boggling, well over 10,000 people, and if a small percentage of those with just a passing interest in birds became engaged with the Bee-eaters and the broader picture surrounding our avifauna and the need for concerted conservation efforts, then all that effort from the RSPB wardens and volunteers wasn't in vain.
Another popular aerial starlet was the reappearing Alpine Swift at Bempton Cliffs RSPB (East Yorkshire) ~ last seen on 7th, the bird was back again on 12th before heading north at Buckton the following day, reappearing again at Bempton not long afterwards and it continued its two-site commute the following day and it concluded the week back at Bempton.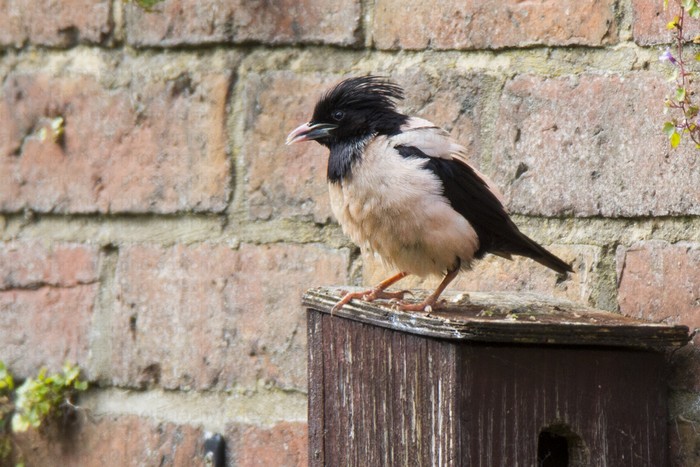 A male Red-backed Shrike was new at Worth Marsh, Sandwich Bay (Kent) on 9th, single Wrynecks were mentioned from Leighton Moss RSPB (Lancashire) on 9th and Lound (Suffolk) on 11th while also fresh this week was the adult male Common Rosefinch at Kinloid Farm (Highland) on 12th. Also new, the trapped and ringed Bluethroat at Old Hall Marshes (Essex) on the evening of 15th.
Weird midsummer records from Hampshire this week concerned two reports (unconfirmed and otherwise) of single Yellow-browed Warblers at Fawley on 10th and then East Boldre on 13th ~ given the spectacular increase in number of these fab little Phylloscs and their Western European arrival dates getting earlier and earlier, late August appearances along the east coast can't be far away, but maybe they've done it already?
Finally, on the Isle of Skye, the summering Rose-coloured Starling was again at Broadford on 12th (last noted a month ago) and another was found in North Yorkshire, at Scarborough, on 13th, where it remained to the end of the review week.
Desired by so many birders here, certainly all larophiles, is Great Black-headed Gull and news of Denmark's third, a juvenile, at Blåvand on 12th was mouthwatering ~ it's a short flight for a bird such as this across the North Sea and as there are countless Danish ringing recoveries of a wide variety of gull species here, it just takes this awesome bird to hook up with the right travelling companions, shoot out southwest from the coast and, before you know it, bingo, its there in the roost on Pat's Pool…
Hot on the heels ~ well, hott-ish, a few weeks after (we're not talking Men's 4x100 relay here after all) ~ of the astounding male Oriental Plover in Norway (still the "best bird" in the WP this year) was this week's Baltic coast male Caspian Plover in Poland, found at Laszka, Nowy Dwór on 9th, a bird which was still in place the next day.
Still a big rarity within the Western Palearctic, this slightly scruffy individual was thought at first to perhaps be another Oriental but the first image posted online via Tarsiger's twitter feed certainly gave rise to the thought that perhaps something not quite as gross was pottering about a harvested Polish field. The identity, as a Caspian Plover firmed up the following morning, the bird still present and what a great bird to have in your country.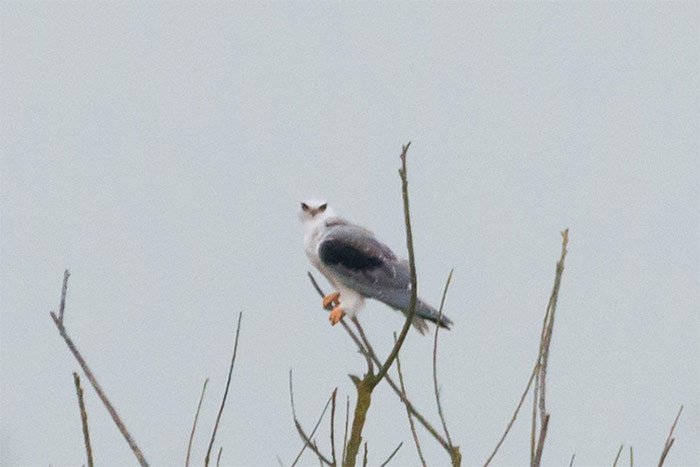 Interesting news from France saw the appearance of a Western Purple Swamphen on the northwest coast of France on 10th, seen at Le Crotoy, in the Somme (almost in sight of Eastbourne and Hastings on a clear day and some imagination being used…). Luckily, pretty much all of us availed ourselves of that British 1st this time last year…
At the northern tip of the Netherlands, an adult type Franklin's Gull was photographed at Ezumakeeg Zuid, Freisland, not that far from Groningen on the evening of 9th (looking a dead ringer for the same scene out of the hides at Cley the same night). Last week's Black-shouldered Kite remained in Groningen, at Tetjehorn until at least 13th and if you pop in a couple of Short-toed Eagles in the small nation on 10th (in Drente and Gelderland), a few Aquatic Warblers, a Zitting Cisticola and a Long-billed Dowitcher (in the north, in Groningen), it was all rather dandy there…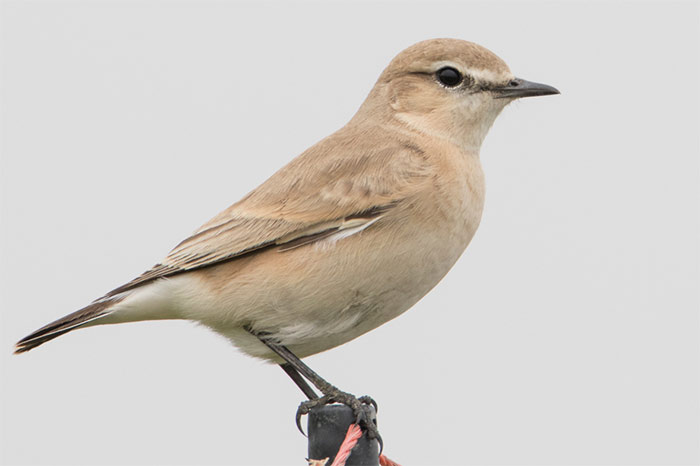 Showing no signs of quitting its summer outpost at Sylt, in the Schleswig-Holstein region of Germany was the Black-browed Albatross; still on station until the end of the weekend at least ~ there'll be little surprise when it moves and coasts along the British coast one final time before departing to (presumably) the southern oceans for the winter.
Also in Germany this week, an Isabelline Wheatear was photographed at Nordkehdingen, Niedersachen on 8th ~ the ninth national record (on a striking summery date).
Spain appears to be awash with Elegant Terns still; at least two have been seen recently at Salinas de Cerrillos, Punta-Entinas Sabinar, Almeria with other recent August records coming from Cadiz, at Castillo de San Sebastian and also Salinas de la Tapa where an adult and a juvenile were seen at the start of the month. Further late Spanish news was that the Hudsonian Whimbrel remained in Cantabria, at Cicero, in the Parque Natural Marismas de Santona last week. It'll be back in Cornwall in no time…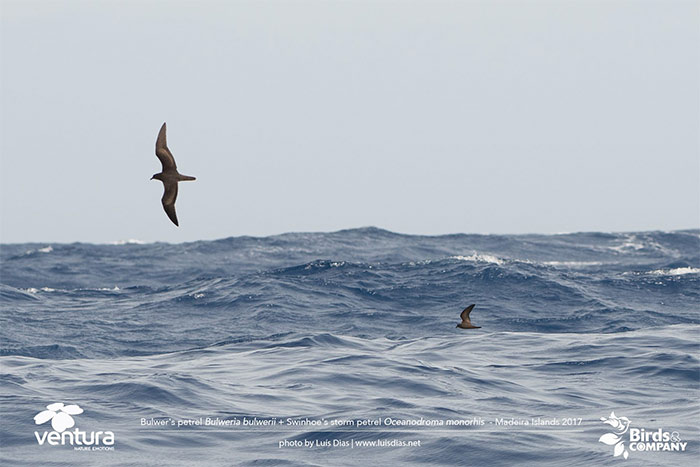 Way out west in the Atlantic, some 850 miles off the coast of Portugal, the Grey-tailed Tattler remained at Cabo de Praia, Terceira through until at least 10th while elsewhere around Terceira, a Snowy Egret was at Ponta das Contendas on 10th.
A little closer to land lies Madeira and birders who took the choppy seas there saw a Swinhoe's Storm-petrel from a pelagic trip on 11th (seen in the same field of view as a Bulwer's and Madeiran Stormie too…). The day before a Brown Booby was also noted on Madeira, at Ponta de Sao Lourenco. Meanwhile, on the Portuguese mainland, a Cape Gull remained around the coast until 8th at least.
We'll conclude with news of another piece of pelagic news, a Wilson's Storm-petrel was photographed at sea in Færoes waters this week, a first record for the islands.
As ever, so much of where we head off to in our world of virtual birding hopes and dreams is reliant entirely (pretty much) on what the weather holds in store.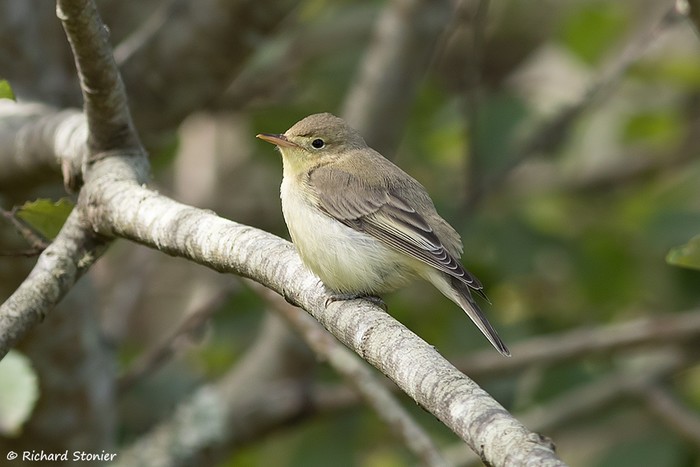 Mid-August is generally the first time we'll be able to encounter assorted drift migrants but hand-on-heart, there's not a lot on offer for most of us, as usual it looks as though it will be Shetland that welcomes a Greenish, Barred or Icterine Warbler with the prospect of the first juvenile Red-backed Shrikes or maybe even Citrine Wagtails not too far behind. And they may get birds considerably rarer than that too…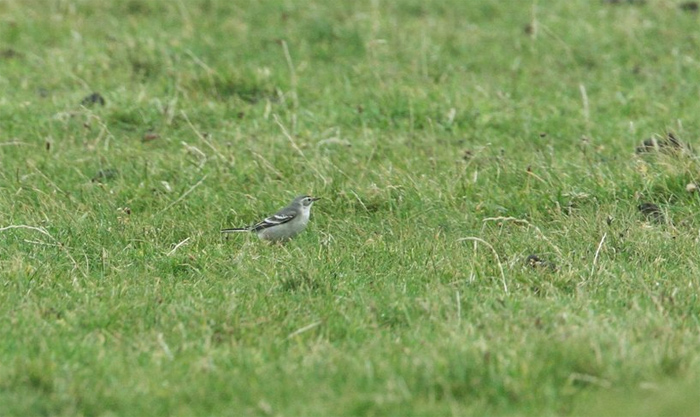 Those sort of things are easy to call if the weather does what we want it to, but beyond that, mid-August cane be a challenging time to look in to the birding crystal ball.
Gazing out to sea has proved profitable over the years for some more than others ~ none more so than the Pendeen Red-billed Tropicbird that still causes heart-rending consternation to all those who were sat, not that far (and within some sort of shouting distance) from the single sole photographic observer who kept his counsel until some time later, well after the bird of a lifetime had headed west.
But they are "commoner" than they once were (as in there are six records in 16 years, after none forever before that) and something exceptional has been happening with this exciting glut of Wilson's Storm-petrels in the last three or four weeks so, who knows, maybe there's something else lurking out there, waiting to be drawn in towards a boat off the southwestern coasts of Britain or Ireland (or for the land-lubbers amongst you, a picturesque headland).
(And if the weather changes rapidly and does the southwest to northwest switch thing, so favoured by birders down the east coast, don't be surprised if there are a handful of
Wilson's
records to go with it this autumn).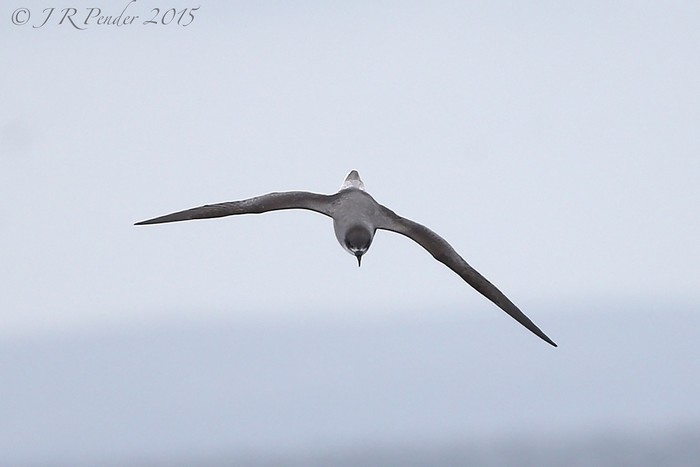 For those with a hole marked Fea's (-type) Petrel the week ahead is another one where, if you have the time, plonk yourself at Porthgwarra or Prawle, Bridges of Ross or Galley Head, or take a boat out from Hugh Town or Baltimore and hope; until the end of 2015, 25 records had been accepted (including a guaranteed Fea's with a daily breakdown, from 16th-22nd of 4,4,5,1,2,3 and 6 records for the seven days.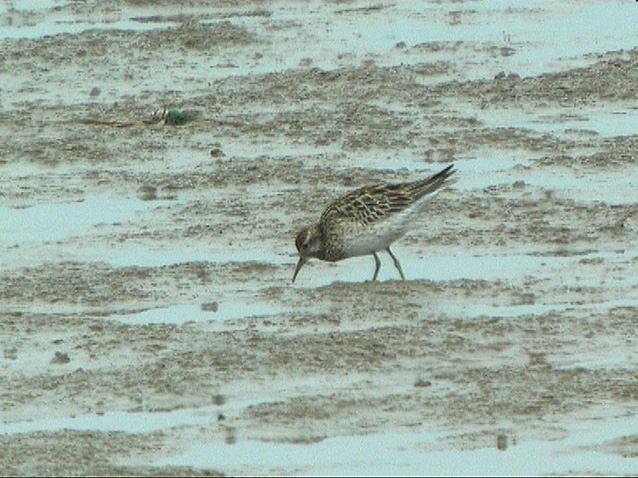 Shorebirders may want to consider the likes of Wilson's Phalarope this week, nine or ten noted in all, including five on August 21st through the ages while ramping up the rarity value somewhat, the week's three Sharp-tailed Sandpipers, the most recent arriving along East Yorkshire's Humber shore in 2010 while back to the west, have come two Western Sandpipers ~ Britain's first was found on August 19th 1969 on Tresco with Ireland's second coming to The Cull, in County Wexford on August 20th 1996.
We'll round things off by returning to Shetland, an island group who's prowess for surprising us all, almost whatever the time of year, has continued into August, with some considerable aplomb….
…and its warblers all the way really….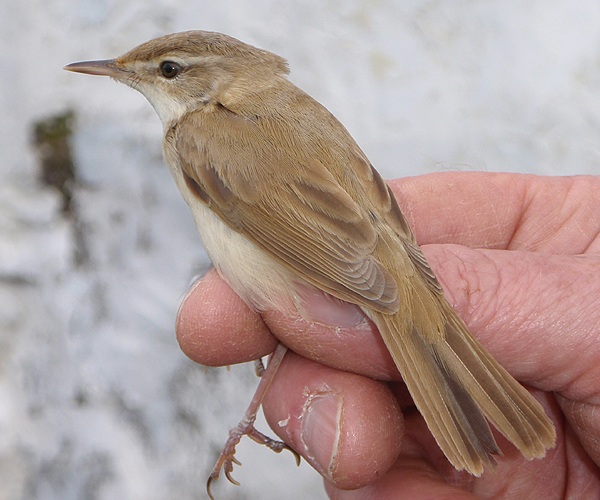 We'll start with Booted Warbler; five of the 13 accepted records for the week ahead of appeared on Shetland and, of the weather's favourable, then it is a prime contender for next week's roundup. Not far behind is Paddyfield Warbler, there are two Shetland records for August 16th-22nd from the past, one on Whalsay in 2008 and the other was on Unst in 2010.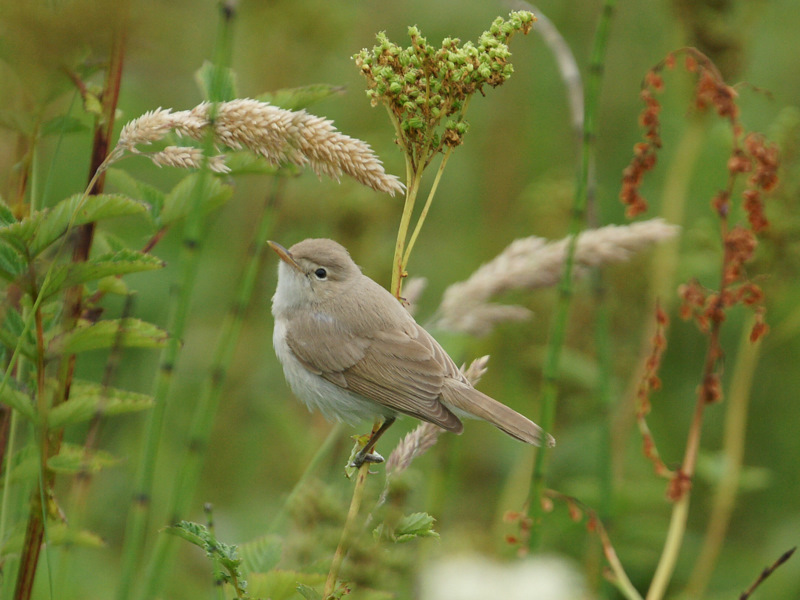 Taking it up a gear to Eastern Olivaceous Warbler next, Shetland has managed one of these hefty pickle-stabbing wielders in the past, found near Sandwick, Mainland on August 18th 2002. Rarer still, we're on to Syke's Warbler next, two of the 20 accepted records to date falling to Shetland in the week ahead; Britain's second was trapped on Fair Isle in August 1977 and a more recent bird was found at Burrafirth in 2010 (there are a total of seven August records in all).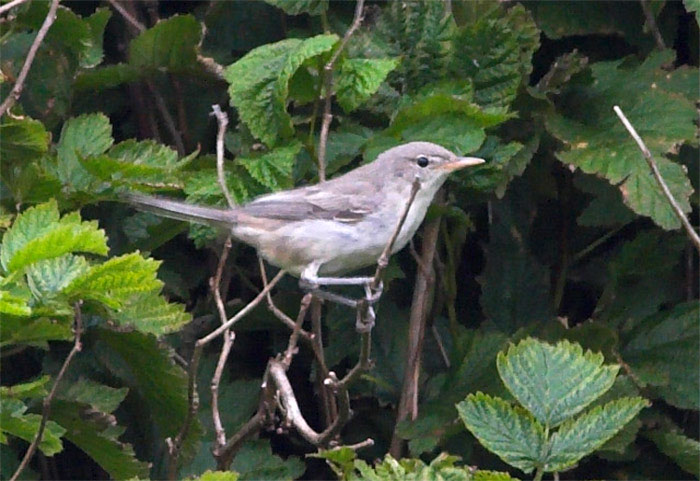 Saving, as ever, the best 'til last and its time to alight on the gardens of Boddam for Shetland's finest August offering to date ~ the elusive and hard-to-connect-with single day (more like single afternoon and evening) Olive-tree Warbler from August 16th 2006. The identity of the chunky beast that lurked deep in cover was only resolved several days after the event (it was suspected as being an EOW at the time) and is perhaps one example of the benefits of photographing rare birds for use as an identification tool.
In these changing times when this year's CZA award is presented for what appears to be a photo-essay only submission regarding the identification of a Shetland Brown Shrike, the comments from the BBRC panel suggesting that this really is the future, that notebook birders are dinosaurs from a different age, who's words of wisdom and ropey sketches will soon be rendered useless, well the events surrounding that fabulous first on Mainland Shetland 11 years ago this week, may actual back those somewhat excluding, rather disengaged thoughts up ~ many would argue that to be just the point.
Mark Golley
16 August 2017
Share this story
Tweet


Many thanks to all contributors for their photos and videos this week.
Hugh Harrop, Bob Flood, Joe Pender, Dan Pointon, David Aitken, Steve Gantlett, Richard Stonier, Tom Hines, Christopher Teague, Christopher Bond, Anthony Williams, David Cooper, Dean Eades, Andrew Last, Alex Meek, Steve Stansfield, Roy Harvey, Jason Atkinson, Mike Pennington,