Weekly birding round-up: 21 - 27 June 2017
The week at a glance
Out of the blue ~ a White-throated Needletail spends two dazzling hours on the Outer Hebrides…
The colour-ringed male Elegant Tern quits Sussex and moves west to Dorset
2017's firsts keep coming as a long predicted Lesser Grey Shrike lands on the Isle of Wight as temperatures soar; Shetland then hosts the much-anticipated Paddyfield Warbler
Northamptonshire's metal-ringed Bufflehead dismissed as an escape ~ are folk being too hasty?
DNA results announced for the recent Portland wing-barred warbler…
The Scottish Pied-billed Grebe still summering away up in A&B
The longest day = the hottest day this year for many as teeth-achingly warm, sultry, clammy air down south saw the thermometer's mercury revved to well beyond the high 20's degree mark, heading up towards somewhere close to 35°C (95 degrees Fahrenheit) at the day's peak on 21st around London's Heathrow ~ yielding numbers that meant that it was the hottest June day for over 40 years.
Away from the southeast bubble, the weather further to the north was becoming all the more palatable, as a weak weather front drifted aimlessly down from northwest to east, sucking in fresher conditions and, crucially, cooler conditions too, temperatures falling from those high 20's to a more tolerable low 20's at best.
As the week progressed, the hot stickiness set off a series of storms across the south, as the weather became rather more benign than of late across almost the whole nation. The winds changed towards the west or northwest and the heat ebbed away almost entirely as sunshine and occasional showers here and there became the order of the day and the average temperatures eased themselves in at the top end of the teens to the very low 20's (even that felt too warm after a week of often three layers and gloves, as Fair Isle offered up nothing much more than 11 or 12 degrees most days).
The white-hot temperatures may have been almost entirely the domain of the media's favourite region but the white-hot rare of the week (of this or any other week come to think of it) was in an all-together more tranquil environment.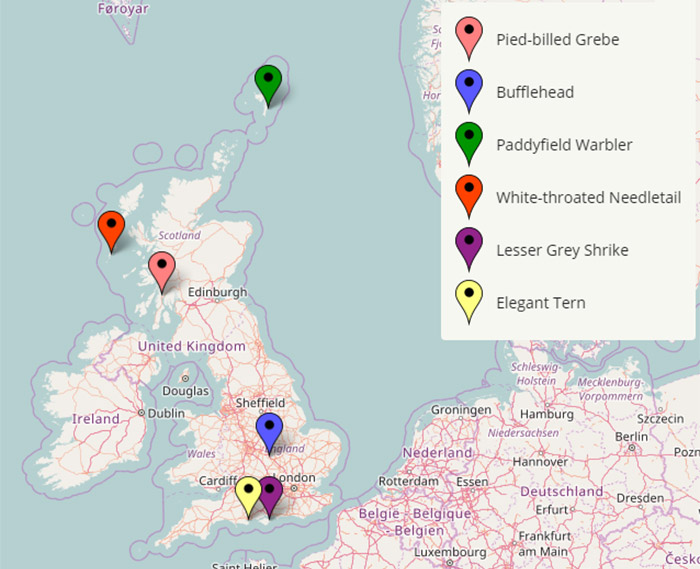 White-throated Needletail
Everyone has a dream bird that they long to find.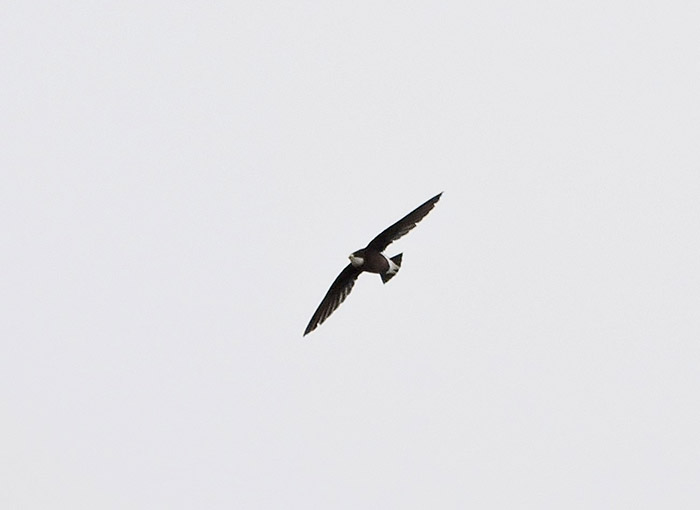 Casting an eye across your local patch, it is easy to occasionally get carried away and gaze upon a patch of ground with a favoured bush, a favoured muddy-fringed pool or some such and just let the imagination run riot for a moment or two…
…carried away in the world of virtual birding where the Lesser Whitethroat is transformed in to a male Rüppell's, the Little Stint becomes a Red-necked (or better) or, as was the case last week when I was sat in the dank Shetland drizzle, that the newly arrived Common Swift whipping around Fair Isle's south end was, in my mind's eye at least, a Needletail…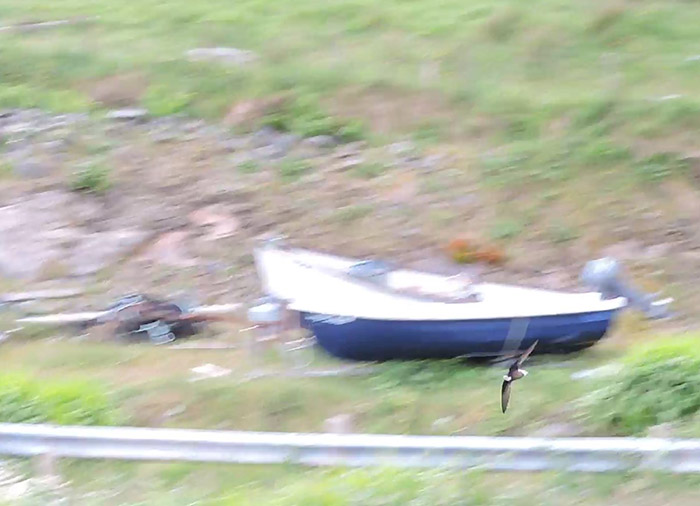 One man's damp daydream became one man's stark, breathtaking reality on 22nd when the most exciting, dynamic, heart-stopping, ball's out rarity on the British List decided to make a cameo appearance way out west, around the Gleann area of Castlebay on Barra (Outer Hebrides); for the second time in just four years, the island chain had scored a White-throated Needletail.
You could pillage any dictionary or thesaurus and still not run short of superlatives for White-throated Needletail ~ and there's actually not a huge amount to say really as this is a species who's scythe-like shape, insane speed and beguiling plumage subtleties are engrained on the mind of any birder worth their salt.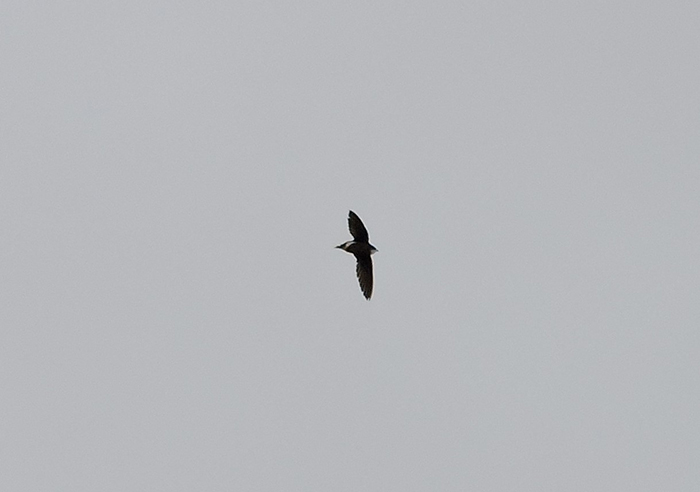 The bird was seen through the late morning of a grey looking Hebridean Thursday and was last noted around the east side of Castlebay through until around midday; almost as quickly as the dream had begun, then it was over…but this was no dream of course, this was a startling wide-eyed reality.
Despite this being a species that has only occurred once before during the times that the RBA round-ups have been in existence, it feels as though it is a species that is well known around these parts ~ before that last ill-fated Hebs individual, it was always a favoured late May or early June prediction; after the demise of the Harris bird, it still featured around the same time too; again for prediction purposes but also by way of allowing any excuse to re-use Chris Bromley's astounding, never-to-be-bettered example of a vagrant photo from these shores…
The record books show 12 accepted records of the species here, but most people would generally agree that it is a far lower figure than that ~ this is, most likely, just the sixth example of White-throated Needletail to be seen in Britain and Ireland, the third for Scotland and the second for the Outer Hebrides.
Britain's first was seen, then shot in Essex in early July 1846, with the second appearing at the end of July in Hampshire in 1879. Ireland's one and only record followed 85 years later when one was seen on Cape Clear Island on the typical date of June 20th 1964 and a further 19 years would follow until the remarkable returning bird made a first showing, on South Ronaldsay, in the second week of June 1983.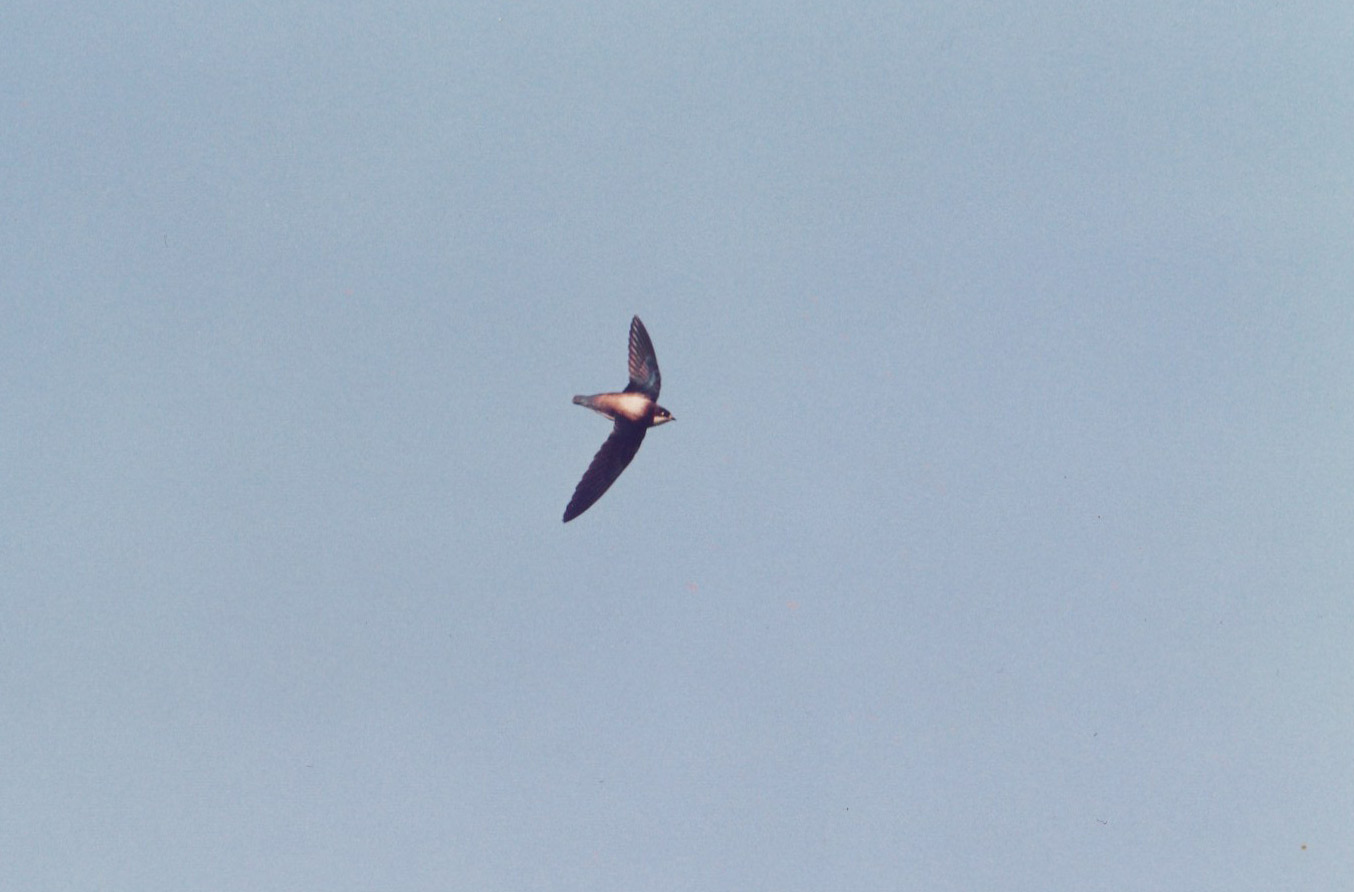 That bird played to the crowds (very occasionally) through the next few years, appearing in 1984, 1985, 1988 and then 1991 ~ well twitched on Shetland and Orkney ~ and tracked through no less than four counties, from Kent to Shetland, between May 26th and June 11th 1991.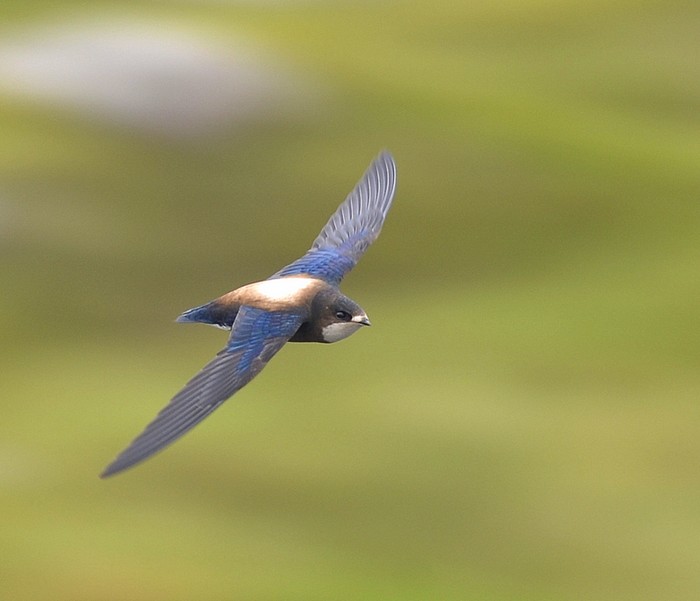 …and then, nothing…nothing until Messers Cocker and Gretton made a new generation of long-haul travellers ecstatic as they discovered the fifth British and Irish Needletail around Harris on June 24th 2013 ~ an event that started out as an adrenaline-fuelled joyful and triumphant scene but one which soured almost as quickly, as this wondrous wanderer collided with a wind-turbine, discovered limp and lifeless below a mighty metal column.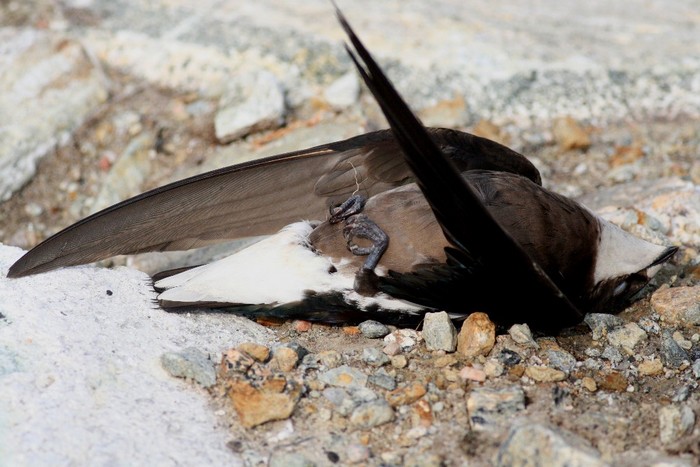 If that accident hadn't happened, doubtless I'd be sat here pontificating how this was one-in-the-same, back again after a four year gap and wondering where had it been. We know the facts though and there's the slenderest of patterns emerging for this tiny recent run of records ~ if you want to see a White-throated Needletail or even try and find a White-throated Needletail then set your stall out for an (on-paper) unfashionable jaunt to some western isles in the third week of June and cast your eyes to the skies…
Hat's off to the finder too ~ I'm sure that resident Barra birder Bruce Taylor will never forget the epic encounter that lasted perhaps not much more than a game of footy but will live on his memory for a lifetime.
Elegant Tern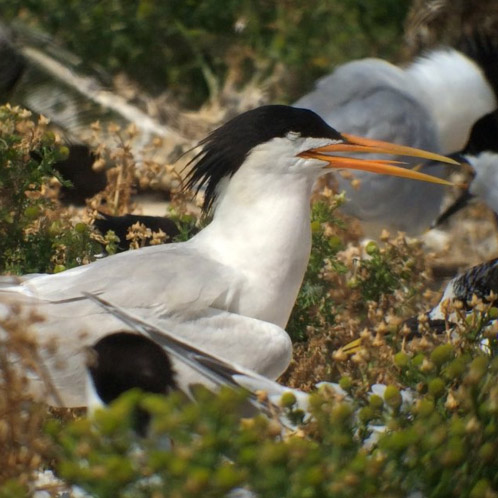 Along the south coast, the fun and games created by the French colour-ringed (and DNA sampled) adult male Elegant Tern continued through the first couple of days of the new week.
I'd been following the adventures of so-called Bird C from a far ~ he gave himself up as we headed north for some island solitude and there was a sense of inevitability and predictability that no sooner than we head south, then he ups sticks and does a runner. Such is the lot of a failed twitcher…
After becoming increasingly sketchy in his showings around Church Norton as the previous review wound down, there was little surprise on 21st when there was "no sign of…" news emanating from one particular corner of West Sussex. Equally, there was no real surprise when the Mega Alert went off mid-afternoon the same day to advise us all that our foreign fish-loving friend had decided to take a peep at Dorset's Brownsea Island.
Here he stayed for a short while before departing out to sea; but his reappearance later that evening was almost inevitable and this particular Elegant Tern was then watched, via webcam, through until the wee small hours by birding folk with either insomnia, night shift work or with nothing better to look at online at 3am then a rare seabird (really!?!).
Before 5am, he'd departed, tho' he was back again before six. He'd gone again soon after and was last noted flying past 'arry's house at Sandbanks before midday. That seemed to be that.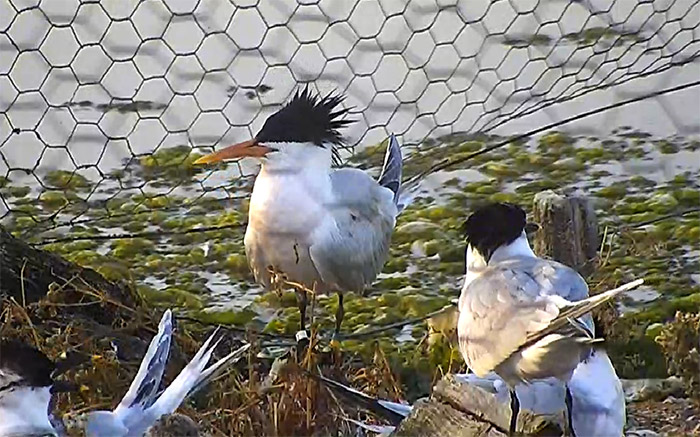 A third county in less than a fortnight and you wonder where (if anywhere) it'll appear next. Devon maybe? Kent perhaps? Back to the Atlantic coast of France? One thing we do know is that Dorset becomes the first English county to have hosted two Elegant Terns ~ the debut coming on May 10th 2005 when a fine adult was seen at Mudeford Quay.
The whole webcam thing was a fascinating one ~ sure enough, from north Norfolk, I could see it lined up behind the wire, a roaming renegade interned (as it were) in Dorset. This was taking the virtual birding to a new level; I've dipped this species five times around Britain and Ireland (x2 Devon, x1 Wexford, x1 Gwynedd, x1 Norfolk) and had planned a genteel south coast weekend assault ~ but there was the bird, in my view, live, with only 250 miles or so between us. It was, practically, a tick ~ the older I get, clearly the less fussy (and fussed) I'm becoming.
But, of course, it wasn't taking the virtual birding thing to a new level at all, as me and my buddy Edge were discussing on the evening of Bird C's crepuscular luring of men away from other more expensive and all the more risqué webcams; long before the days of being patronised to breaking point by the cloying crop of the BBC's Spring/Summer/Autumn/Winterwatch set up, there was another equally crinkling rare orange-billed tern that made an outrageous appearance on the same channel…
…dear old Tony Soper (an oft' forgotten part of the more influential TV naturalists gang, still going strong at 88) was sat on the Farnes, gamely chatting on as a camera panned along another line of nesting Sarnies before, suddenly, there was Elsie's enormous carrot! Soper didn't say a thing and the telephone network lit up as birders tuning in asked each other "did you see that!"…for those with a TV list, scoring a Lesser Crested Tern was quite something…
Fingers crossed (for me, entirely for me now) that the Elegant Tern gives me another chance again, though, hand on heart, if I'd been asked to trade the cool breeze and relative solitude of Fair Isle's extraordinary beauty, listening to Orcas exhale just yards away from us, as playful calves spy-hopped, breached and tail slapped close-by for a hot south coast crowd for heat-hazey views of a bird I've seen online on numerous occasions, I know which I'd choose, every single time...
But for now at least, as every day with no sign anywhere goes by, it seems as tho' ET has flown home.
More year firsts ~ Lesser Grey Shrike & Paddyfield Warbler
As the Elegant Tern decided to show off briefly in front of the "plushest houses in England" just across the Solent, June 22nd saw an important arrival make landfall on the Isle of Wight ~ the island's first-ever Lesser Grey Shrike appearing at Brading Marsh RSPB.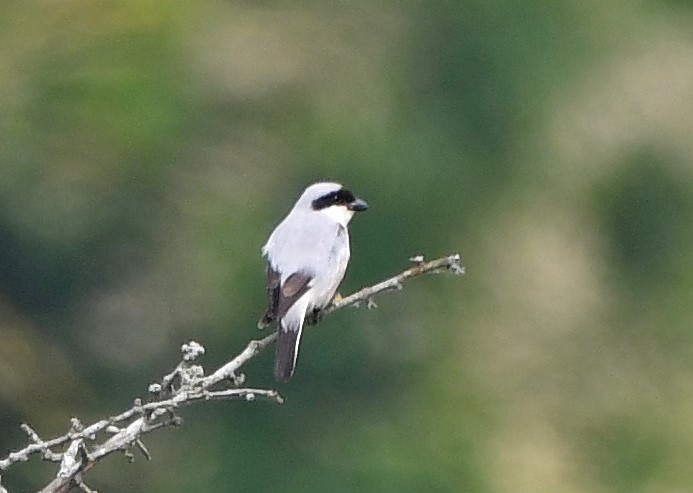 A species that has been touted for several weeks here, it is one of those no-brainer overshoots but it is still a rather fine thing whenever one does arrive. This first of the year remains a significant rarity in the UK and Ireland, just over 200 recorded in all, almost a quarter of which (44 until the end of last year) have been seen in June.
Also heavily suggested around these parts of late is Paddyfield Warbler ~ once upon a time this was a species that would have almost warranted Mega Alert status (admittedly quite a long time ago, just 10 records by the end of 1983) but it has now become far more frequent and we can now boast almost 120 records.
This week's second 2017 debutant was found by the bothy on Mousa (Shetland) on the afternoon of 25th, the second latest June record of the 14 records for the month (the latest was found on Fair Isle on 30th, back in 2012) and of those 14 records in all, Shetland now boasts nine of them.
Indeed, as with quite a few other species, Shetland does have a striking dominance where records are concerned and Paddyfield Warbler is certainly no different ~ 43 acceptances to date which exclude three autumn arrivals seen last year and, of course, this week's newbie.
Bufflehead
Finally, a honorary mention for the female Bufflehead that spent the weekend at Clifford Hill GPs (Northamptonshire) ~ a potential county first, found on 24th, still in place on 26th before moving to Daventry Reservoir CP on 27th, this metal ringed bird was swiftly assumed to be of captive origin and, therefore, dismissed.
On paper it isn't the most appealing record for the species (time and date feel unfavourable for starters), one which, much like Hooded Merganser, has probably seen a few duffers slip through the net, but as was the case with the Beds., bird a couple of autumns ago, maybe this one is being hard done by.
June already has three accepted Bufflehead records on the books, admittedly none as late as this but June records nonetheless and as for a metal ring being detrimental to the cause, it didn't stop the thumbs up being issued for the Devon male of 1998 (though it did scupper both the Bedfordshire bird and one in East Yorkshire in 1997).
Whilst not wanting to back this one to the hilt (it'll have the last laugh when its still there in 12 months time), it does feel a touch premature to reject it just yet. Online video certainly offers a suitable "feel-good factor"…so, y'know, let's see what happens…
The Portland Warbler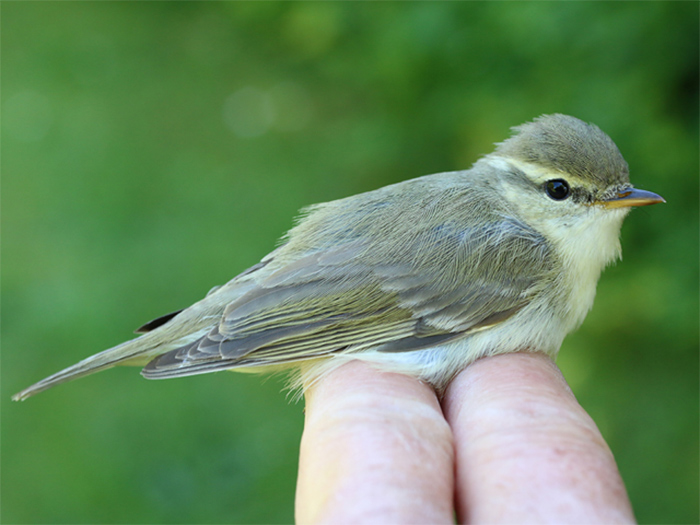 Ahead of taking a couple of weeks away from this weekly gubbins, there was a fair amount of interest being shown in the double wing-barred Greenish Warbler that had been trapped and ringed at Portland Bird Observatory on June 1st.
The DNA analysis has been done and the results are back ~ this wasn't the second Two-barred Greenish Warbler within almost as many days but it was, as was suggested by the Obs., staff from the get-go, 100% a "western" Greenish Warbler (viridanus). Given that the song and call were (slight sweetness in notes aside) bang on the money for a Greenish it is perhaps no surprise that the results came back in the affirmative for the commoner species. As was mentioned at the time, if it had come back as a TBGW, with a call and song like that, we'd all be in trouble…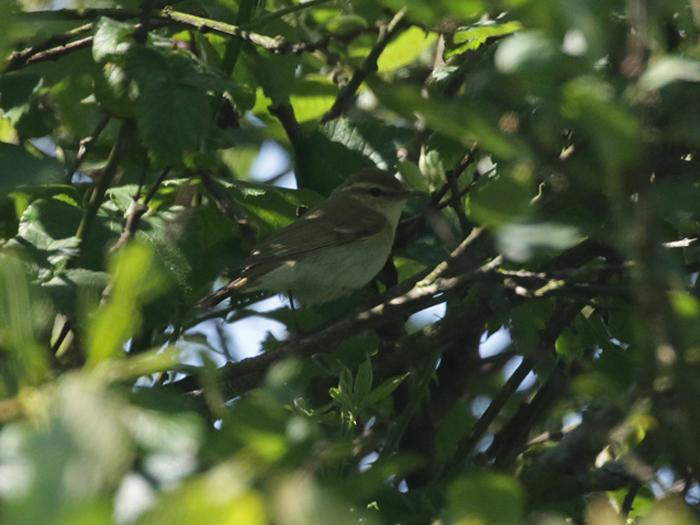 Portland warden Martin Cade mentions more on the bird's plumage too on the Portland Blog and for those who may have queried the initial (and correct) identification, or for those with a genuine interest in field ID of a bird such as the Portland one, it is well worth a little read. See here
Long staying rares…
Pied-billed Grebe
Present for weeks and weeks and likely to be present for more weeks and weeks to come was the male Pied-billed Grebe who remained around the waters of Loch Feorlin, near Minard (Argyll & Bute) through until 27th.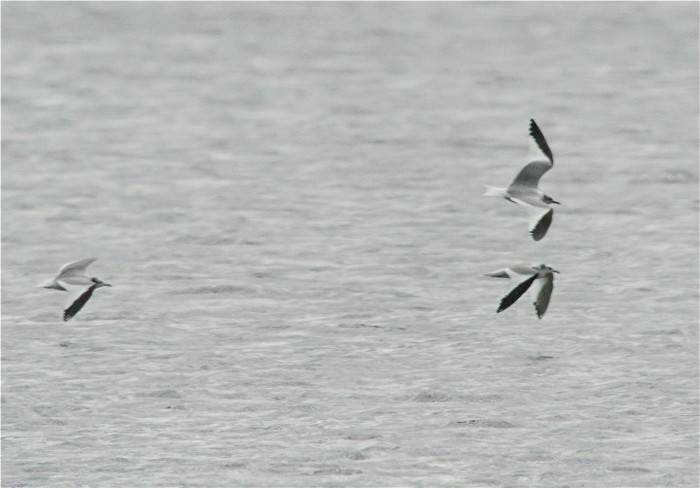 There may have been scarcer seabirds recorded this week but the standout occurrence was undoubtedly the quite remarkable flock of three first-summer Sabine's Gulls that appeared from nowhere at Belvide Reservoir (Staffordshire) on the morning of 24th. After 20 minutes or so, two birds headed north leaving one through until just after midday ~ this would have been a significant record even in harsh autumn storms let alone a midsummer's day. Extraordinary stuff…and it was presumably one of these first-summers that was then located at Nosterfield Lakes (North Yorkshire) on 26th-27th.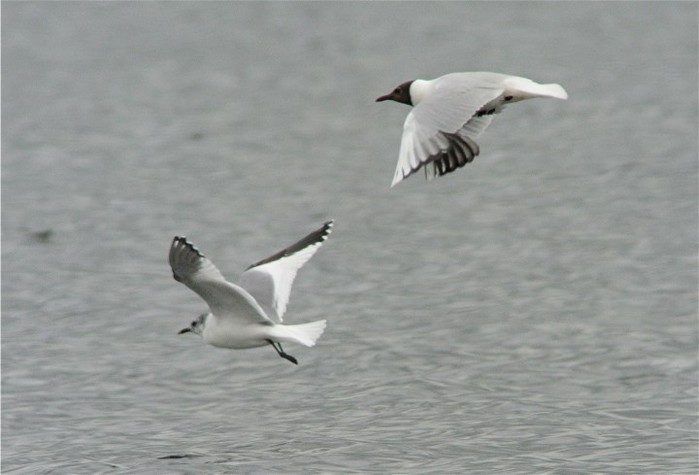 Rather more traditional locations for the rest of the week's Sabine's Gull offerings were at sea to the southeast of Cape Clear Island (Co. Cork) on 22nd and a mile or so off Porthgwarra, seen from the M.V. Scillonian III, on 23rd.
Also out at sea off the Irish coast this week were five Wilson's Storm-petrels, logged 15 miles south of Kerry's Toe Head on 21st with two Leach's Storm-petrel seen off the R.V. Celtic Explorer west of the Blasket Islands (still in Kerry) on 24th. Further records of the latter species included trapped singles on North Ronaldsay (Orkney) overnight on 20th-21st and at Filey (North Yorkshire) on 22nd-23rd.
A few big shears were lurking in our waters this week; eight Great Shearwaters were seen off the Cornish coast, all singles bar three from The Lizard on 24th where there were also a couple of Cory's Shearwaters noted as well on the same day. A lone bird headed past Porthgwarra on 25th while eight were seen from the R.V. Celtic Explorer off the Blaskets on 24th.
Balearic Shearwaters also featured but they too were in modest numbers, singles seen in Antrim, Cornwall and Gwynedd with two seen from the Scillonian on 23rd and two off Portland Bill (Dorset) on 24th and 27th. Not many Pomarine Skuas to mention, an unseasonal bird was in Orkney's Birsay Bay on 22nd with a first-summer reported the same day off Hoy.
Suddenly taking on the mantle of something akin to buses in County Kerry are Squacco Herons ~ after a gap of 122 years the west coast county has now clocked up two birds (therefore doubling the number of county records) in the space of less than three months.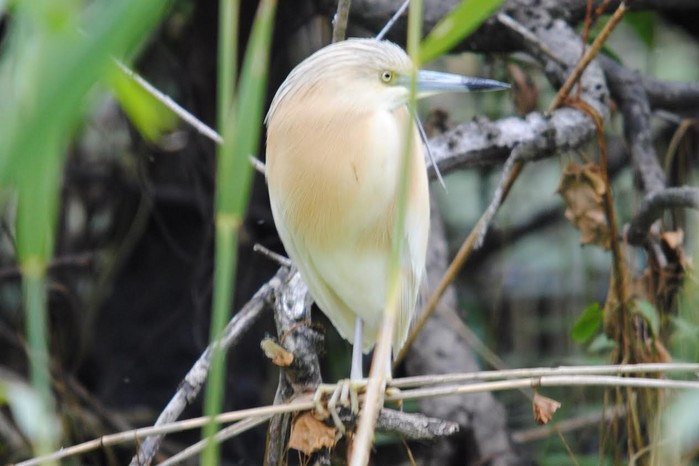 The first appeared near Ventry during the middle of April (a bird that remained until at least the 1st of May) and this week saw the appearance of what is thought to be a new adult at Ross Castle, near Killarney, found on 25th.
Another returning male Little Bittern was discovered at Old Moor RSPB (South Yorkshire) on 25th (the third year in a row he's been present) while the singing male remained on the Somerset Levels throughout the week.
The Levels also continued to host the week's only Glossy Ibis, seen through until 26th at least, with a Night Heron noted again in the early morning of 24th, at Ham Wall RSPB. In Shropshire the American Night Heron (O.U.O) still couldn't tear itself away from the Dingle Gardens, near Shrewsbury, in place there to 27th.
Down in Suffolk, Minsmere's famous grand old lady of a reserve played host to a 1st summer Purple Heron on the evening of 26th ~ new in or a return of the bird seen there in the second week of the month?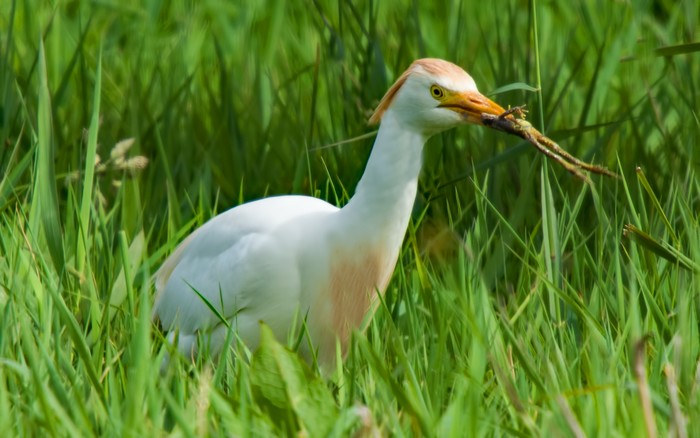 The breeding pair of Cattle Egrets at Burton Mere Wetlands RSPB (Cheshire) still had at least one youngster still in the nest up to 24th and they were part of a tally of some 20 birds recorded from ten or eleven English and Irish counties. Three were at Slimbridge WWT (Gloucestershire) on 25th, twos remained at Thurlestone's South Huish Marsh (Devon) for much of the week and also on (where else…) the Somerset Levels, with a new duo at Lower Moor (Worcestershire) on 24th. Single Cattle Egrets were recorded at Lightshaw Hall Flash (Greater Manchester) from 22nd-24th, Marshside RSPB (Lancashire) on 24th, Potter Heigham Marshes (Norfolk) on 22nd, 25th and 27th, Tacumshin (Co. Wexford) on 25th with the final birds this week reported from Wadebridge (Cornwall) and Frampton Marsh RSPB (Lincolnshire), both on 26th.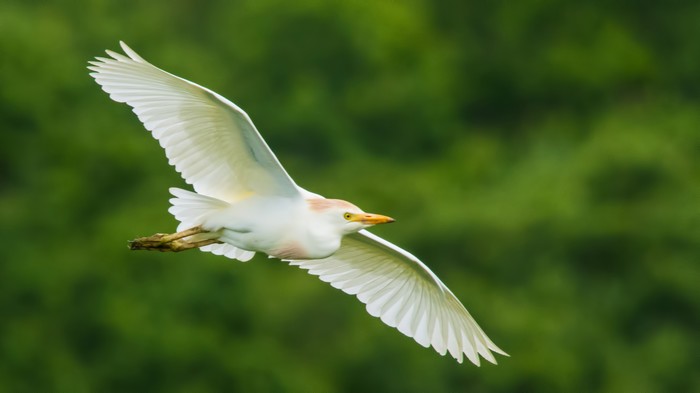 Around 20 Great White Egrets were spread far and wide across the country through the week, including four around Titchwell RSPB (Norfolk) on 27th, but the national total beaten was almost by the single count of 17 birds at Meare Heath NR (Somerset) on 22nd.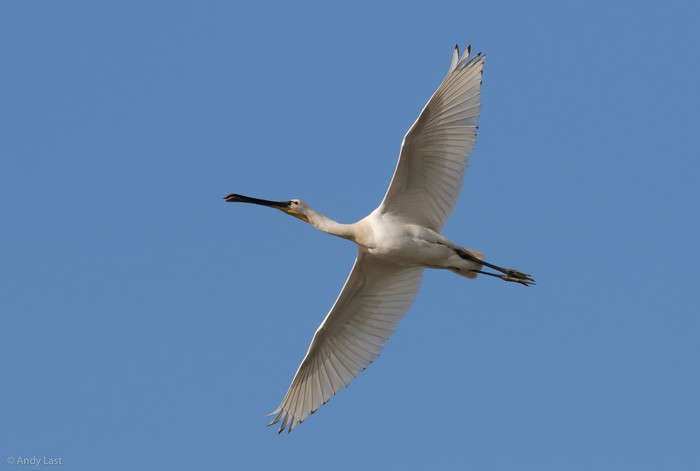 In a year peppered by good news of extralimital breeding success there was more entertaining offerings this week as the RSPB announced that Yorkshire was hosting the county's first-ever breeding pair of Spoonbills, apparently now feeding young, at Fairburn Ings. Fingers crossed for successful fledging…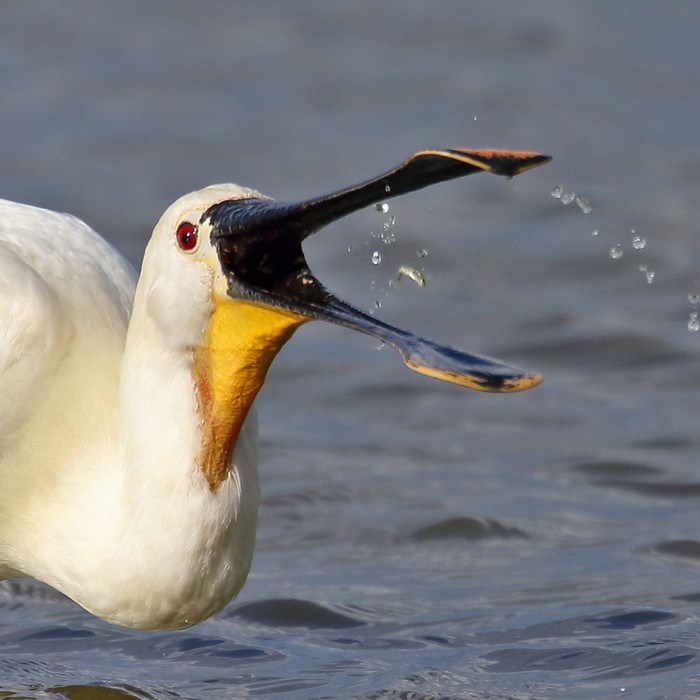 Fledged juveniles have already been seen with adults along the north Norfolk coast in the last few days and the county hosted a bare minimum of 46 ~ counts on 25th of 25 at Stiffkey, 14 at Potter Heigham Marshes, six at Holme and one at Cley all coming at (roughly) the same time of the day. A further 40 or so were logged nationally, from a further 13 counties, including a flight of seven in Suffolk, at Hollesley Marshes RSPB on 25th, fibe in and around Poole Harbour (Dorset) for much of the week and a late migrant on Skokholm (Pembrokeshire) on 26th.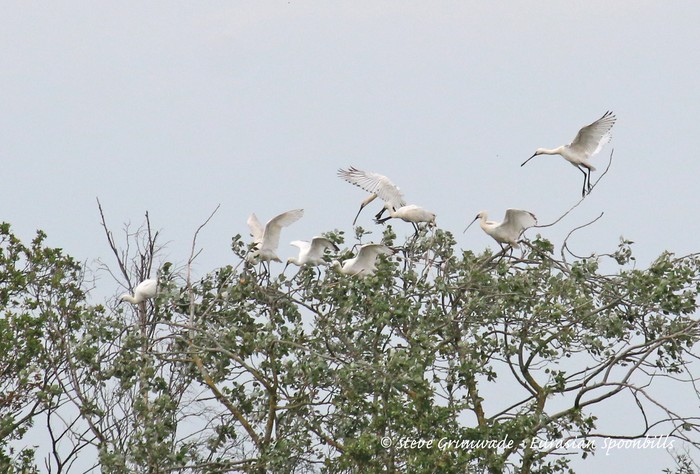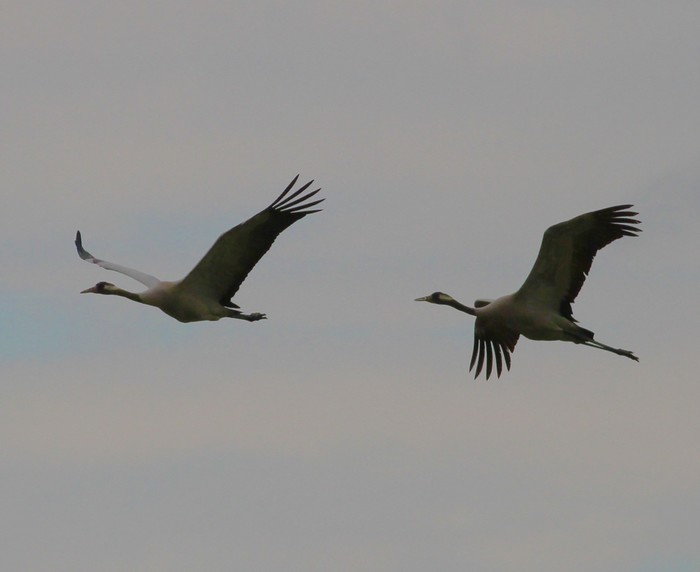 Half a dozen Common Cranes remained at Lakenheath Fen RSPB (Suffolk) to 25th with a couple more not too far away, on the Cambridgeshire fens, at Burwell, the same day (and another duo were along the Ouse Washes the previous day). Two or three birds were noted in the Norfolk Broads while last week's roaming single in Lincolnshire was at Frampton Marsh RSPB on 21st. The newest birds of the week were the pair of Cranes seen near Kelso (Borders) on 24th-25th.
A remarkable little record, a bird that was identified from photographs, was that of a first-summer female King Eider seen off the Welsh coast, at Aberaeron (Ceredigion) on 26th, not only an unseasonal surprise but the first county record in to the bargain.
This is a tremendously rare species in Owain Glyndwr's nation state, just one previous Welsh record exists of another female that was seen for three separate periods between the end of January 1989 (found off Black Rock Sands, near Criccieth in Gwynedd) through until May 1990 (when it had returned to Aberdysynni). Happily for all interested parties, the bird obliged all comers on 27th.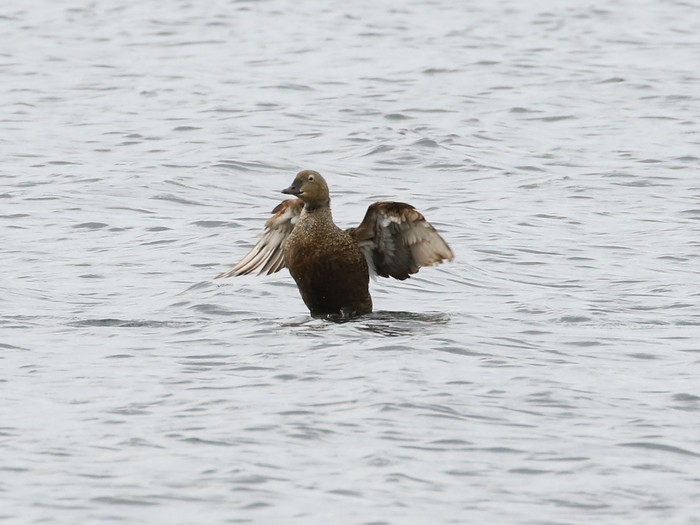 Elsewhere, a female King Eider was (back?) off Carnsore Point (Co. Wexford) on 22nd and the male was again off the beach at Blackdog (Aberdeenshire) on 25th while the female Surf Scoter remained at Echna Loch, Burray (Orkney) to 23rd and a young drake was at Kinshaldy (Fife) on 23rd as well.
The summering drake Ring-necked Duck was at Loch Finlaggan, Islay (Argyll & Bute) to 26th and he was the only freshwater quacker on offer this week.
<!—Section Title -->
Not much to mention in WaderWorld either this week, typically enjoying a midsummer lull…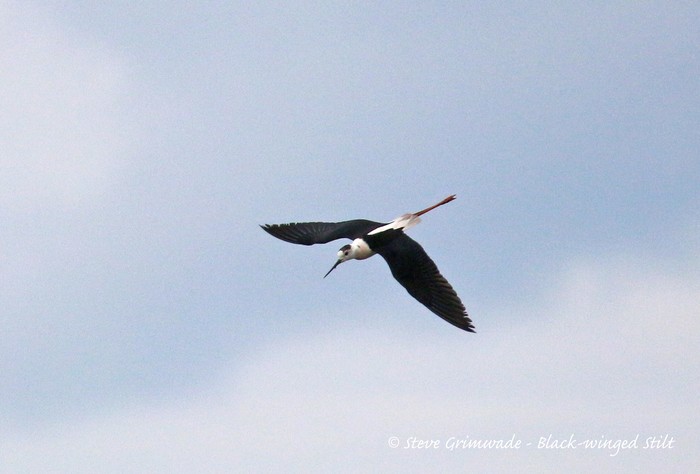 New arrivals this week were the two Black-winged Stilt chicks that hatched at Cliffe Pools RSPB (Kent) on 26th, at least the fourth pair to have got beyond egg stage here this summer. At least two more of our half dozen or so breeding pairs took youngsters in to a new week; at least one survived with parents on the Ouse Washes RSPB (Cambridgeshire) until 21st but it was just adults noted from then on. There was happier news from east Norfolk, where the four youngsters remained at Potter Heigham Marshes, growing bigger by the day, throughout the week.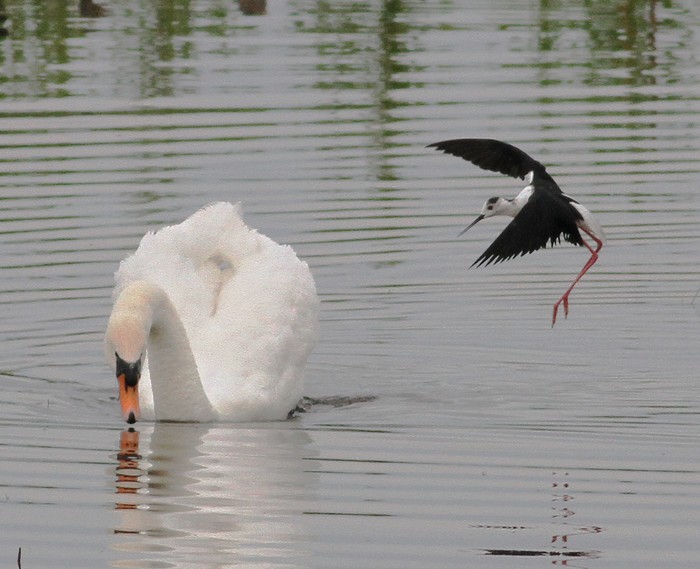 Elsewhere, a single Black-winged Stilt was noted on the review's first day, 21st, seen on Wallasea Island (Essex).
The pretty-much summering adult Spotted Sandpiper remained at Buttermere (Cleveland) to 21st, a female Red-necked Phalarope was seen on North Ronaldsay (Orkney) on 26th with a second there the next day and a Dotterel was noted at Shotton airfield, near Peterlee (Co. Durham) on 23rd.
…and that was about that…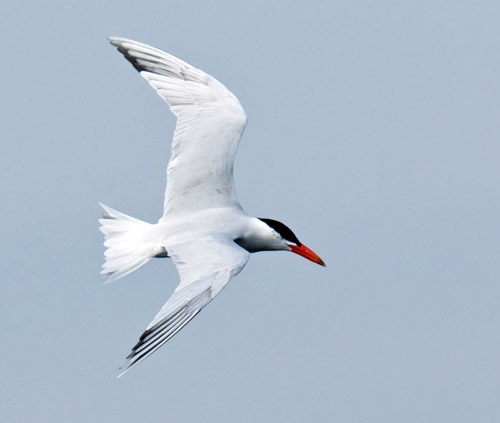 Last week's newly arrived adult Caspian Tern showed throughout much of the first day of the new review period (21st) at the Leighton Moss RSPB (Lancashire) ~ only the eighth county record and the first since 2008. It may even have been the same roaming blood-billed beast which was then uncovered along the Welsh coast on 25th ~ seen at Briton Ferry and then around Sker Point and Kenfig Pools (Glamorgan) until late afternoon before reappearing the following day at the WWT National Wetlands Centre, near Llanelli (Carmarthenshire).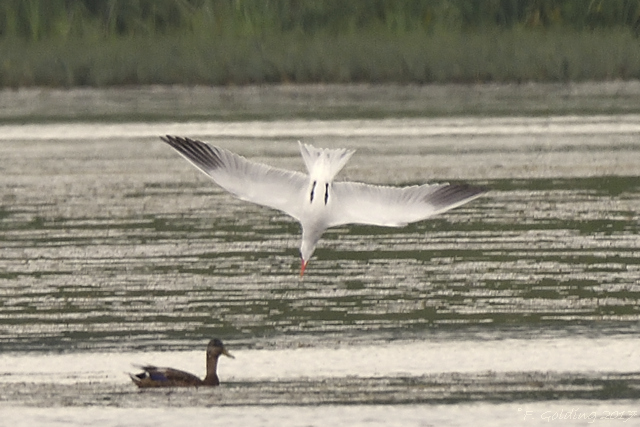 With just 10 previous Welsh records, this is clearly a really rare bird for Principality birders, the most recent occurence being a bird seen from Bardsey in October 2005. This week's arrival becomes a county first for Carmerthenshire and is the fourth for Glamorgan, but the first in almost 20 years (since one was at the same site of Kenfig in August 1997) and it remained at the WWT reserve to 27th.
Meagre summery offerings for Glaucous Gulls ~ just half a dozen to let you know about; three for Scotland (two lingering on the Outer Hebrides and a new youngster on Fair Isle on 21st), two in Ireland (including the fine adult at the Tralee Bay Wetlands Centre in Kerry) and one for Northumberland.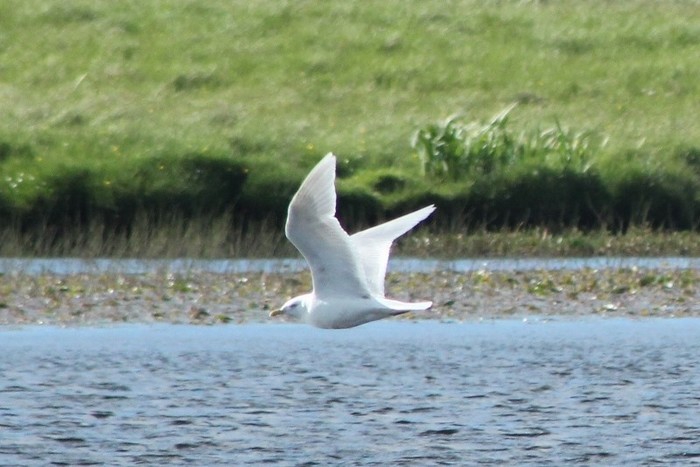 Iceland Gulls went one better, seven in all, six for Scotland, again with two for the Hebrides with a singleton in Cornwall, seen at Siblyback Reservoir on 21st.
In what may well be the quietest week of the year so far (it couldn't have come at a more welcome time…) there wasn't a lot to report for the raptor enthusiast over the last seven days; three lone Red-footed Falcons made themselves known, a female remained at Fowlmere RSPB (Cambridgeshire) to 21st while the weekend's second day saw a first-summer male appear at Stodmarsh NNR (Kent) and another bird was found on Cornwall's Lizard Peninsula.
Three single Honey Buzzards were seen in Kent this week, one headed across Dungeness' Denge Marsh on 21st and singles were seen on consecutive days at Sandwich Bay, on 24th and 25th. In Essex, the fourth of the week was over Belfairs Wood LNR, near Leigh-on-Sea on 23rd, the fifth was noted over Budby (Nottinghamshire) on 25th and a male was displaying for much of the week in the Wykeham Forest (North Yorkshire). Bird # seven, and the final one this week, coasted over Broad Haven, Skomer and Fishguard (Pembrokeshire) on 27th.
A roaming first-summer male Montagu's Harrier remained in Somerset this week, seen in the Blackdown Hills on 24th and this may have been the same ringtail that was noted around Wellington on 26th. Norfolk's (current) premier birding spot, Potter Heigham Marshes hosted a fly-through male Monty's on 27th.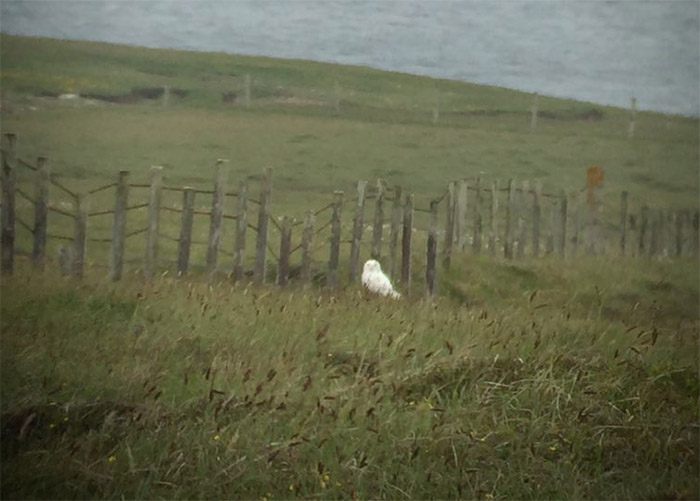 Rounding things off, a fine Snowy Owl that appeared on Westray (Orkney) on the first day of the review period, 21st; it seems as if this may well be the roaming bird present for many, many weeks through the island chain.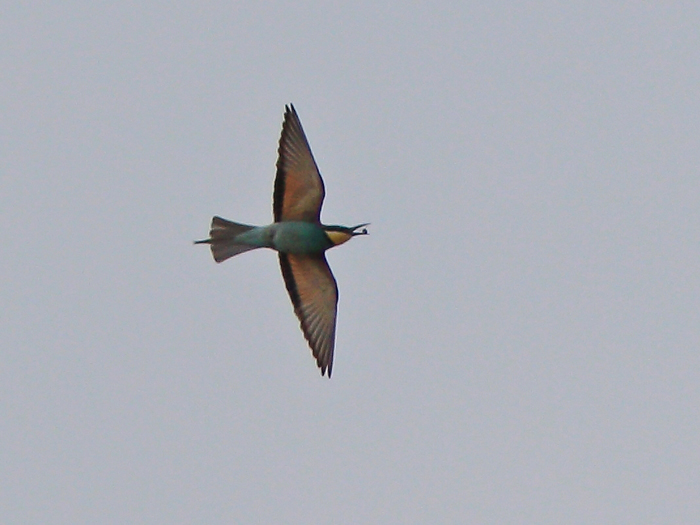 Some fascinating, and increasingly interesting news this week from Nottinghamshire where three Bee-eaters at East Leake Quarry on the evening of 25th became at least seven Bee-eaters by lunchtime the next day.
During the evening of 26th, with birders still on site at East Leake (with six birds noted at 7pm and at least four there at 8.15pm), a group of five Bee-eaters were seen flying south not far from Hoton, just a couple of miles away. Presumably they were part of the group from just up the road, but is the group bigger than first thought? Either way, at least six remained to 27th and, for good measure, the same flypast happened into Leicestershire on 27th too.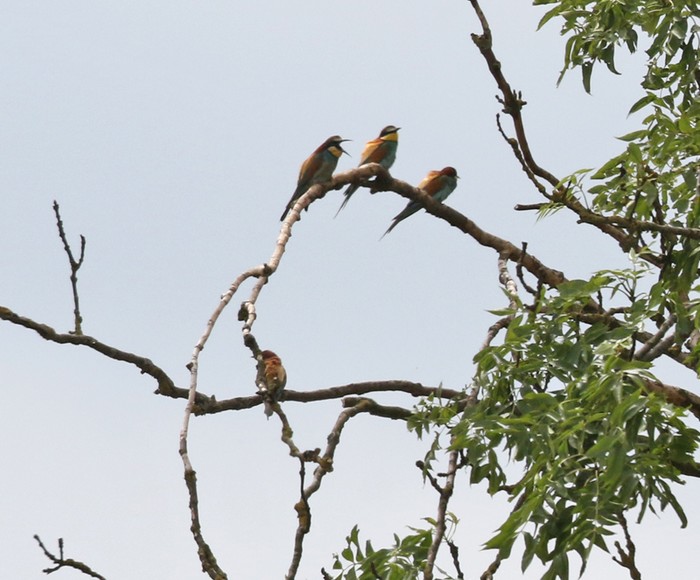 Given the number such as this, in a quarry environment, this far in to the summer swiftly drew folk to an inevitable conclusion (and hope of…) in a similar vein to the happenings in Cumbria in 2015, on the Isle of Wight in 2014 and best of all, those Bishop Middleham birds of 2002. Signs seem to be promising so far…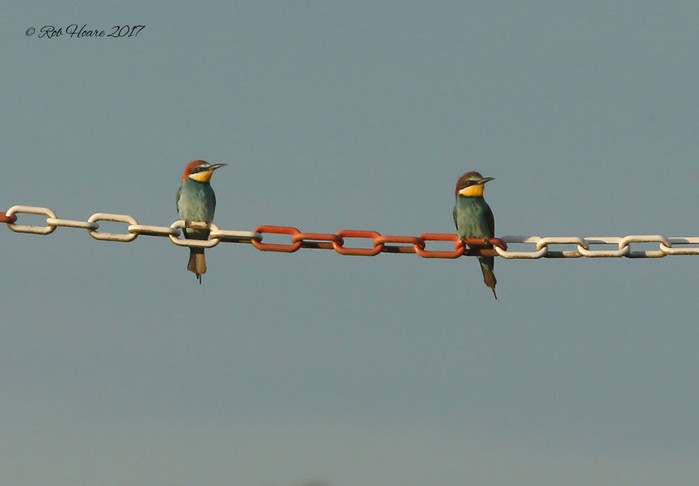 Other Bee-eaters noted this week was the single seen at Stodmarsh NNR (Kent) on 22nd and the report of two heard-only birds at Otley (West Yorkshire) on 26th.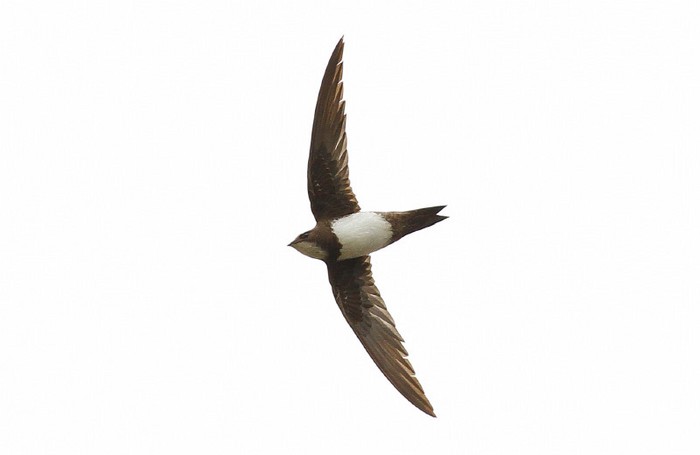 In Dorset, a rather dashing (in every sense) Alpine Swift spent the afternoon and evening careering around Lodmoor RSPB while down the road in Devon, the week's only Red-rumped Swallow showed itself around Bowling Green Marsh RSPB on 24th.
Cheshire's territorial singing male Iberian Chiffchaff remained on station at Kelsall through until 21st. Further warbling songsters were Suffolk's Greenish Warbler that was again at Landguard NR on 21st, Cleveland's Marsh Warbler that stuck it out at Bowesfield Marsh to the same date and Highland's Icterine Warbler who remained around Nigg Bay until 24th at least. Back in to East Anglia, those double reeling Savi's Warblers lingered in Minsmere's expansive reedbeds until at least 26th.
The sole new warbling arrivals were Marsh Warblers trapped on Fair Isle (Shetland) on 26th and in song at Upton Fen (Norfolk) and Cahore Marsh (Co. Wexford), both on 27th, the latter being the first county record since 2007.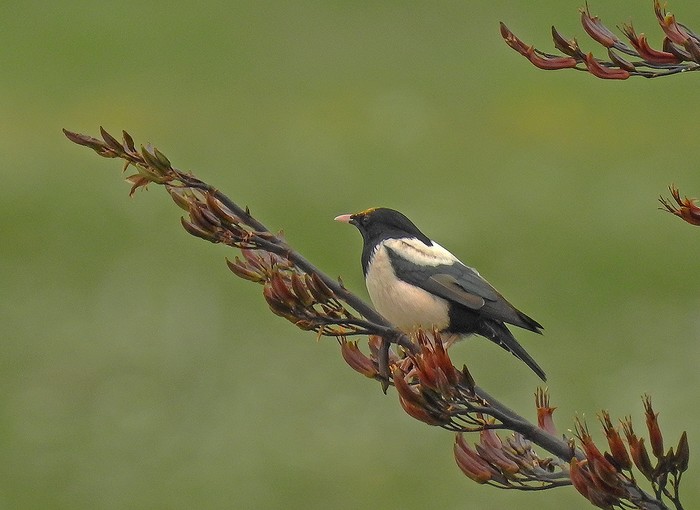 Both this week's Rose-coloured Starlings were tucked far, far away in the west of Scotland ~ the first was found at Laphroaig, Islay (Argyll & Bute) on 21st, remaining there until 26th (the whisky-scented air must be keeping it happy) while the second was found on Barra on WTN-Day, at Eoligarry on 22nd, this dapper chap present to 27th.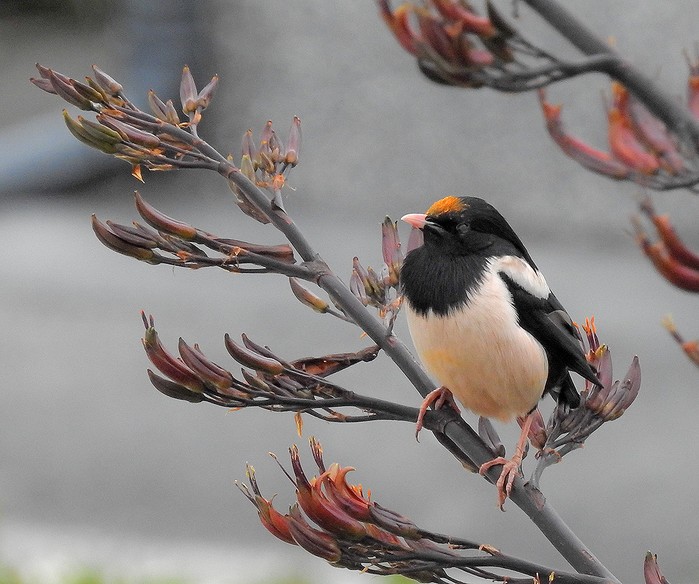 The quirky looking male Common Rosefinch lurked in the gardens of Southwell, on Portland through until 27th while another singing male was found on Skomer (Pembrokeshire) on 22nd where it lingered through until 24th. Last but not least, the singing first-summer male that was found on Fair Isle on 26th.
Hurrying past the wholly unconfirmed Highland report of a Great Grey Shrike we alight on Red-backed Shrikes to conclude the UK & Ireland affairs for this week ~ a male was reported from Thursley Common (Surrey) on 24th with another male reported too from Maiden Castle (Dorset) on 25th. A more obliging singing male was located at Breydon Water (Norfolk) on 25th; it is a sad sign of the times that this record is the first in Norfolk this year, it being a species which was once relatively on spring passage through the county just a few years ago…the final record this week was the female seen on the Gower, at Llanmadoc on 26th.
Just 12 days after the first Dutch Pacific Swift was photographed at Westkapelle came news of another national first pertaining to the same species of (increasingly more frequent) Asian long-distance traveller…
This week it was Iceland who claimed the glory when a Pacific Swift was seen and photographed at Baulutjörn, Mýrar (in the southwestern corner of the country) on 24th.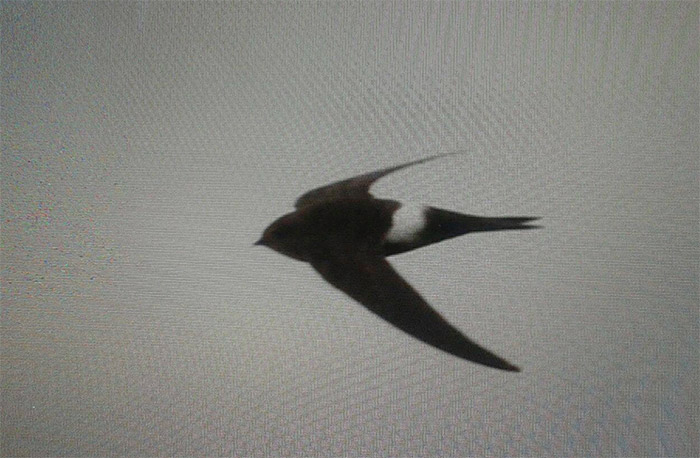 Even more exciting news from Iceland this week came in the shape of the Western Palearctic's first breeding pair of Bonaparte's Gull present at Vestfjord ~ there's truly never a dull day.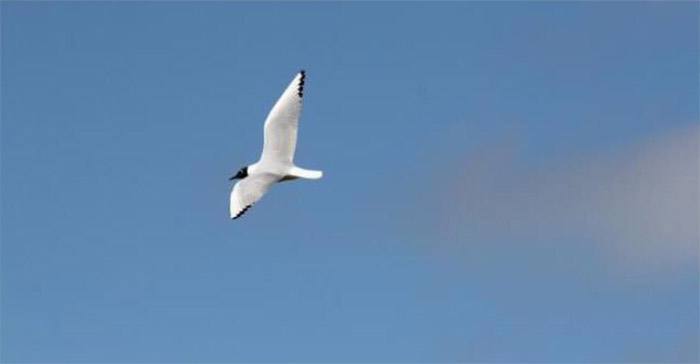 Sweden's fourth Fea's/Zino's/Desertas Petrel flew past Kullaberg, Skane on 26th in what looked like pretty stormy conditions. Over in Norway, the remarkable singing male Sora remained at Råde, Østford to 22nd when the recent Trumpeter Finch was noted as being still present at Øygarden, Hordaland too. Also in the same Hordaland region was a flyby Black-browed Albatross, seen from Geitingsneset on 25th.
Talking of which…having let me down by not being sat on the Saito outcrop at Hermaness (my first visit there since 1984) or appearing around the expansive Fair Isle gannetries across the past few days, the German Black-browed Albatross remained rooted to Sylt, Schleswig-Holstein to 24th ~ but did take on it's wandering persona again the next day?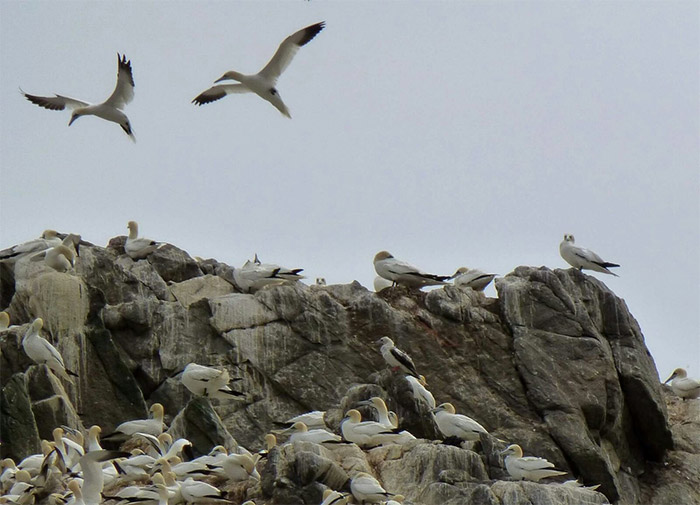 Another seabird that's taken up with some local Gannets and one that just might do something bonkers and head north to surprise a southwest coast seawatcher anytime soon is the Red-footed Booby that was discovered on Ile Rozic, near Perros-Guirec, Brittany on 26th ~ it really doesn't take too much to picture that wheeling off Porthgwarra, Prawle Point or Portland when the next fizzying Atlantic low scoots through Biscay. All are within easy reach of those French Gannets…
Breton birders are having fine time of it right now ~ that pesky first-summer American Royal Tern was still in their little corner of France, still present at Saint-Brieuc, Cotes-d'Amour on 26th while a potential Elegant Tern was seen in Spain, at Praia de Santa Cruz, A Coruña, in Galicia on 20th-22nd.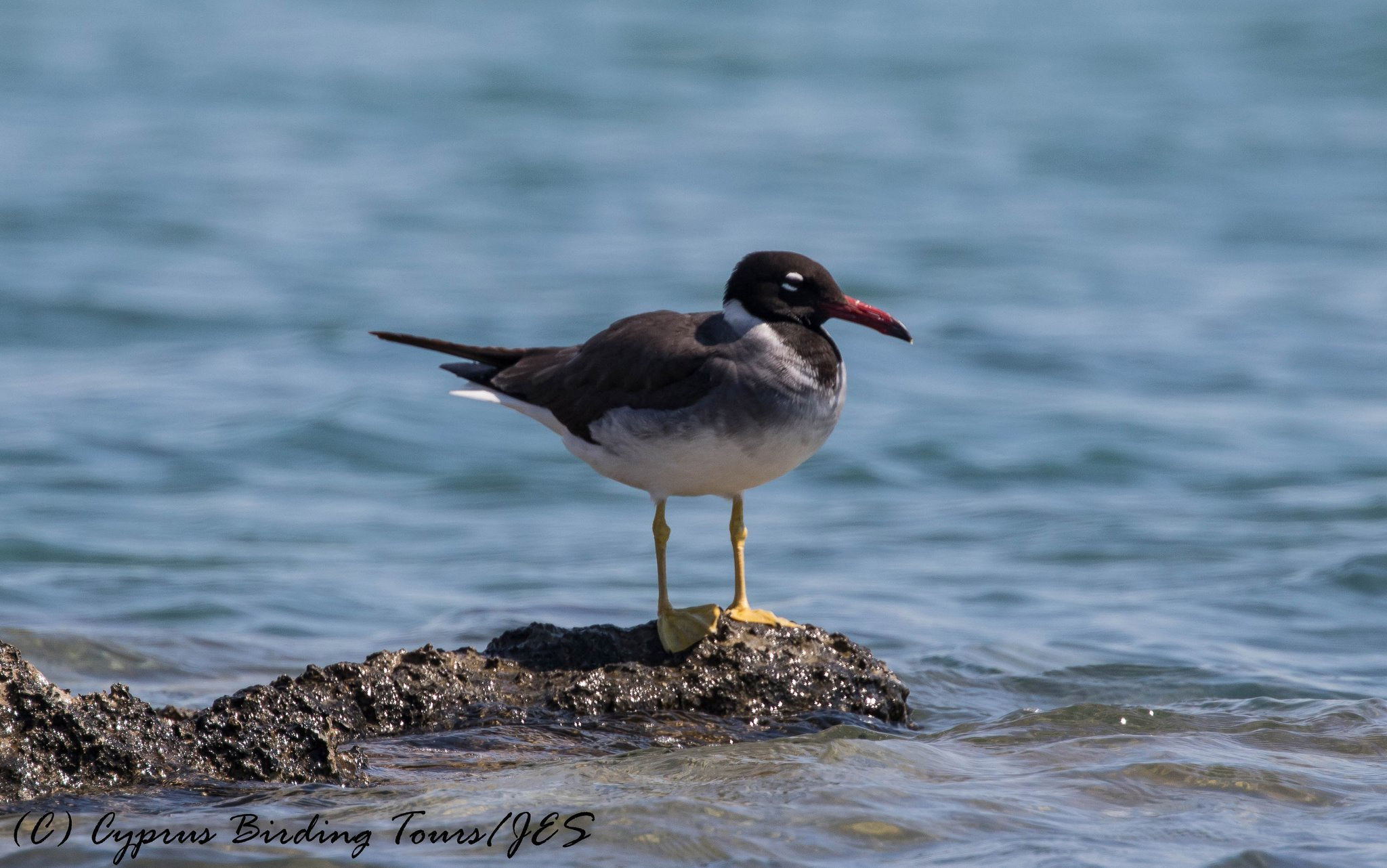 Italian birders in Brescia discovered a Western Reef Heron on 26th while further to the east in the Med came big news on Cyprus where the first White-eyed Gull for the country, was seen at Larnaca on 23rd (a record that fits in with Israeli extralimital reports from earlier this spring too).
The coming week…
It looks as though it'll stay slightly below the seasonal norm for the first few days of the new week at least which makes the whole predictions game nigh on impossible (more so than usual).
Summer days can unleash a surprise at anytime, as the week just gone proved in stellar style, but a gentle drift of loosely northerly-led air makes overshoots seem unlikely but there's always room for a surprise or two.
Or maybe make that nine…
Top of the list of such midsummer surprises (and one that'll take some beating) is, without doubt, the Atlantic Yellow-nosed Albtaross that flopped in to gardens at Brean in Somerset on June 29th 2007. Lobbed off the nearby cliff top the following day with barely a soul around, no one knew a thing about it for a day or two (it was like the Booby in reverse) but then came the equally startling inland two-day reoccurrence with the local park geese at Messingham, in Lincolnshire, on July 2nd-3rd. Again, no-one connected and a once-in-a-lifetime opportunity passed us all by…
June 30th has offered up the Landguard Lark Sparrow back in 1981 while Devon has managed not one but two of my primary birding nemeses, Blue-cheeked Bee-eaters ~ one in the east, along the Otter Estuary in 1987 (a field I'd been in, randomly a couple of days previously) and in the north, at Braunton Burrows in 2009.
July's first day has been surprisingly full of, errrr, surprises…Spurn's Pacific Swift had quite some impact at the time back in 2005 (note that Icelandic record from a few days ago…this is as good a time as any to find one). Five years previously came the Swinhoe's Petrel in the burrows and rocks of Great Skelling, off the Kerry coast in 2000 with the same day that year seeing the Saturday one-day showing of Portland's Sykes's Warbler. Way ahead of the pack though was the mindboggling appearance of the Fair Isle Brown Flycatcher in the Plantation trap in 1992; no one knew quite what to make of such an extreme vagrant (a "1st" at the time) appearing on such a weird date and it spent some time in the holding pen of Category D before elevation to the top table.
Portland has also produced a quite exceptional 4th of July Eastern Olivaceous Warbler the year before the Sykes's mentioned above while the same county produced what was, at the time, Britain's second White-tailed Plover on July 3rd 1979.
Underestimate this time of year at your peril then ~ and while you drift off in to that dream-like virtual birding state, keep your eyes and ears open for the first River Warbler, Roller or Terek Sandpiper of 2017 ~ all of which seem more likely than another Atlantic Yellow-nosed Albtaross although the current forecast renders predicting anything tricky…inspiring it isn't…
Mark Golley
28 June 2017
Share this story
Tweet


Many thanks to all contributors for their photos and videos this week.
Bruce Taylor, Peter Wheeler, Chris Bromley, James Hanlon, Paul Morton, Pete Campbell, Martin Cade, Steven Nuttall, Roger Parrish, Chris Waring, Edward Carty, John Tymon, Andrew Last, Rob Holmes, Steve Grimwade, Brendan Doe, Wendy James, David Talbot, Amy King, Frank Golding, James Nangle, David Carr, Simon Spavin, Robert Hoare, Brett Spencer, Jens Frimer Andersen, Brynjúlfur Brynjólfsson, Jane Stylianou.