Weekly birding round-up: 7 - 13 June 2017
The week at a glance
Hampshire and West Sussex provide Britain's first, unequivocal Elegant Tern
The year's first Black-headed Buntings are found in Devon and Shetland
While the second and third confirmed Black-winged Stilt breeding attempts of the year yield young in Norfolk and Cambridgeshire
Well, we're firmly into June now, which means it's summer blockbuster territory and, in the words of Randy Quaid's character in Independence Day, I'm baaaaack!
Unlike erstwhile Vietnam veteran Russell Casse, I'm not telling tales of that time I was abducted by aliens. Meanwhile our very own summer blockbuster, in a week of typically meh British summer weather that started wet and windy, got a little more settled as the week progressed, but on the whole neither promised nor delivered much quantity, was indisputably plausible and of the very highest quality.
So, after a year away from the lofty halls of RBA Towers whilst immersed in the colourful world of orchids, I'm back in the RBA saddle again and, in what might have been a quiet Round-Up, I've got what amounts to a first confirmed record for Britain to get my teeth into. Better born lucky than rich, huh?
Elegant Tern
Last week's Scottish Sooty Tern will have left many a British birder yearning for some ternish satisfaction in the coming days. Just sometimes, the birding gods seem to cock an ear and actually pay attention to us…
As noted by Mark last week, that particular bird was (cautiously) anticipated, as it appeared to have been tracked from early March in the Cape Verde Islands up to Banc d'Arguin, in the Gironde region of France on May 8th-11th.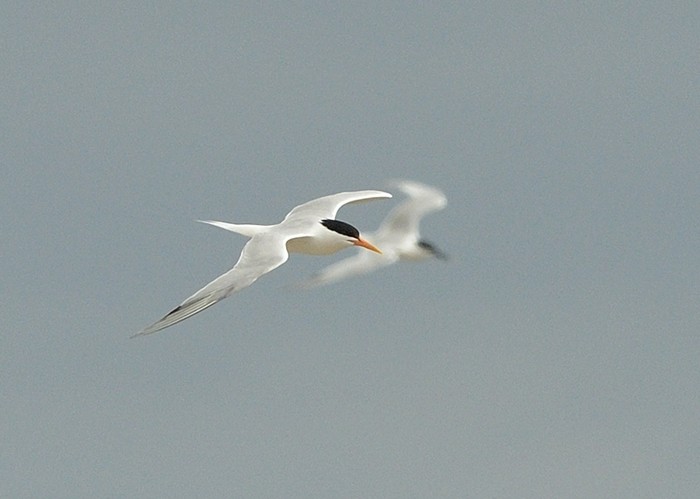 Banc d'Arguin… Now there's a name to conjure with. A breeding tern colony with a truly rich heritage for throwing up top drawer vagrants amongst the Sandwich Terns. Not least spectacularly displaced Elegant Terns - the first of which hung around there as long ago as 1974-1984, and was followed by a number of subsequent individuals, some of which have lingered and bred with the local Sandwiches. Birders could be forgiven for, in those early days, thinking these pioneer individuals were Lesser Crested Terns - after all, while rare enough in its own right in a European context, the latter seems on the face of it more plausible than a Pacific tern species that owes as much as 90% of its world population to a single colony in the Gulf of California and was rarely recorded on the eastern seaboard of the USA.
Still, as time passed, the penny dropped in the late 1980s and, remarkably, it seemed as if these were in fact Elegant Terns. Meanwhile records of similar individuals began cropping up around western Europe – elsewhere in France, in Spain, Ireland, Belgium, Holland, Germany, Denmark… and even in Britain.
In some of those countries Elegant Tern duly got the nod from their respective rarities committees. The IRBC, for example, currently rubber-stamps five records since the Irish first at Carlingford Lough (Co.Down) in midsummer 1982. Other countries were more cautious. Thing is, with those Banc d'Arguin birds occasionally succeeding in fledging hybrid young with their Sandwich Tern partners, and both Lesser Crested and Royal Terns known to do the same, caution was deemed the watchword where the orange-billed parents at Banc d'Arguin were concerned. After all, who could really be certain that they weren't hybrids in their own right, or backcrosses of one genetic mix or another?
Which is where DNA testing enters the story. We're getting increasingly used to scientists resolving the identity of everything from tricky Empidonax flycatchers to late autumn and overwintering Lesser Whitethroats of one kind or another. What once seemed like expensive black magic is now de rigeur in birding circles. That said, there's DNA testing and there's DNA testing…
[Deep breath, grab a cuppa, here comes the science bit]
'Traditional' DNA testing, using mitochondrial DNA, to establish the identity of an individual bird was limited insofar as mitochondria are passed from mother to offspring, but there's no contribution from the father's genome. That could lead to a false positive whereby establishing a bird's actual parentage was concerned - an Elegant Tern x Sandwich Tern hybrid might, conceivably, look like an Elegant Tern and, provided its mum was an Elegant Tern, have typical Elegant Tern mitochondrial DNA – even though it was only 50% that species.
Step forward multilocus barcoding, looking at nuclear genes – these are in the cell nucleus, and are contributed approximately 50% from both parents. Testing these, therefore, gives an accurate picture of an individual bird's ancestry from both sides. So far, so good, but the database for nuclear DNA is nowhere near as comprehensive as that for mitochondrial DNA – meaning that to get to the bottom of what the orange-billed terns at Banc d'Arguin actually were, diagnostic genes first needed to be identified in all the potential tern species that could, conceivably, be in the mix: Cabot's, Greater Crested, Lesser Crested, Royal, Sandwich and, of course, Elegant Tern itself.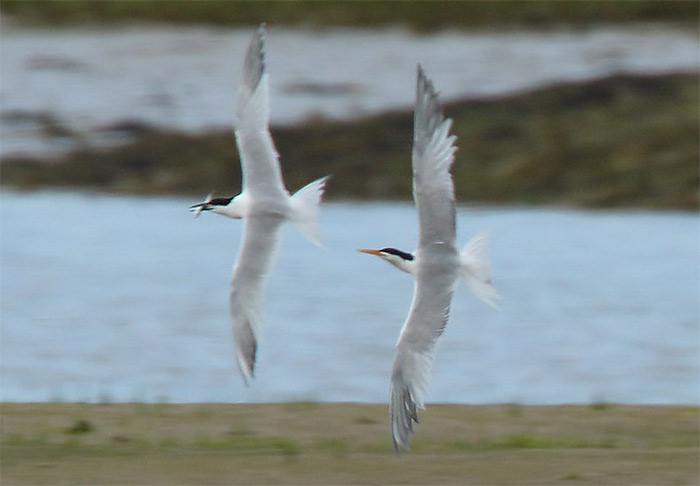 That done, and the DNA of three orange-billed birds present at Banc d'Arguin compared against it, a paper published last year in the Journal of Ornithology finally disclosed that all three individuals were pure Elegant Terns, snappily named (cos this ain't Springwatch) Bird A, Bird B, and Bird C.
Which brings us neatly to Hayling Island (Hampshire) on the morning of 7th June when Andy Johnson, taking a well-earned break from a gusty seawatch, checked out the roosting terns at Fishery Creek and clapped eyes on a colour-ringed adult Elegant Tern - which transpired to be Bird C from Banc d'Arguin and, hence, indisputably Britain's first record of the species.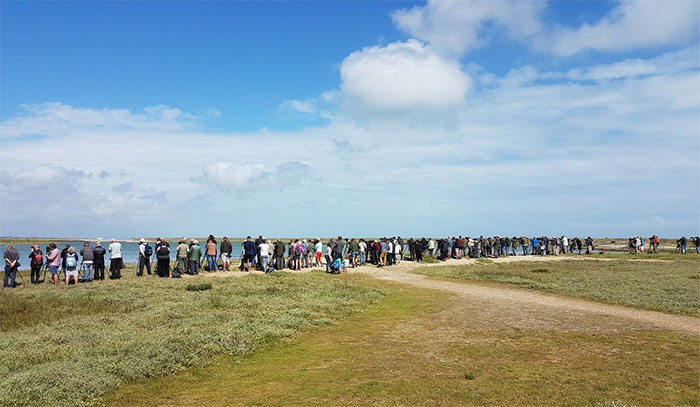 Naturally, this wouldn't be a top-drawer rarity without a bit of teasing and drama, so the bird stuck around just long enough to allow a mere handful of birders to share Andy's big moment before it flew off. Was this it, game over, the bird gone back into the stormy English Channel and back to France?
Mercifully not.
After another brief flirtation with Hayling Island in the evening of Friday 9th – just long enough to disrupt the composure of the south's birding fraternity on the cusp of a peaceful summery weekend – the tern finally did the decent thing and lodged somewhere for a while, being found in West Sussex at Church Norton in the morning of 10th and remaining there until 13th to delight all comers.
Happy, happy days – and what now for our previous British contenders for the species? Surely they'll now be revisited, reappraised, and duly elevated to the historic record… or will they, in these times of generally higher standards of evidence (more photos readily taken of virtually every rare bird found nowadays and, in this case, the DNA bar being set particularly high for putative Elegant Terns) be consigned to the "probably Elegant Tern but we can't, in the absence of conclusive DNA proof, be completely sure" file or, as we better know it, Not Proven?
Black-headed Buntings
High on the list of safe predictions for this week was the year's first Black-headed Bunting - it's the classic time of year for one, after all, with June comfortably returning more records than any other month of the year. No great surprise then that belated news emerged of one last week on 4th June near Wembury (Devon), nor that another cropped up in the current period – a male on Foula (Shetland) on 11th.
So the Foula bird wasn't the first of the year and, I'm sure, it probably won't be the last. Black-headed Buntings should be the stuff of realistic dreams for any midsummer coastal patchworker – a quick glance at the stats for the month tells us that, while Shetland does very well indeed thank you for them, they've also been found right around the British east and west coasts, giving rise to some cautious grounds for optimism for many on the mainland.
Not so much in Ireland, though… Surely it's about time we had another midsummer bird somewhere there?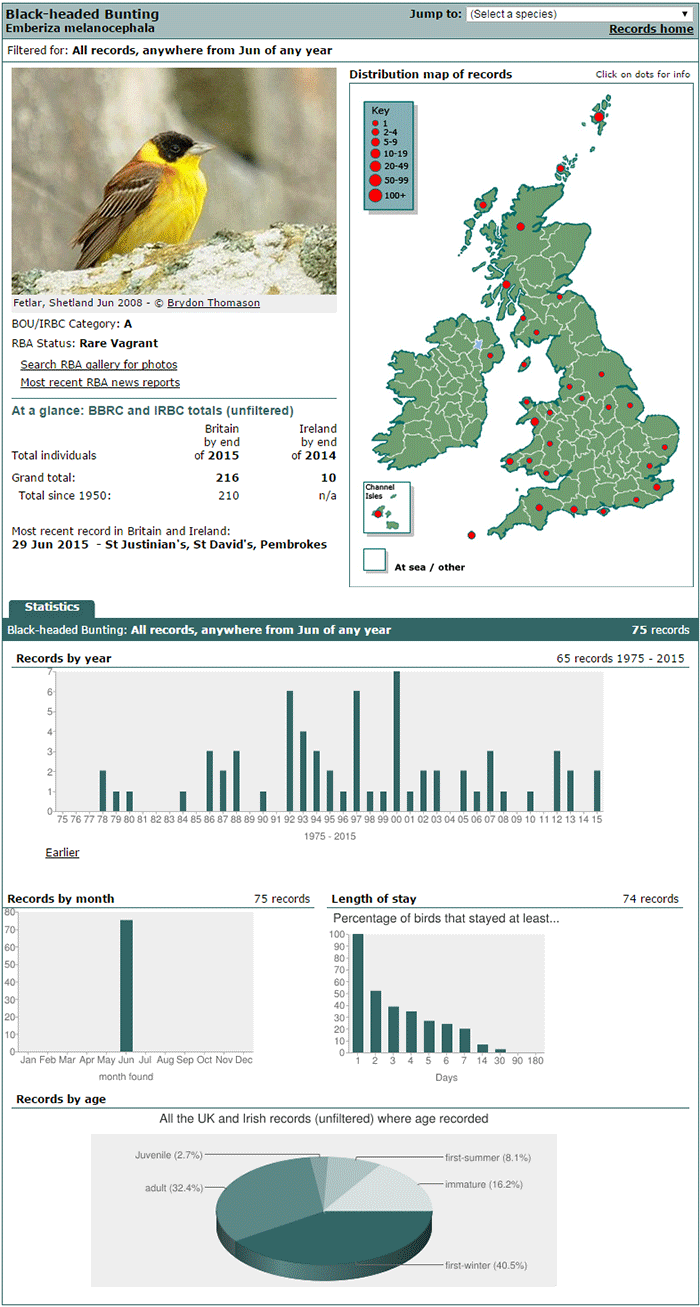 Black-winged Stilts
Fresh on the (rather tall) heels of the doomed Welney WWT Black-winged Stilt breeding attempt documented here last week, news broke this week of further sets of leggy breeders – three adults were ushering four young around at Potter Heigham in Norfolk on 8th-13th while in Cambridgeshire a pair brought two young out into the open on 12th.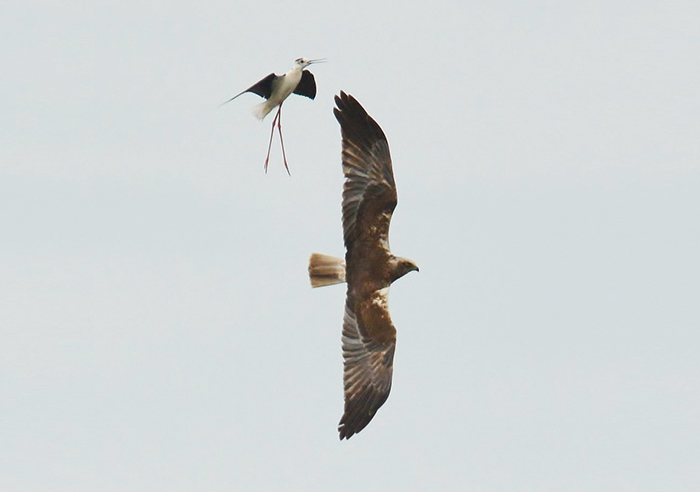 I remember reading an article in Birdwatch many, many years ago that speculated what birding in the future might be like in Britain. I seem to recall breeding Black-winged Stilts may have featured in there – certainly there have been a number of breeding attempts, some more successful than others, in Britain down the years, with 21 attempts logged between 1983 and 2016. Most of these, however, have been unsuccessful with fledged young achieved on only three of those 21 occasions. These attempts have increased in frequency in the past decade so, perhaps, that long ago peep into the future might be coming true after all.
A prophecy that, while I don't want to sound churlish about something as lovely as breeding
Black-winged Stilts
, is a bit depressing when you think about it – as it was all tied up with climate change and subsequent habitat loss across Europe.
In a week that's seen some sort of Tory government returned to Westminster and a man who once tried to remove climate change from the national curriculum during his ill-fated tenure as Education Secretary (not to mention calling for the EC Habitats Directive to be scrapped) now appointed as our Environment Secretary, further evidence of change afoot in the natural world seems particularly poignant… So god help us all now Michael Gove is at the heart of establishing environmental and agricultural policies during the febrile months and years of Brexit that lie ahead. Let's hope he pleasantly surprises us all.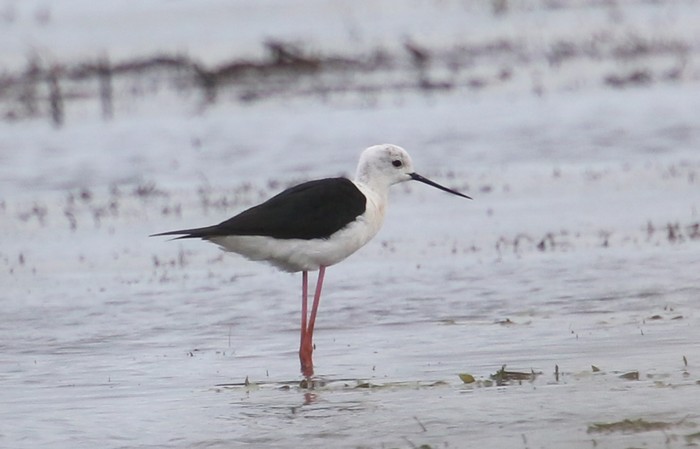 He could start by, oh, I don't know… tackling some of the easy stuff that's not intricately tied up with our political departure from Europe. Maybe, and I'm just speculating here, by addressing the shocking sins committed against birds of prey that attempt to nest anywhere near driven grouse shoots?
Just a thought, Michael. I reckon that'd be a damn sight more popular than trying to overturn the ban on foxhunting, or persisting with culling badgers on the basis of dairy industry emotion and pressure rather than actual science…
Long staying rares…
We'll pop briefly up to Loch Feorlin, near Minard (Aygyll & Bute), to kick the rest of the week's happenings off, where the the male Pied-billed Grebe remained all week long for anyone who just happened to be passing.
Which, it seems, has included a female Little Grebe as, with shades of the Cornish precedent many moons ago, our North American visitor has hybridised with one of the locals – on 13th the happy family, including a hybrid chick, were still present.
Kicking off the pelagic season with a bang this week is the year's first Wilson's Petrel, seen from a Scilly pelagic on 12th. Hard to believe that, once upon a time, us grizzled old skool birders had to wait for the annual wallow-fest that was the Scillonian's foray out beyond the Fortunate Isles for our chance to see one of these charismatic petrels. With regular summer pelagics out of Scilly nowadays you can pick your moment… and as we all know, they've scored bigger and better than Wilson's too. Time to start making some pelagic plans, perhaps.
At the opposite end of the country the week began on 7th with Long-tailed Skua sightings in Scottish waters – one seen from Paiblesgarry on North Uist (Western Usles) that day, with two noted in the Minch (Highland) that day also.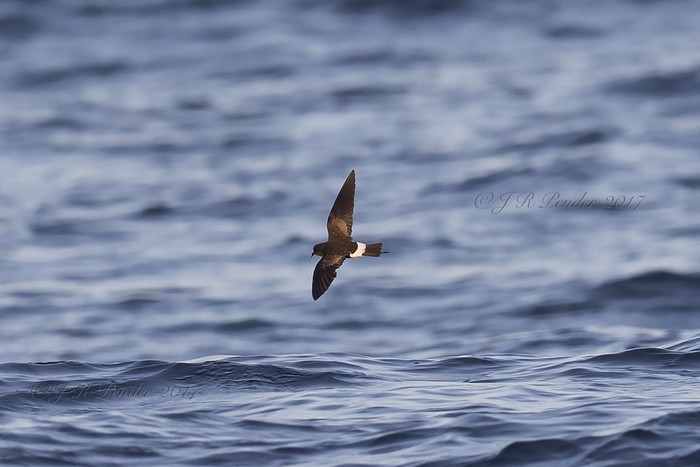 Pomarine Skuas were both ever so slightly more numerous and more scattered in their occurrence – singles were seen from Budleigh Salterton (Devon) on 8th and, on 11th, Saltcoats (Ayrshire) and Helvick Head (Co.Waterford) with a probable further bird that day off Sandy Point (Hampshire).
Balearic Shearwaters meanwhile were just a little more numerous than last week, doubtless a reflection of the unsettled spell of weather that kicked off the current recording period. Singles were seen from the Scillonian and off Pendeen on 7th, with one past the latter on 8th too. The 8th was a busy(ish) day for seawatchers on the south coast, with four birds noted off Selsey Bill (West Sussex), and duos from Sandwich Bay (Kent), Lyme Regis (Dorset) and Orcombe Point (Devon). Singletons on 8th were seen at Berry Head (Devon), and Portland and Wyke Regis (Dorset). Two were logged on 9th at Selsey Bill, while things quietened down on 10th with single birds recorded again from Berry Head, and also at Chapel Point (Cornwall) and Dawlish Warren (Devon).
I lived on the Somerset Levels for a while as a nipper and, while it was pretty good for wildlife even back then in the long-ago 1980s, I'd have given my eyeteeth for even a fraction of the good stuff that's floating (and, particularly, wading) around there these days. Seriously, what a place it's becoming… and you won't be in the least bit surprised to learn it continues to feature largely in the long-legged beasty section of our Round Up again this week.
We'll start with the wee cracker that's the male Little Bittern who remained at Ham Wall RSPB until 11th at least; meanwhile the long-anticipated female individual in Gloucestershire remained at Cotswold Water Park on 7th still.
We'll take a deep breath now and skim over the only pothole in the otherwise smooth and delightful road that's this section of the Round-Up – the ludicrously confiding Night Heron that's spent all of this week cosying up to anyone who cares to approach it with half a prawn sandwich in Shrewsbury's Dingle Gardens (Shropshire). Opinion seems to be coalescing that this is an American hoactli Night Heron, but quite whether that means the bird's actually come from America or somewhere closer to home remains open to question. No such questions swirling around the week's other Night Heron - a first-summer at Potter Heigham (Norfolk) on 8th-12th – could this have been the individual seen at Carlton Marshes SWT (Suffolk) last week?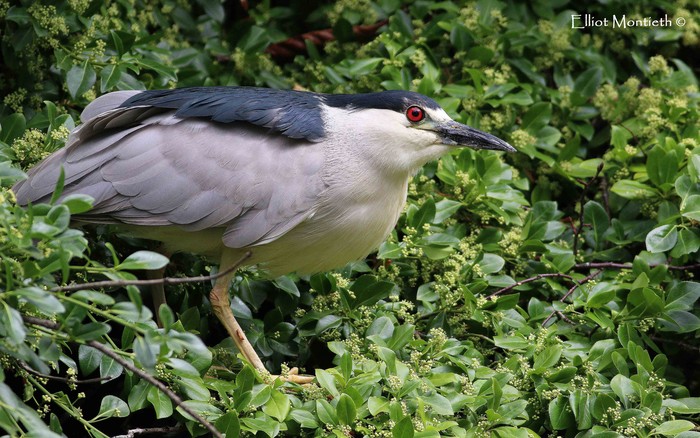 Definitely newly arrived this week was a Squacco Heron in Kent at Dungeness RSPB – found on 11th, it remained there until 13th.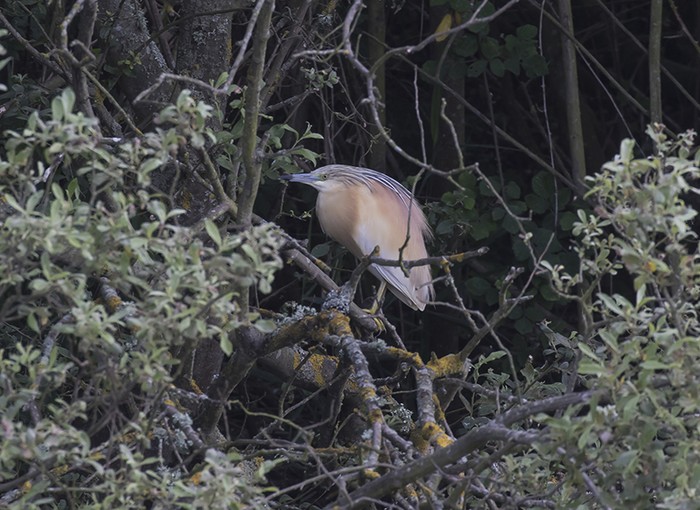 Last week's first-summer Purple Heron remained at Minsmere RSPB until 8th, while one was noted at Edderthorpe RSPB (South Yorkshire) on 9th, and one flew past Mawgan Porth (Cornwall) on 13th.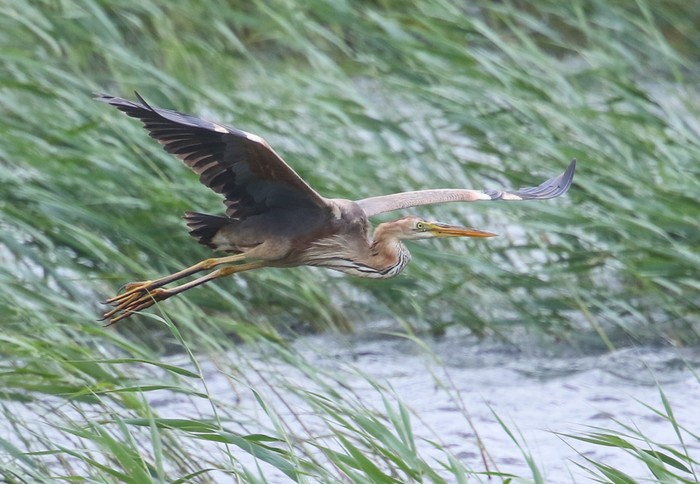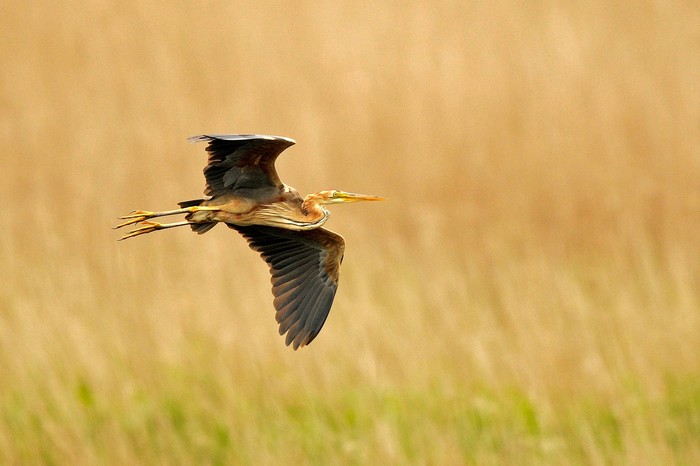 Once again Cattle Egrets featured dominantly in the news, with at least 24 individuals noted from 10 English, Irish and Welsh counties. Peak count this week was six birds at Ynyslas (Ceredigion) still until 11th, while Ham Wall RSPB (Somerset) returned four on 9th, and trios were noted at South Huish Marsh (Devon) on 8th and Tacumshin (Co.Wexford) still on 11th. This year's happy breeding event continues at Burton Mere Wetlands RSPB (Cheshire), with at least one chick still being attended to there – and I'm hearing rumours that there may be at least one more breeding attempt under way somewhere in England. Fingers crossed that's true, and proves successful.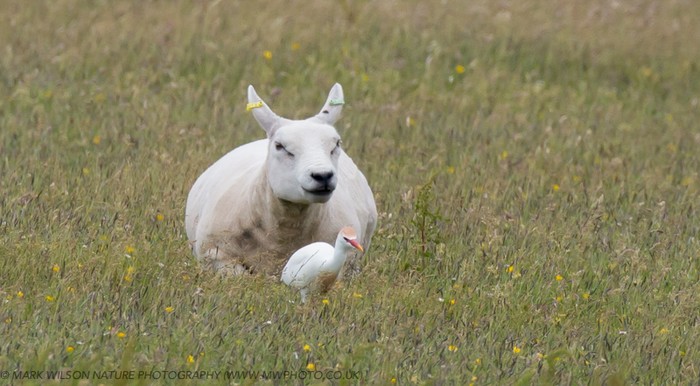 In the absence of any big-ticket counts from the Somerset Levels, Great White Egret numbers remained on a par with recent weeks, with around 20 individuals logged across the country, the most notable count being of three individuals at Welney WWT (Norfolk) on 8th.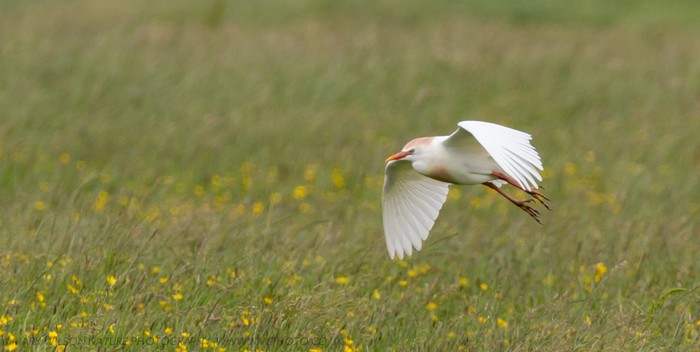 Back on the Somerset Levels, the solitary Glossy Ibis continued to lob around the Meare Heath area all week long.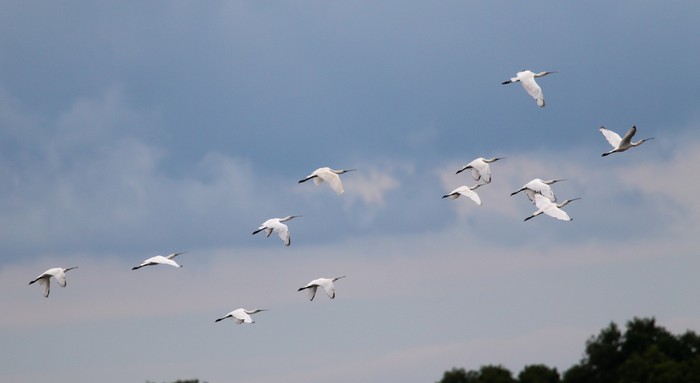 Where Spoonbills were concerned things remained, more or less, as you were with at least 50 birds noted across the region, with the most notable aggregation being 12 birds at Potter Heigham (Norfolk) on 10th-11th rising to fifteen by 13th; five birds hung around Dorset's Lytchett Bay until 12th, while four birds made a small flock at Fairburn Ings RSPB (West Yorkshire) on 10th. Elsewhere scattered records came from as far west as Co.Waterford, with two birds at Killongford on 7th, and as far north as Scotland where a first-summer bird pitched down at the Montrose Basin (Angus) on 10-12th.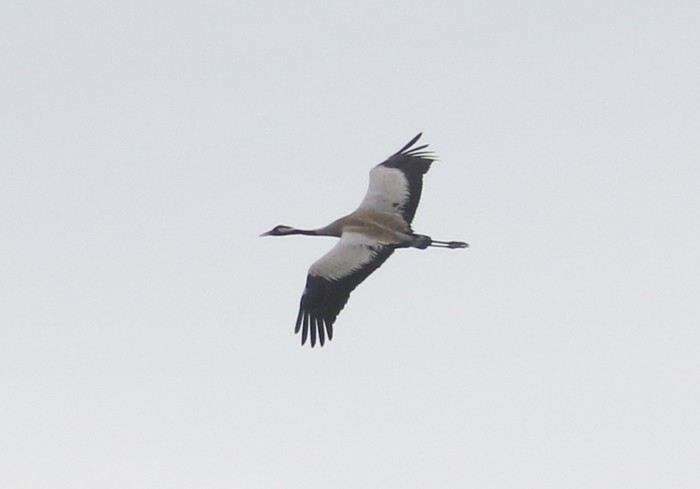 What was presumably one wandering Common Crane accounted for a string of sightings on 9th, being seen in Lincolnshire over Gibraltar Point and Donna Nook before sightings came in from a string of East Yorkshire coastal locations as the day progressed. On 10th it lingered a while in fields at Bempton Cliffs RSPB before setting off again – seen over Flamborough and Bempton on 10th, and presumably the same bird was seen on 12th in North Yorkshire over Old Malton.
Predictably quiet times on the midsummer duckpond that's our summary of the rare honkers and quackers this week – and if it wasn't for Scotland I'd be reduced to keeping my tongue firmly in cheek with the drake Ferruginous Duck that continued to tootle around in the captive Ferruginous and White-headed Duck pen at Washington WWT (Co.Durham) on 11th-12th.
Happily Scotland provided wilder environs for the week's other offerings: on the Scottish mainland the drake Black Duck remained at Strontian (Highland) until 10th at least, and the drake King Eider was still on the Ythan Estuary until 13th. The latter species, and latter site, was the subject of some happy reminiscence last weekend when your erstwhile Rarity Round-Up colleague, Mark, and I went orchid-hunting and birding here in Shetland for a day – inevitably we got to recalling the twitches of our youth and, in that context, a particularly epic day that began on the Ythan with King Eider and Forster's Tern, and ended on the north Norfolk coast with a Rock Thrush and a hungry (but ultimately thwarted) Sparrowhawk. Happy days… Readers of a certain vintage will have seen some or all of those individuals, but did anyone else see the Ythan Cat Lady we both encountered walking her cat on a lead around the estuary?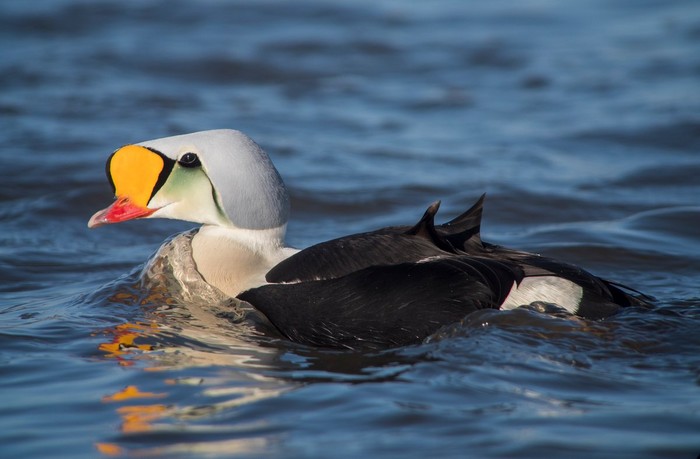 Roger Irrelevant diversions aside, Scottish islands account for the week's other lingering scarce duckery: the drake Ring-necked Duck still on Loch Finlaggen, Islay (Argyll & Bute) to 12th, and the female Surf Scoter for a while yet on Orkney, at Echna Loch, Burray until 9th.
I guess we're still talking about spring migration here in the world of Shorebirds, though before long the grey area that's summer will segue seamlessly into autumn migration. A feature of the latter, though not so much the former, is Baird's Sandpiper - of around 400 accepted British and Irish records to the end of 2015 a mere four hail from June (compared with a mighty 243 in September). One reported at Frampton Marsh RSPB (Lincolnshire) on 12th-13th this week then would have been a significant find – sadly on day two of this individual's stay its identity was resolved as a Dunlin. As you were, folks.
Meanwhile this week the Cumbrian adult Spotted Sandpiper is still showing every sign of calling Buttermere home for the summer – the bird still being present there on 11th.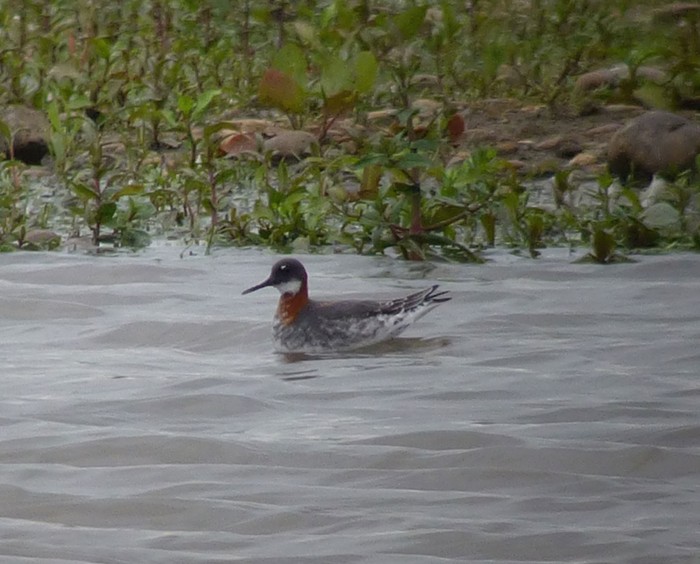 Quite a busy week for Red-necked Phalaropes, with a notable count of no less than four individuals on Fair Isle's diminutive Da Water on 11th, with two birds remaining there on 12th. A female was not a million miles away on North Ronaldsay (Orkney) on 11th also, while the mainland provided a good scatter of records allowing a good few folk a chance for a summer phalarope encounter away from the Scottish islands: on 7th-9th males remained at Frampton Marsh RSPB (Lincolnshire) and Welney WWT (Norfolk); on 10th single birds were at Nosterfield Quarry (North Yorkshire) and Middleton Lakes RSPB (Staffordshire); while on 11th-12th one was in East Yorkshire at Kilnsea. A female was at Slimbridge WWT (Gloucestershire) on 13th.
There was a distinct whiff of summer about the gull and tern news this week, not least the relative lack of white-wingers. More of them anon… Star gull billing goes to one of my personal favourite birds, never mind larids – a spanking adult Sabine's Gull seen passing Lamorna Cove (Cornwall) on 10th. There'll be more of these seen as the summer progresses, particularly at-sea, but they're always a particular treat for the land-based seawatcher.
Just the one Ring-billed Gull to report on – the first-summer bird at Lurgangreen (Co. Louth) still on 11th.
Down into single figures now for Iceland Gulls with only seven birds logged in British and Irish counties, and nothing south of East Yorkshire. Two birds were noted at Thurso (Highland) on 12th, while the rest were singletons including news of one that's settled on St.Kilda (Western Isles) for the past month. Glaucous Gulls registered an even greater paucity, with only three individuals reported: the adult still at Tralee Bay Wetlands Centre (Co.Kerry) until 11th, and further birds of 9th at The Gobbins (Co.Antrim) and on Islay (Argyll & Bute).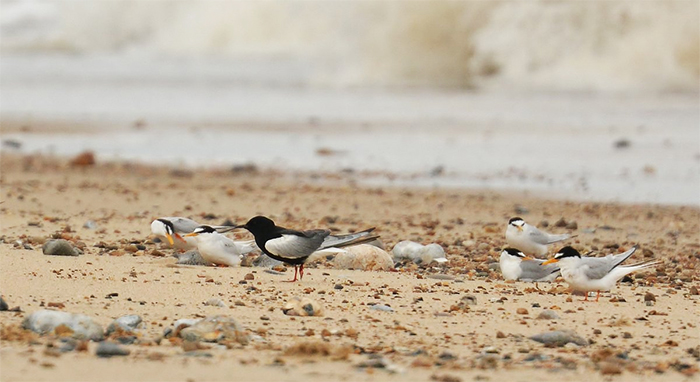 These wintery reminders aside, the week's headline Elegant Tern had a small but colourful supporting cast – an adult White-winged Black Tern seen at Winterton Dunes (Norfolk) on 8th and 10th.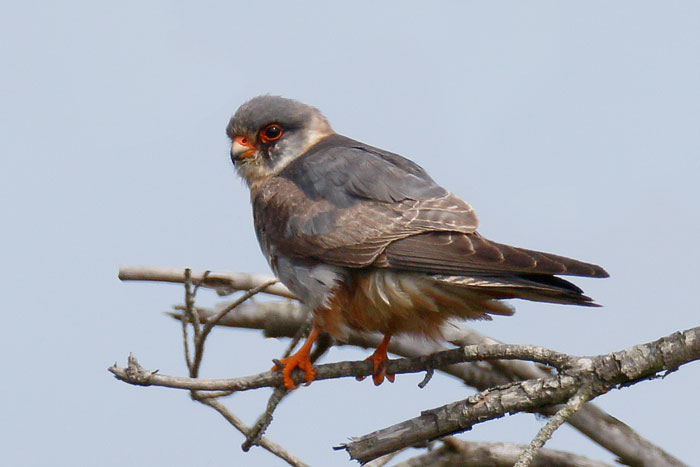 This week boasted a good showing of Red-footed Falcons
- we're not into irruption territory yet, but there were sufficient birds scattered around to give a lot of birders a chance to see one should they so choose. We'll start with a cracking male bird seen at Spurn (East Yorkshire) on 7th, with a first-summer male at North Warren RSPB (Suffolk) on 7th-13th, and a first-summer female nailing dragonflies at Ham Wall RSPB on 7th-11th and again on 13th. On 9th-12th last week's first-summer male was again lobbing around The Lizard (Cornwall), while a first-summer male was again at Minsmere RSPB (Suffolk) on 10th and 13th, and another was at Frensham Common (Surrey) on 10th-13th. One was reported from Walberswick (Suffolk) on 10th, while an unequivocal adult female graced Llyn Berwyn (Ceredigion) on 12th-13th.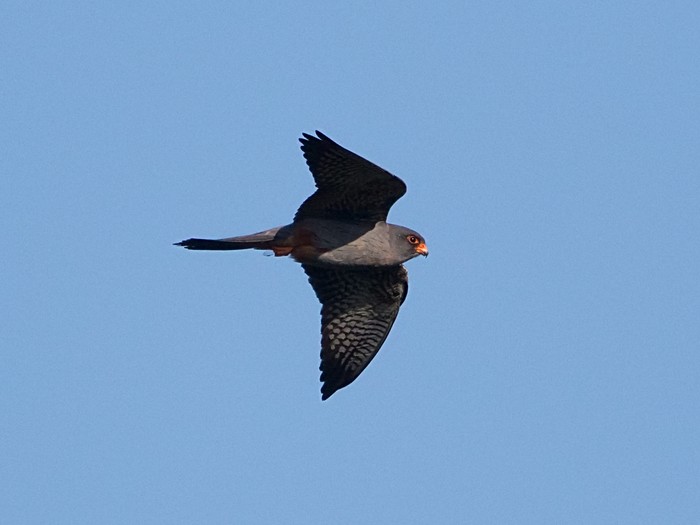 Honey Buzzards sightings tailed off this week with just a handful of birds to report: in Shetland what may have been one and the same bird accounted for sightings on 7th at Scatness and Noness on 11th; in Norfolk birds were seen at Felbrigg Hall NT on 8th, Kettlestone on 9th, Wighton on 10th, Hempstead on 11th and Taverham on 13th; a probable was seen over Sparham on 10th. One was over Frilford (Oxfordshire) on 10th, while from raptor watchpoints on 11th one was seen again over Wykeham Forest (North Yorkshire) and another was noted again in Hampshire at Acres Down, while on 13th one was seen on the Isle of Wight passing east over Cowes. A probable bird flew over Fair Isle on 11th.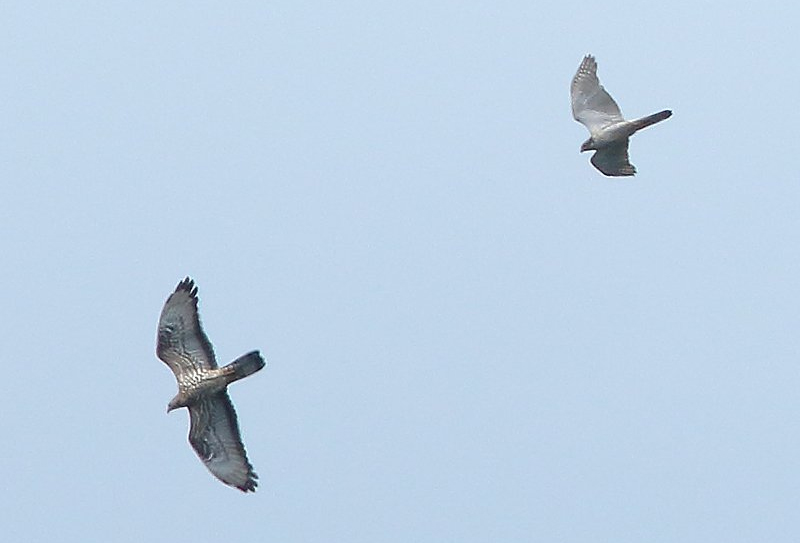 Just one Montagu's Harrier again this week – an adult female at Blacktoft Sands RSPB (East Yorkshire) on 11th. Our week's raptors conclude with the big one – an adult White-tailed Eagle seen again in Shetland, this time over Hermaness NNR on Unst on 12th.
As is my wont at this time of year, I'll start the passerines & their ilk section here with the colourful stuff – beginning, naturally, with the popular singing Hoopoe at Cranham Wood (Gloucestershire): still present this week until 11th. Further birds were noted at Kessingland (Suffolk) on 9th, Brandesburton (East Yorkshire) on 11th, and still at Ballyferriter (Co.Kerry) on 13th.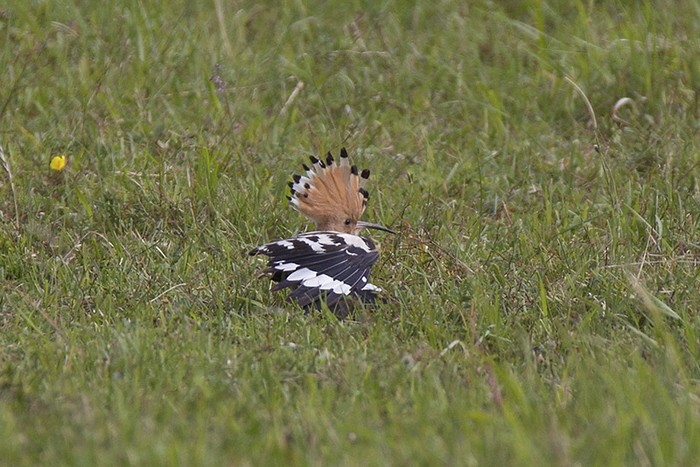 Bee-eaters had a bit of a moment in Devon this week, with a small colourful flurry of sightings and soundings on 11th – eight were at Galmpton briefly before flying off, with further records coming in the form of multiple birds heard that day at Holsworthy and Chudleigh. Earlier in the week one was at Lydd (Kent) on 9th, with a trio at Blyford (Suffolk) on 10th.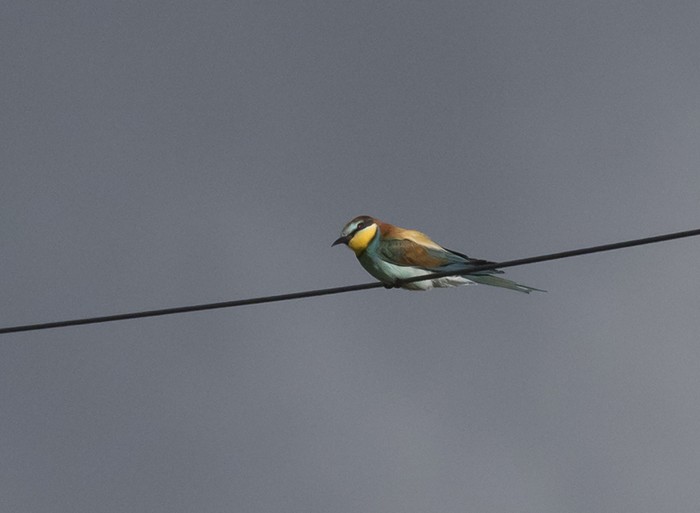 A deeply unseasonal Waxwing was seen in an Aberdeenshire garden at Fraserburgh on 10th – I am betting those undertail coverts would have been thoroughly checked out… And if they weren't, well…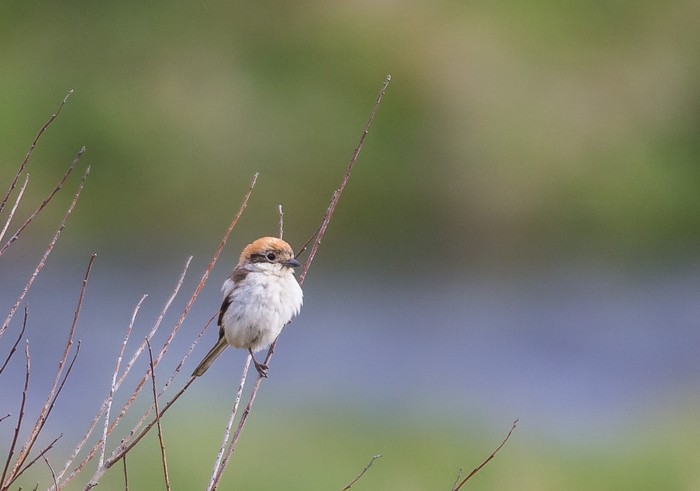 More seasonal fare altogether came in the form of a first-summer female Woodchat Shrike in the Findhorn Valley at Glenkyllachy Lodge (Highland) on 7th-9th. Red-backed Shrikes continued to trickle through, with single birds reported from Geosetter (Shetland) and the Isle of May (Fife) on 7th, with a duo that day on North Ronaldsay (Orkney); another duo were tallied on 8th on Orkney on Sanday; and a further bird was on Shetland on Lunna on 11th.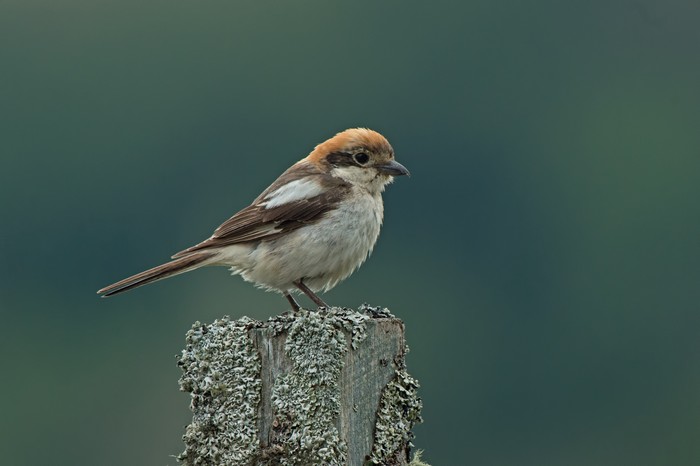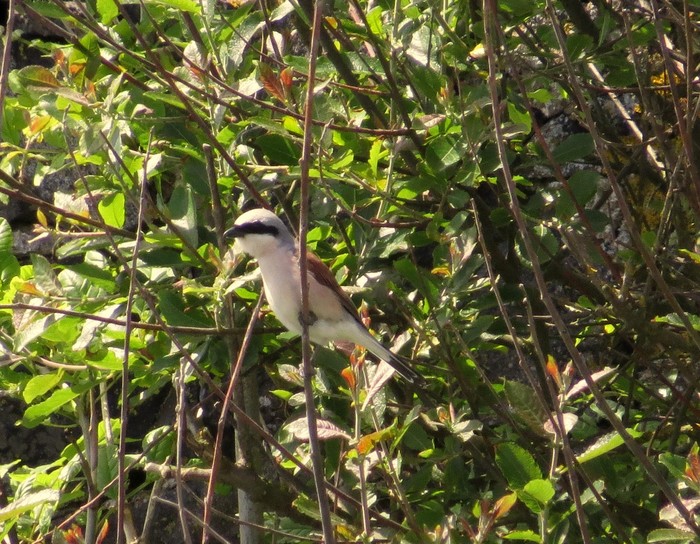 It's definitely time of year for belting, funky adult Rose-coloured Starlings to crop up if you're very, very lucky – blessed this week were Dunoon (Argyll & Bute) on 7th, Gowerton (Glamorgan) on 8th-11th, and Billingham (Cleveland) on 11th-13th. The week ended with a female or first-summer male in Co.Durham at Stanhope on 11th-13th.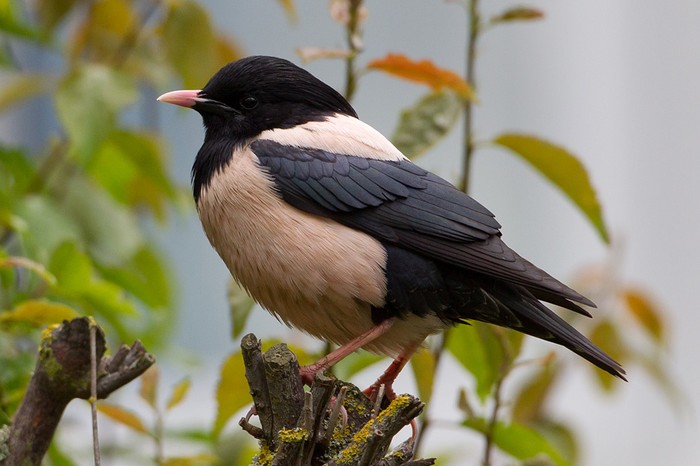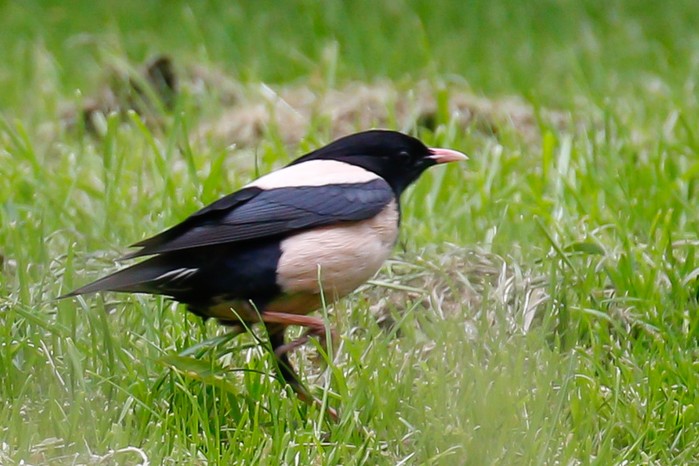 Moving into warbler territory now, and all the excitement of recent weeks' Greenish/Two-barred Greenish Warbler contenders was a fading, dim memory as things settled down somewhat. Which isn't to say things were exactly quiet… If the sound of either the singing Savi's Warblers still giving it beans in Hickling Broad (Norfolk) until 12th and Minsmere RSPB on 13th, or the singing Iberian Chiffchaff at Kelsall (Cheshire) until 12th wasn't music to your ears, there were always crazy mixtape Marsh Warblers to have a listen to…
Singing Marshes were to be found this week on 7th in Cleveland at Saltholme RSPB and Bowesfield Marsh – the latter still blasting it out until 13th. A further singing bird was in Hampshire on 12th at Titchfield Haven NNR. Migrants in Shetland were well represented with singles on Noss and Unst on 7th, Pool of Virkie on 8th and Foula on 12th, while on Fair Isle three on 7th rose to five birds on 8th, with two there the following day. One was present on North Ronaldsay (Orkney) on 10th-11th.
Another lingering songster this week came in the more colourful form of an Icterine Warbler still at Nigg Bay (Highland) until 11th, while further single birds were found in Shetland on 7th on Fair Isle and Whalsay – the latter bird sharing a small plantation at Isbister that evening with a Greenish Warbler. Fair Isle's tally of Icterines rose to a peak of three on 11th with two still there on 13th, while in between on 9th it hosted a brief Blyth's Reed Warbler in the depths of Hesti Geo.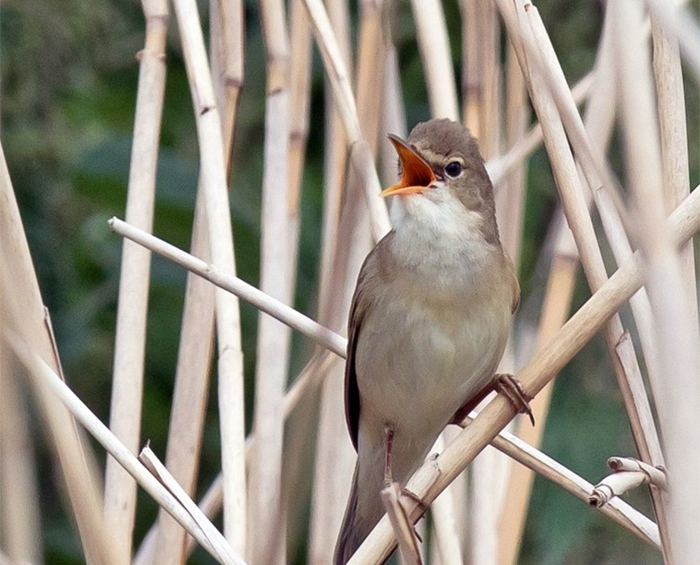 Bringing our warblers to a close, and too brief to allow assignation to anything more specific, a female Subalpine Warbler turned up suddenly in the evening of 11th in a birder's garden at Pool of Virkie (Shetland).
A male Blue-headed Wagtail was at Druridge Pools (Northumberland) on 9th.
Common Rosefinches continued to, in the main, underwhelm with just a handful of sightings to report upon. Fair Isle claimed males on 7th and 11th-12th, while nearby North Ronaldsay hosted a singing male on 8th. Mainland Shetland was graced by single birds on 7th at Sumburgh and Quendale.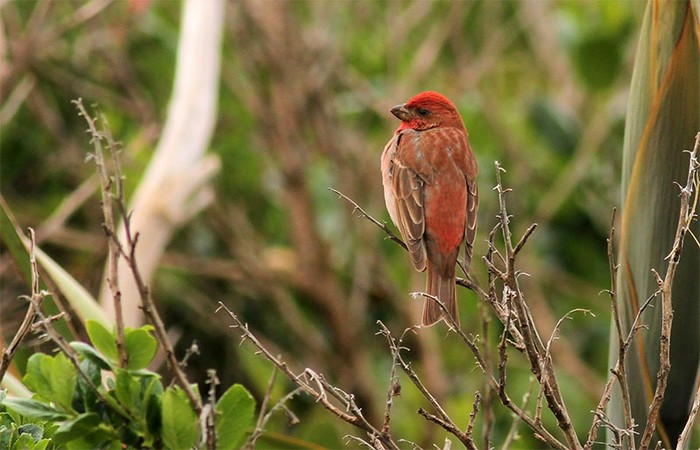 A single Serin passed Culverwell on Portland (Dorset) on 10th) while, to close this week's proceedings, we return to Orkney's North Ronaldsay for an Ortolan Bunting present on 8th-10th.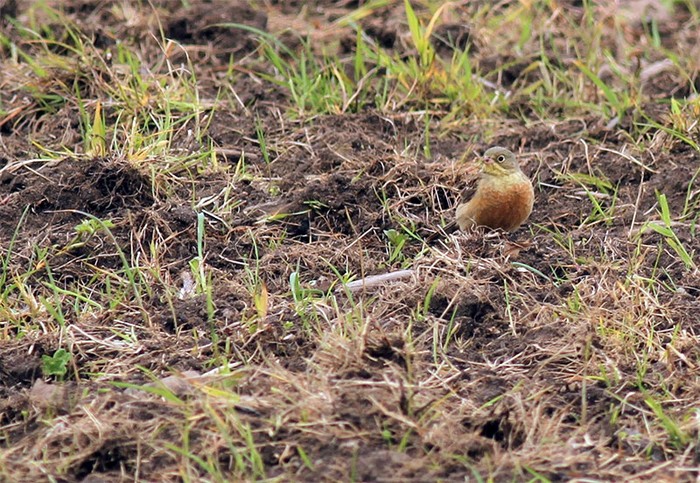 Now this is a new development… Reporting on overseas rarities feels like a bit of a Eurovision Song Contest moment, and I'm half-expecting an impossibly well-groomed Norwegian to pop up on my monitor to brightly tell me about the results from Norway ("singing Sora - twelve points")...
Okay, here goes…
Well, obviously the big news on everybody's lips this week came from Kazakhstan, where at least two Black-headed Penduline Tits spent 12-13th gathering nesting material at Atyrau in the Ural Delta. Given that this is a species with a range that spans Iran and Turkmenistan, Kazakhstan represents the most accessible point for listers to connect with it. That's fairly relative though, and Atyrau, while considerably less off the beaten track than some parts of the region, is still well… a long way away. There's a nice paper in Sandgrouse if you fancy whetting your appetite for a trip to see them…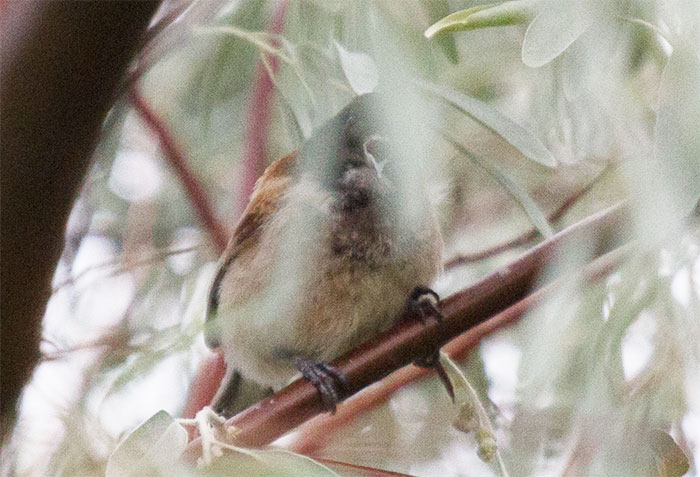 Returning rather closer to home, and starting approximately in the north and working our way south… We have Norway calling! Come in Norway, what's your news? What's that, a calling Sora at Råde, Østfold on 13th? Terrific news if that first record for the country is accepted. Thank you, Norway!
Enough with the Eurovision… Denmark meanwhile hosted its third Black-headed Wagtail at Skagen, Nordjylland on 7th.
Our regular Black-browed Albatross of recent weeks was logged during a seawatch in Germany on 8th at Sylt, Schleswig-Holstein; in Austria that day the country's first Eleonora's Falcon was recorded at Spittal an der Drau, Carinthia. See, Britain? It really might just happen. Also notable in Germany on 13th was a singing Spectacled Warbler at Dreiborn, Nordrhein-Westfalen.
Perhaps more likely to turn up on our south coast is the maxima Royal Tern still hanging around in France at Saint-Brieuc, Brittany – practically in sight of our shores. Surely it sees Britain when it heads out to sea for a good old feed? Come on…
Mind you, those five Griffon Vultures in the Netherlands can't be doing with making a short transit along the coast and over the English Channel either – still present on 7th at Stedum, Groningen, perhaps my money might be on the Forster's Tern on Texel in the evening of 12th popping across. A south coast English record of that would be very popular indeed. Probably more so than if the Pacific Swift at Westkapelle on 12th scythed our way, though who'd complain about another those, really.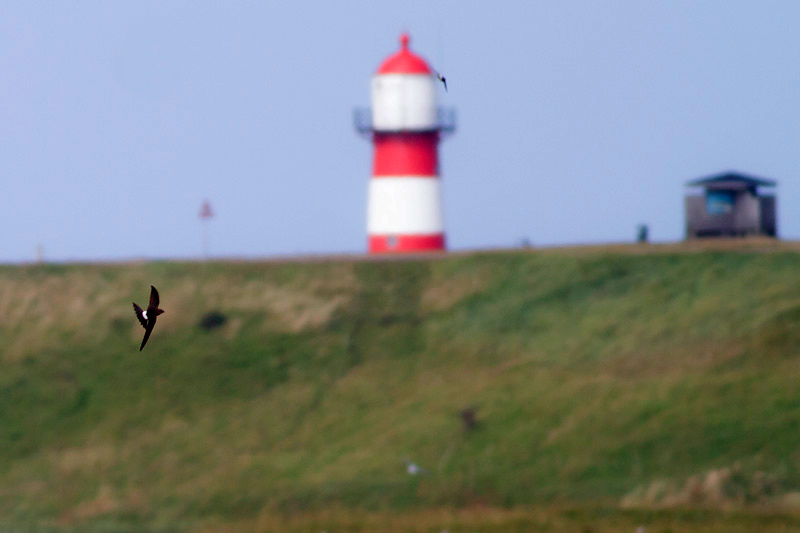 We're finishing off in the scorchio south – where Portugal's Algarve served up a bird duo that, were it a cocktail, would probably combine blue curacao with a drop of Jägermeister. How else to describe the combo of Yellow-billed Stork at Silves on 8th chased down with a Swinhoe's Petrel trapped and ringed at Ponta da Almadena that very night?
Well that was fun. I'd forgotten how much of a kick I get out of poring over the past week's happenings in the world of rare fare. It certainly helps to ease the pain of missing a Nightjar this week on my local patch…
(Nightmare, by the way…)
Anyway, I always look forward to the next bit, the looking forward to the new week by looking, dewy-eyed, back into the mists of time and birds gone by. So… what of the week to come?
Well, stand out bird statistically has to be one that featured modestly already last week - Red-footed Falcon is a classic mid June wanderer, and could realistically turn up just about anywhere. Keep your eyes to the skies for one of these dandy falcons in the coming days…
There are, of course, some outstanding prior records in the coming week that are hard to see beyond: moving swiftly past the (very) historic gluts of Pallas's Sandgrouse, the eye's irresistibly drawn to the Eleonora's Falcon on South Uist (Western Isles) on 14th June 1985, the White-throated Needletail on Cape Clear (Co.Cork) on 20th June 1964, the long-staying Blue-cheeked Bee-eater in Shetland from 20th June – 3rd July 1997 and, of course, the brief Rock Sparrow at Cley (Norfolk) on 14th June 1981.
I can't see any of us turning down the opportunity to connect with any of those in the comings days…
…but being more realistic, we're moving into the really halcyon days of summer when eyes turn to estuaries and hopes lift for a rare wader or two. The likes of a nice Broad-billed or Terek Sandpiper could be very much on the cards while, if you want to shoot for the stars, we only have to look back to the Long-toed Stint that scuttled around Co.Cork's Ballycotton on 15th-16th June 1996 for inspiration...
Jon Dunn
14 June 2017
Share this story
Tweet


Many thanks to all contributors for their photos and videos this week.
Baz Scampion, James Packer, Alex Jones, Mike Alibone, Brydon Thomason, Mick Davis, Graham Etherington, Sean Nixon, Joe Pender, Nick Smith, Elliot Montieth, Martin Casemore, Jon Evans, Mark Wilson, Justin Carr, Jonathan Woodcock, Rob Mellowship, Steve Gantlett, Nicholas Brown, Andrew Brown, Colin Leslie, John Nadin, Martyn Sidwell, Arto Maatta, David Talbot, Simon Davies, Thomas Luiten, Rob Thomas,