Weekly birding round-up: 19 - 25 Apr 2017
The week at a glance
The week begins with a Hermit Thrush on Shetland
Presumed Zino's Petrel logged 400 miles+ off the west coast of Ireland
A Black Stork in Mayo may be only the third national record
The Irish Squacco Heron remains in County Kerry
Somerset's singing male Two-barred Crossbill still sitting pretty in the pines
Male Pallid Harrier heads through East Yorkshire
In Scotland, the male Pied-billed Grebe remains in Argyll & Bute
The cool northerly airflow was still the dominant factor with much of the nation's weather this week, as weak ridges of low pressure skirted across the dominant high, bringing showers for some and temperatures below the seasonal norm.
Bands of rain cut across central and southern parts of Scotland, with some thick mist and drizzle finding its way all the way down the east coast at times ahead of the weekend, while more prolonged spells of wet weather skirted across northern and then southwestern England as the review period started to draw to a close.
In between the greyness there were some prolonged sunny spells to be enjoyed and the occasional switch to westerly rather than northwest winds saw a definite warming of the air.
And for a few intrepid Shetland birders, there was a nice early spring bonus, in the shape of a perky little Catharus thrush to bring an extra ray of sunshine to the week's proceedings…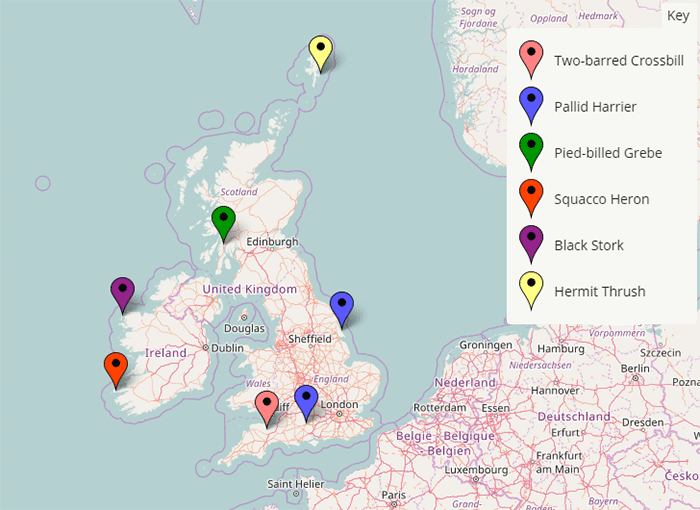 Hermit Thrush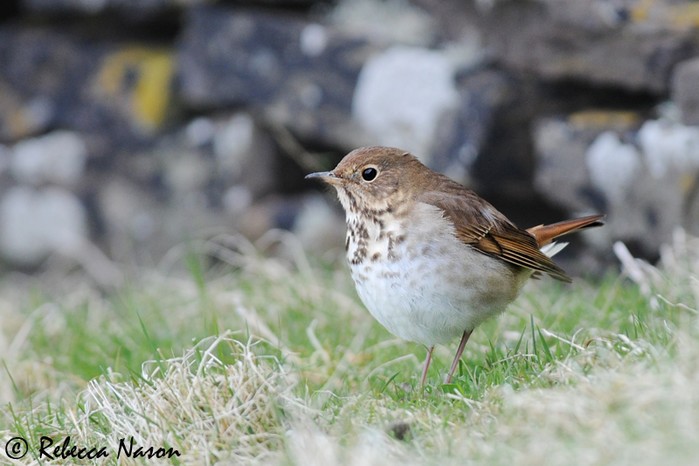 The past couple of weeks have seen a couple of "thrushes" steal the limelight at the top of the review and this week is no different; although a very different beast from the Motacila double that enlived the early part of the month, this week's star attraction came from an altogether different genus and totally different direction on the map…
Everything was pointing to a Nearctic species or two topping the bill and well before the end of the first day of the new review week, we had an answer to the question "what's it going to be?"; the answer came from the Catharus stable in the russet form of a super Hermit Thrush that was located in East Punds Geo, Noss (Shetland) during the afternoon of 19th.
It is nearly 40 years to the day since the first for Britain was found on an early June day around the croft at Field, on Fair Isle (02/06/75) by Stephen Rumsey and Harold Nash and the species has retained a significant degree of extreme rarity ever since.
Hermit Thrush Catharus guttatus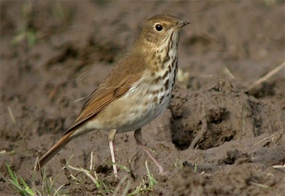 RBA status: Extremely Rare Vagrant
Accepted British records: 11
Accepted Irish records: 2
First Britsh record: Jun 2 1975 - Fair Isle, Shetland
Most recent accepted Britsh record:
22 to 23 Oct 2014 - Balranald, North Uist
Prime month(s) to occur: October
It would be nine and a half years until the next appeared, a classic late, late autumn bird on St. Mary's (Scilly) on October 28th 1984 and that was the first of three consecutive birds for the islands in the next decade. The first multi-observed bird was seen on St. Agnes on October 15th-16th 1987 (I recall fondly the startling spoken news hitting me square between the eyes "Hermit Thrush!!!!!" as I wandered fields some 200 yards from where it had just been found near the chapel…my 401st UK bird!) with the first really obliging bird following in October 1993, this one on Tresco.
Shetland scored the next two, on Fair Isle in the autumn of 1995 and then on Fetlar in April 1998 (the first and only April record until now). Another Hermit Thrush followed in Cork later the same year and then came a gap of eight years until the next record of this rather dinky little thrush, a twitched bird spending two days on Cape Clear in October 2006.
The current decade has seen five other records noted (excluding the new Shetland bird) ~ two in two days were seen on the Outer Hebrides in October 2010, a four-day late October-early November bird was found around the toilet block bushes at Porthgwarra (Cornwall) in 2013 and two more followed in 2014 when Fair Isle bagged another spring Hermit Thrush in mid-May and another Hebridean bird arrived in late October.
So this week's bird becomes the earliest of the four spring records to date and it also becomes the fifth for Shetland.
Zino's Petrel
We're getting to the time of year when the surveyors on the R.V. Celtic Explorer start to unearth some fascinating (sometimes crazy) stuff in the deep waters hundreds on miles to the west of the Irish west coast.
It was three years ago in May that Niall Keogh photographed a Bermuda Petrel from the survey ship, some 200 miles off the coast of County Kerry. Now comes news that what appears to be an outstanding candidate for a Zino's Petrel has been photographed from onboard the vessel, this time over 400 miles west of Slyne Head (Co. Galway) on 20th.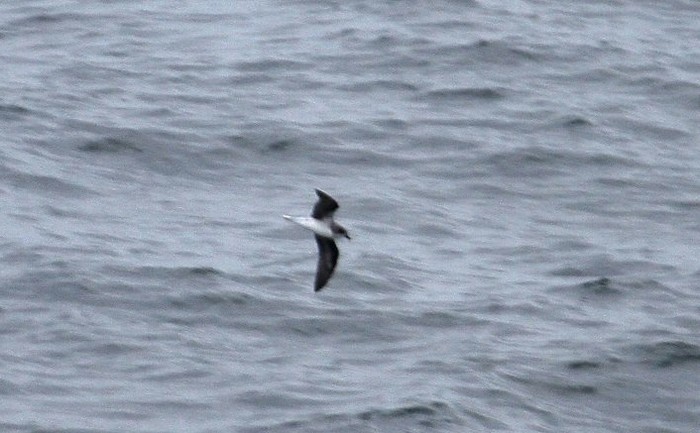 The bill shape and thickness, the face pattern and the wing patterns all suggested that this was indeed a Zino's while the time off of this week's year sails in the face of all accepted records of Fea's Petrels ~ the closest we've come was a well observed but rejected Pterodroma in a strong northwesterly off Cley beach in March 1992.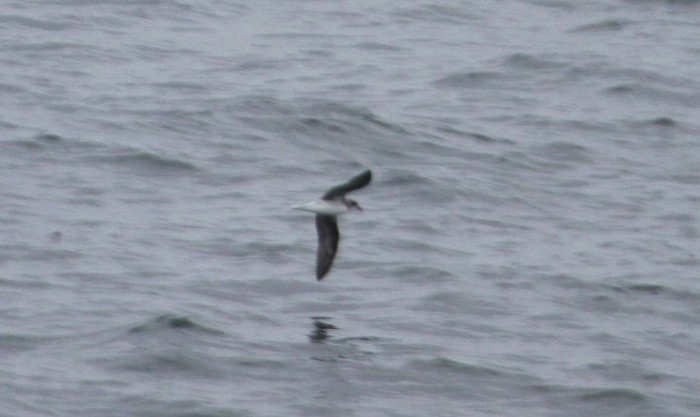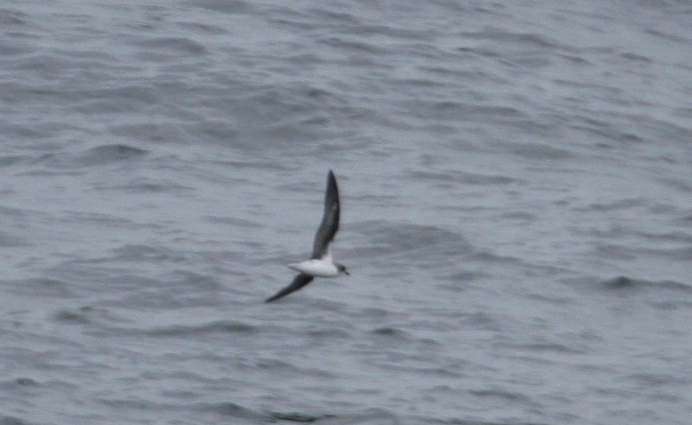 Bermuda Petrel. Zino's Petrel. Black-capped Petrel must be firmly in these salty seadogs sight's now. Or something even better…
Black Stork
Last week's Kerry Squacco was a popular attraction but even rarer in Ireland is Black Stork and this week saw the arrival of the first for the year, bang on time too, and the most significant thing about the record was that it was seen way out in County Mayo.
Seen in flight near the tidal estuary system at Srawaddacin Bay ("stream of the long hound") this could become not only a county first but just the third record for Ireland as a whole ~ the previous two were seen in County Clare in June 2012 and before that, in County Dublin in August 1987.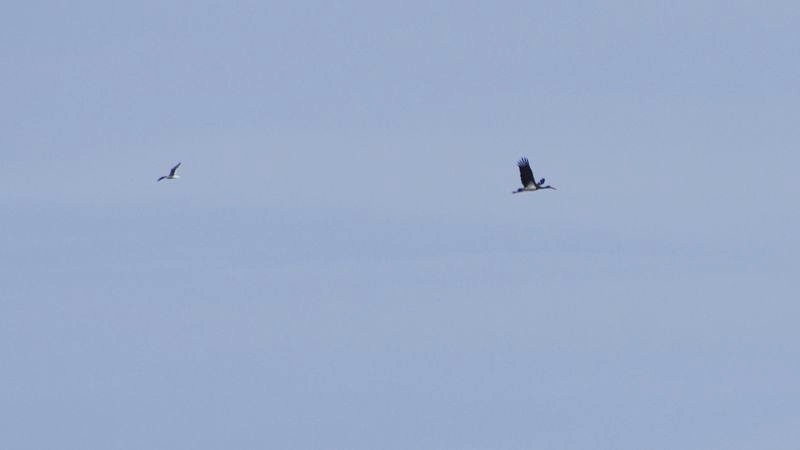 Quite where a bird as seemingly striking and obvious as this can go is always a mystery but they are famously unobtrusive at times when seen on the British side of the Irish Sea. Surely someone else will see this one though?
Squacco Heron
The aforementioned Squacco Heron discovered last week at Ventry (Co. Kerry) behaved itself and continued to show well in the flooded dune system close to Páidí Ó' Sé's bar until 23rd ~ I can't quite think of anything better, a gorgeous rare heron in a cracking part of the country with a pint of the black stuff waiting in the bar (named after Kerry's legendary Gaelic footballer) not far away.
Birding bliss.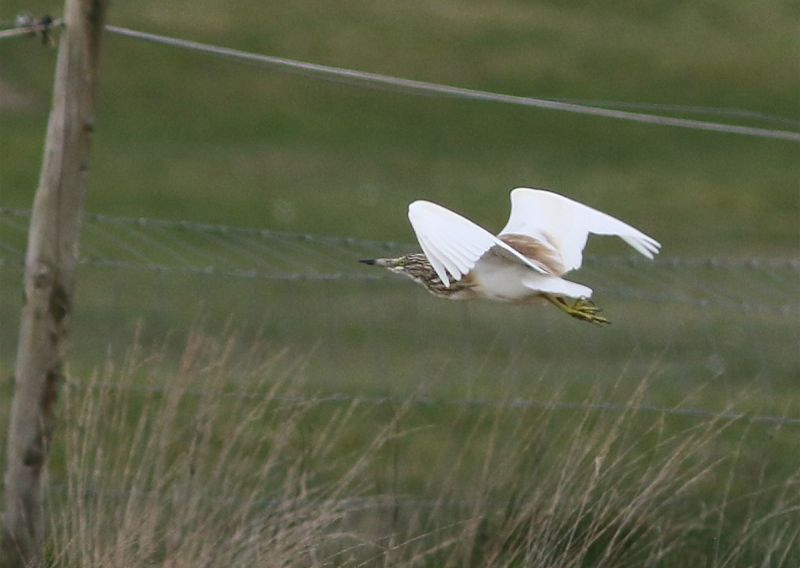 As was mentioned, this is the first Irish Squacco for a decade, so a week-long stay went down well with many across the nation.
Two-barred Crossbill
The male (presumed) Two-barred Crossbill continued to perform well at Haddon Hill (Somerset) as the new week began, still singing and showing to visitors to Exmoor National Park to 24th.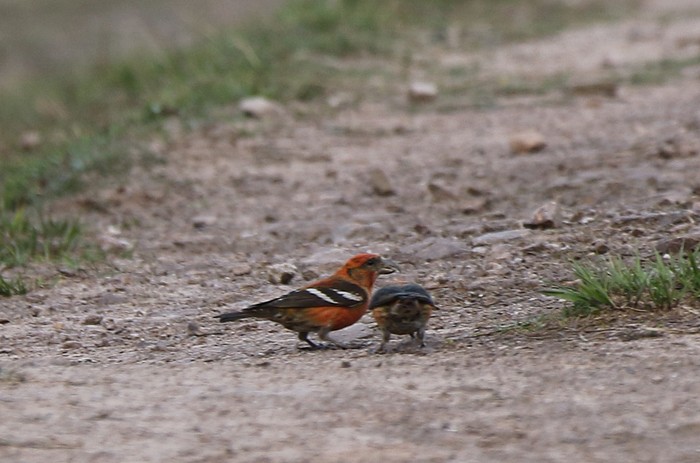 Given that he's already on territory, it will be interesting to see whether he quits and departs the pines sooner rather than later. Maybe the Somerset Crossbills will hold his interest for a while ~ though it should be pointed out that some observers have suggested that this is no more than a large-billed, wing-barred, tertial tipped Crossbill. Is it an extreme look-a-like or is it within the range for the species? Innarestin'…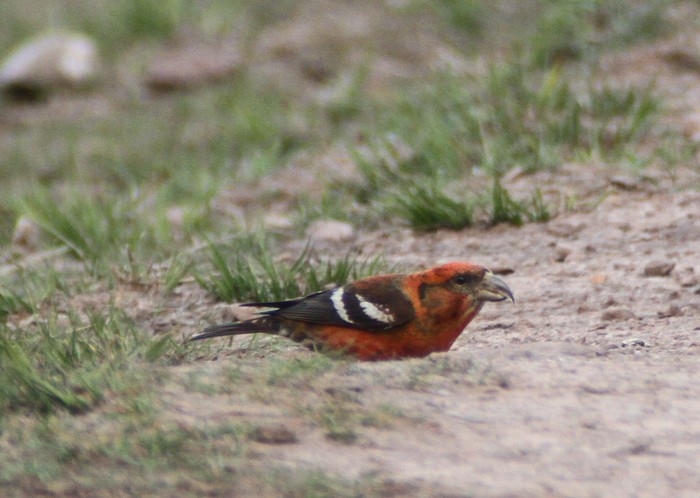 Pallid Harrier
The allure of discovering an adult male Pallid Harrier in Britain or Ireland remains a particularly intoxicating happening but, as was touched upon at the tail end of a review a couple of weeks ago, now is very much the time when they have appeared here in the recent past and someone hit pay dirt at Grimston (East Yorkshire) in the early morning of 23rd when said grey beauty headed north over the site before 7am.
Late March has produced two adult males in the past, in Cornwall (in 2003) and Surrey (in 2013) while April has produced adults in East Yorkshire (in 2003 thought to be the Cornish bird), Gloucestershire (in 2012) and last year at the South Swale NR in Kent on April 10th.
The window is very much open for this ever-increasing species to appear here through the spring and this is clearly a time to keep eyes open for one of those silky-smooth looking majestic males.
Long staying rare - Pied-billed Grebe
It looks as though we may be down to just one this week… - Still on station in the far northwest of Scotland was the male Pied-billed Grebe which remained at Loch Feorlin, near Minard (Argyll & Bute) until 24th ~ he may be there for sometime…
The week started a fresh with the usual adult White-billed Diver between South Ronaldsay and Burray (Orkney) on 19th-23rd and a second Orcadian bird loitered around Papa Westray to 21st while the third of the week was noted off Lossiemouth (Moray) on 22nd-23rd. Birds 4 & 5 were still off Portsoy (Aberdeenshire) on 24th.
Until those winds switch to the southeast, south coast seawatchers will have to play a waiting game for any significant movement of Pomarine Skuas; this week's first bird was a pale adult noted from Spalsh Point, Seaford (East Sussex) on 21st and another followed the same day off South Stack RSPB (Anglesey). The following day back off the Sussex coast, three Poms headed past Eastbourne.
But those hardy spoon-tailed beauties wouldn't see a bit of indifferent weather as reason to hold fire and the backend of the weekend saw the year's first modest push past south coast Pom-hotspots; in Kent, at least 25 were seen from Dungeness on 23rd, with 13 off St. Margaret's at Cliffe; in West Sussex eight were shared between Selsey Bill and Worthing while in East Sussex, 16+ were seen from Splash Point, Seaford with at least 17 from Birling Gap (where a superb 500+ Mediterranean Gulls were also logged). Birders on the Hebrides saw the first group of the spring head past Aird an Runair on 24th, 10 birds logged.
Scilly has already hosted a rather fine looking male Little Bittern this month and this week saw the second arrive, when a female was found at Lower Moors on St.Mary's on 22nd where it remained to 25th.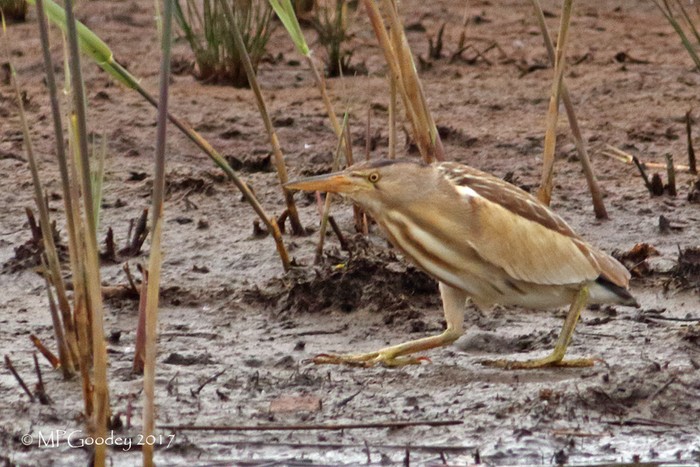 The first Purple Heron of the week was seen flying over Crousa Downs, to wards Coverack (Cornwall) on 19th (appearing there again on 23rd) and was followed on 20th by one along the south coast, seen at Medmerry RSPB (West Sussex). Bird number three this week was seen for around 20 minutes in transit over the middle St. Mary's (Scilly) on the evening of 21st, it was also seen over St Agnes too. Back at Medmerry, two Purps were reported "in-off" on 22nd and new the same day was a bird at Lodmoor RSPB (Dorset). In Cambridgeshire, a first-summer Purple Heron was reported on the Ouse Washes on 23rd and one was also reported from Portbury Wharf (Somerset) on 24th.
The adult Night Heron still seems to be stuck out in the Bristol Channel, present on Lundy (Devon) to 21st and still in the mix in Shropshire was what was assumed to be the Venus Pools adult that had moved to Shrewsbury on 22nd-25th. A new arrival was found in Ireland on 24th, a garden adult seen at Adare (Co. Limerick), the first report in the county since a late November record in 2011 and two made it even further to the northwest, seen at Castlebay, Barra (Outer Hebrides) on 25th ~ only the fifth record around the island chain sine the start of the 2000's and the first since on eon St. Kilda in May 2011.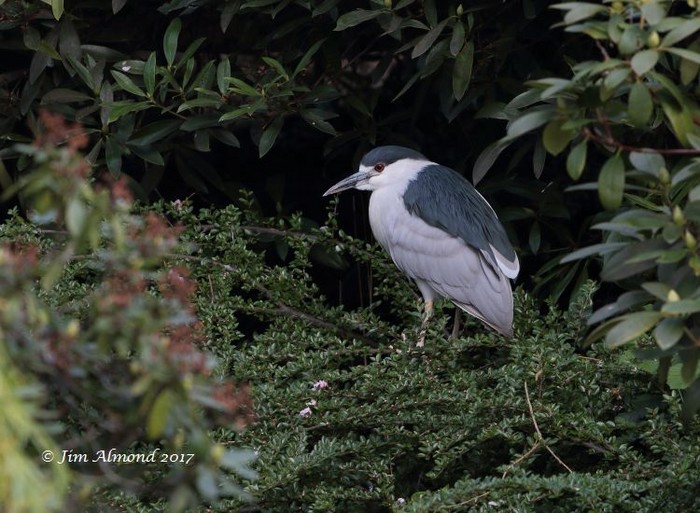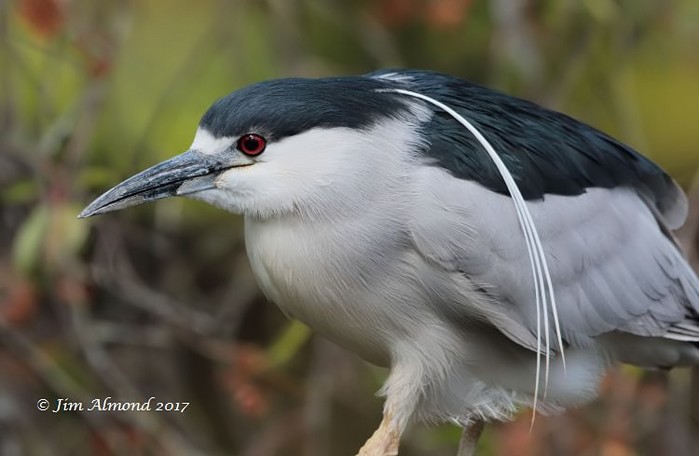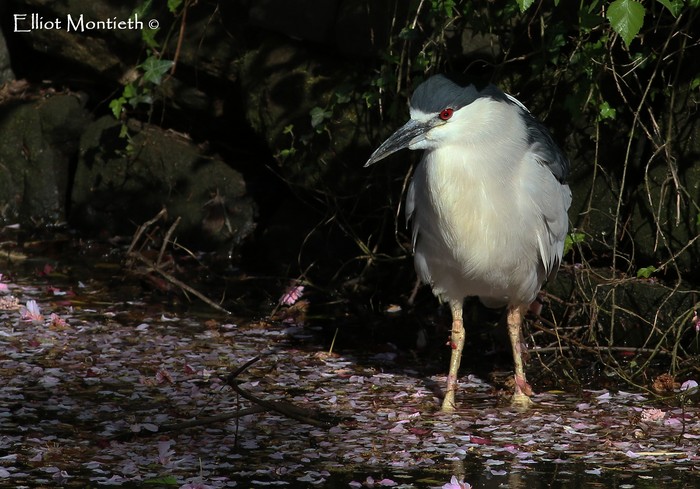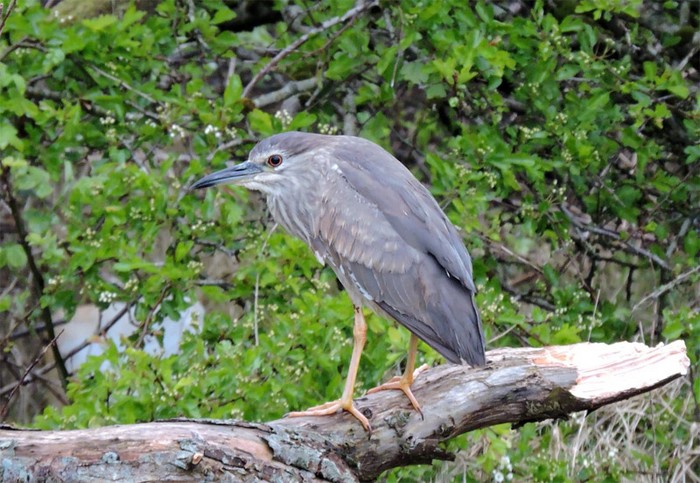 Numbers of Cattle Egrets took a sizeable nosedive this week but there were still just over 100 recorded in 18 British and Irish counties (down from 170 birds last week). Once again, the southwest was the region that hosted most birds but numbers there fell to 46, down by over 50% on last week's figures. Somerset hosted at least 21 including at least 11 on the Somerset Levels to at least 24th with a further 10 at three other sites. Devon logged 18, with eight of those at South Huish on 19th and seven at Colyton on 25th, while there were just six in Cornwall (and just one was mentioned for Dorset).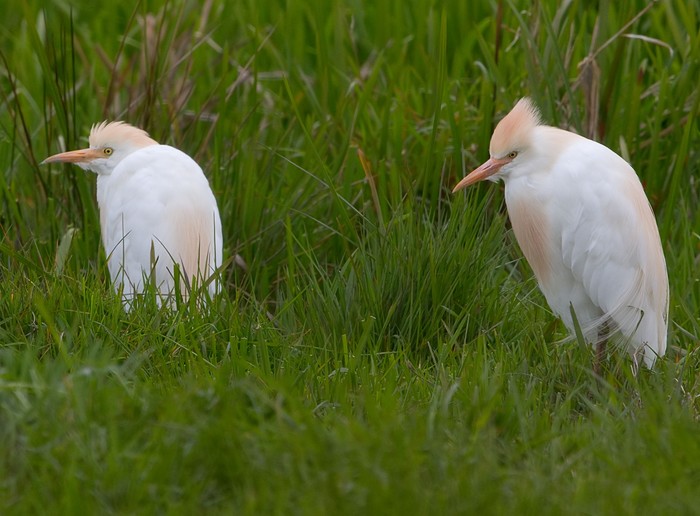 In the northwest, 22 birds were recorded, 11 of them around Lancashire with six at Burton Mere Wetlands RSPB (Cheshire) on 20th and a flock of four were also in Greater Manchester too. Between 10-16 were in the Midlands, a minimum seven were in Gloucestershire (at Frampton-on-Severn on 23rd) with at least five at Slimbridge WWT earlier in the week. Of note were the two seen in Herefordshire, at Wellington on 22nd-23rd, an exceptional record for the county. Low single figures were noted in three other English regions while in Wales, the flock of seven remained at Malltraeth Marsh RSPB (Anglesey) for much of the week. In Ireland, 14 Cattle Egrets were counted in three counties, 11 of them still around Tacumshin (Co. Wexford) to the end of the weekend.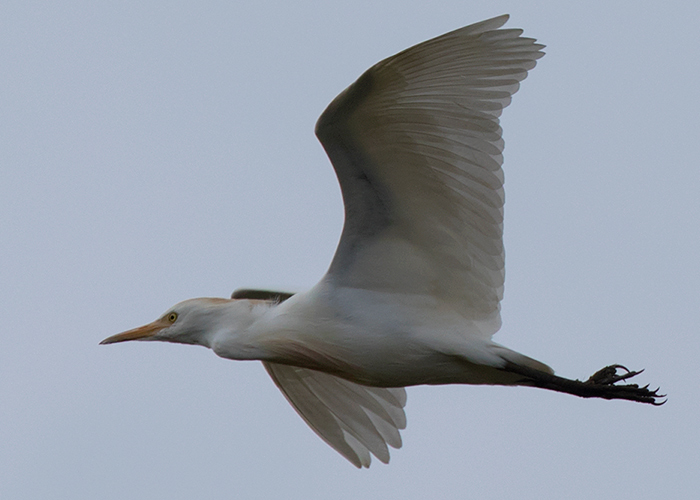 Exciting news from Somerset where the magnificent Levels have begun to host four Glossy Ibis ~ seen at Ham Wall RSPB on 20th; the expectations for something unique happening are sky-high (especially given the way in which other rare heron-types have found this sensational habitat so much to their liking in recent years.
Three more Ibis was noted this week, still at Cossington LWRT (Leicestershire) to 23rd and Lakenheath Fen RSPB reserve (Suffolk/Norfolk border) to 25th and in Essex, one was at West Mersea and Abberton Reservoir through 22nd.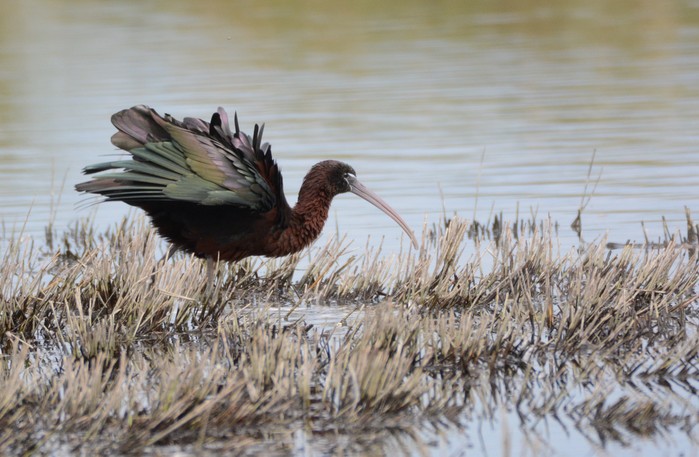 It was much as you were for some 40 Spoonbills spread unevenly around coastal counties from Cornwall to Northumberland, including in Norfolk, four at Potter Heigham Marshes on 23rd and seven at Burnham Overy Staithe on 24th.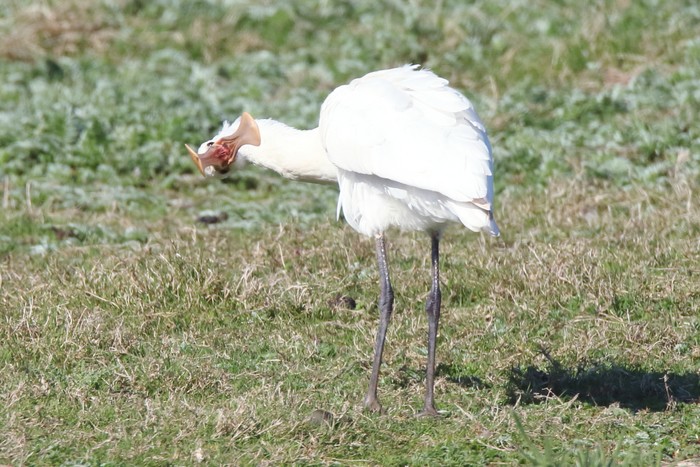 Around 60 Great White Egrets were widespread once again, nine the highest count of the week, seen at Shapwick Heath NNR (Somerset) on 22nd with five for Welney WWT (Norfolk) on 20th and four remained at Leighton Moss RSPB (Lancashire) to 21st.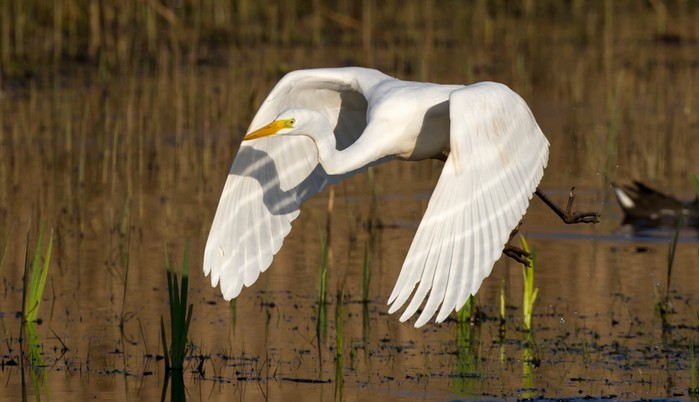 A flock of nine Common Cranes were noted heading north towards Blakeney over Wiveton on the sunny north Norfolk morning of 19th and there was little surprise to hear that a flock of this size was noted again, seen at rush hour heading ESE over Norwich the following afternoon (presumably making their way back to Broadland, which seemed even more certain when they went over Brundall and Strumpshaw Fen RSPB).
The week had started on 19th with two Cranes at Strumpshaw and these were followed through the same day by a flock of five at Blacktoft Sands RSPB (East Yorkshire), two at Bothal Ponds (Northumberland) and singles at Barden Scale Raptor Watchpoint (North Yorkshire) and Loch of Strathbeg RSPB (Aberdeenshire) (as well as a heard only report from Nottinghamshire).
The Northumberland duo were still in the county until the morning of 20th with perhaps the same two then being seen at Saltholme RSPB (Cleveland) later the same day. Not far away in Durham, a flock of four were seen over Cleadon and singles were at Grimston (East Yorkshire) and Sheringham (Norfolk). Towards the end of the week, lone bird were noted near Gilston (Moray) and Chatham (Kent), both seen on 24th.
Back in Norfolk, a flock of 16 birds circled around Potter Heigham Marshes on 22nd (maybe spooked by the aerial barn door that was in the area at the same time ~ how very Lac du Der-Chantecoq…) with a couple of roaming birds in the Broads the same day. Elsewhere on 22nd, further singles were in Hampshire, Pembrokeshire, Gwent and East Yorkshire while a flock of nine (the same as 19th-20th?) appeared over Gibraltar Point NNR (Lincolnshire) and two toured several Suffolk sites.
Throughout all the mainland activity in England and Scotland, the lone Crane remained at the southern end of Mainland Shetland until 23rd.
You'd like to think that the White Stork that arrived at Loch of Strathbeg RSPB (Aberdeenshire) on 20th was the real deal (there's no telling anywhere these days but it would be nice not to have to worry about duffness every once in a while). Unfortunately this far flung bird was also carrying a ring, the tell-tale green ring of no confidence "Z1213" ~ this one's clocked up a few miles since first appearing at Welney in February 2016, being noted in many counties across the country (including time in Lincolnshire, Gloucestershire and especially Herefordshire where it wintered) and may well be the green-ringed bird seen recently in (amongst other places, Derbyshire and Yorkshire ~ tracking north presumably).
As was mentioned when the bird originally appeared, Z1213 is a wild hatched Polish bird that was injured after a power line collision in 2104 when it was sent to a rehab unit in Norfolk. Since wandering off over a year ago, it hasn't shown signs of wanting to return to the enclosures It got to know and seems set on living as wild a life as possible. The weird halfway house of real and escape is a murky world for the lister…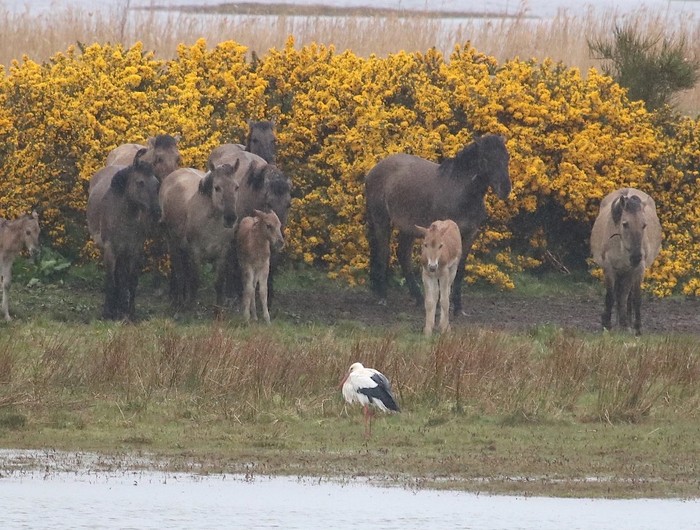 There's every chance that the bird that flew over Pinner and Ruislip (Greater London) on 19th may well have been ok, likewise (even more so) the bird over Penzance (Cornwall) on 21st. Sadly there's little to offer anything by way of hope for the bird/s seen in northeast Norfolk and the Broads this week, likewise singles over Coventry (Warwickshire) on 22nd, Houghton-le-Spring (Co. Durham) on 23rd and Gibrtaltar Point NNR (Lincolnshire) on 24th. As to the three birds seen together at Feltwell (Norfolk) on 25th, who knows…mass breakout or travelling family party? (It appears to be the latter, they're from a local collection and are free-flying...)
Finally, a brief Spotted Crake was seen at Fulking (West Sussex) on 23rd.
Time to haul out the "O.U.O" handle for the Ross's Goose that was noted with a few grey geese in Lothian this week, seen at Gladhouse Reservoir on 22nd-23rd (it started to sound increasingly plastic, but that was from a far). It may well account for last week's Snow record from the same county. In East Yorkshire, the two adult Black Brants remained at Spurn until 22nd at least and another (or hybrid) was at Snettisham RSPB (Norfolk) on 21st (and one was "recently at Tetney in Lincolnshire).
Ensconced on the latest chapter of his Highland fling was the drake Black Duck who was seen around Strontian to 24th at least (and rather fine he was too).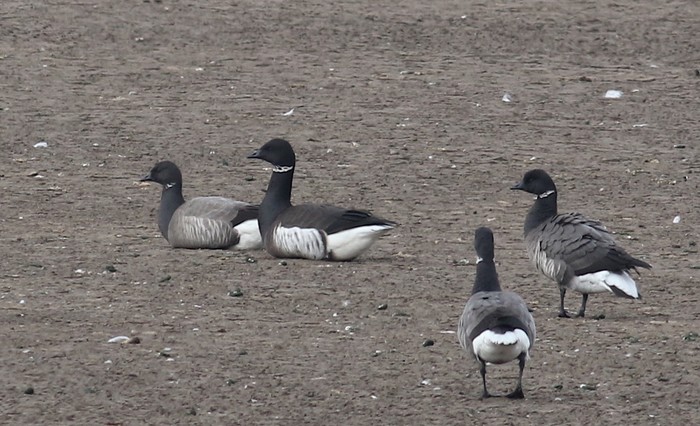 In Cornwall, the drake Lesser Scaup resurfaced after the best part of three weeks away from the scene; this week he was noted on Siblyback Reservoir from 21st and Orkney's drake was still at Loch of Boardhouse, Mainland to 24th.
After a little rush of records as birds shift around and align themselves with locations away from Britain and Ireland, there was little action on the Ring-necked Duck front, certainly at the start of the week, just one bird reported and that was the drake that was seen at Dungeness RSPB (Kent). The weekend yielded two lone Irish drakes, at Blanket Nook, Lough Swilly (Co. Donegal) and Quoile Pondage (Co. Down), both on 23rd.
The newly arrived drake Green-winged Teal that appeared at Middleton Lakes RSPB (Warwickshire/Staffordshire border) at the end of last week was still in situ to 20th, one of five males seen through the last seven days.
Two remained around the Outer Hebrides, at Loch Stiaphabat, Lewis and Clachan Sands, North Uist from 19th-24th while on North Ronaldsay, their drake was in place until 19th. A fourth island bird that remained from recent weeks was the bird at Loch Gruinart RSPB, Islay (Argyll & Bute), he was still there on 21st.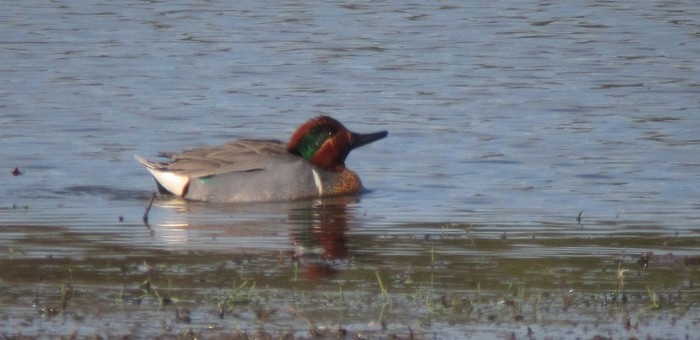 Further to the south, one was also still present at Hauxley NR (Northumberland) until 22nd (moving to Druridge Pools NR on 23rd) and new on 21st was the drake Green-winged Teal at Nosterfield NR (North Yorkshire).
One lone American Wigeon remained, the drake still in Udale Bay (Highland) to 25th.
Two Surf Scoters remained off Musselburgh Lagoons (Lothian) until 20th, the drake and duck showing no signs of departing just yet.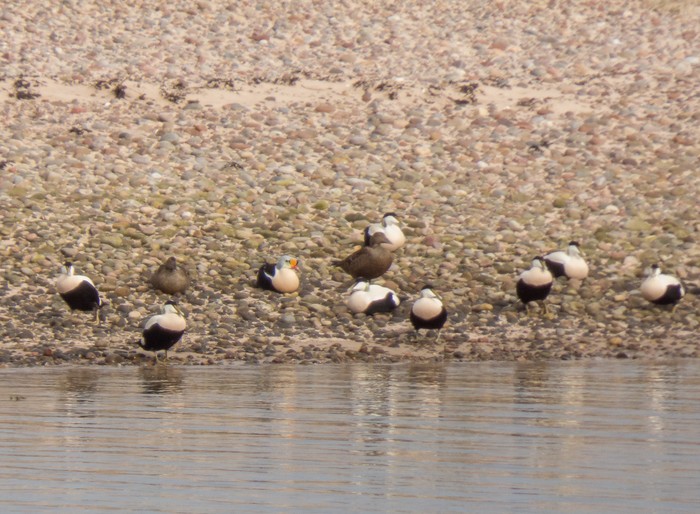 The week began with a drake King Eider heading west past Lossiemouth (Moray) on 19th ~ what a great bird to see on a seawatch ~ while after a short leave of absence (perhaps to Moray?) the Highland drake was back again at Fort George on 22nd.
Shetlanders may have been eyeing up more Nearctic vagrants this week but for some, the drake Mandarin in Fair Isle's South Harbour on 20th was something of a local mega ~ it was actually the third for the famous island, one of which (in September 2010) was initially thought to have been a juvenile Wood Duck.
It's not all about eastern monster-rares up there y'know…
The new week began with some bright and breezy news from Gloucestershire where a flock of six Black-winged Stilts had arrived at Slimbridge WWT on 19th ~ only the second county record of this now ex-BB rarity, the first coming not too far away, at Frampton-upon-Severn in May 2005, a pair spending three days on site before moving on. This bulk of this week's Slimbridge group remained to 20th (when at least five birds were still noted around the site) and the site held on to three birds to 23rd.
Also new in the early part of the week were at least six birds found on 20th; three appeared at Stanford Reservoir (Northamptonshire/Leicestershire border), two were found soon after at Little Marlow GPs (Buckinghamshire) and another arrived on the east coast, at Carlton Marshes SWT (Suffolk) ~ the Stanford birds were back again on 23rd.
Depending on which side of the county boundary the trio at Stanford were on, they became the fifth record for Northamptonshire, the most recent there were a pair that were tracked through Kent, Sussex and Cambridgeshire in May 2014 or they were the fourth record for Leicestershire, the most recent there coming in April 2012. This too was a tracked bird and was also noted in Oxfordshire, Lincolnshire and, remarkably, Wexford.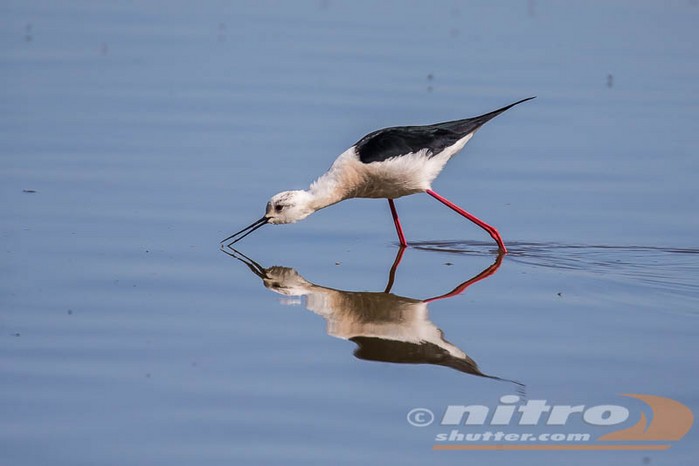 The two Black-winged Stilts in Buckinghamshire become the third for the county; a pair were seen at Willen Lake in June 1988 and last year another pair spent a day at Old Wolverton on April 24th ~ the same pair returning maybe?
Suffolk is much better versed in receiving Stilts; by the end of 2015, there were 22 records in all, the most recent of which (at Micklemere in 2015) was another tracked pair that had ventured through Cambridgeshire, Lincolnshire and Yorkshire too. The bird this week was Suffolk's sixth April record.
In Essex, three Black-winged Stilts were again on Vange Marsh RSPB on 19th, presumably they're not that far away for the rest of the time ~ maybe its Bowers Marsh RSPB they go to as there were at least two there on 20th (there's only a couple of miles between the two sites), with up to three birds at Vange to the end of the weekend.
The final fresh arrivals on the BWS front this week appeared in the far southwest, East Anglia and the southeast; two dropped on to Lower Moors, St. Mary's (Scilly) on 23rd, reappearing on Tresco the following day, where the species remains an exceptional rarity, with just four previous records, the most recent of which was seen in June 2005 and another two (perhaps from Stanford) appeared for short time on the Ouse Washes RPSB reserve on 24th (then over Woodwalton Fen NNR the next day) there've been 15 previous acceptances in the county up until the end of 2015. Finally, two were reported from the River Adur, at Shoreham-on-Sea (West Sussex) on 24th.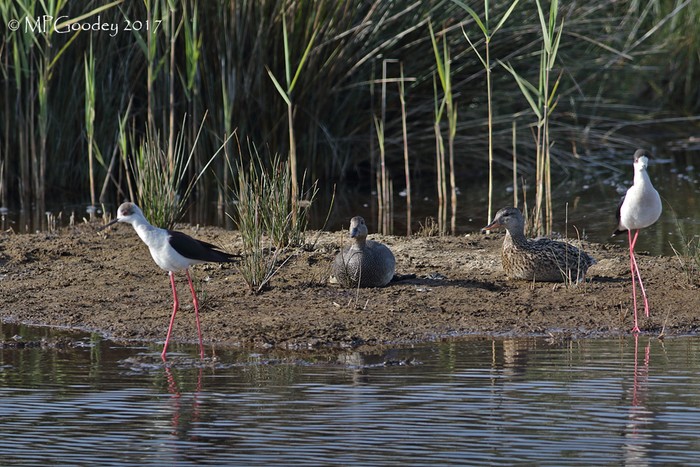 New on Orkney was the Long-billed Dowitcher that dropped in to the wet marshes at North Via, Papa Westray on 19th and which was still present to 25th. This remains a really rare shorebird for the islands, just six accepted records with the most recent being seen at Holm between April 27th-30th 2004. The remaining five records were all autumn records; two of them came within a few days in October 1995, one was on a Snipe shoot in 1985 on Shapinsay, with other Orkney Mainland records coming in the autumns of 1984 and 1983.
A dowitcher sp., was reported on Stronsay in January 2016 and the most recent member of the family to have been seen on the island chain was the Short-billed Dowitcher which spent almost three months (off and on) over on North Ronaldsay in the winter of 2013-'14.
The second Long-billed Dowitcher was the handsome first-summer that was still at Tacumshin (Co. Wexford) until 22nd and a Dowitcher sp., was at Quolie Pondage NR (Co. Down) on 24th (the Wexford bird heading north?)
Also new from the west this week (and predicted a couple of weeks ago) was the American Golden Plover that alighted on Termoncarragh, The Mullet (Co. Mayo) on 20th and there was a "new" Lesser Yellowlegs as well, seen at Dungeness RSPB (Kent) on 22nd-23rd, the first record for the site in almost 20 years.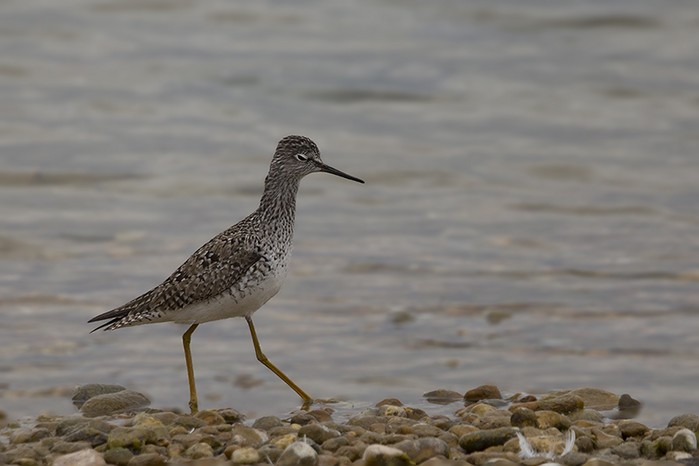 Back to species from the Western Palearctic now and after the blue-flagged, multi-ringed Kentish Plover last week in Ireland, this week saw the appearance of a male KP at Pennington Marshes (Hampshire) during the late afternoon of 20th and he remained to 21st. The next day, a(nother?) male KP was found at Langton Herring (Dorset) and he remained to 24th.
The week began with a flyover Dotterel in Shropshire, seen heading over Titterstone Clee Hill and on 20th, a small trip of four arrived on Garnedd Uchaf, Foel-fras (Gwynedd). New too in Suffolk were the single bird that was seen at Havergate Island and the two that were seen on Plynlimon mountain (Ceredigion) on 21st. Two birds were found near Macclesfield (Derbyshire/Cheshire border) on Shining Tor and also Waun Fach mountain (Powys) on 22nd and the 23rd saw a loner head over Reculver (Kent) and a group of five appear on Mount Brandon (Co. Kerry). The final day of the week, 25th, saw one arrive in the morning on Great Orme (Conwy).
The weekend began with a decent discovery in Essex, where a first-winter Bonaparte's Gull was found at Abberton Reservoir on the morning of 22nd; an outstanding record for the county, just the second recorded, the first being a one day bird at Hadleigh Marsh in late August 1994. This week's bird was still on site to 25th.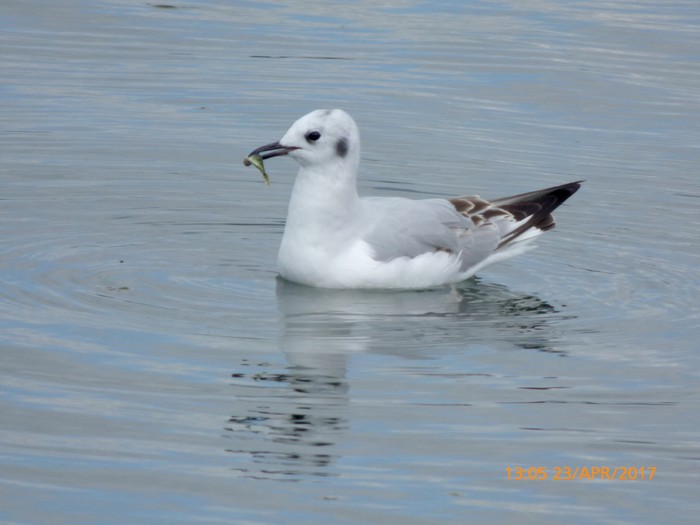 Both of last week's first-summer Bonaparte's Gull made it in to the new round-up period, still at both Blashford Lakes HWT (Hampshire) and Farmoor Reservoir (Oxfordshire) until 25th. New on 23rd was an adult at Loch of Strathbeg RSPB (Aberdeenshire), only the 7th record for the county and the first since 2011 (this wek's bird relocated to Crimond later on the day of discovery).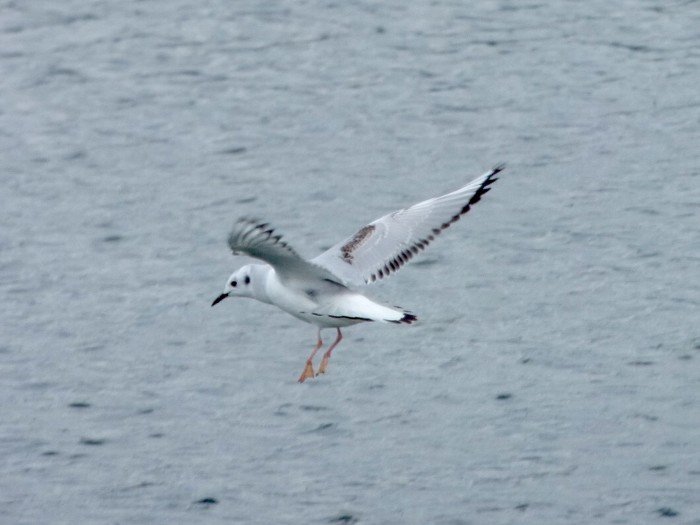 The first Ring-billed Gull of an increasingly skinny time now for the species was on the beach at Gormanstown (Co. Louth) on 21st. The same date brought news of a second-winter still at Enniskillen (Co. Fermanagh) and two birds were still around Tralee Bay Wetlands (Co. Kerry) on 23rd (both 1w's) while 24th saw two adults appear at Belfast Lough RSPB (Co. Antrim).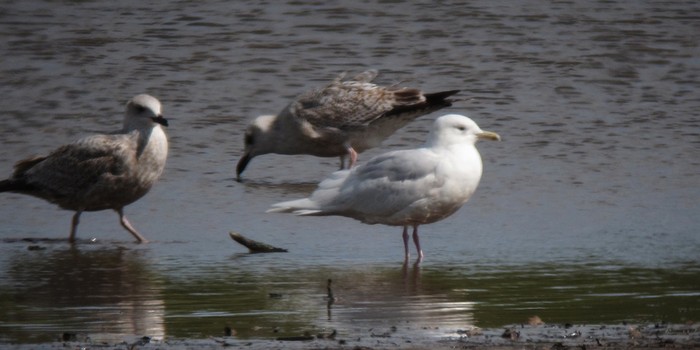 The first Kumlien's Gull in weeks was found on Mainland Shetland, at Hillwell. As expected, Iceland Gull numbers dropped again this week, 52 seen in 27 British and Irish counties. Of those, 21 were English birds (in 12 counties) with 11 in the northeast and five in the southwest (inlcuding at least four in Cornwall). Half of Scotland's 16 were seen on the Outer Hebrides while 15 were seen in eight Irish counties, three of them at Ferrinter's Cove (Co. Kerry) on 21st.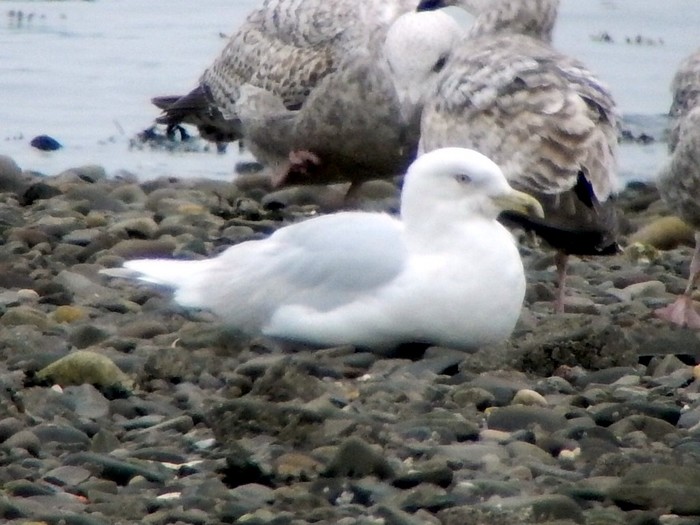 Diminishing returns too for Glaucous Gulls, 29 reported from 19 British and Irish counties. Just over half of those were in Scotland, 15 there inlcuding six around the Hebrides. A dozen were in England, four each for the southeast and northeast while Wales and Ireland managed just one a piece.
2017's first Red-footed Falcons made landfall in Cornwall over the weekend, a female seen on 22nd-23rd around the Lizard ~ as with one or two other species this week, this one was bang on cue (despite the weather's best efforts). A second female was found at the end of the review week, at Grove Ferry NNR (Kent) on 25th.
It was nice to hear of at least two Montagu's Harriers being back on their favoured breeding areas this week; "Mark" the tagged male (named after Lush founder and heroic puts-his-money-where-his-mouth-is conservation activist Mark Constantine) was back in place on British soil and a female was back at Blacktoft Sands RSPB (East Yorkshire) on 19th.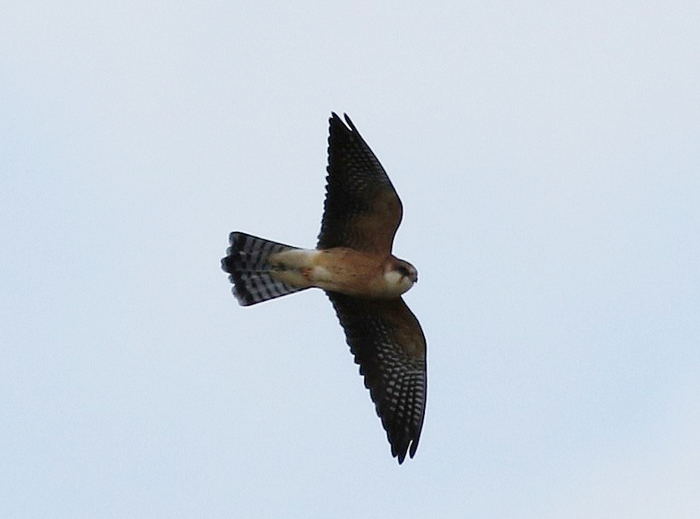 Another female Monty's was seen at three sites in North Yorkshire, over Hunmanby Gap , Filey and Folkton on 21st and a male was photographed over Shipton Bellinger (Hampshire) on 24th.
A White-tailed Eagle circled over the River Deben, near Kirton (Suffolk) on 20th, migrating north as it went. It didn't take long for it to head over Minsmere RSPB and then nearby Westleton Heath. After that, nothing…well, nothing until the bird (an older immature by the look of it, 4th or 5th cy?) loomed large over Ormesby Broad (Norfolk) during the middle of the following morning where it remained for the rest of the day.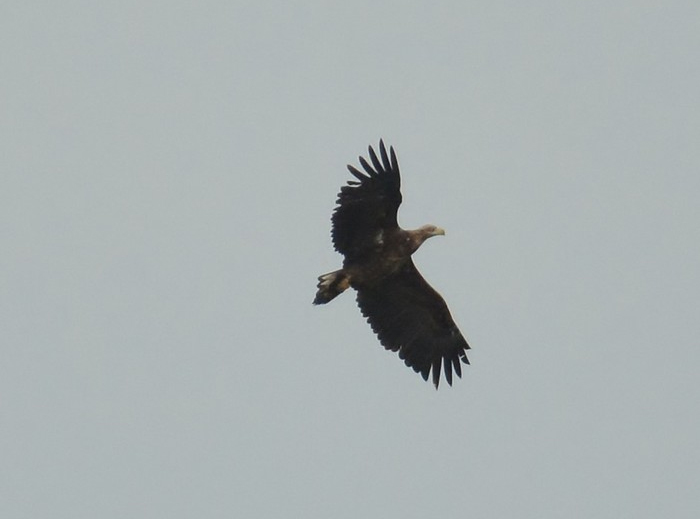 A sunny Saturday dawned with the bird leaving its Ormesby roost and later in the morning it was seen circling at Potter Heigham before loafing a little and settling near Heigham Holmes. It carried on mooching in Broadland until at Fritton Marshes (in the Waveney area) later in the afternoon but had made it to north Norfolk the following day, seen over Sculthorpe Moor NR, near Fakenham.
The second roaming White-tailed Eagle this week was the adult seen over Loch of Hillwell, Mainland (Shetland) on 22nd and then Sandwick, Channerwick Hills and Geosetter before crossing the sea, some 20 miles to the south, appearing over Fair Isle (in a mini-blizzard) all on 24th.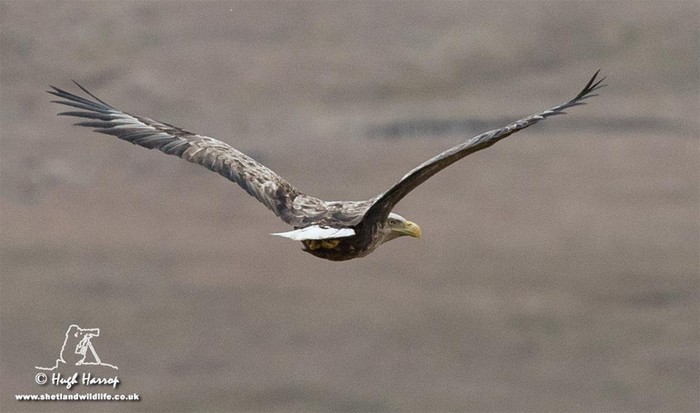 Following belated news of a Black Kite at Pegwell Bay (Kent) on 16th, the first report of this week was seen heading over east London, at Stratford on 20th with the second following on 21st, when one was reported in north Wales, over Conwy RSPB. In County Cork, a Black Kite was noted at Midleton on 23rd, maybe the bird first noted in the southwestern county a couple of weeks ago and another was reported on 24th near Stradsett (Norfolk) on 24th.
Lastly, our good friends out on Bardsey chalked up their first Goshawk in several years on 22nd ~ that must have quite a site over the Mountain.
Scilly bagged the first Bee-eater of the year that was seen heading over St. Martin's on 20th and it was followed by two the next day over the rather more built up surrounds of Wembley (London).
New too to 2017 was the first Savi's Warbler of the year, a singing male appearing at Minsmere RSPB (Suffolk) on 19th; he's presumably the same male that was in a very similar spot last April, then he surfaced a week earlier than this year, first noted on 12th. Either way, same or new, the Minsmere bird of 2017 was still audible (and showing from time to time) from the reeds to 25th.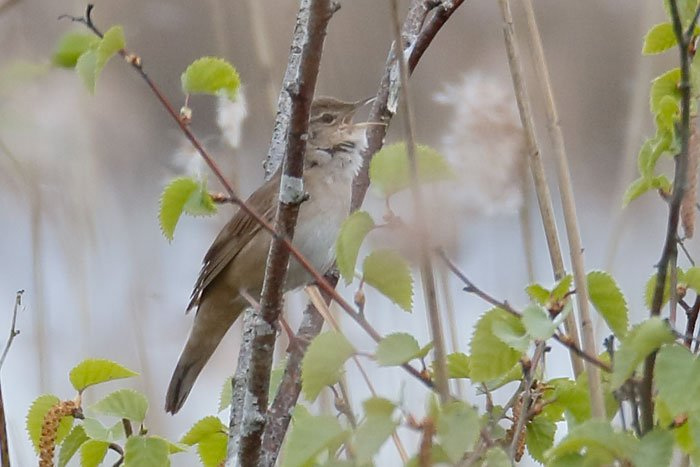 It wasn't long before a second Savi's Warbler this one noted at a site once renowned for the wooden reeler, Hickling Broad (Norfolk), found on 20th and still present through until 25th, often showing rather nicely (which makes a change!)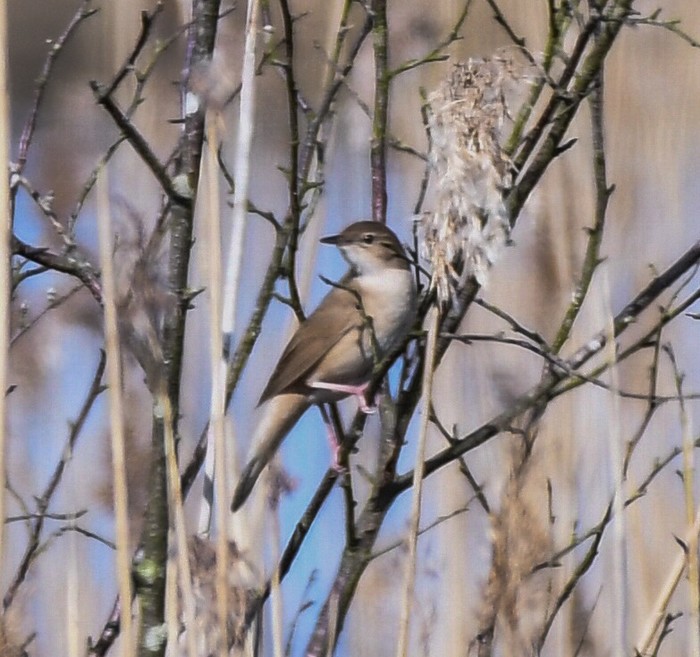 A probable male Eastern Subalpine Warbler was photographed on Skomer (Pembrokeshire) on 20th, the first record of any form of Subalpine on the island since May 2013 and only the third in the last decade. The following day a Subalpine Warbler sp., was found on Great Saltee (Co. Wexford) and it follows on from the male Sub-A seen there in May last year.
An unassigned female, a rather drab thing, followed over the weekend at Portland (Dorset) on 22nd-23rd and a male "Western" Subalpine Warbler was found at Land's End (Cornwall) on 23rd (remaining to 24th) with the same county holding on to last week's Woodchat Shrike, noted on the Lizard through until 21st.
The weather funnelling in to southeast Ireland was obviously to a few migrants liking as the first Golden Oriole of the year also appeared on Great Saltee on 21st and two more followed on Scilly on 23rd and 24th, on St. Martin's and St. Mary's.
Scilly was having another good run this week and on 21st a Red-rumped Swallow appeared on Tresco. Elsewhere in the southwest of England were single 'rumpers over Lodmoor RSPB (Dorset) on 22nd and Nanjizal Valley (Cornwall) on 23rd while the east coast saw one track south through Hunmanby Gap (North Yorkshire) and Spurn YWT (East Yorkshire) on 24th.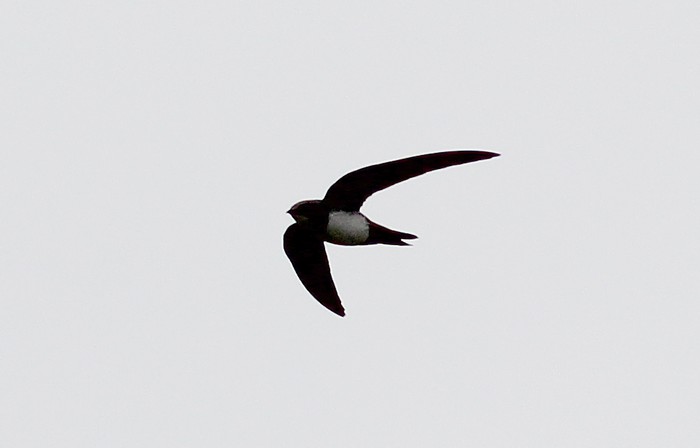 An Alpine Swift loafed around Five Mile Point, Newcastle (Co. Wicklow) on the afternoon of 20th, the first record in the east coast county since April 2012 (though the two records from that year don't appear on the official record). The most recent acceptance comes from Kilcoole in May 2009 so this week's bird, which was often showing well through to 22nd was a popular draw with Ireland's second of the week rocking up at Tacumshin (Co. Wexford) on 23rd.
Further new arrivals for the year came over the weekend when a Tawny Pipit was reported briefly from Farlington Marshes HWT (Hampshire) on 22nd and it was followed by a couple of Richard's Pipits in the southwest, at Hartland Point (Devon) and on Bryher (Scilly) on 23rd with another in Oxfordshire, at Lollingdon Hill on 24th. Back on 23rd and back on Scilly, a newly arrived Short-toed Lark appeared on St. Mary's, settling by the airfield in the evening before spending 24th-25th out on Peninnis Head. Also fresh in this week was the nice and early Ortolan Bunting that dropped on to the cliff path at Corton (Suffolk) on 24th.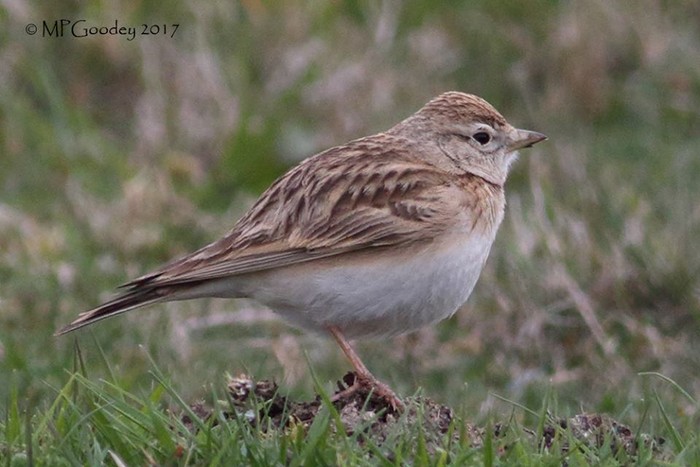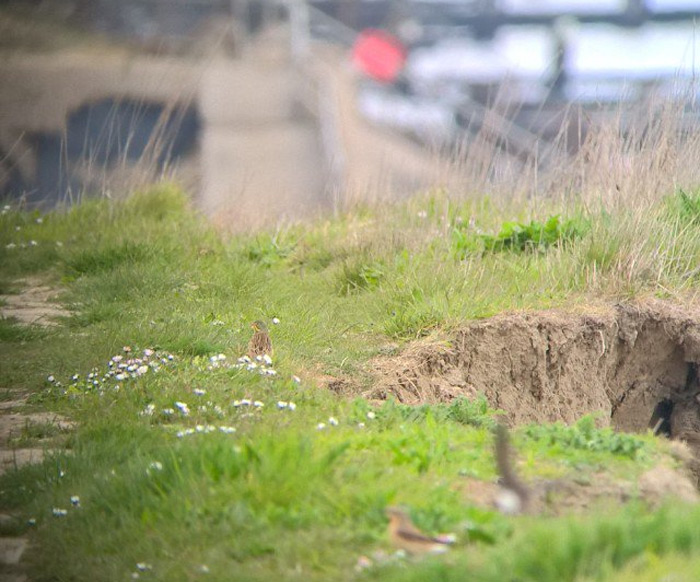 The first Serin of the week was noted over Dungeness (Kent) on 20th and the second, a male, made a pit-stop in a garden at Southwell, Portland (Dorset) on 21st. Another Dorset bird on the same day was noted over Stanpit and what may have been a new Portland bird was singing on the isle on 22nd-24th with one in nearby Weymouth on 24th.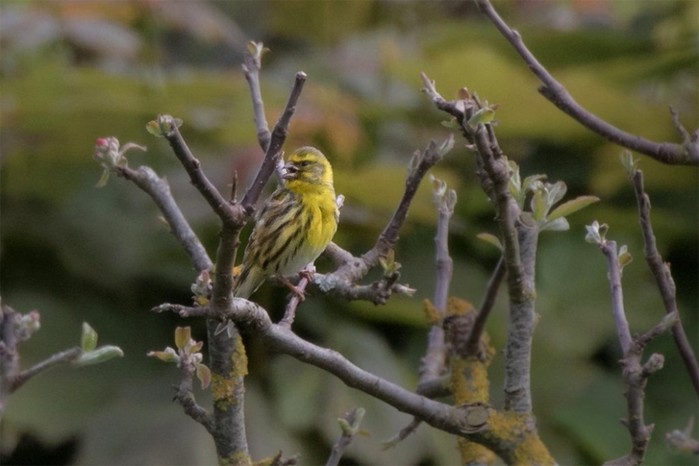 Norfolk collected single Hoopoes on consecutive days at the start of the week; one was seen at Mundesley on 19th and another flew west at Sheringham on 20th, appearing along the coast at Salthouse some 50 minutes later.
Two others were reported on 19th, one was mentioned in Sheffield (South Yorkshire) and another was claimed in flight over the A67 near Darlington (Co. Durham). The fifth Hoopoe of the week flopped in to the south coast, found at Church Norton (West Sussex) on 21st, the sixth and seventh were on the same day on St. Agnes (Scilly) and at Frampton-on-Severn (Gloucestershire). Number eight was seen in Wicklow on 22nd (at East Coast NR) and number nine and ten landed in Derbyshire, at Stainsby Common and in Devon, at Exmouth, both on 24th. The final one this week was seen at Eggleston Moor (Co. Durham) on 25th.
Back in West Sussex, a male White-spotted Bluethroat was reported as "showing well" at Woods Mill NR near Steyning on 19th, but subsequent searches over the next two days proved fruitless. Then on 25th, a female Bluethroat was found at Cuckmere Haven (East Sussex). Further basal patch action came courtesy of the Red-breasted Flycatcher reported at Skinngingrove (Cleveland) on 25th.
An inland Wryneck at Thorpe Hesley, not far from Rotherham (South Yorkshire) was something of a surprise on 21st but it wasn't seen for long, a minute or so, before departing off and out of view. The second of the week arrived at Carlton Marshes SWT (Suffolk) on 22nd. Two more arrived on 23rd, at Higham Marshes (Kent) and Caerthillian Cove (Cornwall) and another popped up on 24th, seen at Alexandra Park (London).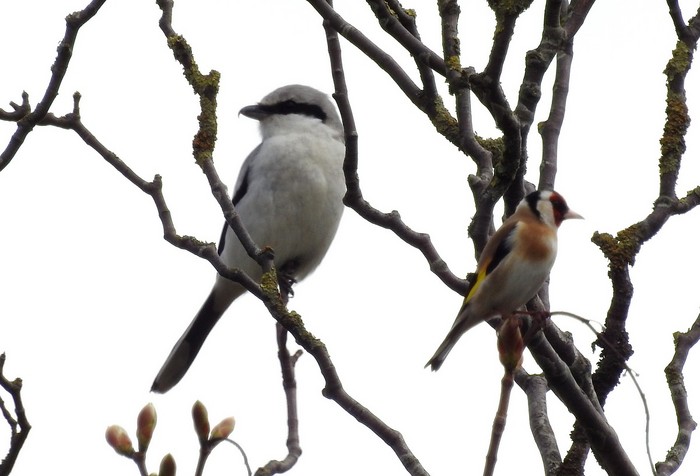 The two Little Buntings on Goss Moor (Cornwall) remained to 19th with at least one still around on 22nd and both were in place on 24th.
The first two days of the new week matched the whole of the previous seven days total for Great Grey Shrikes ~ on 19th singles were noted as still at Lake Vyrnwy RSPB (Powys) and Barden Moor (North Yorkshire), the latter having turned up the previous day, and 20th saw news of southern loners still on site at Hartland Moor (Dorset) and Bishop's Dyke, New Forest (Hampshire). Whether the Bishop's Dyke bird then became the Beaulieu Road station bird on 21st is unclear but it could take the total to five for the week (two were seen together on 23rd so we have an answer). Also on 23rd and new for the week was the bird found at Great Barford GPs (Bedfordshire).
Waxwings fell away again but there were still 613 (give or take) around the country this week, with four regions recording three figures as flock sizes became smaller and smaller.
Ireland (0) ~ 0…
Wales (0) ~ 0…
SW (0) ~ 0…
NE (13) ~ 9 seen at Darlington, in County Durham on 19th
SE (59) ~ 25 in Islington, London on 19th
EA (73) ~ 20 around Capel St. Mary, Suffolk on 22nd
Scotland (103) ~ 35 in Edinburgh, Lothian on 22nd
NW (135) ~ 60 at Delamere, in Cheshire on 21st (the largest flock this week)
Midlands (190) ~ 35 in Mansfield, Nottinghamshire on 20th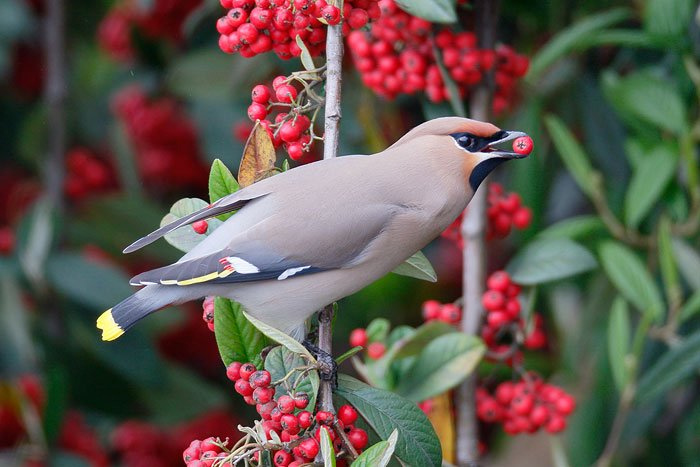 In Belgium, the female White-headed Duck remained on the marshes near Kallo, Antwerp, Beveren until 21st, still with her chosen drake Ruddy Duck travelling companion and still feeling as wild as can be. Belgian birders were also entertained by news of the country's fourth Crag Martin seen at Nimy, Grand Large on 19th.
A vagrant Sooty Tern was noted in Portugal on 19th, seen heading north with Sandwich Terns off Peniche, at the western most tip of the country in what was once Estremadura. Sitting here, looking at a map of the Western Palearctic and wondering just how many of these stunning pelagic terns may be at large, it is so tempting to try and link the Portuguese sighting as being one-in-the-same as that seen off Lanzarote, in the Canaries on March 25th and before that, south of Raso, in the Cape Verde Islands on March 10th.
Closer to home and still of particular interest to birders here was the news that the American Royal Tern was still on Guernsey, seen at Vazon Bay on 21st, the first report for two weeks.
The triumvirate of rare WP tern news came with the two Elegant Terns that were found at Marjal dels Moros, Sagunto, Valencia on 19th.
In the Netherlands, the long-staying Blyth's Pipit was still being seen at De Biesbosch, Noord-Brabant to 20th while the nation's second-ever Blue Rock Thrush, a fine adult male, was found on Vlieland on 25th.
Over the border in Germany, the adult Black-browed Albatross was again on Helgoland on 22nd before flying past the Danish coast, at Rømø later the same day. The country hopping continued the following day, seen in Denmark, at Sylt, before returning for some display on German territory while the 3rd French Lesser Short-toed Lark arrived at Gillonnay, Isere on 25th.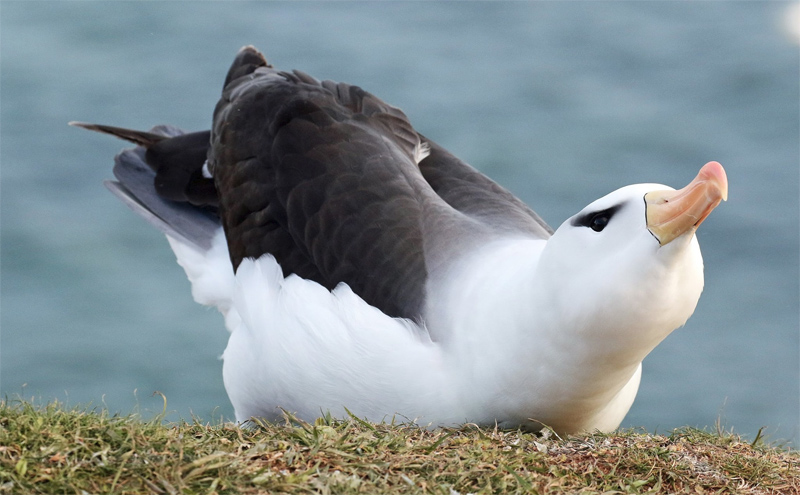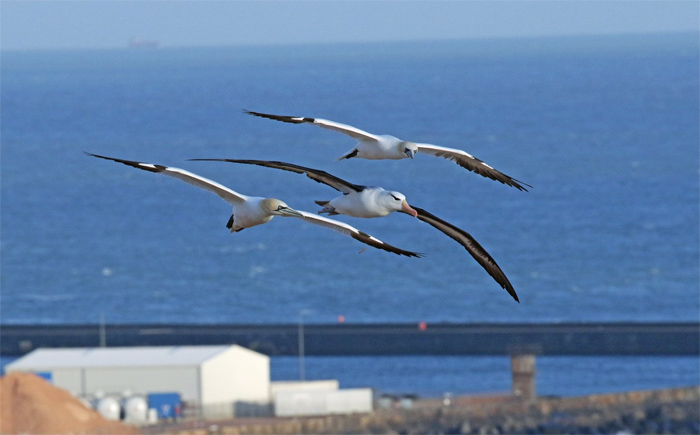 One of the most entertaining bits of news this week (and coinciding with a small invasion here) was the discovery of Iceland's first Black-winged Stilt at Gardur, in the far southwest of the island, to the west of Reykjavik on 20th.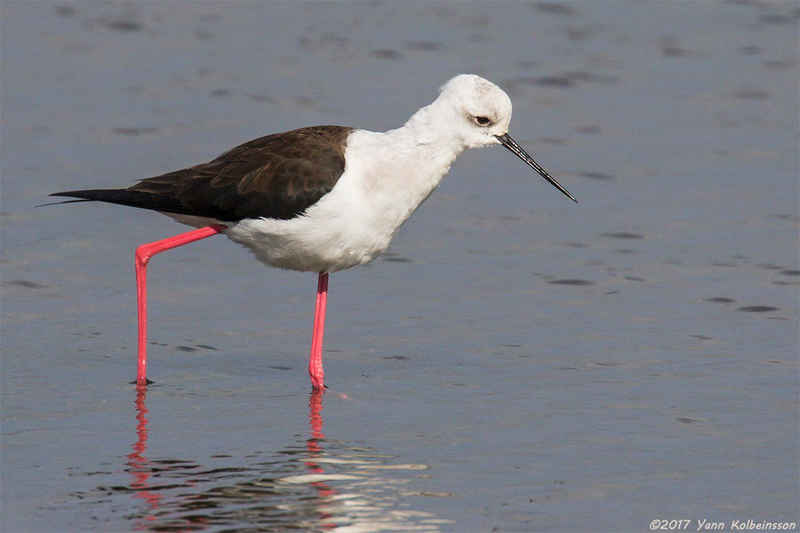 Staying in northern latitudes, in Sweden, a Rufous Turtle Dove was at Kivik, Skåne from 18th-22nd while another Black-shouldered Kite was found (and photographed) in the south of the country, also in Skåne, at Skateholm, on 23rd while in eastern Europe, the second Polish Laughing Gull was photographed at Vistula Lagoon on 24th.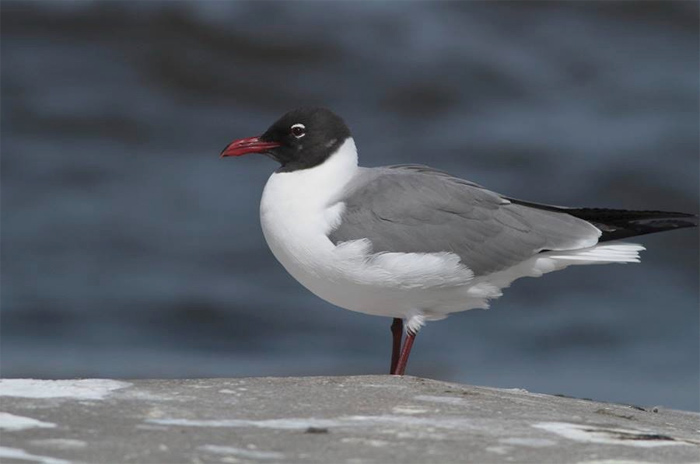 On Cyprus, another Desert Finch was found at a busy Cape Greco on 20th, if different from the bird at Cape Andreas earlier this month, it will become the 2nd record for the country. Also on the island this week, two more Blue-cheeked Bee-eaters reported from Akhna Dam on 21st with a female Hooded Wheatear (and still present Bar-tailed Desert Lark) were at Larnaca on 25th.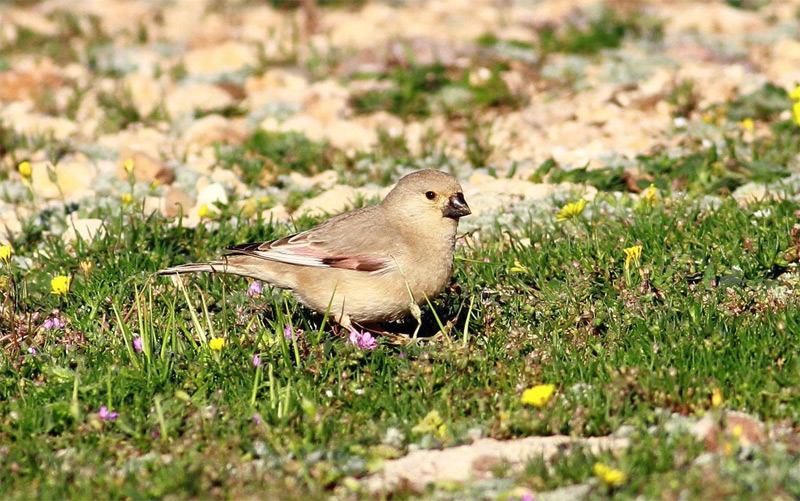 In the Middle East, Egypt hosted the first national record of Black-throated Thrush on 25th, a male seen at Wadi Lahny Azur Resort with both Yellow-billed Stork and Lappet-faced Vulture seen at Ras Ghareb at the start of the week.
The furthest recess of the recording area saw two Grey Woodpeckers appear north of Oudane, Mauritania on 21st and two days earlier there were four Blue-naped Mousebirds south of Choum. Not that far away, off the coast of Africa, on the Canary Islands, a juvenile Brown Booby headed past Caleta de Fuste, Fuerteventura on 24th.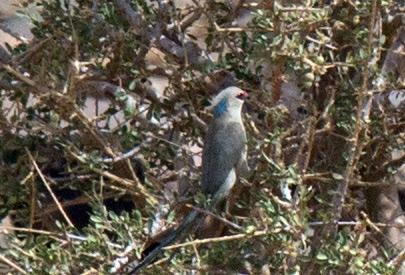 As is so often the case with spring, before you know it May is peeping around the corner with a knowing look. Before we cartwheel headlong in to so many birders' favourite month of the year, there's still some more April days to cover and, goodness, there's been quality throughout.
Whether any of that previous quality will out in the seven days ahead, again its all down to the weather but, as this week has proved, just because the conditions don't suit everyone, that doesn't mean that the really rare birds aren't reaching us, they are, it just depends on which way the compass is pointing for the clues as to what's coming next.
The early part of the week seems to be favouring a western option or two (or northern!) ~ birds from the Americas are so much harder to predict but the following few days has, historically, produced numerous rare gulls and shorebirds, but also a freshly dead American Purple Gallinule in Bedfordshire (on April 30th 2008).
Nearctic passerines feel more likely and to follow on from this week's Hermit Thrush we can look to the likes of Slate-coloured Junco ~ there's been four of them in the week ahead ~ or perhaps the often anticipated White-throated Sparrow. As was mentioned recently, our 1st Song Sparrow made landfall on Fair Isle on April 27th 1959 (spring is as good as anytime for this grovelling mega) while the month's final day last year saw the extraordinary occurrence of the White-crowned Sparrow in a Cheshire mist-net.
But the chance of a really rare North American duck shouldn't be discounted either; what odds on another wild Wood Duck? The Outer Hebrides and Shetland have seen outstanding candidates arrive in March and April and it still feels a little strange not to see either of those on Category A. Or maybe we'll be discussing Buffelhead or Hooded Merganser next week?
Once the wind wobbles around to the east and southeast post the weekend, well, the potential is endless.
In the past, April 26th has yielded Britain's first Taiga Flycatcher (at Flamborough Head in 2003), a Spectacled Warbler in Suffolk (at Landguard in 1997), a Scillonian Calandra Lark in 1985 (coming soon after the impeccable male Pine Bunting on the golf course…) and, most recently, the photographed Alpine Accentor at Holme, in 2014.
That was one of two Norfolk Alpine Accentors noted in the week ahead, the other was at Sheringham in 1978 while the next seven days have been historically strong ones for Calandra Lark ~ three more have been found in late April, including one on Fair Isle and either of these two are very good bets from Sunday onwards.
Fair Isle is always near the news and the spectacular (even for Fair Isle) April 27th 2014 will live long in the memory for those on the island that day; first came the male Cretzschmar's Bunting and he was followed later the same day by the fine male Caspian Stonechat.
Ahhhh the joys of southeasterly winds in late April…
April 27th also produced Britain's first Black Lark, at Spurn in 1984 and the same date in 2009 brought a well-twitched Crested Lark to Dungeness. And, to cap off all of these really rare larks, let's not forget that historic Lesser Short-toed Lark that was found at Portland on May 2nd 1992. That's a lot of single-family rares to choose from.
Those are, of course, fairly intense, full-on, ballsy big rares. Reality kicks in of course and the weather map suggests certain limitations. That said, we should still be waiting (and looking) for the first Whiskered Tern, Citrine Wagtail and Collared Flycatcher in the days ahead ~ when that wind finally switches, then its game on for either of those bad boys and girls.
Weirdly, even though the rash declaration that the American Royal Tern would take leave of the Channel Islands and swap Guernsey for Dorset or Hampshire has, so far, failed miserably, there's something alluring about the recent roaming northbound Sooty Tern ~ that really is an outside bet, especially given the longest of long range forecasts is still suggesting that those north-based winds aren't about to yield just yet, but there's a funny old feeling that something may just be heading our way in that gorgeous, garrulous guise over the next week or two.
Ears open for a quick "ker-wacki-wah" it is then…
…or if you really want to be a daredevil, there's always a first British Black-shouldered Kite to consider. There's been a few already this spring, to the north and east of us. Maybe the next few days will provide someone, somewhere between Dorset and Lincolnshire with the find of a lifetime.
Bets are duly hedged but we're on a bit of a roll with this prediction mullarkey, so let's see where the next seven days take us. It really does looks increasingly promising from Sunday. At long last it is all going to kick off.
Mark Golley
26 April 2017
Share this story
Tweet


Many thanks to all contributors for their photos and videos this week.
Rebecca Nason, Craig Nisbet, Paul Connaughton, Brian Wilson, Michael O'Clery, Mark Leitch, Martin Goodey, Jim Almond, Elliot Montieth, Craig Reed, Bruce Taylor, Nicholas Brown, Steve Ashton, Penny Wills, Chris Waring, Andrew Jordan, Mark Wilson, WWT Welney, Andy Williams, Andrew Last, Jonathan Farooqi, Roger Parrish, Colin Leslie, Michael Trew, Ivan Sansom, Dave Carter, Neil Hughes, Rob Creek, PortMeadowBirding, Brian Henderson, Robs Birding, Mick Davis, Hugh Harrop, Steve Gantlett, Michael Turner, Dave Andrews, Tim Alwood, Andrew Easton, David Foot, Eric Dempsey, Debby Saunders, Peter Curran, Arne Torkler, Yann Kolbeinsson, Arkadiusz Sikora, Huseyin Yorganci, Claes Wikström,