Weekly birding round-up: 12 - 18 Apr 2017
The week at a glance
The singing male Rock Thrush draws a few birders to Scilly over the Easter weekend
Suffolk lands a county first American Herring Gull as Saturday draws to a close
A male Two-barred Crossbill in Somerset springs an Easter surprise
County Kerry hosts the first Irish Squacco Heron in a decade
Spurn hosts the site's Iberian Chiffchaff of the month, the 10th of the spring
On the Outer Hebrides, the American Coot is still on North Uist
The male Northern Harrier remains on North Ronaldsay
In Argyll & Bute, the male Pied-billed Grebe lingers to the Easter break
Belated news this week of a Western Rufous Turtle Dove photographed in West Yorkshire in March
Any holiday weekend is greeted with some degree of excitement by birders here, often meaning an extra day or two in the field on the Bank Holiday weekend and although this particular four-dayer still saw high pressure dominate, the conditions weren't the greatest for a fistful of spring overshoots.
Although largely dry and sunny, the sometimes quite fresh west to northwest winds kept the big push of migrants at bay. A few pulses of heavy rain skirted across northern England then further to the southwest before trotting in off the Atlantic and hitting the Irish coast. Much of southern England, across to East Anglia stayed pretty dry (bar heavy showers come the weekend) but those northwest to west winds just wouldn't let up.
And already it doesn't look as though it will be a whole lot different in the next few days either.
There was still one ray of avian sunshine to be admired but, truth be told, it was all a bit on the skinny side this week, although a flurry of fascinating, rather unexpected records livened up the Easter weekend.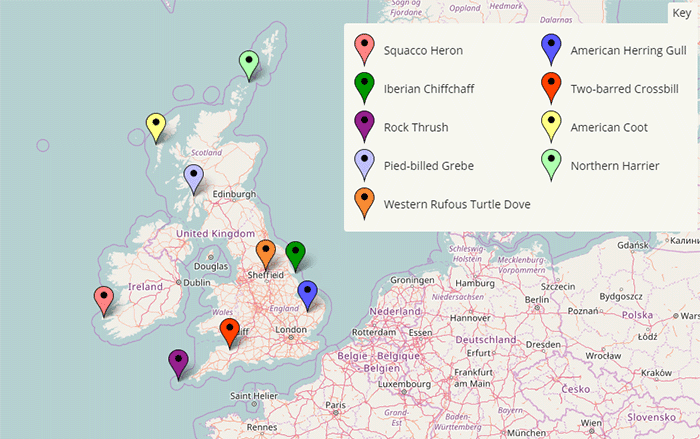 Rock Thrush
The main attraction for many last week was the delicious male Rock Thrush that was found on St. Martin's (Scilly) and the luminous tangerine bodied, powder blue-headed beauty was still being twitched by a few people at the start of Easter week, present (if a little elusive) in and around Bread & Cheese Cove through to 15th.
More often than not, spring vagrants have a habit of being skittish and one or two-day birds only, as they are compelled to continue their journey but the Scilly Rock Thrush seemed quite at home in his new-found surroundings, and chalked up a ten day stay in all, breaking the nine-day spring sojourn of the Portland bird of April 1988.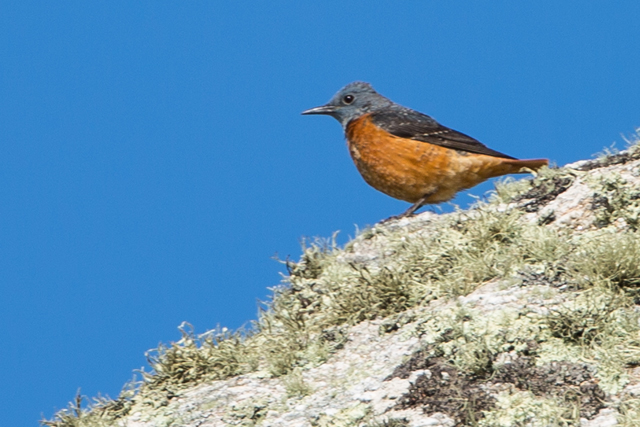 Indeed, out of the 18 combined previous records for April and May it is just the Dorset bird and the male on the golf course at Holme in May 1995 that have exceeded anything beyond two days (the Norfolk bird only doing so to recover from a brief mauling from a local Sparrowhawk) and this now becomes the second longest staying of any of the 31 Rock Thrushes to date, at any time of year, making this particular Scilly bird both unusual and well received.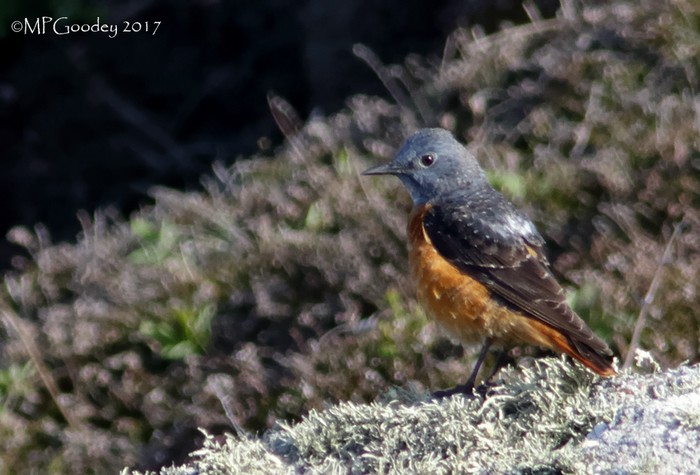 It becomes the longest staying Rock Thrush of the five now seen on Scilly as well, beating the previous five-day record of the autumn bird on Bryher in 1996 and now sits behind only the controversial wintering bird at Minster, in Kent, that spent 56 days on site from February 5th-April 1st 1983 in the all-time stay league table.
American Herring Gull
No doubting that the find of the week was undoubtedly the striking 1w (2cy) American Herring Gull located in fields not far from Great Livermere Lake (Suffolk) on the evening of 15th.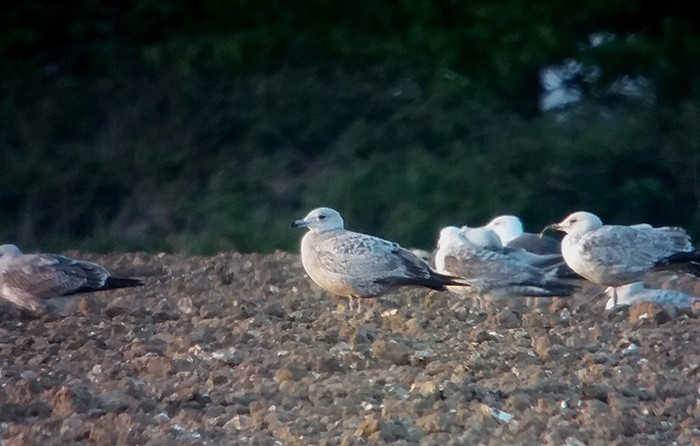 Local larid obsessive Pete Wilson was on hand to pull this particular Easter bunny of the rarity hat, an exceptional find on an area that Pete has covered hard for several years. This exceptional record, a first for Suffolk, becomes only the second east coast county record anywhere, the only other to date being the second-winter seen and photographed at Blackborough End tip, not far from King's Lynn in late February 2004; that bird was also found by Pete Wilson.
Two huge county firsts for the neighbouring East Anglia counties, found by the same man 13 years apart which just shows what rewards are out there for grafters in the field.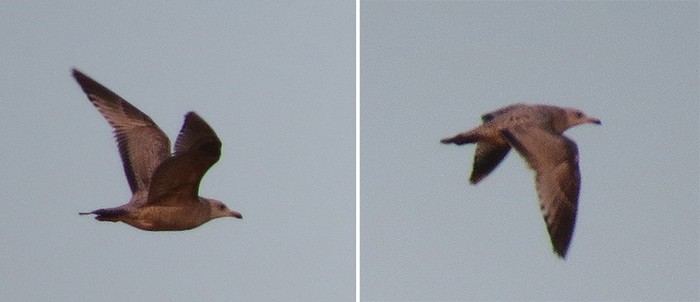 American Herring Gull remains an extremely rare bird in English terms; only 16 acceptances from eight counties (to the end of 2015), with Cornwall ahead with five. Scilly is next with three and then come Devon and Lancashire with two each with singles accepted from Dorset, Gloucestershire, Cheshire and, as mentioned above, Norfolk. Out of the total of 125+ acceptances across Britain and Ireland, there have been nine other April records, one in Devon, two in the Hebrides and six for Ireland (including a group of three birds in Belfast in 2004).
March and April are months that those with a penchant for gulls who bird eastern counties really need to keep focussed in (as has been proved this week); the American Herring Gull has followed on quickly from last year's outstanding Suffolk gulling first, the adult Thayer's Gull that appeared at Minsmere at the end of March and two young Thayer's, both in northeast England, have been found in early April (at Elsham, in Lincolnshire) in 2012 and in early March (at Rufforth, in North Yorkshire) in 2015.
The Suffolk smiths made a second evening appearance on 16th, not for long it seems, before heading off. It's still out there somewhere…
Two-barred Crossbill
Not far off the finding of the Suffolk gull in terms of a) surprise and b) great discovery in an unexpected geographical location was the male Two-barred Crossbill that appeared with Common cousins in the unlikely setting of Haddon Hill, in the very southeastern corner of Exmoor National park, just inside the Somerset border on 17th.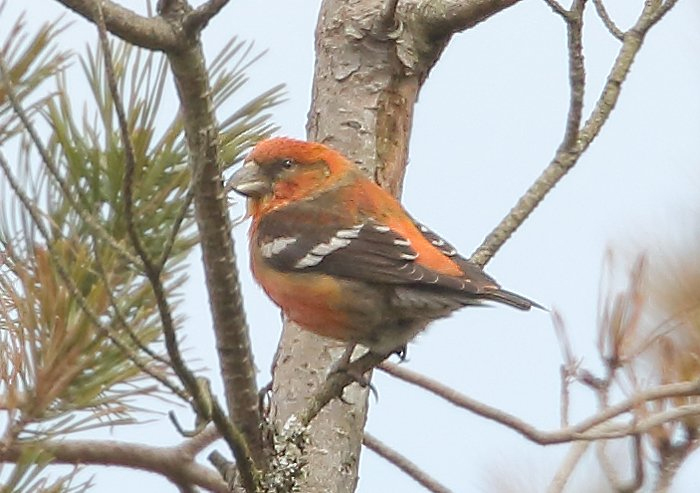 The bird was often performing well through the day and 18th as well, often singing too, becoming the third county record for Somerset and the first for almost 27 years. The most recent record to date was a juvenile that was seen in the Mendips on October 13th 1990 with the first for the county being shot in Keynsham some time in February 1895.
Out of the previous 211 accepted records (up until the end of 2015) there had been just two previous April finds of Two-barred Crossbill - a one day male was seen in Moray on 04/04/73 with the other appearing for a day in Dumfries & Galloway on 03/04/91 - which shows just how high a quality a find this (like the American Herring Gull above - and the Squacco below) was.
Squacco Heron
Not a species that normally finds a way in to the headlines is Squacco Heron but, as with the two birds that it follows, this week's newly arrived bird was both something a surprise and a super find in an atypical spot. Three very different species and three very different (and unexpected) localities make them all worthy headliners…
The Irish west coast was the chosen spot for the Squacco Heron that found its way to Ventry (Co. Kerry) on 17th. Although predicted recently, the weather has hardly been conducive to species like this and to hear of one at the extreme western tip of Ireland was quite something. Unsurprisingly this was an extreme rarity for Kerry, just the third-ever and the first for almost 122 years - the previous records being shot specimens from Waterville in September 1895 and Mouth of the Laune, Killarney in June 10th 1875.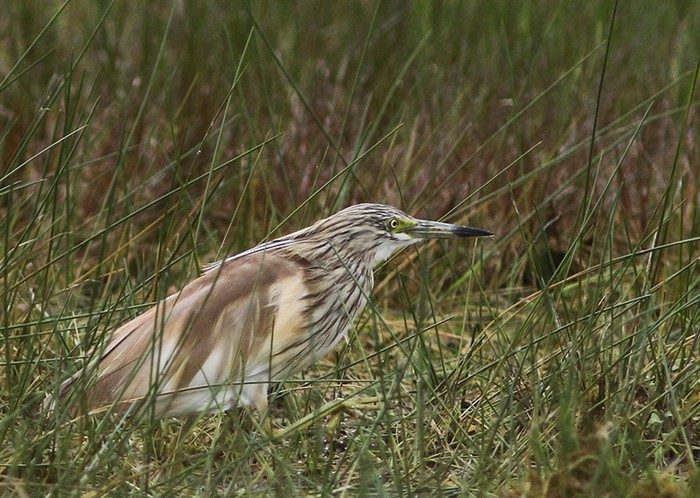 The species remains very rare across Ireland; 18 acceptances to date the most recent of which came in 2007, one seen on Wexford's South Slob at the end of May and it was followed later in the summer by a bird that stayed around Derry's Lough Beg for nearly a month. Cork has recorded six Squaccos, Kerry now ties with Waterford on three, Wexford and Derry have two each with singles records from Mayo, Wicklow and Dublin.
after a run of April records at the start of the 80's, the total number of occurrences within the month is still only 12 (from nearly 200 records in all) and this week's Kerry bird is the first April bird since one graced Norfolk in 1998.
Iberian Chiffchaff
A new Iberian Chiffchaff was found (and trapped and ringed) at Spurn YWT (East Yorkshire) on Easter Sunday morning, the second for the recording area within just a week, the total for the spring so far rising to an impressive 10 so far.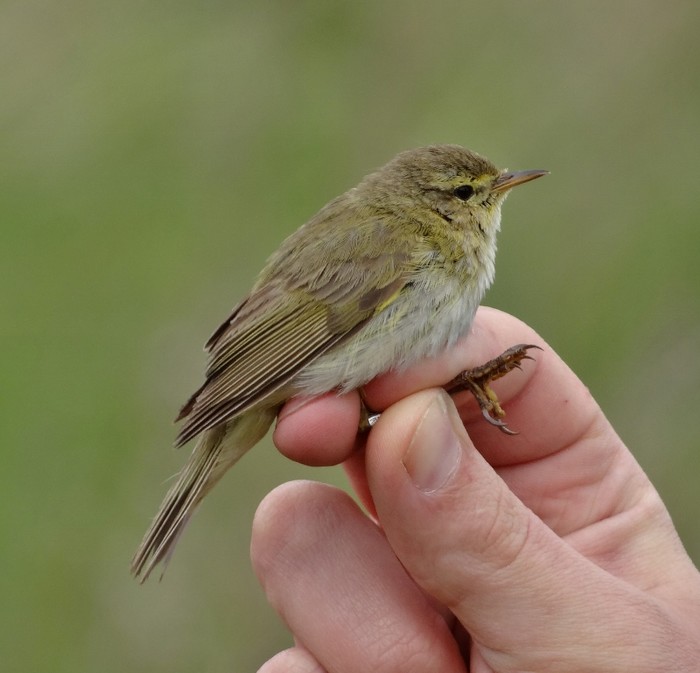 Spurn is the second site this spring to record two different birds, Scilly's main island St. Marys has already hosted two songsters so far and this week's bird was present to 17th.
Long staying rares... American Coot
Right, let's rattle through this northern trio quick, smart…
After a false start suggesting that it had read the rule book concerning the species' vagrancy here, the first-winter American Coot showed itself again on Loch nam Feithean, Balranald RSPB, North Uist (Outer Hebrides) on 13-16th. It won't be long surely…
Northern Harrier
On Orkney, the male Northern Harrier was still present on North Ronaldsay to 15th - is he setting himself up for a summer on the island?
Pied-billed Grebe
…while the recently returned male Pied-billed Grebe drew a handful of admirers to Loch Feorlin, near Minard (Argyll & Bute) and showed on 12th-16th.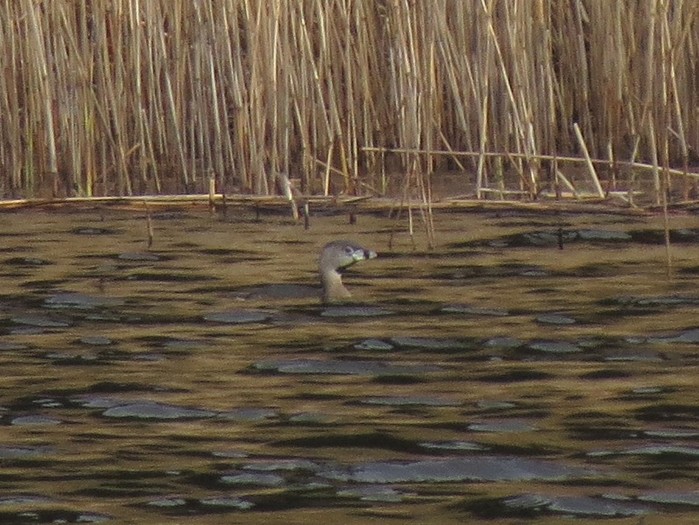 Western Rufous Turtle Dove
After 25 years in the birding doldrums, the renaissance of the Rufous Turtle Dove and the species two distinct forms has been a significant feature of the last 15 years here.
Ahead of the start of the millennium there were a meagre five records on the record books, three orientalis (Oriental Turtle Dove), a single meena (Western Rufous Turtle Dove) and one bird that wasn't assigned to form.
That single meena was at Spurn on November 8th 1975 and it seemed an eternity until that huge rarity was noted here again; that came courtesy of the twitched bird on Orkney in the late autumn of 2002 and the 15 years from then to now have seen a significant spurt in records, nine acceptances to date in that decade and a half, and this week saw belated news of the 10th for the period, a Western Rufous Turtle Dove photographed at Crigglsetone, near Wakefield (West Yorkshire) on March 11th.
From that wodge of records, meena has become the most frequent, six of the ten assigned to that form, while the much admired Oxfordshire orientalis in 2011 is the only representative of the larger sub-species (three other accepted records were left as unassigned).
This is the fourth meena to be seen within the space of some 18 months (an extraordinary run, all things considered) - Shetland has hosted juveniles in the consecutive Novembers of 2015 and 2016 with the wintering bird at Otford (Kent) present from February to May last year.
Not much new action to report on the White-billed Diver front this week, a handful of singles and a small Scottish gathering are all there is to report. First was one still around the harbour at Portsoy (Aberdeenshire) on 16th (where three birds were seen on 18th) and there were three singles around Orkney on 17th; adults remained off South Ronaldsay and Papa Westray and another flew past the observatory on North Ronaldsay.
In a quiet week out-at-sea, there was a single Pomarine Skua noted, seen from Nethertown (Cumbria) on 12th with two on 15th off Aird an Runair, North Uist (Outer Hebrides) and three passed Cape Clear Island (Co. Cork) on 16th. The first four Balearic Shearwaters of the spring were recorded from Dawlish Warren NNR (Devon) on 14th with a singleton the same day from the beautiful Bardsey Island (Gwynedd).
The first decent bird of Good Friday was the Purple Heron that flew north, early in the morning, at Scoughall (Lothian), still a rare bird in Scotland and even rarer in Lothian (certainly no records in the last 15 to 20 years that I can see). The second Purple Heron this week was noted heading over the A39 near Indian Queens (Cornwall) on the morning of 18th.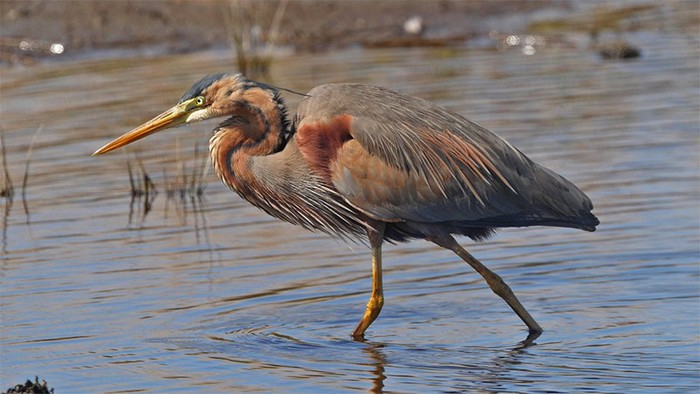 Another entertaining heron fly-by was the adult Night Heron that was seen along the single island road by the beach on Lundy (Devon) on 13th - a great island bird, maybe even a 1st - and it was still present on 17th.
The second Night Heron of the week was the fine adult that reappeared at Venus Pool NR (Shropshire) on 14th (and was seen again on 18th) almost a week since it was last noted there.
Still refusing to fall by the wayside despite it being the middle of April are the 170 Cattle Egrets that remain scattered around 23 British and Irish counties.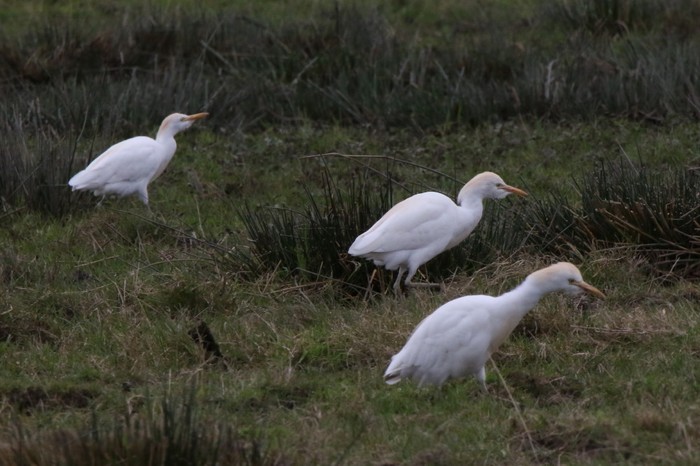 The four counties in southwest England remain the species' stronghold nationally, still 98 around the region with Devon leading the way this week with 33 around the county including 12 still at Chivelstone on 15th with seven at Colyton on the same date with fives at both South Huish and Topsham. Somerset comes next with 28 birds in all, including 13 at Meare Heath NR on 15th and a flock of 10 still at Chew Valley Lake at the start of the week. There were still 25 at large in Cornwall, a dozen remained around St. Clement to 15th, with nine at Dinham Flats on 13th and five lingering at Bude to 16th. There was another dozen logged in Dorset, including at least 10 at Radipole Lake RSPB to 18th.
The rest of England managed a further 36 birds, 19 of which were in the northwest including 10 at Lytham St. Anne's (Lancashire) on 16th. Half a dozen were in the southeast, five remained around the Midlands, four were in East Anglia with two in the northeast.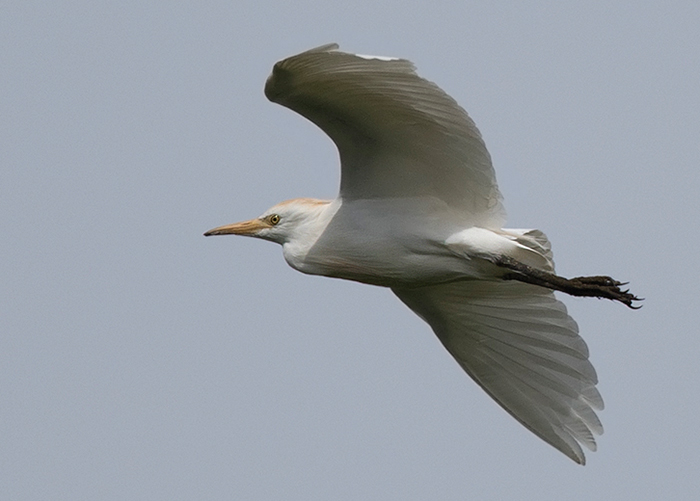 Ireland's 28 birds were recorded in five counties with at least 13 still around Tacumshin as the week ended while 10 were seen at two sites in County Waterford. Wales managed eight Cattle Egrets, seven of which were still enjoying the air at Malltraeth Marsh RSPB (Anglesey) to 15th at least.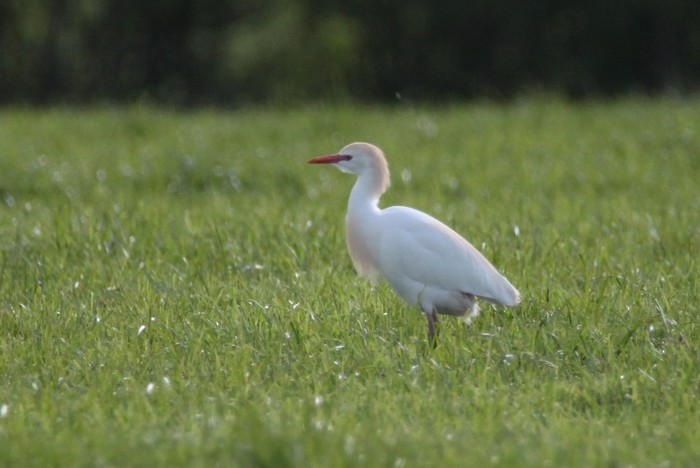 No real changes at all with our Glossy Ibis this week; two were still in and around the Somerset Levels throughout the week, with a third appearing on 16th, and loners remained at Lakenheath Fen RSPB reserve (Suffolk/Norfolk border) and Cossington LWRT (Leicestershire) to 17th.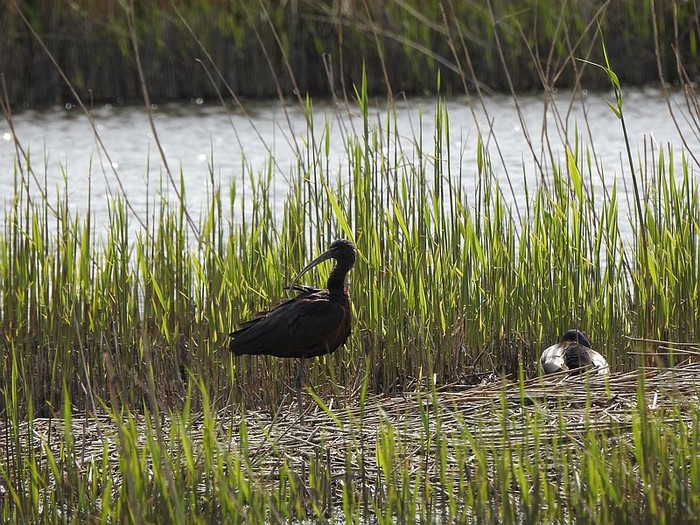 Half a dozen Spoonbills on the saltings at Warham (Norfolk) on 14th and along with a trio at Pennington Marshes (Hampshire) the same day, they helped to nudge this week's haul to over 30 birds spread widely from Cornwall to Waterford and on to Northumberland.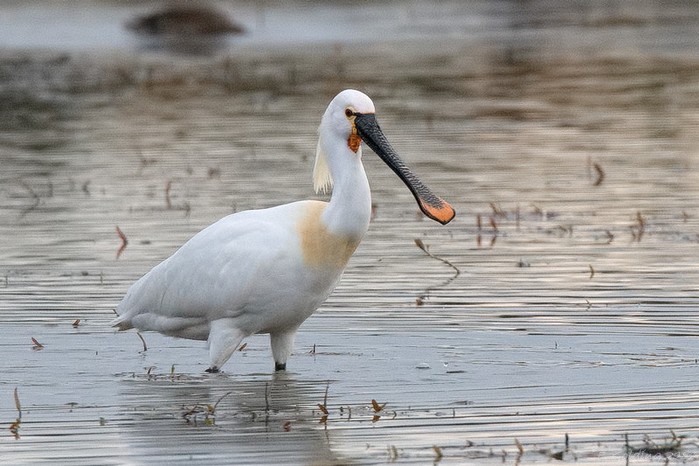 Numbers of Great White Egrets weren't too far off those of Spoonbill, more of the former as usual; again they were very widely spread across the country, mainly singles but with the odd two and also a quartet of threes reported, at Llanridhian Marsh (Glamorgan) on 12th, Romsey (Hampshire) on 16th, on the Somerset Levels on 17th and Welney WWT (Norfolk) on 18th, with four at Leighton Moss RSPB (Lancashire) on 17th.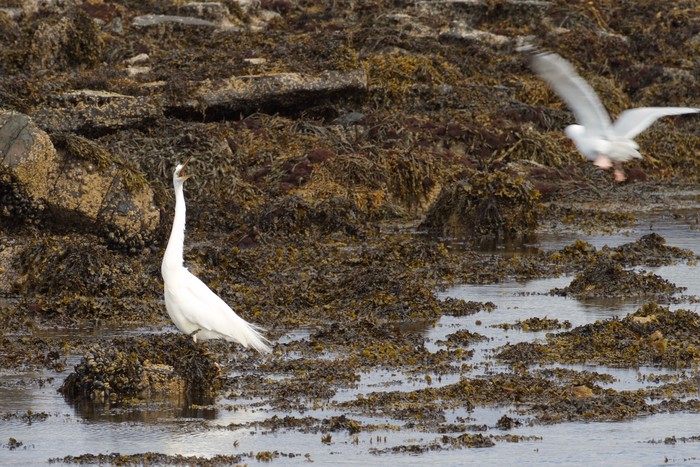 Up until the weekend, the only Common Cranes reported were all from Norfolk; one flew north over Gorleston on 12th with the same date seeing presumably another in fields near South Walsham. Deeper in to the Broads, two birds were seen at Horsey on 14th with a flock of 15 there on 15th.
A single Crane was found in fields near Loch of Hillwell, Mainland (Shetland) on 15th and flew over Loch Fleet (Highland) on 18th.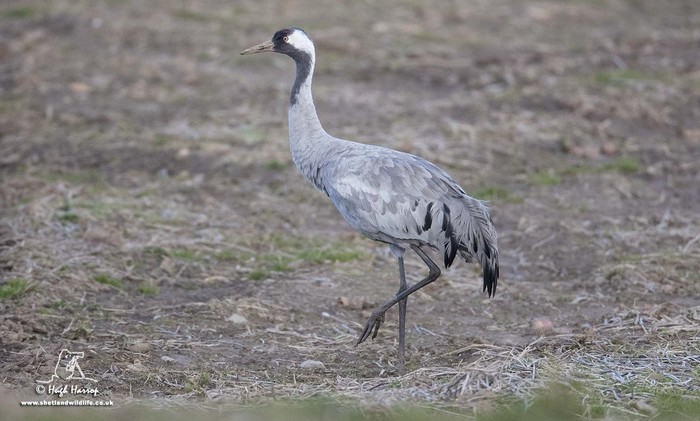 Until we get a decent one, there's very more to be discussed with regard to the two duff White Storks at large at the moment; the ragged tho' hardly glorious bird was still mooching around Suffolk on its tattered wings while a green-ringed ex-Polish bird remained in the north, this week in West Yorkshire. Sadly the "OUO" banner has to be stuck on the Cley Marshes bird that was seen along the Norfolk coast on 16th.
No clues yet as to how wild the bird seen on 16th over East Boldon and Boldon Flats NR (Co. Durham) was, likewise the Exminster Marshes bird of 17th but you'd hope that one or both may have been the real deal.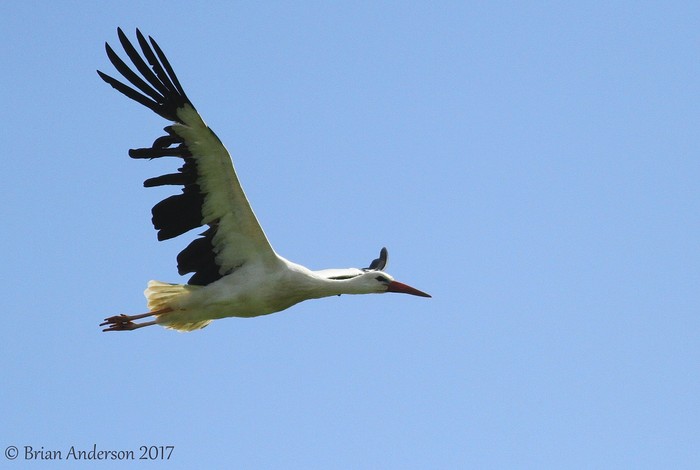 Over in County Donegal, a Corncrake was found on Tory Island on 14th and follows on from one that was inadvertently missed last week, a singing male already giving it some crex action on Inishbofin (Co. Galway) on 10th.
After a couple of blank weeks, it was nice to see news of a departing vagrant white-cheeked goose this week, a Richardson's Cackling Goose found with a group of Barnacles at Loch nam Feithean, Balranald RSPB, North Uist (Outer Hebrides) on 12th (which would have made up for the temporary negative news that day on the Coot).
In other honkers news, our two remaining Black Brants were seen again at Frampton Marsh RSPB (Lincolnshire) and Spurn (East Yorkshire) to 17th and who knows what to make of the Snow Goose that flew over Musselburgh (Lothian) on 17th.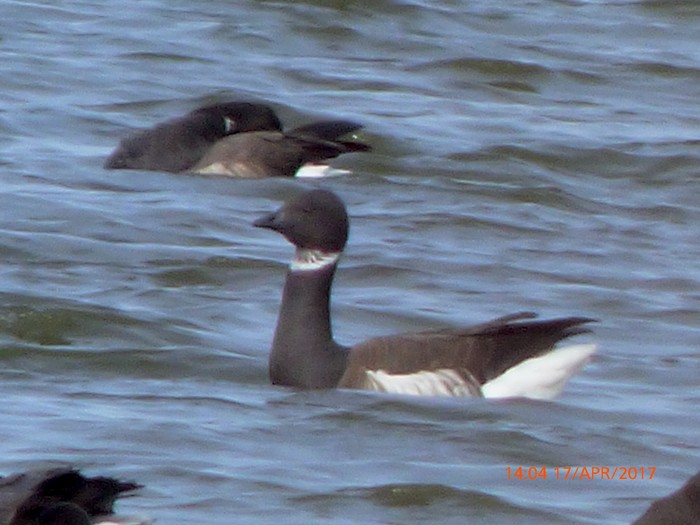 Drake Black Duck? Yep, he's still around, seen at Strontian (Highland) on 13th-18th.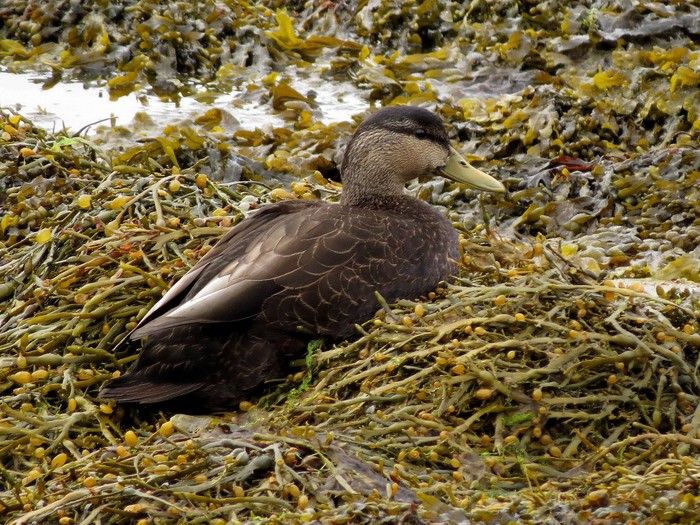 The new week began on 12th with three drake Ring-necked Ducks still in place from previous weeks and months; present at Loch Shiel, near Acharacle (Highland), Cardiff Bay Wetlands NR (Glamorgan) and Dungeness RSPB (Kent) and they were joined by the female who still didn't want to depart Cambridgeshire;s Paxton Pits just yet, she was still there to 15th as all remained to assorted points of the long weekend.
New though were the single Scottish drake Ring-necked Ducks found at Drumpellier CP (Clyde) on 16th and near Balnakeil (Highland) on 18th while new in Ireland where the two drakes at Lough Yganavan, Cromane (Co. Kerry) on 17th.
In Northumberland, the roaming drake Ferruginous Duck of unknown origin (presumably an escape) was still at Washington WWT on 12th.
A female American Wigeon was found and identified at Coombe Hill Meadows NR (Gloucestershire) on 14th where it remained to at least the following day. What was thought to be the same bird was relocated two and a half miles away at Ashleworth Ham NR on 16th. Also on 16th, two drakes were found together at Oban Trumisgarry, Clachan, North Uist (Outer Hebrides).
Two Scottish island Green-winged Teals got the ball rolling in a slimmer week than we've had of late, drakes still at Loch a'Roe, North Uist (Outer Hebrides) and North Ronaldsay (Orkney) to 14th, when a new bird was found at Hauxley NR (Northumberland). The third island record from the far north came on 13th, when a drake Green-winged Teal appeared at Scatness (moving to Boddam on 15th), presumably the same bird that was noted at nearby Virkie a week or so ago. The fourth for Scottish islands was found at Port Nis, Lewis (Outer Hebrides) on 15th with the same date seeing the fifth islander noted, still at Loch Gruinart RSPB, Islay (Argyll & Bute). The final birds this week were the still-present Sligo drake in Ballysadare Bay to 17th and new at Middleton Lakes RSPB (Warwickshire/Staffordshire border) on 18th.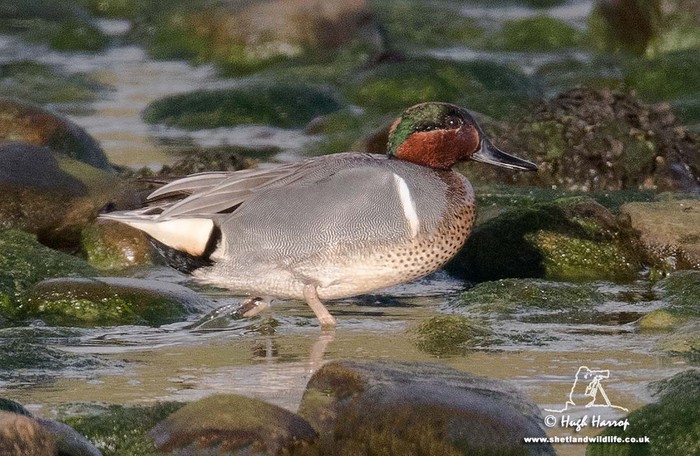 There wasn't much going on where Surf Scoters were concerned either, lone adult drakes remaining off Largo Bay and Ruddon's Bay (Fife) and Musselburgh (Lothian) both to 17th (the latter joined by a duck during the evening) with two further drakes in the same county, at Ferny Ness, also on 17th.
After several weeks with no mention of the old stager in northeast Scotland, there was no surprise to hear that the drake King Eider was still on the Ythan Estuary (Aberdeenshire) on 15th.
Spring's first mini-trip of Dotterels appeared in the Home Counties on 16th, a group of four spending an hour and a half or so on show near Henlow Airfield (Bedfordshire). Others seen on Easter Sunday were two on my old stomping ground on the moors near Okehampton, between the twin peaks of Yes Tor and High Willhays, and a single flew over Longframlington Moor (Northumberland). More loners were found on 17th; in Somerset, on the Black Down Hills, in Essex, on Wallasea Island and in Sligo, at Leenadoon Point. The week ended with three over Reculver (Kent) on 18th.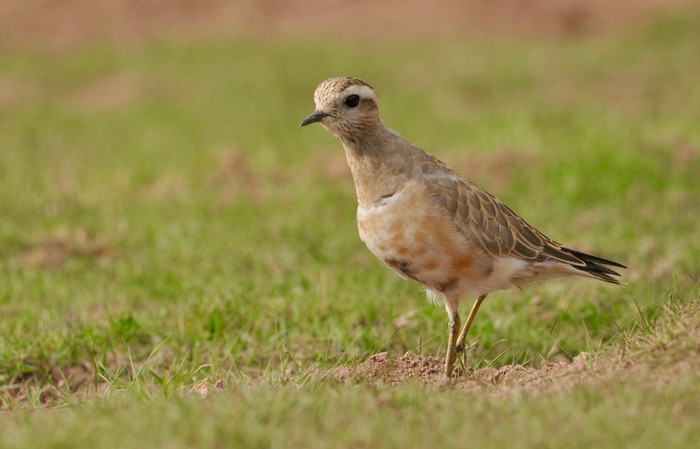 In southeast Ireland, Wexford played host to the county's first Kentish Plover in nearly six years when a colour-ringed male was found at (inevitably) Tacumshin on the afternoon of 16th. The 2011 bird, also a male, (the only other record of the species in Wexford in many, many years) spent eight days at Tacumshin across late April and early May.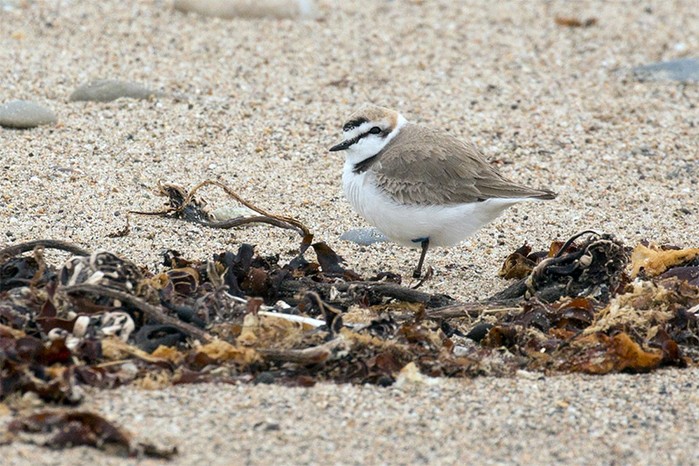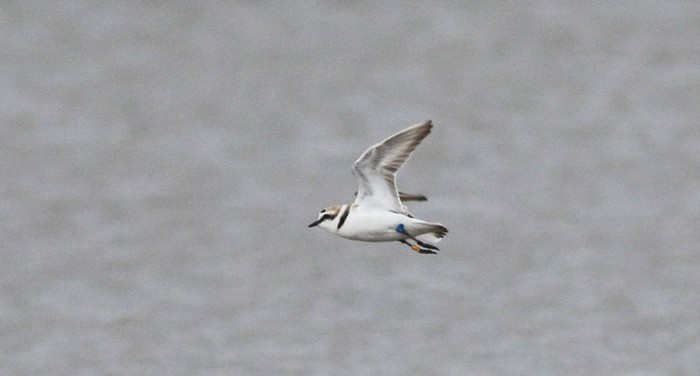 Back again at Vange Marsh RSPB in Essex where three Black-winged Stilts - seen again on 17th, the first sighting there for a week.
Nearctic shorebirds that lingered into yet another April week included the Lesser Yellowlegs at both Lytchett Bay (Dorset) and Laugharne (Carmarthenshire) until 16th at least and the now first-summer Long-billed Dowitcher that stayed at Tacumshin (Co. Wexford) to 18th.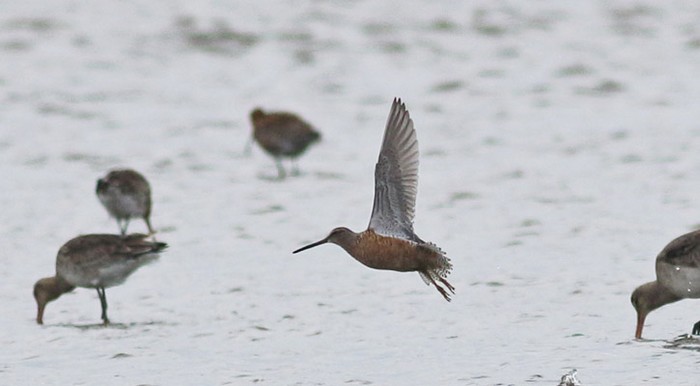 In Staffordshire, having paid one visit in mid-March, the over-wintering Temminck's Stint was back at Tucklesholme Quarry SWT on 16th-18th.
Oxfordshire's first-summer Bonaparte's Gull was at Farmoor Reservoir to 13th before appearing again on 17th, while the first-winter seen recently at Kenmare (Co. Kerry) was noted again (after a sizable absence) on 15th. New was the first-winter found at Blashford Lakes HWT (Hampshire) on 17th, once accepted it will become the 5th county record and the second within the last few years, one spent three weeks in the county in May 2015.
Six Irish Ring-billed Gulls made themseleves known through the week; on 12th, an adult was at Waterside (Co. Galway) and a first-winter was found at Belfast Lough RSPB (Co. Antrim); another adult was seen on 13th, at Ballyallia Lake (Co. Clare) while 14th brought news of the contiuing presence of a long-staying first-winter at Tralee Bay Wetlands (Co. Kerry) with the same county seeing an adult noted at Carrahane. Last one this week was the adult again at Lurgangreen (Co. Louth) on 17th.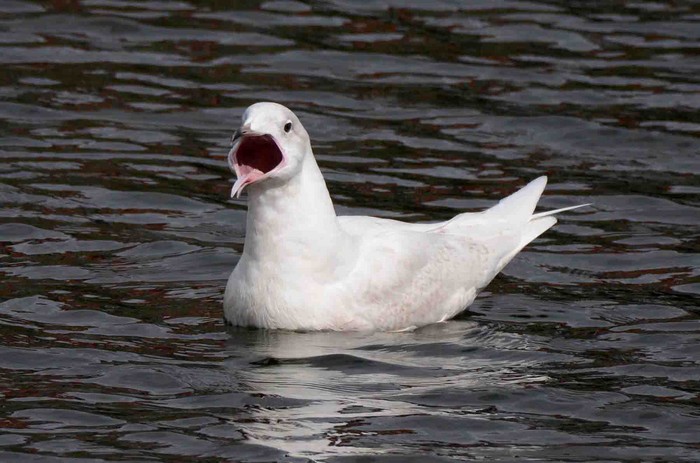 Dropping by 20 or so, to a weekly score of 75 birds across 20 British and Irish counties was Iceland Gull. Ireland managed 26 birds in seevn counties, with 26 English birds spread across 13 counties. Nine of Ireland's brids were in County Cork, four of them in Cork City itself on 12th, with a further five in Kerry. A dozen of England's total were in ther northeast, with four each for South Yorkshire and County Durham, whuile Cornwall managed at least seven, including three behind the plough on Connor Downs on 13th. There were 23 brids noted in Scotland, with nine in Highland and seven in the Outer Hebrides. Wales failed to record an confirmed birds.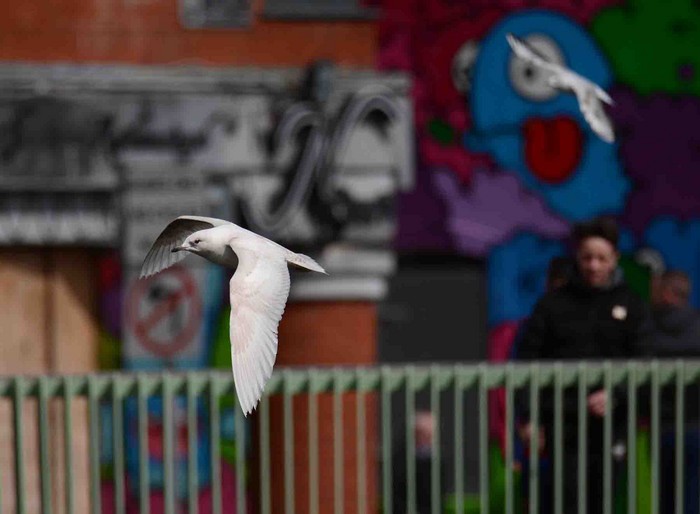 There were 37 Glaucous Gulls logged in 21 British and Irish counties across the last week, Scotland leading the way with 18 birds (in eight counties/regions) with five on the Outer Hebrides and four in Argyll & Bute, including three on Tiree on 12th. Around 14 English birds were seen, five each for East Anglia and the northeast with four in ireland and one in Wales.
Two new Black Kites were recorded on 14th; the first was seen at two sites in County Cork, first over the Old Head of Kinsale and then Ballinspittle (the first county record for five years) with the second for the day seen near Petsworth (West Sussex).
A second Irish spent some time in Wexford on 15th, seen first at Ring Marsh before locating itself at Tacumshin to roost with showings through the day on both 16th-17th. The same date saw one the fourth and fifth Black Kite reported from Minster (Kent) and Goonhilly Down (Cornwall).
The only other news concerning any sort of bird of prey was the Snowy Owl seen at Hyndgreenie, Papa Westray (Orkney) on 16th, perhaps the Eday bird on the move back north or, maybe, given the weather, a new arrival?
Doing just what it said on the tin, the predicted Western Subalpine Warbler duly appeared on Portland (Dorset) on the morning of 13th, becoming (approximately) the 43rd record for a Subalpine Warbler within this week's seven day timeframe.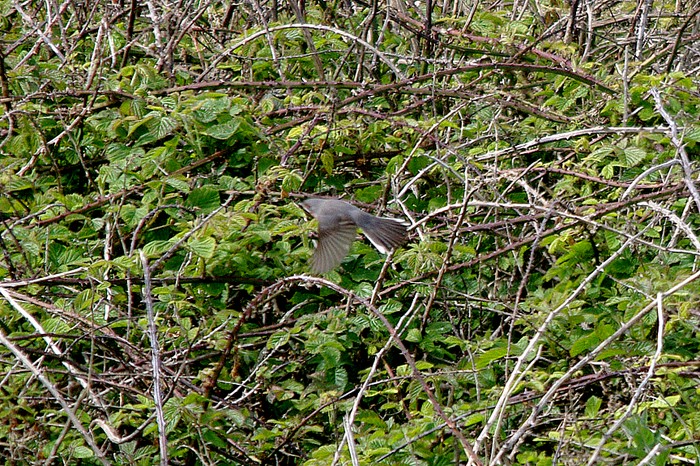 The 44th came later the same day when a singing male Subalpine was found near the botanical gardens at St. Lawrence (Isle of Wight) - a huge rarity for the island, just the second-ever in fact. Initially suspected as a Western, the perusal of a cracking shot of the handsome boy saw opinion shift towards Eastern Subalpine and, if confirmed, it will be the first to be identified to form for the island. The only previous record on was a first-summer male at Bembridge from April 23rd-27th 1992 and this week's bird went swiftly to ground soon after a second-day morning report on 14th.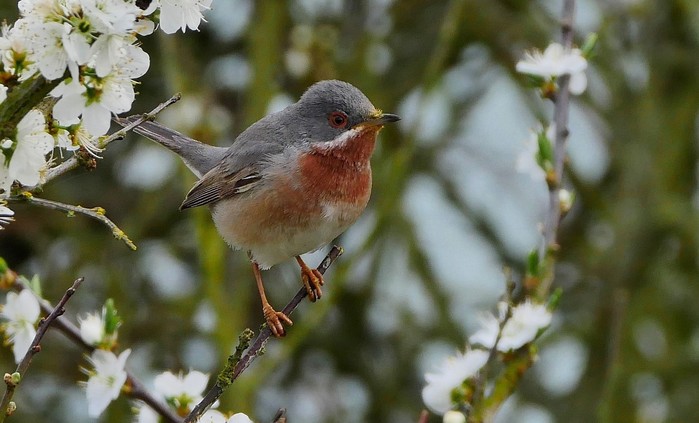 The second confirmed Western Subalpine Warbler of the week was discovered in Spurn's Canal Hedge on 16th - and it turned out to be the same trapped and ringed bird that was found on site on April 7th and was on site, singing to 17th.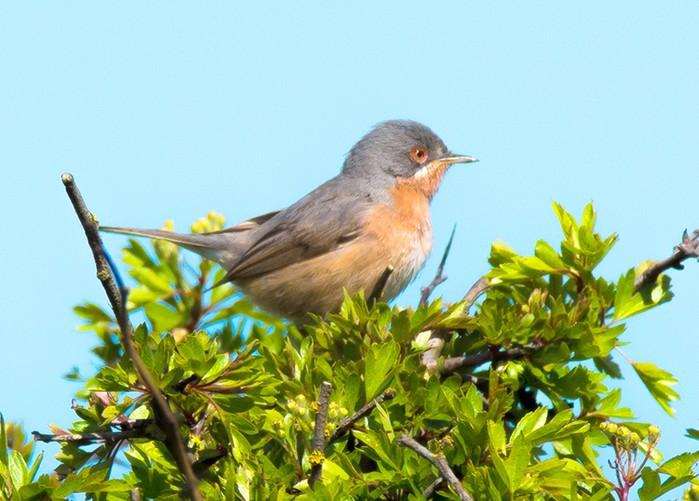 Birders on Scilly reported a Woodchat Shrike on Tresco on 12th when the female at Brownstown Head (Co. Waterford) was still in place and she remained to 17th. New in Cornwall on 16th was the Woodchat at Lizard Point, the county enjoying a decent run of this ever-popular spring overshoot.
The morning of 13th brought news of a brief (photographed) Red-rumped Swallow at Upper Bittell Reservoir (Worcestershire), only the fourth county record; the first was found at Upton Warren in May 1992, the second was at Droitwich in April 2001, the third was seen at the same site as this week's bird on almost the same date, April 14th, in 2009 and now, eight years on, comes number four.
Several more followed over the Easter weekend; the first was at Boyton Marshes RSPB (Suffolk) on 15th with the second appearing at Fairburn Ings RSPB (West Yorkshire) on 16th, where it showed for a while on an increasingly soggy Sunday. Back in Suffolk, a Red-rumped Swallow was found at Trimley Marshes SWT, also on 16th and both it and the Yorkshire bird remained to Bank Holiday Monday when the week's fifth arrived at Ferry Meadows CP (Cambridgeshire) and the sixth was found in Dorset, at Lodmoor RSPB before moving to nearby Radipole Lake RSPB.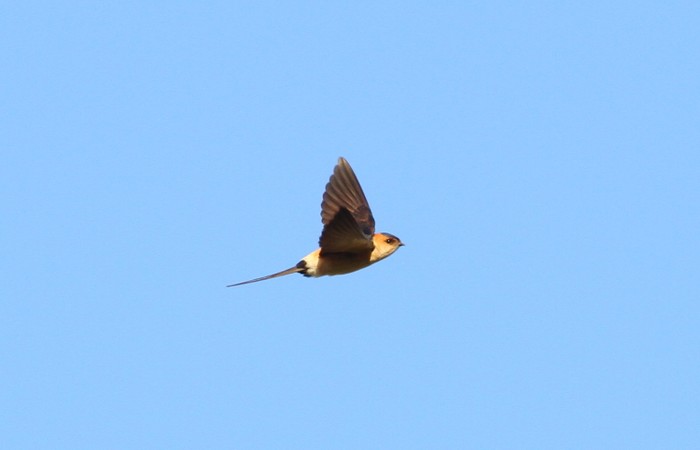 The first day of the new review week brought an Alpine Swift to Littlehampton (West Sussex), seen on 12th for a while over the golf course before heading off east. The following lunchtime saw another reported, this one from Blue House Farm EWT (Essex) that ended up heading south and on 14th, one headed over Margate and then Shuart (Kent) between 0900 and 0940 - it is around six miles between the two sites. This may even have been the same individual that lolled along the Kent coast on 16th too, noted over Kingsdown, Worth Marsh and nearby Sandwich Bay.
Just two Serin were noted across the week, the first paid a brief visit to Prawle Point (Devon) on 14th and the second, a singing male, was at Snettisham (Norfolk) on 18th but had to be struck from the record once a little blue ring became a bit of a giveaway in terms of his captive origin. There were a couple of Hoopoes too; one was logged ahead of the long weekend, seen in gardens in Farnsfield (Nottinghamshire) on 13th-16th with the second being found at Derwent Reservoir (Northumberland) on 17th.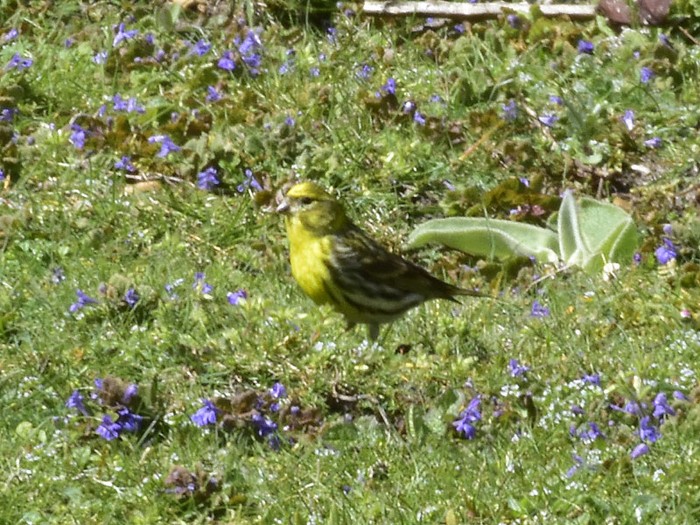 Two Wrynecks popped up as well, one (the same one?) was on St. Martin's (Scilly) on 15th and definitely new was the bendy-necked beaut that was seen at Heveningham (Suffolk) the following day.
All of the above passerine species are hoped for and expected through April but the Pallas's Warbler that arrived on Bardsey Island (Gwynedd) on 18th was anything but.
The singing male Yellow-browed Warbler remained on Devon's south coast, at Exmouth to 14th and a second southwestern bird was still around the willows at Swanpool, Falmouth (Cornwall) to 14th. Moving away from the country was the bird found at Hope Point, St. Margaret's at Cliffe (Kent) on 15th.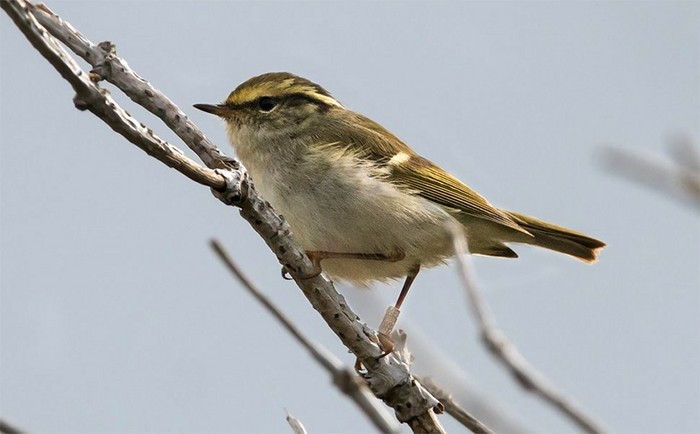 Cornwall's rather barren and slightly wild Goss Moor isn't a spot that I'd immediately associate with rare passerines, so news of two Little Bunting there on 15th was something of a surprise, with both birds still in place to 17th.
Great Grey Shrikes dropped again this week as the winter exodus was almost complete, only four noted over the last seven days. On Dartmoor, one was seen near Lustleigh's Hounds Tor Wood on 14th while review regulars remained at Cross Inn Forest (Ceredigion) to 16th, near York (North Yorkshire) to 17th and the New Forest (Hampshire) to 18th.
Dropping still, though not as sharply as the excubitors above wereWaxwings, down from just over 1000 last week to around 831 in all over the last seven days. Three areas were scoreless and only two regions managed to hit three figures.
Wales (0) - 0…
Ireland (0) - 0…
SW (0) - 0…
SE (57) - 20 in Whitstable, Kent on 17th
NE (67) - 15 at Billingham, in Cleveland on 17th
Scotland (77) - 24 in Edinburgh, Lothian on 14th
EA (92) - 32 around Hollesley, Suffolk on 12th
NW (253) - 81 at Delamere, in Cheshire on 16th
Midlands (285) - the week's largest flock, 80+ seen at Pleasley, Derbyshire on 15th
The last bit of news for this week concerns the unusually late report (for the time of year) of a Coues's Arctic Redpoll at Holt Lowes (Norfolk) on the afternoon of 13th, a bird which ended up flying off west. Also a nice surprise over the weekend was the Arctic Redpoll seen at Eswick, South Nesting, Mainland (Shetland) on 16th-17th, thought to be a hornemanni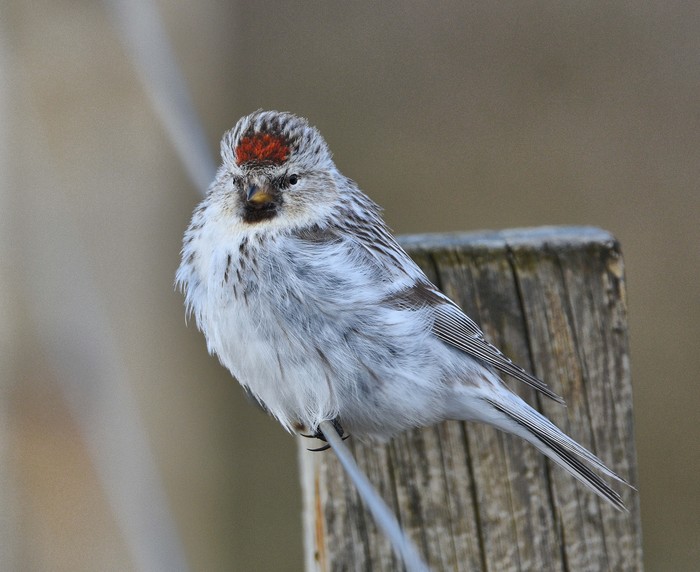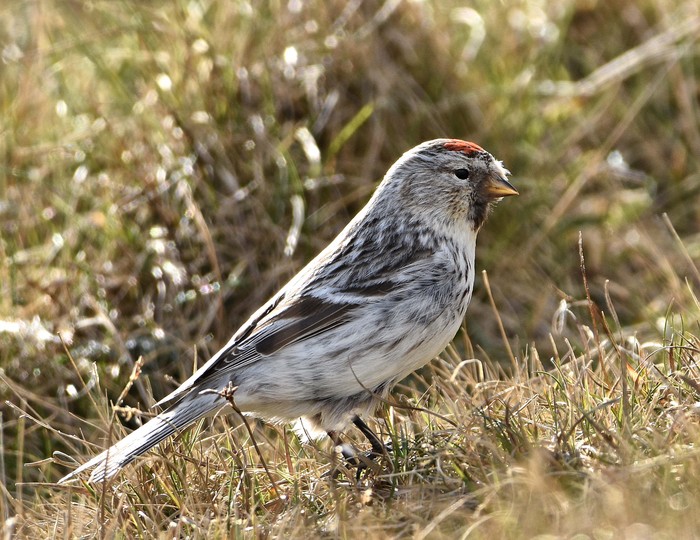 While we're at it, the House Finch seen last week in Cumbria seems to have met with a fridge-cold reception but it is worth a look at the impressive bird, courtesy of Stan Woodhouse, who's garden the bird spent a few days in, until April 8th.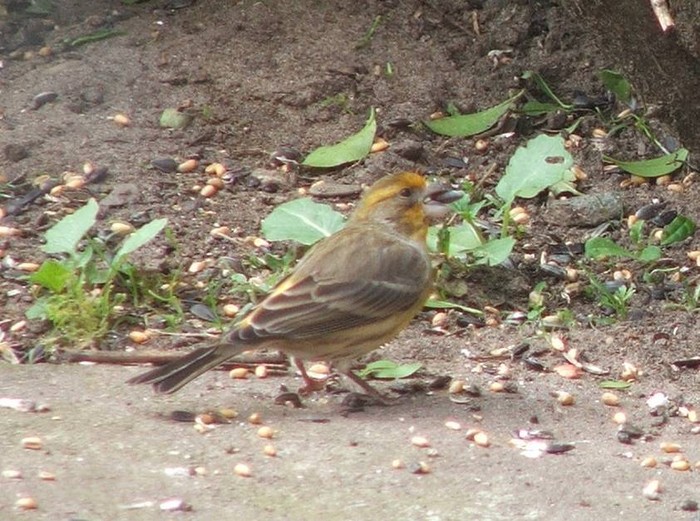 Without trying to use a sledgehammer to crack a nut, that original bird found at Lands' End, which then moved to Prawle Point, was entirely deserving of a place on Category A of the British List - there may have been evidence to the detriment of the species making it as a "wild" unassisted vagrant here but there are several species that the BOURC should be review and be hoisting out of the Category A ranks if similar criteria was applied to them - Towhee, Lark Sparrow, Mockingbird and Thrasher all spring immediately to mind.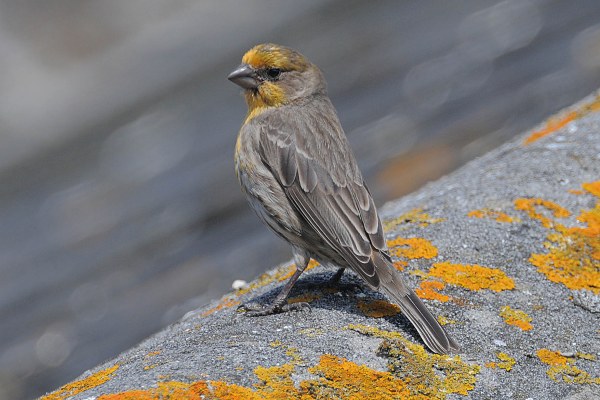 A presumed ship-assisted wild House Finch is as "deserving" of a place at the top table as other presumed ship-assisted wild Nearctic sparrows and finch-types which almost certainly hitched a lift, being unable to get here under their own steam (right from White-crowned Sparrow to Slate-coloured Junco) and, of course, that Borders Junco was here at pretty much the same time as the now departed Cumbrian House Finch.
Perhaps the most fascinating (and the most galling) record for this week was the appearance of a female White-headed Duck on marshes at Kallo, near Antwerp, northern Belgium on 16th-17th. As with several British records that have still yet to be elevated to Category A, this week's superb beast has hooked up with Ruddy Duck - again giving a sizeable clue (if one was ever needed) as to the favoured carrier species for a vagrant heading north from their breeding grounds.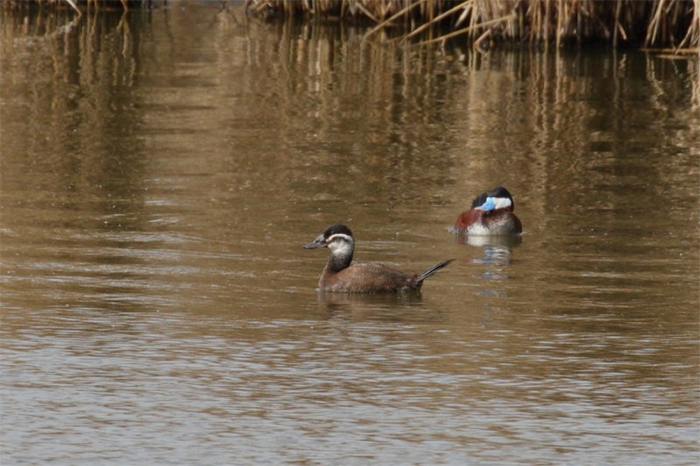 Everyone here is aware of the dearth of White-headed Duck records since our Ruddy Ducks were exterminated in Britain, there's been no records since the drake in London was last seen on January 22nd 2006 (a returning bird, one of a handful that appeared in the early 2000's as the species' fortunes took a significant turn for the better). Will the Belgian Rarities Committee accept this week's bird? You bet…
Continuing the run of vagrant Black-shouldered Kites across western and northern Europe this spring, Sweden's seventh national record was discovered at Hjälmvik, Orust, Västra Götaland on the evening of 12th with the eighth following on 17th when another was found at Skurup, Skane.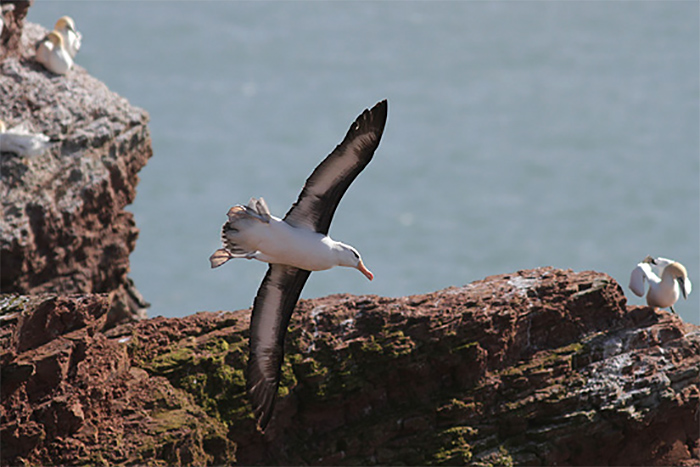 Back on Helgoland this week was the adult Black-browed Albatross which spent a couple of days on the island on 16th-17th and it followed a migrating first-summer male Black-throated Thrushes which was seen on the island on 15th.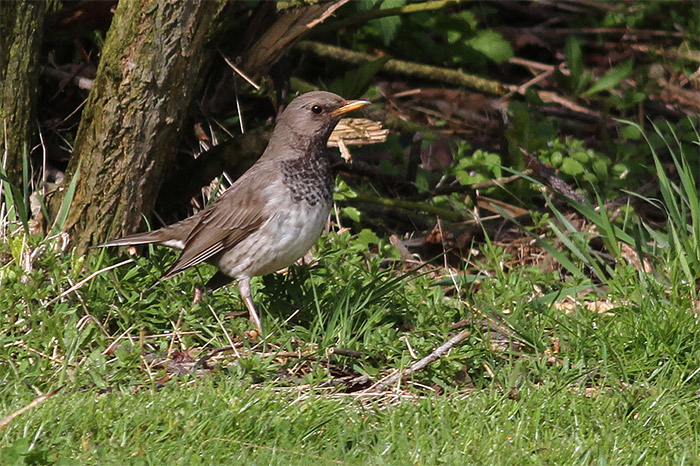 A couple of snippets of late (and very late) news from France this week; on April 11th a Marmora's Warbler was at Lac du Jolan, Ségur-les-Villas, Cantal while a month ago, on March 19th, the third French Rüppell's Griffon Vulture was seen over Cassagnes in the Pyreness.
A couple fo randoms now; new for Hungary was the adult summer Bonaparte's Gull found at Hortobágy on 14th while on Iceland, a drake American White-winged Scoter was seen at Ósarbotnar early in the week.
On Cyprus, another Bar-tailed Desert Lark appeared this week, found at Cape Greco on 13th (the seventh national record) while late news from Turkey concerned a Lesser Flamingo at Kulu Golu, Konya on April 10th. At the far reaches of the Western Palearctic, Kuwait's fifth Black Bush Robin was at Mutla'a Ranch on 14th.
The longer the winds stay rooted in the northwest or north, the more demoralising the week ahead appears. Everyone yearns for those balmy April days of light southerlies and clear skies that are so inviting for birds that are still moving across continental Europe and, hopefully, moving onwards towards us.
Sunshine is all very well but when the wind has that chilling northerly element, it makes time in the field that much harder as temperatures struggling to exceed much beyond low double digits.
That seems to be the order of the day for at least the three or four days of the week ahead and it feels as though the really exciting rarities that could force their way through may just have second thoughts.
With conditions as they are, it is pretty tough to figure out what could make it in to the headlines for the next seven days. The classic southerners could always squeeze through the headwinds but why would they want to step off and over the Channel and in to a cold north wind if they didn't have to? So, although there has to be the chance of more Alpine Swifts, Red-rumped Swallows, Subalpine Warblers and rarer options too (a good crake for instance or one of those spotty cuckoos) it feels as though it would be something from the northeast or northwest that may surprise someone.
It could be spot on for a drifting Rustic Bunting - some half dozen noted in the seven days ahead, including three on previous April 22nd's, confined to Cleveland and East Yorkshire.
A vagrant Snowy Owl seems unlikely, but there's been a few new birds appear in the timeframe ahead, so you never know. The inevitable Gyr feels like a better bet though while other raptors to bear in mind are moving Pallid Harriers (there are three records for this week) and there was that beautiful male Northern Harrier photographed on migration over Portland Bill on April 21st 2011.
One thing that becomes more prevalent as spring progresses are shared dates for some really big finds and this week ahead is a prime example of that.
April 20th has offered up a Rufous Bush Chat out on Cape Clear Island in 1968, a (freshly dead) Lesser Kestrel in Kent in 1989 and in 2008, both a Calandra Lark (on Fair Isle) and that famous Black Lark in the dunes at Winterton.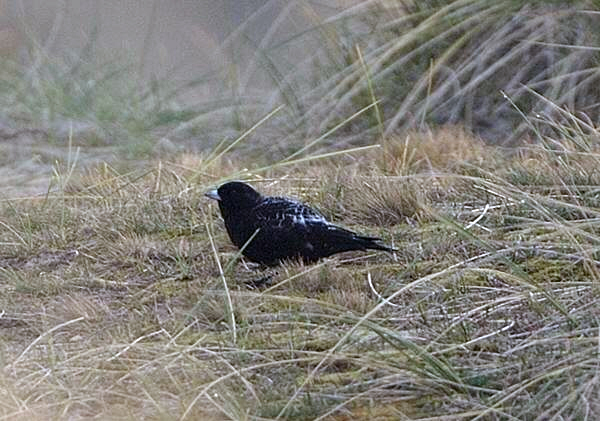 The 24th of the month has an even more impressive track record; most recently there was the hugely appreciated female Hudsonian Godwit on the Somerset Levels just two years ago. There have also been three firsts for Britain and Ireland recorded on the day too, remarkably within 12 months of each other; in 1987, the island of Lundy welcomed a two-day Eastern Phoebe (30 years on and there's not a whiff of another) while the following year, two 1sts appeared on the same day, neither of which was of much use to anyone bar the observers present; Pembrokeshire's Dinas Head landing our only record of Moussier's Redstart with Islay laying claim to the first Brown-headed Cowbird.
Another Brown-headed Cowbird made another showing, this time on April 25th 2009, at Belford in Northumberland where it spent a week undercover - the first of four within 15 months, only one of which was twitchable (on Fair Isle in May 2009).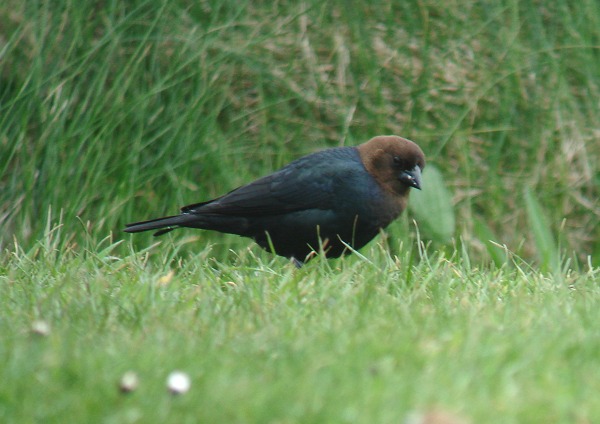 It may not be a Cowbird or Phoebe that brightens up the round-up this time next week, but the feel is certainly lurching towards something from the west as being the star attraction…
Mark Golley
19 April 2017
Share this story
Tweet


Many thanks to all contributors for their photos and videos this week.
Peter Tongue, Martin Goodey, Nick Moran, James Packer, Michael O'Clery, Dean Nicholson, Mark Wilkinson, Paul Hackett, Dave Burns, Steve Ashton, Neil Fox, Leslie Mears, Frank Golding, Martin Benson, Hugh Harrop, Brian Anderson, Rob Creek, Mark Wilkinson, John Nadin, Brian Thompson, Caleb Knight, Paul Kelly, Richard Mills, David Stone, Pete Campbell, Gill O'Neil, Joe Stockwell, Jim Swalwell, Steve Stansfield, Helen Perry, Stan Woodhouse, Michael Malpass, Werner Van Mele, Jochen Dierschke, Mike Lawrence,