Weekly birding round-up: 5 Apr - 11 Apr 2017
The week at a glance
What appeared to be spring's first big "overshoot" makes landfall in East Sussex ~ and it happened to be a Blue Rock Thrush…
…and it followed late news from Gloucestershire where the Blue Rock Thrush was still present last week and then moved on…to Sussex!
Scilly sees a scorching male Rock Thrush arrive over on St. Martin's
Singing male Iberian Chiffchaffs remain on territory in Shropshire and Kent, with new arrivals found in East Yorkshire and Lancashire
On the Outer Hebrides, the American Coot hasn't left North Uist just yet
North Ronaldsay retains the male Northern Harrier
Scotland also holds on to the Pied-billed Grebe in Argyll & Bute
The Cornish Hudsonian Whimbrel still hanging around the edge of Mount's Bay
Very belated news of a dead Allen's Gallinule found on St. Kilda in the third week of March
A beautiful few days began the week with lots of sunshine and blue skies sat across many parts of the British Isles and Ireland as a sizeable high pressure built ensuring pleasant birding conditions as the weekend approached.
Unfortunately the winds associated with the high were initially rooted firmly in the cool northwest, generally light, but they still seemed to be a hindrance of sorts to the general shove from the south of birds moving our way.
The high continued to dominate for much of the rest of the week, sneaking around to the south towards the weekend as the temperatures rose (temporarily at least) towards the mid 20's in the southeast and the birds moved on up. However, no sooner had Monday come along and it was back to cooler west to northwest winds, as the stop-start April conditions did their best to frustrate and excite in equal measure.
And talking of things that frustrate and excite, there's only one place to start this week's roundup ~ we're off to Beachy Head.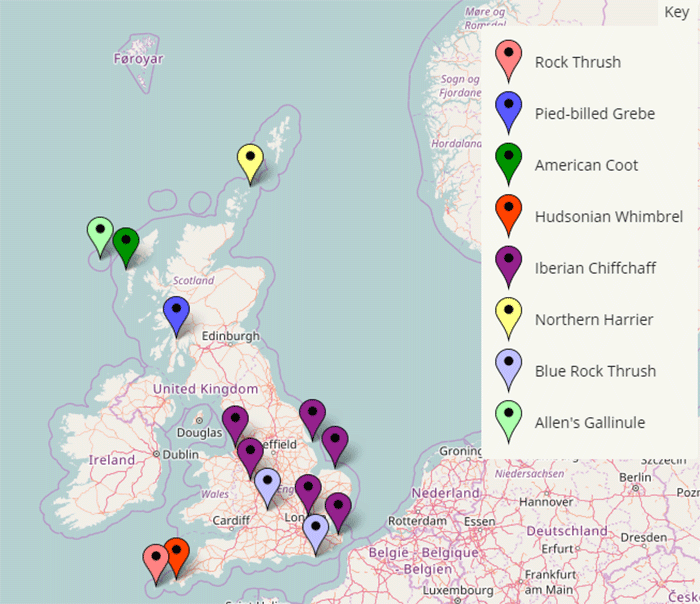 Blue Rock Thrush
Wagging along happily at the tail end of last week's review was a little note to remind readers of the outside chance of something crazy along the south coast; sadly the bird that caused almost as much chitter-chatter as it had done during his winter sojourn wasn't a Wallcreeper, but it was a bird that shared a Sussex arrival date with said crimson winged butterfly-bird…
(And it was another bird that had got a nod and mention in "The Coming Week" too. It's almost like I know what I'm doing, though this was a huge stroke of luck.)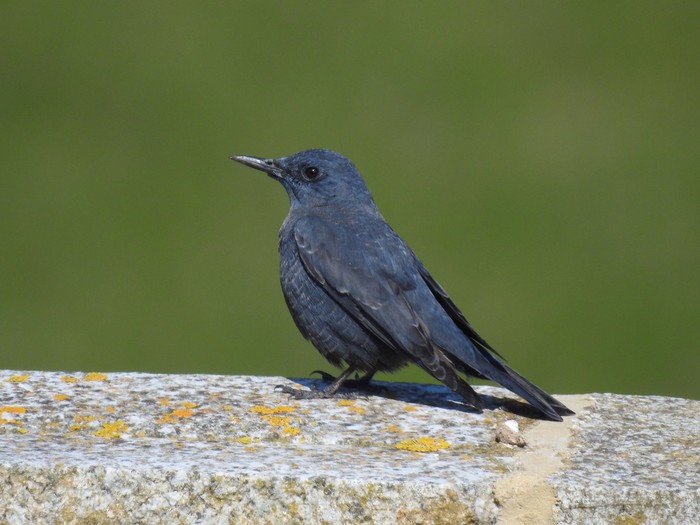 Anyway. All was genteel and quiet through the morning of 6th until the pager buzzed in to life with news of a male Blue Rock Thrush around the lighthouse at Beachy Head (East Sussex).
At any point ahead of the last six months or so, this super find would have caused an almighty who-haa but post-Stow, the main focus was immediately a) was it was the Gloucestershire bird; b) get it for a cracking county first and c) if it wasn't the Stow bird, just how many people who ticked the south Midlands individual would volte-face and scurry down the A27 to East Sussex to see "a real one".
Some neat shots soon emerged of the Beachy Head Blue Rock Thrush and social media went nuts ~ some insisted instantly that as it shared the drooping wing that the Gloucestershire male showed and therefore it just had to be that bird (it looked like it too), with others claiming it could be different.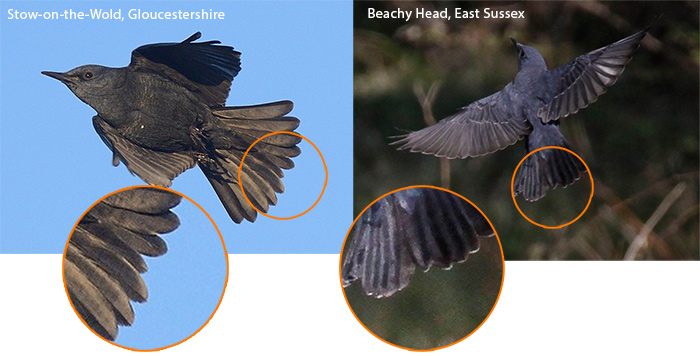 One of the early shots showed a particularly striking looking tail and that was one that, amongst others, held the key to establishing whether it was one-in-the-same or a newbie (tail shot proof emerging from both sites, to the positive). As more images came along on the day, it looked (to me, and others who spent time doing a quick compare & contrast) as though the distinctive white greater covert patterns were shared, ditto the median coverts tips.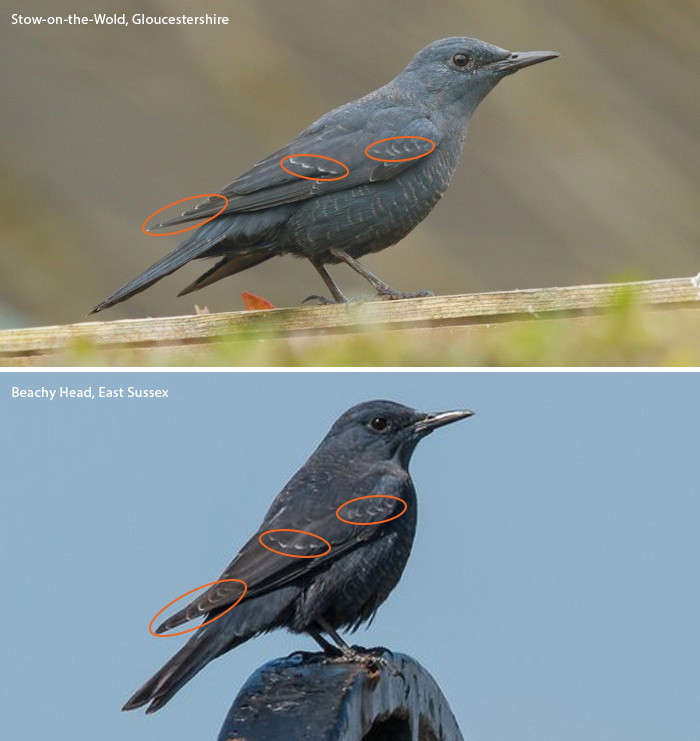 The browner cast to the Sussex bird's wing seemed to be an individual photo artefact and the distinctive white semi-blob on one of the primary tips was another pointer that this was a quite remarkable spring relocation of an extreme British vagrant (the first one in fact, there have been proven autumn movements ~ the Suffolk to Devon trapped and ringed Desert Wheatear in the autumn of 1987 being one that sticks in the memory, while an old "Isabelline Shrike" was widely held to have been the same bird that went from north Norfolk to south Devon in November 1988).
Those increasingly strong arguments for this being the same individual moving out and away from the UK were also being borne out by further emerging facts which told that the Stow-on-the-Wold bird had been present right through until April 4th (the house owners rightly wanting a break from more 'bins and 'scopes peering at their rooftops and garden feeders). It hadn't been seen since and the final jigsaw piece was tapped in by close of play Thursday.
The fact that this week's Blue Rock Thrush was found at a well known migrant hotspot, that its April and that birds are tracking north every day across the English Channel is how the "two bird theory" merchants argued the toss when this entertaining saga turned the page on a new chapter (and that all made complete sense of course). And, as was pointed out at the end of last week's review, our most recent, unequivocally wild BRT was found on April 11th 2007, in the Elan Valley in Powys.
That record from a decade ago and this week's arrival are the only April occurrences to date; the first two British accepted records both appeared on June 4th, at Skerryvore Lighthouse, to the SSW of Tiree (Argyll & Bute) in 1985 and at Moel-y-gest in Gwynedd in 1987.
Subsequent records followed with the first twitchable bird, a male on St. Mary's (Scilly) for two mid-October days in 1999 with it (or another) 10 days later at Cot Valley (Cornwall). The same county registered a second individual six months later when a female spent five days at Pendeen in May 2000. After that came Powys and, of course, Gloucestershire.
A look at the map indicates a distance of some 150 miles in a straight line due SE from Stow to Beachy, a route which seems, at first weird ~ heading south in spring isn't what any migrating "southern" passerine in Europe should do ~ but it seems safe enough to assume that it was re-orientating, knew it had to head to the coast and instinctively knew that it had to go south (or east, which is where some have favoured all along for this bird's origins). Clearly this was a rare bird on a mission, present until dusk on 6th, he was nowhere to be seen the next day, and it seems as though this riveting tale has come to the most natural of conclusions.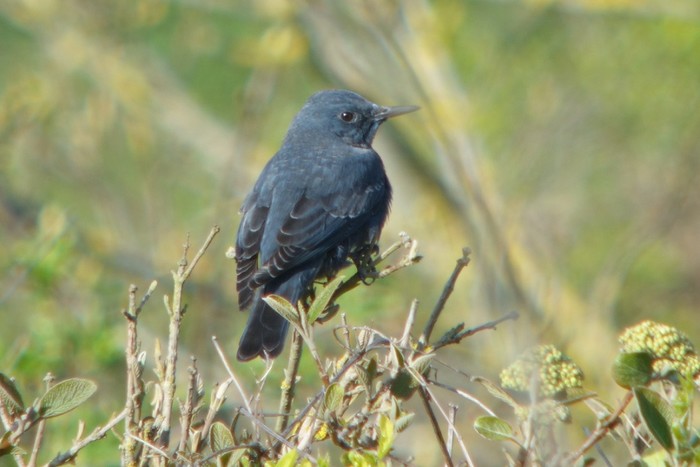 Mentally, you just know that it feels better to be seeing a Blue Rock Thrush on a south coast headland in spring than on a housing estate in Gloucestershire as the Christmas decorations come down, but now the consensus and the evidence has proven, categorically, that this was indeed the same individual (that droopy wing, those covert marks, the shorter tail feather…) and all those who voiced nervous concerns about the provenance of the Gloucestershire bird and worried around the subjective debate as to whether it would be accepted or not, will have slept a little easier in recent days, gazing fondly at their lists, inking in another box and thinking, "yes, I can have it after all".
Others won't give two hoots and will count whatever they want. Sport can have all sorts of rules and this is a sport with no officials, barely any rules and no one has the jurisdiction to tell you what you can and cannot "have". Tick whatever, whenever you want.
Even though this was a long-staying individual finally taking his leave of us, this was a magnificent independent find for a local patchworker ~ make sure you enjoy the find of a lifetime.
Rock Thrush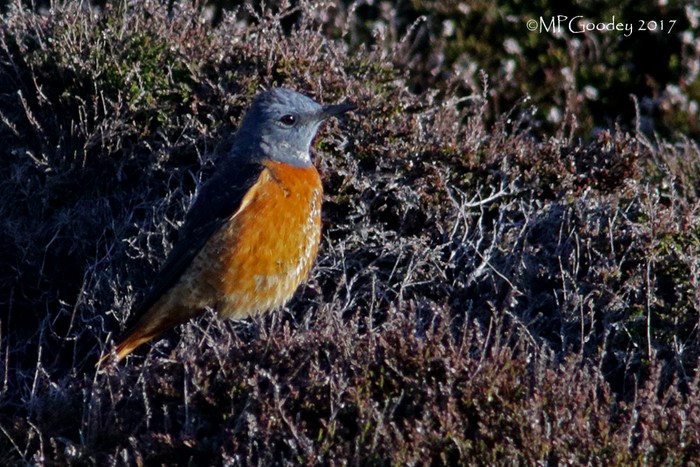 In almost any other April week, a male Rock Thrush would knock everything else in to a cocked hat and, on paper, maybe it should this week too. However, those amazing events along the Sussex coast just pip this week's other magnificent find down to second place (actually, let's call it equal 1st).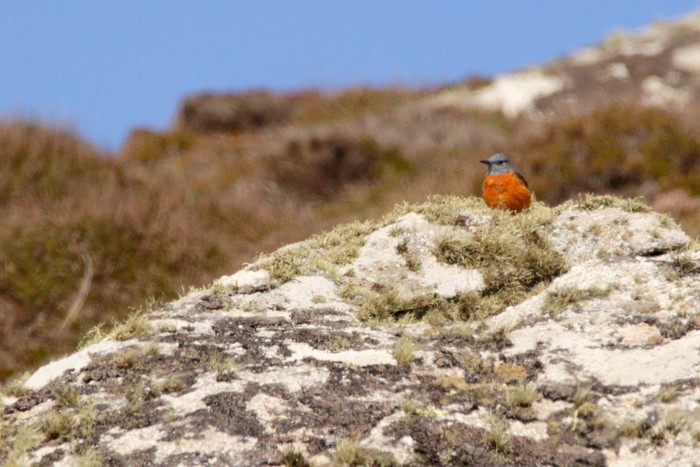 News first popped up ahead of 9am on Monday morning (10th) ~ the story was that there was a report of a Rock Thrush around the Daymark on St. Martin's (Scilly) and that it had also been noted on the island the previous day. It took a little while for more to be known, but before the 1055 had pulled out of Manchester Piccadilly, there it was ~ a male Rock Thrush was indeed still present, sitting pretty in the brilliantly named Bread & Cheese Cove. It also transpired that the bird had made landfall on the island on April 6th ~ the very same day that the Blue Rock Thrush made his farewell flight from the English coast. Incredible.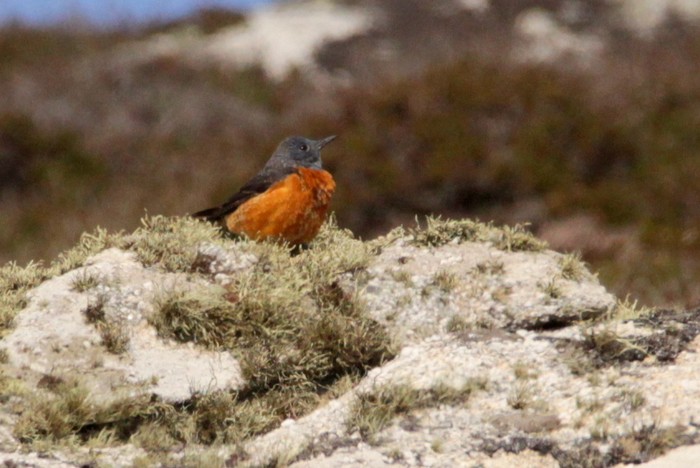 For the second time in two reviews this meant that my prime prediction for next week had been blown clean out of the water, but it at least it made life easy ~ that stats were in hand…
…so here it is. The month's earliest of four previous Rock Thrush records was found 29 years ago on Portland, a fine male frequenting the quarries around the isle for over a week from April 16th 1988. This month has also offered up one of the most recent twitchable records, courtesy of the female that spent two days at Spurn at the end of the month in 2013.
One of the other April records ahead of this week's cracker was Scilly's first of (now) five ~ found on Samson on April 21st 1968. A female was next, seen on St. Mary's on May 19th 1979 and a three-day first-winter male was a big draw when found in prime-time, October 14th-16th 1984. The most recent record on the islands was 21 years ago this autumn, spending five days across late September in to October 1996.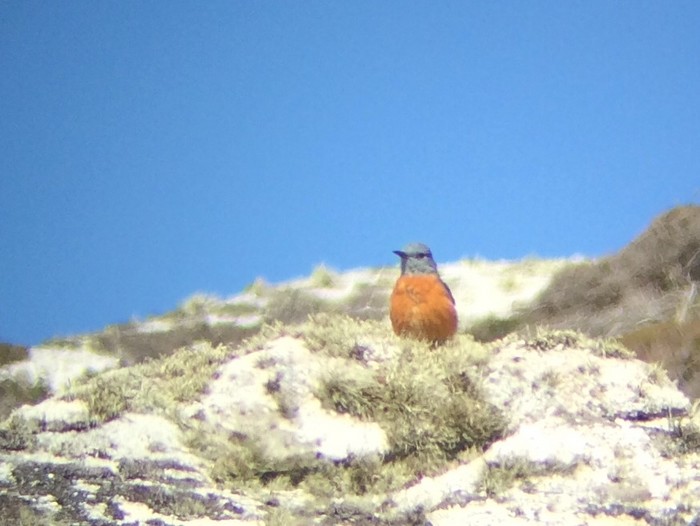 Rock Thrush is a species that certainly holds its value, it remains exceedingly rare (this week's bird is just the 31st record ever) and is only the fourth since the start of the 2000's. Fortunately, the last two records, the Spurn female mentioned above and the Aberdeenshire bird that followed not long after (for five midsummer days, also in 2013) have been readily twitchable, so the fine singing St. Martin's male may not be quite the draw it could have been, but its still an absolute cracker and he did draw interested parties to Scilly's eastern most isle until the end of the review week, on 11th.
Both species of vagrant Rock Thrushes within the space of the same week is quite extraordinary and for them to be present on the same day makes it all the more amazing. Be ready to see April 6th and the marvellous Monticola double mentioned around this time next year at the opposite end of the review…
Iberian Chiffchaff
After a hefty old week for the appearance and reappearance of upwards of half a dozen Iberian Chiffchaffs things were all the more relaxed this week.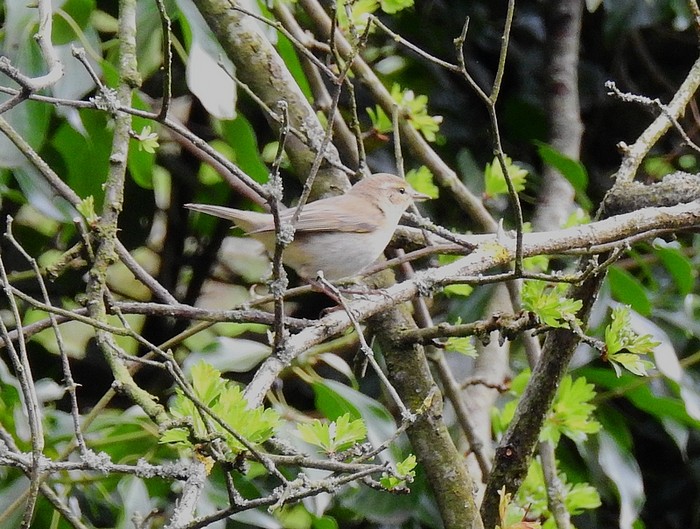 Two of the six remained in place at the start of the new week, no surprise that the returning male at Donnington Wood, Telford (Shropshire) was still around (he was singing but only to 7th) while the bird found at Seaton GPs (Kent) was on site until 6th at least.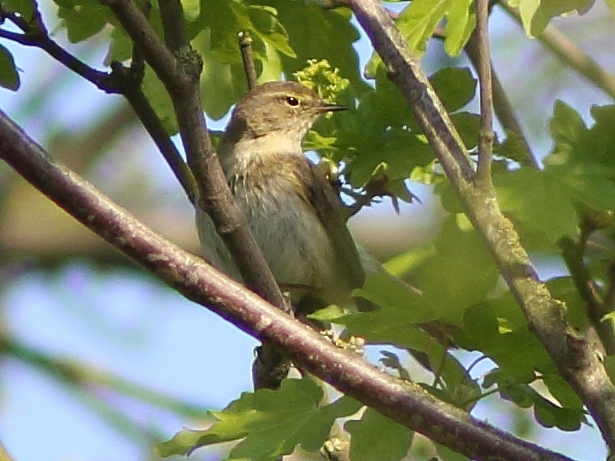 The sunny weekend must have made the newest Iberian Chiffchaffs of the week, found at Seaforth LWT (Lancashire) on 8th and Kilnsea (East Yorkshire) on 9th feel right at home, the 8th and 9th records since March 25th, a total that even with plenty of spring left to go, has become a record year (assuming all are accepted). The debate as to the identity of several birds these days goes on, as criteria shift like tidal sands, but for the moment, these all stand.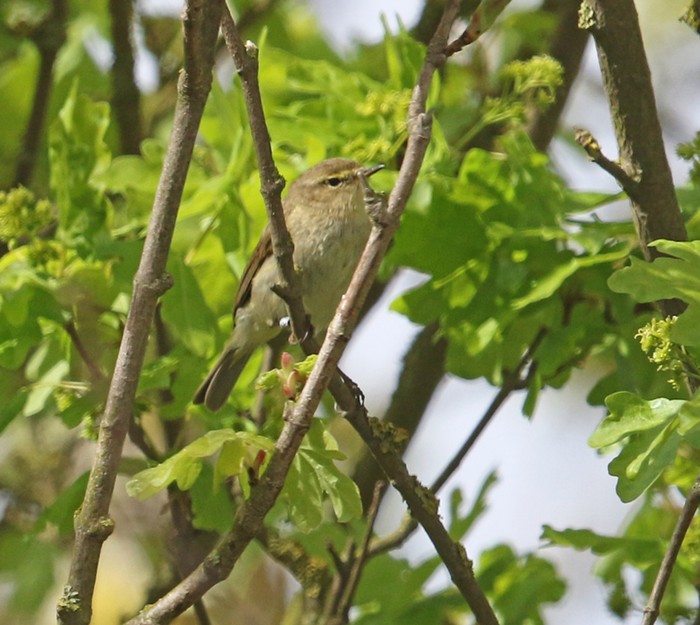 Lancashire's male was first found on 8th and confirmed on 9th becoming only the second record for the county, following on a three-day bird in Blackpool in May 2011.The Kilnsea bird (still in place on 10th) becomes the fifth for East Yorkshire, the second for the Spurn recording area (the first was at Easington in 2004) and the sixth record for Yorkshire as a whole, the only record away from the East was at Potteric Carr, in South Yorkshire in spring 2010.
American Coot
One has to wonder if the wintering if the American Coot on the Outer Hebrides, at Loch nam Feithean, Balranald RSPB, North Uist has read the script yet ~ still present on 10th, this infrequently reported 1w bird really ought to be thinking about a little white tail feather and departing anytime soon ~ early to mid-April is a "traditional" time for previous vagrants here to take their leave and track there way northwest.
Britain's first and second American Coots were both found in mid-April (at Stodmarsh on April 16th 1996 and South Walney on April 17th 1999) so these may have been birds from the continent that were on the move and stopped off (and were discovered) here.
Ireland (and the Western Palearctic's) 1st-ever American Coot left County Cork on April 4th 1981 and eight other accepted birds here have chosen a departure date in the window between April 3rd-18th to leave their chosen wintering grounds (from Galway and Mayo, to the Highlands, the Hebrides and Shetland.
Northern Harrier
There's little left to say about the handsome male Northern Harrier that has completed a second winter on North Ronaldsay (Orkney) and he was still in no immediate hurry to depart just yet, still present as the new week began on 5th and seen again on 8th and 10th. Any day now he'll be off and hopefully, he'll head for somewhere far safer than an English or Scottish grouse moor.
Or maybe travel isn't on the agenda, as the new BBRC Work-in-Progress file that was linked online last week, offers up news of a submission of what is presumably the same male at an undisclosed location on Orkney from mid-April to mid-June last year. Either way, Orcadian heather or somewhere else to the north, either would hopefully be far less lethal than drifting south to be illegally culled and butchered on our mainland uplands, where manicured estates have free reign to have gamekeepers do whatever they want, whenever they want, behind the protective shield of their electric fences, armorial gates and moneyed elite ~ from Parliament to the Palace ~ the blood of persecuted birds of prey drips slowly from their regal finger tips.
Petitioning Parliament and those same unpleasant right-wingers or writing noble books is all well and good, but those fine intentions are getting harriers nowhere. An immediate campaign for direct action genuinely feels like the only option and a desperate last resort ~ there are organisations out there who'd take up the challenge.
Pied-billed Grebe
Still alive and kicking this week, the fine Pied-billed Grebe that remained at Loch Feorlin, near Minard (Argyll & Bute) through to at least 10th. Until he ventures further a field it seems as though we're on for the occasional update every once in a while. It is though nice to know he's there though.
Hudsonian Whimbrel
Whilst still on our lists and whilst still an exceptionally rare Nearctic shorebird vagrant here, we'll doff the cap to the still-present Hudsonian Whimbrel that started off yet another week in and around Boat Cove NT (Cornwall), on station to at least 8th (there was negative news on both 9th and 10th).
This bird has spent some 15 months or more (off but often than not, on) around the Mount's Bay area and it feels as though he or she isn't really going to leave now.
Allen's Gallinule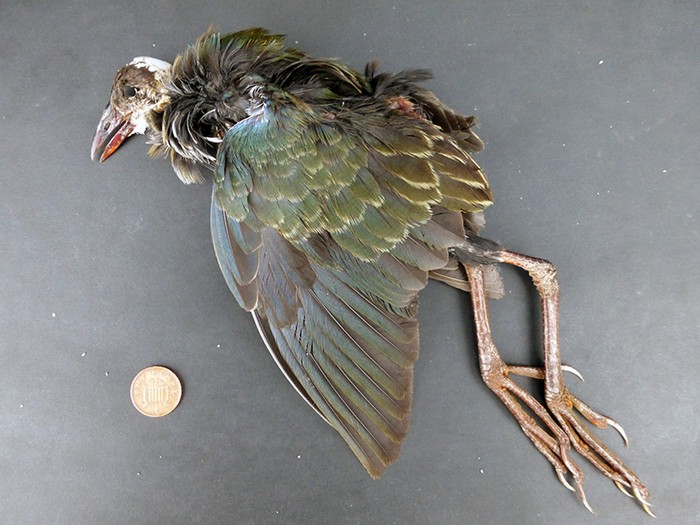 Finally some fascinating news of Britain's third Allen's Gallinule ~ sadly found dead and slightly chewed on the far-flung St. Kilda (Outer Hebrides) on March 26th. It is almost impossible to say how long the poor thing had been dead for, but judging by the sinewy appearance of the body and the general good plumage condition, probably not more than a few days.
Quite how a bird from tropical Africa found a way to St. Kilda is a wild one to contemplate but somehow it did and guess work would suggest that it must have been pretty knackered and borderline moribund when it touched down.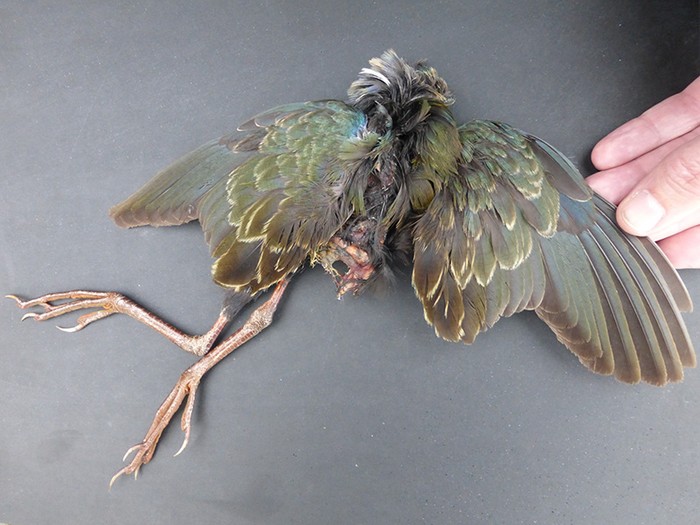 The previous British records of this rather diminutive waterbird are both well known to many readers; on the first day of January 1902 one was famously caught on a fishing boat at sea off Hopton (Norfolk, then Suffolk) and then 100 years on came the second, the sickly, exhausted juvenile found on Portland (Dorset) on February 10th 2002, which lasted barely anytime at all on dry land before succumbing to the inevitable.
There was little change by way of the week's White-billed Diver situation. Ahead of the weekend, there were four singles noted, lone adults on 5th remained off Burghead (Moray) and Portsoy (Aberdeenshire) while the recent bird seen at Eoligarry, Barra (Outer Hebrides) was also noted on 5th too (and was still there on 10th).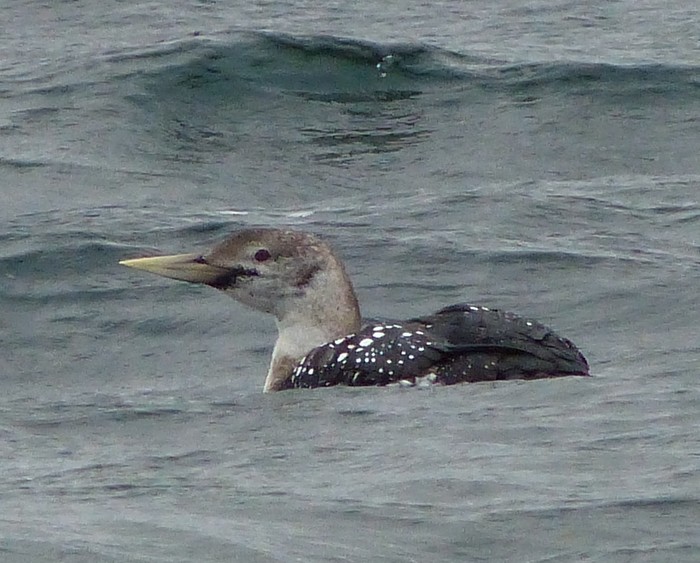 New was one at North Wick, Papa Westray (Orkney) on 6th, we await news from South Ronaldsay to see if this is another relocation for the week ~ yes, still there on 8th-10th, so two for Orkney this week. The tail end of the weekend offered up three close together White-billed Diver along the coast of Moray and over the border in Aberdeenshire, two were at Cullen and another near Sandsend on 9th.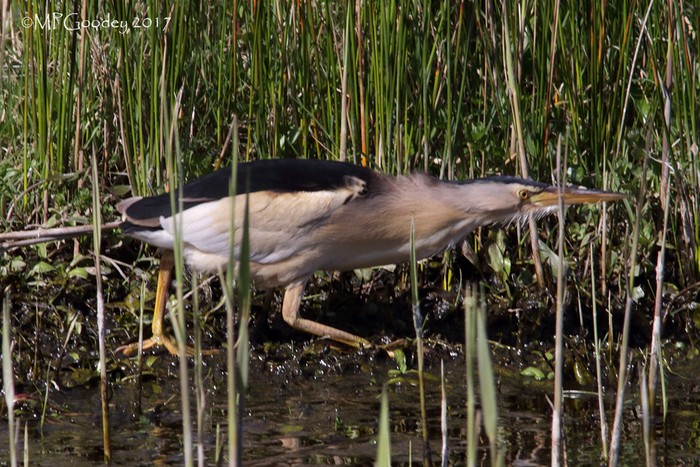 Last week's fine male Little Bittern that touched down on Scilly as the review drew to a close moved from Lower Moors to Porth Hellick on 5th where he shared the stage with two adult Purple Herons, birds which had originally alighted at Lower Moors. Both birds remained around the island until 10th (presumably last week's St. Agnes bird was actually a new individual and they teamed up on St. Mary's) and one remained to 11th (having been declared dead at one point it did a suitably Easter-y resurrection thing by coming back to life again later in the day).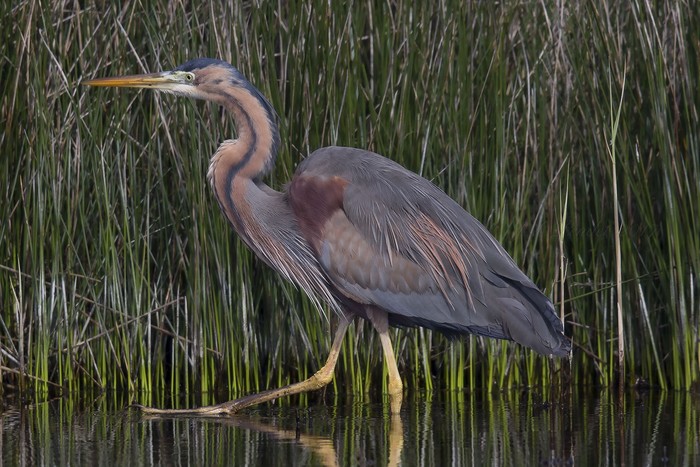 Also expected around this time of year is Night Heron but the cracking find of an adult at Venus Pool NR (Shropshire) on 7th was a surprise only in the fact that it wasn't on Scilly or in Cornwall or Devon. This is the first county record since January 2004 that bird was also seen at Venus Pool with the bird of 2017 in place only until 8th.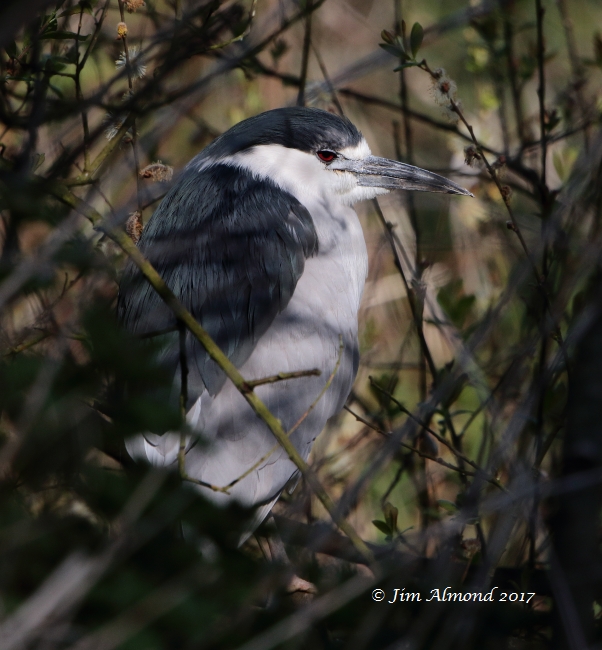 Despite the onset of spring, Cattle Egret remains a fascinating and significant part of the round-up, as this week's hefty haul of 178 birds in 19 counties in Britain and Ireland testifies to (only down slightly on last week's little upward spike).
As has been the case through the last couple of months, the southwest dominates, 101 birds noted in the region's four counties but there's been a distinct push away from Cornwall and Devon recently and this week sees a wide spread of records. Dorset led the way with 29 birds noted, including 13 at Radipole Lake RSPB on 8th with six still at Litton Cheney on 5th. Devon and Cornwall both logged 26 birds through the last seven days; the former county hosted 10 at Noss Mayo on 6th with eight still at Totnes to 6th and six were at Seaton to 7th. Cornish birds included sevens for the Camel Estuary on 7th and Maer Lake, Bude on 9th. Somerset saw numbers rise, 20 birds noted including an impressive 11 at Chew Valley Lake on 9th and eight were around the Somerset Levels from early in the week.
There's every hope that we may see at least some of the above finding themselves within a southwest herony somewhere soon and get down to business.
Ireland also kept hold of a decent selection of birds, 14 were still at Tacumshin (Co. Wexford) to at least 8th and 11 of Cork's 18 were around Carrigaline to 5th. Waterford hosted eight and new was one in Wicklow.
Eleven Cattle Egrets in the northwest were all in Lancashire (seven lingered at Freckleton), while nine were seen in four southeastern counties. Seven of Wales' eight birds remained at Malltraeth Marsh RSPB (Anglesey) to 8th. After that it was seven for the Midlands and one in the northeast.
There was the tiniest shuffle of the Glossy Ibis pack this week, courtesy of the shift across the border of the adult that has spent some while at Ely (Cambridgeshire) ~ that bird was in place in the cathedral city until 5th before reappearing just a few miles away at the Lakenheath Fen RSPB reserve (Suffolk/Norfolk border) the following day, where it stayed to 10th. Also (presumably) on the move was the singleton in Essex, appearing at Abberton Reservoir on 6th then Old Hall Marshes RSPB on 8th.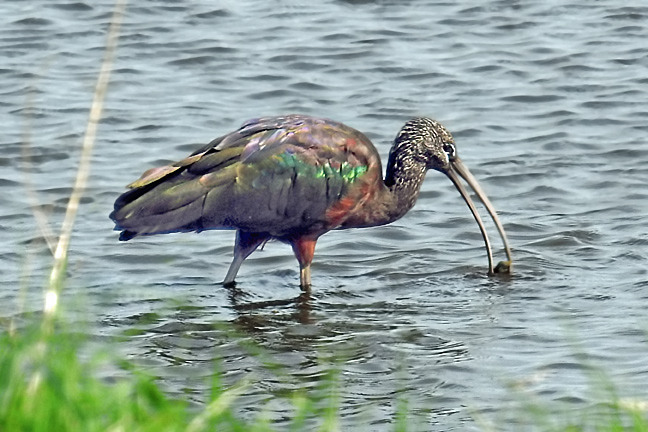 Elsewhere, the week started much as last week had concluded. At least two adult Glossy Ibis lingered on the Somerset Levels throughout the week (in the company of a huge dog otter too!), the first-winter was still at Cossington LWRT (Leicestershire) to 10th and one flew over Merstone (Isle of Wight) on the same date.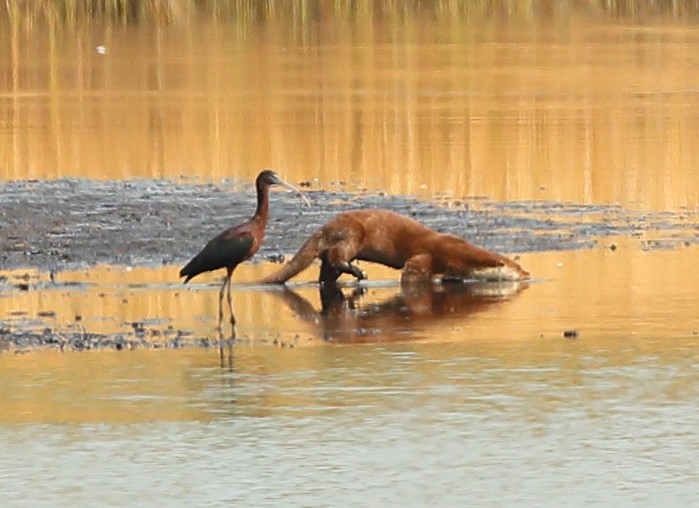 Spoonbills were dotted around England and a bit of Wales throughout the week primarily in ones and two but with three still at Wrafton (Devon) ahead of sunny weekend with an inland duo heading over Thrapston (Northamptonshire) on 8th. Some 18-20 were noted in all this week.
A very quick squizz at Great White Egrets (yes, they shouldn't be getting a mention, I can't help myself) suggested almost three times as many records as Spooners, some 50 or so noted including a four at Meare Heath on 6th with a further Somerset three at Chew Valley Lake at the start of the week. Further trios were still at Welney WWT (Norfolk) and Leighton Moss RSPB (Lancashire) ahead of the weekend.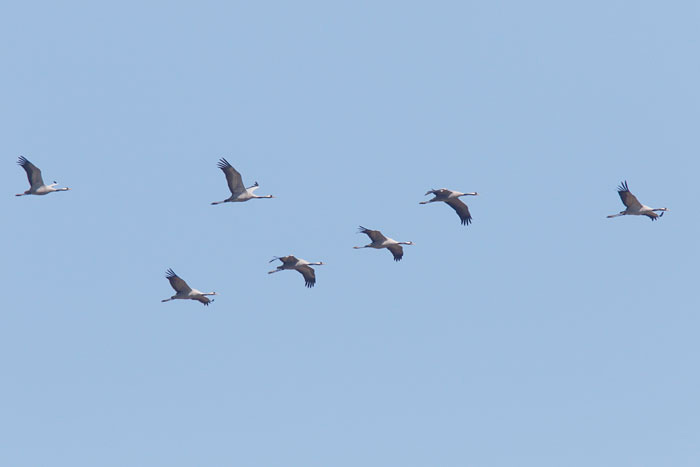 A couple of weeks ago, a flock of seven Common Cranes toured west and then back east and southeast over north and west Norfolk; this week what may well be the same extended family party of seven did a similar sun-induced flight over the north coast, seen over six or seven different sites through the day, from Sheringham to Stiffkey, before returning over Cley, Kelling, Aylmerton and off to the Broads where a flock of 13 were seen at Horsey on 10th, with four more at Heigham Holmes the same day.
Another Norfolk single was at Aylmerton earlier in the week, on 6th, while further up the east coast, a lone Crane pottered around Northumberland on 9th. Other singles were at Swanage (Dorset) on 8th, still at Lakenheath Fen RSPB (Suffolk/Norfolk border) to 9th and over Minsmere RSPB (Suffolk) on 11th while two flew across Carlton Marshes (Suffolk) on 10th. Out on Cambridgeshire's Nene Washes, seven birds lingered at Eldernell.
Sounding like a broken record, it is those pesky East Anglian "OUO" White Storks next, two of which were seen over Fakenham (Norfolk) on 6th with one there the following day (the hand of the local collection at Pensthorpe feels as though it may be involved here but that's with no evidence whatsoever and someone else can make the call to ask if they've free-flying ones).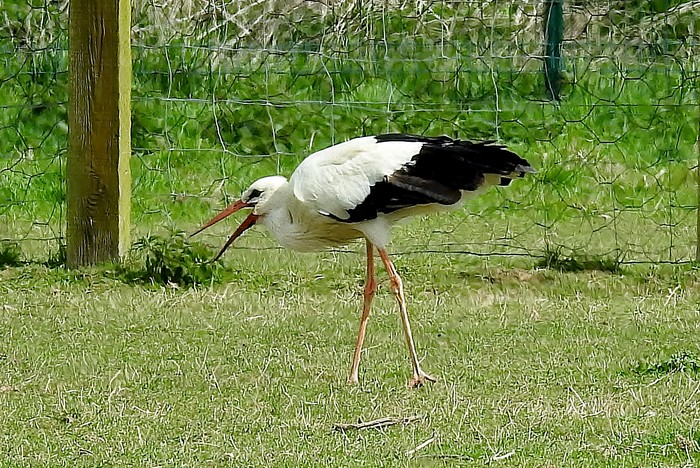 In Suffolk, this week's White Stork spent a few days near Sudbury on 5th-8th and then moved towards Yoxford on 9th on the grand tour of the county, five sites and counting now. The green-ringed rehabilitated and reintroduced bird was in Leicestershire this week and a red-ringed bird was in the Broads while another (maybe from Suffolk) circled the A12 in Essex on 10th. As to where the two birds that were reported over Wallsend (Northumberland) were from is anyone's guess, maybe they're real.
Two adult Black Brants started off the new review period at Easington (East Yorkshire), present there on 5th whilst further down the east coast, the recent regular remained at Frampton Marsh RSPB (Lincolnshire) to 9th.
No surprise to see that the drake Black Duck was still at Strontian (Highland) on 5th and 10th, he'll be off making some more cute little hybrid ducklings quicker than you can go "quack".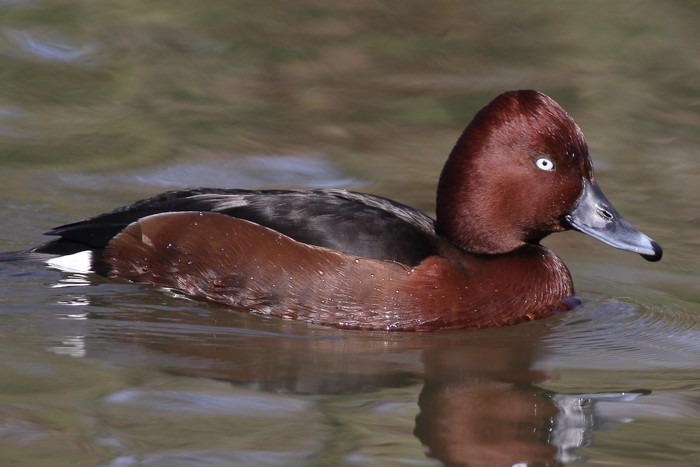 On Orkney, the drake Lesser Scaup was still on Loch of Boardhouse, Mainland until 7th while in northeast England, the drake Ferruginous Duck continued to draw some attention to himself now that he's departed the WWT reserve at Washington again, still present and often showing well at Silverlink Park LNR (Northumberland) from 5th-8th before deciding to keep the captive White-headed Ducks company back at Washington WWT on 10th.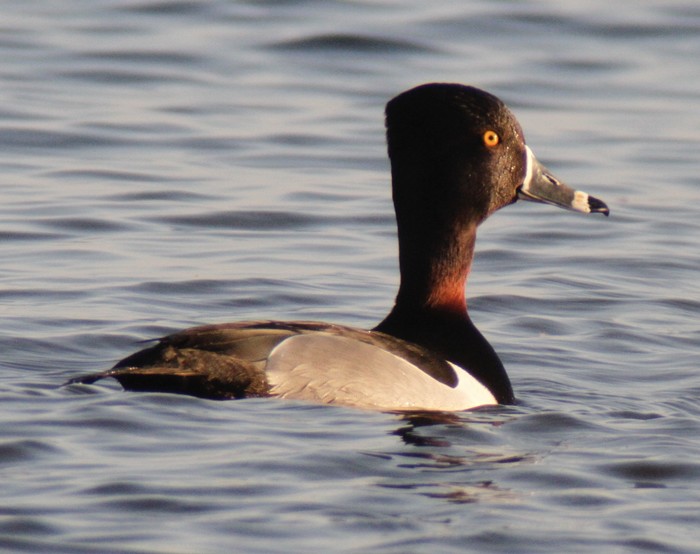 Taking in the familiar south Wales Aythya route was the drake Ring-necked Duck that appeared at Cardiff Bay Wetlands NR (Glamorgan) on 5th; this is presumably the same fine looking bird that was seen at Cosmeston Lakes at the end of last month and remained in the capital until 10th.
A further six Ring-necks were logged through the week; lone drakes remained at Loch Shiel near Acharacle (Highland) to 5th, near Pitlochry (Perth & Kinross) to 8th, Union Hall (Co. Cork), Hauxley NR (Northumberland) to 9th with both the Dungeness drake and equally long-staying female at Paxton Pits (Cambridgeshire) were on station to 10th.
We're on three American Wigeon now; the first-winter female remaining at Holt (Worcestershire) through until 6th, a new drake found out on Breydon Water (Norfolk) on 9th and the old man of Udale remained in Highland to 10th.
Ahead of a weekend when birders were spread far and wide finding things, there were five drake Green-winged Teals to report. New on 5th was a bird that had actually been present since late March, at Loch a'Roe, North Uist (Outer Hebrides) with a second new arrival found at Shannonbridge (Co. Offaly), only the third record since the start of the 2000's and the first since 2006. The third new male this week was found at Loch of Skene (Aberdeenshire) on 8th (although it is actually most likely to be the bird from the Ythan last week) and it may even have been the bird that then showed up near Dunecht on 10th. The fourth fresh find this week was at Ellemere Port (Cheshire) on 9th.
One of last week's newbies was still on the pools at Burham Norton (Norfolk) to 9th while regulars from further back lingered in Lytchett Bay (Dorset) to 8th, on North Ronaldsay (Orkney) and at Loch Gruinart RSPB, Islay (Argyll & Bute) to 9th. The final one for the week was still in Ballysadare Bay (Co. Sligo) to 11th.
Three Saturday Surf Scoters were mentioned on 8th ~ lone adult drakes logged at Fisherrow, Musselburgh (Lothian), Largo Bay (Fife) and Gleninagh Quay (Co. Clare).
In Highland, the drake King Eider drifted from Fort George on 5th to Whiteness Head (some three miles to the ENE) by 7th.
<!—Section Title -->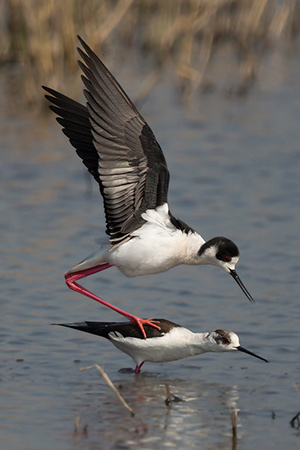 Essex has already hosted at least two Black-winged Stilts of late and the sunny, bright morning of 8th brought a further delivery to the RSPB reserve at Vange Marsh, when a flock of four was found, rising to 6+ by lunchtime, quickly becoming the largest group noted in the county, the single count from the 22 accepted Essex records until now was five at Hamford Water in September 1968; two Stilts remained at Vange on to 10th and the inevitable copulation was already taking place.
The seventh Black-winged Stilt for the week was located at Elmley NNR, Isle of Sheppey (Kent) on 10th and the eighth arrived at Meare Heath (Somerset) on 11th.
Discussed and flagged up not so long ago was the expectancy of the year's first Kentish Plover making an appearance and a classic second week of April arrival was right on cue for the male found at Breydon Water (Norfolk) on 9th (there was a nice triple-header for the site that day). It is the first record at Breydon since August 2010 and only the fourth anywhere in the county since then. He was still on site the following day as well.
The Shetland Killdeer was at Sandwick, south Mainland to 5th and there was no surprise if there was "no sign" news posted after that; April is a good month for vagrants to appear here, there are at least 10 records within the month, so employing the same logic would suggest that it is a great month for a wintering bird to leave Shetland. Next stop Faeroes, Iceland or Norway.
Another wintering favourite that must surely be on the way soon is the Lesser Yellowlegs that remained at Lytchett Bay (Dorset) to 5th with fresh stock coming courtesy of bird at Laugharne (Carmarthenshire) from 7th-11th, it was interesting to note a straight line northwest from southwest England to west Wales but that theory went right out the window when the Dorset bird was noted again on 9th-10th.
Nice Lesser Yellowlegs at Laugharne this morning. Found by Roy Kinchin on Friday. Thanks for informing Carms Bird Club about it. pic.twitter.com/W34U2vFtRw

— Gary Harper (@carmsbirder) April 9, 2017
Ireland's Long-billed Dowitcher stuck it out at Tacumshin (Co. Wexford) through until 11th while re-appearing for the first time in almost three weeks was the Temminck's Stint at Branston GPs (Staffordshire) on 10th.
New in Wales was the adult Bonaparte's Gull that appeared at Llangorse Lake (Powys) on 7th, a fine new addition to the county avifauna and another new bird in what has been a decent little run of this transatlantic traveller.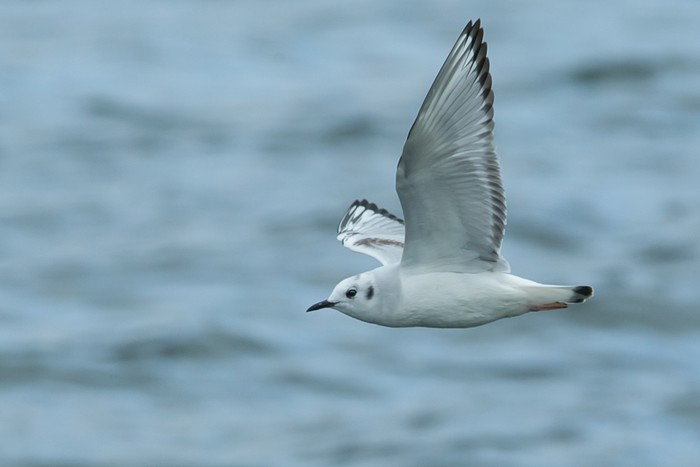 The second fresh find this week was the first-summer that appeared at Farmoor Reservoir (Oxfordshire) on 8th, remaining to 11th. All four previous county records have also been at Farmoor and all of them spring birds heading through the centre of the country (this one looks not unlike the recent Devon bird). Those other Oxon acceptances came in May 2000, April 2007, May 2007 and April 2009.
Another impressive and somewhat unexpected discovery was the adult Ring-billed Gull that spent a few minutes at Upton Warren NR (Worcestershire) during the early evening of 7th. This is a classic time for vagrants to shuffle around (as the BRT has proved) and gulls are prime examples of being located at unexpected sites during April and May. This, if accepted by the county records committee, will be the first Ringo record for Worc., since an adult was seen at Throckmorton at the every end of 2009 and in to the first couple of days of January 2010.
Other Ring-billed Gulls this week included two birds in consecutive days on Cornwall's Hayle Estuary, the near-adult again on 5th and a first-winter on 6th, a first-winter still at Tralee Bay Wetlands (Co. Kerry) on 6th-9th, a lingering adult at North Bull Island (Co. Dublin) on 7th and a first-winter at Kinnegar Shore (Co. Down) on 9th.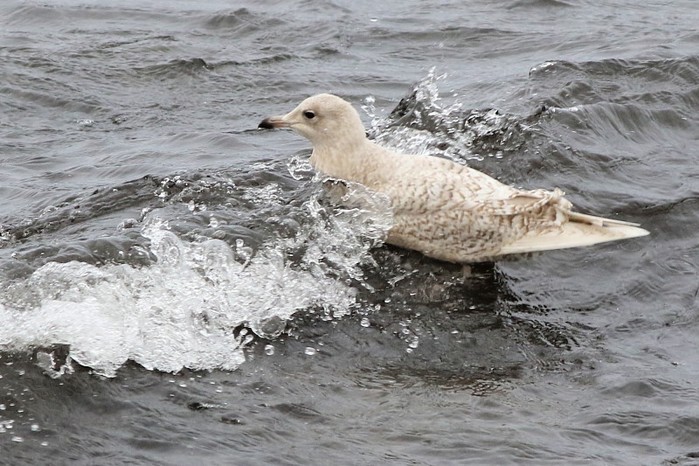 Numbers of Iceland Gulls this week barely moved from seven days ago, 95 noted in 35 British and Irish counties with Scotland and, in particular, the Outer Hebrides way out in front with regard to birds logged. The Hebs accounted for around 30 birds, including 10 for Port Nis, Lewis on 6th, from a total of 40 in all for Scotland. England's 28 were well spread, with 10 in the southwest, including three on the Hayle Estuary on 6th while nine were in the northeast. Ireland was next with 23 birds in eight counties, including nine for the brilliant Killybegs in Donegal on 6th while Wales acounted for a further four birds.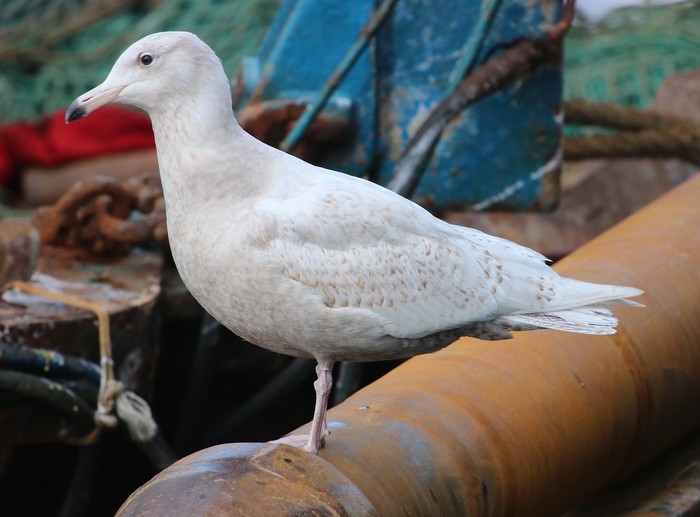 There was a slight rise in Glaucous Gulls figures, up to 56 seen in 25 British and Irish counties, almost half of them in Scotland, with a dozen of those on the Outer Hebrides, including nine at Rub'h Arnal, North Uist on 6th. Four of Ireland's seven were at Killybegs at the start of the week while 10 of England's 19 birds were split equally between East Anglia and the northeast. Wales scored a lowly three.
Right on cue, almost as soon as last week's roundup had gone live online, then what seemed to be the first Black Kite of the year was noted around the Cleadon area of County Durham on 5th with a second following later the same day over Coryton (Essex).
A suitably bright, sunny and very clear skied April 6th had the feel of a raptor kind of a day on the East Anglian coast and there was no surprise to hear of a third Black Kite within 24 hours, this one drifting high over Minsmere RSPB (Suffolk). This is a county which has the Wrentham rogue to bear in mind, that known escape was seen on several dates through the week, so the local records bods may be in an unenviable position when adjudicating on the Minsmere bird. Real deal or Stork-esque duffer?
An earlier Kite record was reported near Meltham (West Yorkshire) on April 2nd but news only came to light on 5th and towards the end of the week, one was seen at Birchington (Kent) on 10th.
On the Outer Hebrides, what is most likely the same, elusive white Greenland Gyrfalcon was seen again on Lewis on 8th, heading along the shore of Loch Stiapavat towards Habost.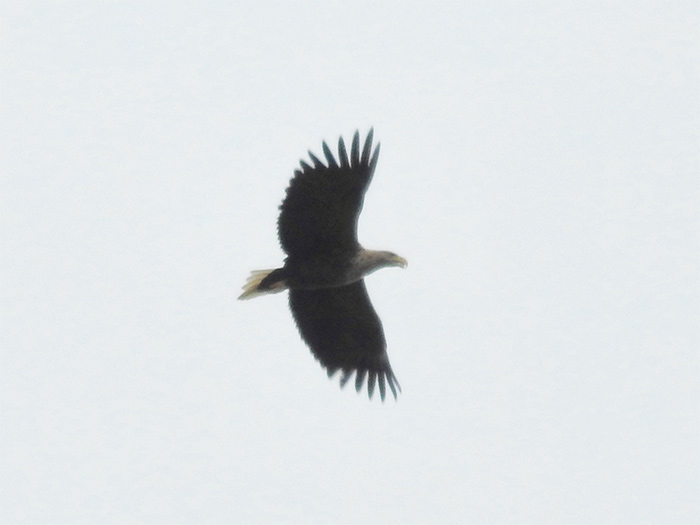 An adult White-tailed Eagle was noted heading over near Knaresborough (North Yorkshire) on 11th ~ perhaps the same one that roamed south to Norfolk recently? ~ while one of two departing Rough-legged Buzzards was noted in the same county, at Helmsley on 6th with the other at Shildon (Co. Durham) on 8th and these were the only other raptor records of note this week.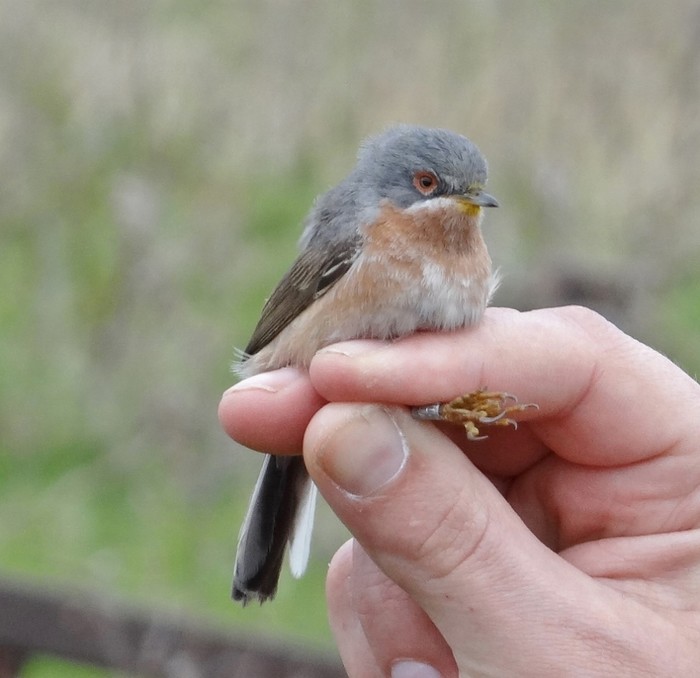 Right on cue, the east coast sunshine brought out the first Western Subalpine Warbler of 2017, found along Spurn YWT (East Yorkshire) on 6th, a nice early date for almost anywhere on the North Sea coast with the (sub-)specific identity confirmed when the bird was trapped and ringed later in the morning of discovery.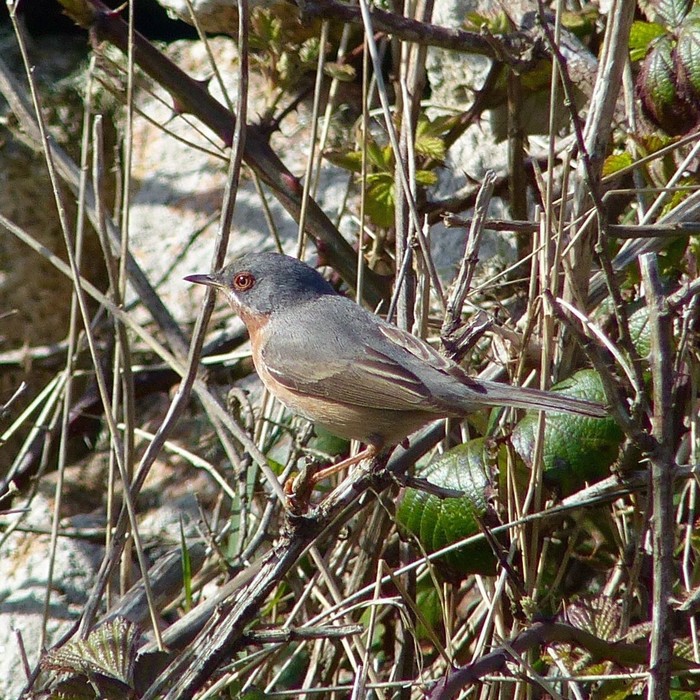 The second Western Subalpine Warbler of the week arrived on Scilly's sunny Sunday, found on St. Agnes on 9th and remained to 11th.
The start of the new week saw two Cornish Woodchat Shrikes still in situ from the previous seven days, present at both Kynance Cove, Lizard and to the south of Cot Valley until 5th and 9th respectively while two new singles made an appearance in the county on 9th at both Tregeseal and near Predannack, Lizard. The fifth of the week was the bird found at Brownstown Head (Co. Waterford) on 8th, which was still present to 11th.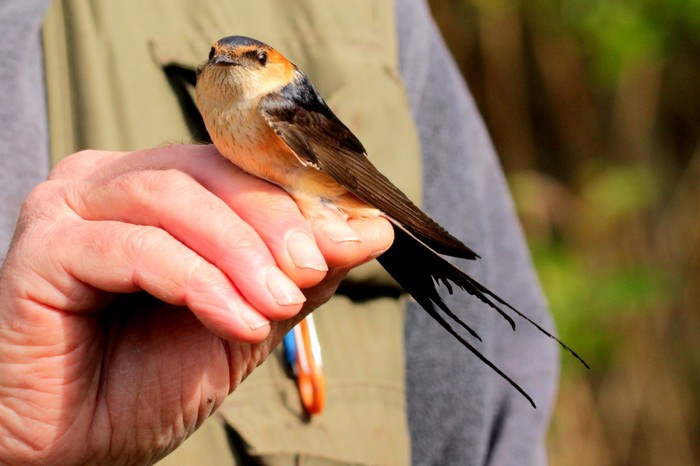 Also on 8th, and not that far away along the Irish coast, an Alpine Swift was seen along Rosslare Backstrand (Co. Wexford), late in the day, the only record this week while that warm 9th saw Cornwall secure a Red-rumped Swallow for a short while at Penberth. The following day, a busy Scilly captured another (literally! How many 'rumpers have been trapped and ringed here?) at Porth Hellick, St. Mary's with the week's third seen along the coast of Northumberland, at East Chevington NWT and then over Druridge Pools, also on 10th. What may have been the trapped bird from St. Mary's was on Tresco on 11th with the fifth of the week drifting northwest over Kilnsea (East Yorkshire) the same day.
Despite the cool north wind ahead of the sunnier and much warmer weekend, there was a nice little arrival of new Serins; three were found on 5th, heading over Hayling Island (Hampshire), with males noted at Weybourne (Norfolk) and in the Nanjizal Valley (Cornwall) with the fourth in 24 hours appearing at New Passage (Gloucestershire) on the morning of 6th ~ the first in the county for aeons. The next day saw a morning bird head west over Reculver (Kent) and what was thought to be the same bird, a female, was relocated at Hayling Island on 7th-8th and the second Norfolk bird of the week was reported heading over Titchwell RSPB on 9th.
Short iPhone-scoped video of the Turk's Head Hoopoe this evening - a day we've seen Hoopoe, PurpleHeron, RedrumpedSwallow & SubalpineWarbler pic.twitter.com/AMgqhQNf0G

— Steve Williams (@SteveOnHilbre) April 10, 2017
Norfolk's next unusual passerine migrant was the Hoopoe that flew over the main A149 coast road, to the east of Cley village near Walsey Hills NOA on 7th but it couldn't be relocated. The second of the week was seen to come "in-off" at Lizard Point (Cornwall) on 8th and the third was on Scilly, on St. Agnes on 9th. Also new around the far southwest were a couple of Wrynecks; one on St. Martin's on 10th was seen close to the Rock Thrush while the day before saw another pop up in the Nanjizal Valley (Cornwall).
The first three days of the review period yielded four Yellow-browed Warblers; still in place were birds in the northwest at Chester (Cheshire) and in the Midlands at Telford (Shropshire) with southwest action coming from the singing male that remained in gardens at Exmouth (Devon) for the week, and a new bird at Trethewey, near Polgigga (Cornwall) on 6th. Last week's bird in the gardens of Mount Gould, Plymouth (Devon) remained to 9th.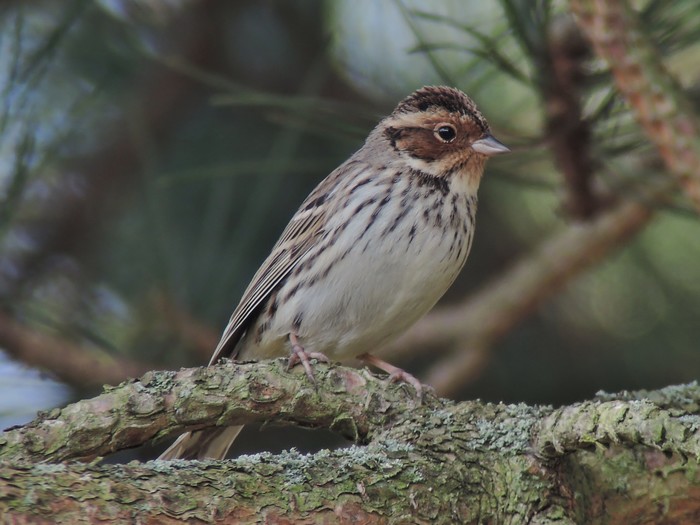 Dorset's wintering Richard's Pipits were both still around Abbotsbury to 6th and new was one reported at Breydon Water on a cracking April 9th for the site. Also in Norfolk over the weekend, a Little Bunting was photographed at Lynford Arboretum on 8th.
It had to happen at some point and this week heralded a significant departure of wintering Great Grey Shrikes, only 14 or 15 noted in 11 English and Welsh counties.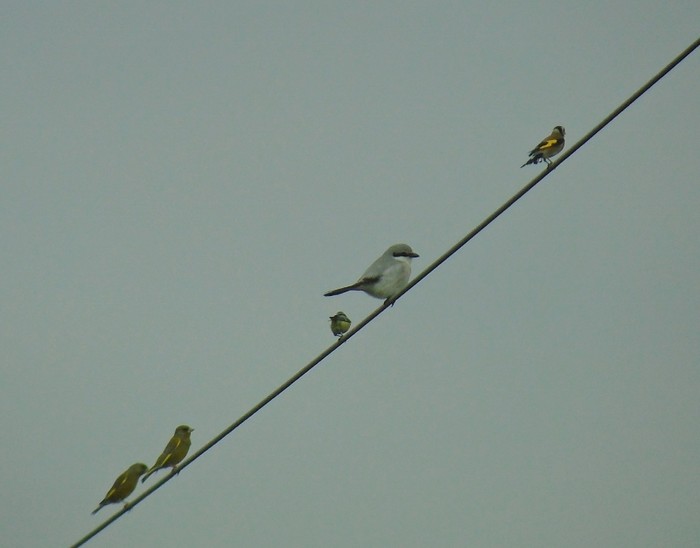 Four lingered in southwest England, at Aisholt (Somerset) to 6th, still at Soussons, Dartmoor (Devon) to 7th and at Verwood and Morden Bog (Dorset) to 9th. Moving north, a couple were still around the Midlands, at Hawling (Gloucestershire) and Swallow Moss (Staffordshire), both to 5th while at least five (maybe six) were in the northeast of England, including three Great Greys in North Yorkshire, remaining on Fylingdale Moors to 6th, Langdale Forest to 7th and near York to 9th with one or two along the Spurn Peninsula (East Yorkshire) on 7th. Another for the region was loitering in the Harwood Forest (Northumberland) to 5th. The final English bird was at Sparham, near Lyng (Norfolk) to 5th and last up, two Welsh shrikes at Cross Inn Forest (Ceredigion) on 7th and still around Lake Vyrnwy (Powys) to 9th.
Falling by around 60% this week were Waxwings ~ well over 2600 were logged last week, the past seven days has seen just over 1000 noted as birds head back towards Scandinavia and Russia.
Wales (0) ~ 0… Ireland (0) ~ 0… SW (3) ~ 3 in Gillingham, Dorset on 7th EA (42) ~ 29 seen in Ipswich, Suffolk on 8th Scotland (130) ~ 57 remained at Elgin, in Moray on 5th NE (151) ~ 30 noted in Leeds, West Yorkshire on 6th SE (174) ~ 66 still around Tufnell Park in London on 5th NW (241) ~ 62 at Longridge, Lancashire on 7th Midlands (437) ~ the week's largest flock, 80+ seen at Mansfield Woodhouse in Nottinghamshire on 10th
Lastly, it was interesting to note the appearance from 4th-8th (reported nationally on 11th) of another yellow variant House Finch this one seen at Haverigg (Cumbria). Many folk still feel that the Cornish (then Devon) male, who turned from yellow to red over the space of a few months in 2010 was harshly treated by the BOURC, apparently falling down on Category A placement by the narrowest of margins.
There've been a couple of yellow males since (excluding this one) so maybe the BOU will see that as vindication of their decision, but there's a significant difference in feel-good factor between a bird at Land's End and one in a garden in Surrey or Norfolk ~ and don't forget, this week's individual appeared just three days after the Slate-coloured Junco some 115 miles away in Borders.
Time for a review methinks.
The new week began with news that the elusive first-winter American Royal Tern still hadn't given up the ghost on Guernsey just yet, present on 5th at Jaounneuse Bay and again in Belle Grève Bay on 7th. Dorset and Hampshire still aren't on this one's radar just yet.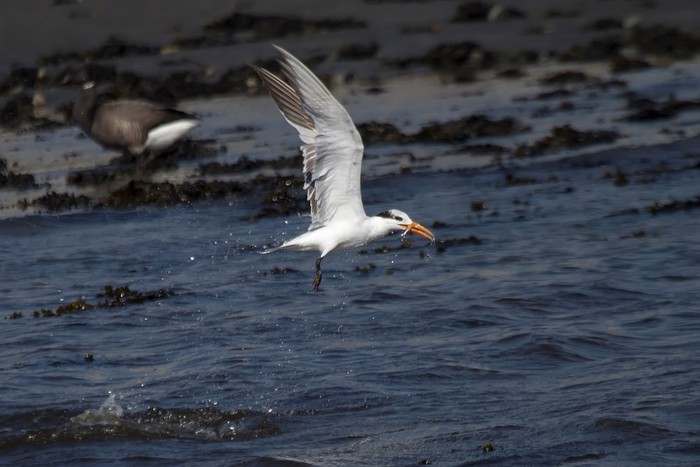 Not too far away, also off the French coast and daring to make an open sea crossing was the pale phase Booted Eagle that flew north (towards Cornwall…) over Ouessant, Finisterre on 8th ~ you know the debate that's coming (if anyone can be bothered).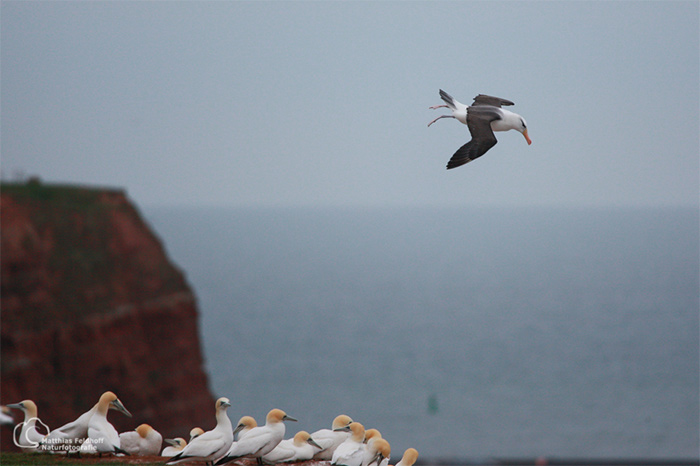 An old Western P. favourite was back on the radar for 2017 on 5th too, the adult Black-browed Albatross returning for another German summer to the cliffs of Helgoland, Schleiswig-Holstein. It was mooching around by the end of the week, seen again on Sylt on 10th. This renowned wanderer has been in place each summer since 2014 and had taken in numerous countries on his Euro-tour, including at least two here of course, popping in to Minsmere and Fair Isle in the last two years.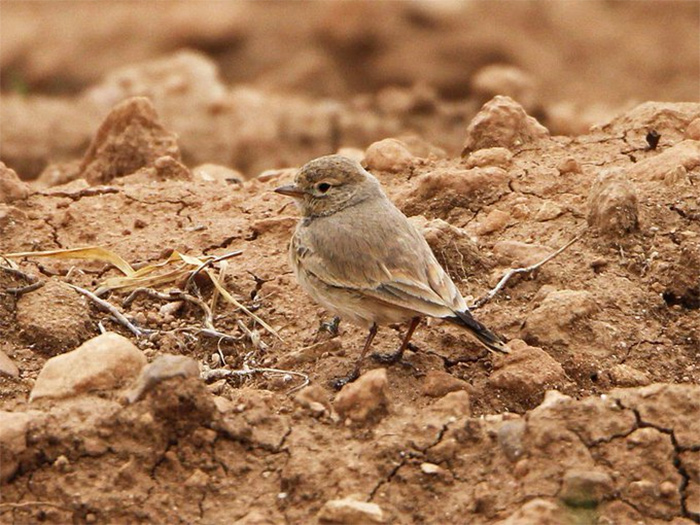 Birders on Cyprus were enjoying themselves this week, the island's first Desert Finch was found at Cape Andreas, Karpass on a busy 5th and it was followed on 7th by Bar-tailed Desert Lark at Cape Drepanum (around the 6th record) and reports of three Blue-cheeked Bee-eaters at Cape Greco on 8th.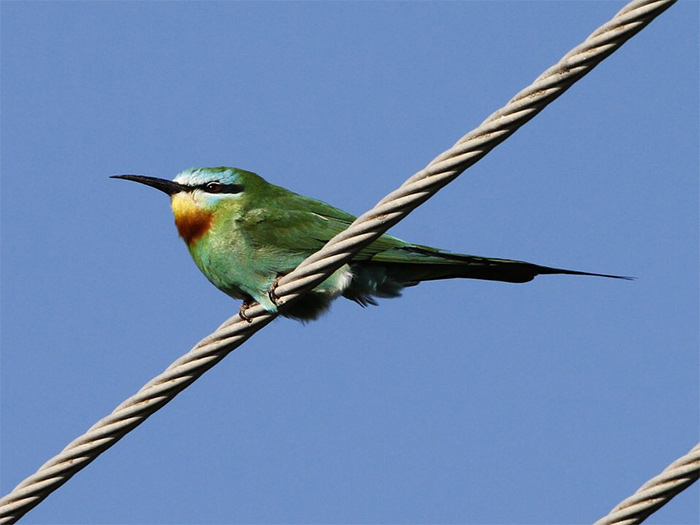 Spain also got in the mega Merops act, scoring a nice, early 9th record for the country Blue-cheeked Bee-eater at Tahivilla, Cádiz on 7th and another followed on the Canary Islands, at Puertito, Fuerteventura on 9th; what's going on with that species so early in spring?
The Netherlands has been a busy nation of late and the first bird of note this week was the long-staying Blyth's Pipit that was at De Biesbosch, Noord-Brabant through to 10th with what is presumably the same wandering Lammergeier was seen in the east of the country, at Rijssen, Overijssel. Over the border in Belgium, also on 10th, a Black-shouldered Kite arrived at Destelbergen, East Flanders (if this one carried on west, it would hit Folkestone)…
An interesting national first popped up on the Faeroes this week, a Bewick's Swan photographed at Heimara Hálsavatni on 6th while another cool waterfowl record came from Poland's Baltic coast, where a drake Black Scoter was photographed at Kuznica on 8th (the 8th record for the country).
Other oddments included the Azores' sixth Red-rumped Swallow on São Miguel on 9th with the same day seeing Israel's ninth Pink-backed Pelican show up at Neve Eitan, Bet She'an Valley.
The coming week…
The sometimes long and winding road in to the heart of springtime can sometimes feel as though it is taking an eternity and after far less warming southerlies than we'd all be looking at to enliven the lengthening days of April, it does seem, occasionally, a little like hard work.
We're still in the early part of the spring and there's going to be a whole heap of action in the next 8-10 weeks, so bide your time and at some point you'll forget all about the slower days of late March and early April as the rarities get better and better as the hours tick by.
The little burst of exceptionally warm, summertime spring weather faded as quickly as it appeared and all the indications are that the holiday weekend ahead will be cool, showery, perhaps breezy and decidedly northwest-ish in terms of where the weather's coming from.
Mid-April is actually quite an odd one ~ big rares, the ones that will make the heart skip a beat, are very thin on the ground but that isn't to say that there haven't been a few that would draw a crowd now…
Popping up again this week, especially given the weather is a Nearctic species that would definitely cause a commotion if it was to show itself anytime soon ~ Song Sparrow has only been seen here seven times and three of those were April records; one was touched on last week and here's another, a male was trapped and ringed on Fair Isle on April 17th 1979 and spent almost three weeks on the island (appearing in the second week of June at Sumburgh). Shetland's other record of the species was also on Fair Isle, Britain's first record appearing on the island at the end of April 1959.
Maybe you'll just have to wait until April 2019 for another chance on a northern isle?!?
There are only a couple of April White-throated Sparrow records (generally if they appear in spring they come later) but who knows, it does feel as though there's something in the offing from the west. And don't forget that the end of last April saw the surprise appearance of the Woolston Eyes White-crowned Sparrow. Never discount the Nearctic.
Shetland birders have, in more recent times, enjoyed a quite spectacular looking Hooded Merganser, arguably one of the best ones to date in Britain or Ireland, found on Unst on April 15th 2006 ~ the chances of a really rare duck moving north this week are decent (don't forget that lovely male Bufflehead found in West Yorkshire on April 12th 2004).
We may have already missed the primary April window for Short-toed Treecreeper (three of the month's four accepted records have fallen within the first week of the month) but Dungeness has managed one mid-April one, trapped in 1984 on the 15th. It feels as though another one is due, records having eased notably in the past decade, just four in all (not that they have ever been anything other than exceptionally rare, but they seemed to be more regular once upon a time). Anyway, Dungeness still seems odds-on for one sooner rather than later.
An unusual shorebird is on the cards as birds move across the Western Palearctic, finding their bearings after a winter somewhere well to the south and a range of options for potential finds in the week ahead range from American Golden Plover and Stilt Sandpiper to Greater Yellowlegs and even Greater Sand Plover; Norfolk's first record appeared on April 17th 1981 (Devon's first was also an April record too, later in the month in 1988).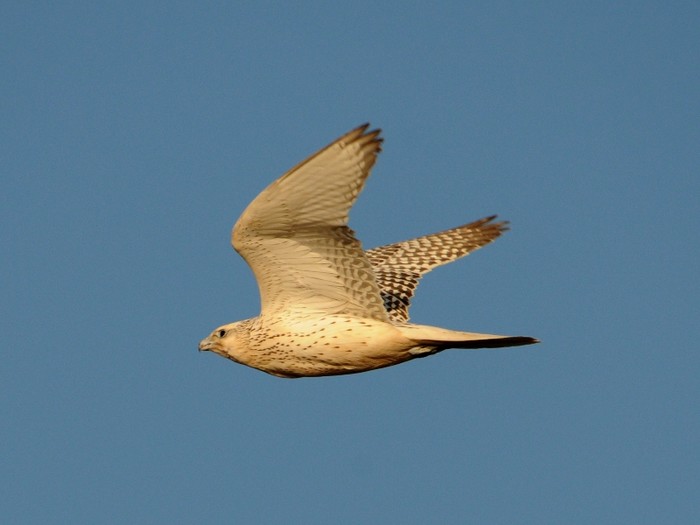 Smart money for the week ahead can look at a diverse range of species, from Gyrfalcons to Great Spotted Cuckoo (as ever, weather depending) with the increasing chance of further new rare herons growing every day, Squacco being top of the list now, while the options of rarer passerines centre on warblers…
Who knows, this time next week we may be discussing a newly arrived Savi's or Great Reed but chances are (if it hasn't happened already this week! Hmmmm, it has…) it will be Subalpine Warbler (spp.) that will be popping up somewhere along the south coast of England or Ireland (yep, undone again, but hey, there you go).
Before we cared overly about Western, Eastern or Moltoni's there had been at least 26 records across the seven days ahead prior to removal from the Rarities List 12 years ago; a quick rummage shows a further 16 or so since then, mainly Westerns ~ so birders on the Lizard, Portland Bill, Carnsore or Brownstown Head are in the box seat to find one…
…and if all else fails, there's the habitual April stand-by prediction to lob in to the mix, step forward Alpine Accentor; we're on eight records for the month and, interestingly, there's a little run on the species across the last three or four years and two were found on April 13th last year of course, in Hampshire and Norfolk (two of three seen in spring 2016). Four of the last five (since 2014) have been April birds, so the stage is set…if only the weather would play the game.
Mark Golley
12 April 2017
Share this story
Tweet


Many thanks to all contributors for their photos and videos this week.
George Kinnard, Ian Curran, Lawrence Pitcher, Peter Brooks, Andrew Jordan, Graham Etherington, Martin Goodey, Kris Webb, Will Scott, Bob Flood, Gaz Robinson, David Carr, Simon Spavin, Will Miles, Barrie Hamill, Joe Pender, Jim Almond, Jeff Hazell, Michael Trew, Steve Gantlett, Anthony Williams, David Dack, Graham Smith, Graham Stacey, Neil Hughes, Gary Harper, Roger Wyatt, David Cooper, Mark Whorley, Dean Nicholson, Steve Williams, Bill Macdonald, Denise Rendall, Hugh Harrop, Dave Andrews, Matthias Feldhoff, Gavin Horsley, Chris Upson, John Kemp.