The Collared Flycatcher in Easington, East Yorkshire, 11th May 2019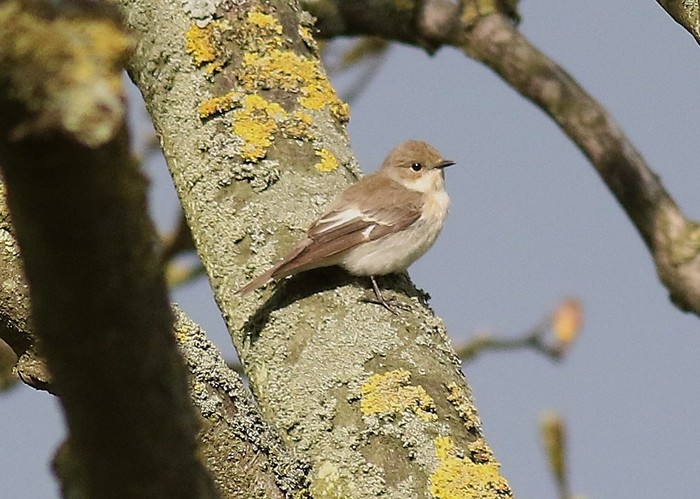 From Steve Webb:
I started early, birding various sites in the Kilnsea/Easington area for migrants. The day looked promising as the first paddock at Sammy's Point held Black Redstart, Redstart and Spotted Flycatcher. I then moved on to Easington Cemetery. It's a site I do not check out that often because the trees are so high and it's often too windswept. However on the 11th it was calm, so worth a look.
The first bird I saw was a female Ficedula flycatcher. What immediately caught my eye was the amount of white at the base of the primaries, almost reaching to the wing-edge. It was clear that this was either a hybrid Pied/Collared, or a Collared Flycatcher - or perhaps a Semi-collared!! At Spurn we communicate by 2-way radio but my radio battery was flat. So I rang John Hewitt, just after 0900, to inform him that I had an interesting flycatcher and could he put it out on the radio. Not having a decent camera I waited nervously for others to arrive with cameras. Just after I spoke to John the bird went missing. When reinforcements did arrive the bird was still missing. After a few more tense minutes it was then relocated by Paul French. With the camera shots it quickly became clear that it was not a Semi-collared. The rest of this article was written by Paul.
Paul French writes:
After John Hewitt put out over the radio Steve's news of a female Ficedula showing a lot of white in the wing, myself and Georgia French were the first to arrive at the cemetery. I relocated the bird high up in the canopy, and my first thoughts were that this was not going to be easy! The amount of white in the wing, while clearly greater than a normal Pied, was not the huge club I was hoping for. Also, the bird did not seem overly grey, and was not as striking as many female Collareds that I see on a semi-annual basis. This was going to be a job for the camera, so I set about trying to document it as best I could, while grabbing views of it at regular interviews to check the field appearance. As the crowd slowly gathered, I had built up a few instructive shots and was checking them on the back of the camera. It looked good, and the extent of white in the primary bases including a white spot at base of P5 was particularly supportive, but with no literature to hand I posted a few "boc" shots to the local Whatsapp group. Responses from Tim Jones, Jack Ashton-Booth and Adam Hutt were all very encouraging, and the news was put out as a possible. After watching it for a wee while longer, I decided to head home and analyse my pictures. It was quickly obvious that this bird showed many convincing features of Collared Flycatcher. With the Ficedula there are rarely absolutes, but I felt confident enough to put the news out to the locals that it was a Collared, and recommend that it be put out to the bird information services as such. There will quite rightly be questions against this bird, and I attempt to answer these in the captions to the photos below.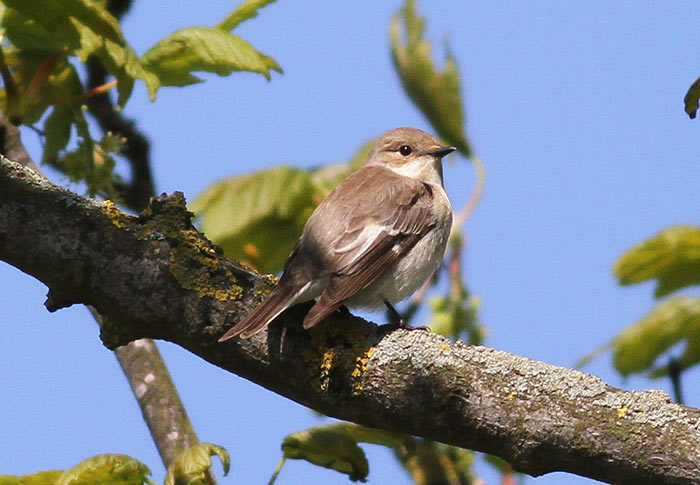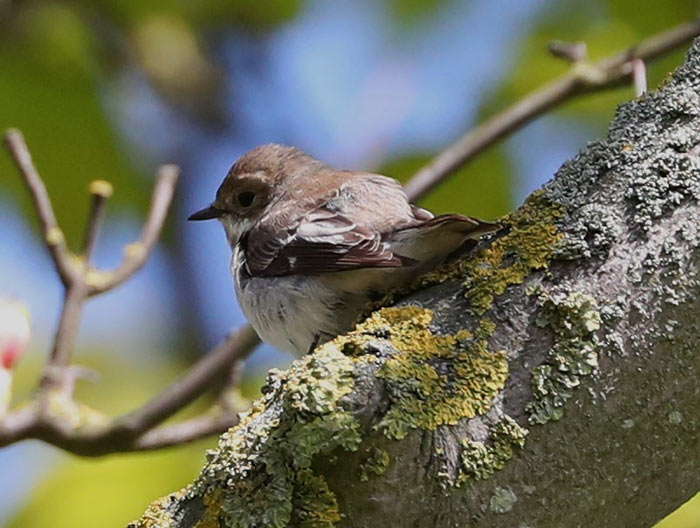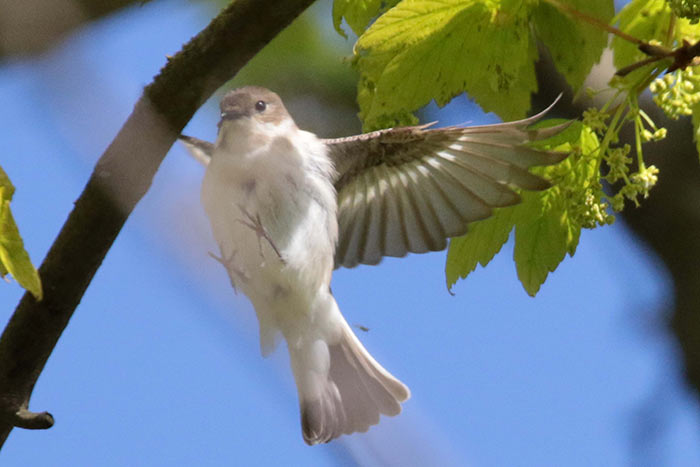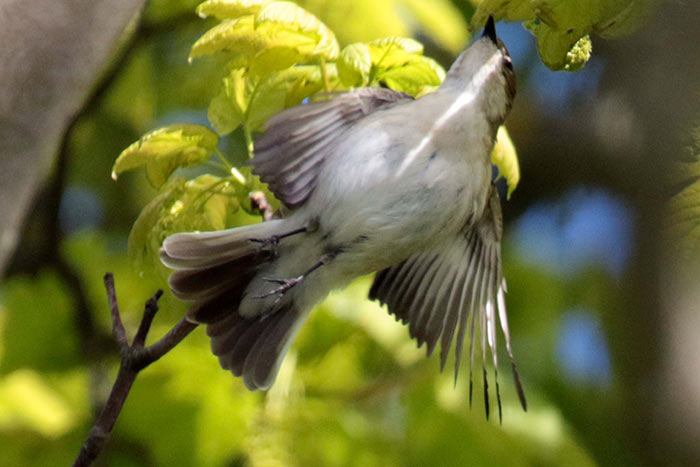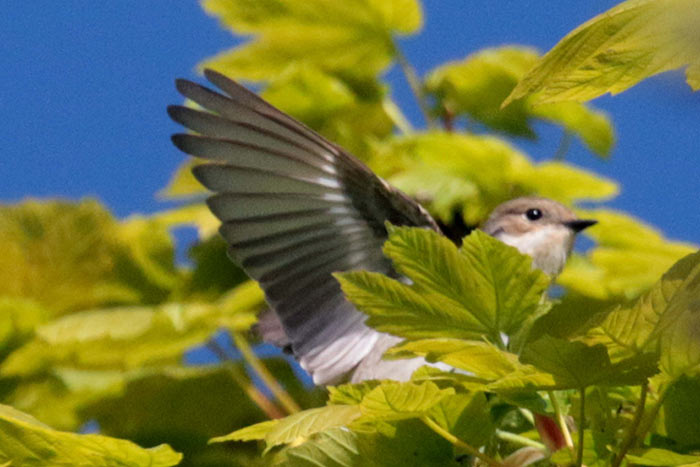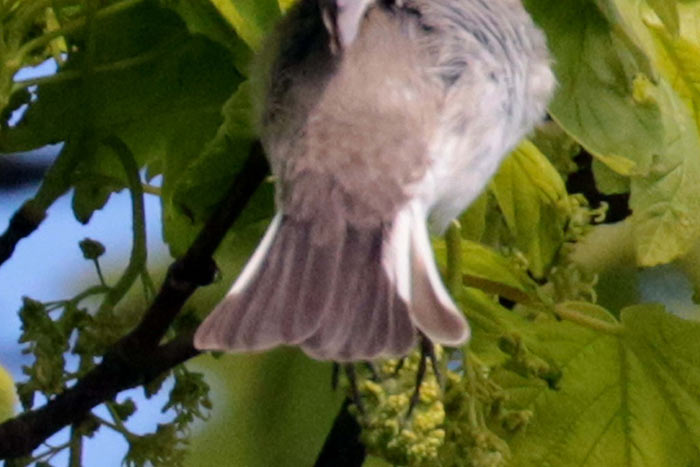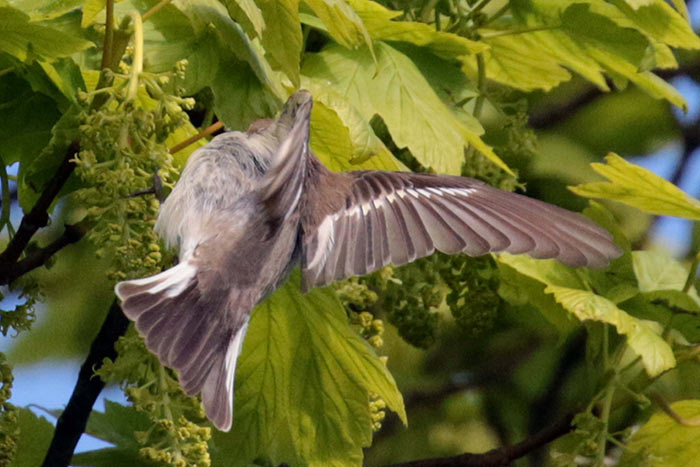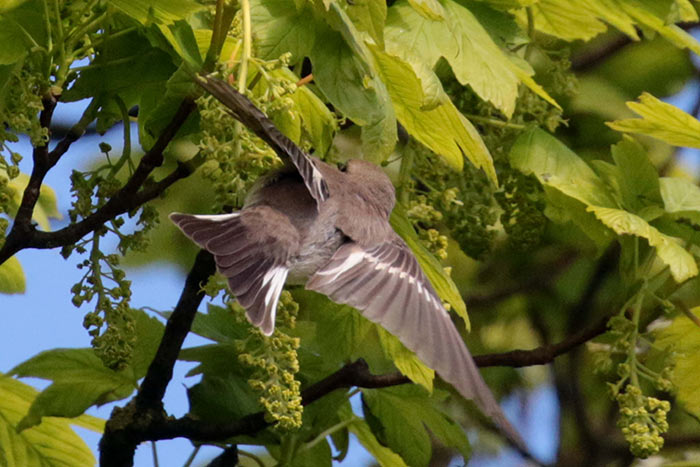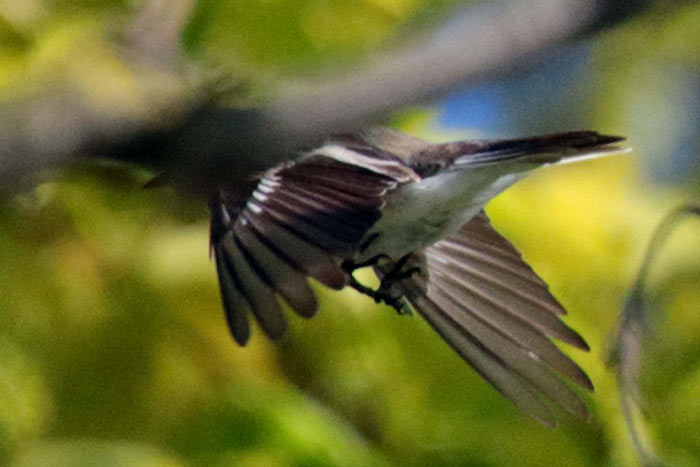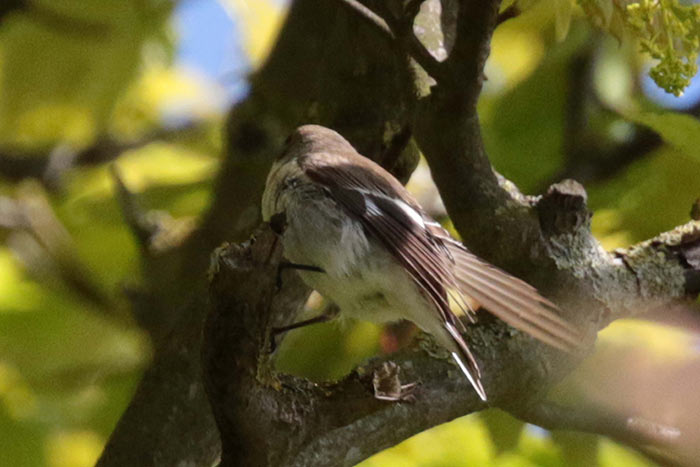 Unfortunately there was no call heard, but Mild (1994) states that hybrids may call like either of the parent species, or even alternate between Pied's "pik" and Collared's "heep" calls, but they are never anything in between. Which means that even if a Collared-type call was heard, it wouldn't necessarily rule out a hybrid.
In summary, the brownish mantle is still within variation (Mild, 1994), and the restricted moult in the tertials may also be within variation, and these are the only real negative points that may indicate hybridisation. However, the combination of number, size and pattern of white spots at the base of the primaries, tertial pattern, tail pattern, uppertail covert colour, tail colour and moult, length of P2, rump colour and indication of a pale collar all point, in my opinion, to this being an acceptable Collared Flycatcher.
Acknowledgements
Thanks to Stephen Menzie for extensive comments on the ageing and identification of this bird and on a first draft of this text. Also thanks to Jack Ashton-Booth, José Louis Capote, Andrea Corso, Marcel Gil Velasco, Tim Jones, Jason Oliver, Roni Väisänen and Noam Weiss for comments and prompt feedback on this bird.
References -
Duivendijk, N. 2011. Advanced Bird ID Handbook. New Holland, London.
Mild, K. 1994. Field identification of Pied, Collared and Semi-collared Flycatchers. Part 2: females in breeding plumage. Birding World Vol 7 p231-240
Shirihai, H. & Svensson, L. 2018. Handbook of Western Palearctic Birds. Volume II. Passerines: Flycatchers to Buntings. Helm.
Svensson, L. 1992. Identification Guide to European Passerines. BTO.
Steve Webb and Paul French
14 May 2019
Share this story
Tweet