The Azores: Birding on Corvo in October 2019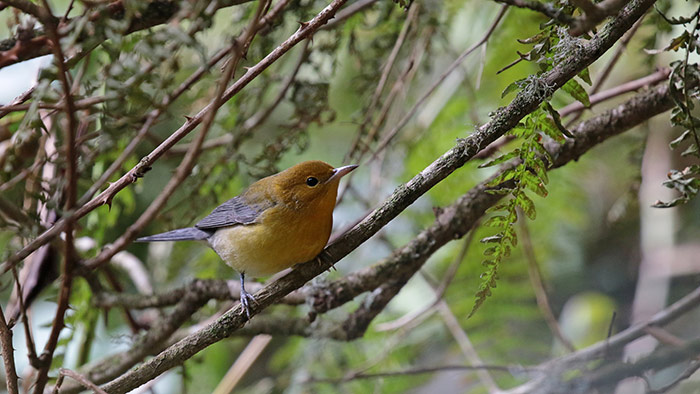 Like many European birders, I first heard of Corvo from Peter Alfrey's trail blazing 2005 trip there (Alfrey, 2005) and had a strong desire to visit there "one day". Well, that day finally arrived on Oct 5th this year, and with three weeks booked on the famous isle, I was looking forward to what the autumn would bring. Going slightly earlier than most birders meant I knew that the chances of finding something myself would be higher, although the peak arrival for Yanks is a fair bit later. However, the weather gods had other ideas! Hurricane Lorenzo ripped its way north through the central Atlantic, passing right over the central and western Azores. Thankfully, Corvo escaped major damage, and this was a repeat of the track Hurricane Orphelia took in 2017 that resulted in a major arrival of birds on Corvo. While going nowhere near the Americas, both storms had dragged a huge airstream in from the west, and this fast moving conveyor belt had bought the birds back in 2017, would it produce again?
After a dismal attempt at finding the endemic Priolo (or Azores Bullfinch) in an ill-advised quick search in strong winds and low cloud on Sao Miguel, I was sitting in Ponta Delgada airport waiting for my flight to Corvo with trepidation as one delay morphed into two delays, then the bombshell hit. A WhatsApp message from James Lidster informed me that there was "Prothonotary Warbler on Corvo, first for WP. Good luck Frenchy". To say my jaw hit the floor is an understatement, there was the mega of mega American warblers, almost within reach. Corvo had received the golden cloaked one, and I was almost there. Almost. We eventually got going, but I knew two things. Firstly, we wouldn't get to Corvo until late, with maybe an hour or so of light. Secondly, I had no real clue where to look! I had a broad map of the island and could see the ribeira it was in, I even saw it from the air on the way in to land, but these ribeiras are big areas with lots of vegetation. I decided to wait.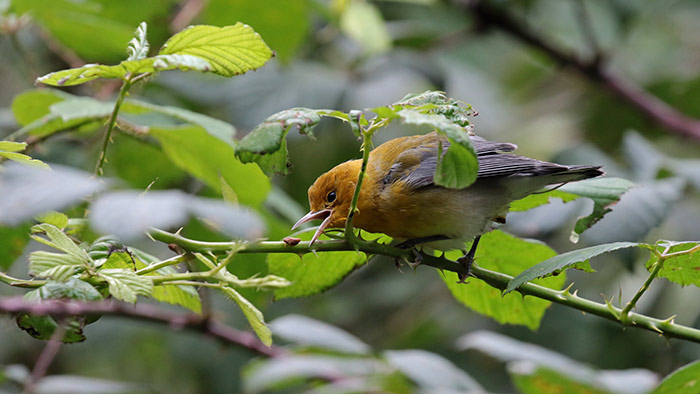 At breakfast I met Jean-Pierre Jordan, the finder of the Prothonotary, and we headed up to Ribeira da Cantinho. My baptism of Corvo birding was about to begin. You don't walk down these valleys, you scramble. You clutch at trees (some of which are dead and break away in your hand), you slide over huge stone walls, traverse steep muddy slopes and even the occasional dry waterfall! There was no sign of the Prothonotary in its spot from the day before, and I felt a certain growing sense of dread. Making our way down the ribeira, we pished in a Red-eyed Vireo and two cracking Black-and-White Warblers, each twirling their way around the trunks and boughs of the laurel forest. But no sign of the wanted one. Up a neighbouring ribeira and back in to the top of Cantinho, we once again tried in the spot J-P saw it the day before. And suddenly, there it was! A vision of gold moving through the leaves, it circled us, came closer to investigate the pishing, and then after a couple of minutes it flew off strongly further into the ribeira. Smiles and shoulder pats followed, there were now two of us with Prothonotary Warbler on our Western Palearctic lists! I was elated, but the look on J-P's face said everything. There is nothing better than sharing your rarity finds with others, and it had been a blessed relief for him that someone else had seen it.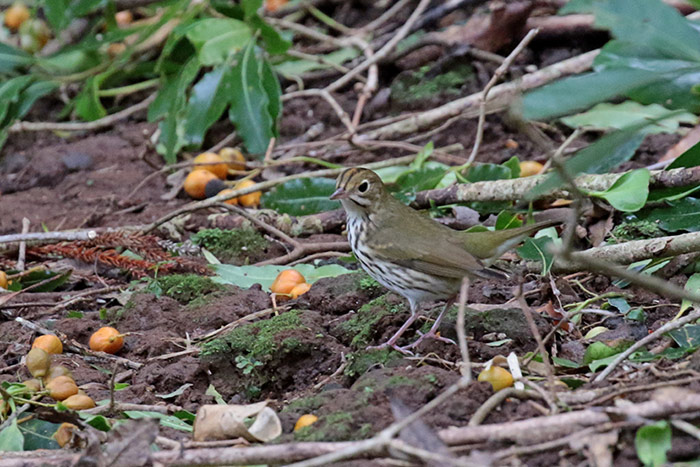 There were clearly birds in, and J-P and I formed a plan for the next day. I was just happy that he was letting me tag along, as I had no idea which areas were the best to try. First up, we entered one of the largest areas of woodland on the island; Fojo. The dense laurel woodland here was broken in the valley bottom by a series of old citrus gardens, and as soon as we broke cover into one of these J-P pointed to our right and exclaimed "Ovenbird!" I just saw it drop onto the floor, and there was a tense few seconds before I could locate it among the leaf litter, but then it paraded around for a couple of minutes before zipping off, deeper into the wood. More elation! One of my most wanted Yanks, but I'd been just off the pace to spot it first. No matter, surely my chance would come. Moving on up the valley, J-P looked over a wall into a secluded glen and exclaimed "Ovenbird!"
What, again!?! What must have been the same bird had circled around us, unseen, and then appeared again in a perfect viewing area. We enjoyed the show for many minutes before it crept off up the valley and we left it alone. It was never seen again. We did manage to pull in a couple of Red-eyed Vireos here, plus a third bird by scouring a couple more ribeiras before arriving back at the hotel. I, the newbie, was shattered. Corvo is punishing when you do the ribeiras, and my legs were shaking. I had to quit for the day, but J-P went out around the Middle Fields surrounding the village. Coming back, his face said it all. He'd seen a warbler in flight, being chased by a Grey Wagtail.
"What do you think it was?"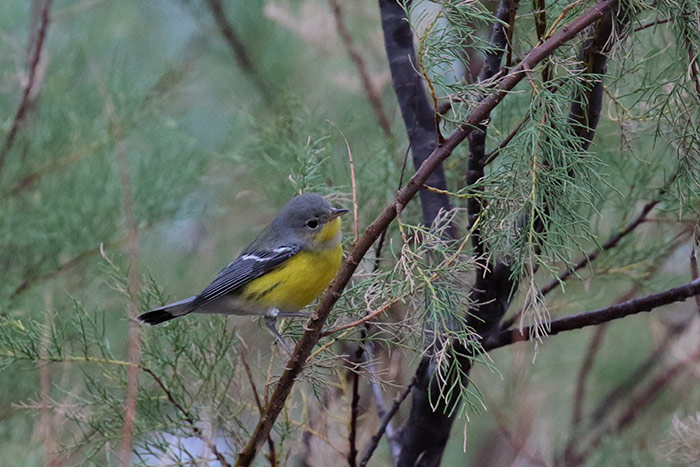 "Probably Magnolia"
"****!"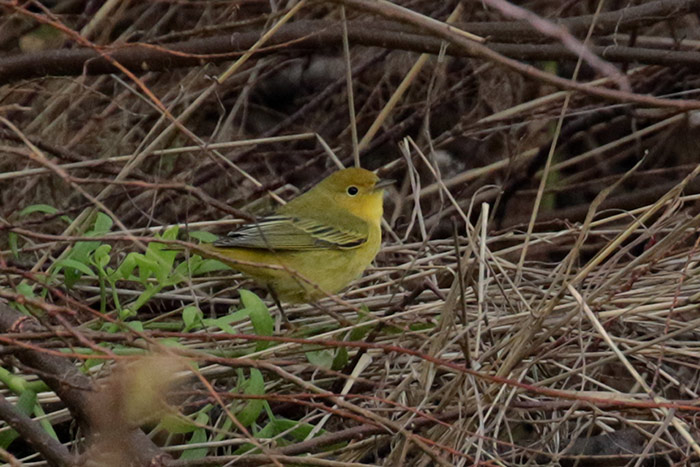 Next morning dawned, and we were out early. On arriving at the tamarisks at Cape Verde farm on the western edge of the village, we pished. After a few seconds, a tiny flash of yellow came darting through the dense tangles and perched up briefly. It was a Magnolia Warbler! It performed well for a few minutes before disappearing back into the tamarisks. We carried on, checking a couple more spots. Suddenly, a distinct "chip" call came from the area we had lost the Magnolia. Surely that must be it. It didn't sound quite right, so we had a quick fire up of xeno-canto and listened to Magnolia Warbler. Nope completely different. Whatever was calling now was not a Maggie. Hurrying back to the original spot, more pishing and another flash of yellow. This time, an incredible flash of yellow! No doubt about it, this was an American Yellow Warbler, and it perched up well for us for several minutes.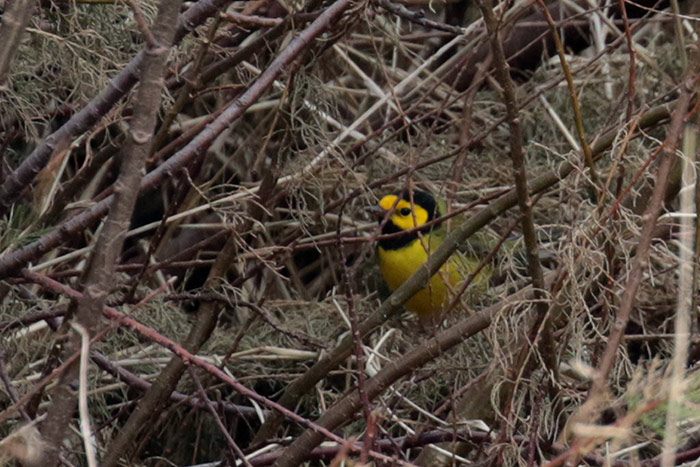 There were clearly birds in, and at times like this, a small amount of panic sets in. There were only two of us on the island, but two more were arriving on the early afternoon flight. What's more, we'd promised to take them to the Prothonotary Warbler site. Time was limited. We wandered down past the airstrip to the lower fields, past the tamarisks at the old pig farm and covered the coastline tamarisks and small crop fields here to no avail. Marching quickly back past the pig farm, J-P caught another flash of yellow, and sure enough it was an American Yellow Warbler again! It wasn't there a few minutes previously, but was it new or the bird from Cape Verde Farm? We took photos and decided to work it out later. Walking quite quickly now to get back to the better habitats of the middle fields, we were walking past the campsite and its tiny hedgerow of stunted tamarisks when I glanced to my left and saw the by now familiar tiny flash of yellow, but somehow this felt different. I put my bins up and was astonished to be confronted with a bright yellow face completely encircled by a gorgeous, thick, deep black ring. "Hooded Warbler, male"!!! It flicked low through the tamarisks, moving so fast we quickly lost it, then relocated it at the back of the campsite. With camera shutters firing, and the bird actively showing all of its quite stunning features, I was starting to become slightly overwhelmed. I would have liked to have spent more time with the Hooded, but it had other ideas and moved into the largest areas of tamarisk, steadfastly refusing to be pished out. Plus we now had to meet the plane.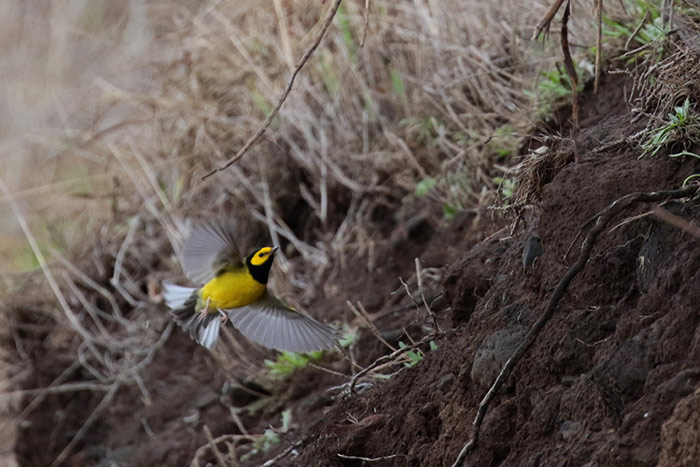 Taking Pierre-Andre Crochet and Mika Bruun up to the Prothonotary was a mixed blessing. It was great that we refound it, and that they saw it. But the bird was clearly on its last legs. In fact, it was so shaky that we thought it would drop off its perch infront of us. It was having huge problems feeding, and was starting to gasp. A very sad sight, and a reality check on the fate of some of our vagrants. It was also a stark contrast to the high octane movements it was showing two days previously.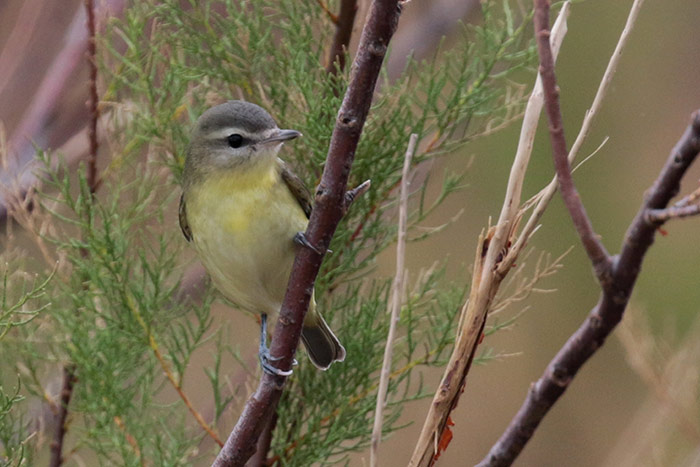 Moving back to the action of the village area, J-P, PAC and myself traversed the slopes above the village and ended up at a large tamarisk clump near the western cliffs. A quick pish and a Red-eyed Vireo came zooming in, and then the almost expected flash of yellow. Craning around the obscuring branches, I was amazed to be looking at a rather annoyed Philadelphia Vireo! It scolded us, but stayed put for a couple of minutes before darting back into the tamarisks.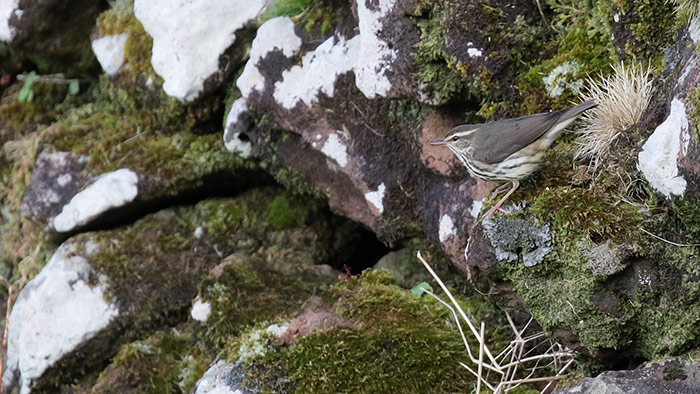 The next day we split in to three teams. Once again, J-P took pity on me and we went up to the reservoir, ostensibly to look for waders and other open country possibilities. There was nothing. Walking the long way back around the rather Shetland-like landscape of the Cova Vermelha with its drystone walls, small stream and roadside gully, a passerine "zicked" its way out of the gully and flew a short way down the track before perching up. Knowing something is going to be rare but not knowing what is a great feeling, those few seconds of endless possibilities suddenly coalesced into a Northern Waterthrush, just sitting there looking at us. Then it was off, zicking all the way to the stream where it actually gave great views. Carrying on down, we met up with PAC just in time for him to find a Black-throated Green Warbler! Meanwhile, Mika had found a Northern Harrier at the north end of the isle. Truly mind-blowing stuff, and I could completely understand what keeps drawing birders here every autumn from across Europe.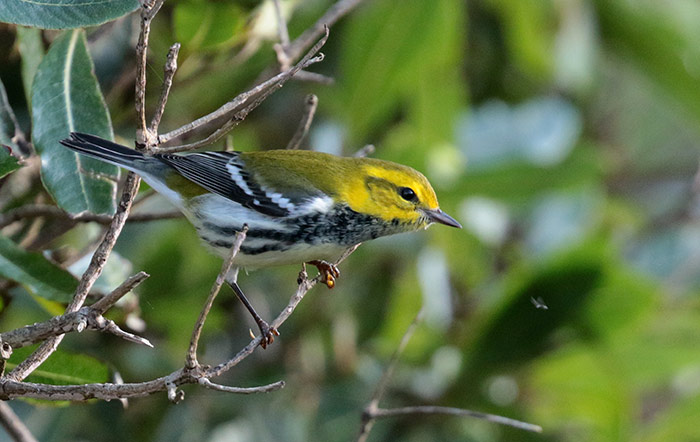 The rest of my trip was a bit quitter. I didn't find much else for the next two weeks, apart from a very smart Hermit Thrush which was a bit of a Corvo mega and high on the most-wanted of most of the birders there. Ironically, I was one of only a couple for whom it wasn't a WP tick, and was probably the only one who kind of hoped it would have been a Grey-cheeked! Otherwise, my highlights were seeing White-eyed Vireo, Northern Parula, Rose-breasted Grosbeak, Indigo Bunting, Northern Harrier and Cliff Swallow, plus of course watching Cory's Shearwaters careering through the village streets at night from the bar's balcony.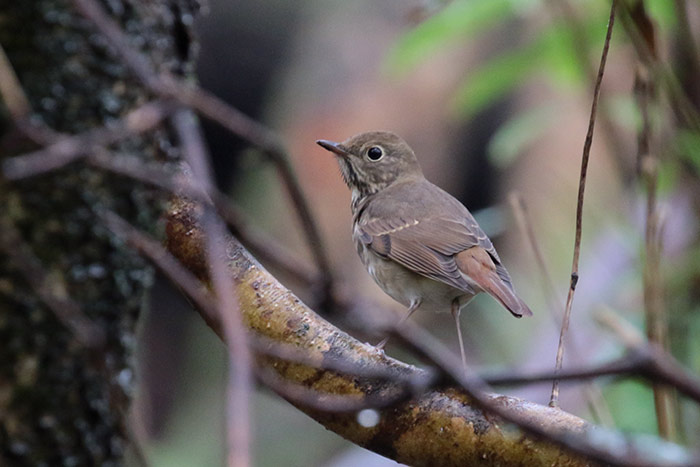 Clearly Corvo will not be every British birders cup of tea, but if you've read this far and are keen on your Western Palearctic list, this is simply a must-visit place. It's thrilling, the regular birders are all very friendly and welcoming, and it's probably your best chance of finding that elusive first for the Western Pal!
Paul French
25 October 2019
References
Alfrey, P 2005. American vagrants on the island of Corvo, Azores, in October 2005. Birding World 18: 465-474.
Share this story
Tweet