The Ultimate Scilly Pelagic
I first went to sea off Scilly on shark fishing trips in 1995. Since those 'early days' I have been to sea off Scilly on pelagics of one sort or another more than 700 times. I thought that I'd seen it all. Wrong!
Scilly Birder Special Pelagics has grown from an embryonic idea into a fixture on the national birding calendar. Rather than passively waiting for birds to come to the boat, attracted by chum on shark fishing trips, on birder specials we go looking for seabirds and other wildlife at known hotspots.
We have had many fascinating encounters with sea creatures as well as seabirds: whales, dolphins, seals, Blue and Porbeagle Sharks, all sorts of other fish, turtles, jellyfish, octopus and squid, bioluminescent plankton, harmful red algae blooms aka red tide, and so it goes on. However, on 3 August 2017, myself, skipper Joe 'shark' Pender, pelagic stalwart Higgo (John Higginson), Ren 'golden balls' Hathway and of the same phenotype Keith 'golden balls' Pellow, budding pelagic tripper Noswad (Bob Dawson), Rob 'bellow' Jones, plus other visitors, were treated to an epic three hours at sea.
The trip began with reasonable expectations since the 'Big 3' (Wilson's Storm-petrel, Cory's and Great Shearwaters) had been off Scilly in very good / record-breaking numbers in 2017. Soon after leaving St Mary's Sound, heading south, we encountered plenty of Manx, which were in unprecedented numbers in Scillonian waters. Continuing on south, we encountered a single Sooty Shearwater while European Storm-petrels lightly peppered the sea surface. It was feeling good.
Then Joe noticed what looked like a feeding group of Manxies some distance to the east, so we set off to check them out. Large shears overtook us, also heading in the direction of the Manxies. Then a smart Balearic Shearwater flew by; known locally as a Hannington Shearwater since both Hanners (Alan Hannington) and Balearics are pot-bellied.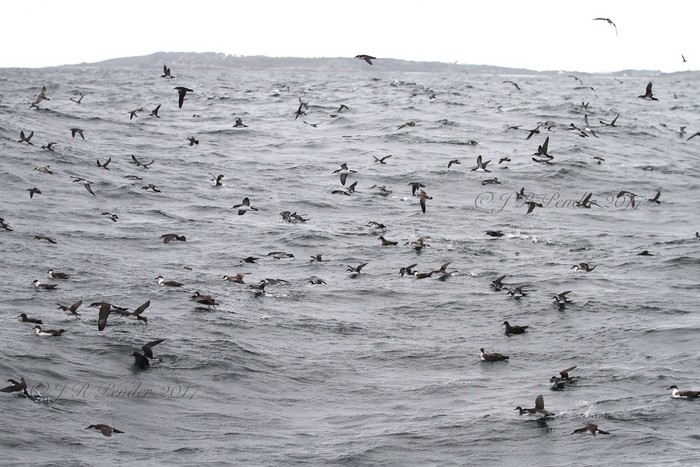 On arrival at what seemed initially to be the focal point of activity, a panoramic scan revealed that we were actually surrounded by activity and we began to realise that something extraordinary was happening. Then the sea started to boil nearby and 1000s of birds including five species of shearwater attacked it from every direction. Manx, Balearic, Sooty, Great and Cory's aggressively fought each other for prime position over the 'boiling' water. This was a feeding frenzy to befit feeding frenzies in the southern oceans.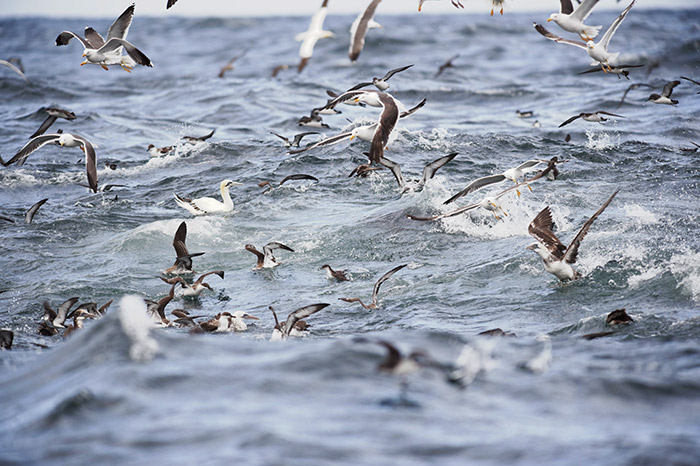 What was causing the water to boil? We are familiar with feeding frenzies of Northern Gannets over feeding dolphins, which in turn attracts some other seabirds, but we had not experienced 'boiling' water off Scilly. It reminded me of equally huge feeding frenzies in the southern oceans involving tuna, but the Bluefin Tuna had been hunted to near extinction in the northeast Atlantic. Could it be that the Bluefin had made a comeback? The question was soon answered when dolphin-sized Bluefins broke the surface of the water and some leapt clear of the water through the middle of the manic frenzy. The boiling water was caused by rounded up fish fry, a 'bait ball', panicking to escape the marauding Bluefins by breaking the water surface as Bluefins swept in again and again decimating the bait ball.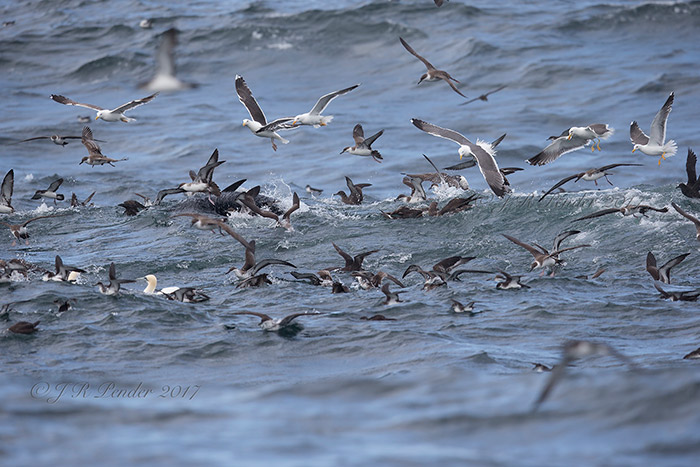 The seabirds were benefiting from this. Shearwaters sat on the sea snorkelling – looking underwater, diving and resurfacing all around us. Some of them flew in and crash-landed in the middle of the frenzy. These shearwaters and numerous other species, including gulls, made a bedlam of a noise.
So, we decided to drift amidst the frenzy, which over the course of the evening stayed very close to us. We dripped fish oil and almost straight away a Wilson's came in, then another, and another, more and more came in and soon people stopped calling them, and then stopped watching them. The ship's counter Hanners was not on board and so we made our best guess at numbers: 15 Wilsons, 750 Great, 250 Cory's, 350 Soooty, 3 Balearic, 3,000+ Manx. It was utterly amazing.
The fantastic brief documentary of feeding Bluefin Tuna shows what was happening beneath our 'boiling' water
Atlantic Bluefin Tuna Thunnus thynnus is threatened due to overfishing and the northeast Atlantic population has been fished to near extinction. In the North Atlantic as a whole Bluefin is classified as 'Endangered'. It's just one more example of the destruction of the oceans and its inhabitants by Homo sapien. The rich, dynamic and systemic world beyond our shores is fast losing its integrity as a whole, because our species rapes it of its resources and dumps millions of tons of harmful waste into it. What goes around comes around. There will be little left in the ocean to feed Homo sapien and what is left will be polluted, e.g. containing plastic, which will then be consumed by humans eating food from the sea.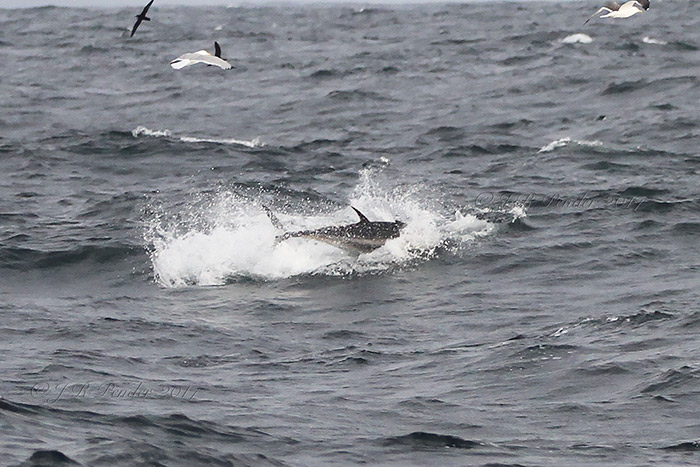 Bob Flood
www.scillypelagics.com
7 August 2017
A selection of other photos taken on the same pelagic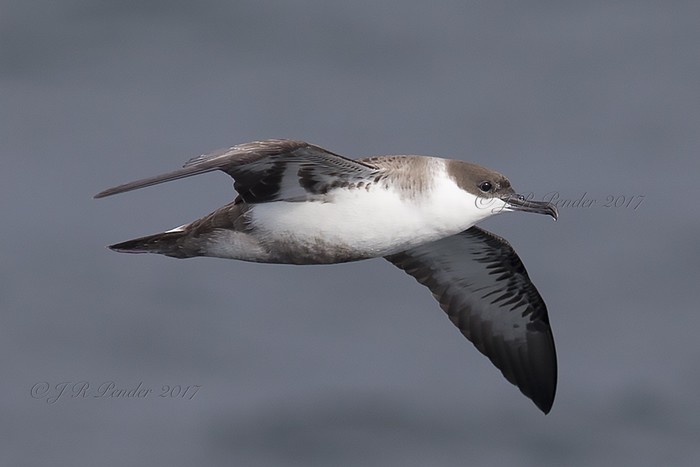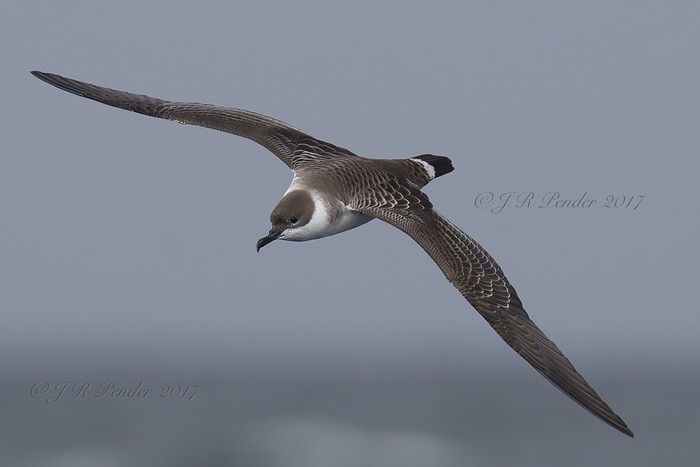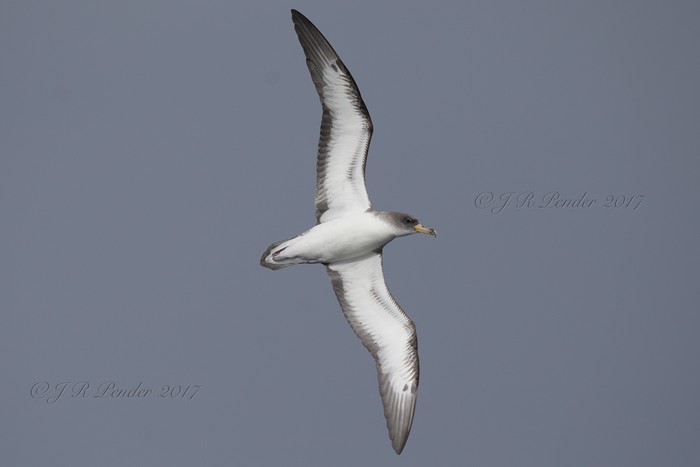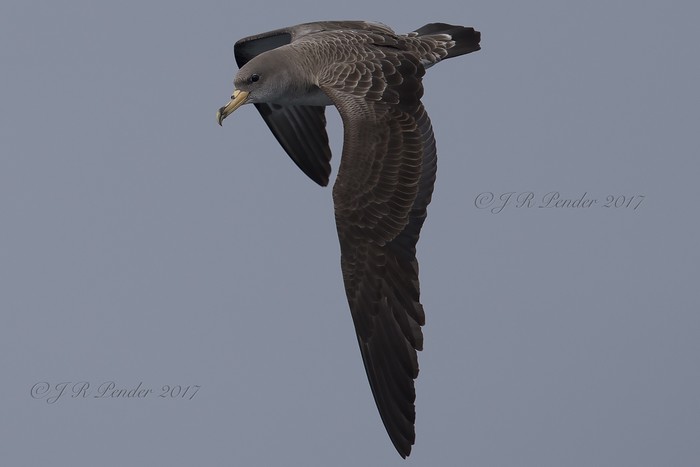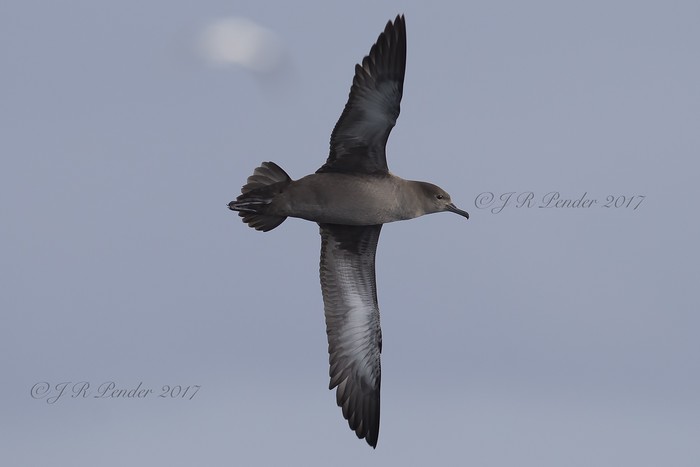 Share this story
Tweet

Write for Rare Bird Alert
Do you have a birding story you would like to share? From foreign birding trips to your local patch we would love to hear from you.
All our articles are free for anyone to view and we include them in our weekly newsletter which goes out to thousands of birders every Wednesday. We also share them on our Twitter and Facebook pages, making sure your article will get read by as many people as possible.
If you would like to write an article please for us please get in touch with your ideas, thank you.
The RBA team