SwiftAlert from RBA - an exciting new era for birdnews and paging
Thank you for your continued support of RBA and the sharing of birdnews since 1991. Every day we send you hundreds of messages to provide you with up to the minute updates on birds and wildlife around the U.K. We're proud to be your birdnews service of choice.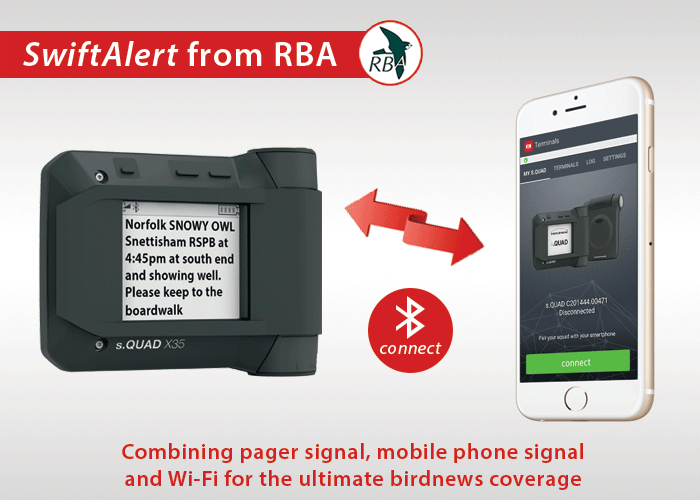 As you may be aware, Vodafone Paging is closing their paging network on 31 March 2018 which means that your current RBA pager will not receive messages after that.
However, we have been working very hard with the UK's sole remaining paging operator, PageOne, to enable us to transmit birdnews to suitable pagers on their system. This has been nothing like as straightforward as we were led to believe, throwing up some significant last-minute issues completely outside our control. These issues have had to be resolved before we could contact you and with the help of pager manufacturer Swissphone, we can now do that.
A New Service
Now that those issues are resolved, we are delighted to finally be able to tell you that we are launching a new pager service, called SwiftAlert. Whilst this new service is still primarily a pager service, the exciting news is that SwiftAlert will also be able to receive messages via Wi-Fi and the mobile phone network too, by linking to your smartphone. Thus you can get news on your pager even when you don't have a pager signal, resulting in the most comprehensive birdnews coverage ever available, wherever you live and wherever you go birding
The new SwiftAlert pager is manufactured to the highest standards in Switzerland by Swissphone and is an upgraded version of our popular s.QUAD pager, which we launched three years ago.
We had been told to expect that we could reprogram your existing pager to work on the PageOne network but unfortunately due to last minute changes imposed on us, this actually turned out to be technically impossible. This means that in order to receive birdnews on the PageOne network, you will now need to replace your pager with a SwiftAlert.
Some key features of SwiftAlert:
Revolutionary new access to mobile and Wi-Fi networks for added reception (requires Smartphone)
Changeable 'local areas', switch areas whenever you move around the country and get all the news
Easy to read screen with variable text size and bright backlight for dark conditions
Excellent message receiving capabilities in remote areas on paging network
Waterproof and shock resistant
Stores the latest 400 messages - available for instant review at any time
No-quibble 2-year warranty – extendable to 5 years
We are sure that you will have questions about the imminent changes, so we have tried our best to predict these and answer as many as possible below. Please do take the time to read all the following information carefully, and then, if you have further questions please don't hesitate to get in touch but we appreciate your patience in advance as the phone lines are likely to be extremely busy with pager orders.
Whilst the closure of the Vodafone network has presented us with a huge technical and logistical challenge, it has also presented us with a wonderful opportunity. As part of the transition to PageOne we have been able to update and greatly improve the RBA pager service, ensuring that you can continue to get the most reliable birdnews from the same dedicated team of birders that have served you thus far.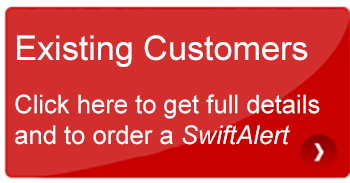 We are excited with these improvements, and very much look forward to many more years of being able to provide you with the very best in birdnews, in the remote corners of the country, as well as at home and at your place of work.
Warmest regards and appreciation for your support.
Dick Filby
And the RBA team: Chris Batty, Brian Egan,
Pete Hayman, Stuart Piner and Will Soar