Scottish Starlings struggle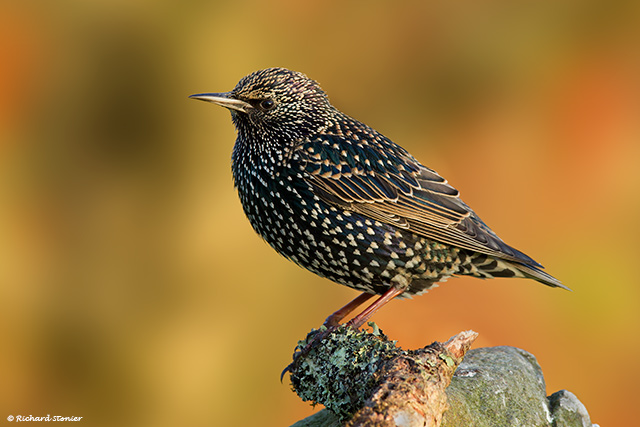 In a report published recently, Scottish Starling numbers have fallen by almost a third, following an alarming trend that is mirrored across the UK.
According to the Breeding Bird Survey (BBS) report, the number of breeding Starlings in Scotland has fallen by 28% between 1995 and 2017; across the UK they have declined by 52%. When watching Starling murmurations during the winter months it is easy to think that all is well with this familiar species, but a large percentage of the birds that make up these swirling flocks come from countries outside of the UK, some from as far away as Russia.
The reasons for this decline aren't fully understood. With breeding success increasing across the UK, falling survival rates - especially of first-year birds appear to explain the decline. The loss, or changing management of grasslands that provide Starlings with invertebrate food could be the main ecological cause of these changes, but this needs further research.
As we make our homes more energy efficient we tend to block the holes into roof spaces, reducing the number of nesting holes for species such as Starlings. By providing a nest box with a 45mm entrance hole, you could relieve some of the struggles these birds are facing.
Another familiar bird in Scotland, the Rook, has also seen its numbers fall long-term, down by 37% during the same period. Loss of unimproved grassland might also be a driving factor in this decline. But it isn't all bad news; several birds have seen their breeding populations doing well in Scotland, including the Chiffchaff, Great Spotted Woodpecker and Blackcap, up by 780%, 417% and 451% respectively between 1995 and 2017.
Sarah Harris, Breeding Bird Survey Organiser at the British Trust for Ornithology (BTO), said, "It is thanks to the hundreds of volunteers who give up their time to count birds for the survey in Scotland that we are able to follow the ups and downs of our breeding birds so closely. While Starlings are struggling other birds are doing very well. Thank you to all who take part in the BBS in Scotland with some survey sites being in the most challenging terrain in the UK. "
Jeremy Wilson, RSPB Scotland's Head of Conservation Science said "Knowing how bird populations are increasing or decreasing is fundamental to bird conservation and the long term trends in this new BBS report are a very important indicator of the health of Scotland's environment. BBS trends show how our bird populations have fared since 1994 and are used to identify the species most needing conservation help: they are a crucial component of the Birds of Conservation Concern assessments which identify the red list of species of greatest conservation concern."
The BTO/JNCC/RSPB Breeding Bird Survey is a partnership jointly funded by the BTO, RSPB and JNCC, and the report is published by BTO annually on behalf of the partnership. The full report can be accessed here.
7 May 2019
Share this story
Tweet