Black-bellied Storm-petrel, Banco de la Concepción, off Lanzarote, Sept 2017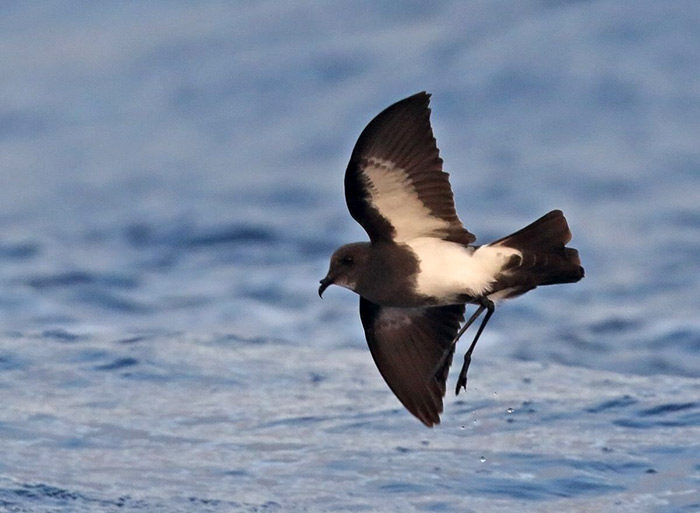 On 8 August 2011, early evening, I received a FB message from Catarina Fagundes and Hugo Romano of Madeira Wind Birds. They were at sea off Madeira and sent me a side-on photo of a storm-petrel with a message asking me to confirm that it was a Black-bellied. The black belly stripe wasn't visible but the storm-petrel was without doubt a Black-bellied (subsequent photos revealed the stripe). To say that I was astonished is an understatement. It was the first record for the Western Palearctic (WP) and it was present 'now'!
I had barely come to terms with the record when Dani Lopez-Velasco and Juan Sagardia of Lanzarote Pelagics informed me of the second Black-bellied for the WP at Banco de la Concepción, c.60 miles off Lanzarote, on 10 September 2011. Unbelievable, but surely just two freak records. Then the Lanzarote team scored again on 18 August 2012 and again on 4 September 2016, the third and fourth for the WP. Something was stirring.
Meanwhile, since 2011, Dani had been encouraging me to visit Lanzarote to join the pelagic trips. I was very tempted indeed. The trips also found Swinhoe's Storm-petrel and South Polar Skua, which I have seen multiple times in the North Atlantic, but top draw WP seabirds nonetheless. In the end I cracked and signed up for September 2017. There would be plenty of good seabirds, the outside chance of a rarity, and the remote chance of Black-bellied. Just the thought of seeing a Black-bellied on 'my patch' (North Atlantic) made parts of me tingle that other seabirds couldn't reach.
The last of the 2017 Scilly Birder Special Pelagics was on Monday evening 28 August and next day I headed off to Lanzarote. Three trips were planned, each 3 nights and 2 days at sea. Of course, the weather is boss when it comes to medium- and long-range pelagic trips. The forecast when I arrived in Lanzarote offered just two weather windows to get to Banco de la Concepción in the time given.
The first trip, starting at night from Graciosa on 1 September, met windier and choppier conditions than forecast. We soon discovered that the single toilet on board had the peculiar property of making even the hardiest of seabirders feel nauseous. All of us made minimal visits to the toilet. Timing was essential. One didn't want to find oneself in the toilet with the need to eject fluids / materials from three bodily tubes at the same time.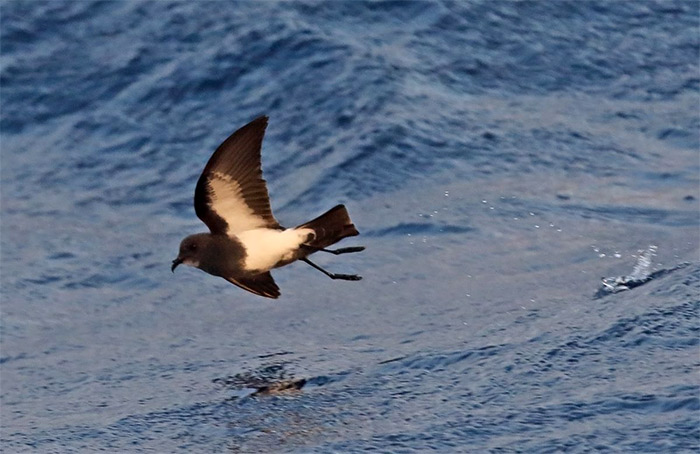 Anyway, among a whole host of other goodies attracted by frozen chum blocks, we saw hot and cool season 'castro' side by side, a White-faced Stormy, 100(s) Bulwer's Petrels, 1000s of shearwaters (mainly Cory's, also Great and Manx), and close views of Bryde's Whale and Hammerhead Shark. No rarities, but boy was the first trip good.
Back on shore, eyes were on the weather forecast. The second weather window remained open and on Thursday 7 Jose Portillo sent me a FB message to say, 'pick up at 5 pm for departure tonight'. We left Graciosa port at about midnight and again it was windier and choppier than forecast. Never mind since I had developed a cunning toilet strategy…
Next morning, chumming started quite early and there were plenty of stormies, shearwaters and Bulwer's Petrels around. I really enjoyed close views of various-aged Pomarine and Long-tailed Jaegers. The second morning, first thing, I was downstairs when a Barolo Shearwater winged past. Annoying. A very close Bryde's Whale hung around the boat and took me by surprise by spy hopping us at about 10 metres. We saw Hammerhead, Mako and Blue Sharks. There were more chumming sessions and more good sightings, but then Juan said it was time to start our journey back to port, though we would have one last chumming session at the southern end of Banco de la Concepción. I guessed my chances of a rarity were more or less over. The experience had been tremendous and I was content.
As we motored across Banco I saw a concentration of shearwaters and Juan decided to go and check them out. He's my kind of pelagic leader. There were thousands of Cory's, 100 or so Greats and a few Manxies, but no Barolo. So we motored on 20 minutes, stopped, and a chum block was deployed. After a short while we noticed that the chum block had gone. Sharks eat chum blocks, but it would have taken a sizeable shark to swallow a fresh block in one gulp…? Juan had one more chum block. It was last chance saloon.
Stormies turned up at the chum block right away. The wind picked up further and the sea state became quite rough. It was difficult to manoeuvre the boat. We were on our final circuit of the chum block and so on the down part of the circuit I videod 'castro' silhouettes against the low sun for some future project that I might dream up. We started the last run up to the chum block and as we approached it I heard Juan yell, 'Fregetta!' My toilet strategy nearly failed me. I looked down the chum slick and, OMG, there it was, swinging from one side of the slick to the other, frequently skiing on one leg stretched forward, so characteristic of Fregetta storm-petrels. It had white on the belly and in the underwings, an extensive dark hood, and I glimpsed an extension of the dark undertail-coverts into the belly. It was a Black-bellied alright.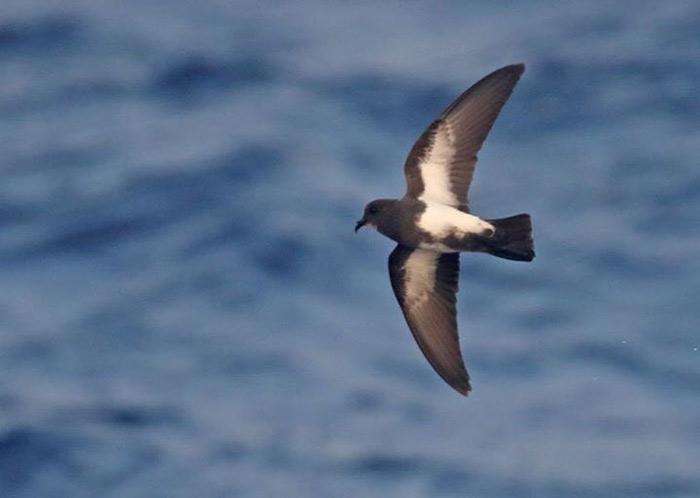 I turned my camcorder on and tried my best to keep calm and nail it with video. There was a lot of shouting in Spanish and people clambering across the deck to get a view. Not so easy as the boat pitched and rolled. The video picks up the story starting with the first 'panic clip'…
I would never have guessed that the species might be regular though probably rare in the Canary Current, but the evidence is to the affirmative. Hats off to the Lanzarote Pelagics boys Dani and Juan and not to forget the Madeira Wind Birds team Catarina and Hugo.
To round things off, Juan organised a fast boat out of Graciosa for the afternoon of Sunday 10. I was feeling golden balled, so I buffed them up and, what do you know, we soon came across a feeding Barolo Shearwater. So I missed nothing!
Black-bellied Storm-petrels in the North Atlantic
In addition to the now five records in the northeast Atlantic, there are four records of Black-bellied off North Carolina, USA (one each in May, June, July and August). There are records of unidentified Fregetta storm-petrels 500 miles north of Cape Verde (August 1986), off Norfolk, UK (December 2007; not accepted by BBRC but good in my opinion), and in the Severn Estuary, UK (November 2009). Also, while researching our multimedia ID guide Storm-petrels & Bulwer's Petrel (revised edition 2013, scillypelagics.com) I noted that Michael Brooke (Oxford University) wrote in his book Albatrosses and Petrels Across the World (2004, Oxford University Press) that some of the population of Black-bellied move into tropical and subtropical seas, to 10°N in the Atlantic. I wrote to Michael about '10°N in the Atlantic' and he kindly replied that this was based on limited data, though good data as it turns out.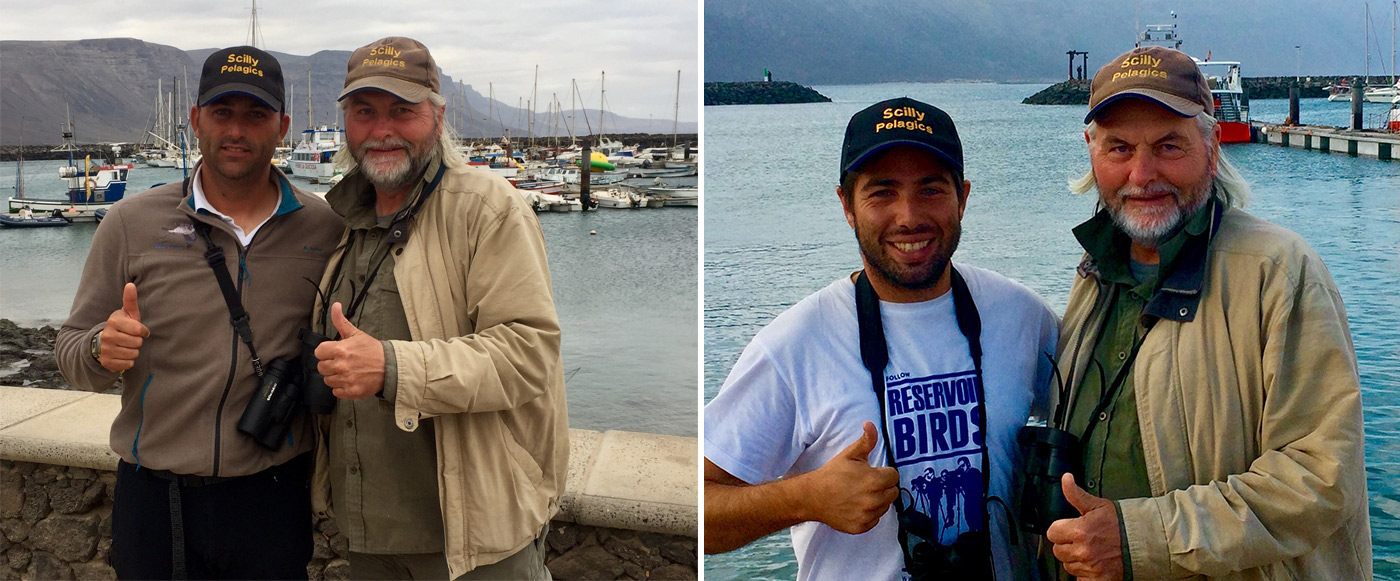 For more information on pelagics with Dani and the team you can contact them via their Facebook page or email Dani
Bob Flood
www.scillypelagics.com
13 September 2017
Share this story
Tweet

Write for Rare Bird Alert
Do you have a birding story you would like to share? From foreign birding trips to your local patch we would love to hear from you.
All our articles are free for anyone to view and we include them in our weekly newsletter which goes out to thousands of birders every Wednesday. We also share them on our Twitter and Facebook pages, making sure your article will get read by as many people as possible.
If you would like to write an article please for us please get in touch with your ideas, thank you.
The RBA team