Review: Moult and Ageing of European Passerines: Second Edition
Lukas Jenni and Raffael Winkler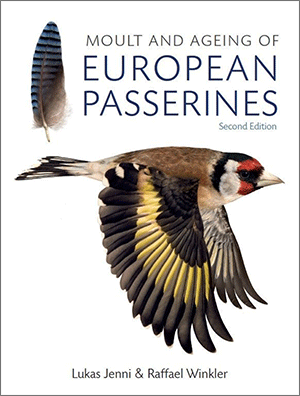 In 1994 following fifteen years of study of live birds trapped by Lukas Jenni and Raffael Winkler at bird ringing stations in Switzerland and Italy, and through the examination of museum specimens, these authors published their magnum opus 'The Moult and Ageing of European Passerines'. In this work they examined the function and consequences of moult, the terminology of feathers, plumages, moults and age classes, moult strategies of passerines and ageing criteria with the majority of the book dedicated to 58 species accounts. The species accounts were uniformly illustrated with full-colour photographs of extended wings which show the entire range of moult patterns and ageing criteria. This scholarly work, lavishly produced, was universally well-received and became a classic: soon out-of-stock, copies have changed hands for many hundreds of pounds and second hand copies are still listed today upwards from £228; and this despite a reprint in 2011 (the reprint itself is advertised today from £148 although the quality of the reproduction of that second print-run has been criticised).
Published by Helm this second edition is completely revised, updated and improved with nearly 100 additional pages. The 322 page book is again printed in a large format (24cm × 30.5cm) an the staggeringly beautiful and technically accurate main cover illustration from the first edition by Thomas Degen - of an adult male Whinchat after the pre-breeding moult - has been replaced by an equally striking in-flight first-year male Goldfinch after the post-juvenile moult by Angelo Boog. The work is laid out in six chapters: 'The function and consequences of moult' (including feather wear and the processes and costs of moult), 'Terminology and methods in moult research' (including the arrangement of feathers and analysing moult data), 'The moult of adults' (including the sequence of moult and moult strategies), 'The moult during the first year of life', 'Ageing European Passerines and Species accounts'(including ageing criteria based on both plumage characters and moult), followed by 'The use of skull pneumatization for ageing' as an appendix, and finally the references.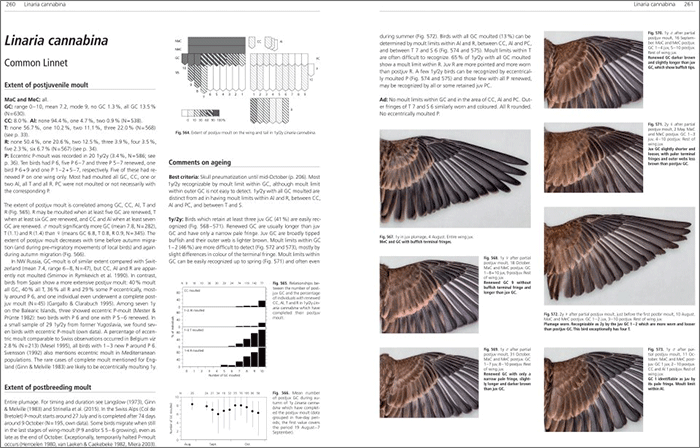 The authors have studied the moult strategies of birds for decades with their own fieldwork combined with data from all the relevant literature to present detailed moult profiles illustrated throughout using schematic diagrams. The number of individual species accounts has been increased from 58 to 74 with the 16 additional species addressed being Woodchat Shrike, Masked Shrike, Magpie, Nutcracker, Carrion Crow, Waxwing, Sedge Warbler, Marsh Warbler, Grasshopper Warbler, River Warbler, Barred Warbler, Starling, Thrush Nightingale, Dipper, House Sparrow and Tree Sparrow, bringing the total number of colour photographs of extended wings featured to over 600. Although 74 species accounts focused on Central Europe may sound restricted the principles of ageing explained here so thoroughly can be applied to all the species of passerine breeding in Europe, from Portugal to the Urals and Svalbard to Crete, through reference to the exhaustive four page table detailing the moult strategy of every breeding species.
Every bird ringer and professional ornithologist in Europe will need to own a copy of this second edition of Moult and Ageing of European Passerines as it is such a valuable tool for their work but so too will any birder with an interest in ageing the birds they see and record, especially now given the forensic detail routinely visible in digital photographs of birds in the wild. The first edition of Moult and Ageing of European Passerines has always been the most prized reference in my library and in the second edition it has been significantly expanded through now forty years of meticulous study by the authors. With the WildSounds current offer price of £79 I will be slightly less worried about spoiling my copy than I was before, although I'll still be feeling like I should be wearing white cotton gloves when I browse.
This thorough synthesis is a work of great scholarship and beauty and is the essential reference for ageing European passerines bar none. Thoroughly recommended.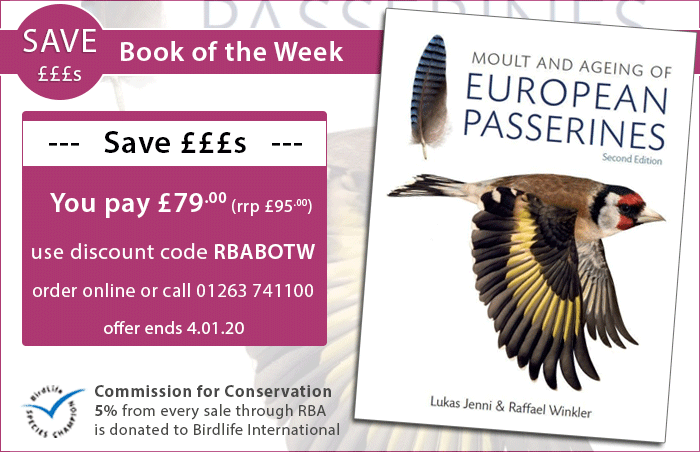 Chris Batty
14 December 2019
Share this review
Tweet

Commission for Conservation
Rare Bird Alert does not profit from the sale of books through Wildsounds. Instead we are part of their Commission for Conservation programme where a percentage of every sale made through RBA helps supports BirdLife's Spoon-billed Sandpiper Fund.