RBA Annual Rarity Roundup 2019: Part 2
We pick up 2019's rarity parade in July. The preceding month set the stage for mega seabirds, offering both South Polar Skua and Sooty Tern, but no-one had bargained for the oceanic beast, mega in every sense, of 2nd July. At 5.45pm, a distant Giant Petrel species progressed north past the premier northern seawatching destination that is Whitburn Coastal Park (Co.Durham). After a potential sighting off St.Mary's Island (Northumberland) the best part of an hour later, it passed Cullernose Point (Northumberland) before 8pm. The bird is destined to remain a 'sp', such was the distance involved in all the sightings, and even closer views might not have sealed it either way, but if accepted even to that level it will become just the third official Giant Petrel for the whole Western Palearctic. (One of these, in the Adriatic Sea in 1991, was nailed as a Southern.) Anyway, seawatching dreams can come true with no need for species level identification or committee approval, and any Giant Petrel off the British coast is among the biggest of dreams.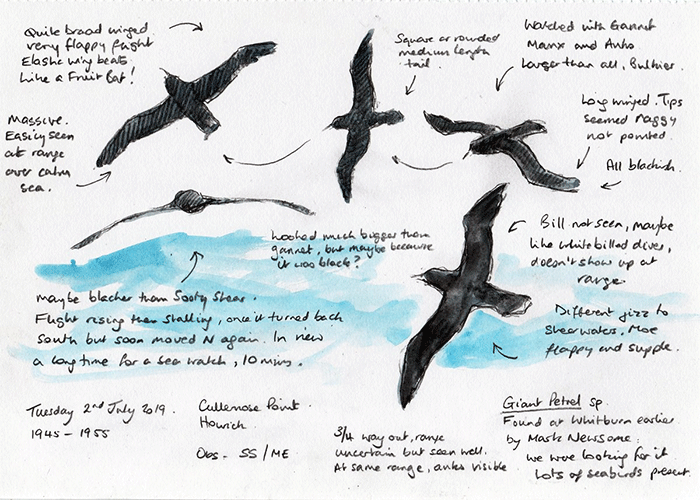 One such dream was a recurring one: the east coast's Sooty Tern rematerialised on 9th July, starting at Flamborough Head (East Yorkshire) then passing Long Nab (North Yorkshire) and Whitburn (Co.Durham). It was later clocked off Northumberland at Seaton Sluice, Newbiggin and Craster before ending up at Annstead Point, near Seahouses, where it spent the early afternoon (teasingly close to the Farne Islands, which may have offered the potential to keep it for a little while).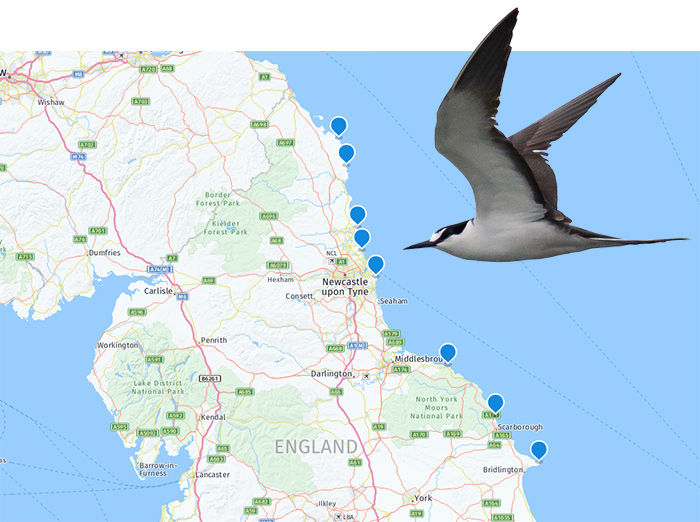 With more than a month gone since the Blue-cheeked Bee-eater in Highland, any hope of its relocation seemed long lost but on 25th July what was presumably the same bird turned up near Stornoway on Lewis (Western Isles). Unfortunately, this sighting was again infuriatingly brief and so the twitch was off. In yet another reappearance, Norfolk intercepted the Sooty Tern off both Weybourne and Sheringham on 2nd August.
July and early August saw a mass influx of Two-barred Crossbills, almost exclusively to the Northern Isles, with numbers hard to quantify but involving as many as 200 in Shetland, whose islands claimed the lion's share. The flock of 20 at Lower Voe on 12th July must have been quite a sight, and sound! The phenomenon scarcely touched anywhere further south but was enjoyed vicariously by anybody keeping a tab on national goings on.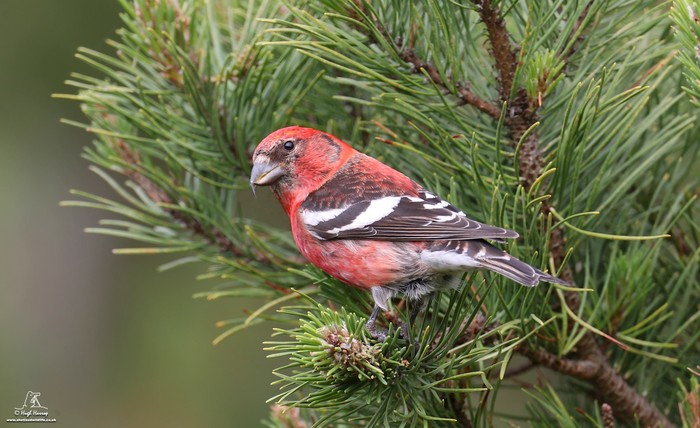 News was rinsed out of male Little Bustard in West Yorkshire on 5th August. Initially all we had to work with was that it seemed to be near Leeds but, by the next day, detective work by locals pinned it down to Mickletown Ings, near Methley. There it remained to 11th, having apparently been present since early July, which would tie in nicely with the theory that is was the same bird which visited Slimbridge (last seen there on 26th June). While it wasn't parading around the crowd's feet, the views were generally much better than in Gloucestershire, and it was available for a fair bit longer.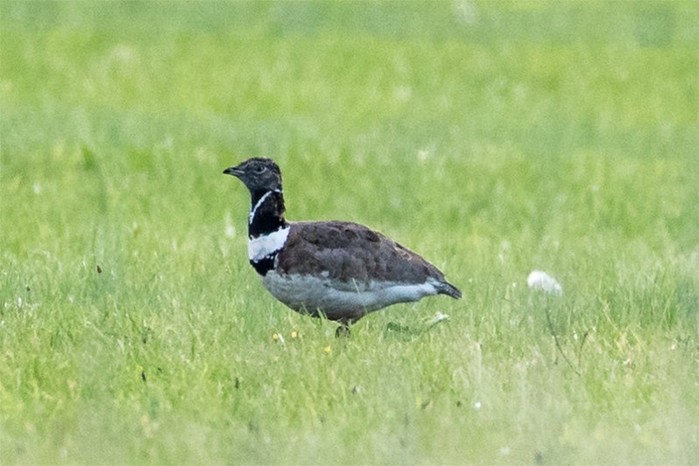 For the second year running, Hornsea Mere (East Yorkshire) offered up a mega rare swift with a white rump. While some would have appreciated another bite at a White-rumped Swift, a Pacific Swift, as this bird resolved to be, could not be turned down. This will go down as the fifth for Yorkshire, of 11 British records, an enviable track record. With a stay of nearly four hours, it was the county's most gettable Pacific yet. All the previous Yorkshire records have been of birds moving through the Spurn recording area, and this latest bird ensured the streak went unbroken by turning up over Easington church just before dusk.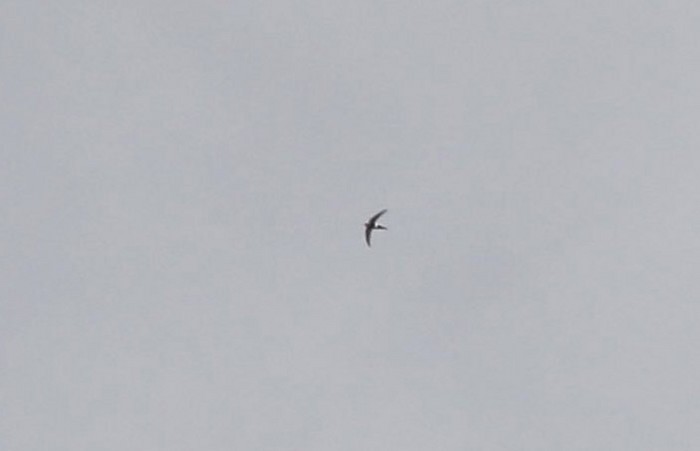 Dumfries and Galloway bagged its second-ever Barolo Shearwater off Corsewall Point on 18th August, exactly where the county's first passed offshore in 1985. In fact, if accepted the sighting will stand as the only Scottish record this century, so carries extreme grip value.
The seabird stakes were raised even higher once again, with an apparent Brown Booby photographed off Swalecliffe (Kent) on the morning of 19th August. The photograph and identification emerged some days later but this was the start of one of 2019's defining episodes. A week later, on 26th, Cornish birder Kester Wilson - of Alder Flycatcher fame - was quite sure he saw a Brown Booby just off St.Ives while on a family trip to the beach sans optics. The ensuing twitch was reminiscent of that for the Tengmalm's earlier in the year, with success feeling a bit like pinning the tail on a donkey. The bird widely roamed Carbis Bay and seemed to leave it altogether for long periods. Sometimes it was there, sometimes it wasn't and the appearances it did make were generally over quickly. But for a seabird, even an inshore species, that's more than we usually get to work with so repeated visits or overnight stays paid off for most birders who didn't score immediately.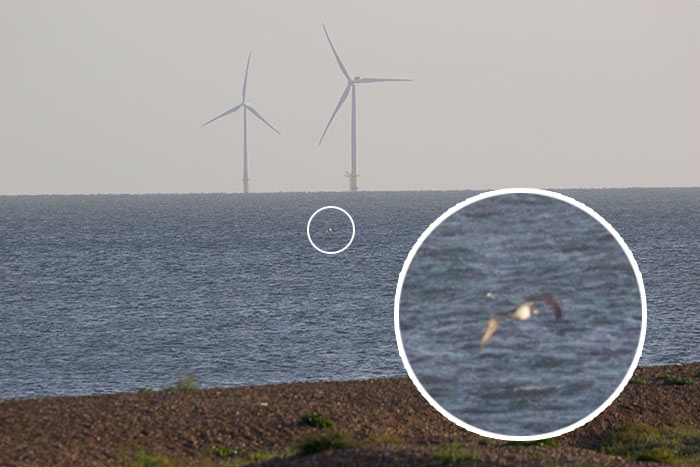 Fleeting appearances over the next two days were followed by a whole day with not a sniff but on 31st August the bird was mostly in view for about three hours. For much of this time it took a breather on rocks at Porth Gwidden, where it afforded unbeatable views. Just 24 minutes after launching itself west, it flew close in past Pendeen, nine miles away.
Fast forward two days and sitting on rocks off The Lizard is an exactly plausible when and where for the Brown Booby's relocation. Therefore, it was no great surprise, but a huge relief to many, that news came through mid-morning on 2nd September that it was happily stationed on a rock at Kynance Cove. Observers on site couldn't quite believe it themselves when they realised that this looked like a younger, very much different, individual, as indeed it was! Still with juvenile outer primaries and more bluish bill, this was a bird in its second calendar year, while the Carbis Bay individual was a subadult. Fortunately, this second booby proved very accommodating for the four days that followed, meaning that all but the most cursed twitchers were able to experience this new British species. Later in the year, it transpired that on the day the Lizard bird was found, a third individual of this tropical seabird was photographed from a cruise ship off Land's End!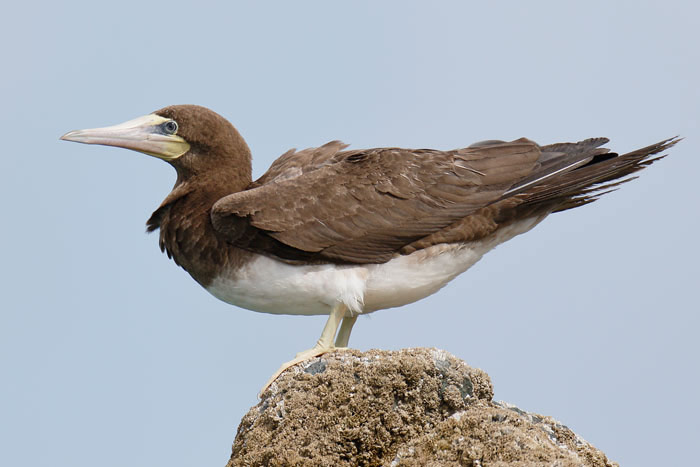 Almost lost in all this booby news was Scotland's first Cliff Swallow over the pier at Milovaig on the Isle of Skye (Highland) on 27th August, the fourth in an incredible run of records since 2016 (there are only 14 British and Irish records in all) and the earliest autumn arrival yet. Indeed, two arrived in Iceland the same day.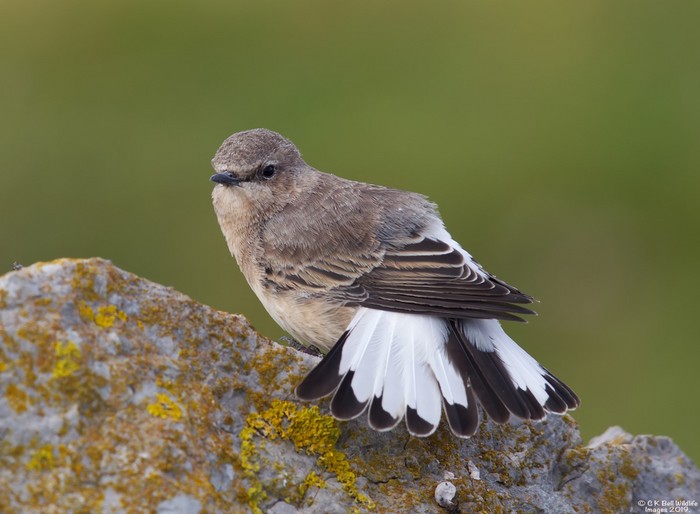 Lancashire offered up a controversial wheatear on 1st September, with opinion divided between Eastern Black-eared and Pied for some time. It made up for this by taking up residence all the way through to 16th September and allowing a catalogue of high quality photographs to be taken from all angles. 10 days into its stay, clinching white spots in its mantle feathers were picked out from photographs, an obscure feature sealing the deal as an Eastern Black-eared Wheatear, making it particularly topical as form melanoleuca is in the running an IOC split from Western.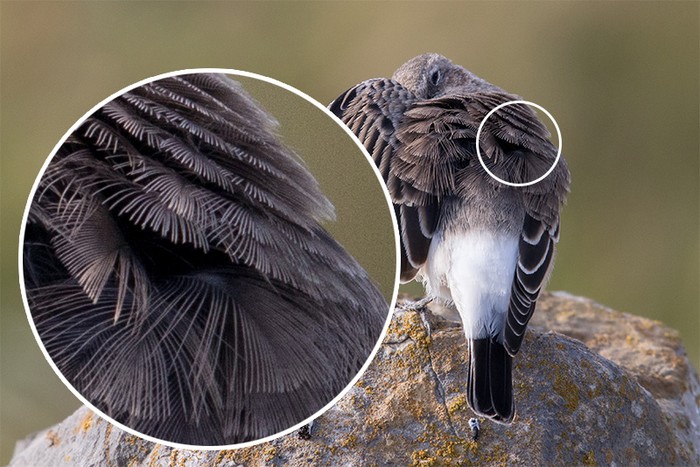 On the Isle of May (Fife), a seriously smart-looking adult male Collared Flycatcher was trapped and ringed on 8th September before vanishing, and a Common Nighthawk at Portnacroish (Argyll) on 11th was similarly unattainable. It wasn't long, though, before another mainland goody was rustled up in the form of an Eastern Olivaceous Warbler at Farlington Marshes (Hampshire), on 13th. The scrub near the car park at the reserve is renowned locally for turning up scarcities such as Wrynecks but this was its first serious offering. As the last long-stayer was in Fife seven years ago, it was an inevitable crowd-puller throughout its seven days in sunny Hampshire.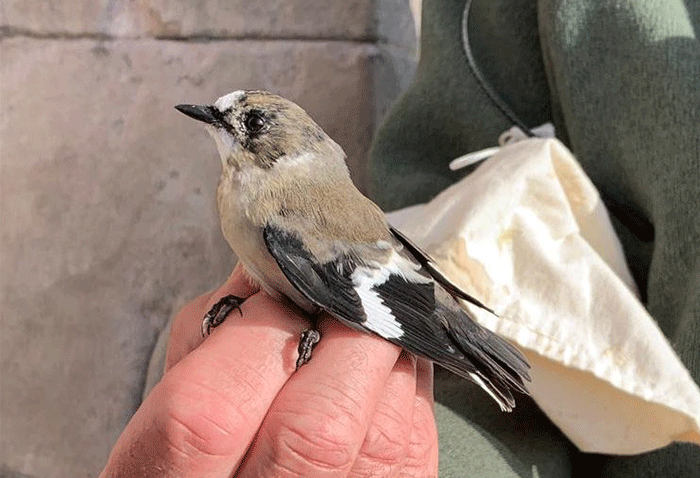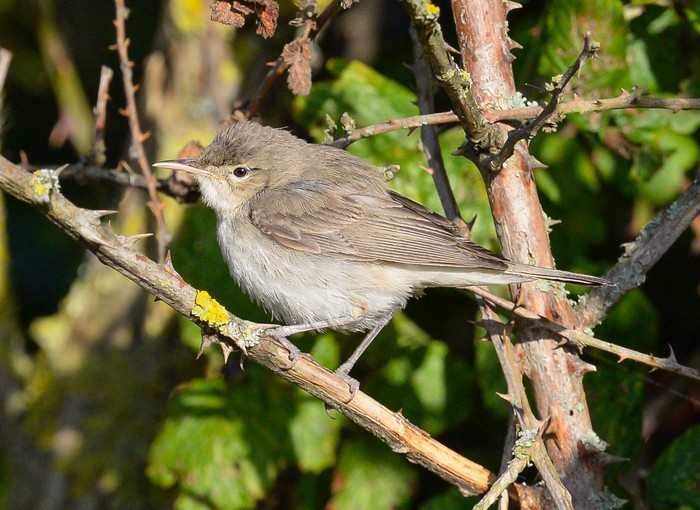 An adult female Little Crake creeping along the reed margins at Blacktoft Sands RSPB (East Yorkshire) went down very well on 17th September, even though it was a one-day wonder. Despite it being a Tuesday, a good number of Yorkshire birders managed to lay eyes on what was as good as a county first (the last record was in 1946).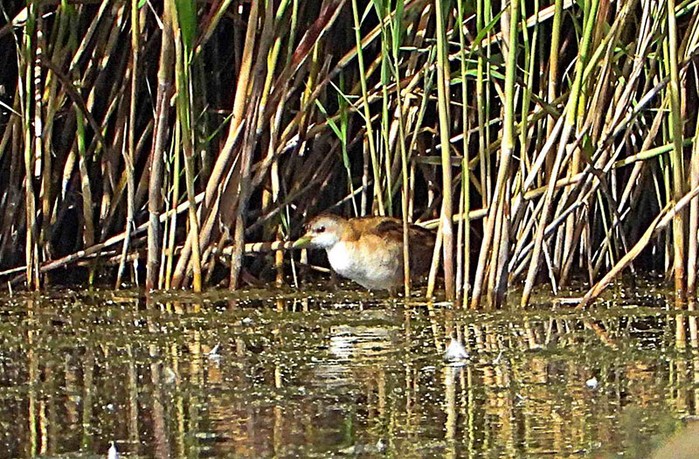 Memories of that vintage Scilly year, 1999, were evoked when a Blue Rock Thrush was found on The Garrison on 22nd September. The archipelago's first since that member of the classic line-up at the tail end of last century, it also presented those not active in those simpler times with a backdrop for their first Blue Rock Thrush rather more fitting than a Gloucestershire housing estate. It was a good thing it stayed for over a month, as either a stroke of luck or a great deal of patience was required to see it, and further dedication was required for prolonged viewing. Although it was generally faithful to the rocks below The Garrison, it ranged as far as the coastline alongside the airfield, melting away frequently. It was last seen on 28th October, after which a couple of days of thorough searching finally convinced us that it had genuinely gone!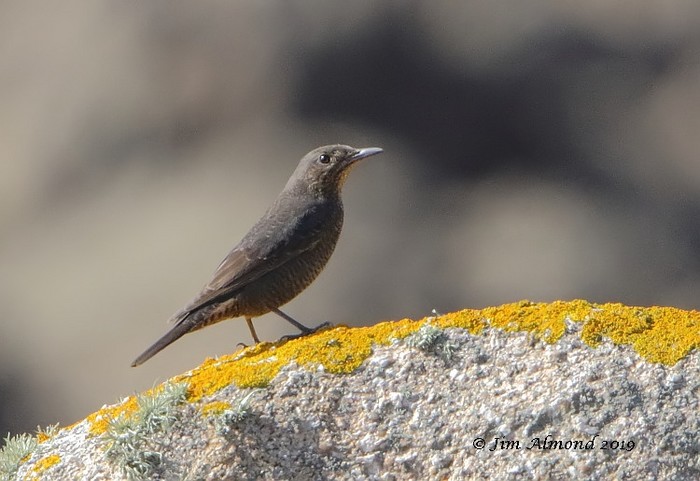 To say that Kent has an excellent track record for Short-toed Treecreepers is an understatement, claiming four out of five records to the end of 2018. The county's monopoly on the species was boosted further this year with a grippingly photographed individual metal-creeping at Langdon Cliffs on 21st September. Short-toed Treecreepers themselves have a track record for taking hasty leave and that is exactly what the bird in question did.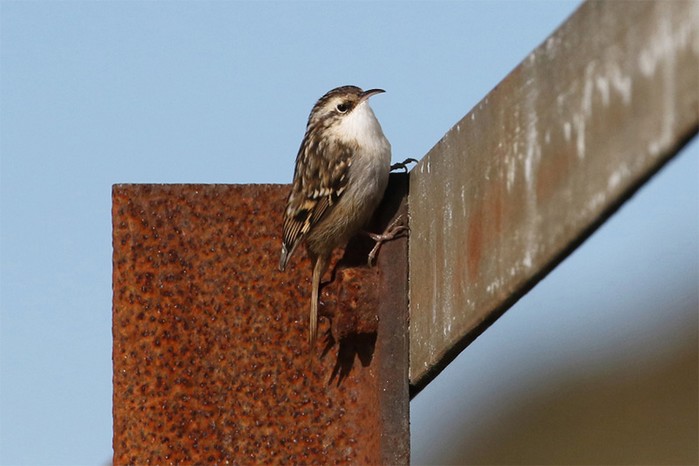 From 25-27th September, the autumn's first Eastern Yellow Wagtail could be found at Cemlyn Bay (Anglesey). A smart male Daurian Shrike found at Levenwick (Shetland) on 28th September stayed two days. Another Barolo Shearwater sighting came from Pendeen (Cornwall) on 29th September, this time with clear record shots. The same day, an American Buff-bellied Pipit was discovered on Bardsey Island (Gwynedd), and stayed till the final day of the month.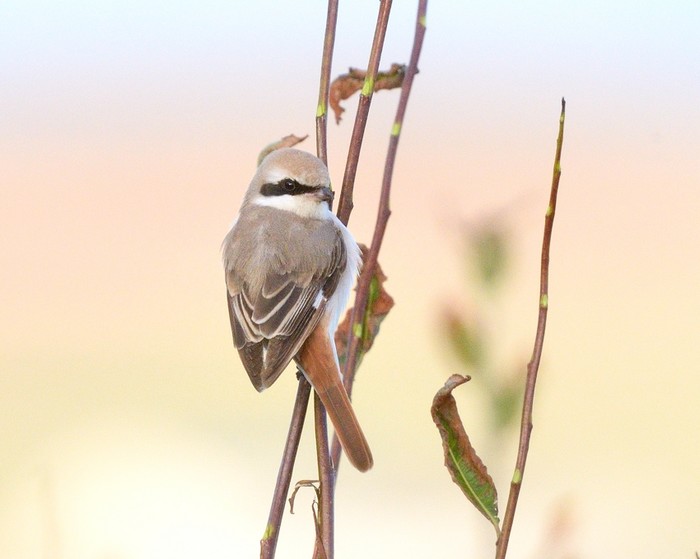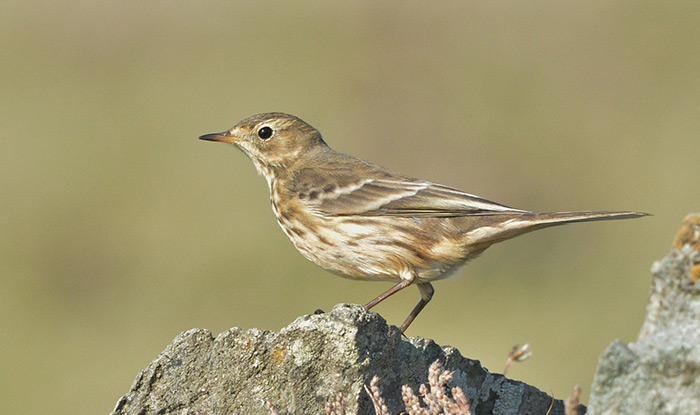 October introduced itself with a male Least Bittern at Farranfore (Co.Kerry) on 7th October, just the 10th for the Western Palearctic and of course the first for either Ireland or the wider British Isles. Sadly, being flung across the Atlantic on the back of Hurricane Lorenzo was too much and the bird expired quickly. While nobody besides the finder saw the bird alive, it surely stands as one of the most extraordinary examples of transatlantic vagrancy not only this year, but of the decade.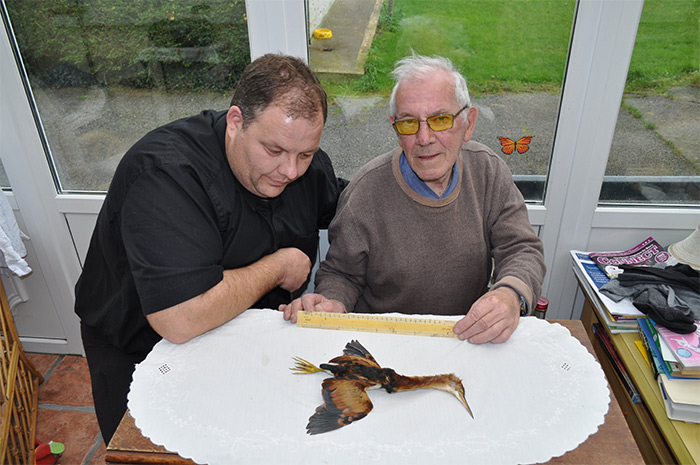 The Least Bittern was just part of a major Nearctic deliverance in early October. A Yellow-billed Cuckoo on St.Mary's (Scilly) arrived on 2nd and ended up staying to 16th, beating the previous long-stay record by five days. The same day the Scilly bird was found, one at Seaford (East Sussex) was in an agonisingly more conventional state for the species in Britain: freshly dead. Another at Crackington Haven (Cornwall) on 13th October was very much alive but took the alternative evasive action of simply disappearing; mind you, it could well have croaked it too!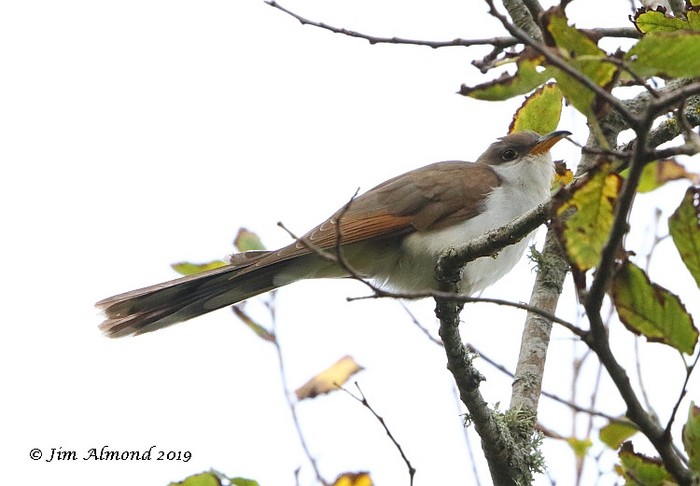 Scilly also netted, quite literally, a Black-and-white Warbler on St.Martin's on 2nd. The bird was noticed and freed from its unintentional vineyard captivity but only one further view, in flight the next day, was had by a lone birder. Co.Galway answered with another Black-and-white at Inishbofin on the evening of 5th October, while Baltimore Orioles provided top billing on Achill Island (Co.Mayo) from 6-9th October and at Lehanmore (Co.Cork) on 11th only. In Co.Wicklow, three miles south of Wicklow itself a Chimney Swift was seen flying south over The Beehive Inn on 8th October; had it stuck around, it would have drawn birders from far and wide so long has it been since the last widely twitchable bird.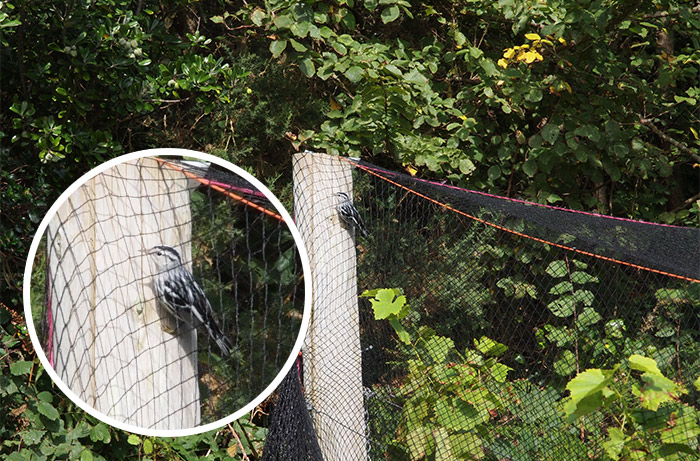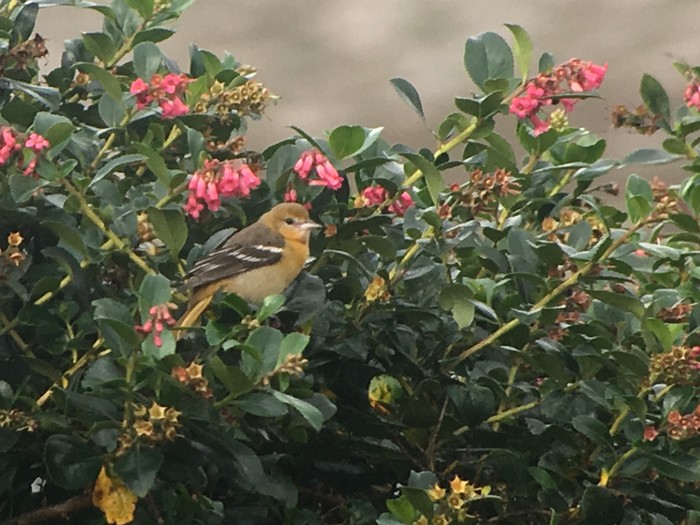 Scilly had an American Buff-bellied Pipit on 9th October, skipping over to St.Mary's after it was first seen on St.Martin's in the morning. Thrown in to disrupt the North American theme, but not birders' plans as it didn't hang around, was Britain's fourth Rufous-tailed Robin on Fetlar (Shetland) on 6th October. Back on Scilly on 10th October, a Swainson's Thrush on St.Mary's was infuriatingly brief at Carreg Dhu Gardens.
It was Northern Ireland which produced the bird to get people moving, though, in the beautifully random inland location of the River Maine a couple of miles northwest of Ballymena (Co.Antrim). The initial news came on 7th October when a 'Nightjar' last seen by local fishermen the previous night was sussed out as an adult male Common Nighthawk! It was later revealed that the bird had probably been haunting the stretch of river since mid-September. After a couple of nights of it showing spectacularly to those quickest off the mark, and once its day roost sites had been located, it was clear that this bird was presenting an opportunity which couldn't be missed. It showed reliably day and dusk up to 17th October, allowing many birders from Ireland and Britain to enjoy the full experience of admiring it at rest, followed by the thrill of it hawking almost at arm's length in the twilight.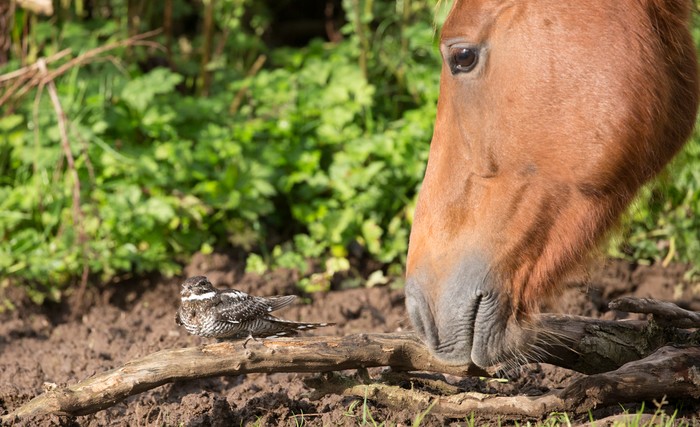 Once it was clear the nighthawk had moved on, relocating the thing never crossed anyone's mind, let alone doing so somewhere as outrageous as a London park. Nonetheless, that is exactly what happened. Two days after it was last seen in Co.Antrim, a Common Nighthawk was photographed well as it flew over Bushy Park, the state of its tail feathers and the pattern of white in its primaries identifying it as the same adult male. It was seen flying towards the vast expanse that is Richmond Park, where valiant efforts from local birders over the rest of the day drew an unfortunate blank.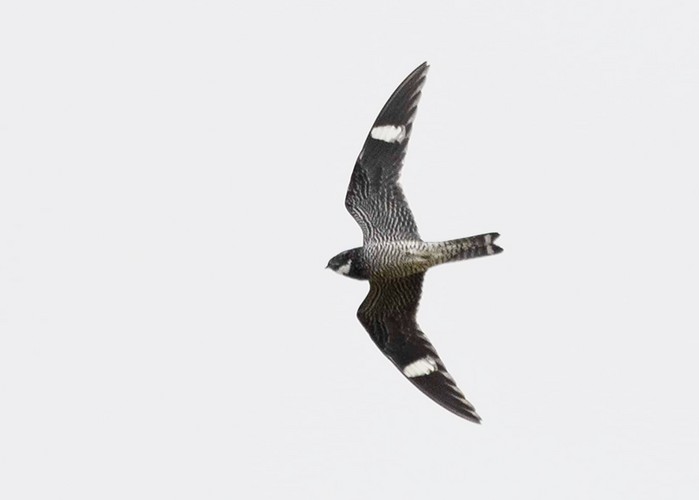 The glut of American vagrants also included the year's second and third Myrtle Warblers, at Inishmore (Co.Galway) from 12-20th and on North Uist (Western Isles) on 15th.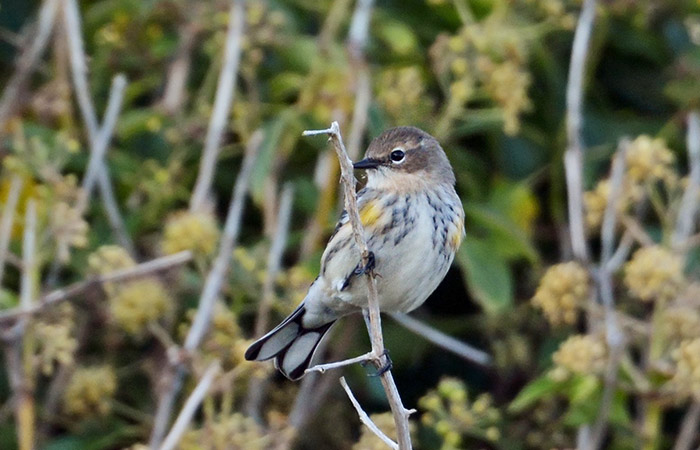 Even though we were treated to a three-day bird in Dorset in 2017, the Two-barred Greenish Warbler which was discovered at Orford Quay (Suffolk) on 13th October offered to fill a void on many a birder's list. You couldn't be much more than two hours away, though, for this county-first and eighth for Britain soon melted away. That day, a Rose-breasted Grosbeak arrived on St.Martin's, augmenting a strong Scilly season. It stayed for four days but proved incredibly slippery at times as it ranged over a wide area, though it usually ended up near the bakery.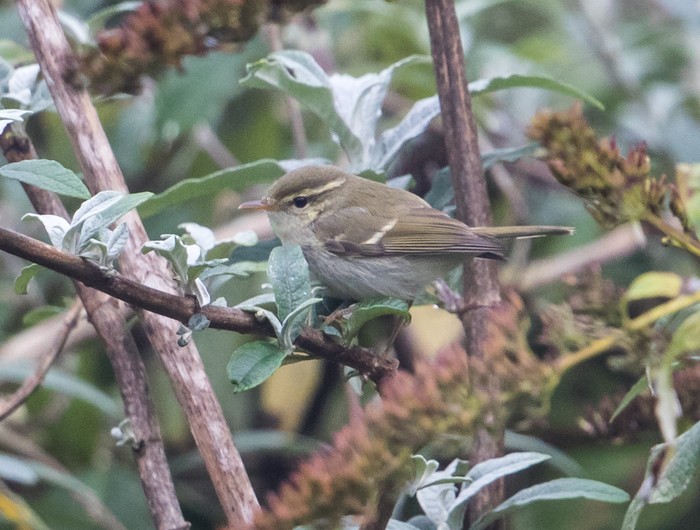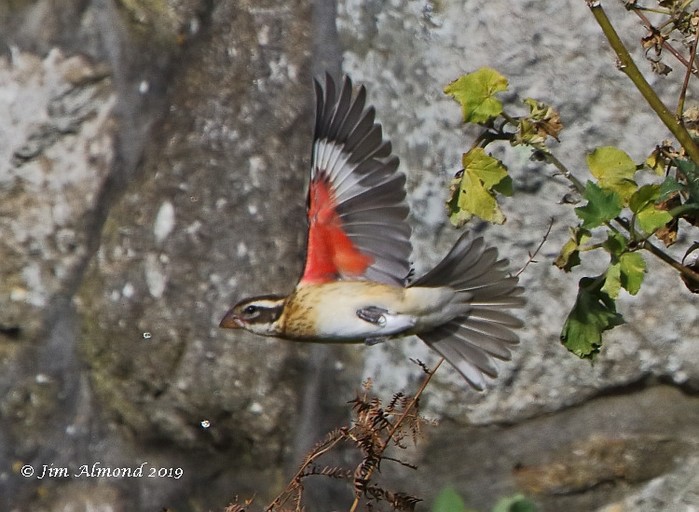 Efforts on Fetlar (Shetland) paid off in style with a fine male Siberian Rubythroat on 15th October, the bird staying over a night, then 18th October produced a Bobolink at Theddlethorpe (Lincolnshire). The latter was a first for the county and served as inspiration for finding top drawer birds on the British mainland. The following day saw the identification of a dowitcher at Dundalk (Co.Louth) as a Short-billed, Ireland's fourth. Initially found at Rockmarshall on 17th September, it was relocated to Dundalk on 13th October where it masqueraded as a Long-billed for a few days.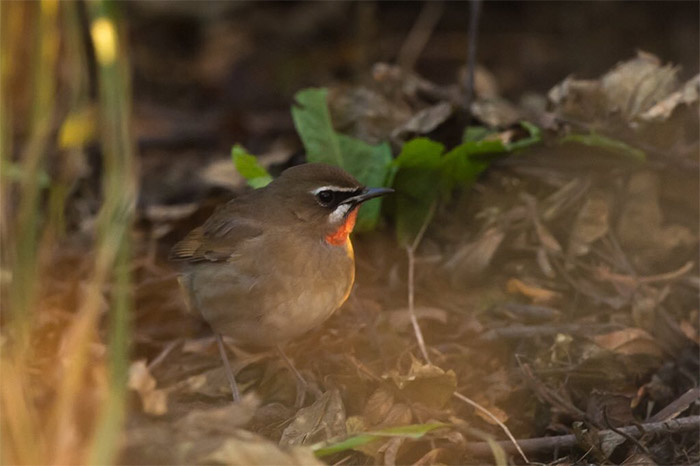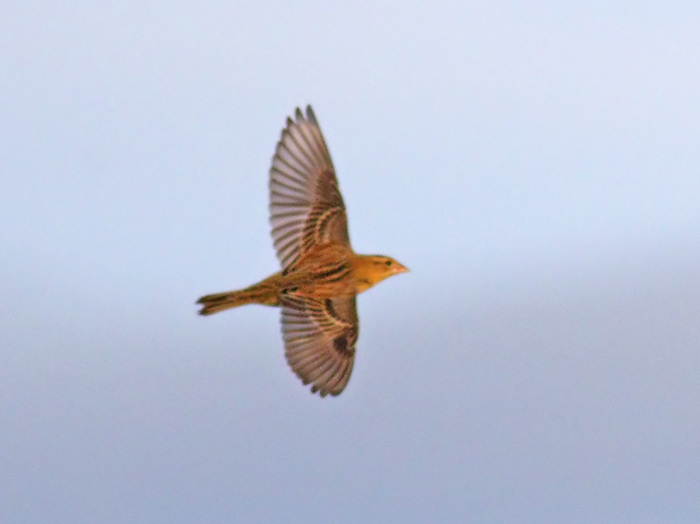 On 19th October, the 24th (!!!) Red-eyed Vireo of 2019 was found on St.Mary's (Scilly). In fact, that bird was also the fifth to grace that magical archipelago this autumn. In this bumper year for our most regular, but still most enchanting, American passerine, birds were also unearthed in Co.Antrim, Co.Clare (three), Co.Cork (four), Cornwall (two), Devon, East Yorkshire (two), Co.Galway (two), Co.Mayo, Pembrokeshire and Co.Waterford. The two East Yorkshire birds were especially appreciated, both showing nicely in the Spurn recording area in mid-October. Only 1995 comes close to rivalling this year for vireo providence, with 23 individuals that year.
With the only British records, in 2004 and 2012, coming from there, Chestnut-eared Bunting looked set to remain at Shetland exclusive but one on St.Mary's (Scilly) on 20th October disrupted any such bargain. Found along the coast at the base on Peninnis Head early in the morning, the bird wasted no time hanging around and flew towards Peninnis Farm but had evidently carried on and was lost, for good.
Quite a high number of rarities are found online these days, that's nothing new, but particularly impressive was the detection of a juvenile Lesser Kestrel at Fraisthorpe (East Yorkshire) taken - as a 'Kestrel' - on 22nd October. With Kestrels in the area, confusion was inevitable and the bird in question never appeared in subsequent photographs, though a pale-clawed Common Kestrel (an exceptional thing in itself) was captured on camera!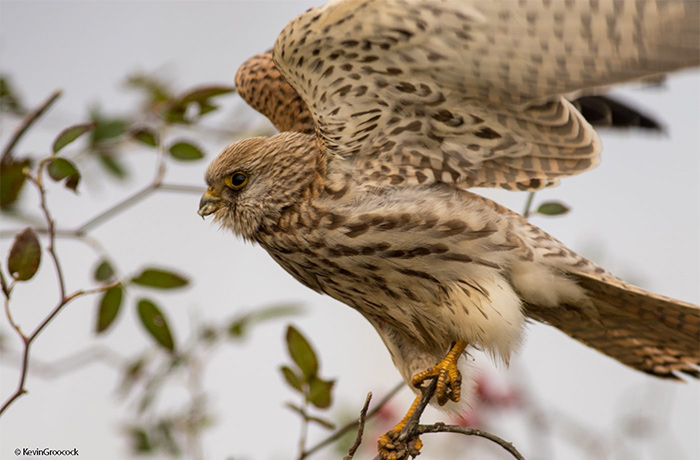 Ireland added to its bumper autumn with its own Two-barred Greenish Warbler, in fact its very first, at Dursey Island (Co.Cork) on 26th. That day, an Eastern Yellow Wagtail flew over Budle Bay (Northumberland), and the next, Shetland produced a Swainson's Thrush in a Lerwick garden.
Steller's Eider became available to a new generation of birders when a juvenile drake in Orkney made a peculiar debut appearance on the freshwater Loch of Swartmill on the island of Westray on 29th. The bird dodged initial efforts to twitch it, being seen the next day but 15 miles away from Westray, off the coast of Shapinsay before returning to its original spot once birders had left the island! Almost a week later, on 6th November one birder's hunch that it would still be around, and concerted efforts to find out, resulted in its relocation at the north end of Westray. It remained there for a further day, at which point it moved to Papa Westray, which it favoured to 23rd December. It was on 'Papay' that most people caught up with it in the end, the bay on the west side of the island just north of St.Bonniface Kirk being a spot it was particularly fond of. With the last twitchable bird in late 2000, it was well worth the effort, and it is tempting to wonder whether the bird will reappear and end up staying as long as the drake which also graced Westray and Papa Westray for nearly eight years from 1974.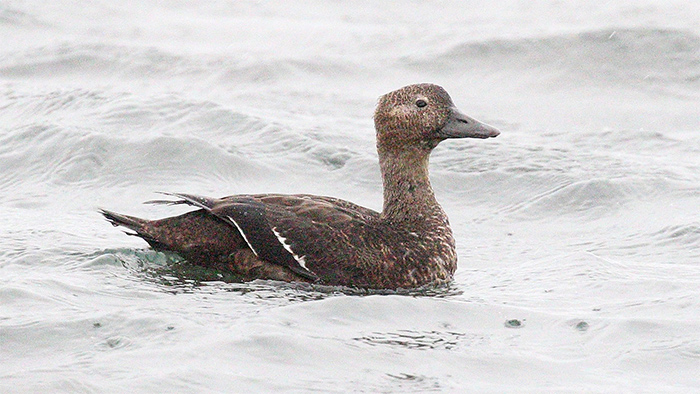 One good bird often leads to another and the case in point this year was the roadside Tengmalm's Owl caught in the headlights two miles south of Forsinard (Highland) in the last few minutes of 29th October, as Dan Pointon was en-route to the Steller's Eider. Extensive searching drew a blank by dawn but pretty much everyone getting their fill of the Shetland bird probably meant wasn't combed as relentlessly as it would have been otherwise. Highland birders no doubt gave it a fair try but nevertheless, once it melted into the night, the 10th Tengmalm's Owl in Britain since 1950 was out of reach for good.
A confusing large pipit found in a maize field at Sennen (Cornwall) on 23rd October gave unusual calls which initially stirred thoughts of Blyth's, but it ended up being put down a Richard's. Nine days into its residence, The Sound Approach guru Magnus Robb followed up a strong hunch with detailed analysis which effectively nailed the bird as a Paddyfield Pipit, the last bird anybody was expecting to turn up in Britain! Remaining faithful to the same maize field through to 14th November, hundreds of birders came for a look while debate simmered online about its provenance.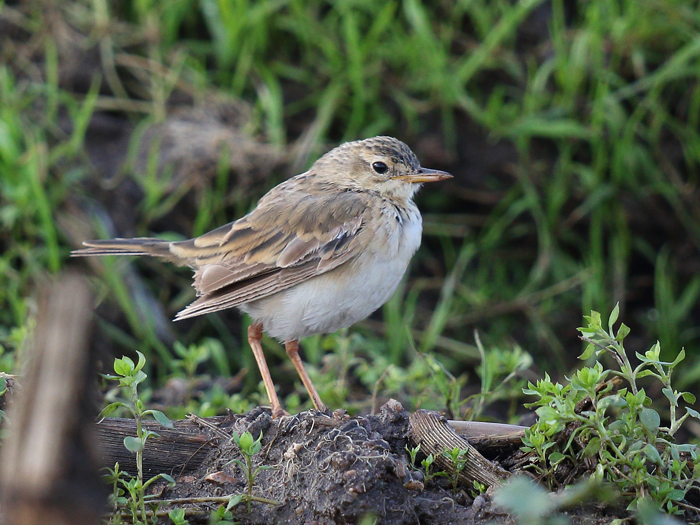 How on earth had this tropical, minimally migratory, Asian pipit, currently midway through its main moult, ended up in Cornwall? It could perhaps be the most outlandish vagrant ever to be recorded in Britain. Or was it too good to be true? Had it really arrived entirely naturally and without any kind of human aid? It is not for us to say here but interesting points were made on both sides of the argument and we will all eagerly await the BOURC's verdict on this bird. It should be noted that any remnants of doubt among the most cynical of us regarding its identification at least were put to rest by DNA analysis coming through in December, matching Paddyfield Pipit. Throughout the Paddyfield's stay, and through to the end of the year, an elusive American Buff-bellied Pipit eked out a living in the very same fields.
Back in Orkney, the year's second Siberian Rubythroat, this time a female, notched up two days on North Ronaldsay from 6th November. Swiftly in its wake was a male Blue Rock Thrush which took up residence in the quarry on the miniscule, but conveniently road-accessible, island of Lamb Holm from 8-18th November. Doubling it up with the Steller's Eider was irresistible for those making the journey to Papa Westray, even if it was the second Blue Rock Thrush some birders had seen in 2019, or even the third in as many years for some!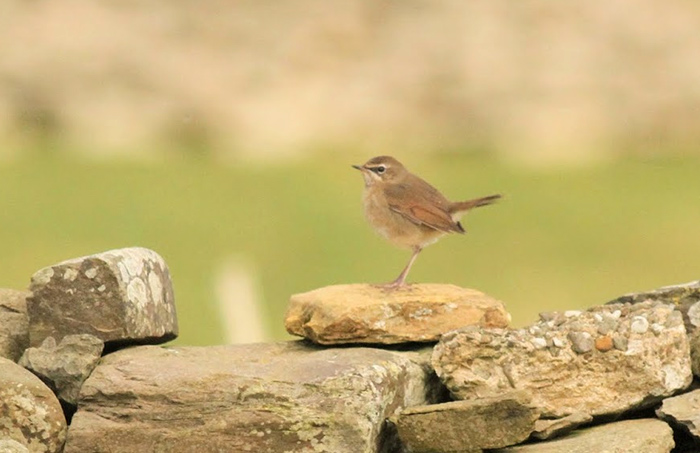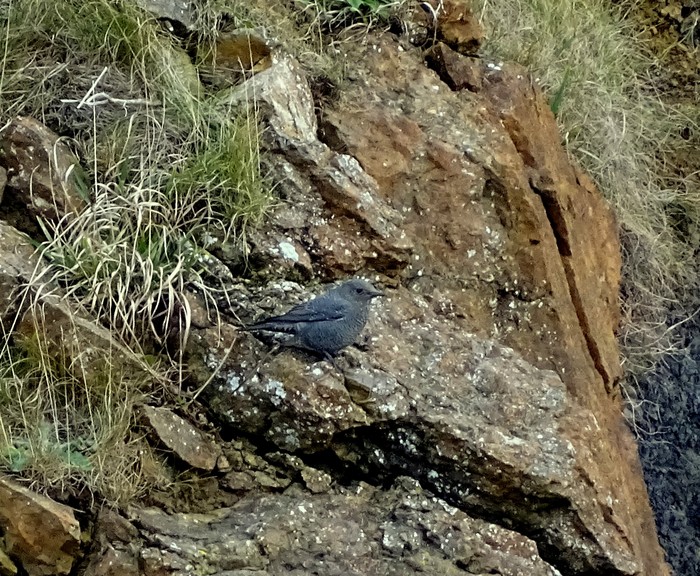 We were certainly spoiled this autumn, a season which confirmed the radical shift in status of species we considered gold dust only a few years ago. Starting with one on Out Skerries (Shetland) on 28th September and ending with another on St.Mary's (Scilly) on 6th November, we enjoyed no fewer than six Brown Shrikes, though admittedly one was a freshly dead specimen on North Ronaldsay. This would have seemed unimaginable ten years ago and similar can be said of Isabelline Wheatears, with individuals identified in Gwynedd, Lincolnshire, Argyll, Conwy, Shetland, Devon, Scilly, East Yorkshire and Norfolk!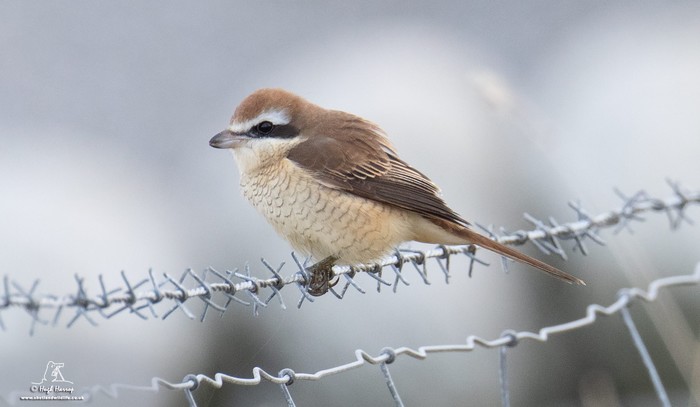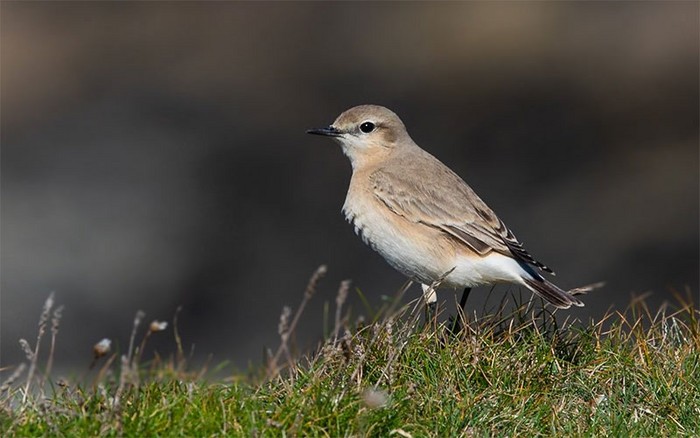 Scilly choked up a couple of late showstoppers with its second Rose-breasted Grosbeak of the season on St.Mary's on 7th November, followed by a Hermit Thrush on the same island at the Porth Hellick pumping station on 18th November. During the thrush's week-long stay, it tempted many a birder from the mainland for a pleasant day trip and often superb views of this still extremely rare Catharus, in a welcome extension to the Scilly season. While it didn't quite reach the previous record stays of eight days (birds on the Western Isles in 2010 and the previous Scilly example in 1993), it became the latest arrival so far by nearly three weeks. Mid-November also brought a Dusky Thrush to Britain, with one in a garden in North Ferriby on 23rd. With news only emerging the week after, and no follow-up sightings, this would have been an agonising episode last decade, but the two very twitchable birds in recent years (Kent in 2013 and Derbyshire in 2016), meant there was some degree of damage limitation.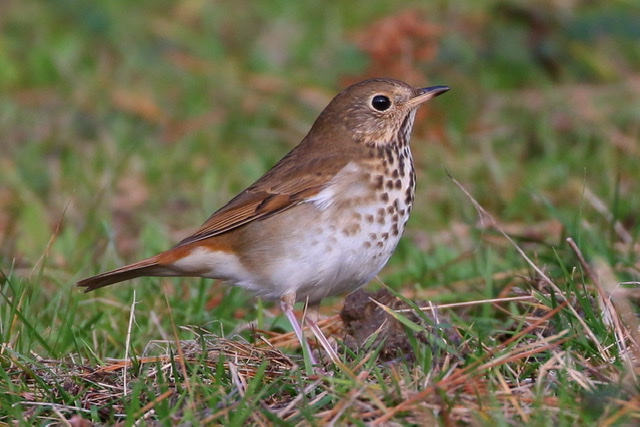 Suffolk boasted two Eastern Yellow Wagtails in November, with a popular and long-staying bird at Corporation Marshes, near Walberswick, from 7-19th and one at Halvergate Island from 12-14th.
Co.Kerry was treated to an unexpected Wilson's Phalarope near Ballylongford on 2nd December. An Ivory Gull north past the Farne Islands (Northumberland) was a quality record on 4th December, and surely an unforgettable moment for the lucky observer.
As the year drew to a close, that stonking, showy, long-staying mainland rarity we all needed came in the form of a Black-throated Thrush, a fine adult male no less, at ZLS's Whipsnade Zoo (Bedfordshire). Found on 11th December, after initially going to ground in horrid weather, it stayed all the way through to the end of this glorious birding year, by which time it had been enjoyed by countless birders and generated ZSL a welcome out-of-season boost. In the mornings, shortly after opening time at 10am, it could be reliably found gorging itself on the cotoneaster by the zoo's 'Hullabazoo' feature. Unsurprisingly, the bird represented the first record for Bedfordshire and all inland birders will relate to how precious such an obliging and nationally rare bird is in such a county. A first-winter at Hamilton (Clyde) on 16th had no such intents and made itself scarce immediately.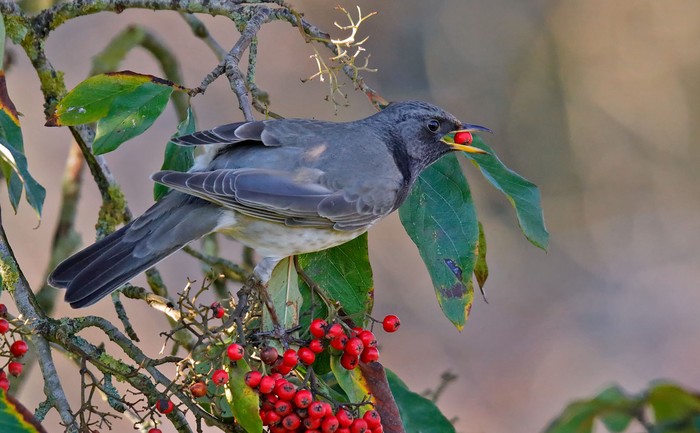 Further Eastern Yellow Wagtails were nailed at Prestwick Carr (Northumberland) on 14th December and Sedgeford (Norfolk) on 23rd December, both staying to the end of the year. The latter bird, a nicely marked first-winter male, was the first Eastern Yellow Wagtail to date which we have been able to safely diagnose in the field to subspecies level, this bird being the 'Blue-headed' nominate form tschutchensis which breeds from south-central Siberia to Alaska. Both proved reliable to the end of the year, drawing their respective steady and appreciative crowds. New Year's Eve saw a final Eastern Yellow, Ireland's second, at South Slob (Co.Wexford).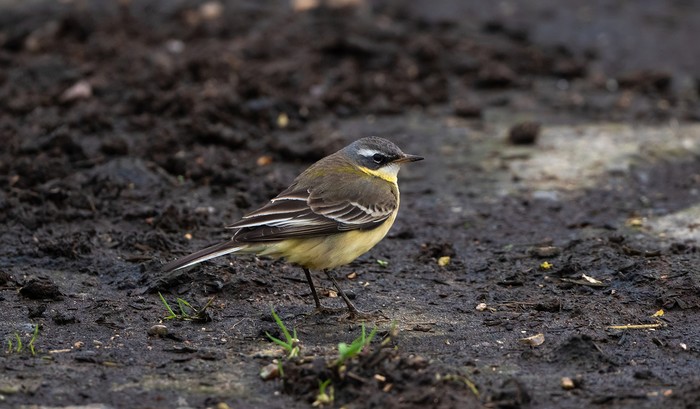 Another Lesser White-fronted Goose tormented us as it made select appearances among Pink-feet in Norfolk, starting near Burnham Market on 14th December, where it was seen again on 18th before a final half-hour showing near Titchwell on Christmas Day. There were no such problems with the Blue-winged Teal at Man Sands (Devon), which was still showing at the end of the year after first being found on 7th November.
There ended another year in birding, at least in terms of the defining rarity moments of 2019. As always, the vagrants which reached our shores brought joy, frustration, puzzlement, awe and sheer thrill. Both spring and autumn produced a well-mixed bounty of delights from pretty much every point of the compass and some species arrived in numbers never before seen. It was, of course, also the end of a decade - or at least how most of us define decades - and in this New Year it's fascinating to wonder what will turn up in 2020, and what the coming decade will bring in terms of new understanding and shifting vagrancy patterns. If things are to evolve as much as they have since the 2000s, we've got an awful lot to look forward to learning and seeing!
David Campbell
14 Janurary 2020
Many thanks to all contributors for you photos, videos, artwork and help throughout 2019.
Share this story
Tweet