Manx Hen Harriers die - one on a sea crossing but tag and body recovered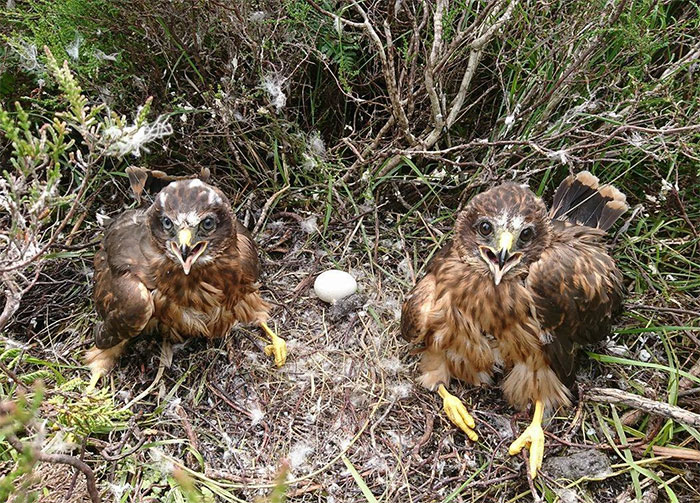 The RSPB have announced the loss of a two more satellite-tagged Hen Harrier from the 2017 breeding season, this time however the birds are known to have died of natural causes.
The male named Mannin is known to have gone down in the sea whilst travelling north from the Isle of Man towards the Galloway coast whilst the female named Grayse died on the island.
Interestingly, and in stark contrast to birds that have disappeared over grouse moors, the satellite tag of Mannin continued to transmit for days, whilst in the sea, and both the body and the tag were recovered.
There is a wealth of evidence showing the reliability of satellite tags but this recent recovery once again highlights that it is highly suspicious when birds and tags simply 'disappear'.
Here is the full update from the RSPB on the story of Mannin...
Monitoring satellite-tagged Hen Harriers can bring many positives – following an individual bird from the day it was fitted with a transmitter until its first flights away from the nest area, its travels through the UK (and beyond in some cases) or even hopefully until its own first nesting attempt. Unfortunately, however, it can also bring some negatives. Sadly, here, we report on the death of another of our 2017 birds.
Mannin, along with his sister Grayse, was tagged on the Isle of Man on 3rd July 2017 by trained & licensed members of the Scottish Raptor Study Group and Manx Ringing Group in partnership with Manx Birdlife. After fledging in July, Mannin explored his home island until 14th August, when the tag data showed he had departed the island and headed north towards the Galloway coast in SW Scotland. Sadly he never completed this journey, and the data showed that he had gone down in the sea, approximately 5km off the Scottish coast.
We have not lost one of our tagged birds at sea before, and while we were almost certain he had died, we were unsure if the tag would continue to function or when we would eventually lose track of Mannin, if the voltage in the tag's battery declined or if his body sank to the bottom of the sea?
A few days later, on 24th August we had our answer. The satellite tag had continued transmitting, and the data showed that Mannin was now located on the shoreline. After a brief search of the area, near Kirkcudbright, my colleagues soon found Mannin's remains and the tag. As with all recovered birds we submitted his body for examination, at the SRUC Veterinary Laboratory. Their subsequent post mortem report said that there was no evidence of trauma or health problems and that Mannin had eaten a small mammal recently.
We'll never know what caused Mannin to go down in the sea. Maybe he was caught in heavy rain, and with nowhere to land, became waterlogged and was unable to complete the sea crossing? Whatever the cause, it was a sad end to his short life.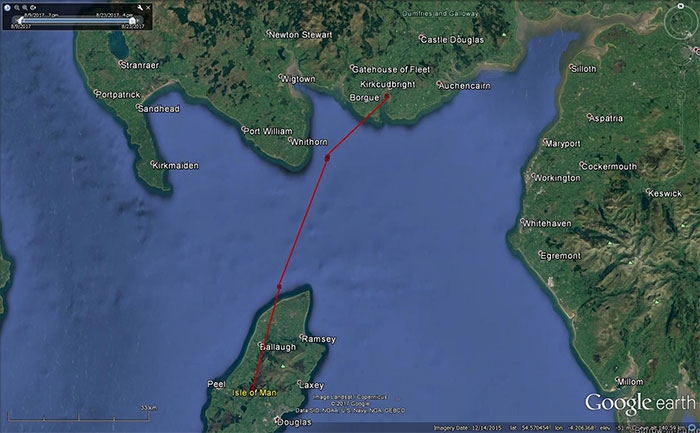 Sadly, Grayse has also died, also just a few weeks after fledging. She was recovered on the island on 9th August after her tag showed that she had died. Her body was examined by ZSL whose interim diagnosis did not implicate human interference as a cause of death.
Neil Morris from Manx Birdlife said "Obviously, everyone involved in the project here in the Isle of Man is desperately sad that Grayse and Mannin have perished. Their early demise highlights the vulnerability of young birds learning to fend for themselves once they have fledged the nest. It also underlines the need for a large healthy population that can withstand such losses.
"At the same time, it's wonderful to see Aalin coming through her first year so well, and to get such an insight to her behaviour. We need to know so much more about these wonderful birds of prey in order to formulate ever better conservation strategies. We shall continue the work to study Hen Harriers on the Isle of Man."
Whilst the deaths of both of these birds through natural causes is disappointing, the finding of their bodies and recovery of them and their tags was straightforward. As you would expect, their transmitters continued to provide us with good location data, even after one of them had spent ten days in the sea.
This is, however, in marked contrast to the disappearance of "Calluna", whose perfectly-functioning tag's transmissions ended very abruptly on 12th August. Her last recorded position was on a grouse moor, a few miles north of Ballater, in the Cairngorms National Park, and her disappearance can rightly be regarded as highly suspicious.
Here's hoping that the ten remaining birds from the Class of 2017 continue to thrive and provide us with many more positive stories. You can follow them here.
Ends.
11 September 2017
Share this story
Tweet