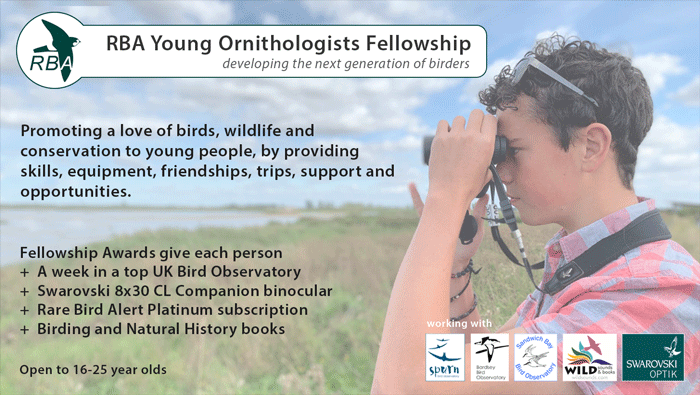 The RBA Young Ornithologists Fellowship
I am delighted to announce the launch of this very exciting new programme for 16-25 year olds, the culmination of several months work, and the beginning of a brighter future.
The fellowship aims to promote a love of birds, wildlife and conservation to young people, by providing them with skills, equipment, friendships, trips, support and opportunities, and to encourage them to share that love with their peers.
When I was young I was extremely fortunate to get to Fair Isle Bird Observatory for a week on a fellowship. Richard Richardson was the person who enabled that and it changed my life. Now, through RBA and the generous assistance of sponsors, I am thrilled we can help young birders of today to grow their skills at some of the UK's top Bird Observatories.
By developing leadership, promoting compassion, teaching practical skills, sharing knowledge and providing support through equipment, opportunities and trips, we are working together to develop the young bird conservationists of tomorrow and support them on their journeys.
I offer my heartfelt thanks to everyone who is helping to make this happen. Thank-you!
Dick Filby
RBA founder
RBA Young Ornithologists Fellowship Awards
Four awards are available for 2020. Each person will receive a package of experiences and equipment worth over £1,600 to include
A week in a renowned bird observatory
Swarovski 8x30 CL Companion binocular
Rare Bird Alert subscription
Birding and natural history library
Bird Observatory Stay
Each award gives a one week stay in one of Britain's most renowned bird observatories to develop skills, knowledge and practical experience in all the following key fields including; censusing and monitoring of breeding birds, recording of migratory birds, bird identification, and participation in trapping and ringing birds as part of the national scheme run by the British Trust for Ornithology.
We are working with bird observatories spread across the UK, enabling successful applicants to experience and benefit from observatory life without the need for long distance travel. The observatories include: Bardsey, Gwynedd; Sandwich Bay, Kent; Spurn, East Yorkshire and a fourth to be announced soon.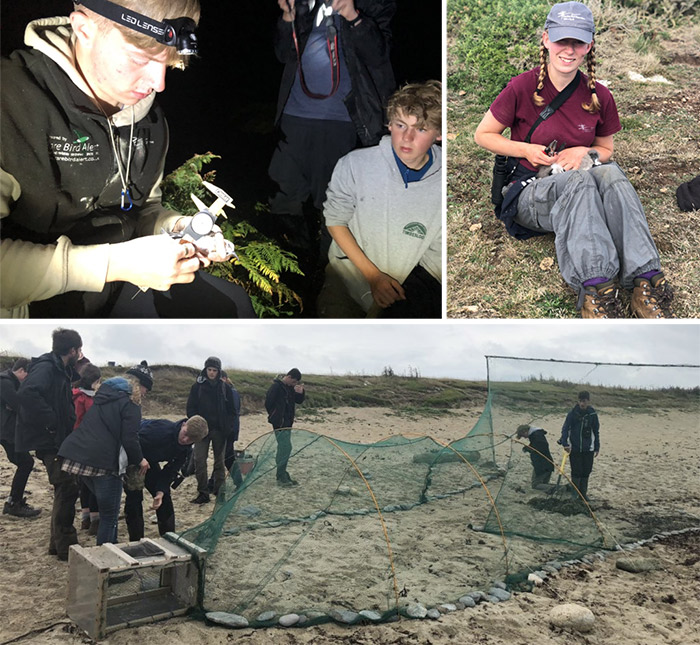 Binoculars from Swarovski
Each awardee will also receive a stunning Swarovski 8x30 CL Companion binocular worth over £900. These elegant binoculars have truly impressive optics, fit perfectly in the hand, and at just 500g are extremely lightweight. They are perfect for all day birding and wildlife observation.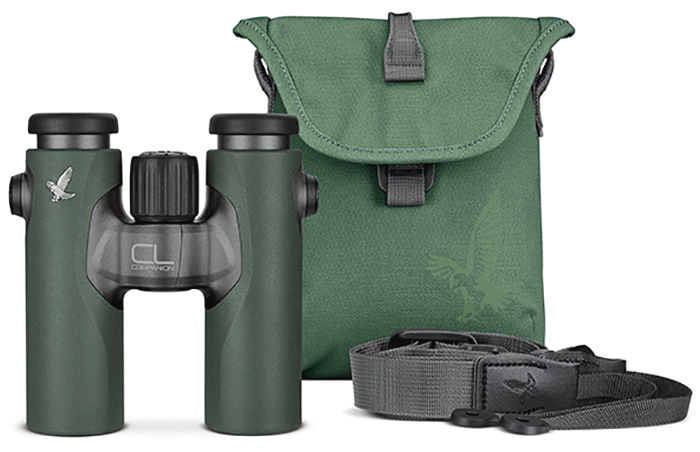 Rare Bird Alert Birdnews Subscription
Each awardee will get full access to our Platinum birdnews service which includes a Platinum subscription to our unique SwiftAlert birdnews pager, a subscription to our app BirdAlertPRO – rated the UK's best birdnews app by birders in the field, and a subscription to our birdnews website - RBA Online.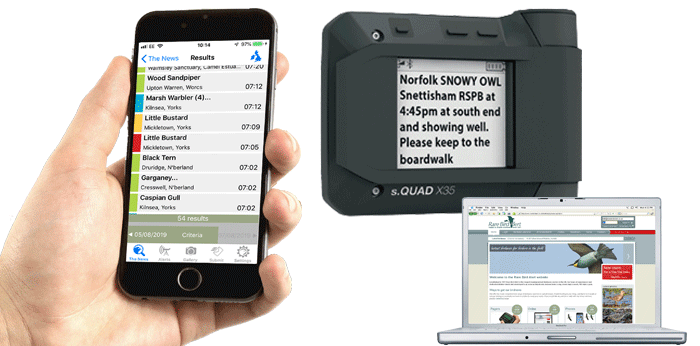 Bird books from WildSounds & Books
Each awardee will receive some of the latest birding and natural history books (the examples shown below are for illustrative purposes only)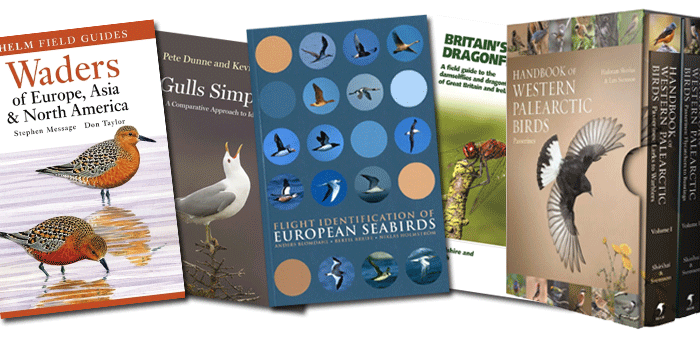 Steve Stansfield - Chairman of the Bird Observatories Council said: "What a fantastic opportunity that RBA are offering for these four lucky youngsters. They will all get the chance to see the work of Observatories and will be able to experience living and working with the Wardens and learning about the birds and other wildlife at some of Britain's top migration spots and hopefully get to see some of the fantastic falls and rare birds which Observatories are famed for."
Rob Adams - Chairman of Spurn Bird Observatory Trust Ltd said: "I am absolutely delighted that Spurn Bird Observatory has been chosen as one of the hosts to RBA's Young Ornithologists Fellowships. It is an honour to be able to play a part in supporting this fantastic initiative to ensure the world of conservation is more secure than ever before. I can certainly promise a very warm and engaging welcome to these young people."
Ken Chapman - Chairman of Sandwich Bay Bird Observatory Trust said: "We welcome this exciting initiative by Rare Bird Alert. The education and support of young birders has always been an important part of our role and we really look forward to welcoming keen participants to our site."
Dr Rob Lambert & Lucy McRobert, co-founders of A Focus On Nature said: "Providing opportunities for the young naturalists of tomorrow should be at the heart of all conservation endeavours, supported by both businesses and NGOs. Dynamic partnerships are the way forward, to the benefit of all of us. This new fellowship, spearheaded by Rare Bird Alert, will not only shape young lives and future careers, it will also play a role in building a powerful and vocal domestic constituency for wildlife."
Applications for the awards will open this autumn and will be assessed by a diverse panel of birders and conservationists. If you would like to advance register your interest in applying for an RBA Young Ornithologists Fellowship Award please email us with your details. We will acknowledge your email and then we will be back in touch as soon as applications open.
Sponsorship Our partners and sponsors are acknowledged at the head of this page, and in the top of the right panel. If you may be interested in joining them and sponsoring RBA Young Ornithologists Fellowship Awards or helping the programme grow in any way, please get in touch, we'd love to hear from you!
Rare Bird Alert
7 September 2019
Share this
Tweet