Fair Isle Bird Obs plans quick rebuild following devastating fire
The directors of the Obs have vowed that the world famous bird observatory will be rebuilt quickly following the devastating fire which completely destroyed the building on Sunday 10th March.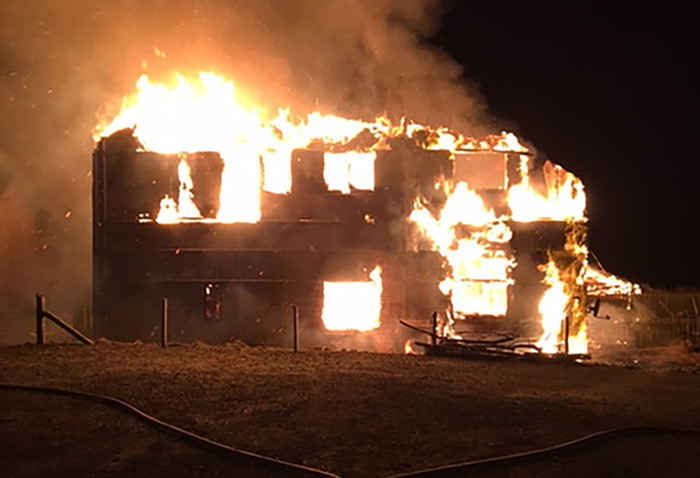 The cause of the fire has not yet been confirmed but some reports has said that it may have started in the roof. The observatory building was only opened in 2011 following a £4 million pound redevelopment.
Warden David Parnaby, his wife Susannah and their two children who live in an adjoining building escaped without any injuries. There were no guests staying in the building as it was still closed for the winter.
A coastguard helicopter and a RNLI boat brought extra fire crews from Mainland Shetland to supplement the island's fire crew.
Honorary president of the observatory, Roy Dennis said "this is a really special place and this fire has been tragic. We will rebuild and we will re-open but in the meantime there are going to be a lot fewer people on the planes and ferries coming to Fair Isle. It is very worrying"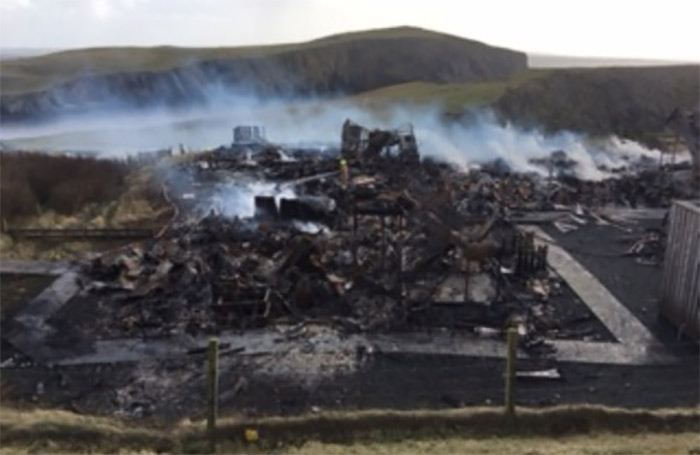 On Monday the following update appeared on the Fair Isle Bird Observatory Website
We are extremely saddened to report that the entire building has suffered extreme damage from the fire and has been completely destroyed. Investigations into the cause of the fire are underway and at this time we don't want to speculate any further. We know that it was reported around 11:20 on Sunday morning (10th March). Thankfully, nobody was in the building at the time and are very pleased to confirm that David and Susannah Parnaby and their girls are safe. We'd also like to confirm that the wealth of bird census data collected by the Observatory since 1948 data are digitised and backed up safely. We have of course lost things that are irreplaceable including original artwork by Richard Richardson, George Waterson's hand-written diaries, and donated private libraries like those from Richard and George.
We would like to give our sincere thanks to all the fire crews and emergency services who worked tirelessly to try and save the building. This included the local Fair Isle fire crew who were joined by colleagues from Lerwick and Sandwick in Shetland. We'd also like to thank the Maritime & Coastguard Agency Rescue helicopter and the crews of the RNLI lifeboat and SIC's pilot boat for their assistance in transporting fire crew and equipment to the island. We are indebted to the Fair Isle Community for their continued support of FIBO and particularly for taking care of David, Susannah, Grace and Freyja at this time of need.
We have been overwhelmed with the outpouring of support from across the globe - from Shetland, the birding community and beyond - with many folk asking for details of how they can donate. We have comprehensive insurance, so at least at this time, we are not launching a major fund-raising campaign. There will inevitably be elements where the full cost of the disaster will not be fully covered by insurance, and once the situation becomes clearer we may launch future appeals for help to replace specific items. However, if you would like to make a donation to help support the key work of FIBO whilst we get back on our feet then that would be very much appreciated (see our Make a Donation page).
We will not be able to honour bookings for 2019 and the refund of deposits will be processed in due course. There is limited accommodation elsewhere on the island. Our priority now is to support David and Susannah with a medium-term aim to continue with as much ornithological census and research work as is feasible in the circumstances. We are all still in a state of shock but are committed to rebuilding and continuing the important work of the Bird Observatory. ENDS
12 March 2019
Share this story
Tweet