Toothless Natural England gives in to wildlife criminals
Government body responsible for wildlife protection issues first license for Hen Harrier 'brood meddling' on grouse moors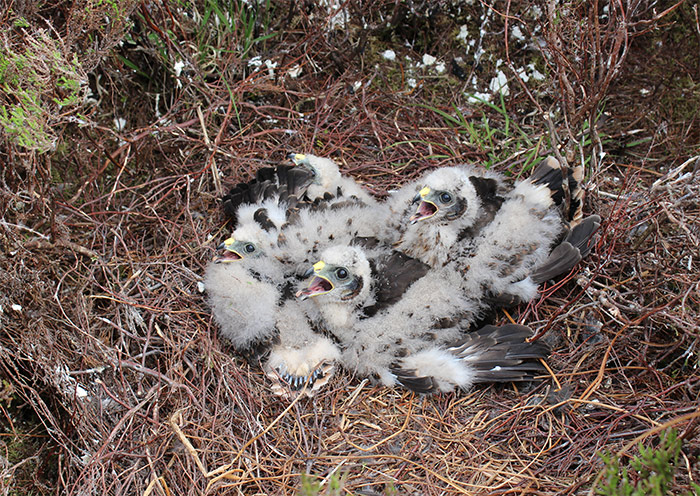 In a highly controversial move, that will seen by many as the abject failure of the government and law enforcement to tackle illegal raptor persecution, Natural England has granted its first license for so-called Hen Harrier brood management.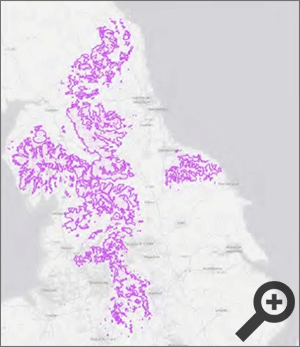 The trial will begin later this year and will involve (if the license conditions are met) the removal of Hen Harrier eggs or chicks from moorlands in County Durham, Cumbria, Derbyshire, Lancashire, Northumberland, Staffordshire as well as North, South and West Yorkshire, .
The move has come despite Hen Harriers being all but extinct as a breeding bird in England, in 2017 there were just three successful nests, from a total of seven attempts, producing 10 fledged young, and without the support of one of the world's leading bird conservation organisations – the RSPB.
In July 2016 the RSPB withdrew its support for the Hen Harrier Action Plan of which brood management is a part of. Writing on the their community blog at the time RSPB Global Conservation Director Martin Harper said: "Simply put, Hen Harriers (and other birds of prey) are illegally killed on some estates because they eat grouse. Crimes are committed to increase the number of grouse that can be shot."
"Some will argue that we should be more patient as behavioural change takes time. But the Hen Harrier does not have time on its side and the longer Hen Harriers remain on the brink, the greater public antipathy towards intensive grouse shooting will become. Hen Harriers and other birds of prey in our uplands will not recover without a completely different approach. We have therefore decided to withdraw our support from Defra's Hen Harrier Action Plan."
In response to the granting of the license the RSPB made the following statement on their Twitter account

The idea that brood management is about helping Hen Harriers is a nonsense. It's about facilitating unsustainable intensive land management which is destroying our uplands. To be clear, RSPB are implacably opposed to this &as a landowner ourselves, will never allow it on our land.
Replying to Natural England's announcement on Twitter Ian Thomson, head of investigations at RSPB Scotland said: "Innovative? No. Tugging a forelock to an unaccountable, unregulated industry responsible through repeated criminal persecution for the shocking decline of this bird? Absolutely. An utterly shameful decision.
And birders and conservation organisations were quick to voice their dismay at the decision too.
Brood management is nothing but a smokescreen for @NaturalEngland and the wildlife criminals to hide behind.

— No_More (@Bird_Crime) January 16, 2018
Having read up on this issue today, I really cannot see how brood management is any benefit to the Hen Harrier. The adult birds when released will still be persecuted and killed. So their numbers will never recover under this fated scheme. https://t.co/eTBd4VyrOW

— Robin Morrison (@robinmmorrison) January 17, 2018
@MarkAvery @michaelgove @DefraGovUK Nowhere in this press release are the words " illegal persecution" mentioned. Given that it's not disputed has @NaturalEngland chosen to forget about the problem or ignore it altogether?

— Paul (@phhoward1) January 16, 2018
Nothing less than a national disgrace - removing eggs & chicks from the natural nesting places of raptors because landowners & gamekeepers would otherwise destroy them. This corrupt, sick government is rewarding the driven grouse shooting industry for its inherent criminality.

— Steve (@exPWCO) January 16, 2018
Genuinely lost for words tonight

— David Hunt (@davidhunt100) January 16, 2018
Delete your account.

— IRSG (@IrishRaptorSG) January 16, 2018
Maybe you should think of about rebranding yourself #UnNaturalEngland

— doggie(Alan) (@doggie3132) January 16, 2018
The RSPB is currently backing an e-petition calling for licensing of driven grouse shooting in England but so far their support has appeared half-hearted. What isn't half-hearted is their condemnation of the granting of the 'brood-meddling' licence, so it will be very interesting to see the approach the RSPB takes in the coming days, weeks and months.
Writing on their blog Raptor Persection UK had the following to say about the granting of the license: The big question now is, how many grouse moor owners will 'allow' a pair of nesting hen harriers on their land? The grouse shooting industry is kind of backed in to a corner, and it's all of its own making. Grouse moor owners probably all thought brood meddling was a great idea when it was first mooted, as they thought those 'brood meddled' harriers would be removed from their moors and dumped hundreds of miles away in southern England as part of the proposed reintroduction scheme down there. Now they've been told that's not going to happen – brood meddled hen harriers have to be returned to the upland moors. What will the grouse moor owners do? Do they play ball and allow hen harriers to breed on the moors (because DEFRA et al are going to be pretty upset if it looks like the grouse shooting industry is not cooperating)? But if they do that, they run the risk that 'their' nest may not get brood meddled, especially if neighbouring moors refuse to 'let hen harriers in', and so then they'll be stuck with an unwanted hen harrier pair plus offspring.
No doubt there will be much more to come on this subject very soon but for now there is currently a parallel e-petition which at the time of writing has over 25,000 signatures, calling for the banning of driven grouse shooting.
Surely there can be no better time to sign this e-petition and to send the message to the government, that the only way to protect the Hen Harrier is to ban the unethical, environmentally destructive, wildlife crime ridden and rotten-to-the-core business, that is driven grouse shooting.
17 January 2017
Share this story
Tweet