Headstarted godwits return to WWT Welney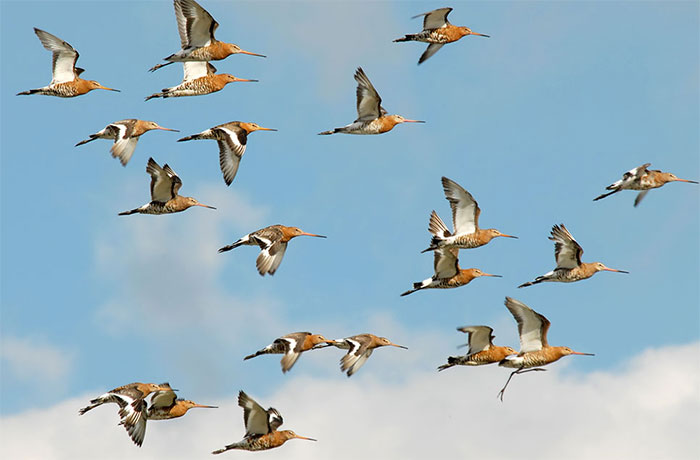 Black-tailed godwit numbers have declined in the UK because of land drainage and habitat loss. There were fewer than 50 pairs of godwits breeding in the UK and they can struggle to hatch and raise their chicks in safety. In 2017 we began a collaborative project with the RSPB working over three key godwit breeding sites in the east of England: WWT Welney, RSPB Ouse Washes and RSPB Nene Washes.
Each year one element of the project is to headstart godwit chicks collected from wild-laid eggs, by rearing them in captivity through the vulnerable stages of hatching and fledging. To date, between 2017 and 2019, 112 young godwits have been re-released into the wild at WWT Welney and RSPB Nene Washes.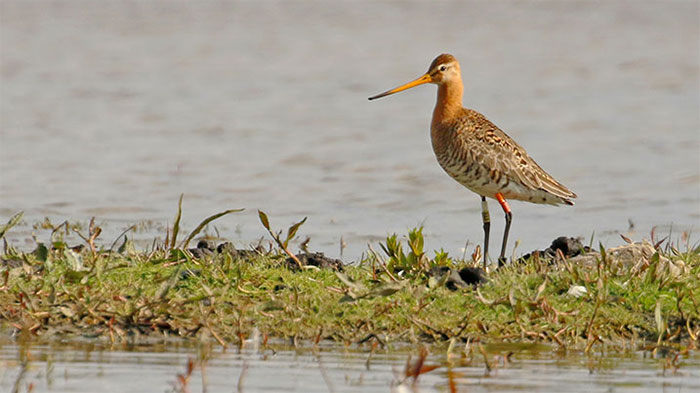 The headstarted birds released are fitted with a unique combination of colour-rings so we can identify individuals and determine exactly how successful our work has been. So far, things are off to a promising start.
This year we have already recorded 27 headstarted birds arriving back in The Fens after spending the winter overseas, as far south as West Africa. This includes 12 birds that were released in 2017, 12 birds that were released in 2018, and three birds that were released in 2019.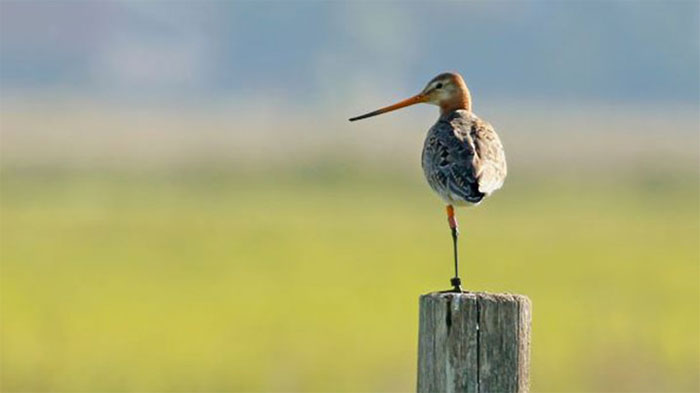 Around the world and back again
Seeing the first black-tailed godwits return each year is always a momentous occasion for the team, especially recording a sighting of the first bird to return from the previous year of headstarting. Emotional is an understatement! Tam, Barker and Omaha are the first of our head started birds to return from the 2019 cohort.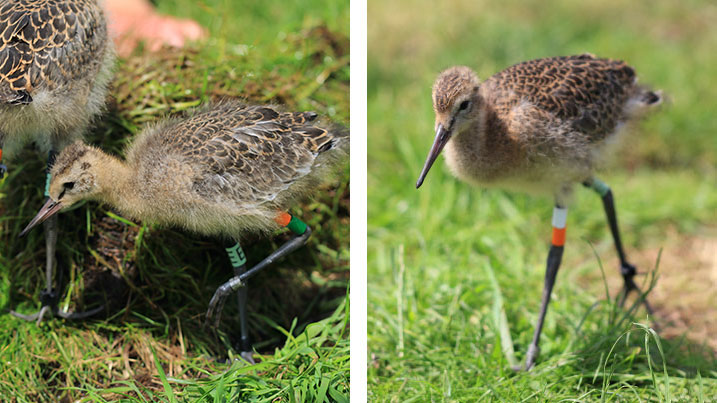 We all have our favourites (although we'd never let the birds know that) and so we were delighted when Denver his partner Purl arrived back at WWT Welney. Denver was spotted by one of our network in the Netherlands in February. Last year the pair nested at Welney but sadly their nest had been partly flooded for a short period after heavy rain, and later had their eggs pushed out of the nest by an inquisitive greylag goose. We hope they'll try again this year.
Anouk and Delph are back too. This pair nested together last year. We were fortunate enough to get some great footage of the family shortly after the nest hatched as part of our monitoring work. The parents were seen carefully escorting their chicks away from the nest in preparation for life in the wild.
Welcome back Chip! This is his first visit home since he left us in 2018. Last July, Chip became the first headstarted bird from the project to be spotted in West Africa.
Chip is one of the 'muddy eggs' - you may remember this story from last year?
And a popular pair of the Ouse Washes , Lady & Nelson, who nested at Welney last year, have decided to breed at the Pilot Project this time round; an area of flood free grassland adjacent to the Ouse Washes managed by RSPB.
Some of our birds have been spotted in other parts of Europe. Strider has been seen in Germany, while Maris is in the Netherlands and her sibling Desiree is in Belgium (see second image in this article above), all fledged in 2018. Are they off to pastures new or on their way home? It's hard to tell for sure at this stage, but their behaviour suggests some of them are breeding. We were delighted to hear that 'March', who hadn't been spotted since he left us in 2017, was sighted in Portugal in February of this year, and then again in the Netherlands in March! And finally we recently had a report that Cloud, a female from the 2019 headstarted group, is currently in the Netherlands
None of these stories would be possible without our dedicated network of 'Godwiteers' across Europe. Find out more here.
WWT
25 May 2020
Share this story
Tweet