Greenfinches disappearing in Northern Ireland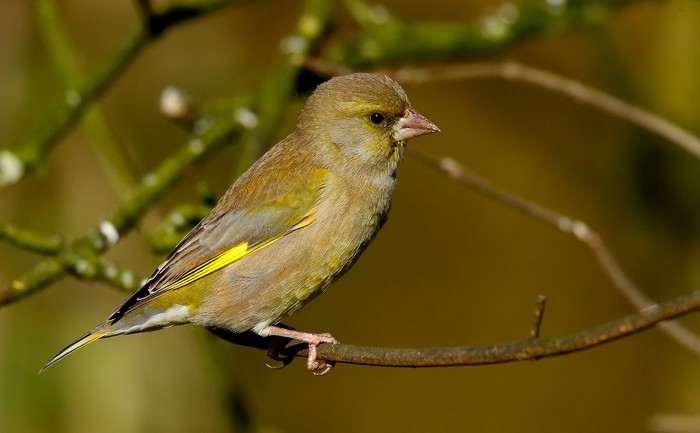 According to the latest report, recently published, Greenfinches in Northern Ireland are in trouble; declining by a massive 75% between 1995 and 2017.
Formerly widespread and a feature at birdfeeders, Greenfinches have been disappearing from Northern Ireland. The latest results from the Breeding Bird Survey (BBS) highlight the true extent of the problem Greenfinches are facing. The main driver of the fall in the population is thought to be the disease Trichomonosis, first emerging in finch populations following spill-over from Woodpigeons.
Greenfinches infected by Trichomonosis may be found around feeders looking unwell, with a lethargic, fluffed-up appearance and may appear wet around the face. There is no cure but it is possible to break the cycle of this disease by disinfecting any birdfeeders and only putting as much food out as the birds will eat in a day – if sick birds persist, feeding should be stopped for a couple of weeks before starting again.
However, it's not all bad news for birds in Northern Ireland, the Buzzard breeding population increased 14-fold since 1995, Blackbird by 43%, and the breeding populations of both Woodpigeon and Collared Dove doubled.
Sarah Harris, Breeding Bird Survey Organiser at the British Trust for Ornithology (BTO), said, "It is often disheartening to read about the declines recorded in birds such as Greenfinch, but there is good news out there for other species. There are things we can all do to help those in trouble and it is certainly uplifting to see there are over 100 volunteers in Northern Ireland willing to give up their time to help monitor their breeding birds. Thank you to all who take part"
Mark Eaton, RSPB Principal Conservation Scientist, said "Knowing how bird populations are increasing or decreasing is fundamental to bird conservation and the long term trends for population changes in this new BBS report are a very important indicator of the health of our countryside. BBS trends shows how our bird populations have fared since 1994 and are used to identify the species most needing conservation help: they are a crucial component of the Birds of Conservation Concern assessments which identify the red list, of species of greatest conservation concern."
The BTO/JNCC/RSPB Breeding Bird Survey is a partnership jointly funded by the BTO, RSPB and JNCC, and the report is published by BTO annually on behalf of the partnership. The full report can be accessed here.
7 May 2019
Share this story
Tweet