First evidence of the impact of climate change on Arctic Terns
Data collected from electronic tags retrieved from 47 journeys made by the Farne Island Arctic Terns, has revealed for the first time how climate change might affect their behaviour.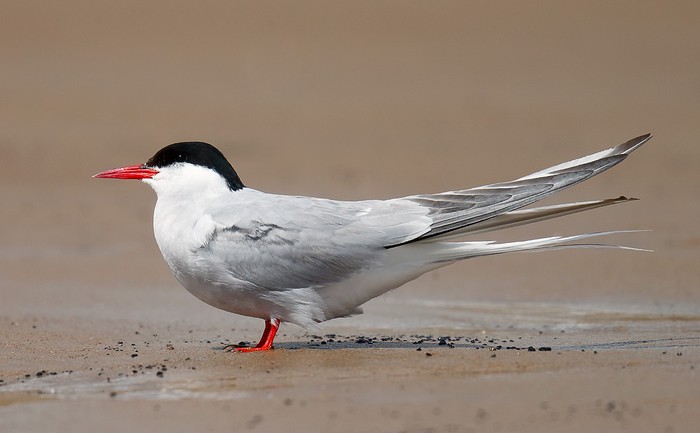 Arctic Terns spend their breeding and non-breeding seasons in polar environments at opposite ends of the world and are our longest-migrating seabird.
Spending their non-breeding season in the Antarctic, the remoteness of this part of the world means that until now we have had a very limited understanding of their behaviour and distribution while they are there.
Analysing the data from 47 migrations over two study years, 2015 and 2017, the team found:
Arctic Terns live on the Antarctic ice for one third of their annual lifecycle.
Analysis of their feathers shows their main food source is krill or similar crustaceans.
There were marked differences in the bird's behaviour and distribution between those tagged in 2015 compared with those tagged in 2017. This coincided with a substantial change in ice conditions, with high ice cover in 2015 followed by unusually warm conditions which led to the break-up of the ice in late 2016 and lower ice cover than normal throughout the following year.
Dr. Chris Redfern, of Newcastle University, UK, who has led the study explained: "Sea ice is an important habitat for juvenile krill as it provides protection from predators and from the intense light of the Antarctic summer.
"We now know that krill are the main food source for the Terns so it seems likely the warmer weather during 2016/2017 led to reduced krill abundance and so the birds were forced to forage in different areas. And in fact, in that second year, the birds converged on the Shackleton Ice Shelf rather than being spread out along the East Antarctica coastline.
"Polar regions are particularly sensitive to climate change and even small shifts can have major implications throughout the entire food web. This is why it is critical to understand how seabirds such as the Arctic Terns are affected by environmental change, both short and long term."
Co-author Professor Richard Bevan, of Newcastle University, adds: In the course of this study, we have been continuously amazed by the incredible journeys that these seabirds make each year and now we are beginning to get a glimpse into what they are doing in their wintering areas in Antarctica.
19 November 2019
Further reading: Chris P. F. Redfern et al, Use of sea ice by arctic terns Sterna paradisaea in Antarctica and impacts of climate change, Journal of Avian Biology (2019). DOI: 10.1111/jav.02318.
Share this story
Tweet