Finders-in-the-Field: White-bellied Storm Petrel, Cley, Norfolk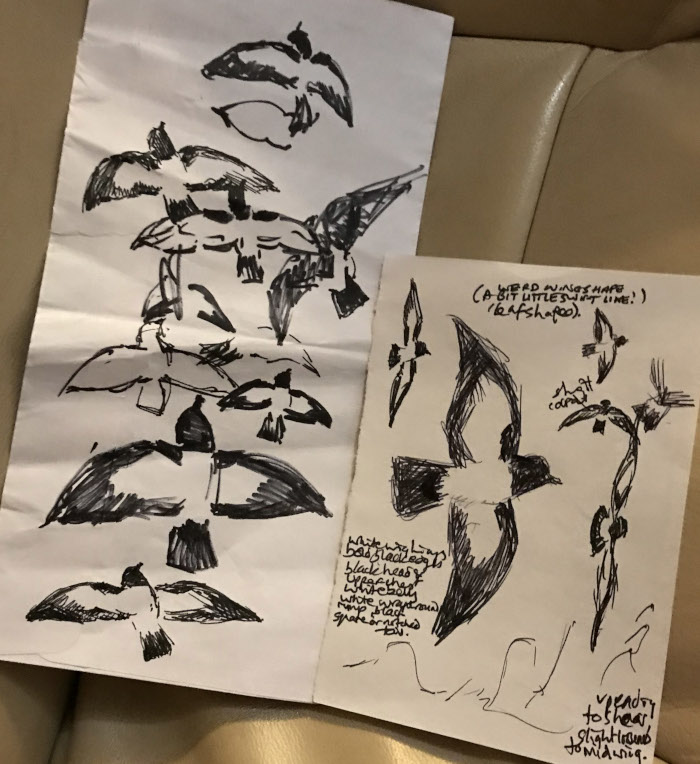 Seawatching at Cley can be uneventful. During early November, regular spells at Coastguards in variable offshore winds had been relatively interesting, with Pomarine Skua, Sooty Shearwater, Little Auk, Red-necked Grebe and Iceland Gull spotted, but not by me. However, half-a-dozen marauding Bonxies were regularly stationed offshore and, in addition to lots of Red-throated Divers, the odd Black-throated Diver and up to seven Great Northern Divers a day were on offer, while good numbers of auks were fishing offshore. Seeing so many divers and lingering auks is unusual for Cley, and more than enough to hint that a bigger prize might await. Maybe my fifth White-billed Diver for Cley would sail by, or – one can only dream - Norfolk's first twitchable Brunnich's Guillemot might surface close inshore?
From shortly after dawn on Tuesday 17th November, I was again on parade at Cley Coastguards, sheltering from a strong SW wind, along with regular stalwart Graham Fellows. In addition to the usual scattering of auks, two Great Northern Divers passed by, and several Bonxies were patrolling further out. A few waders and ducks were passing, but otherwise all was a bit samey, and Trevor Davis, on his daily walk around the reserve, joined us in the beach shelter, promptly spotting a high flying diver. Not a White-billed, but yet another Great Northern, of course.
A few minutes later, shortly after 9.30am, I was scanning to the northeast and, in a wave trough, I glimpsed a storm petrel, blackish with a browner carpal bar and curved white rump. But before I could even shout out Leach's Petrel the bird sheared up in the scope and displayed an all-white underbody and white on the underwings. Dumbfounded, I saw the bird repeat the action, scooping up in plain view and allowing an instant double-take – it was a White-bellied Storm Petrel! Immediately I shouted out the ID and again it rose into full field-guide pose as I began describing the bird's features out loud, and its flight trajectory. By now, rather than still heading shorewards, it had turned directly away and was heading east in confident electric bounds, breaking the horizon on each upswing as it caught the wind.
I elected to stay on the bird rather than search for landmarks to pinpoint its position, praying the others would pick it up heading away but, as they were failing to do so, I came off the petrel to locate the position of a ship I was told was out in the offing. In so doing, I lost the bird. In failing to immediately relocate it, I panicked, picked up my scope, ran to the car and drove like a madman to Sheringham, where surely it was going to pass by. Long story short - it didn't.
To say I was shocked by the sighting is an understatement. To suddenly see, in plain sight and good light, such a distinctive seabird just there in the scope, was crazily exciting. I had no expectation of how striking such a bird would look, and its obvious bold patterns were simple to clinch. That said, I was totally unprepared for the strange wing shape that I was seeing; the wings had an unfamiliar, almost leaf-like structure, broadest across the inner hand and tapering to a short, sharp primary point. This was unlike any Leach's or Storm Petrel outline, and a really quite arresting feature. The black head and upper breast, the white underwing linings boldly outlined in black, the pure white underparts reaching to the vent, the broad curved white rump and the 'stuck-on' black tail added up to a unique package.
As soon as I had a chance, and while the experience was still raw and I hadn't stopped shaking, I hastily scribbled a few drawings; and then eventually spotted that the pager message was broadcasting the bird as either a Black-bellied or White-bellied Storm Petrel – which was simply not what I'd phoned out! The restricted black breast, ending ahead of the sharply defined black wing border and the fully white underparts extending to the tail left me sure which species I'd seen, and I duly corrected their mistake.
I later looked for the bird in Weybourne Bay, in the vague hope that it had lingered there to feed, but by the end of the day there had been no further sightings, which came as no real surprise; it turns out that seawatching in a stong southwesterly in November is not a high priority for North Norfolk birders.
Richard Millington
Share this story
Tweet