Finders-in-the-field: White-throated Needletail, Barra, Western Isles, June 2017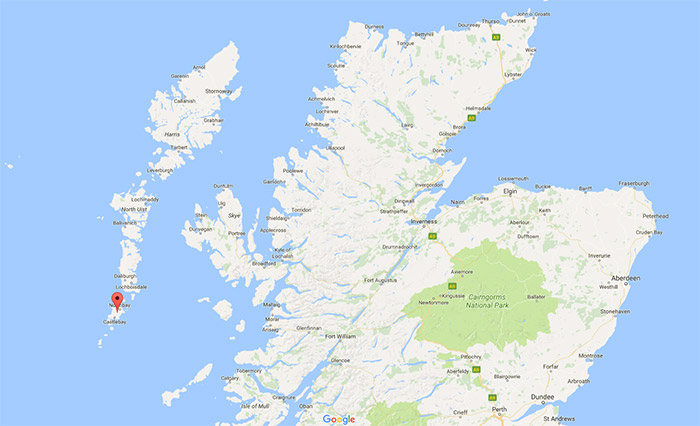 The Isle of Barra at the southern end of the Outer Hebrides has hosted some outstanding rarities including Britain's first Eastern Kingbird last year, Scarlet Tanager and Scotland's first live Cetti's Warbler (2014), Ovenbird (2011), Hermit Thrush (2010) and Yellow Warbler (2004). Kathy and I moved here two years ago having spent the previous five autumns on the island. We now flog Barra throughout the year looking for birds. It's hard work and despite its form, the reality of birding here is that most days there are no rarities or scarcities to be found, just millions of midges to be attacked by, storms to weather or high winds to battle against.
The morning of 22nd of June was overcast and breezy, with mist hanging over the hilltops. Kathy and I were birding the Glen area, more out of habit than with any real expectation of finding anything new. The usual Willow Warblers and Whitethroats were in exactly the same places as they'd been on our last 20 visits and the Cuckoo was still being mobbed by Meadow Pipits on the fence at the top of the gully, past the last house on the hill. We walked up the hill to check the isolated clump of bushes on the site of the old dump, saw no birds, and trudged back down again.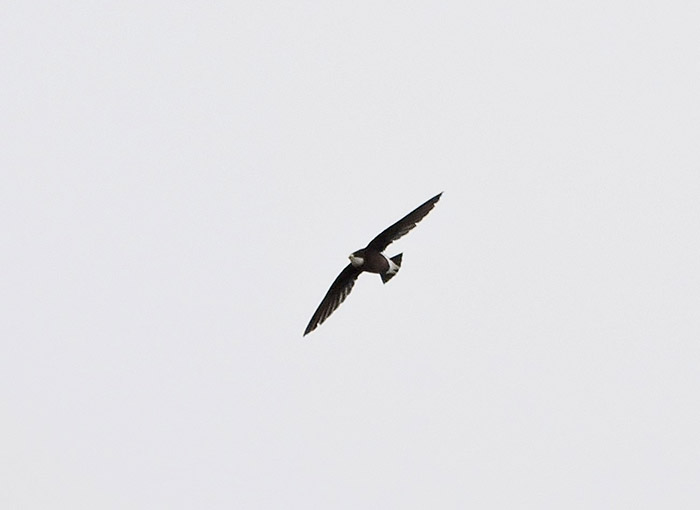 We reached the first house at about 10.05, just as Iain was coming out of his front door, and he called across to ask if we'd seen anything interesting. I replied that we'd not seen anything of note, in fact it was extremely quiet, and that there was little chance of anything to get excited about turning up in the next few weeks now that spring migration was over. Before Iain had time to reply, a bird appeared over his rooftop and cruised over our heads. It was clearly a Swift species. Common Swifts are scarce on Barra but this bird was no Common Swift: it was far too big. I said something along the lines of: that's a big Swift, a very big Swift. I recall some loud expletives coming out of my mouth and Iain backing away into his house as the bird banked and headed up the hill and out of view, with me in hot pursuit. This initial sighting probably lasted no longer than 40 seconds, but I saw enough to be sure it was a White-throated Needletail. It was large, with a wide, barrel-like body and broad, squarish tail with a white throat and a white wedge under its tail. But now it had disappeared over the hill and I had no record shot to confirm what I'd seen. With a feeling of disbelief and shock, I started to question what we'd witnessed. Did we just imagine the last few moments? Had we really been in the presence of one of the Holy Grails of birding on our little island? Would anyone believe this? Maybe. But would BBRC accept this without a photo? Probably not. Would I ever get over it if it didn't reappear? Not a chance!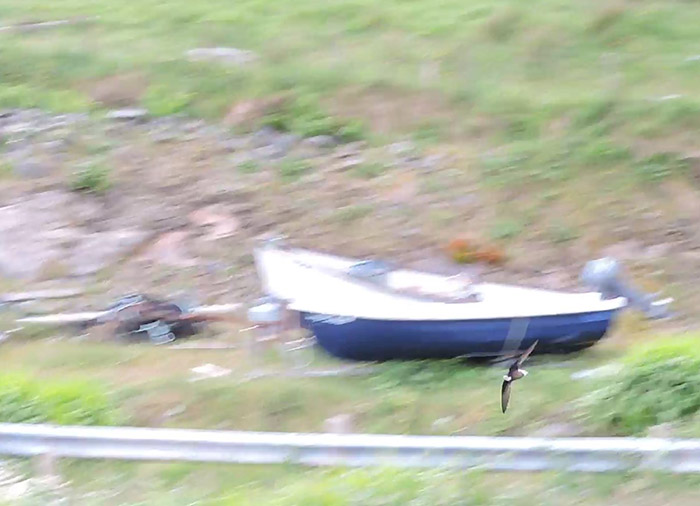 I had a similar moment in almost the same spot in September 2013, when a Roller flew past me before disappearing over the horizon. On that occasion luck was on my side and we relocated it on a nearby fence-line shortly afterwards. And luck was with me this time too, as a minute or so later it reappeared over the road further down the hill. After a quick sprint, we were able to watch the Needletail up close as it swept around the houses, over the rooftops, up and down the hillside and along the road, hoovering up insects. It took what felt like an eternity to get some half decent record shots of it, but it was probably more like fifteen minutes. The bird was flying so fast it was hard to follow with a camera; it was a gloomy day and my hands were shaking from the massive adrenaline rush, so almost all my photos were either missing the bird completely, blurred or silhouetted. With the weather now deteriorating and the cloud base lowering, it changed its feeding pattern and started to make passes of the copse below us. Looking down on the Swift we were able to properly see the blue sheen on its wings and the pale patch on its mantle for the first time as it effortlessly switched back and forth around the copse.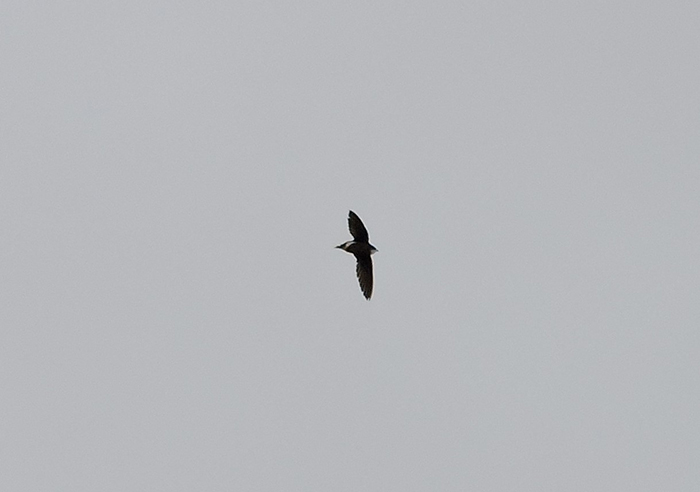 Mobile phone coverage on Barra is patchy at the best of times but on this of all mornings reception was down in the Glen area. Aware that we needed to get the news out, we decided to run back to the car then drive home to use our landline. Once there, a quick call to RBA ensured that the word was out, then Kathy phoned various birding friends whilst I put photos onto Twitter. We were back at Glen watching the Needletail by 11.30 and this time with the news out and photos in the bag the pressure was off and we could relax and enjoy one of the coolest birds on the planet, effortlessly powering around us at warp speed. At times it was so close that we could hear the whirr of its wings as it passed by at jaw-dropping proximity.
It was still present at midday when we walked the short distance back up the hill to Iain's house in order to explain our earlier bizarre behaviour. We were back a few minutes later but the bird was nowhere to be seen. When it hadn't returned after 15 minutes, we widened the search in an effort to re-find it but drew a blank at each site. Three other birders made it here during the day hoping to see it and three more arrived from Somerset the following day, but sadly the Needletail didn't appear again, despite two days of intensive searching. With hindsight, I suspect it departed soon after midday, ahead of the approaching weather front. Later that afternoon as we checked the north end of the island, Kathy found a cracking adult Rose-coloured Starling which provided some small recompense for those who missed the Needletail.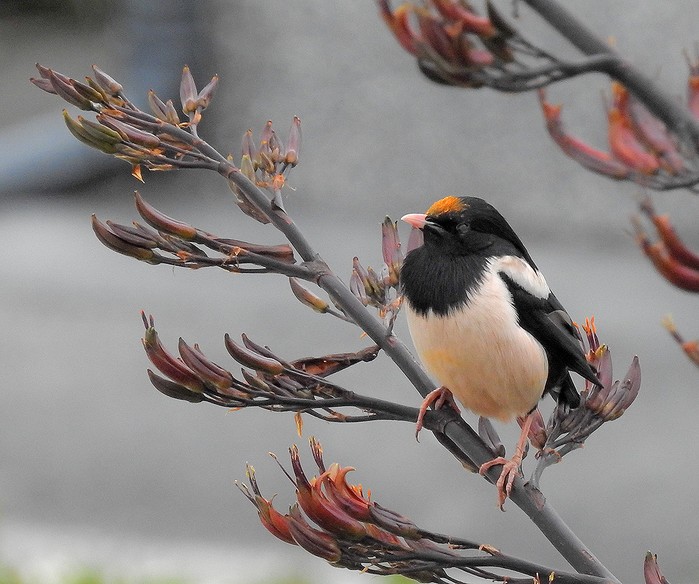 As I write this three days after the event, I'm still buzzing and in a state of shock at finding such a legendary rarity here on Barra. It's been suggested that I could now hang up my bins and retire from birding a happy man. However, if a Needletail can turn up here, then anything can, so what's going to be next? Time to stop writing, grab the bins and camera, and get back out there to carry on flogging the patch!
Bruce Taylor
25 June 2017
Share this story
Tweet