Finders-in-the-field: Moltoni's Subalpine Warbler, Blakeney Point, Norfolk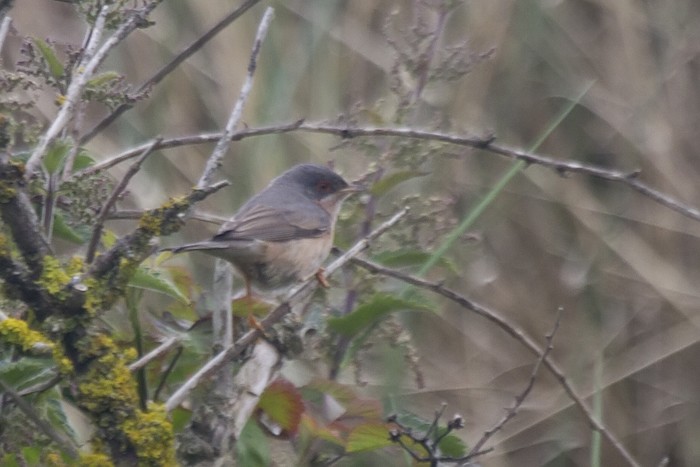 It's fair to say since becoming a father last summer, my birding has taken somewhat of a hit. With less available time to get into the field, it has become all the more important to time what birding opportunities I have, with optimum weather and dates for finding rare birds.
Thus last weekend I was all the more frustrated that easterlies and overcast conditions at the end of May coincided with a visit to the in-laws… in the West Midlands. Needless to say the conditions delivered with a scattering of scarce and rare birds up the east coast which I was no-where near.
Given that situation, I thought I'd "book-in" a morning of birding this Saturday (2nd June). Come Friday night I asked around if any the usual birding mates fancied heading out somewhere in the morning. James and Will would be twitching flowers and failing to find Rose-coloured Starlings in Suffolk, Stuart "Stuff" White was on family duty, so it was Phil Saunders and I that were to come up with a plan. We discussed briefly the idea of twitching the Red-backed Shrikes and a Bluethroat at Kelling, before a whizz around Cley or similar, but decided better of it. A quick look at the wind and weather revealed overcast with drizzle and light showers all morning and very light north-easterly winds, and given the date, in my mind this screams Blakeney Point. Unlike me, Phil had been working his backside off birding this spring, it being his first in UK for 5 years, and despite feeling he was starting to burn out, he took little persuasion to agree to one more bash of 'The Point'.
So a relatively late start, at 08:30 we arrived in the beach car park at Cley and were glad to see an all but empty car park, meaning perhaps no-one had yet started out to the point. Within minutes of setting off a Chiffchaff flew from amongst the fishing boats into the Suaeda. Excellent, an arrival, we thought. Sadly, this was false hope and come 'Half-way house' all we'd seen in the way of migrants was the aforementioned Chiffchaff, a scattering of Diamond-backed moths and a couple each of Painted Ladies and Silver Ys. Anyway 'The Hood', 'The Long Hills', 'Yankee Ridge' and 'The Plantation' were all still beckoning. With every location passing and no further migrants being found, hope was diminishing, however one still always holds out for 'The Plantation'. Until that came and went - not a single bird.
And so to 'the Lupins', the last hope. We sat down on the concrete ledge by the toilet block and scanned and waited, nothing. Well there's always the way back. We talked of past birds seen in 'the Lupins' and with blind optimism I blasted a couple of 'on the off chance' bird songs in the direction of the bushes. It's never worked, but one day…
Finally as Phil turned and started to walk away I gave a final pish towards the bushes. The linnets were all interested but nothing new, then suddenly a warbler caught my eye. I raised my bins, and though relatively distant, glimpsed a view of what appeared to be a short-tailed Sylvia warbler with, although appearing subtle, a white submoustachial stripe – a Subalpine warbler! I shouted to Phil "I've got a Subalp". Thinking initially I was joking, he soon realised I was serious as I panickingly blurted out a string of useless, inaccurate directions. Thankfully the bird flitted to the next bush and he got on it. At this point we could both see pale pastel-grey upperparts, white submoustachial stripe and more-importantly the relatively uniform, pale salmon-pink underparts. We both immediately agreed this looked very promising for Moltoni's Warbler, and knew we needed to hear it call.
I quickly downloaded and refreshed in our heads the diagnostic call of Moltoni's warbler from Xeno-canto.org. I grabbed my camera and headed towards where we'd seen it dive into the bushes. I gave it a quick blast of tape and it responded almost immediately by starting singing! The bird then flew into the largest rose in amongst the brambles. From here it gave prolonged song, though we still hadn't heard that clinching diagnostic call. When it went quiet for a while we gave it another quick blast of the call and it responded with the same call! Brilliant, identification confirmed! We tried luring it out with more pishing, it immediately responding with more of it's wren-like (or in my opinion, Long-tailed tit-like) "trrrrrr" rattle call but was not giving itself up to view. During this time I used my phone to record some video, for sound recording purposes, of the bird singing and calling.
We were of course keen to get better views and perhaps some shots of it. However, the bird was proving to be very furtive, constantly singing from deep inside the roses and brambles and not showing itself. Eventually it did and we both got better views and I managed to get a couple of awful record shots.
Shortly after this, one of the National trust wardens appeared from the lifeboat house and was very excited to hear the news, a lifer for him as well as the two of us. We confirmed with the warden that breeding birds were not a problem in the area, and with photos and sound recordings confirming the identification, we called RBA to get the news out. After a period of it only giving brief flight views, it finally came out, albeit briefly, perching on some brambles, before yet again diving back into deep cover. I managed at this point a couple of slightly improved photos. But other than this, views were very short and few and far between.
One final time, back in the big rose bush and without the need to try and get photos, it gave us one last good view.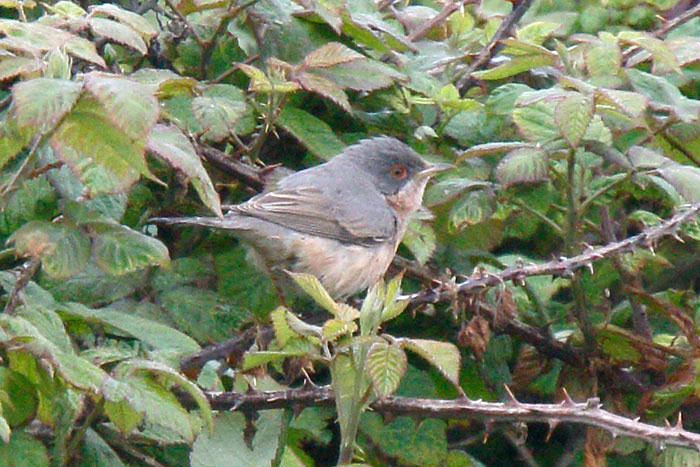 The bird had a pale blueish-grey upperparts, darkening towards the face. The wing coverts, tertials and primaries all appeared brown, standing out against the pale grey of the mantle and identifying the bird as as 2CY male. The white submoustachial stripe was clear though did not stand out as much as I've previously seen on Western Subalpine warblers, presumably due to the paler 'cooked-salmon' pink of the underparts. Due to the fleeting views we couldn't confirm the tail pattern however the constant diagnostic call would be good enough.
Sadly, after a couple of hours it was time to leave. We left the bird under the watchful eye of the warden and the first of the twitchers were already halfway down the point.
Dave Andrews
5 June 2018
What Social Media Said...
Moltoni's twitch after one of its brief fly arounds between 5:50pm & 6:05pm. Other than that it was a bit of a sod this afternoon. Spoonbill, Whimbrel, Marsh Harrier & lots of Little Terns also. Thanks for driving @JohnWright100 pic.twitter.com/gM0SkDALJX

— Paul Baker (@BakerBoySOG) June 2, 2018
Nice Birthday present Moltoni's subalpine warbler Blakeney point.

— keith tinworth (@kettering1) June 2, 2018
Pre-medicated with Ibuprofen, now waiting for high tide to pass before setting off up Blakeney Point. #moltonis #birding

— Rob Lucking (@terpsiphone) June 3, 2018
Fantastic first trip out to Blakeney Point. Moltoni's Warbler, Grey & Common Seals, Ringed Plovers, Oystercatchers and three species of Tern. Fantastic service by the boatmen at Morston Quay. Brief visits to Salthouse & Titchwell for more quality species. pic.twitter.com/e97xr7QoBV

— Neil Duggan (@NeilDuggan80) June 3, 2018
Share this story
Tweet