Finders-in-the-field: Elegant Tern, Hayling Island, Hampshire, June 2017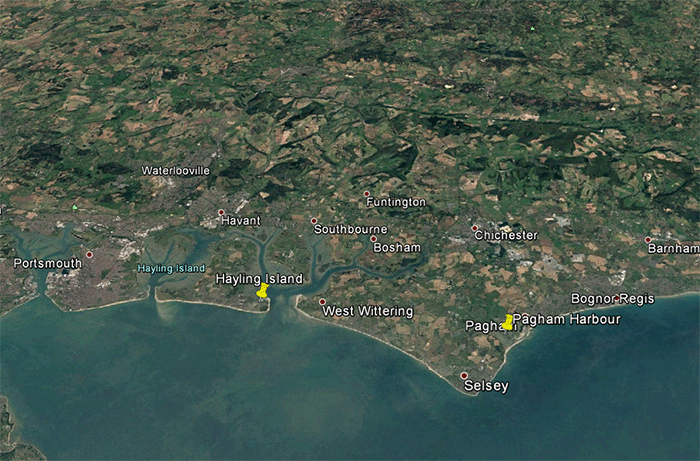 On 5th June 2017, strong westerly/south-westerly winds along the south coast of England resulted in a few sightings of Storm Petrels, mainly from Cornwall and Devon, with a few reaching Dorset. The following day, birds were seen as far east as West Sussex, so Andy Johnson set out on Wednesday 7th to find one off his regular patch, Sandy Point on Hayling Island in Hampshire. Storm Petrel is a rare bird in Hampshire, with no reports from the county since August 2014, so it was an opportunity not to be missed. By mid morning it was proving hard going, with just three Manx Shearwaters the highlight in two hours, so, with high tide approaching, Andy decided to head to the nearby Sparkes Marina to check the high tide roosts.
Due to the prevailing wind, Black Point was quiet, with just two Ringed Plovers and two Dunlin attempting to find shelter. Andy moved to Fishery Creek, where gulls and terns were gathering on the north side. Scanning with bins, Andy couldn't see any waders with them, but decided to have a scan with his scope, just in case. Almost immediately he was looking at an Elegant Tern!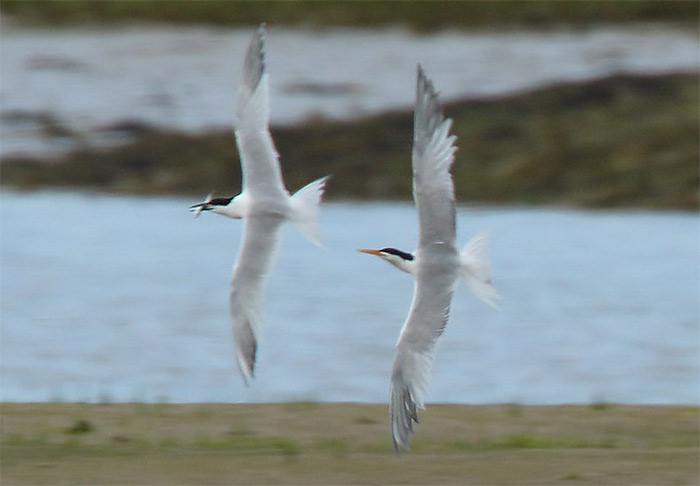 Along with many other birders, Andy had been hoping that the American Royal Tern which has spent the latter half of the winter and the spring in the Channel Islands would visit the south coast, and even end up on his patch. That bird never crossed his mind at this point, as he was clearly looking at an unmistakeable adult Elegant Tern! He soon noticed that it was colour ringed, green over yellow on the left leg, white on the right with a metal ring above the knee. Vaguely recalling the French birds had been colour ringed and analysed for hybridisation, Andy hoped that any question marks over the birds identity could be obviated quickly.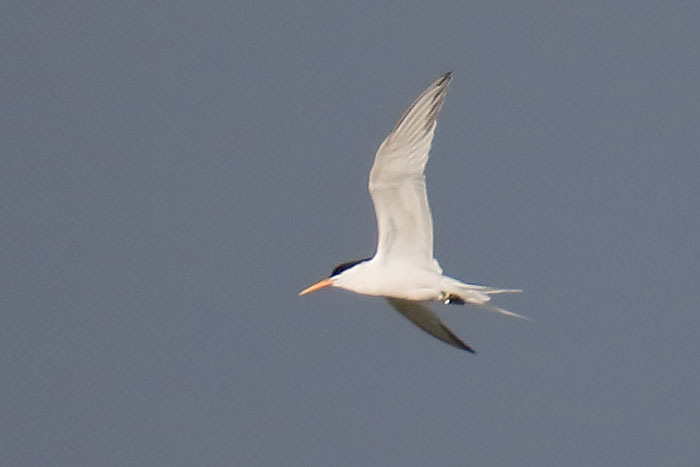 Despite great views, Andy was having difficulty photographing the bird, due to the distance (c300yds), the relentless wind from which there seemed to be no shelter, and the fact that the bird was either asleep or actively preening! Arriving birders were directed to a viewing position much closer to the bird, but Andy was on the south side of the creek, so a half-hour hike was on the cards.
By this time, the Elegant Tern had become a little more active, flying around a couple of times with Sandwich Terns but always returning to the spit. At 11.15am, they got up again, but this time gained height and headed east. Andy kept on it, watching it head east away from the creek over Sparkes Marina towards Black Point, where it dropped and went out of view. Unfortunately it appeared not to have landed, and wasn't seen again, with just five birders connecting in the hour or so it was present in the creek that day.
Two days later, Andy relocated the bird, fishing over the sea off Sandy Point, at the south-east end of Hayling Island. This time the bird lingered for just a few minutes before it departed ESE along the coast, and was lost to view in the distance. Unfortunately on this occasion no other people managed to get on site in time to see it, but Andy did finally get his Storm Petrel!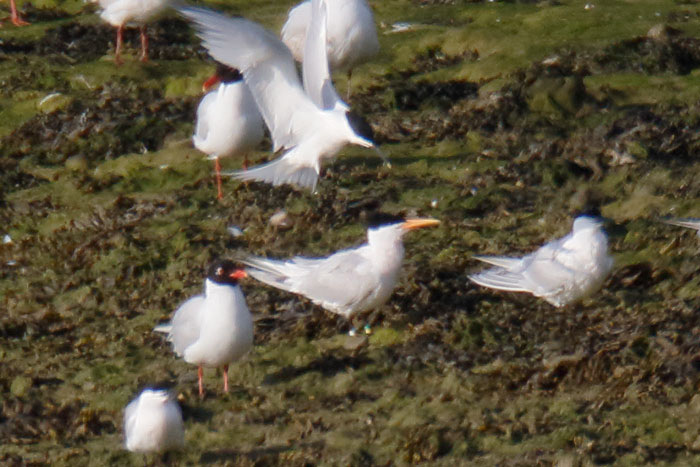 Luckily for the masses, the story didn't end here. On Saturday 10th June, Alan Kitson found the Elegant Tern in the tern colony at Church Norton in Pagham Harbour, West Sussex. Here it lingered, on and off, and was still present at the time of writing (13th June).
The ring combination on this Elegant Tern has identified it as 'bird C' from Banc d'Arguin, Gironde, France, an adult male which was first seen on the reserve in 2002. It has returned almost every year since then, breeding with a Sandwich Tern on numerous occasions at both this site and in the Noirmoutier colony. Recent DNA analysis has confirmed that this bird and two other orange-billed terns breeding in France and Spain are all pure Elegant Terns.
13 June 2017
Share this story
Tweet