Finders-in-the-field: Beluga Whale, Thames Estuary, Sept 2018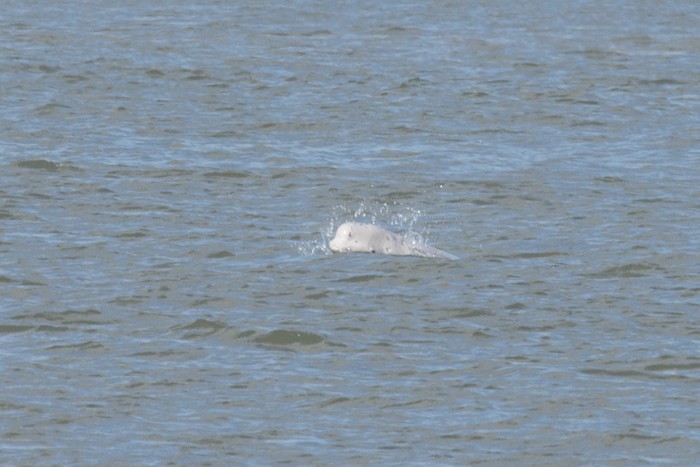 Tuesday 25th September started out as a pretty standard day of planned work carrying out ecological surveys in north Kent. Of all the areas I'm working in at the moment, the particular spot I found myself in on this morning, is probably the quietest, so myself and my colleague got settled in for a fairly uninspiring few hours. The weather was at least fine, sunny, warm and not a breath of wind, and there was a fair amount of visible bird migration too, which was a nice distraction. I mentioned via WhatsApp to other colleagues in the area that with the mirror calm water, we might spot some porpoises today if nothing else. A couple of hours had passed when out of the corner of my eye I noticed a thin white strip appear on the surface of the water near one of the moored barges in front of me, and then again. Weird, I thought to myself, that looked a bit like a cetacean. I mentioned that I'd seen something strange to my colleague sat next to me, but upon seeing nothing more, and having only seen it with naked eye, I decided it must have been the wash of a passing ship breaking and creating a small 'white horse' as it deflected off the barge.
About an hour more passed, I was just been dealing with some work emails on my phone when I heard the distinctive sound, at least to me, of an exhaling cetacean, a blow! ****! I looked up… right out in front of me was that white shape again! I lifted my bins to the spot, it surfaced again, $#!£!!!! It was indeed a cetacean, and a whale, a SMALL, WHITE, WHALE! Again it surfaced. A small white whale with what appeared to be NO DORSAL FIN. Holy crap, am I seeing what I think I'm seeing… A BELUGA… in the Thames?! I've worked as a Marine Mammal Observer professionally on and off for eight years, including 10 weeks on a vessel in the arctic circle off Russia in 2015 where I'd been lucky enough to see a number of Beluga pods, so I was fairly sure I knew what I was looking at, but still, this is the Thames! Don't balls this up, I thought to myself. It's good, whatever it is, but I've got to rule out perhaps an albino whale of another species. I hadn't seen a dorsal, but maybe I'd missed it. I waited for what seemed an age, it surfaced again, I trained my scope on the spot set my phone to record video, it surfaced again, I missed it. Then once more, this time I was on the right spot and caught it on camera. I put the phone down and watched it again through the scope, I could see its whole back and definitely, no. dorsal. fin. IT REALLY IS A BELUGA! Better check that footage! Yep, clear, small white whale, no dorsal – Beluga whale.
Susie, my graduate scheme ecologist colleague sat next to me, didn't really understand my excitement or the magnitude of what this was and I don't know what she must have thought of my excited, slightly scatty, nervous behaviour! I quickly phoned Mike Hoit who was surveying nearby and said something along the lines of "This is going to sound crazy, but this is not a joke, I am deadly serious, I'm watching a Beluga just out in front of me." Mike, is a very keen mammal watcher (particularly cetaceans) and has travelled most of the oceans to watch rare mammals. He is extremely knowledgeable on the subject and agreed with me that if it has no dorsal fin it can only really be Beluga or Narwhal, and if it's all white it has to be Beluga. Not quite believing what he was hearing he started making his way along the seawall towards me. I then called Dave Farrow, who I knew was not far from Coalhouse fort in Essex, on the opposite side of the Thames to me and told him. Minutes later Mikey arrived and Dave called back to say he could see it. Great. Now to get the news out. I called my manager to check it was OK, then I tweeted the video.
Due to not being over familiar with the area, and there not being any easy road access to where I was, I put out that it was off of Coalhouse fort. There is a large carpark there and I knew from Dave Farrow being there, that it could be seen from there. I called RBA to make sure they'd picked up the tweet, then tweeted the exact location of the whale, so if people knew of other ways to get closer views they could find their own place to park.
For the next hour the whale made regularly feeding dives between the two barges out in front of us. Diving for between 3 and 10 minutes before surfacing, making around 3-6 breaks of the surface for breaths in between the dives. It barely moved in more than 100m in any direction during this time.
As news started to spread 'virally' over twitter and the media, the first people started to arrive and see the whale. Very quickly and disappointingly an RNLI RIB came along and got far too close to the whale, before the gathering onlookers shouted at them to move away. Soon after, media helicopters were hovering above, never had I caused such a media frenzied twitch before!
A couple of times over the next few hours it moved behind the barge where it remained out of view for up to 30 minutes, explaining why it had initially disappeared after my very first sighting. I suspect the barges and buoys were churning up the bottom, making for good feeding for the whale. We put out requests that marine traffic should not disturb the animal as it seemed quite well and would not benefit from the additional stress of nearby boats, this for the most part was done.
I had to go on to another ecological survey scheduled for the afternoon, so I left the whale around 13:30 still diving around the area I'd first found it. I returned briefly in the evening for a couple of interview requests from the BBC and ITN and the whale was still looking well and looking like it was actively feeding. This was not how I'd expected the day to go!
The whale was still present the next morning and at the time of writing (end of day 2) was last seen looking well just before dusk. Although it's clearly lost, being several thousand miles too far south, and on its own, it's an interesting situation, when arctic pack ice melts in the summer, Belugas migrate south, moving into shallow seas and estuaries, so the Thames at this location may well be a suitable feeding place for this animal at this time. It appears to be in good health and it may not be in any immediate danger so it will be interesting to see how the story of this Thames Beluga plays out!
Dave Andrews
3 October 2018
Share this story
Tweet