Finders-in-the-Field: White-chinned Petrel, Scape Bay Orkney, May 2020
A first for the Western Palearctic
On Monday 25th May Robert Foubister went for a walk along the coastal path at Scapa Beach on Mainland Orkney, in the hope of maybe finding some Yellow Wagtails. After a search of the area and after having not seen any wagtails he heading for home but first had a search for the second target of the day, some cetaceans offshore.
At around 7:30am whilst scanning the sea he spotted an unknown bird in the sky. A white bill was the first unusual thing Robert noticed and he thought it was possibly a skua of some sort. Unsure of what he was looking at he decided to get some photos to help with the identification. He had first seen the bird at around 7.30am along the east coast of Scapa Flow, just below Gaitnip Farm and it had then headed over Scapa Bay to the west coast of the flow, and then up over Lingro Farm where it had gained height, circling above the fields, in what has described as an almost Common Buzzard-like manner.

Soon after the bird then started to head east again back over Scapa Bay, before flying up over the hill towards the airport. The bird was only viewable for a couple of minutes as it took a very short amount of time to glide west then back east. Robert noted that it appeared to be scanning the sea as it went. And that was the last he saw of it.
After looking a photo on his camera and the tail shape of the bird, he began to question the identification as a skua. Putting it to bed for the time being he carried on with his walk, during which he stumbled across a Golden Oriole. Little did he realise it but this wasn't going to be his best find of the morning – not by a long shot.
News of News of Robert's the find quicky spread online with people sharing the photos from facebook.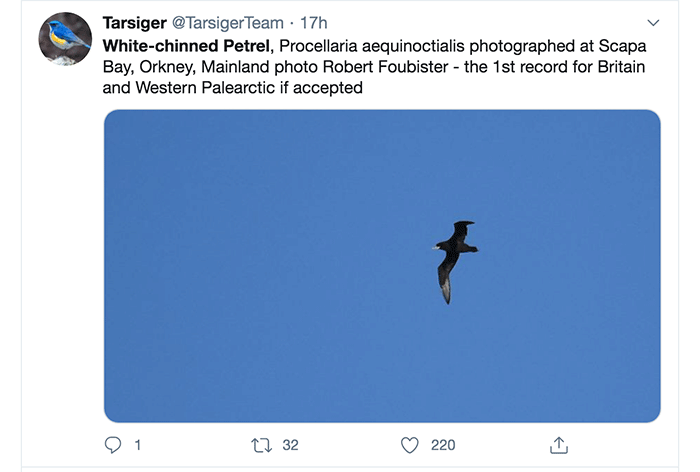 When home, Robert posted the Golden Oriole photos on a Facebook group and added the 'other' bird just in case someone could help with the identificaiton. Within no time local birders Alan Leitch and Paul Higson both flagged up the 'other bird' and very quickly the bird was identified as a White-chinned Petrel – a first for Britain and the Western Palearctic – Robert's Golden Oriole was quickly relegated to 2nd best bird of the day!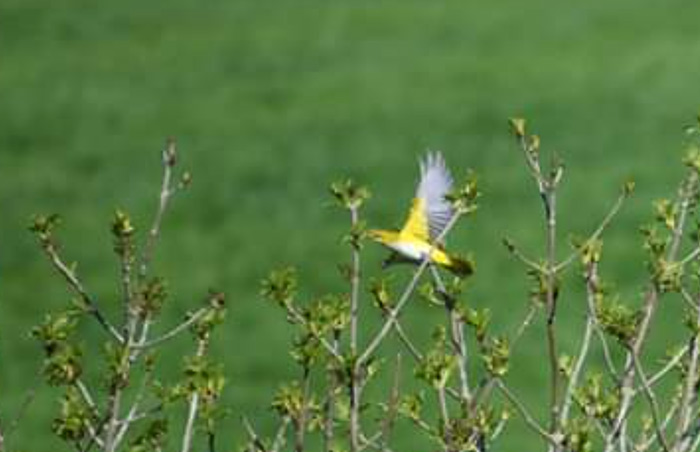 28 May 2020
Share this story
Tweet